50 Interesting Bar Stool Designs For A Chic Home Bar and Kitchen
|
A bar is usually a counter at home where drinks or refreshments are served. Homeowners would usually look for bar stool designs to add more personality to the counter.
Bar stools are often confused with counter stools. The difference mainly is the height where bar stools are taller than counter stools. This is because counter stools are best for a kitchen island or where food is served. Bar stools on the other hand are best for bar counters where refreshments are made. Having one at home will lessen the need to go out and grab a drink since you can have it at the comfort of your home.
There are a variety of bar stool designs to choose from, and the styles range from leather to fabric and even wood. The style you choose will be based mainly on the design of your counter, your kitchen, or the house in general. Although, if you want to mix things up, look for a unique bar stool design that pops or one that is different from the style of your home. It is always fun to add a touch of color or even a different design altogether – for example, a vintage design for a modern home.
How Tall Should my Bar Stool Be?
Bar stools should not exceed the height of the counter, to be comfortable. Typically, a bar counter is at 40-42 inches in height. The perfect height of a bar stool to be comfortable to a bar counter is 34-36 inches. For comparison, bar stools are 5-6 inches taller than a counter stool.
How Much is a Bar Stool?
The cost of a bar stool depends on the style, quality of construction, and fabric. Prices can range from $159 to $1,300 each. If you are looking for a mid-range price, it can be from $299 to $450.
Bar Stool Designs for Inspiration
If you are looking for bar stool designs to complement your bar counter, here are some fresh ideas for you.
Mulligan Bar Chair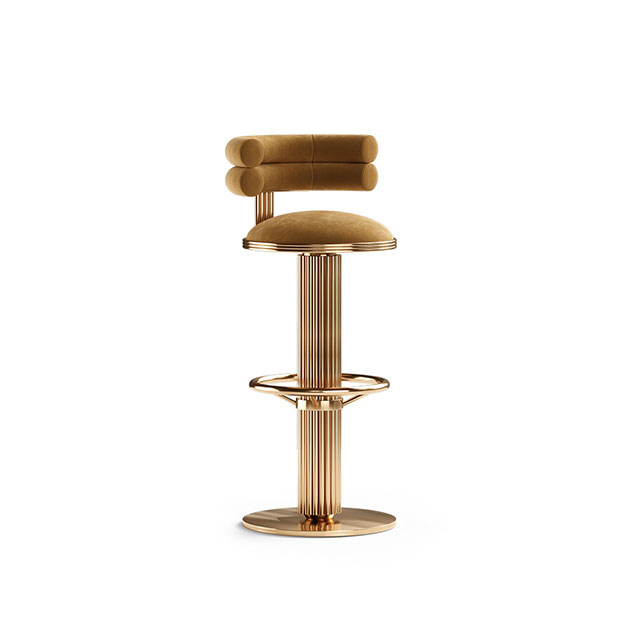 Mezzo Collection
This bar tool design's brass details add an elegant style to it. Its mid-century design will add a fresh new look to modern homes.
Hartung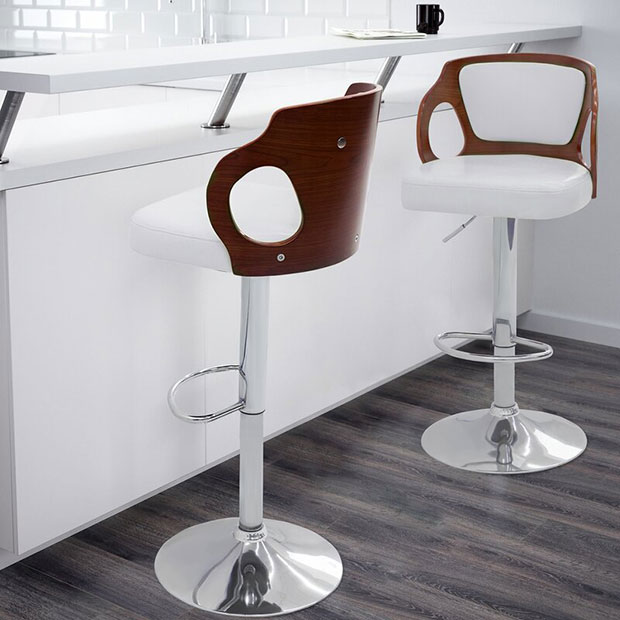 This attractive and casual bar stool design adds an interesting look to any kitchen and home bar. It is made of plastic foam and upholstered seat material.
Renea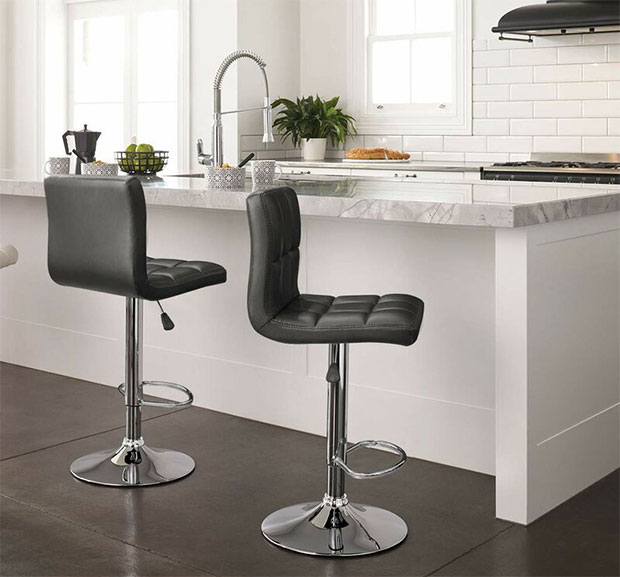 Orren Ellis
This bar stool design has a bonded leather seat that is comfortable for a long sitting position. The black color of the seat and the polished chrome looks great with the black and white kitchen design.
Somerton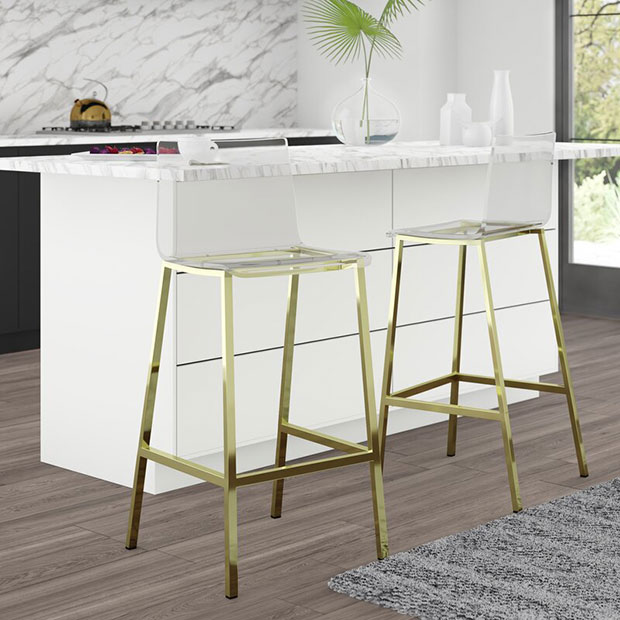 Instead of the usual leathered and padded seats, this bar stool design uses molded acrylic for the seat. The design makes it very interesting to look at.
Chaeli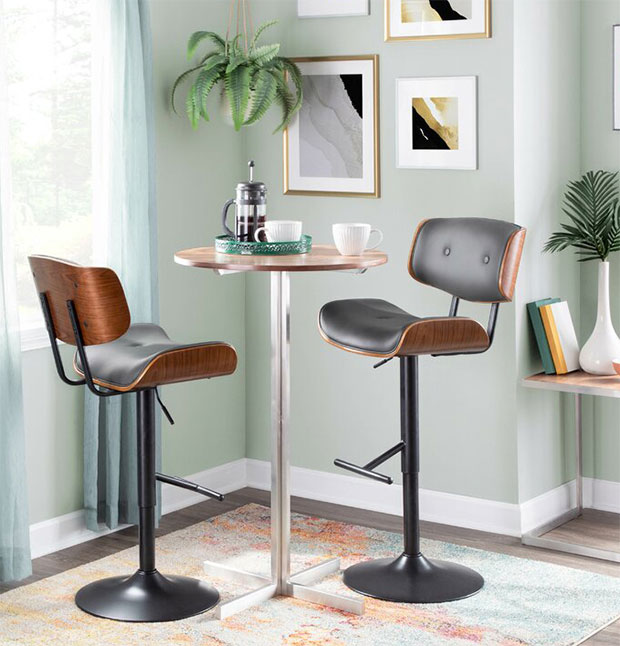 Looking crisp yet comfy, this bar stool design is perfect for your kitchen with wooden accents. Its curved low-back seat is paired with a wood grain finished frame.
Camargo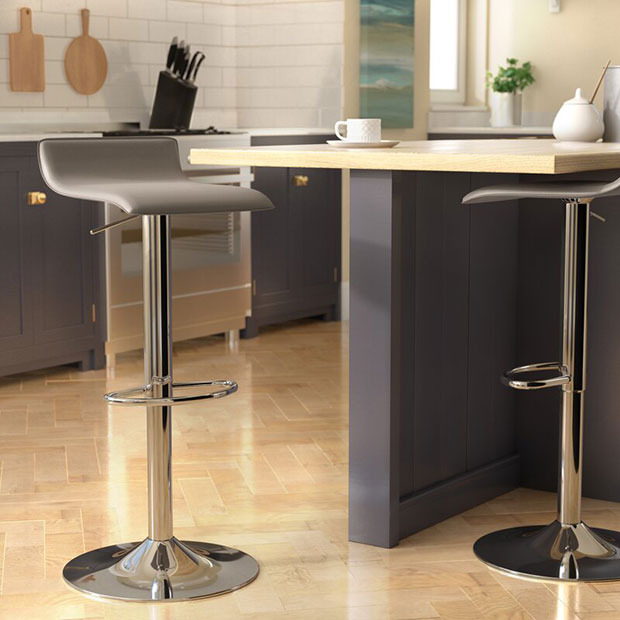 Perfect for minimally designed homes, this bar stool has a low-back seat and polished chrome-finished metal pedestal base.
Swivel Bar Stool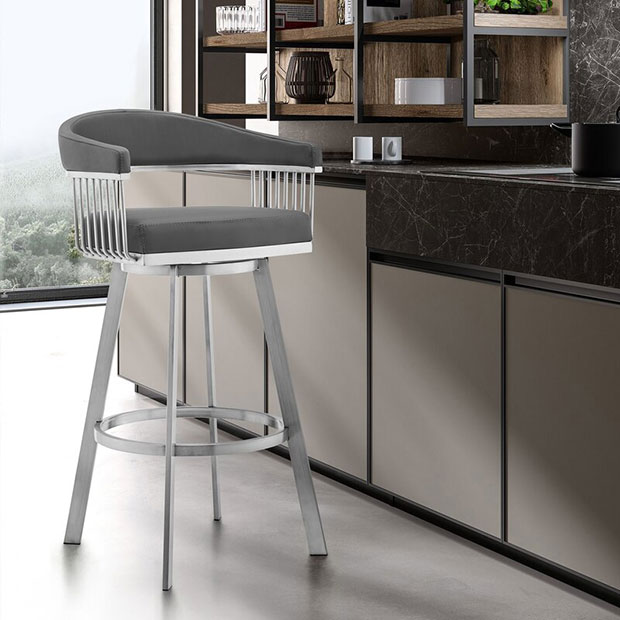 The sleek and unique design of this bar stool makes it a perfect add-on for modern homes. Its back support is designed in such a way that makes the seater more comfortable with the open back design.
Altamonte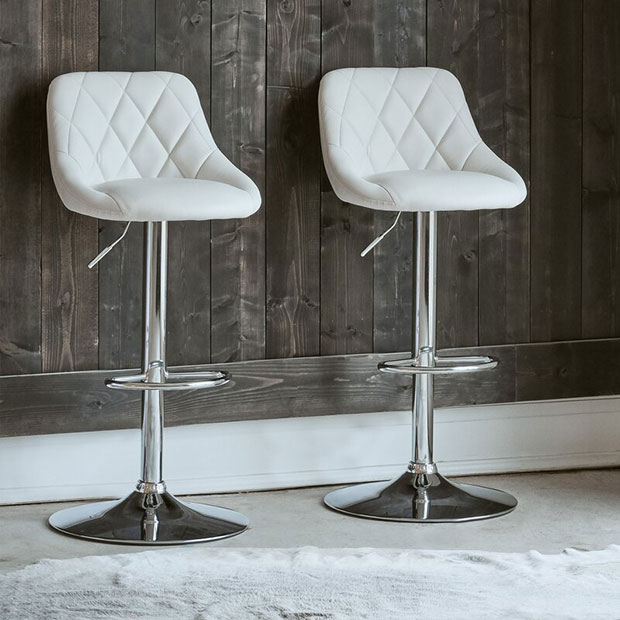 Wade Logan®
For an ultra-modern look for your bar counter or kitchen island, this bar stool is perfect. It has tufted seats and sleek footrests.
Superjare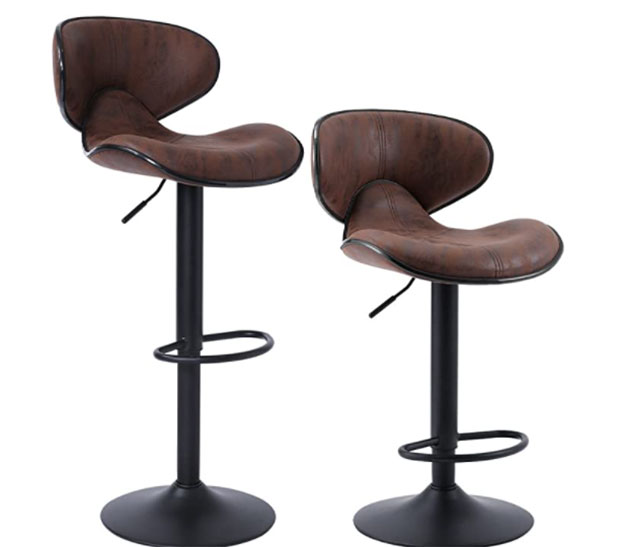 Superjare
For a vintage look, this bar stool is a perfect add-on. The unique seat design looks very comfortable for a long period of sitting down.
Alin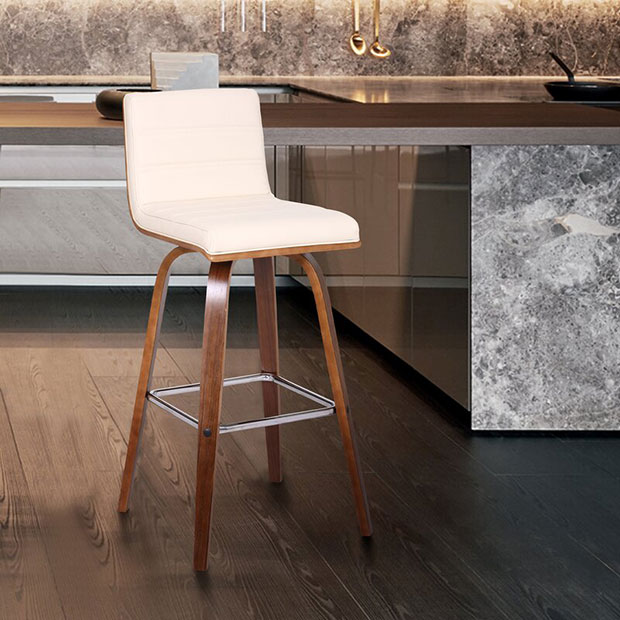 The starking contrast in this combined solid wood and metal makes this bar stool interesting and eye-catching. It is perfect for industrial-designed homes that love a touch of wood in their furniture.
Evonne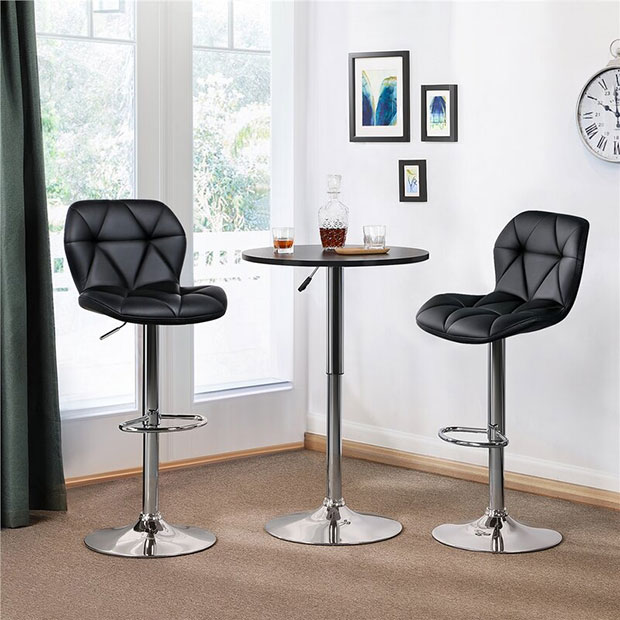 George Oliver
Like most bar stool designs, this can be used on high tables too. It has a padded seat with a backrest. The design of the seat is also ergonomically friendly.
Walton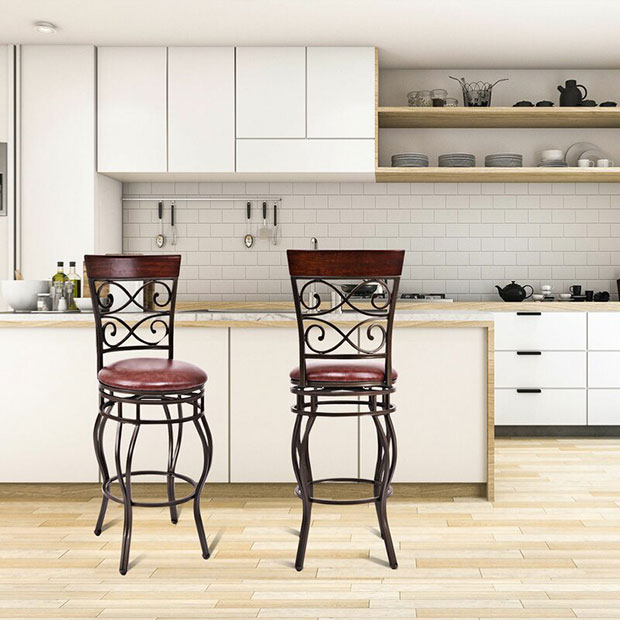 Traditional yet classy – these describe the design adopted by this bar stool. It has a retro-style look with its sturdy frame and soft sponge-filled seats.
Arielle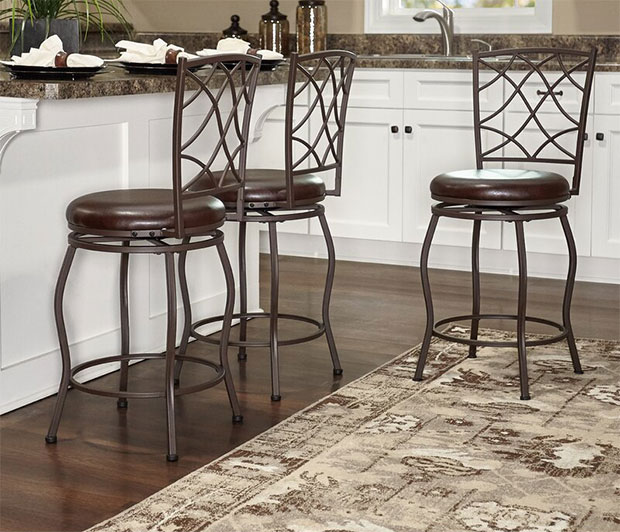 Fleur De Lis Living
The brown finish of this bar stool design looks great with the brown countertop and tiles. The curve of the stool legs also adds a soft balance to the squared edges of the backrest.
Vinciguerra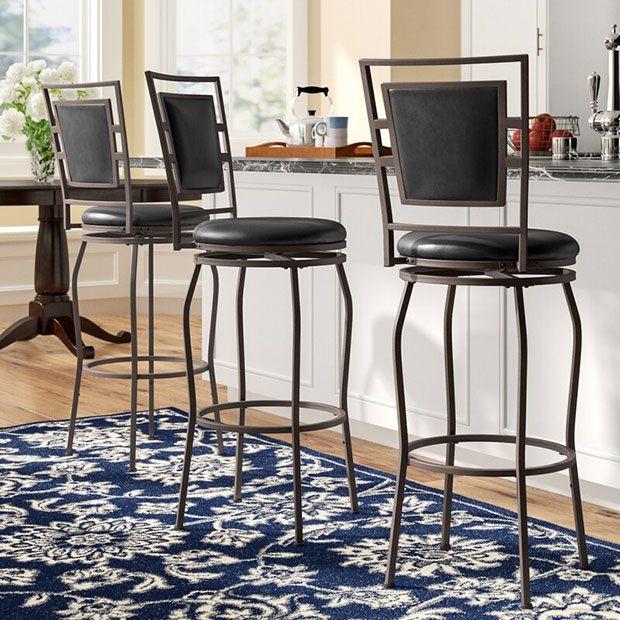 Red Barrel Studio®
For a more traditional look, this bar stool will look awesome in any modern home. It has an iron frame and faux leather-upholstered seat.
Yvoire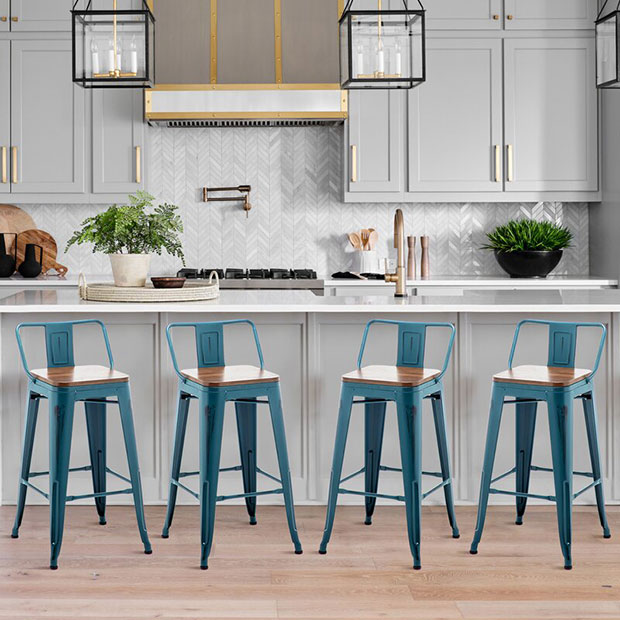 Williston Forge
Industrial-designed homes will look lovely with this brightly colored bar stool design. Its x-brace structure and metal frame will give the seater more stability.
Pinehur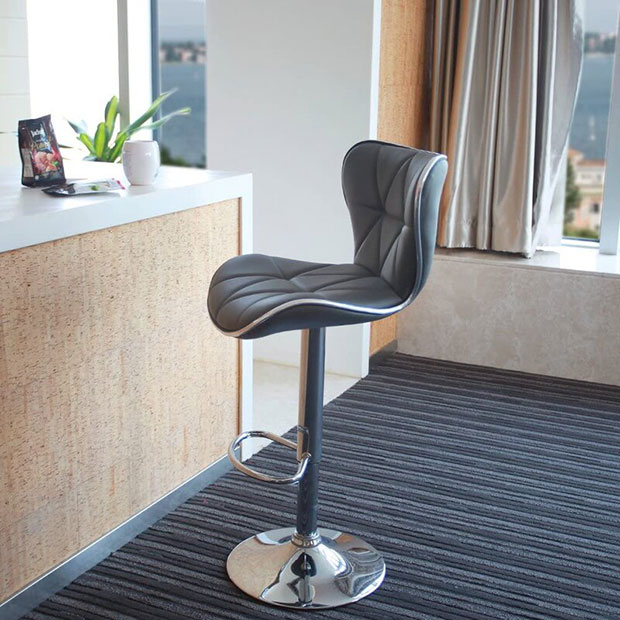 Ivy Bronx
Instead of the full leather upholstery, this bar stool design maintains the iron chrome plating for the back. This adds a beautiful and sophisticated look to the design.
Alastair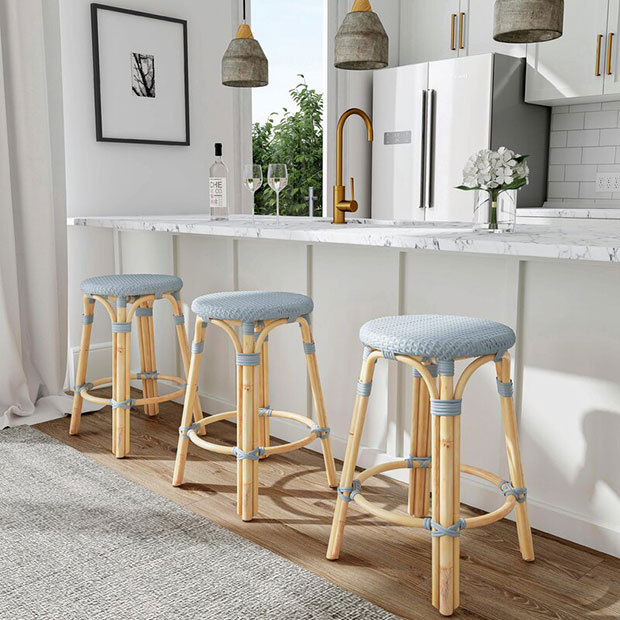 If you opt for the non-traditional look, this bar stool design is one to consider. It has a rounded woven plastic seat that allows for comfortable seating. Its legs are made from rattan pole legs, making it eco-friendly.
Thibodeaux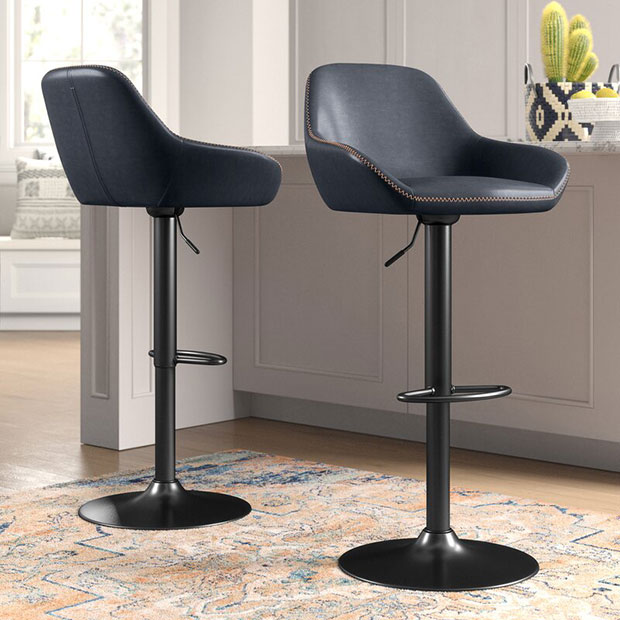 Mistana™
The ergonomically pleasant design of this bar stool can add a soft edge to your bar counter or even the kitchen island. It has a black finish space with a non-fussy PU leather upholstery.
Newville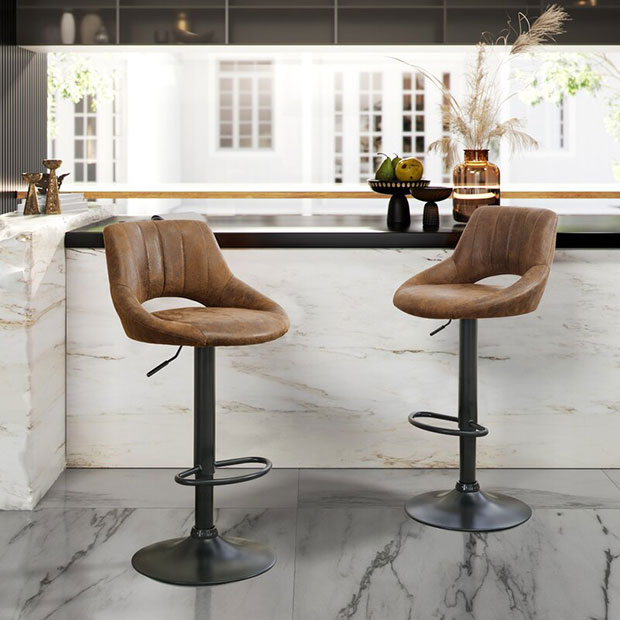 Foundry Select
The bar stool's contemporary design is a breath of fresh air for any home. It is upholstered in retro faux leather and can be adjusted in terms of height.
Keyren Mary-Kate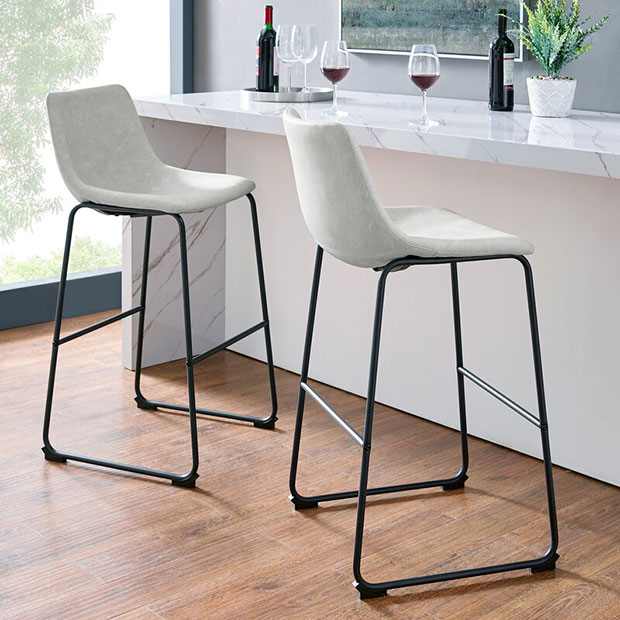 These faux leather bar stool design has a sleek and modern look that offers a stylish presence to your kitchen. Its softened angular lines are perfect for industrial-styled homes.
Maillard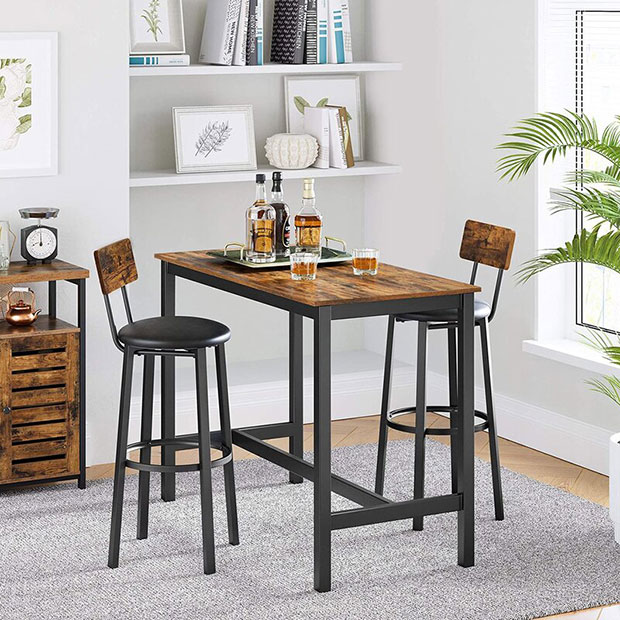 Adding a rustic vibe, this bar stool design has adopted a wood and steel frame metal. The look is quite minimal yet classy.
Ritesh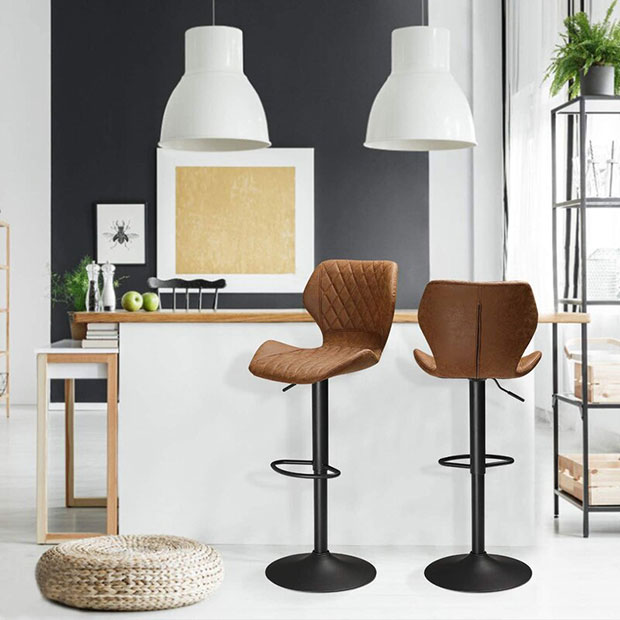 17 Stories
Taking on a different seat design, this bar stool has a seat filled with high-elastic foam. The chair surface has easy to clean and is waterproof.
Dalfred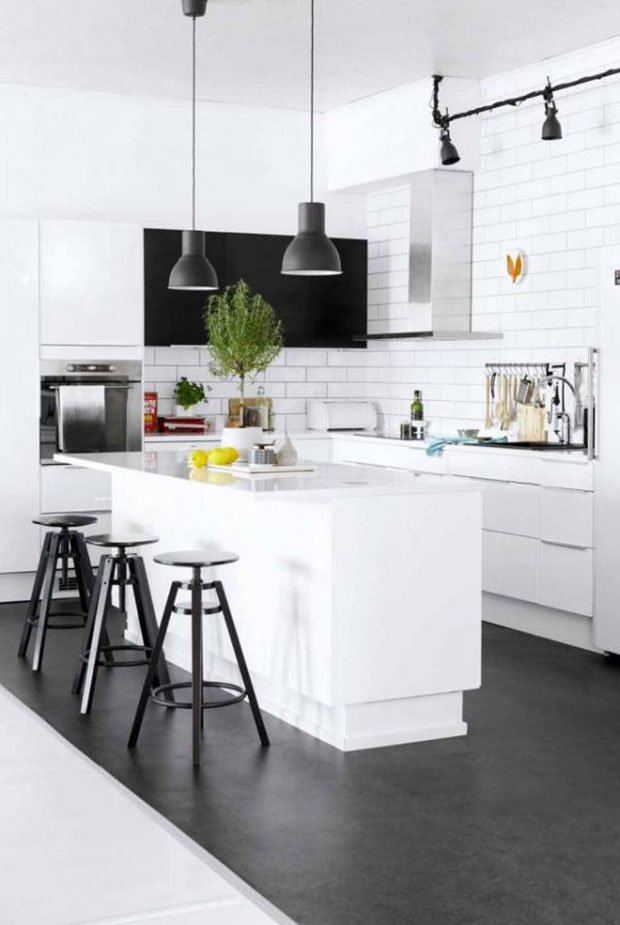 Ikea
Complementing an industrial-themed kitchen, this bar stool has a metallic and modern look.
Sonia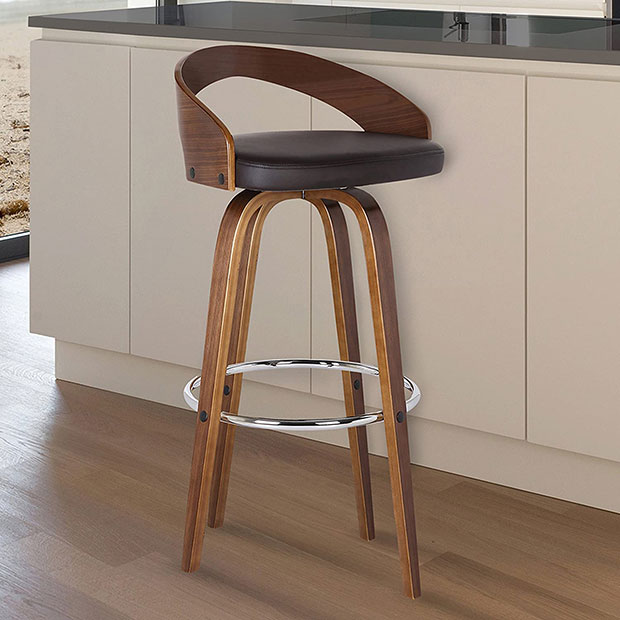 Armen Living Store
If you are looking for a wooden touch to your kitchen or bar, this bar stool is perfect for you. It has a modern and contemporary look that won't go out of place.
Onda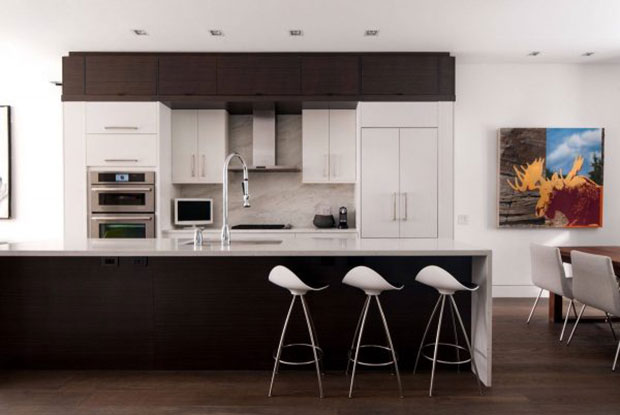 Jesús Gasca
For minimal homes, this simple bar stool has a curvy yet simple design that complements a modern minimalist home.
Leftwich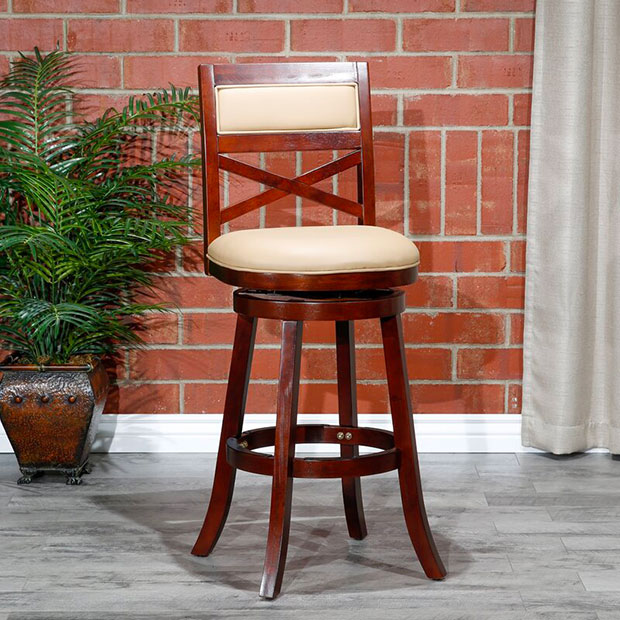 Charlton Home®
For a more classic look in your home bar or kitchen, this swivel bar stool is the perfect fit. It has a sturdy build that ensures balance when sitting.
Sariyah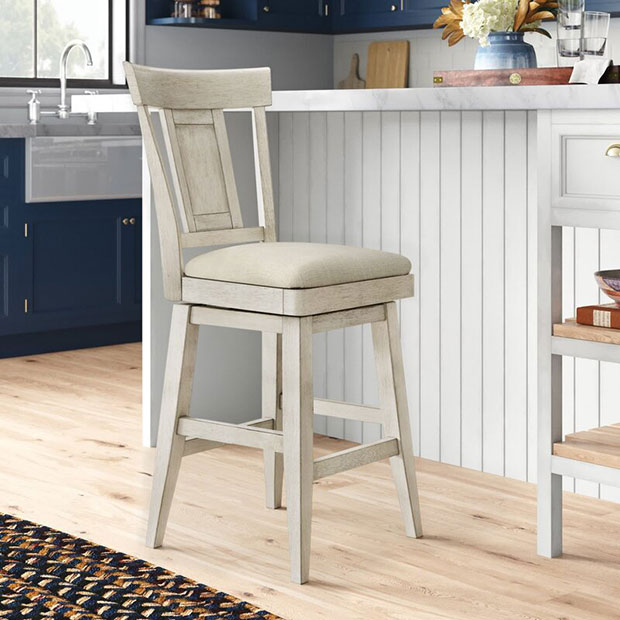 Three Posts™
Another classic design for the country-inspired home. This bar stool has a full-backed silhouette and upholstered seats. It can also swivel and has a solid frame if you are looking for a sturdy design.
Swivel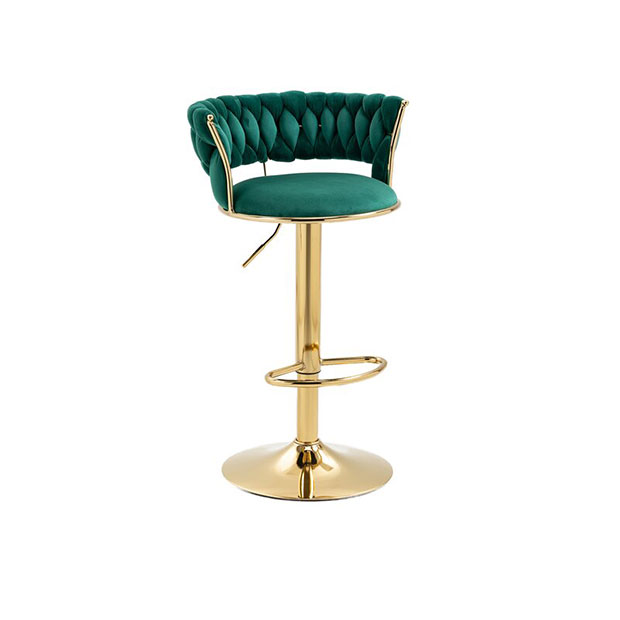 The luxurious golden design of this bar stool can certainly turn heads. It has a hollow-mid back and a padded velvet seat.
Tilford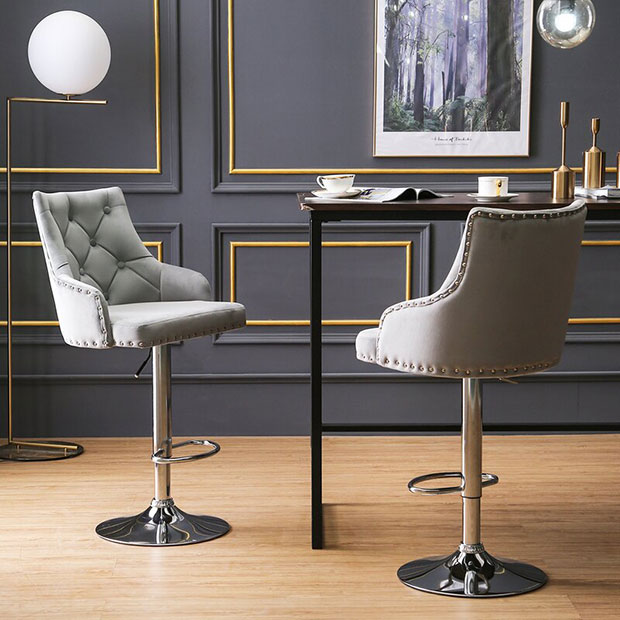 Rosdorf Park
For a comfortable seating experience, this swivel adjustable bar stool is a perfect choice. It has a stainless steel frame and velvet upholstery.
Payton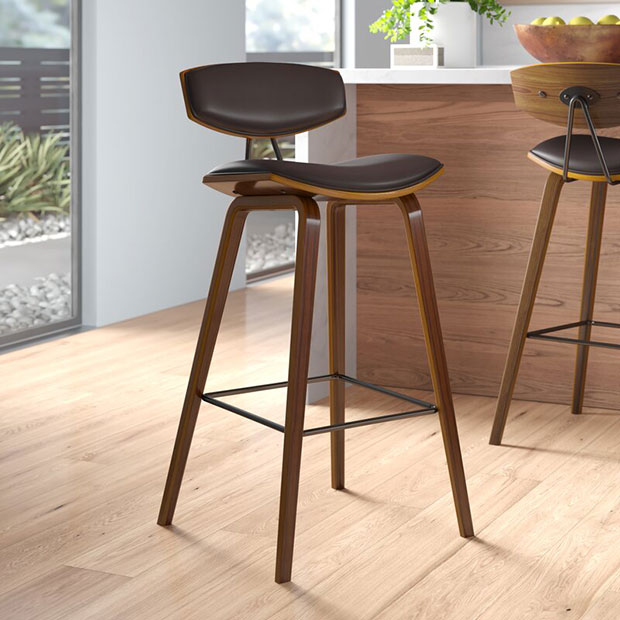 Adding class and design to any kitchen, this bar stool offers mid-century style. It has a durable wood frame and faux leather upholstery.
Chen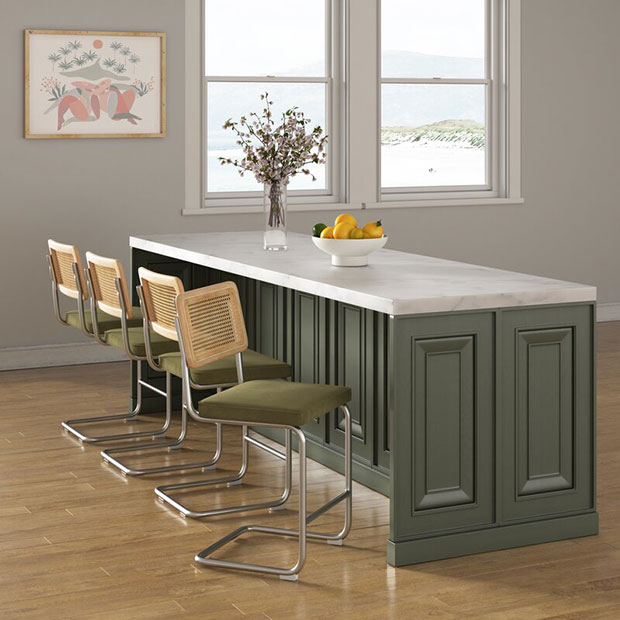 The barstool features a modern and classy look with its rectangular solid wood back and sturdy chromed steel frame.
Holmes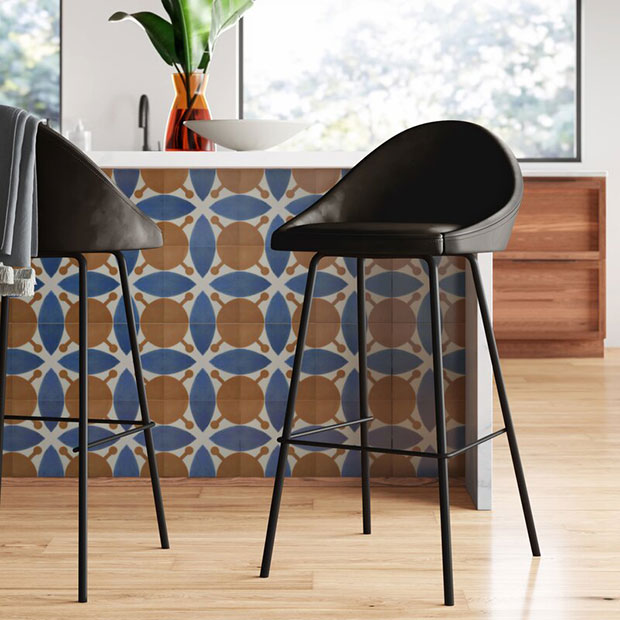 AllModern
This arched-back stool adds a rustic modern vibe to a kitchen. The black steel frame complements the black faux-leathered seat.
Seattle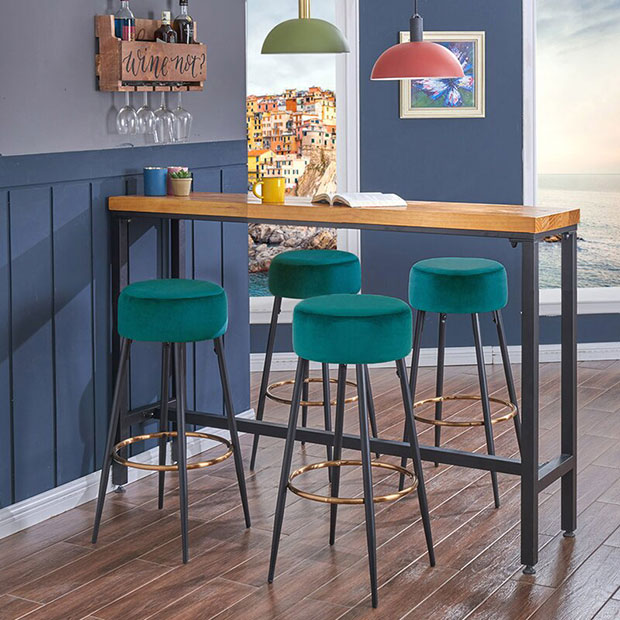 Corrigan Studio®
For a minimalist design, this comfortable bar stool is a perfect choice. It has the classic stool design that we love and the bright upholstered seat is eye-catching too – just perfect for that home bar!
Cedernier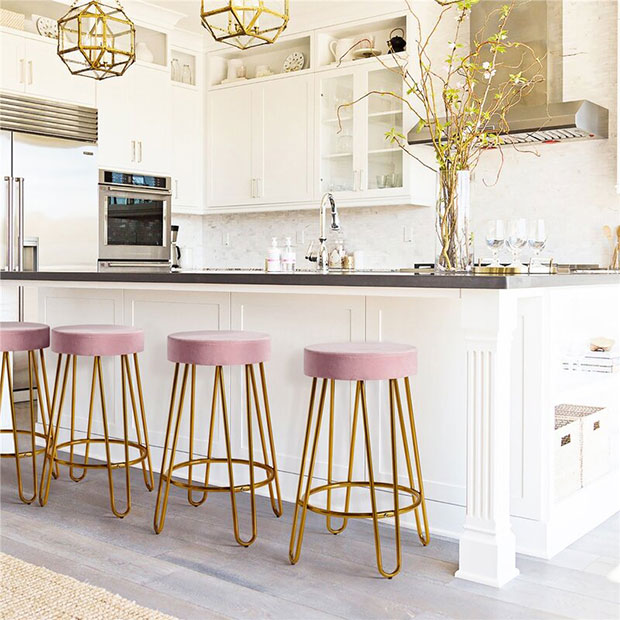 This bar stool design has a feminine classy look that is eye-catching. Its gold base matches the golden highlights of the chandelier and the kitchen counter.
Ceazar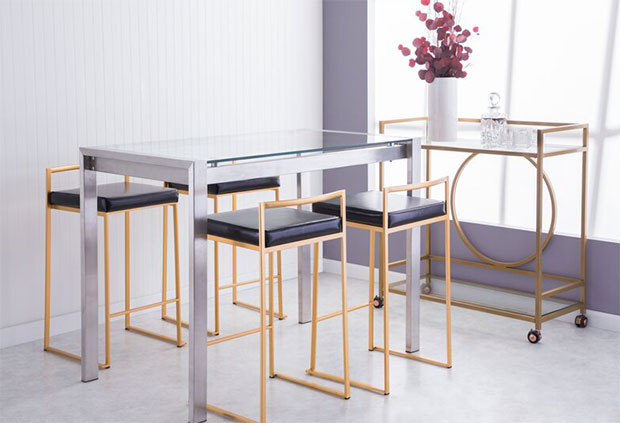 Perfect for a modern accent, these bar stool designs can be placed anywhere in the home for additional seating. It has a low back, faux leathered upholstered seat, and slim sled legs.
Pippen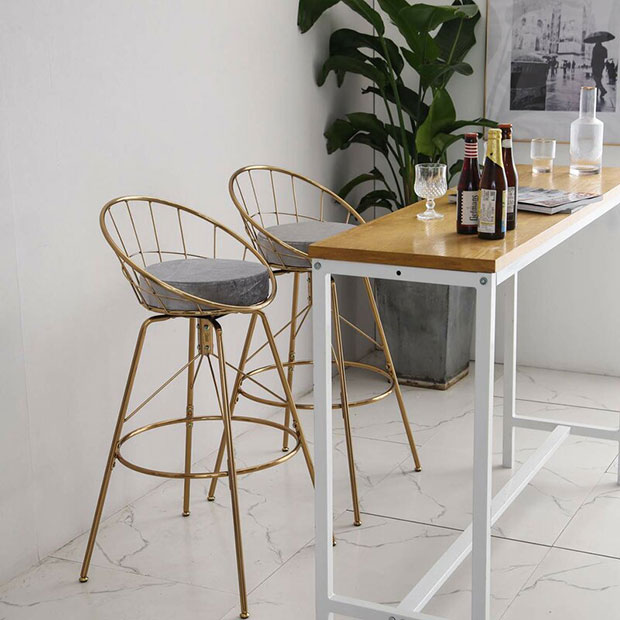 Mercer41
The bar stool has an industrial yet classy look. The rounded back and padded seat provide comfort to the seater. Its sleek design is also head-turning.
Mendivil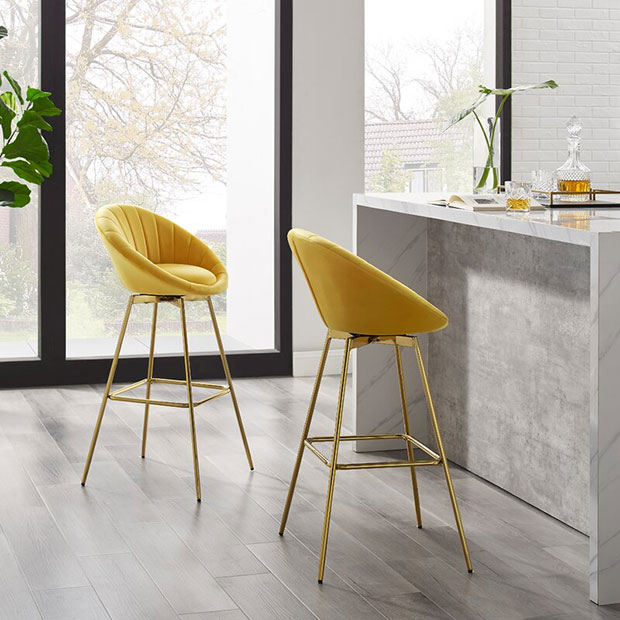 Put a touch of glam to your kitchen with this brightly colored bar stool. The upholstered seat has an appealing rounded design.
Zayas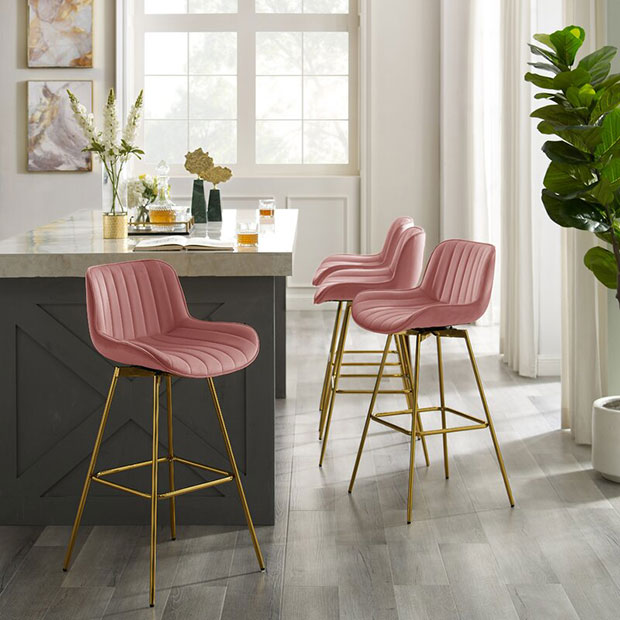 Willa Arlo™ Interiors
This bar stool has a feminine and classy design that makes you think luxury and comfort. The combination of pink and gold brightens up the room.
Alaya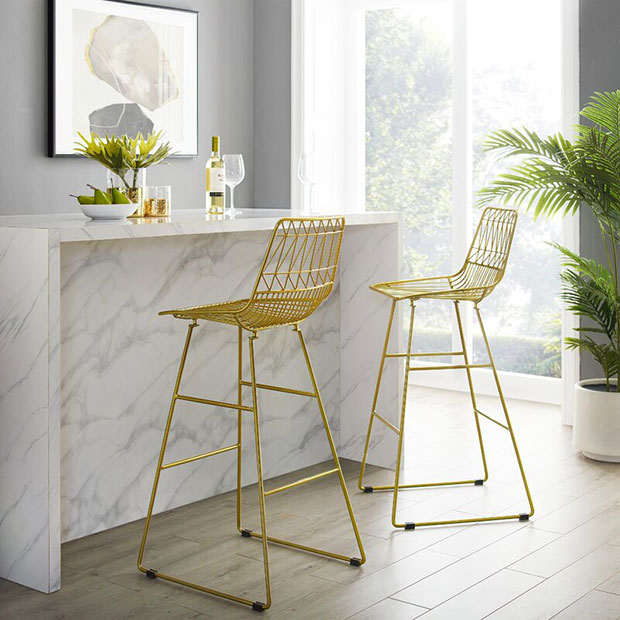 This art-deco-inspired bar stool is perfect for creative homeowners. Its gold finish and ultra-thin frame add a glamorous look to the entire stool.
Aileene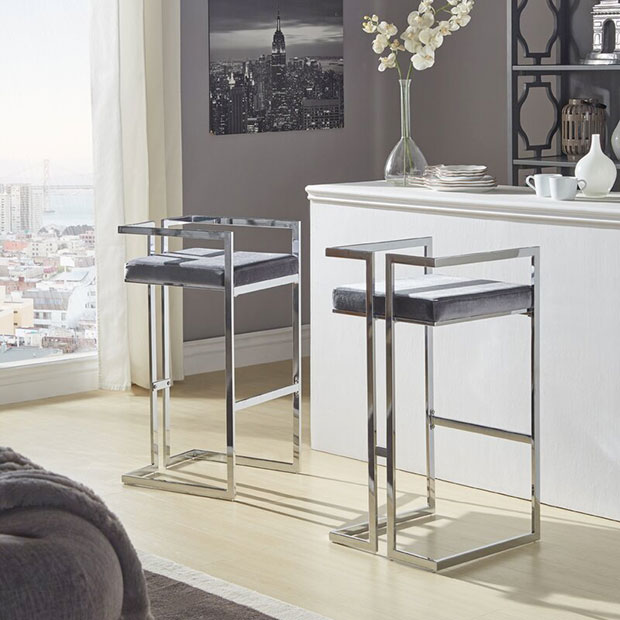 Etta Avenue™
The bar stool embraces an edgy glam look with its chic low backs and foam filling seat. It has a chrome finish and an angular frame seat.
Mccord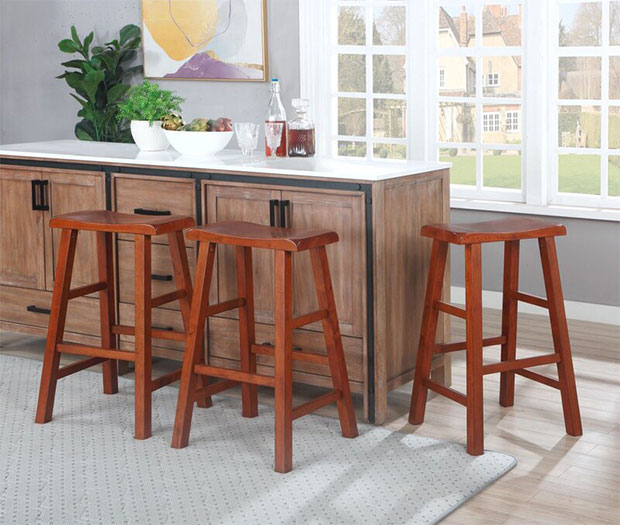 Andover Mills™
If you are looking for a sturdy and traditional-looking bar stool, this one is for you. It has a backless saddle seat that can be slid in place and offers comfortable seating.
Arkport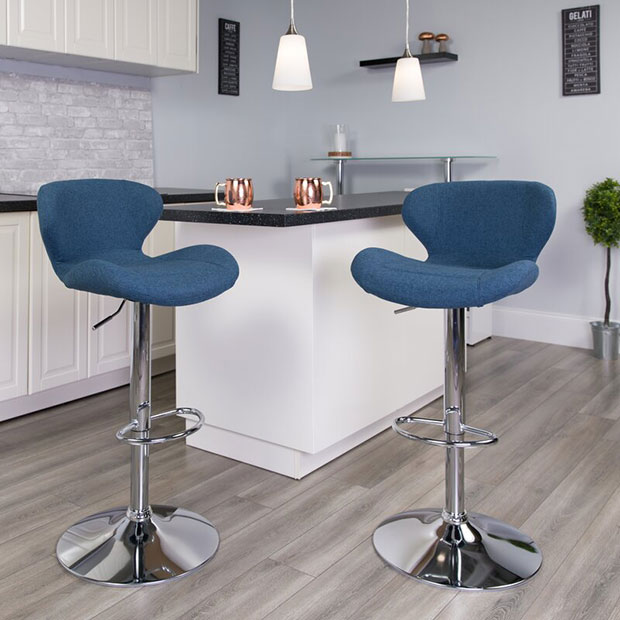 Wrought Studio™
Looking very inviting, this bar stool's curved back has an inviting frame design with stylish line stitching. Its sleek design is the perfect add-on for modern homes.
Gracie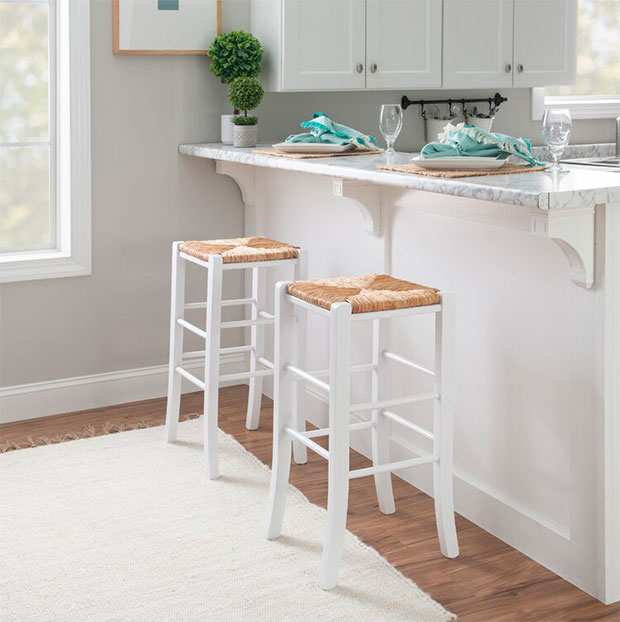 Sand & Stable™
Embracing a country style, this bar stool has a handwoven rush rattan seat and is made from solid kiln-dried beechwood. This design helps your kitchen or home bar achieve that farmhouse-inspired style.
Claudine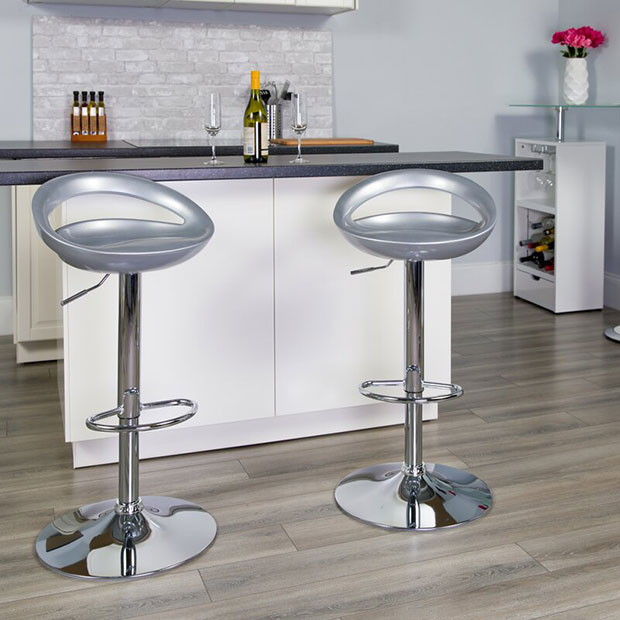 Zipcode Design™
This bar stool design has a fun and creative style that adds a funky vibe to the kitchen. Its rounded seat is designed to make the seater feel comfortable.
Gruenwald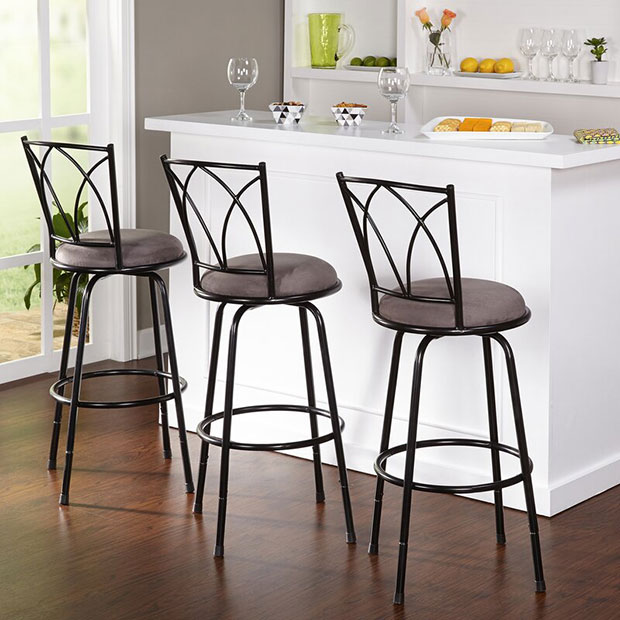 Winston Porter
Adopting the classic chair look, this bar stool is perfect for farmhouse-style kitchen and traditional designs. The seat material is made of microfiber and filled with foam.
Etna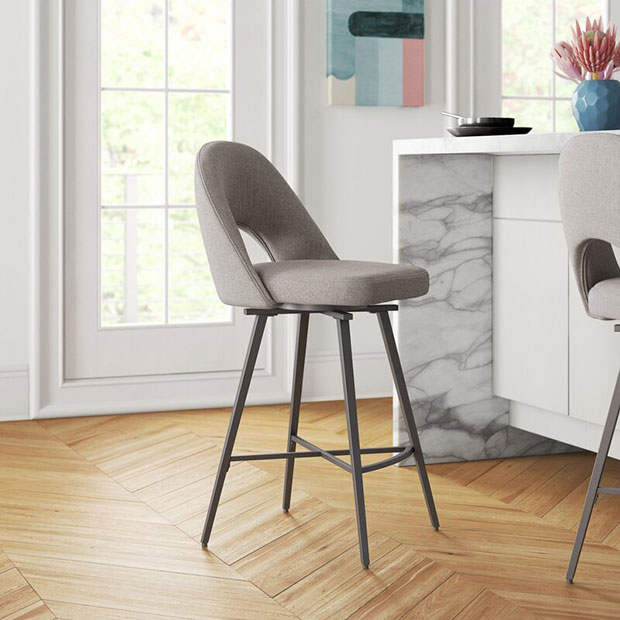 Mercury Row®
Fashionable homeowners will love this bar stool design. It has soft fabric upholstery and a cute half-circle back design.
Wentworth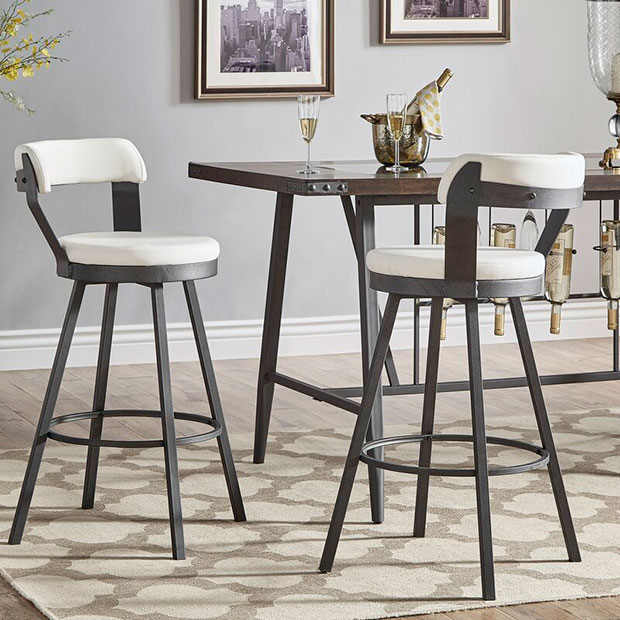 Steelside™
This bar stool has a striking silhouette that can easily catch attention. It is perfect for industrial-designed homes with its metal frame and angled legs.
Traci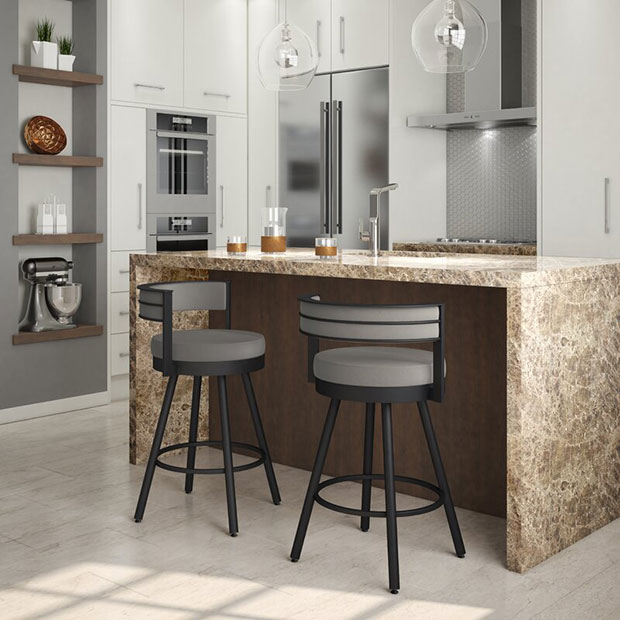 Brayden Studio®
Modern homeowners will love this swivel bar stool with its rounded back and upholstered seat. It is made from North American steel and has a scratch-resistant finish.
Caldwell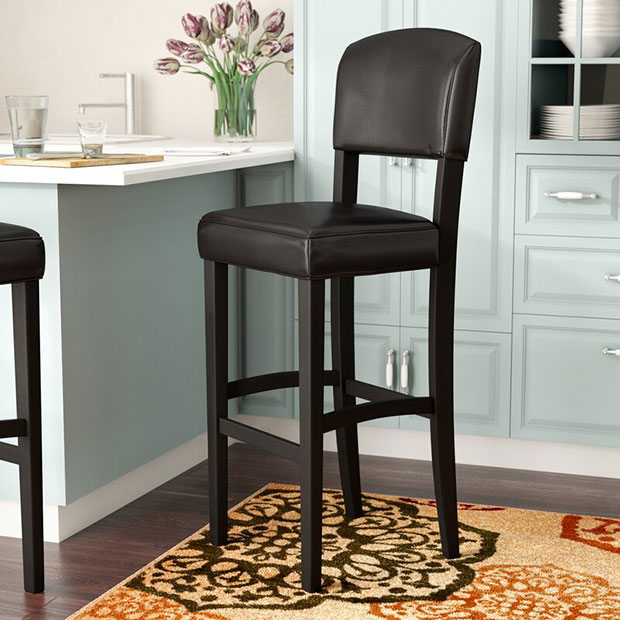 Red Barrel Studio®
The dark color of this bar stool design adds a cool contrast to the brightly colored room. It has a solid wood frame and upholstered faux-leathered seat.
Osterberg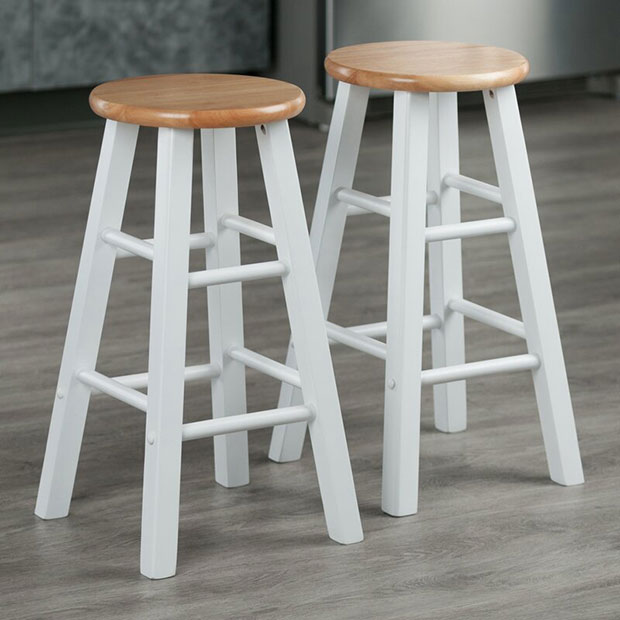 Laurel Foundry Modern Farmhouse®
For a refreshing and minimal design, this bar stool is the perfect add-on to any home. Both the seat and the frame are made of solid wood and painted in neutral colors.
Choosing a bar stool that will perfectly fit your home can be very interesting and confusing also. It is important therefore to check your current home bar height as well as the theme you want to adopt.
Like This Post? Pin It!