50 Colorful Kitchen Designs to Add Color to Your Cooking
|
When we think of kitchens, we often paint them in colors of brown, white, or gray. You will seldom see colorful kitchen designs.
But with more and more people paying attention to aesthetics and colors, colorful kitchen designs are becoming a trend with homeowners.
And we totally understand why…
Colors bring joy and happiness. It also helps brighten our mood and make things more light and fun. No wonder it's more awesome to bring those colors into our homes.
What Colors Are Good For Kitchen?
Like most decorating pains, choosing a paint color for your kitchen can be tough. Especially if you have no idea where to start.
Most people will turn to the favorite shades that are often chosen by designers and the majority of homeowners. This includes:
1. Blue – Blue is a striking color and adds a modern and sophisticated vibe to any room, especially when paired with white walls and appliances of stainless steel.
2. Gray – Being a neutral color, gray can be paired with other shades including raspberry, yellow, and pumpkin. It has a soft and soothing effect that can also add a calming look to a room.
3. Green – Like white and ivory, green is soothing. It can lend an earthy and organic atmosphere to your kitchen space, especially if paired with wooden accents.
4. Red – Red is great for kitchens because it stimulates appetite. Being a bold color, most home designers will add neutral colors to tone it down a bit. You can also add hints of pink or neutral-colored countertops.
5. White and Ivory – These two colors are calming and are perfect for busy areas such as the kitchen. It is also light and airy and mixes well with other fun home decors you'll want to add in your kitchen.
6. Yellow – Yellow is both energizing and eye-catching. It is perfect for walls, backsplash and even inside the cabinets.
How to Choose a Color Scheme?
Choosing a color scheme for your kitchen is not as simple as it seems. There are several factors that you need to zero in first, before proceeding with the colors you want.
Also, you need to choose from various shades, tones, and hues. Not to mention your walls, floors, and even your cabinets. To help you, below are some useful tips to consider:
1. Decide on the colors you love.
When you cook, it is important that you feel happy when doing it. And having an enjoyable place to cook will help you get that feeling.
Hence, when choosing colors for your kitchen, it is important to choose colors that you love. It is important to note, however, that popular colors will be easier to find.
2. Consider the big picture.
Remember that your kitchen holds lots of items in it, including cabinets, countertops, backsplash, and flooring. That is why you need to take into consideration these other areas when choosing your colors. Choose a color that will blend well with them.
3. Start with your cabinets.
Most often, the cabinets are the focal point to any kitchen. Cabinets often take up most of your wall space. On that note, you need to choose a color scheme that goes well with them.
4. Keep the countertops neutral.
When it comes to surfaces, the countertops are one of the biggest in the kitchen. Most designers will opt-in for neutral colors. This will help the paint and the backsplash colors to stand out more.
5. Consider the lighting.
Once you have decided on your color scheme, the next thing you need to consider is the lighting. Your lighting will enhance your kitchen colors.
Colorful Kitchen Designs For Inspiration
With the wide variety of colors, hues, and shades available, choosing your color scheme can be overwhelming. Sometimes looking at various examples can help you visualize what exactly you want.
If you are looking for colorful kitchen designs, or is hesitant to get one, here is a great collection to get inspiration from!
Red Kitchen Designs
Red is a bold color that can be too warm. When complemented with lighter colors, however, it becomes less fiery and more comfortable. Check out these red kitchen designs!
Kitchen Bath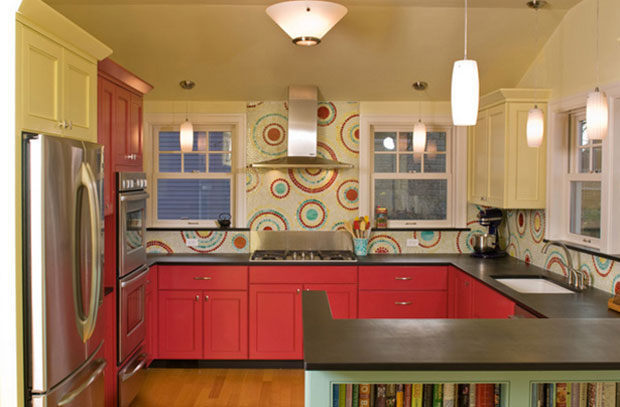 Ken Kelly Inc.
This colorful kitchen designs make use of color backsplash of red, blue, and yellow. The color combination makes it feminine and light.
Bold Crimson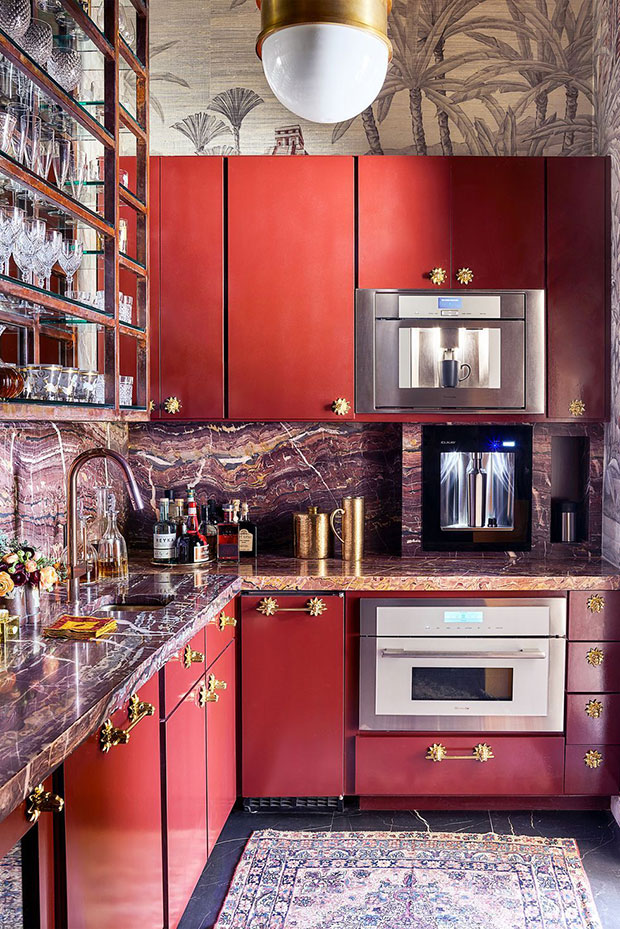 Douglas Freidman
The crimson color on this kitchen is toned down by the splashes of pink and lavender on the countertop and backsplash.
Wine Red Kitchen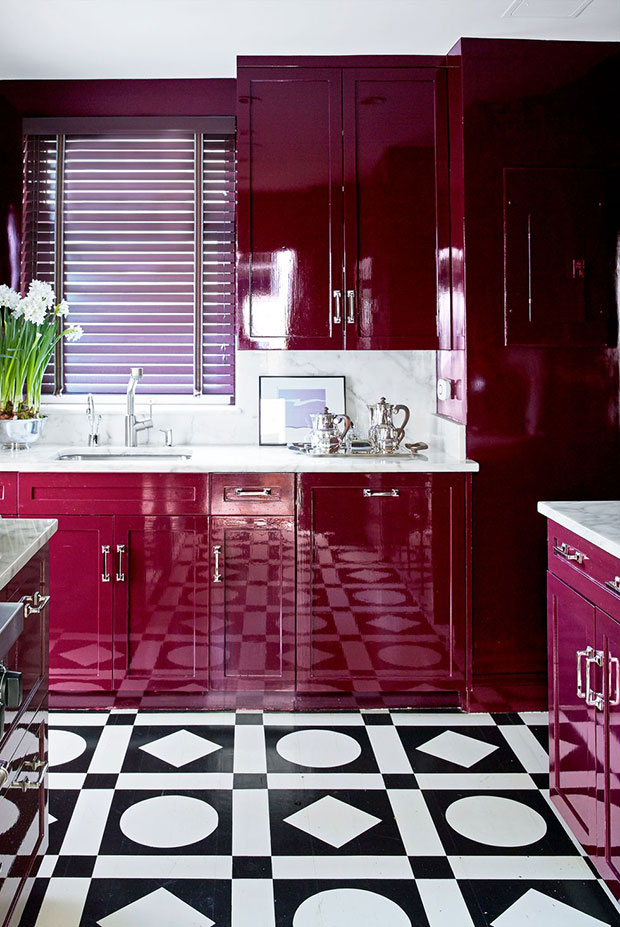 Nick Olsen
This wine red kitchen adds glamor to this room. It is toned down and complemented by the white walls, marble countertop, and the black-and-white patterned floor.
Rich Red Kitchen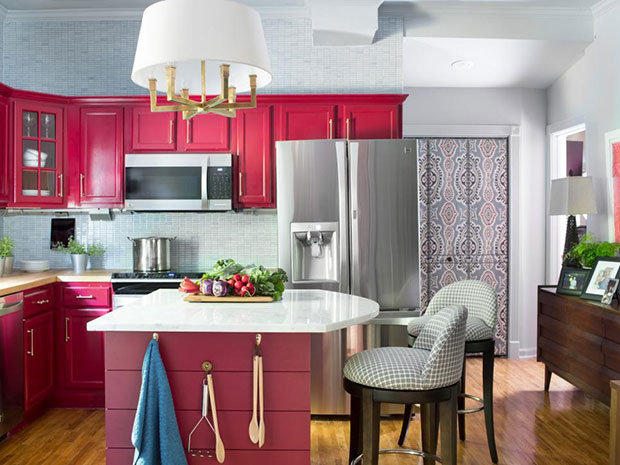 Brian Patrick Flynn
The play of warm and cool tones in this room looks both appealing and soothing.
Blue Kitchen Designs
Blue is a calming color that adds serenity and stability. When used in rooms, it makes the space modern and sophisticated. Check out these blue kitchen designs in different hues!
Mod World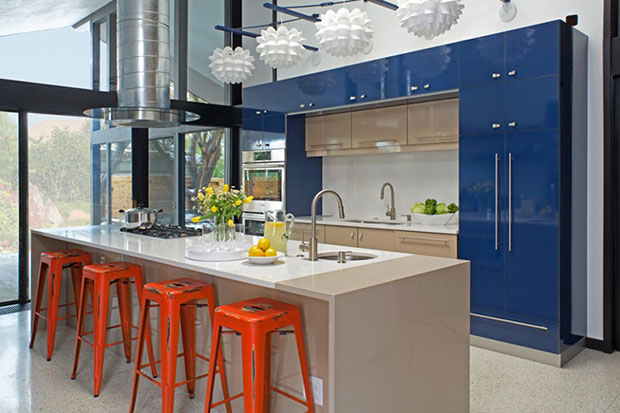 Kabi Kitchen
This blue and brown kitchen looks stylish and sophisticated. The designer also added grungy looking orange kitchen stools to add more color to this colorful kitchen designs.
Blue Kitchen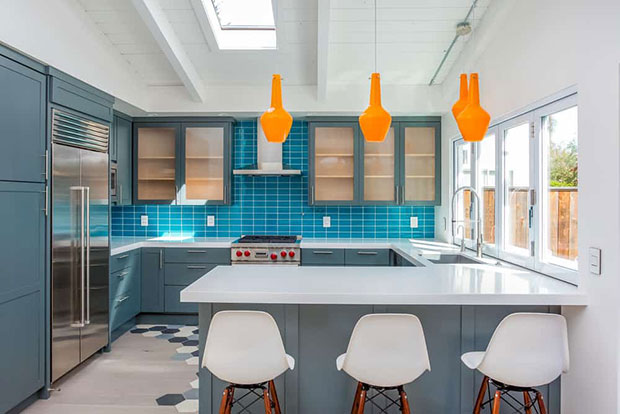 Home Stratosphere
The bright blue backsplash is toned down by the white countertop and blue-gray cabinets on the wall.
Tetrix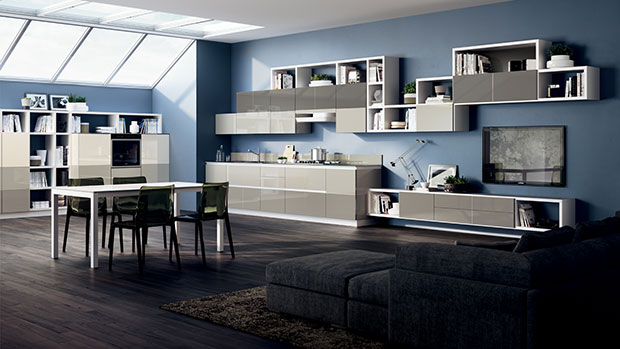 Scavolini
The gorgeous light blue color of this kitchen looks sleek and amazing.
Refreshing Blue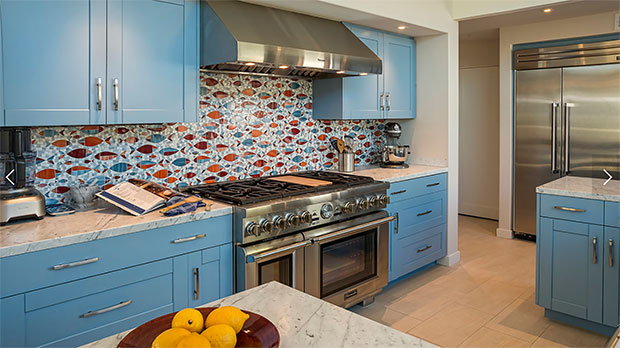 Build Allen
The fun backsplash of fishes in this kitchen brightens this home space. It makes one feel the calming effect of the sea.
Subway Teals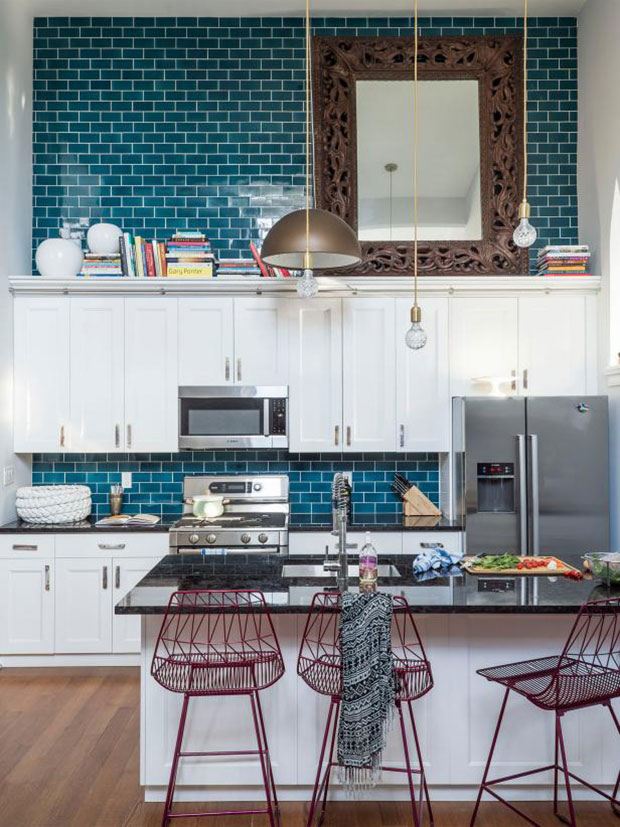 Matthew Williams
The teal subway tiles used in this kitchen looks stunning and adds a warming color to the room.
Playful Patterns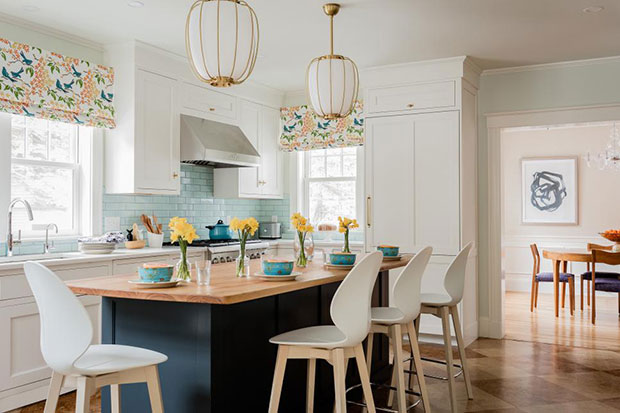 Michael J. Lee
The subtle yet colorful kitchen designs in this room looks really relaxing.
Blue Kitchen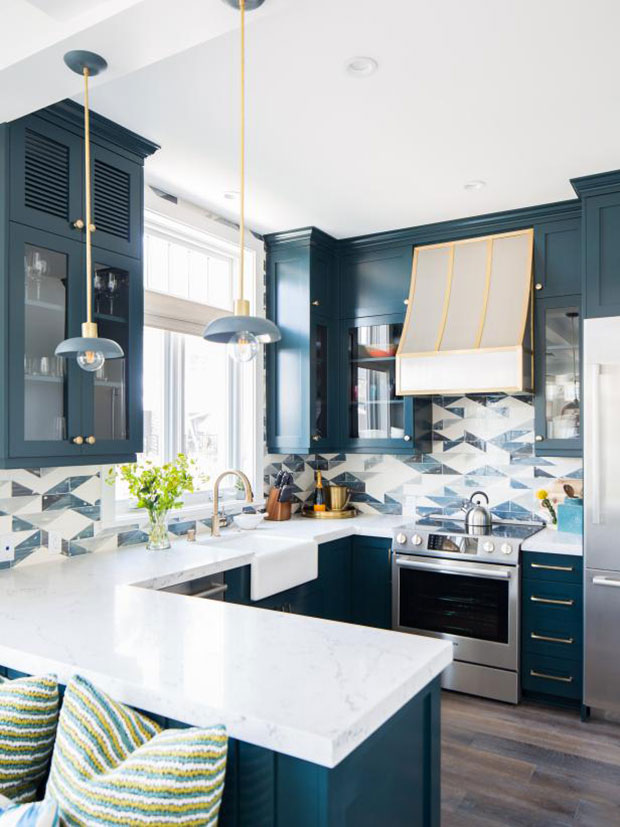 Ryan Garvin
This colorful kitchen designs make use of the different hues of blue from its backsplash to the cabinets.
Green Kitchen Designs
Green is often associated with nature. It is very calming to use in rooms and adds a feeling of peace and tranquility to any space. Check out these green kitchen designs in different hues!
Patterned Floors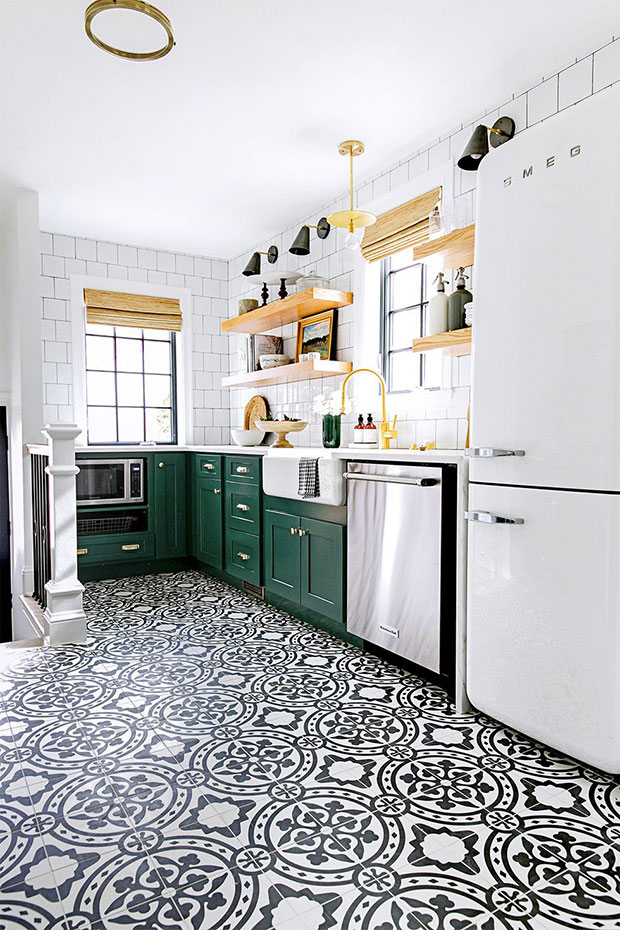 Callie Hobbs
While the walls are kept white, the designer made use of patterns on the floor and dark green cabinets to add color to the kitchen.
Bright Kitchen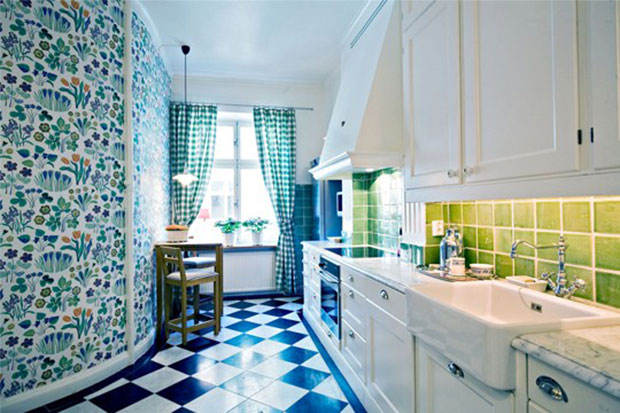 DigsDigs
This bright kitchen design has both patterned walls and a floor. It also makes use of the calming colors of green and blue.
Brady Remodel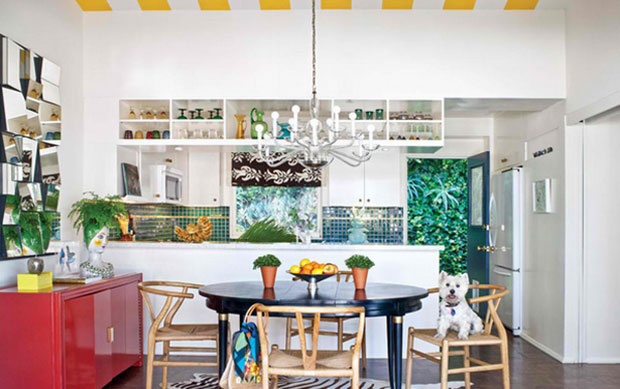 Molly Luetkemeyer
The fresh colors on this colorful kitchen designs are even made more refreshing by the potted plants placed in the kitchen.
Turquoise Kitchen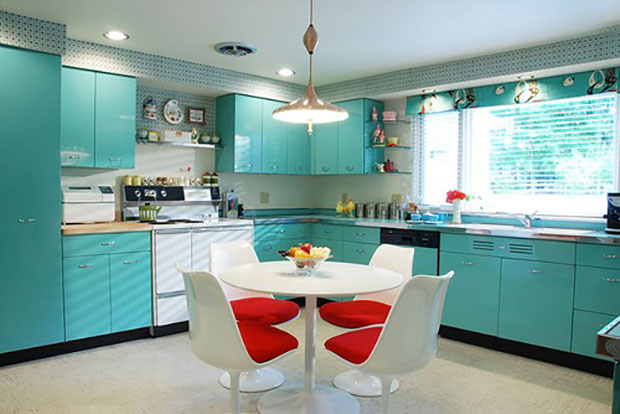 DigsDigs
The bright turquoise color of this kitchen space makes the room feel cold. The bright lights and red cushioned chairs at the centers add a relaxing warm glow to the room.
Dandelion Kitchen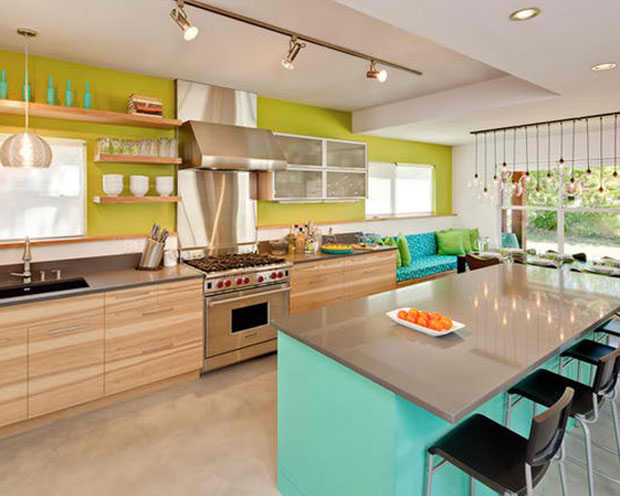 Ioop-D
This kitchen makes use of fun and bright colors paired with the earthy tone of the cabinets.
Soothing Green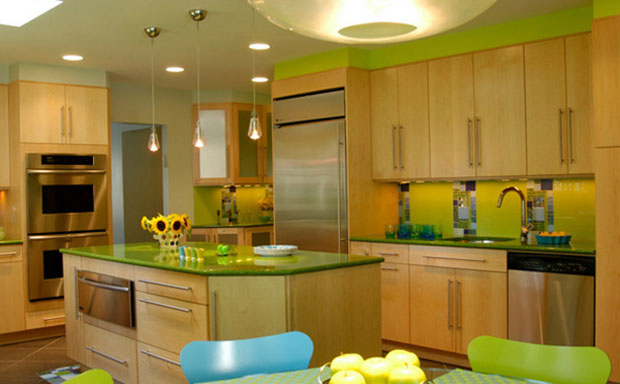 Ken Kelly Inc.
The soothing color of green in this colorful kitchen design is made even homier with the brown color of the cabinets inside the room.
Farmhouse Kitchen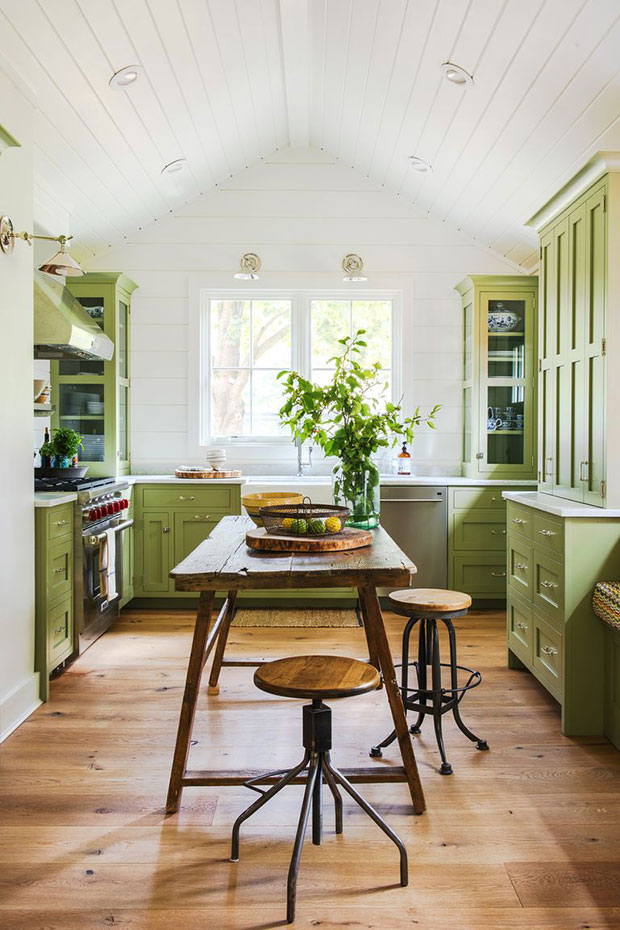 Jane Beiles
This bright kitchen with a tall table looks homey and comfortable with its mint green and brown color combination.
Green Modern Kitchen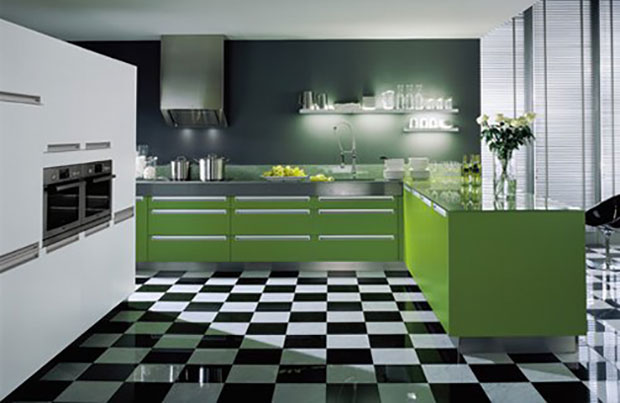 DigsDigs
The clean and modern design of this kitchen is made even sleeker by the bright green colors of the cabinet.
Tropical Retreat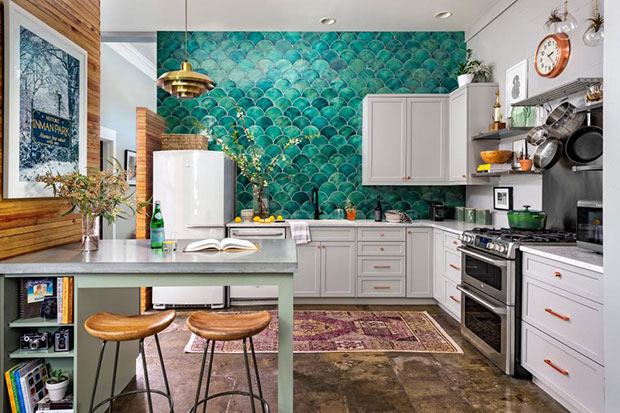 Cati Teague Photography
Sea lovers or rather, mermaid-lovers will enjoy this handmade backsplash of a fishtail scale. The colors are both organic and playful.
Venice Kitchen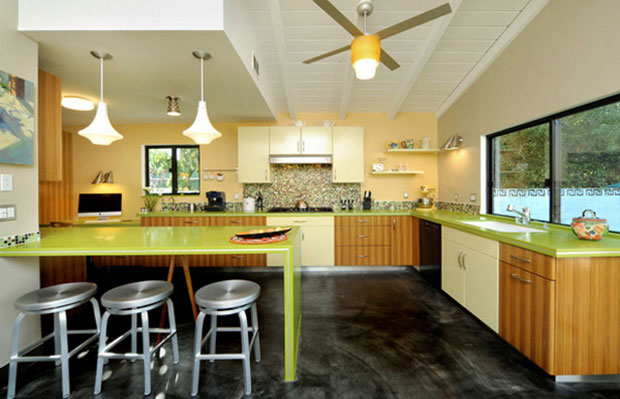 Alison Glen Designs
The refreshing colors of wood and green make this room calming and beautiful.
Retro Vibe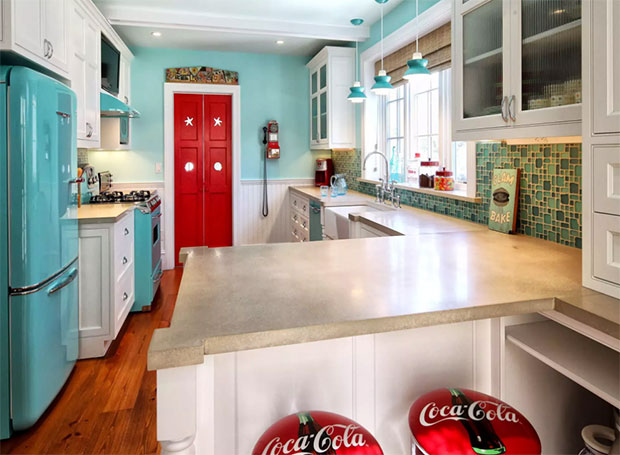 Knight Architects
This beach house sports a retro vibe with its turquoise appliances and patterned backsplash.
Yellow Kitchen Designs
Yellow is the color of sun, summer, and happiness. It is a happy and vibrant color that makes everything seem more positive and can be perfect for a kitchen where the activity is bustling daily. Check out these yellow kitchen designs in different hues!
Sunflower Room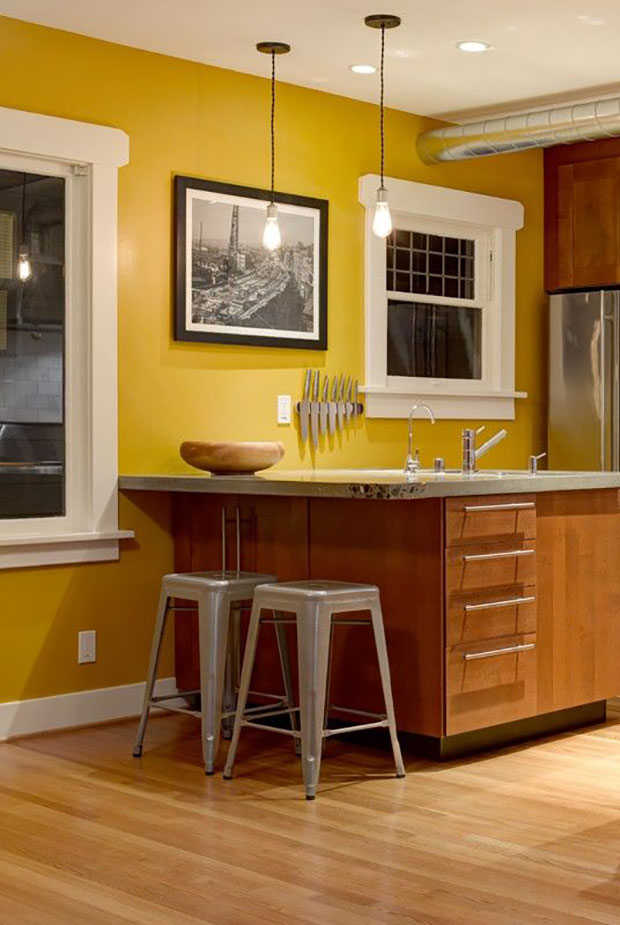 Porch
This bright kitchen adds a warm vibe for small spaces.
Cozy Kitchen

DigsDigs
The playful patterns on the wall are further brightened by the vibrant kitchen counter.
Yellow Kitchen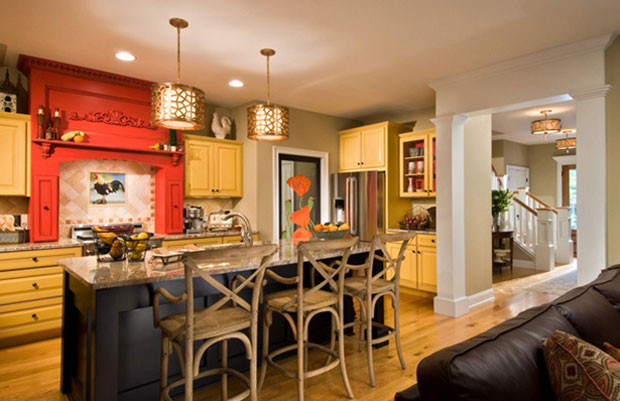 Mark English Architects
The bright yellow color of this kitchen looks gorgeous with the splash of red as one of the highlights of the room.
Sunny Yellow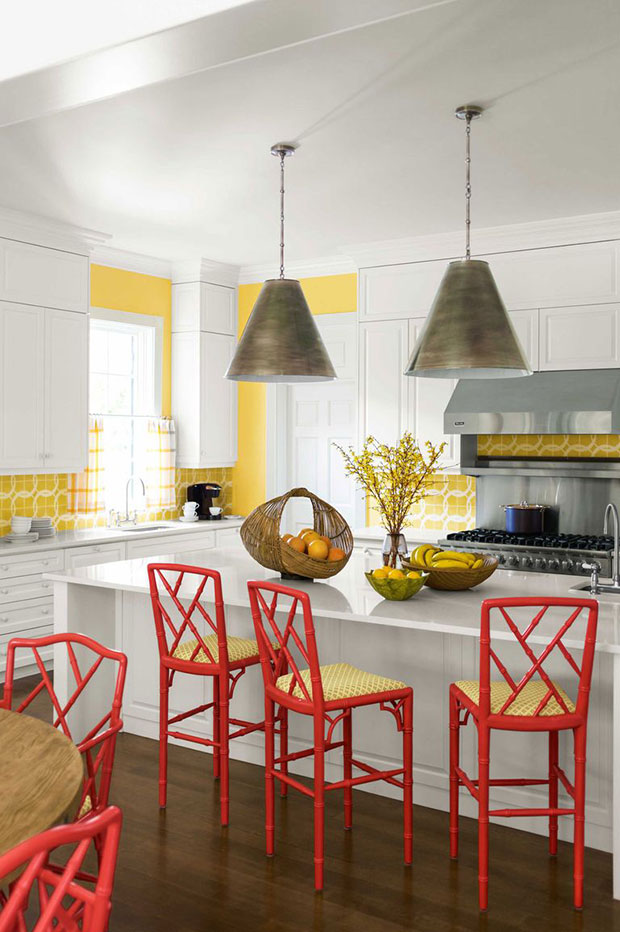 Eric Piasecki
This bright colorful kitchen designs look sunny and vibrant and makes it a great place to cook breakfasts.
Orange and Brown Kitchen Designs
Like red, orange can be a fiery and hot color. But, paired with neutral and lighter colors, it can be very sophisticated to look at too. Likewise, brown is very comfy looking that it makes you think of hearth and home. Check out these brown and orange kitchen designs in different hues!
Contemporary Orange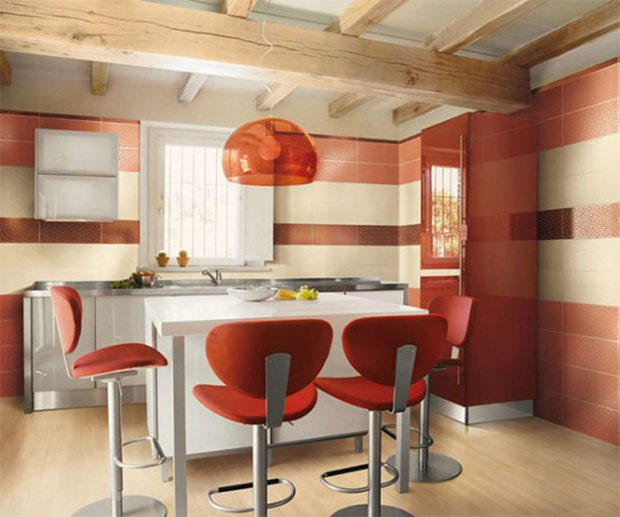 DigsDigs
The fiery orange color of this kitchen is minimized by the light brown colors of the walls, the ceiling, and the floor.
Olive Tree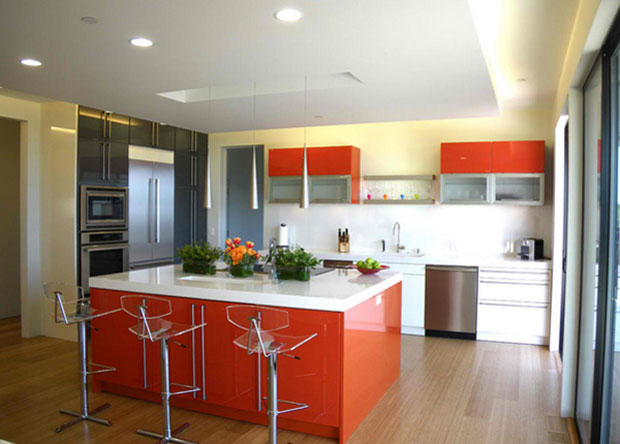 Mark English Architects
The eye-candy color combination of this kitchen looks refreshing. It is even more unique with the transparent bar stools.
Concrete House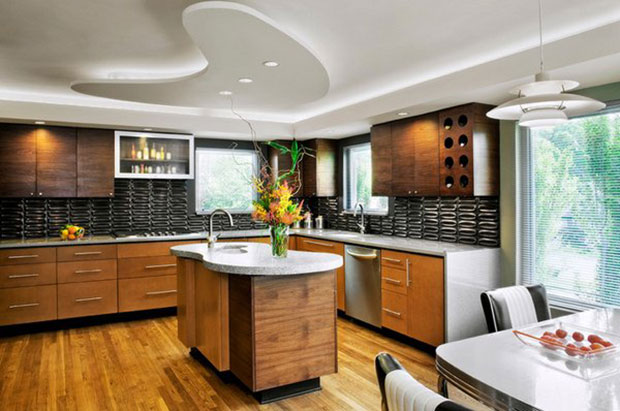 Sun and Stone
The brown and gray colors of this kitchen design look classy.
Elegant Kitchen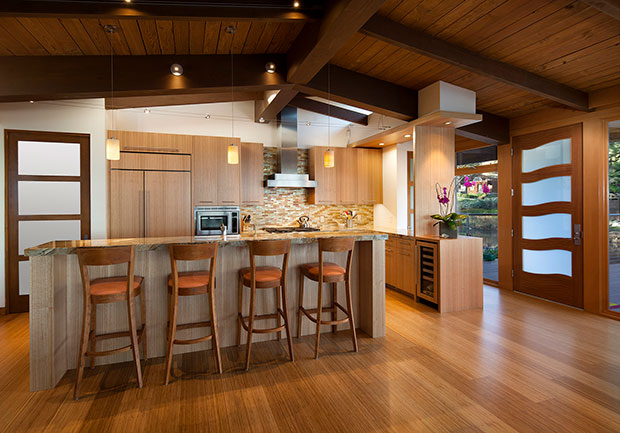 Build Allen
The gorgeous orange and brown backsplash of this kitchen adds a warm and homey feeling to this room.
Seattle Kitchen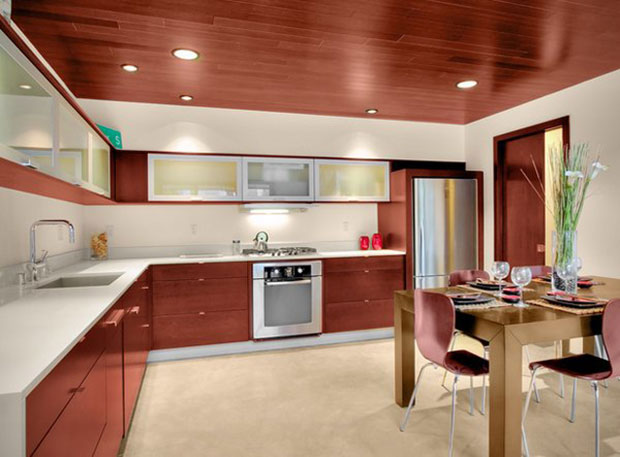 Pbelemental
The rich bronze shade of this colorful kitchen design adds an elegant and modern look to this kitchen.
Cavern Clay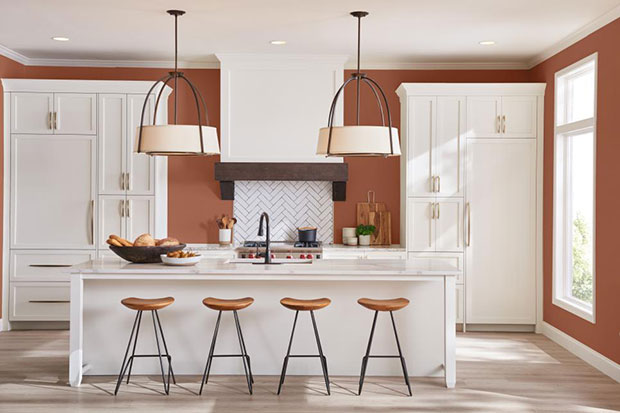 Ron Bowman
The contemporary design of this kitchen space is given a warm and rich tone.
Multi-Colored Kitchen Designs
If you want two or more colors, that's OK! Multi-colored kitchens are quite fun too! Check out these multi-colored kitchen designs!
Peach Lacquer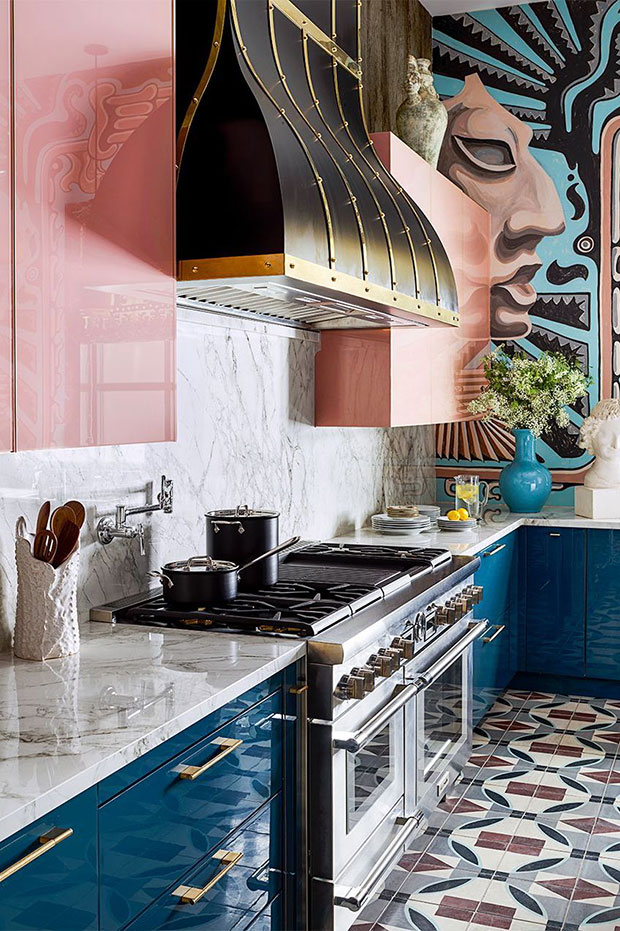 Michelle Nussbaumer
This gorgeous and fun kitchen makes use of peach and deep aqua lacquered cabinets. The designer even had a painted wall on the other side to add more personality to the kitchen.
Contemporary Kitchen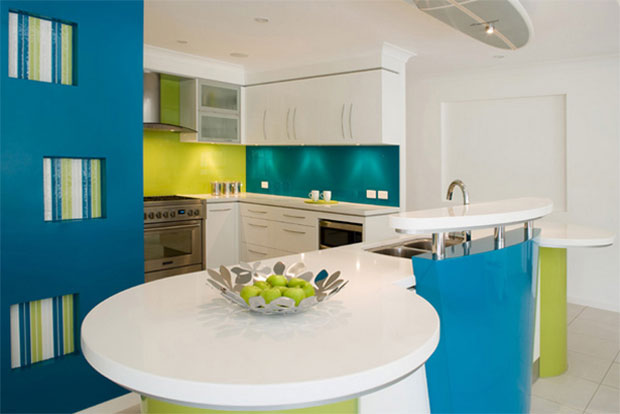 Sublime Architectural Interiors
This kitchen gives off a fun and beach vibe with its bright colors of blue and green.
London Kitchen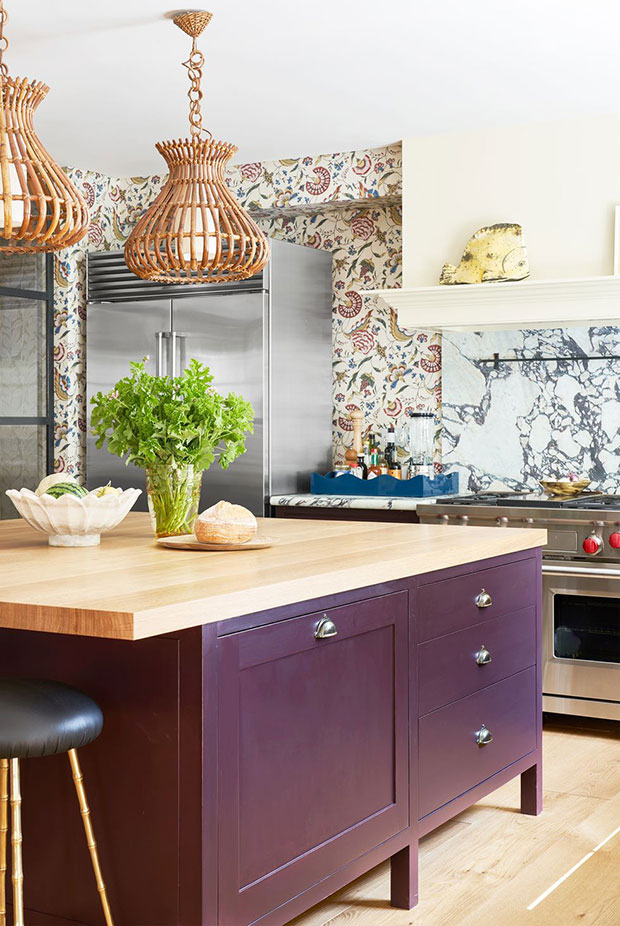 James Merrell
The striking combination of purple and patterns in this colorful kitchen design make you think of happy thoughts.
Vintage Kitchen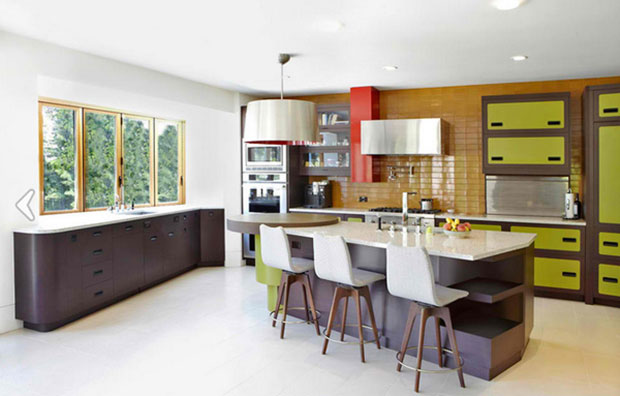 Apple Gatetran
The funky colors of green, red, and mustard yellow take you back to the 70s with these colorful kitchen designs.
Lilac Kitchen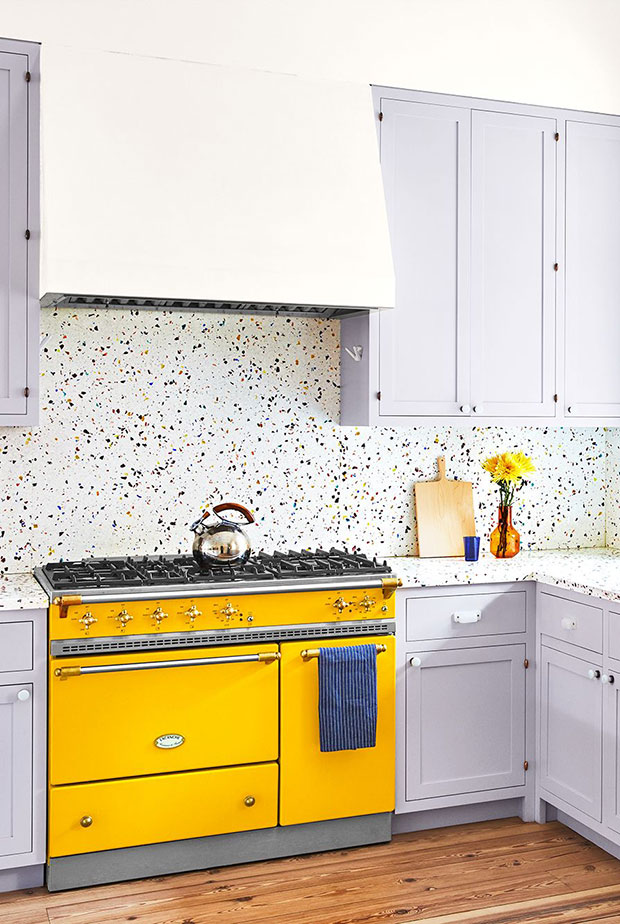 Jonathan Hokklo
The lilac cabinets and the marigold oven looks stunning in this chic kitchen.
Brown and Green Kitchen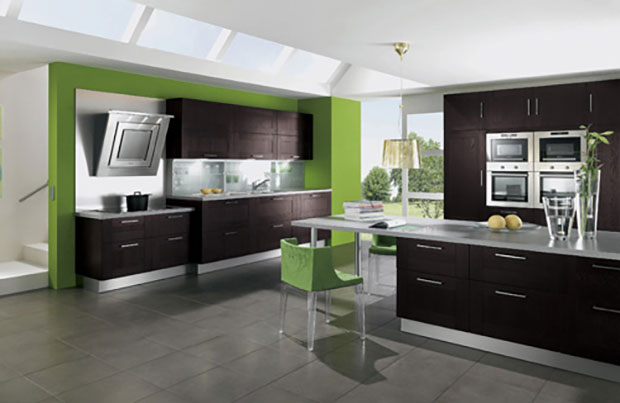 DigsDigs
The earthy tones of green and brown in this kitchen add a contrasting color to the white walls of the room. It also complements the wide and open view outside.
Colorful Backsplash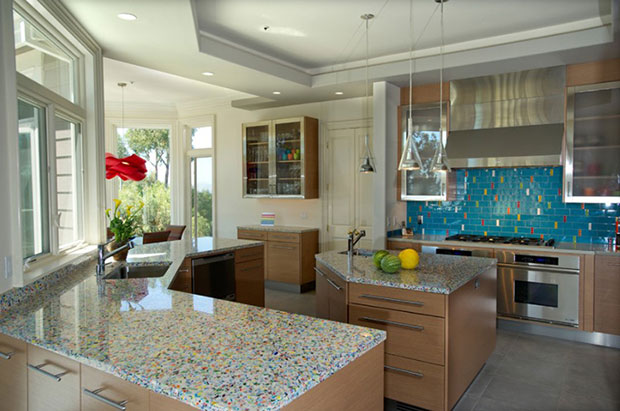 Uhrich Design
Instead of the plain countertops, the designer makes use of a colorful countertop and bright blue backsplash.
Woodland Residence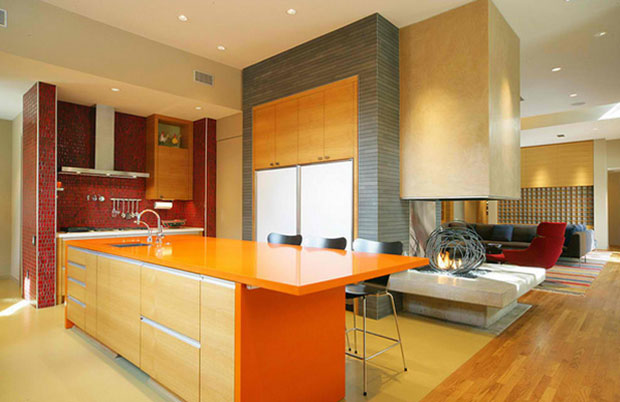 Domiteaux Baggett Architects
This gorgeous kitchen design boasts of a lovely orange island and red backsplash.
Open Kitchen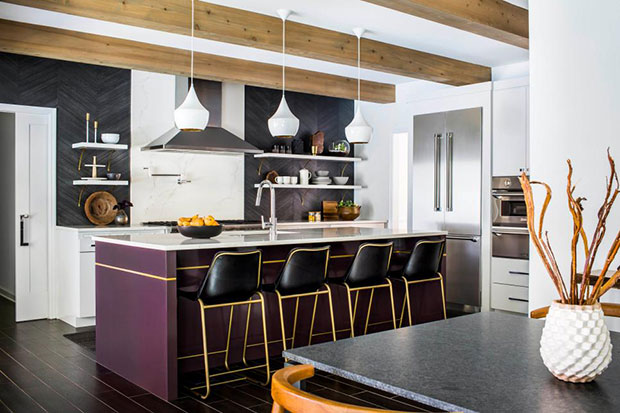 Jeff Herr
The rich eggplant color of this kitchen island adds a bright color to the gray and white walls of the kitchen.
Colorful Cement Tiles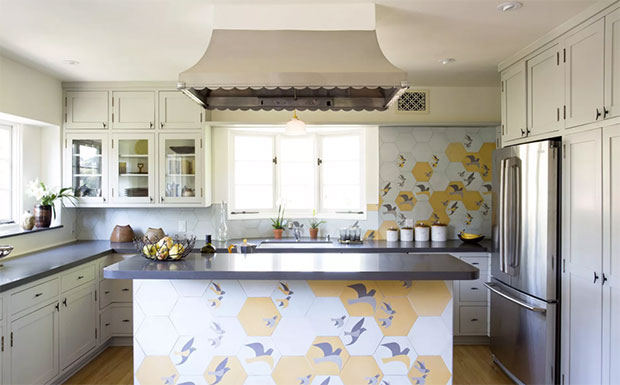 Vidal Design Collaborative
The colorful cement tiles in this kitchen is a refreshing idea to brighten the room.
Multi-Colored Kitchen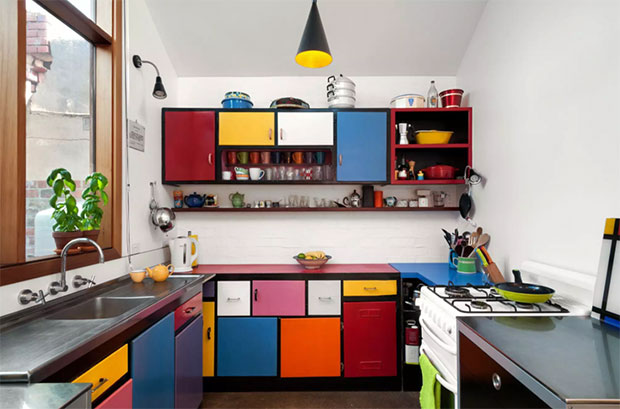 Ande Bunbury Architects
This multi-colored kitchen design shows off a burst of various bright colors that is perfect for those who love rainbow colors.
Spanish Tiled Kitchen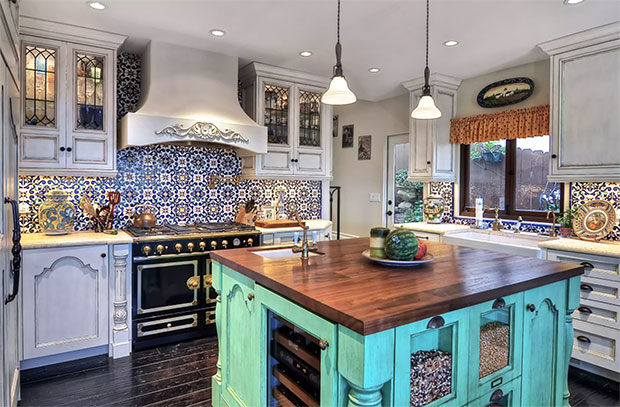 James David Custom Homes
This kitchen looks classical with its Spanish tiles and turquoise kitchen island.
Retro Kitchen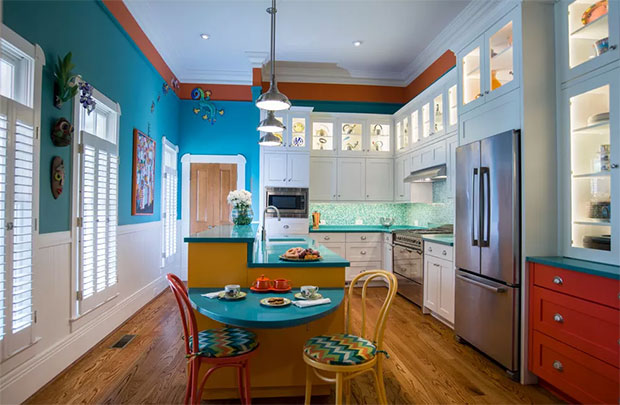 Copper Sky Renovations
This colorful kitchen design takes you back to the past with its dynamic colors and peppy patterns.
Regal Hues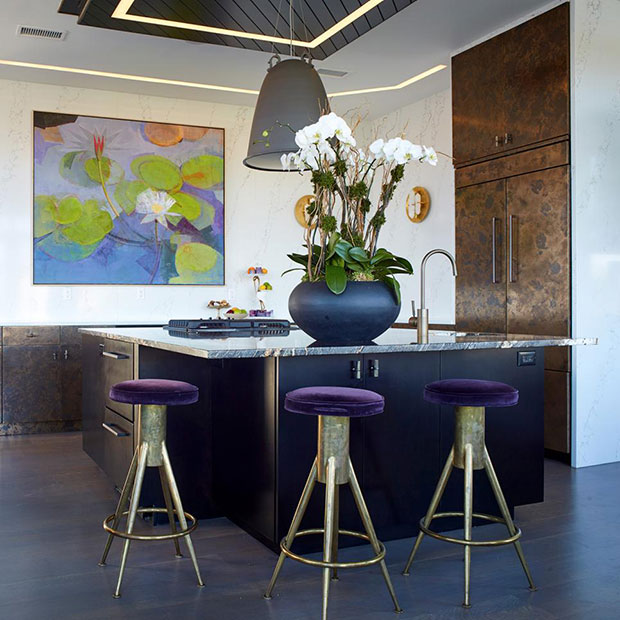 Phillip Ennis
The combination of bronze, gold, navy, and eggplant purple makes this room look classy and elegant.
Color Riot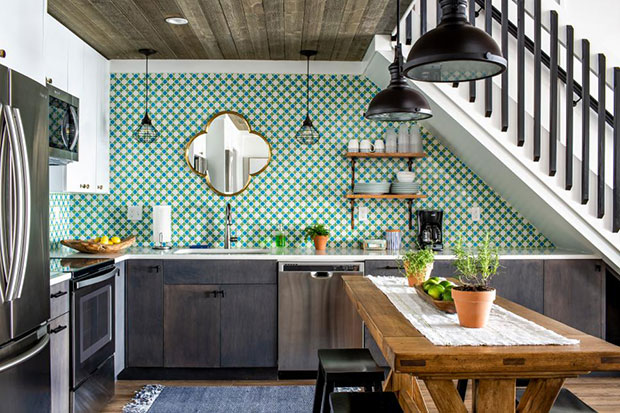 Jeff Herr
The bright blue and green pattern of the backsplash in this colorful kitchen design brings a fun and authentic vibe to the home space.
Colorful Subway Tile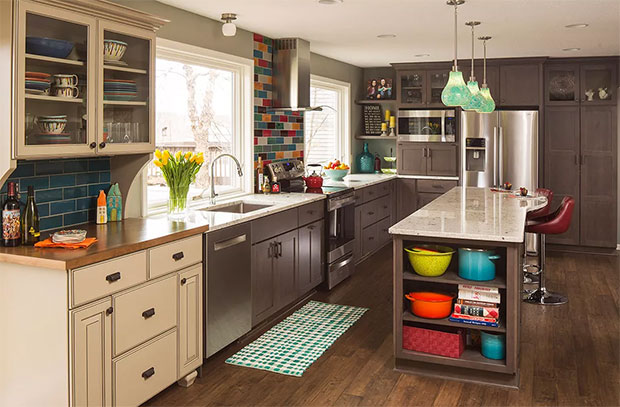 Mercury Mosaics
The colorful subway tiles on the kitchen's backsplash add a fun and vibrant color to the dark colors of this kitchen.
Rainbow Colors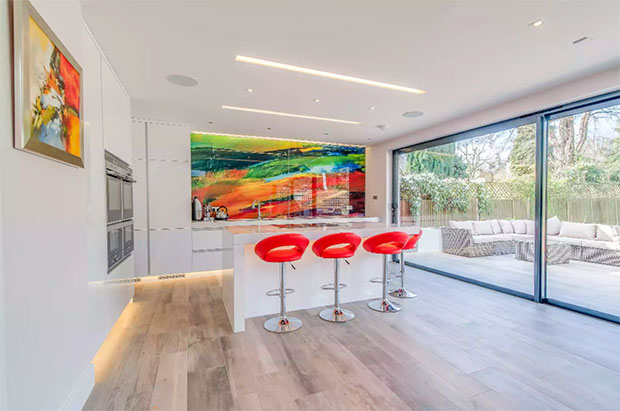 50 Degrees North Architects
The lovely and vibrant backsplash in this colorful kitchen design adds a surprising and relaxing vibe to this white kitchen.
Glossy Kitchen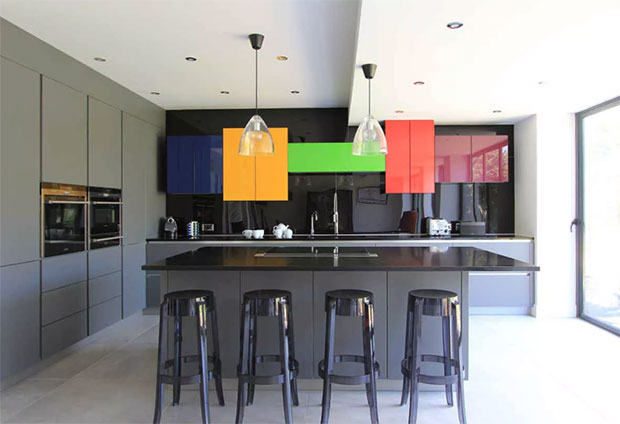 Parker Bathrooms
The glossy and colorful kitchen cabinets add a vibrant splash of color to the custom black and gray kitchen.
With this collection of colorful kitchen designs, have you found your favorite color? Or perhaps envisioned the kitchen color that you would like to have?
Which one is your favorite? Tell us in the comments below!
Like This Post? Pin It!