50 Modern Kitchen Backsplash Ideas to Adorn your Home
|
Often an overlooked piece, the kitchen backsplash serves mainly as a practical and functional tool to protect the wall from splatters and stains. Most people probably spend more time thinking of the right material for their countertop or the color of the kitchen cabinets. By then, most people have already forgotten to consider the backsplash. But in time, it has evolved to be an aesthetic backdrop.
The kitchen backsplash could be a personality piece that reflects your own style. It can complete the design of your kitchen, adding colors and patterns. It can even become a dramatic statement in your kitchen that will have people noticing, not just simply a forgettable backdrop.
How to choose a backsplash?
Now, just because the kitchen backsplash could be a dramatic backdrop to elevate the aesthetic appeal of your kitchen, it doesn't mean you can just pick whatever backsplash you may find pretty. On the other end, they may be too many modern kitchen backsplash ideas that it would give you a hard time choosing one.
There are some important consideration tips in choosing the right backsplash.
1. Height
There is a "standard" height of consideration for a kitchen backsplash. This 4-inch standard height may seem too low for many people. They tend to cover up their walls from above the countertops to the height of their wall kitchen cabinets. Some even have them go way up to the ceiling, mostly for a seamless design. These are all smart ideas as it really keeps your walls clean.
2. Countertops
The backsplash color must complement that of the countertops. They could be contrasting yet complementary colors or from the same color story. The basic rule is that you want either one – countertop or backsplash – as the focal point of your kitchen. You can't have both.
If you have a plain white countertop, you may need to have a vibrant backsplash tile in an accent color. Similarly, if you have a vibrant countertop, then go for a minimal backsplash tile.
3. Budget
Kitchen backsplash tiles typically cost around $8-$20 per square foot on average. So, more expensive materials mean the price goes up. If you don't have the budget and your walls are adhesive friendly, you can consider a cheap peel-and-stick backsplash with a "fake tile" that can be removed and replaced. But if you're willing to spend, then look into opulent scratch-resistant glass style tile backsplash. They give an elegant look while protecting your walls.
Remember, it is better to invest in better quality materials in the long run.
4. Focal points
One of the tenets of interior design is having a focal point. Typically, the countertop is the focal point of a kitchen. But with the right modern kitchen backsplash ideas, you can make the backsplash a brilliant focal point. Mosaic tiles are great options for an artistic focal point, so do brightly-colored and eye-popping patterned tiles.
Remember, as noted, if your countertop is already the focal point, then you should go with minimally designed backsplash tiles.
5. Practical considerations
Before you decide on the backsplash tile for your kitchen, you need to have practical considerations of things such as how you cook, the meals you prepare, and how you use your kitchen, among other things.
If you make such a mess in your kitchen when you're cooking, then you may want to opt for a "full-height" backsplash – that is backsplash tiles that go way up to the ceiling, covering your entire wall that is close to where you cook. Your backsplash also must be made of a durable material like ceramic, stone, or stainless steel. If you produce a lot of water or steam when you cook, you may want to try water-resistant glass tiles.
Key points to remember when designing a backsplash
Designing your backsplash can be overwhelming, especially with plenty and a variety of modern kitchen backsplash ideas. So, here are some key points you must remember when designing a backsplash.
1. Color
The color of your backsplash must be the first thing you consider. Taking a look at your countertop is the first thing to do. Most kitchen countertops like granite already come with a color palette. The shading, flecks of color, or veins will give you the color of your backsplash. Use any of those colors present or a combination of such for the color palette of your backsplash.
If you have a solid-colored countertop, look into the tones of that color. Consider the cool and warm shades of that tone, finding complements to those for your backsplash.
2. Style
For style, you would have to look at your countertop too. Solid-colored counters and tightly patterned granites and quartz should go well with brightly colored and dynamic patterned backsplash. On the other end, granite and marble with heavy veins and swirls of colors will have to be matched with a simple backsplash.
If that's figured out, you must look to your cabinets. What style are they in? Are they traditional or modern? Then, go from that to match with the style.
3. Material
Backsplash tiles come in a variety of materials. There are some durable materials like ceramic and stone. Natural stone, though, needs updated sealing once a year. So, do the more popular ones like granite, quartz, and marble. If you like to be more environmentally friendly, you can take a look at recycled glass mosaics and tiles, though glass is beautiful but expensive.
4. Tile accent
You can try to create an accent design above your range or cooktop. Often, this means using different patterned or colored tiles. Or you could use ones with an elaborate or intricate mosaic with a border.
5. Grout
Invest in your grout as they are the backbone of your backsplash. You can try classic white grout or ones with bolder colors. Dark grout is becoming more popular over the years, but the classic white grout helps keep a clean look which makes it the more attractive option.
6. Outlets and switches
Electrical outlets and switches are typically positioned in the middle of the wall which could interfere with the backsplash. You can have the outlets moved somewhere else. But if they can't be moved, you can faux paint the cover plates instead. There are also cover plates that match the color of your backsplash.
Modern Kitchen Backsplash Ideas for Inspiration
Now, let's take a look at some modern kitchen backsplash ideas!
Vineyard Farmhouse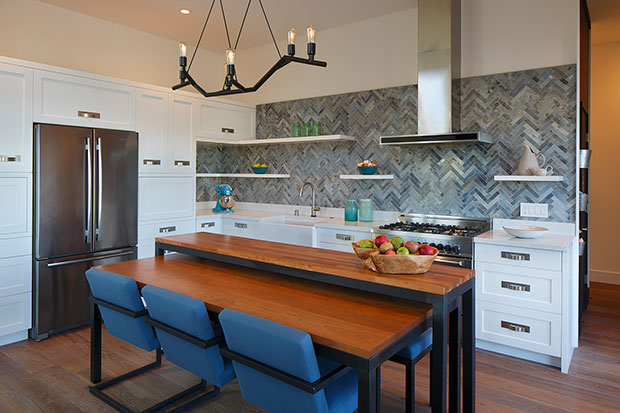 Modern kitchens have the tendency to be solid colored in many of their furnishings so you may find many modern kitchen backsplash ideas tend to be vibrant in colors and patterns.
Here, the darker shade of the backsplash tiles is a great contrast to the clean white countertops and cabinets.
Sebastopol Hillside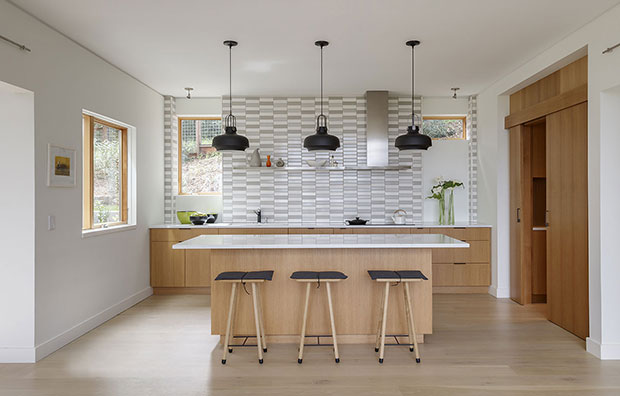 Amy A. Alper, Architect
This backsplash brings different levels of shade into it, creating an interesting look. It even blends with the bare range hood.
Cosmopolitan Condiminium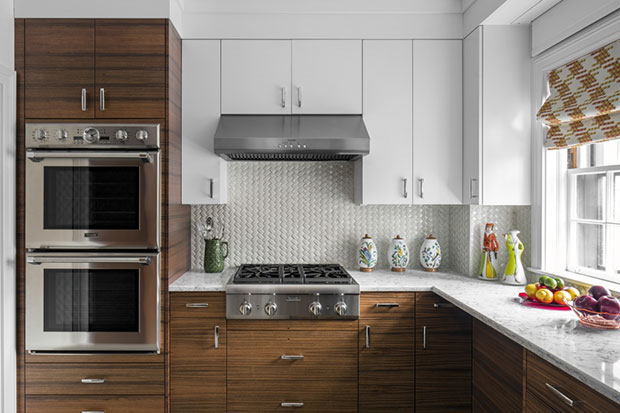 This backsplash has not only a pretty interesting pattern, but it also adds some texture to the overall look.
Sparrow Park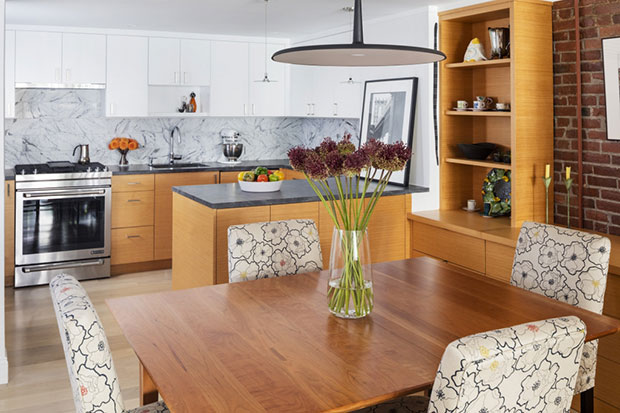 LDa Architecture and Interiors
With the black granite tops, picking a marble backsplash, predominantly white in color but with dark veins is the right move. They create a perfect harmony of colors in the kitchen.
Kentfield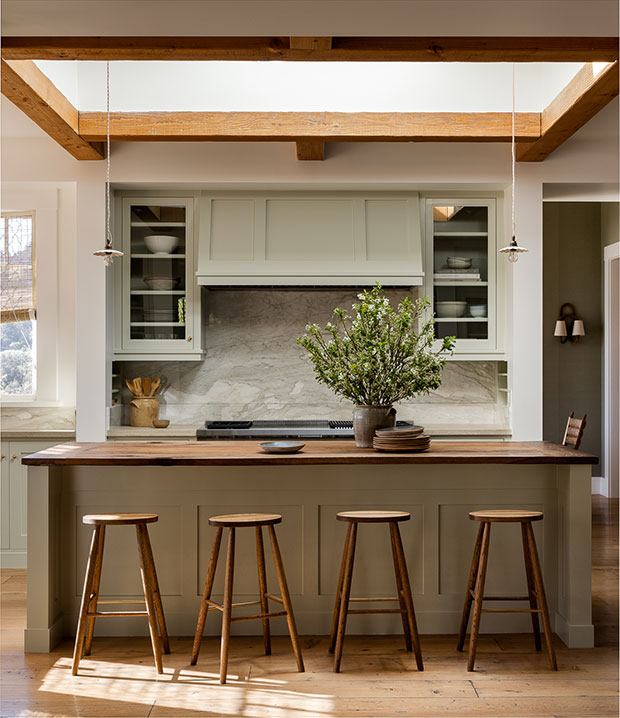 Heidi Caillier Design
The Macha green color of the backsplash tile matches so well with the wall kitchen cabinets. These kinds of modern kitchen backsplash ideas make for a neat and simplistic look.
Neutra/Coveney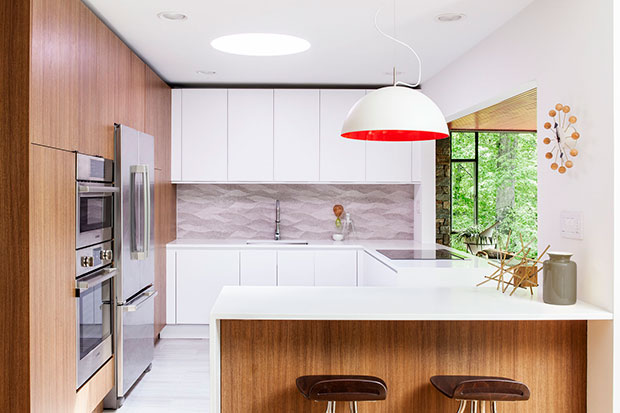 It's quite easy for some modern kitchen backsplash ideas to be made as to the focal point of your kitchen. Take this kitchen, for example. With plain and solid colors, the wave patterns and sandy color of the backsplash easily stand out.
Sprague Circle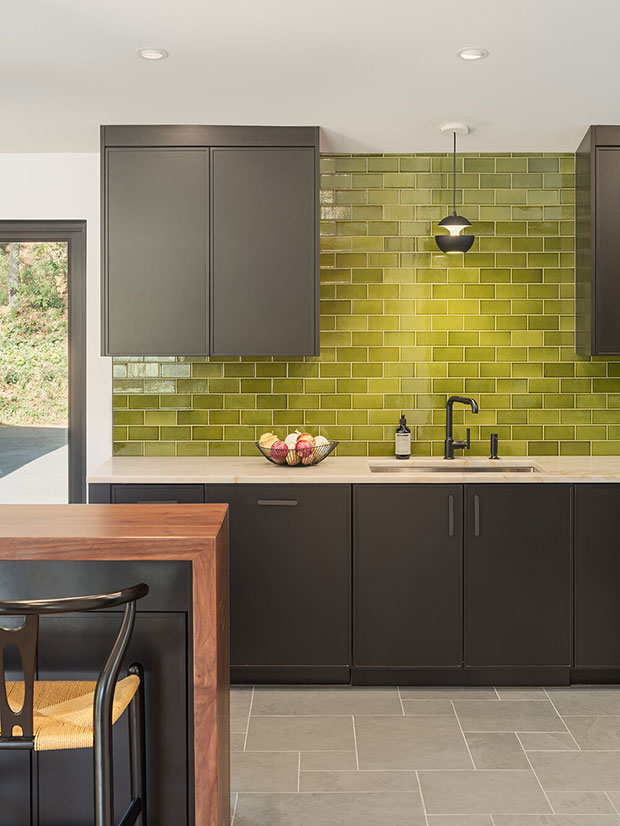 The bright neon green color in different tones is not going to make this simply a backdrop to your kitchen.
Valley Road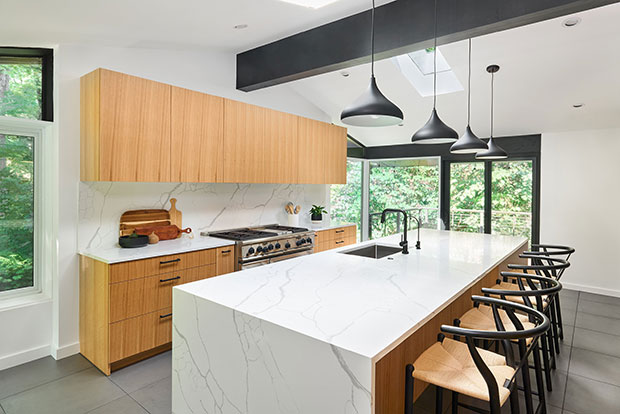 In some modern kitchen backsplash ideas, the use of the same materials for both countertops and backsplash are quite common. It's consistent and safe.
McElroy Renovation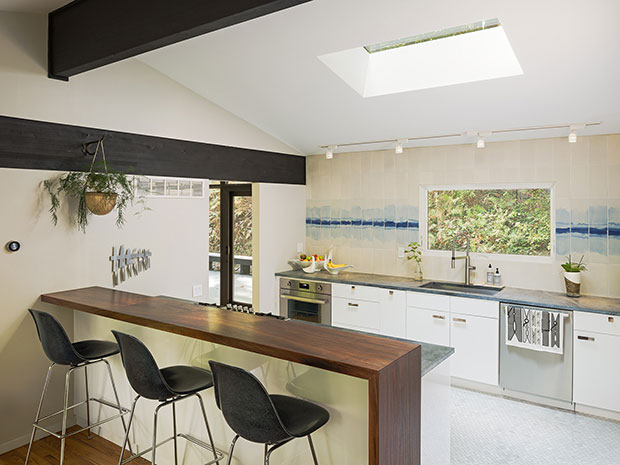 Studio Robert Jamieson LLC
Some modern kitchen backsplash ideas require a little bit more creativity. The variety of plain tiles and tiles with colors and patterns create a pretty interesting look.
Hippie Modern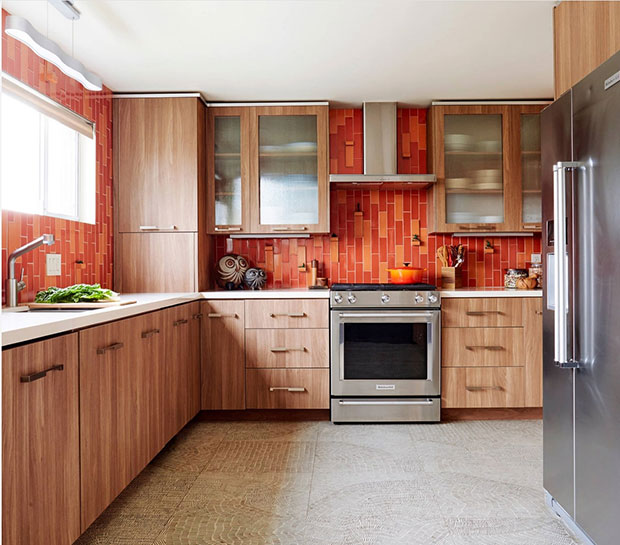 Vivid red and orange tiles somehow complement the natural wood tone cabinets.
Urban Oasis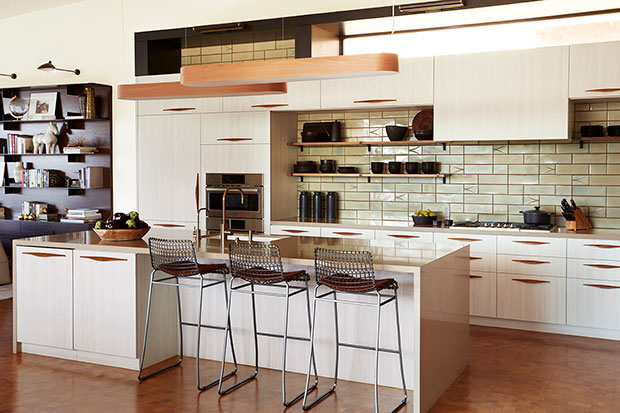 These tiles here look like they are color gradients which make for an interesting overall look. Not to mention, there are some tiles with interesting patterns.
More-A-Lago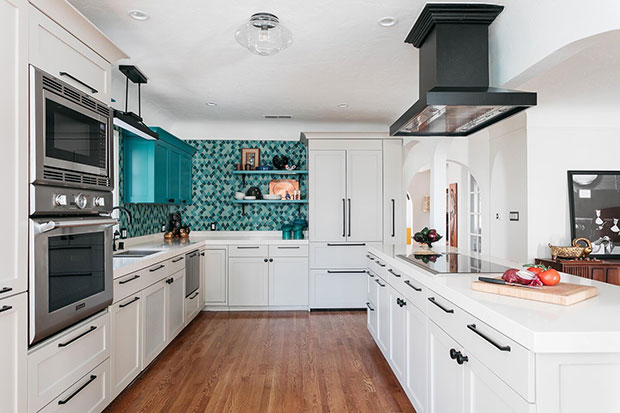 From countertops and cabinets of white and black, this mosaic of a backsplash is definitely one of the standout modern kitchen backsplash ideas.
Color Theory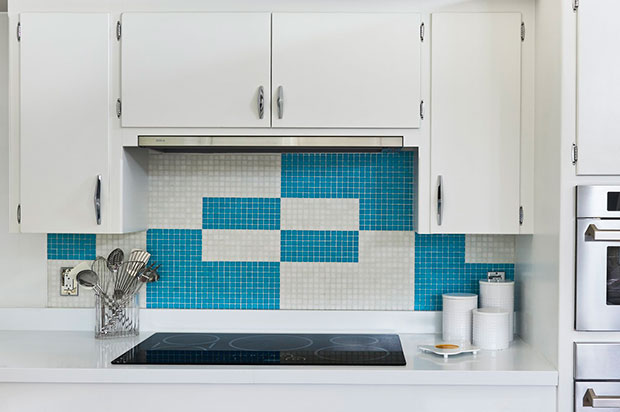 With titles like these, it's a great way to design artistic modern kitchen backsplash ideas.
Classic Kitchen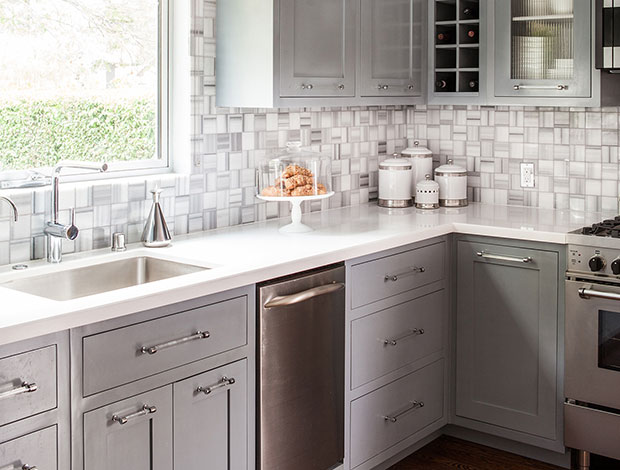 Modern Nest
Picking colors from your countertops and cabinets and then finding backsplash tiles sharing these colors are the way to create a harmonious kitchen look.
Multi Units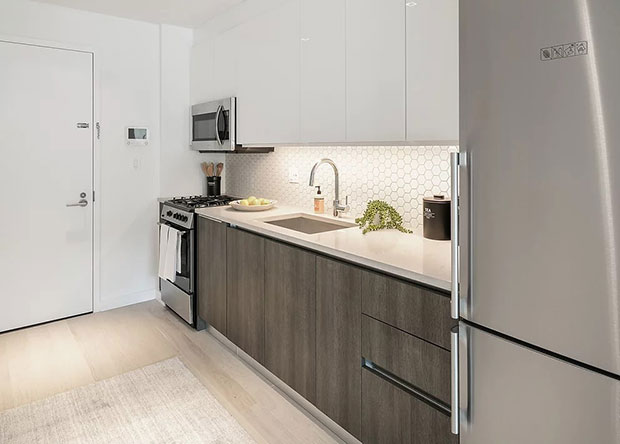 Casa Mia USA Inc.
The hexagon pattern makes for an interesting and futuristic look to this kitchen.
Shneyerson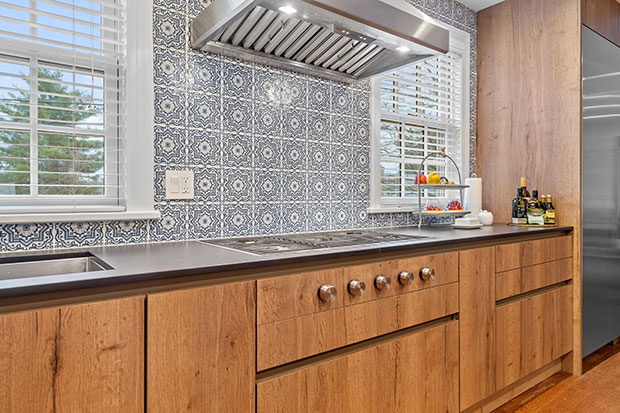 The elaborate design pattern in itself brings much-needed personality and life into the kitchen.
White Plains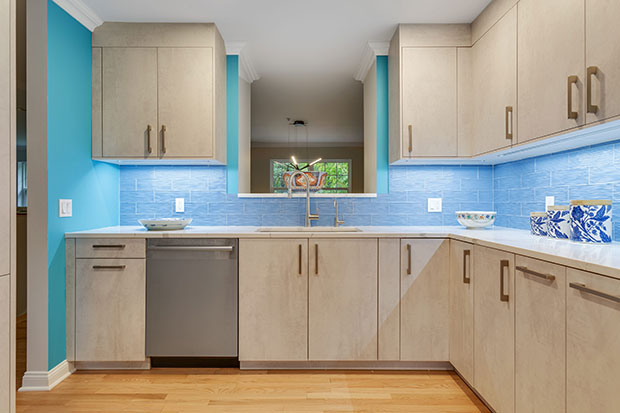 This kitchen has quite an interesting design. The slight space not covered by the wall cabinets or backsplash tiles is instead painted a lighter shade of blue, possibly to match with the backsplash.
Kaplan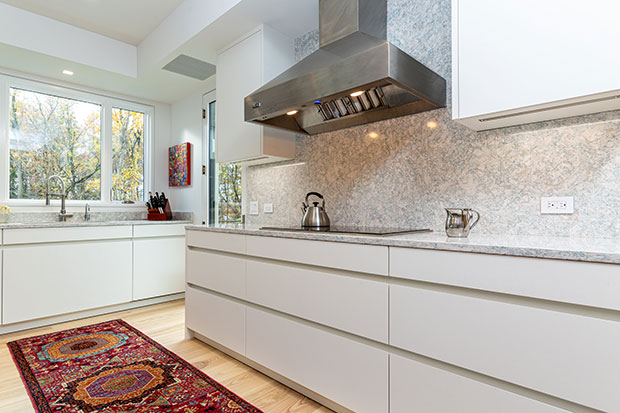 Here's an excellent example of modern kitchen backsplash ideas where the same material used for the countertops is used for the backsplash.
Ali Isaacs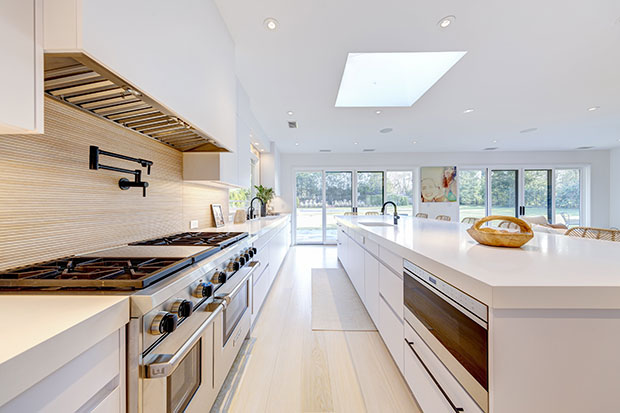 Leicht Westchester
If you're searching for modern kitchen backsplash ideas that add more than color, here's one that gives additional texture!
Tiny Kitchen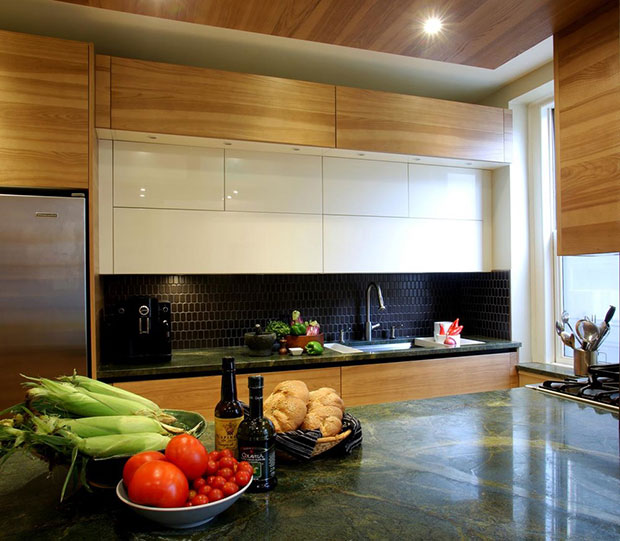 Atmosphere Kitchen & Bath
The jet-black backsplash gives a sleek look that could also be perfect in contemporary kitchens.
Winston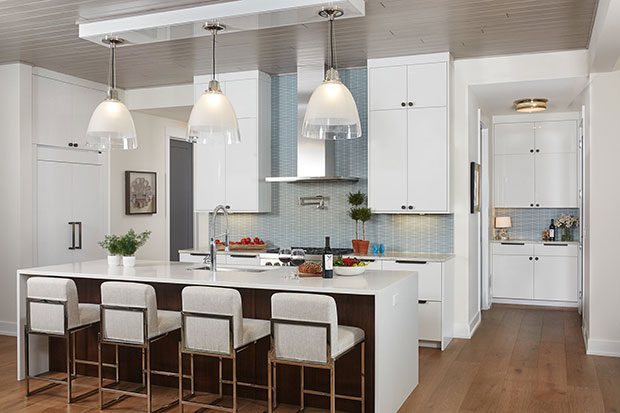 In a kitchen full of neutral colors, a very light tone of blue is a great complement to the overall room.
Wexley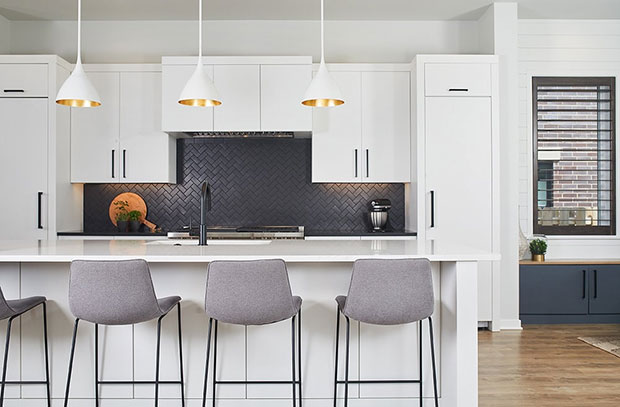 Understandably, a jet-black backsplash is a great contrast to the clean white cabinets. Overall, it gives a sleek look.
Deveraux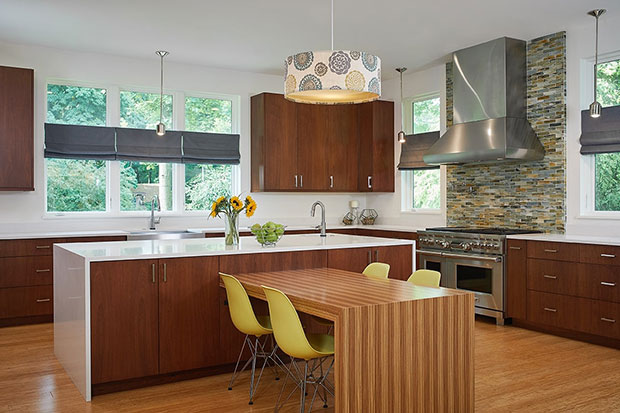 Some modern kitchen backsplash ideas don't have to cover up the length of the counter. This kitchen's backsplash is just within the range of the cooking range.
Everwood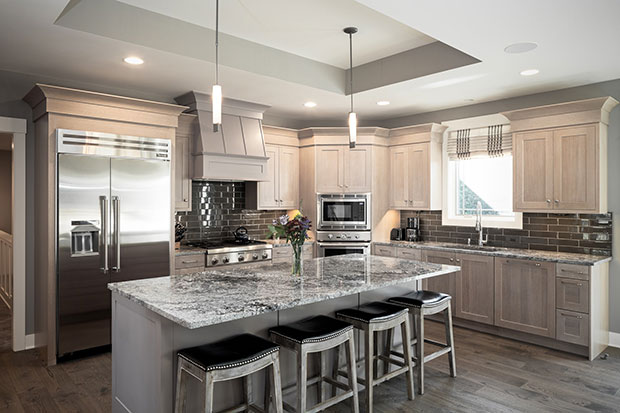 A darker mud brown color for backsplash creates an interesting contrast to the light wood tone of the cabinets.
Hasserton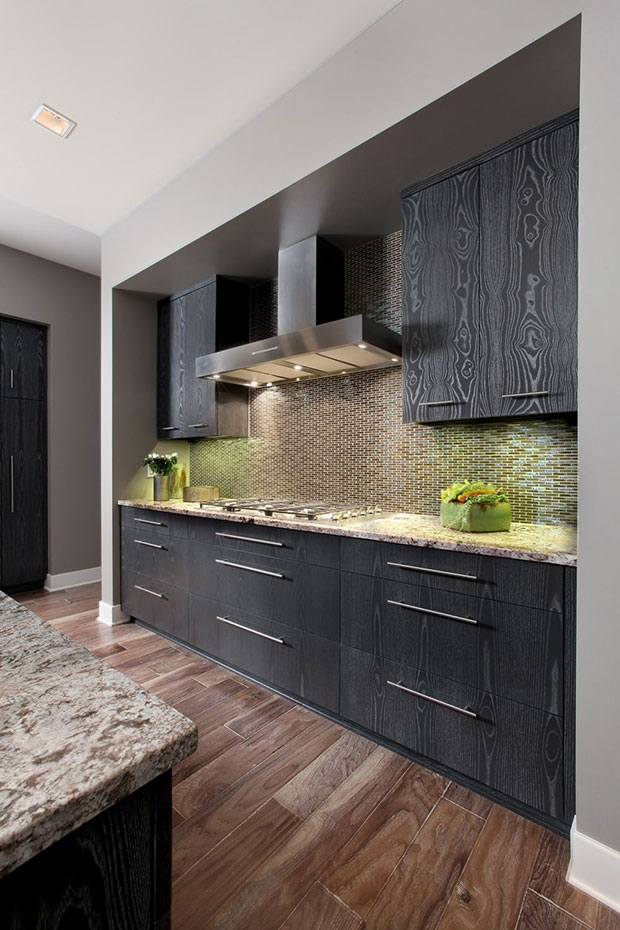 These backsplash tiles have some pretty interesting color scheme that is even more emphasized when light is hit.
Hickory Hill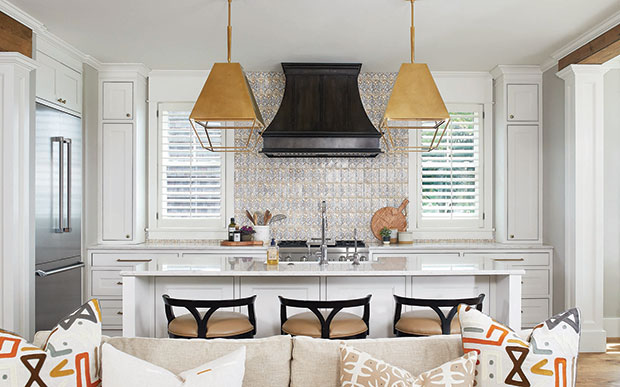 The mosaic tiles are the easiest way to give a much-needed artistic look to your kitchen.
Mason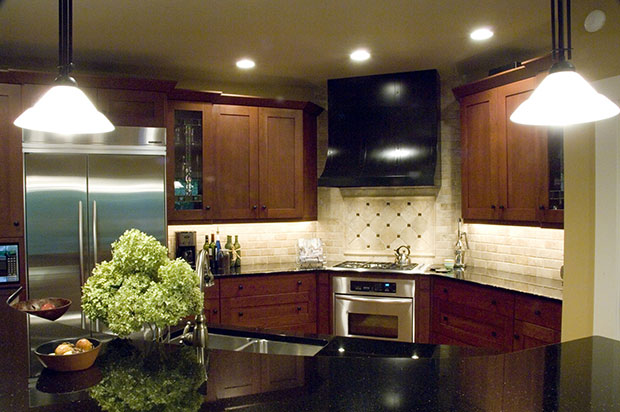 This kitchen is the perfect example to show the tile accent look, creating an interesting look by using a new set of tiles by the cooking range.
Reynard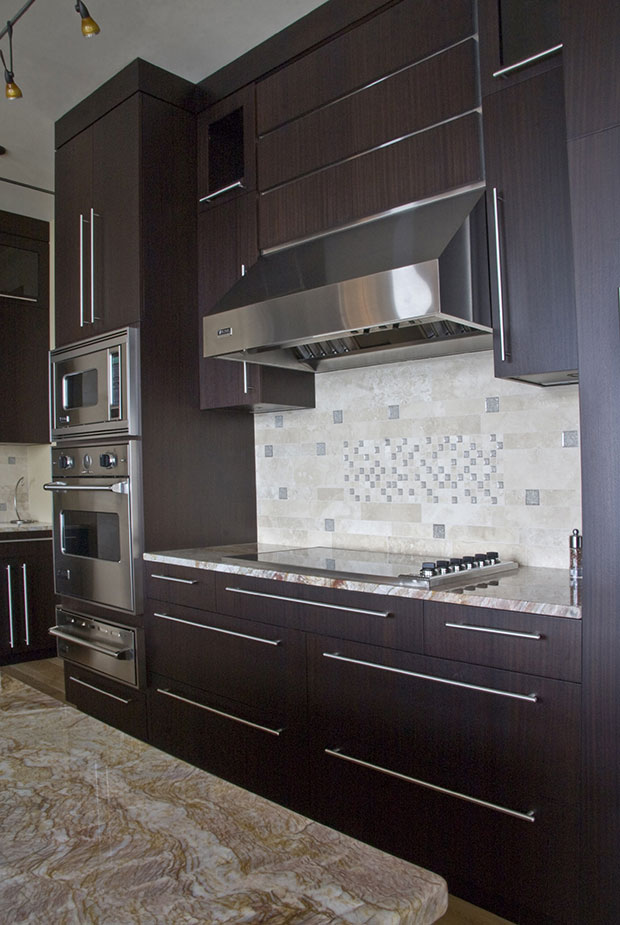 Visbeen Architects
The light to neutral colors of the backsplash contrasts heavily with the dark wood tones of the cabinets.
2-Story Single Family Residence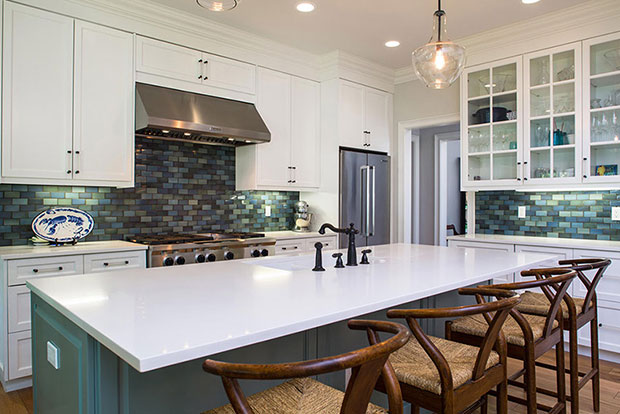 Della Porta Construction
Simply matching with the color of the island's base won't just do. Having different shades and tones of it would create an even better look.
163rd Street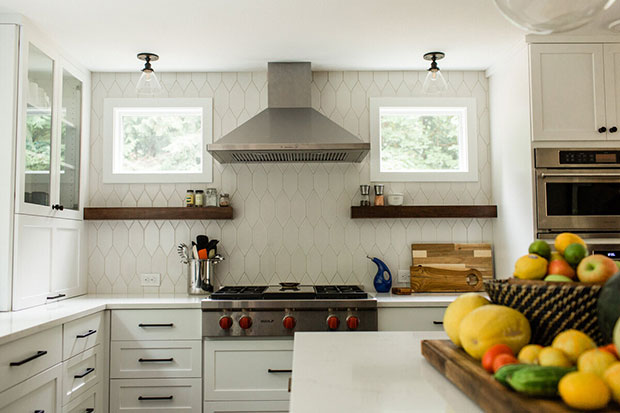 Geometric shapes, besides the usual squares and rectangles, can bring such an interesting dynamic to your kitchen.
North Lake Way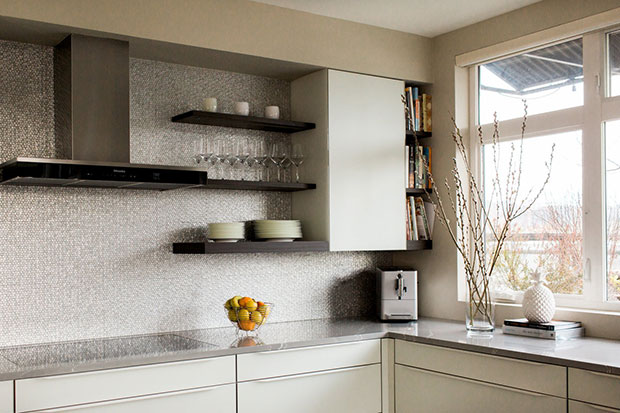 Brian David Roberts
Some modern kitchen backsplash ideas can be sparkly. This one's silvery color makes it sparkle as light hits it. But more interesting is how it's reminiscent of fish scales.
Tarrytown House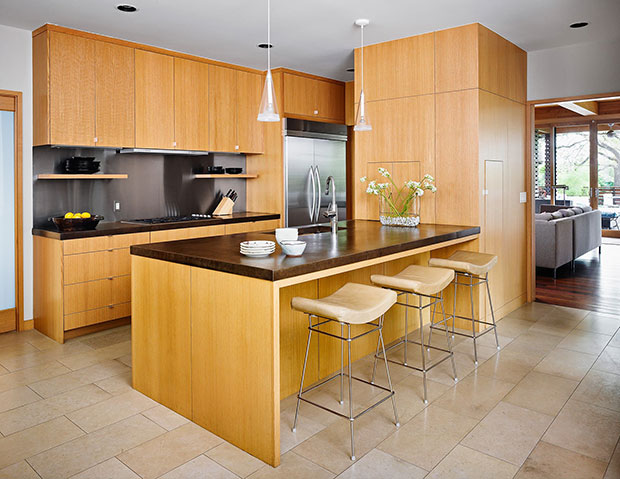 Not a lot of backsplashes are solid colored. But this one even looks seamless, not your typical backsplash tiles.
Austin City Lofts 11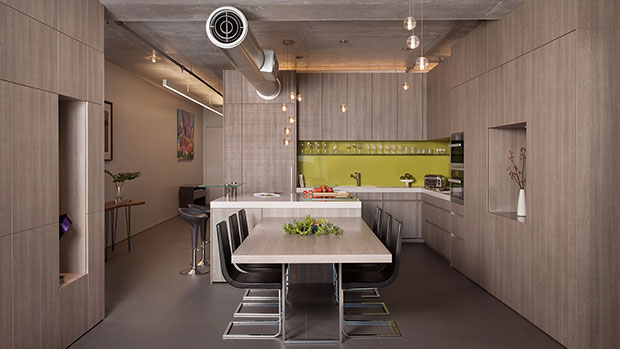 Webber + Studio, Inc.
The neon green solid color immediately stands out in this kitchen.
Modern Family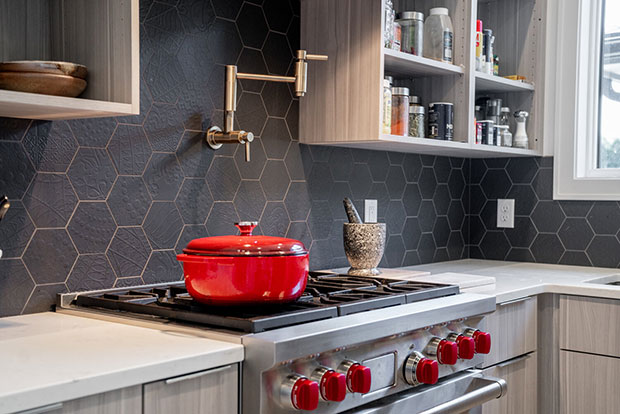 While at first glance, this backsplash seems to be plain hexagon patterned, you may notice subtle patterns and texture that make this one of the unique modern kitchen backsplash ideas.
Bellbrook Model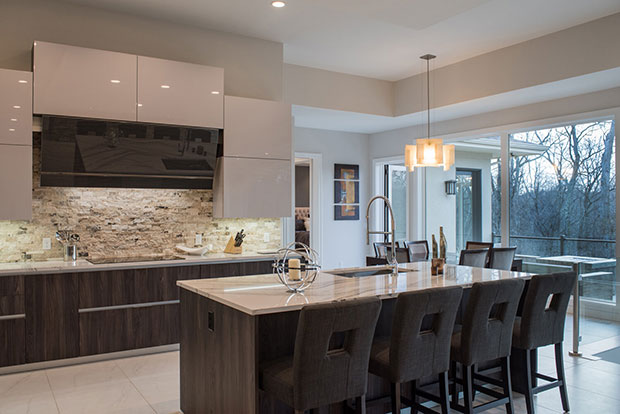 You wouldn't see natural stone bricks for backsplash like this in a lot of modern kitchens. But this one proves how it works well for modern homes.
St. Henry Family Home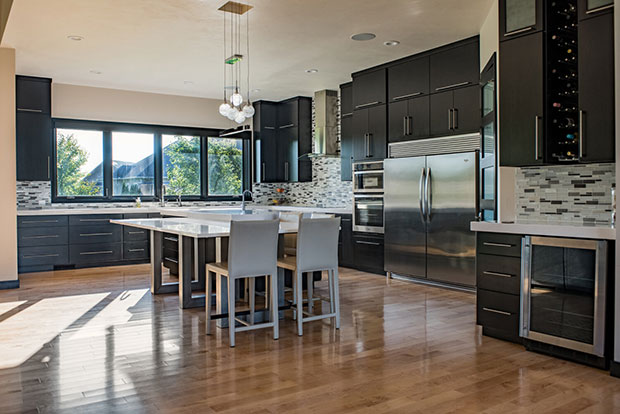 Springhouse Architects
This grey, black, and white combination is quite common and quite fitting for both modern and contemporary kitchens.
Kitchen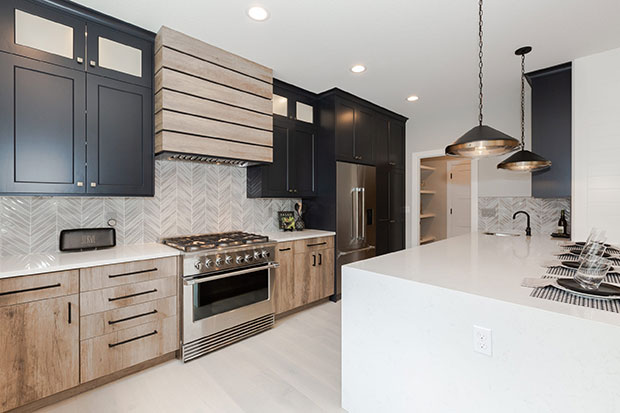 Huggy Bear Cabinets
There's quite a lot of neutral colors here which makes the grey backsplash work all the best.
Modern Farmhouse Kitchen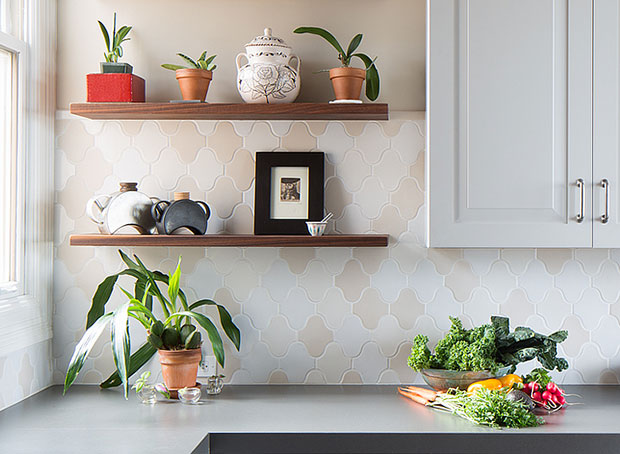 Kimball Starr
The patterns on these are one of the prettier backsplash designs and would make for prettier modern kitchen backsplash ideas.
The Camden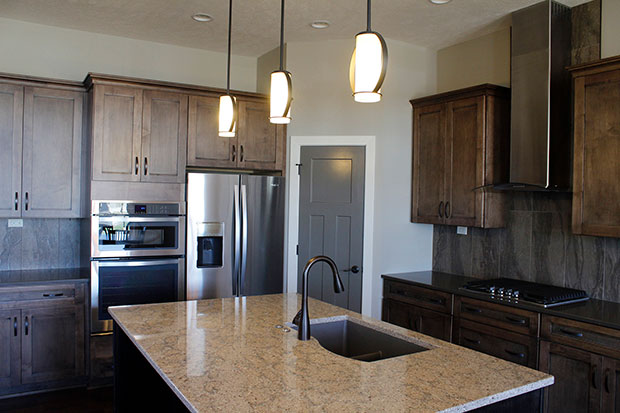 This backsplash design is so interesting as it resembles natural wood graining. This makes the entire kitchen have a very consistent theme and look.
Hollow Tree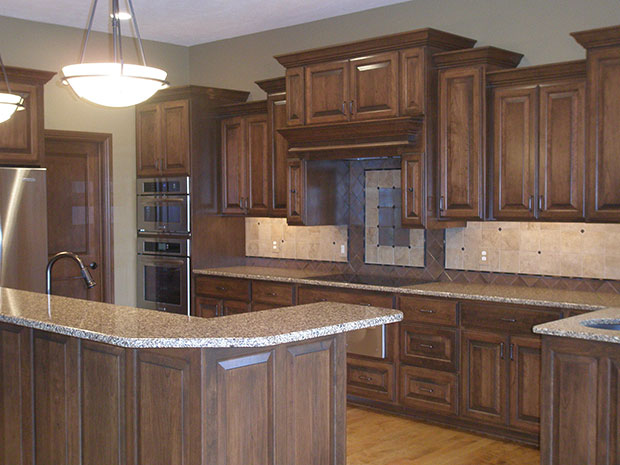 Kinning Design Build
Though a little bit on the traditional side, this kitchen backsplash design is elegant and could fit well into modern spaces.
Creek Residence
This combination of orange, grey and white colors is a sight to behold. It looks preppy and cool as it comes together with the rest of the kitchen.
Rockwood Residence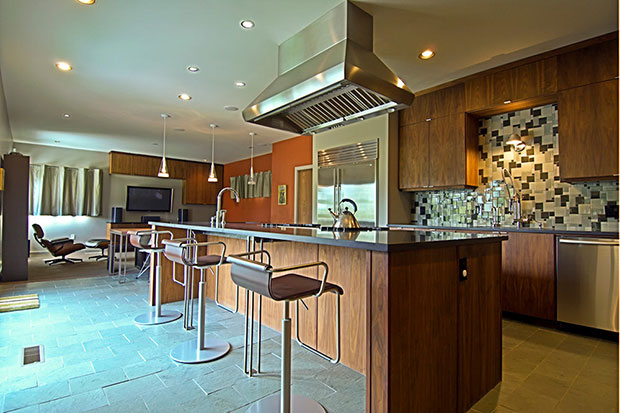 Of a room full of solid colors, this mosaic backsplash design is definitely getting the attention.
Wheeler Kitchen Renovation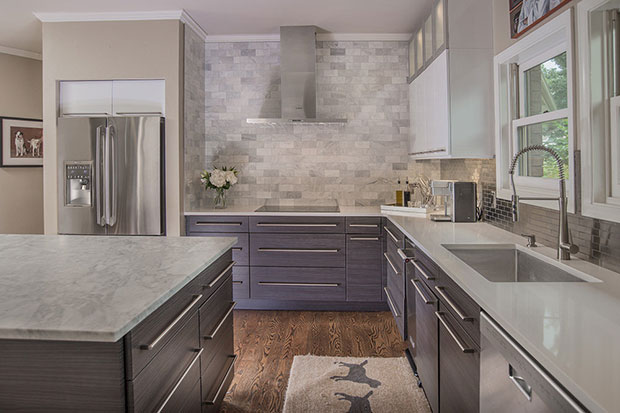 iSpace Designers LLC
When you take a closer look, this kitchen has two backsplash designs. A shinier one, made of stainless steel, by the sink doesn't seem too noticeable from this angle.
The World Ship Apartment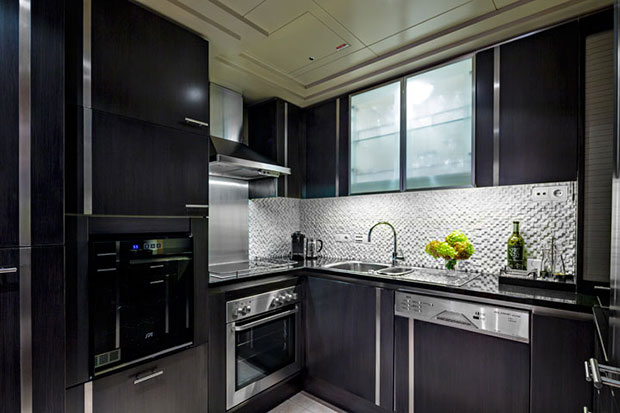 Here's another backsplash design that also adds some texture to your kitchen.
Boyton Beach Residence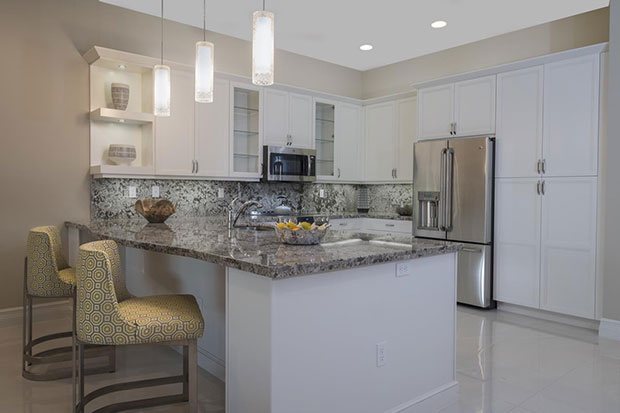 Hubley Design Interiors
This dark and grey marble backsplash and countertop are perfectly suited, even blending in with the fridge here.
San Diego Kitchen Remodel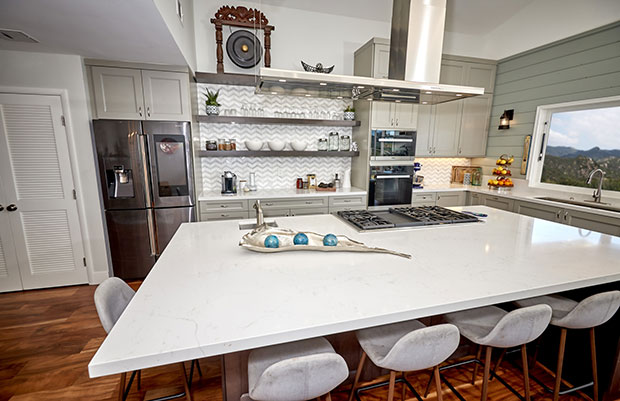 The tiny wave pattern is perfect for modern coastal kitchens.
Solana Beach Kitchen Remodel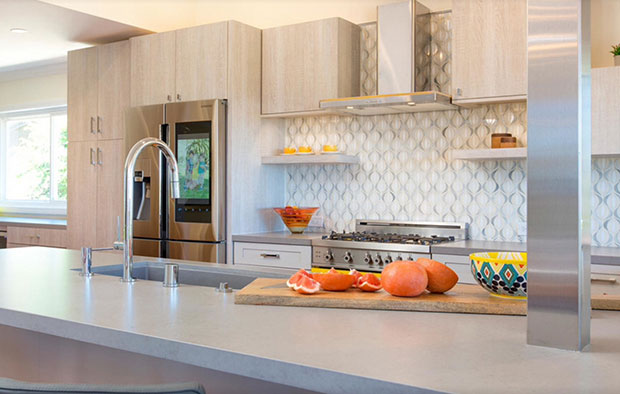 Though circular patterns are interesting, the neutral colors are quite subtle so it makes the overall design not too eye-popping.
Fairbanks Ranch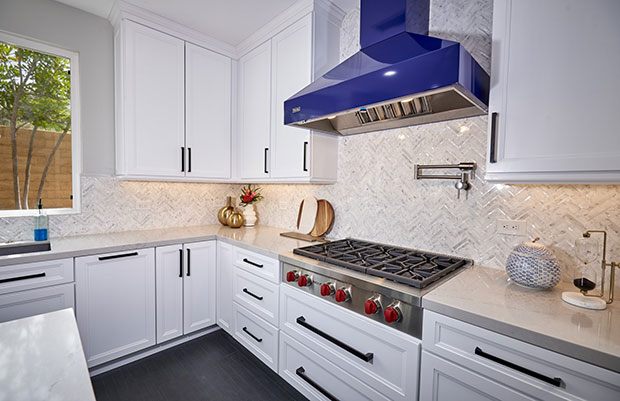 Remcon Design Build
The darker grey colors are borderline silvery, making the backsplash kind of sparkle.
Saunders 2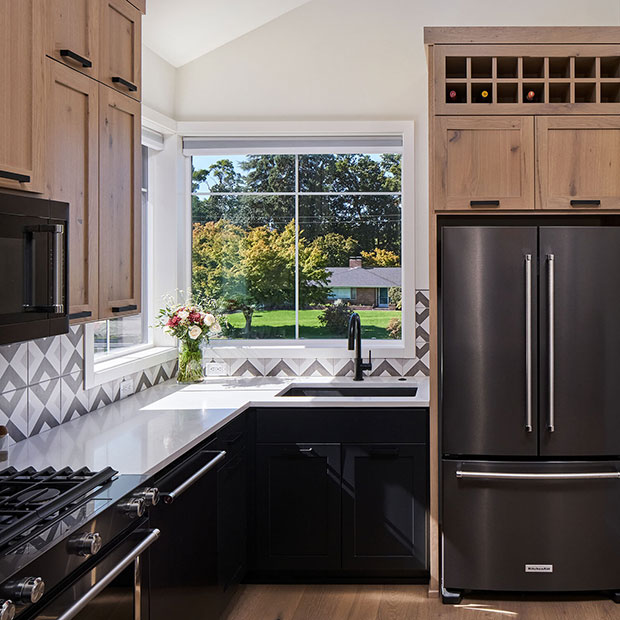 The color combinations for this backsplash are perfect, adhering to the tips in designing a backsplash.
Saunders 7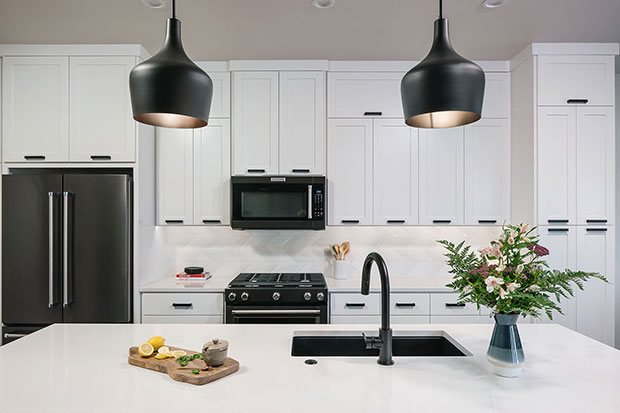 Jordan Iverson Signature Homes
If you don't take a close look yourself, you might miss the subtle designs on this backsplash.
That's it for modern kitchen backsplash ideas! Which one of these caught your attention the most?
Like This Post? Pin It!