61 Cool Circular Kitchen Ideas for the Creative Homemakers
|
The kitchen is one of the most used rooms in any home. It is of purely functional purpose, so its design and configuration are well-planned and thought of for ease in work. Décor takes second and in the form of material, color, and prints. Most kitchens you will see, then, are square or rectangular.
But with circular kitchen ideas, you can have your kitchen layout add some aesthetic value, whereas square or rectangular kitchens would lack. Circular kitchens though are uncommon and unusual but their unique architectural structure is sure to make a statement.
Circular kitchen ideas make good use of awkward and unusual architectural details, creating a visually appealing space. Circular kitchens don't usually and literally mean a totally round kitchen. There are many varieties of what counts as circular kitchen ideas, as you will see below.
How can I make most of a circular kitchen?
Circular kitchen ideas are a reined-in variation of open kitchen design ideas. The kitchen becomes the center of the living space due to its layout. The enclosed space makes foot traffic and the pathway is limited or focused within the space itself. To make the most of your circular kitchen design and layout, it is important to have an efficient storage solution within reach of that space.
In addition, it does not offer the same range of space as other regular kitchen designs. You need to take advantage of every available space, especially vertical space.
What are the storage tips for a circular kitchen?
Storage solutions for circular kitchen ideas aren't so different from regular kitchens. Though, depending on the size and layout of your circular kitchen, some storage tips may not apply.
1. Utilize under-the-sink storage
Often an overlooked area, that space under your sink could prove to be a very good storage for cleaning supplies.
2. Drawers for spices
Usually, you can have a spice rack for this. But where circular kitchens are sometimes influenced by a round or elliptical kitchen island, you can count on the drawers, so take advantage of that!
3. Prioritize frequently used items
If your circular kitchen isn't too big, everything is close to the center. But if it's a little wider or bigger, it is better to prioritize frequently used items, storing them close to where you do much of the cooking or prep.
4. Relocate rarely used items
On the other hand, put away rarely used items, like a pasta maker, on a high shelf or in another part of the house. This allows for more frequently used items to be stored close by.
5. Setting up a "seasonal" drawer
Reserve a drawer where you set items you'll need according to each season or occasion. For example, in the summer, set up the drawer with things like popsicle mods and picnic supplies. Or if it's Thanksgiving or Christmas, the drawer could store holiday recipes and such.
6. Invest in organizing products
Sometimes, circular kitchens may mean there's not much wall where you can hang a pegboard and other storage spots alike. So, you will want to maximize the vertical space on countertops instead. You can do this by investing in organizing products such as a Lazy Susan or turntables.
7. Hang utensils above the island
Clear your countertop by adding a hanging storage tool above your kitchen island to keep frequently used utensils and cookware. With a circular kitchen island, this could look pretty cool.
8. Utilize inside cabinet doors
Apart from the cabinet spaces, the cabinet doors can be utilized for storage. Buy a small storage unit or organizer that sticks onto the door. They can be used to keep kitchen tools like cutlery or even a chopping board.
Now, let's take a look at some cool circular kitchen ideas!
Indoor Circular Kitchen Ideas
House at Leeside Farm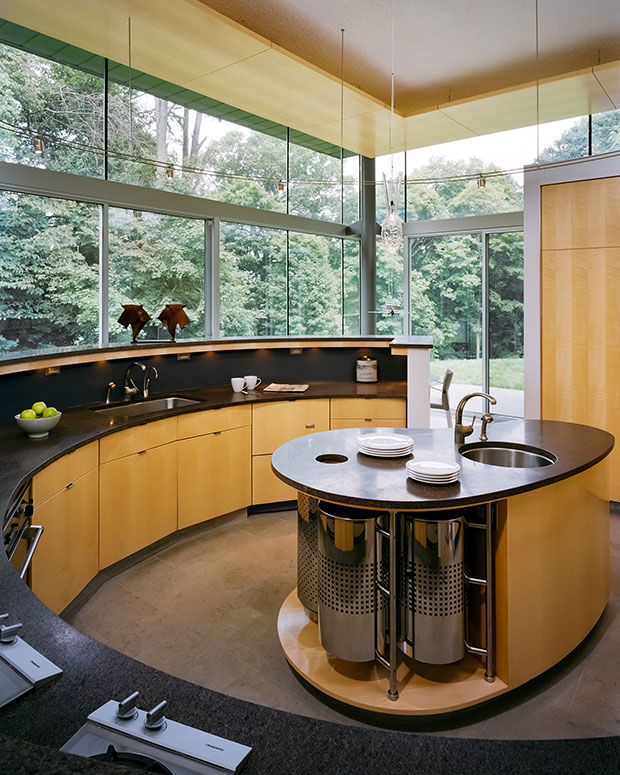 Studio Hillier
Starting off our indoor circular kitchen ideas is this sleek, contemporary kitchen. Even the kitchen island is something of a stunning architectural design.
Island for Eight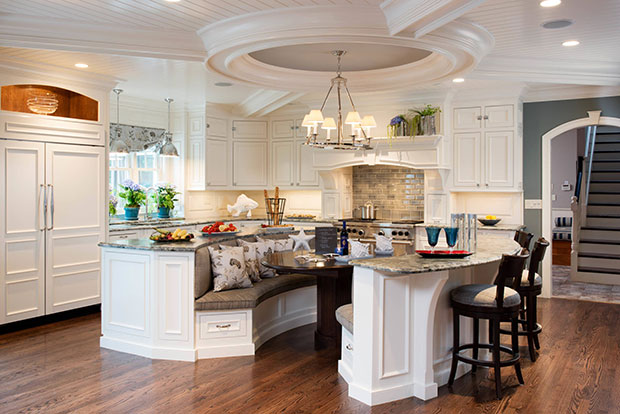 In this kitchen, they incorporate dining with the kitchen island. This makes for quite a splendid-looking kitchen.
Transitional Two-Tone Kitchen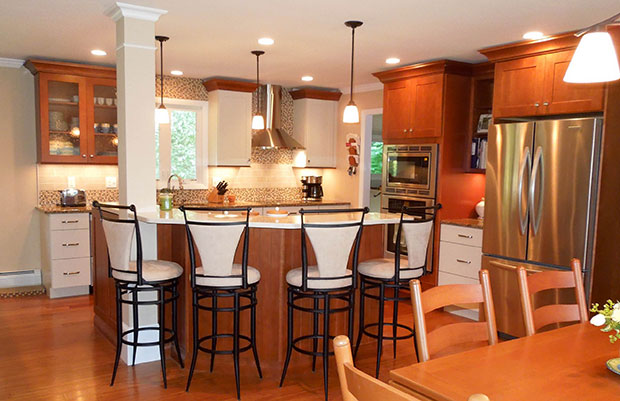 Delicious Kitchens & Interiors LLC
Having a curved kitchen island is a great way or component to get your circular kitchen ideas started.
Crescent Type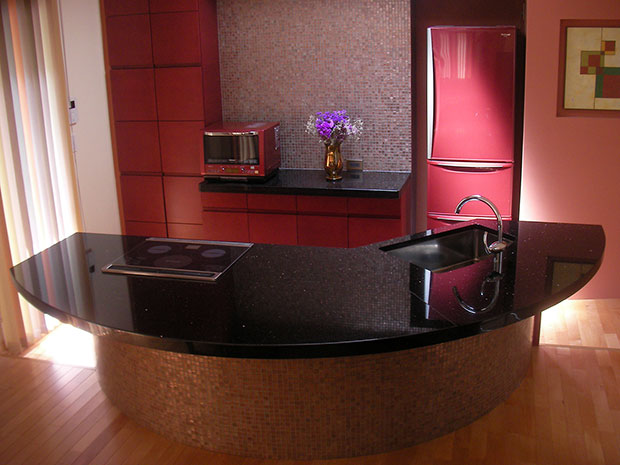 Atelier Brooks
The colors and material choices are creating a glam kitchen look.
The Treehouse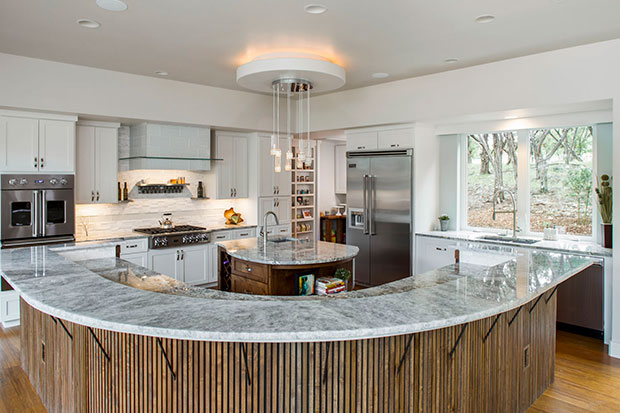 Jenkins Custom Homes
A spacious kitchen would do wonders with a wide, semi-circular kitchen island like this. From its size, you can have 2-3 people working in the kitchen at the same time.
Volare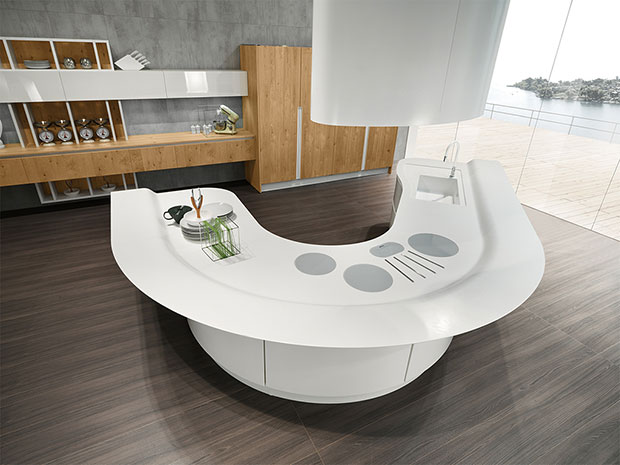 Aran Cucine
Some of these circular kitchen ideas tend to have futuristic looks. Take a look at this, for example.
Booklovers House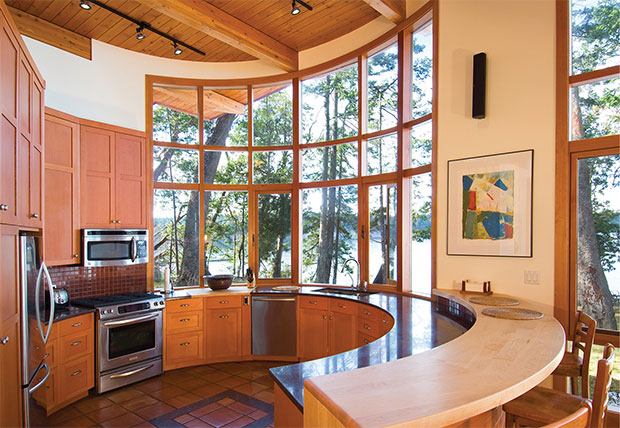 Helliwell + Smith | Blue Sky Architecture
Here's a circular kitchen that literally takes up a circular space. With this enclosed space, the kitchen truly becomes its own room.
Kahala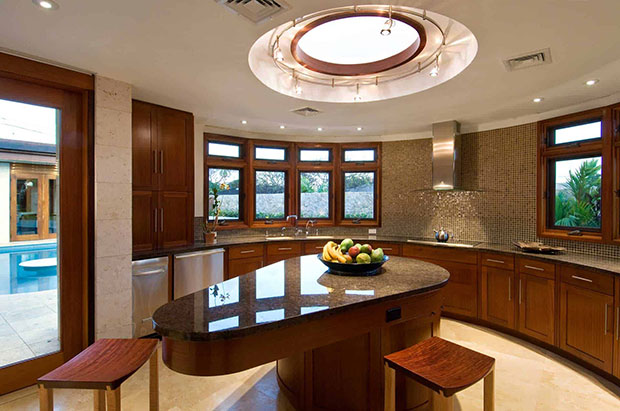 Lapis Design Partners
While some of the circular kitchen ideas above (and below) are within spaces with flat, straight rooms, this one uses every inch of this curved room to the fullest to create a stunning kitchen.
Muirfield Boerne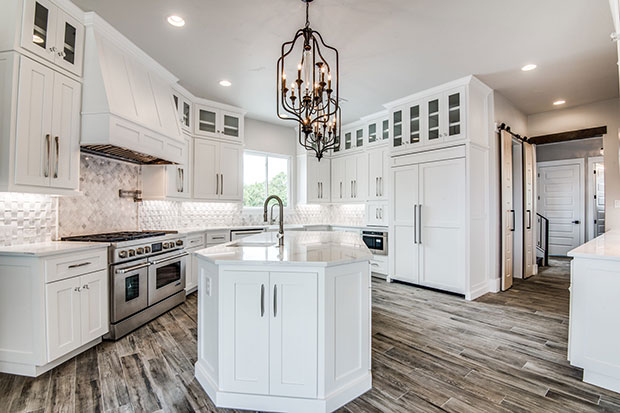 Here is a good example of using awkwardly shaped spaces efficiently and turning them into a functional and aesthetic kitchen.
Kitchen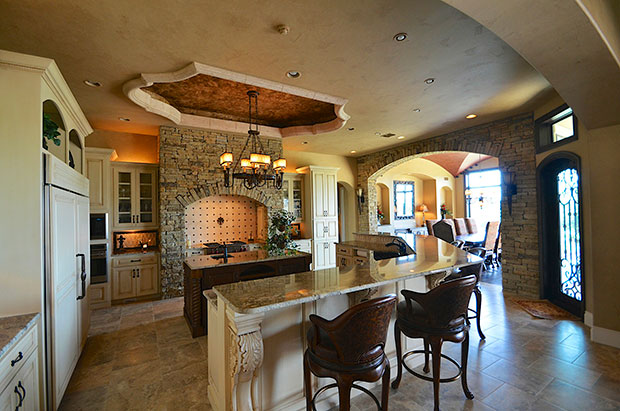 Lifestyle by Stadler
While a lot of circular kitchen ideas give off contemporary or futuristic looks, this home proves that they also fit into traditional elegance.
Curved Broken Plan Design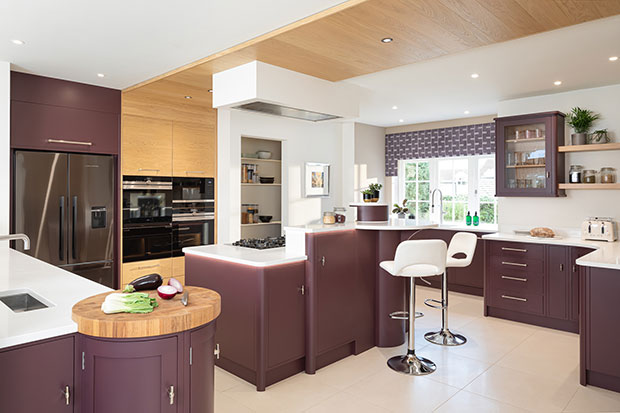 Rencraft
The maroon cabinetry is very fitting for contemporary kitchen designs. The kitchen island itself helps emphasize that.
Lighthouse II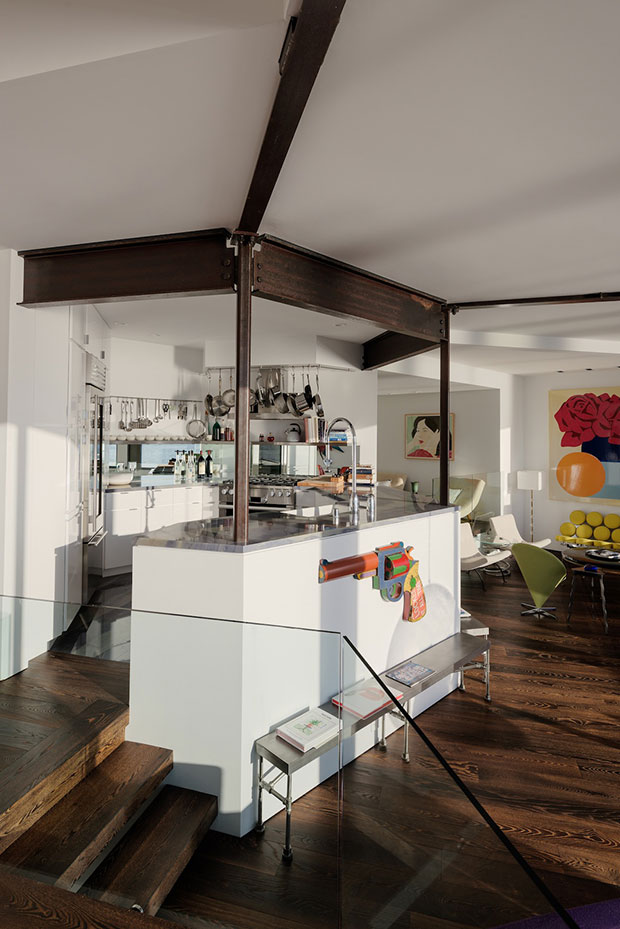 Mark English Architects
This kitchen is really its own enclosed space with the way it's built. It almost resembles a commercial kitchen.
Round Kitchen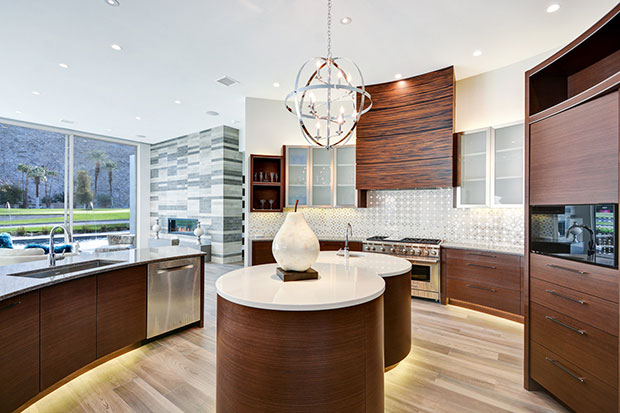 Bighorn Custom Builders
Though its layout and furnishing bring contemporary style, the finishing brings some modern look into the kitchen.
Alresford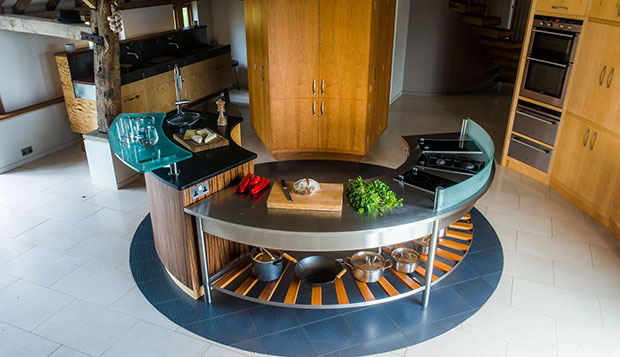 Johnny Grey Studios
This home has a pretty interesting and unique kitchen island. This makes cooking efficient with the multifunctionality of the island. It almost looks like something you can find in commercial kitchens.
Dharmapuri Residence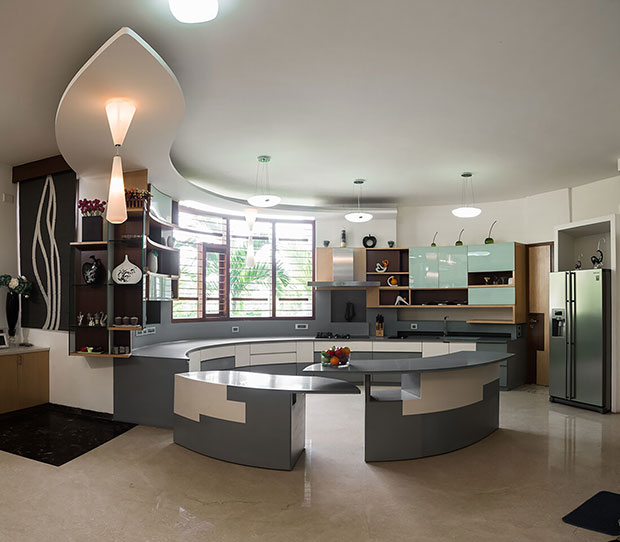 Studio Locus
This home takes advantage of this curved space to create a cool and chic kitchen design.
Eclectic Kitchen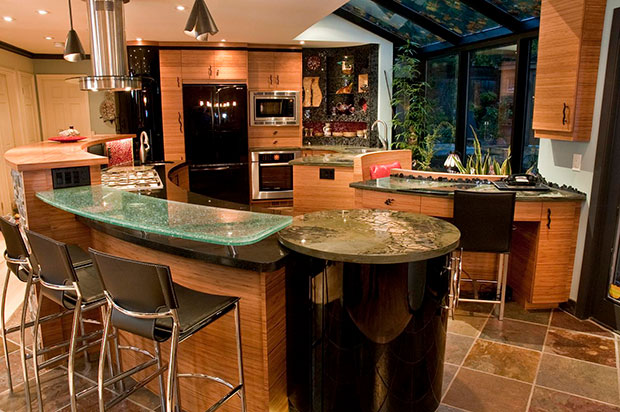 Total Living Concepts
Like its name, this is truly an eclectic kitchen with its layout, furnishing, and finish. In addition, the glass windows going up to the ceiling will definitely give a pretty good view.
Los Altos Hill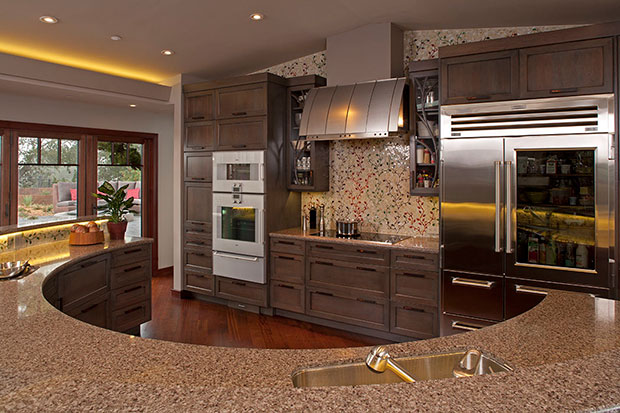 Designs Dell'Ario Interiors
Take your attention over to the wonderful kitchen backsplash that brings some life and color to this monochromatic kitchen.
Brandy Hole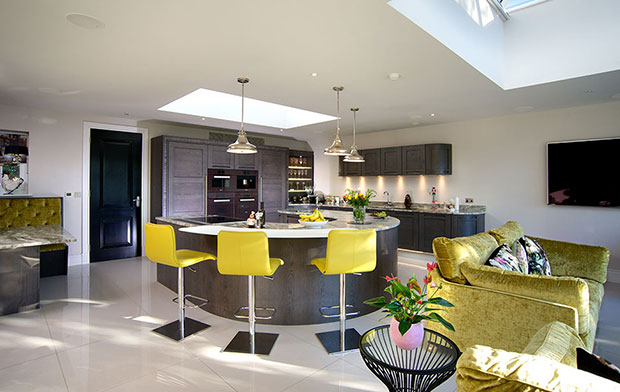 In open-plan homes, circular kitchen ideas may be of great advantage. Just take a look at this one.
Custom Kitchen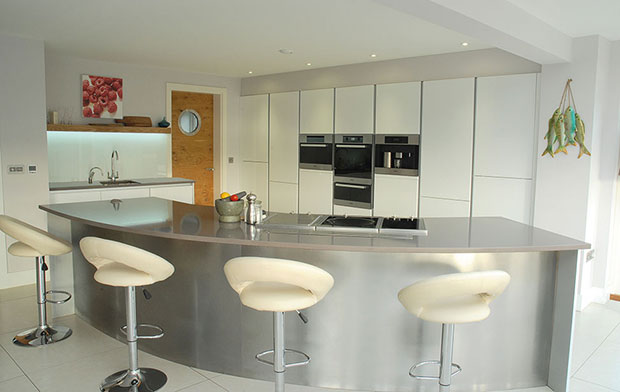 Whittington
This aluminum kitchen island is quite perfectly set against the white cabinetry.
French Country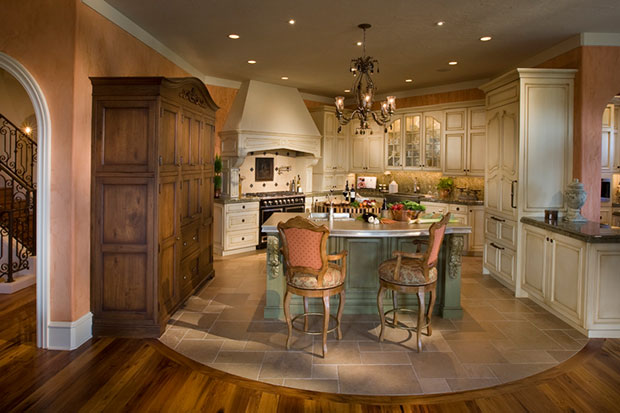 Setting the floor tiles differently in the kitchen from the wooden flooring of the rest home is quirky yet cool. It also emphasizes the shape of the kitchen.
Provencal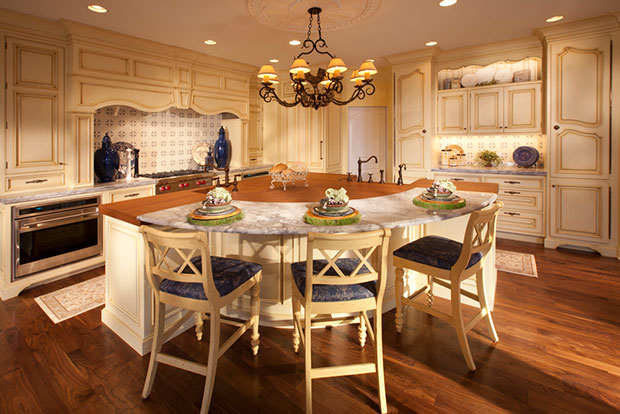 Steiner-Houck & Associates
Pie-shaped kitchen islands are also great choices for set-up circular kitchen ideas.
Seapine Cottage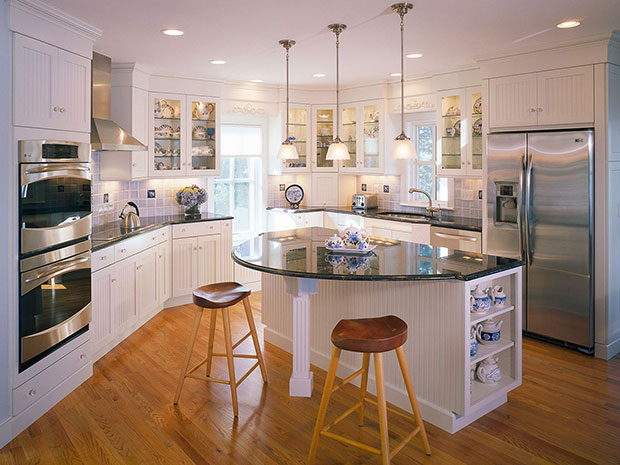 This half-circle kitchen island is a unique feature on its own and is a true focal point, influencing the design and décor of the rest of the kitchen.
Summer Mooring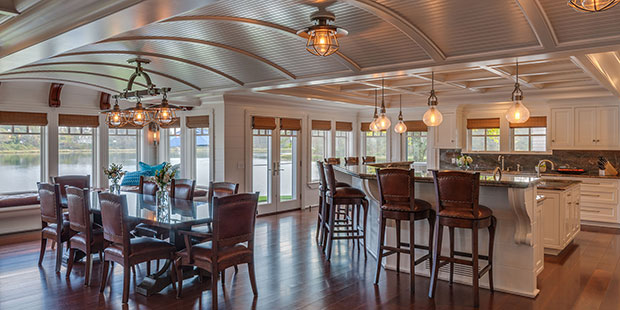 A long semi-circular kitchen island creates and underlines the boundary of this particular kitchen.
Fool's Paradise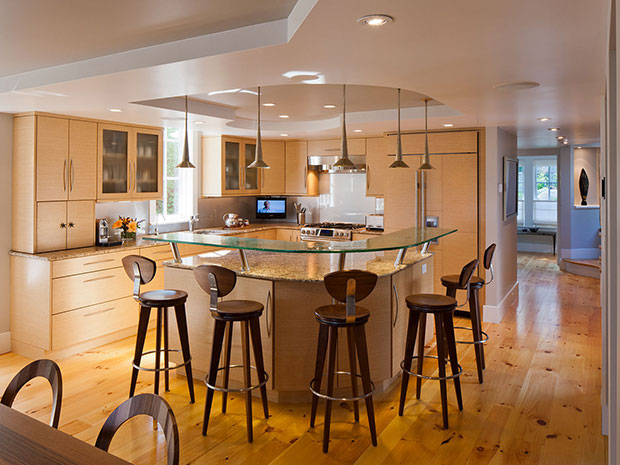 Polhemus Savery DaSilva Architects Builders
The trumpet-looking overhead lamps are attention-grabbing features. Design on the ceiling is also something to be noted.
Modern Farmhouse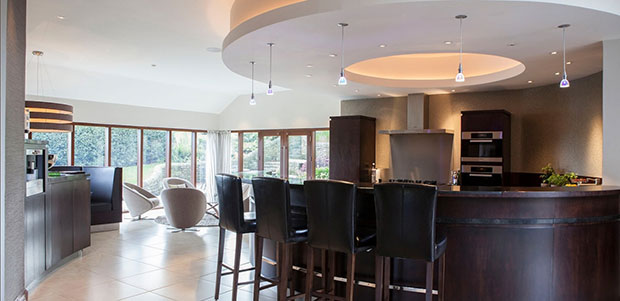 Amy Nicholas Interior Design
Spacious homes allow for the potential of circular kitchen ideas to be maximized. In this home, this contemporary kitchen is nothing short of amazing.
Devon Holiday Home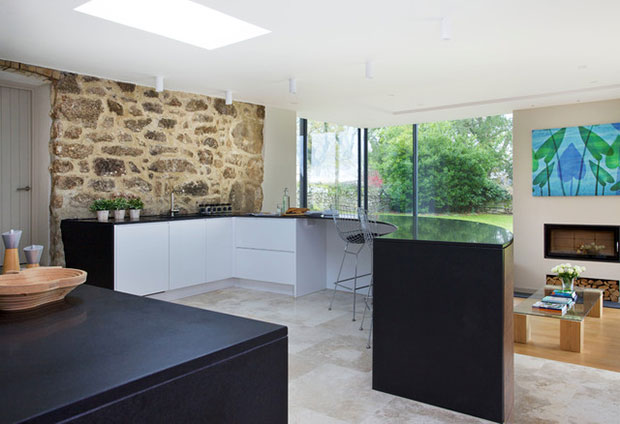 Decorbuddi
A clean and simple yet chic kitchen design that is very fitting for modern homes.
Swanson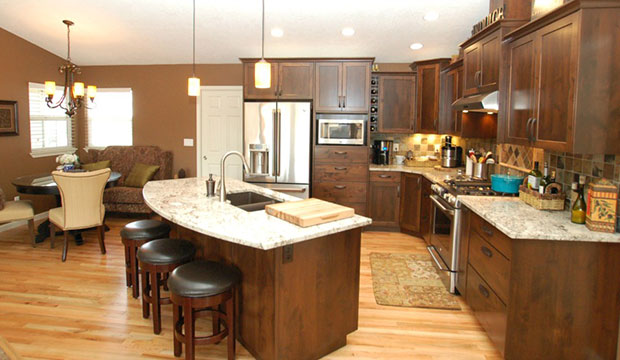 Even small homes can afford to have circular kitchen ideas without compromising visual appeal.
Stewart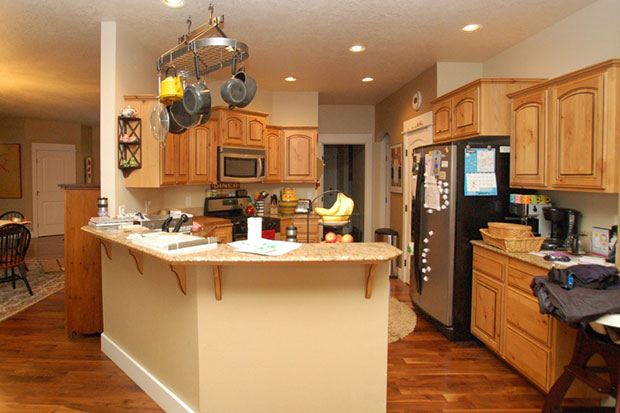 Keilty Remodeling
Circular kitchens are also bound to bring a casual and homey feel to them, especially in smaller homes or smaller spaces.
Fringe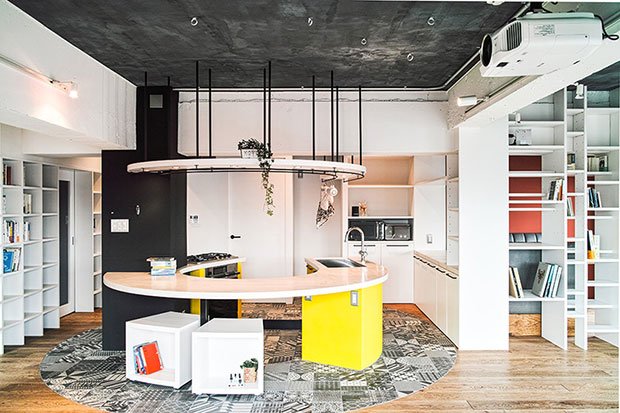 This kitchen perfectly uses that space above the kitchen island as a hanging storage tool where you can hang kitchen tools.
Tangent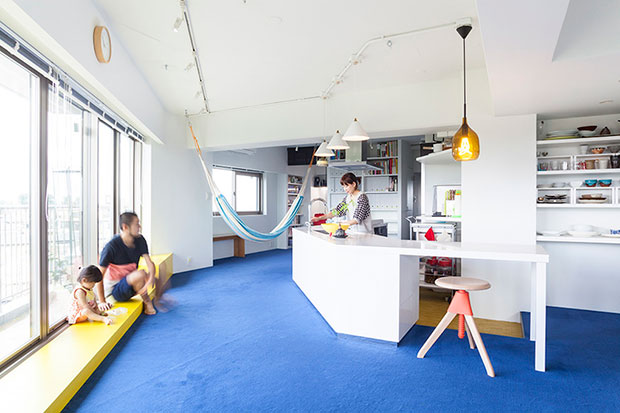 Small awkward spaces are perfect spots to build circular kitchen ideas. All you need is some creativity and you got yourself a pretty cool kitchen.
Hatha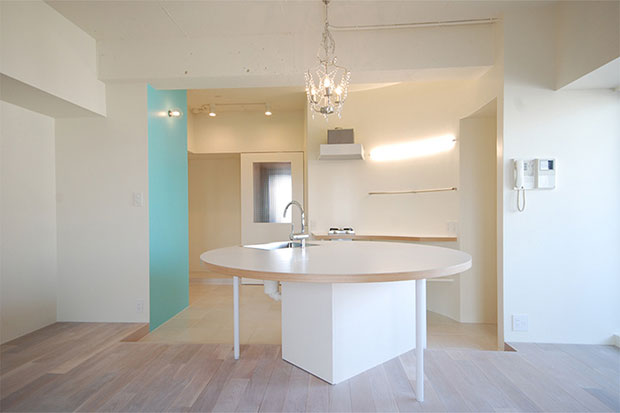 Blue Studio
This small awkward space is perfectly utilized for a small and simple but functional kitchen.
Brooklyn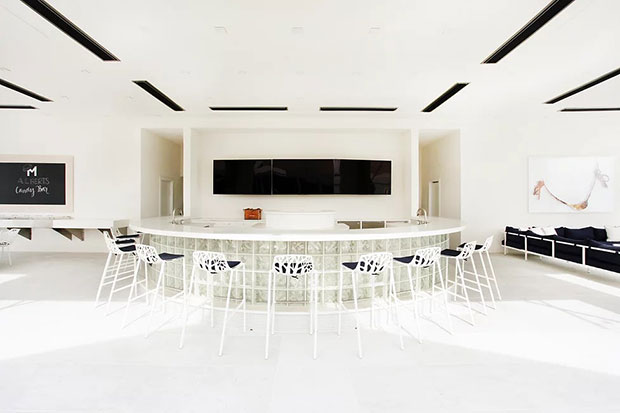 Carawoodhouse
With the glass block island, this is looking to be a very classy and interesting kitchen.
Rancho Mission Viejo Soft Contemporary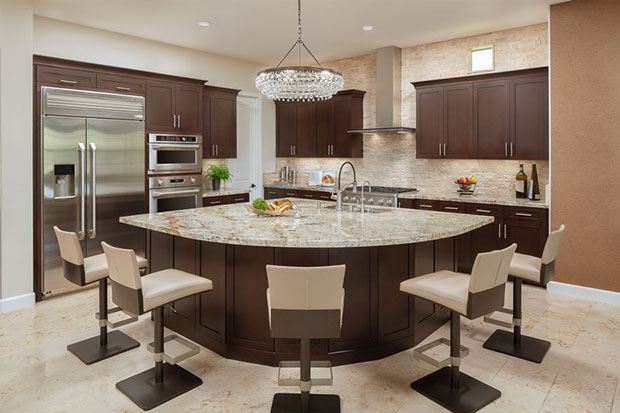 Design Focus
The little chandelier overhead the island is a nice touch that brings a much-needed sophisticated elegance.
Pavilion Kitchen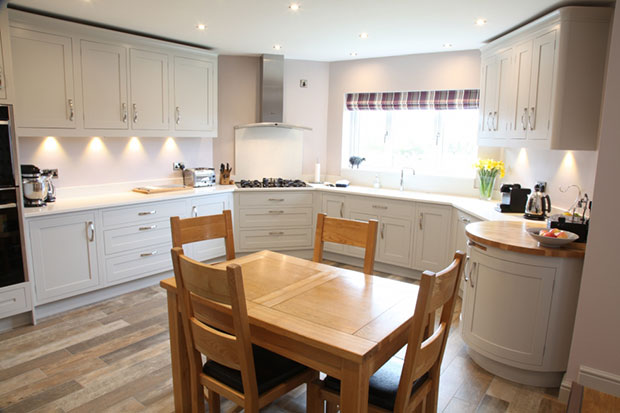 Holme Tree Kitchens
A round lower cabinet emphasizes the roundness of this room that is turned into a kitchen.
Montague House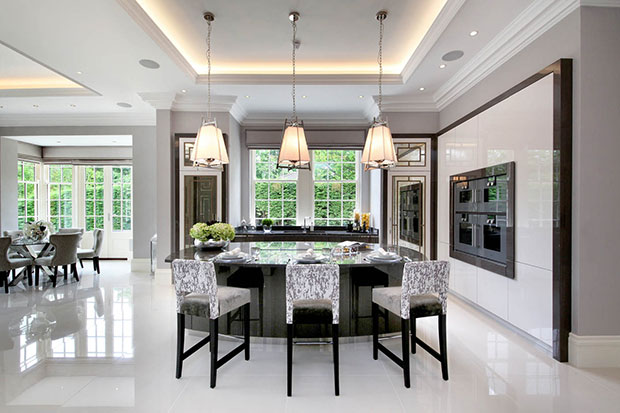 If you need references for a sleek, contemporary circular kitchen, look no further than here.
Newnham House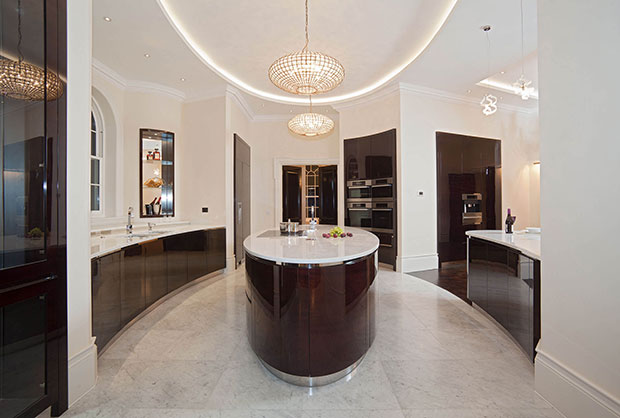 Grech&Grech
Another sleek circular kitchen idea that will certainly have people's gaze linger. And this elliptical kitchen island is perfectly placed in the middle.
The Mill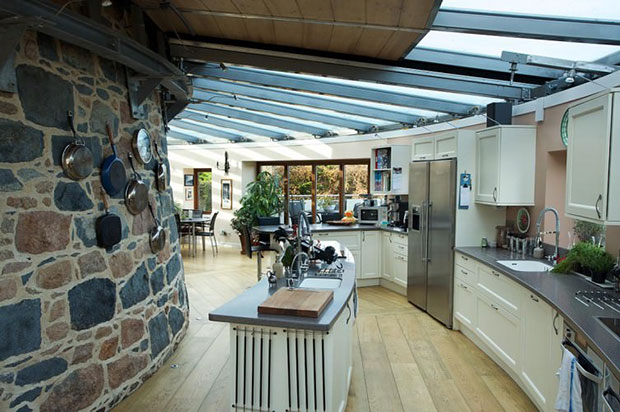 CCD Architects
Though not quite the "circular" kitchen, this home's roundness is utilized well to create this concaved semi-circle kitchen design.
Hibbertia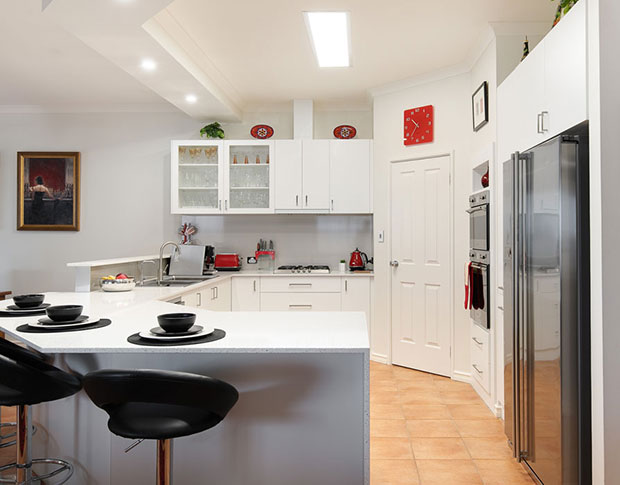 The pristine white color, red, silver-grey, and black accents are a great touch to bring some burst of life.
Malibu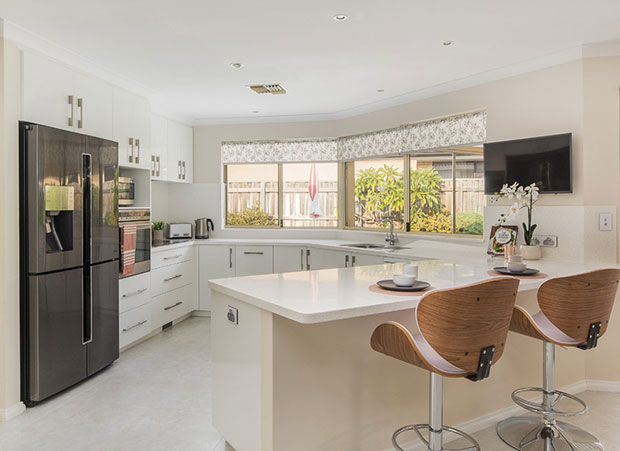 Azztek Kitchens
A straightforward clean look for this kitchen makes this an unassuming space. Though from its shape alone, it also brings some personality.
Acorn Way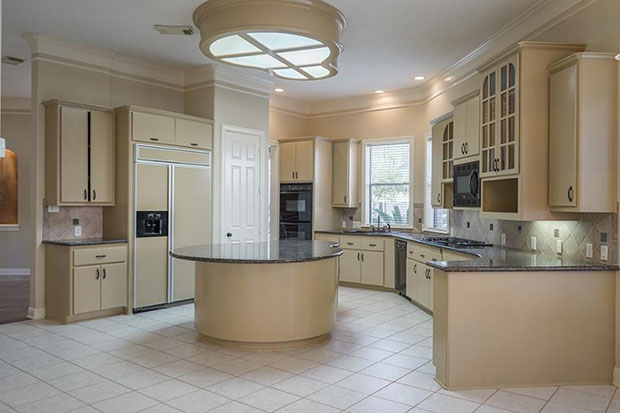 The awkward structure of this particular space could not hinder a beautiful kitchen to be created. The awkward spots where the posts are being taken advantage of to create an efficient layout.
Round Kitchen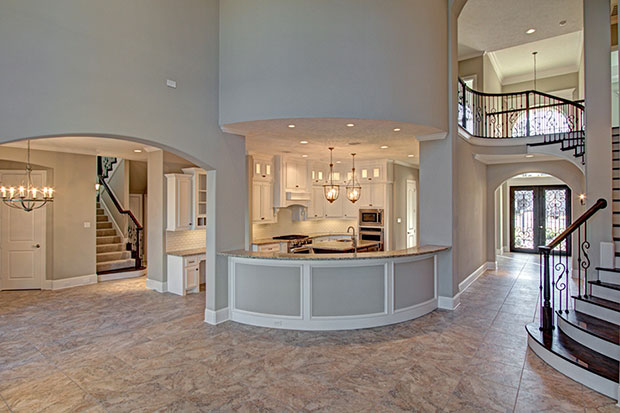 Karl Voelkel
At this home, too, they make up for this strange space that is almost in the heart of the floor to create a fully functional kitchen.
Bentwater Lakehouse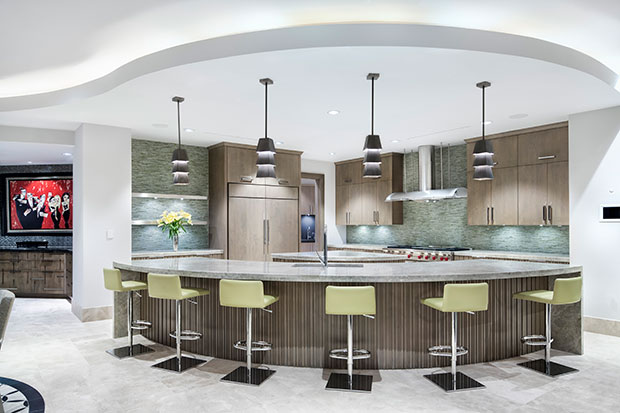 Jauregui Architect
The color combinations in this kitchen are quite unexpected in how much they work so well together.
The Hollows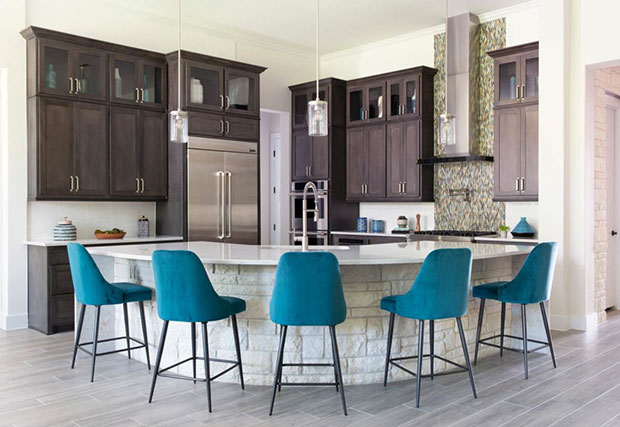 JNID Studios LLC
The stone brick kitchen island is rare and interesting. In terms of texture, it truly adds something else to this kitchen's look.
Modern Warmth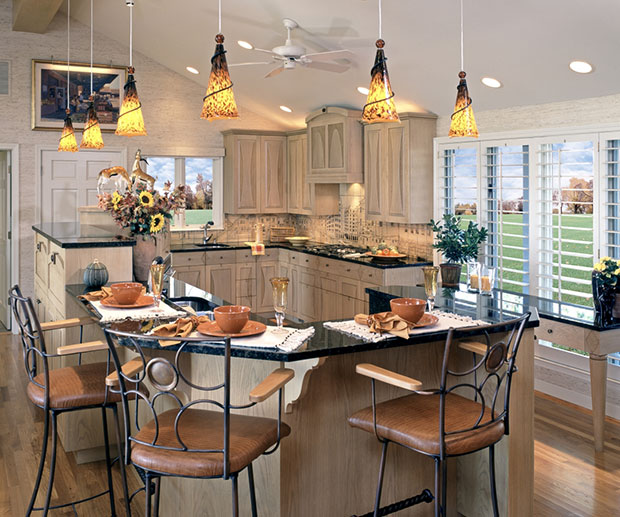 With this furnish, the décor in this kitchen is exquisite and perfectly complements it. And though a small detail, the kitchen backsplash tile with what looks like to be an image of an old city, is amazing detail.
Kitchen Wow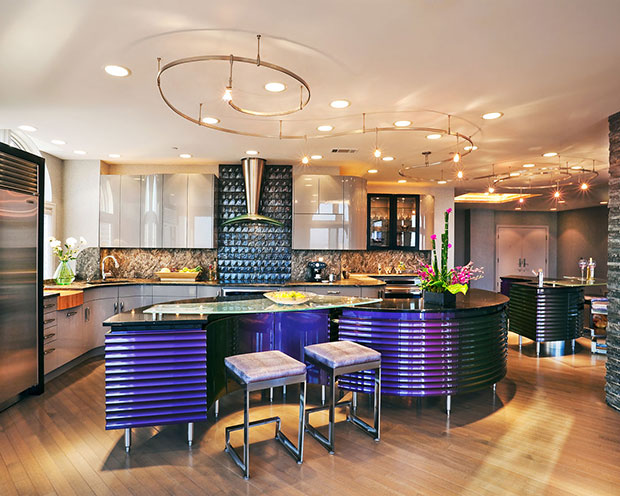 Kitchens by Kleweno
Like its name, the first thing that comes to mind when you see this kitchen is "wow". With the eclectic furnishing choices, the colors, and eccentric design details, this is proving to be one fun kitchen.
Forest Hill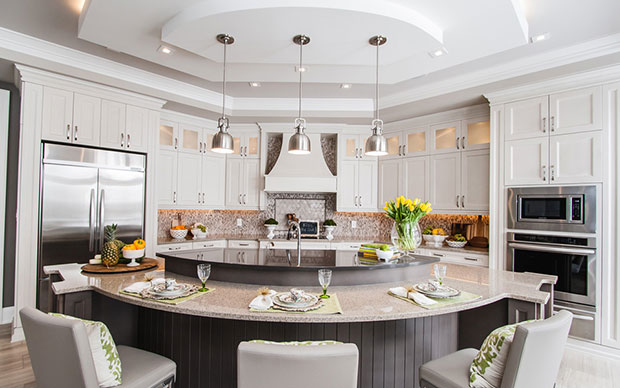 Raywal Cabinets
The intimate close space perfectly captures a homey feel where one could enjoy a meal or cook up a meal.
Palo Alto House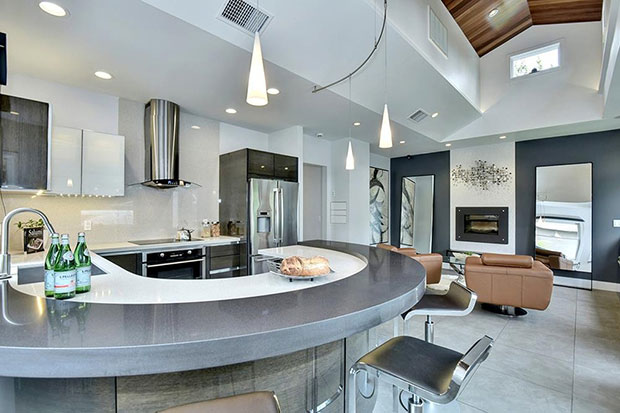 Acadia Architecture
This home proves that circular kitchen ideas can be very advantageous in small spaces or small homes.
Santa Barbara Mediterranean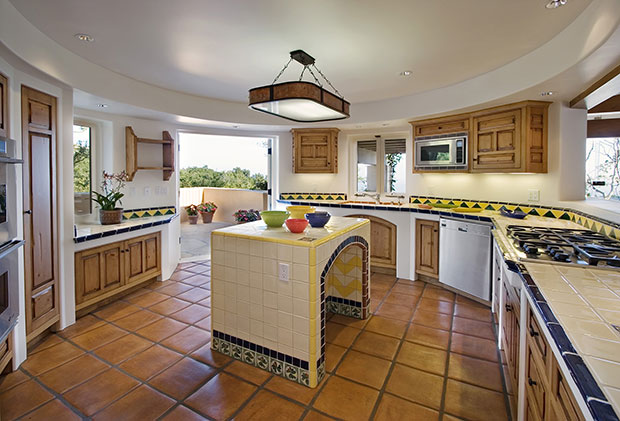 Griffin & Crane
This round room is transformed into this eclectic kitchen that is full of personality and life.
Palo Alto Eichler Remodel and Addition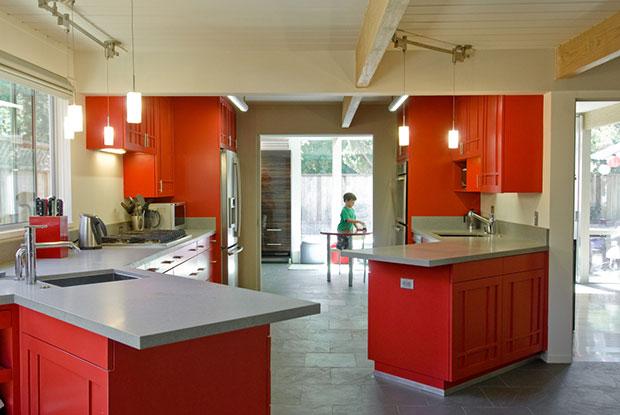 Flegel's Construction Co.
Though not quite the perfect circular kitchen, the angled kitchen counters provide a space that is quite similar.
Shadow Creek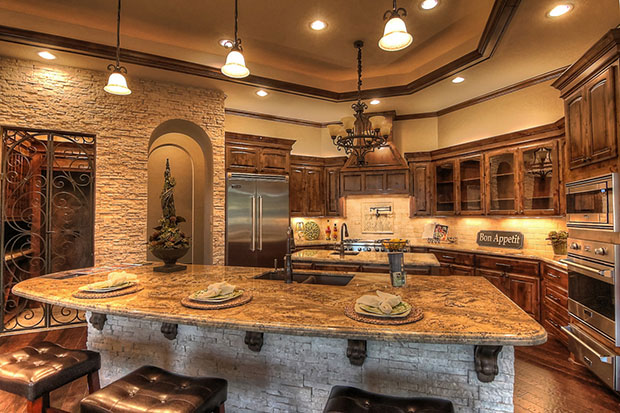 Two kitchen islands in one kitchen seem like overkill. But not when they come in a different size to balance it out and create visual harmony.
North Ossineke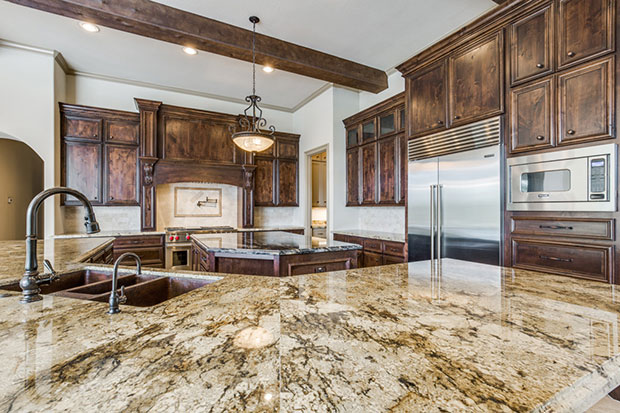 Texas Elite Custom Homes
This particular combination of cabinetry and quartz countertops truly brings out a classic elegance. But the roundness of the space brings some modernity to it.
Foglia D'Oro Russo Rubino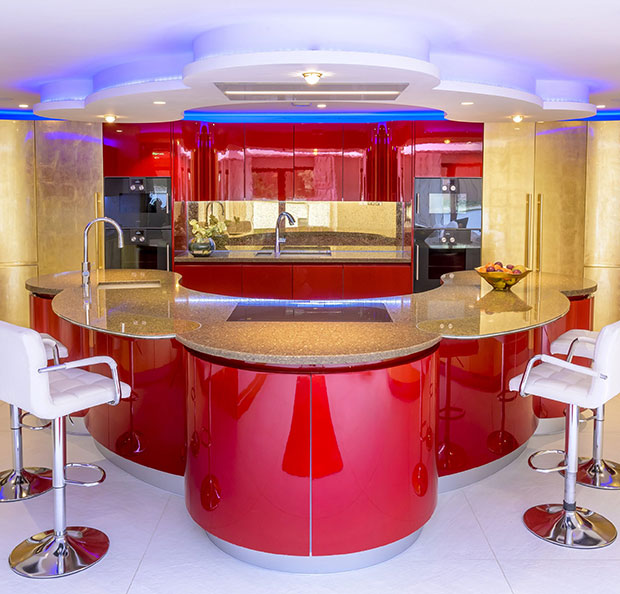 With the polished finish on every imaginable surface in this kitchen, this is looking to be a very bright spot.
Colosseo Oro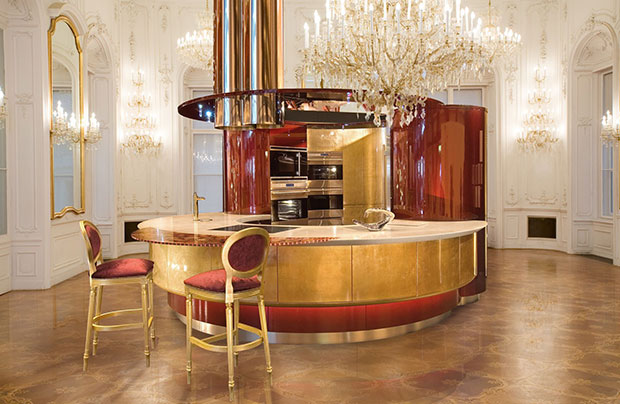 This is circular kitchen being slotted right in the middle of the room is both unexpected and impressive.
Arena Argento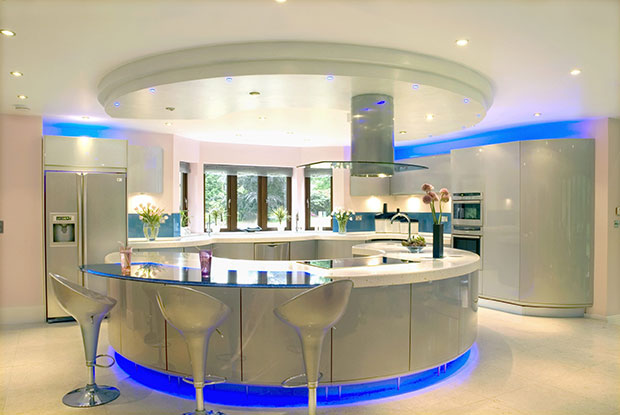 Mirroring the round kitchen island with a protruded part of the ceiling is a great design detail to the overall look of this kitchen.
Nero Scintillio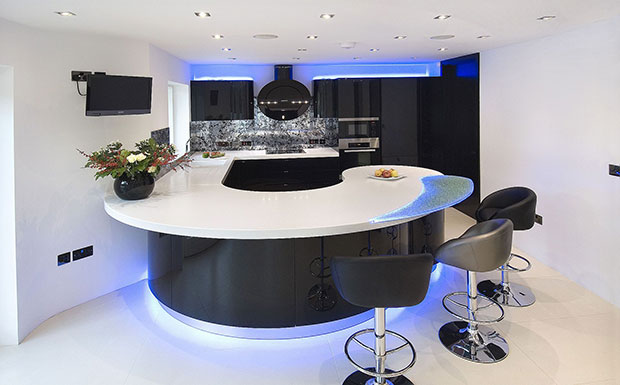 The blue backlit is a great choice to bring some brightness to contrast with the jet-black cabinetry.
Rosso Fiorano Lucido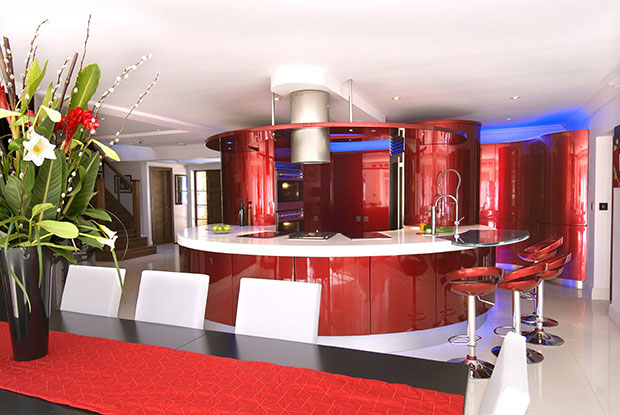 One of the more futuristic-looking circular kitchen ideas, this kitchen definitely cements itself as the focal point in the open-plan space.
Giro Arancio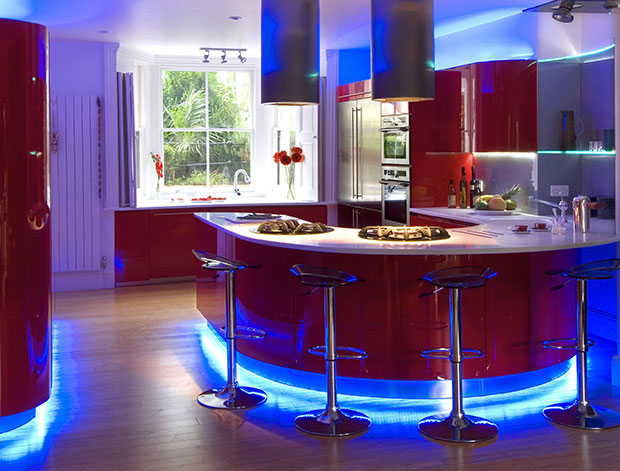 The under-the-cabinet lighting gives this kitchen a more futuristic look.
Giro Rovere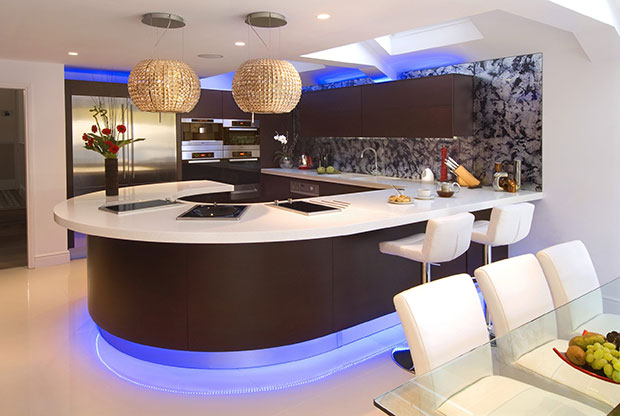 Marazzi Design
With this sleek kitchen design, you will have an easy time cooking.
Outdoor Circular Kitchen Ideas
Haddonfield Residence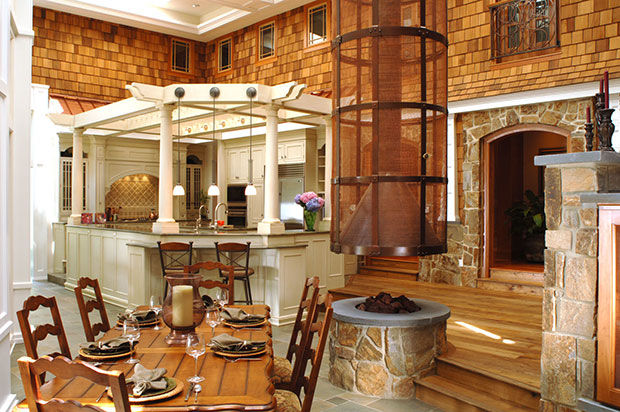 Kimmel Bogrette
When it comes to circular kitchen ideas, you may find it in outdoor settings, what with the space. Here you see it on an outdoor patio.
Shipwrecked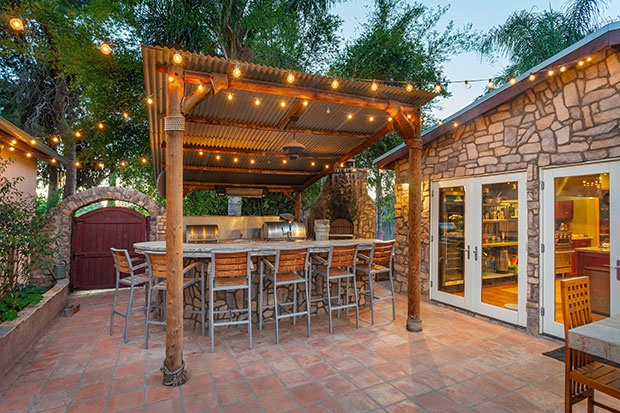 Distinguished Pools
Stone is a pretty common material for outdoor kitchens, and this one is no different.
Lakeside View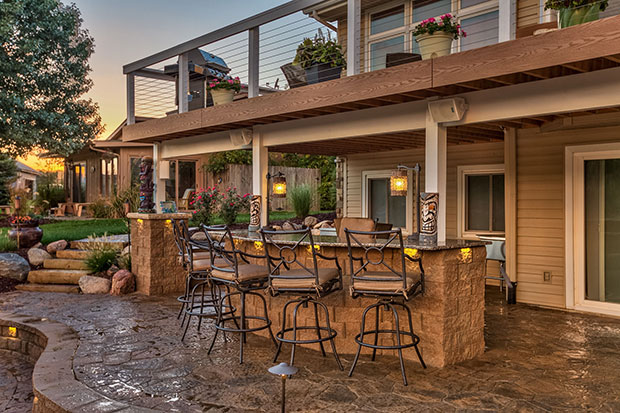 Christensen Concrete Products Company
In some homes, the outdoor kitchen is built underneath a home's balcony, just like this.
Staycation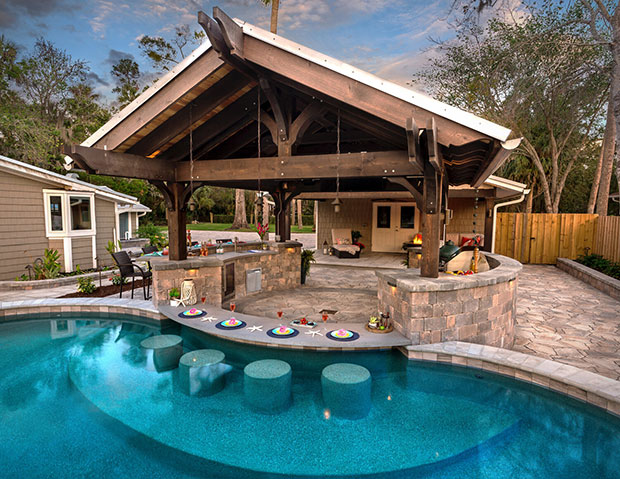 Pratt Guys
For those with spacious backyards, you can afford to have a circular outdoor kitchen bar like this.
Bait Shack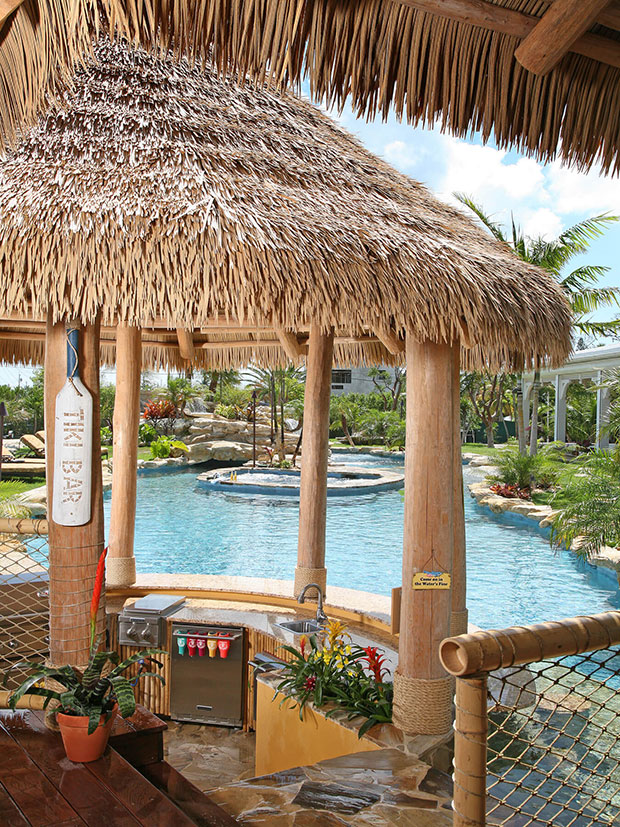 When it comes to circular outdoor kitchens, you can count on tiki bars to have that look.
Sunset Point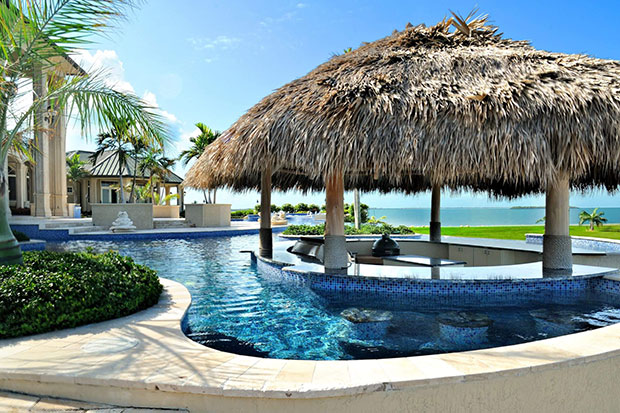 D'Asign Source
Due to its round shape, this kitchen and bar are surrounded by pool water on all fronts.
Coral Ridge Point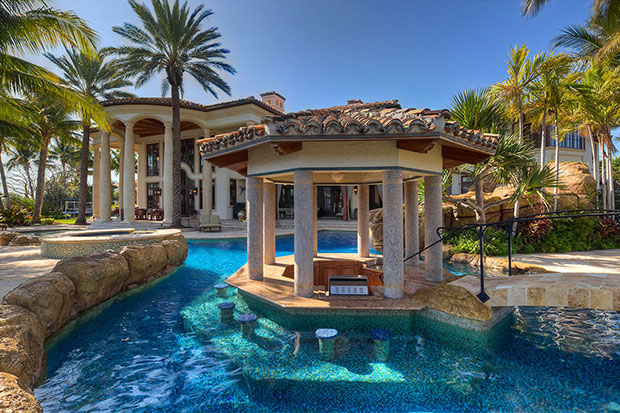 W.A. Bentz Construction
While most pool bars are built into the side of the pool, this one is built right into the pool area with a tiny bridge connecting it to dry land.
That's all for circular kitchen ideas! Did any of these capture your style?
Like This Post? Pin It!