55 Pink Kitchen Ideas for a Feminine Touch
|
The color pink has a reputation of being a preppy, Malibu-barbie, teenaged girl's go-to color. But in recent years, interior designers have taken this color a whole lot more seriously, finding creative ways to re-establish the color as something more grown and sophisticated.
With pink having a wide array of available hues, it is quite the versatile color, so much so that it has become the new neutral in design. It has a warm and playful tone that could be toned down and balanced out by pairing it with numerous other colors and hues of contrasting and vibrant shades, creating lively ambiance and dynamic designs.
When it comes to rooms in our houses, the color pink is commonly found in bedrooms, particularly of a child's nursery. Using pink in designing your kitchen may be a bold decision but with the versatility of the color pink, you will be able to come up with various pink kitchen ideas. If you want a bolder kitchen, you can try hot pink. For a quieter tone, you can try lighter tones like pastel pink.
The placement of this color also isn't restricted to just one spot. You can have the color on the walls, on the backsplash tile, on your countertops, or on your cabinets. This is what makes pink kitchen ideas varied and exciting!
Is pink a good color for the kitchen?
Pink easily brings in some personality and lightens up the atmosphere of the room. As mentioned, with the wide array of shades and hues and color combinations you can make, you will be open to diverse pink kitchen ideas. With a little sprinkle of creativity, you will be able to find the right shade that will suit your style.
How do you decorate a pink kitchen?
There are many ways you can style your pink kitchen. There are pink kitchen ideas wherein everything is pink or you can keep the color subtle. Here are some tips in decorating or styling a pink kitchen!
1. Creating a focal point
You can create an eye-catching focal point in your kitchen by picking out a pink kitchen island. Then, balance it out with neutral tones on your worktops, cabinets, and walls. White worktops will make the pink stand out, while grey cabinets will add striking contrast.
2. Coordinating shades of pink
Add some subtle flashes of coordinating shades of pink to your kitchen. If you have a bolder shade of pink, say, on your backsplash tile. Try to paint your walls with a lighter shade. You could also add kitchen accessories of different shades. This completes your pink kitchen theme without making it too overwhelmingly pink.
3. Choosing pink as backdrop
If having pink cabinets and worktops may be too much for your preferences, try using pink as a backdrop. Pink tiled and painted walls can create a two-tonal effect in which you choose tiles in a darker shade of pink than the walls, or vice versa.
4. Pink as a complementary color
Instead of having the color pink as the main focus, you can try to do things like picking pastel blue cabinets while adding pink touches throughout the kitchen, say, pink chairs or perhaps a few pink cabinets.
5. Pink as a focal point
Make the rest of your kitchen in neutral colors to let the pink stand out. You can make a pink standout by having a key area of design pop in pink. It could be a pink dining table and chairs, or a pink display cabinet unit. Finally, you could incorporate subtle pink kitchen accessories throughout the place.
Pink Kitchen Design Ideas for Inspiration
Now, let's take a look at some extraordinary pink kitchen ideas!
Colorful House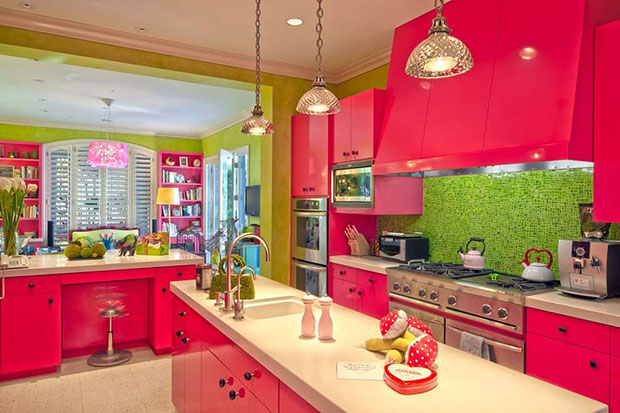 RLB Architecture
If you're thinking of bolder pink kitchen ideas, here's a good example! The combination of bright pink and lime green is certainly eye-popping. Also, notice that the countertops are looking a lot like a pale shade of pink.
Kitchen in Fablab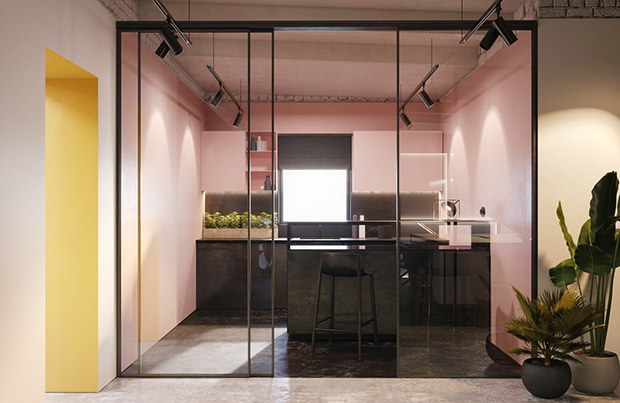 Valeria Voronova
For more subtle pink kitchen ideas, this kitchen in Fablab is a perfect example. The pastel pink walls and top cabinet shelves perfectly contrasts the jet black floor and bottom cabinets and worktops.
French Quarter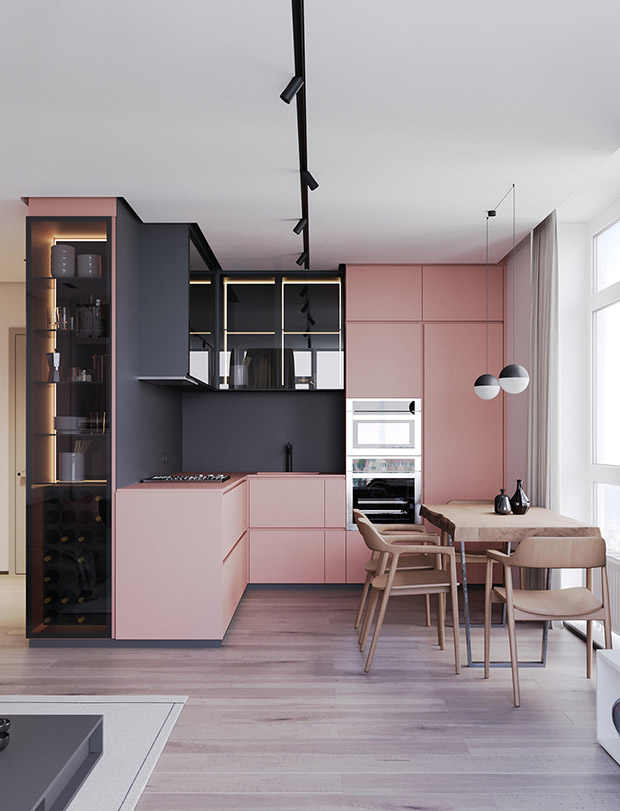 Ruslan Kovalchuk, Mariya Chmut and Stephen Tsimbalyuk
The contrast of pastel pink and dark grey is chic and beautiful. And the addition of natural wood elements perfectly complements the overall look of this kitchen.
Chez Isa Lora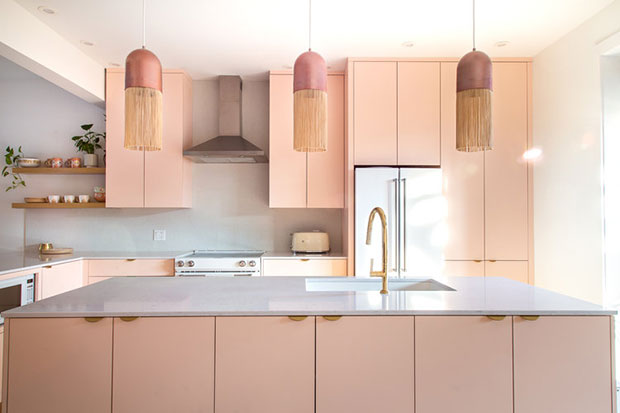 Renard Flare
In this kitchen, they have all the cabinets painted peach pink and complemented with neutral whites on the wall and countertops. The rose gold faucet is a perfect addition into the color scheme. Lastly, notice, too, the pink chandeliers.
Shaker Kitchen in Fossile Grey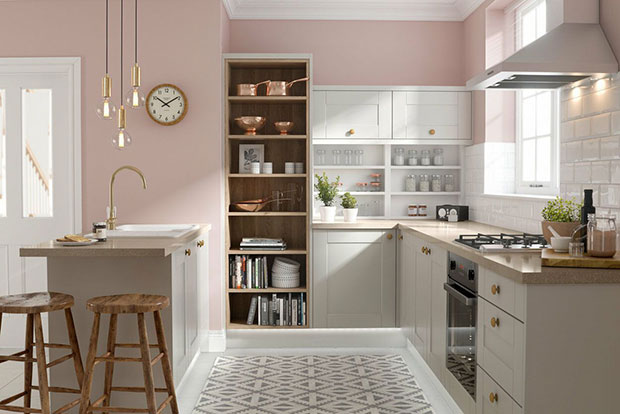 Wren Kitchens
This particular kitchen is the opposite of Chez Isa Lora. This time, the cabinets are the ones painted in white and complemented by the white backsplash tiles. With the walls painted a pastel pink, the countertops are colored peach.
New Cross Lofts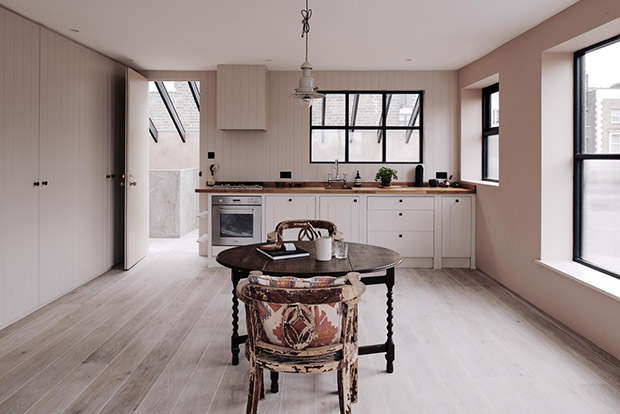 Chan + Eayrs
With a calming palette within the hues of pink, and combined with the white cabinets and wooden countertops, this is one of those pink kitchen ideas that exude a relaxing and subdued ambience.
Dazeywood Penthouse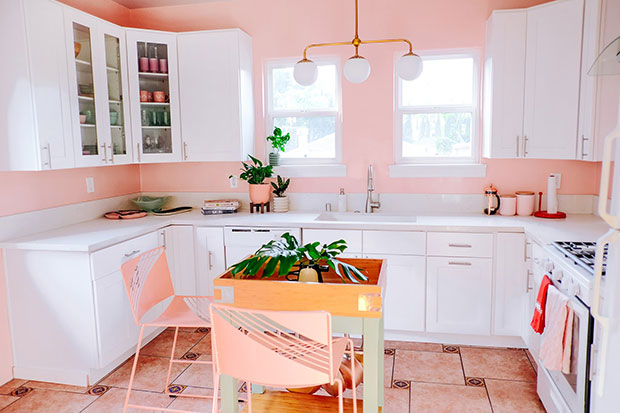 Dazey Den Interiors
The quirky pink tiles are matched perfectly well with the baby pink paint, making the color truly standout especially against the pristine white cabinets and worktops. The choice of having pink chairs accentuate the color further works well and prettily.
Flamingo Pink Kitchen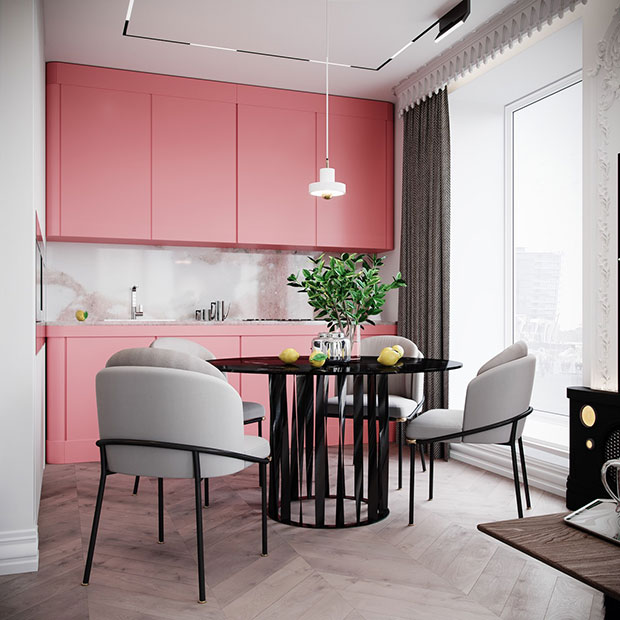 Sergey Klochkov
Pink kitchen ideas do not necessarily have to have nearly everything painted in pink. As mentioned on the tips above, you can have a focal point object that is painted with pink. In this kitchen, the cabinets are painted a flamingo pink.
Renter's Solution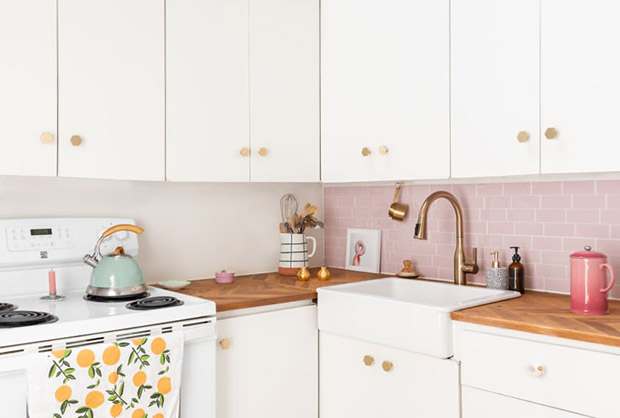 Alexandra Grater
To add some life and personality into this kitchen, they chose to have baby pink backsplash tiles to contrast with the white cabinets.
Scandanavian Home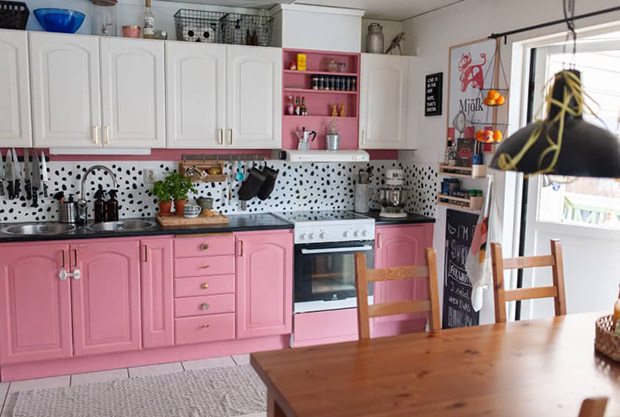 Christin Hausmann
Another option for your pink kitchen ideas is refraining from painting every cabinet exterior with pink. Take this Scandinavian home for example. The bottom cabinets are painted pink and matched with black countertops. While the top cabinets' exteriors are painted white, it reveals pink painted interior.
Apartment S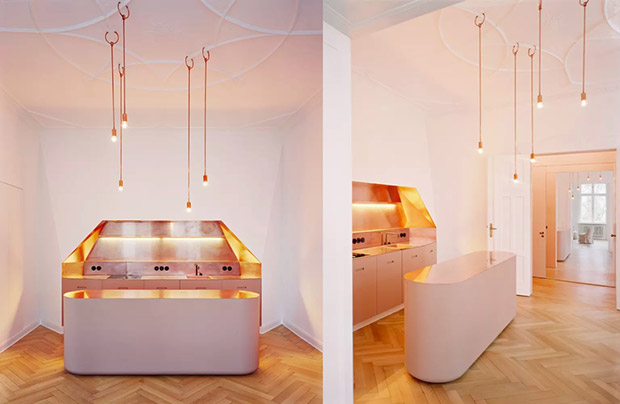 Thomas Kröger Architects
Pink and wood tones are an excellent match in design. The soft and subtle hints of pink on the furnishings just bring the right amount of warmth into the room.
Södermalm Reimersholme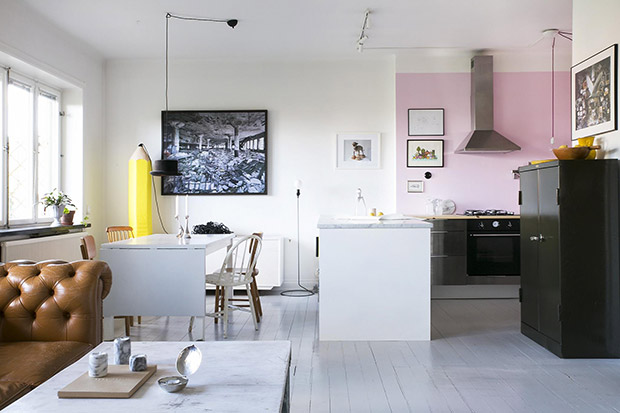 Fantastic Frank
Some pink kitchen ideas work on subtlety. To contrast with the black, grey, and metallic units, have the wall painted a light shade of pink as a perfect backdrop.
Officep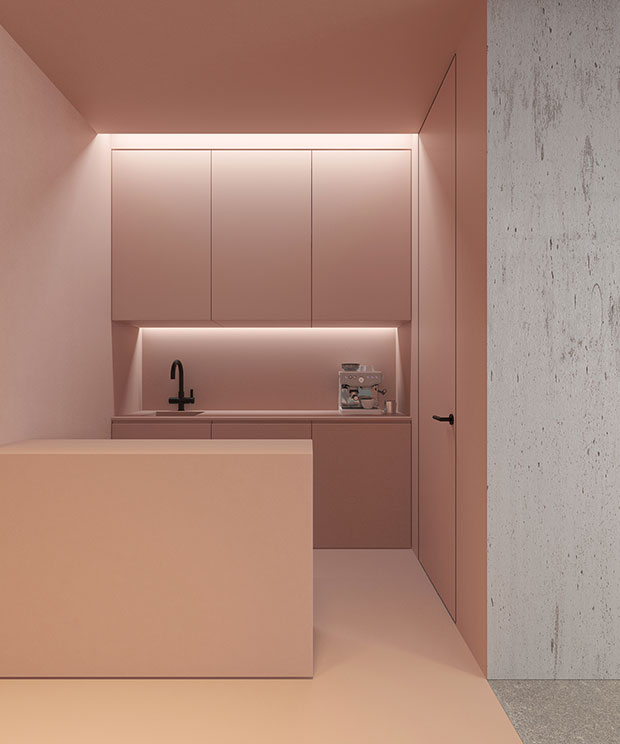 Emil Dervish
It's like entering a different world as you stride into this kitchen. From floor to ceiling, the entire kitchen is pink. Given the pastel pink color, the handle-less cabinets make the overall look cleaner.
Superfront Pink Kitchen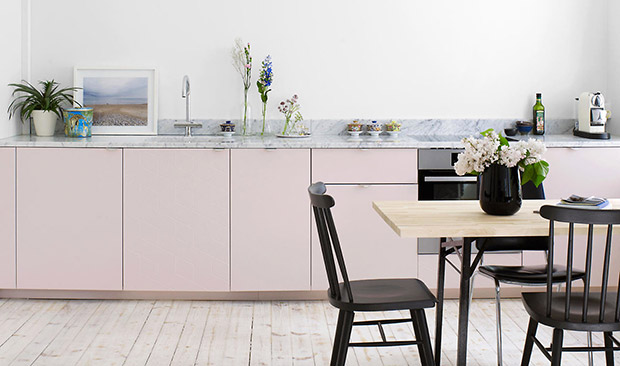 Superfront
A really light shade of pink is easy on the eyes, bringing in some calming and cool ambience into the kitchen. Pairing it up with a grey marble countertop is a nice touch and the jet black chairs are a great contrast.
Country Ermine Kitchen in Marshmallow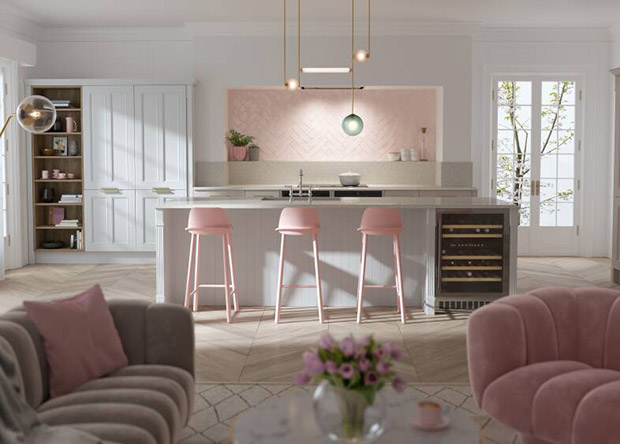 Wren Kitchens
Here's an example of pink kitchen ideas where the color doesn't swallow up the room. Opting for pink barstools and top shelf wall, these standout in the neutral paint of the rest of the kitchen.
Eclectic Chaos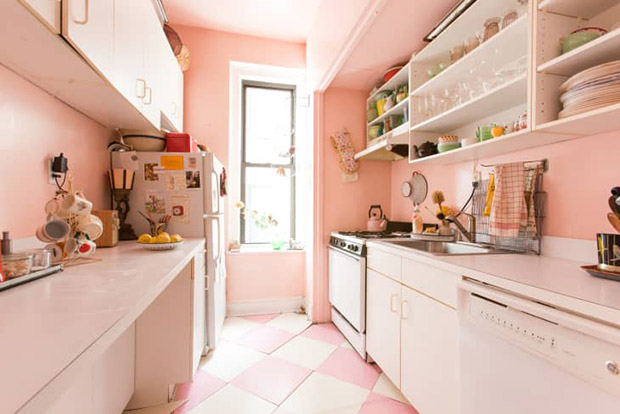 Sadie Stein
You can pull-off some unique pink kitchen ideas but applying different shades of pink throughout like this one. Although the walls are painted the bolder shade of pink, it is paired with the cabinets, shelves, and worktops that have hints of a lighter shade of pink. Even the floor tiles are a pretty pattern of white and pink.
Tyche Apartment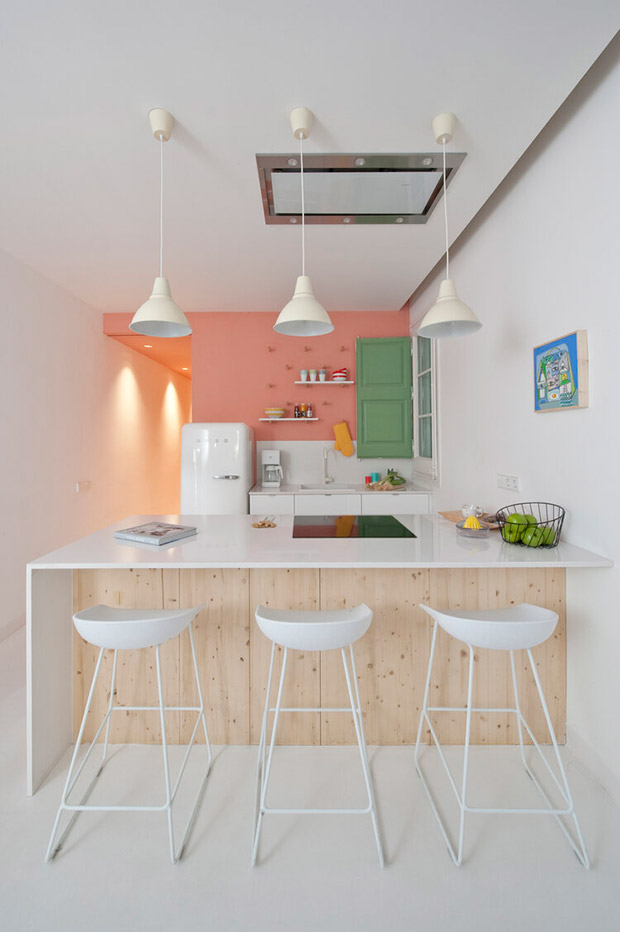 Colombo and Serboli Architecture
Rather than have every wall in the kitchen painted pink, you can choose to only have one side painted. This makes the color pop even when it's a lighter hue and adds life into the room.
Tiny Home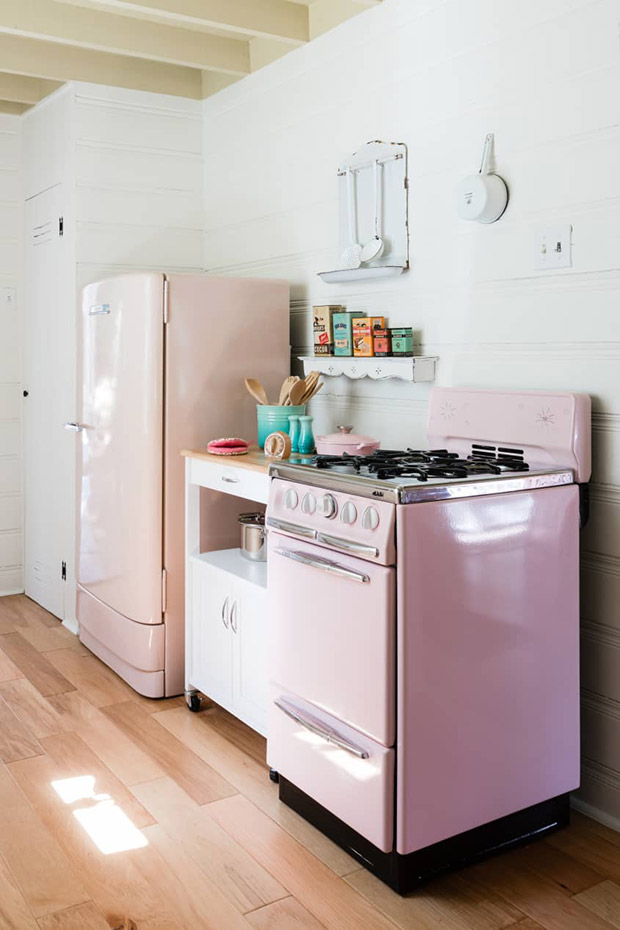 Vivian Kania
In this tiny home, it's the vintage refrigerator and stove that standout with its color. They definitely get all the attention against the white walls and the wooden floor.
Toronto Designer's Renovation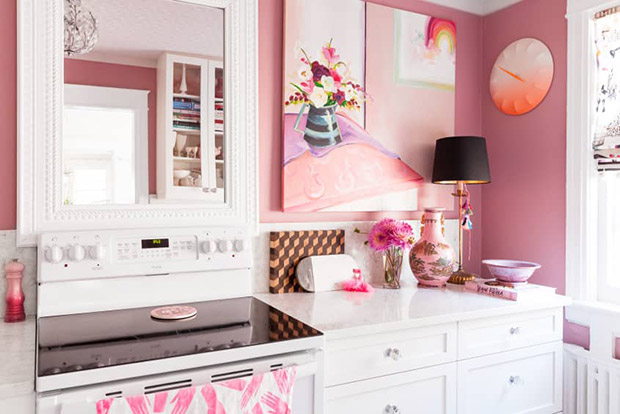 Tiffany Pratt
This particular kitchen doesn't even look like your regular ones. Pink kitchen ideas like this will surely make it a unique room and experience.
Copenhagen Spirit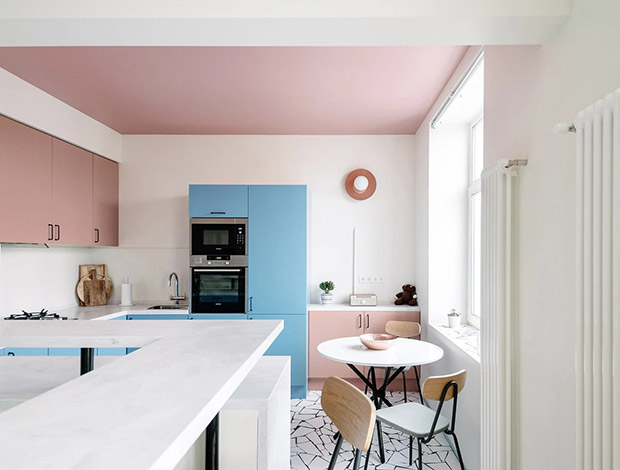 buro5
Pastel blues and pinks go well together. This kitchen perfectly shows just how good they go together. While the blues are continuous, the pinks are separated. We have one bottom cabinet, the top cabinet, and the ceiling painted pink. You can try to do this too for your kitchen.
The Oasis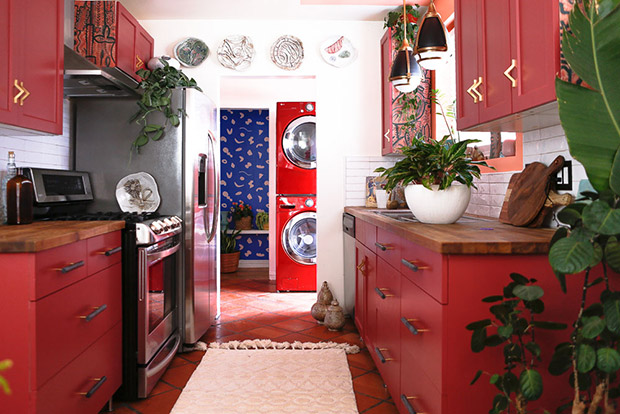 Mila Moraga-Holz
Personally styled by the homeowner, these are the pink kitchen ideas that specifically cater to their lifestyle. Even with a low budget, the homeowner managed to whip up this beauty of a kitchen with just a can of paint.
Dusty Pink Kitchen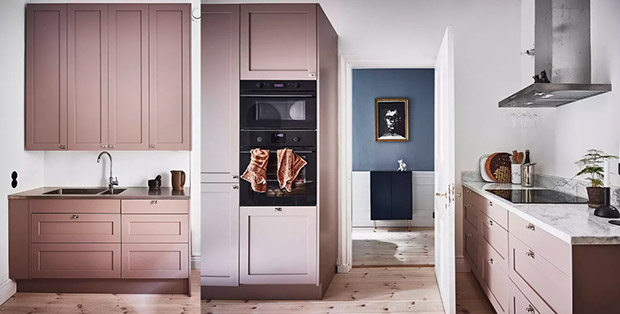 Sara Margareta Hellman
This dusty pink kitchen just brings out a beautiful classic vibe which contrasts to most pink kitchen ideas. Most of them end up either looking quirky or ultra-modern.
Heart of the Home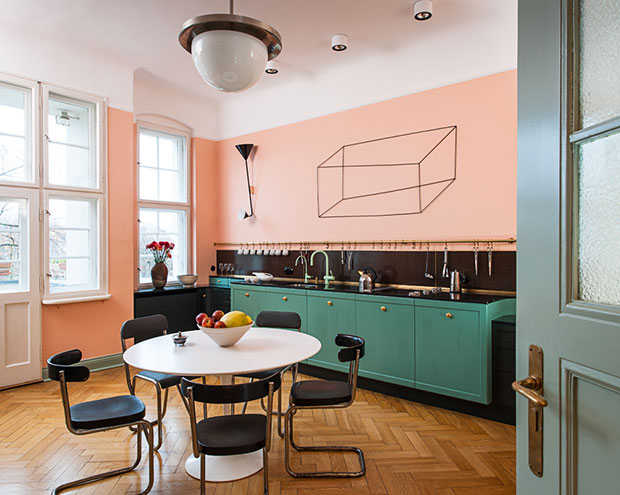 Gisbert Pöppler
The combination of coral pink and dark green is a beautiful sight. And the strong black base notes only adds emphasis to its beauty.
Brooklyn Loft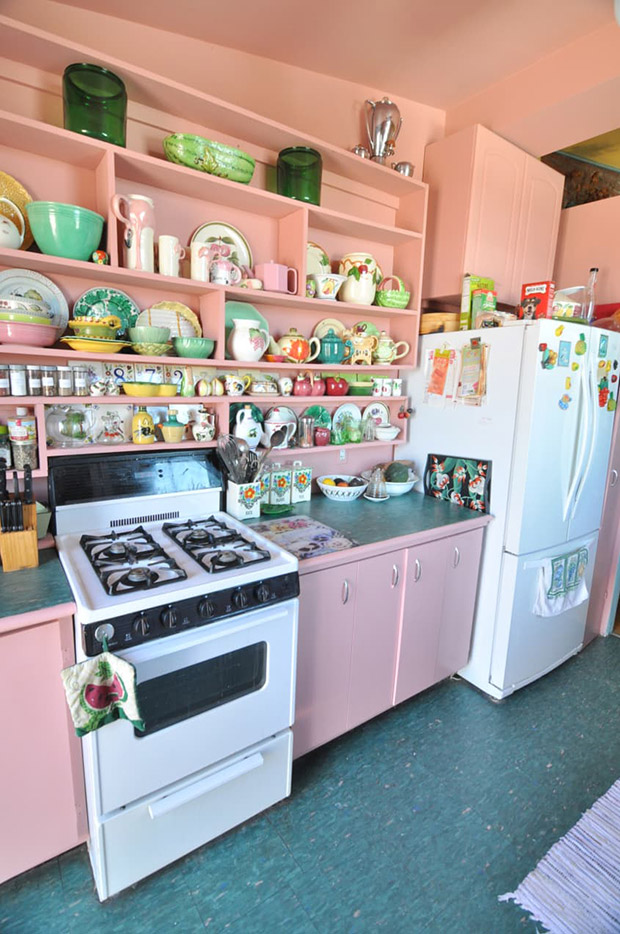 Andrea Sparacio
All the colors in this kitchen may be a little overwhelming but take a good look first. The pink here is used as a good background for all the colorful crockery and collections.
The Potting Shed in Manhattan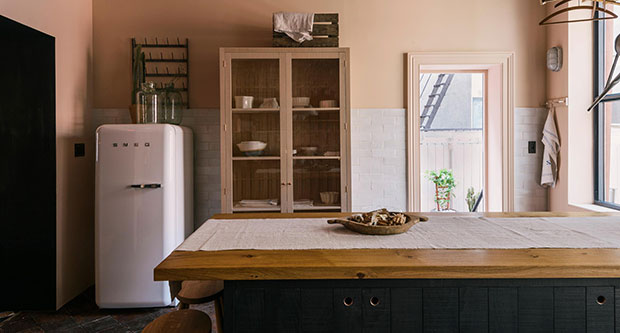 deVOL Kitchens
It's no surprise the natural wood tones and pastel pinks go well together. With this rustic farmhouse style of a kitchen, this shade of pink lights it up and brings personality into the room.
Helen's House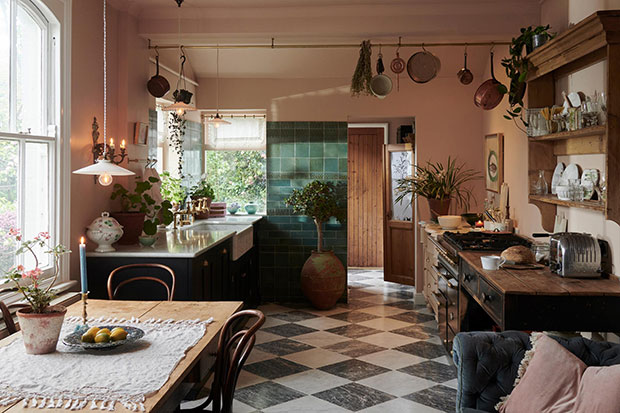 deVOL Kitchens
The way the walls and ceiling are painted a light shade of pink makes this room have the pretty glow of warmth. With the vintage pieces, this shade of pink does not take away from the design style at all, but it adds even more to it.
Dusky Peach Kitchen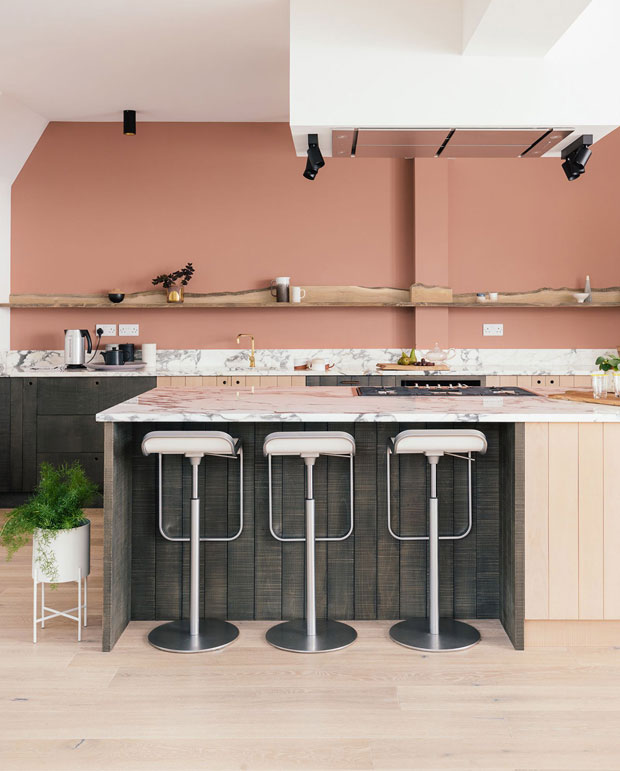 deVOL Kitchens
This open, wooden shelving instantly grabs one's attention. But what's more impressive is how it blends in well with the pink wall.
Tickled Pink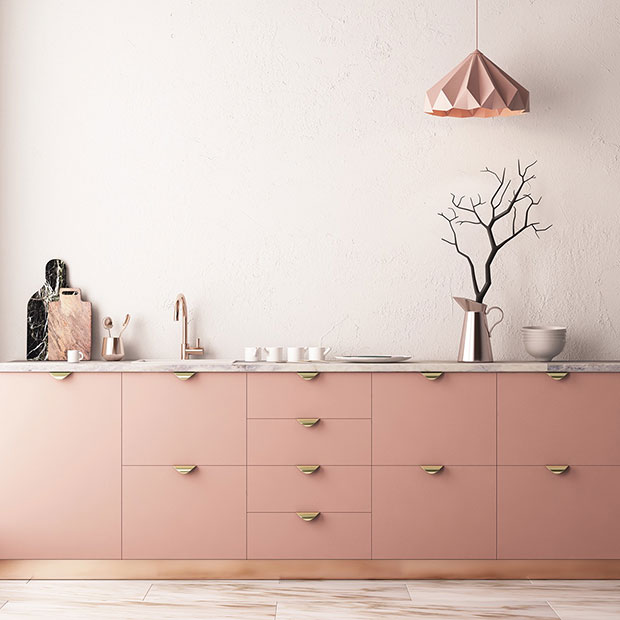 Le Creuset
The combination of this pastel pink with rose gold pink instantly gives off an elegant and sophisticated look to this kitchen.
La Boca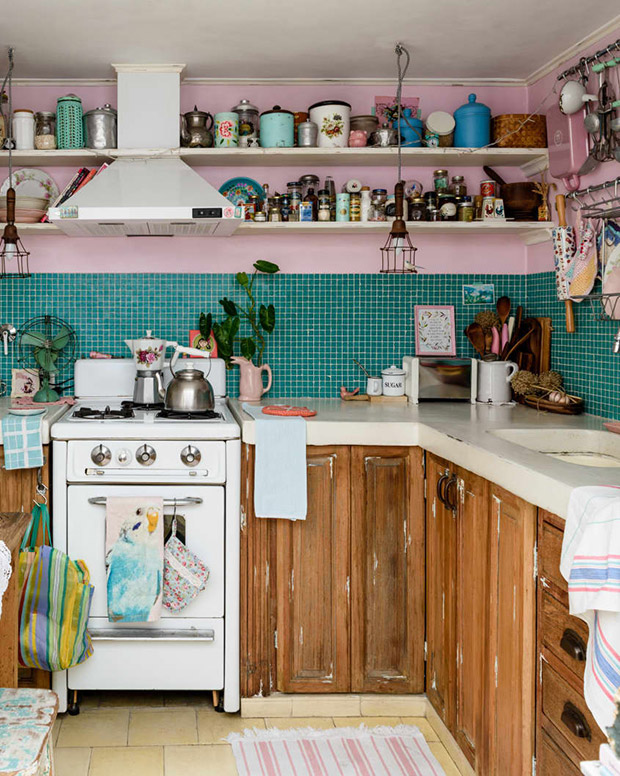 Federico Paul
Here's another example of how pink and green can go well together. They also fit well in this farmhouse style kind of kitchen.
Chez Marie-Sixtine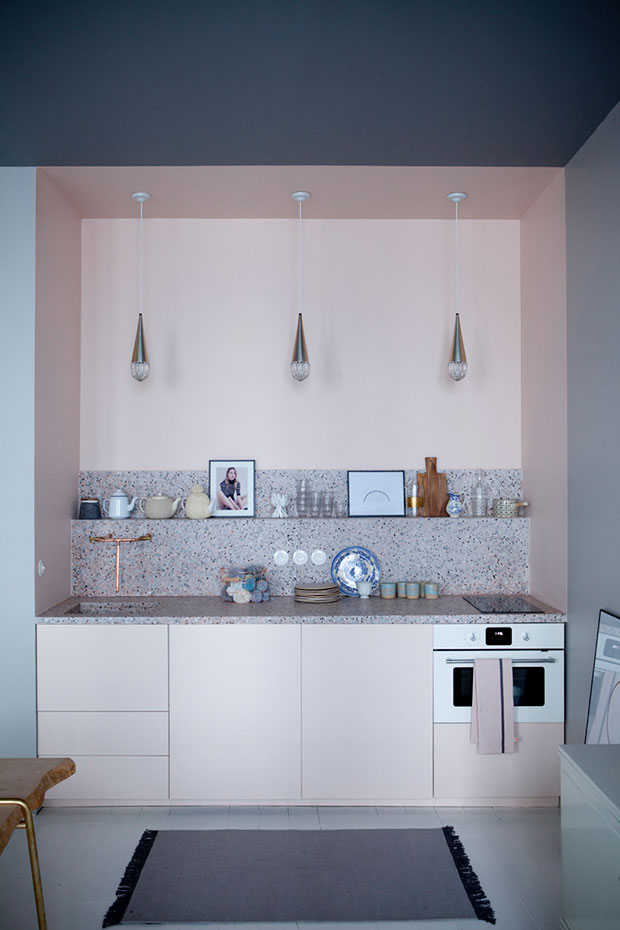 Sandrine Place
This lightness of the color pink is perfectly suited to match with grey marble countertop. It also creates a beautiful contrast with the grey paint found in the rest of the room.
Colorful West LA Home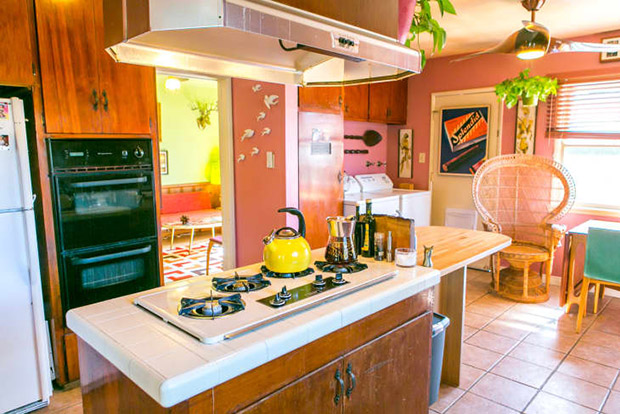 Marisa Vitale
This colorful home combines the rich natural wood tone with hot pink so well. You can just imagine the liveliness that this color palette brings into the room.
Long Acre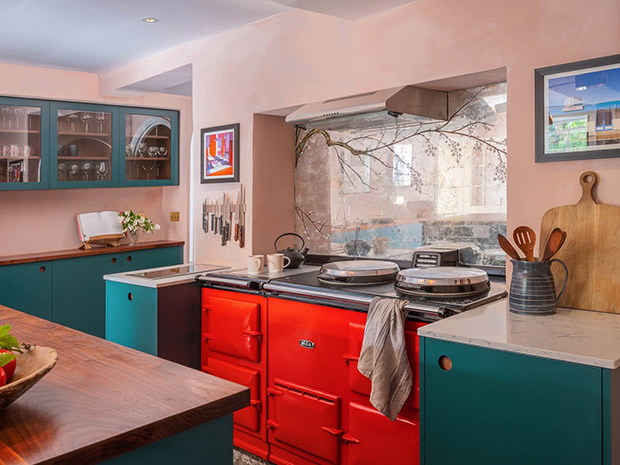 Naked Kitchens
The muted pink walls acts as a perfect backdrop for the vivid colors of red and green on their furniture and appliances. Consider this in your pink kitchen ideas.
Albert Bridge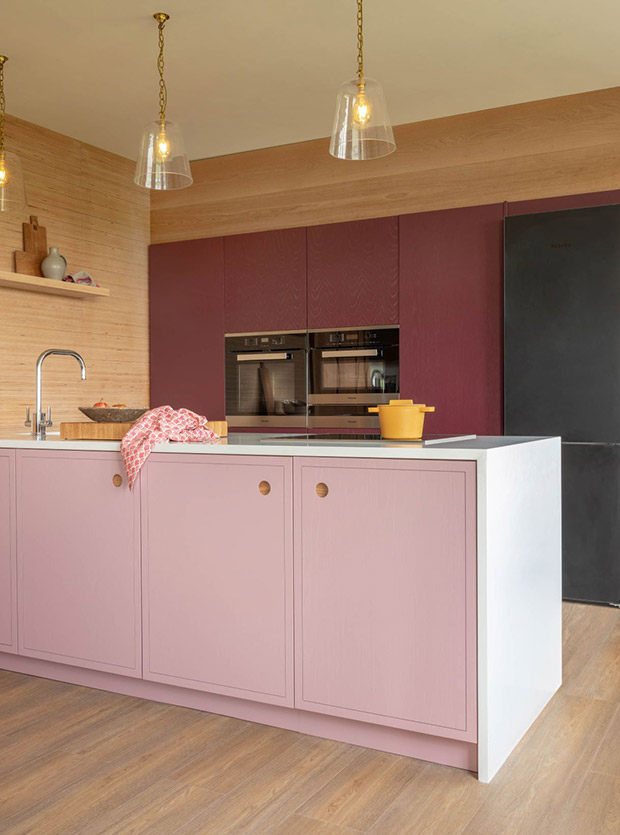 Naked Kitchens
Design your kitchen to have a two-toned effect like this one. With the lighter pink tone for the island cabinet, they went for darker shade for the cabinet on the wall.
Bushwick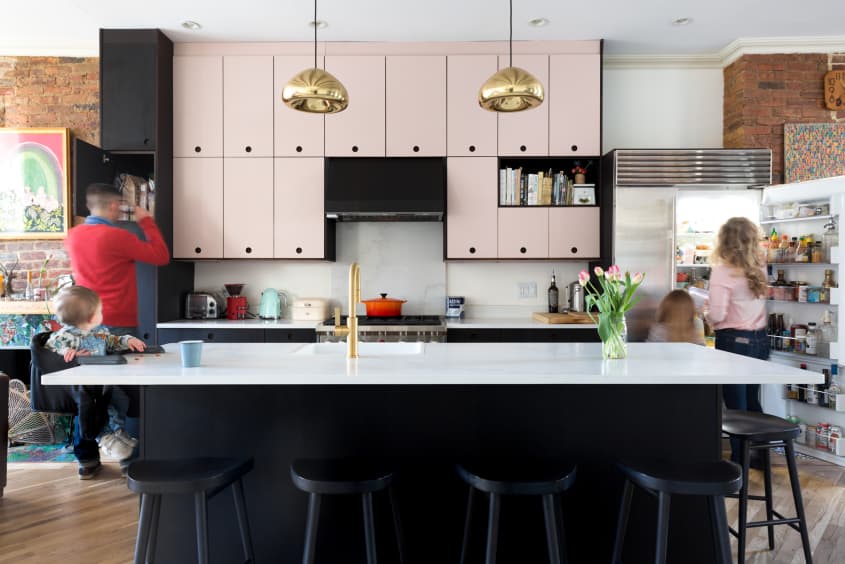 Minette Hand
The sleek black paint complements well with the baby pink paint on the top wall cabinet doors. The color combination creates a contemporary and stylish look to the kitchen.
Contour Kitchen in Baker Miller Pink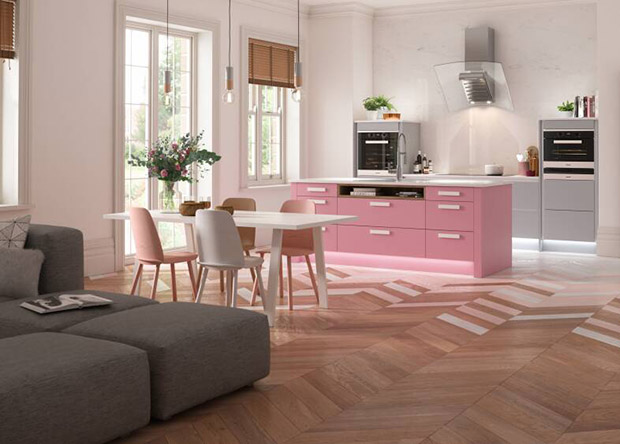 Wren Kitchens
In this kitchen, they created a focal point through its pink kitchen island. The hints of pink on the floor and in the chairs only accentuate the island.
Handpainted Pink and Cream Original Kitchen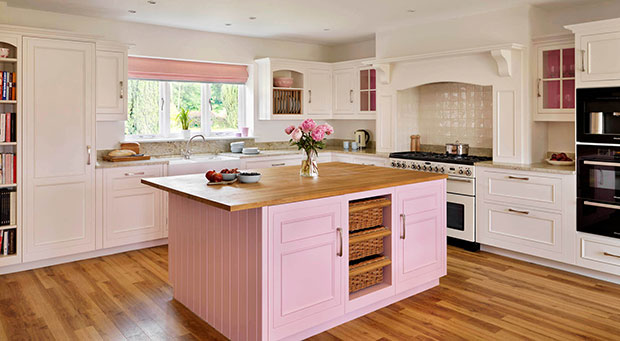 Harvey Jones
Similar to the pink kitchen above, this one also has a pink kitchen island for a focal point. And throughout the kitchen, you will find hints of pink spread sparsely around.
Solva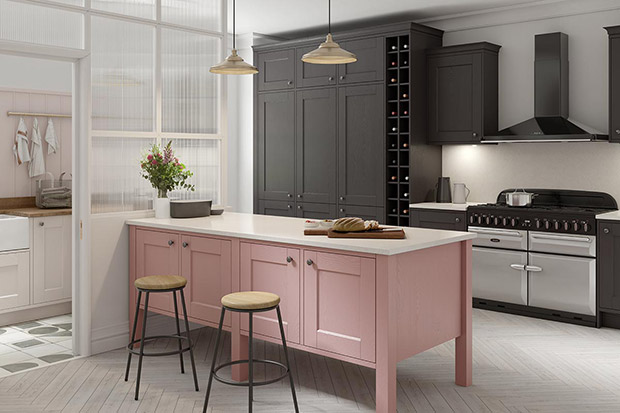 Masterclass Kitchens
Another one of those pink kitchen ideas with the kitchen island as a focal point. It greatly contrasts with the black appliances at the back.
Highland Park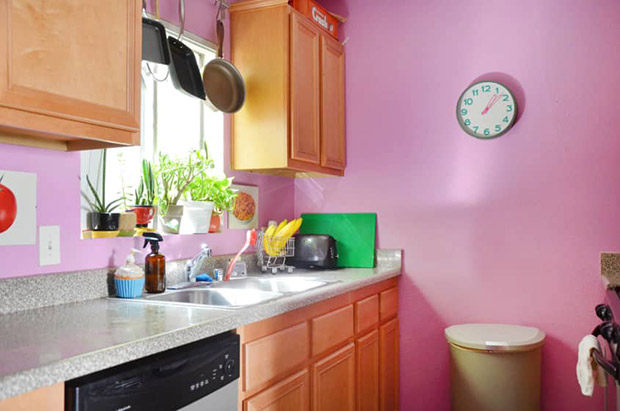 Esteban Cortez
The bright and vivid pink wall brings in much needed life into this kitchen.
House of Sun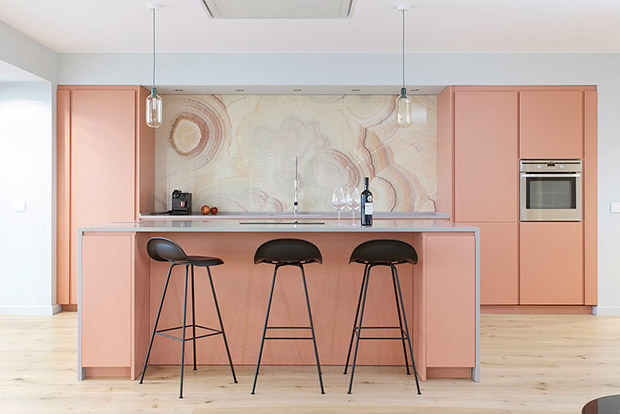 Maria Stepanova
The pastel pink paint on the cabinets and island perfectly matches with the unique backsplash tile. Much like its name, this color palette brings a warmth glow into the room.
Bubblegum Pink Kitchen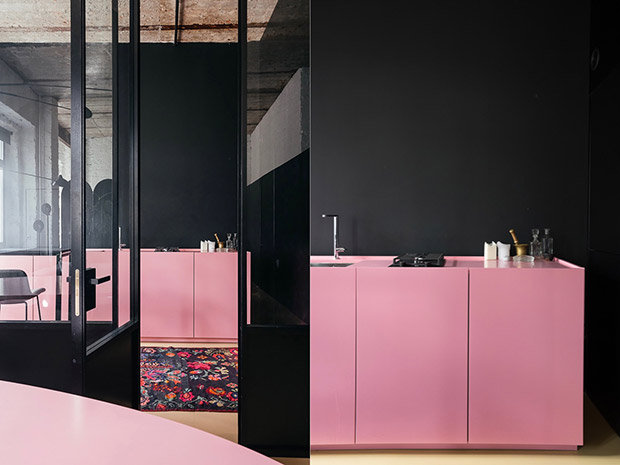 Crosby Studios
Against the startling black walls, the bubblegum pink island stands out perfectly.
Apartment Berlin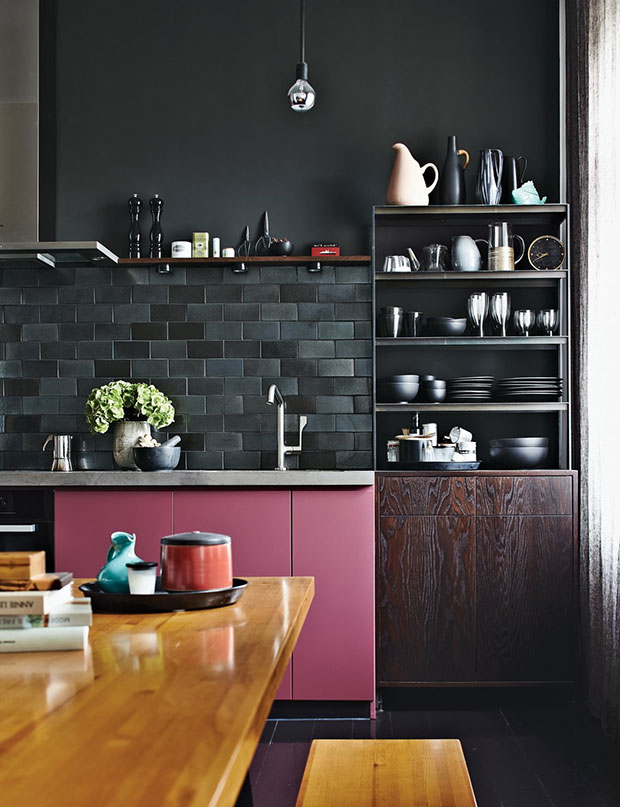 Peter Fehrentz
A little different from all the other pink kitchen ideas, in a kitchen with a dark color palette, having a bolder shade of pink painted for the sink is an eye-catching piece.
PIT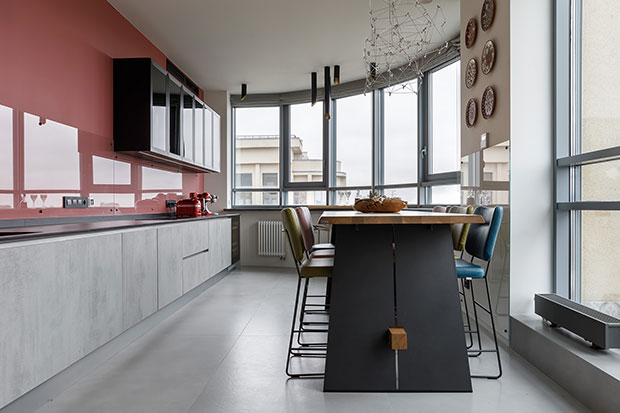 Martin's
A kitchen designed like this with huge windows, the light pink wall reflects all that natural light well, creating an even brighter atmosphere to the room.
Pink 88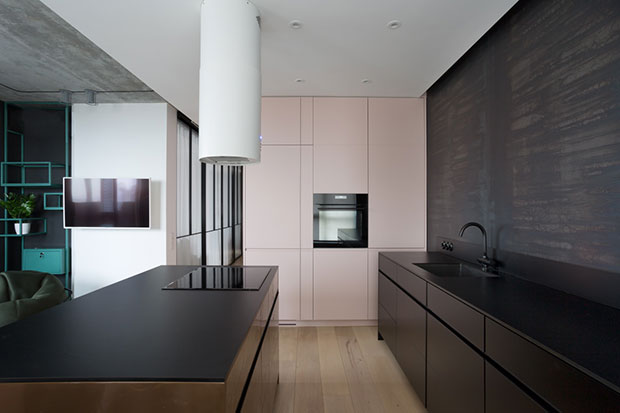 Martin's
With the longer wall and its worktop painted a jet black paint, the pastel pink cabinet to the side adds some light into the kitchen.
Dark Coral Kitchen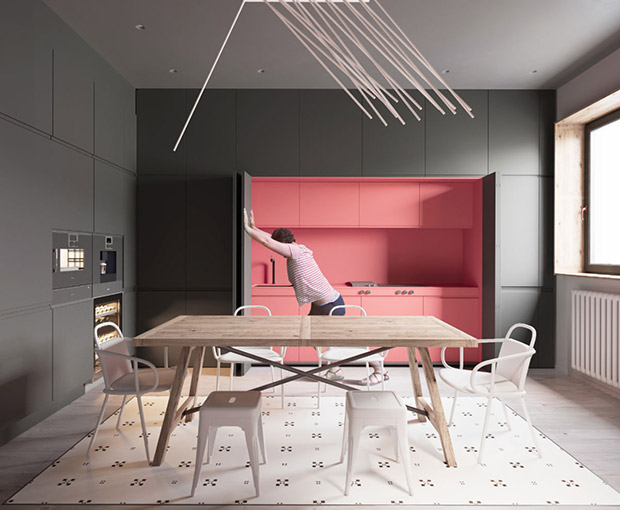 Martin's
Tucked away with the muted black exterior of this cabinet system is this dark coral kitchen counter. This makes for a good little surprise into the kitchen's aesthetics.
Somewhere in Minsk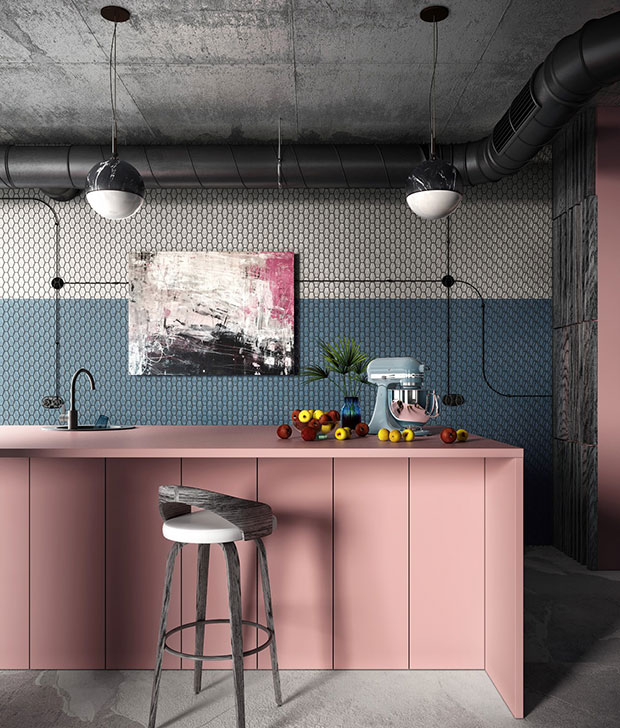 Arama Studio
With an industrial design background, it's quite surprising that this pink kitchen island seamlessly fits with the theme.
Pink – Design Project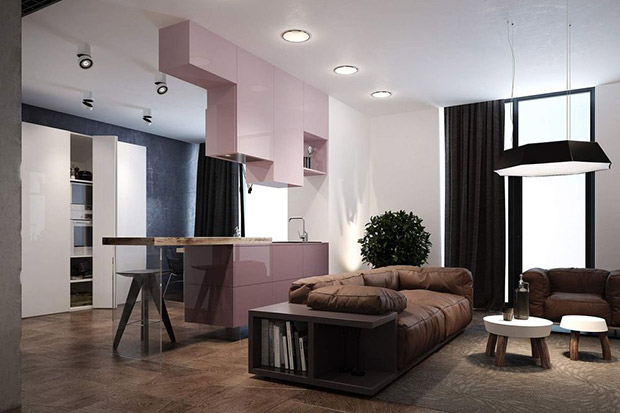 Zooi Designers
Again, rather than the majorly pink kitchen ideas, you could have your counter and top cabinets painted glossy pink instead.
Billie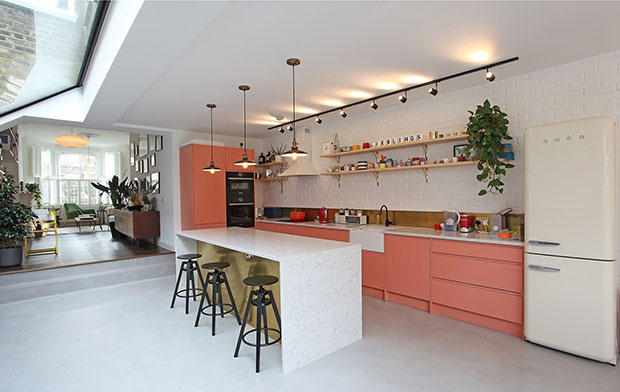 1st Option
In a room painted white, the coral color is a nice addition for personality and liveliness.
Kitchen Island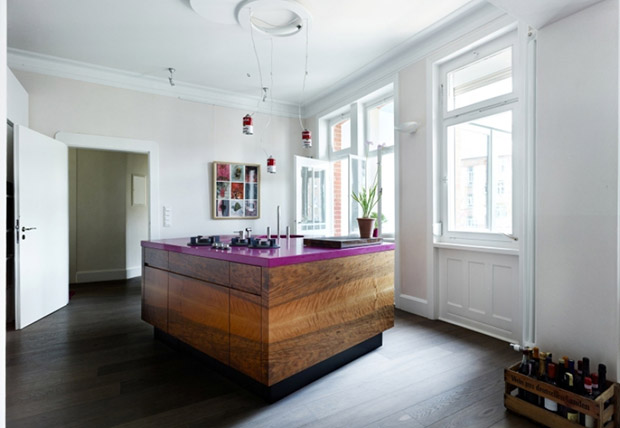 Sarah Maier
Forget kitchen islands where the body is pink and the countertop a different color! Here's a kitchen island with a countertop that's a bold pink.
Hot Pink Kitchen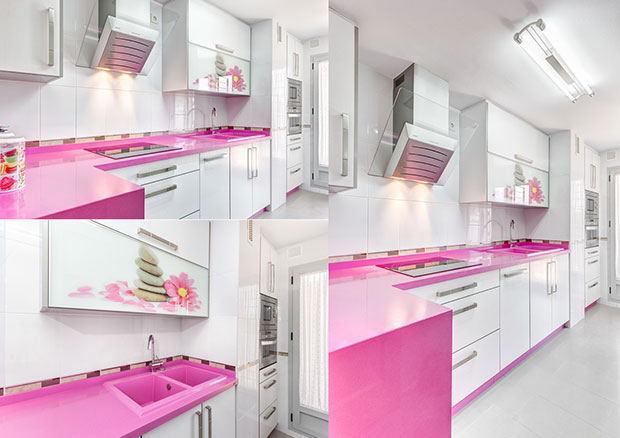 Goyo Izquierdo is Spaces and Light Photography
Much like the entry above, in this kitchen, too, the countertop (and even the sink!) is a beautiful hot pink! Not only that, but the base note color matches as well.
Hampton Vintage Rose with Mulberry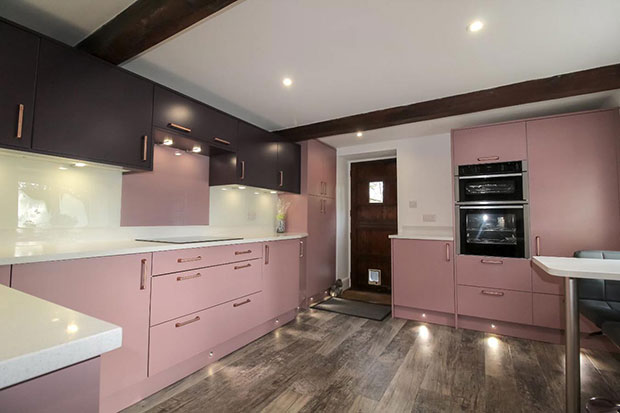 Masterclass Kitchens
All the floor cabinets, and even the fridge, are painted a dusty pink. But what's also interesting is that the wall cabinet's handles are in the similar shade of pink so the color palette goes well.
Sutton Autumn Blush and Highland Store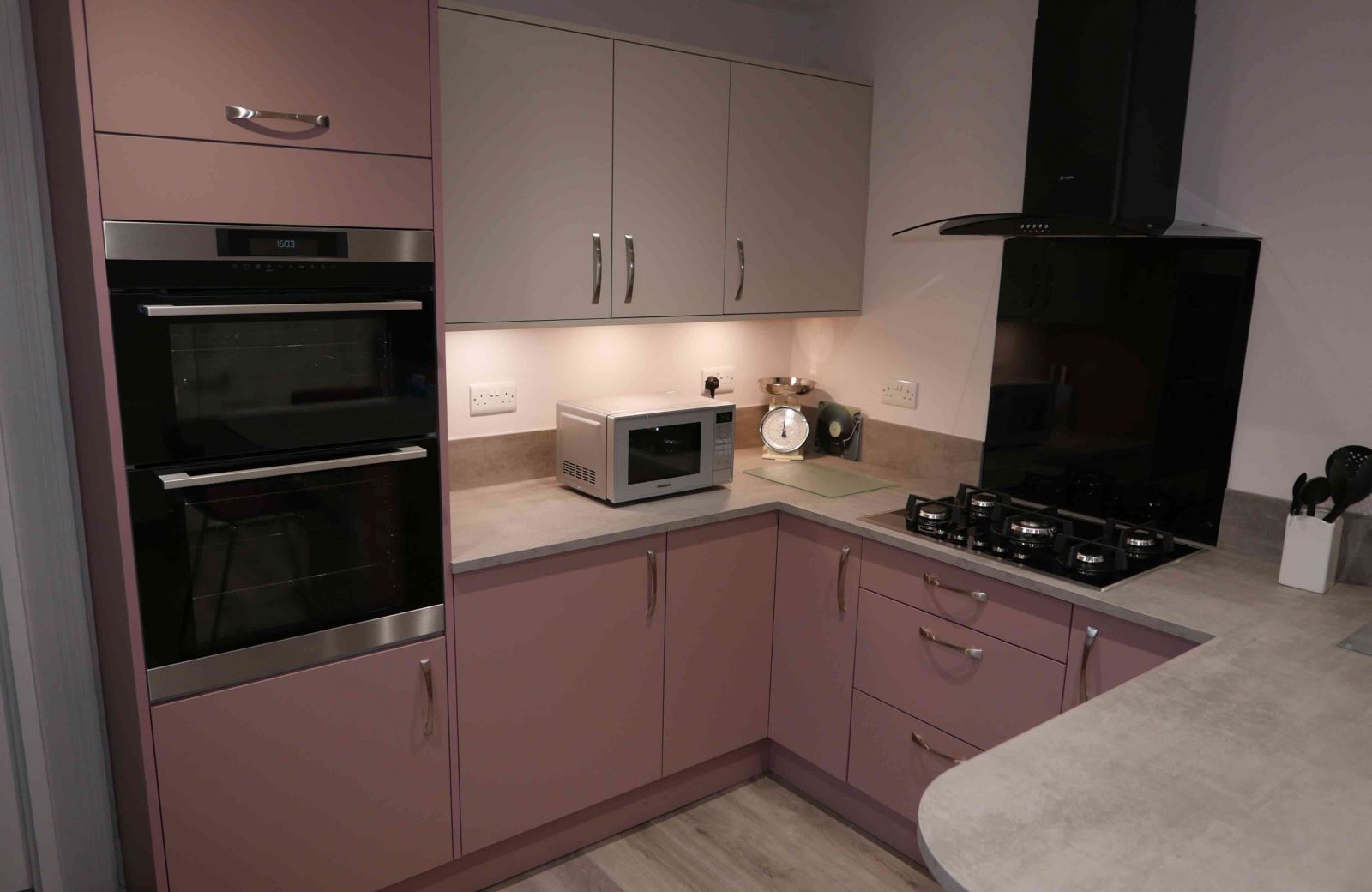 Masterclass Kitchens
Notice that the wall cabinets in this kitchen are a lighter shade of pink compared to that of the floor cabinets.
Kohimarama – Kitchen 3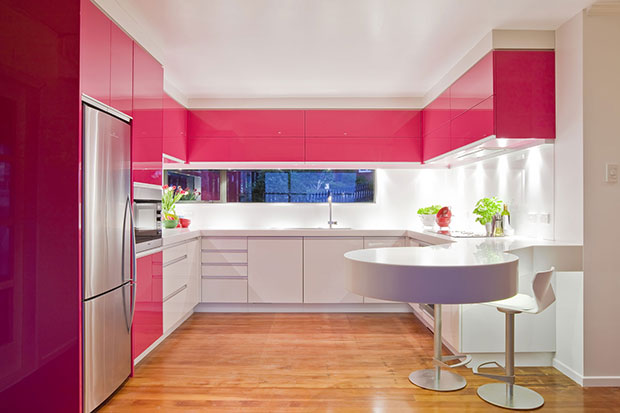 Mal Corboy
This shade of pink, coupled with white, gives such a preppy look to the kitchen. This kind of aesthetic will definitely match with young homeowners.
Arcadia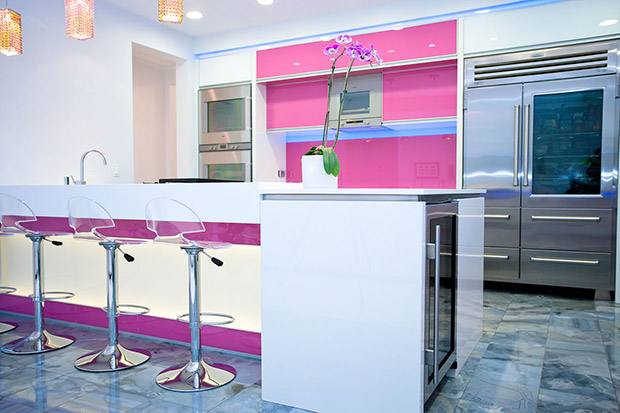 Mal Corboy
The places where they decided to paint with pink, rather than being random, is organized, giving it a clean and classy look.
Bright Backsplash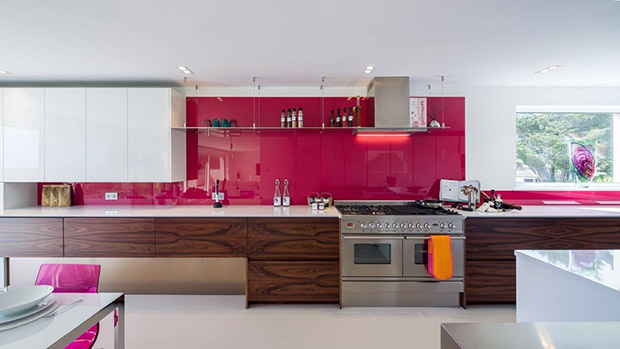 Nicola Bellot
Very true to its name, this kitchen boasts off its bright pink backsplash.
Hello Kitty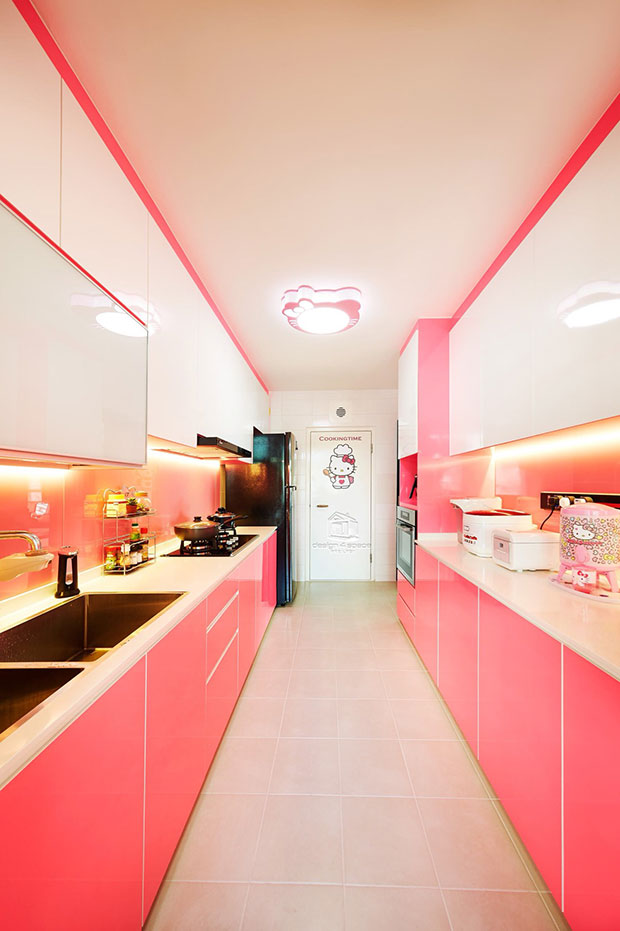 Design 4 Space
Now, this is one of the pink kitchen ideas that may bring divisive opinions. The Hello Kitty theme may bring opinions of it being a little childish. But the color palette is pretty amazing and lightens up the mood of the kitchen. Surely, you'd enjoy cooking in this place.
What do you think about our list of pink kitchen ideas? Did any convince you of a pink kitchen?
Like This Post? Pin It!