65 High Gloss Kitchen Cabinets for a Sleek Look
|
In designing or upgrading your kitchen, your kitchen cabinets are going to take up an important role in the overall look of your kitchen. Your kitchen cabinet's finish is essential in creating a look and overall feel that is well-suited to your kitchen.
High gloss kitchen cabinets last trended in the 70s. Though, they are becoming more popular these days. This kitchen cabinet style is considered modern and stylish, suiting contemporary kitchen design more than any other style.
There are many high gloss kitchen cabinets to choose from as they come in a wide range of colors and materials. Among the materials used for a high gloss kitchen cabinet, the finish is lacquer, acrylic, or acetate.
Is high gloss good for kitchen cabinets?
Like many other things in the world, there are pros and cons to high gloss kitchen cabinets. Let's take a look at some pros:
1. Visually, high gloss kitchen cabinets are an impressive addition to any kitchen for the stylish look they bring. The shiny finish itself makes it reflective, thus making the room feel brighter and bigger. In that case, high gloss kitchen cabinets are perfect for small kitchens.
2. High gloss kitchen cabinets are easy to clean too! Any stains and marks can be simply wiped off using a non-scratch microfiber cloth. You won't need to spend so much time cleaning and maintaining your kitchen cabinets.
3. High gloss finishes come with waterproof quality. There is no need for treatments or sealing to your cabinets to make them resistant to water and moisture.
Now, for the cons, you will find the things that make high gloss finish appealing can also be a disadvantage.
1. The fact that the high gloss finish makes it very reflective means imperfections are easily visible. Fingerprints, scratches, smudges, and dirt are more noticeable. And if you choose a darker color, then, it's even more noticeable.
2. These visual imperfections are not really a hassle if you regularly wipe off your cabinet each time you find these smears and spots. While it is easy to clean, it could be a hassle to constantly be wiping your kitchen cabinets each time someone's fingerprints are on the surface.
3. High gloss kitchen cabinets can be a pricey option, especially since they tend to be popular.
Are high gloss cabinets out of style?
The price tag for high gloss kitchen cabinets means they haven't gone out of style. In fact, they never really went out of style. As high gloss finishes offer a modern and luxurious look, they are quite popular for contemporary and modern kitchen design styles.
Let's take a look at some classy high gloss kitchen cabinets!
Barbara Beach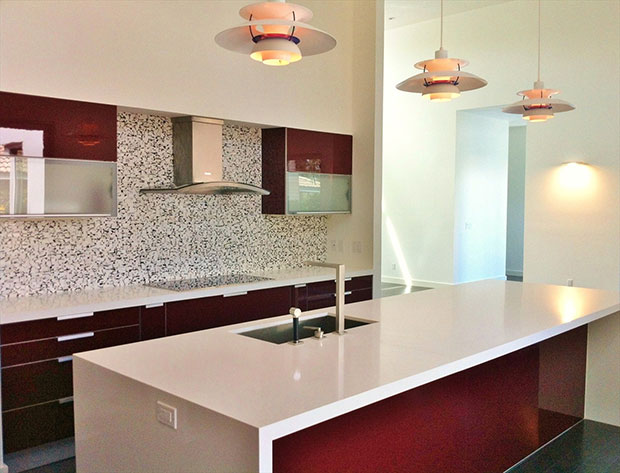 Tuthill Architecture
This wine-red color offers a sophisticated look among high gloss kitchen cabinets.
White Gloss Kitchen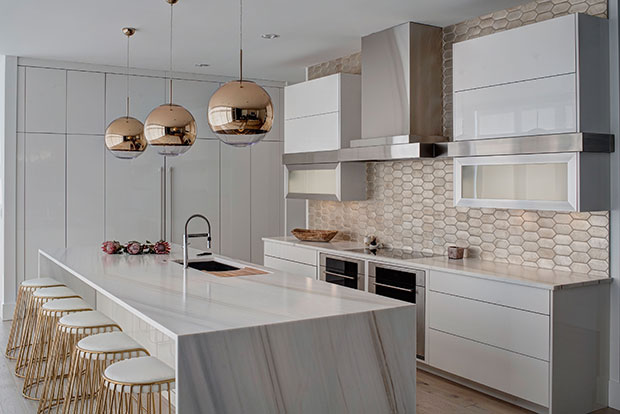 White high gloss kitchen cabinets are quite the popular pick for high gloss finishes. In this kitchen, the stained quartz countertop is a perfect match for it.
Brown Gloss Kitchen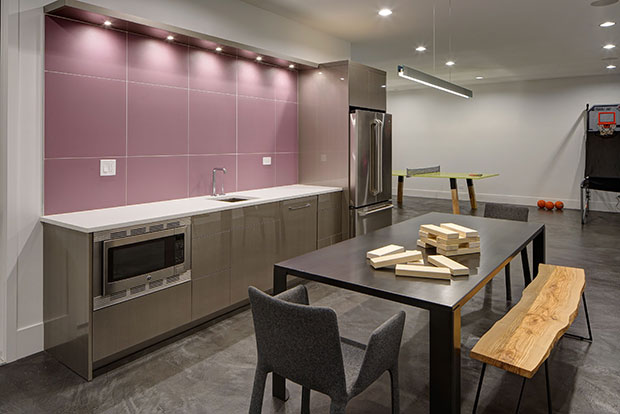 Schanstra Design Group
Brown high gloss kitchen cabinets are not quite popular. The pink backsplash tile with the brown cabinet is an unexpected pretty combination.
San Carlos House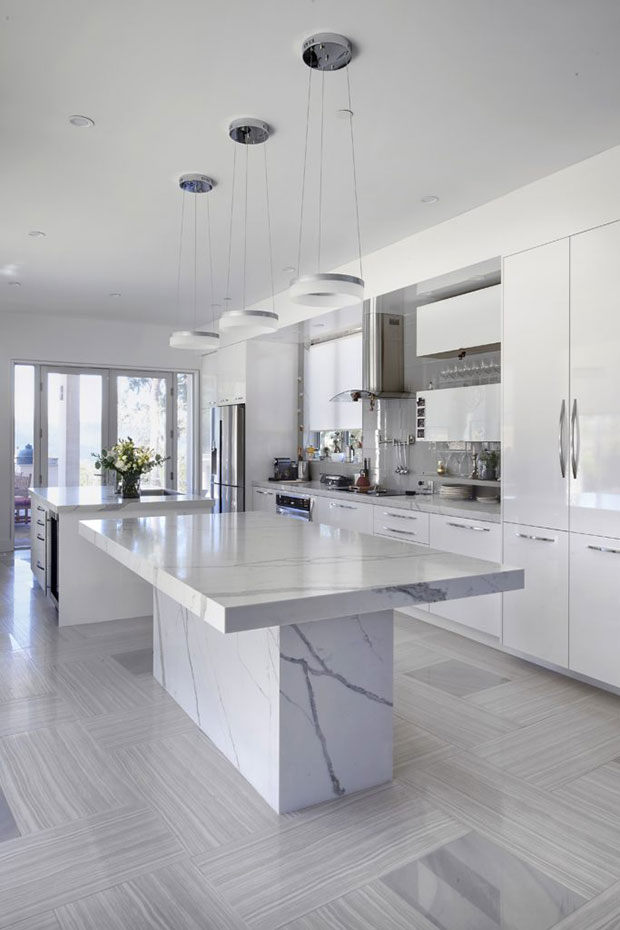 Acadia Architecture
The grey backsplash tile is a perfect choice that matches the countertop's stain. It also helps highlight the high gloss finish.
High Gloss Kitchen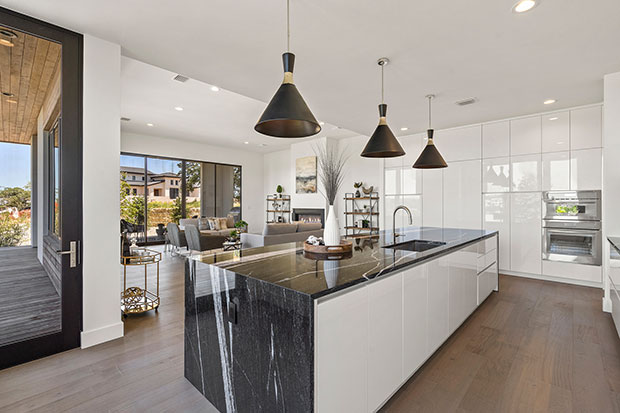 The black quartz countertop is a perfect match for the white high gloss cabinets. As expected, they work in perfect harmony.
Modern Home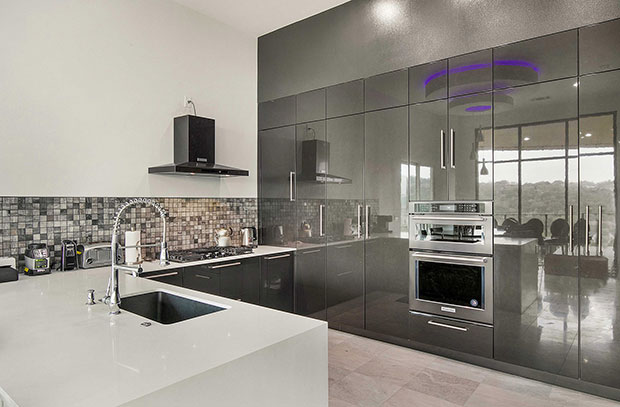 By Darash LLC
In reverse, pick black or grey high gloss kitchen cabinets and then match it with a plain white countertop. Either way, you are going to have a sleek-looking kitchen.
Boston Commonwealth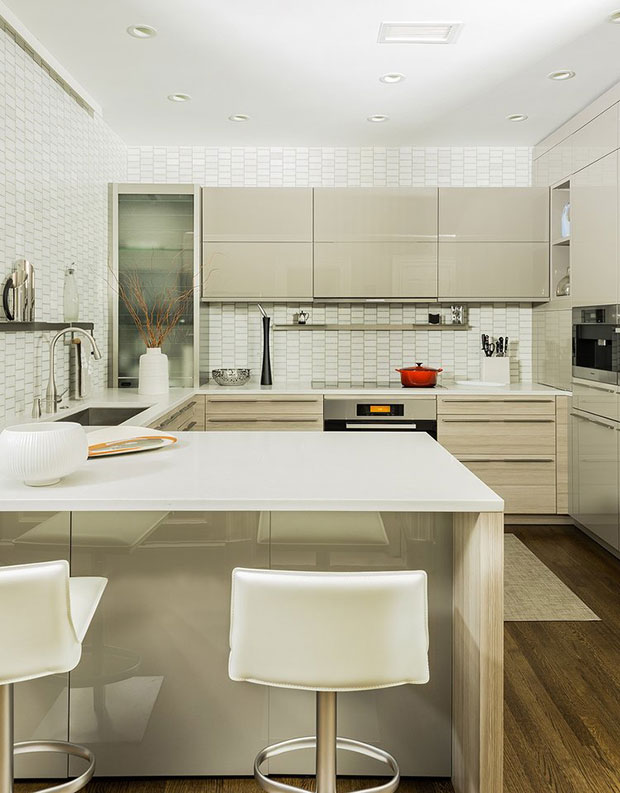 You don't need to have every single one of your kitchen cabinets be high gloss finished. In this kitchen, the bottom cabinets are finished with wood veneer.
Boston Downtown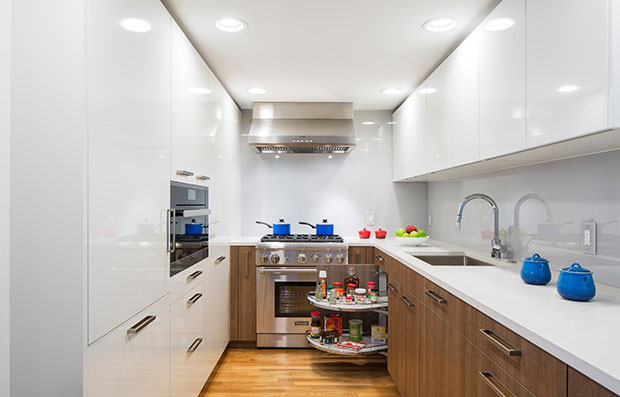 This contrast between lacquer and wood is beautiful, if not, interesting. Overall, this pristine look will definitely have anyone have a good time cooking.
Boston Modern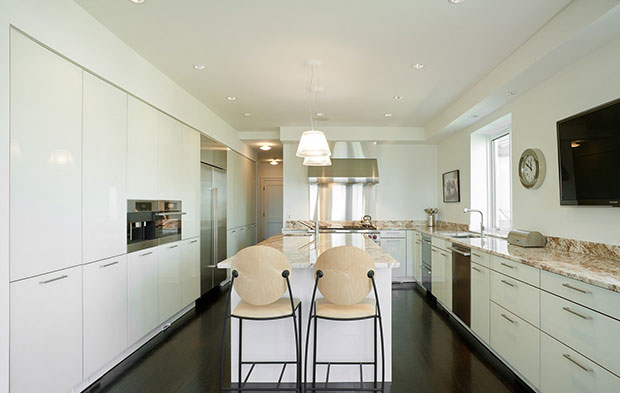 The cream countertop stain is a nice and warm addition to the overall ambiance of the kitchen. The barstools' color even matches it.
Cambridge Memorial Drive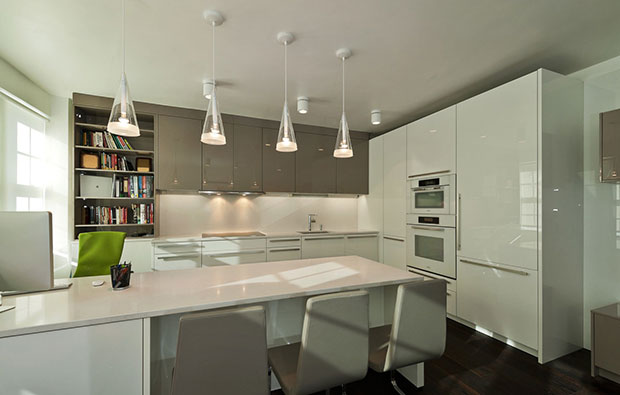 Interestingly, this home combines the kitchen with a study desk. The high-gloss finish even extends to the shelf made for books.
Boston South End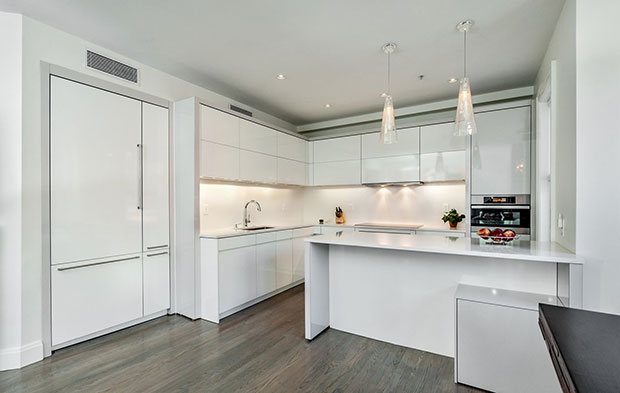 If you are opting for a white high gloss finish, you can add some dynamic to your kitchen by not simply going all-white. Bring some off-white or grey accents.
Boston Charlestown Flagship Wharf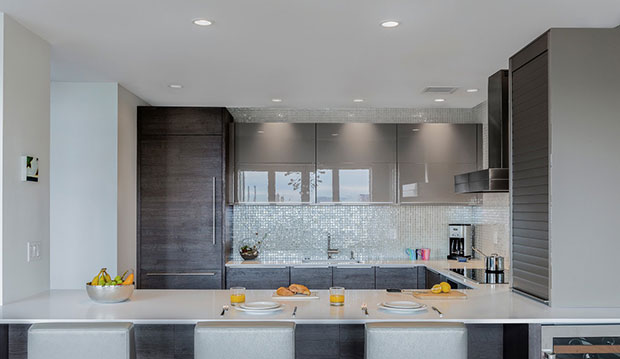 Divine Design + Build
In this kitchen, only the top cabinets have a high gloss finish. It adds some dynamic and variety in texture to the overall look of the kitchen.
Contemporary Kitchen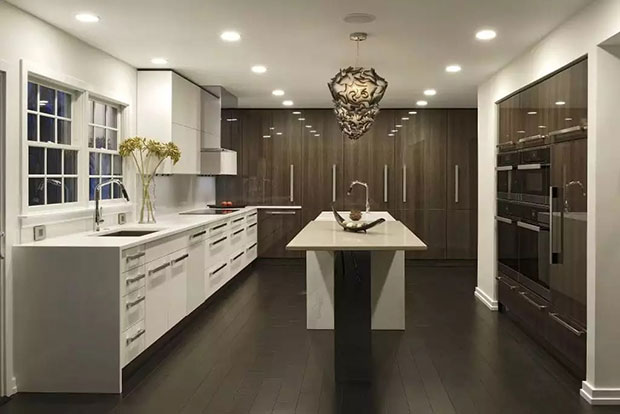 What's most interesting about these high gloss kitchen cabinets is how you can clearly see the natural wood grain of which the cabinets were made. It has a beauty and charm that other high gloss kitchen cabinets do not have.
Contemporary Kitchen in Bethesda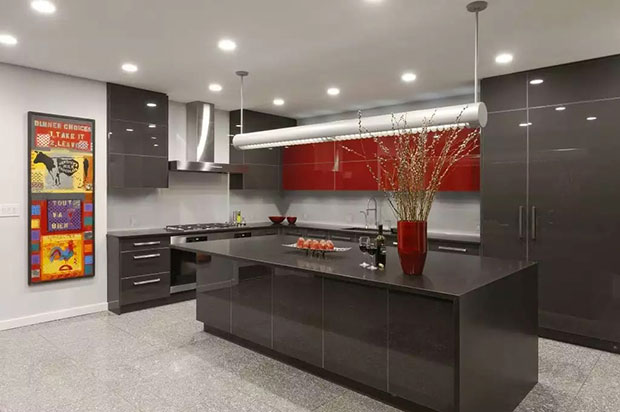 Don't stick to one color for your high gloss cabinets! This kitchen makes brown and vivid red work together.
Contemporary Kitchen in Washington D.C.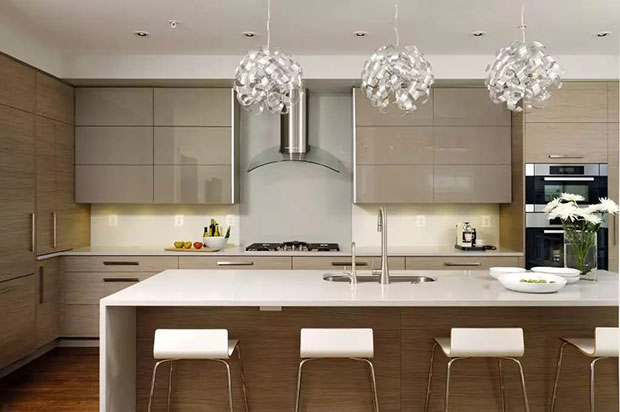 Jennifer Gilmer Kitchen & Bath, Ltd
If you're not going to have every cabinet in your kitchen have a high gloss finish, make sure that the colors are similar for a harmonious overall look.
Alternative Cabinet Materials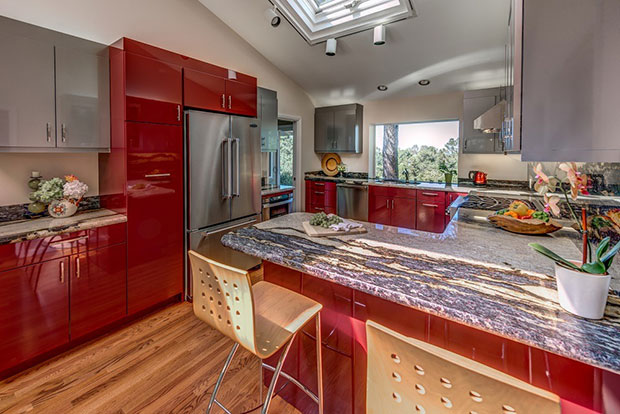 Gilmans Kitchens and Baths
The red high gloss finish – along with other décor and finish – definitely brings a lot of personality and life to the overall look of this kitchen.
Alno Sign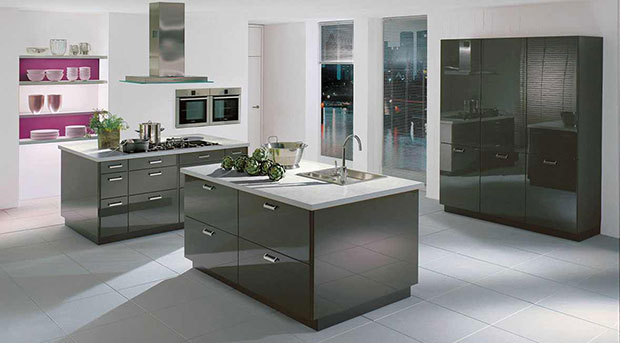 European Kitchen Design
Bring that high gloss finish to your kitchen island cabinet as well and see how luxurious your kitchen will look!
Aluminum Frame Cabinet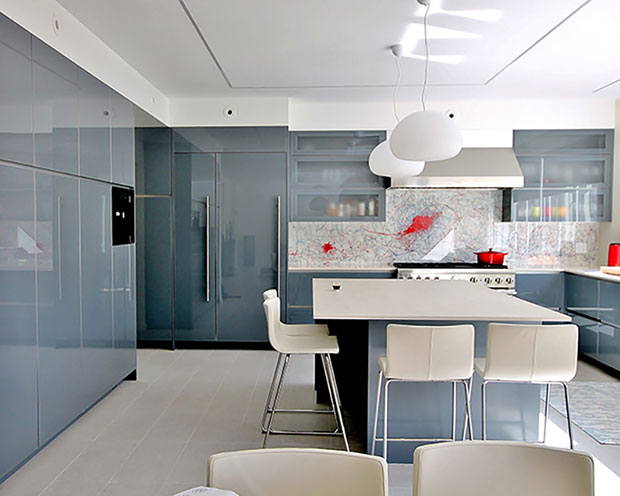 This color is not common and so is refreshing to see in a kitchen. Its muted quality of it brings a cool and relaxed feel to the kitchen.
On another note: how cool is the graffiti backsplash tile?
Stone Grey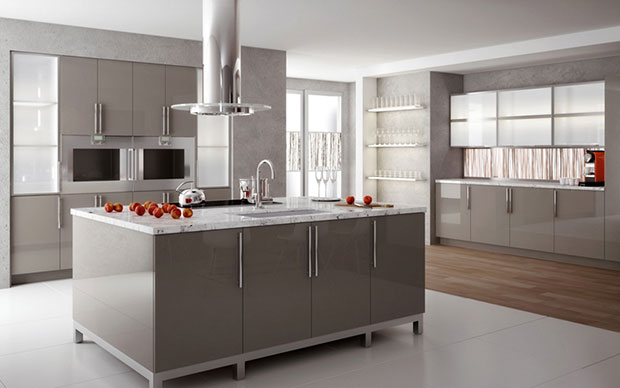 Element Designs
Here is a color palette that brings a warm and homey feel to the kitchen. It's not all too dark nor is it too light. Just the right shade and tone to feel relaxed while cooking.
Fort Myers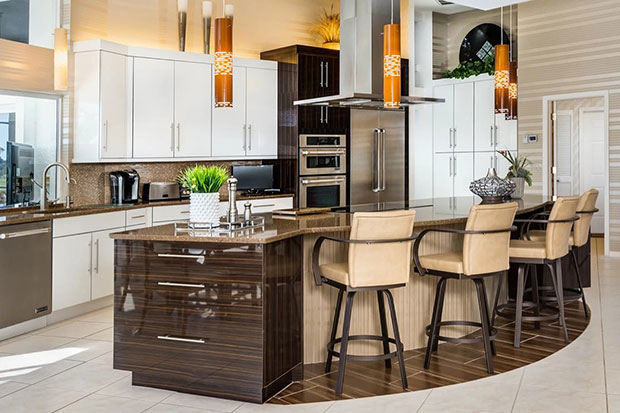 Kitchens by Ambiance
The variety of materials used in these kitchen cabinets already makes this kitchen one of the most visually interesting kitchen designs. And the combination of high gloss finish and varnish finish even adds to that visual interest.
Breath of Fresh Air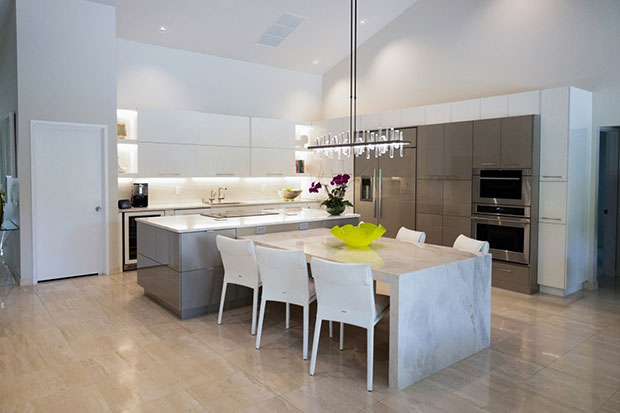 This color palette choice is perfect for contemporary kitchen designs.
Kitchen with a View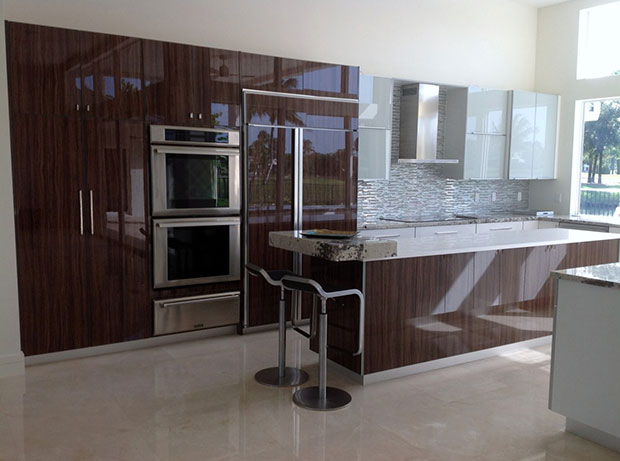 The clear natural wood graining brings more of a modern look into this kitchen. But all the other variety of materials come together for an overall eclectic look.
Striking Contemporary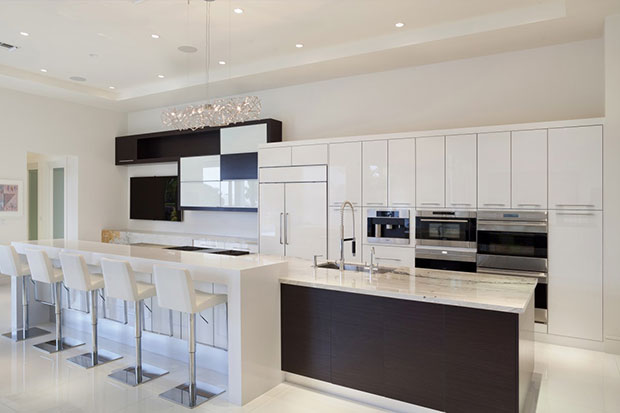 The interesting combination of high gloss finish cabinet door with wood veneer shelf really makes this a striking kitchen.
Bold and Blue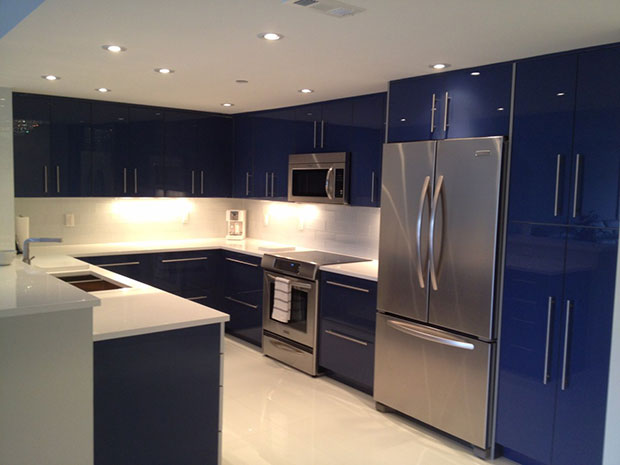 Like its name, this kitchen dares to be bold with these deep blue high gloss kitchen cabinets. Having a plain white countertop and backsplash tiles are great design choice to add some light to the room.
Commercial Flair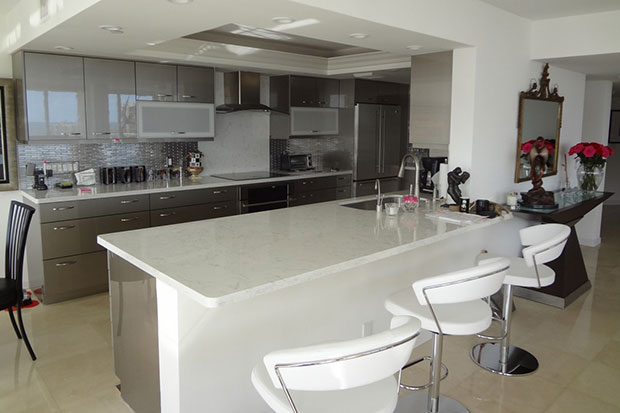 The color palette chosen for the kitchen cabinets, alongside the metallic grey backsplash tiles, do really give a commercial flair to this, otherwise, residential kitchen.
Fauve Flavour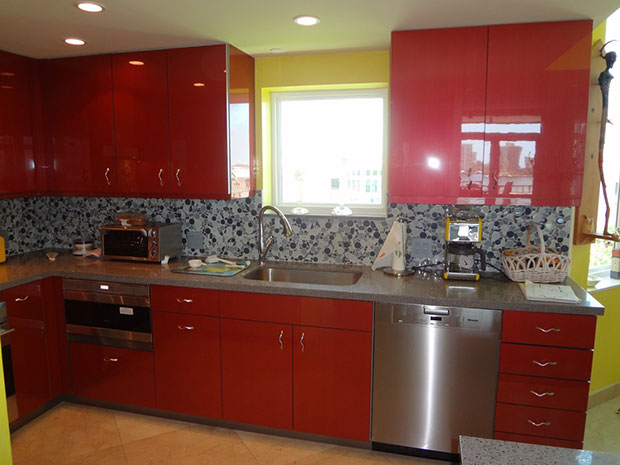 Along with the yellow walls, these bright red high gloss kitchen cabinets can create such an eclectic kitchen design.
Oceanfront Sophistication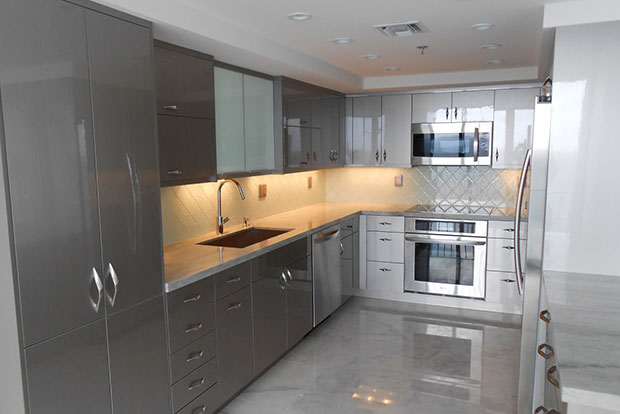 Boca Kitchens & Baths
The grey veining on the floor tiles perfectly complements the color choices for the high gloss kitchen cabinets.
Somerset Split-Level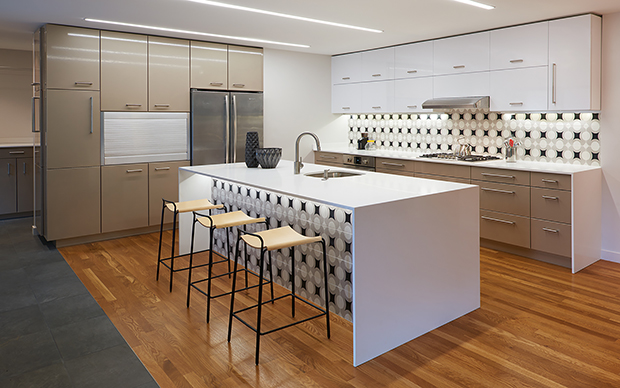 This shade of brown for the kitchen cabinets is a pretty cool choice that goes so well with the wooden flooring.
Rozen-Nguyen Residence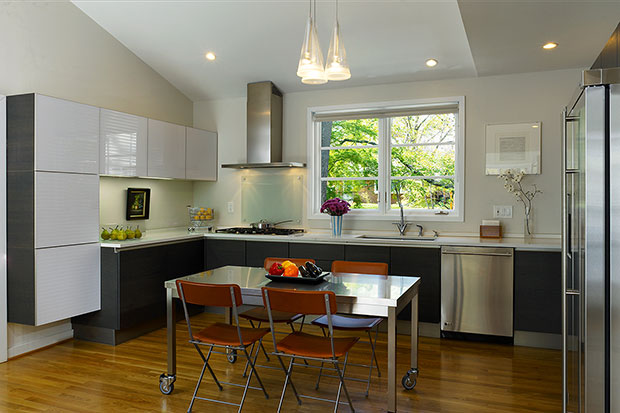 This home proves that high gloss kitchen cabinets can also work well with kitchens with industrial charm to them.
King-Shipman Residence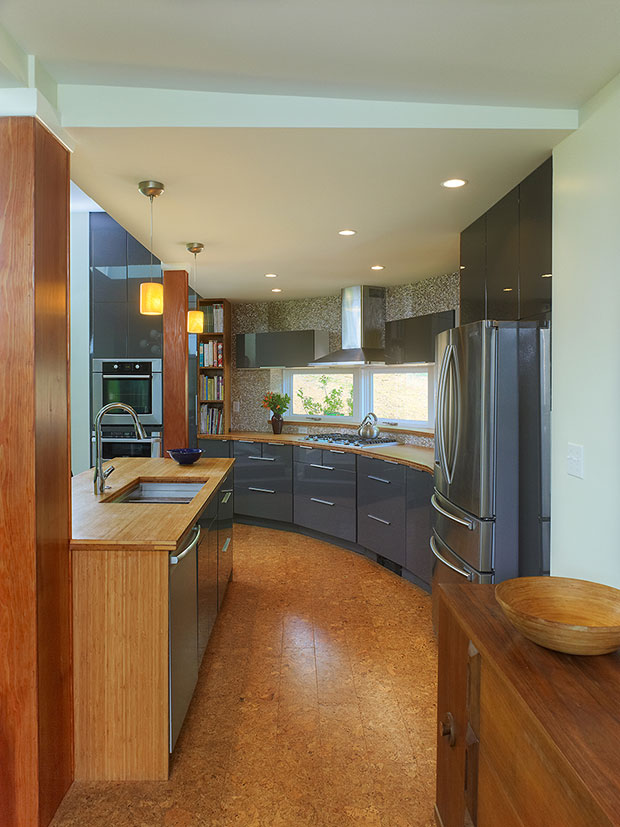 Balodemas Architects
This color palette is pretty interesting, to say the least. It also shows the interesting dynamic of different materials and finishes, creating an eccentric modern kitchen design.
Way Stunner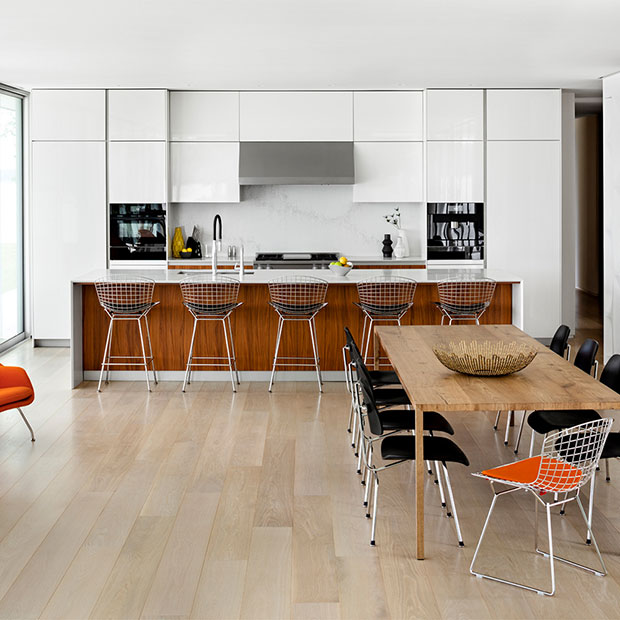 With all that natural material and neutral colors, the high gloss finish is merely a cherry on top of this exquisite modern look.
Way Sleek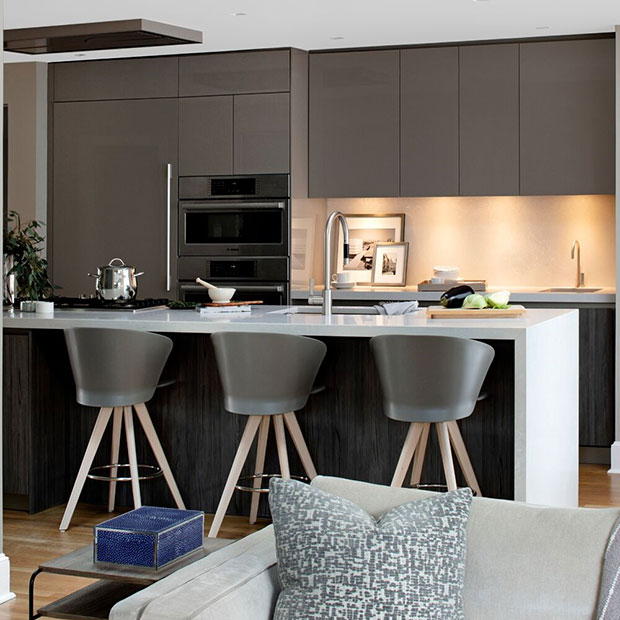 Combine your dark high gloss cabinets with dark wood veneer, and you'll have a chic contemporary kitchen design.
Way Modern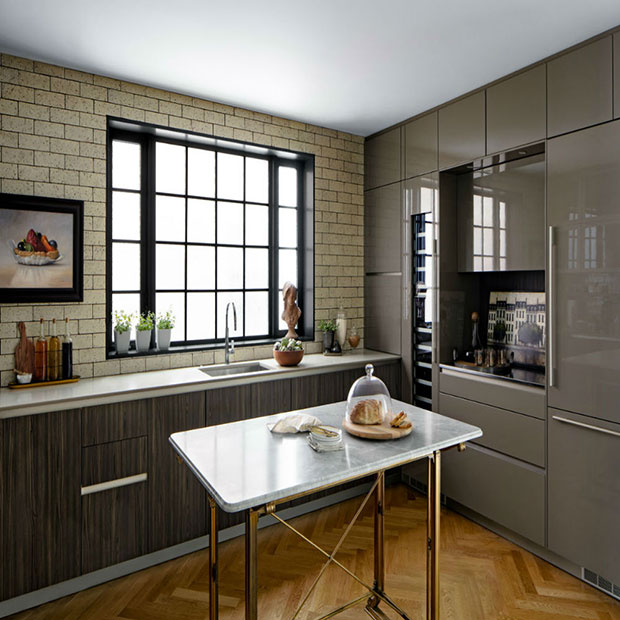 The overall color scheme is perfect for modern kitchen designs with elements of industrial charm.
Sistema Zeta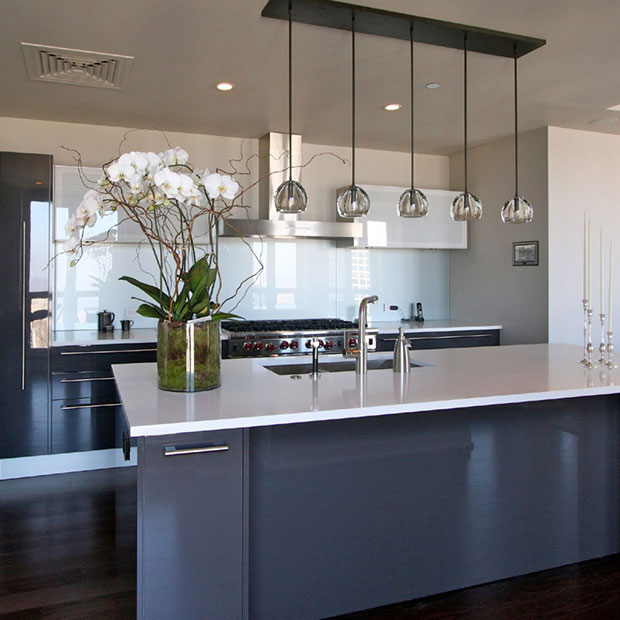 This has to be one of the most reflective surfaces for a kitchen. Along with the high gloss kitchen cabinets, even the backsplash tiles are highly reflective.
Idea Cherry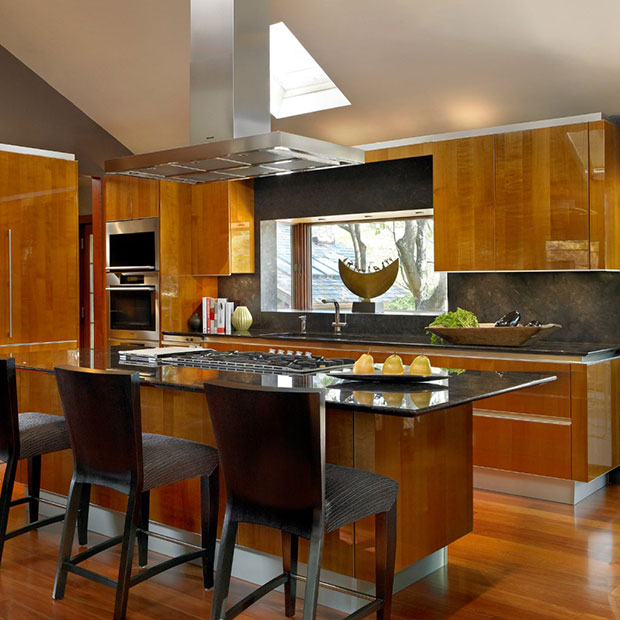 This home's kitchen really made most of that cherry wood. Without the high gloss finish, it would have an almost rustic appeal to it.
Sistema Zeta Coffee Brown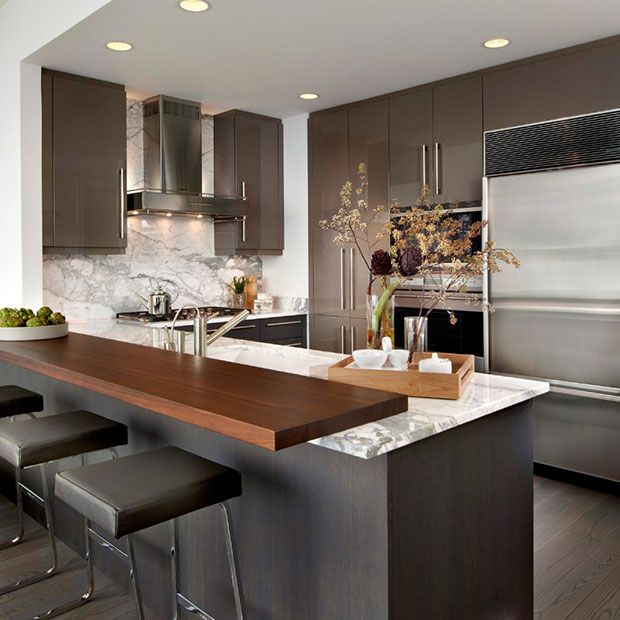 The marble countertop and backsplash tile are a great touch to bring some dynamic into the kitchen.
Downtown Dallas High-Rise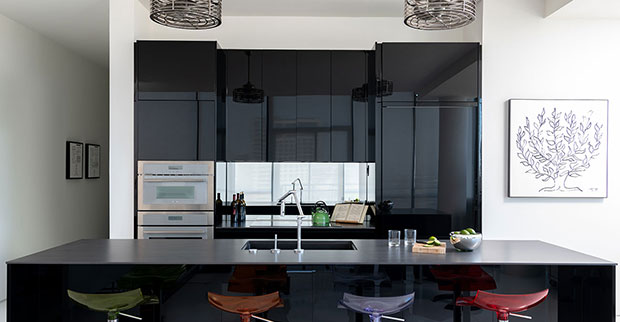 These all-black high gloss kitchen cabinets bring a sleek look to this kitchen. But take a look at the colorful barstools!
A Bold and Monochromatic Kitchen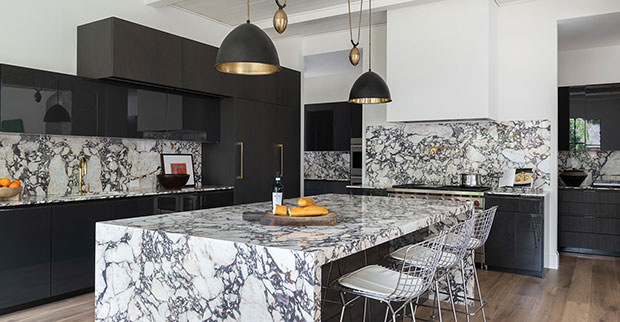 Truly a monochromatic kitchen with those all-black kitchen cabinets and the marble countertops emphasizes that.
Higuera Kitchen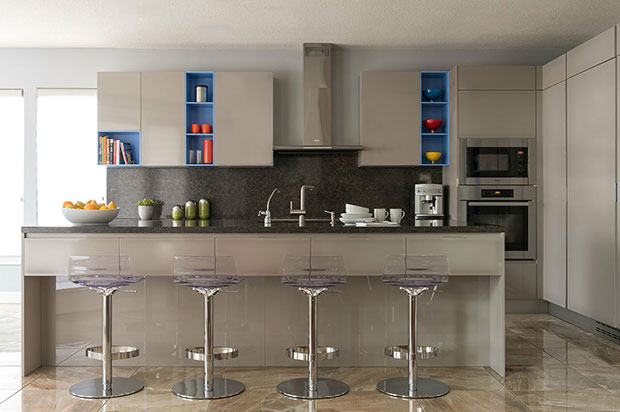 The blue open shelves are an unexpected choice. It gives the kitchen's overall look some whimsical element to it.
Bove Residence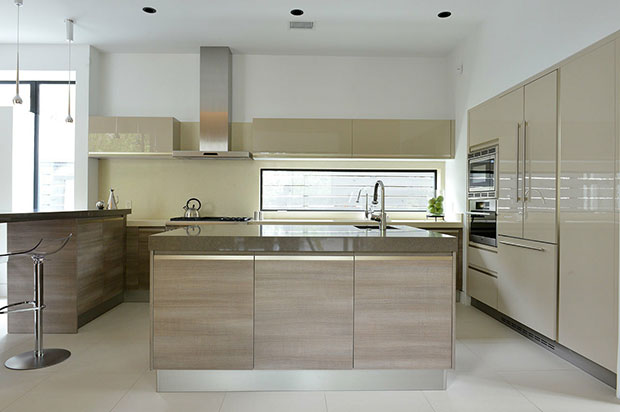 A lighter shade or color tone for your high gloss kitchen cabinets bring some relaxing warmth to the overall ambiance of your kitchen.
Contemporary Retreat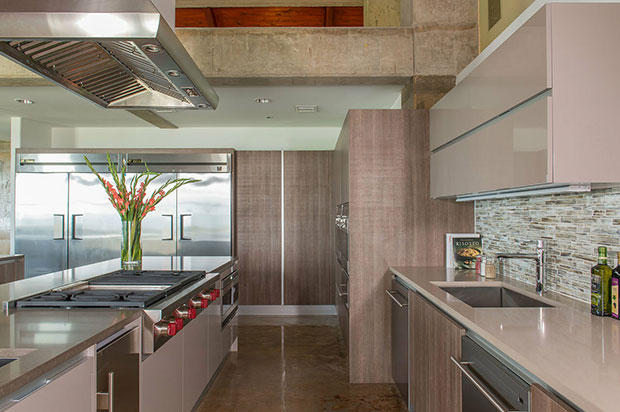 Cantoni
Among the kitchen cabinets and countertops, there is a clear color palette that is faithfully followed. It creates such a pretty look for the kitchen.
Penthouse with a View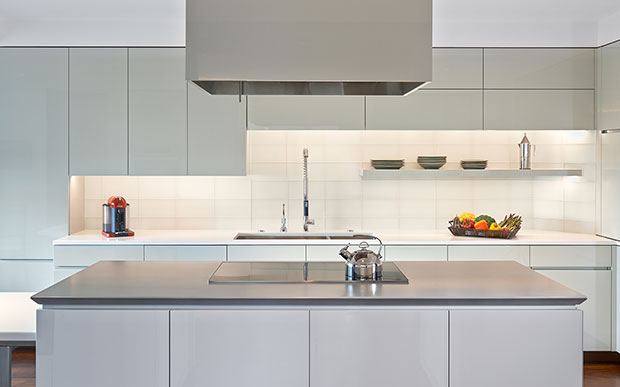 Wiedemann Architects LLC
A simple kitchen design that is given some updated look with that high gloss finish.
Pearson Street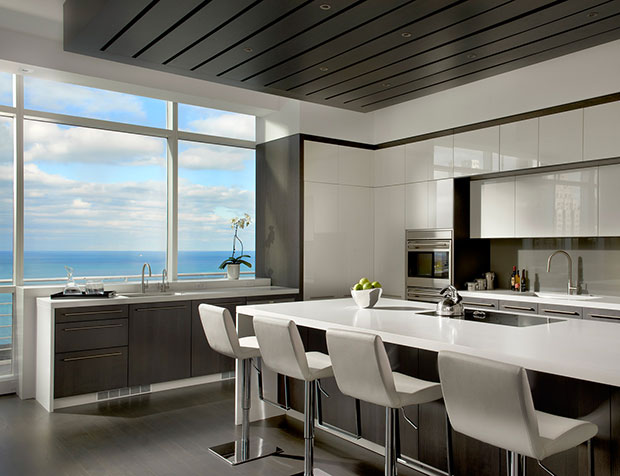 The switch up between black and white is refreshing and adds some dynamic.
Lakeview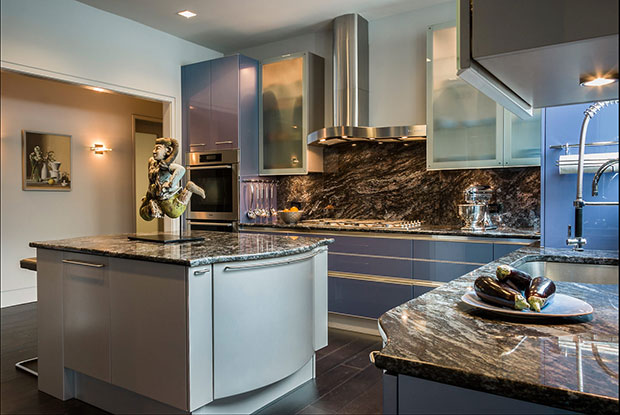 The muted blue cabinets work so well with the marble countertop choice. It creates a very interesting overall look.
Ola Red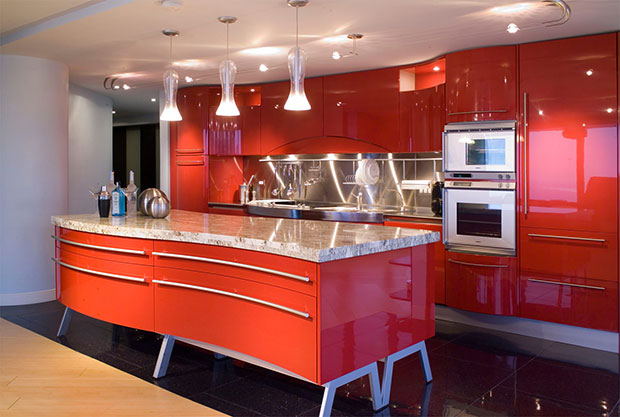 Snaidero Chicago
The metallic countertop and backsplash give that entire cabinet a contemporary and futuristic look.
Contemporary Kitchen No. 22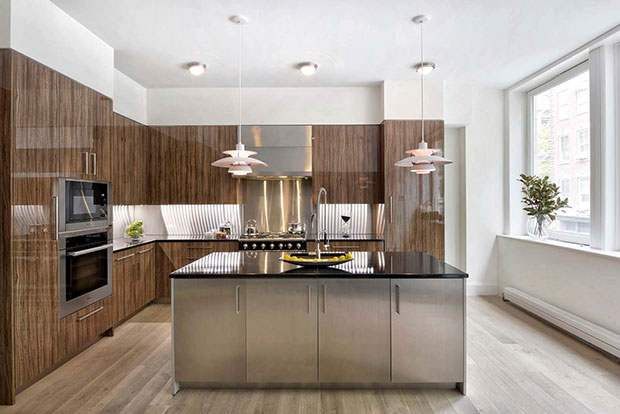 The high gloss finish brings a luxurious chicness that otherwise you won't see in other wood finishes.
Contemporary Kitchen No. 18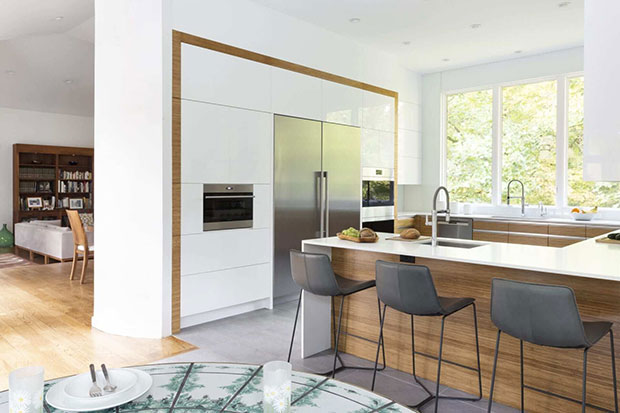 The wooden exterior border of this cabinetry brings that modern charm prominent in this home.
Contemporary Kitchen No. 17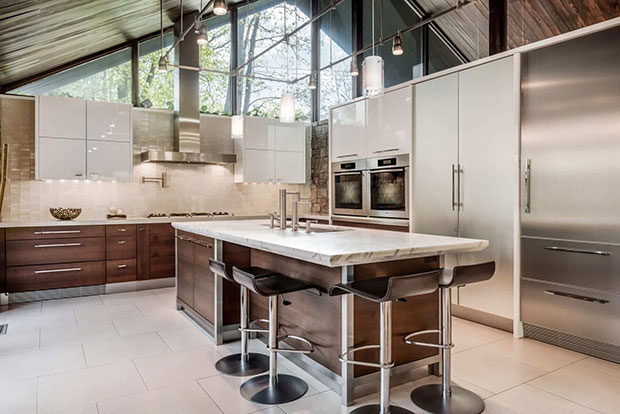 Bilotta Kitchen & Home
Here is a perfect blend of modern, contemporary, and industrial elements for one eclectic kitchen design.
Kitchen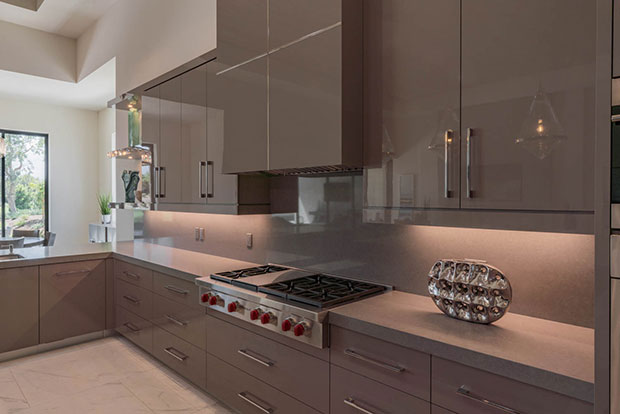 Advanced Woodwork
Usually, when you have dark-colored kitchen cabinets, the countertop is usually a light shade of color. Interestingly, this kitchen deviates from the norm.
High Gloss Kitchen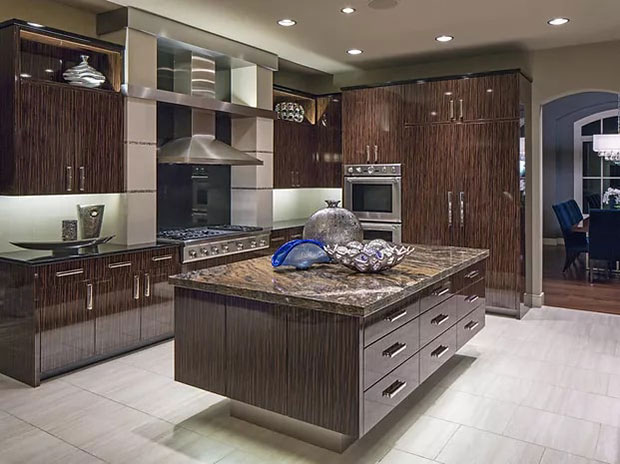 Eurowood Cabinets Inc.
Without the high-gloss finish, this kitchen would have looked more like a traditional kitchen but with a modern charm.
Oak Ridge Contemporary Kitchen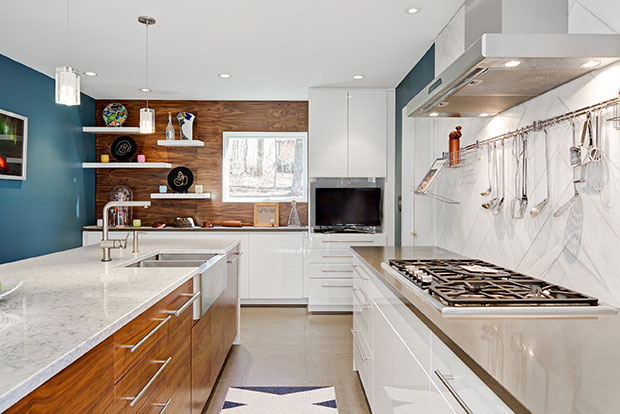 SR Design Group
The mix of wood and marble backsplash shows how high gloss kitchen cabinets work well with any of these options.
Hillsborough Modern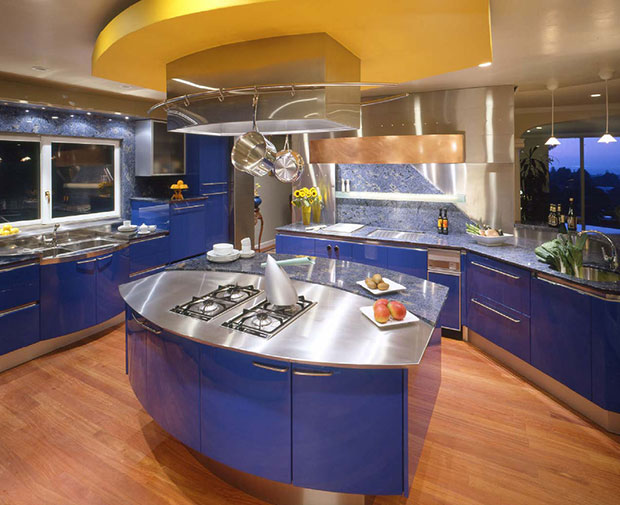 This shade of blue high gloss cabinets is a great complement to the metallic countertops. The kitchen's industrial charm is given some life with the color blue.
Los Altos Hills New Construction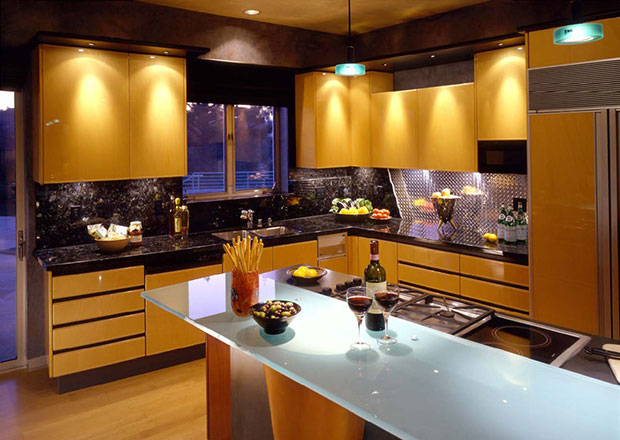 Livingston Interiors
Yellow-orange and black work so well together. Just look at the magic this kitchen brings!
The Vendome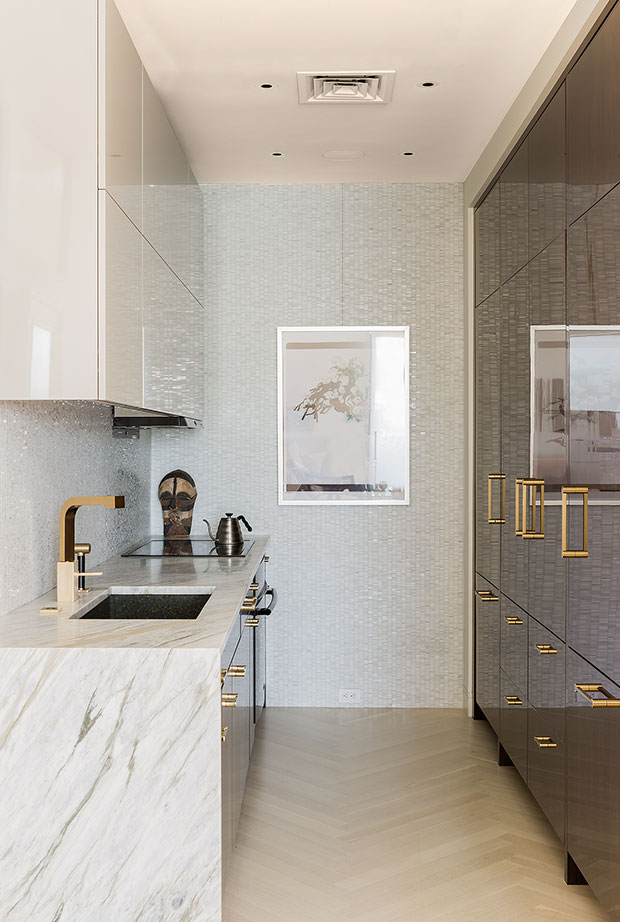 Small kitchens have the most to gain in opting for high gloss kitchen cabinets. With many reflective surfaces, you will be sure that the room is well-lit.
Boca Raton Bungalow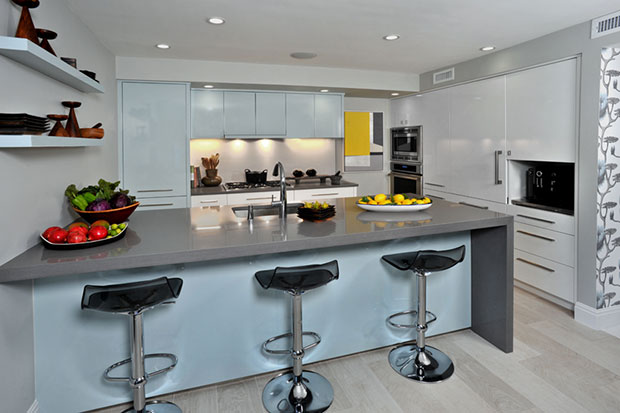 Venegas and Company
This kitchen has a cool and pretty color combination that is perfect for young homeowners.
Rosso Nero Fiorano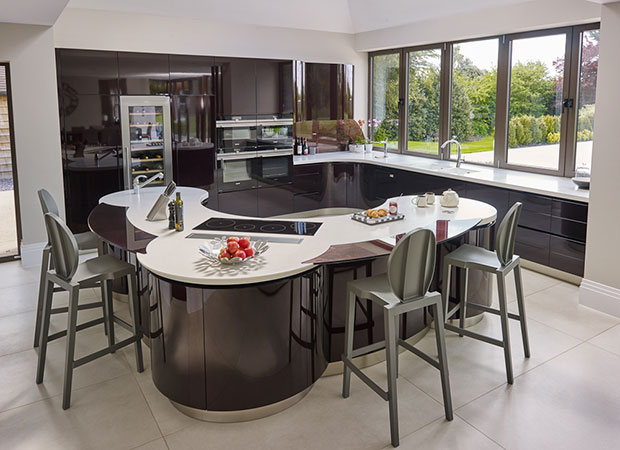 The colors in this kitchen, especially emphasized by the kitchen cabinets, bring a very homey feel.
Arena-Rosso Chairo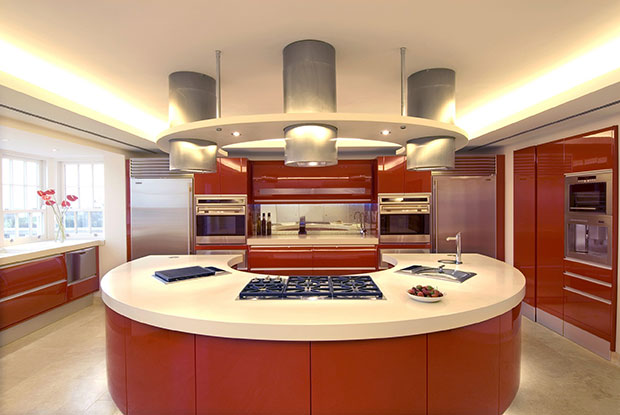 This color choice pops out to bring lots of personalities and youthful energy.
Rosso/Nero Brillante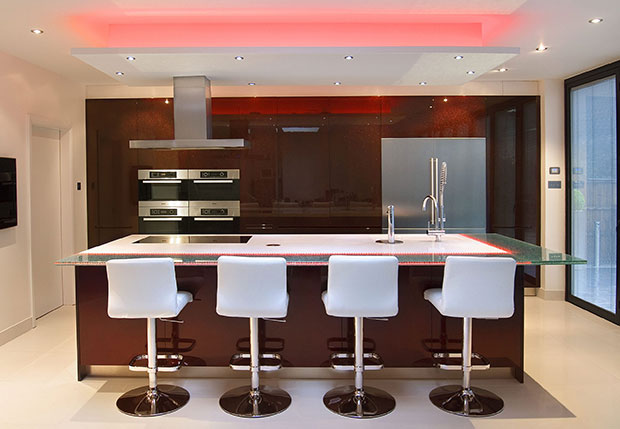 Marazzi Design
The high gloss finish definitely adds sophistication to this kitchen.
Brookville Contemporary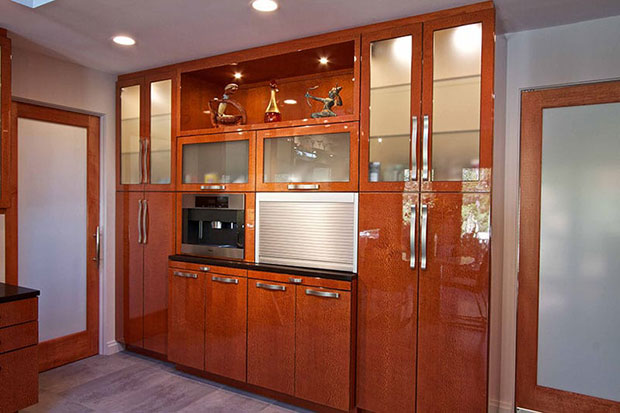 Even this particular color can bring out a chic contemporary style.
Glass Fantasy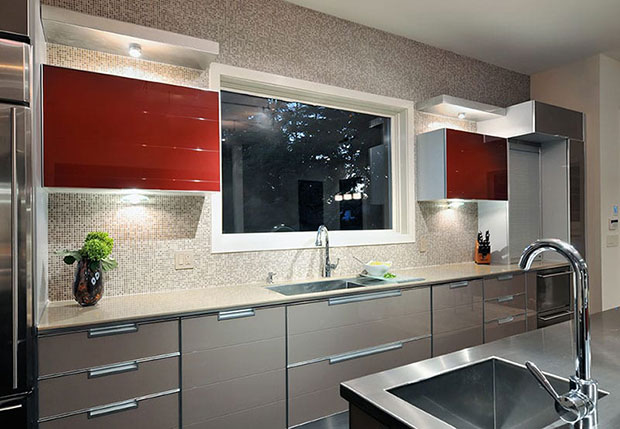 The two red cabinets seem out of place at first glance. But they definitely create an interesting overall look.
Glass & Lacquer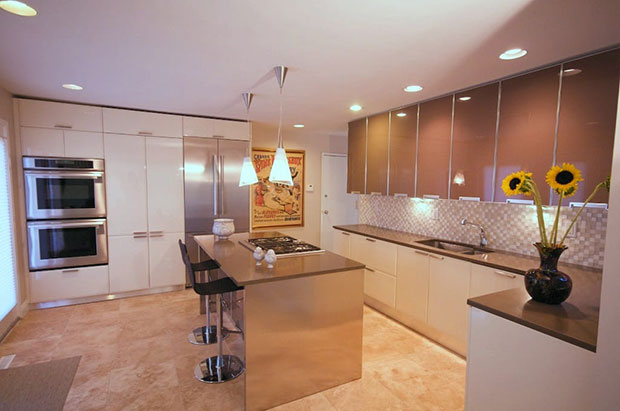 The Creative Edge, Inc.
This home's kitchen shows the great chemistry between glass and lacquer finish for a state-of-the-art kitchen design.
Shingle Style Estate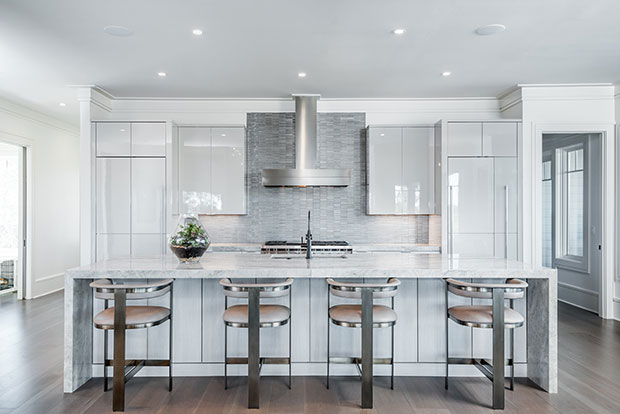 Bringing a metallic grey shade of color definitely complements the white high gloss finish.
Modern Living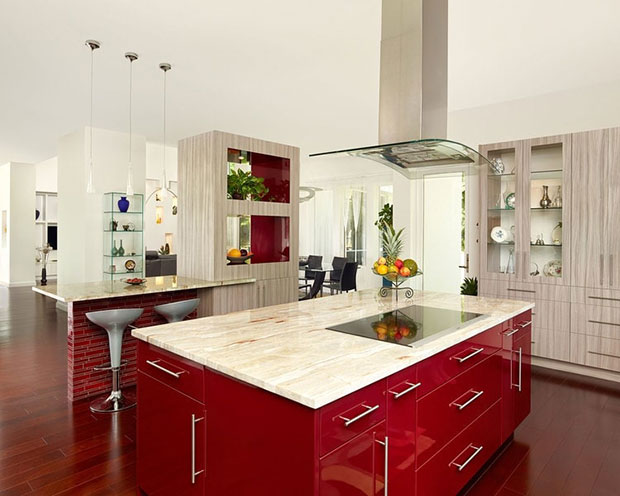 DLB Custom Home Design
It's pretty interesting to see the high gloss finish only in the kitchen island cabinets, and see the natural wood veneer of the rest of the cabinets.
Kitchen Wow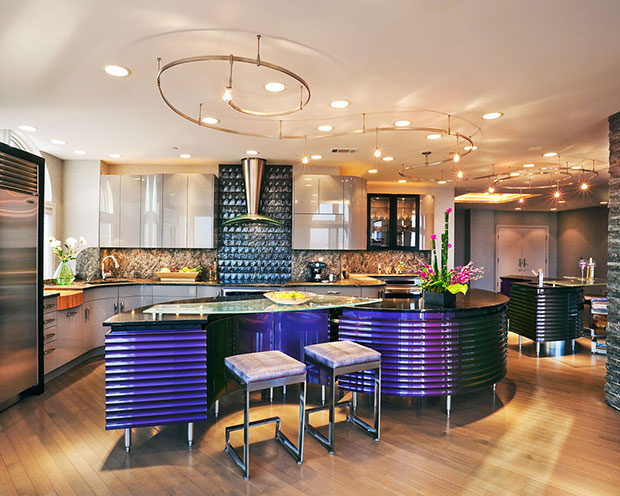 The eclectic mix of colors and dynamic textures makes this one of the most interesting kitchen design styles.
Modern Rustic Mix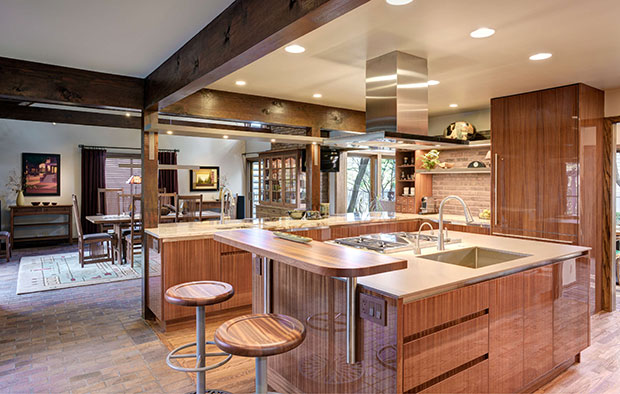 Kitchens by Kleweno
Like its name, this kitchen truly is a mix of modern and rustic, and a lot of the credit goes to the high gloss finish.
That's all for high gloss kitchen cabinets! Did any of these give you any ideas for your own kitchen cabinets?
Like This Post? Pin It!