55 Vintage Sofa Ideas for the Classy Homemakers
|
These days, modern and contemporary art is popular in designs in general. So is true in interior design. For furniture pieces, many furniture and appliance stores feature more modern to contemporary pieces. That said, with these being the popular and common design choices, you may have gotten bored of it. In fact, the chances are you may have seen the same or similar furniture pieces – particularly, the sofa – at your neighbor's or friend's house.
Here's an idea to be different and have a unique style in your own house. Consider vintage sofa ideas! Having such pieces instantly adds some personality and life into any space. The unique shapes and intricate details guarantee that it becomes the focal point of the room.
It may be a bit of a challenge to incorporate your vintage sofa ideas, or any vintage or antique furnishing, into a room design style that's from different aesthetic movements. And even when the design styles are from the same period, you still need to make it so the room does not look boring or stale.
How to decorate vintage sofas?
If you have any creative hesitations when it comes to your bright vintage sofa ideas, don't fret! Vintage sofas can work well with any accessories from any era. The trick is to create balance in furniture arrangement and complement the sofa with functional and decorative features.
Here are some tips decorating with vintage sofa:
1. Prepare your vintage sofa
Cleaning or repairing a vintage sofa would be a lot cheaper than buying a new one. You can use refinishing oil to improve the look of dinged wood, chrome, or brass polish to shine up metal, vinyl cleaner to remove grime, and steam-cleaning to refresh upholstery and cushions.
You can also create a new look by painting on the wood or metal parts.
2. Pick a color scheme
If your room already has a color scheme working for you, accessorize your vintage sofa to coordinate with the rest of the room. Otherwise, you can paint your room so that it works with the colors of your vintage sofa. It's up to you to work your way around it as long as you achieve color harmony in the room.
3. Accessorize your vintage sofa
In connection with picking a color scheme, you can work through that color scheme with accessories. You can choose to use a slipcover fabric that would either emphasize the vintage look or give the sofa an updated look. Use a cover that matches the sofa's color or one that will give it a refreshing look. Likewise, you can do the same thing with accent cushions.
4. Add vintage or complementary accessories
Blend your vintage sofa with accessories such as drapes, lamps, or art from different design eras. Do mixing and matching of accessories of period accessories to find the right design harmony.
5. Arrange your furniture
Arrange your furniture so that it gives the best aesthetic look to your room. Bench-style vintage sofas work well parallel to a wall. Bulky sofas should work side by side against the wall in a narrow room or facing each other. Large coffee tables are an attractive complement for narrow vintage sofas. Space-saving tables go well with deep vintage sofas.
For more room seating, angle armchairs to face the vintage sofa.
How to maintain vintage sofas?
Before you go any further with your vintage sofa ideas, make sure you know how to maintain your vintage sofa.
When it comes to a vintage sofa or any upholstery furniture for that matter, standard household fabric cleaners are not recommended. And especially if your vintage sofa is antique, it could ruin the appearance.
Here are some basic reminders when it comes to keeping vintage sofas:
1. Ultraviolet light, meaning sunlight, is harmful and easily causes damage to the wood, finishes, and fabric. So, don't place your vintage sofa where there is direct sunlight. Use shades or curtains if necessary.
2. Place them away from the heat source. Don't put your vintage sofa near ovens, radiators, fireplaces, and air-conditioning vents. Otherwise, it will cause shrinking, loosening glue joints, veneers, inlays, and marquetry.
3. Keep in mind the level of humidity in your room. Similar to the effects of heat on your vintage sofa, exposure to a high level of humidity is going to loosen joints. It may also develop into mold growth and wood infestation.
With the basics away, here are some tips for caring and cleaning your vintage sofas:
1. Checking for pests
Check for exit holes and fine sawdust underneath your sofa. If there are, then, your sofa has a wood infestation. Act right away and consult a professional pest exterminator.
2. Cleaning and vacuuming
Delicate upholstery needs to be dry cleaned to preserve the quality of the fabric. You can do dry cleaning by yourself but you will need patience along with a (1) vacuum cleaner, (2) dry extraction foam, and (3) foam sponge.
Carefully dry vacuum your upholstery, removing 70% of dirt and grime. Apply the foam to the foam sponge and test first by gently rubbing on an inconspicuous spot of your fabric. While the fabric is still wet, vacuum it again. Then, place fans around the upholstery and let it dry.
Remember: do not use your sofa until it is fully dry. Annual deep cleaning is needed to extend the lifespan of your vintage sofas.
3. Removing stains
There are simple, easy steps to take when you accidentally stain your sofa. Immediately after, blot the stained area as fast as possible. Use kitchen towel paper to suck much of the excess liquid as possible. Repeat as needed.
If you can't remove it, consult with a professional upholstery cleaner to avoid damaging your sofa any further.
4. Polishing
To protect your sofa's finish, apply a thin coat of high-quality paste wax. This will help keep the dust and moisture away. But to really avoid damaging the surface, follow the manufacturer's recommendations for proper maintenance.
Besides waxing once a year, frequent dusting with a lint-free cloth could do a lot of wonders for your vintage sofa. Just dampen the cloth slightly and turn regularly.
Reminder: if the finish is deteriorating, the wax may not be a wonderful solution. Consult a professional restoration specialist.
Vintage Sofa Ideas for Inspiration
Now, let's check out some of our picks of vintage sofa ideas!
Modern Elegance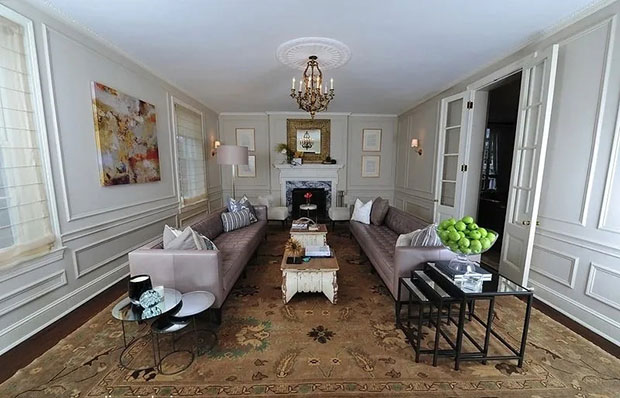 Perceptions Interiors
This vintage faux leather sofas amazingly set in a modern style room. It's also pretty cool that a rustic coffee table is made to be a complementary furniture piece.
Glass Farmhouse Loft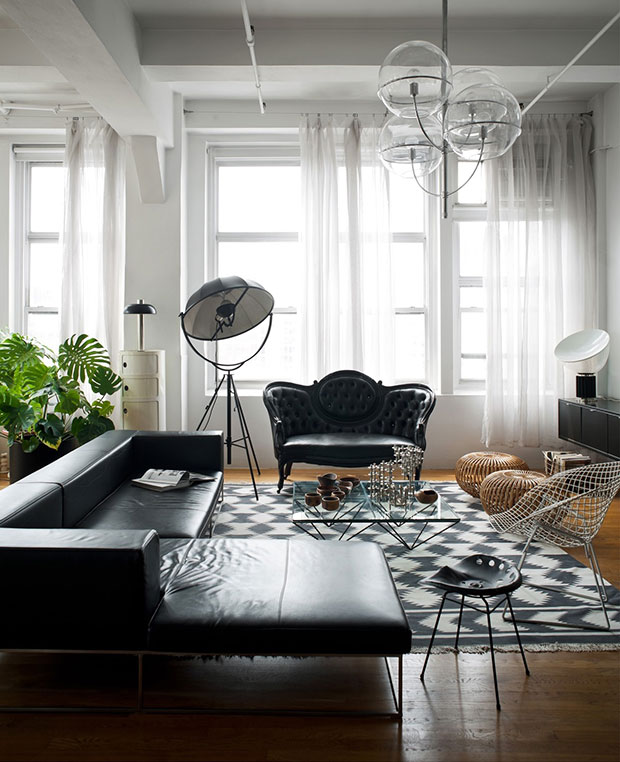 Kit Republic
This vintage settee matches well with this contemporary sectional couch, creating such an interesting look to the room.
NYC Fashion Office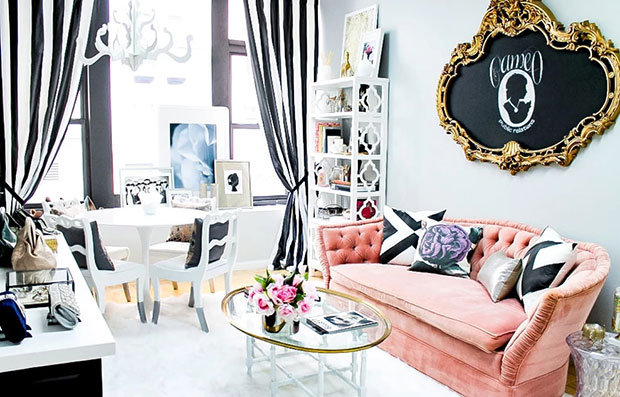 Nichole Loiacono Design
If your vision of vintage sofa ideas is to have a standout vintage sofa, take a look at this example! The rose-pink color is definitely the focal point of the room. And it stands out even more with the choice of accent pillows to go along with it.
Spencertown Residence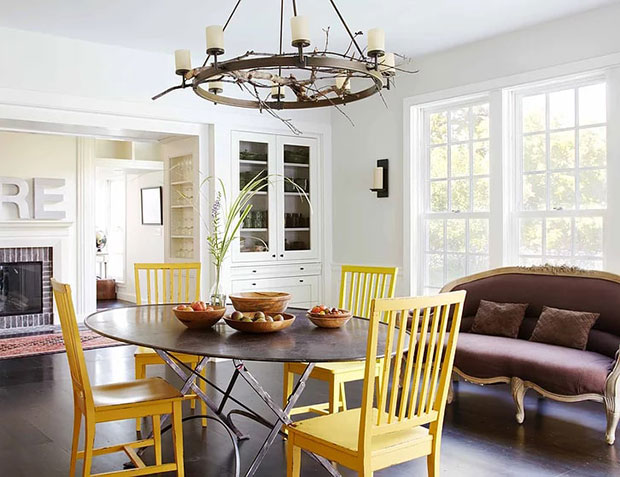 James Dixon Architect
Most vintage sofa ideas are pictured to be in the living room. But in this Spencertown Residence, they have it by the dining room. While the dining table and chairs seem to evoke modern farmhouse design, the vintage sofa adds into the beauty of this.
1929 Estate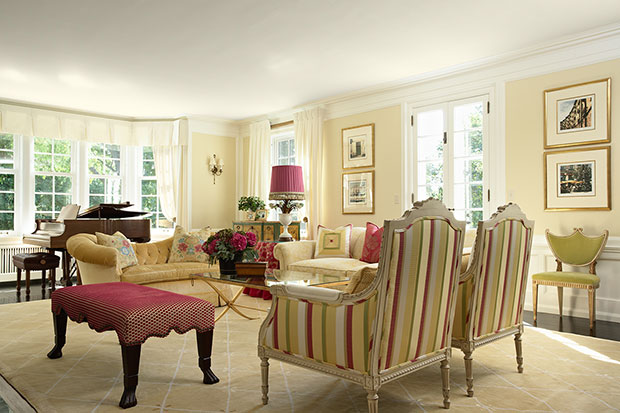 RLH Studio
With pastel yellow palette this room has on, the long yellow vintage sofa fits just right in. Also, the floral-patterned cushion pillows are a pretty chic choice to go with.
Home of the Year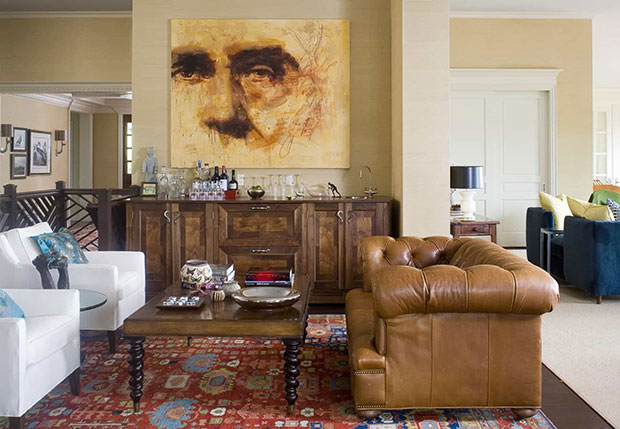 Andrea Schumacher Interiors
This vintage faux leather sofa brings in a sophisticated chicness to the rather eclectic room. Such sofas are a favorite if you want to evoke some sense of masculinity in the room.
Retro Seat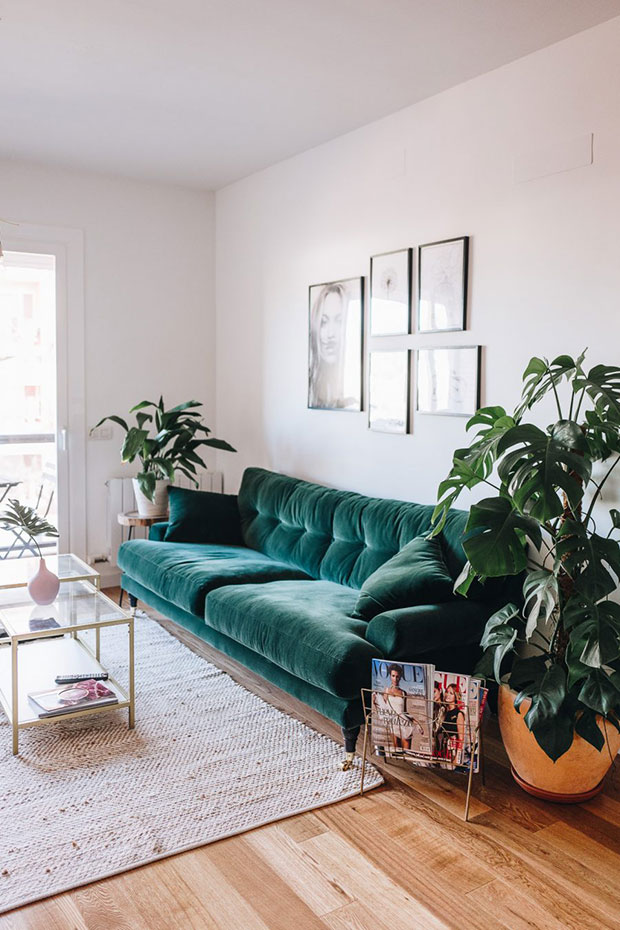 Janni Delér
The velvet cushion and the vivid color instantly takes your attention from anything else in the room. For the older generation living in the house, it may bring back some memories of the good old days.
Empire Sofa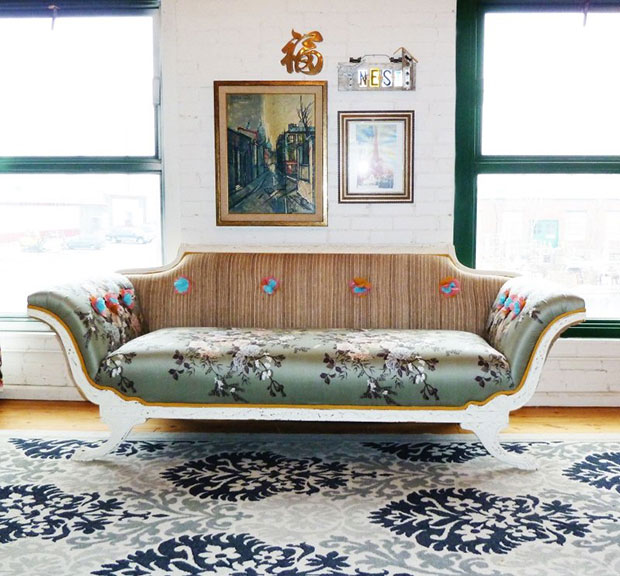 Nothing tops of vintage sofa ideas than an antiquated sofa like this one. The floral patterns give it a pretty look despite the clear years it has seen.
Colorful Home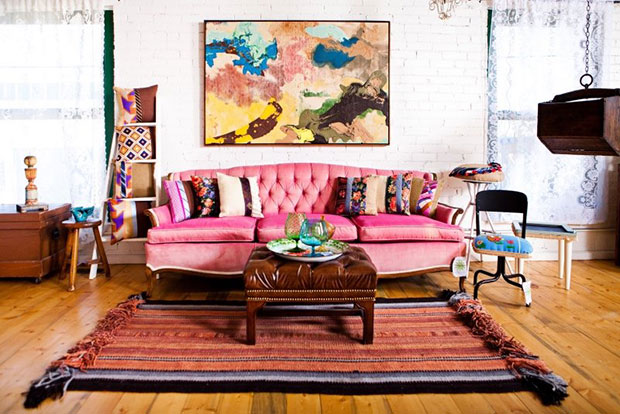 Vintage Renewal
With the vivid pink upholstery, the colorful accent pillows just add more personality and life into the room.
Park View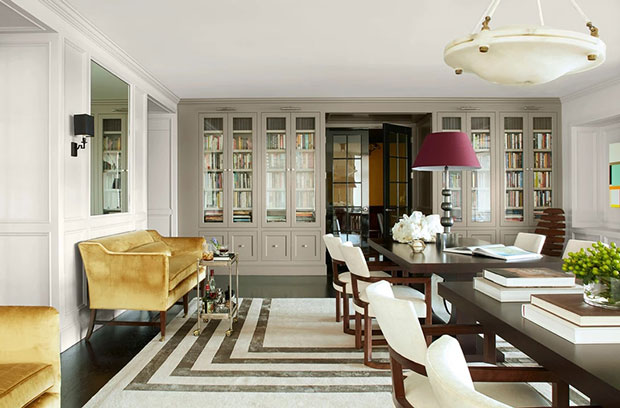 Lisa Tharp
If your vintage sofa ideas do not include the sofa being the center of it all, consider this home for example. In this study room, while the vintage sofa instantly grabs your attention for its color and texture, it is functionally much of a beautiful addition into the room.
Living Room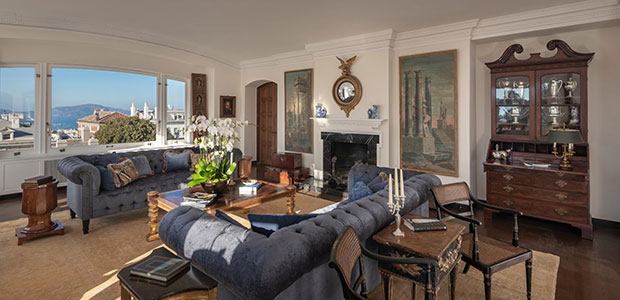 Antique & Art Exchange
The modern traditional elegance of this living room makes these vintage sofas fit well right in. And with the warm, neutral colors, the nice dark blue velvety color stands out and yet not too much.
Lake Charles Residence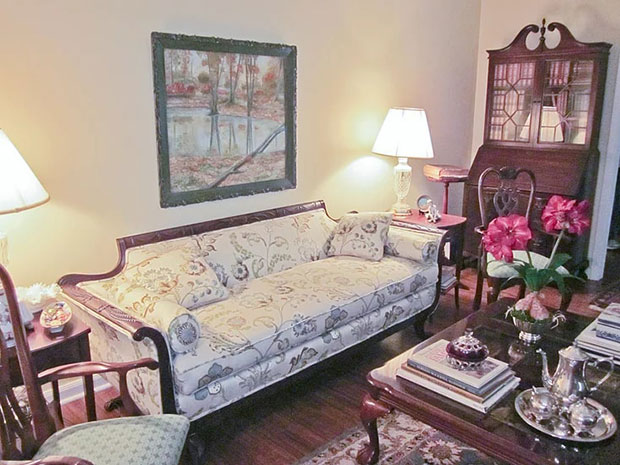 Myriam Hutchinson
For a pretty living room like this, it makes sense to have a vintage sofa that goes along with the theme and atmosphere of the room.
Natchez Mississippi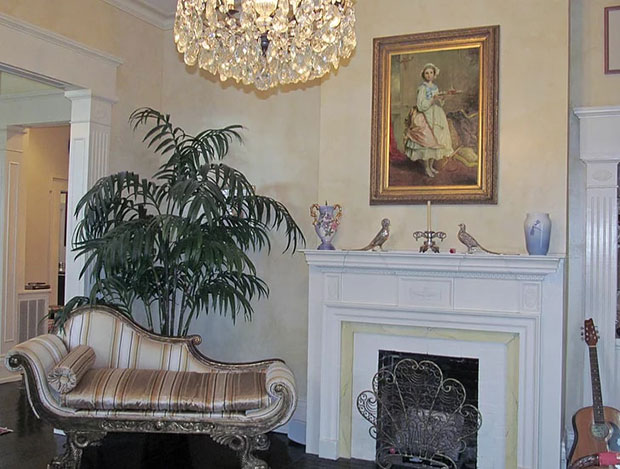 Myriam Hutchinson
Some vintage sofa ideas are envisioned to evoke a sophisticated, royal-like elegance. And for this one, in particular, it embodies that idea.
Lipton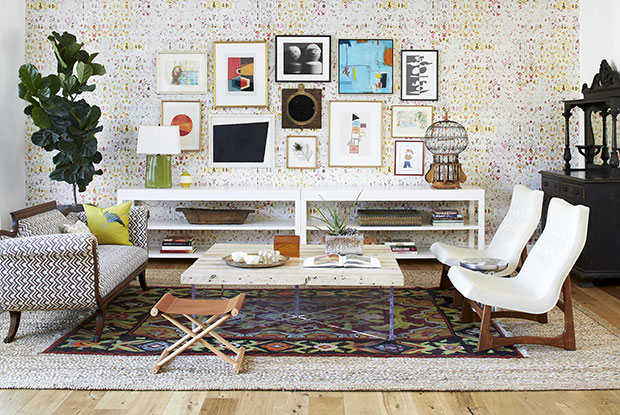 Laura Moss Photography
Interestingly, the cool patterns on the upholstery complements with the colorful wall and the eclectic rug. Overall, this combination makes for a fun-looking room.
Trad-Chic Room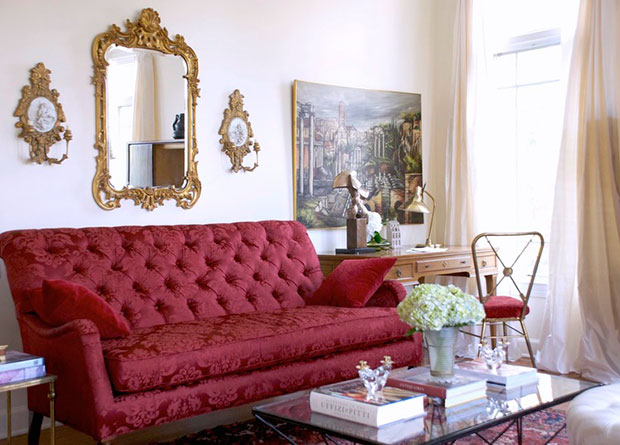 Raji RM + Associates
A red velvet vintage sofa does it best for a traditional and elegant design style.
York Living Room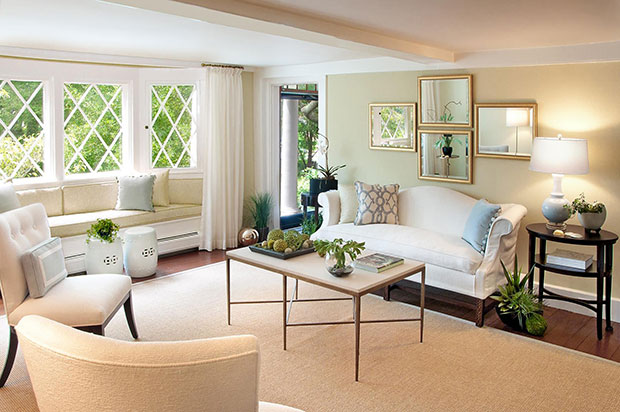 Marcye Philbrook Design Studio
Your vintage sofa ideas don't always need for the vintage sofa to have vivid colors and patterns. If you happen to own one like this with plain color, you can decorate by accessorizing it with pretty accent pillows.
Refined Traditional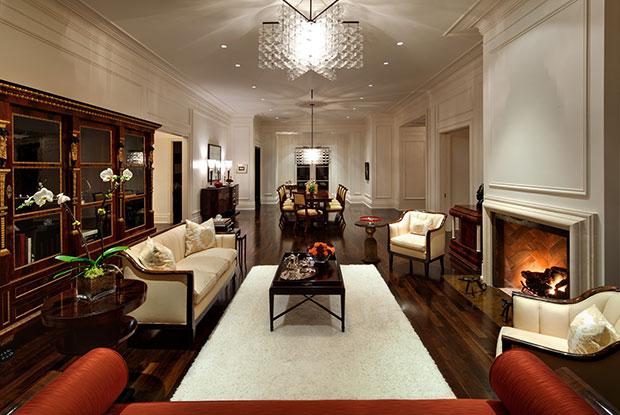 For this refined traditional aesthetic, all that polished furnishing does the work.
Tropical Sanctuary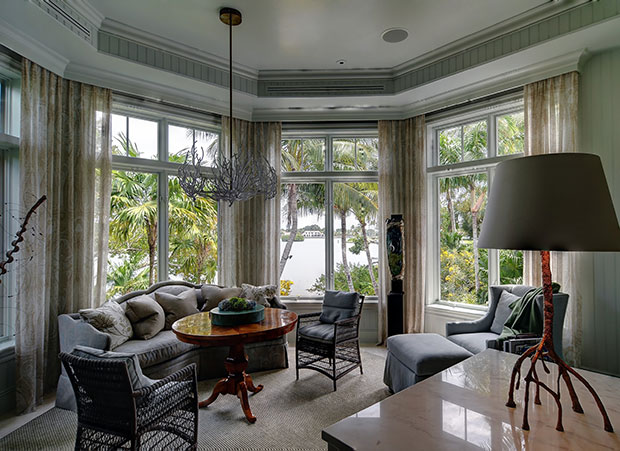 Herscoe Hajjar Architects
Sometimes instead of throwing in accent pillows that are of contrasting colors with bright patterns, you can have it like this too – a color that is just a couple of shades lighter but still complements the sofa.
Classical Interior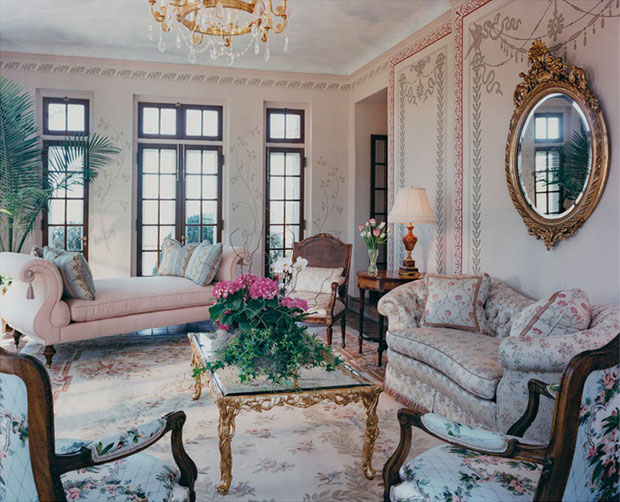 The floral slipcover for this vintage sofa blends in well with the room theme.
Classical Living Room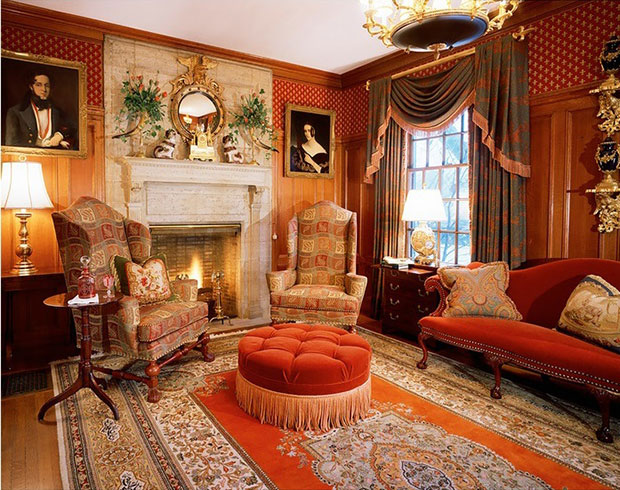 Modifica Interiors
To contrast the cool patterns of the wing chairs, the vintage sofa's pattern-less upholstery is a good design choice. But to bring more life to the chair, accent pillows are added.
Rock and Roll Office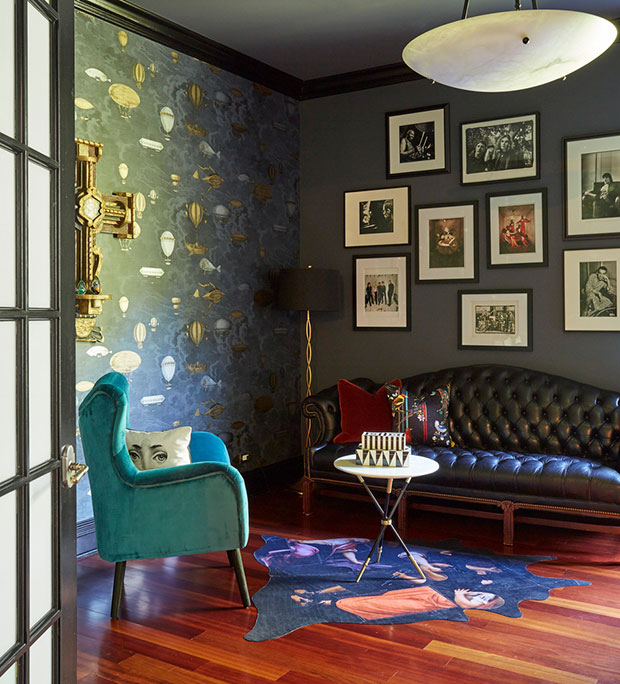 Jasmin Reese Interiors
For black faux leather vintage sofas like this, it is nice to add accent pillows of dark, bold colors and eccentric patterns.
Old World Inspiration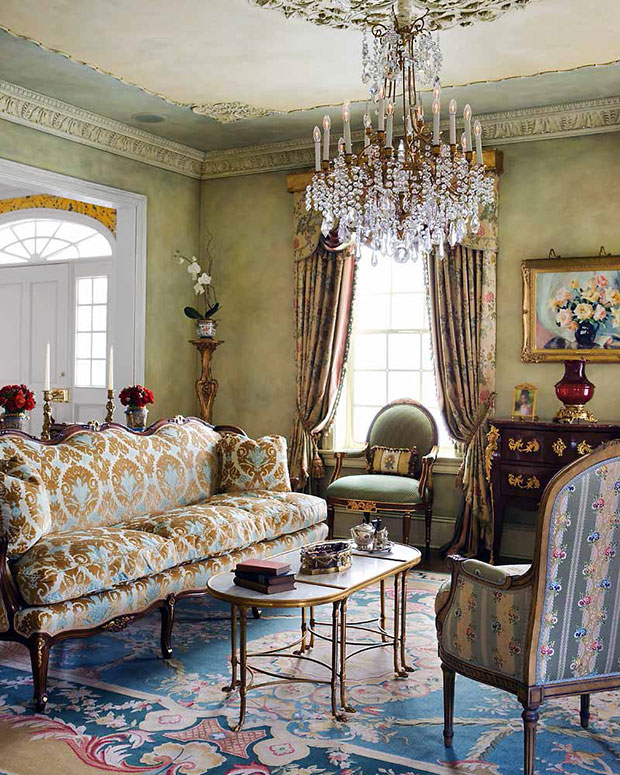 If your vintage sofa's upholstery is as intricately designed as this, you may not need much additional accessories. Unless your vintage sofa comes with matching accent pillows, like this one.
Collector's Aerie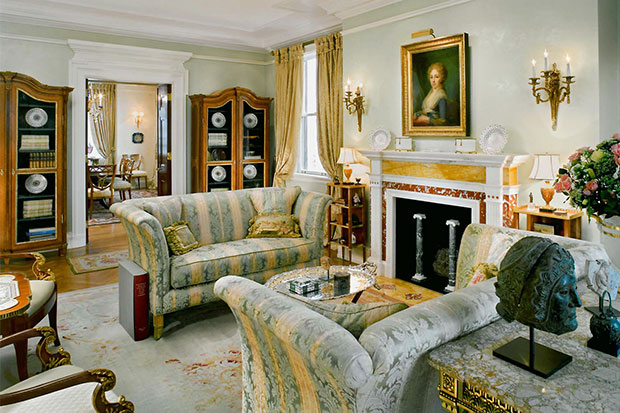 Eberlein Design Consultants Ltd.
Another one of vintage sofa ideas where the color scheme of the room revolves around the color palette of the sofa. The pastel green shades work so well with the sofa in this one.
Wilson Custom Home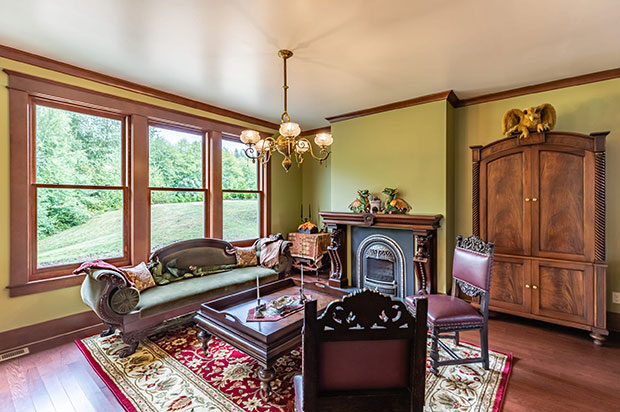 Piazza Jr. Construction & Remodelling
The earthy green fabric of this vintage sofa is a nice contrast to the earthy red colors all around the room. But it also matches with the light green wall paint.
Manhattan Apartment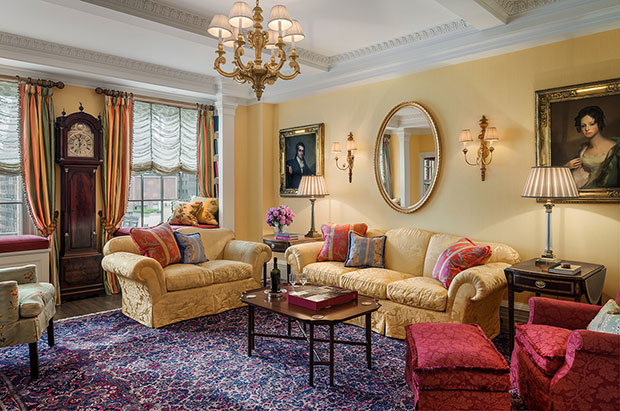 The slipcovers of these vintage sofas match one another and also complements all the other furnishing and furniture pieces in this living room.
Eagle Farm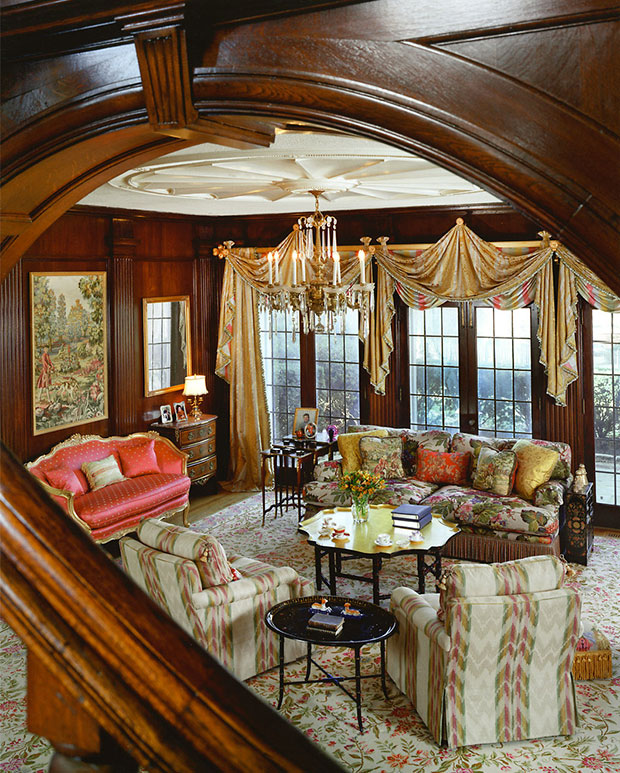 Eberlein Design Consultants Ltd.
None of the seating spots in this room match each other but it makes for an eclectic yet classy space. Indeed, that vintage sofa even screams of royal classiness.
ASID Showcase House 2007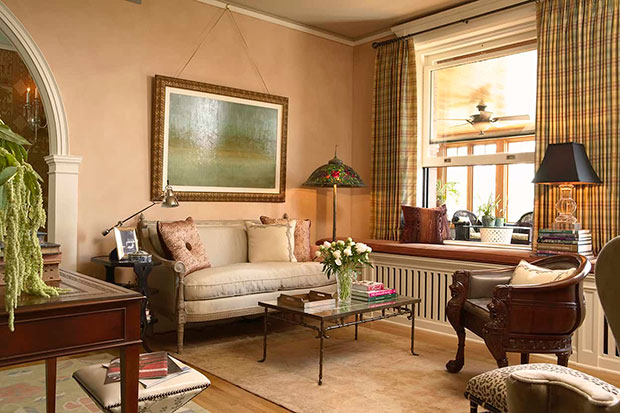 David Heide Design Studio
To go along with the warm, neutral colors of this room, this vintage sofa is a perfect furniture piece.
Society Hill Renovation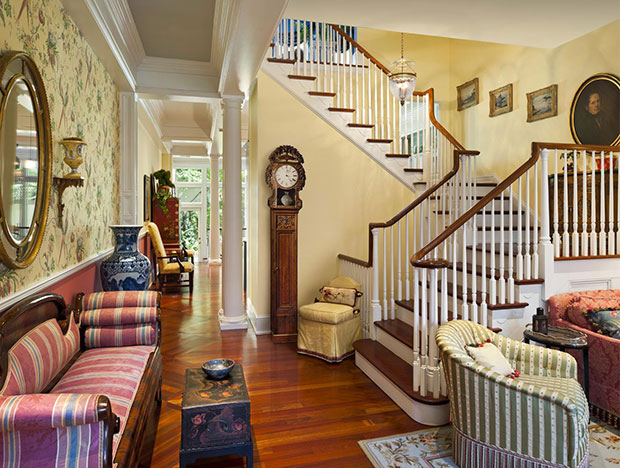 With all the cool and variety of patterns in this room, it is the design and color of the vintage sofa that stands out.
Falconhearst Estate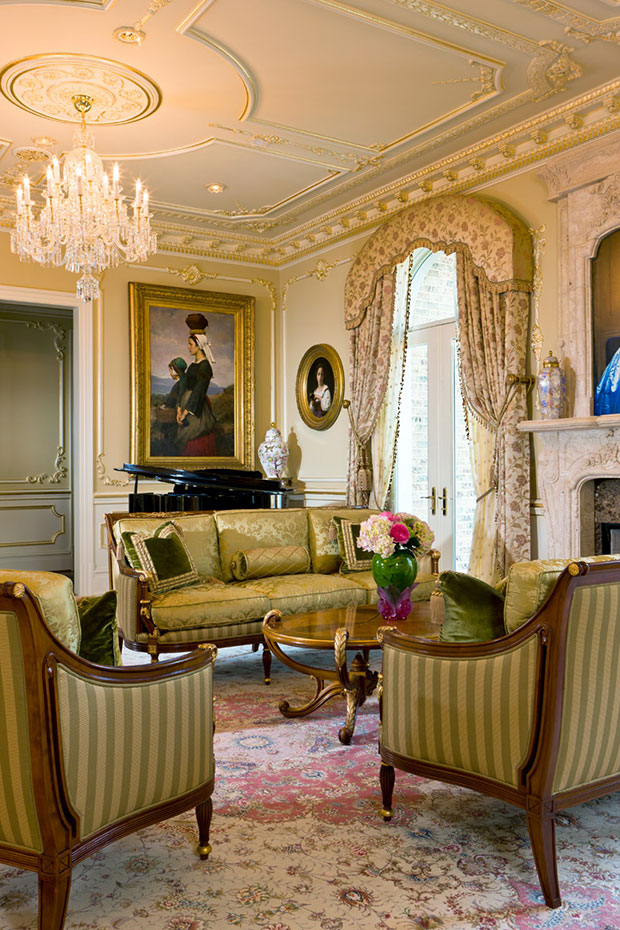 To go along with sophisticated elegance of the room, vintage sofas are the perfect furniture choice. And in this particular home, they are consistent with the color palette as they even pick out accent pillows that are within the same range of hue.
Golden Horseshoe Estate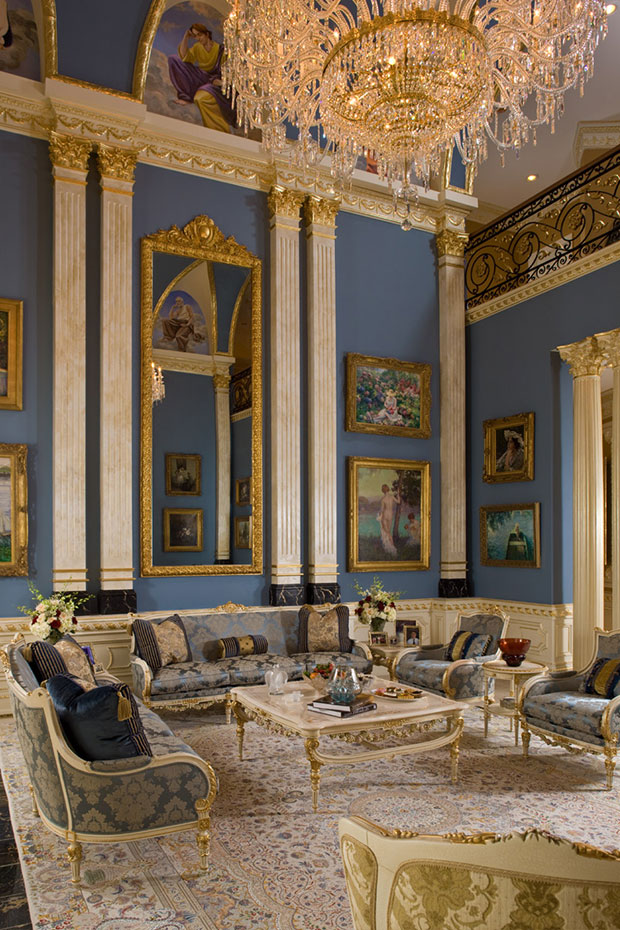 Interestingly, the fabric upholstery of the vintage chairs matches the paint of the walls. This is one of the cleverer vintage sofa ideas that takes into account the entire aesthetics of the room.
Newbridge Estate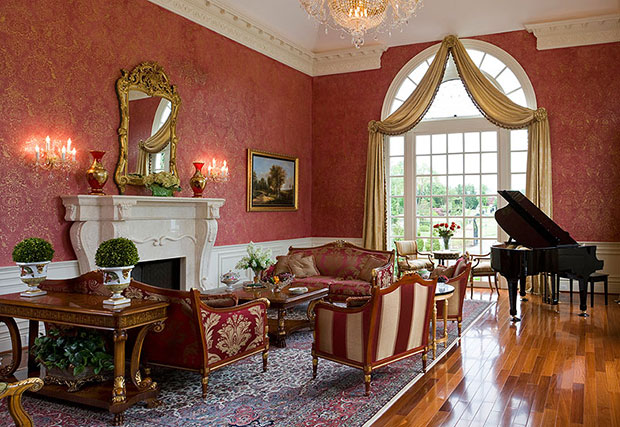 Haleh Design
Again, work around the color palette theme of the room with your vintage sofa choices, or vice versa. This creates such a beautiful and elegant style.
Ardrossan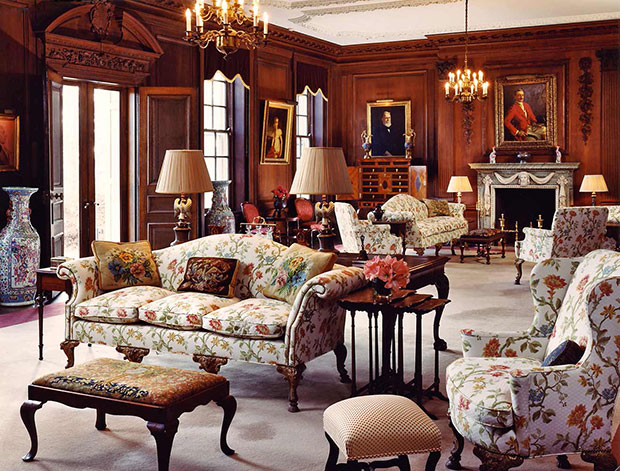 With the rather bland patterns around the room and neutral wooden palette, having vintage sofas with floral patterns and light colors like these certainly grabs attention.
Delancey Place Townhouse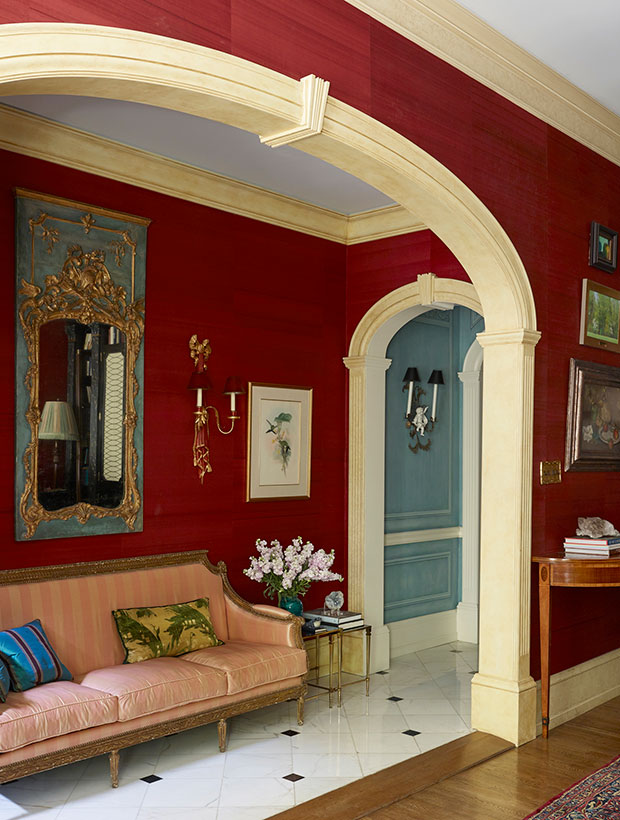 For all the vivid colors of the walls and striking furnishing, the light color tone of this vintage sofa creates a wonderful balance of colors.
The Jayne House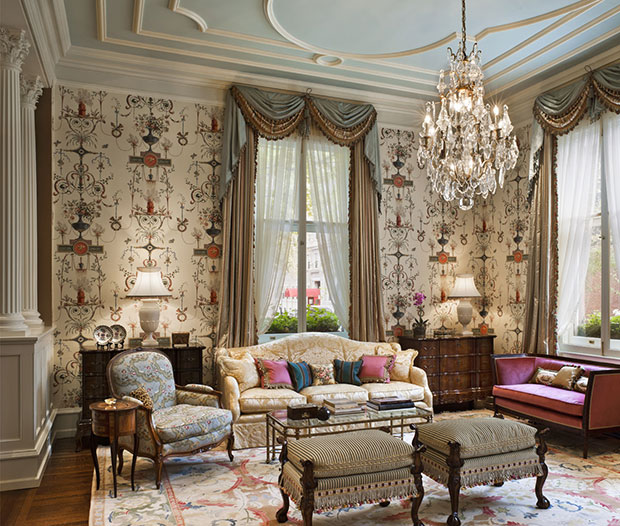 Eberlein Design Consultants Ltd.
That vintage settee being the only seating without any patterns to its upholstery fabric is a nice touch to the overall look of the room as it doesn't make all that pattern present too overwhelming.
Heather Garrett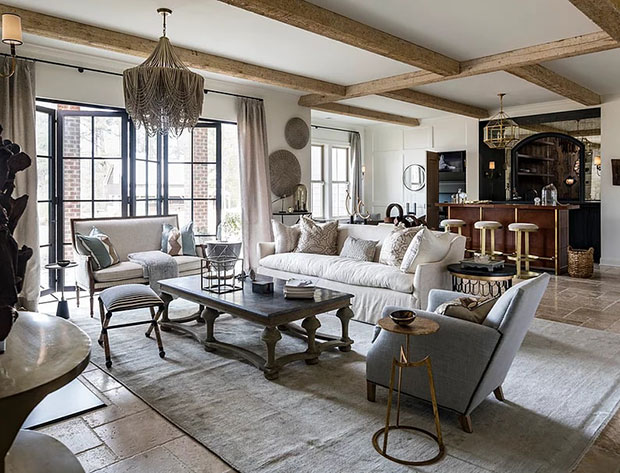 Heather Garrett Design
If you're not a fan of eccentric and eclectic vintage sofa ideas, you can have ones that are toned down like this one. It's still classy and sophisticated even with the lack of bombastic patterns and colors.
Portledge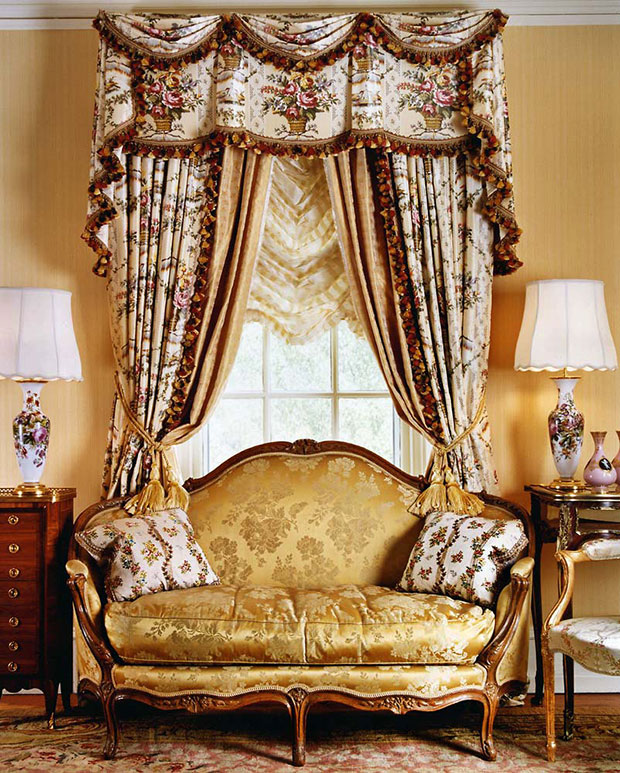 Eberlein Design Consultants Ltd.
The golden yellow upholstery along with the intricate detailing, make this one of the more royally sophisticated vintage sofa ideas on this list.
Layers of Lovely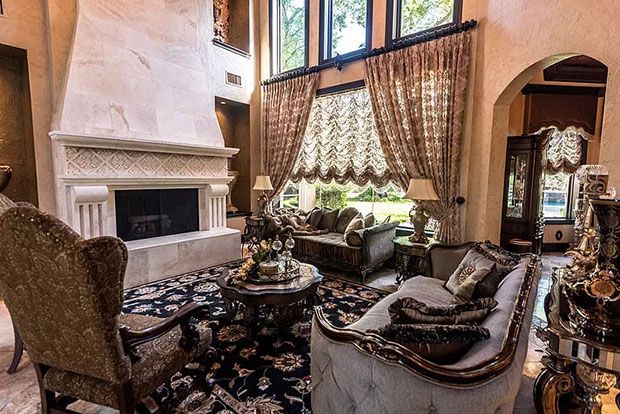 The pastel palette of the walls is contrasted very well by the dark colors of the vintage seating in this living room. Like its name, it is a room full of "layers of lovely".
Family Room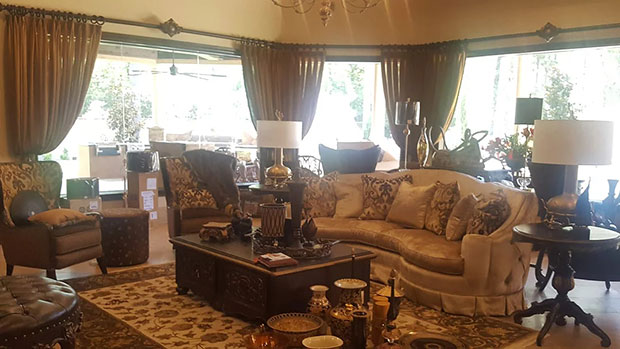 Jacque Criswell Décor
It's pretty interesting that the upholstery is plain but its cushions are full of patterns and darker colors. You should consider such for your vintage sofa ideas.
Winchester Victorian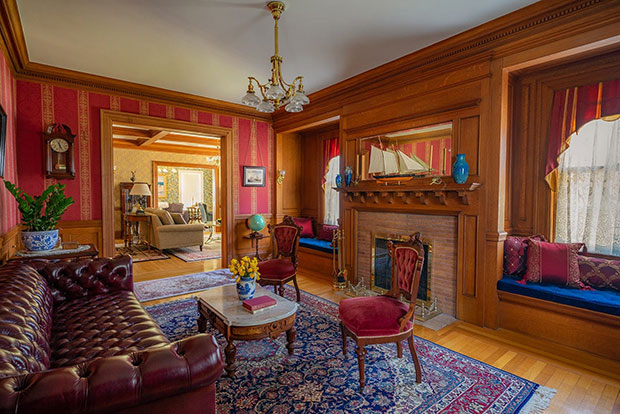 Cummings Architecture + Interiors
In a room that seems to have a red color palette, you can make your focal point truly standout by having it be in a shade darker like this blood red leather sofa.
French Norman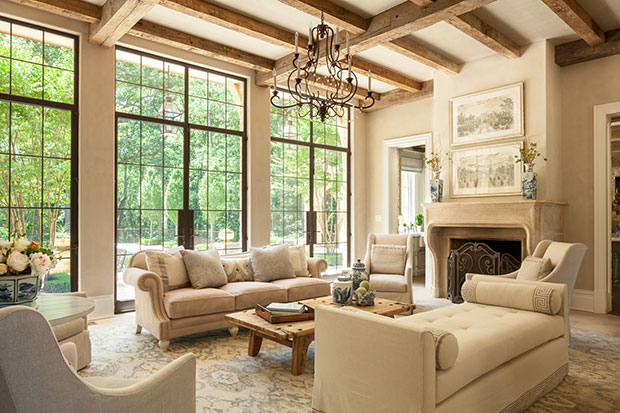 Harrison Design
For all the neutral-colored vintage sofa ideas, you can bring in some personality and life with the accent pillows and other accessories placed around the room.
Ashburn Family Home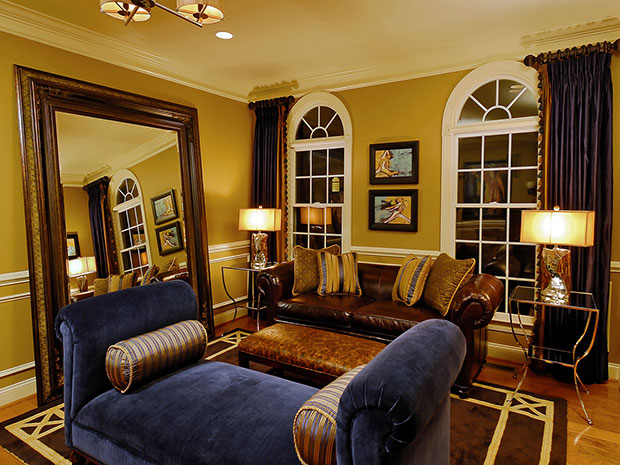 For brown leather sofas like this, you can bring in some light with brightly colored accent pillows.
Northern Virginia Family Home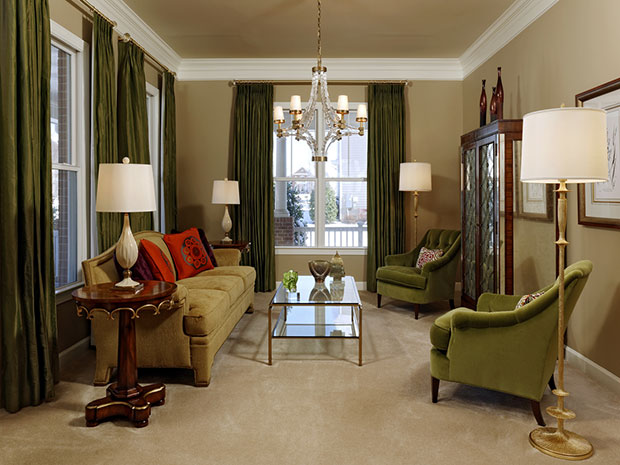 Paula Grace Designs
As all seats match with the curtains, carpet, and the wall and ceiling paint, those bright red accent pillows are a nice complement to the vintage sofa.
Forth Worth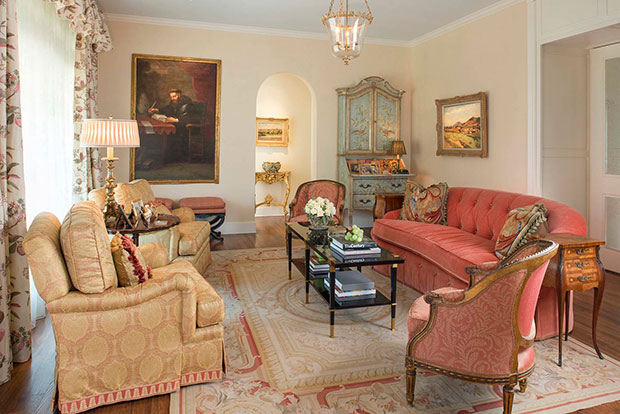 Kay Genua Designs
If all your living room seats – the sofas, chairs, and ottomans – are not of the same colors, at least get them to be matching and complimenting each other like in this living room.
Victorian Kitchen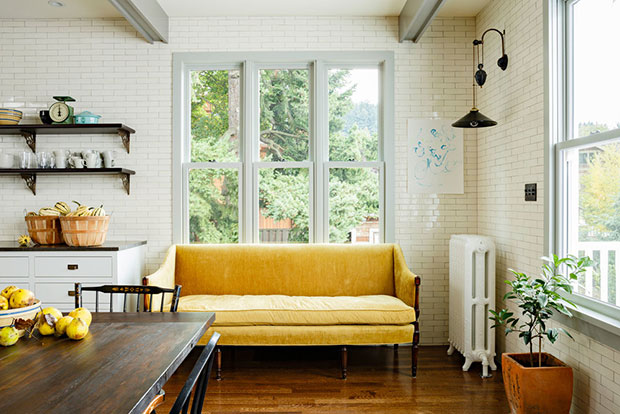 Jessica Helgerson Interior Design
A kitchen may be an odd choice to place a vintage sofa. But they do so in this home. It may be odd but it certainly gets the sofa to standout.
Fairfax Mansion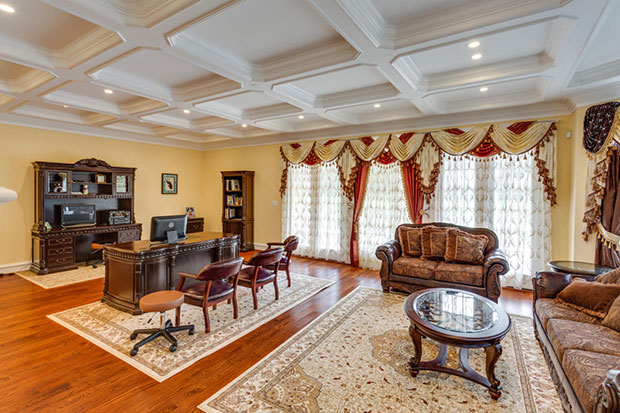 ASTA Homes
Your vintage sofa ideas are not limited to living rooms. Vintage sofas are also perfect in home offices such as this one.
188 Haight Street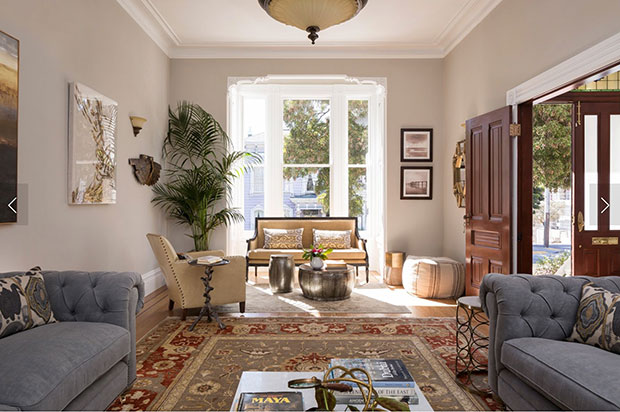 That vintage settee's fabric upholstery may be bland but it is coupled with interesting throw pillows.
Living Room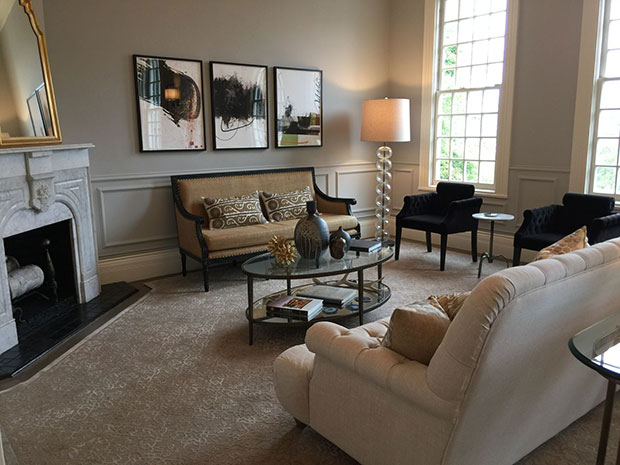 Gigi Park
Similarly, throwing in pillows that are around the same shade of color but with interesting patterns is a good interior design choice.
West Perry Street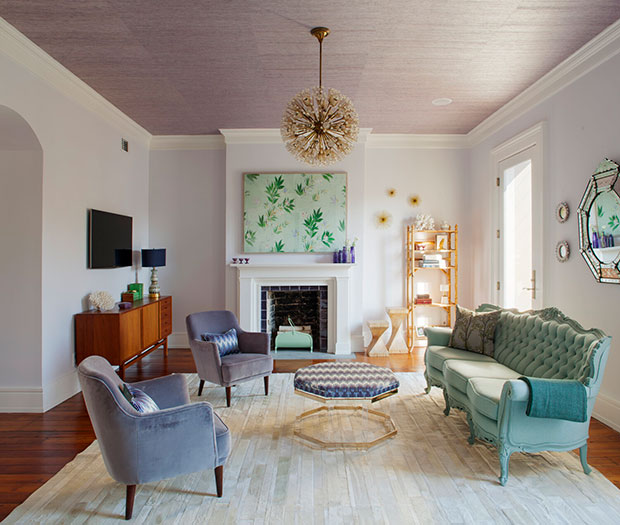 Rethink Studio
At first, the pastel green color of the vintage sofa may stand out alone. But you can see the same shade sparsely around the room, by the fireplace.
Timperley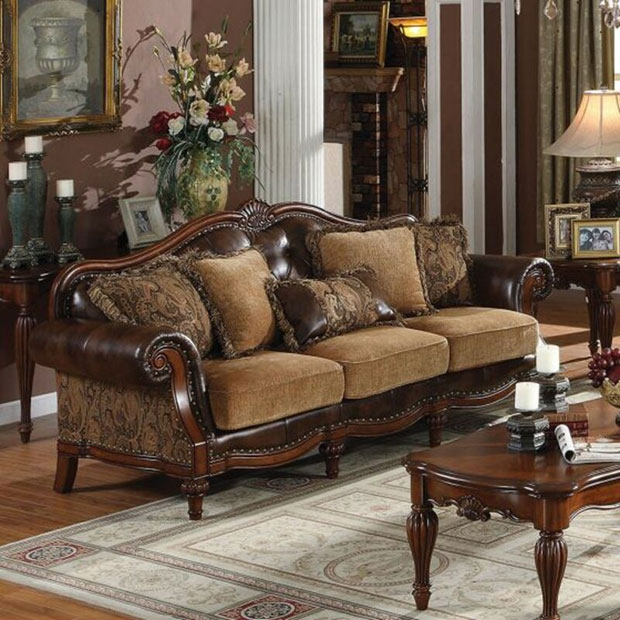 What's most interesting about this are the throw pillows matching the design textures and patterns of the vintage sofa's upholstery. Consider this for your vintage sofa ideas, and if and when you happen to get a hold of such a vintage sofa.
Rosalind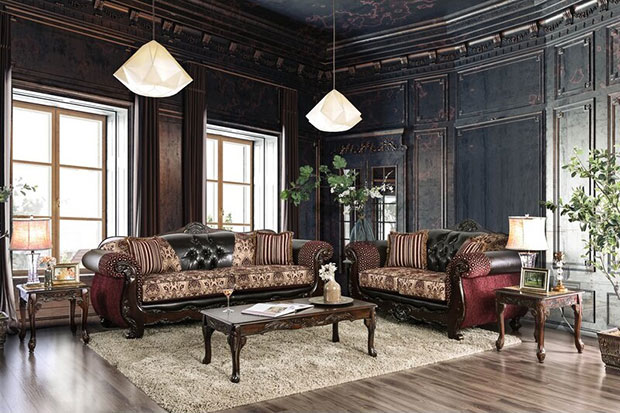 With wall furnishing and colors, the vintage sofas are the perfect furniture match to create this sophisticated room style.
Nebel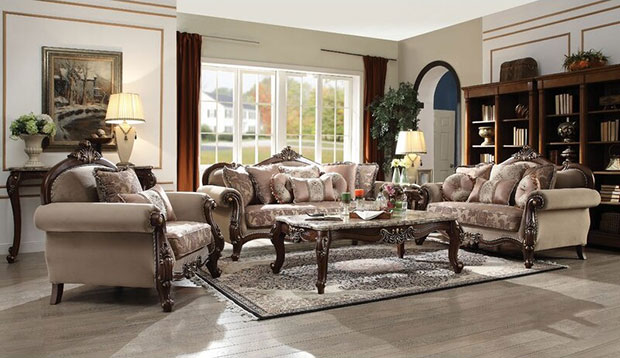 Astoria Grand
With the more modern look of the rest of the room, having vintage sofas like these complemented by a vintage coffee table adds another layer of style into the space.
Olustee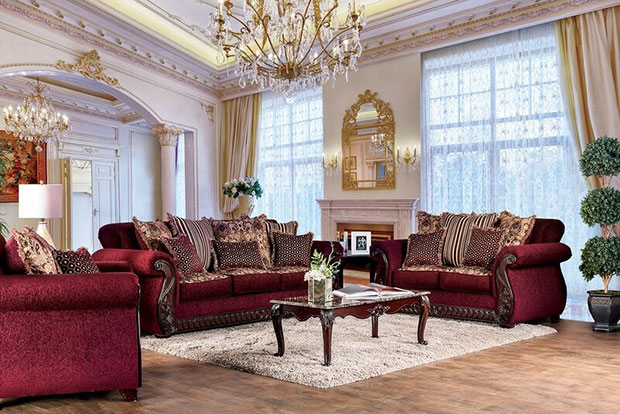 Bloomsbury Market
For striking vintage sofa ideas, consider it to be like this. With all the light and neutral colors, the vintage sofas take all of your attention with its dark velvet color.
Russell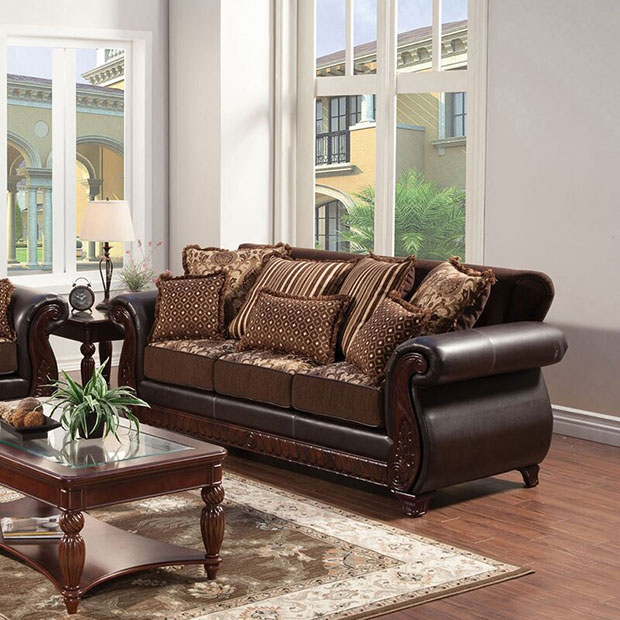 Fleur De Lis Living
This is one of those vintage sofa ideas that shows how much vintage sofas fit right in with a simple, modern room style.
Adien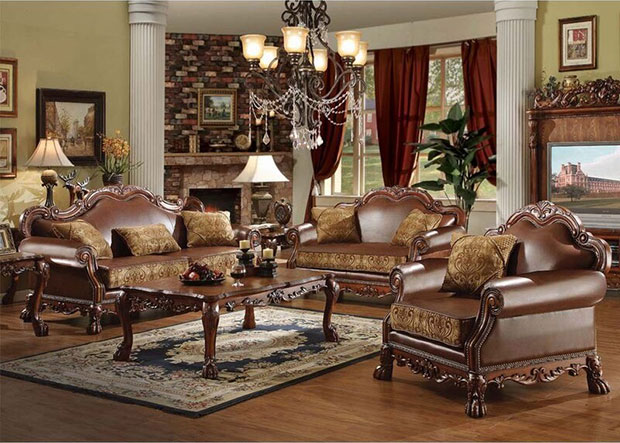 The consistency of which all the furniture in the room to be in the same color palette and theme is definitely a smart and perfect choice to create an elegant yet chic room like this.
Accursia Chenille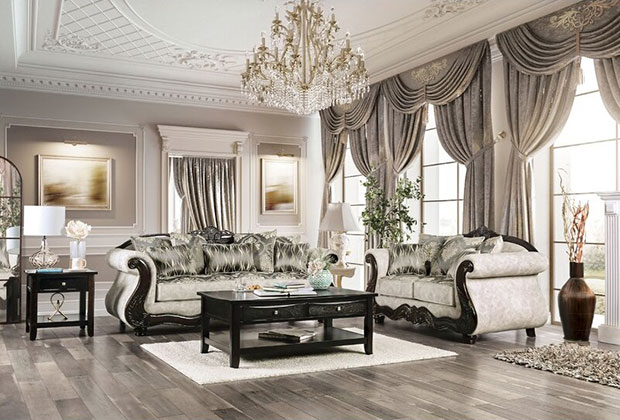 Bloomsbury Market
The grey throw pillows are nice complementary pieces to these vintage sofas.
That's it for our vintage sofa ideas! Let one of these inspire you to re-up your rooms for a classier and more sophisticated look.
Like This Post? Pin It!