57 Modern Living Room Designs for the Modern Home Owners
|
Arguably the most used room in your house is the living room. It's a place where people usually gather and spend a lot of time in. Given this, the living room must be functional and comfortable without the expense of style.
When it comes to styling, modern living room designs are a pretty common go-to option. Modern living room designs have a range of a variety of substrates and styles, opening a whole lot of ideas and options for you.
How do you decorate a modern style living room?
Modern living room designs don't come together on their own. Decorating is a huge factor in creating a modern design style. So, how do you decorate a modern style living room?
1. Start with a layout
Before getting into the nitty-gritty details, you must plan out the layout of your living room. Consider factors like how is your living room going to be mostly used. Is it just used for watching TV? Does it double as a home office or a playroom? With these in mind, carefully decide on the layout that will have a nice flow of movement.
For some spacious modern living room designs, it is best to assign different zones. An area for lounging, another for reading a book, and another for workspace. If you have limited space, you have no choice but to have a straightforward layout.
2. Invest in furniture
Obviously, the living room is going to need some furniture. They can be the priciest part of designing and decorating your living room. So, you will need to invest in them. You are going to have to consider your lifestyle too. Like, how much your furniture is going to be used? It's going to be exposed to daily wear and tear, so better invest in good quality furniture.
The size and layout of your room will also be a factor in what style and shape of your furniture will fit. Especially if you have a living room, you wouldn't want your furniture to add to visual bulk.
3. Consider color palette
Modern living room designs are defined by neutral or natural, earthy colors. But it doesn't mean you can't experiment with using other color palettes. One of the most important things to note is that light and soft-toned colors are recommended for small spaces. Any color that reflects light will be good for smaller living rooms to make them seem bigger. If you want a modern, lofty feel, cool color tones are your best option. Ultimately, you would want a color scheme or palette that will affect the mood and atmosphere of the room, coinciding with its main function.
4. Highlight lighting
Natural light is something very important for living rooms, especially for small living rooms. But regardless of space, lighting is important. In the evening, you're not going to use much of that natural light anyway. So, you need to figure out the right lighting to create the perfect ambiance and of course, task lights that will help you when you need to work or read at night in your living room.
One of the most recommended décor styles is to layer lighting. You can use a mix of floor lamps, pendants, and wall lights.
5. Add some rugs
Rugs can be underrated decorative pieces. Rugs, on their own, add pattern, texture, and definition. Match your rugs with your flooring. If you have minimalist, modern flooring, pair that up with Berber rugs. On the other hand, if you have parquet flooring, opt for minimalist rugs in design.
You will also need to consider the furniture going on top of the rug. Will the rug texture and pattern go well with the furniture? After all, the overall look of your living room must be cohesive and true to the style and theme you envisioned it.
Another decorating detail is to have your rug larger than the seating space as it will make the room look bigger.
6. Accent with tables
Coffee tables have become something like a staple in living rooms. At times they can be the focal point of your living room. But a lot of times, in many living rooms, the sofa or the fireplace is typically the focal point. Still, they can act as accent pieces with functional purposes.
7. Throw in some pillows
Another way to add texture, pattern, and color to your living room is through pillows. You can have fun picking ones out for your home. Remember though, you don't want them to stand out too much if you already have a focal point. They're supposed to be accent pieces.
8. Add some personality
The best way to show some personality in your living room is by adding accessories that reflect your personality and lifestyle. You can add books, art pieces, and such.
What makes a room more modern?
Modern living room designs have typical characteristics and key features that make them what it is. So, what makes a room more modern?
1. Open floor plan
Most modern living room designs you will encounter have an open floor plan, connecting to spaces like the kitchen and dining room. This gives the bright and spacious appeal of the modern living rooms.
2. Focal point
Modern living rooms don't fall short in a stunning focal point. A modern fireplace, for example, is one of the most popular focal points for modern living rooms.
3. Floor-to-ceiling glass walls and windows
Huge, floor-to-ceiling glass walls and windows are an important feature that makes a modern living room appear spacious and allows for a lot of natural light.
4. Oversized wall art
Oversized wall art can help emphasize the modern style of your living room.
5. Simplicity
A key feature of modern living room designs is the simple, clean, and eye-catching look. So, strive for a decluttered room with an organized storage solution. And keep it simple yet comfortable with functional designs.
6. Casual ambiance
To really capture the essence of modern living room designs, your modern living room needs a casual ambiance. This can be done with mood lighting or having wall art just leaning against the wall instead of being hung.
7. Elements of other styles
Adding elements of other styles such as industrial, rustic, or contemporary can be a great thing for modern living rooms. For as long as modern elements are more focused, adding elements of other styles can only alleviate the overall look of your room.
Modern Living Room Designs for Inspiration
Let's go ahead and look at some cool modern living room designs!
Sugar Land Remodel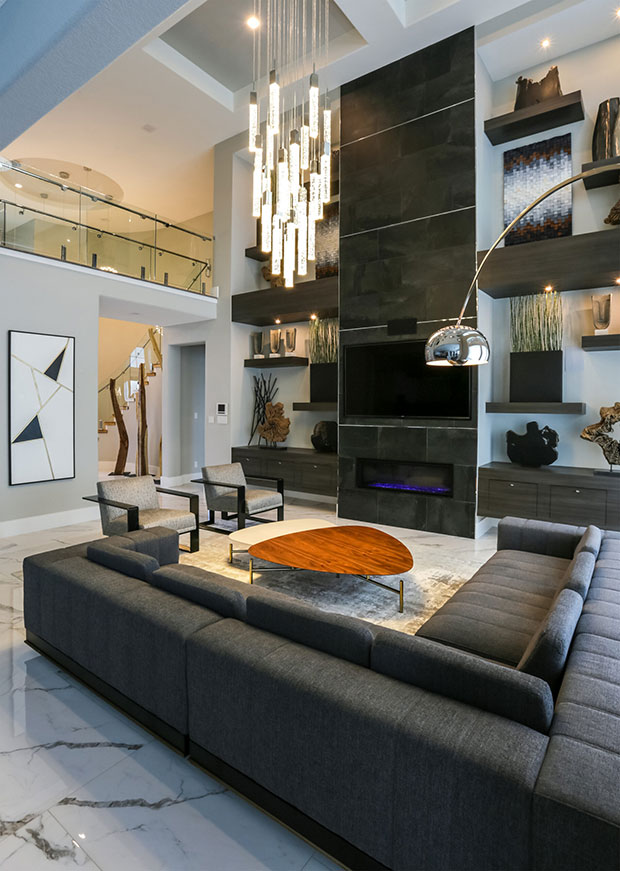 Sweetlake Interior Design
With a darker color tone present in this modern living room, the coffee tables' lighter color tone is a welcome visual change.
Modern Farmhouse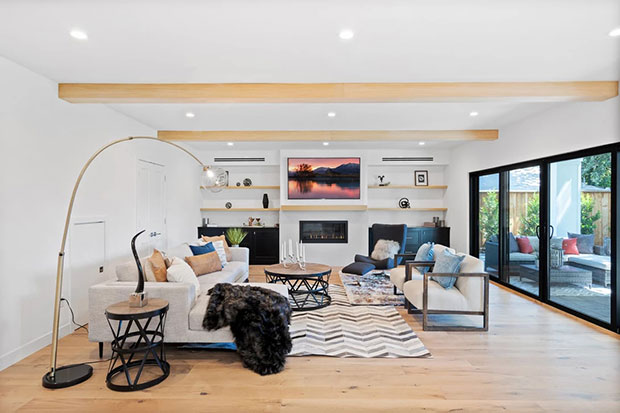 Bay Builders & Remodeling Inc.
The light and neutral colors work so well together with black and gold accents. It makes the room look brighter and has a cozy ambiance.
Modern Rustic Living Room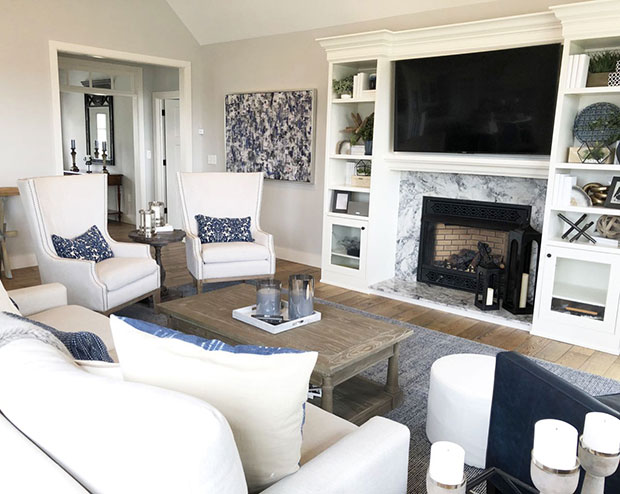 The Inside View
Notice how the rug blends with the throw pillows and even the art on the wall. It doesn't bring much attention to itself but creates harmony with other objects in the room.
Modern Elegance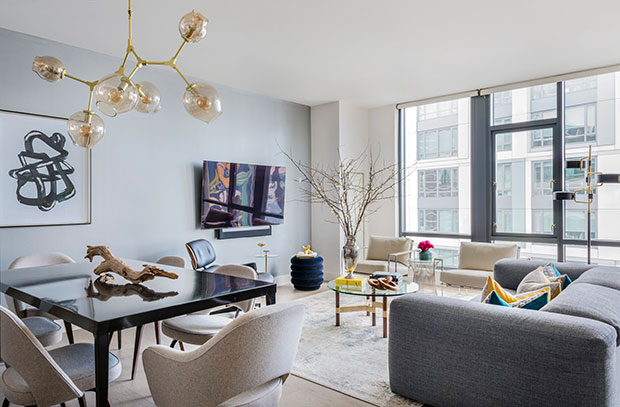 Trevor Fulmer Design
This living room has plenty of personality with various accessories that add texture, color, and pattern.
Waterfront Residence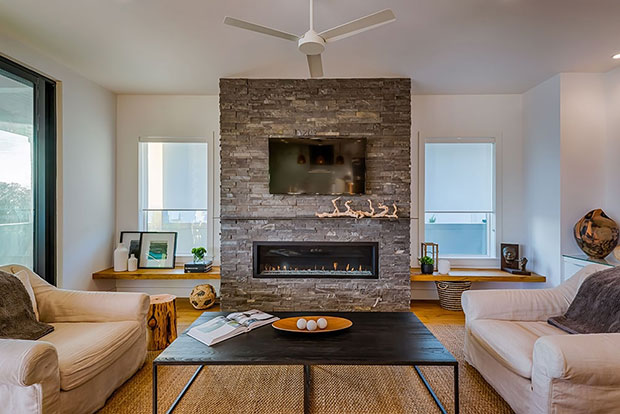 Chris Rossi Studio
The inclusion of some rustic elements brings another layer of visual appeal.
Brookline Masked Modern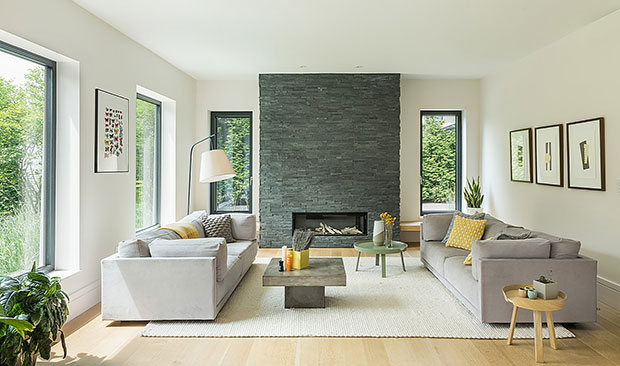 Small modern living room designs require some ingenuity. Instead of opting for a singular, larger coffee table, they have a small coffee table and side tables for some storage and placement.
Mt. Hope Modern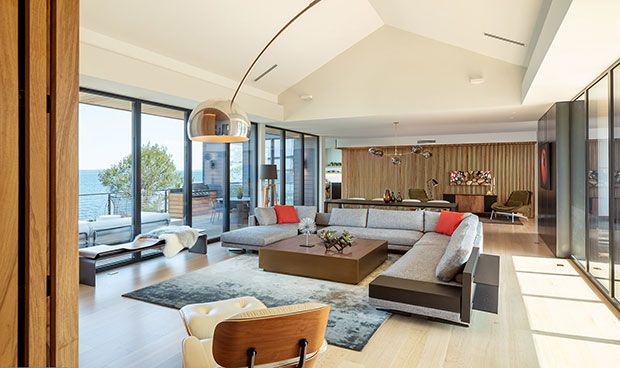 With a spacious living room like this, the space is put to good use by creating sections or zones as evidenced by the furniture choices.
Truro Modern Beach House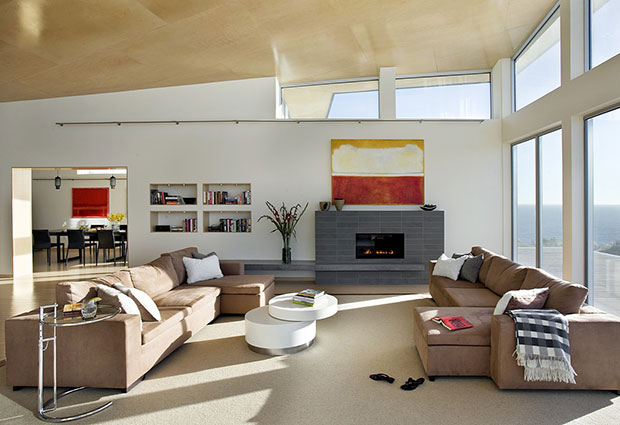 Two identical sofas are cleverly placed opposite of each other, creating a beautiful symmetry.
Wellfleet Modern House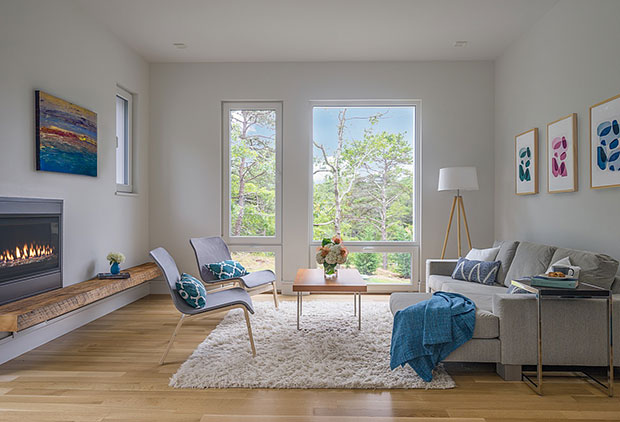 To avoid a bulky living room, bring in slim side chairs instead of a sofa chair. The chair choice brings some mid-century modern appeal.
Orleans Modern Green Home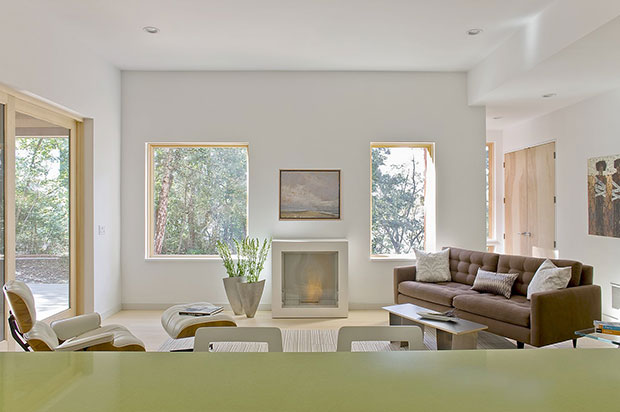 Most modern living room designs have a typical configuration where furniture is placed parallel to a wall. But this one interestingly places them diagonally.
Wellesley Green Home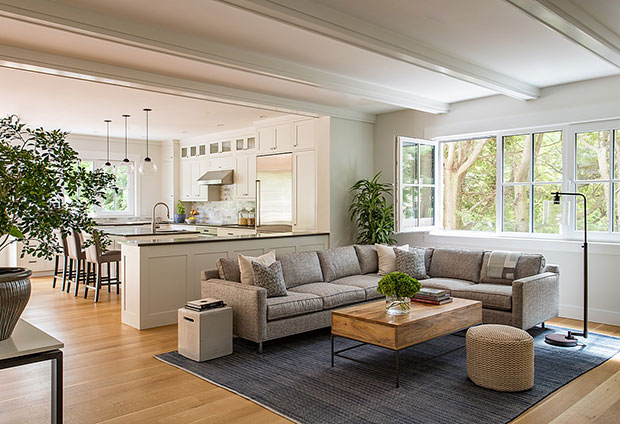 ZeroEnergy Design
As expected of a small living room, the layout is pretty straightforward. So, in turn, the furniture choices are cleverly chosen to bring comfort and provide storage.
Mid-century Modern Inspired New Build Home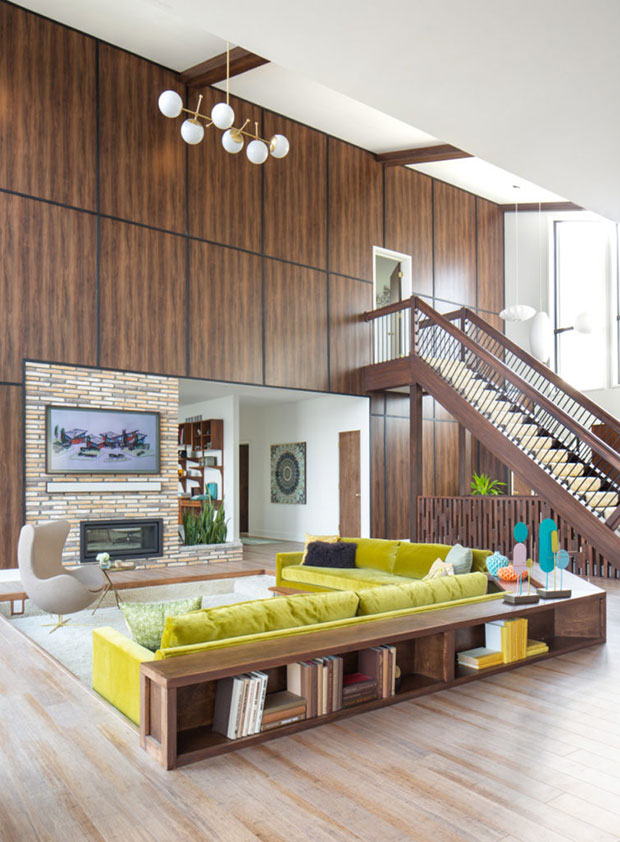 Exactly Designs
This is one of the most interesting modern living room designs with the way the living room is built into the space.
Bamm Hollow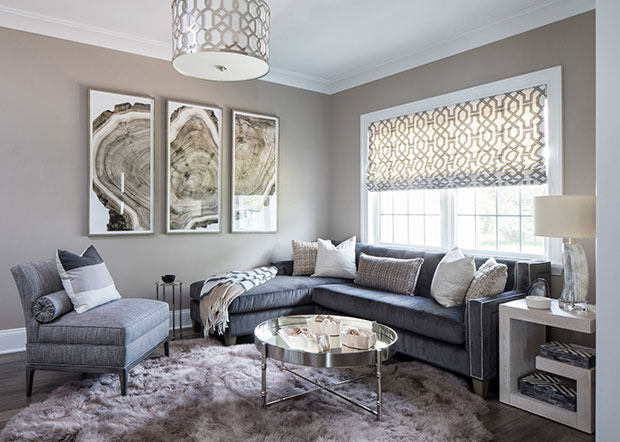 Karen B. Wolf Interiors LLC
The rug on this modern living brings some much-needed personality and life into the area.
Elevated Modern Farmhouse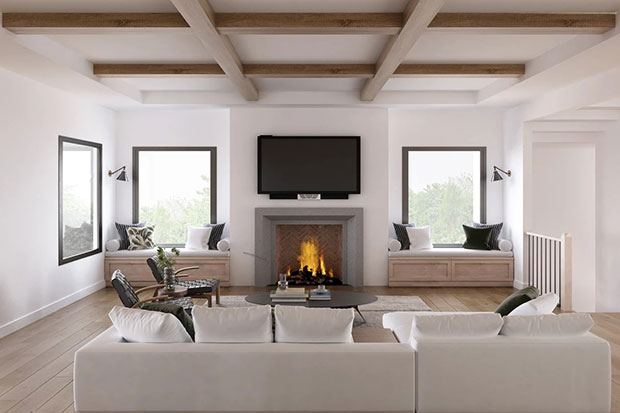 The contrast in colors between the couch and the armchairs is pretty interesting. The materials also add some layers of textures.
Modern Medina Two-Story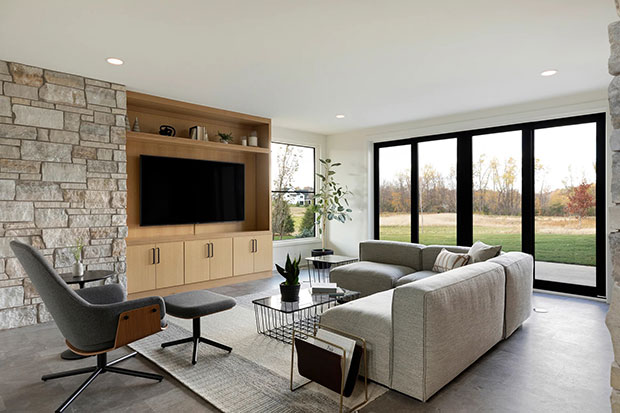 A key foundation of modern living room designs is prioritizing function and comfort over aesthetics. This home keeps things to the minimum though it still looks stylish.
Modern Ridge Two-Story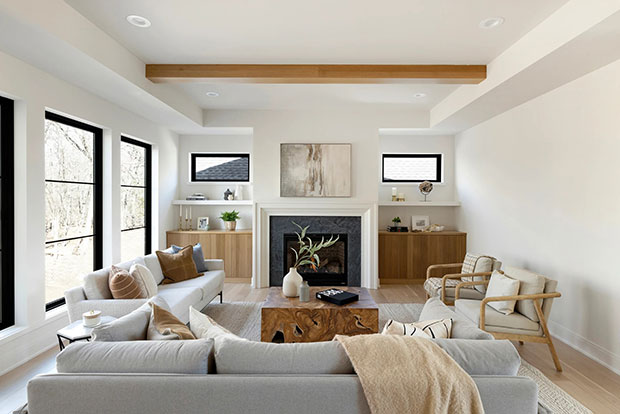 The coffee table makes a great focal point with its rustic style that works perfectly with the rest of the room.
Modern Tudor Rambler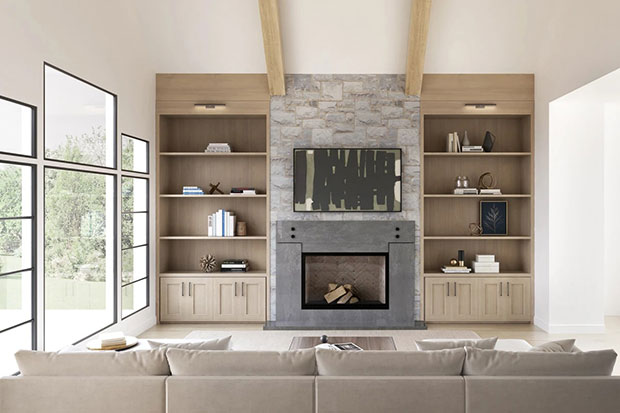 Many modern living room designs have pretty uniform glass windows. But this home shakes things a little bit.
Rustic Modern Estate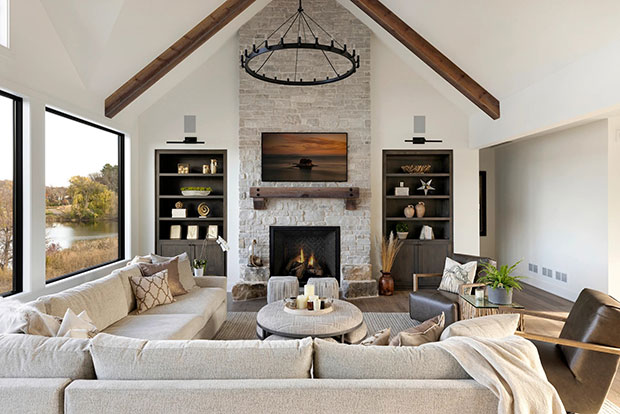 It's pretty interesting to bring rustic elements, especially through the fireplace as fireplaces are mostly the focal point in modern living rooms.
Modern European Rambler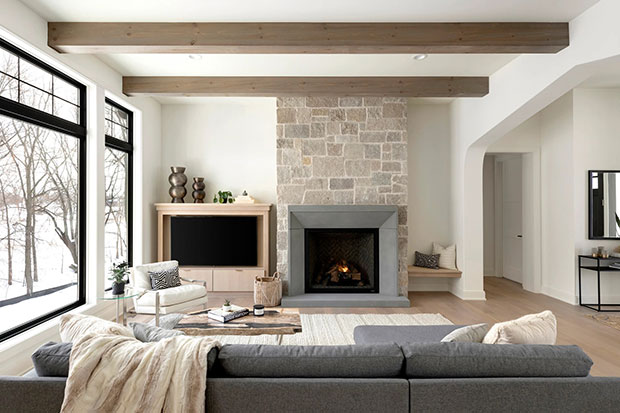 This living room interestingly places their television on the side, a strange and unconventional look.
Modern Minnetonka Two-Story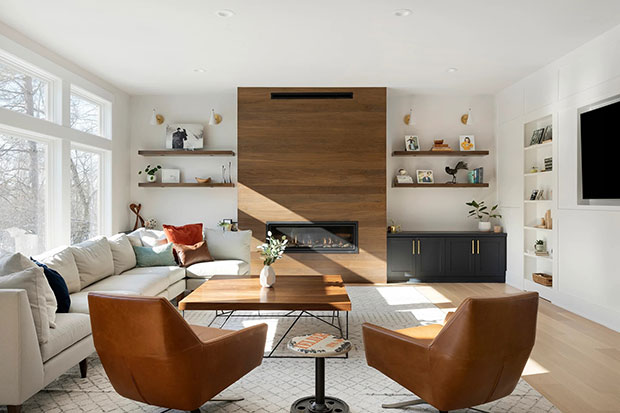 From its layout to furniture choices, this living room screams stylish and chic.
Modern Mediterranean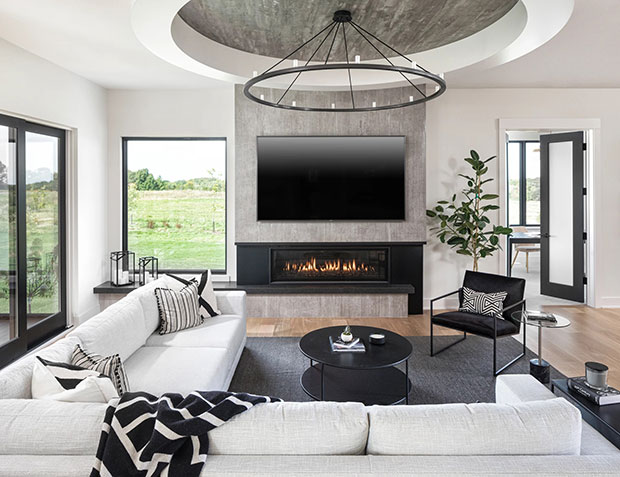 The strict color palette gives it a different kind of chicness that comes along with fine choices of furniture and furnishing.
Modern Prairie Rambler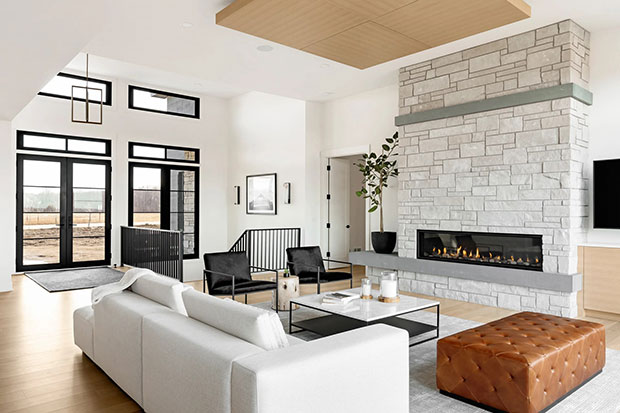 Despite the relatively spacious living room, it is interesting to see that they did not opt for big and bulky seats.
Modern Minnesota Rambler Home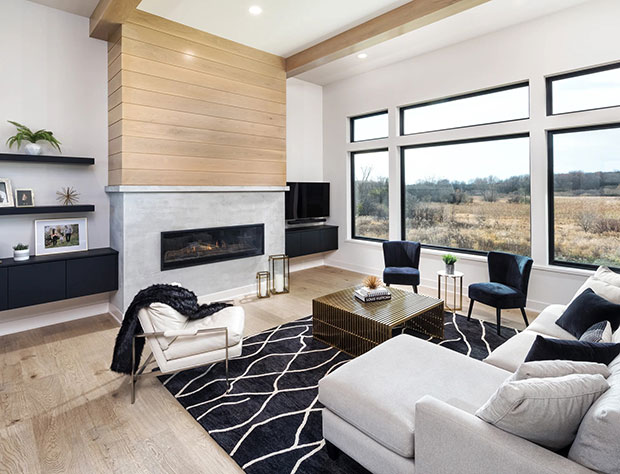 Swanson Homes
The unique and stunning coffee table immediately catches your attention.
Heather Court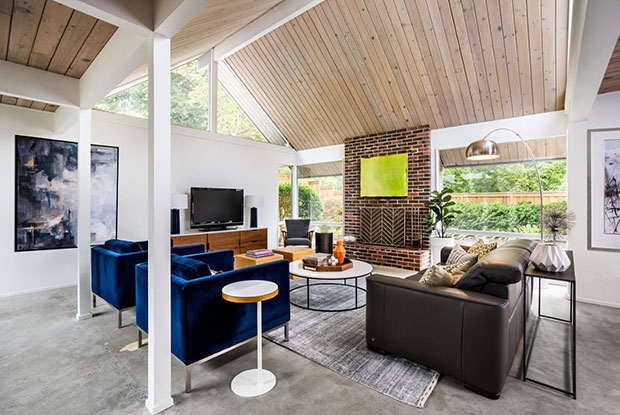 This space has the most casual ambiance out of the many modern living room designs on this list. Whether that's in the eclectic mix of colors, patterns, or the windows, it all brings together a cozy and homey look.
New Canaan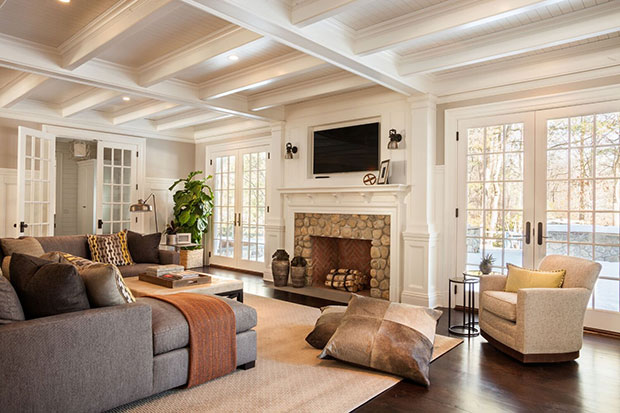 Garrison Hullinger Interior Design
Remember that tip that your rug should be bigger than your seating space? Well, this one follows it but interestingly has a seat outside of it. This is a good way to define zones in your living space.
Hollywood Hills Residence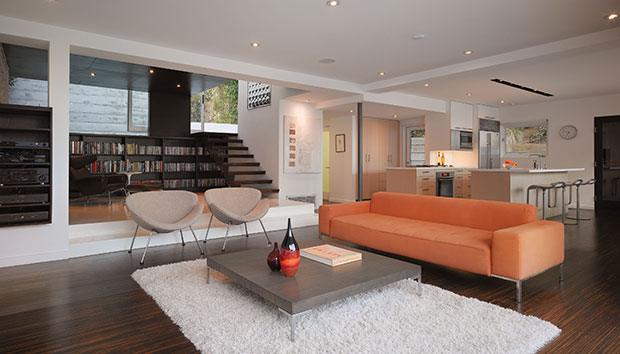 This living room has some contemporary charm, especially with the seating choices.
Benedict Canyon Residence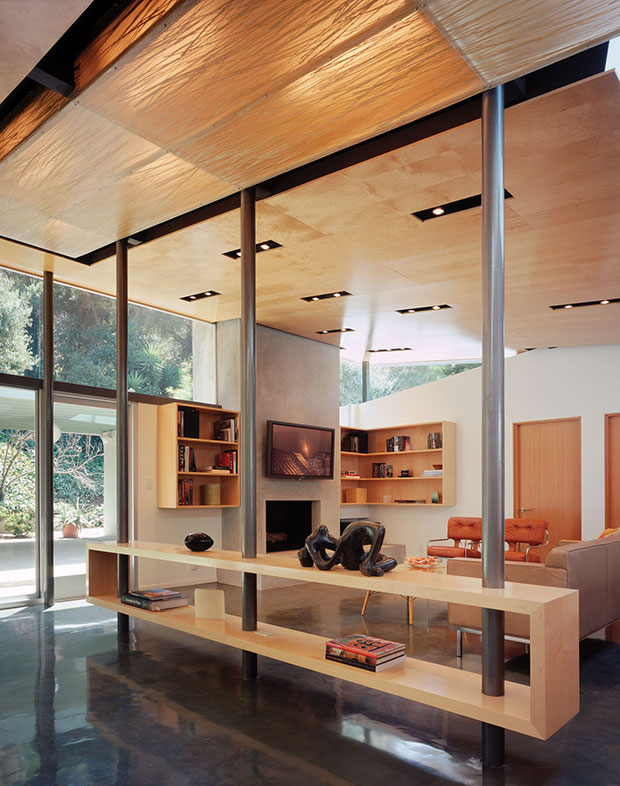 The lighter wood tones plus lots of natural light bring a casual and cozy look. Perhaps, it is with the bare natural materials added into it.
Ross Residence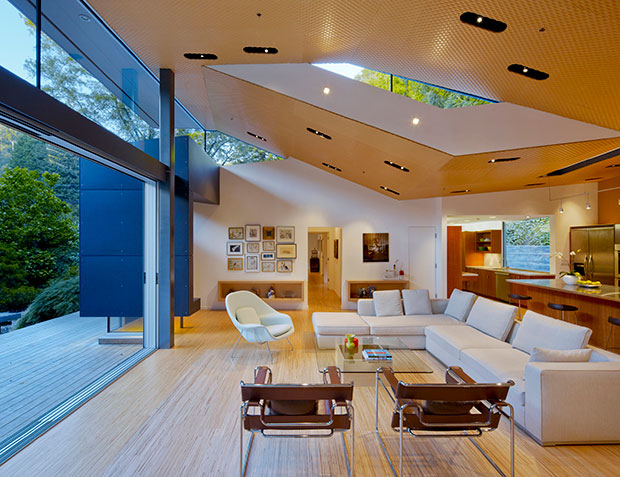 Griffin Enright Architects
The strict two-color choices with the seats are pretty interesting and show contrast with the flooring.
Sophisticated River Home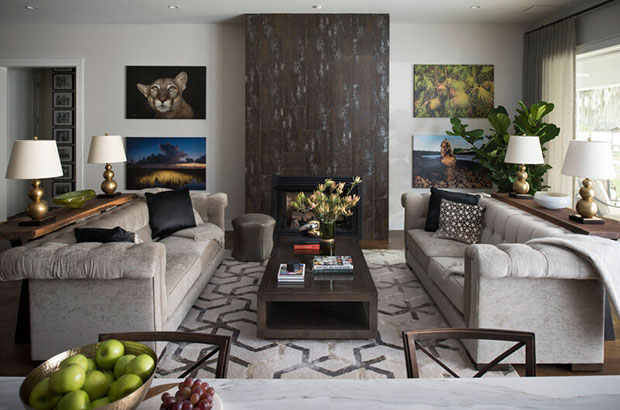 The rug is a perfect fit with its pattern that contrasts with the rather plain furniture on top of it. This is a good example of how rugs should fit in modern living room designs.
Modern Mix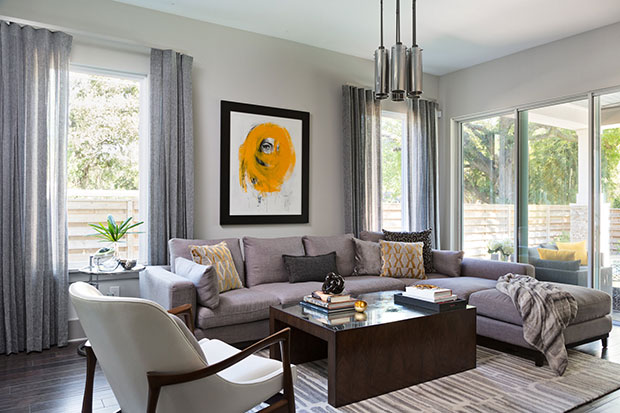 The décor in this living room is a good mix of pillows, art, and rug that complete a modern look.
Collected Mid-Century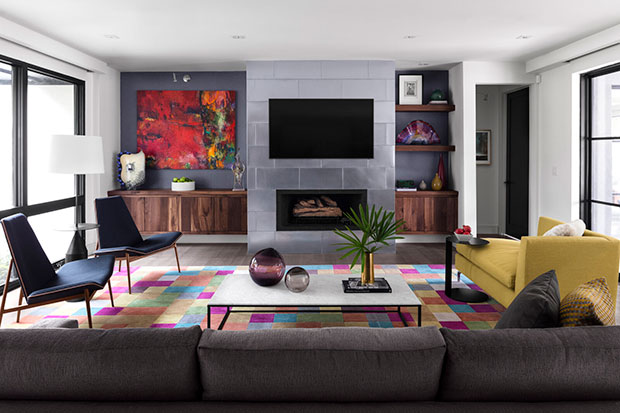 John McClain Design
The bright and colorful rug is a sight to see in a room filled with rather dull colors.
Modern Farmhouse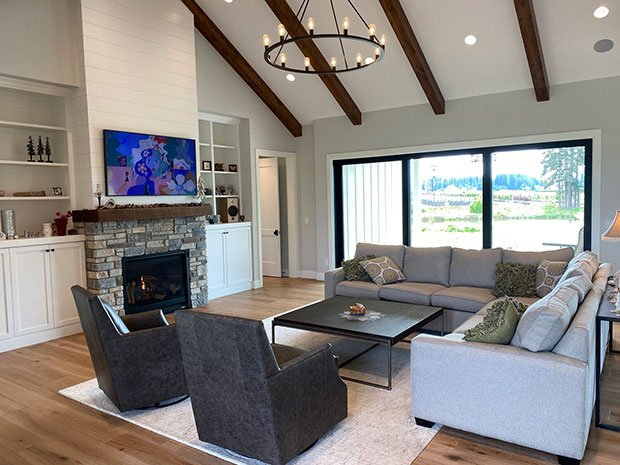 Patrick Schmitt Designer Inc.
The farmhouse charm works wonders together with the modern style in this living room.
Sleek & Sophisticated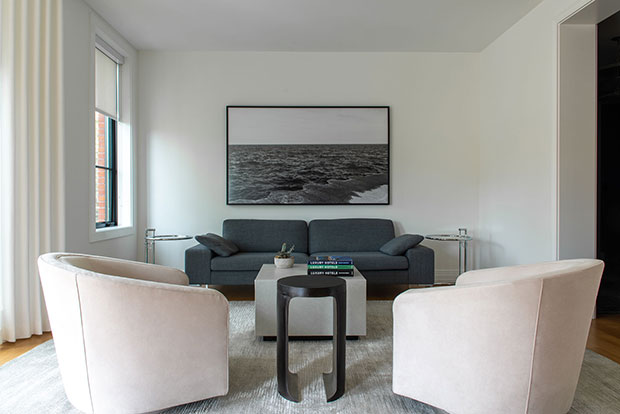 Skin Interior Design
With the interesting side tables and a minimalist look, like its name, this living room is nothing but sleek and sophisticated.
Brentwood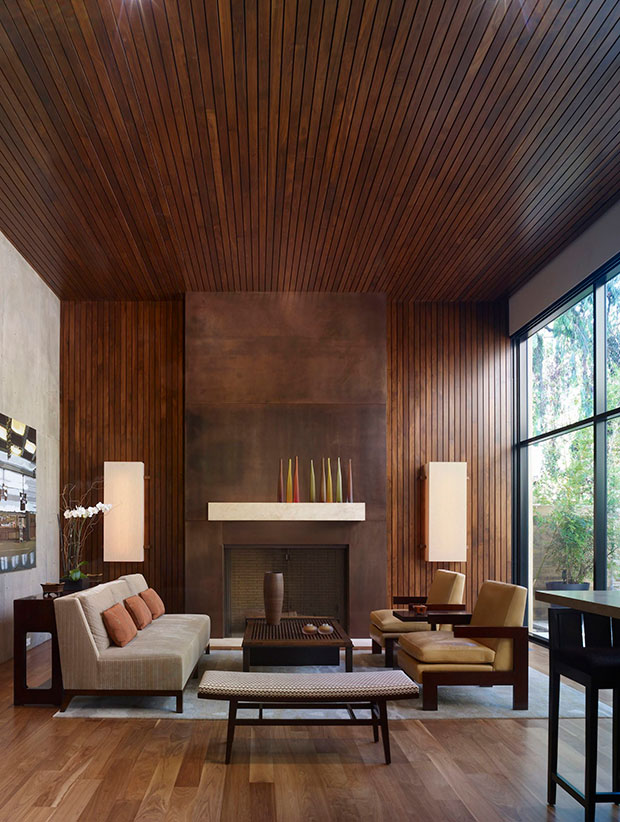 The wood tones bring a classic elegance that only such materials could bring.
New London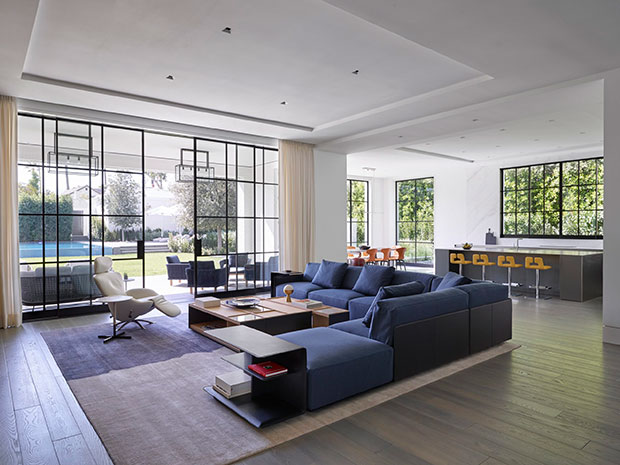 Studio William Hefner
Part of modern designs is finding some clever and innovative furniture that could solve storage issues, especially for limited spaces.
Trousdale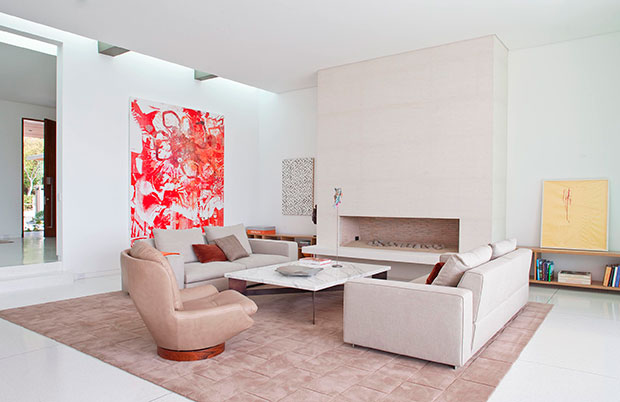 It's pretty interesting to see the highlighted color palette come in a range spectrum, creating a harmonious visual look.
Flight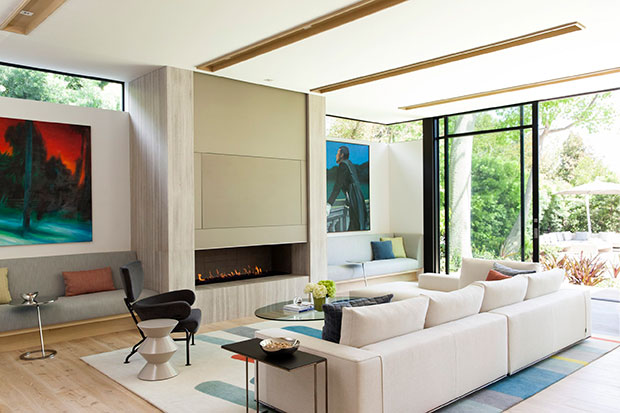 The rug is bright and colorful, adding some personality to the room. If you pay close attention, the throw pillows' colors can be found in the rug as well. This way, the visual harmony continues.
June Street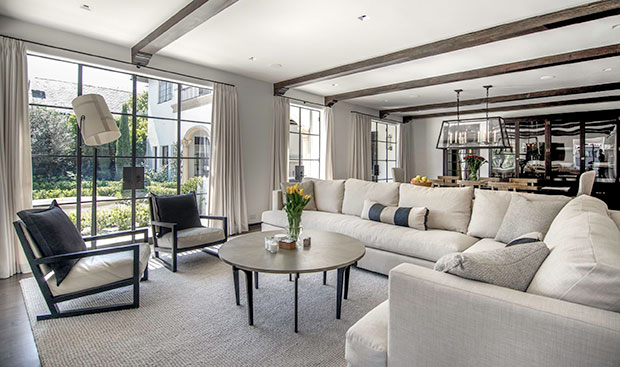 The cool, neutral colors create a perfect ambiance that makes it enticing to lounge in this living room.
Hot Springs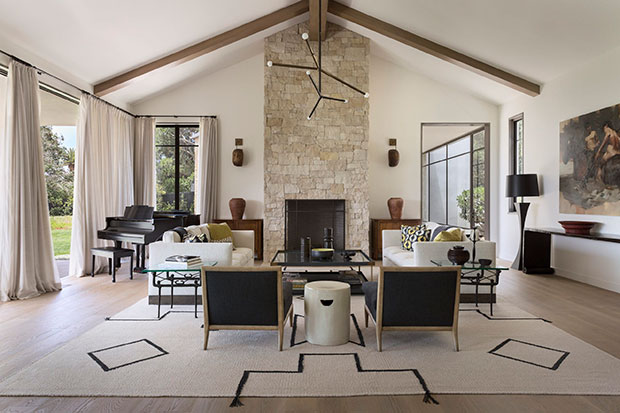 Studio William Hefner
Though the rug has its patterns, it doesn't draw much attention to itself. Rather, it works harmoniously well with all the furniture on it.
Newport Beach Residence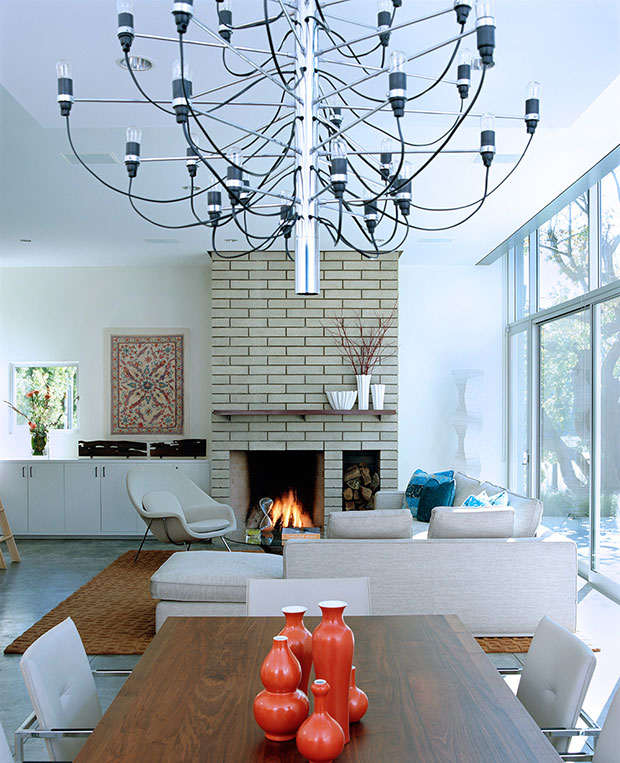 Paul Davis Architects
The open floor plan is perfect, especially considering the space of this living room. It frees up space for movement.
New Modern Ranch House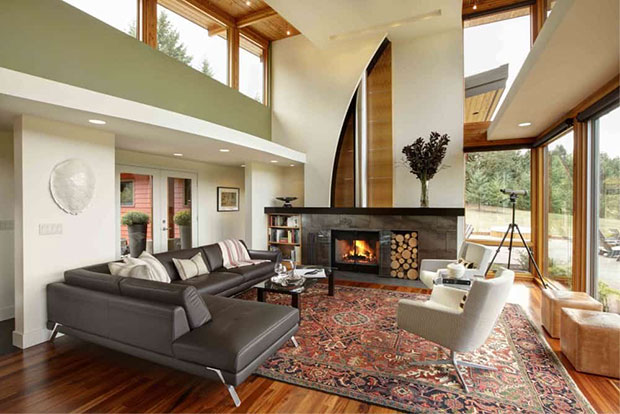 Kraft Custom Construction
In a busy living room like this, you wouldn't even notice the beautifully patterned rug with its colors matching in harmony with the flooring.
Chimney Corners Remodel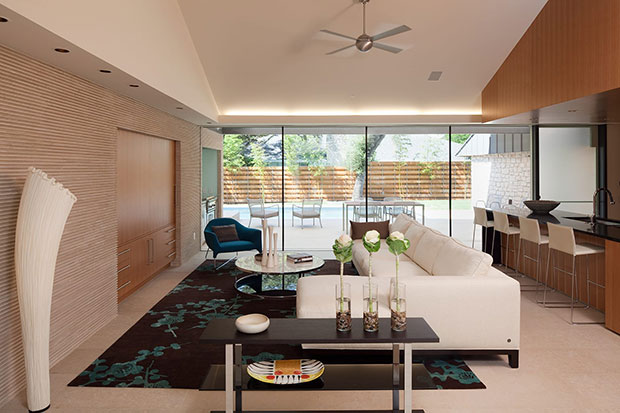 Webber + Studio, Inc.
With the television set hidden behind a compartment, this frees up some walking space, especially with a small living room like this.
The Manor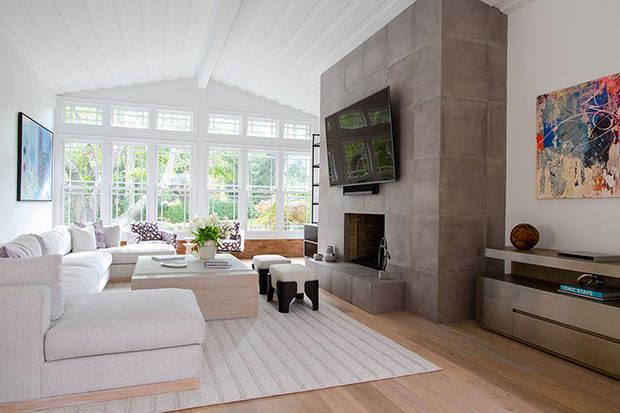 Widell + Boschetti
There is a nice contrast here with the light neutral colors (even made brighter by the natural light) and the darker color tones.
Barbara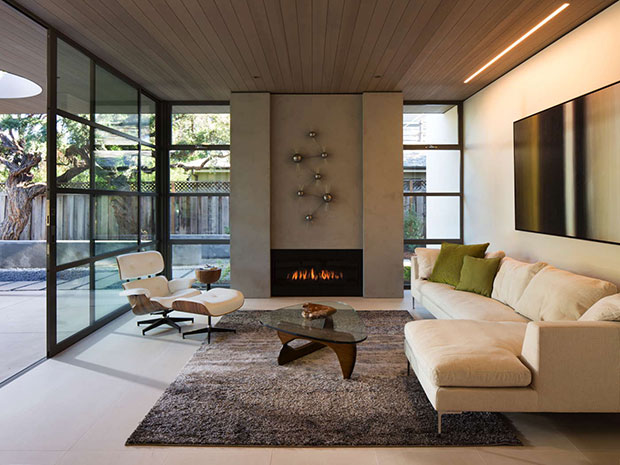 A minimalistic yet chic modern living room design that will surely grab your attention.
Oxford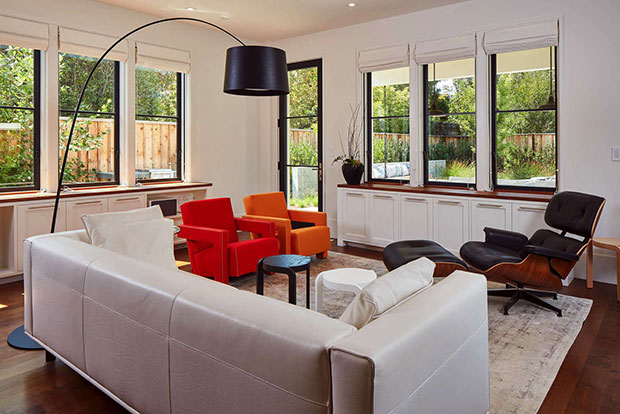 NorthWall Builders
The addition of two brightly colored armchairs is unexpected yet very charming. This is proof that you don't have to be strict and boring for modern living room designs.
South Clark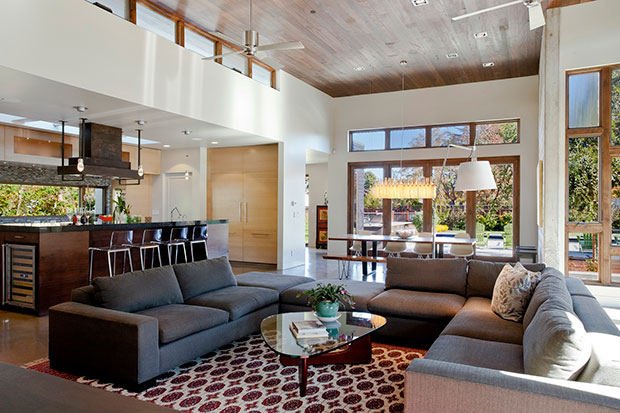 With a small intimate space, it's hard to bring some personality with furniture so why not do it with accessories like a patterned rug?
Alicia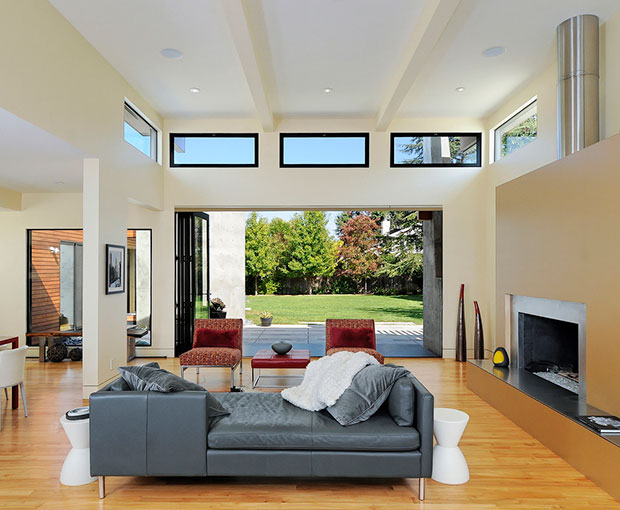 The way they opted for lounge chairs, and not a single sofa in sight, makes this quite the eccentric modern living room.
Benjamin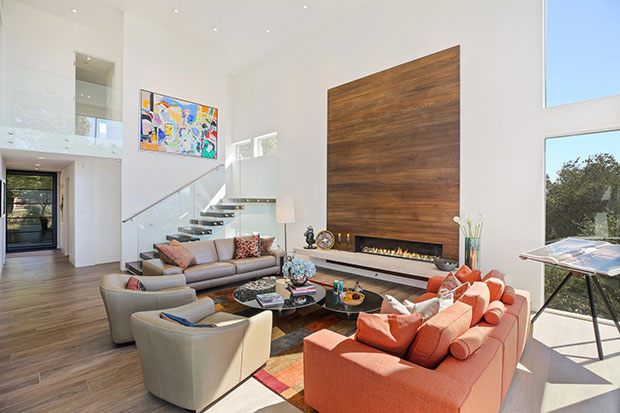 Picking up throw pillows or furniture padding with colors that can be found in your rug, or vice versa, is a smart and important design tip.
Cloud Ridge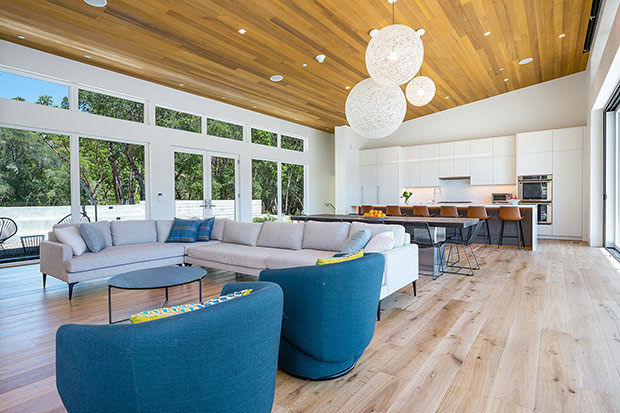 The choice of vivid blue club chairs to contrast with the grey sofa is pretty interesting and eclectic.
Collingwood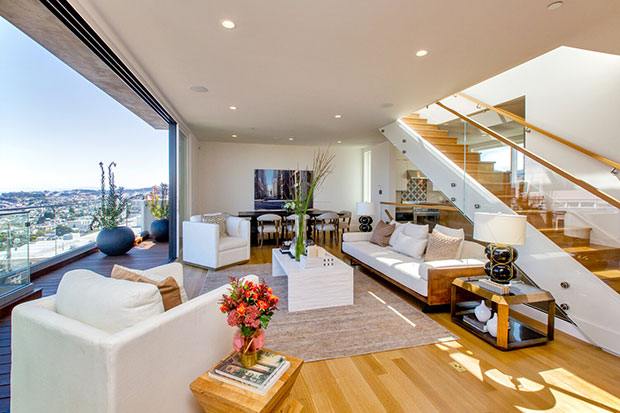 Usually when there is a sofa and armchairs in a living room, the armchairs are on either side of the sofa, facing each other. But here, they have each of them facing the sofa diagonally.
Mill Creek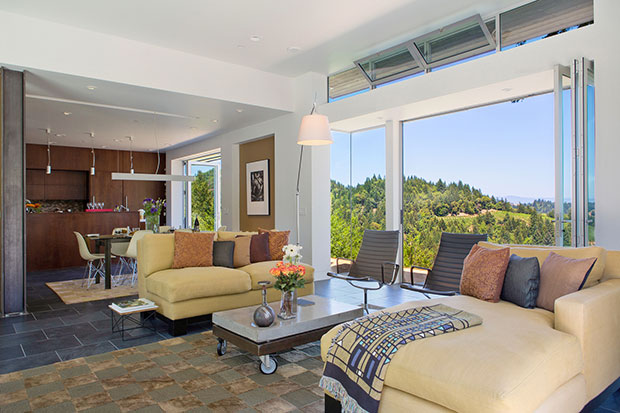 While most modern living room designs opt for neutral-colored sofas, this one got some light pastel-colored ones that pop out and bring so much personality.
Moon Mountain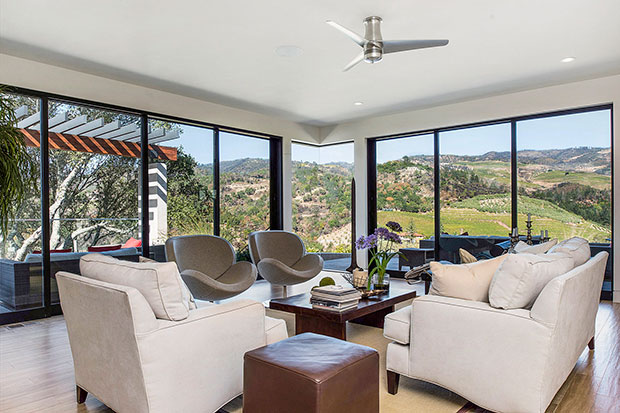 Despite the space, the furniture is closely placed together in the middle, creating an intimate atmosphere.
Sanchez Condo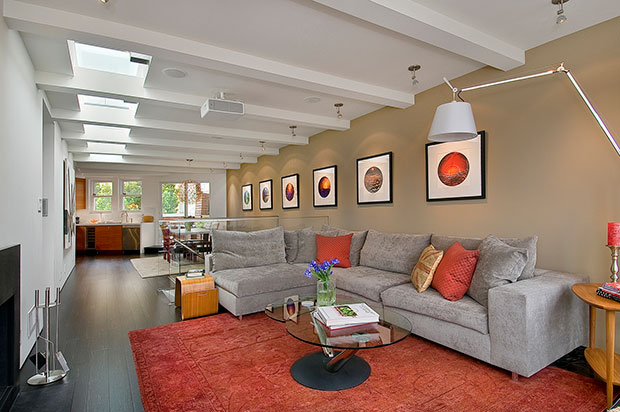 Elevation Architects
The vivid red rug immediately grabs anyone's attention, making the color pop not only in the living room but also in the adjacent room.
Modern Asian Penthouse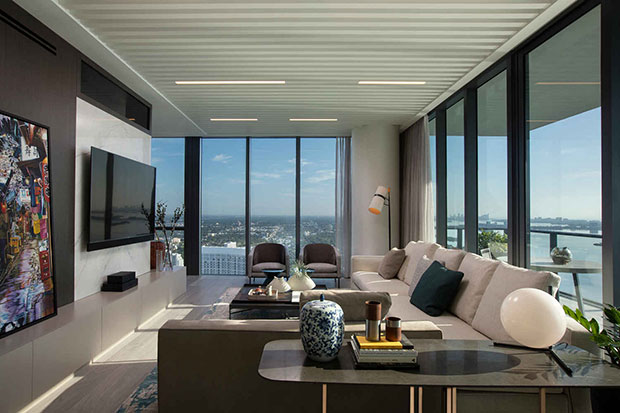 That wall art brings much-needed personality and life into this living room.
Modern Tropical Fort Lauderdale House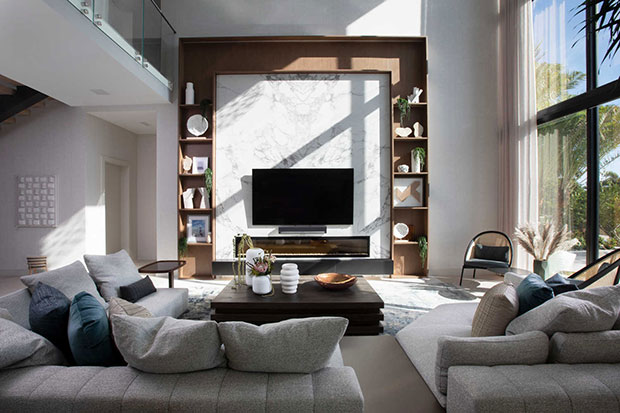 The built-in shelf brings attraction and is something to be envied, showing some modern storage solutions needed in a lot of homes.
Miami Condo Design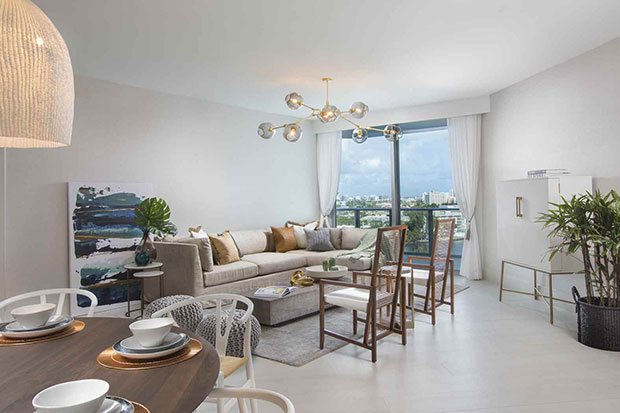 The wall art is hung too low adds to the casual look of this living room, apart from the seemingly displaced dining chairs.
Modern House Design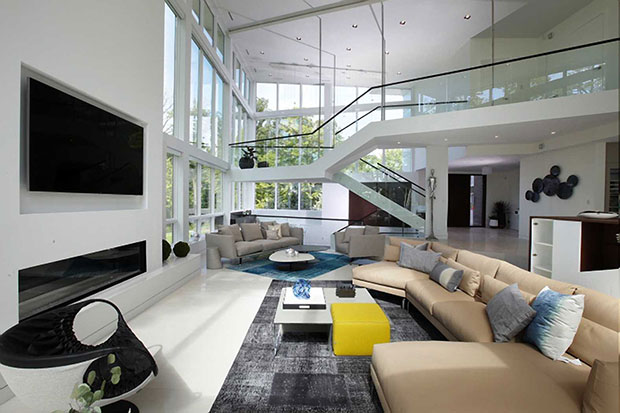 DKOR Interiors Inc.
This center table adds a contemporary charm to this living room, alongside the egg chair.
North Berkeley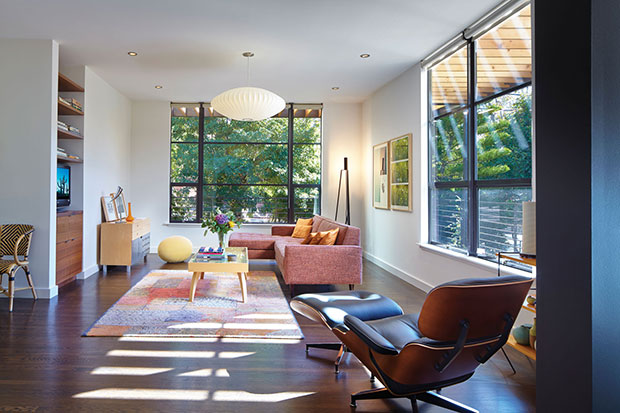 The bright pastel rug brings a youthful look into this living room.
Atherton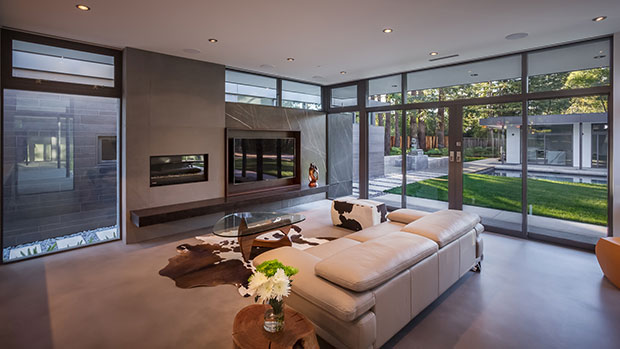 The faux cow pattern on the rug and ottoman chair will catch your attention in a room that rather lacks patterns.
Piedmont Hills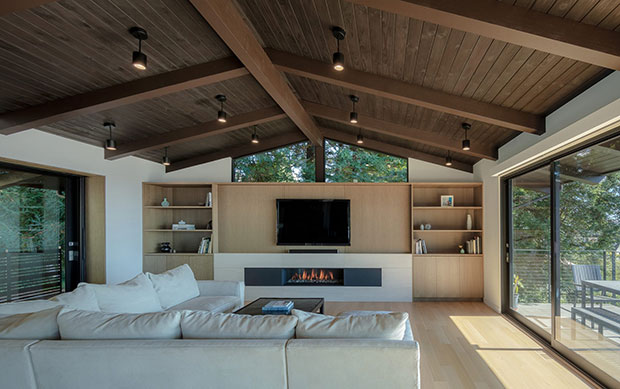 ODS Architecture
It's pretty interesting to see the plain white sofa harmoniously working with the light wood tone.
That's it for modern living room designs that you may want to consider for your home!
Like This Post? Pin It!