60 Bold Red Living Room Ideas to Ignite Passion
|
Red is such a bold color to have in any interior design. It is a color that can bring a lot of warmth to a cold-looking room. Even just a drop of it can make an entire room light up with so much personality.
It is certainly true for red living room ideas. If you haven't had this color in consideration for your living room, you may want to consider it for the reasons above and more. Under artificial lights, this color can become a mood maker, complimenting that ambient lighting you may have in mind.
There are plenty of ways you can create a red living room without completely washing the entire space with the color.
What color goes with red in a living room?
Red living room ideas don't necessarily mean everything is in red. You can mix it up with other colors. But with such a powerful color, you may be wondering what colors go well with red in a living room or any other room at home.
1. Teal and white
Cool tones are a great match with pops of red. This makes a room look cozy and colorful but not bold enough to be overwhelming.
2. White and multicolor
Though red is already a bold color, why not go out with an eccentric and eclectic living room by also adding a multitude of colors? Bring in the color white to balance out what would be bold strokes of color in the room.
3. Brown
Red living room ideas with a good mixture of chocolate brown serve a traditional and sophisticated look. In particular, if you choose a dark shade of red, it could certainly bring an overall bold look to your living space.
4. Blue
Red and blue are a classic color combination that has been seen in so many things. It's not any different for a living room. If you don't want red to be the primary color of your living room, you can balance it out with blue: a warm color with a cool and calm tone.
5. Pink
This is a color combination that isn't for the faint hearts. Red and pink would be such a vibrant combination that should be executed well so that it doesn't look sloppy.
6. Purple
Another bold color that brings a lot of dramatic flairs is purple. This color combination will definitely make a statement and is good for maximalist living room designs. Be a little more creative and try out different shades for each.
7. Green
Red and green are natural complementary colors, so it's only natural that they are on this list too. While this color combination may remind you of Christmas-themed designs and decorations, you can try out different shades and hues to come up with something else besides what they're been commonly associated with.
8. Orange
Red and orange together will totally bring a sunny warmth like no other to your living room. Being on the same end of the color spectrum, they can bring a very interesting look to your place.
9. Beige
Where red is a fiery color, beige can be a good pair to tame and contrast it. In addition, this combination could very well bring some rustic charm to your living room.
10. Black and white
You will find another classic color combination in red, black, and white together. If you're thinking of retro-themed red living room ideas, this color combination would be a perfect choice.
11. Yellow
Much like the red and orange color combination, red and yellow could bring a sunny statement being the colors of sunshine!
12. Black and gold
Are you thinking of elegant red living room ideas? Pairing red with black and gold could be a step in the right direction. These colors together can bring a luxurious feel that can only be rivaled by the red and purple combo.
Now, let's take a look at some red living room ideas for your consideration!
Piotrków Trybunalski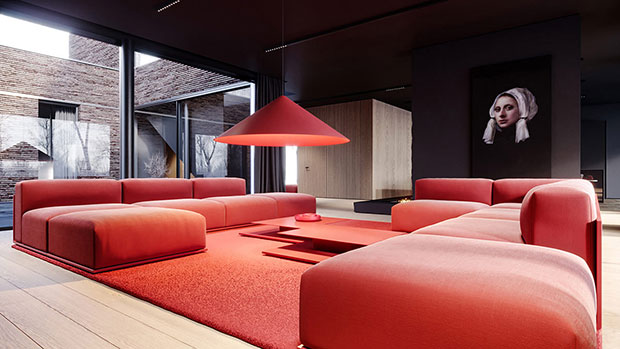 Tamizo
Not a full-on red living room, but the red is concentrated in the middle from the chandelier to the rug. It's an impressive look, and given how it looks against a black room, it even has a contemporary look into it.
Passive House Retreat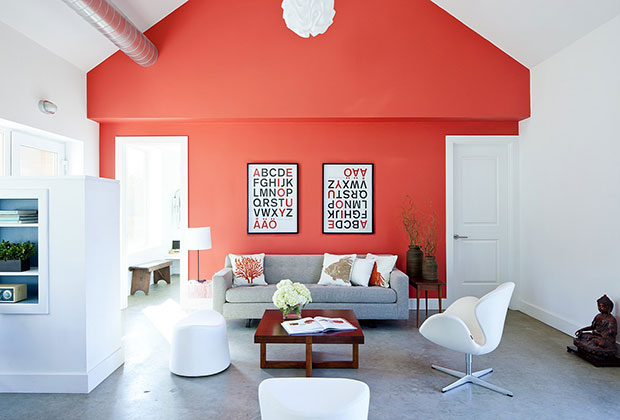 ZeroEnergy Design
Not everyone is bold enough to completely commit to red living room ideas. So, try taking small steps like a red statement wall to begin that journey!
Classic Traditional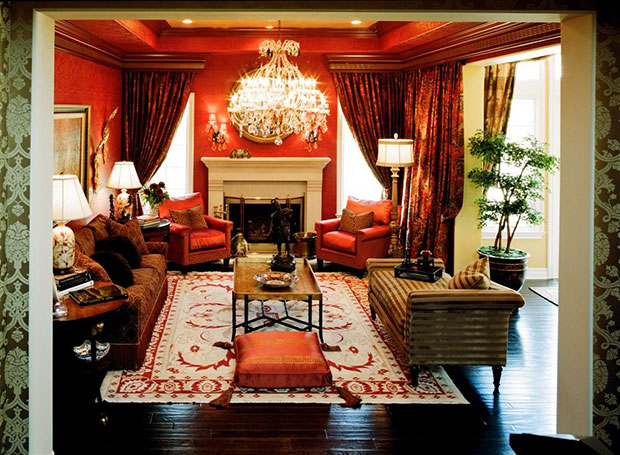 Tracy Murdock Interior Design
Classic traditional living rooms like this do so well with velvety red walls and sofas, highlighting elegance and sophistication.
Skygate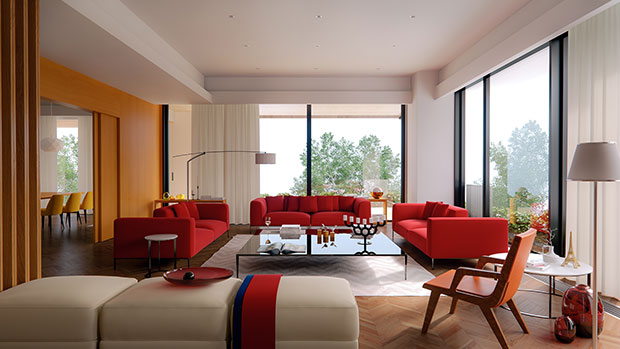 Ricardo Tohme
Just as mentioned above, orange and red together could make for a sunshine look. And what with the other neutral colors and the big glass windows, it's quite the warm, bright, and cozy living room.
U19 Apartment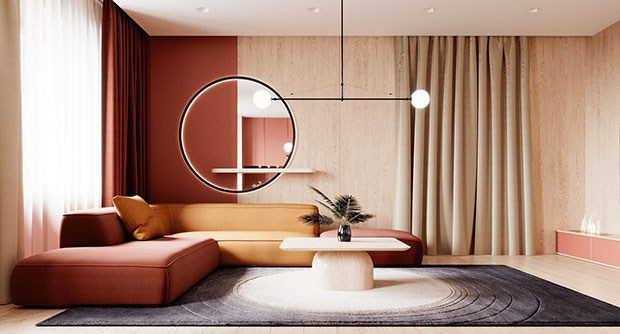 DAR Architects
If these shades of red can be overwhelming to you, try some really light hues and couple them with earthy or neutral colors to get this kind of subtle warmth for your living room.
Lullwater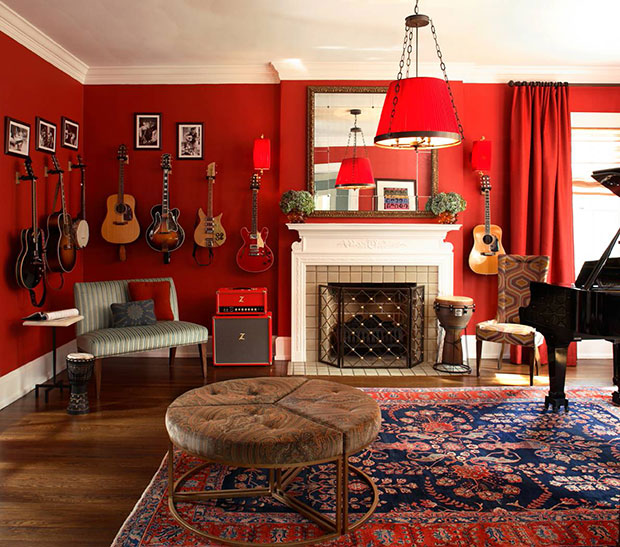 Dillard Pierce Design Associates
The white ceiling, moldings, and fireplace are just enough to offset the eclectic combination of red with natural wood tone.
Palm Springs Mid Century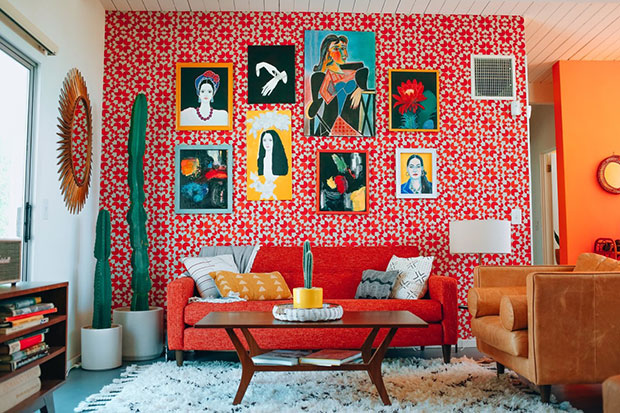 Dazey Den
Instead of having a completely painted red wall as a statement wall, you can try predominantly red wallpaper.
Delancey Place Townhouse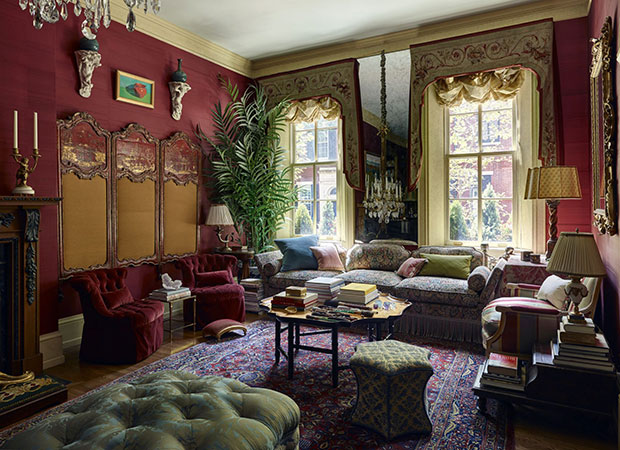 With a traditional living room design like this that's full of ornate details, wine red for the wall is certainly the best choice.
Manhattan Apartment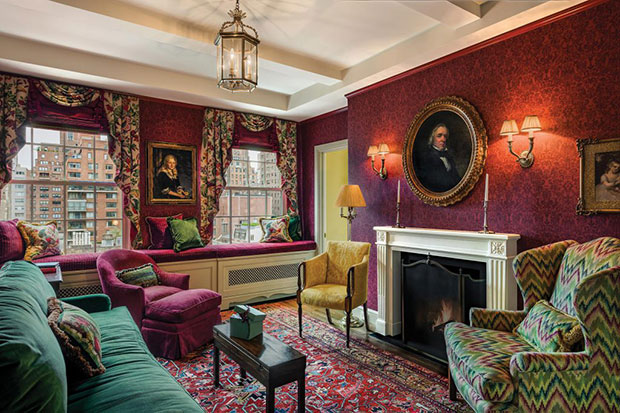 Eberlein Design Consultants
One of the grandest and most sophisticated-looking red living room ideas, and it's not just because of the eclectic mix of red, yellow, and green. The velvety textures and eccentric patterns contribute to this as well.
432 Park Avenue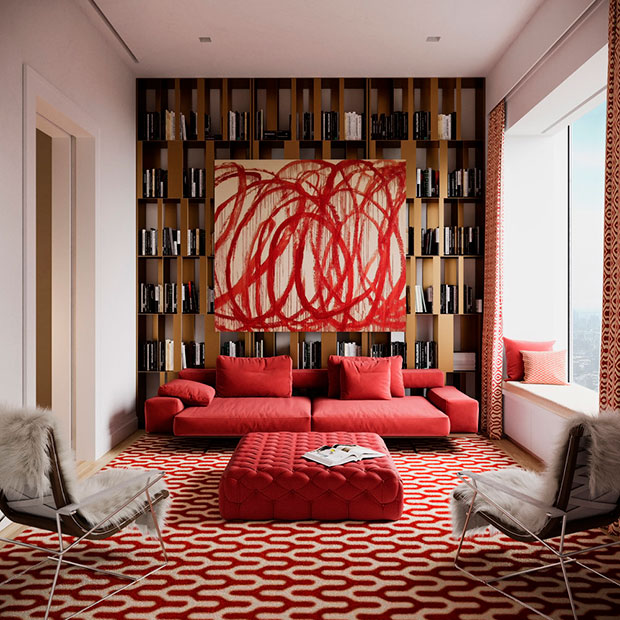 Axis Mundi
Red living room ideas don't necessarily mean the walls have to be red. A red rug that covers nearly the entire floor area would be a good start. Adding a red sofa and center table could further elevate that look.
Center Hall Colonial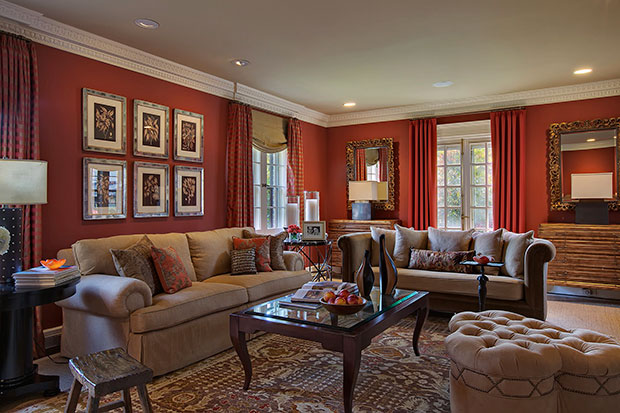 B Fein Interiors LLC
The red curtains along with the red walls are greatly balanced with the beige and earthy-toned furniture.
Old Look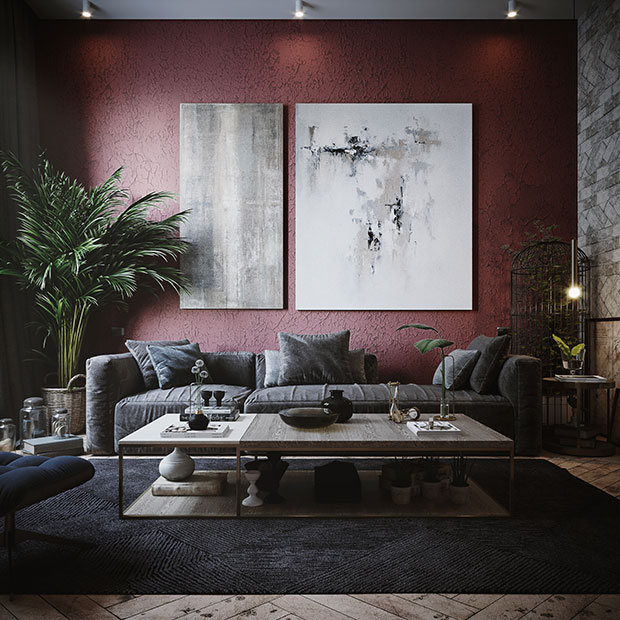 Oscar Pastor
This living room is a good example if you're looking for moody red living room ideas. The dark shade tones all go well together.
Gramercy Park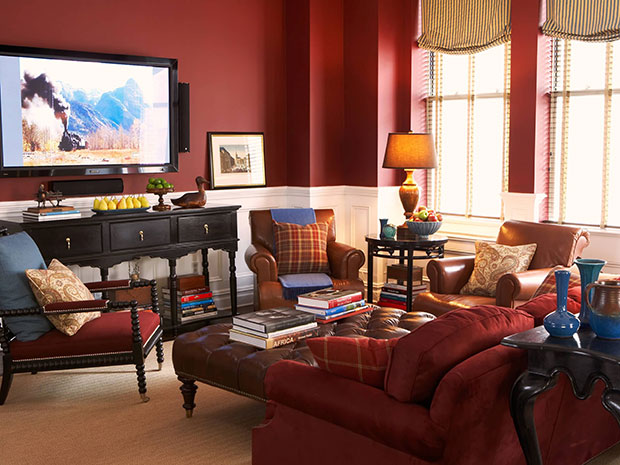 Scott Sanders LLC
Having a panel molding to your walls would certainly be a great opportunity to have two colors on them, thus creating some dynamics.
Jericho Beach Renovation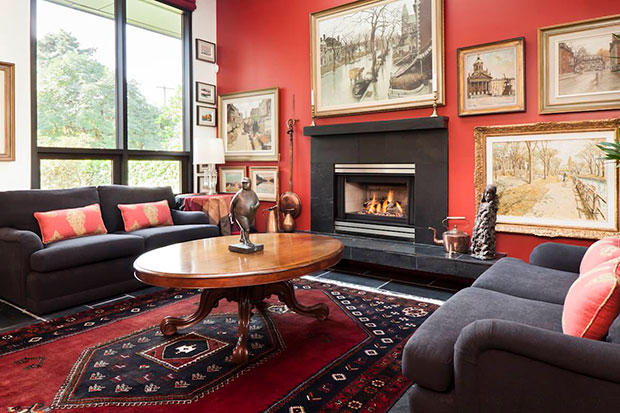 Natural Balance Home Builders
While the colors bring a retro feel into the room, the ornate décor definitely brings a traditional elegance.
Villanova Residence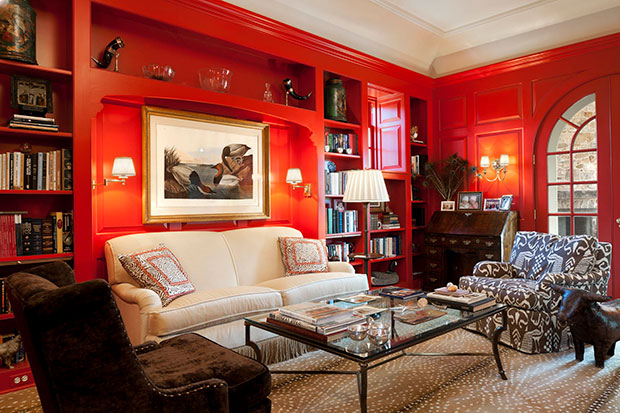 Archer & Buchanan Architecture
A glossy red paint all over gives this living room an expensive look. The neutral and earthy tones though are a great complement to make it more casual and homier.
Living Room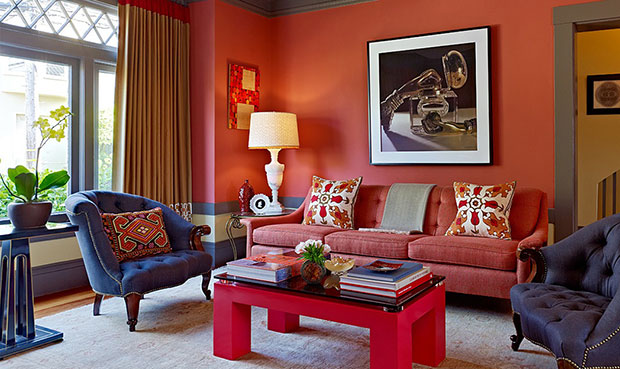 Jay Jeffers
The mix of slightly muted colors is a great choice for red living room ideas that you wouldn't want to be too overwhelming.
Crestview Drive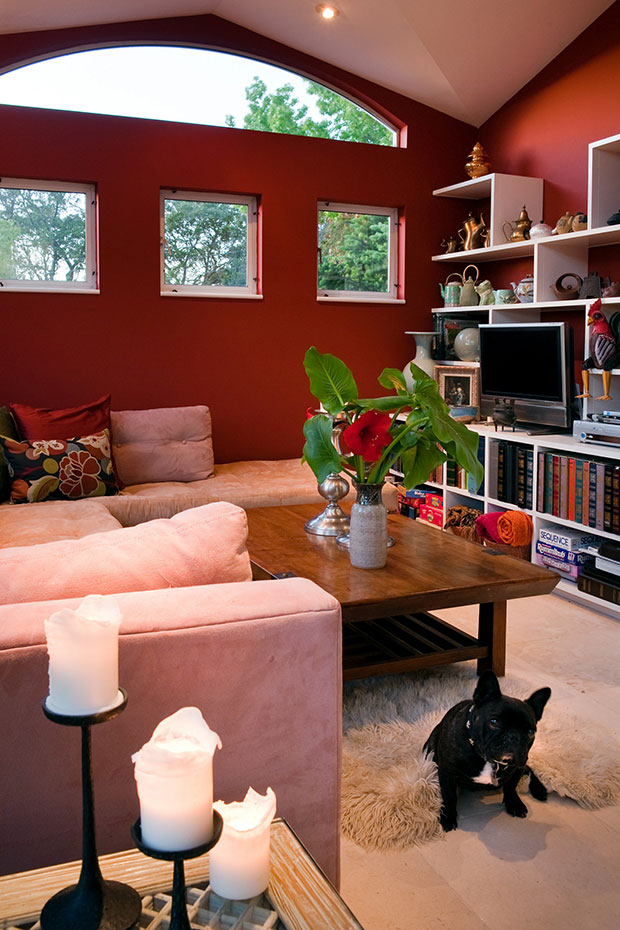 Jane Ellison
This shade of red could make a living room look dark but with much natural light coming in, it doesn't seem all too dark.
Forth Worth Historical Residence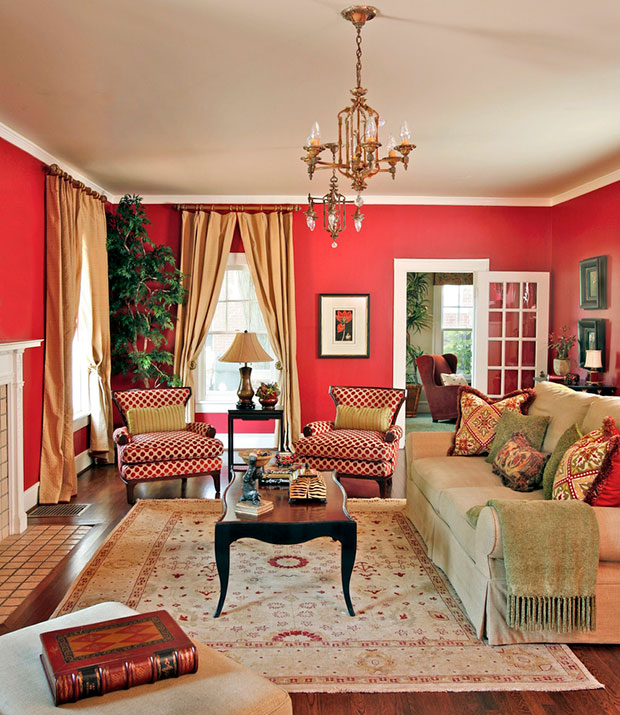 Dona Rosene Interiors
Here is a perfect balance of neutral colors against the red for one of the cozier red living room ideas.
Upper West Side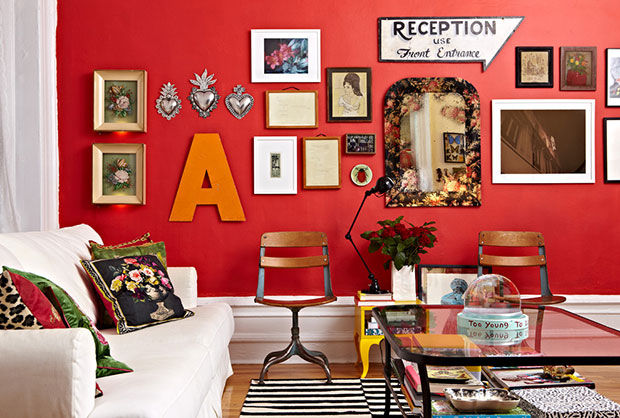 Jacob Snavely Photography
While a red wall can already make such a bold statement in your living room, it's not a bad idea to adorn your red wall with some striking décor.
Rosslyn Townhouse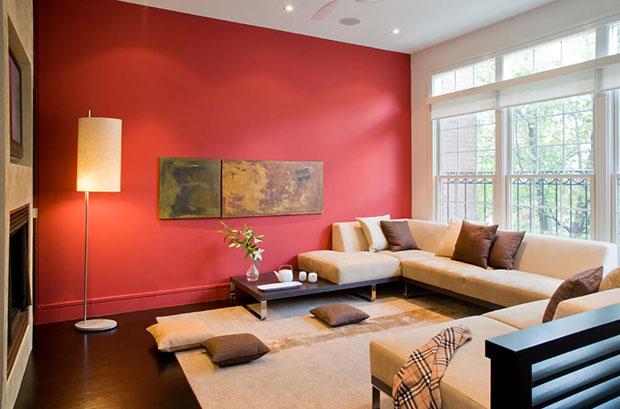 Forma Design
On the other hand, this home keeps its red statement well as simple as it is.
The Collector's Eye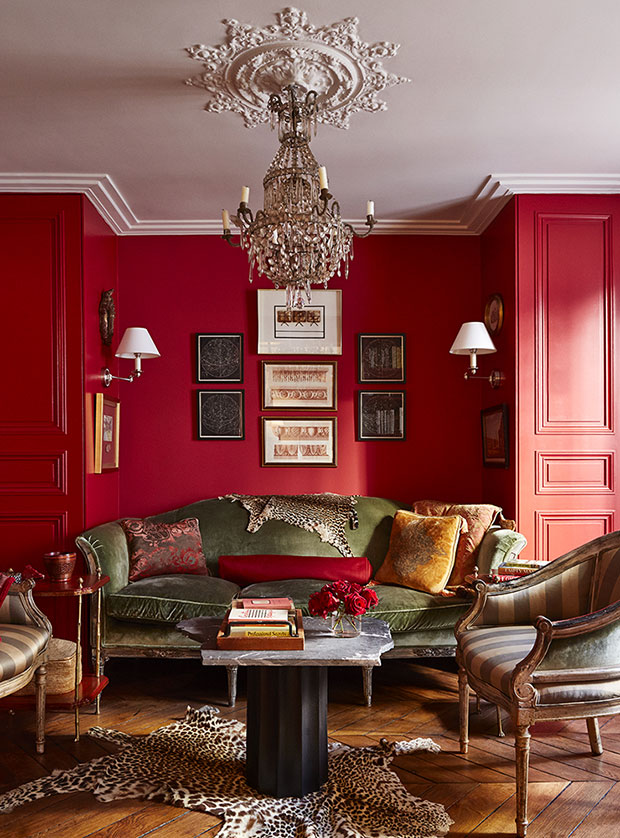 Kasha Paris
A deep red paint on the walls seems to be the only appropriate for a living room that boasts a vintage collection of furniture and décor.
Lake Como Farm House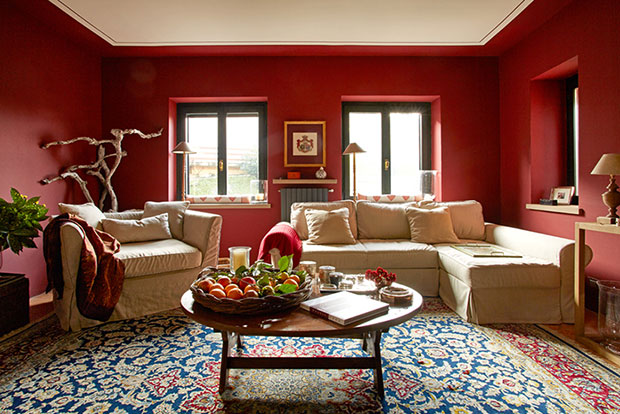 The splash of blue on the carpet is a welcomed sight in a close red living room.
Chinese New Year-inspired Townhouse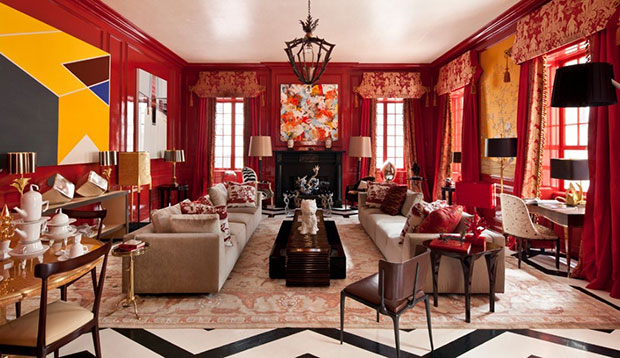 Inson Dubois Wood
A plethora of colors try to and are successful with keeping up with this bold choice of the color red. And along with the furniture and furnishing, this makes for one elegant living room.
New Project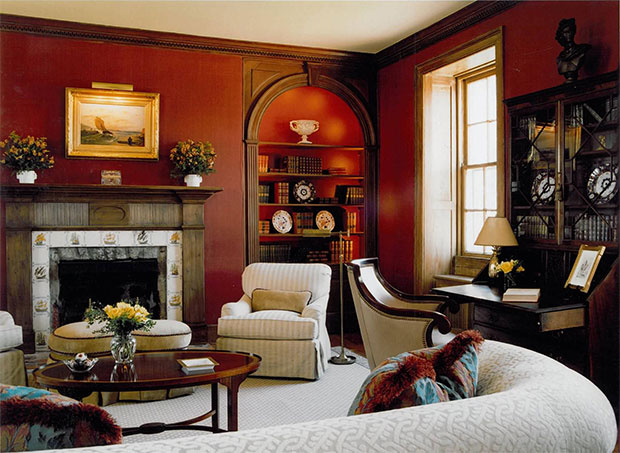 Sroka Design, Inc.
This shade of red is a perfect match with this natural wood tone. Together, they create one of the more sophisticated and traditional-looking red living room ideas.
1870 Home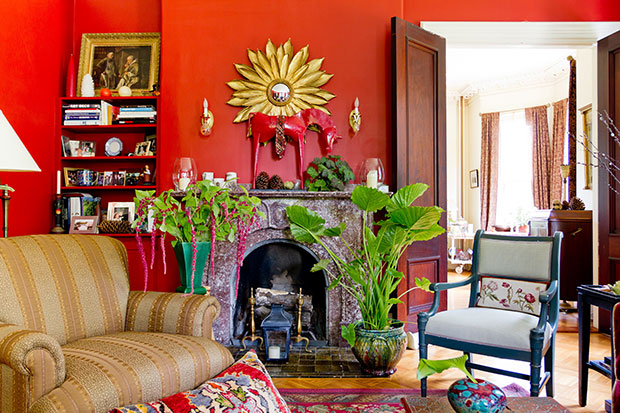 Rikki Snyder
This bright red paint is perfect for eclectic and bohemian-inspired living room designs.
Twin Maples Centennial Showhouse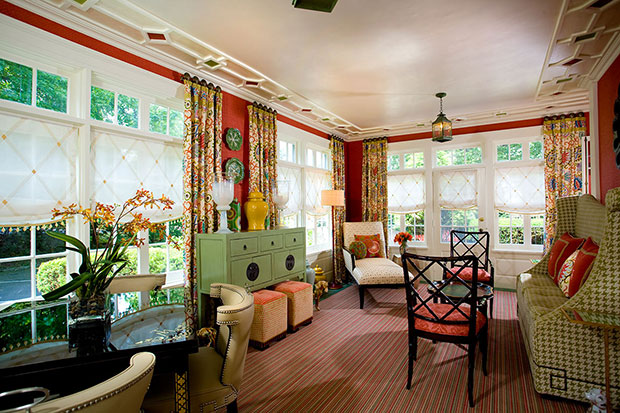 Colorful patterned curtains are a great complement to the red walls. The creative ceiling moldings also further elevate the overall look of this living room.
Chatham Residence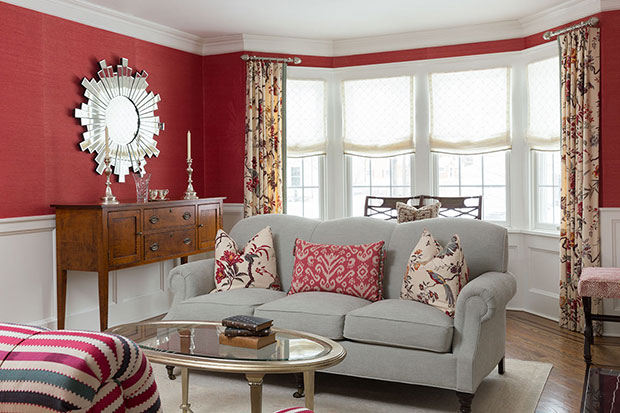 Though every wall in this living room is painted red, the color doesn't fully dominate here. This would be a good example for those that are still intimidated by red living room ideas.
Wall Residence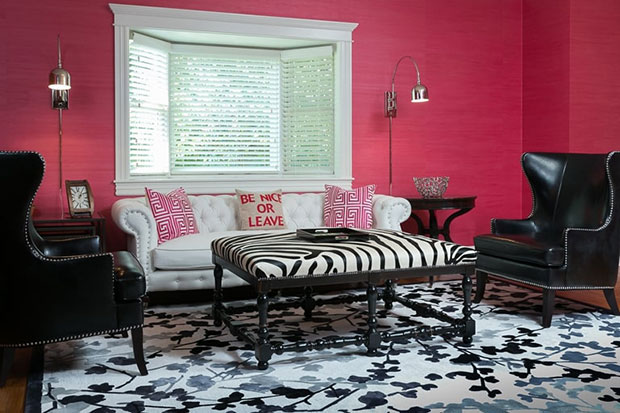 Creative Wallcoverings & Interiors
The black and white layout in the middle is a great focus against this light shade of red.
Georgian Townhouse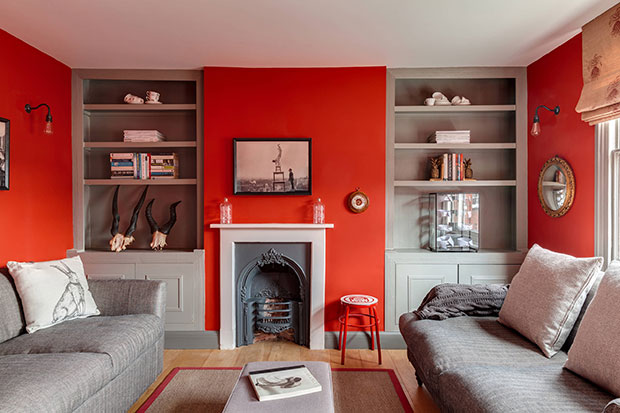 Arq-A Interiors Limited
Though not mentioned above, this combination of red and grey is quite a good match. It's refreshing and cool.
California Ranch with Carribean Flair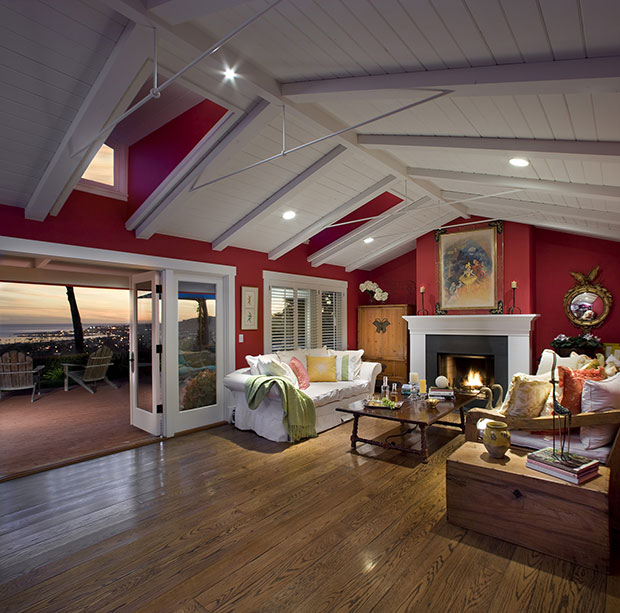 Griffin & Crane
Red walls are great too for rustic red living room ideas. It brings some fiery passion that balances out the casualness and coziness of rustic elements.
Highland's Home 2005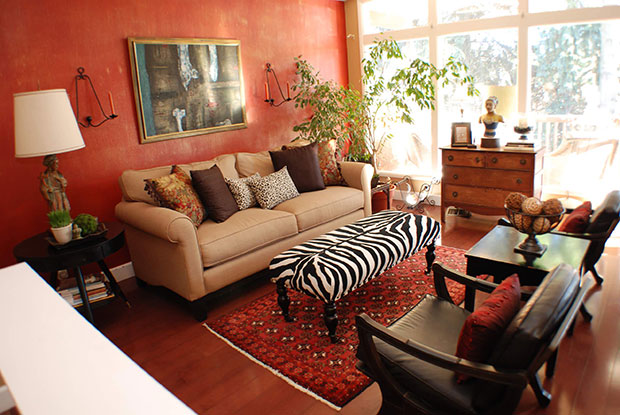 Judith Balis Interiors
Though this living room seems to have furniture and finish in darker tones, the huge window allows much natural light to make it look bright.
South Miami Studio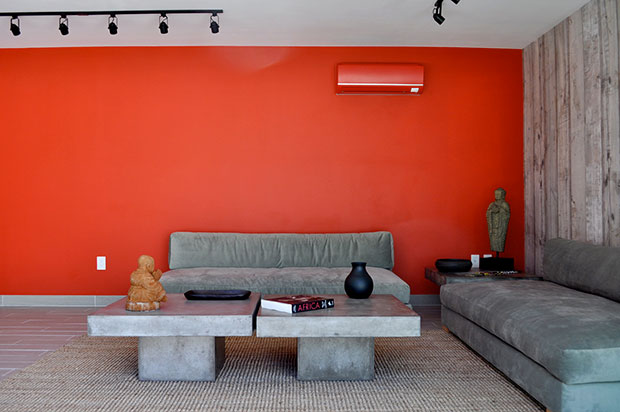 Dot Design
What's incredible is that even the air conditioner is in red so it blends well with the wall!
House in London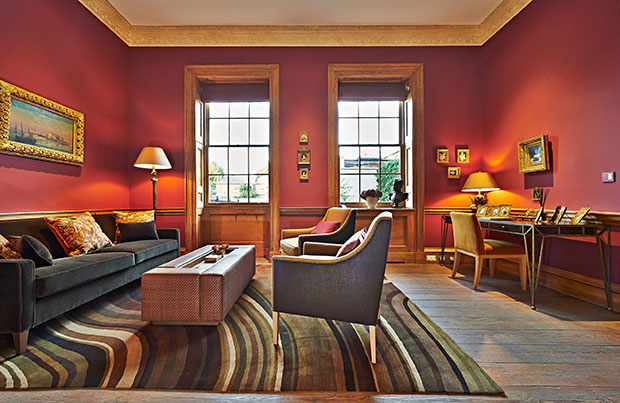 Marco Joe Fazio Ltd.
The splash of golden yellow accents is subtle yet amazing details that make this look like one of those luxurious red living room ideas.
City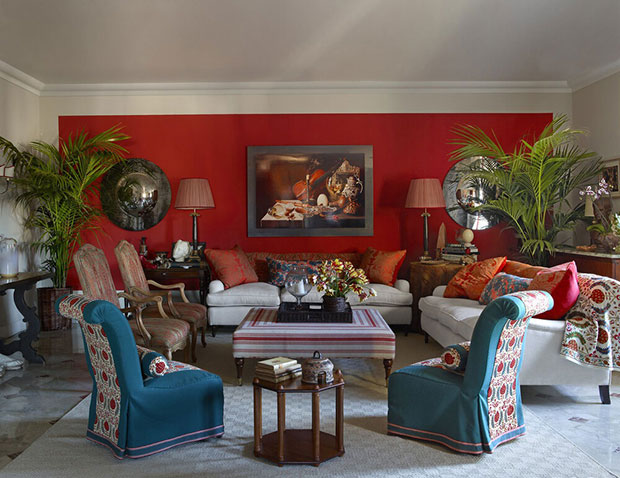 Branca
Just by the looks of the furniture and décor, this living room is in danger of being visually overwhelming had they painted every wall red. So, having only one of them painted is a great design choice.
Holiday House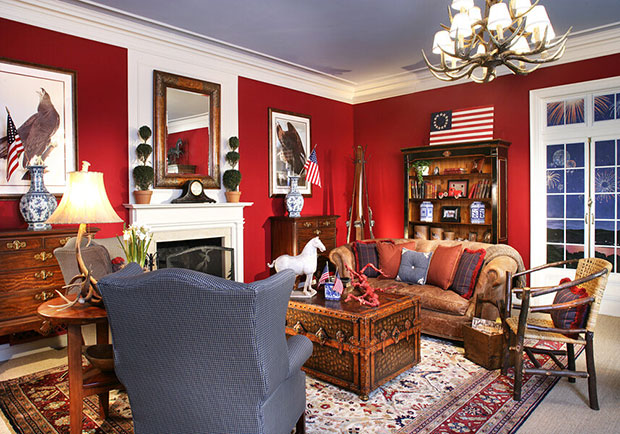 Diane Durocher Interiors
The ornate décor and vintage furniture are great complements to the red walls, creating one bold-looking living room.
Tusculum Residence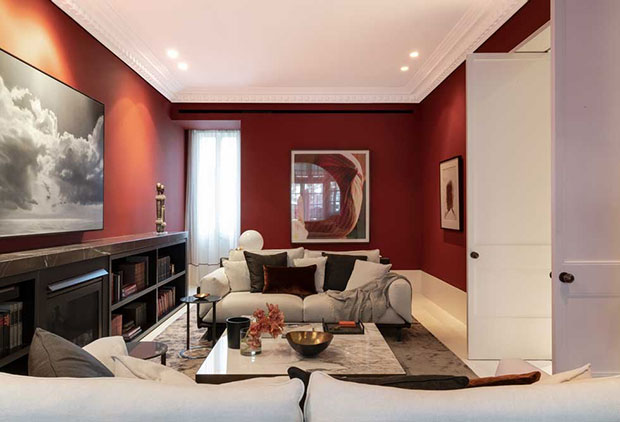 Smart Design Studio
Burgundy red walls offer a different kind of sophistication to your living room. Just take a look at this home, for example.
Hawthorn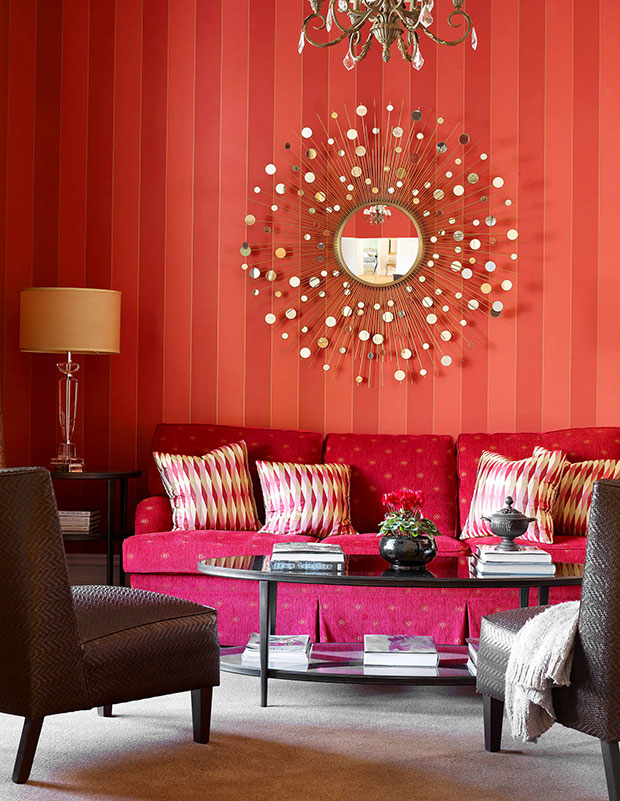 Danielle Trippett Interior Design
If you don't want a plain red wall, try a striped-patterned red wallpaper like this to freshen things up in your living room.
Wohnzimmer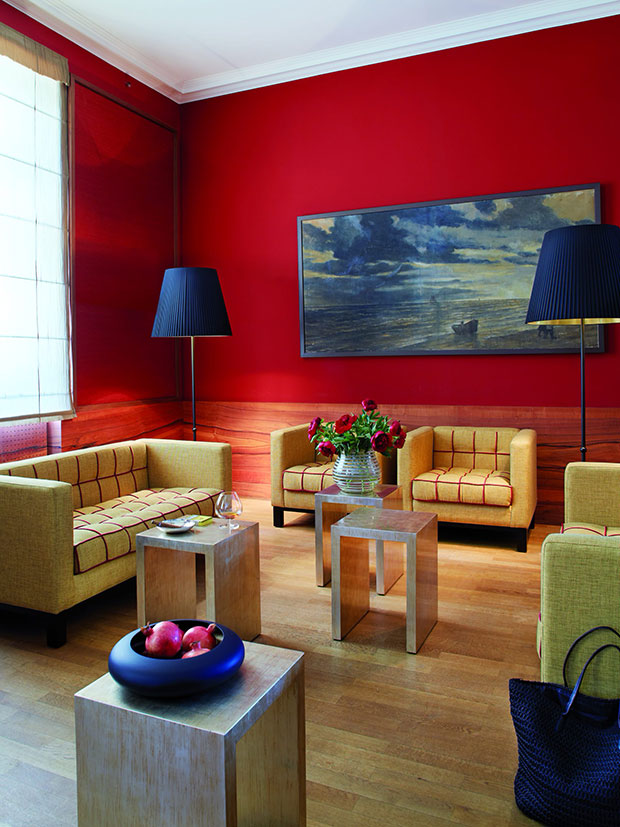 Lambert GmbH
This living room is pretty interesting with its base board retaining the natural wood grain detail that matches so well with the vivid red walls.
Bloomsbury Square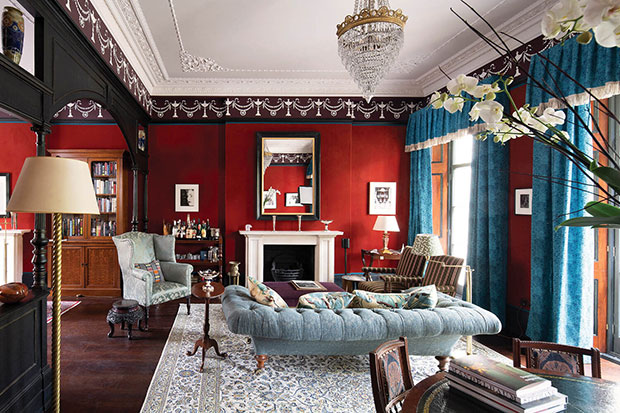 Lethbridge London Ltd
Every little detail in this living room screams Victorian traditional elegance the velvety red walls are the perfect fit for such red living room ideas.
Historic Hiking Lodge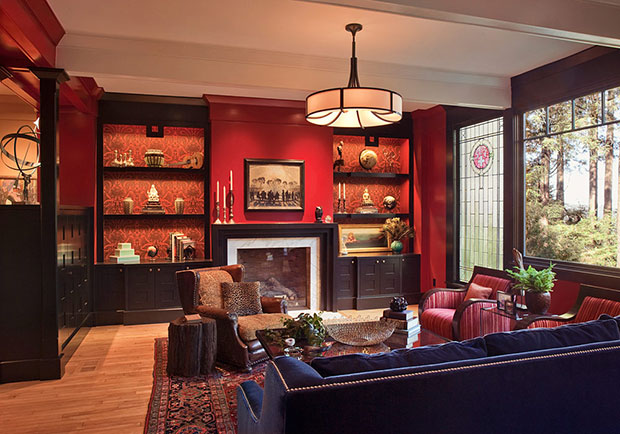 This combination of deep red and deep brown colors brings a gorgeous look to the living room and also offers some confectionery desires to surface.
Rustic Guest House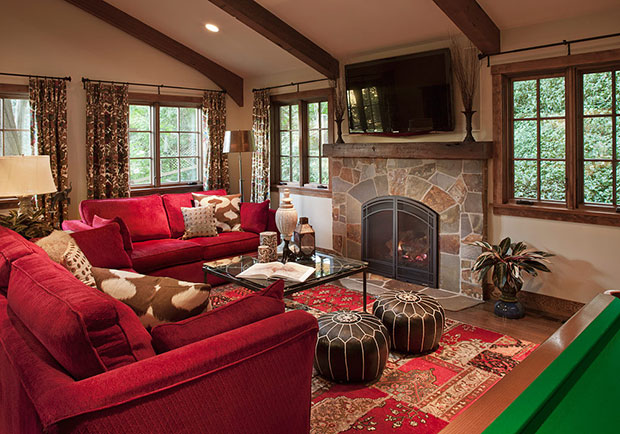 Suzanne Childress Design
Some red living room ideas would prioritize the design style over the thematic color. Looking at this living room, the rustic charm and elements take center stage but are complimented so well by all the red elements.
Wellesley Estate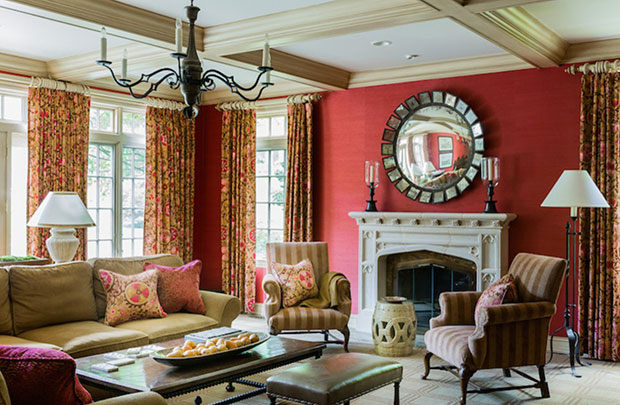 Hamilburg Interiors
Floral patterned curtains are great accessories to many red living room ideas. Don't forget to include some hints of it in throw pillows too!
Long Island Modern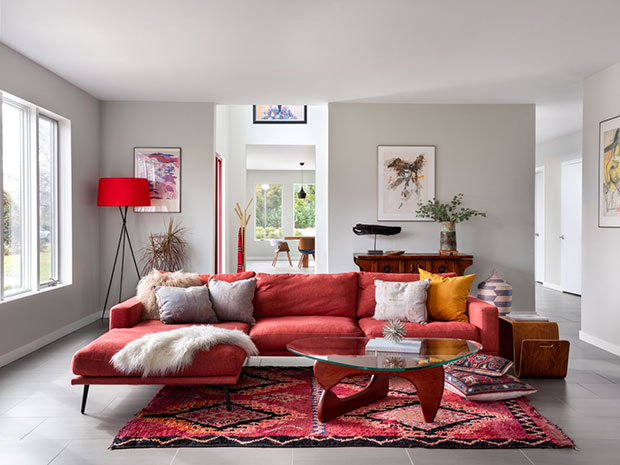 ACM Interiors
Though we've seen red living room ideas similar to this where all the red is concentrated around the area rug, that little detail of the lamp being red in the corner is a nice touch.
Asian-Inspired Condo Remodel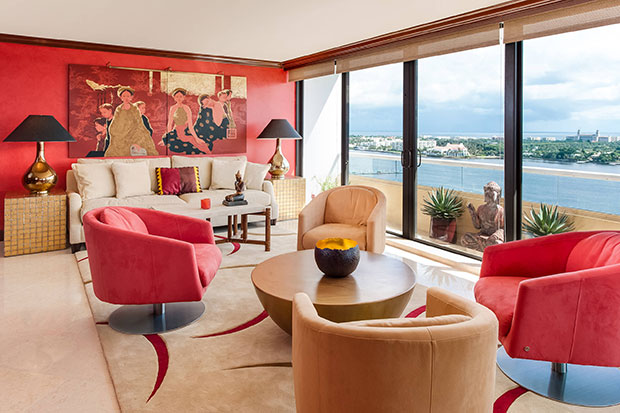 Cambridge Construction LLC
It's interesting to see an artwork hang on the red wall with colors that are around the same end of the color spectrum as red, as it almost looks like it blends in with the wall.
Saltbox Home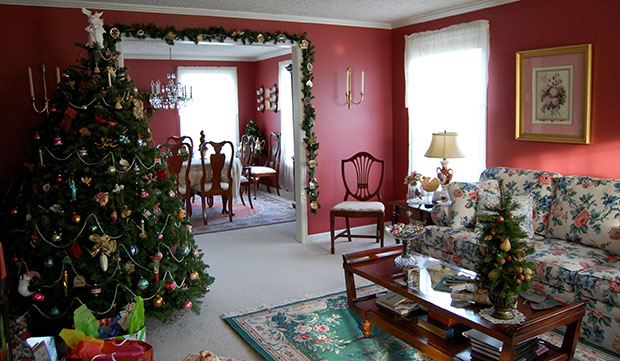 Julie Murray
For anyone ready to redesign or redecorate their living rooms for the upcoming holidays, such design would not hurt to be an inspiration.
Ocean Boulevard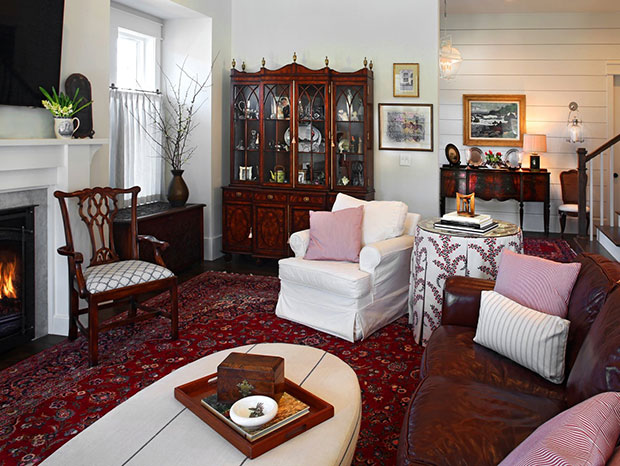 Troy Spurlin Interiors
This dark shade of brown is such a great complement to the deep red area rug that if you glance quickly, you may think they are the same colors.
Woodley Park Wardman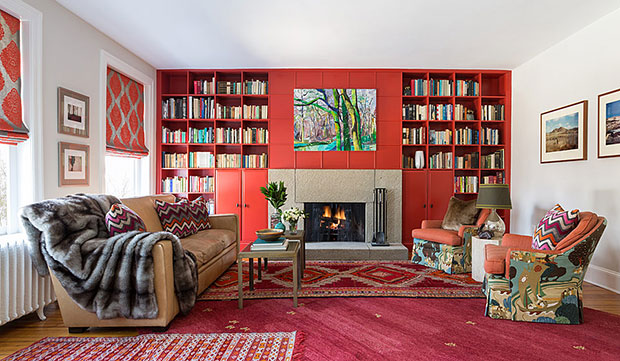 Annie Elliott Design
The red cabinet unit matching the area rug is enough to bring a red living room to life.
Ravage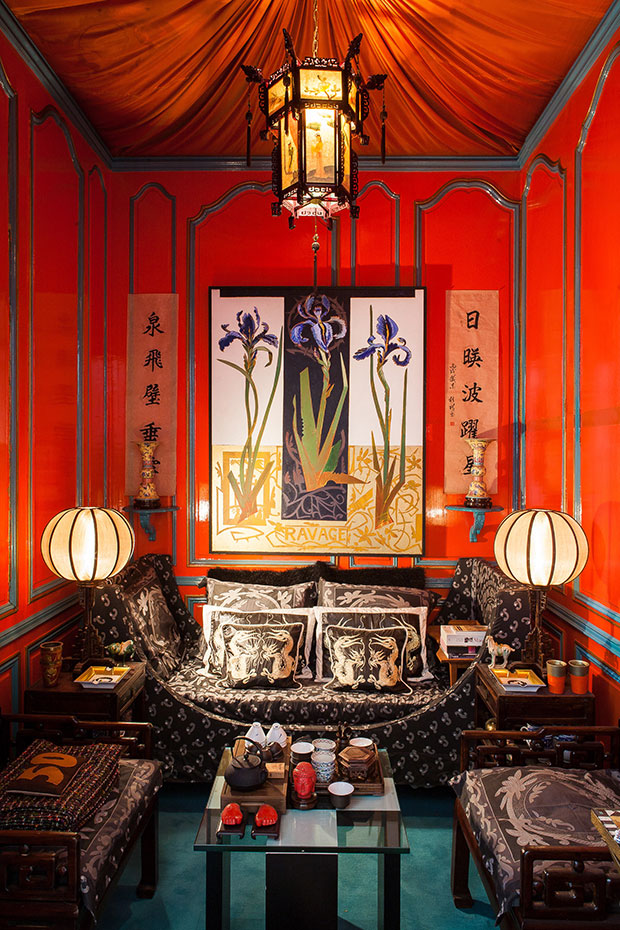 Alexis Nadoretzky Narophoto
For a living room like this that has a clear mood and ambiance set, red is such a perfect color.
Sleek Manhattan Aerie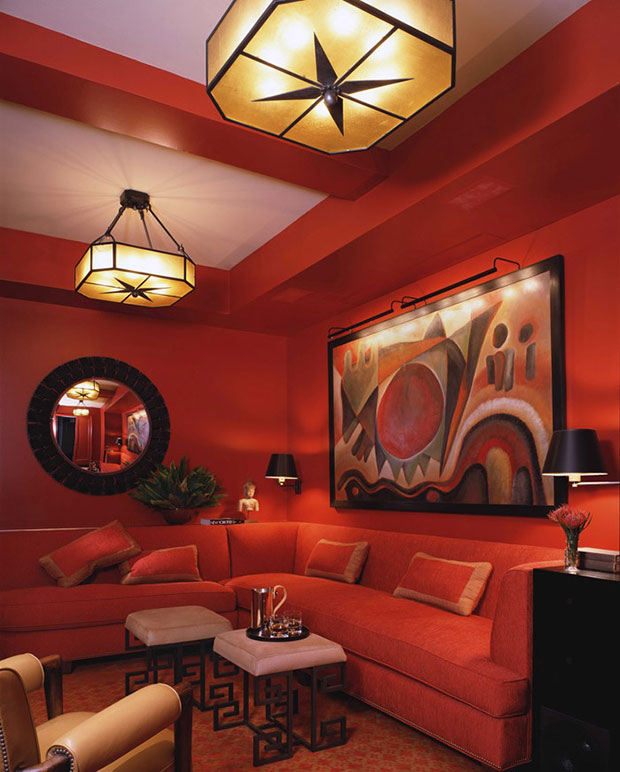 White Webb
The abstract art on the wall is such a nice addition, alongside some eccentric decorative choices.
Crescent Heights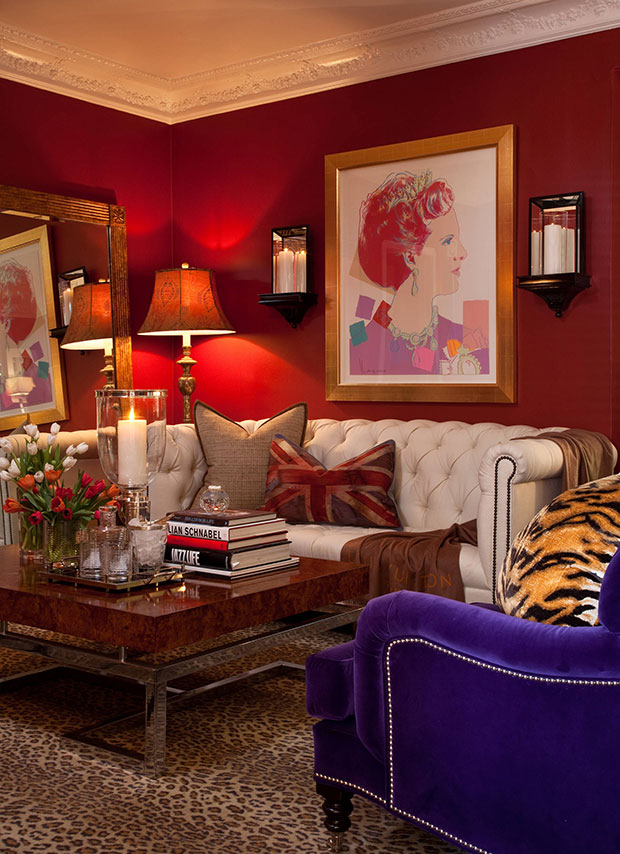 Barclay Butera Interiors
With the ambient lighting in place, this living room perfectly shows how good of a color red is if you're setting up for one moody living room.
Ashton Heights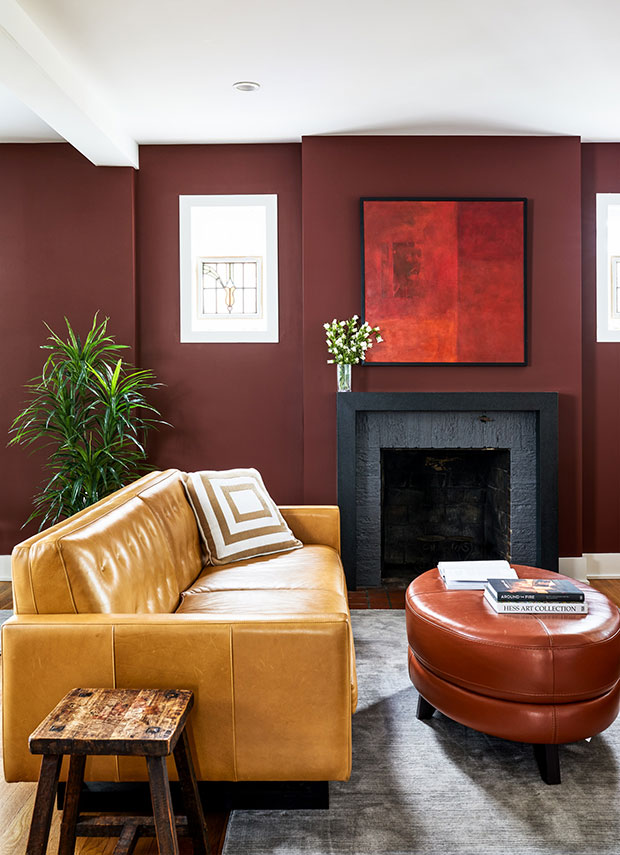 WINN Design + Build
This reddish-brown wall is a perfect choice to deliver a homey and casual look to your living room.
Appartement Industriel Chic & Moderne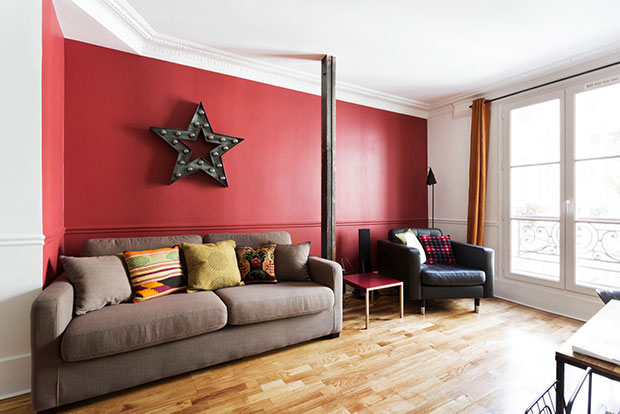 Espaces à Rêver
For a casual industrial chic living room, this shade of red definitely brings so much life into it.
Casa della Luce Barzanò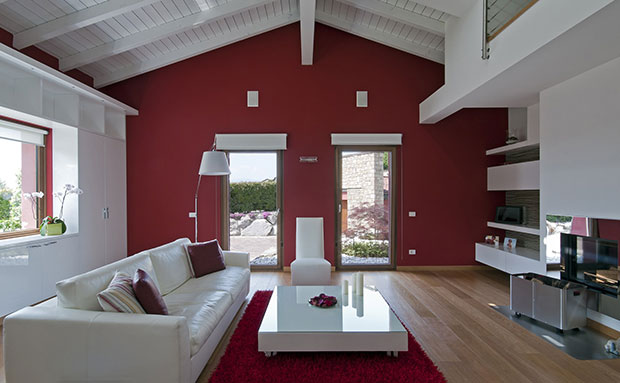 RE.VI.WA.
A nice subtle detail in this living room is that fluffy rug that is just a little bit brighter than the wall.
Legend Chimes Villa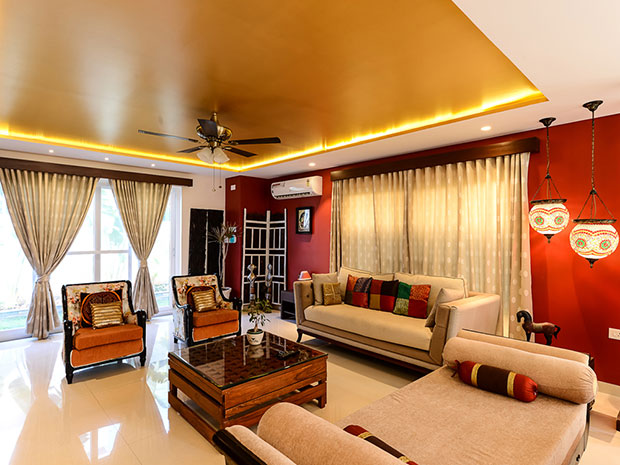 Infinite Ideas Interiors
While many red walls tend to take center stage in a lot of red living room ideas, this one is a great background that elevates the overall look of the space.
Colorful and Creative in Palo Alto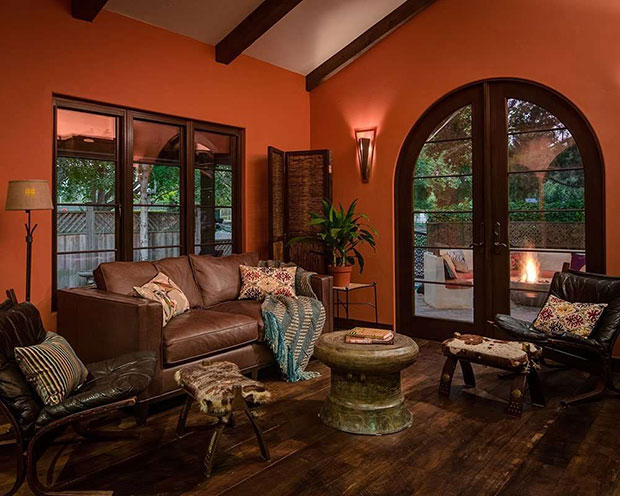 Harrell Remodeling Inc.
For an Asian-inspired living room design, this shade of red perfectly complements the unique features and elements inspired by the culture.
875 Fifth Avenue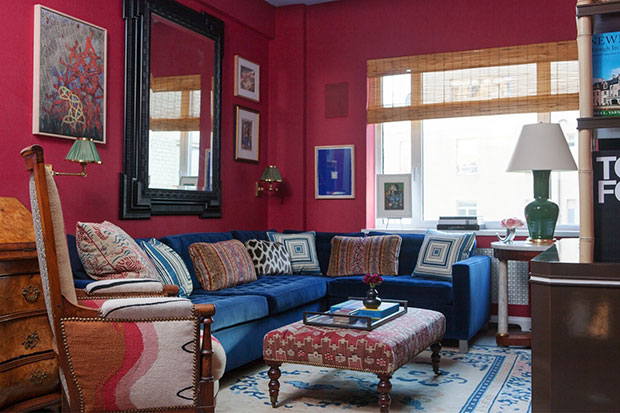 Nick Olsen Inc.
If you want to have fun with your living room design, try incorporating a burst of bold colors with your red walls.
Modern Brick Bachelor Pad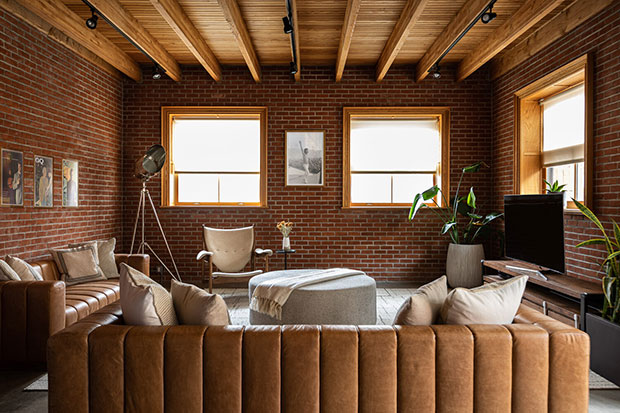 Kelsey Ann Rose
What better way to naturally bring in the color red with bare red brick walls?
Classical Living Room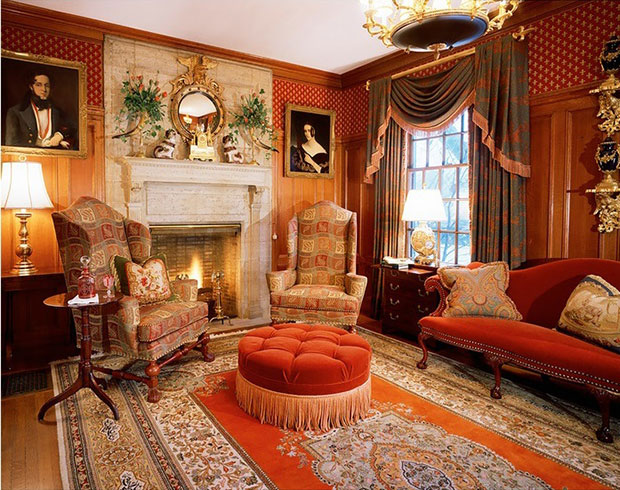 Modifica Interiors
For a classical living room like this, red seemed to be the only logical color palette.
Newbridge Estate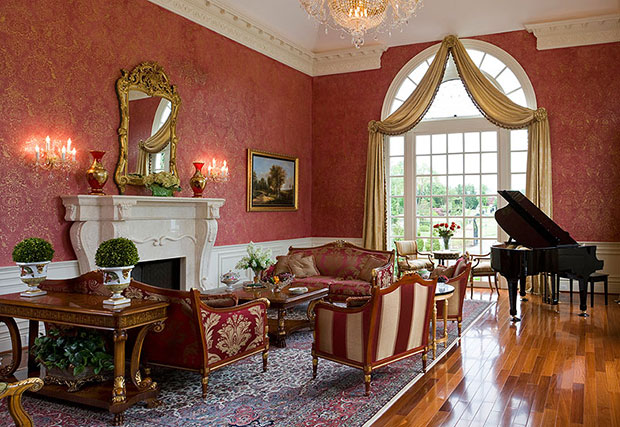 Haleh Design
If you're going for red wallpaper for your living room, try one that has subtle ornate prints.
Winchester Victorian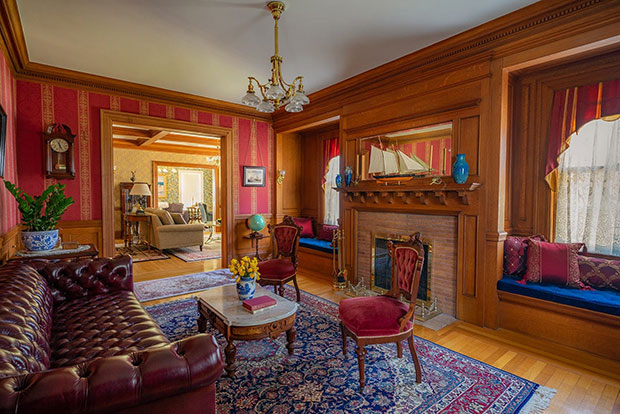 Cummings Architecture + Interiors
With a red color palette, this blood red sofa manages to still be the focal point of it all.
That's all for our red living room ideas that will definitely complete your home!
Like This Post? Pin It!