50 Ingenious Under Stair Cabinets For The Housekeepers
|
There are spaces in our homes that we tend to overlook or just don't give any second thoughts for. An often neglected or brushed over is the space underneath the stairs.
Not many people realize how much use that space could be. Understandably so though, that space below the stairs is compact and sometimes awkwardly shaped. So you may wonder, what good use does it have for you? Well, with a little creativity, you can transform that space into a functional living or storage space!
In homes that are lacking space, you may have trouble finding storage places. The best solution is converting this obvious yet underutilized space into under stair cabinets.
What can I put under my stairs?
There's a variety of things you can put under your stairs. Depending on the way your under stair cabinets are built, you will be able to store a variety of things.
One of the common objects around the house you can put under your stairs are essential home cleaning supplies and materials. Other times, extra shoes are convenient and easy choices. It can also be sued to store umbrellas, bags, and coats, especially if the stairs are found by the doorway. That space underneath is a convenient and immediate place to keep them.
When the staircases are found near or by the kitchen, usually, the under stair cabinets are made to use as a pantry.
Who knew such a seemingly cramped space could provide storage for a variety of things?
How do you organize under stairs cabinets?
The tricky part of having under stair cabinets, apart from the strange shape, is that it could go as deeply far back into the wall. Retrieving objects would be tricky if, say, the things you store are like shoes, bags, or food. Building under stair cabinets isn't just simple as it is, it has to be built efficiently so that it's convenient for the homeowners.
So here are some tips in organizing under stair cabinets!
1. Organize by shelving
With space and awkward shape, it is best to build shelves as you could easily customize its size depending on the space available.
2. Organize by drawers
The thing about under stair cabinets is that, depending on the width of your staircase, the storage space can go deeply far back into the wall. Not only do drawers provide compartments for easy sorting of things, but they also make it easier for any object to be pulled right away.
3. Organize with baskets
In the case of under stair cabinets used as pantries, having small-sized baskets to sort food supply would be an ideal organizing method.
4. Organize with built-in compartments
Having a built-in compartment to go along with the under stair cabinets, make storing and organizing much easier.
This is especially helpful in the case of storing umbrellas.
Manhattan MicroLoft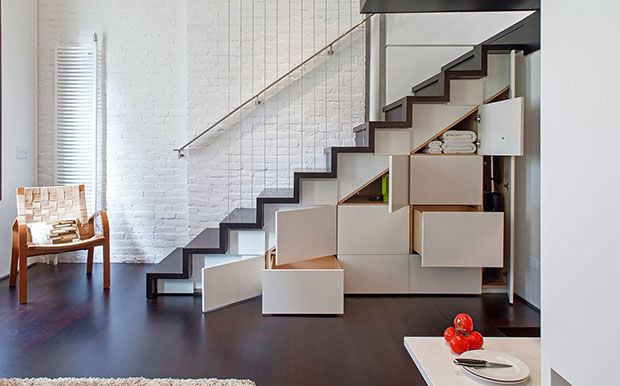 Specht Architects
For this micro-loft apartment, space is a luxury. So, in order to maintain an open, vertical space, under stair cabinets were designed to facilitate efficient storage solutions.
Take note of how different compartments are designed in line with their functions. There's a cabinet to store cleaning supplies, another for extra towels, and drawers for other things.
Vail Village Condo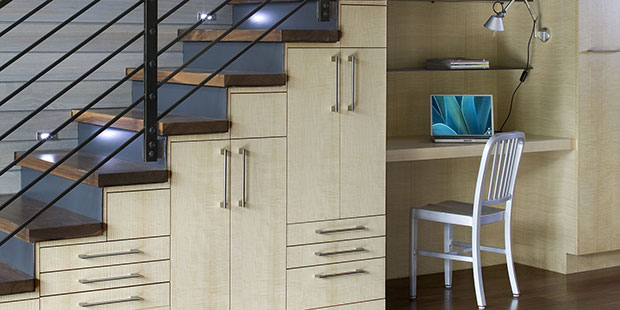 Custom House Construction
In this condo, they truly maximized all the potential they could get from that space underneath the stairs. Not only are there cabinets and drawers, they even managed to slot in a small study area.
Brooklyn Townhouse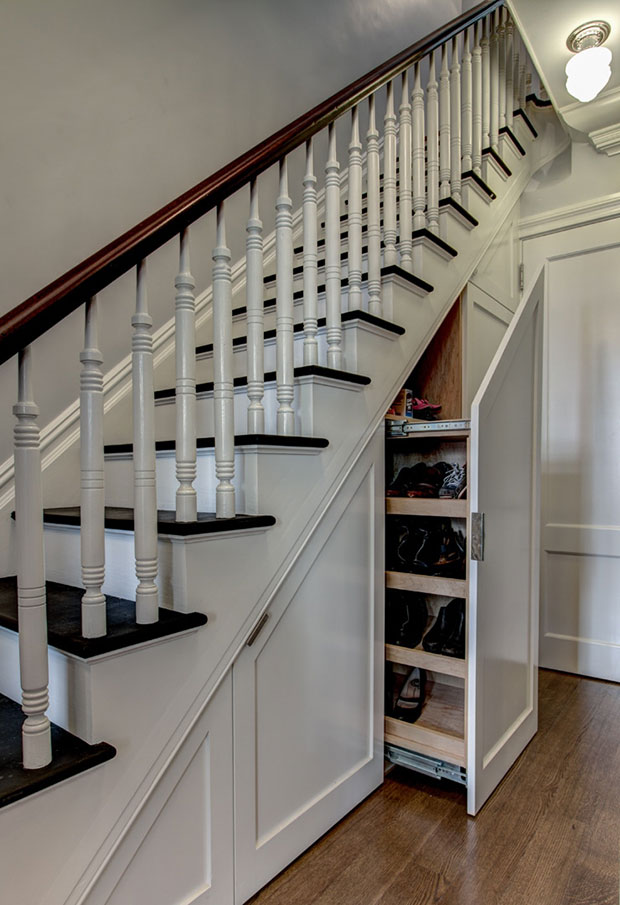 Ben Herzog Architect, PC
Pull-out under stair cabinets are common and ideal design. It's easy to retrieve stuff stored away like this. This one even has its own shelving units built-in for sorting and organizing purposes.
Jenifer Street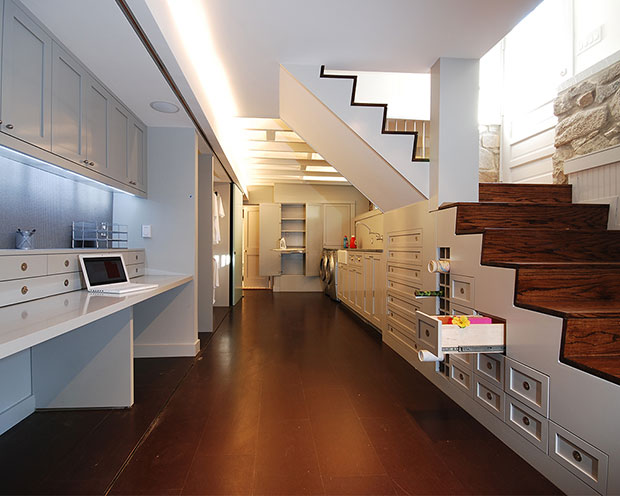 EL Studio
With a solid and compact staircase like this, the designers made a clean design of drawers and shelves to serve as a storage solution for this craft room. In addition, it seamlessly flows with the built-in cabinets that extend with the room.
Washington House Renovation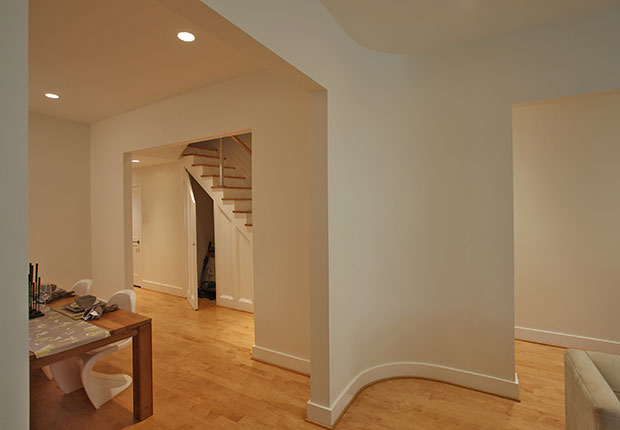 Kingston Design
One of the classic uses of under stair cabinets is it being a closet to store cleaning supplies and materials. Instead of letting that space under the stair be nothing but a hollow wall, they opted to placing a supply closet.
Tribeca Expansion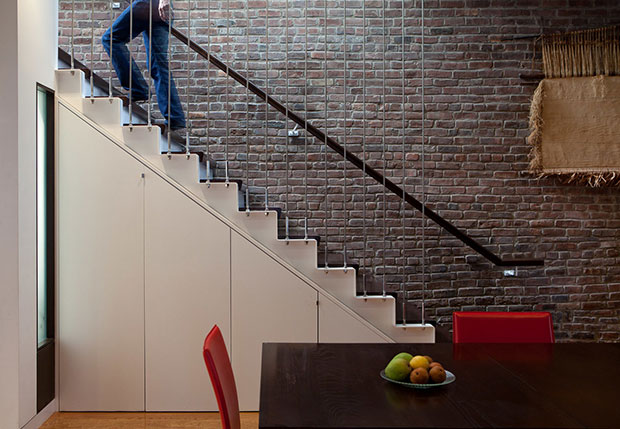 Matiz Architecture & Design
Taking advantage of the sloping height, you will be able to have under stair cabinets of different heights. In turn, they may serve different purposes of what objects to store. Perhaps, the tallest one could keep materials like brooms or vacuum cleaner, or the shortest one with its shelving can be used to store shoes.
Antique Cape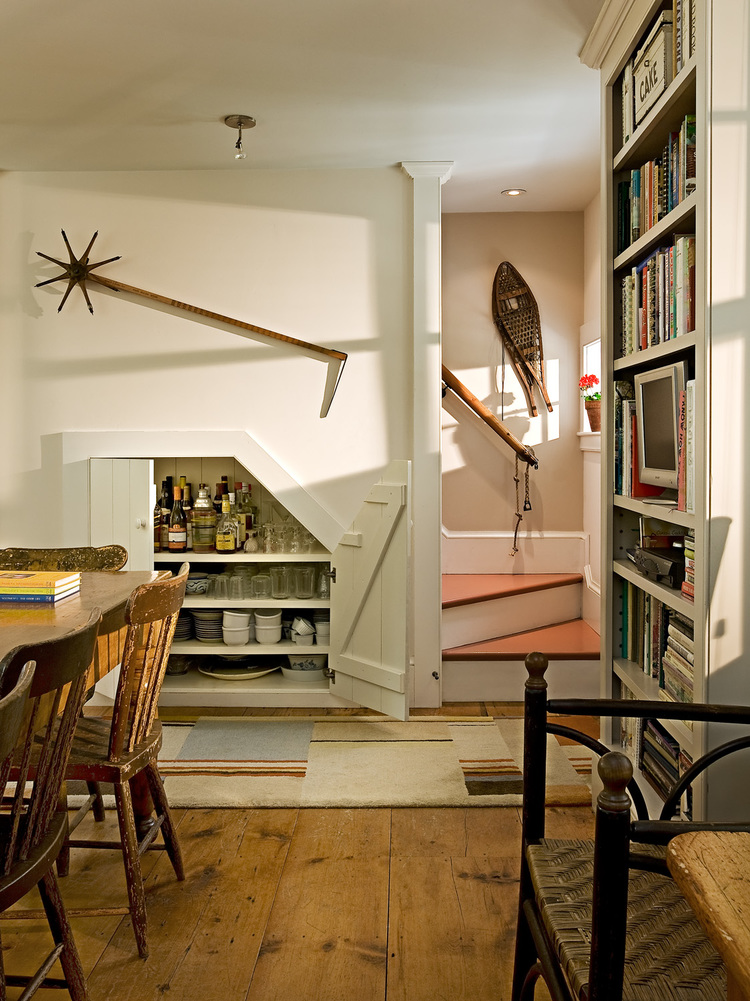 Smith & Vansant Architects
Cleverly and sophisticatedly built, there's enough space for this under stair cabinet to store kitchen crockery that are not regularly used.
This one has a good style that fits rustic or farmhouse design styles.
Coastal Living Showhouse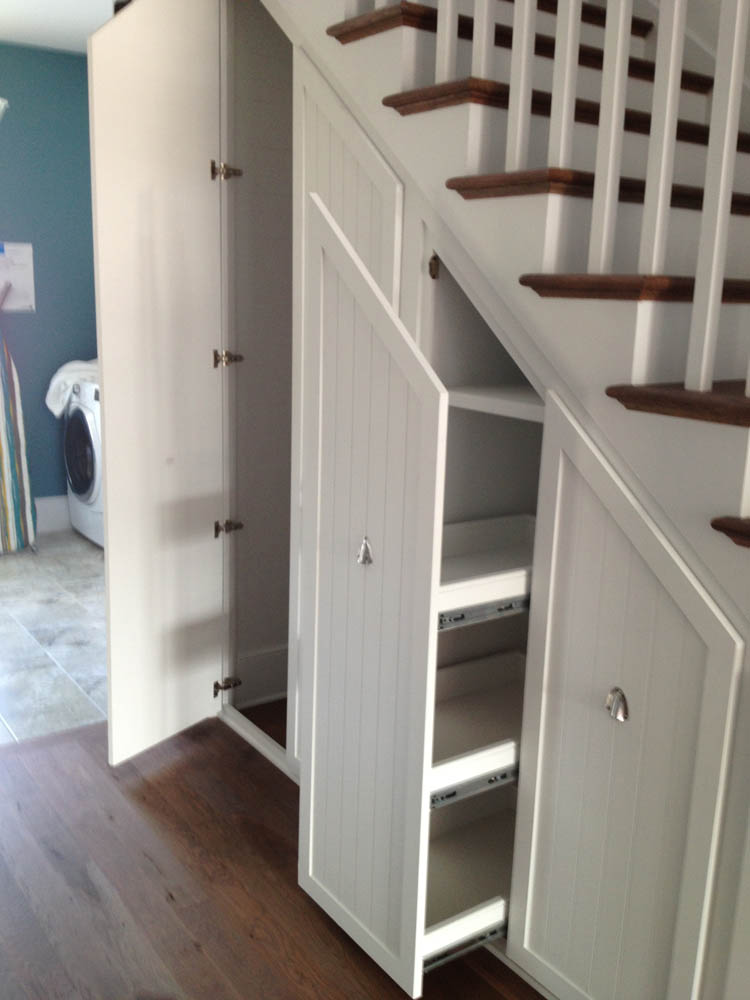 Our Town Plans
This under stair cabinets is a good combination of pull-out shelves and your regular closet. Such designs are made for varied functionality.
Rice Family Home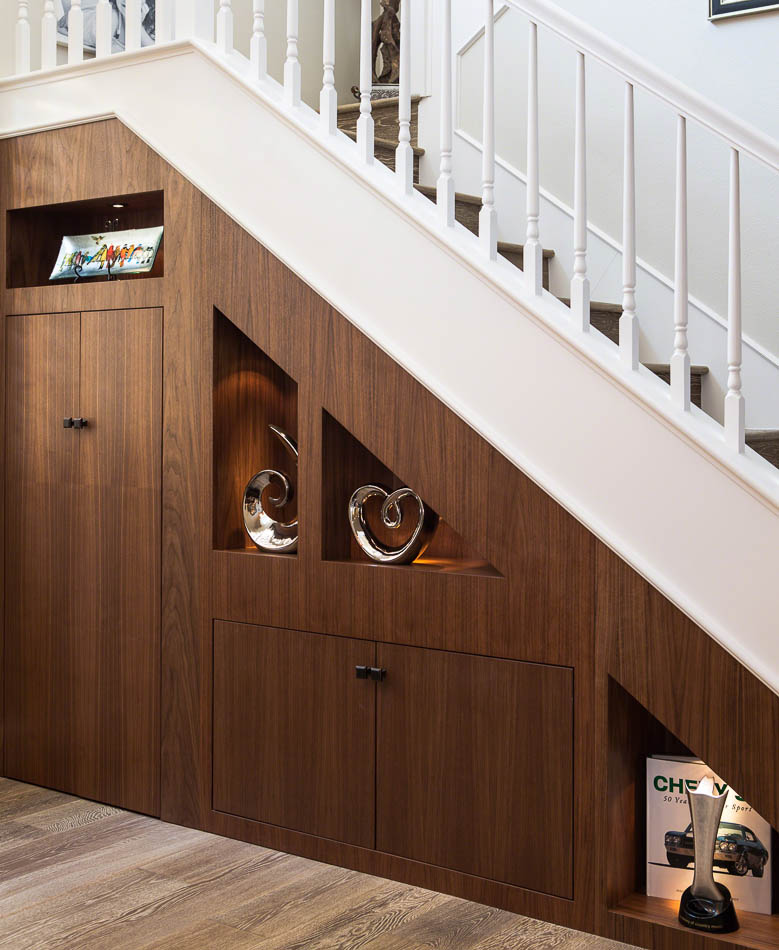 Showcase Kitchens & Baths
With the hinges hidden on the inside, this makes for a neat and clean look. The black door handles are a good choice to go with the dark wooden material that makes up the under stair cabinets.
Also note that they added in display shelves of varied shapes for a contemporary look.
Lake Coweta Cottage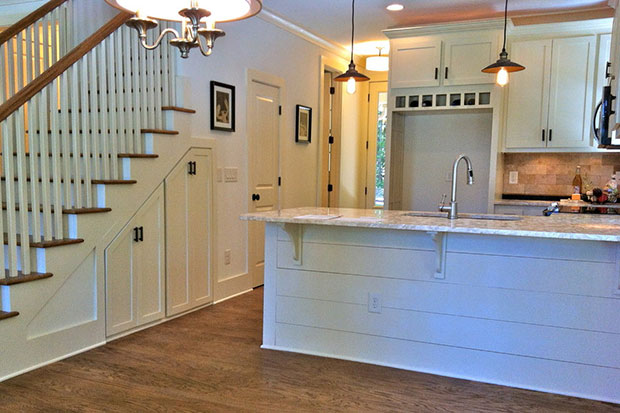 The Aldrich Group, LLC
Going along with the color of the stairs and the wall, these under stair cabinets are also painted white. The black door handles are a nice touch that contrasts well with the clean white scheme.
The Sassafras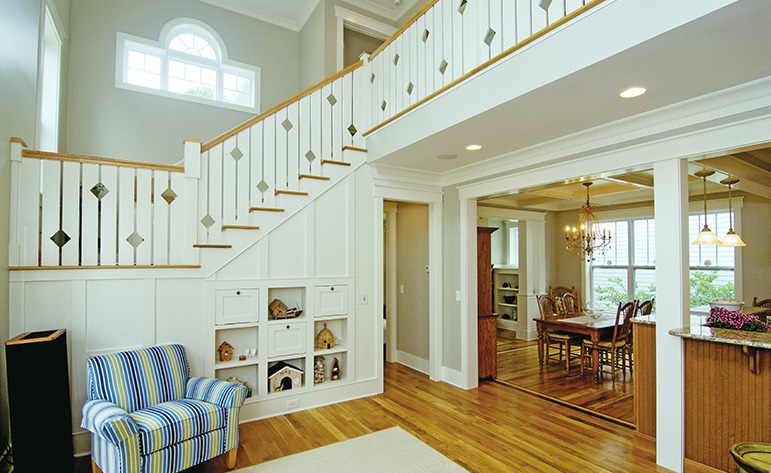 Donald A. Gardner Architects, Inc.
For this home, they have combined displaying and storage purposes for their under stair cabinets. They stylistically patterned it so that there are portions for storage and portions for display.
O'Conner Residence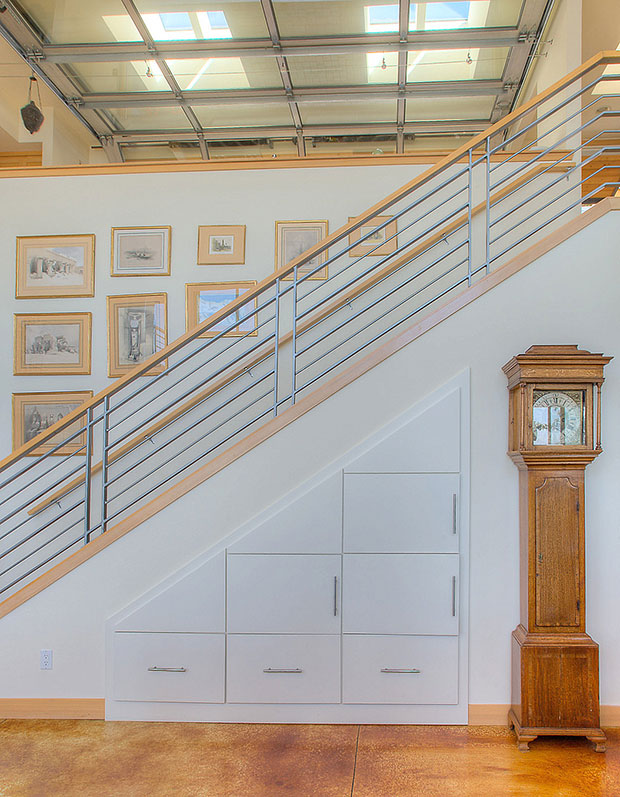 Designs Northwest Architects
The noticeable thing about this under stair cabinet unit is how obvious it looks, rather than it being discreetly built into the staircase. It's also quite clever how the bottom portion are set to be drawers and the upper level are shelving with doors you can pull.
Sage House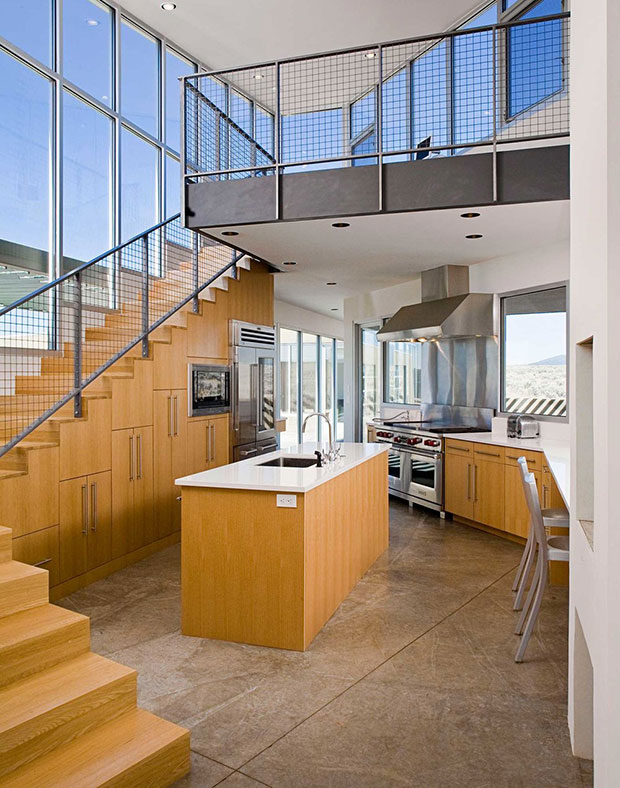 Ian Forsberg
In this home, their staircase is located by the kitchen. This makes the space underneath it a perfect place to be made into a pantry. Also notice how they efficiently and stylishly slot in a place for the fridge and microwave oven.
Skyline View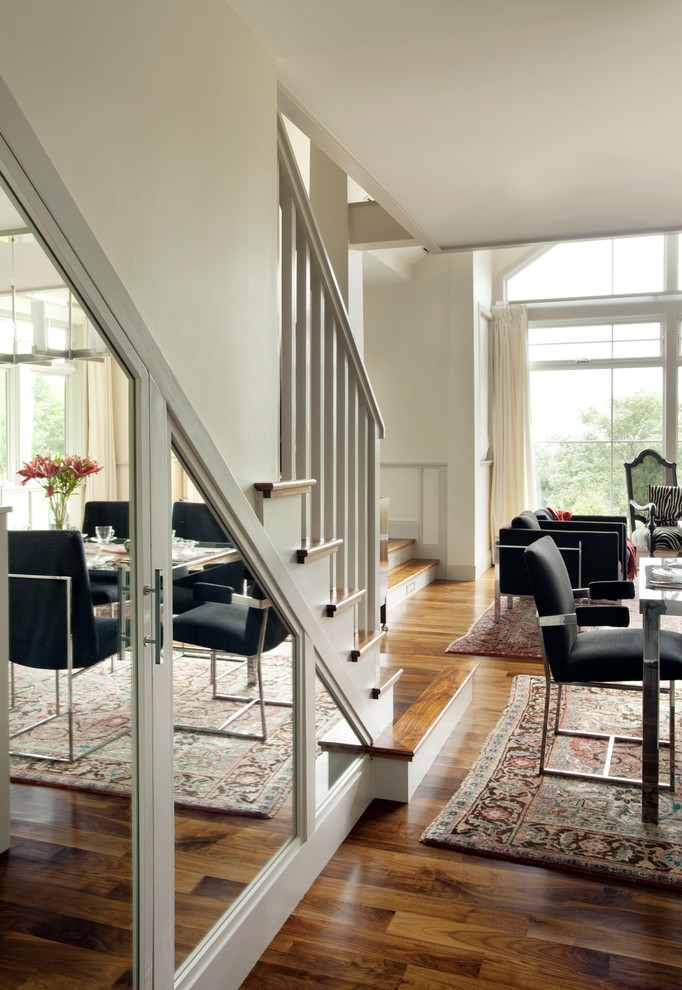 HP Rovinelli Architects
The one thing that stands out about this under stair cabinet is the mirror surface. Instead of the usual wooden surface, they opted to have this kind of style, effectively doubling its purpose.
Creekside Cabin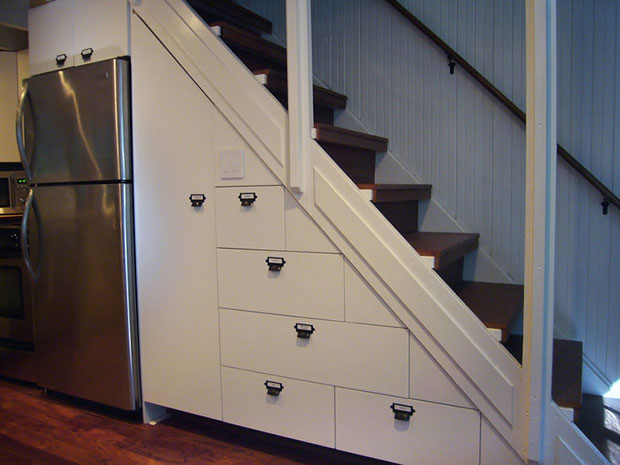 Amy A. Alper, Architect
Another one of those under stair cabinets that combine drawers and regular closet style. This gives it variety in aesthetics but also in its purpose. This design also extends into adding a slot for the fridge as the staircase hallway flows into the kitchen.
Basement Remodeling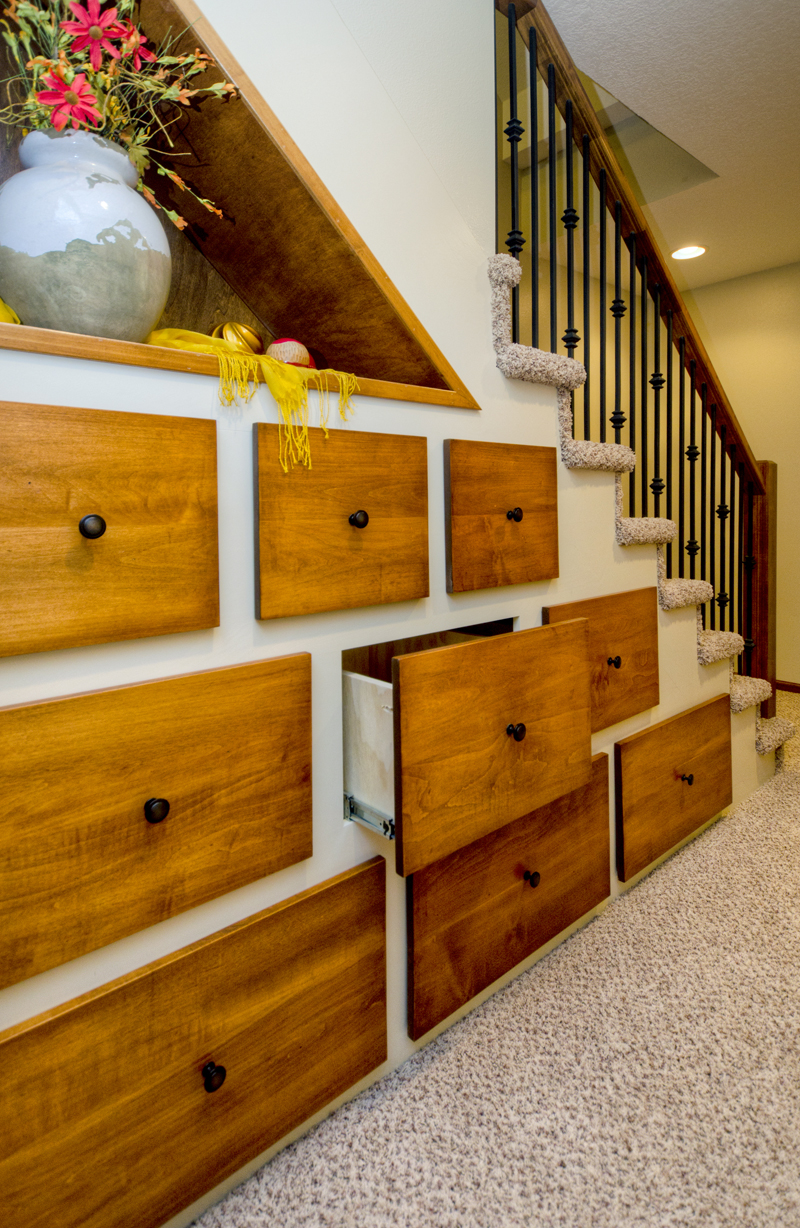 Red House Remodeling
There is a beautiful contrast between the white painted wall and natural wooden color and texture of the drawers and shelf frame.
Bungalow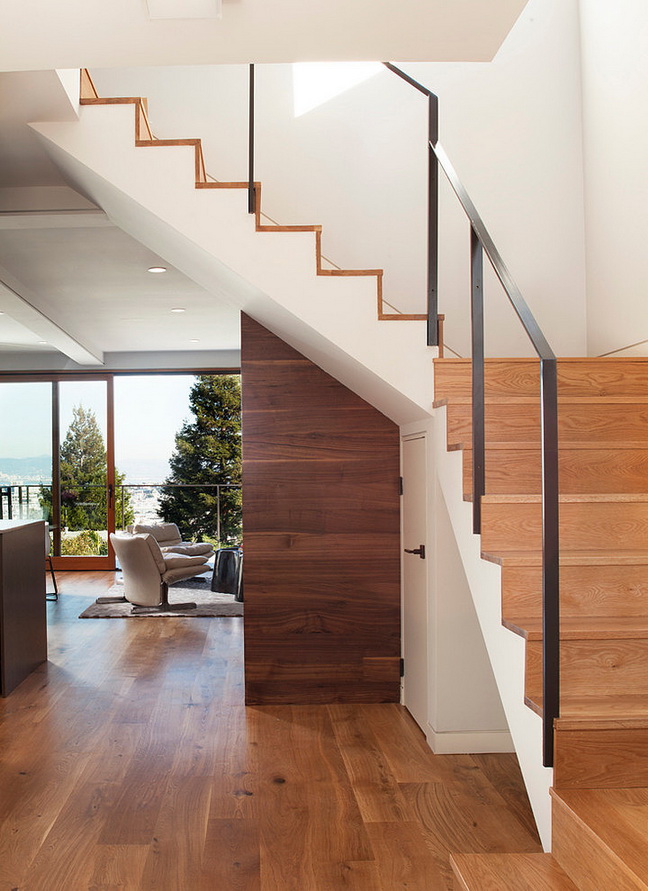 McElroy Architecture
With this type of L-shaped staircase, they opted to leave a space behind under the first flight of stairs and then build a closet under the stair landing going up the next stair flight.
This shows that there is not one way to design under stair cabinets, and that the type of staircase is also a determining factor.
Ash Stair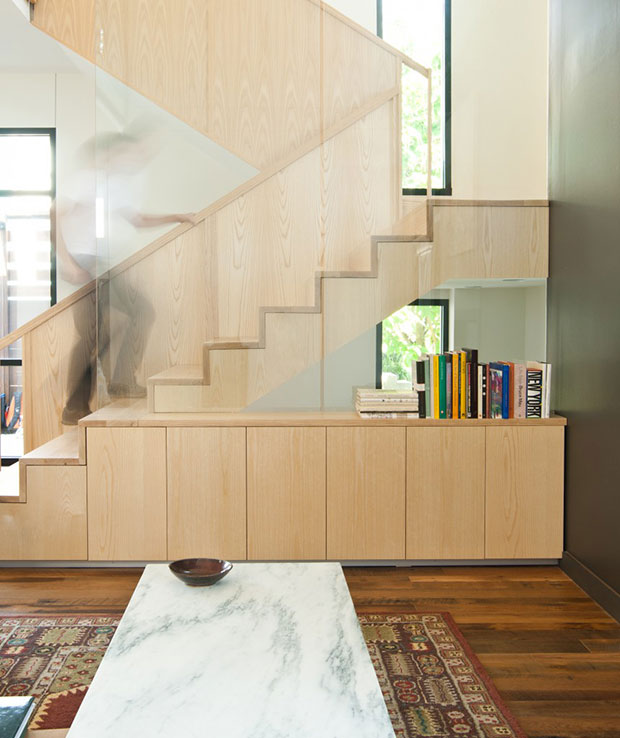 PHmade
From the first few steps of this staircase they built up a cabinet unit of the same height and level. This is quite unique as it does not use the entire space underneath the stairs to create an enclosure for the cabinet. In fact, you can notice that they even have a picture window installed there, giving it a feel and look of being free.
Parade of Homes Delaware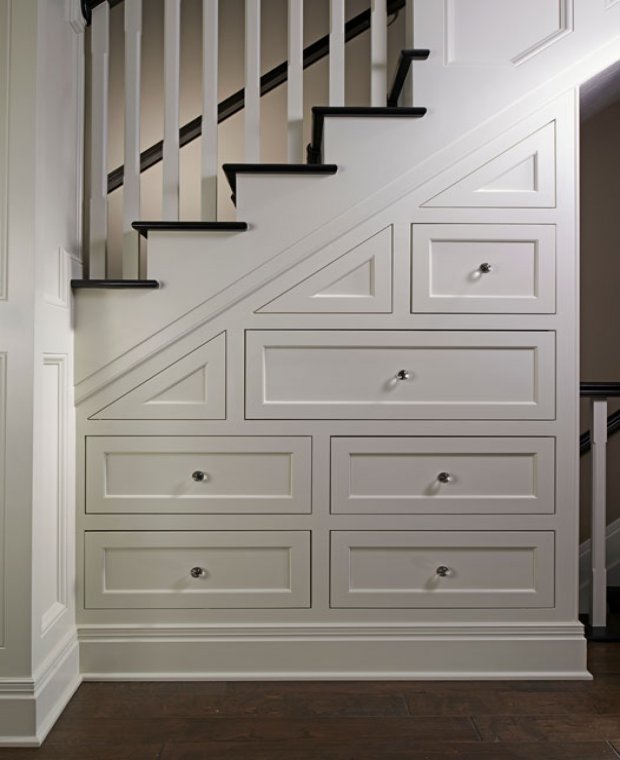 Mary Shipley Interiors
In this home, they designed a clean slot of drawers to make up the storage unit. The varied sizes and width add into a stylish look.
Sally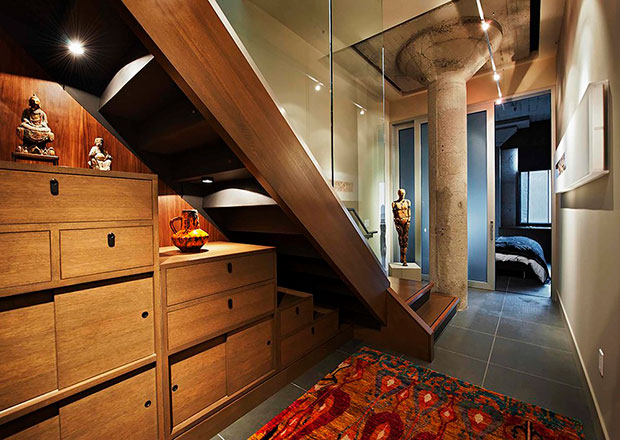 Anglin Design
This under stair cabinets are different from the previous ones on this list in the way that the cabinet enclosure does not connect with the staircase framework. But the cabinetry is customized so it fits just right under with the awkward shape of the staircase.
Game Room Built-in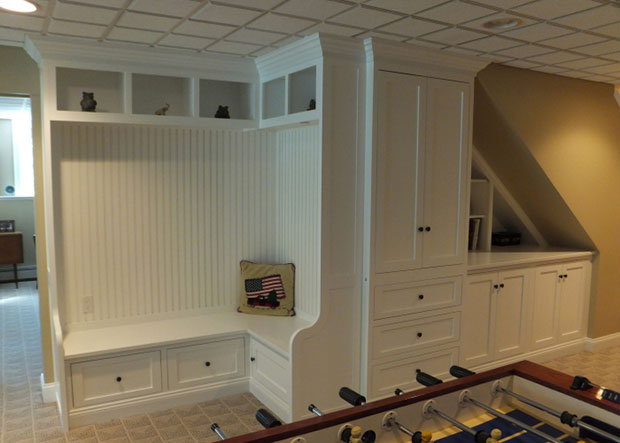 Closet Place
Beneath the staircase leading down to this home's game room, they built cabinets for the kids to store their things while they game away.
Deland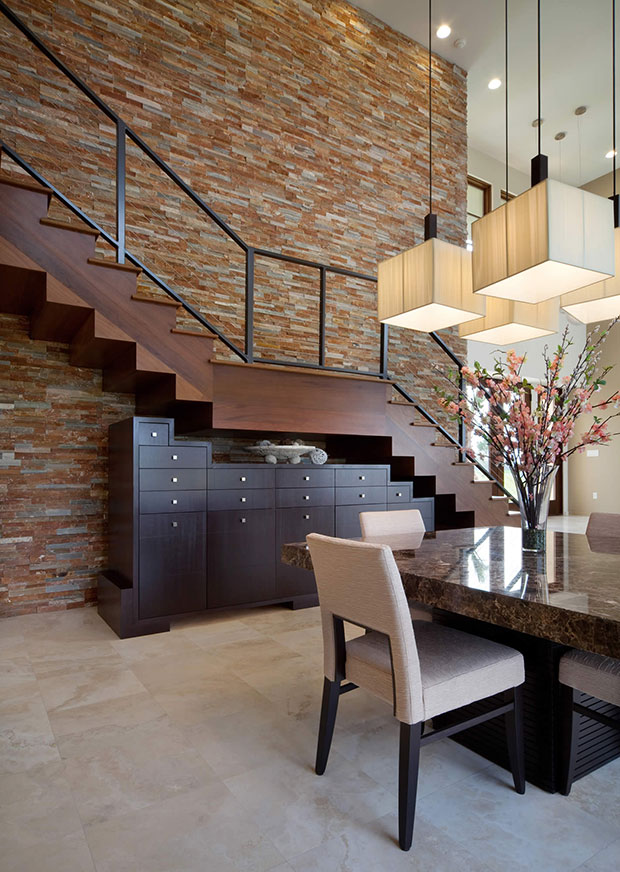 Phil Kean Design Group
Much like the under stair cabinet of the Sally home, the cabinetry isn't connected to the staircase framework. Still the customized cabinet cleverly matches with the stair's configuration.
Modern Farmhouse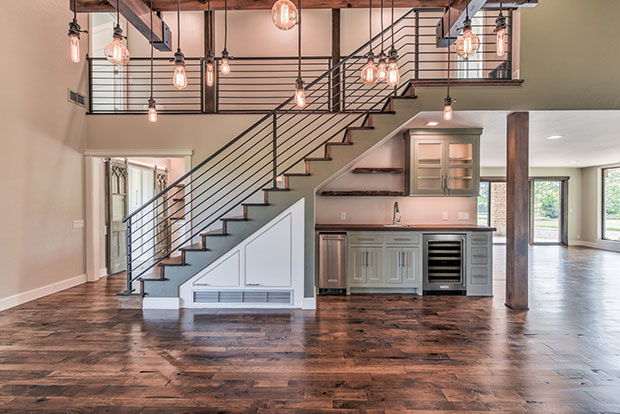 Brent Cornman Construction, Inc.
In this modern farmhouse, they built just an ample under stair cabinets and the rest of the space beneath the stairs are used to make a minibar.
Lawrence Park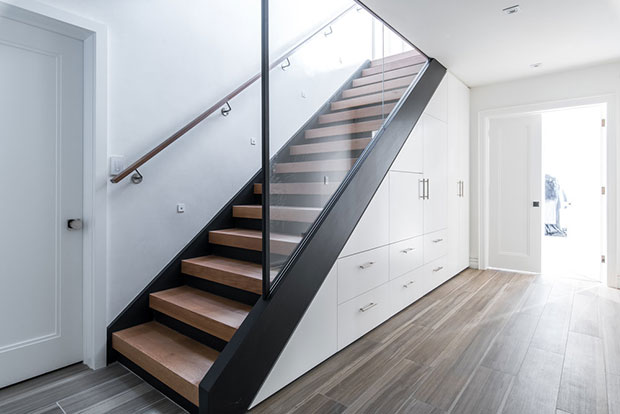 Whitehall Homes & Construction
At this home, they have a neat under stair cabinets of different heights. The hinges are hidden and the doors are cleanly pushed against the enclosure so it looks neat.
Entrance Hallway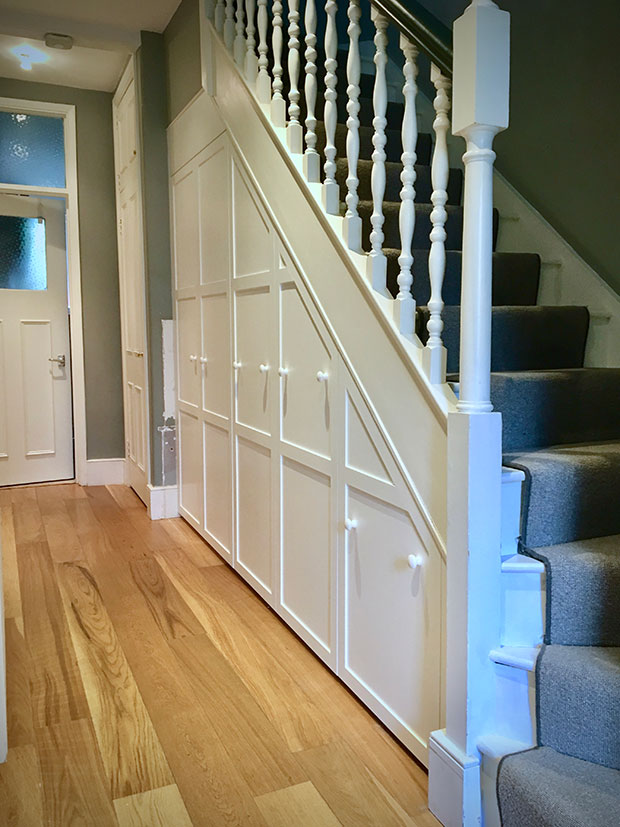 Carpenter and Carpenter
With the way the cabinet doors are designed, it's not even clear where the door frames are. This creates a neat and sophisticated look to the entire staircase.
Staircase Built-in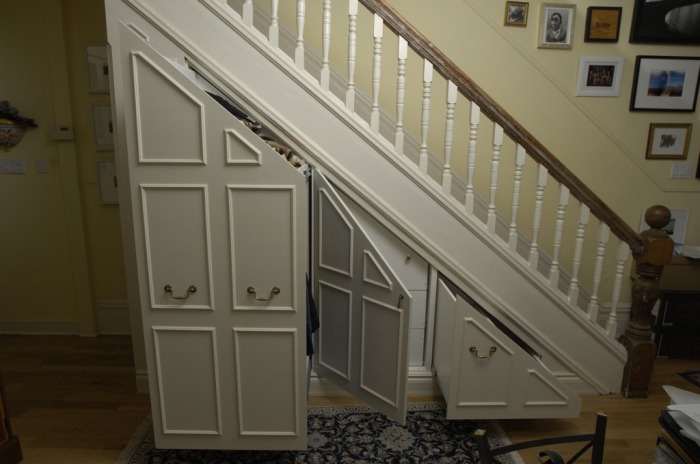 Lipa Woodwork
The door frames of this pull-out cabinets are so intricately designed that when you pushed them back against the staircase, it's almost going to look like a hidden storage.
Harbour House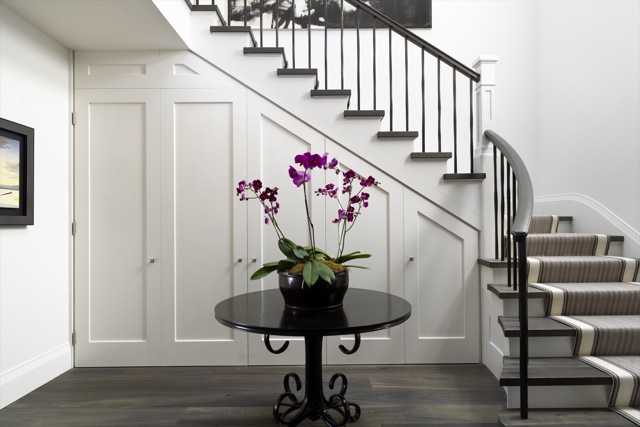 Porebski Architects
A nifty cabinet with a classical design that fits so well with the type of staircase design.
Contemporary Semi-Detached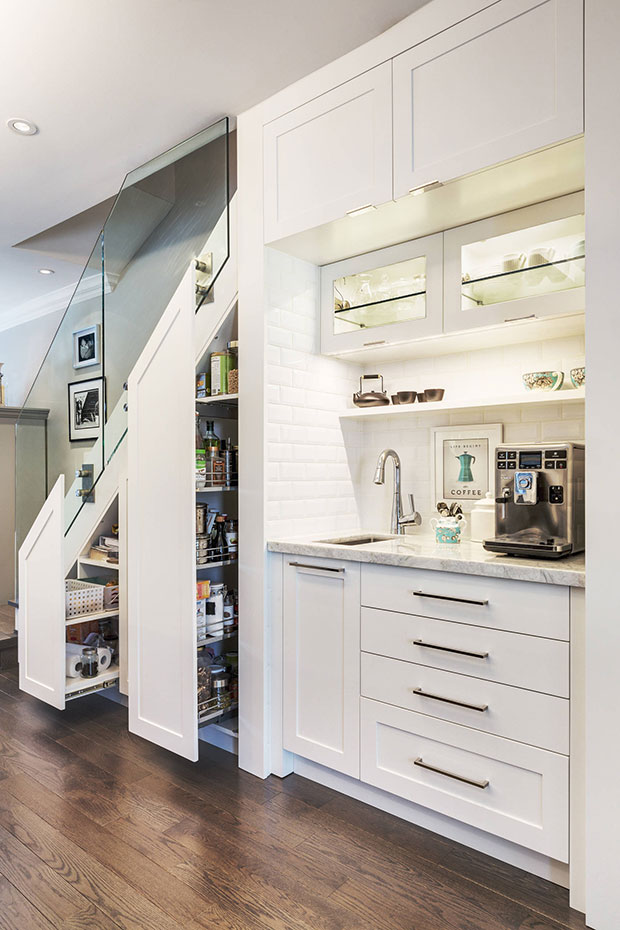 Lisa Robazza Design
Here's an example of under stair cabinets that are used as a pantry. As these cabinets are made to store goods that could break, they devised shelves to have railing. Also notice how the smaller cabinet even uses small baskets to organize things.
Caithness Road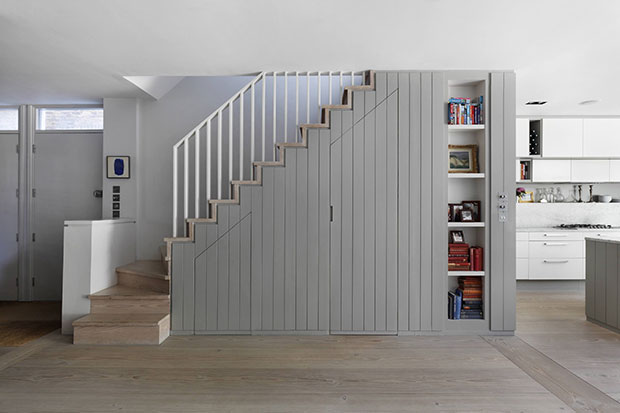 De Rosee Sa
The interesting thing about this one is the vertical siding design of the enclosure. It creates this interesting look for the cabinet doors that looked like they were just seamlessly cut into the frame.
Another interesting point is the open shelf installed on the tallest side of the framework.
Under Stairs Storage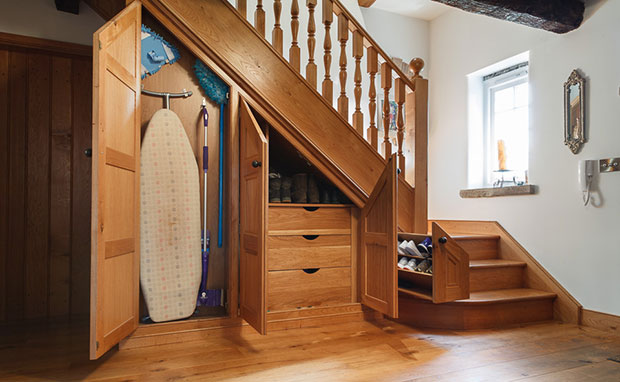 Tait Furniture
This under the stairs storage is a clear example of how different sizes and heights of compartments can be effectively used. The widest and tallest one is understandably used as a cleaning supplies closet. To maximize the usage of the middle one, they built-in drawers inside of it. And the tiniest one is a pull-out shelf for shoes.
Storage Solutions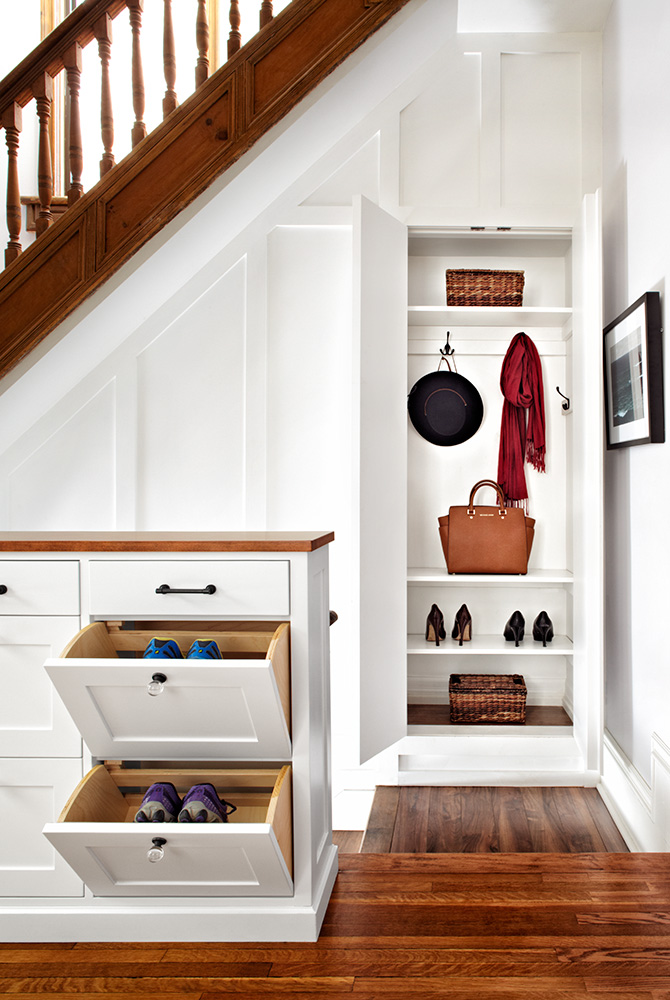 Men At Work Design Build
The best thing about this under stair cabinet is how it's built on the inside. It's equipped with levels of shelves for shoes and bags, and they even have coat hangers.
Such design makes the inside look neat and stylish. It also makes it look way bigger than it really is.
Modern Coastside Retreat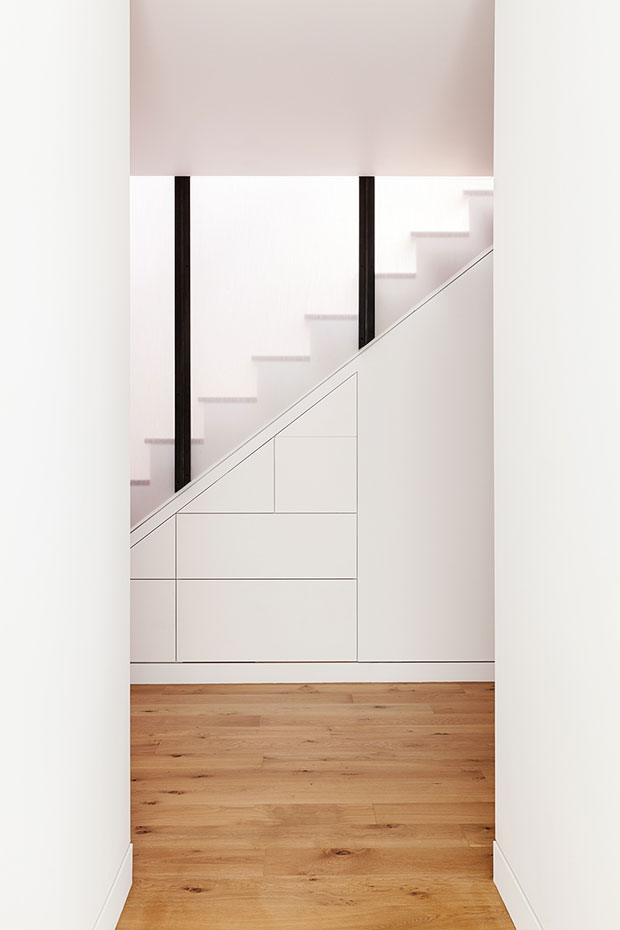 Bay Area Custom Homes
If it weren't for the gaps in between the cabinet frames, you probably wouldn't have known that there was storage space underneath the stairs.
Such design gives a chic, contemporary look!
Country Road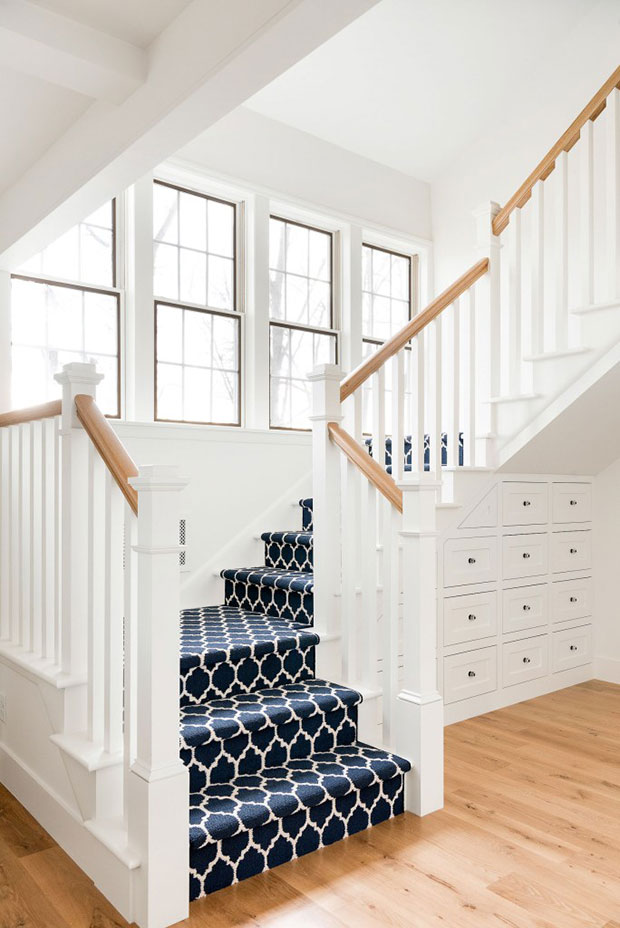 Beautiful Chaos Companies
Fitting with the small space provided, they have opted for small drawers. It's just a subtle design but one that is functional.
Contemporary Craftsman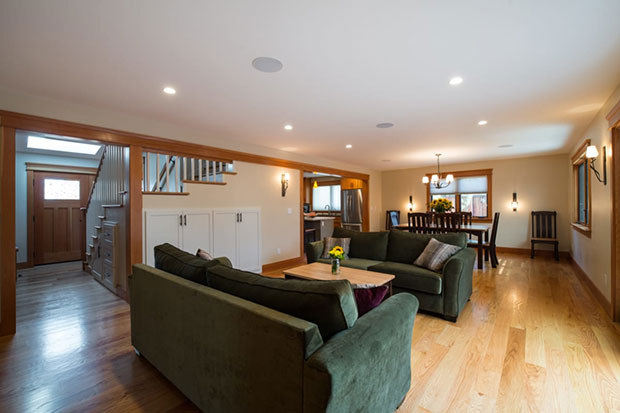 Saikley Architects
In this home, they installed under stair cabinets on either side of the staircase. The designers definitely took advantage of the staircase's width and depth.
Under Stairs Unit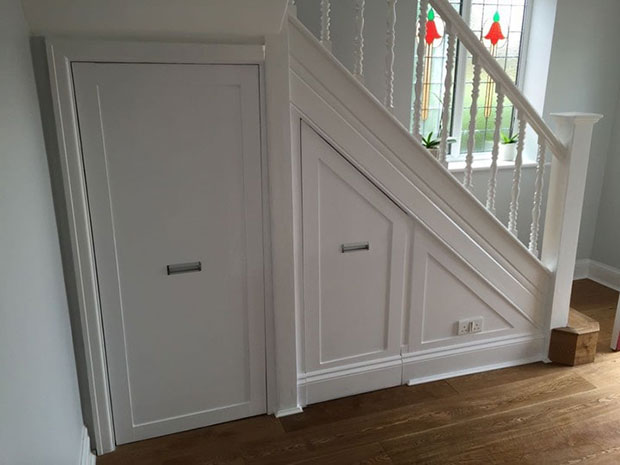 Harrison Fine Woodwork
What's interesting about this under the stairs storage unit is the handle for the pull-out cabinets. It's interesting to see considering the size of the drawers.
Cloak Room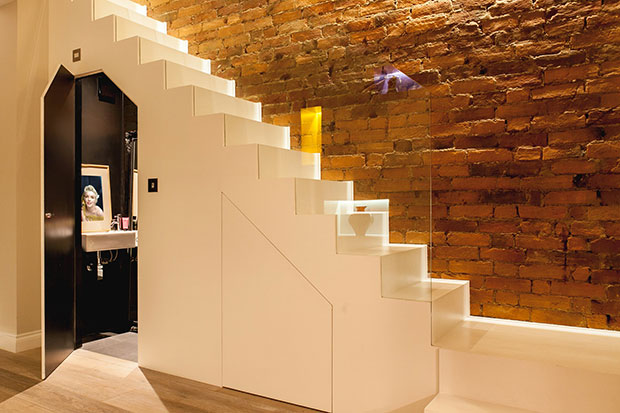 Timothy James Interiors
This chic and contemporary staircase makes use of its depth in not only installing an under the stairs storage space, but it also provides space for a small bathroom.
Under-stair Storage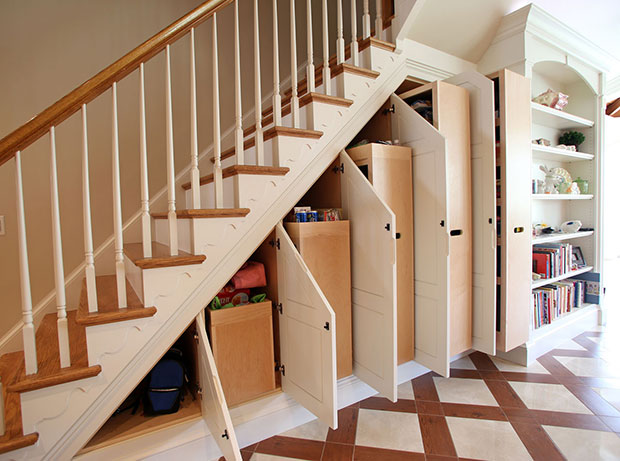 Miles Enterprises, Inc.
This under stair cabinets even installed box shelves inside to provide more storage space and easier organization.
The Vawdrey House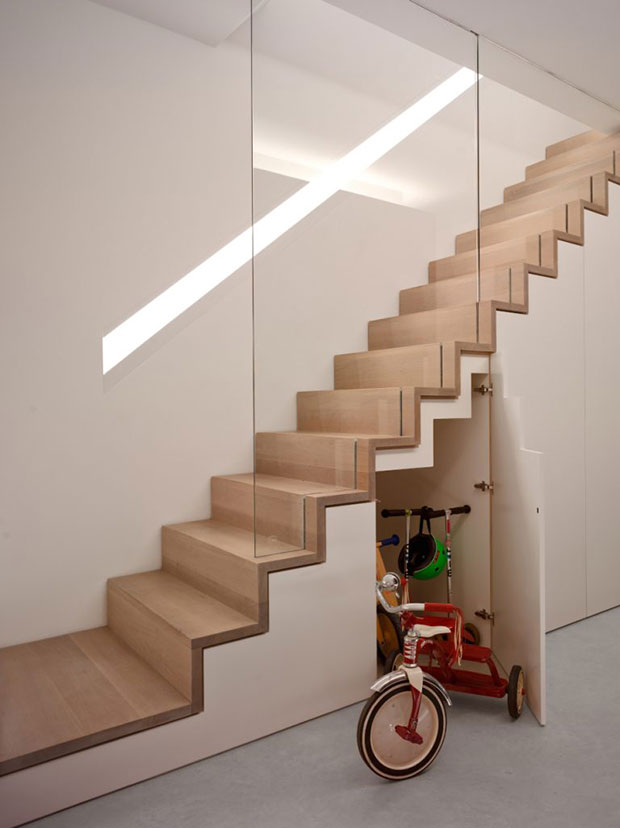 Tandem Studio
This chic and neat under stairs unit is seamlessly built into the staircase for the look. They even managed to stick in a child's trike inside!
Melrose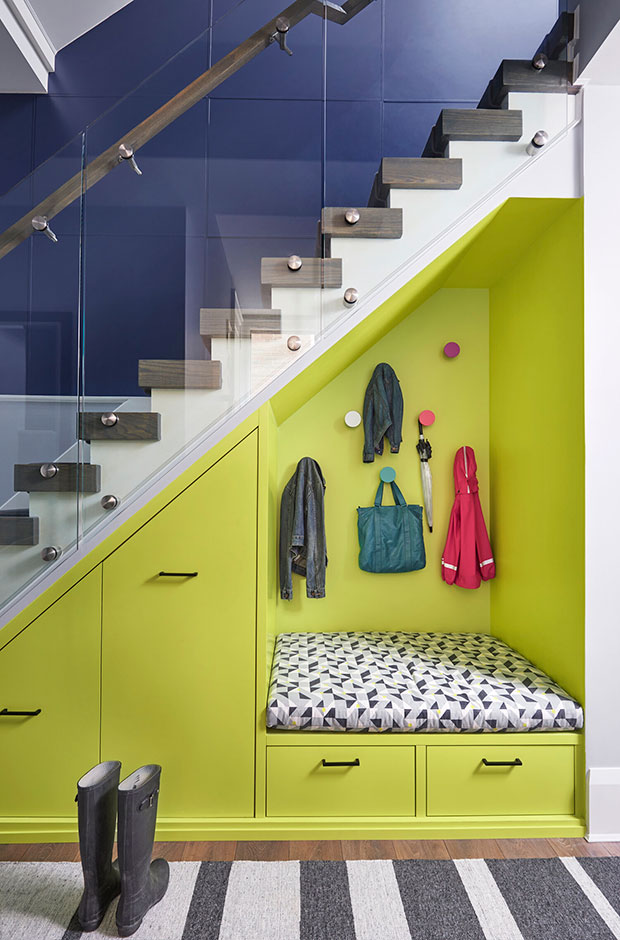 Meghan Carter Design Inc.
The bright green choice of paint for this one really sticks out. It's a good choice to considering that this under the stairs unit was made especially for the kids.
Fosterbrook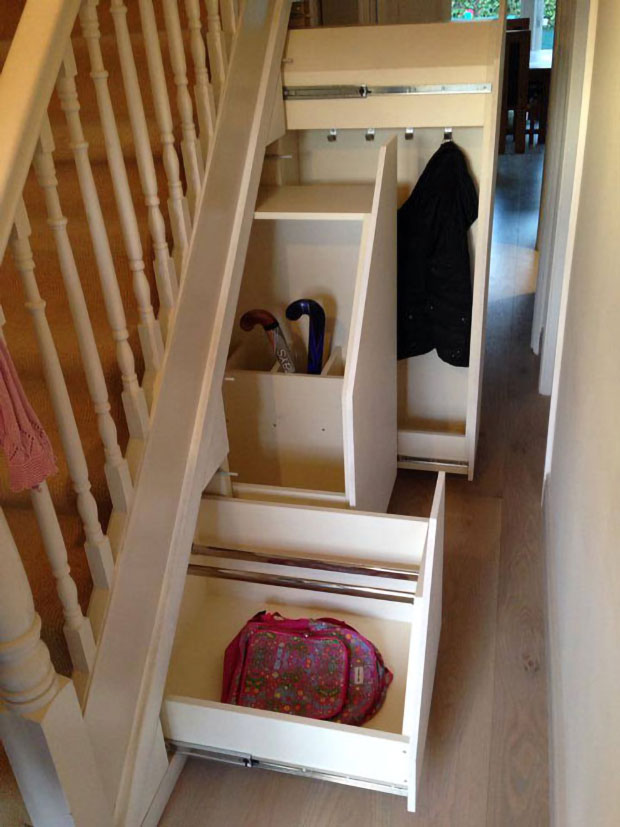 Ingrained
In this home, each compartment of their under the stairs storage unit has different purposes; hence, the different designs for each. With one compartment having coat hangers installed inside, and another with a built-in compartment for the children's umbrellas.
Cygnet's Shelter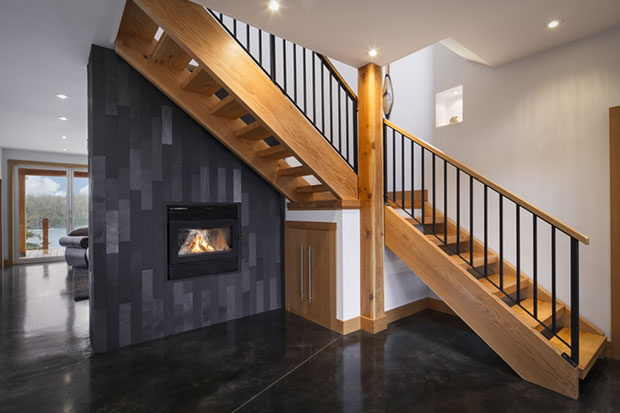 Icon Developments
Another case of under stair cabinets where they only used up the space underneath the stair landing to build. This is done to keep the open riser design.
The Art Studio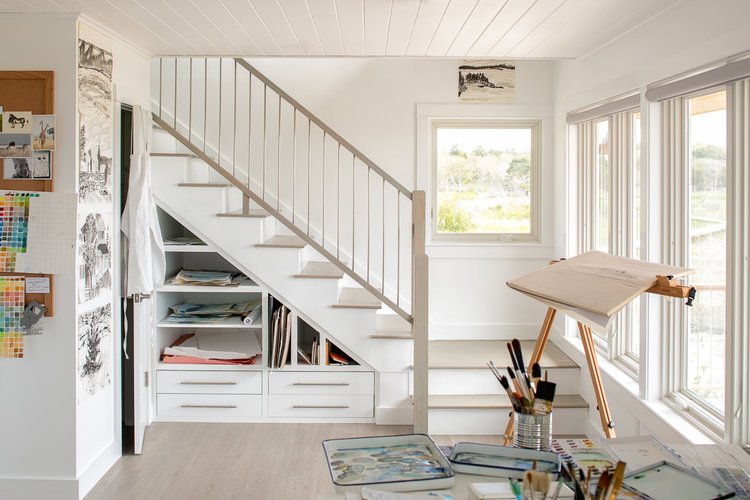 Morrison Design House
For this art studio, they appropriately designed underneath the stairs to fit with the functional needs of the homeowner.
Under the Stairs Storage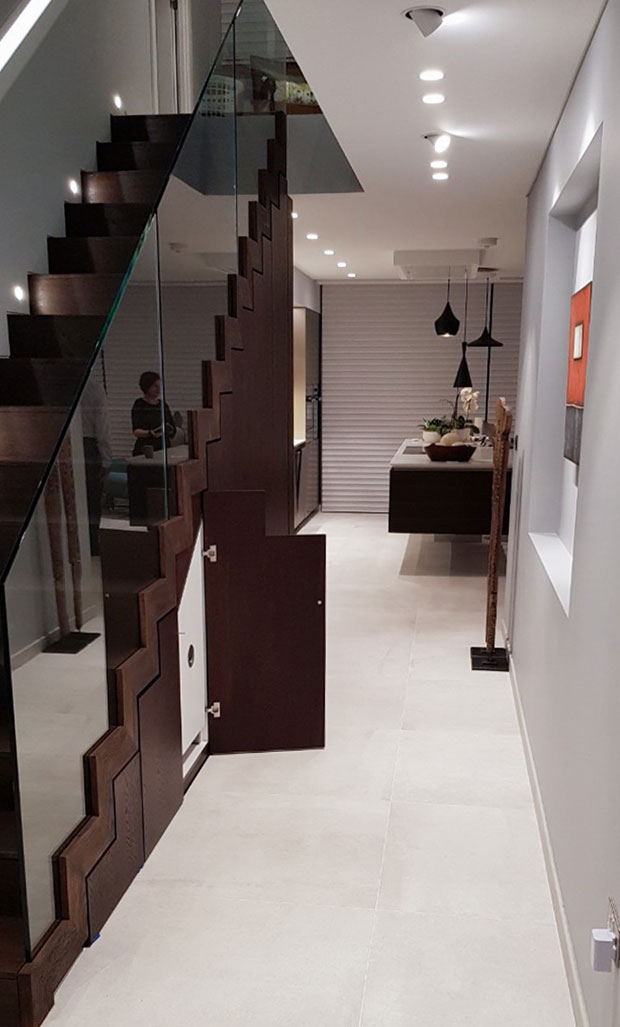 Avar Furniture
Here's another one of the handle-less cabinet designs for that seamless and clean look!
Rockhouse Barn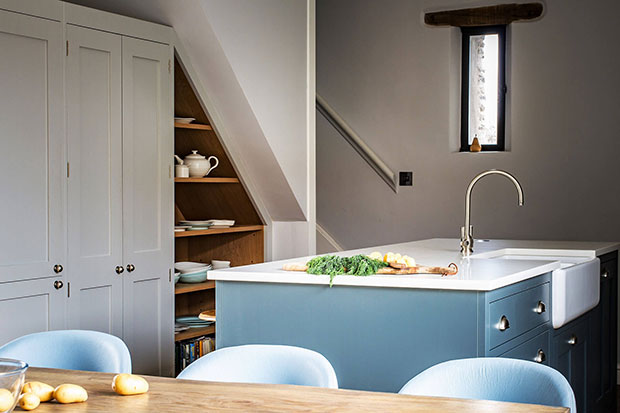 Sustainable Kitchens
With this one, they built a customized shelf that fits into the awkward shape of the staircase and then extended it with a tall cabinet.
London Furniture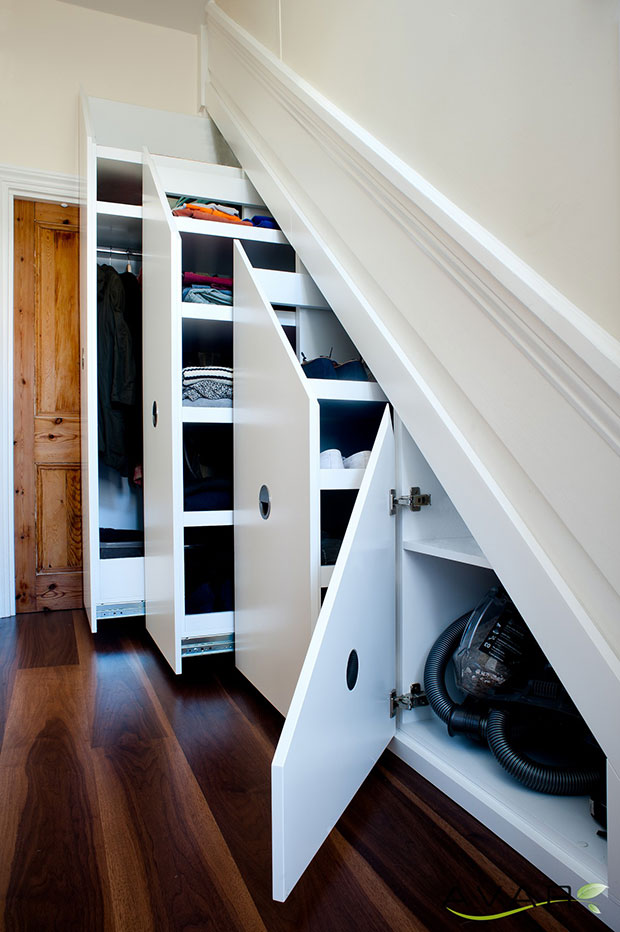 Avar Furniture
Here's another good example of how the different heights and sizes of the compartments are efficiently and appropriately designed.
Poly Pop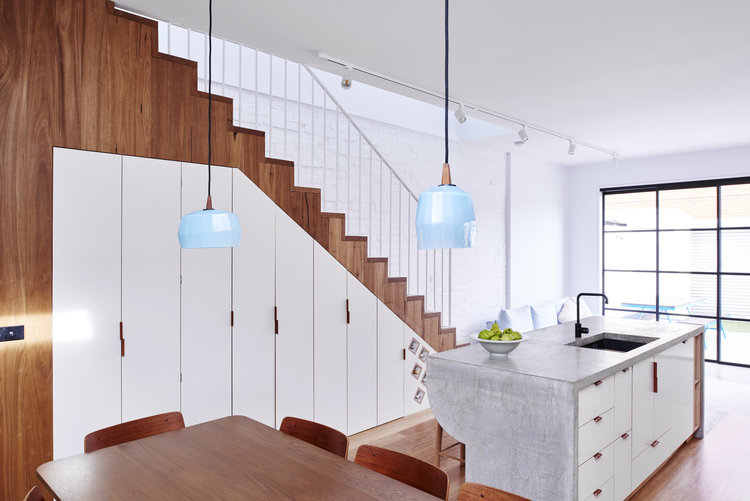 Token Lights
The interesting thing about this under stair cabinets is how "narrow" the compartments are. Although, seeing as these are being used as pantry, they won't need such wide spaces.
Solid Oak Stair Case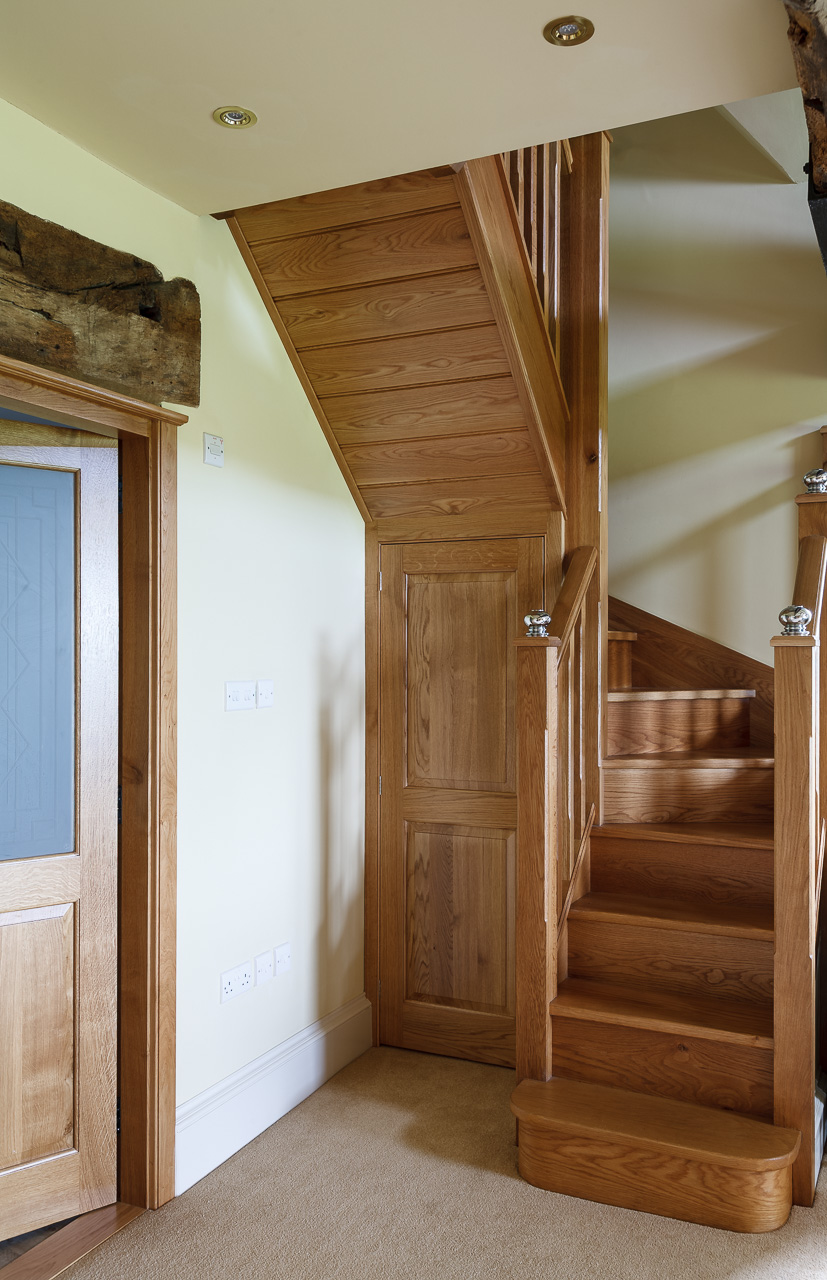 Tait Furniture
This solid oak staircase is quite more compact and smaller compared to the other ones on this list. So the under stair closet design may just be fitting.
Brooklyn Townhouse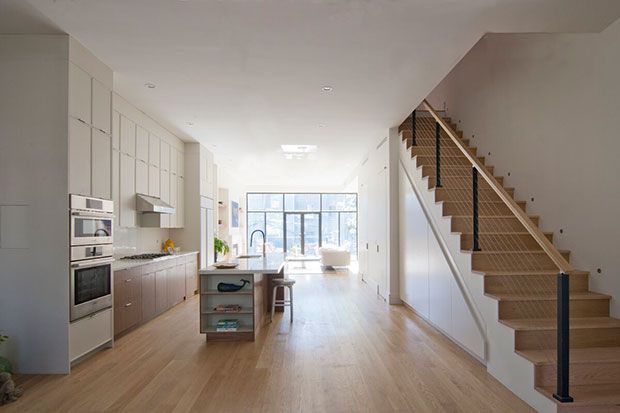 Anjie Cho Architect PLLC
With the slight protrusion of the door frame, you can tell there's a hidden storage unit there. Such design gives it such a clean and neat look.
Fitzroy North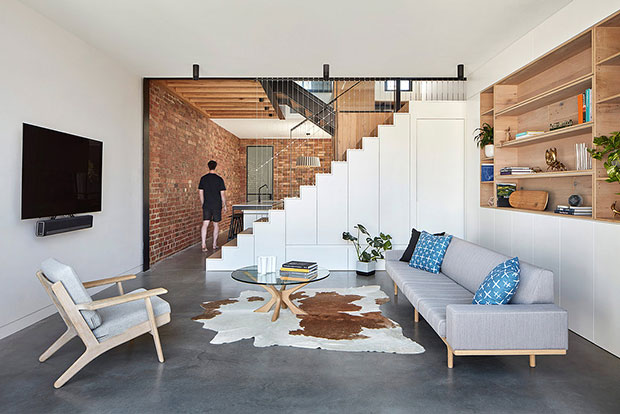 Michael Montgomery Architecture & Design
These handle-less designs really make the most subtle under stair cabinets. Understandably so as it helps make the entire room look neat.
St. John's Wood Townhouse

Margot Tsim Interiors
The most interesting thing about this under stair cabinet is the shelving is built diagonally. This works well considering that they use this space to store shoes.
Well, that's it for our list of 50 ingenious under stair cabinets! Which one of these inspired you to build your own under the stairs storage unit?
Like This Post? Pin It!