Quirky Wooden Bookshelf Ideas for Bookworms
|
Looking for a cool wooden bookshelf for your book collection? We have a great wooden bookshelf idea for you!
For bookworms, having bookshelves at home displays our love for books. Who wouldn't love to flaunt their collection, right?
People who love books are sometimes not your typical book lover who sits quietly in a corner and observe. Sometimes they can be very expressive, outgoing, artistic and quirky too.
So when they put up a simple bookcase, sometimes they want something a bit different. Something that reflects their personality.
If you ever feel have that need too, then we have here some not-so-ordinary wooden bookshelf ideas for you!
1. Return to your roots.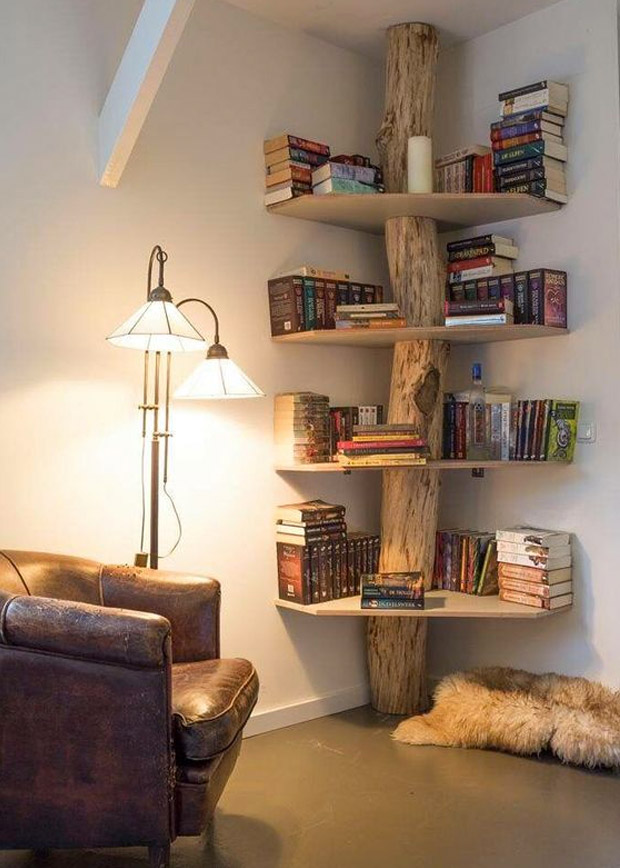 Add some nice earthy theme to your room with this tree bookshelf. The design is quite natural and would satisfy nature-lovers out there.
2. Add some curves.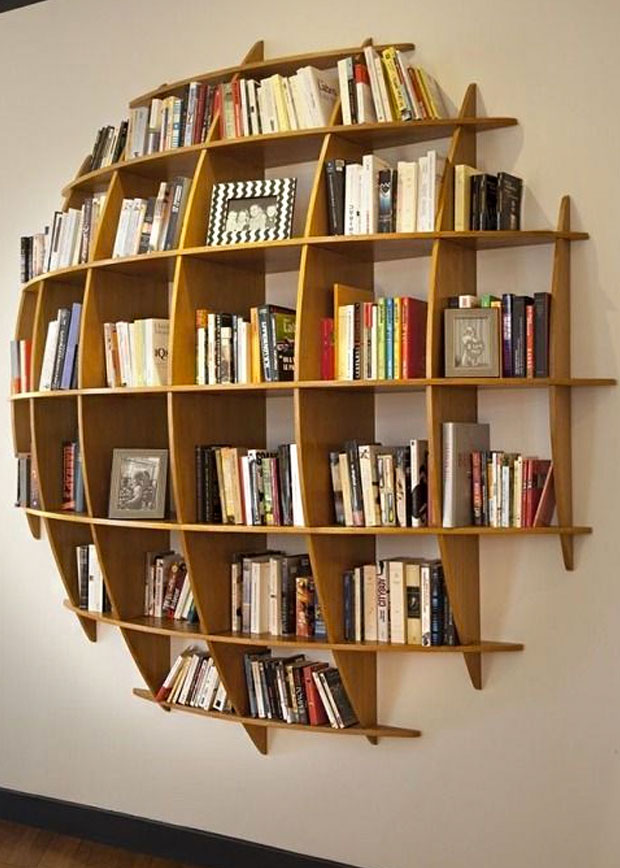 How about adding some curves to your bookshelf to add more space for your books?
3. Go round.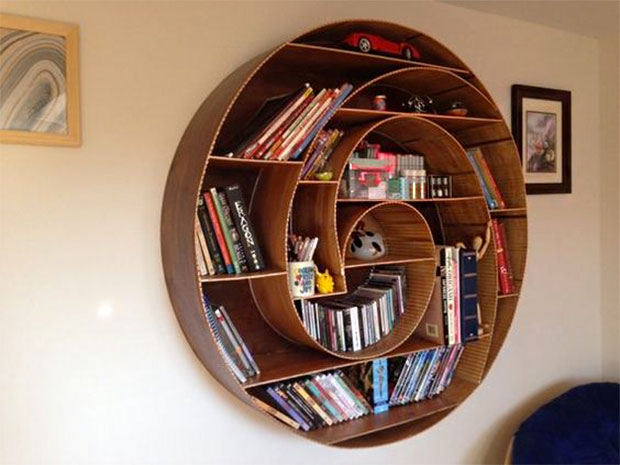 EdorieArtworks
This sunrise shelf from etsy can also be a pretty cool add-on to your wall. The circular design looks very sleek (and definitely eye-catching!).
4. Make it functional.
You can also try incorporating your bookshelf with functional fixtures in the house like this door bookshelf! Just like in the movies!
5. Stack it up!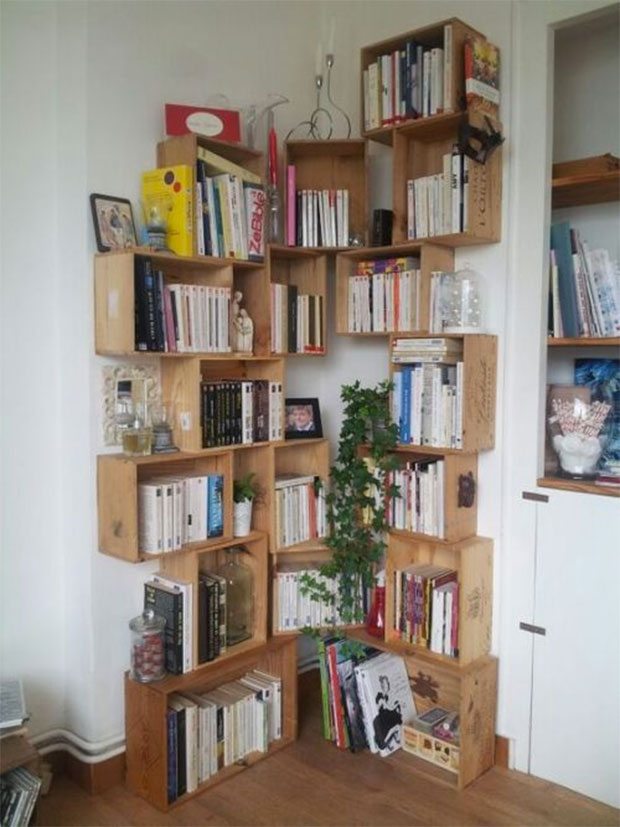 Here's another cool idea for your bookshelf! The boxes in various shapes and sizes make it look pretty unique!
6. Maximise space.
If you have limited space at home, you can also use other spaces in the house to add your bookshelf. Try for example this staircase shelf where the designer used the space of the stairs as a bookshelf.
7. Let it fit with the wall.
This bookshelf was fitted to complement the edgy shape of the wall and the fireplace! Now all you'll need is a comfy chair near!
8. Get into shapes.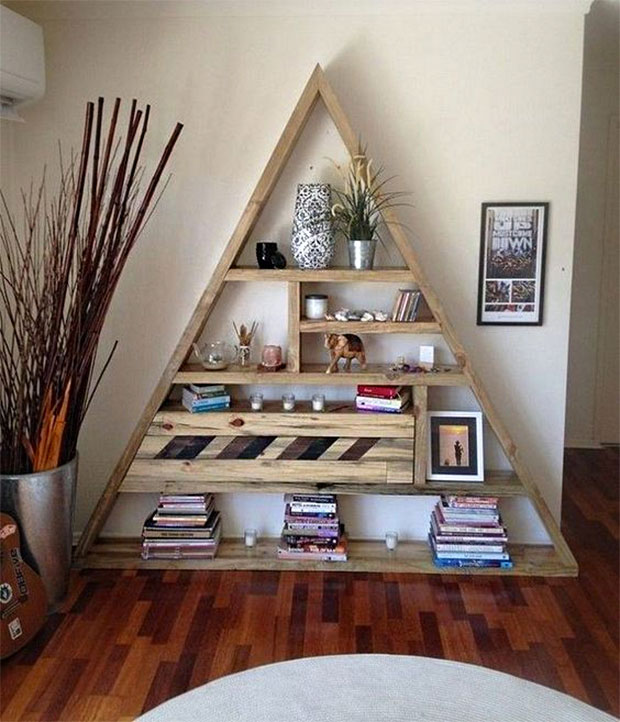 Get edgy and homey with this triangle-shaped bookshelf. This will surely turn heads if someone came to visit!
9. Put it on the wall.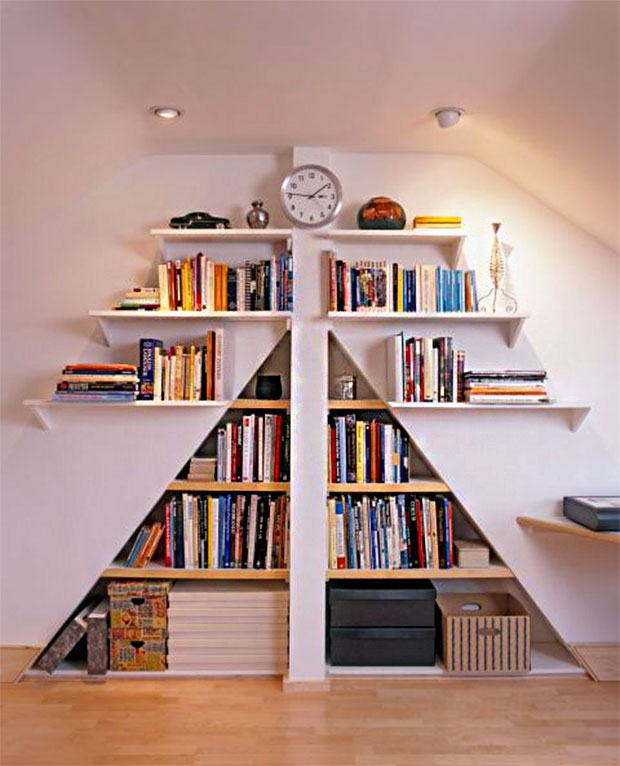 For limited spaces, using a wall-niche is great for saving space. Just like the design above, the designer created a triangular bookshelf on the wall then added some shelves at the top.
10. Embrace nature.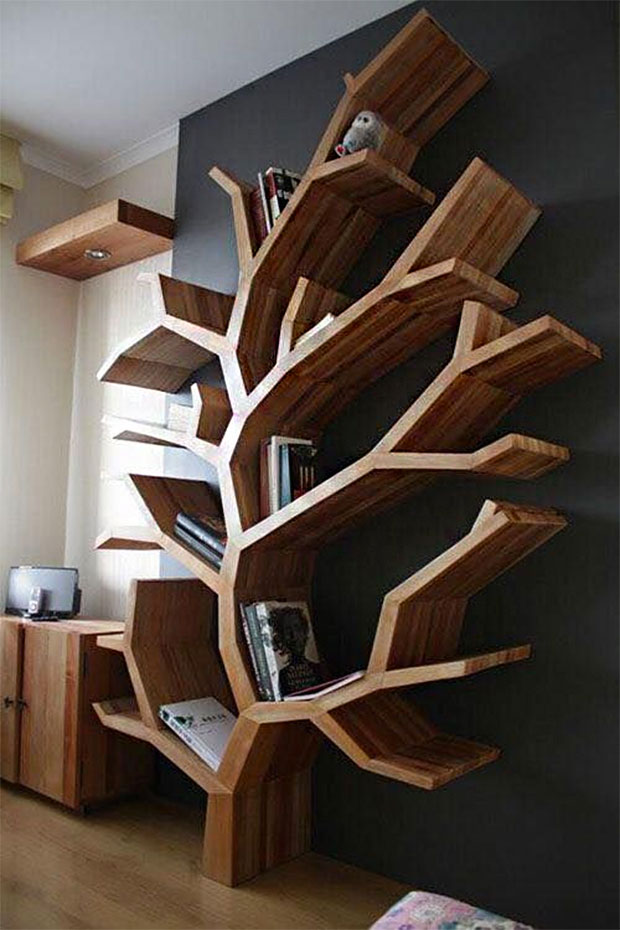 This sleek wooden tree bookshelf can easily accommodate several books and display it in a unique way.
11. Make it simple.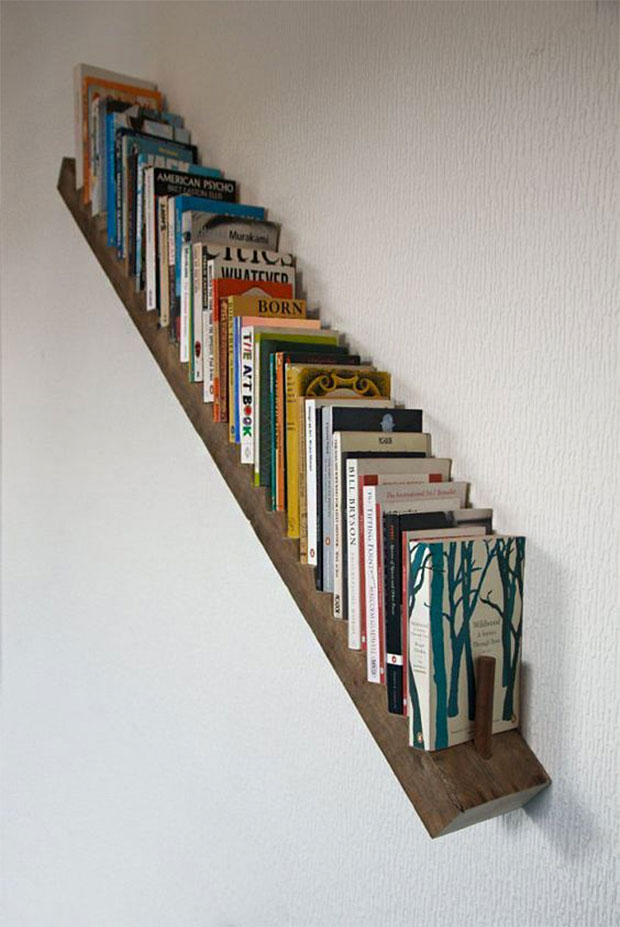 No more space at home? The staircase is a good place to add some bookshelves for your books!
12. Sit on it.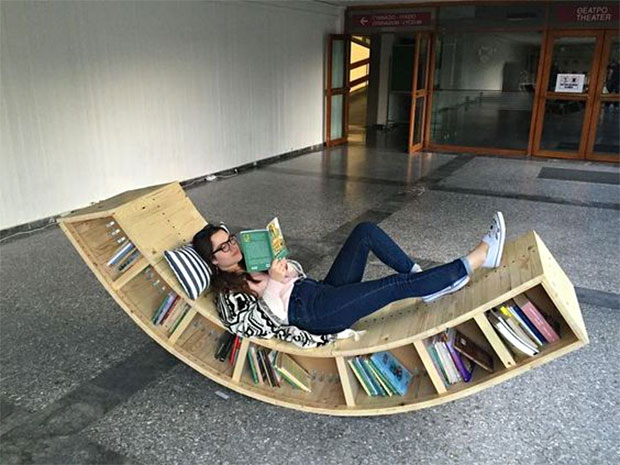 Wouldn't it be lovely to just sit down with a book? And how about if the books are within reach! This chair wooden bookcase is definitely multifunctional!
13. Hang it.
Hang your books with this handmade hanging book rack. This wooden book rack will definitely work well with minimalists!
14. Think big and unique!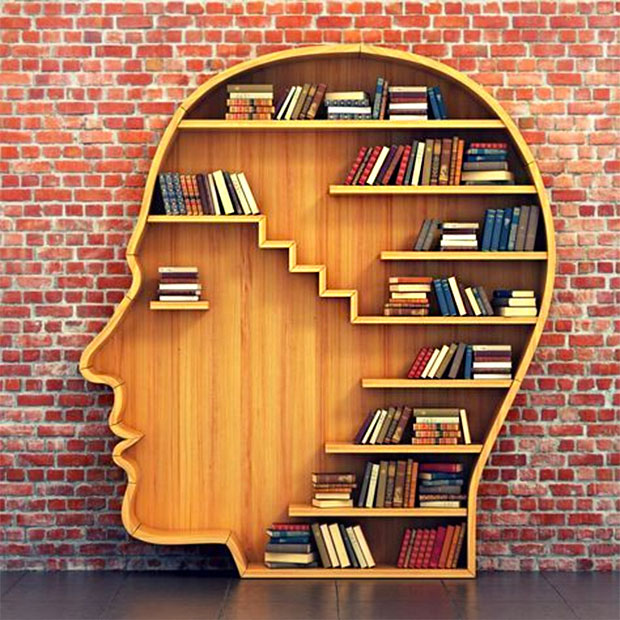 Love biology? Or maybe wants to express thoughts? This human head shelf is pretty great to make a statement.
15. Put it at the top.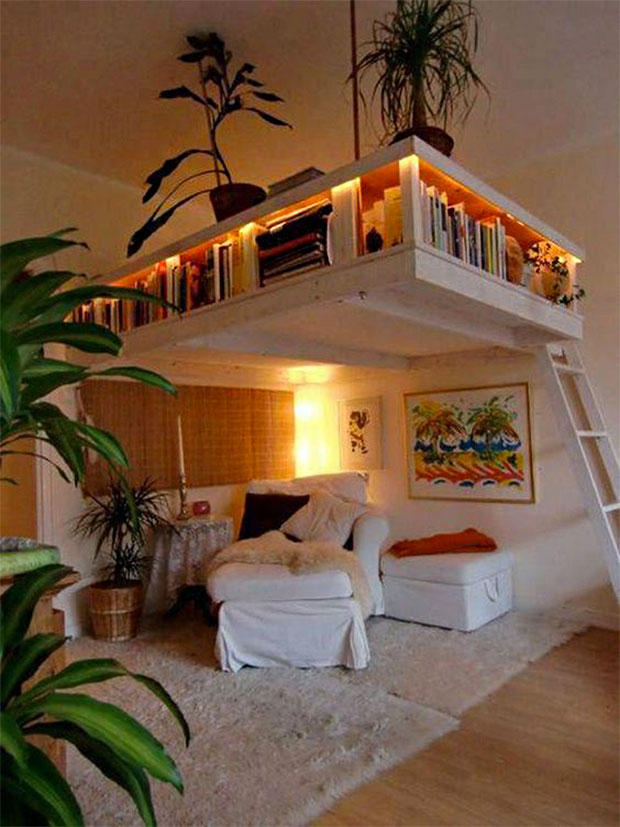 No space? No problem! Place it overhead just like how the designer made this. Such a unique way to store your books yet at the same time, not taking too much space!
16. Slim it down.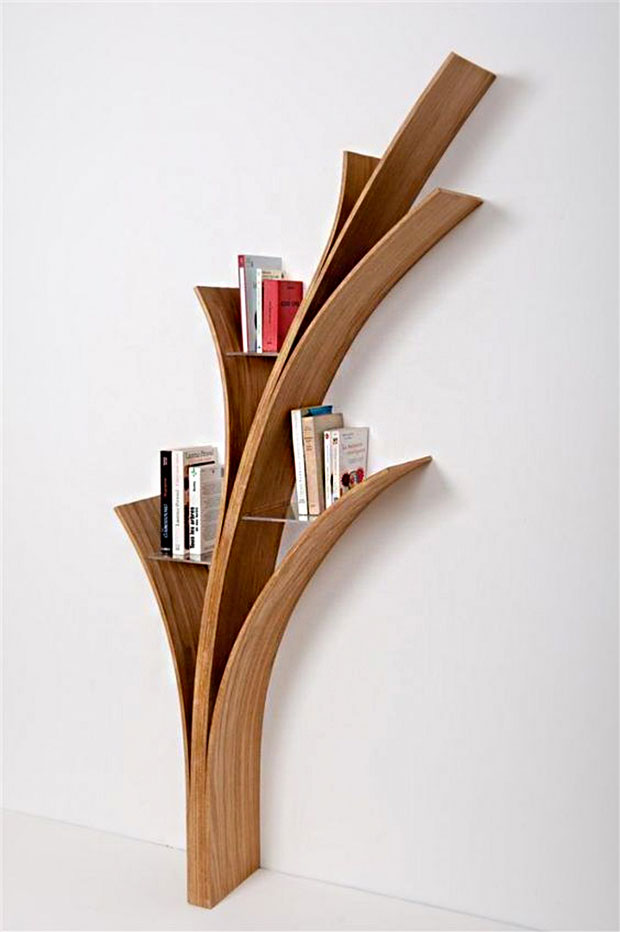 Ivy Bronx
The geometric design of this wooden bookshelf is striking and modern. Its design is quite elegant and will allow you more space for your collection.
18. Mount it on the wall.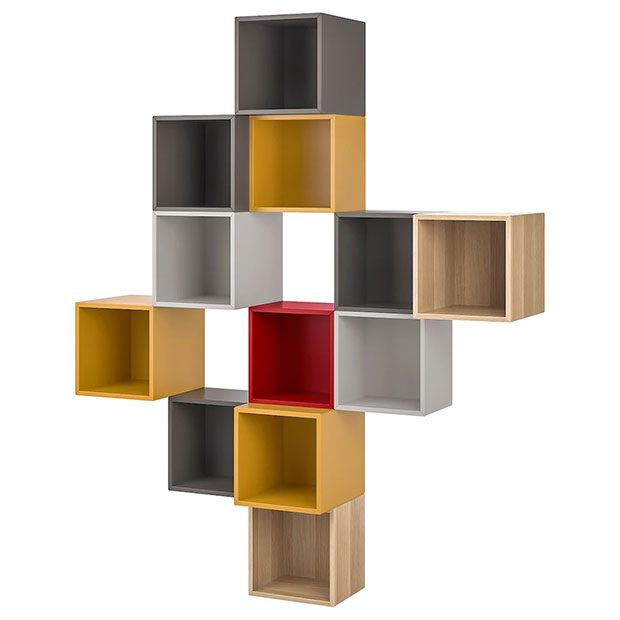 Ikea
This multi-color wall-mounted bookshelf is great for keep floor spaces at a minimum. Yet allowing plenty of spaces to store books.
19. Make the most of your wall.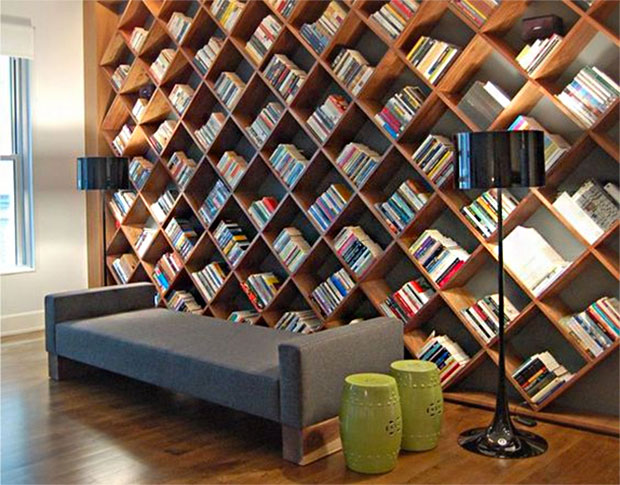 Talk about a collection! This type of wooden bookshelf is perfect for those of us who have tons of books that we want to display!
20. Get creative with a secret message.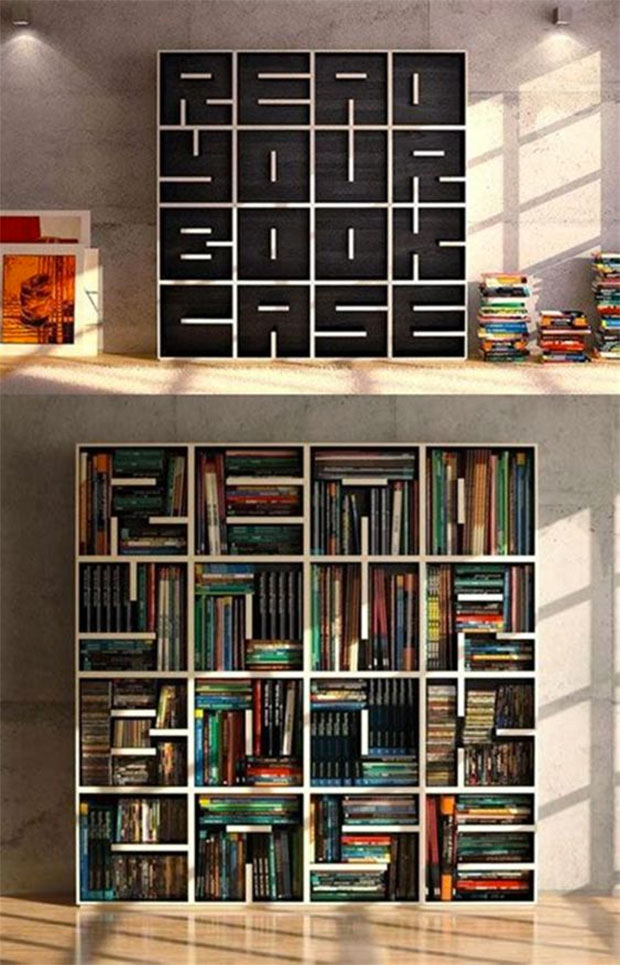 Have fun with your bookcase by adding a secret message that observant and book-lovers, like you, can only read.
21. Make it simple.
You can also make it simple by using square shaped shelves like the example above.
22. Roll it.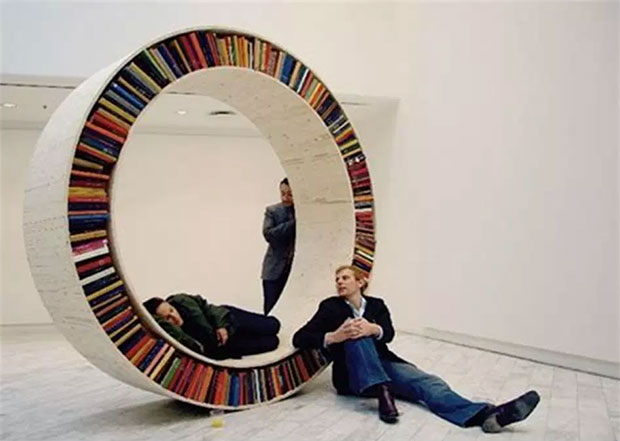 If you have a lot of space, this large and round bookcase will definitely turn heads. You can also use the space to sit on while reading your favorite book!
23. Play with proportions.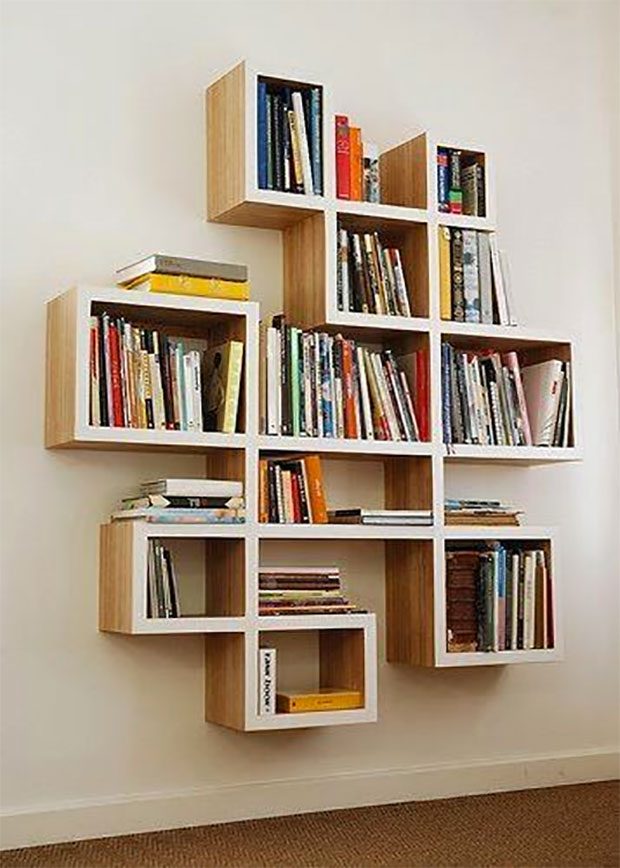 Here's another one with unique wooden bookshelf design. The variety of box sizes looks great!
24. Incorporate it to the house.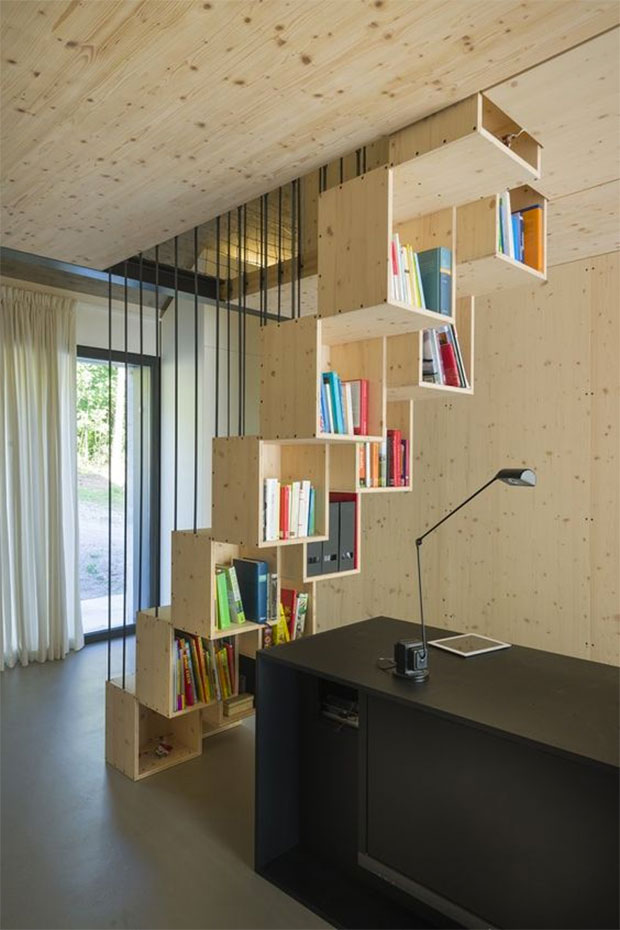 Aside from putting bookshelves along the staircase, you can also try placing them beneath the stairs to save some space.
25. Use vertical spaces.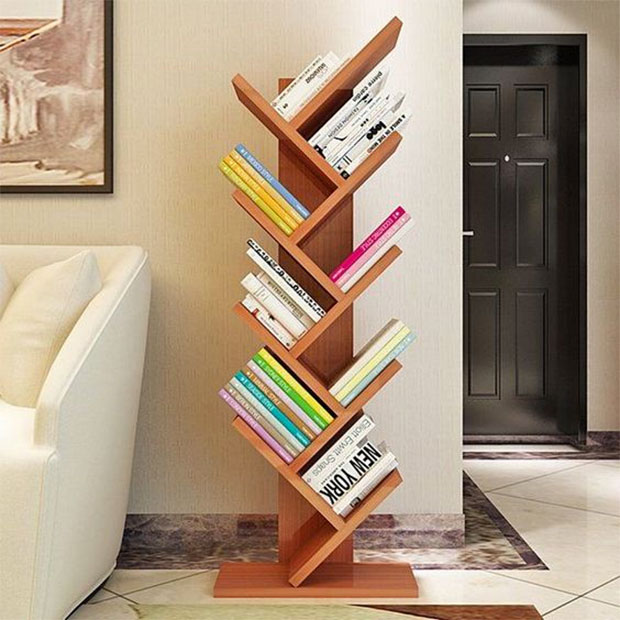 If you have small spaces, a standing vertical bookshelf like the above example os a good idea.
26. Make it industrial.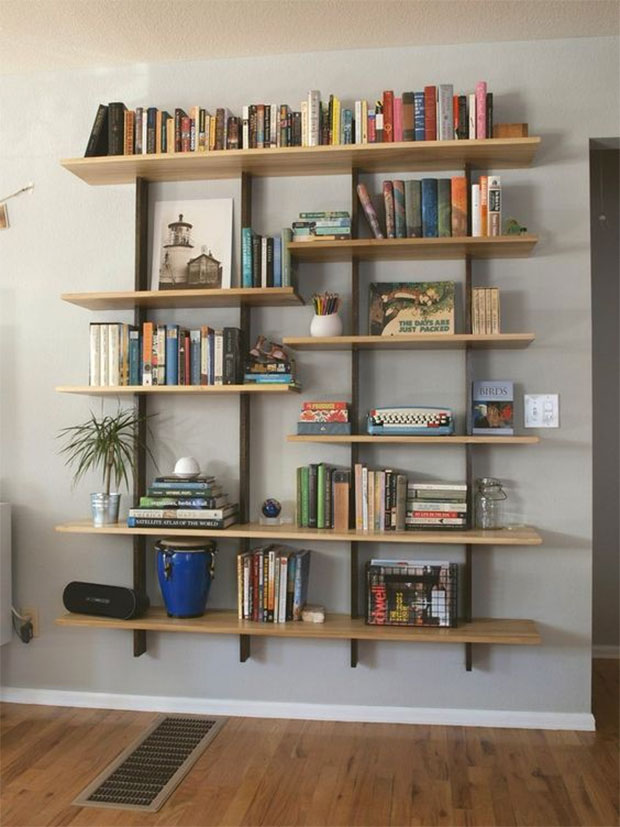 Get creative with using brackets and wood with an industrial design just like the above shelf.
27. Think outside the box.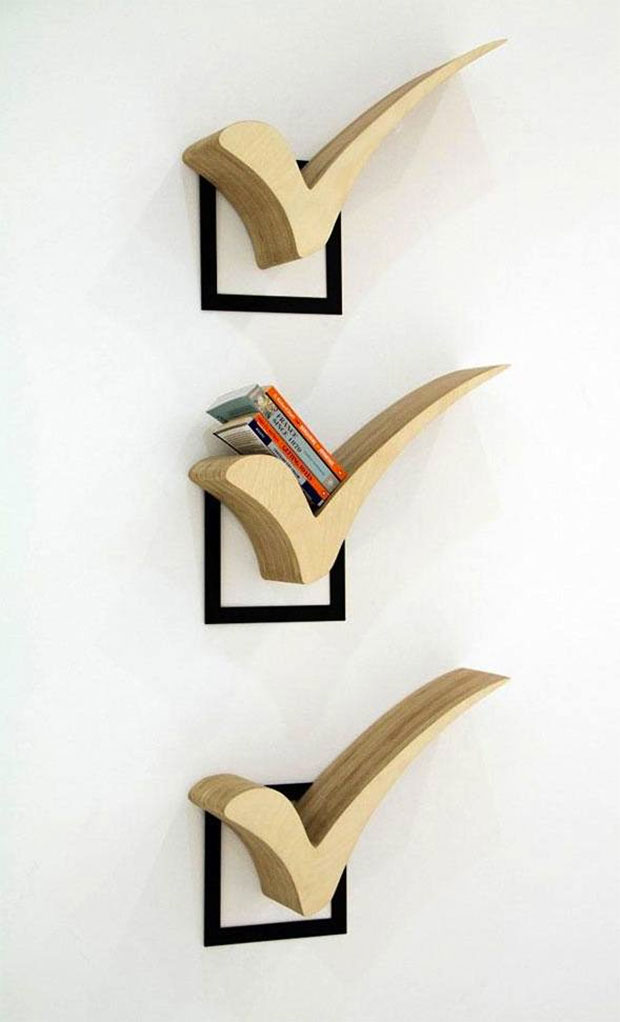 You can also play around with ideas like this design. The designer used check mark shapes as the bookshelf to organize books. Would be a fun way to organize your reading list, right?
28. Balance it.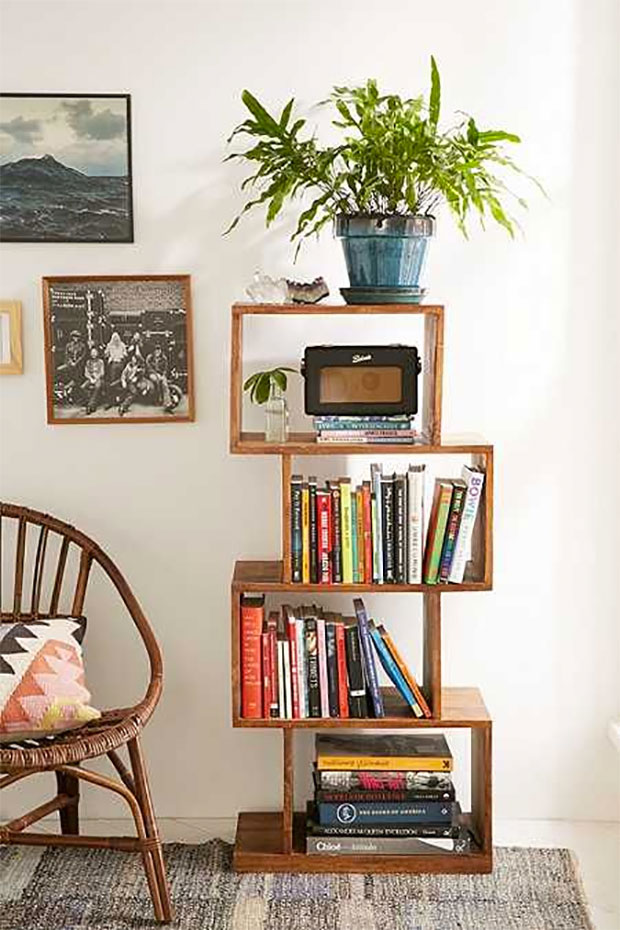 You can also turn simple bookshelves into quirky by arranging the rows in an alternate way.
29. Go with lines.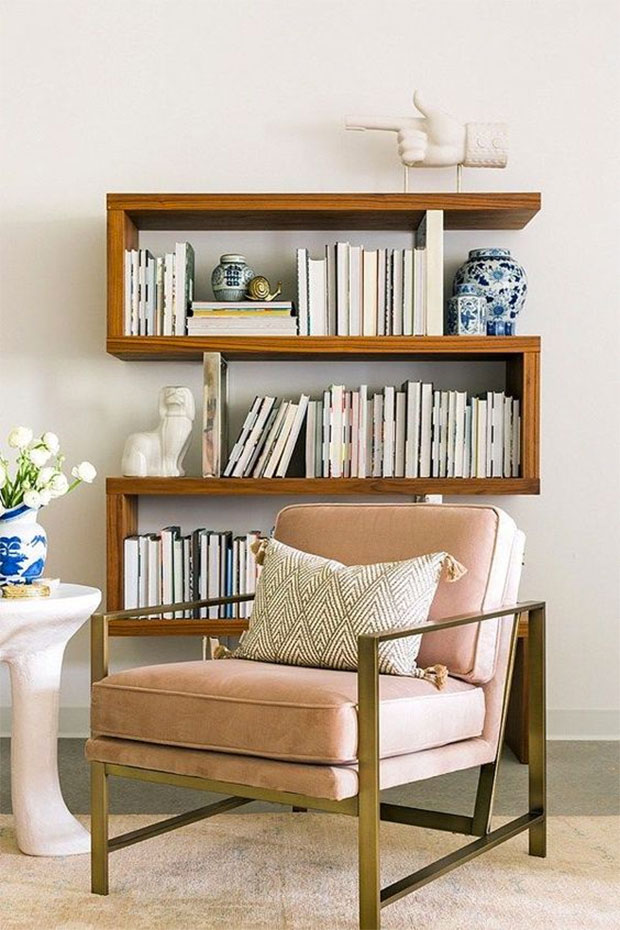 Here's another fun idea of using lines and edges to your bookshelf.
30. Put them in the corner.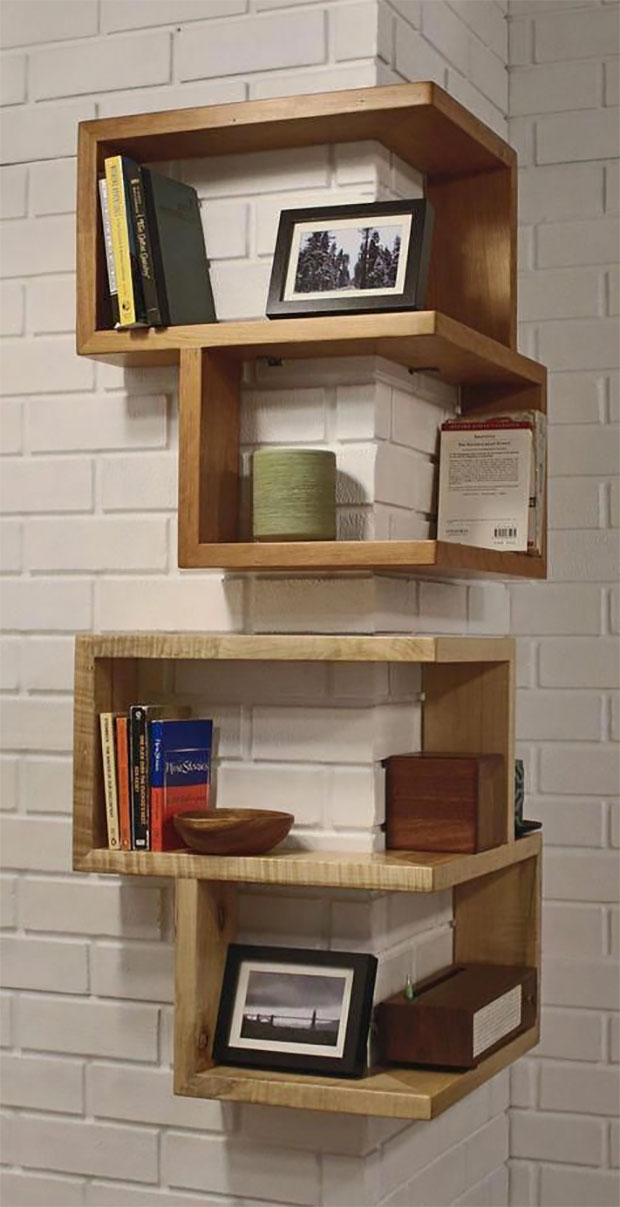 You can also make use of corner areas at home to put your bookshelves.
31. Make branches.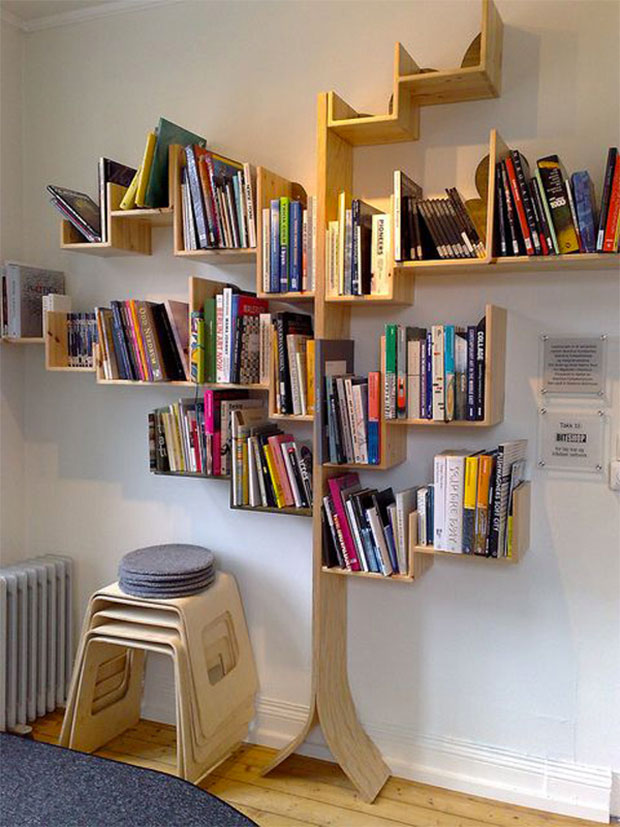 You can design your shelves into branches just like this bookshelf. You'll be able to save floor space and at the same time maximize your wall area.
32. Go with floral.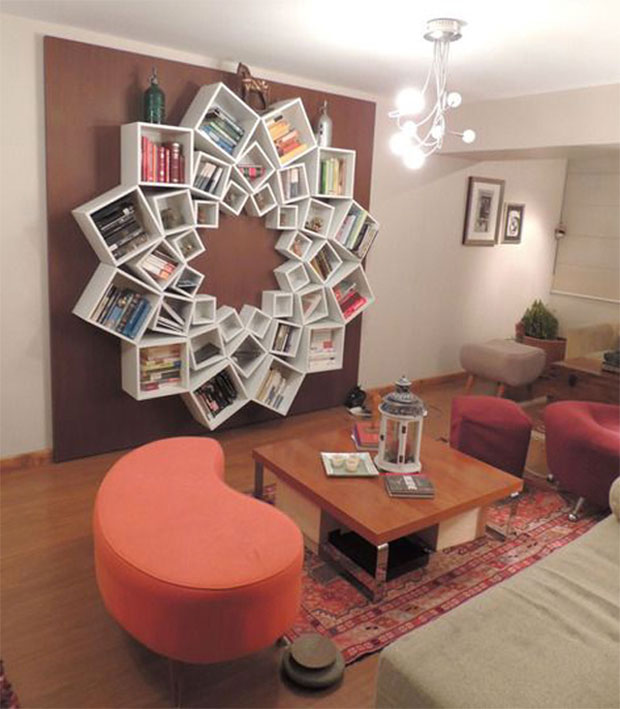 If you have a large wall space in your room, you might want to consider having a flower-shaped bookcase. It definitely adds a feminine look to the room.
33. Show your love for travel.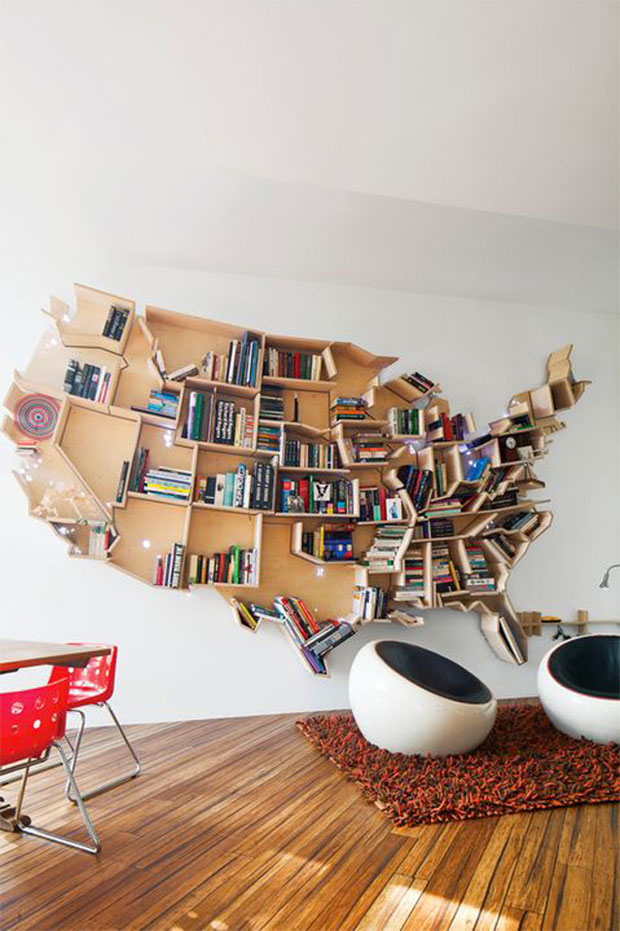 If you love to travel, then consider a map-shaped bookshelf. This will definitely add an interesting look to your interior!
34. Use the alphabet.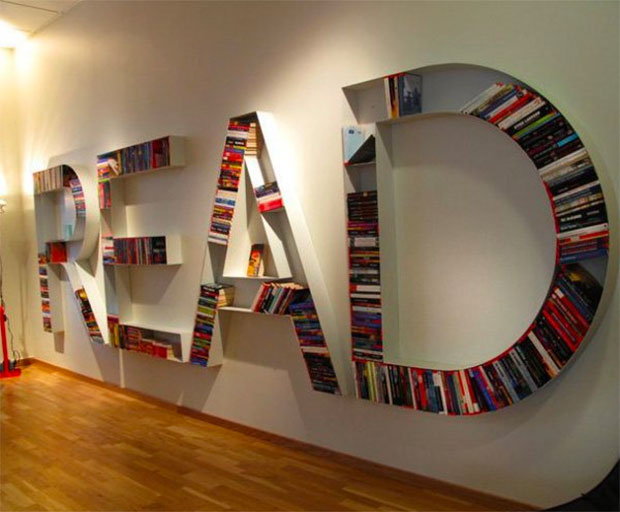 Remind yourself every day to read a book by forming your bookshelf into a word.
35. Apply physics.
You can also have fun with physics and use it for your bookshelf. The above design is pretty much unique and would make people turn heads.
36. Keep it minimal.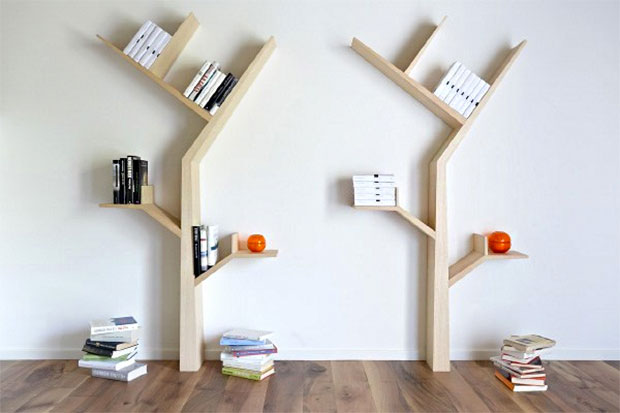 This design is playful and perfect for the earthy-themed room and even for playrooms. The design is minimal and looks clean.
37. Have fun with the design.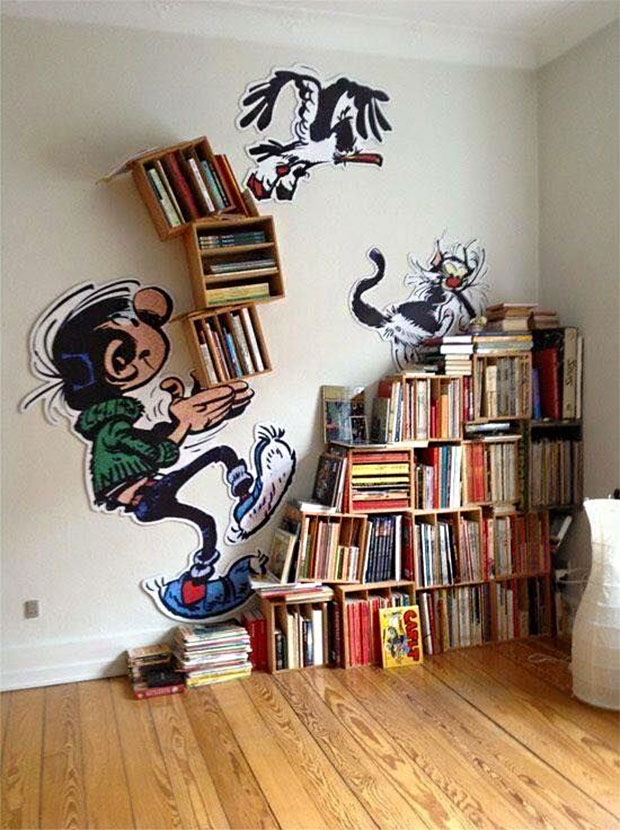 You can also use decals to make a fun statement for your bookcase. The designer has used fun decals to add a great personality to the room.
38. Give direction.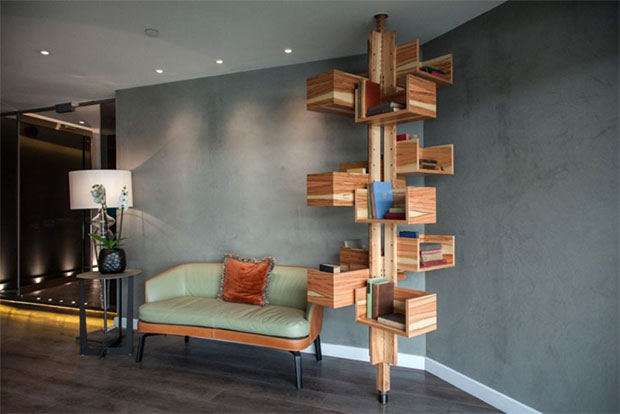 You can enjoy functional things and turn them into your bookshelf. This signage/ bookshelf can definitely turn heads.
39. Work with layers.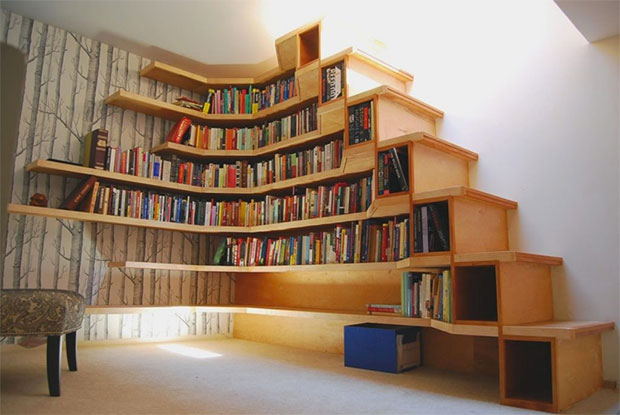 Get creative with layers and use them to store your books. This design looks amazing for open spaces.
40. Make it simple.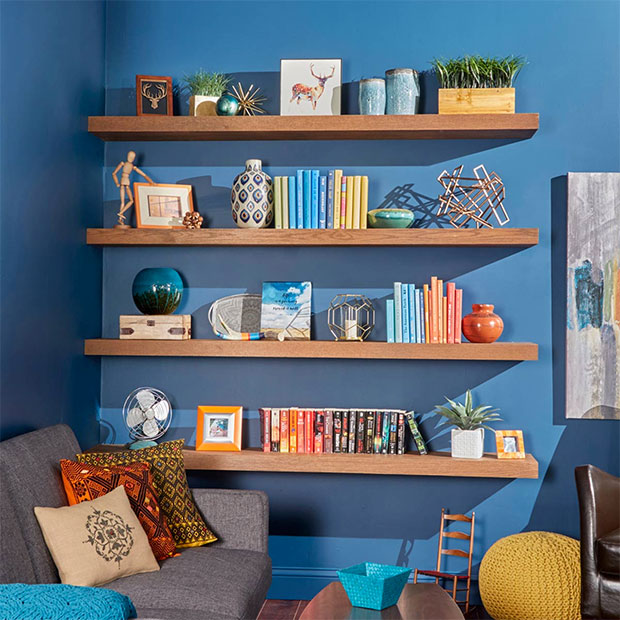 The bookshelf is pretty simple yet not the usual shelf you use for your books. Its brown color compliments with the blue wall…
So, have you found the bookshelf for your home? We certainly hope so! There are several quirky wooden bookshelves that you would surely love to display your book collection.
Like This Post? Pin It!