60 Inviting Foyer Entrance Ideas That Will Make Guests Feel Welcome
|
Often described as a space that usually connects the entrance to various other rooms, foyers have become synonymous with entrance halls, hallways, or entryways.
Not many homes, especially in more modern and contemporary ones, boast of foyers. In a way, it's been described as something of a dying breed. In many homes, once you walk into the front door, you are already in the living room. But consider having a foyer where you can greet your guests.
Consider stunning foyer entrance ideas that will have your guests in awe the moment they step into your home. From many decorating and design styles, you will have plenty of foyer entrance ideas to assess and choose from to boost the overall ambiance of your home.
What should I put in my foyer?
The foyer is a space that is often overlooked in style and décor, given that its main function seems to be a welcoming area for guests and homeowners alike. Yet, it is a place where you can sit while taking off or putting on your shoes or jacket.
Regardless of how big (or small) your foyer is, any foyer entrance ideas will greatly benefit to have some of these essential items displayed along the entryway. In a lot of homes, the foyer could be small and dark, so that it's not as fully furnished as other spaces at home like the living room or bedroom. But even then, it serves some other purpose other than being a "welcoming area" for it not to be embellished with some décor.
So, let's check some essential items needed in any foyer.
1. Coat rack
When you or your guests come into your home, have a coat rack in your foyer to place their coats instead of just throwing them onto the couch or any seating area. Not only is this going to make the foyer decluttered, but it also adds some style.
2. Storage
As foyers and entryways are places where people come and go, it would serve well to have accessible storage for items that are used daily such as keys and wallets. You might also need a storage unit for umbrellas, shoe polish, and extra coats.
3. Rug
One way to keep your floors clean and prevent floor stains is by placing an area rug in your foyer. In addition, a cute or stylish rug would certainly add some cheer to the entryway.
4. Seating
As mentioned already, you will need a place to sit in your foyer as you slip your shoes on or off. It's a convenient and practical addition to any home. It could be a bench, stool, or chair, just as long as it stays within the stylistic theme of your foyer.
5. Mirror
Before rushing out of your home, it won't hurt to take one last look at yourself or to have one more makeup check. To really add some style, choose a mirror with an eye-catching frame to really upgrade the overall look of your foyer.
6. Lighting
When you come home after a night out, the most convenient way to light up your house is installing lighting in your foyer with the light switch within arm's reach of the front door. Choose a pretty light, like a pendant light, that suits your style. Some homes prefer having chandeliers to greet the homeowners as they walk into their homes.
7. Accents
Add some fun accents to your foyer! It could be some personal items that reflect your style and the rest of your home. It could be throw pillows, wall art, or figurine.
8. Flowers
Brighten up your foyer with some fresh flowers. You can go and choose low-maintenance flowers but if you are that dedicated, you could switch them up every season or so.
Remember, that while these are essential items for any foyer entrance ideas, it doesn't mean that they all have to be in the area.
How do I style my entryway?
Now you know which essential items you should have in your foyer, it's time to start styling your entryway!
Much like any other room in your home, you need to put some thought into styling your entryway. This includes functionality and the mood you want to have in your foyer. As many entryways are small spaces, it could be hard to style them efficiently. Or how to even incorporate the essential items into a small area without making it look cluttered!
Here are some ways you can style your entryway!
1. Trendy
If you want to keep up with the current styles, capture what's fashionable in geometric accents, pops of colors, and faux plants. You may want to get a console table to display these things for a fresh and inviting look.
2. Artsy
Styling any foyer entrance ideas can seem like it needs extravagant designs and décor. But styling your entryway sparsely but with some bold and unique choices of accessories can do so much to elevate the overall look of the area. This could be a statement sculpture, or a textural art piece, or some beautiful artwork.
3. Minimalist
Having minimalist foyer entrance ideas does not mean boring styling. With a striking foundation — perhaps a slick designed console table, then add a simple but impressive mirror. You could also use to have some objects like a candlestick, vase, or small planters.
4. Bartender style
Here is some interesting entryway styling: bartender style! For anyone — be it the homeowners or guests, who would like to be greeted with drinks, try placing a bar cart along your entryway, filled with some beloved drinks and cocktails and some glassware. You can even add some accents to complement the bar cart.
5. Lush
Addition of natural materials like wood and of some lush like planters. You can highlight more of this lush ambiance with green and blue hues and breezy accessories.
6. Edgy
If you're into a more sophisticated or modern look, you can try styling your entryway with dark tones and sharp lines. Even opting for a sleek, industrial console table will certainly help.
Foyer Entrance Ideas for Inspiration
Now, let's take a look at some foyer entrance ideas that will surely elevate your home!
Robinson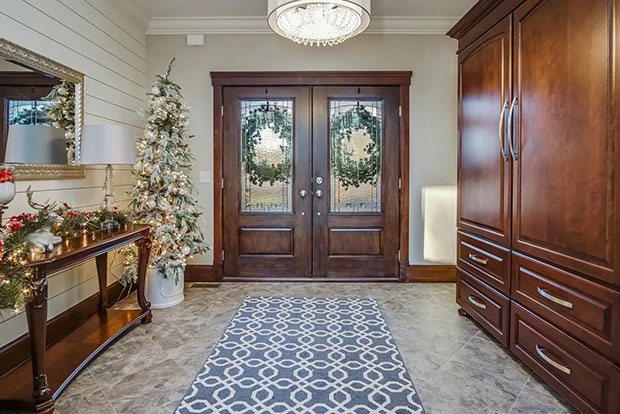 For some foyer entrance ideas as the holiday season is rolling, it is a smart choice to put up a Christmas tree in your foyer. Anyone who comes into this home will certainly be greeted with a good holiday cheer!
Macatawa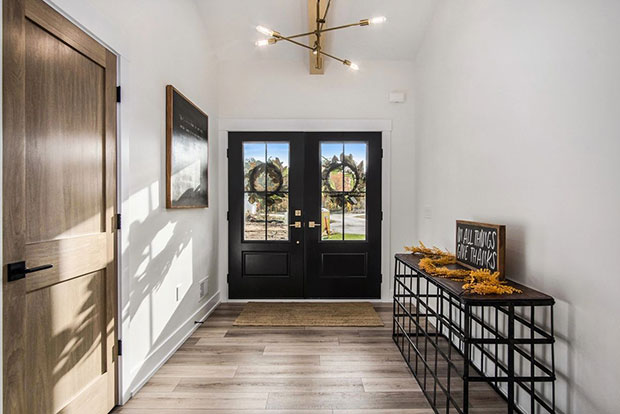 The table and accessories in this entryway are giving simplicity but with a dash of modernity. And the overhead chandelier definitely elevates the overall look.
Crestview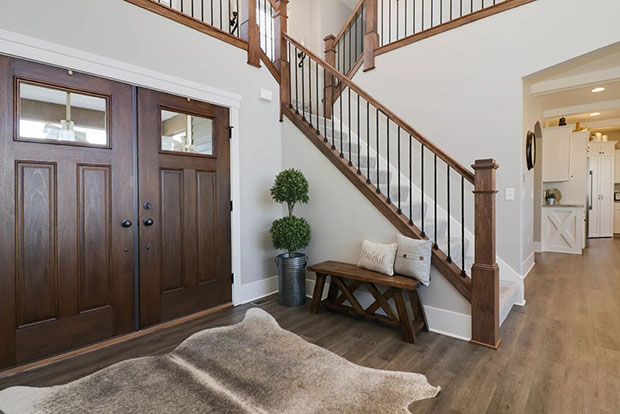 Marcusse Construction
A simple stool bench and a tiny tree plant do the trick to liven up this room. Not to mention, the area rug complements everything else in this place.
Muswell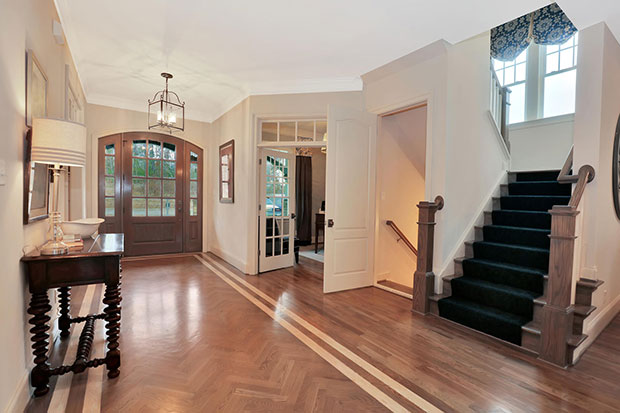 Mirrors and picture frames adorning the wall certainly help in livening up any foyer entrance ideas. Adding a table with embellishment would also save any entryway from looking too bland.
Cheverton Court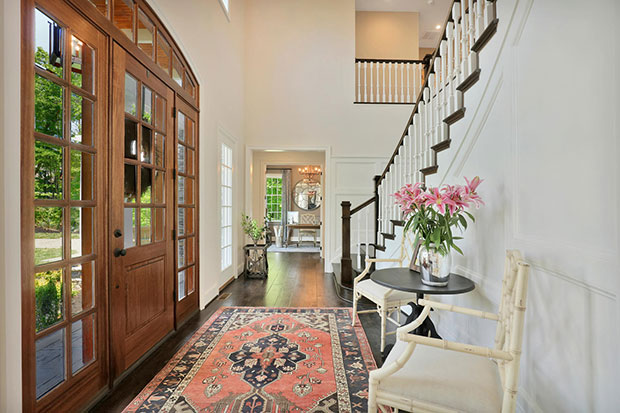 Homesmith Construction
Instead of bench stools, a little seating set is a pretty alternative. And adding flowers as an accessory simply elevates the overall aesthetics.
Nolensville New Build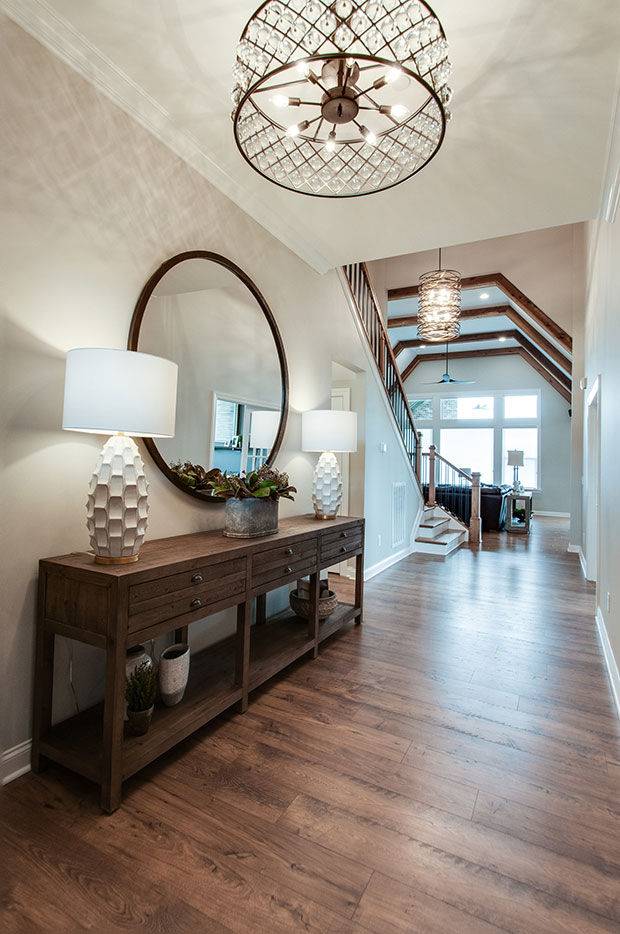 Getting a console table like this that will carry all the accent and accessory pieces for your entryway is a smart design choice. The round mirror then adds some dimension to this area.
Franklin Home Facelift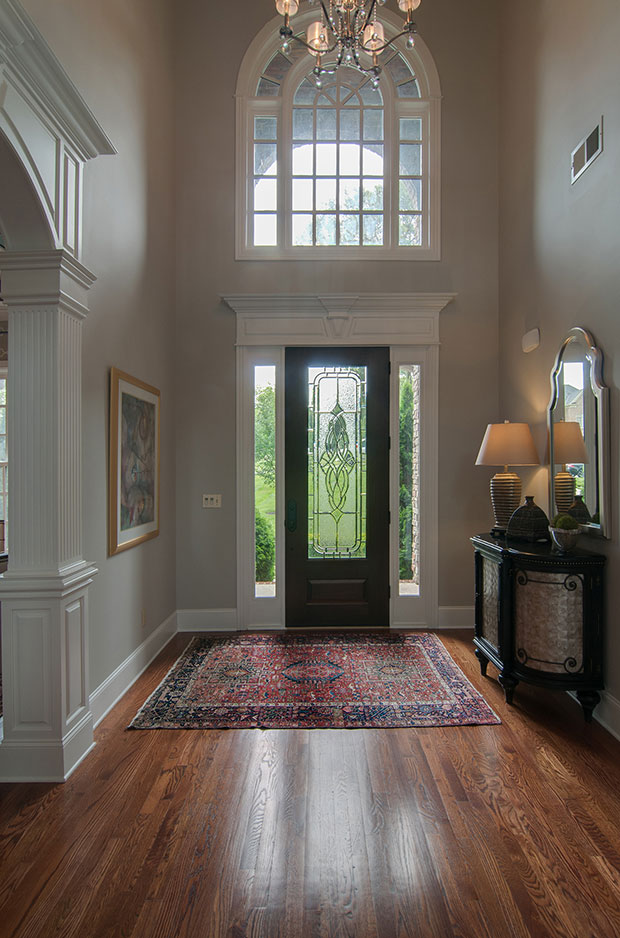 Consider placing an artwork opposite the mirror in your foyer. Since this home will not have to worry about the foyer being too dark due to the windows, the mirror will magnify that natural light.
Franklin Reno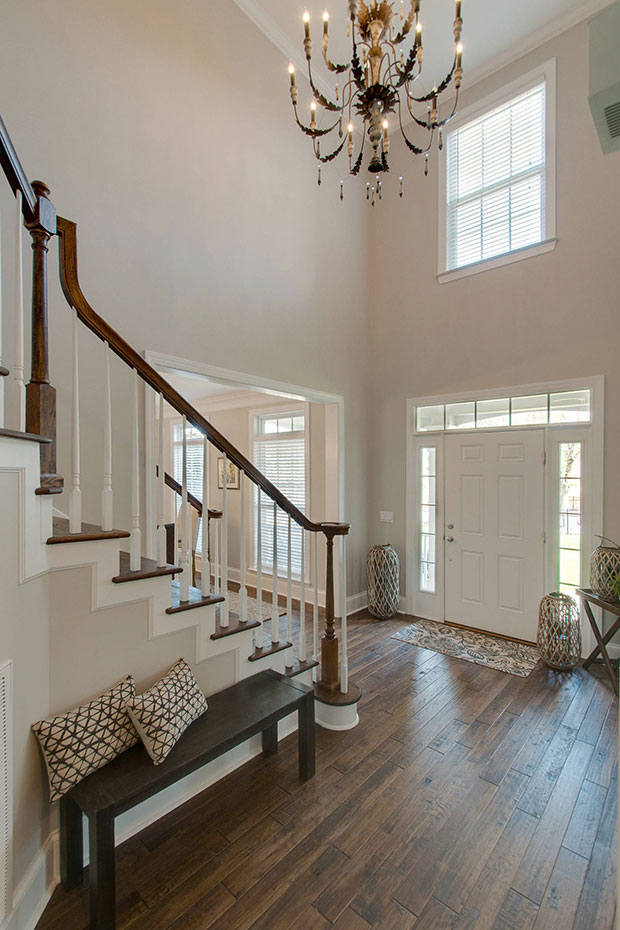 Those textural vase pieces are striking additions to this foyer. As with many foyer entrance ideas, this one's entryway is immediately met with the stairs. Not so much décor is needed given the space and how the stairs themselves add some style.
Nashville Entry and Hall Refresh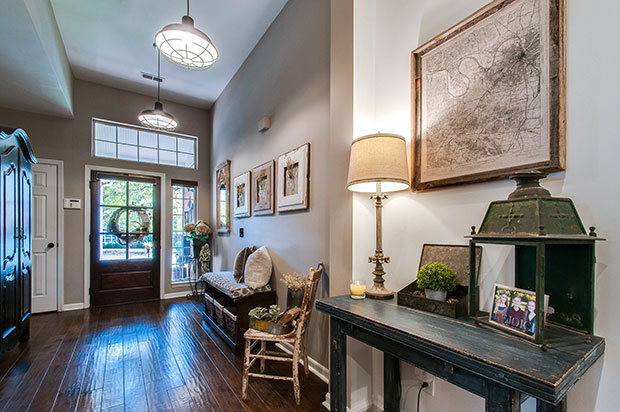 Usable Space Interiors
A bench seating that has a little storage unit underneath is a smart choice of furniture to have in your foyer. It's also pretty interesting that they added a rustic chair but not for seating purposes but to carry some small planters.
Denos Great Room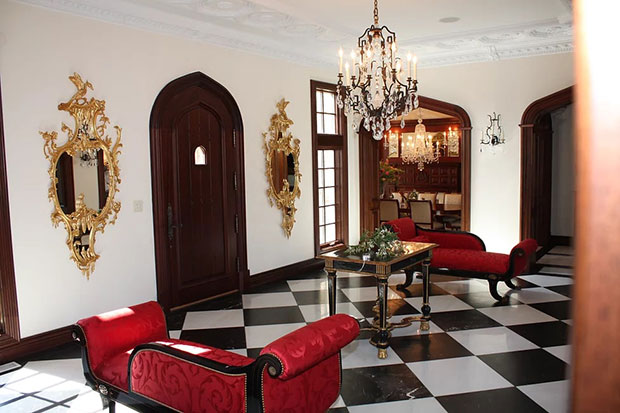 Periwinkles Design
Once you enter this home, you will be greeted with some royal elegance with some quite extravagant furnishing. This one isn't one of your typical foyer entrance ideas.
Grand Foyer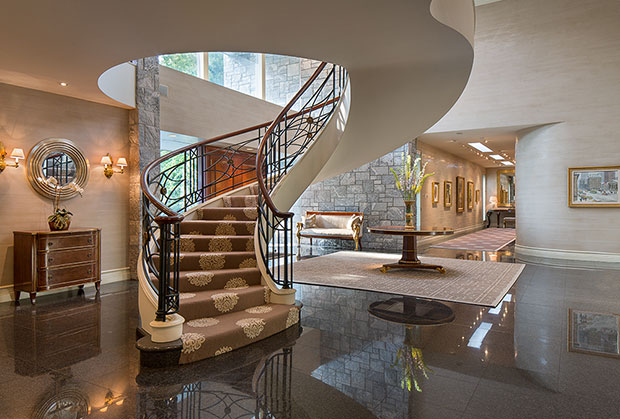 Patricia Georgio Designs
With a grand foyer like this, you could really use some dazzling furniture and accessory pieces without overwhelming the room in quantity.
Stanley Heights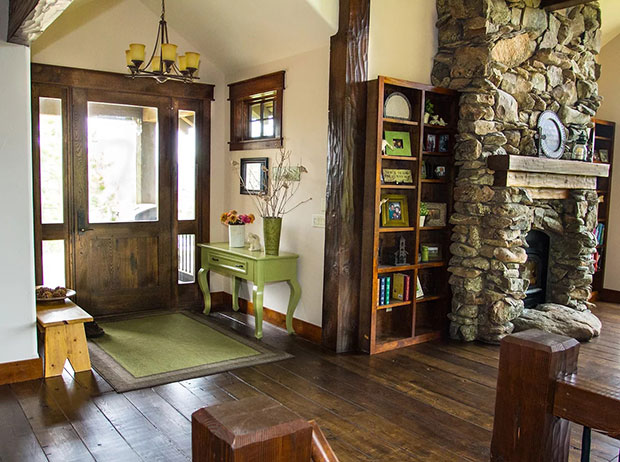 Kinley Built
For a rustic home like this, getting some brightly colored furniture in your small foyer will surely liven up this space.
Transitional Design Foyer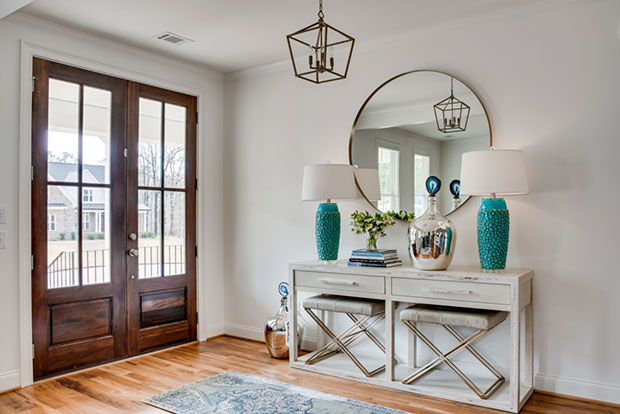 Getting a console table where you can hide the stool chairs underneath is a smart choice, especially for small foyer entrance ideas.
Bristlecone Court Transitional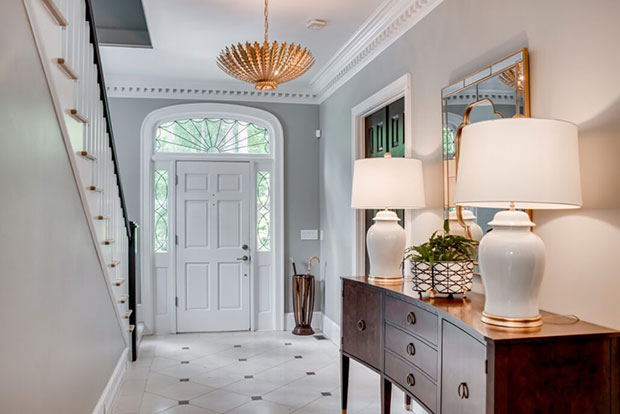 The furnishing in this foyer is not short in striking appearance. In fact, these objects liven up the room
Traditional Foyer Design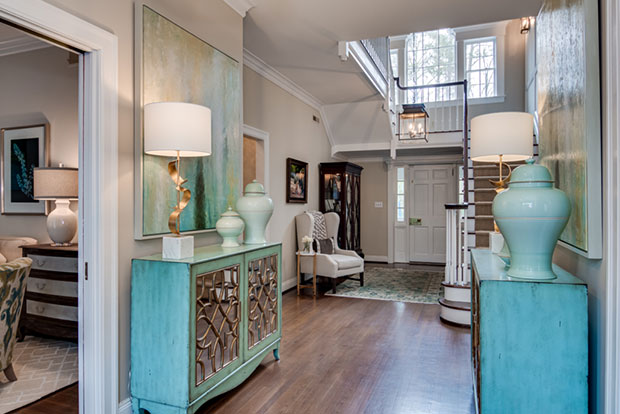 It's very fascinating to see a sofa chair in a foyer but this home makes it work here.
Traditional Design Foyer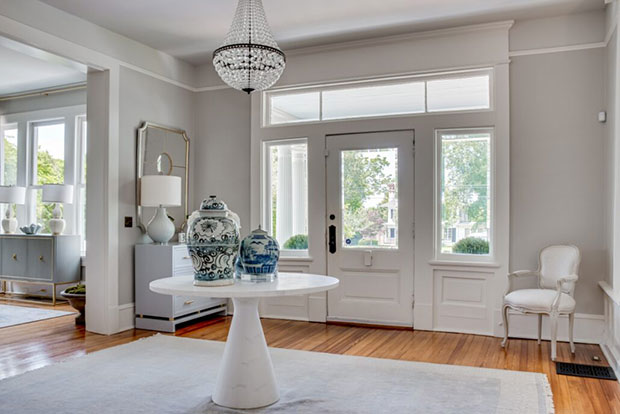 A round center table standing in the middle of a foyer to display beautiful vases and urns seems to be a thing for a lot of foyer entrance ideas.
Foyer Traditional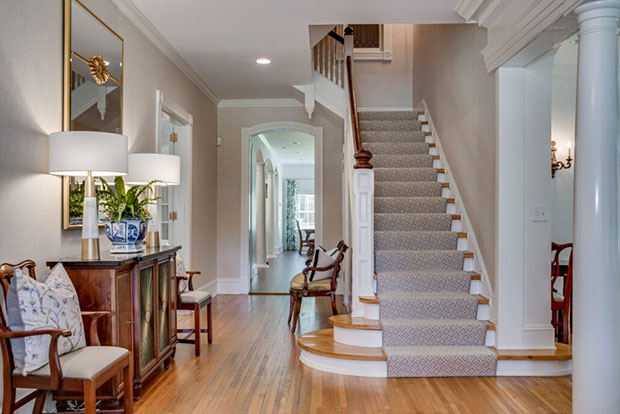 Persnickety Interiors
Placing armchairs on either side of a small cabinet would be a great alternative that adds some sophisticated style.
Contemporary Elmhurst Home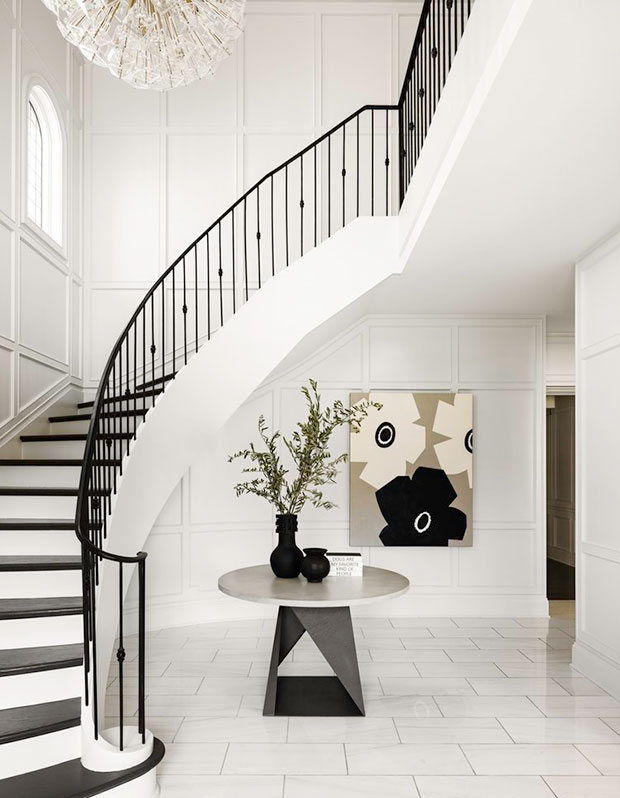 A very minimalistic style approach with a round center table where you can display vases and flowers. And the addition of modern art painting complements this.
Winnetka Home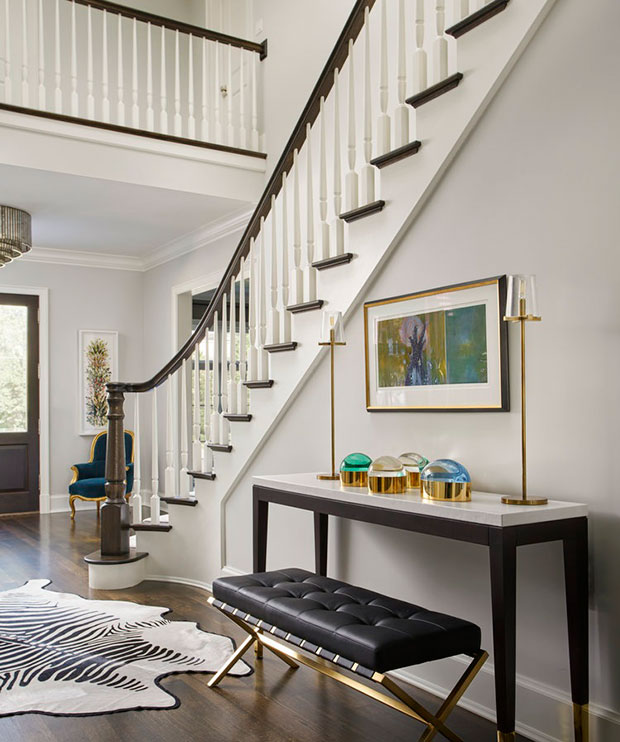 Elizabeth Krueger Design
What's interesting is that the furniture and accessory pieces are consistent with some gold highlights in them that add a charm of elegance.
Fayard Farm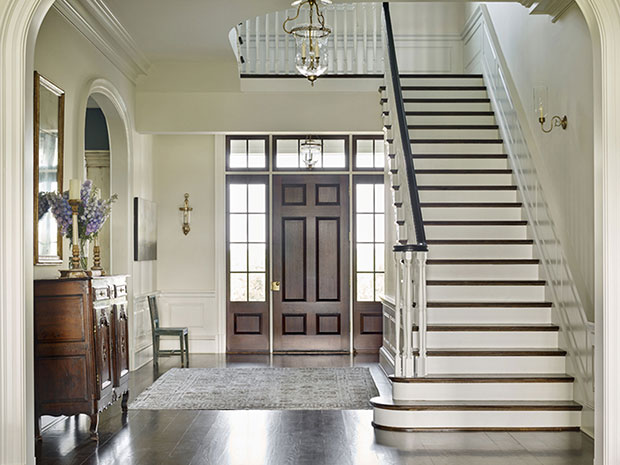 Huseby Homes
The foyer design of this home in itself has quite that traditional elegance. Some simple, shabby-chic furniture pieces certainly elevate that.
Valley Road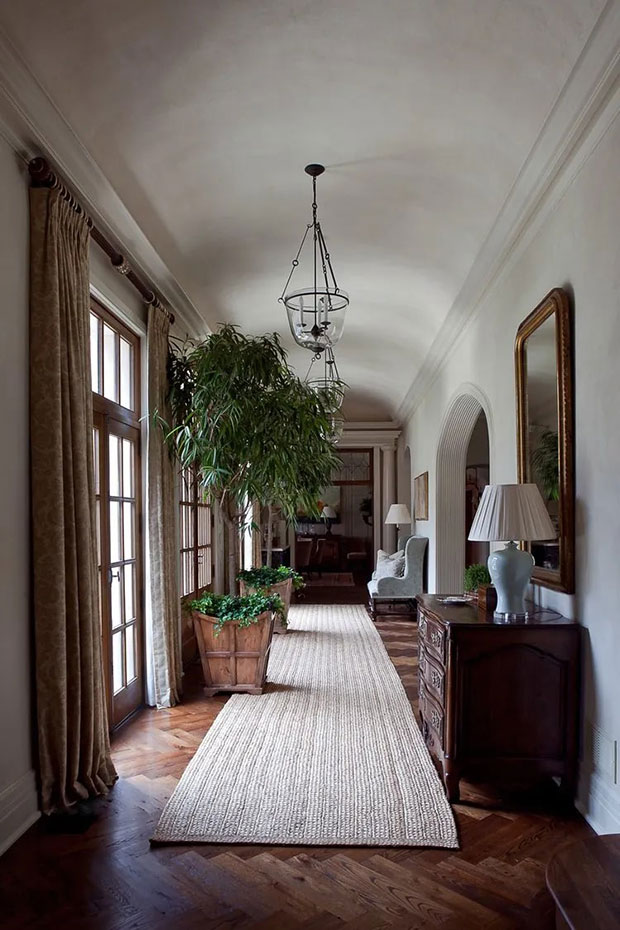 A simple runner rug to go with some rich furniture is a perfect combination that also fits with the design of this home's foyer.
Buckhead Penthouse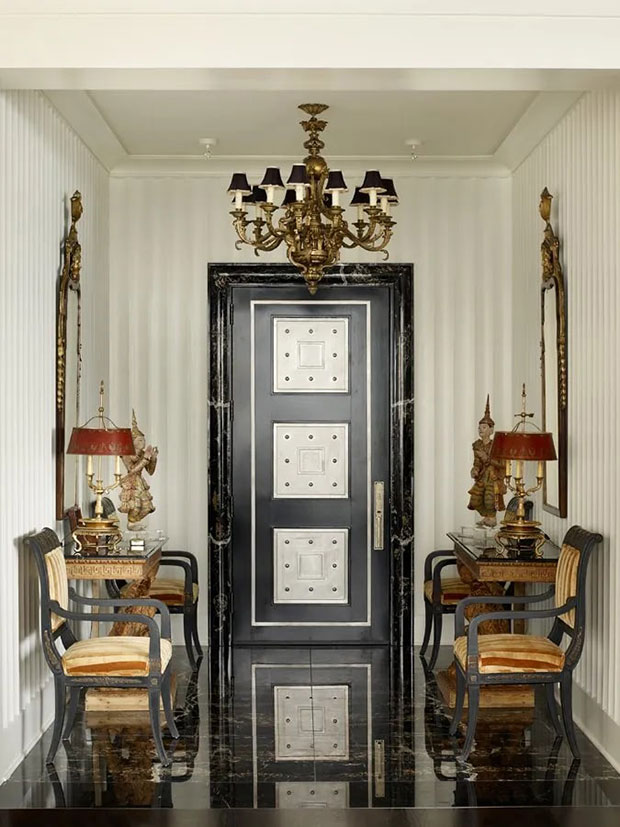 Not every extravagant-looking foyer entrance ideas require big spaces. This one, in particular, is relatively smaller but it makes it work with the color palette, furnishing, and accent pieces.
Blackberry Farm Residence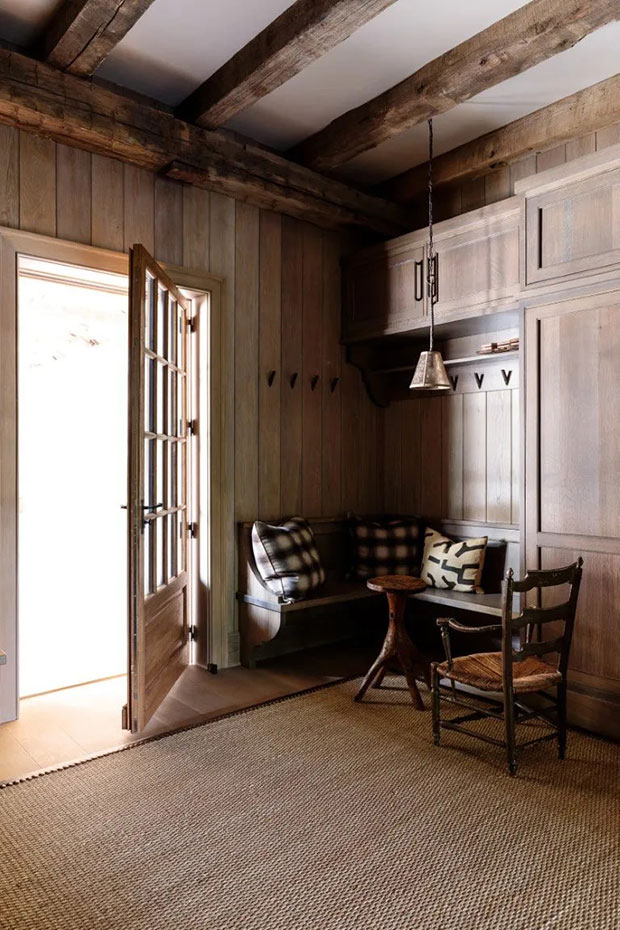 If you're looking for some rustic-inspired foyer entrance ideas, check this one out. A built-in bench seating that extends with cabinetry. Don't forget they even put up coat hangers.
Moorish Manor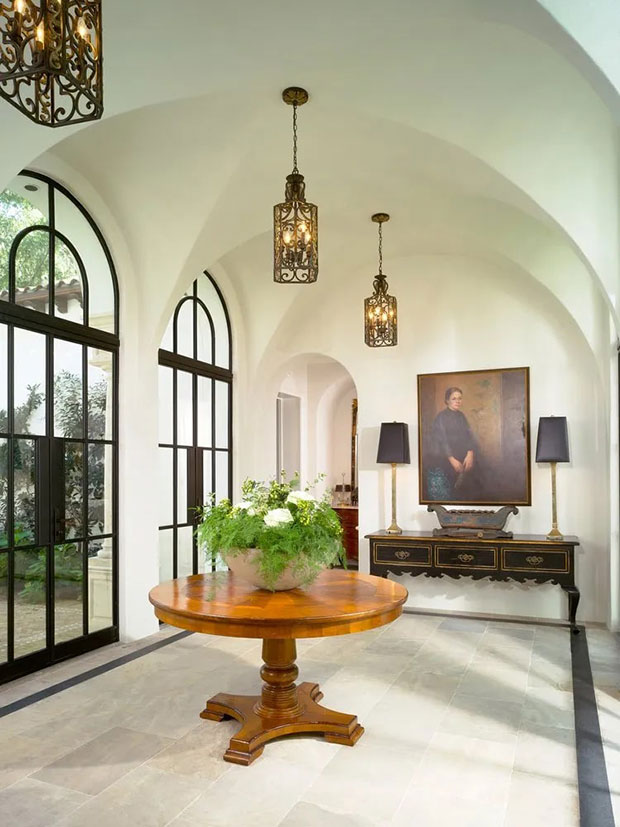 Summerour Architects
While the drawer table and its accessory pieces are consistent in color, material, and texture with the rest of the foyer, the round center table stands out.
2019 SGHBA Parade of Homes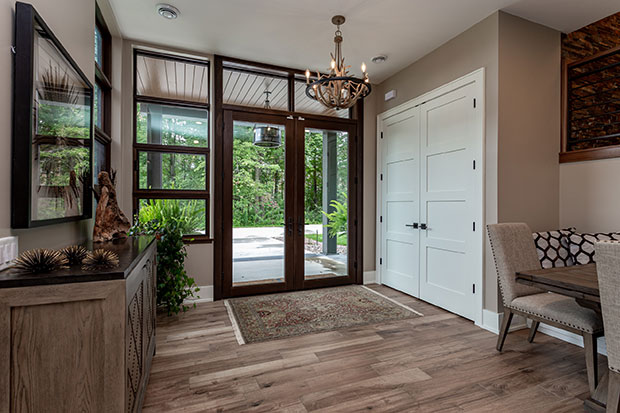 This foyer almost has every essential item listed above. But the designers did a great job in preventing it from looking overwhelming.
Hoover Residence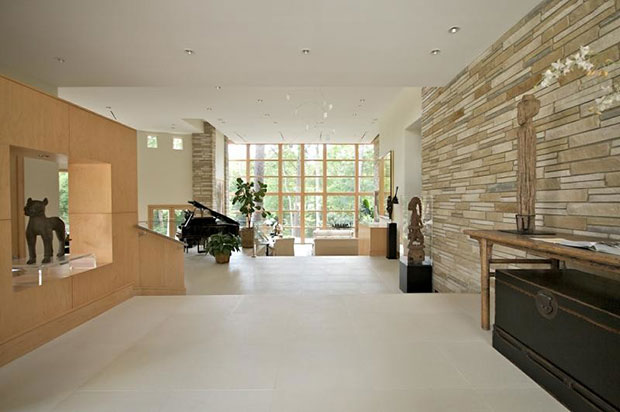 Some foyer entrance ideas with large spaces make good use of it by displaying some stunning sculpture pieces. This makes the space almost resemble an entrance to a museum.
Lake DuBay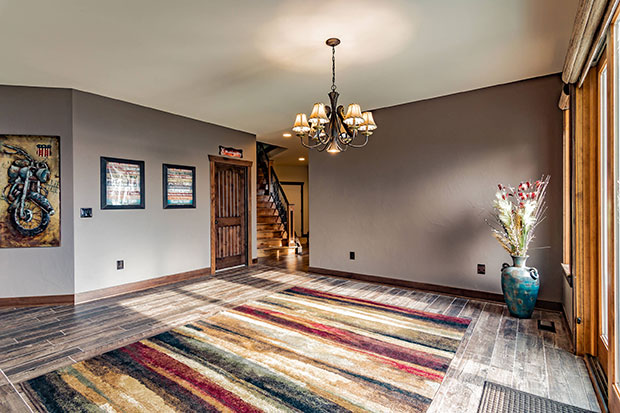 A-K Design Professionals
A colorful runner rug to go with some colorful flowers truly add some personality and life into this foyer.
Storybook Reno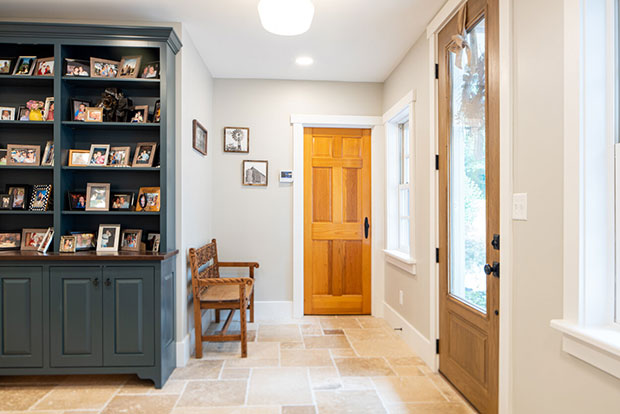 If your foyer is configured this way, you can choose to have a shelf cabinet like this as your storage space. Then, you still have room for a bench.
Sunset Grove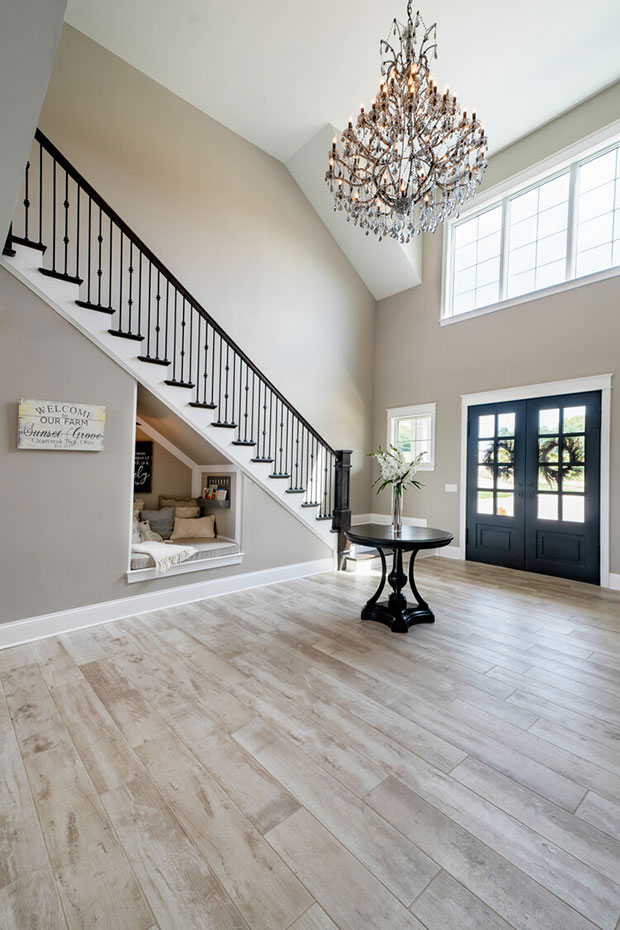 Springhouse Architects
This home's seating solution is by having it built under the stairs. This is such an efficient and clever way to save up some more space around your foyer.
Harrell Entry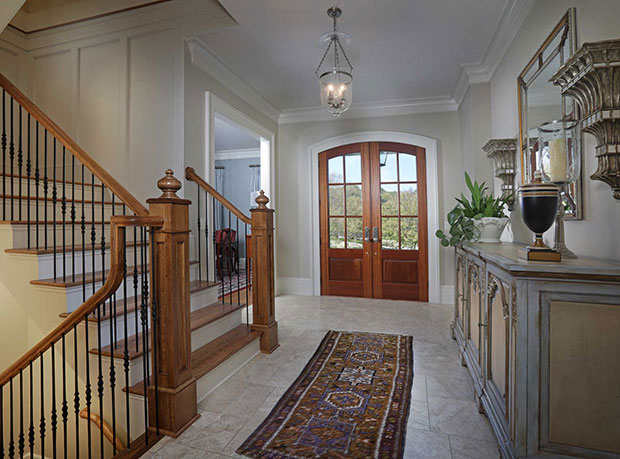 If you're going to have some rustic cabinet in your entryway, why not be consistent with this aesthetic for the accessory pieces?
Foyer Interior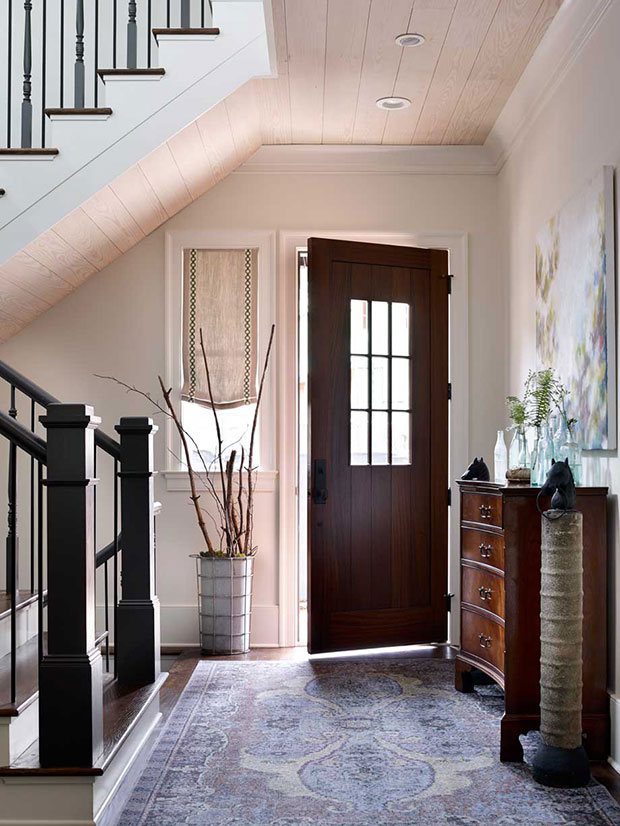 This home has pretty interesting planter choices yet it somehow works for a charming modern farmhouse aesthetic.
Farmhouse Entry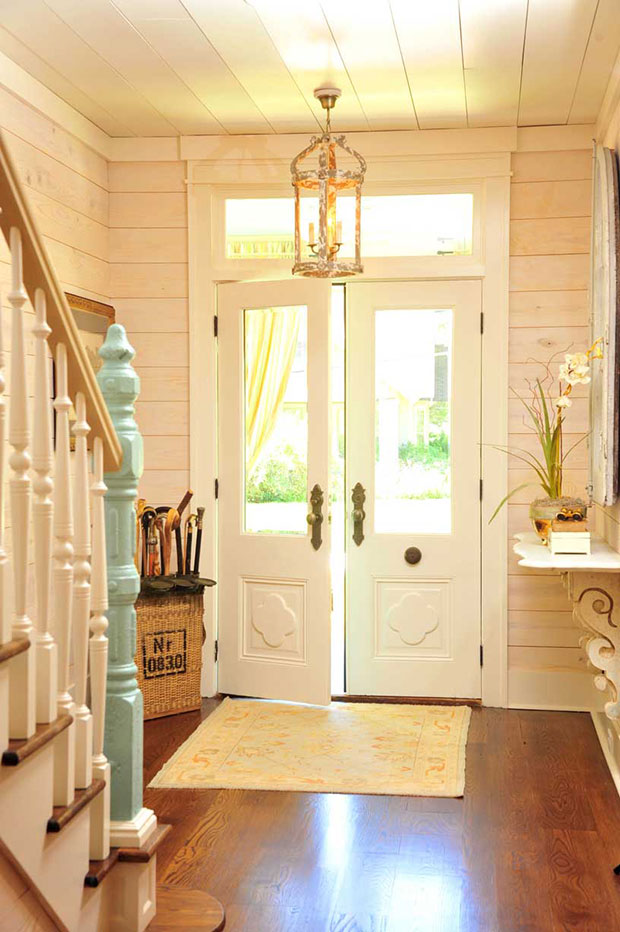 John Bynum Custom Homes
As this foyer has little floor space, it does well by having a shelf built like this instead of placing a cabinet along the path.
In The Spotlight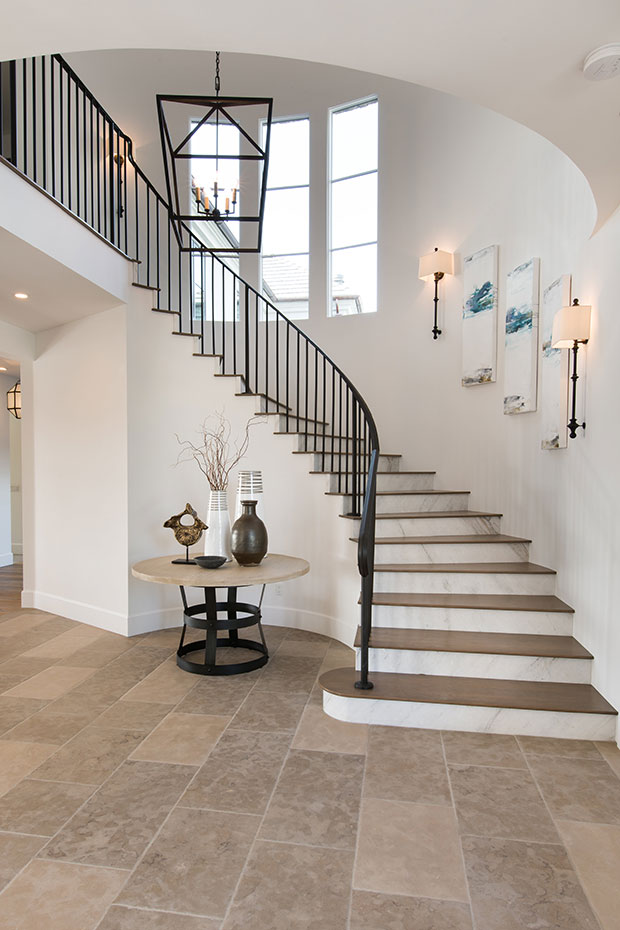 Using that curve space brought by a spiral staircase for a display table is a clever way to help with foot traffic in and out of the house.
Moma Moment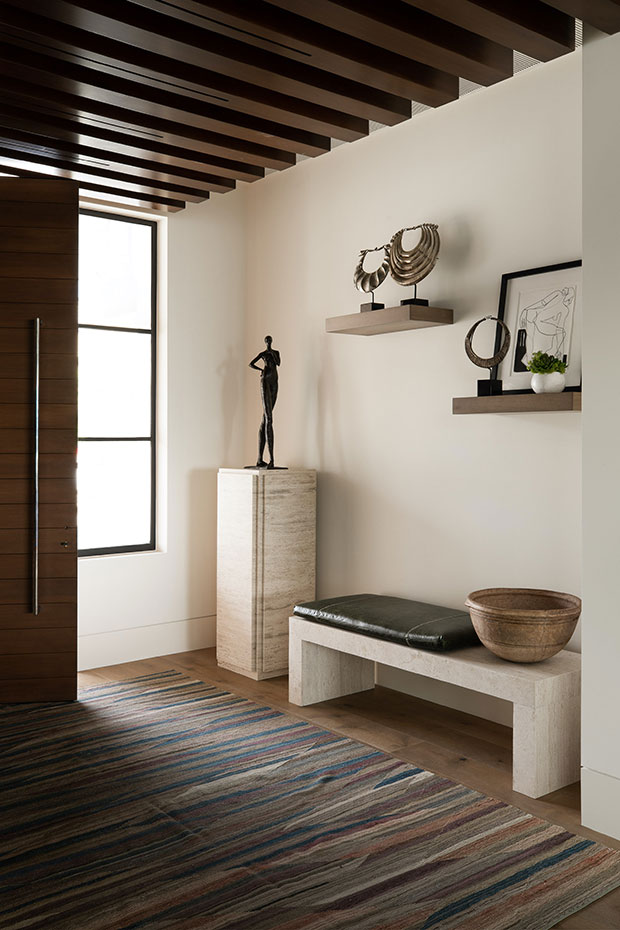 This is one of some artsy foyer entrance ideas on this list with the interesting sculpture pieces displayed.
Cliff Hanger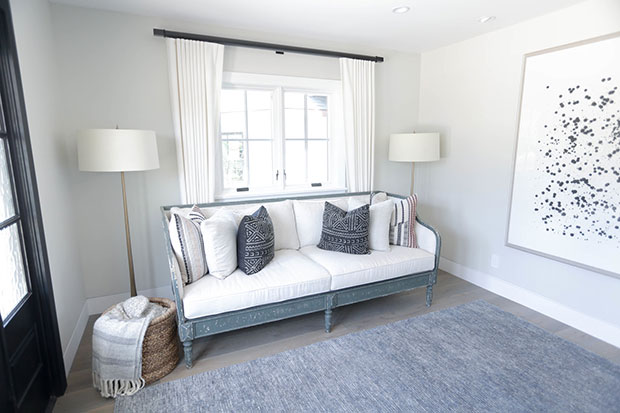 For those who slip their shoes on and off at the entryway, having a small cushion seat like this could very well be your style.
Wild Thing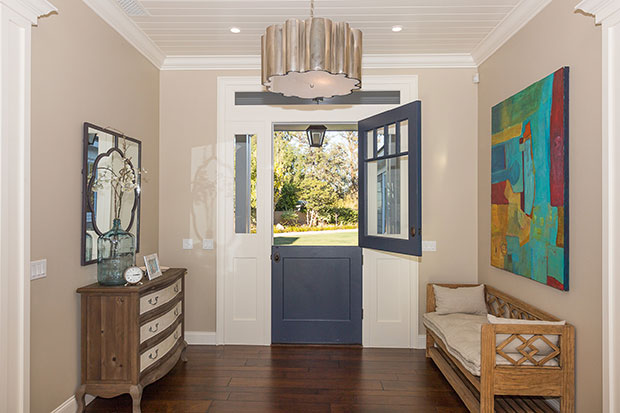 From the furniture choices to the accessory and accent pieces displayed, this foyer has some eye-catching pieces that will surely be appreciated by your guests.
Hilltop Hacienda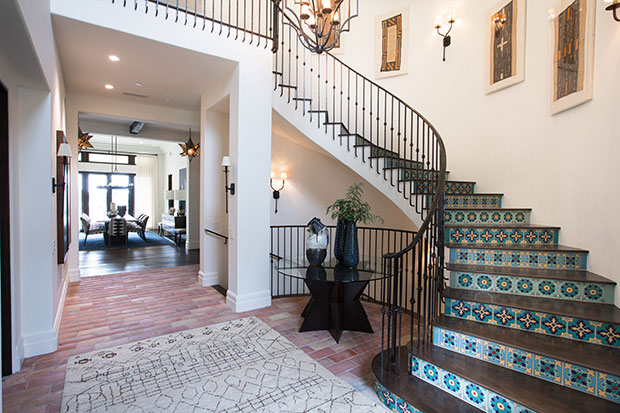 Denise Morrison Interiors
The colorful staircase risers already do so much in terms of the room's color palette. So, there is no need for more eye-popping accessories in this entryway.
Tampa Palms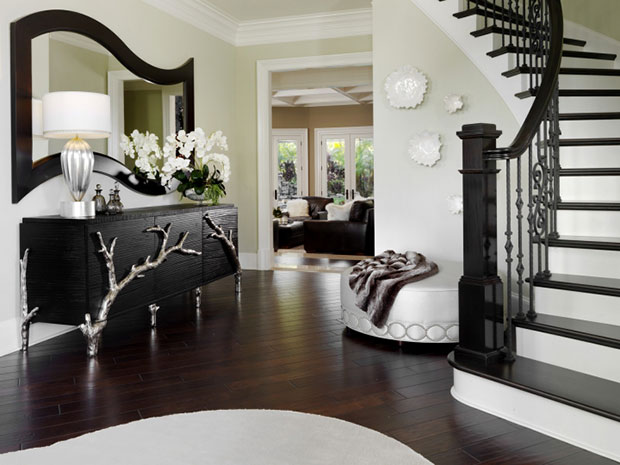 Terri White Design
This foyer has some very interesting furniture design pieces. But the color palette is very consistent with that of the rest of the room.
Modern Farmhouse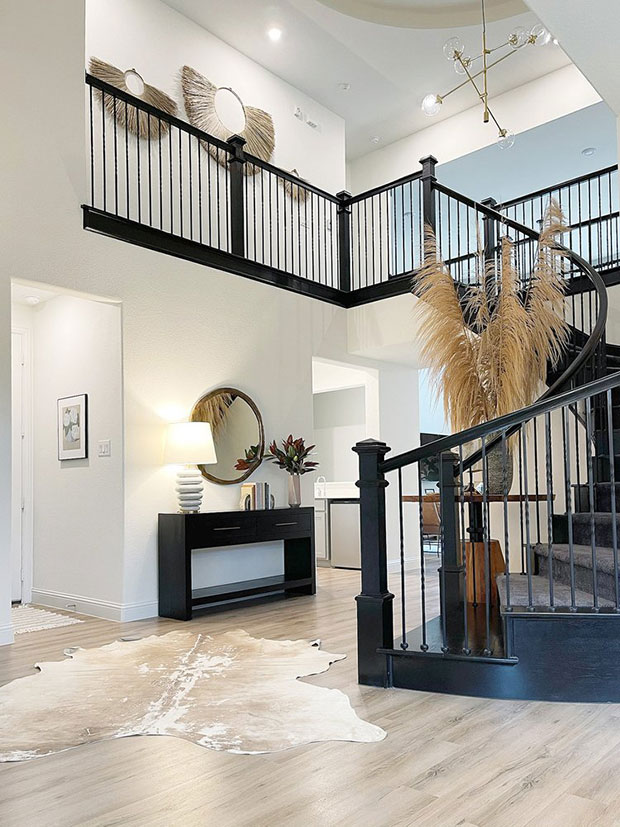 House Sprucing
Furniture pieces that are not too heavy are perfect choices to not make the area look cramped.
Bellaire Circle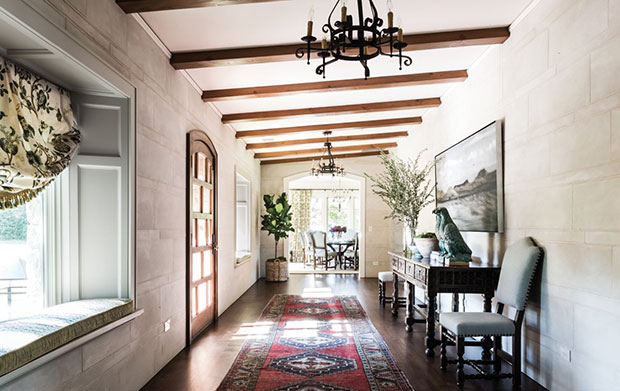 The ornate furniture pieces and runner rug truly liven up and add some personality to this foyer.
Modlin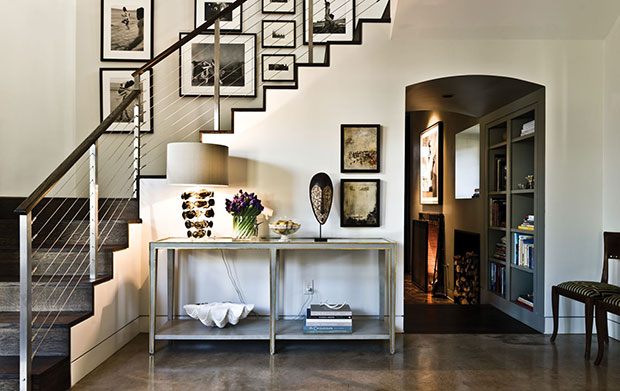 Small but striking accessory pieces are enough to truly make a statement in this foyer.
Riverhills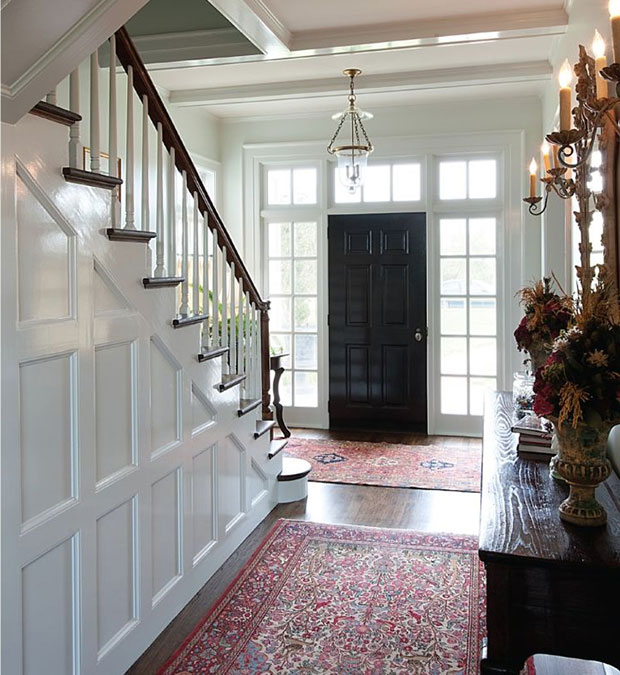 V Fine Homes
Usually, foyers configured like this will have one runner rug that is usually perpendicular to the front door. But this one has two similar runner rugs to add style to the floor.
Wallaby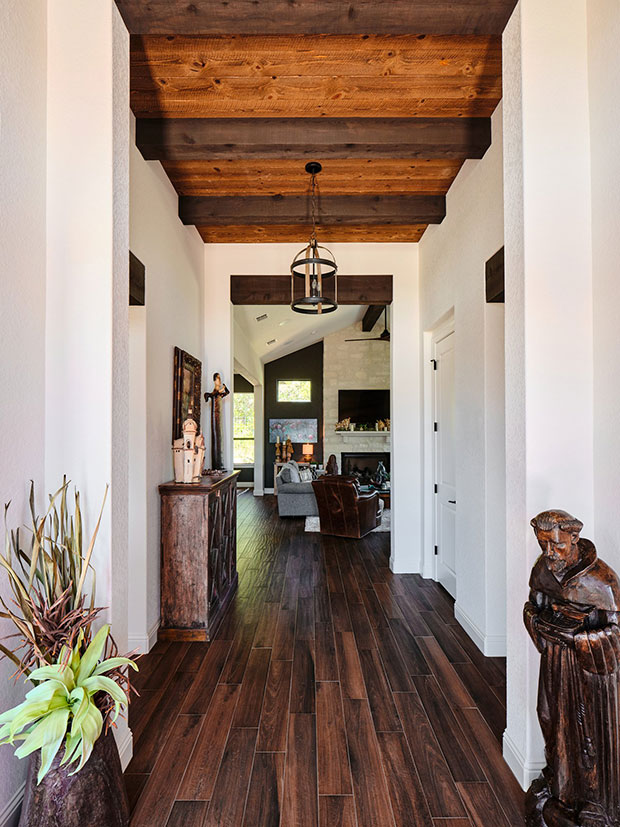 The best thing about this foyer is how consistent the material and texture are in their furniture and accent pieces.
Entre Rios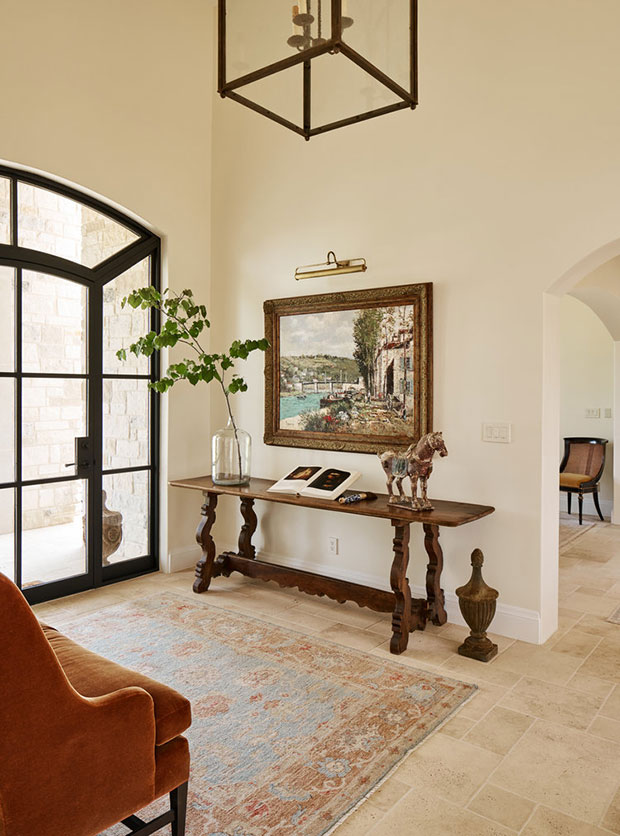 The accent pieces all complement each other. Then, there's that jar with a singular stem of a plant. It makes for a very interesting visual.
Koala Court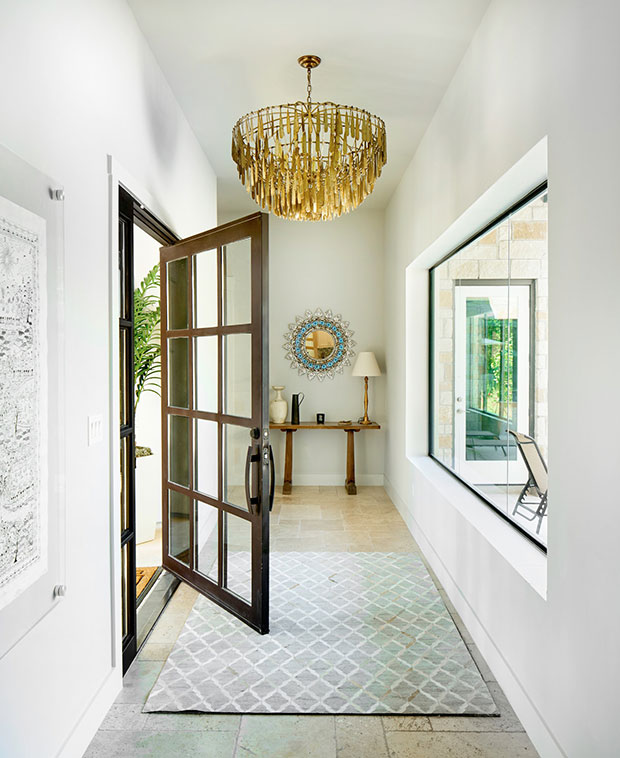 The ornate mirror, impressive chandelier, and all those accessory pieces stand out in an otherwise simple foyer design.
Fallen Oak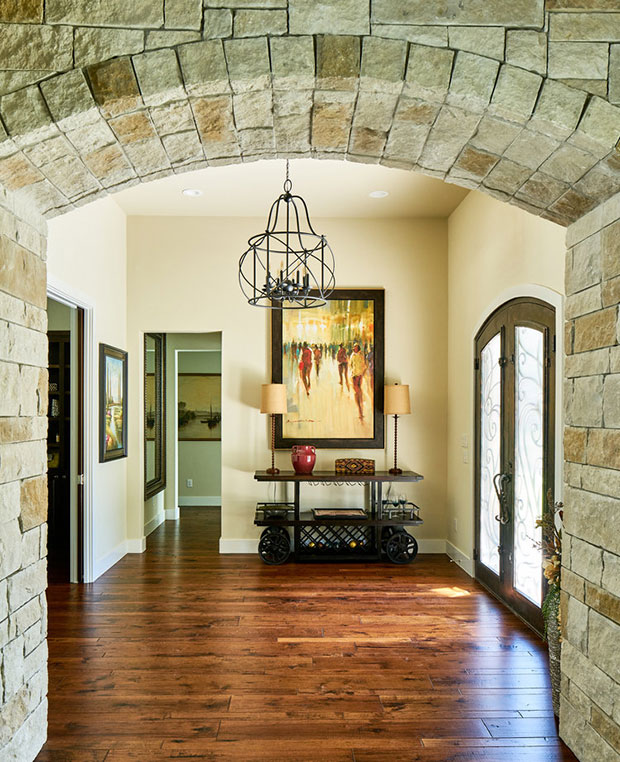 Keith Wing Custom Builders
A table with wheels is a smart choice if ever you want to move things around your foyer. But more than anything, this table design goes along with the art and accessory pieces.
Saddle Run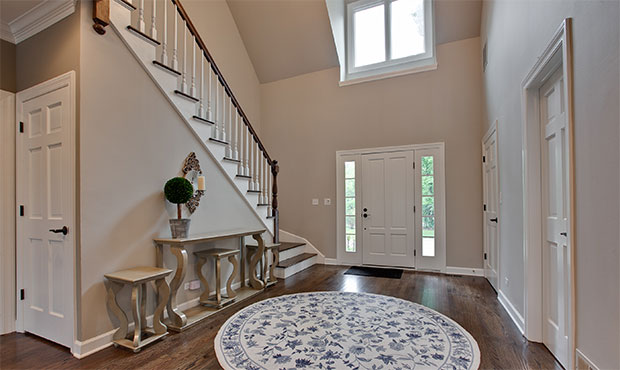 Newlook Construction LLC
Instead of the usual rectangular-shaped runner rugs, this home opts for a round rug.
Entry Way Tables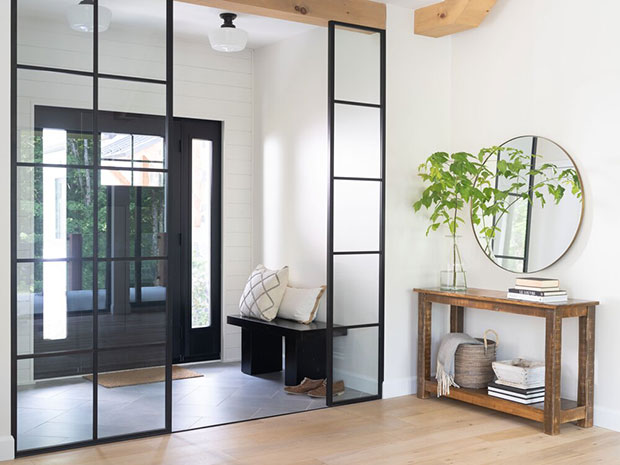 Plaza Interiors
Here's to some minimalistic style approach but with a charm of chicness.
Claremont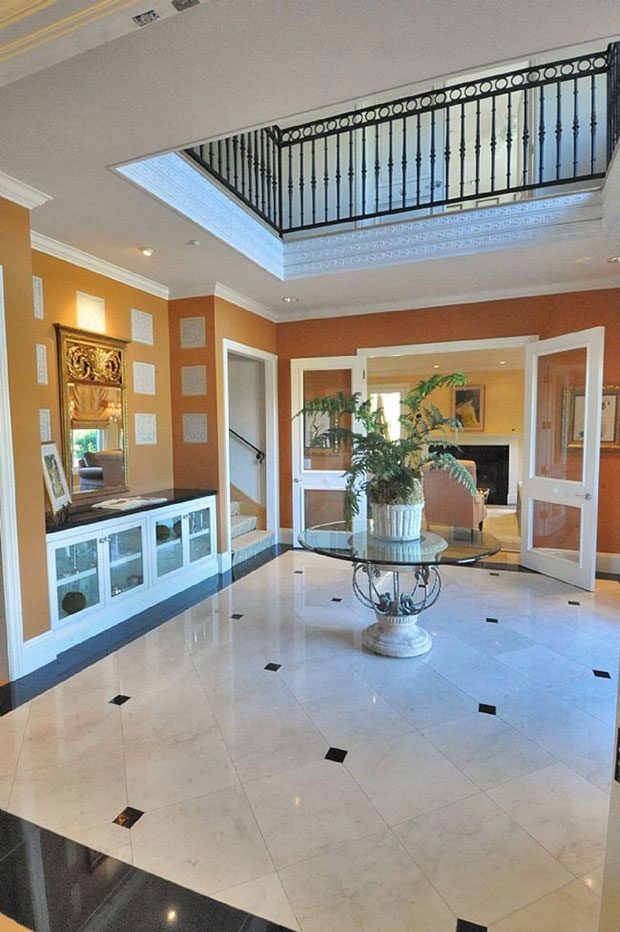 Placing a storage cabinet that fits right in between walls saves up a lot of space and then allows for a huge round table like this in the middle of the foyer.
Claremont Remodel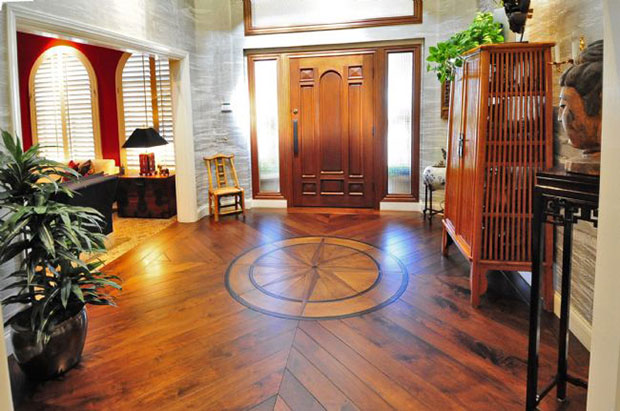 Some foyer entrance ideas get much of its impeccable design on the area in itself, such as this particular floor design that wouldn't need any area rug anymore.
Clarement Home Remodel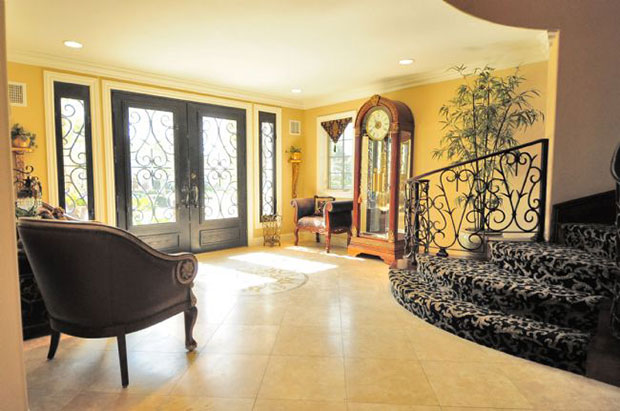 RL Pruitt Construction, Inc
While there's so much stylish furniture going around in this foyer, it is this grandfather clock that truly stands out.
Blake Home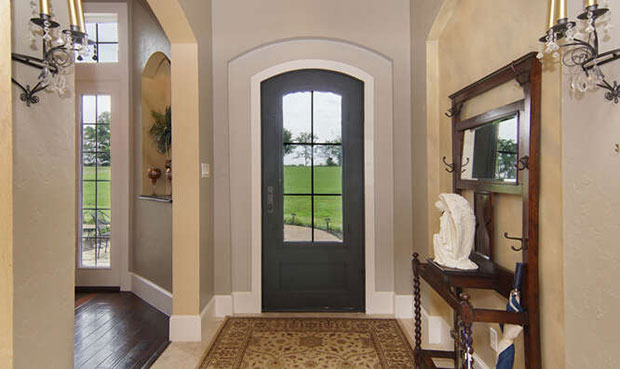 This display furniture is truly outstanding and unique in its own configuration. It alone brings some personality to this entryway.
Eberhart Home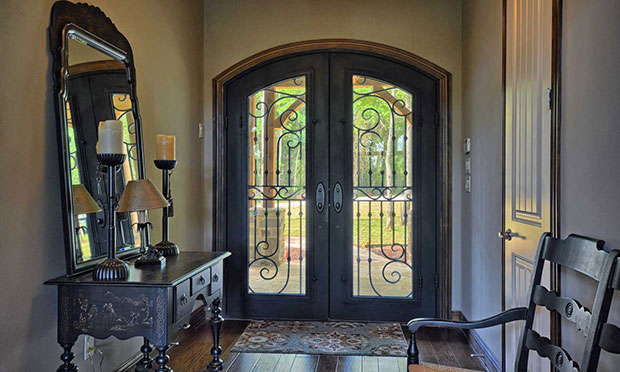 The style and design of these furniture choices live up and fit in with the front door aesthetic.
Simoneaux Home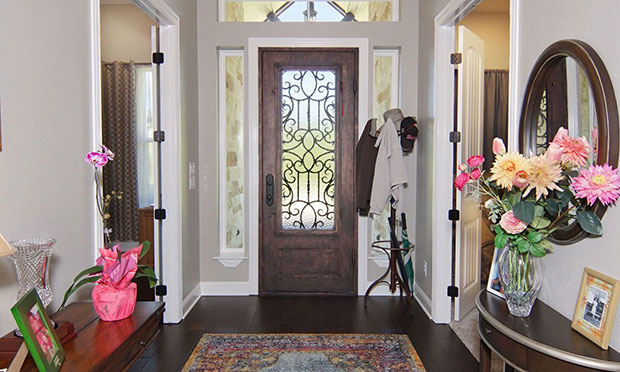 Mike Blake Custom Homes
Some foyer entrance ideas liven up alone with floral additions like this particular home's entryway.
Custom Modern Home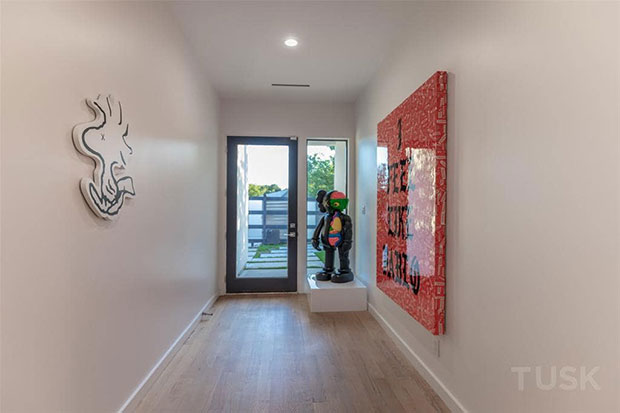 Houston Plans and Permits
This home's foyer is quite unique in the sense that it doesn't care much about storage and coat racks. But instead, they have these art pieces that definitely showcase the homeowner's personality and style.
Nellie Gail Farmhouse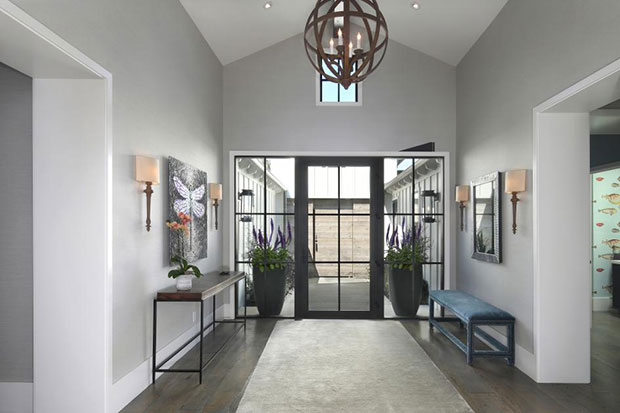 Studio 6 Architects
Usually, when this combo of items in the foyer appears, the mirror is on the same side as the console table. But they shake things up here in this home.
Interior Foyer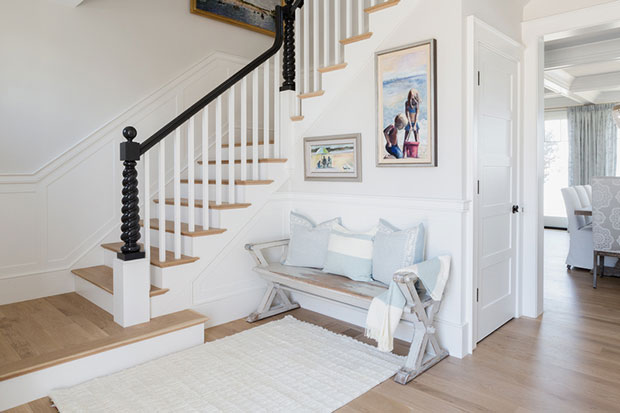 Lea St. Germain Photography
A little bench seat, complete with throw pillows, and picture frames above bring a very cozy and homey feel as you enter this home.
Coastalwood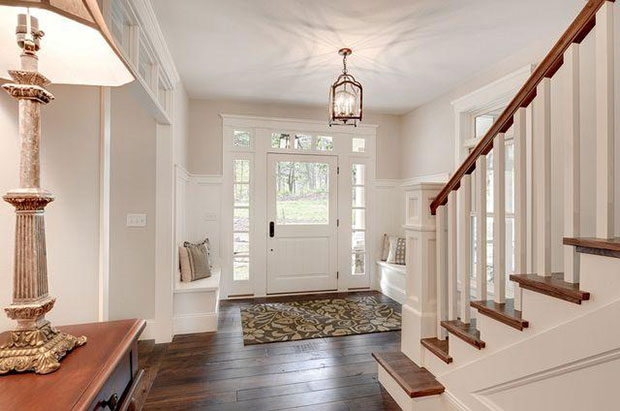 It's pretty interesting to see that they have built-in bench seats on either side of the front door.
Briwood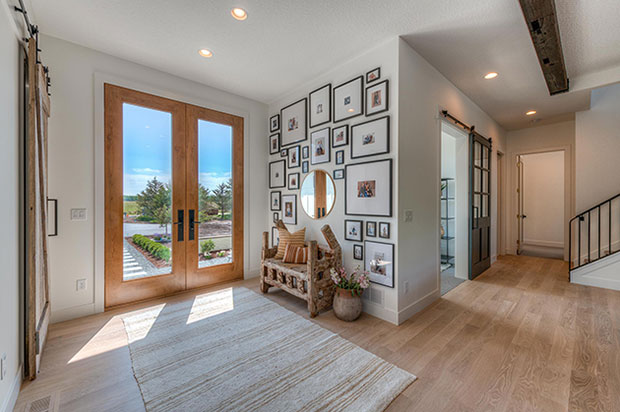 The plethora of picture frames around a small round mirror is chic and charming.
Rustwood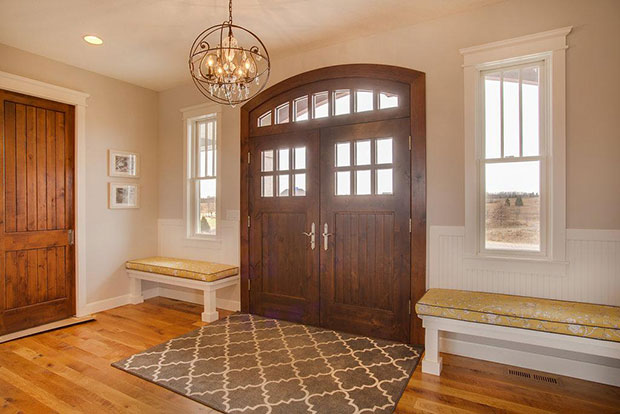 Divine Custom Homes
The highlight in this foyer is the charming and unique chandelier design that will surely grab attention.
That's it for some foyer entrance ideas that will surely have the guests feel welcomed as they step into your homes! Which one of these was your favorite?
Like This Post? Pin It!