50 Fresh Flower Bed Designs for Homeowners With Green Thumb
|
Do you have space outside the house that you can make into a garden? How about some beautiful flower bed designs to make it better?
Gardens are perfect for people who love staying out but refuse to get away from the house. It is also an amazing hobby that you can grow into a business (if lucky enough to have the right resources).
Having gorgeous flower bed designs at home is not only pleasing to the eyes but relaxing as well. Gardening and the output that comes with it considered to be therapeutic as it boosts moods, build strengths, and fight diseases too.
If you are considering having a garden at home and owning beautiful flower bed designs, we will show you some great inspiration!
How Do You Layout a Flower Bed?
Like everything else in your home, flower bed designs should also be treated with care. It is a form of art that reflects your taste and your personality.
Below are some useful things to remember when deciding on the layout of your flower bed:
1. Add curves. Curves add interest and you should take advantage of them especially if your property has straight and angular lines.
2. Keep tall plants at the back. To maximize the visibility of your plants, remember to arrange them in a way that all of them can be seen. This means keeping the taller plants in the back beds and keep height toward the center for stand-alone beds.
3. Keep the background in portion with the rest of the bed. Keep the height of the background such as fence or shrub border, as tall as the bed is deep.
4. Coordinate colors. Use colors that are opposite each other on a color wheel. Remember to keep the same colors together.
5. Keep front beds smaller. To make your flower bed design more interesting, remember to keep the first ones less interesting but still lush, than those at the back. This will create interest as people survey them from the front.
What Are The Best Plants for a Flower Bed?
Not all plants thrive and live in the same season. Not all bloom all-year-round. Hence, it is important to know the ideal plants in your area.
If you want a beautiful and attractive garden, then one of the important items to make sure is that you have flowers and plants that bloom and thrive the entire year.
Below are some plants to have in your flower bed designs:
1. Annual Plants
Annual plants are those that flower and die in one season. Some of these plants drop seeds that grow into another in the spring.
Annual plants are considered to be low maintenance and can be used to freshen up the front porch or add a major curb appeal.
Examples are angelonia, begonia, celosia, and chrysanthemum among others.
2. Perennials Plants
Perennials are plants that come back for many seasons. Although these plants die in the winter, new growth appears the following spring from the same root system.
While most of these plants can be more expensive, these plants are also maintenance after initial planning.
Examples of perennials plants are hostas, shasta daisy, false indigo, and daylily.
3. Bulbs
While bulbs can be both annual and perennials (depending on the kind and type), for the sake of discussion, we will include them here in the list.
Generally, bulbs can be separated into 2 main types: spring bulbs and summer bulbs. Bulbs are little packets of flowers that often take their time to bloom. They refer to the true bulb, tuberous roots, tubers, corms, and rhizomes.
Some popular bulb plants for your flower bed designs are tulips, daffodils, crocus, alliums, and hyacinth.
4. Shrubs
Shrubs are perennial woody plants that have persistent woody stems above the ground. They provide long-term impact and are amazing for borders in your flower beds.
Some of the popular shrubs that will be perfect for any flowers bed designs are hydrangea, abelia, lilac, and rhododendron.
Flower Bed Designs for Inspiration
If you are looking for the perfect flower bed designs, check out these for inspiration!
Floral Garden Layout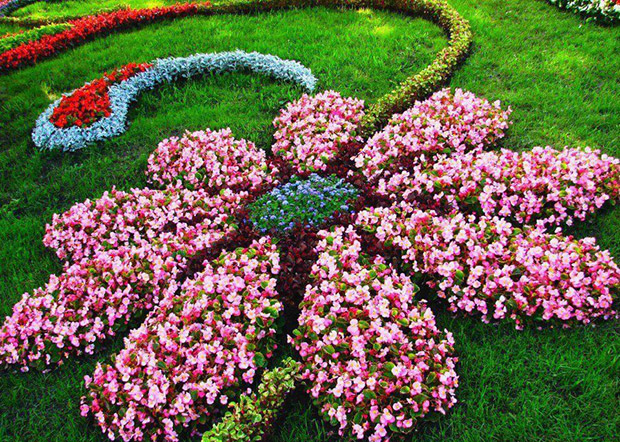 Alternative Net
This gorgeous flower bed adopts a floral layout.
Garden Spaces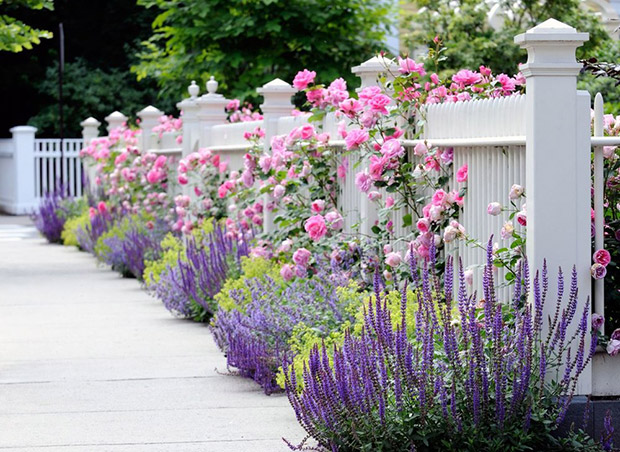 Dabah Landscape Designs
This flower bed design features a Russian sage and lady's mantle. The colors of the flowers look amazing with the white fence.
Slanted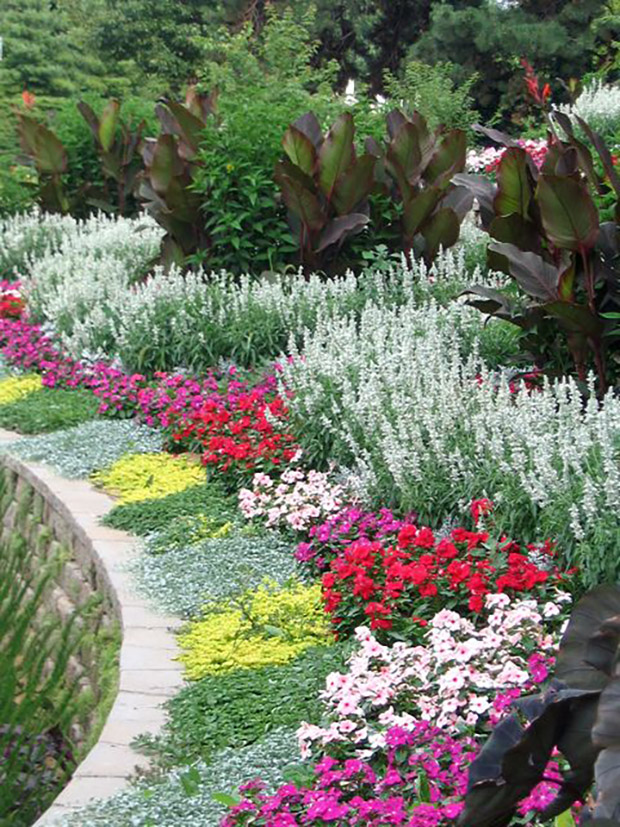 David Kelly
To add a sloping effect, the plants here are arranged according to the height.
Green Edging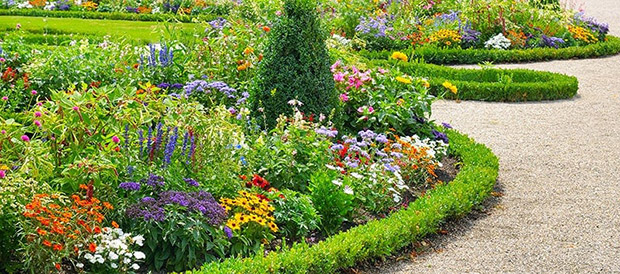 Tree
The green edging of this flower bed design adds a softer look to the garden.
Elegant Country Estate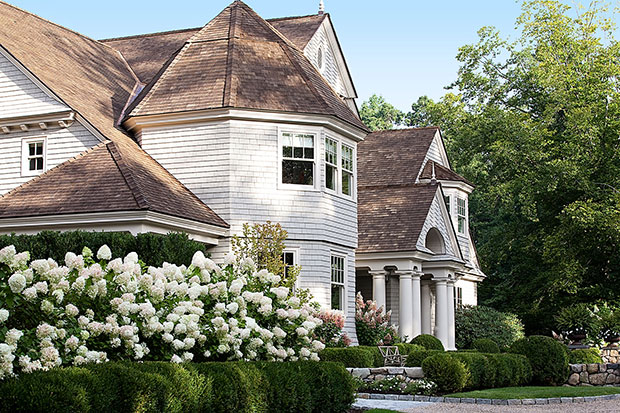 Artemis Landscape Architects
This estate is surrounded by a gorgeous garden of flowers and beautifully maintained shrubs that serve as an additional wall to the house.
Flowering Vines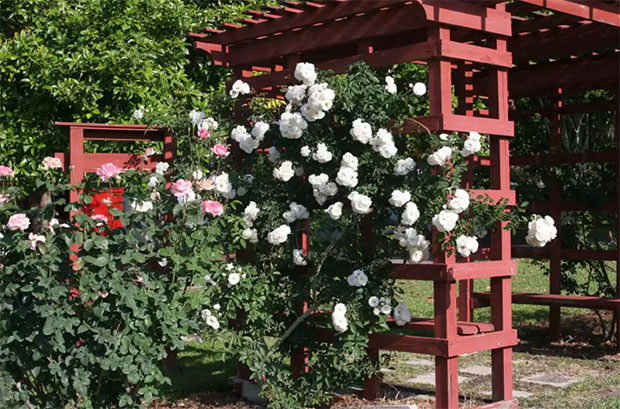 Malcolm Manners
This flower bed design showcases flowering vines artfully incorporated into a trellis. It adds a nice contrast to the red color of the wood.
Front Yard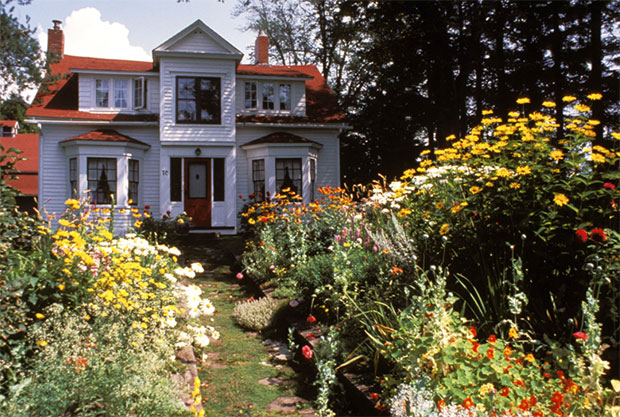 Education Images
The flower bed design on this home is placed like a welcoming art at the front yard with flowers in bright colors.
Hollow Log Bed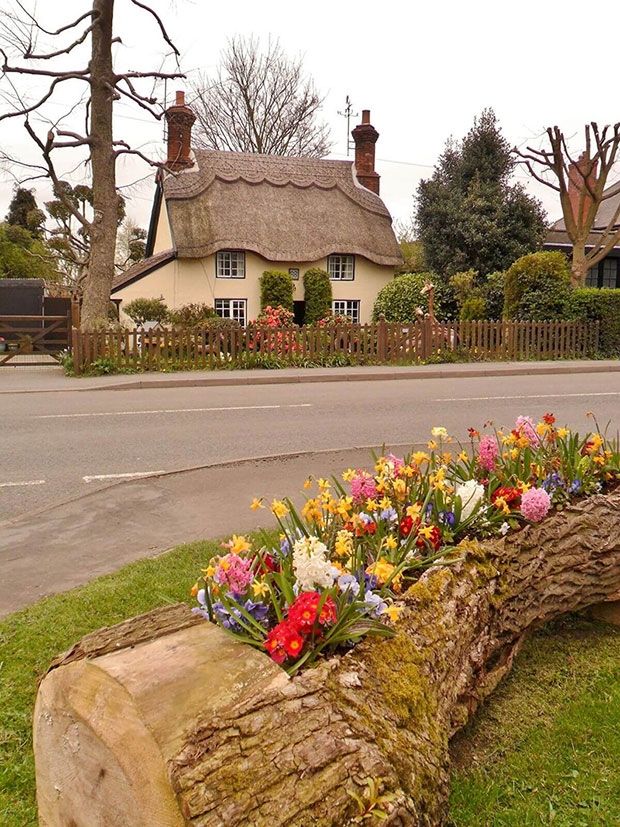 Aldridge
If you have an extra log in the garden, then you can definitely use it as a flower bed just like this!
Symmetrical Built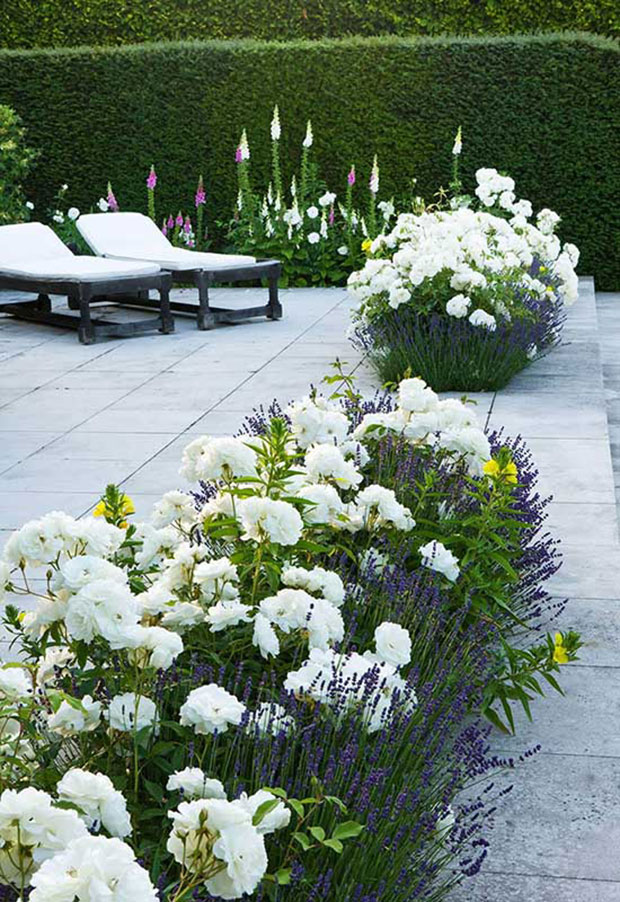 Jardin Blanc
The flower bed design gives off the illusion of the flowers are growing from the concrete.
Antique Flower Bed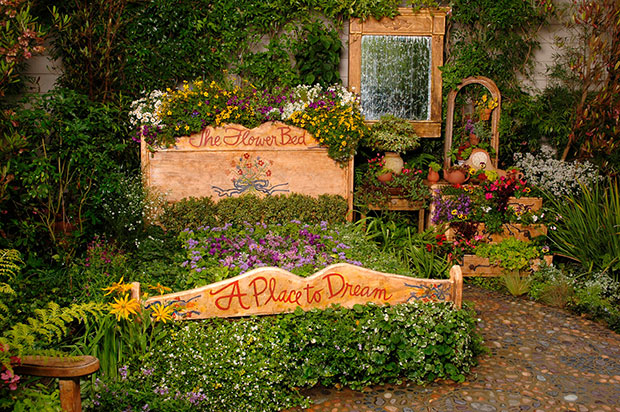 Stephen
Literally a bed, this flower bed design is framed by an unused and old bed frame.
Landscaping


Alderwood Landscape Architecture
This garden has small bushes on the pathways and small groups of plants ditted on the flower bed.
3-Tier Walterfall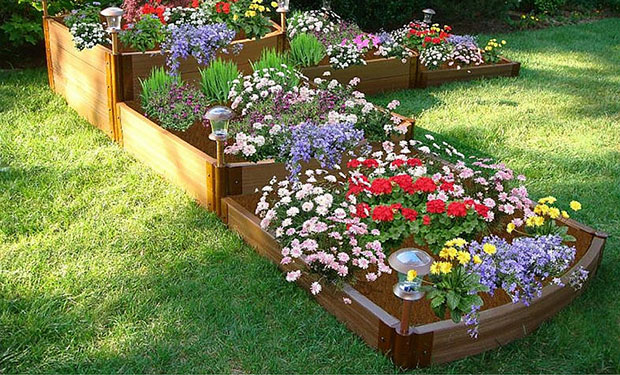 Raised Beds
This flower bed designs feature a 3-tier wooden box that adds an interesting and homey touch to the flower bed.
Brookline Brownstone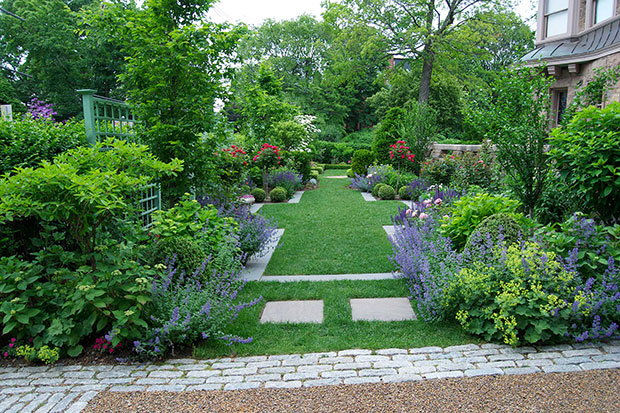 A Blade of Grass
The designer made us of gorgeous lavenders to add color to a garden rich with green landscape.
Perennial Flower Bed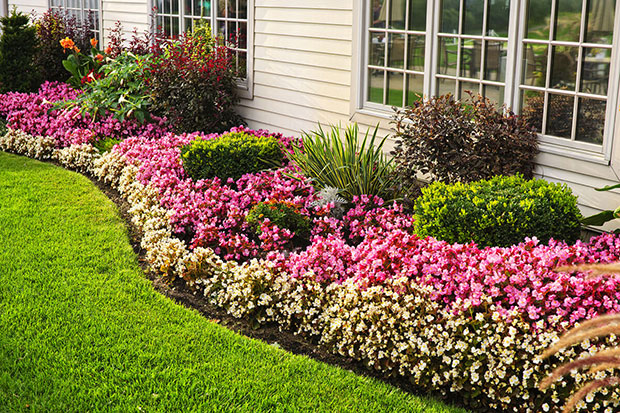 CT Better HS
Another cool example of a great flower bed designs is this curvy border right at the windows with brightly colored flowers to catch attention.
Planting Bed Tulips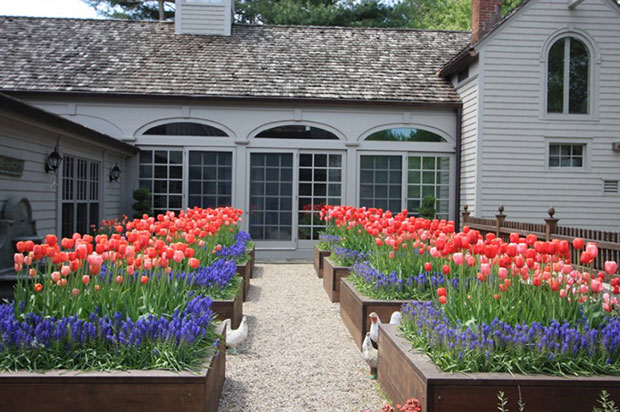 Conte and Conte
If you are in love with tulips, this planting bed is a gorgeous idea. It is neat and clean to look at.
Tree Stump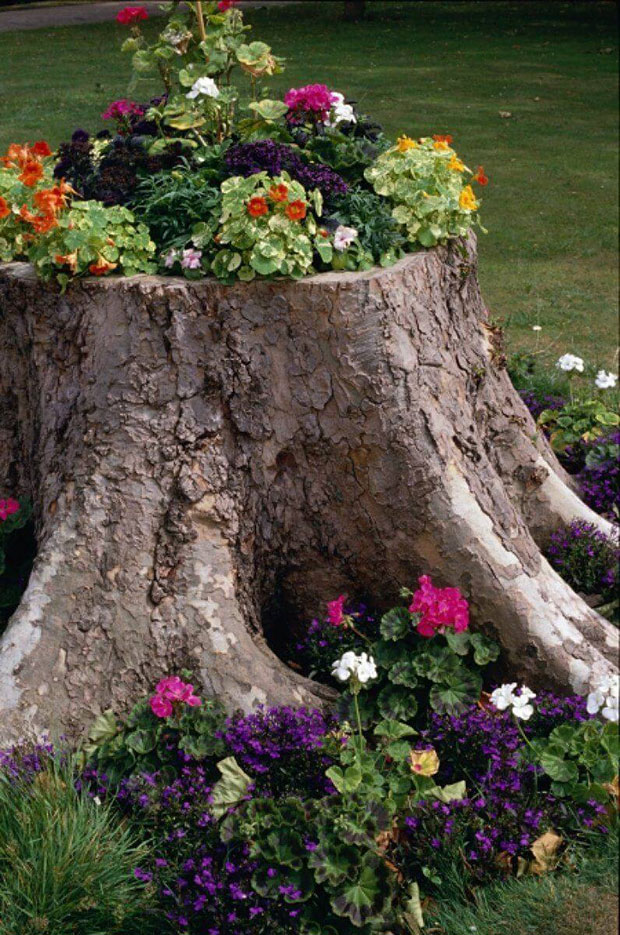 The Gardening Cook
Like the hollow log, an old tree stump can be used as a flower bed too.
Santa Barbara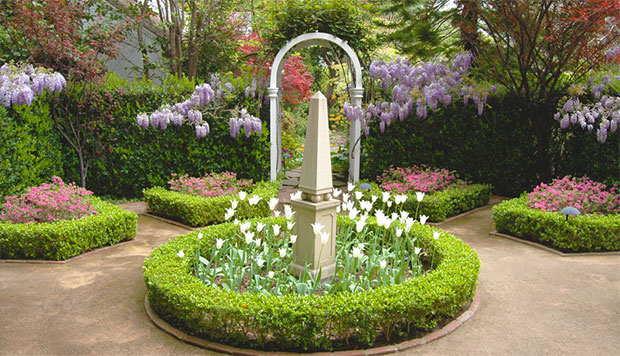 Bill Mellett Design
The garden has lovely organized flower bed designs and one that stands out most is the one on the center with the garden sculpture.
Spilled Flower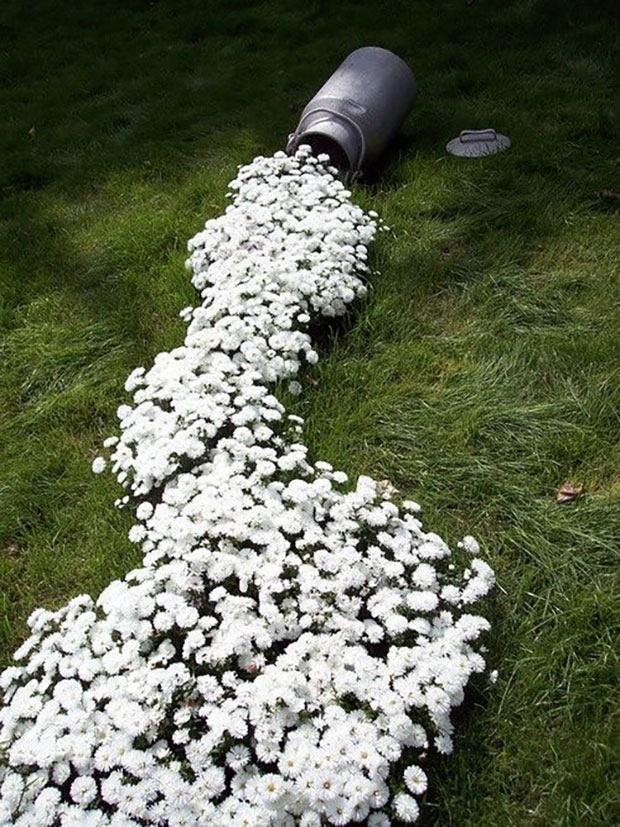 Vertebella
Another bright idea is to arrange the flowers in a way that make them look like they have spilled into your garden.
Gravel Bed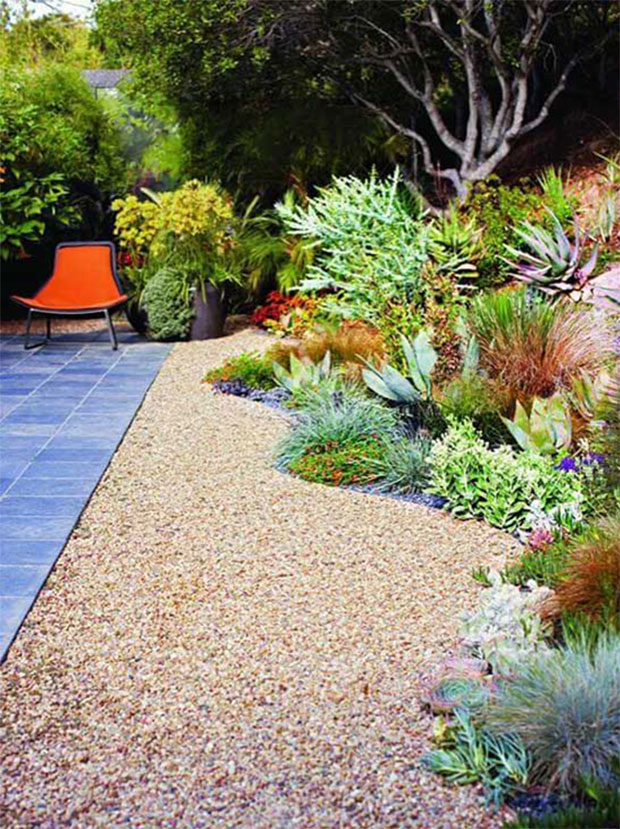 Garden Design
This example of flower bed designs shows a garden with gravel around it. It further emphasizes the flower beds and gives off a beach vibe.
Wine Barrel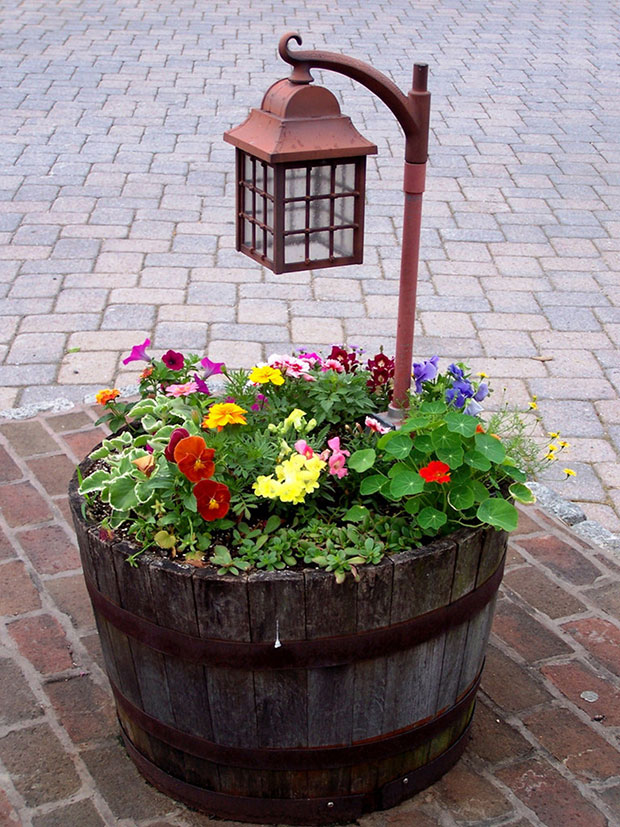 Bobvila
Another fantastic flower bed designs we feature here is this wine barrel flower bed. It has a classic look which is made even more pronounced with the lantern.
Bench Cinder Block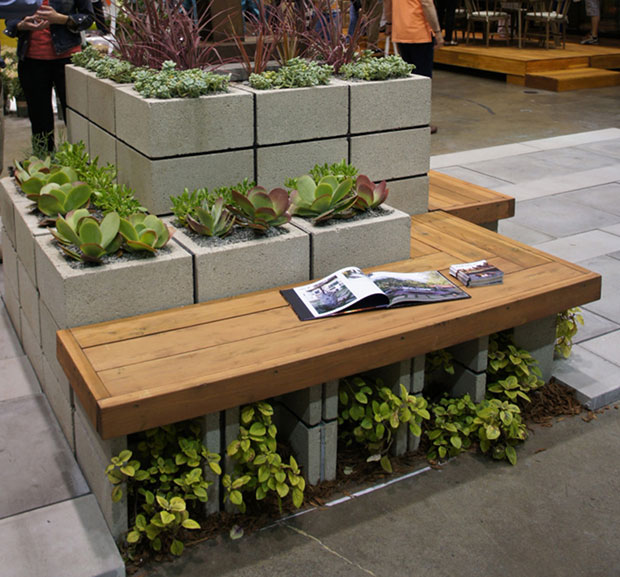 Potted Plant Society
Add a cool and functional twist with your flower bed designs by creating a seating area just like this.
Mediterranean Landscape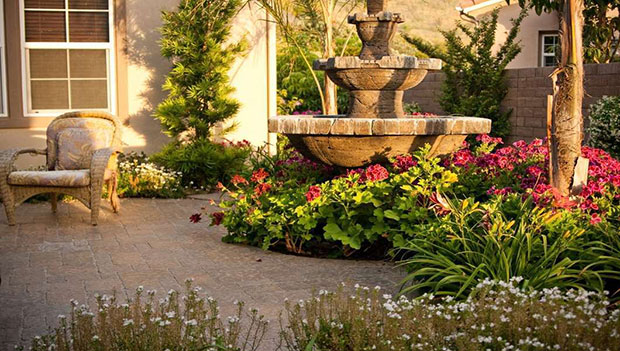 Western Outdoor Design & Build
Another cool flower bed designs can feature a classic statue or sculpted artwork at the center and surround it with plants for a Mediterranean look.
Planted Pots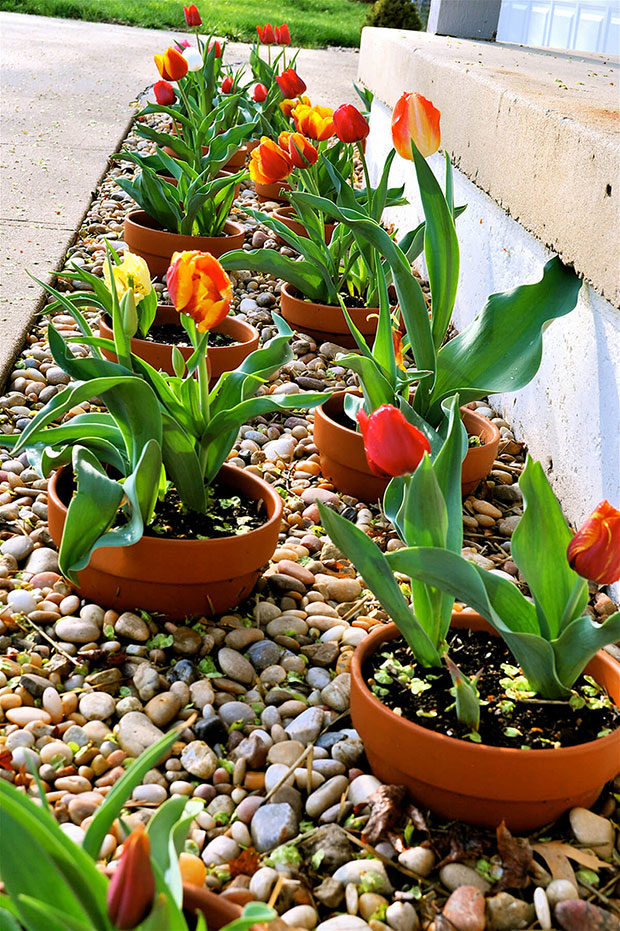 Sequin Gardens
If you have extra pots with flowers or plants, arrange them in the garden and place some stones around them for this charming effect.
Flower Bed with Pots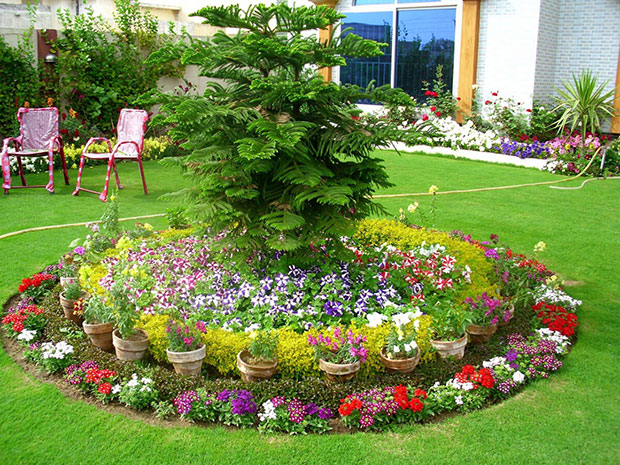 Housely
Instead of the bushes, you can use pots to serve as a marking on your flower beds just like this one. The flowers are arranged by height with the tallest at the center and the smallest at the front.
Italian Influence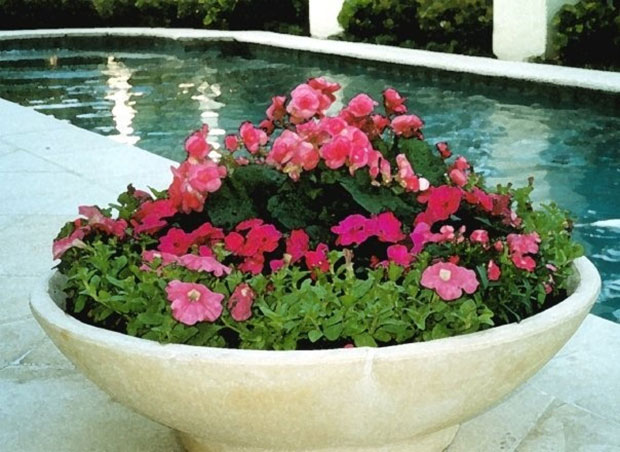 David Morello Garden Enterprises
For an Italian influence, a large big flower pot like this with colorful flowers will look amazing.
Wooden Bench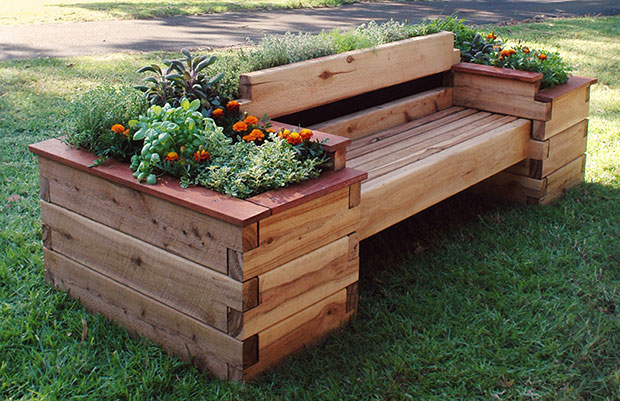 Decoration Channel
Another fun flower bed design with a seating area. The wooden bench is much more pronounced and equally inviting.
Vertical Flower Tower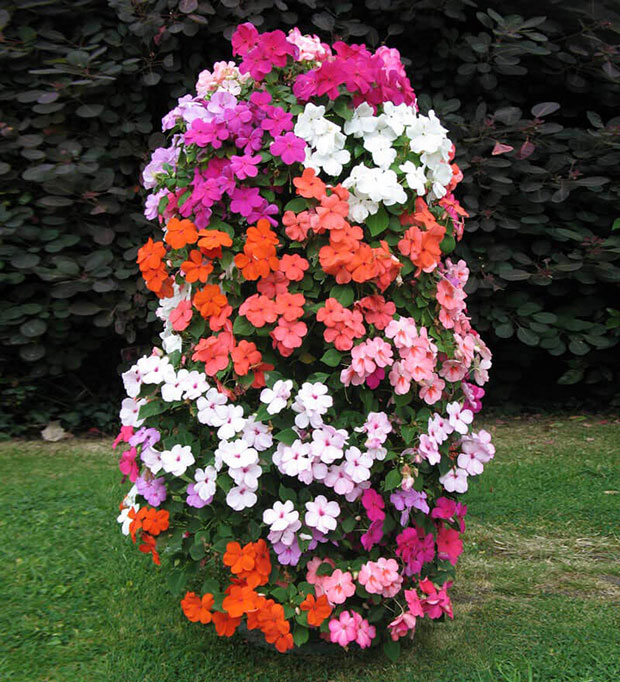 Groweris
Make a flower bed tower just like this DIY flower tower. It looks great with the colorful selection of plants too.
Patio Brownstown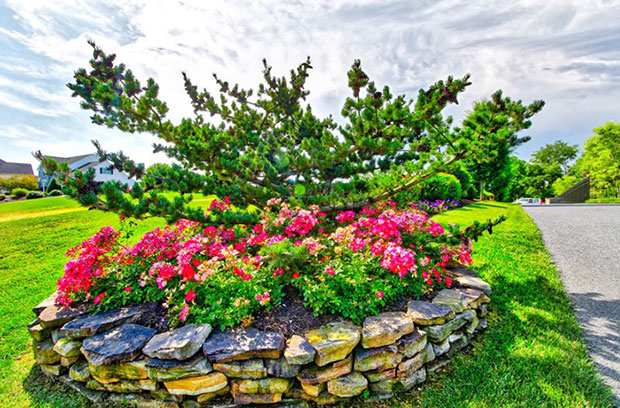 Clean Energy Maintenance Inc.
Another fun idea is placing your flower bed on a raised area with stones around it. This adds a rather natural and charming look to it.
River of Flower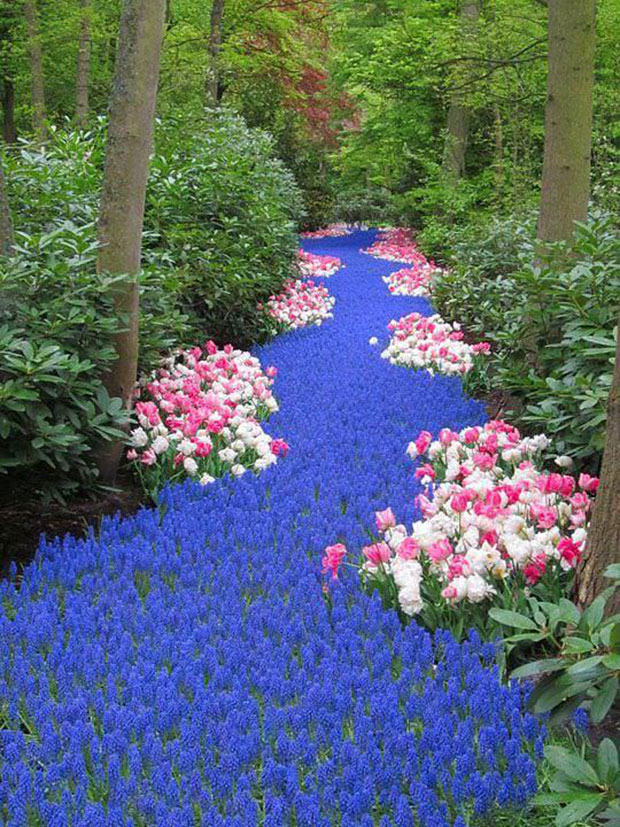 1001 Gardens
If you have enough space, you can create a flowing 'river' of flowers just like this where the flowers are arranged in a flowing manner.
Wooden Planter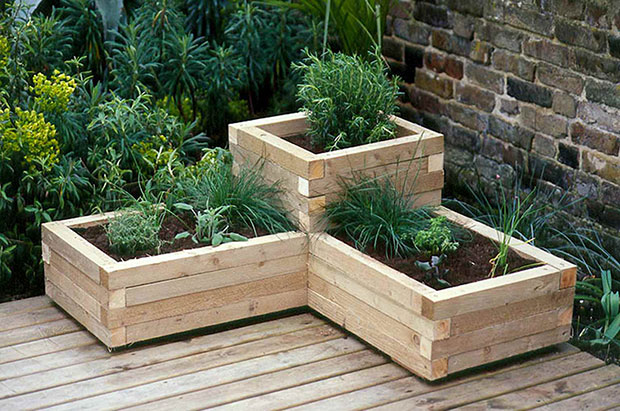 Gardens World
Create a wooden planter with layers just like this to further emphasize your plants!
Raised Block Bed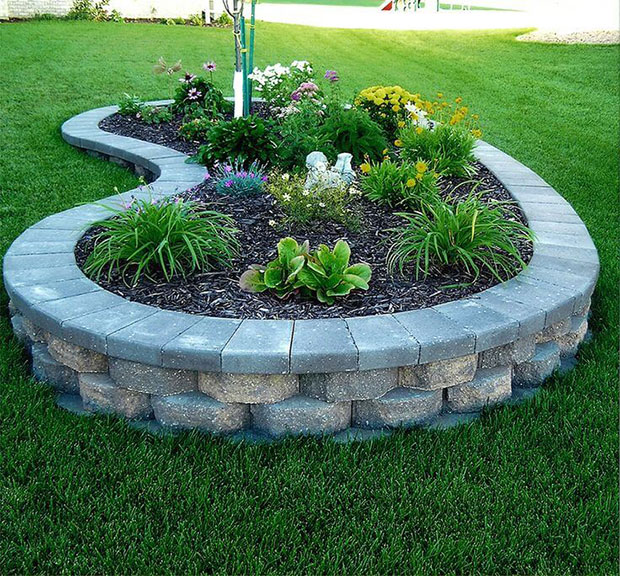 Wursttex
For a cleaner look, you can use a raised block of a flower bed for your plants.
Container Planter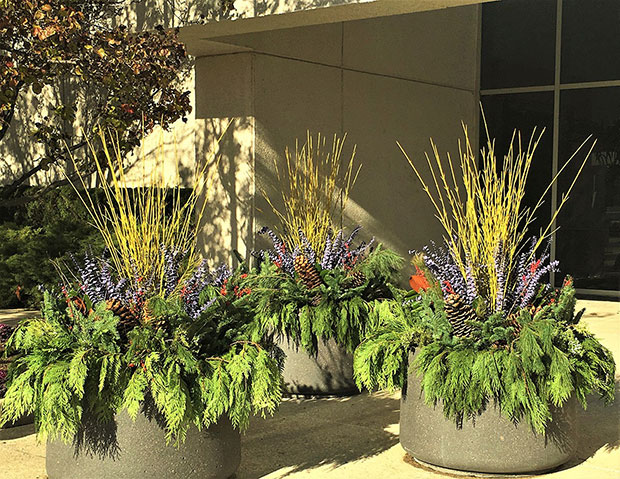 KD Landscape
Big concrete containers are also great flower bed design ideas that you can add to your garden.
Outdoor Garden Art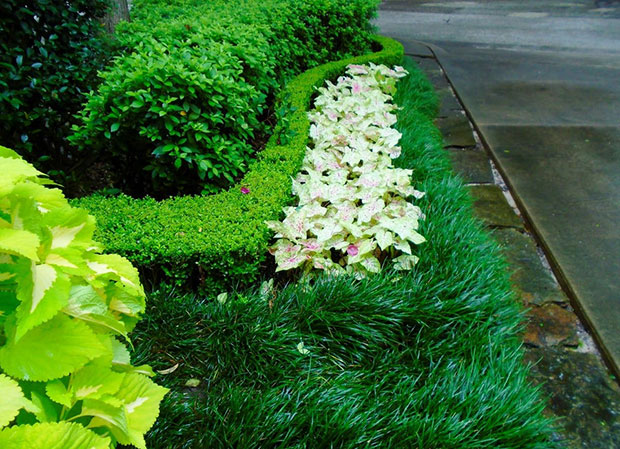 David Morello Garden Enterprises
This flower bed design features plants arranged symmetrically with the flowers squeezed between bushes for further emphasis.
Traditional Landscape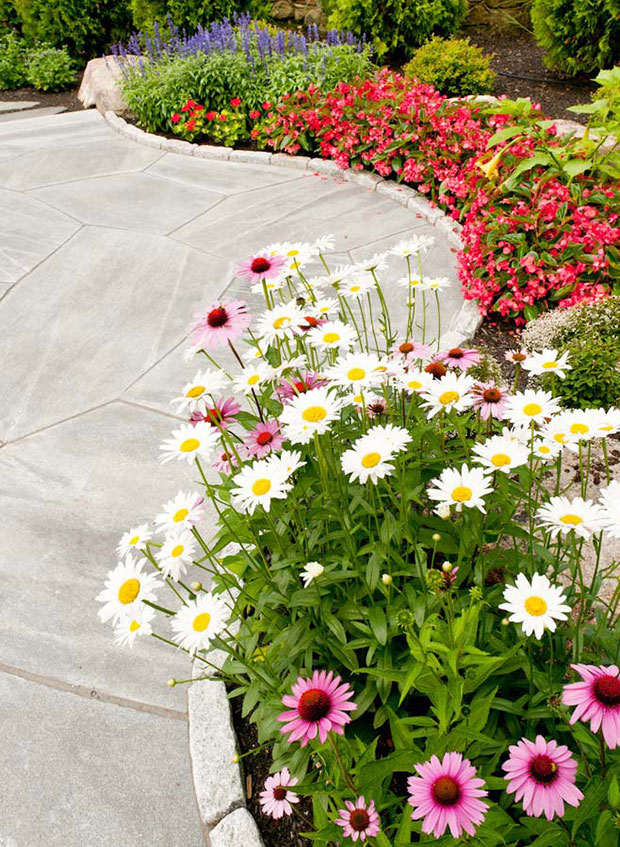 Amy Dutton
The colorful flowers in this flower bed designs are muted with the neutral color of the concrete.
Glencoe French Chateau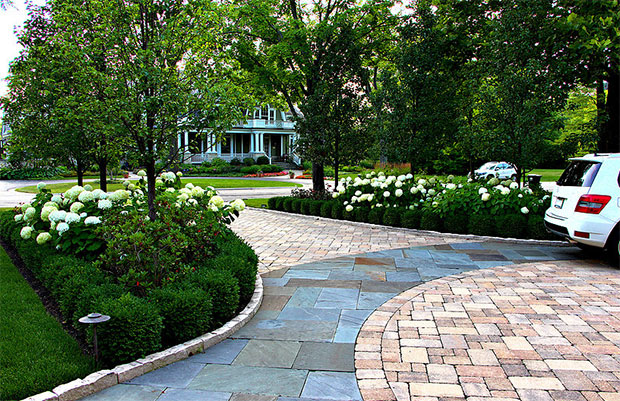 CREDIT
The white flowers in this garden are made even whiter and eye-catching with the green shrubs and trees around it.
Colorful Flowers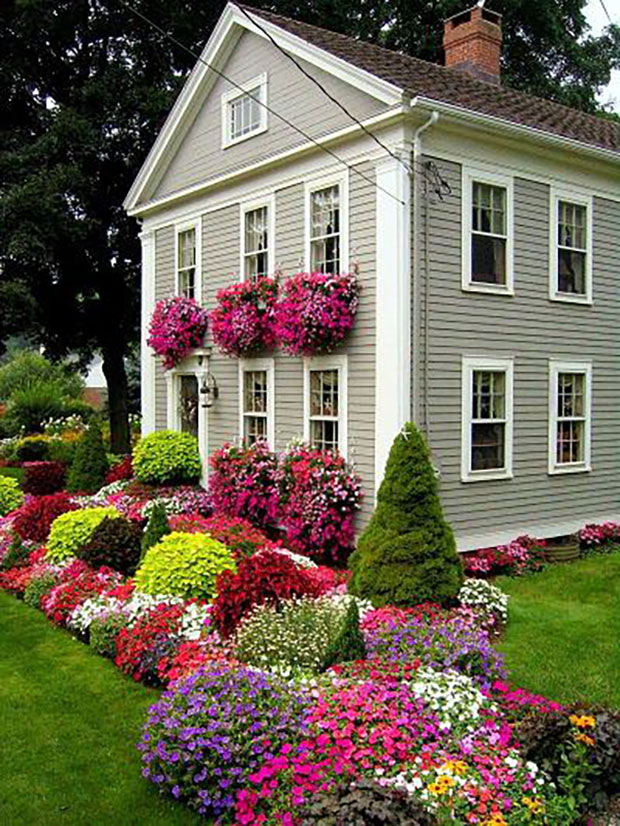 Steve Silk
This beautiful flower bed idea shows a gorgeous variety of colors in one area, and the result is amazing.
Terraced Garden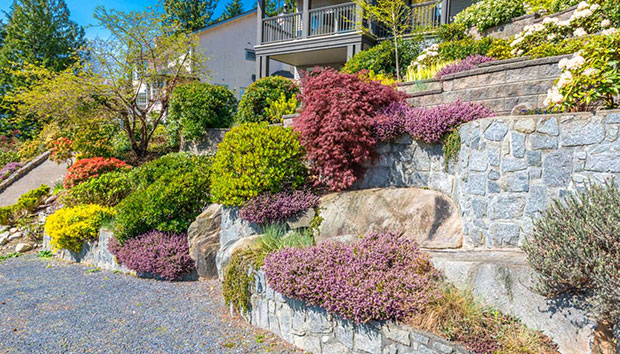 Parkseed
For sloping areas, you can make a terraced garden of flower beds. The effect looks amazing!
Stone Pathway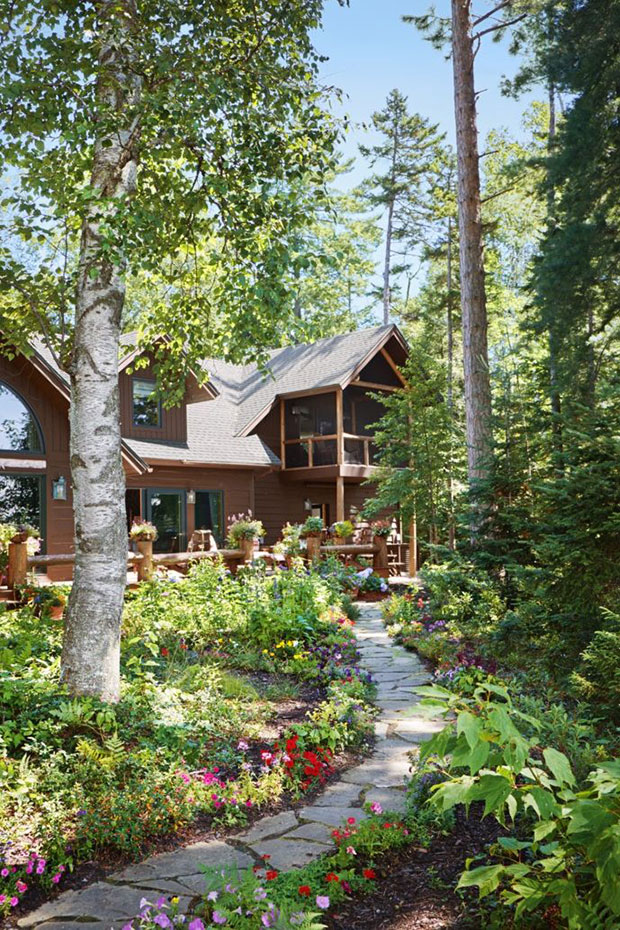 James Merrell
For spacious gardens, you can easily place your flower bed right beside the stone pathway.
Island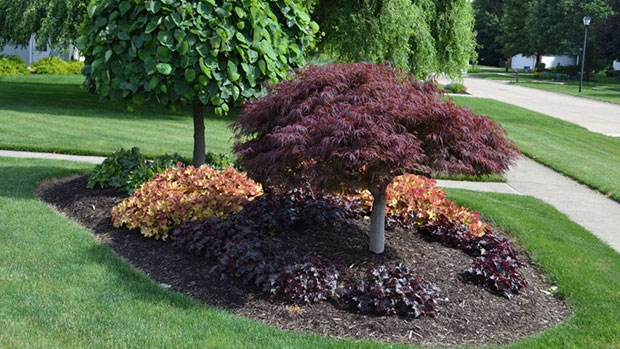 Mike's Backyard Nursery
This tiny island has herbaceous perennials and trees of varying heights to give off an island vie to the front yard.
Sunburst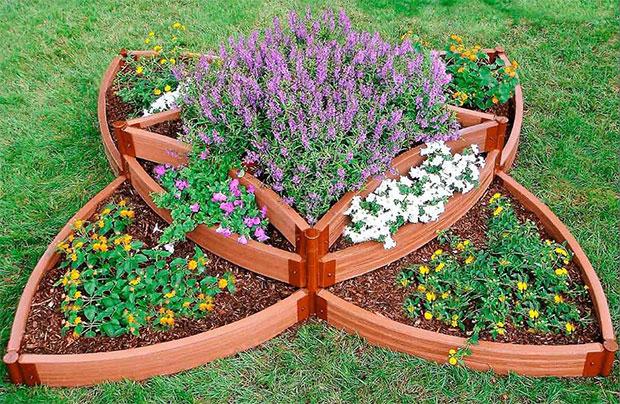 Amazon
Another fun idea is a sunburst flower bed design. You can pick different colors and types of flowers at once.
Wooden Cart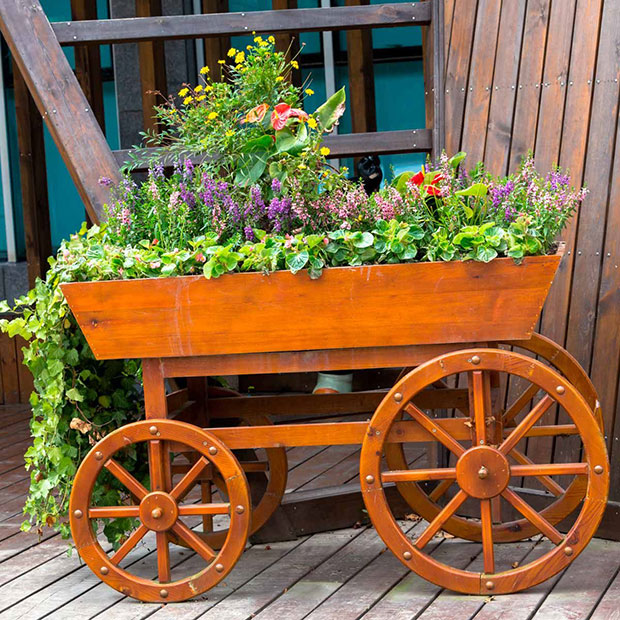 Nok Lek
If you have a broken or extra wooden cart, you can also use it as a flower bed. The effect is classy and fun!
Succulents Flower Bed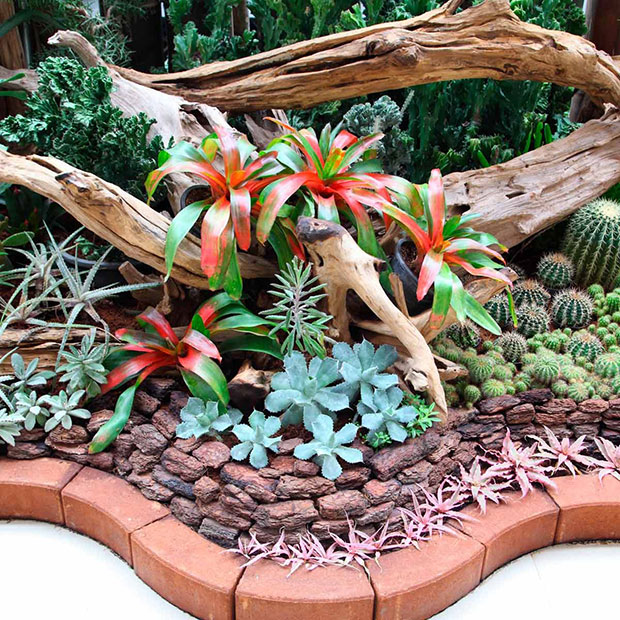 Moolkum
For succulent lovers, this succulents flower bed is a great idea. The designer here added some rocks, bricks, and driftwood for that charming effect.
Color Patterns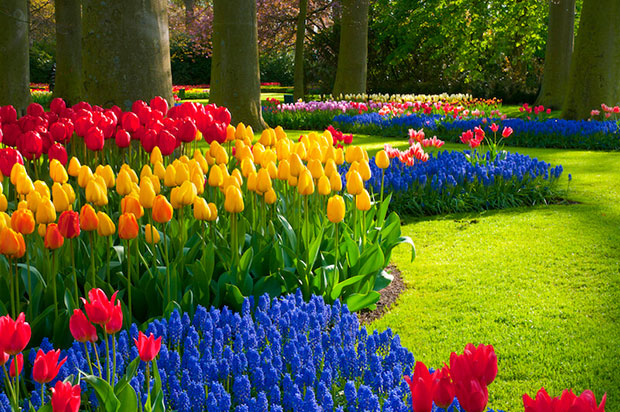 Home Stratosphere
Create a fun and exciting garden by clustering your flowers by color.
Flower Variety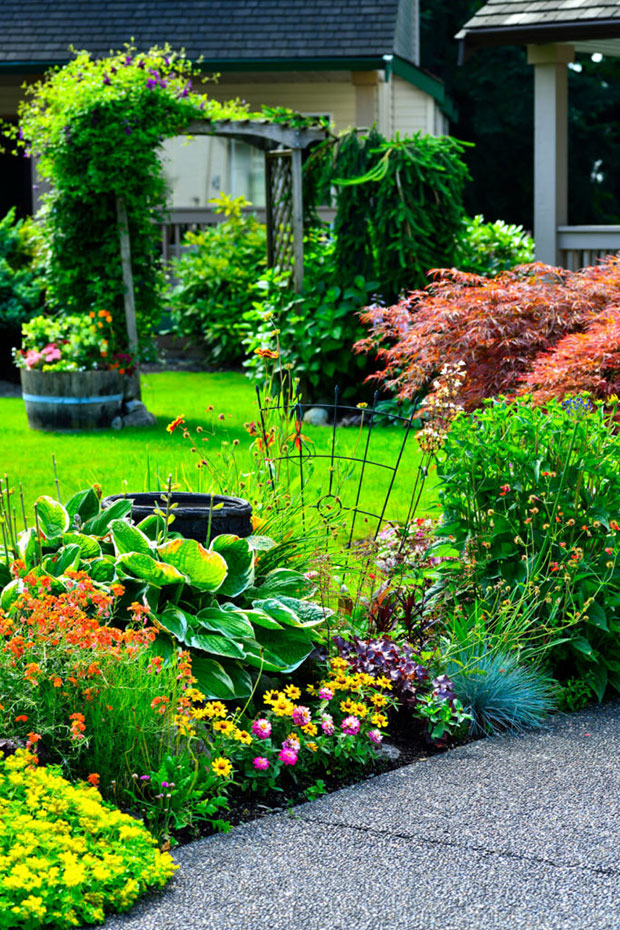 Home Stratosphere
Combine a few varieties of flowers (tall, short, bright, or dull colors) to add a dynamic and wild look.
Built-In Flower Beds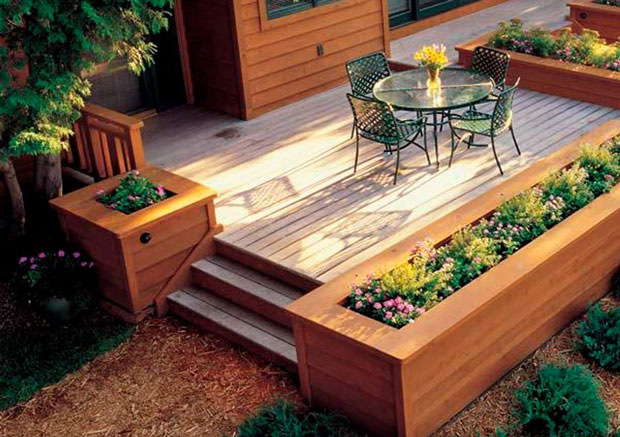 Family Handyman
Add some built-in flower beds along the deck for a more organized and neat look.
Small Patches of Bed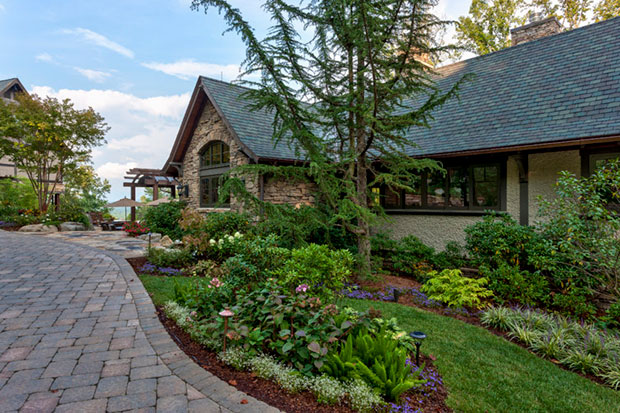 ACM Design Architects
Small patches of flower beds creatively spread out in your garden will look great and will provide an interesting aspect to it.
Low Hedge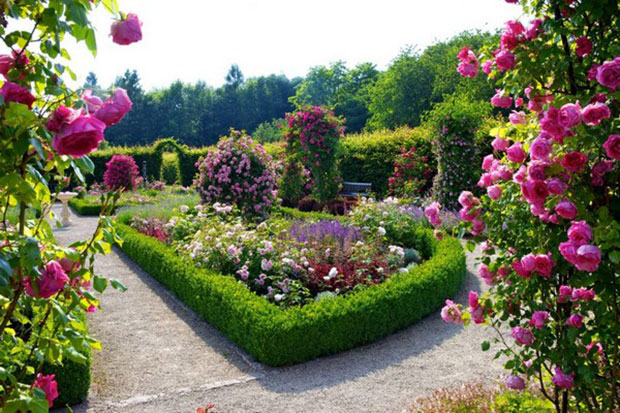 Planted Well
Another great flower bed designs idea is the use of a low hedge to provide a frame to your flowers.
Corner Bed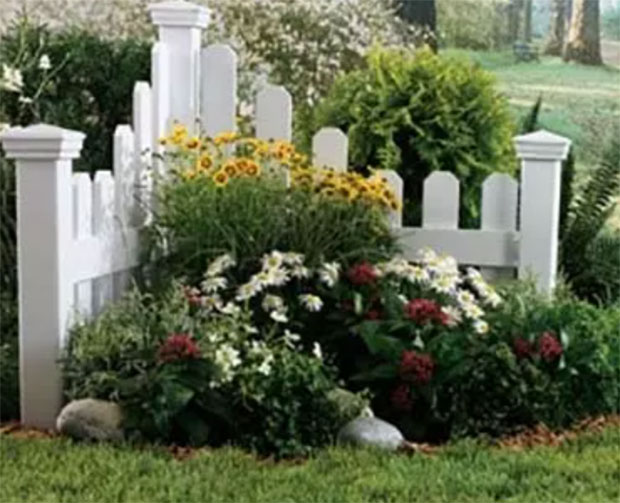 Indulgy
For front yards, a corner flower bed is a good idea. You can easily arrange the flowers by height to make sure that all flowers can be seen.
Wicker Basket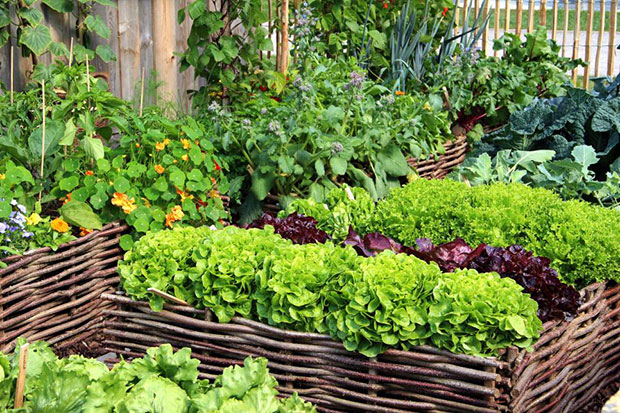 Fotolinchen
Woven wicker baskets are also great flower bed designs. Fill them up with your favorite flowers and then arrange them artfully and the effect is charming.
Metal Flower Bed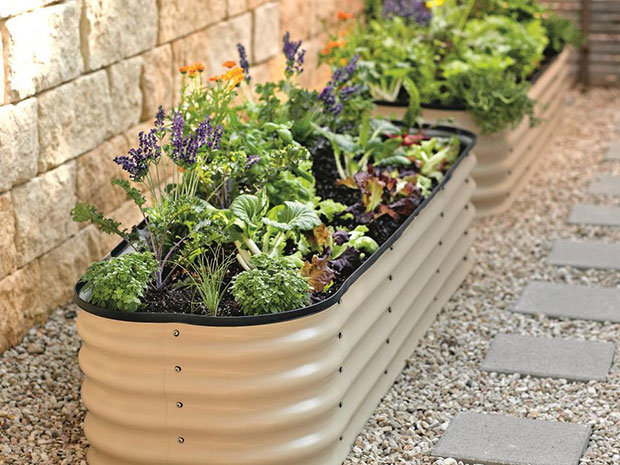 Gardeners
Unused cans that are painted will make a modern flower bed for your garden.
See? There are so many fun and great flower bed designs to choose from! Which one your favorite?
Like This Post? Pin It!