50 Relaxing Pergola Designs for Family Bondings
|
Your bare garden or yard could use a little more zest with a pergola. Often confused with a gazebo and arbor, pergolas are a major architectural structure with rafters, beams, and posts that can be attached or detached to a house. Pergola designs are often defined by their flat roof.
Pergolas add beauty and function to any yard or garden. It provides seating, shade, and comfort as you enjoy a relaxing time outside of your home. Different pergola designs are available to match your needs. The perfect pergola designs are the ones that will elevate the look of your outdoor space. It could be a relaxing corner, or a cozy garden nook, or an outdoor dining area.
How much does a pergola cost?
The cost to build a pergola range from $2,200 to $5,900 or $4,000 on average. For a basic build, it could cost you as little as $1,300. But for a custom design, you may have to pay as much as $10,000 or more.
Several factors could affect the cost of building a pergola. Most of this lies with the kind of pergola designs you may have.
1. Pergola cost by size
First of all, the size of your pergola is going to matter.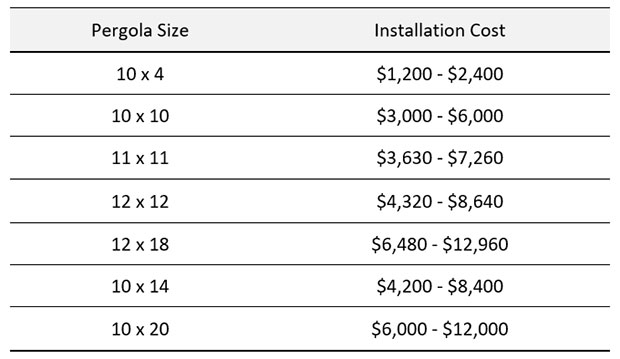 As expected, if your pergola is quite the sizeable thing, then you may have to spend more.
2. Pergola cost by material
Another factor is the type of material used in building a pergola.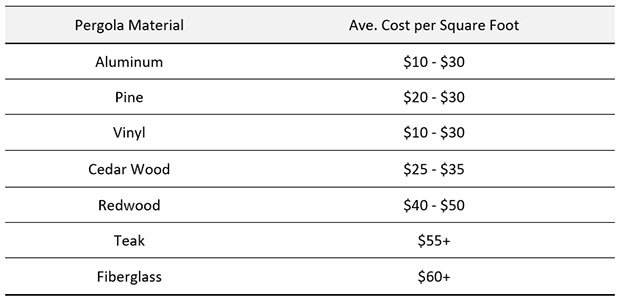 Pergolas made of aluminum are seen as the cheapest. But fiberglass is going to cost you more.
3. Pergola cost by type
Another cost factor is the type of pergola. Here's a breakdown of average costs for each type.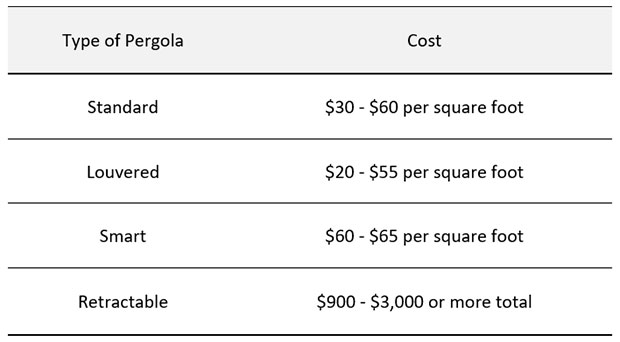 Louvered pergolas are ones with window blinds or shutters with angled horizontal slats to admit light and air, but keep out rain and direct sunshine. Smart pergolas are the type that open and close according to the weather and are controlled by remote control or your smartphone. And of course, retractable type is when the roof can be completely pulled back from the top of a pergola.
4. Pergola cost factors
Other pergola cost factors include whether your pergola is going to be stand-alone or attached to the house, or if it's going to be built over a patio or deck. Custom builds are also going to cost you more.
Take note, that you will also need to spend on labor costs. DIY pergolas are less expensive than expected since you won't need to hire professionals to do the job. But material costs would remain the same if it were built by a pro, though, there are DIY pergola kits that range from $600 to $7,500 or more.
How to determine which pergola is best for my garden?
You may have several ideas for pergola designs. But with a lot of options, you may need a guide to determine which pergola is best for your garden!
1. Placement
An obvious matter of consideration is the placement of your pergola in your garden. You need to consider practical issues like how is building a pergola going to impact the existing plants and wildlife in your garden or how the positioning of your pergola affects the sunlight in your neighbor's garden.
2. Measurements
Make sure the measurements you have for your pergola are right. Check the length, width, height, and area size before deciding on the pergola you want. Check them once, check them twice. Is your pergola just the right fit in your yard or have you made some room for a bit of space?
3. Material
Most pergolas are generally made of wood. But different wood types have different benefits. Some materials may need quarterly maintenance. So, look into which materials are the most recommended and consult a professional.
On the other hand, good-quality steel pergolas don't rust or decay easily. They are also best for a large-sized pergola, needing less structural support than wooden pergolas.
4. Function
Determine what function your pergola will serve as it goes beyond just an aesthetic structure in your garden. Is it solely going to be for seating or do you plan to use it for vine-based plants? Or maybe both?
Pergola Designs for Inspiration
Now, let's take a look at some fantastic pergola designs perfect for relaxing!
Pagoda Roof Deck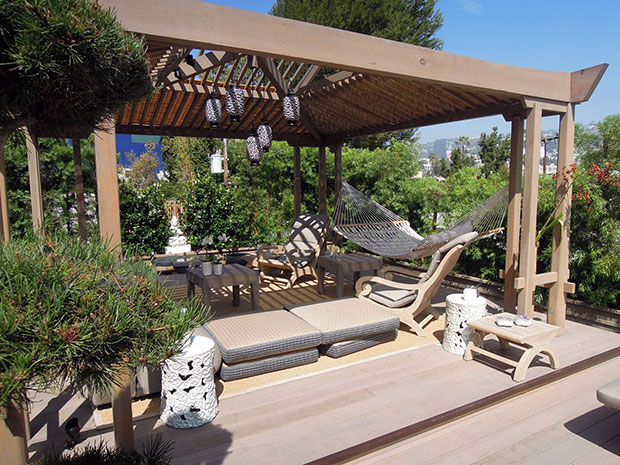 Otoniel Solis
Pergolas are not only limited in your yards. You can have one installed on a roof deck like this one. It doesn't look like your typical pergolas, but it's custom-built so to adapt to the wind and direct sunlight you get when you're on the rooftop.
Newman Pergola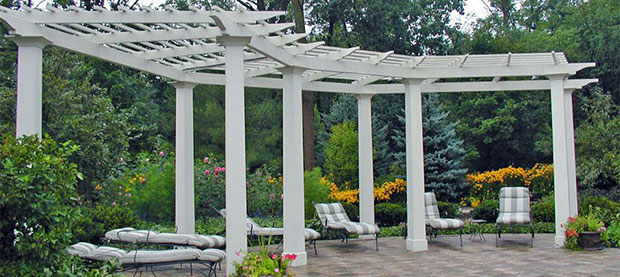 Rolling Landscapes Incorporated
Straying away from your typical pergola designs, you get this arched pergola. For a spacious garden like this, one could totally afford to have this kind of pergola.
Sonoma in the City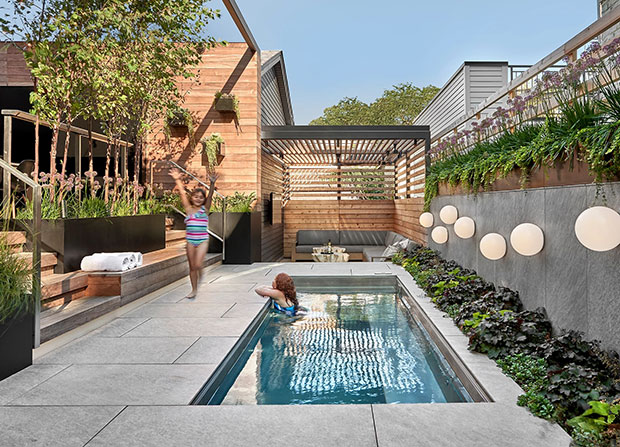 dSpace Studio
Attached pergola designs like this are perfectly placed for resting and relaxing, considering the configuration of the rest of the garden. With a pool close by, this couldn't be an even more perfect place to have a pergola for lounging as it offers some privacy too.
City Sport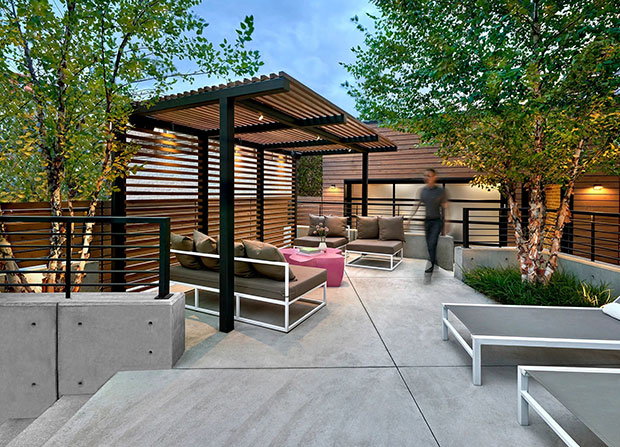 dSpace Studio
A contemporary and sleek style for a pergola. It definitely brings attention to the spot while offering a shaded area for relaxing.
Zinc House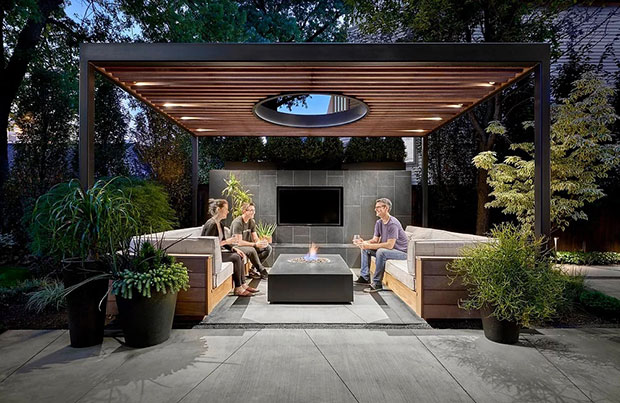 dSpace Studio
This is quite the futuristic pergola design here. A hole in the roof is built, seemingly to match with the small fireplace directly down below.
Pergolas for Lounging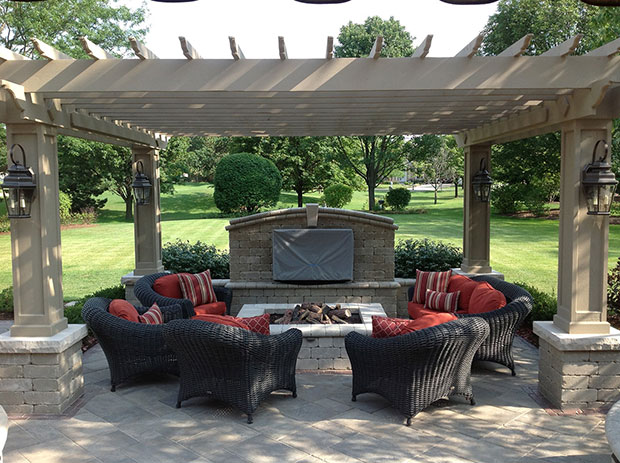 JR's Creative Landscaping
With a brick foundation for the posts, this seems quite the sturdy pergola. With the brick foundation, they managed to build a fireplace and a mini wall for the television. Such design makes this seem a perfect place to unwind while catching up with some of your favorite television shows.
Lounge Area with Pergola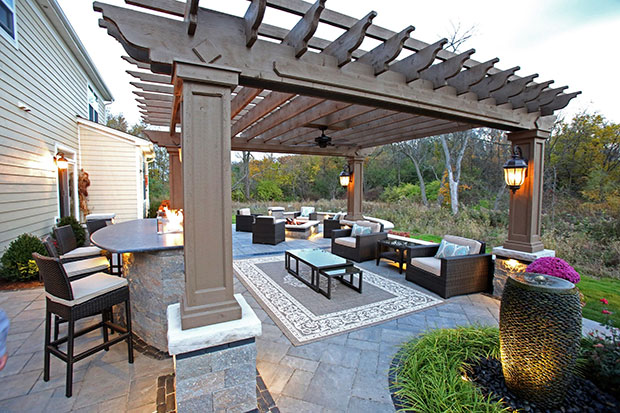 JR's Creative Landscaping
Some pergola designs do not simply just provide shading. This pergola, for example, makes way for a mini bar while still providing an ample lounging area.
Pergola for Lounging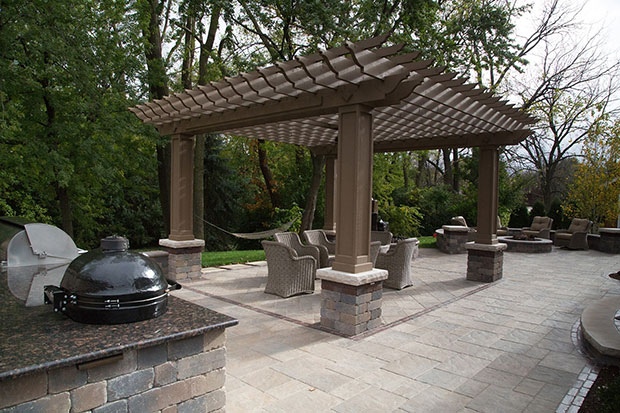 JR's Creative Landscaping
This pergola design fits the typical design idea. With just the slatted roof practically being the only thing that gives shade, the open sides welcome lots of fresh air. And it's a perfect design style too when your home is situated in such a place.
Stanley Avenue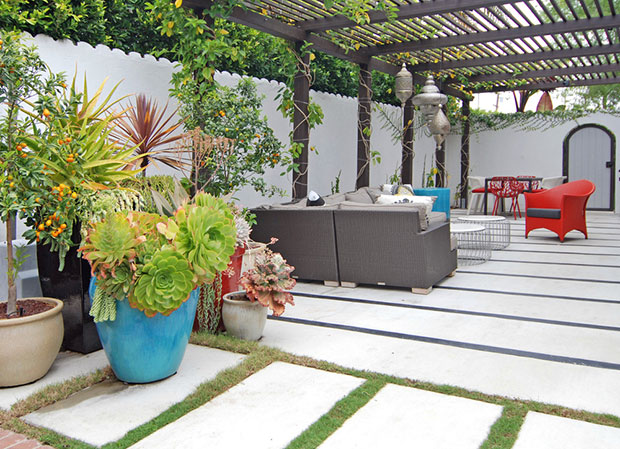 MJLID
Some pergola designs manage to allow for the growth of vine plants. This and those ornamental lamps add a pretty charm to the lounging area.
Clark Street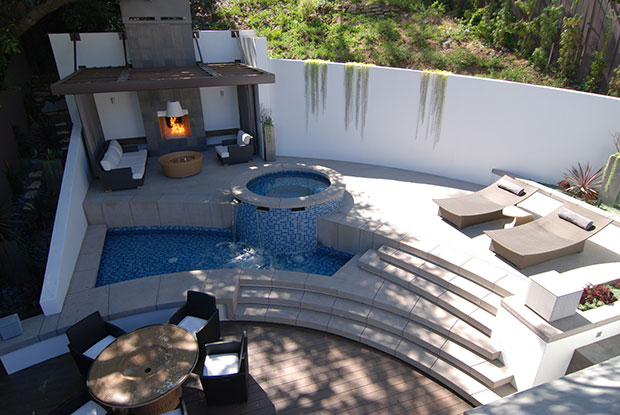 MJLID
Tucked away in the corner of this yard, the pergola offers additional space for privacy and warmth of comfort.
West Sonoma County Estate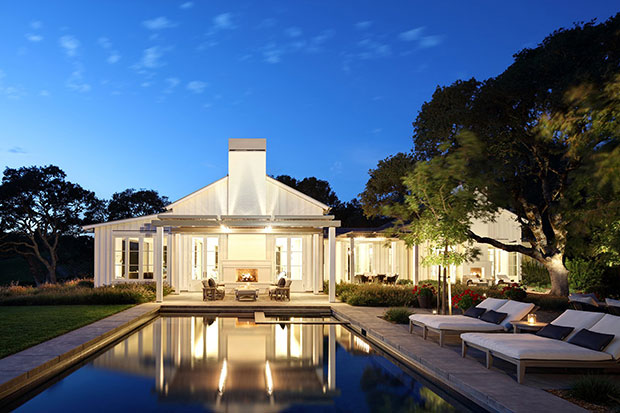 Jim Murphy & Associates
Some classic pergola designs are attached to the house like this. This offers a perfect spot to get some shade after spending a day in the pool.
East Sonoma County Estate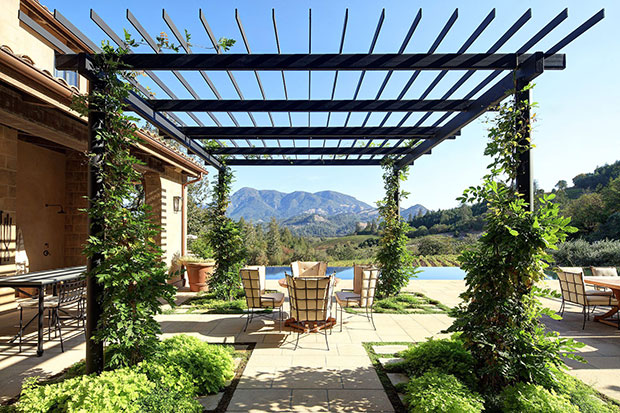 Jim Murphy & Associates
The vines and the vegetation are very charming as your attention draws to them. It's almost like this pergola is designed more to be a structure for the vines.
Modern Minimalist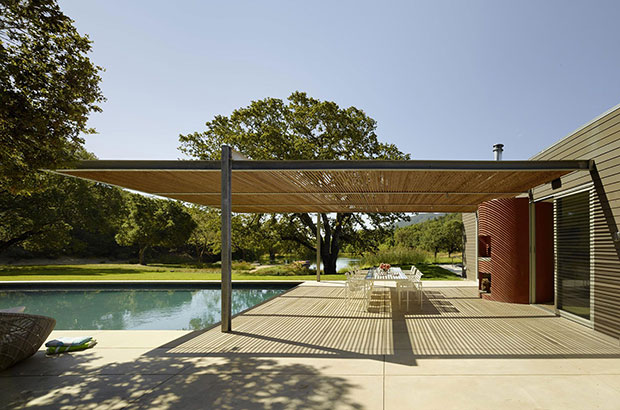 Jim Murphy & Associates
Here's a modern minimalist design of a classic pergola design. It's wide enough to provide plenty of shade for the family and maybe even guests.
Glen Ellen Farmhouse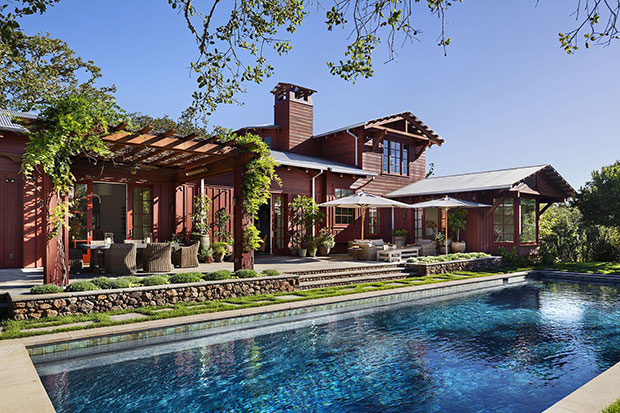 Jim Murphy & Associates
Here is another one of those pergola designs that are suited for vine growth. With the ample foliage all around, it would be a nice day out relaxing underneath this pergola.
Wine Country Enclave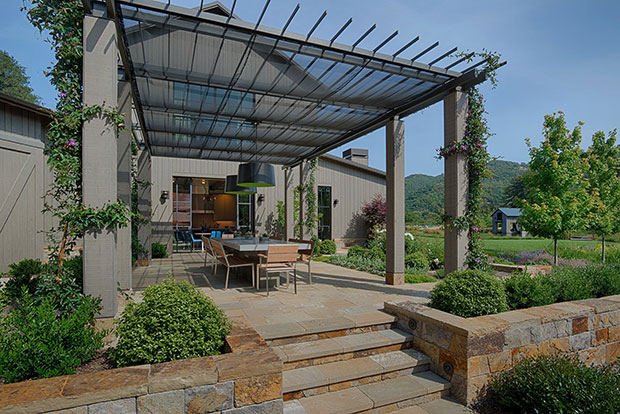 Jim Murphy & Associates
The very thin roof slats are an interesting contrast to the thick posts. And the little canopy is a nice touch.
Napa Valley Estate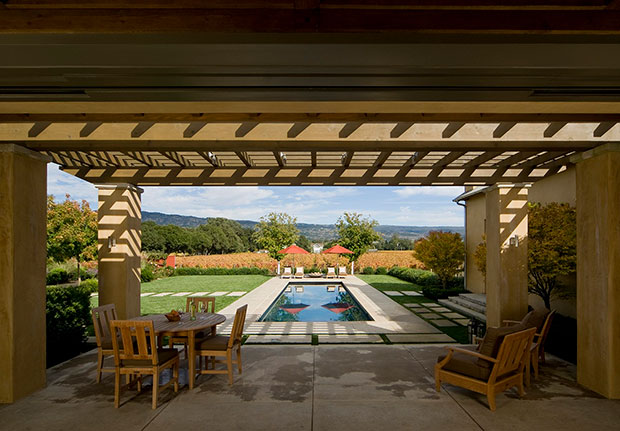 Jim Murphy & Associates
Some pergola designs that are attached to the house will also structurally resemble that of the main home. The thick posts and beams are structurally consistent. And the paint makes it not look out of place.
St. Helena Farmhouse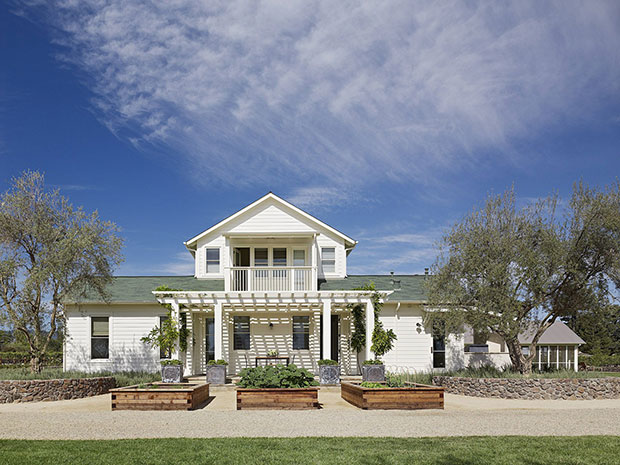 Jim Murphy & Associates
Some classic pergola designs will have it look like the home's front porch. But this one isn't quite it as it is an architectural structure of its own.
Park Slope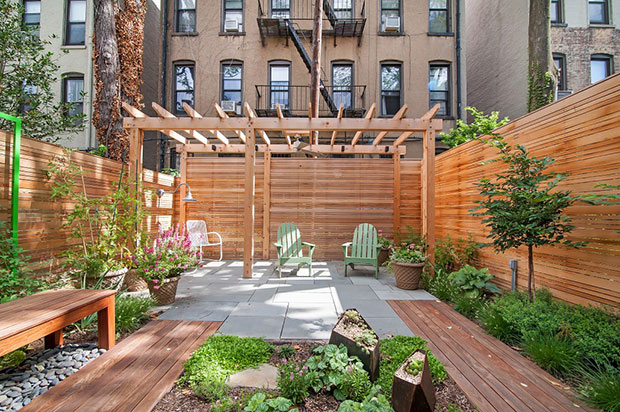 Harper Design + Build
A simple pergola design for a yard that was renovated as a garden more than anything. It's a simple design appropriate for its purpose.
Faxon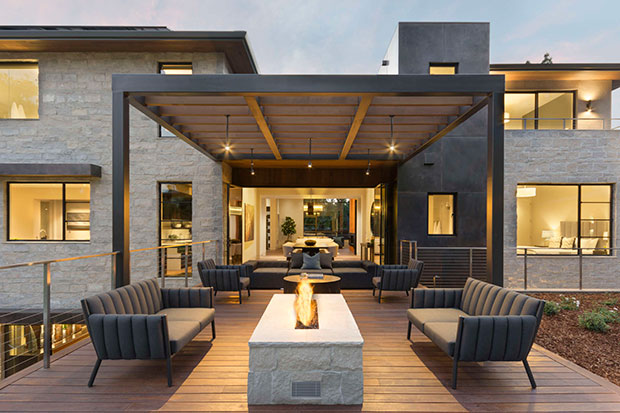 Euroline Steel Windows & Doors
For more contemporary pergola designs, take a look at this one. Constructed with steel as the main structural support, it ensures safety and sturdiness while offering a chic and sophisticated look.
Ashton Court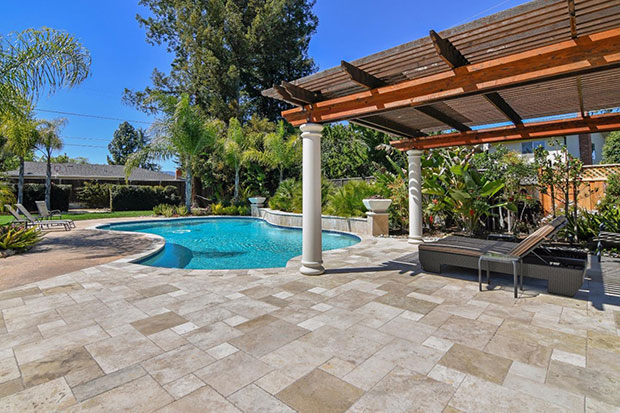 Mike Hammill
One of the more interesting pergola designs! When you stare hard at this, it seems like the posts and the beams are from different design styles. But it could possibly be just the incongruous colors.
Brooklandville Pool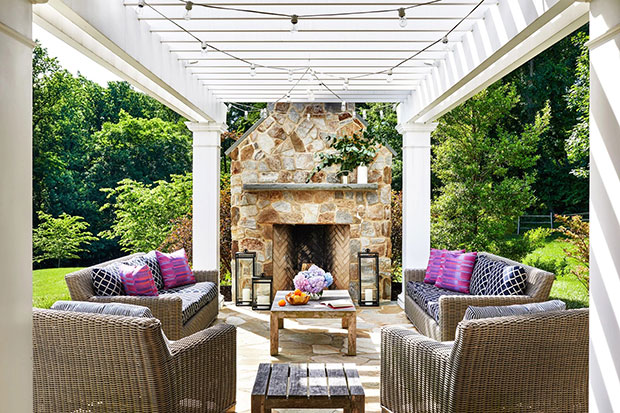 Winsome Interior Design
String lights are a good complementary light structure for pergolas. It adds a different kind of charm that will surely have you wanting to unwind outside even at night.
Dover Shores I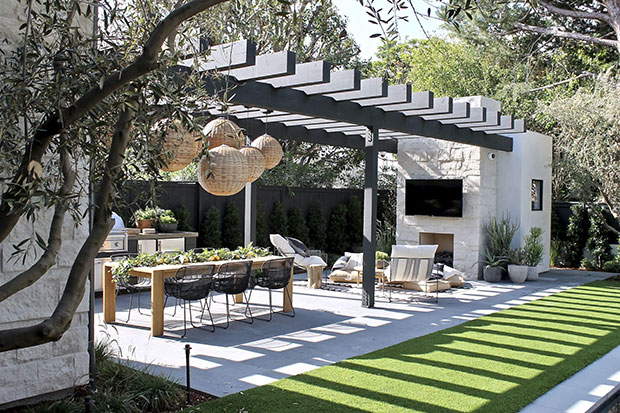 Garden Studio Design
This pergola design interestingly seems to connect one part of the home to another. It's able to accommodate a lounging area as well as an outdoor kitchen and dining area.
Interlachen Estate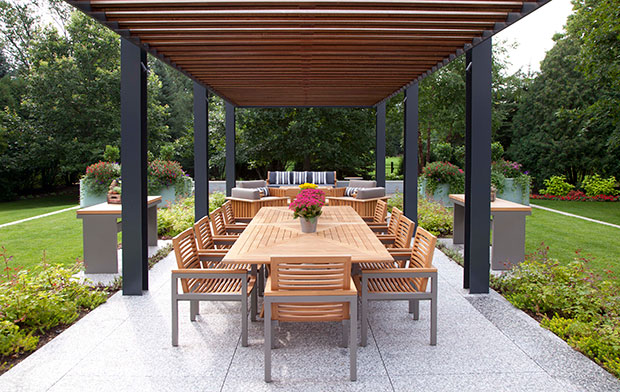 Billy Beson Company
The length of this pergola allows for much room for dining and lounging.
Highlines Estate 2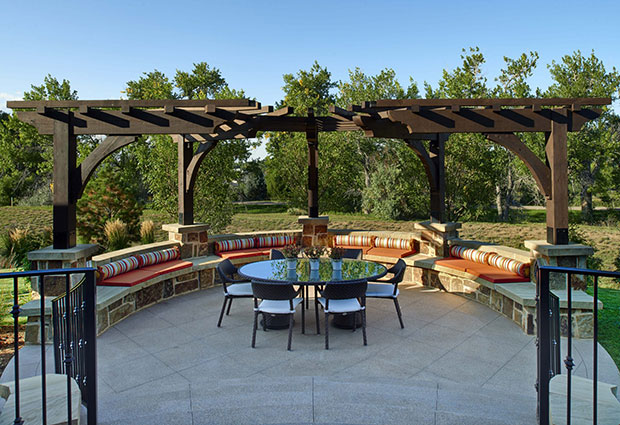 Designs by Sundown
Pergola designs don't always have to adhere to the typical design. Right here is an innovative take of what a pergola could look like.
Fairfield County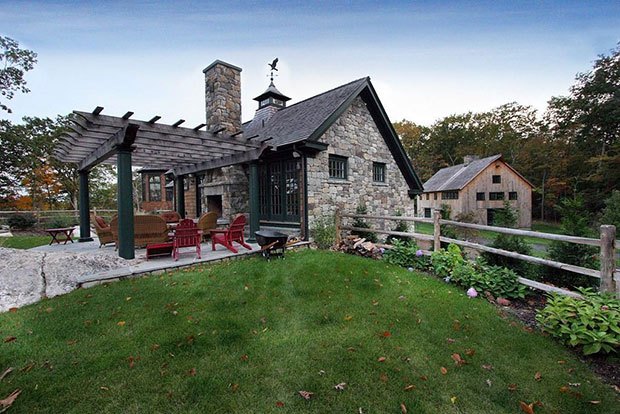 Tallman Segerson
A rustic pergola for a rustic home. It is always fitting to have your pergola style match that with your home.
Trex Deck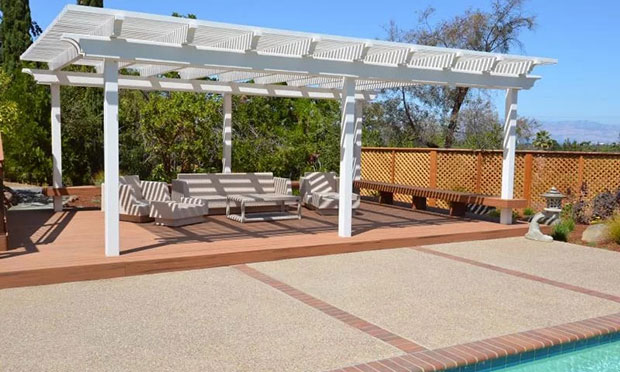 M&M Builders
A stark contrast to the warm, earthy colors of the patio, fences, and outdoor furniture. This pergola, in its plain white glory, stands out.
Outdoor Living Space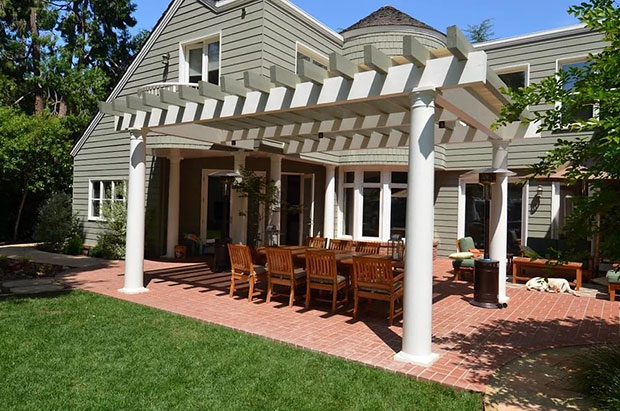 M&M Builders
The paint colors were wisely chosen to have that harmony in the overall look of the home. The cool, neutral colors are a nice contrast to the warm, earthy colors of the patio.
Mediterranean Estate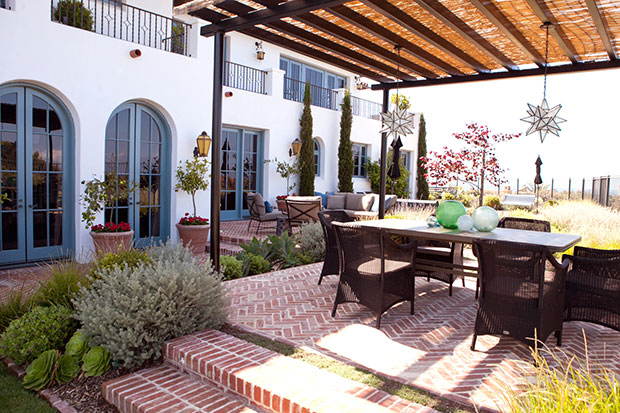 Molly Wood Garden Design
The roof cover of this pergola is the most interesting thing about it. Another interesting point to note is the fact that it is built over an elevated level of the patio.
Maine Coast Pool House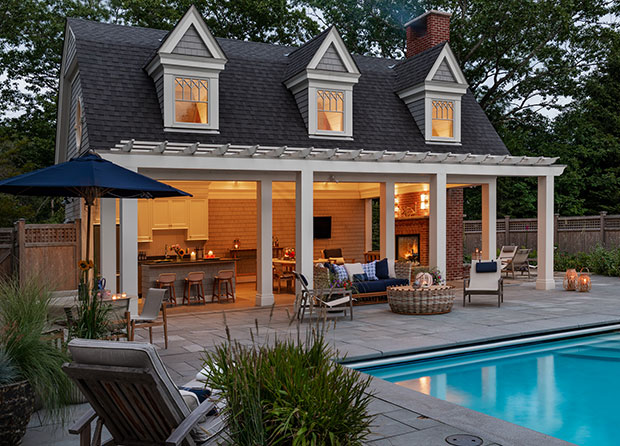 TMS Architects
A classic pergola design for a modern-day pool house. It's an unassuming yet chic design style.
Glencoe French Chateau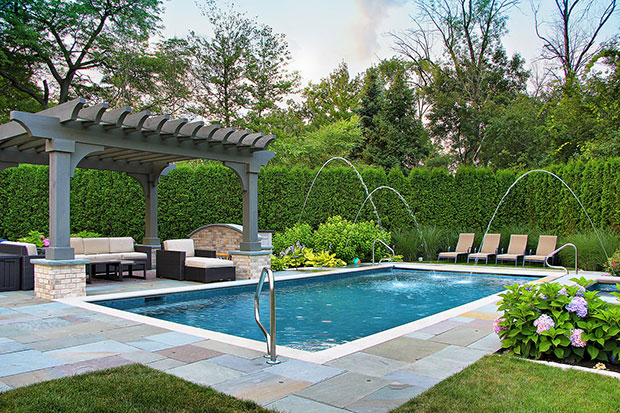 Arrow Land + Structures
These pergola designs with brick or concrete foundation and structural frame of wood are quite elegant design styles. And in a garden like this, it is surely the perfect design choice.
Lake Forest English Country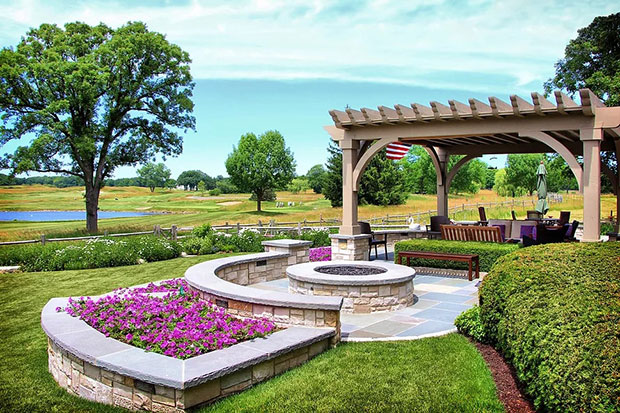 Arrow Land + Structures
For quite a romantic space like this, a pergola of such caliber is a perfect architectural work to add.
American Colonial Lake Forest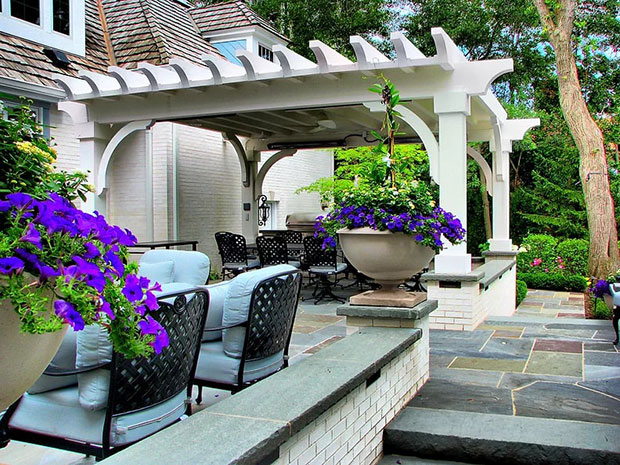 Arrow Land + Structures
A pergola that doubles its function for lounging and dining. It must be of good structural support and placed perfectly to actually offer some shade to the family and guests.
Lincolnshire Terrace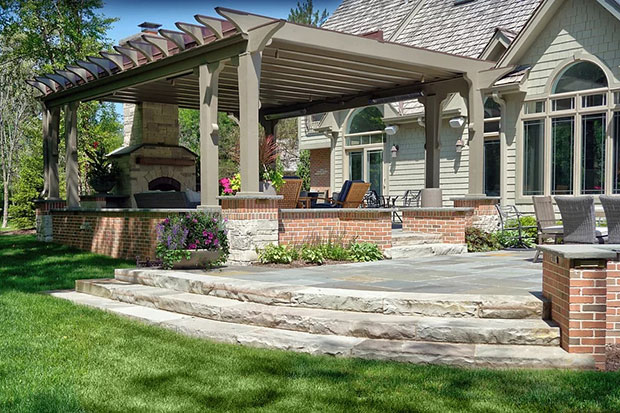 Arrow Land + Structures
Some extensive pergola designs will have fireplaces built like this one. Having it built over a patio deck gives a cozy, homey feeling.
Gregg Way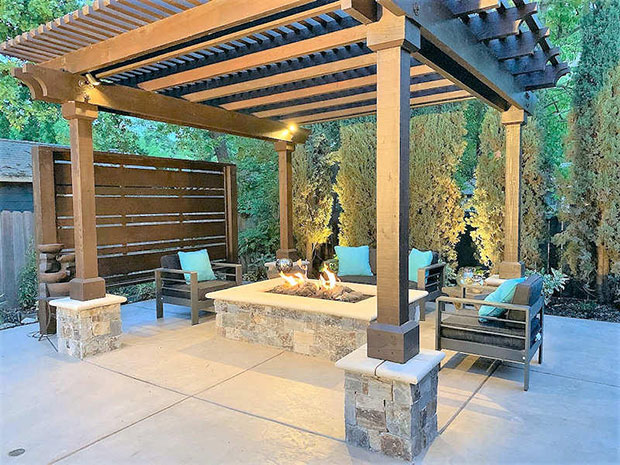 Alder Pool & Landscape Company
A simple pergola design that is perfect for intimate gatherings.
Orchard Ridge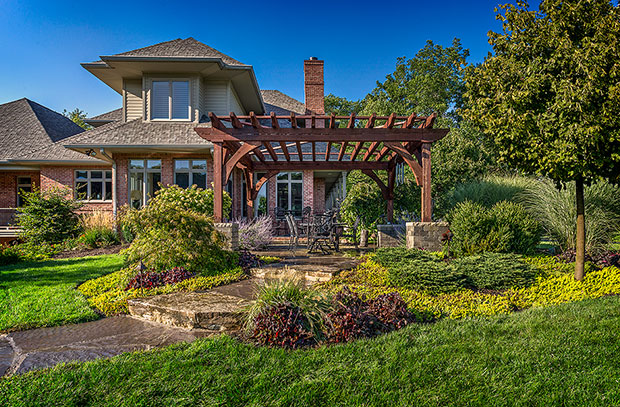 Outdoor Living
The redwood material of which this pergola is made gives off a very classy vibe. And yet amongst the foliage, it feels very at home.
Baja Courtyard Transformation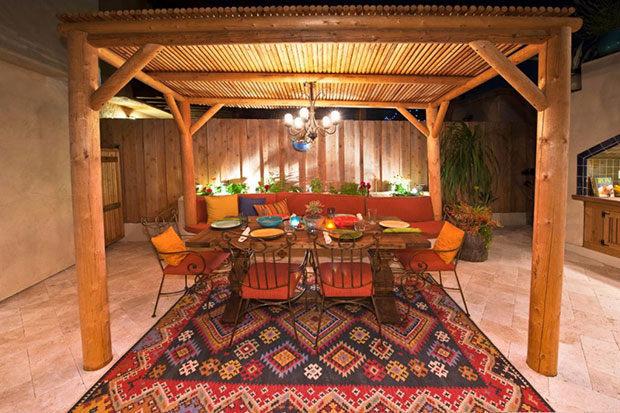 ZMK Construction Inc.
This is the more atypical pergola design on this list. With the shape of the wood used here, it is clear this is not the typical type of wood that most pergolas use.
20th Street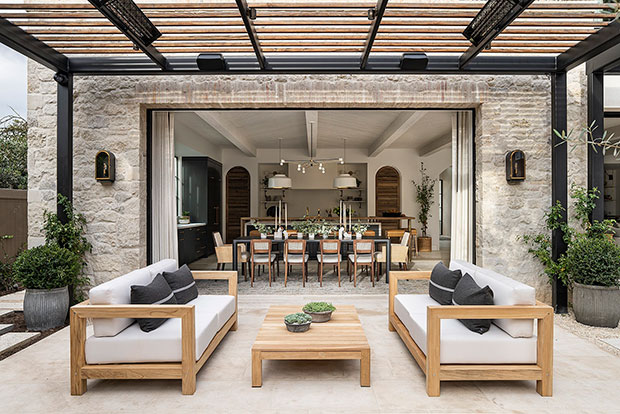 Brandon Architects
When you have a steel structure for a pergola, it offers perfect spots to attach headlights and even speakers amongst the beams. This will definitely complete a homey experience.
Central Phoenix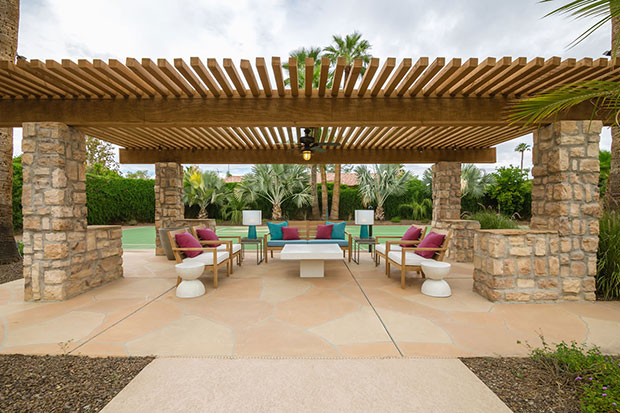 Elle Interiors
The overall architectural look of this pergola is perfect for the tropical theme that this garden seems to be having.
Outdoor Landscape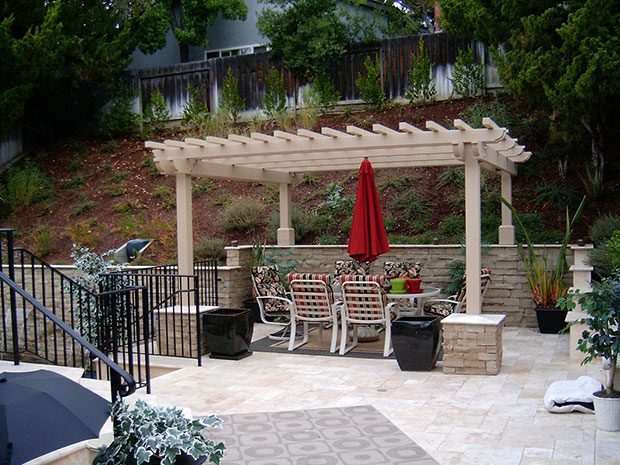 Jeffrey Heid Landscape Architect
This pergola is smartly built onto the wall perimeter, making use of all available space efficiently in their yard.
Modern Outdoor Baby Shower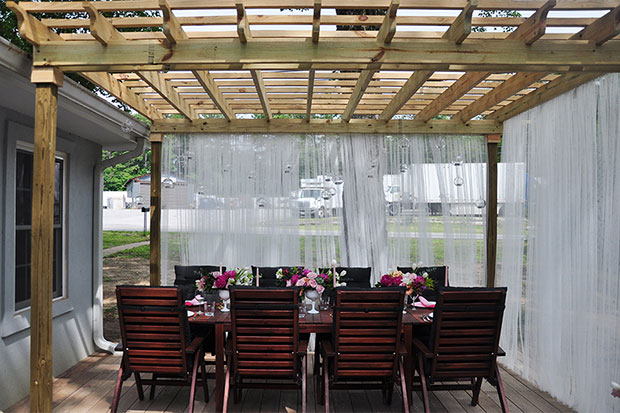 Foxy Oxie
The thinly veiled curtains offer some semblance of privacy and are a rather neat addition to a simple pergola structure.
Cleveland Pergola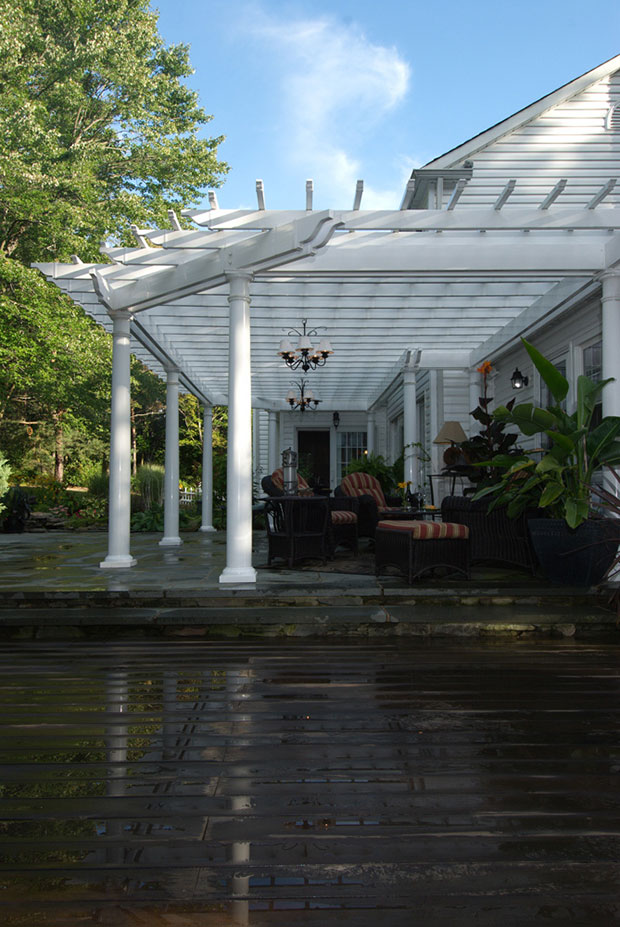 Ohio Valley Group
Not all pergolas have to stick with the standard square or rectangular shape. At this home, the pergola seems to match the curves of the main house.
Outdoor Entertainment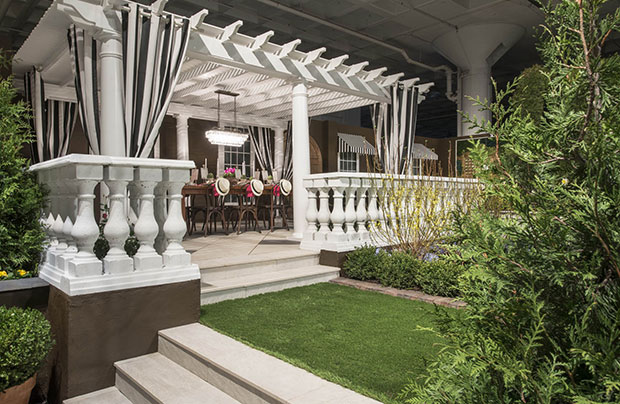 Ohio Valley Group
Admittedly one of the fancier pergolas on this list. It's not just with the structure itself, but it also has to do with the accessory pieces, furnishing, and landscaping of its immediate surrounding.
Hilltop Barn House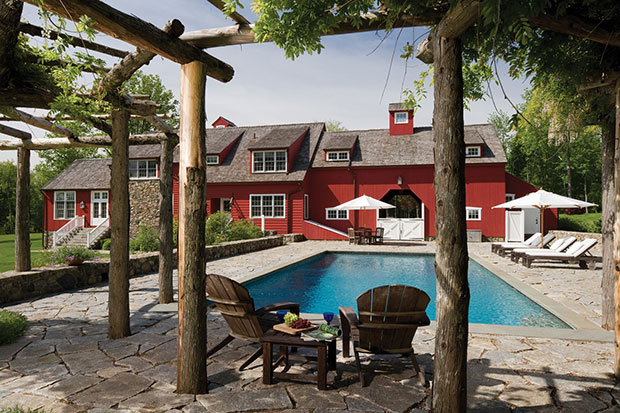 Haver & Skolnick Architects
Much like the pergola we've previously seen on this list, this one is also configured to arch. But this one has a rustic look and has allowed for vine-based plants to grow along with its posts and beams.
Stone Farmhouse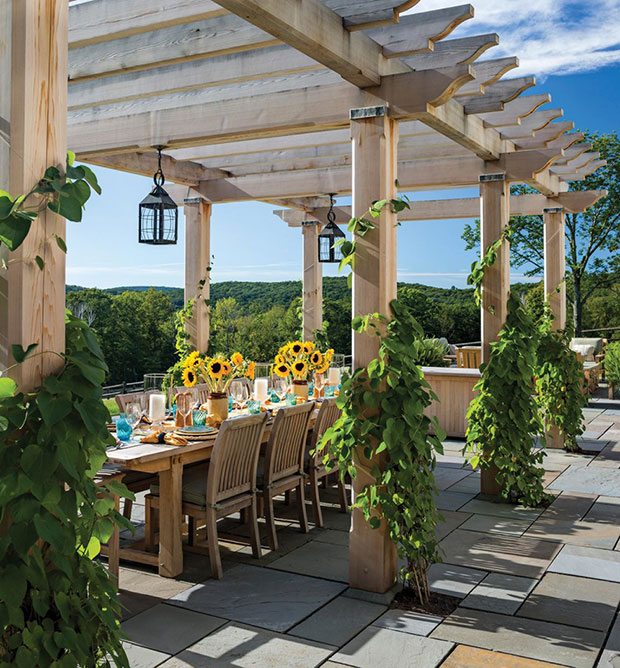 Haver & Skolnick Architects
What's most interesting is they have kept the vines growing on each post at consistent height as each other. This brings out a wonderful ambiance to the dining and lounging this pergola serves.
Bee Cave Outdoor Living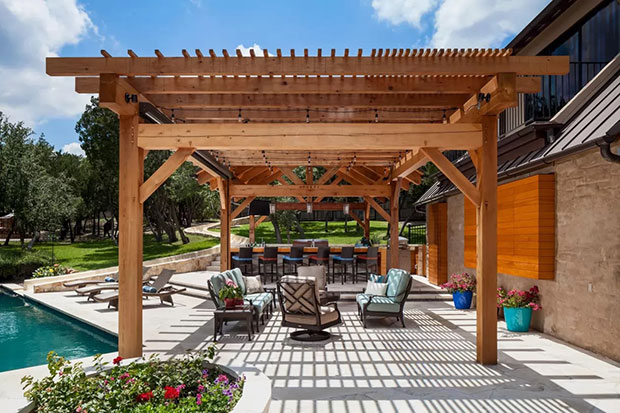 CG&S Design-Build
Out of all the pergola designs on this list, this is the one where it's most obvious that the roof slats are not positioned at equal distance from each other. This is a clever and efficient way to get some shade on the lounging guests.
Custom Outdoor Living Space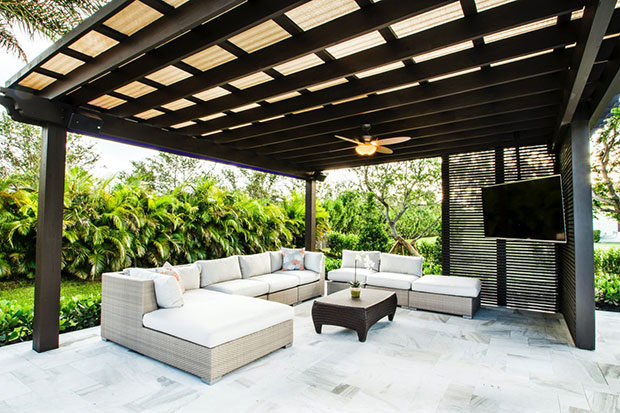 Luxapatio
Interestingly, the only louvered side of this pergola is the one where they have attached a television.
Custom Outdoor Living Space Weston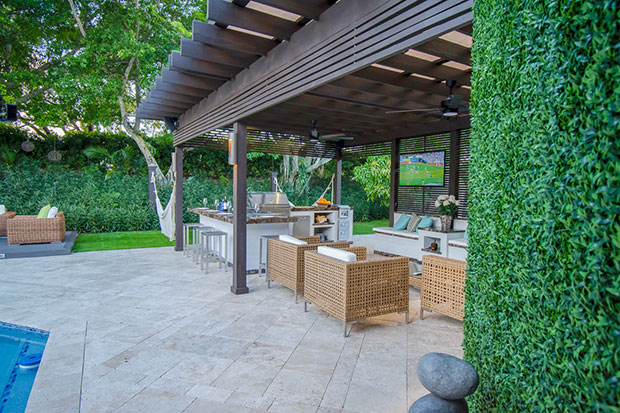 Luxapatio
Similarly, there are some specific louvered spots to cover for some appliances and spots where it welcomes the open air.
Weston Custom Outdoor Living Space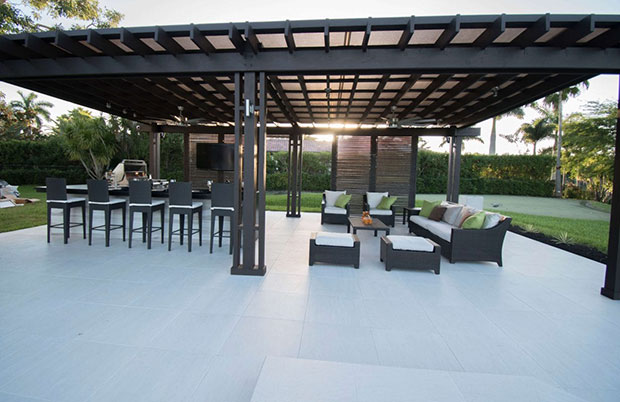 Luxapatio
Massive pergolas like this are perfect for families that always welcome guests to their homes. It's got lounging and an outdoor kitchen to cover for it all.
Custom Outdoor Living Space Miami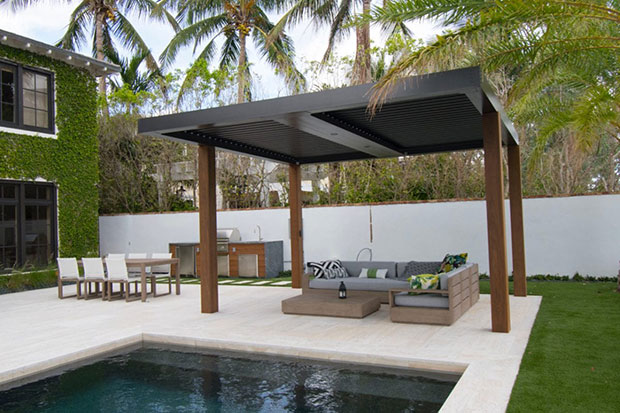 Luxapatio
A custom-built pergola that's very contemporary. It's perfectly fitting for a garden like this.
Tuscan-Style Outdoor Living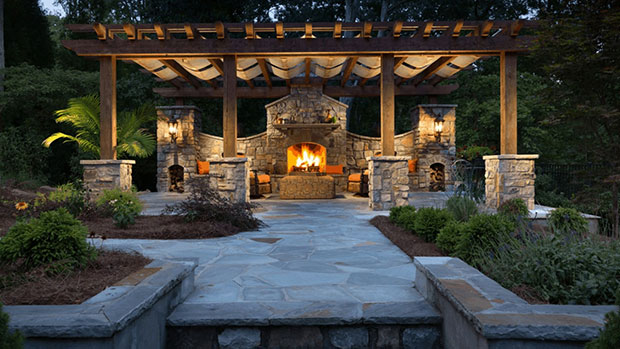 Boyce Design & Contracting
Building a pergola with a fireplace surely would have cost some fortune. In a way, this outdoor lounging area could almost pass off as one you could see indoors.
That's it for pergola designs that you will want to have in your yards! Which one of these pergola designs caught your attention?
Like This Post? Pin It!