35 Garden Arch Designs That Never Go Out of Style
|
Do you love gardening? Have you considered placing a garden arch? If yes to both then garden arch designs will surely interest you!
Garden arches are free-standing structures in a garden that usually acts as a passageway. It can either connect one area of a garden to another. Garden arches are also great support for climbing vines and plants. Hence what makes them a great decorative element to a garden.
Two side panels and a curved roof are often the main characteristics of a garden arch. But like all landscaping features, they can also come in a variety of shapes and sizes. The design usually depends on the owner and/ or the designer's style preference.
Garden arch designs can be made from wood, vinyl, wrought iron, and even metal. With the inherent characteristics of each, it is advisable to choose your material depending on your area's weather tendencies and conditions before deciding what to choose.
How To Choose The Perfect Garden Arch Designs?
In essence, if you are particular with your home design, it is best to choose the garden arch designs that work well with your home's architectural design. For example, if your home has a modern design, choose a garden arch that has edges and has a modern look.
Another thing to remember is that your garden arch should be tall and wide enough for you to pass through. The ideal height and width will be at least 6 feet high and 3 feet wide.
Since your garden arch will be supporting plants, they should also be sturdy enough for them and at the same time be able to stand up to the elements. You'd want to avoid accidents and getting people hurt.
What Are The Styles Of A Garden Arch?
If you are thinking of building one, it is best to have knowledge of the styles and garden arch designs available to know your options.
1. Arched. An arched style is the most common of all with its graceful arch. It is generally made of wood or metal and has 2 flat sides. This type of garden arch has a grid or ladder-rung style that can support plants.
2. Moon Gate. Moon gates are semi-circle garden arch. They are wider than the other arbors which makes them great for large spaces. They are best made from metal and also have ladder-like slats for twinning vines such as clematis and sweet pea.
3. Grape. Grape garden arches are arches with a flat top. They were originally designed to support fruit and woody vines such as grapes and other plants with hefty vines. This style of garden arches is usually made of wood where the top resembles the top of a pergola.
4. Gabled. Gabled garden arches are distinct with their steep and pitched tops. They resemble a triangular house roof and are popular in English gardens. The gabled garden arch is made of wood and best for clematis, hummingbird vine, and even English roses.
Popular Garden Arch Designs For Inspiration
If you have plans to have a garden arch but are still looking for the best garden arch designs, you have come to the right place. Below are some gorgeous garden arch designs
Walkway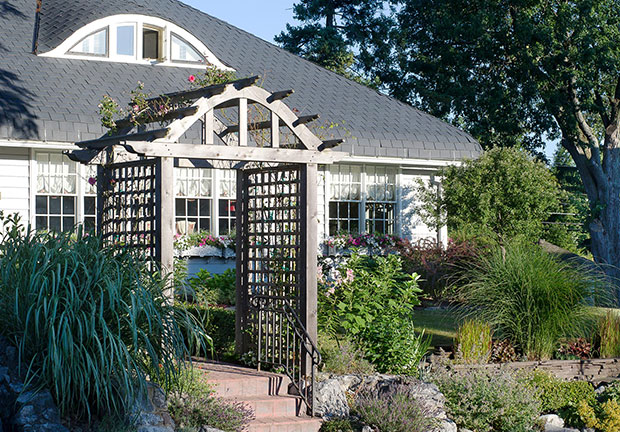 Rich Pomerantz
This lovely garden arch designs also serve as a walkway. Notice how the garden arch is placed on the steps with wooden trellis on the side. The texture also complements that of the surroundings and has a natural look.
Nature-Inspired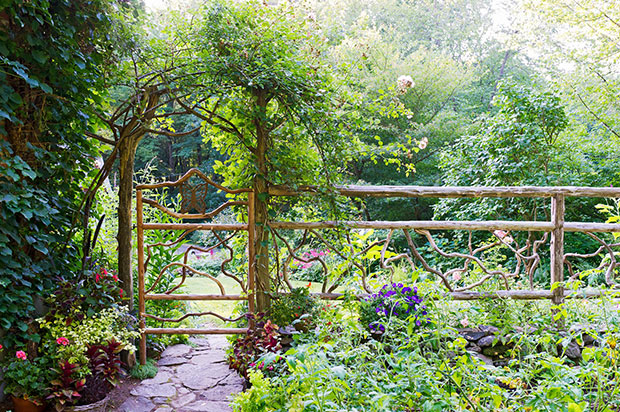 Robert Cardillo
We love how natural this garden arch is with its wood material. The owner even placed a door and had the structure adopt a natural design.
Garden Gate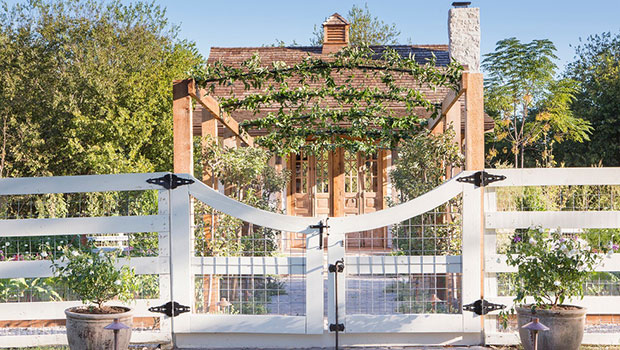 Joanna Gaines
This here was made to compliment the gate and serve as a pathway towards the house. Notice how vines are already slowly creeping up the arch.
Wrought Iron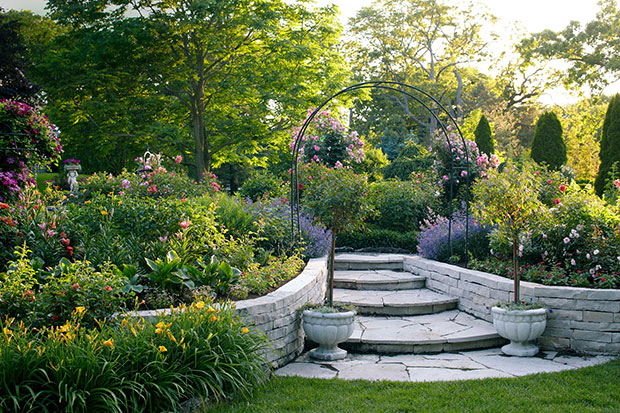 Peter Krumhardt
Notice how unassuming this garden arch is and simply blends and compliments in the garden landscape. This garden arch looks well with the stone stairway and the gorgeous landscape.
Red Door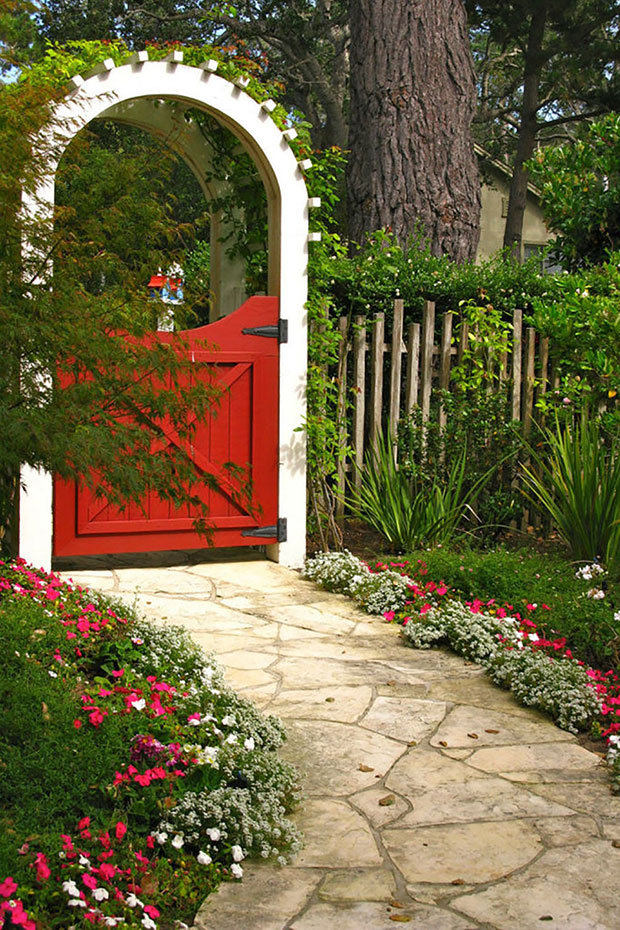 Tales From Carmel
This charming garden arch has a barnyard style that is emphasized by the eye-catching red door. The crisp white vine-covered arch is the perfect partner with the door.
Barreled Archway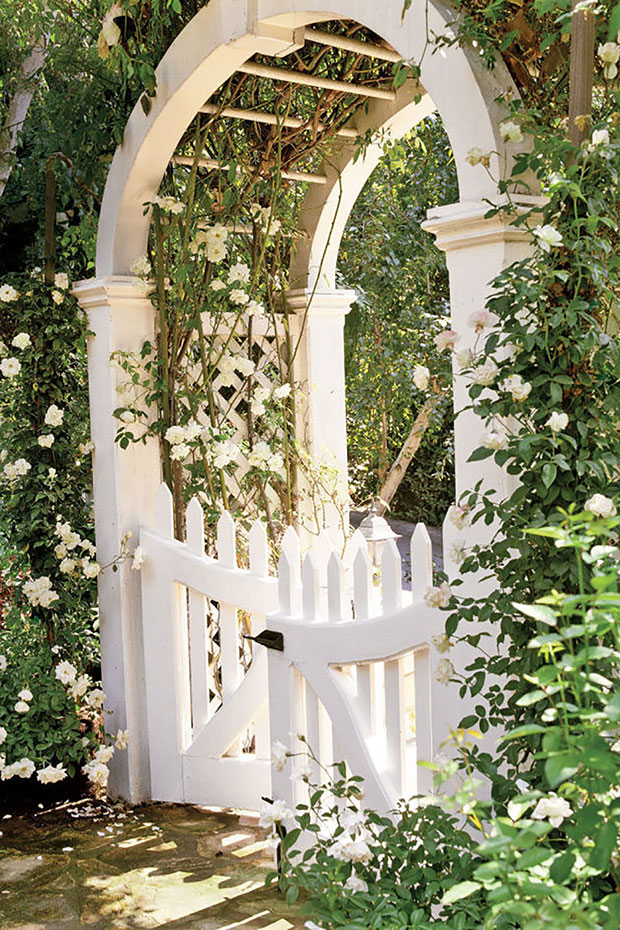 Mark Lohman
The barreled archway design makes you think of secret gardens. The white paint does wonders with the white roses entwined on the arch.
Doorway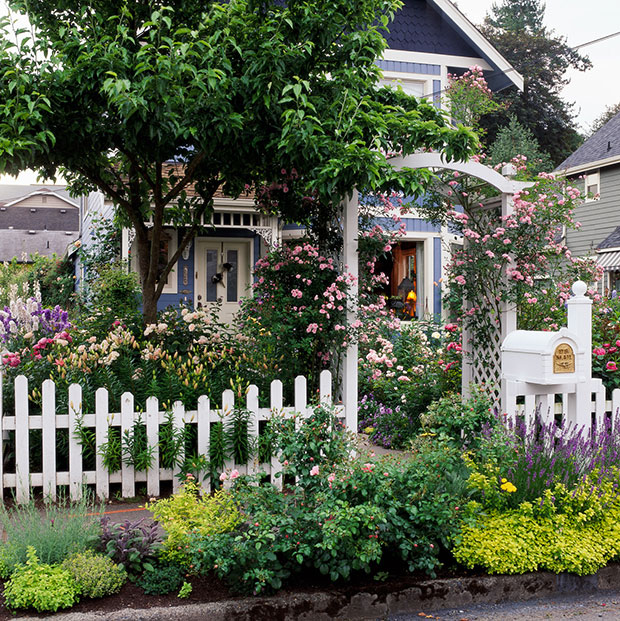 David Mcdonald
This garden arch serves as a gate towards the property. It has also the same paint and design as the house. The effect is rather magical and charming.
Exquisite Garden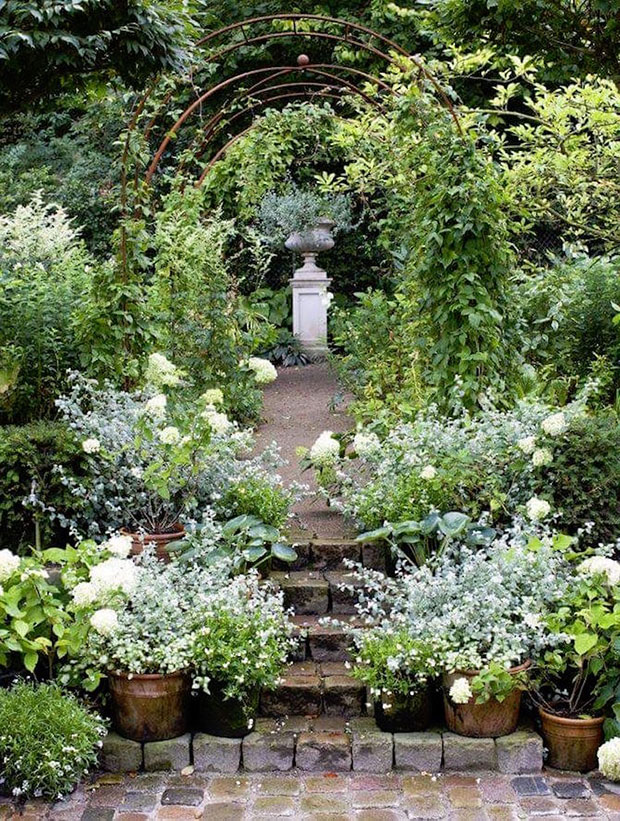 Laurel Bern Interiors
Serving as a walkway and a connection to different areas in the garden, the garden arch is made of iron that perfectly blends well with the garden and the landscape.
Portofino Garden Arch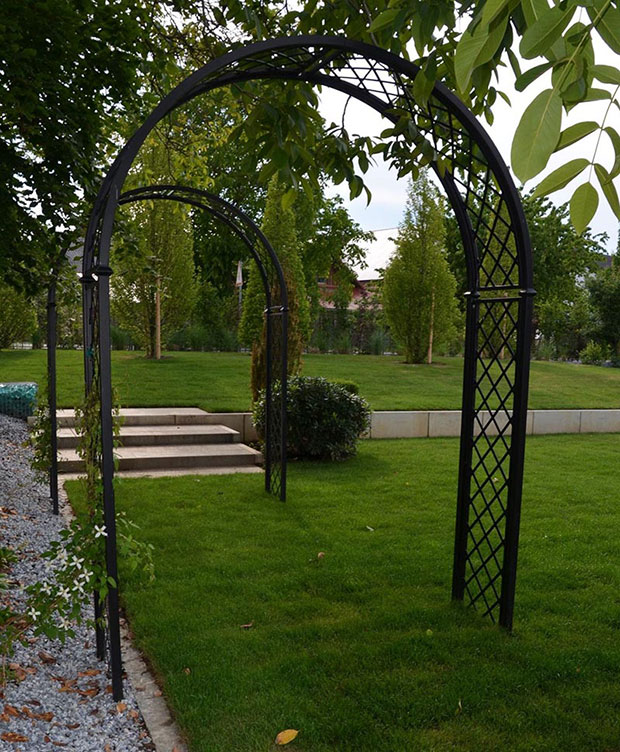 Classic Garden Elements
Embracing the Roman style, this garden arch design is made of steel tubings and steel bands. The lovely finishing will work well with bright flowers of pink or even white roses.
White Wood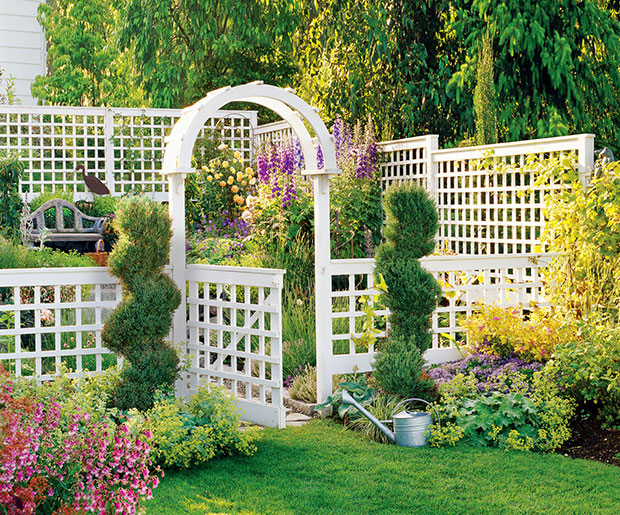 Mike Jensen
The garden arch here is used as an entry point to the beautiful landscape at the back. The design is in sync with the trellis beside it.
Rickert Arch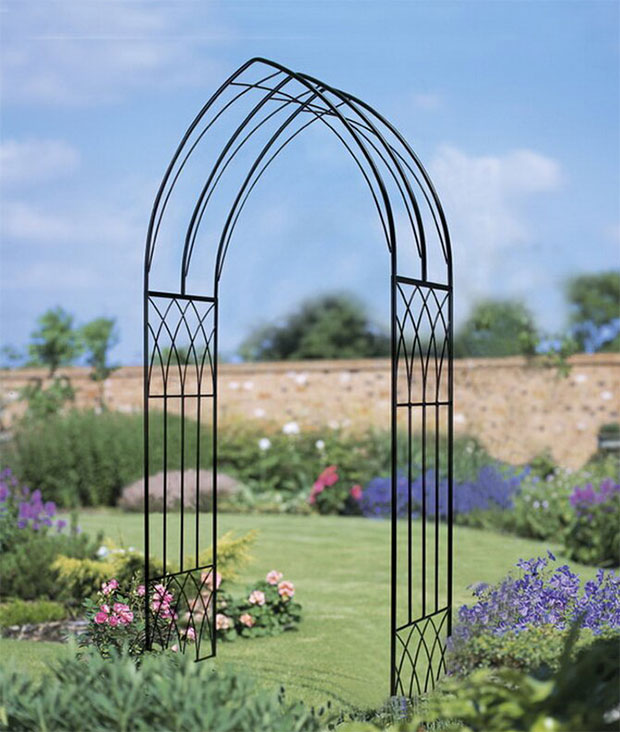 Rosalind Wheeler
With its modern contemporary garden arch designs, this arbor will definitely complement a modern home. It is also made from metal and is powdered-coated black.
Pink Flowers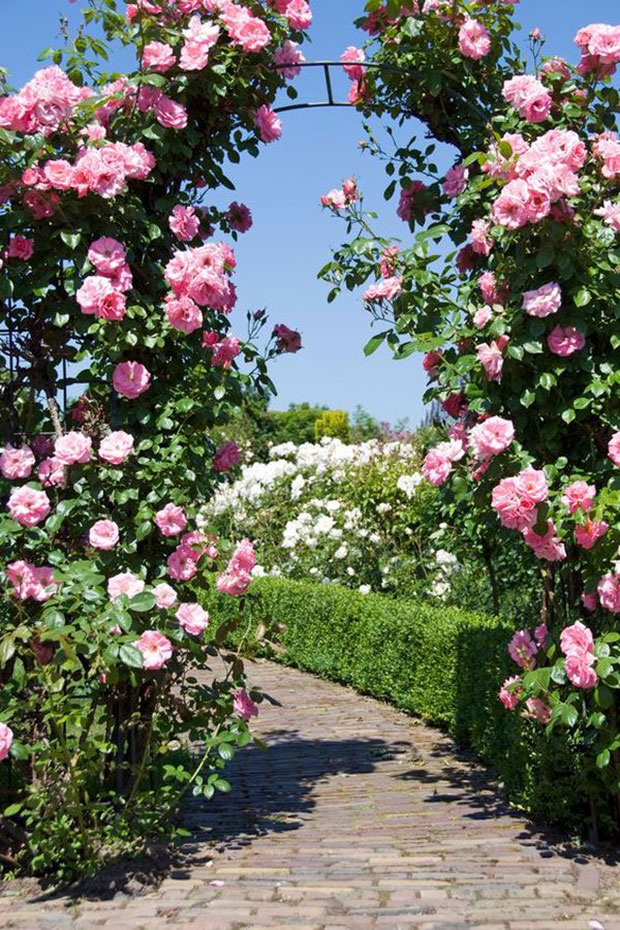 My Desired Home
This garden arch design is made as an entrance to another area in the garden. We love how it is adorned with lovely pink flowers which highlight it from the rest.
Rose Arch with Planters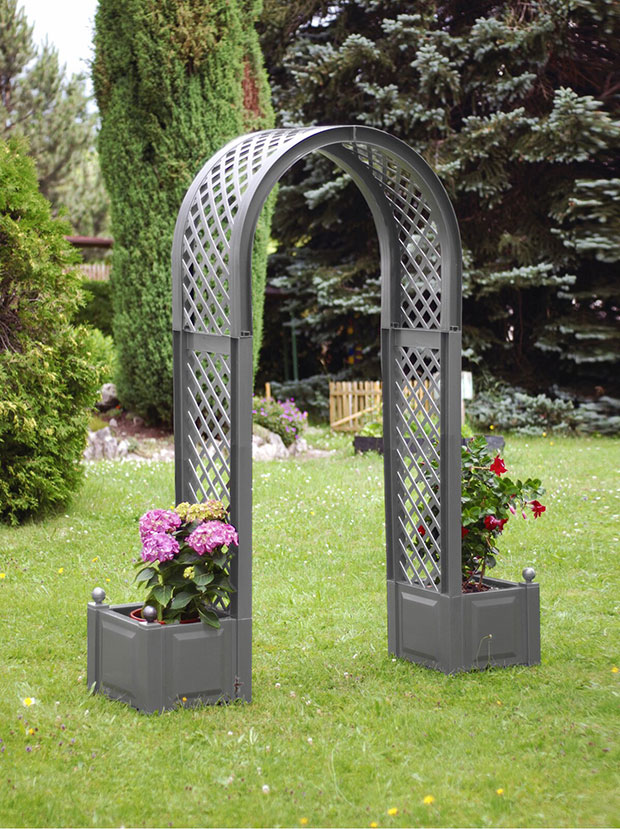 Dakota Fields
This here is a great idea if you also want a planter on the side. It is made of plastic and has an elegant gray color. The design is perfect if you have lots of flower beds in your garden.
Genoa Arch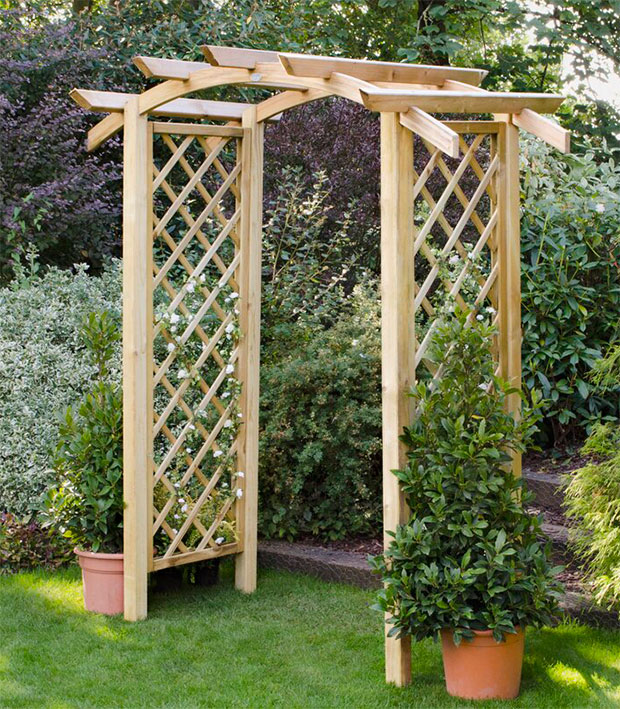 Bel Étage
Perfect for garden entrance, this garden arch designs with its elegant curved top is charming. It has lattice side panels and is made from natural timber.
Rounded Frame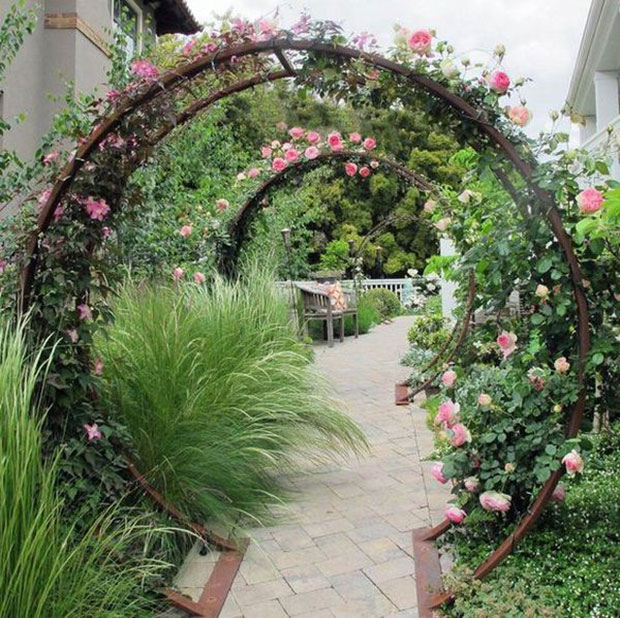 My Desired Home
Now this here has a rounded frame that makes you think of a tunnel – but minus the claustrophobic feeling. It is the perfect garden arch designs for adding soft dimension to your garden.
Rose Arch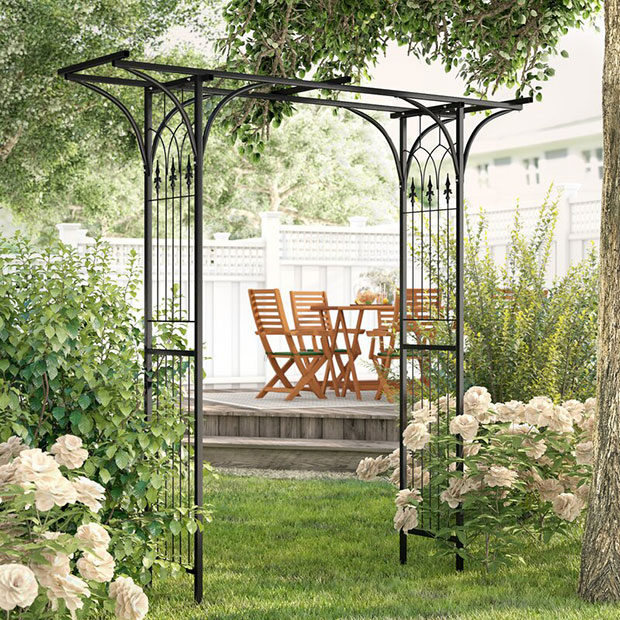 Dakota Fields
Made from metal, this garden arch designs has a head-turning design that is perfect for holding roses and climbing plants.
Peaslee Arbour Garden Arch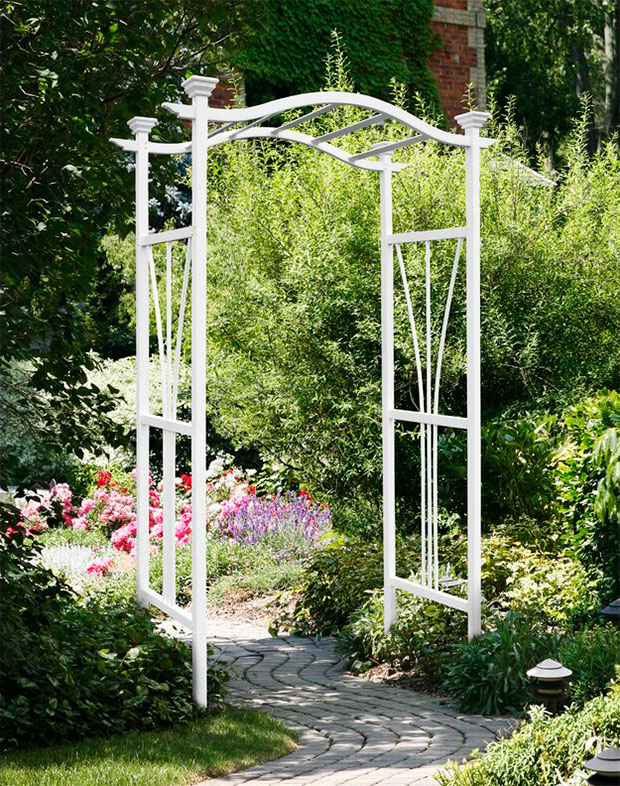 August Grove
Embracing a white wooden look, these garden arch designs are made from plastic (PVC). Its design is charming and will look great in entrance areas.
Genesee Arch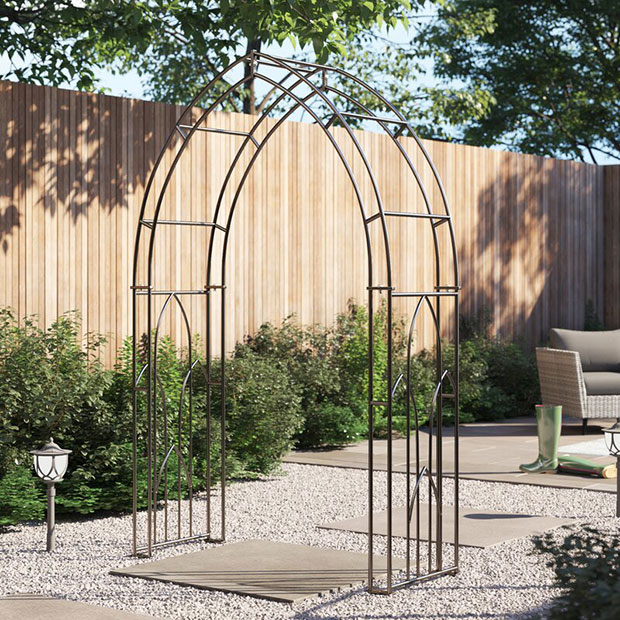 Fleur De Lis Living
Instead of the usual soft curve found in garden arch designs, this arbor has a sharper curve that gives it an edgier look.
Friedens Sierra Arch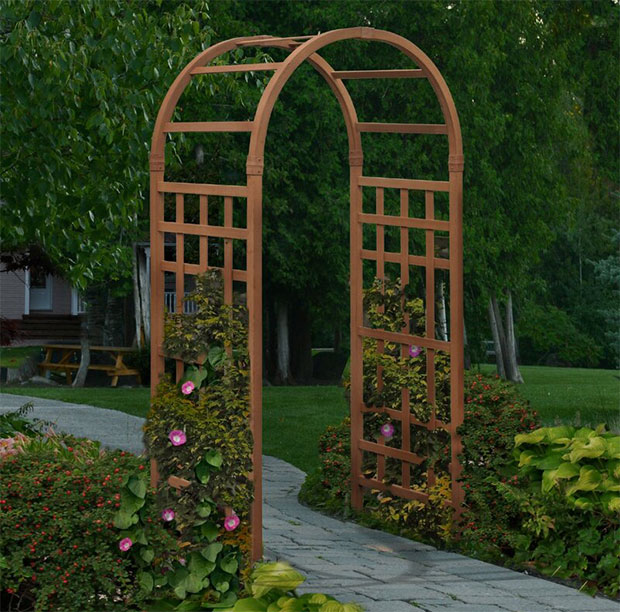 Ophelia & Co.
With its classic look, this garden arch design has the traditional lattice detail for supporting climbing plants. Instead of the usual metal or wood, this here is made from vinyl.
Quayside Arch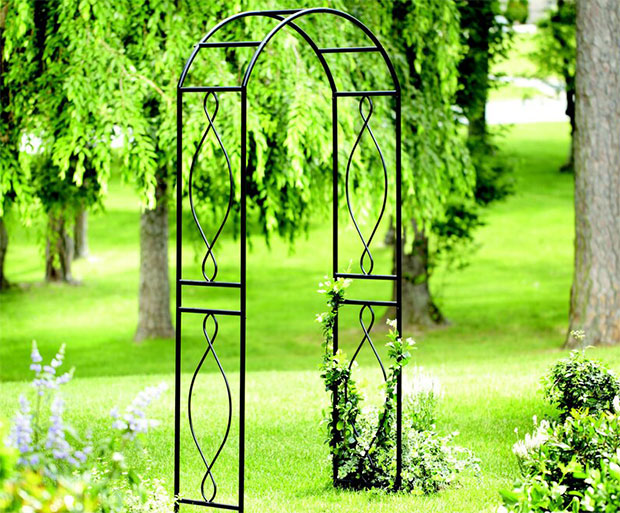 Dakota Fields
Another minimal garden arch designs is featured here with its simple lines and curves. The arbor is made from galvanized steel.
Chessman Iron Garden Arches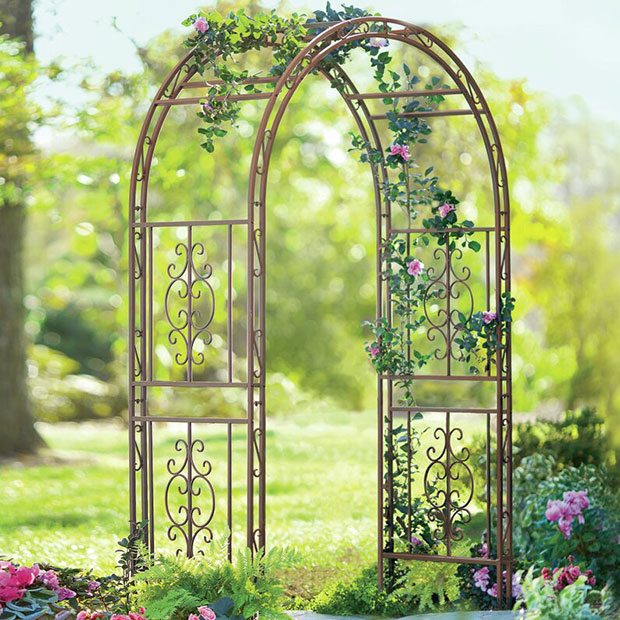 Astoria Grand
The lovely details in this garden arch designs will be perfect for the front garden path. It is also made from tubular iron with a bronze color.
Freeport Arch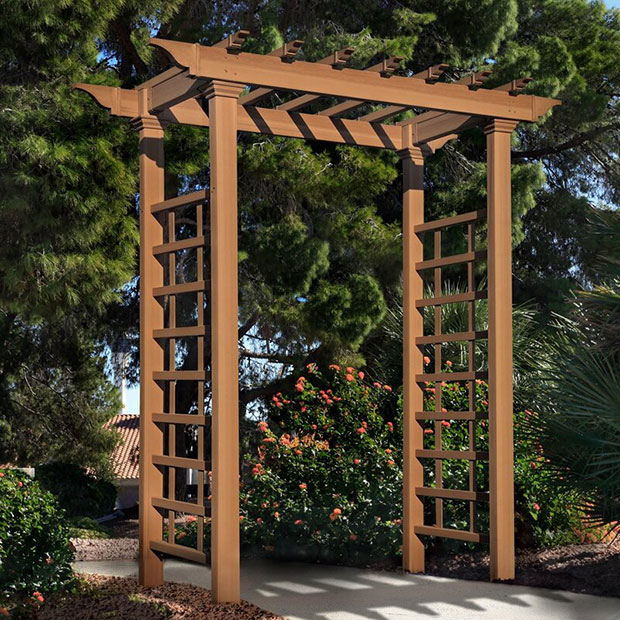 Ophelia & Co.
This garden arch design features a traditional flat arbor with trellis on the side for climbing plants and flowers. It has a wooden appearance but is made of vinyl.
Whitby Arch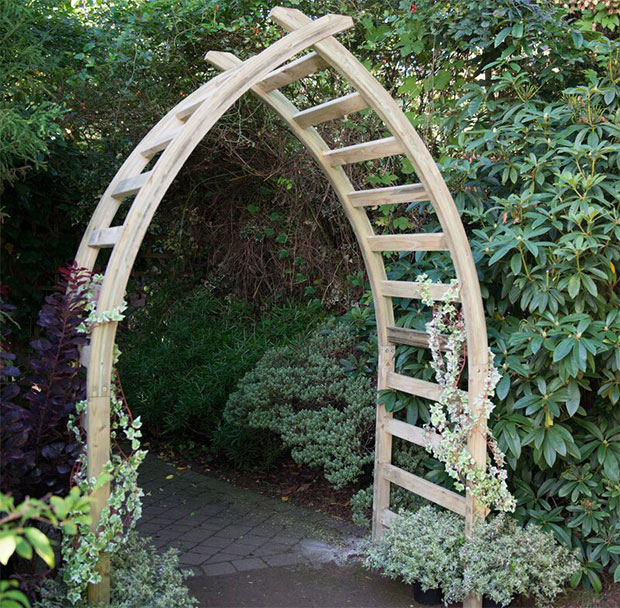 Bel Étage
Made from mixed softwood, this garden arch has a modern design that will look great with flowers climbing
Vandyke Arch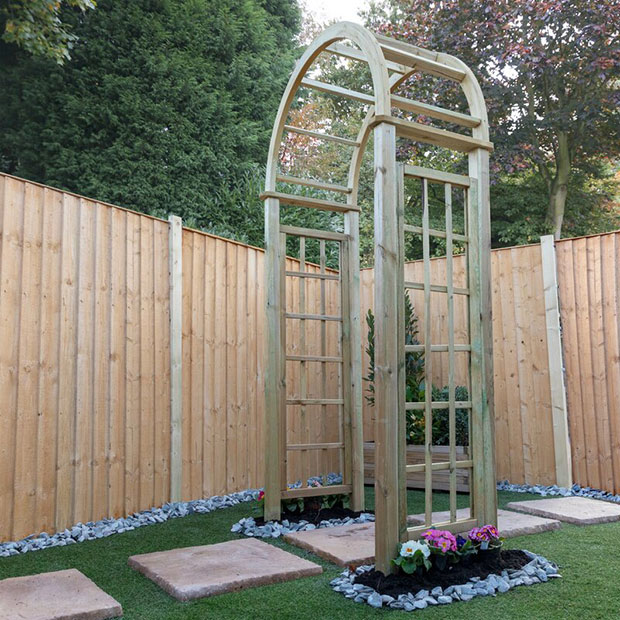 Alpen Home
Garden arch designs with trellis are absolutely charming, and the same is true with this arbor. It also adopts a trellis on the side and a curved arched at the top.
Rogersville Rose Arch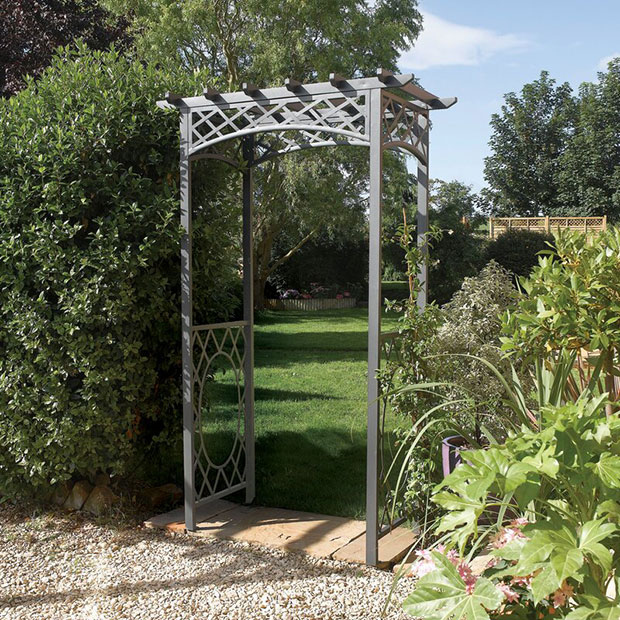 Dakota Fields
This garden arch design has more unique side details. Instead of the usual trellis, half of it is left bare and open while the lower part has geometric designs.
Achla Designs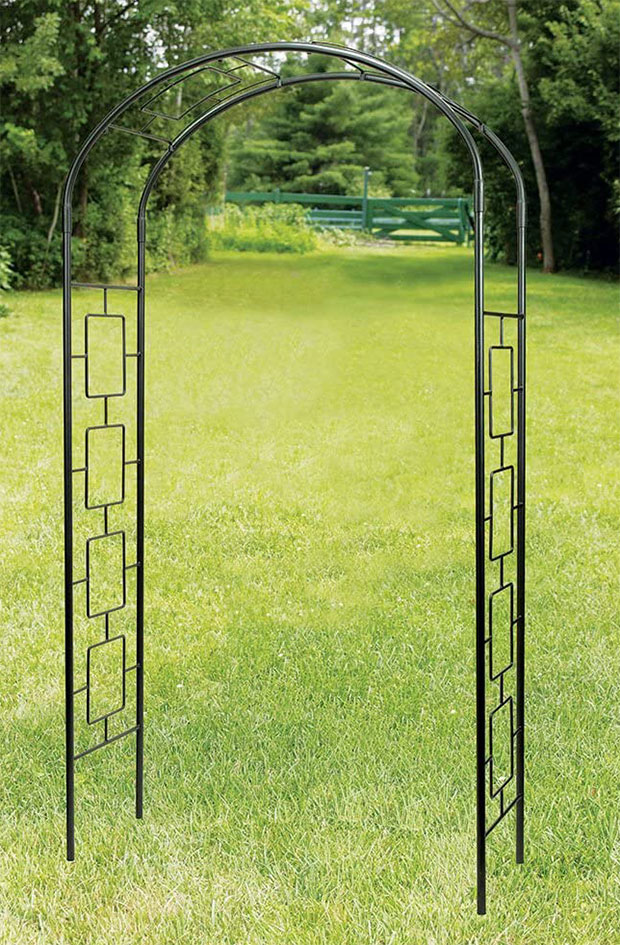 Achla
Simple lines and elegant design is seen in this garden arch design. It is made from metal
Gated Arch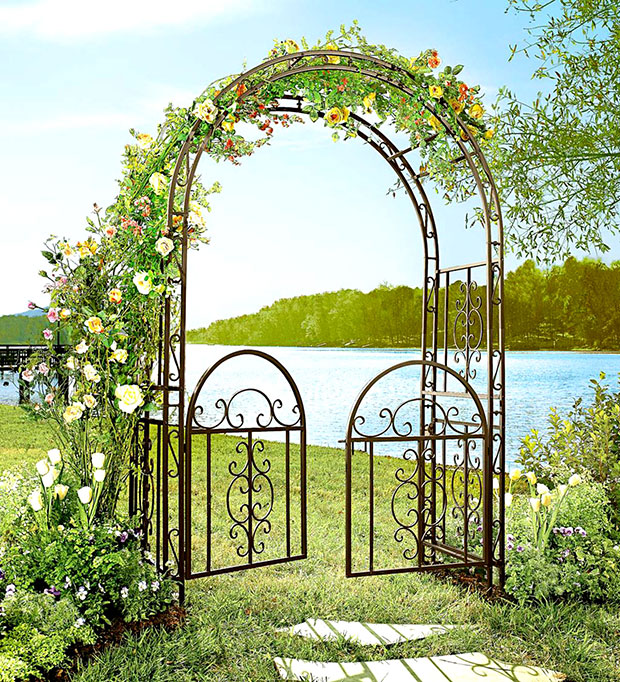 Plow Earth
This gated arch design has a charming look with its intricate details. It looks perfect for gateways and entrances.
Garden Arbor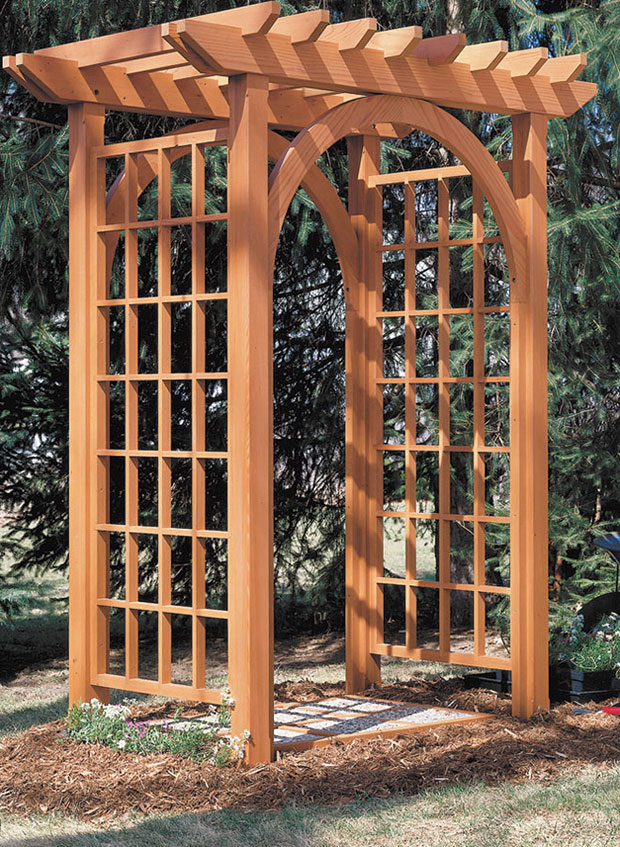 Woodsmith Plans
This one looks like a mini-pergola that provides shade for someone passing. The design is flawless and looks very sturdy.
Florence Arbour Garden Arch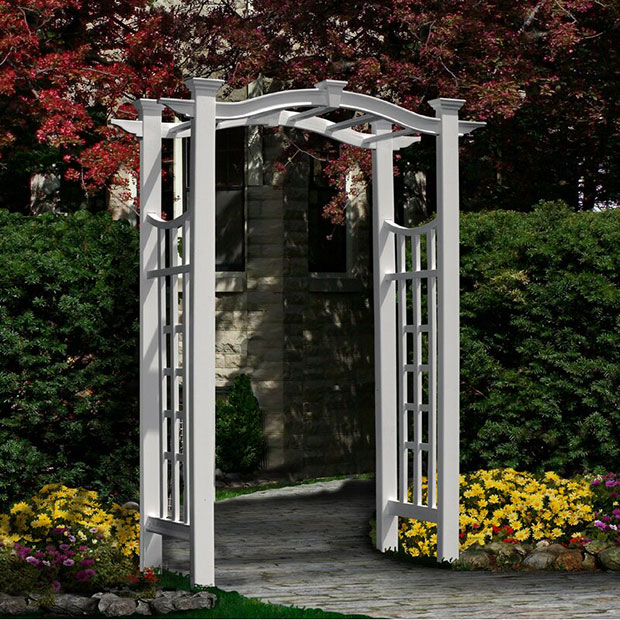 Dakota Fields
The garden arch designs on this arbor will look perfect on cottages. It is made from vinyl so it is easy to maintain.
Bird Feeding Station Arch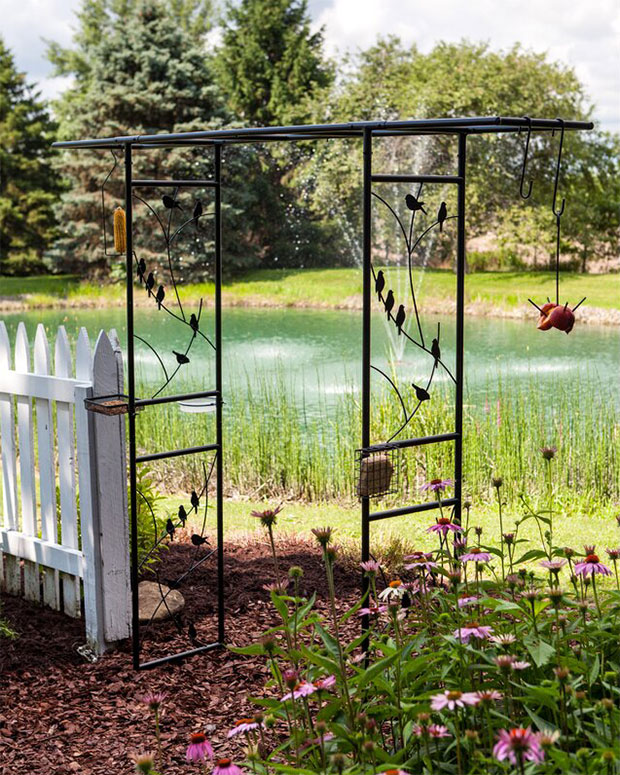 Lily Manor
Instead of the usual garden arch designs for climbing plants and flowers, this arbor is meant for birds. This is the perfect addition to homeowners who love these lovely creatures.
Ornate Arch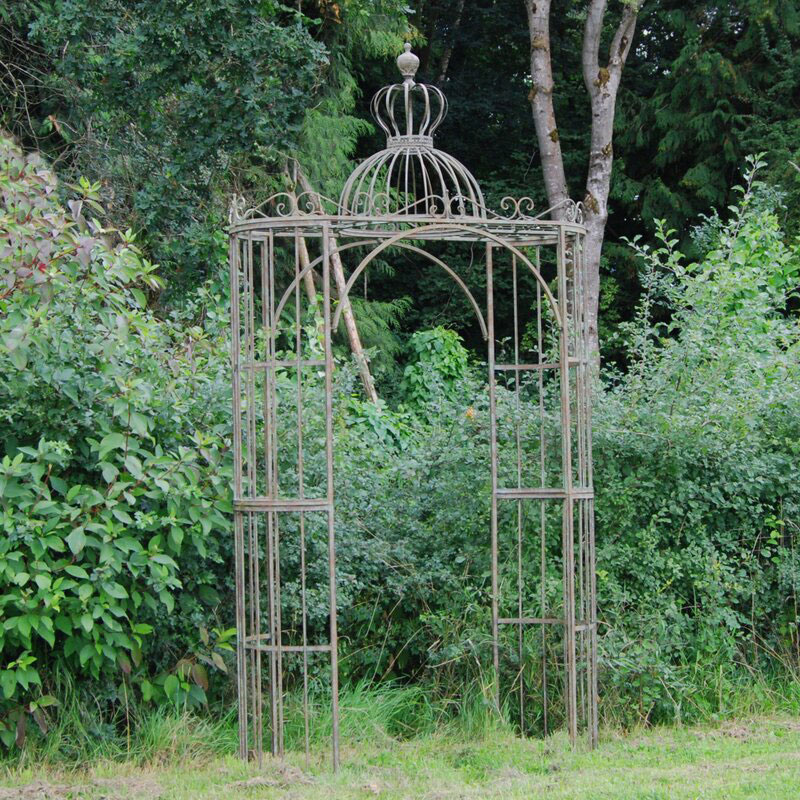 Fleur De Lis Living
If you are making a statement, this garden arch designs will surely turn heads. It has a unique ornate design that will make you feel like royalty!
Avalon Gate Arch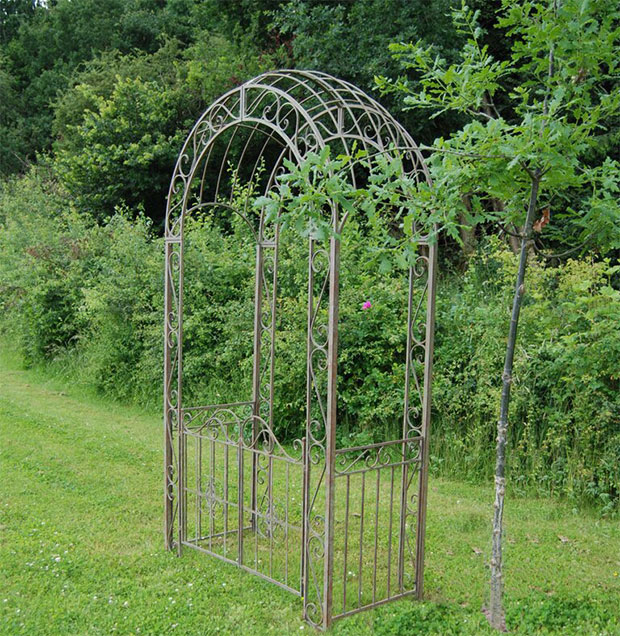 Ascalon
This lovely metal garden arch has a unique distressed look that makes it charming. It has nice details around the edges and a gate at the center.
Christianson Arch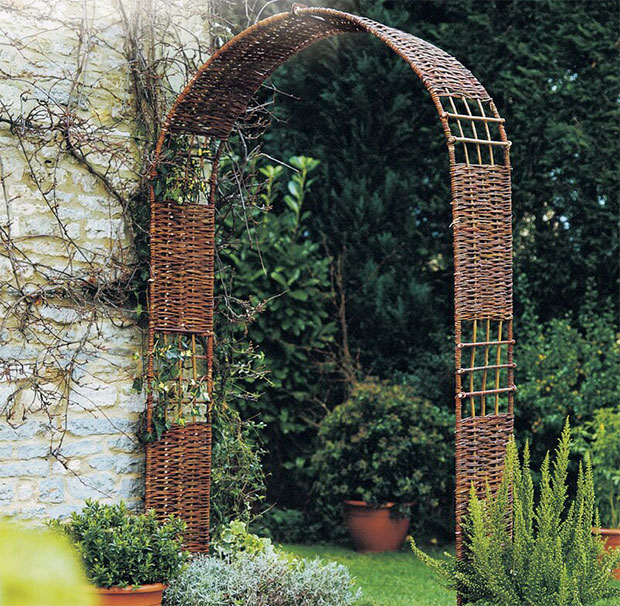 Bay Isle Home
Looking for charming garden arch designs? This here has a unique design that will turn heads. The arbor is made of metal and has woven hazel on the side.
Raised Arch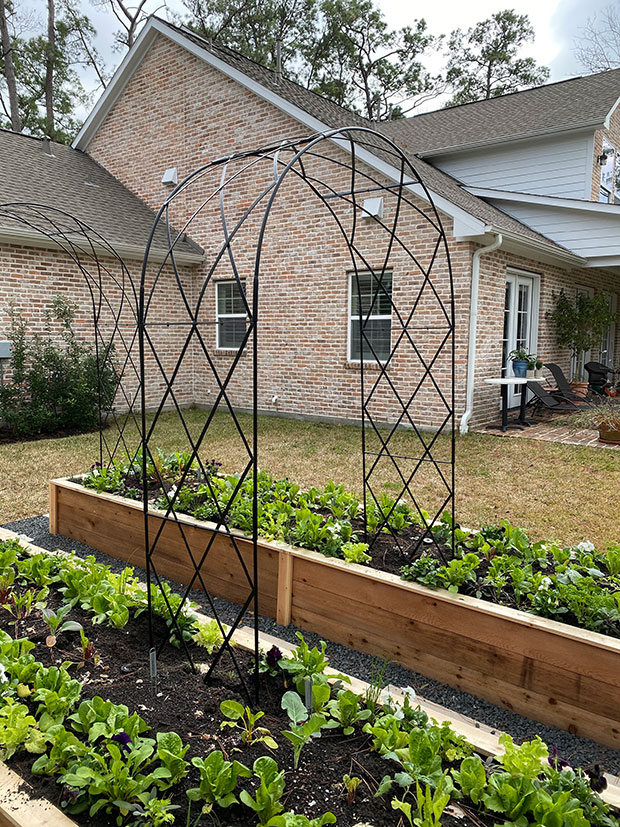 Rooted Garden
This arbor is a combination of a garden arch and a trellis for the bed garden. The look is both functional and appealing.
Mercier Rose Gothic Garden Arch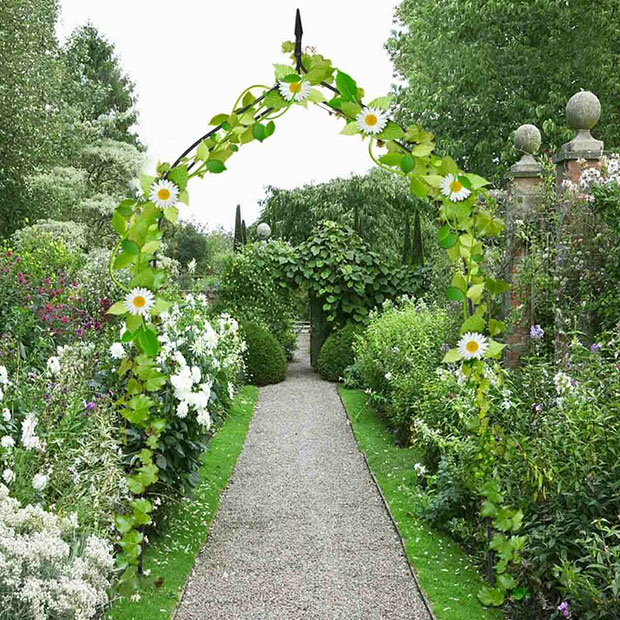 Dakota Fields
This garden arch design has a unique Gothic-inspired spire at the center, which adds a charming look especially with the plants climbing up on it.
With all these garden arch designs, have you found your preferred arbor? We hope so!
Gardens are the perfect way to let people see your artistic and creative side! Get that garden arch now!
Like This Post? Pin It!