50 Fun and Eclectic Garden Sculptures To Add Character To Your Garden
|
Gardens don't have to have only flowers, trees, and plants. They can also have eclectic garden sculptures.
One of the good things about gardens is that, like your homes, they can be designed according to your tastes too. You can make them as elegant as you want them or even as fun as your personality.
In this case, garden sculptures can add a personal touch to any garden.
Garden sculptures are three-dimensional artwork that is created from hard materials such as stone, metal, glass, or wood. Its size and shape depends on the owner, and can be as creative as you want them to be.
For some, garden sculptures can be made with deep meaning, others are simply chosen for aesthetics purposes. Some homeowners even find happiness when they see eclectic garden sculptures adorning their gardens. No matter what the reason is, garden sculptures are a great addition to any garden.
How To Choose The Perfect Sculpture for Your Garden?
With the wide variety of eclectic garden sculptures, choosing one (or two) can be overwhelming. That said, you have to know how to choose the perfect eclectic garden sculptures. Below are some helpful tips to choose the right eclectic garden sculptures:
1. Choose something you love. One of the best advice you'll get when decorating your home, or your garden is choosing something you love. Otherwise, you wouldn't get that satisfying feeling when you already have it.
2. Choose one that sticks with your home and garden style. Your garden may adopt exquisite flower bed designs with Asian influence, or perhaps you have adopted a modern home. Whatever your choice is, remember to choose your eclectic garden sculptures with a design that will complement that.
3. Choose the placement of the eclectic garden sculptures. Your garden sculptures will need the perfect location in your garden. That said, you need to consider where to place it. Larger pieces tend to become the focal point and will draw people's eyes. Smaller sculptures on the other hand tend to bring people inside your garden. You can easily create a path to lead people to them.
4. Choose the right material. As mentioned before, eclectic garden sculptures come in a variety of materials. This includes marble, stone, bronze, slate, and even glass. The material of your sculpture has an impact on the garden design that you are aiming for. For example, marble and stones are well-suited for traditional and formal gardens. Metals like copper will add a wilder and look to any garden.
5. Decide on the size. Eclectic garden sculptures need to be proportional to the size of the garden. They also tend to make the garden feel smaller or larger.
6. Choose the lighting properly. The lighting in your garden will add a wow factor to your garden design. It will put your eclectic garden sculptures in the spotlight.
How To Preserve Garden Sculptures?
When deciding on having a garden sculpture, you must preserve it well. That said, here are some basic preservation tips to preserve your eclectic garden sculptures:
1. Check your local hardware stores to see what's available in your area. If you intend to import from other areas/ country, remember that you'll need to maintain them. It is then important to have the proper maintenance material on hand.
2. Pay attention to the material of your garden sculptures. Each material has unique properties and equally unique ways of being taken care of. Check that the weather (for example) is appropriate for them. Ceramic can break when exposing to extreme heat or cold. Same with porcelain.
3. Constantly clean your garden sculptures. It doesn't have to be done every day. Just enough that the dirt, dust, and grime won't stick and corrode with the material and its finishing (if any).
4. If broken, immediately have it mended. Often, when left unattended, breaks, tears, and cracks can get bigger. By then, it will be impossible to repair them.
Eclectic Garden Sculptures For Inspiration
One of the best things about having eclectic garden sculptures is that it helps your garden to stand out. Here are some great eclectic garden sculptures design for inspiration!
Sphere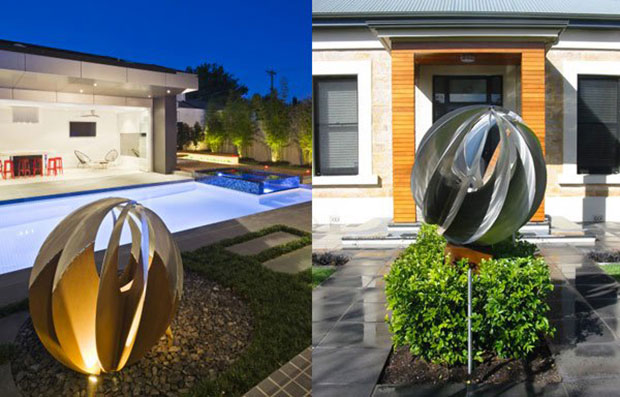 Lump Sculpture Studio
This sphere sculpture looks like something from a sci-fi movie. The concealed stainless steel attachment pin helps secure the sculpture to the ground.
Modern Abstract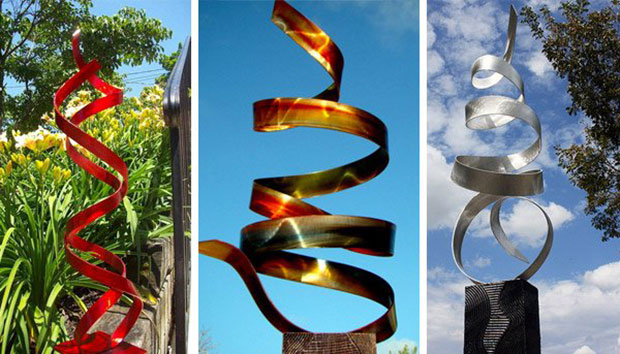 Jon Allen
The spiral design of this garden sculpture will definitely add a distinct look to any garden.
Uroboros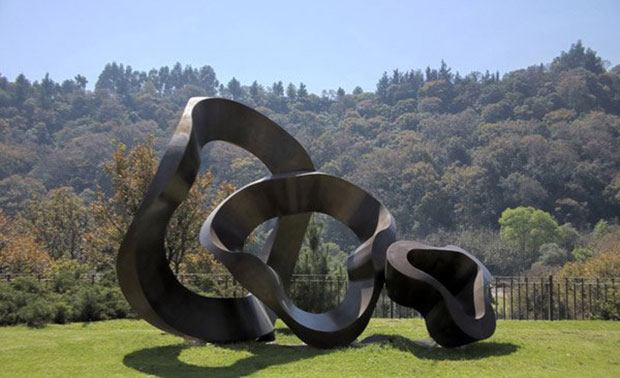 Yvonne Domenge
The free form design of these eclectic garden sculptures add a free and carefree look to any outdoor space.
Yeti Tree Sculpture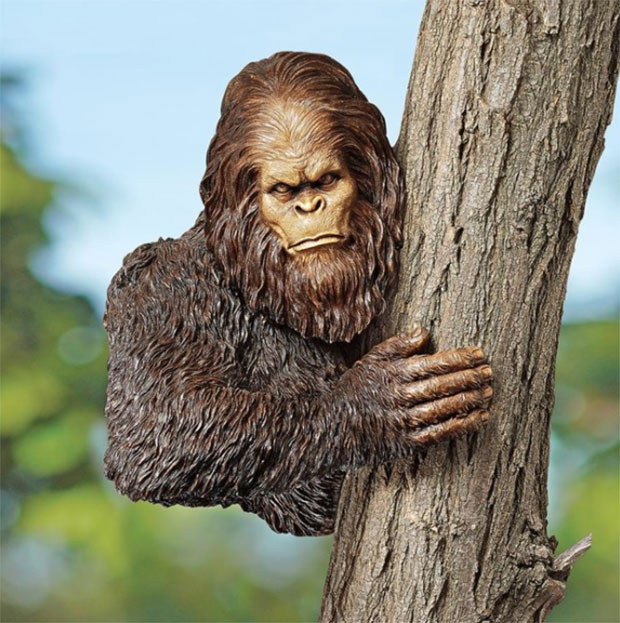 Design Toscano
Surprise your family, and guests with this yeti tree sculpture.
Steampunk Octopus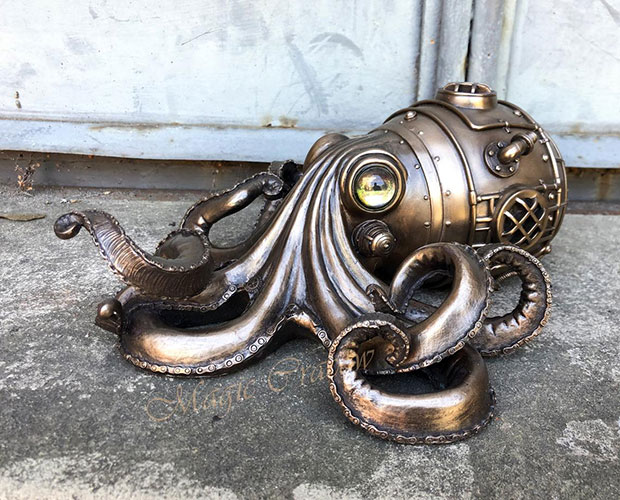 CracowMagicDecor
Express your love for the sea with this spunky steampunk octopus.
Ogling Owl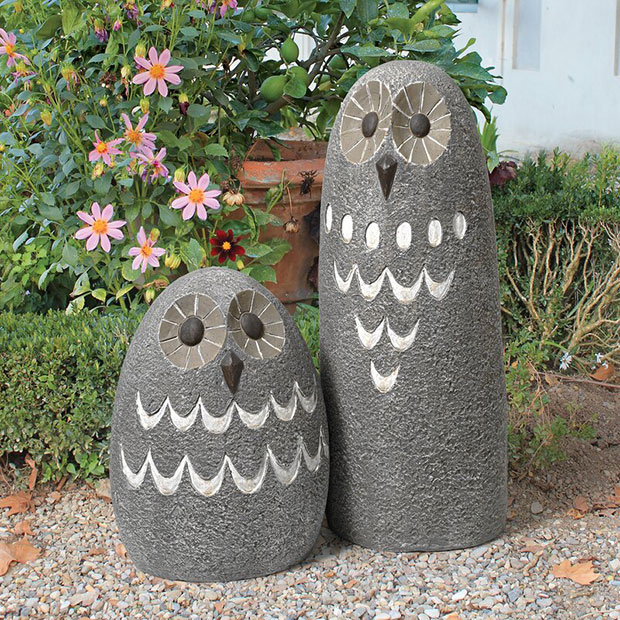 Design Toscano
These adorable ogling owls are great add-ons for your porch or your walkway. They can also be a great add-on on the garden gates or near the pond or pool.
Urn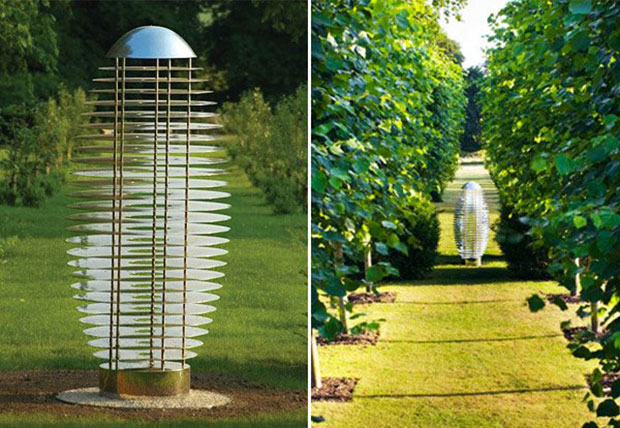 David Harber
This elegant ellipse-shaped eclectic garden sculpture looks like a large lamp from afar.
Lazy Reader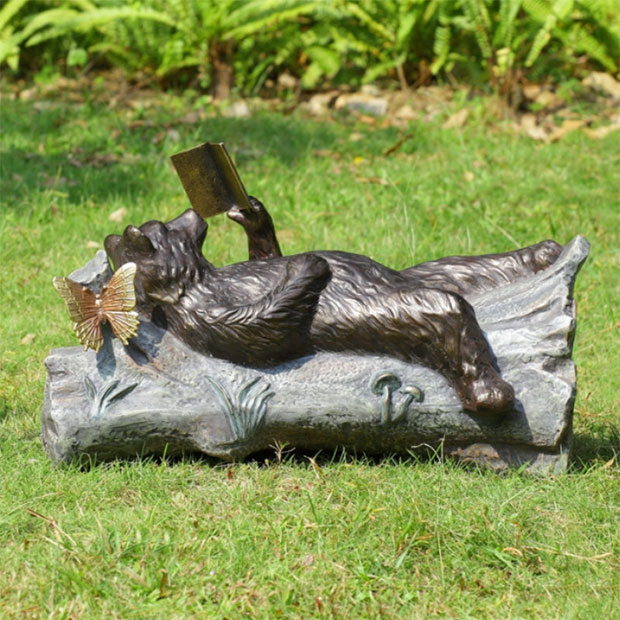 SPI
Add a lazy and relaxing atmosphere to your garden with this lazy bear reading on a wood sculpture.
Arlenis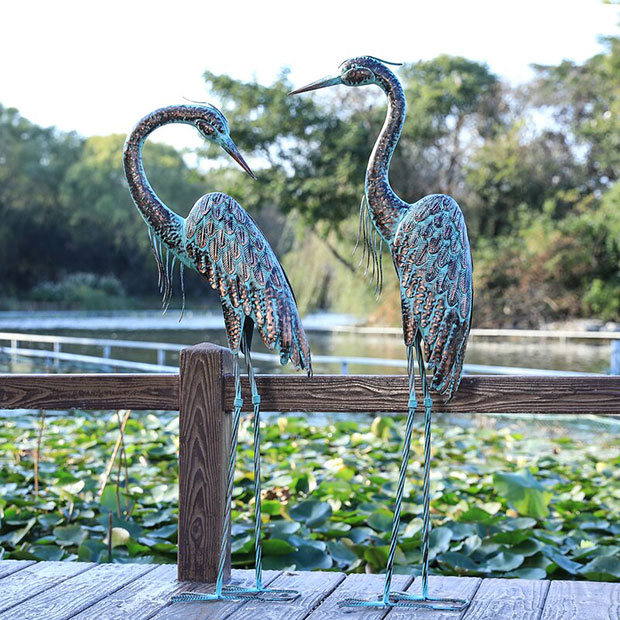 Bloomsbury Market
Bird-lovers will enjoy these long-legged birds made from metal. The design is elegant and will look amazing with modern gardens.
Planet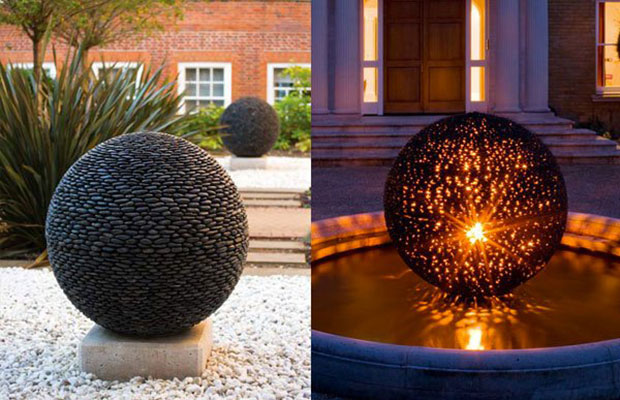 David Harber
This hundred pebble structure creates a pretty stunning effect when lighted. It will be an amazing sight to see at night!
Tree of Life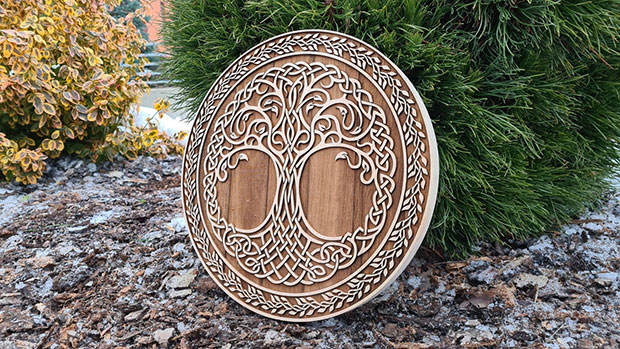 JKwoodenart
This wood burned tree of life is the perfect addition for Viking or mythical-themed gardens. Or if you just want to have a Viking-themed piece of decor in your outdoor space.
Elf Gnome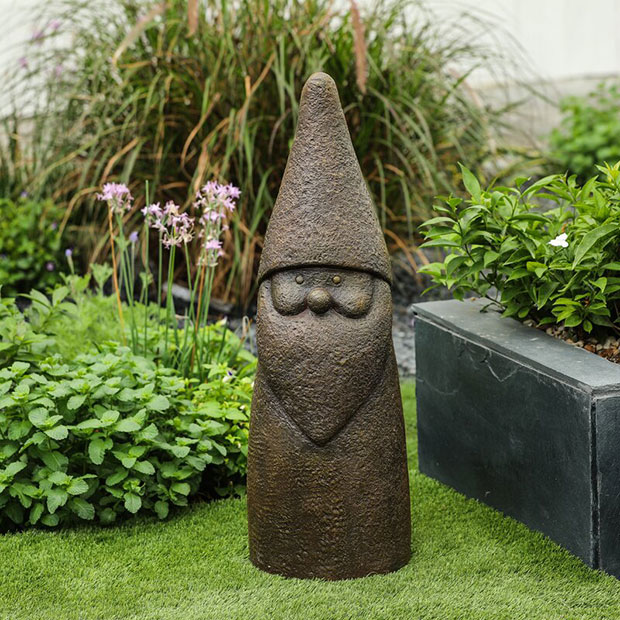 Canora Grey
This adorable elf gnome garden sculpture is quite adorable with its cute shape.
Steampunk Girl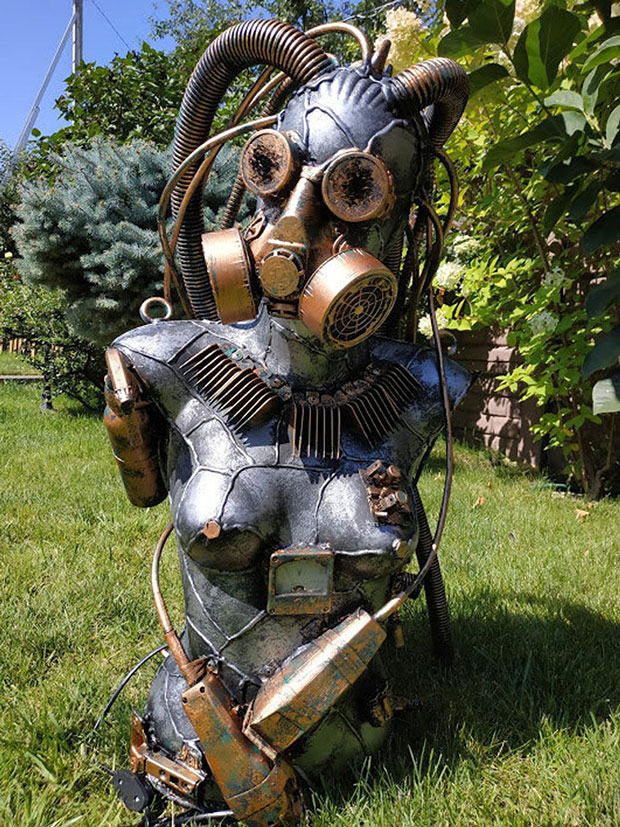 AliveSteel
This steampunk masterpiece is made with a lot of details and awesome craftsmanship. The eclectic garden sculpture has a personality of its own.
Free Form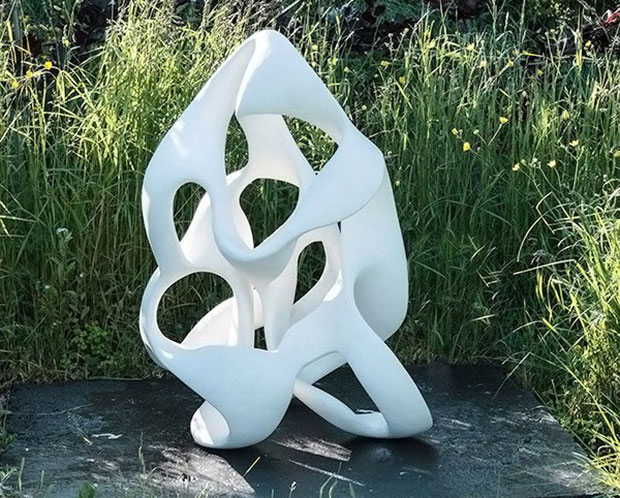 Kingsbraegarden
Another free-form sculpture that adds a minimalist and clean design to any garden.
Metal Chicken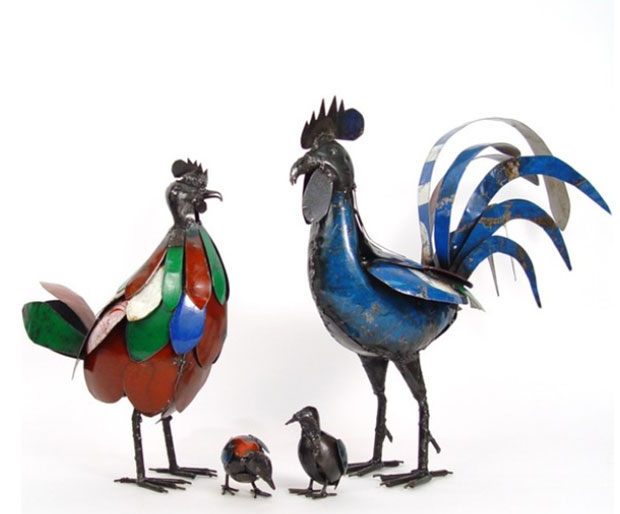 Mbare
Handcrafted from recycled gallons of oil drums, these metal chicken adds a spunky and unique feel to the garden with their bright colors.
Steel Cactus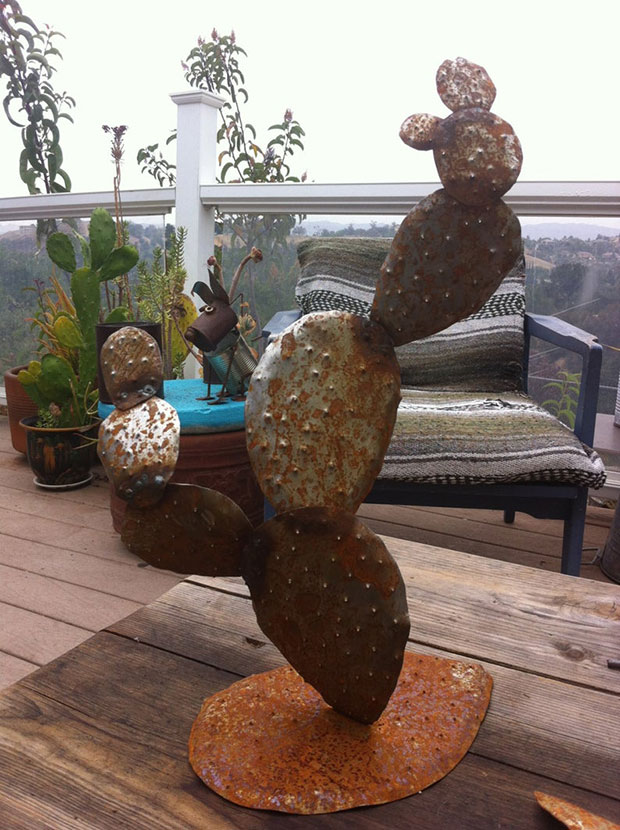 TopangaPatina
If you have love cactus or perhaps own a desert-themed backyard, this steel cactus is a great option.
Golf Nut Cracker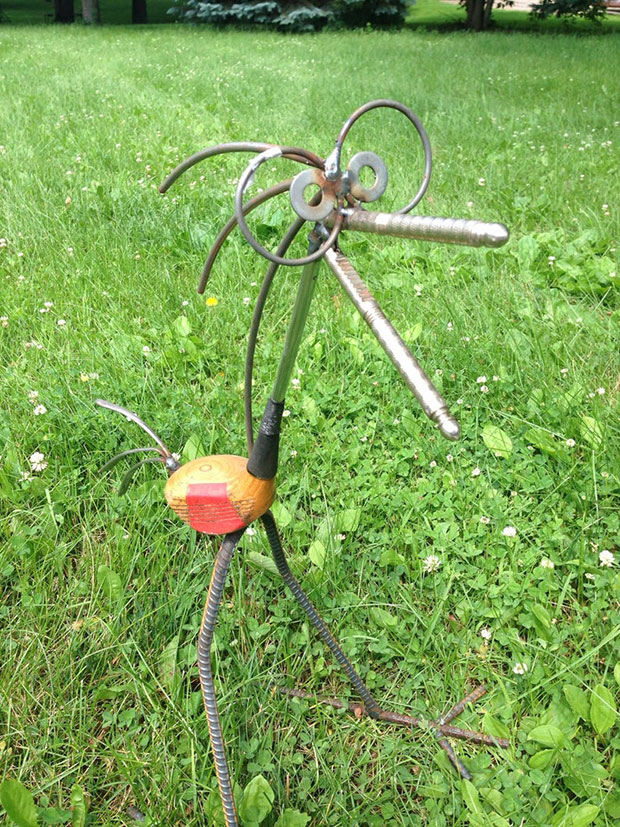 nbillmeyer
This golf nutcracker will bring smiles and to anyone who sees it. This eclectic garden sculpture is made from a combination of iron, steel, golf driver, and metal.
Goliath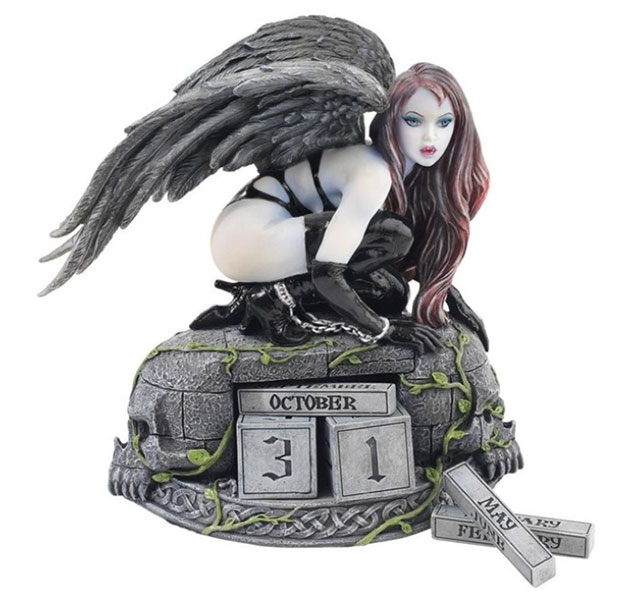 Design Toscano
This gorgeous goliath statue adds a menacing touch to any garden.
Blue Jay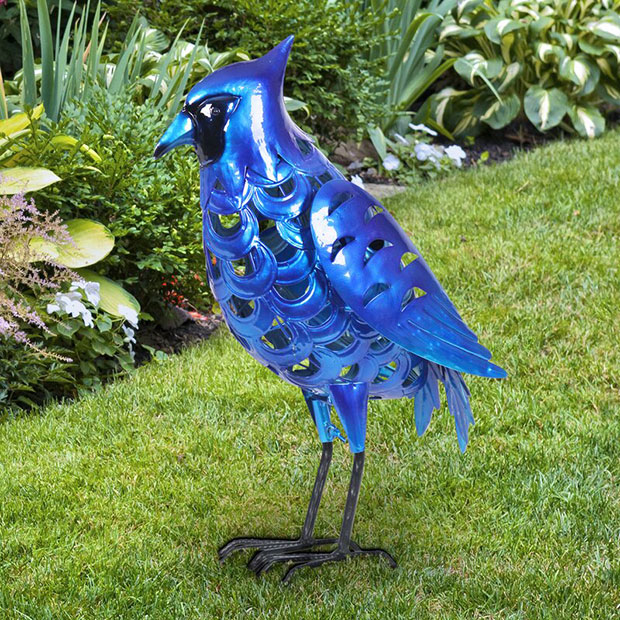 Gracie Oaks
Add color to your garden with a striking blue jay garden sculpture.
Crescent Moon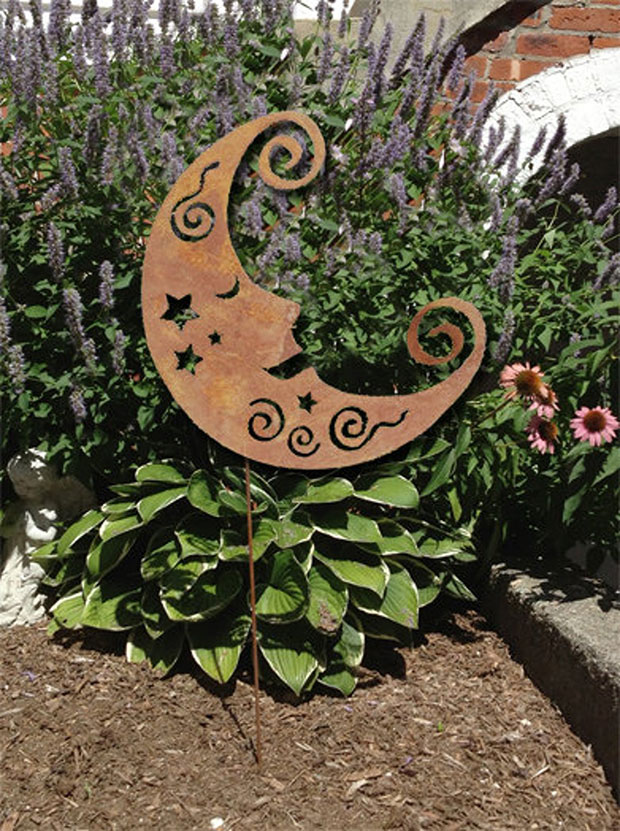 RusticaOrnamentals
This new moon garden stake is charming and adds a relaxing ambiance to any outdoor space.
Small Gnome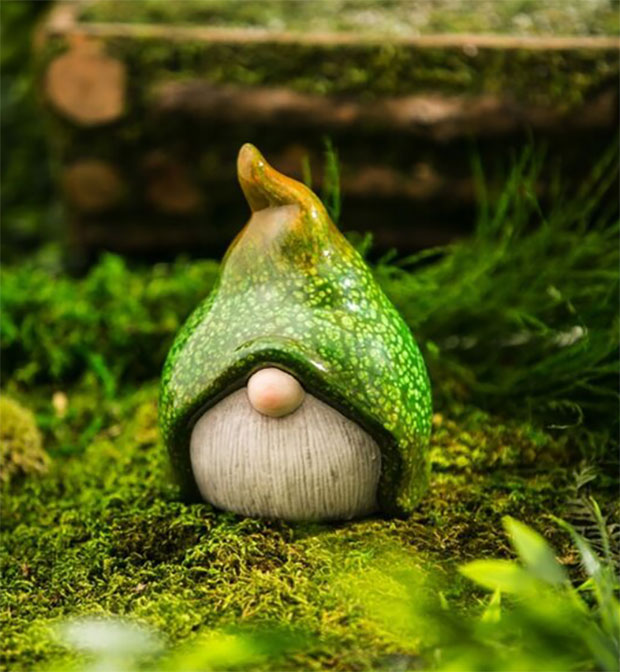 CREDIT
A cute little gnome added to any garden will make the atmosphere a lot cuter and magical!
Garden Sphere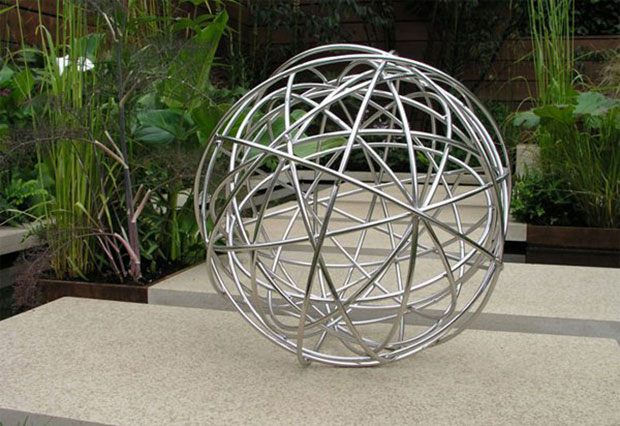 Moore Designs
The modern and minimal design look of this garden sculpture is truly charming and eye-catching. The design is made from stainless steel frames.
Umbrella Frogs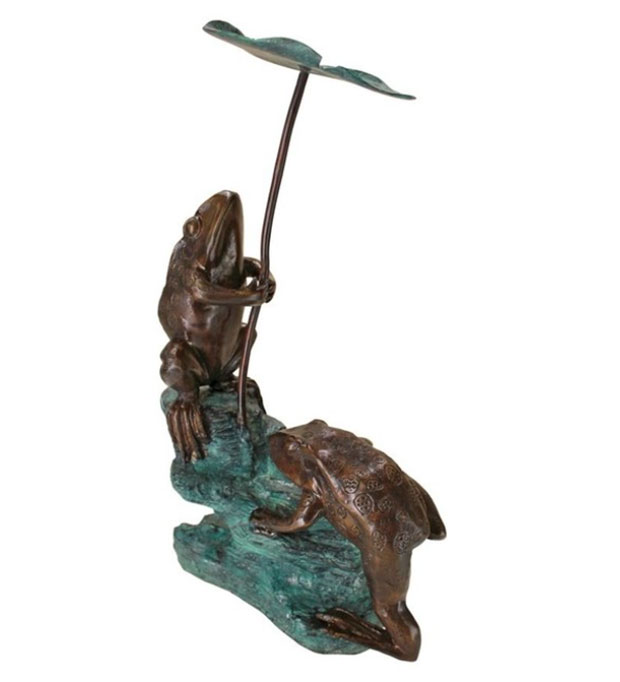 Design Toscano
The comical design of this piped bronze frog statue will make anyone smile for sure. The bronze garden statue will look great on or near the pond or fountain.
Giant Statues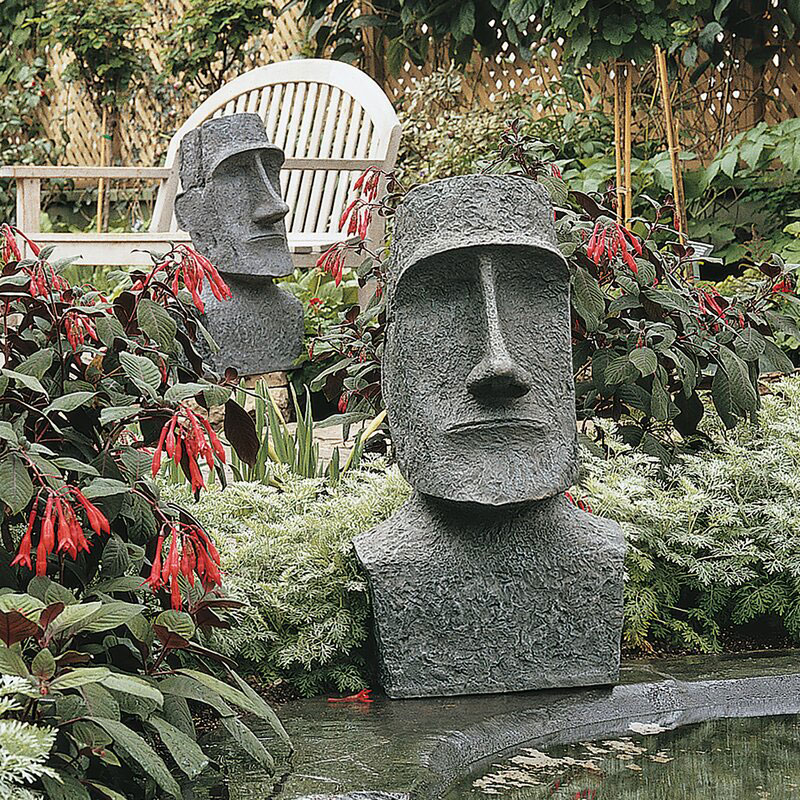 Design Toscano
Add a touch of the mystic in your garden with this popular statue inspired from those seen in the Eastern Island.
Kismet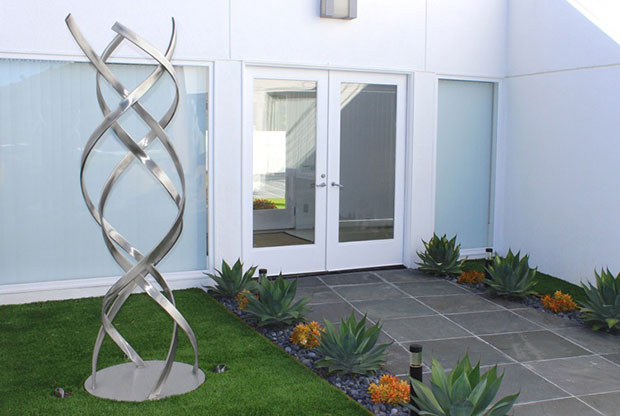 Terra Sculpture
Made from weathered steel, these eclectic garden sculptures look like fire reaching for the sky.
Metal Peacock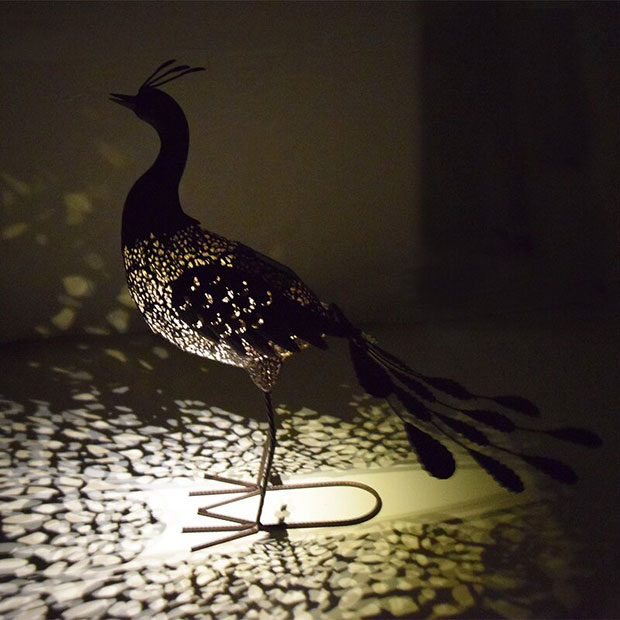 August Grove®
The feathered filigree design of this metal peacock holds a solar panel that charges during the day. At night, the peacock lights up and adds an interesting illumination of lights in your backyard.
The Dweller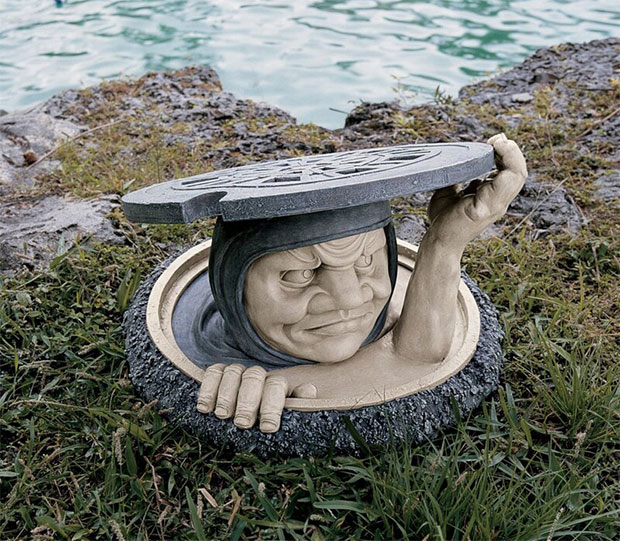 Design Toscano
The menacing look of this garden sculpture will surely capture anyone's attention and imagination!
Chuck Wagon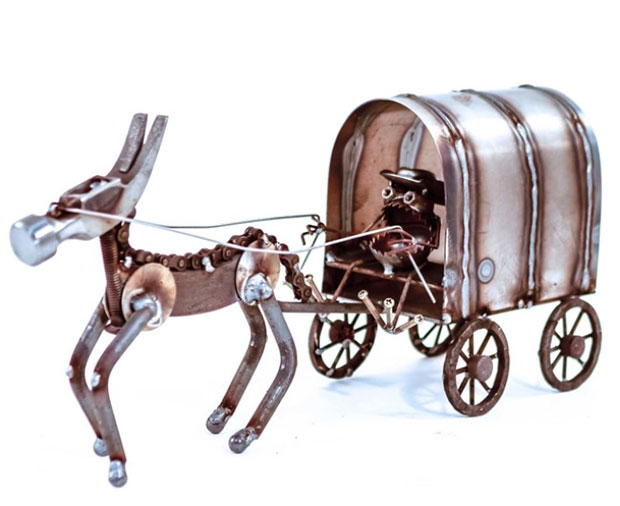 Sugarpost
Astonishly charming, this chuck wagon is quite irresistible.
Longueville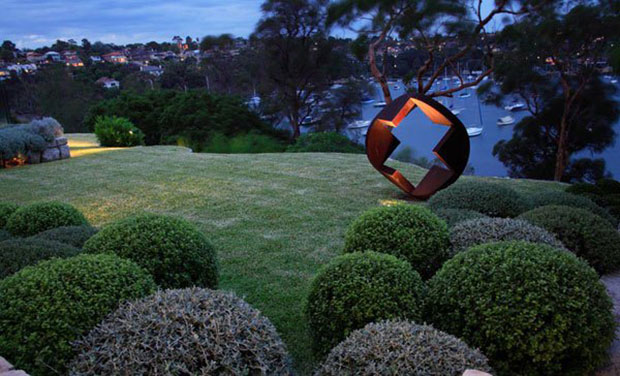 Secret Gardens
The elegant design of this wooden circle sculpture look great with the green surroundings.
Joy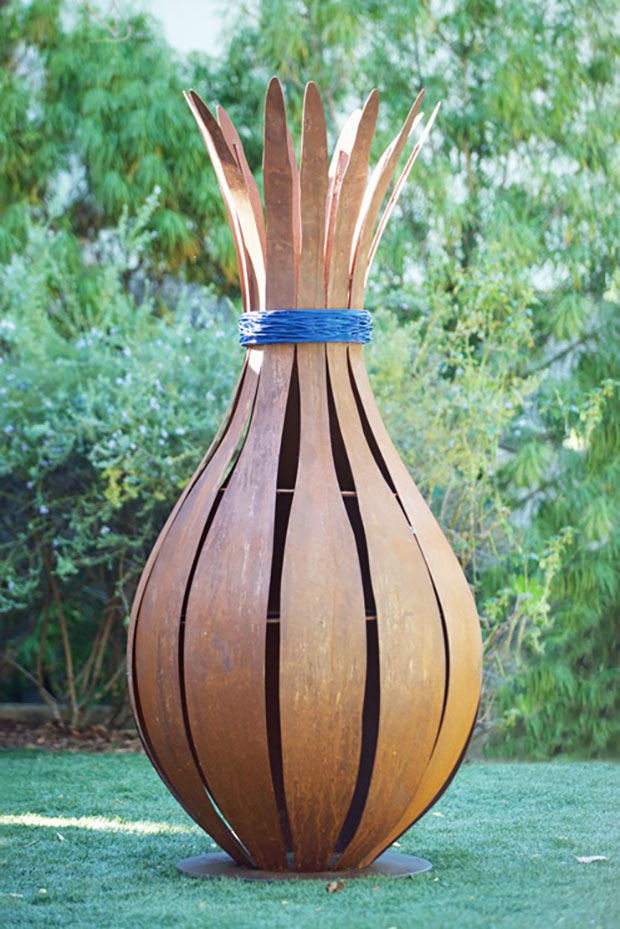 Terra Sculpture
Made from weathered steel and powder-coated steel, this work of art will surely turn heads!
Wind Spinner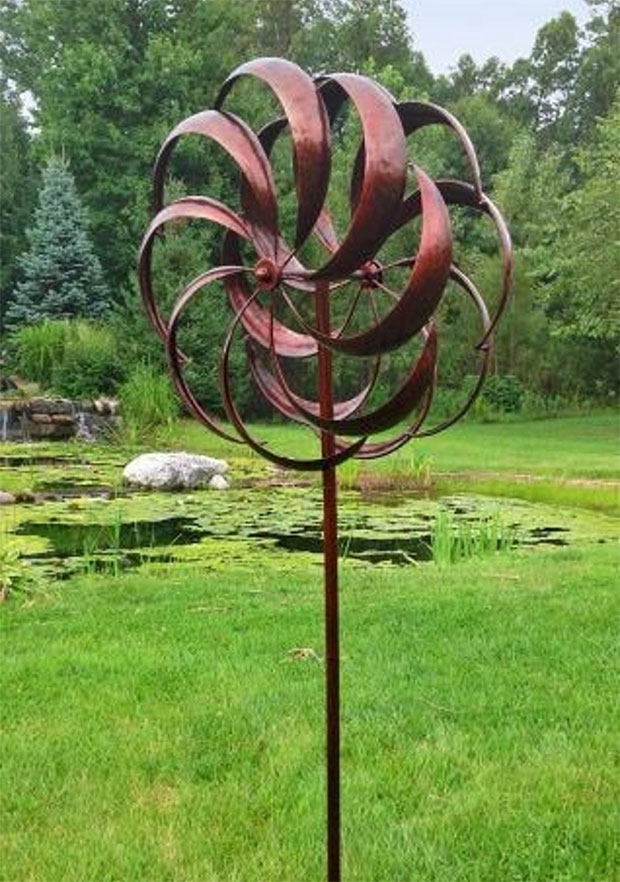 RedShedGarden
Check wind speed and direction with this wind spinner that is not only functional but adds great aesthetics as well.
Earth Goddess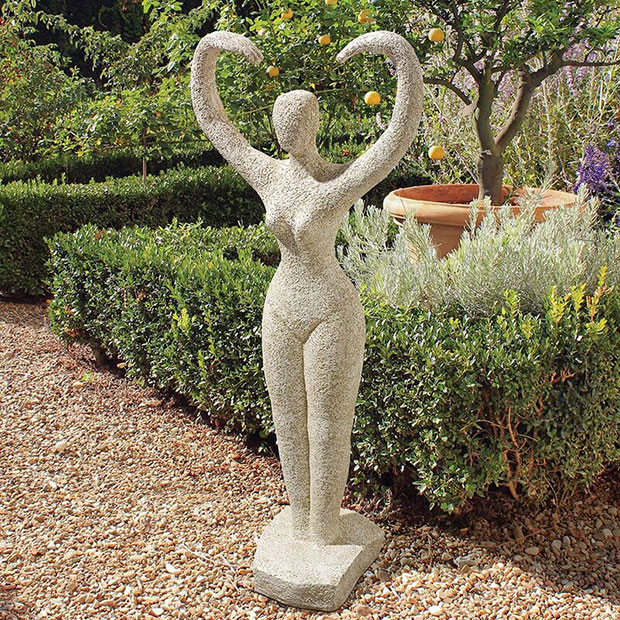 Design Toscano
Add a mythical touch to your garden with a sculpture with meaningful symbolism like this earth goddess statue.
Orbis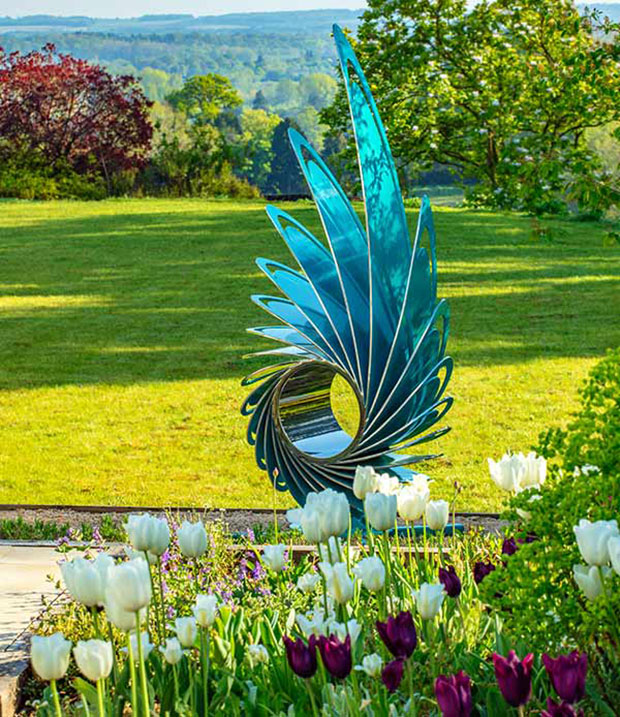 David Harber
This masterpiece is inspired by the elliptical orbits of comets. The design adds a sci-fi look to the garden.
Fairy Dreamer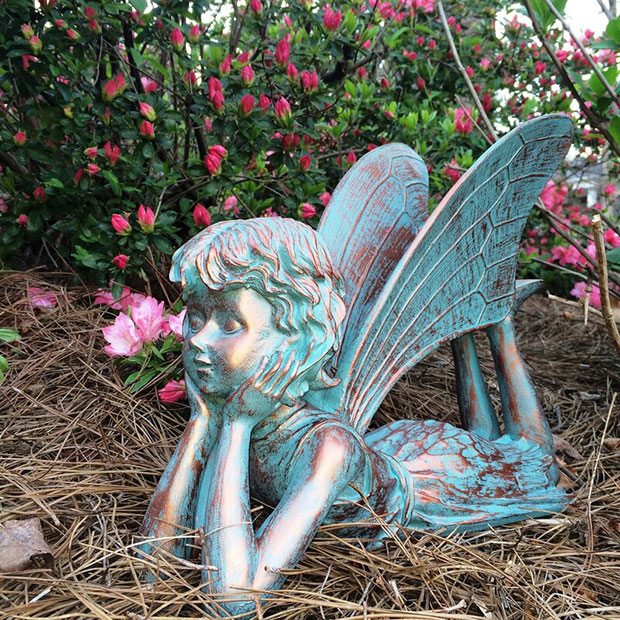 HomeStyles
Add a rustic charm to a garden, this fairy dreamer is beautifully painted and is made from cold cast designer resin.
Gravity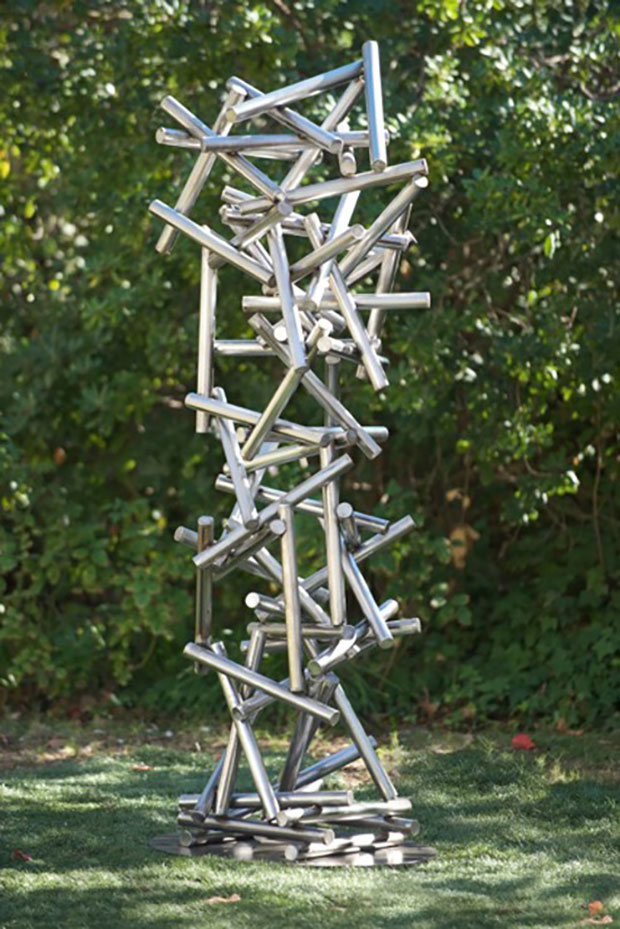 Terra Sculpture
This work of art is made of stainless steel. It's a perfect stand-alone garden sculpture that can be made as your focal point.
Celtic Fairy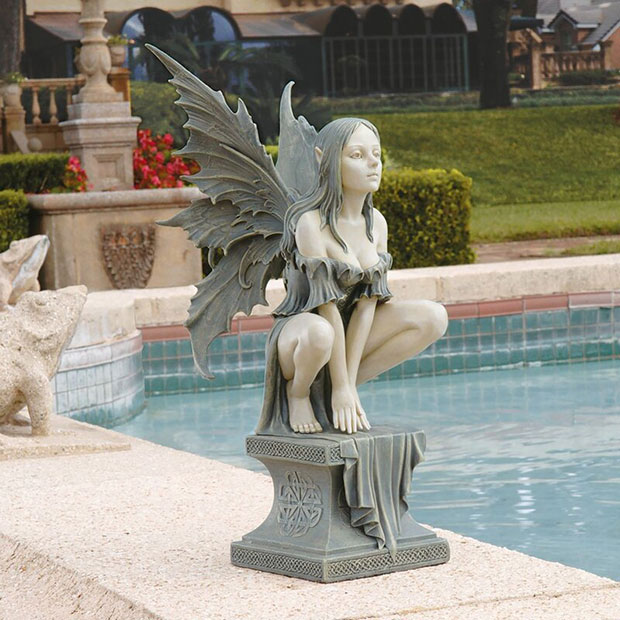 Design Toscano
The intricate details of this Celtic fairy garden sculpture make it a perfect addition to any garden decor collection.
Titan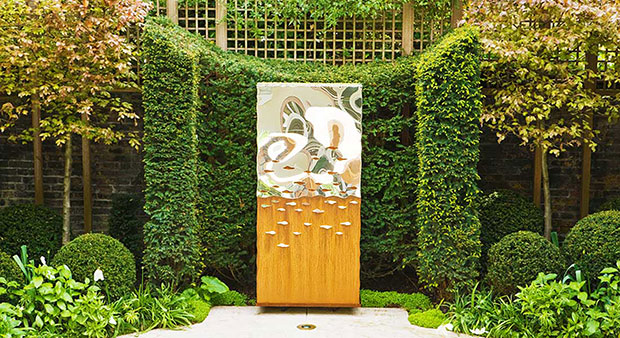 David Harber
This large outdoor garden sculpture adds an elegant vibe to any garden. It has oxidized steel and mirrors polished stainless steel.
Yoga Alligator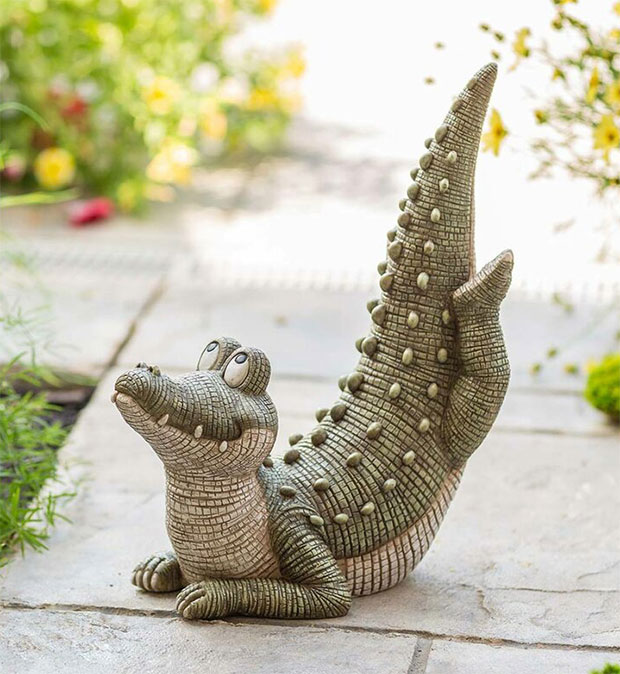 Wind & Weather
Yogis will take pleasure in owning this yoga alligator with its cute and charming design.
The Juggler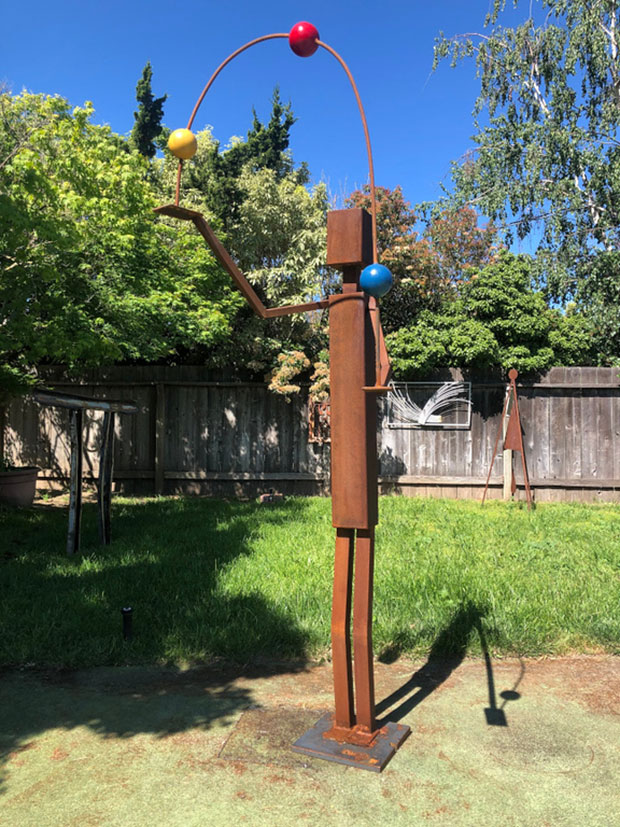 Jeff Owen
This 75 lbs large sculpture will look great with a playful and rustic-themed garden.
Snap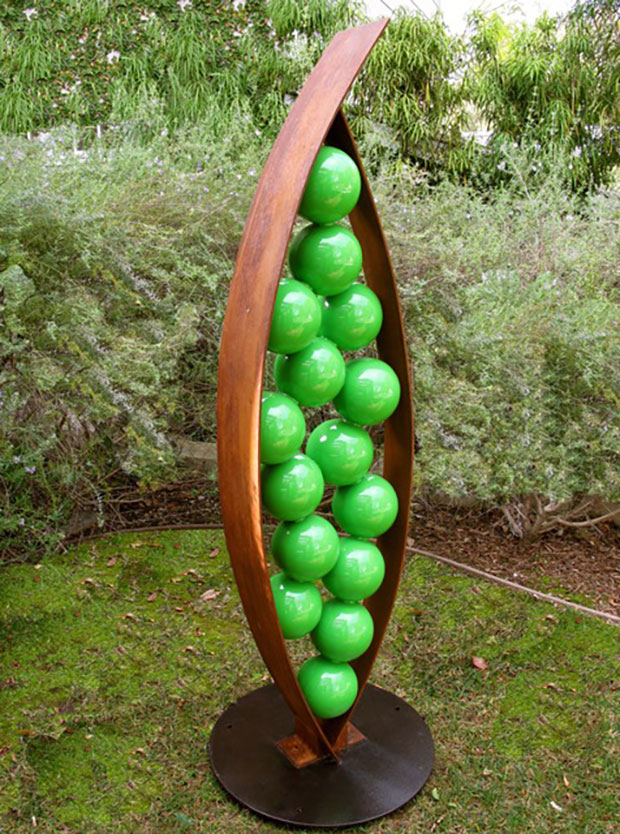 Terra Sculpture
This pea in a pod garden sculpture emphasizes nature with its design that looks like peas in a pod.
Raptor Skeleton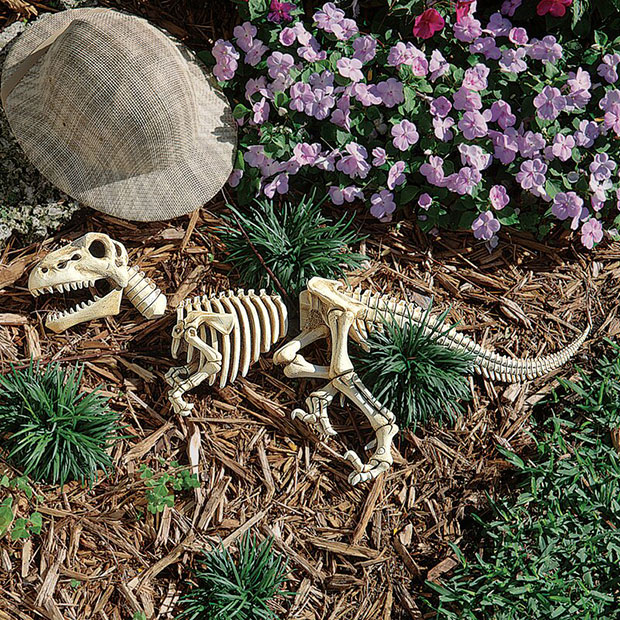 Design Toscano
This raptor skeleton garden decor adds a pre-historic look to any outdoor space. The sculpture is about 2 feet long, so will definitely be an eye-catcher.
Quiver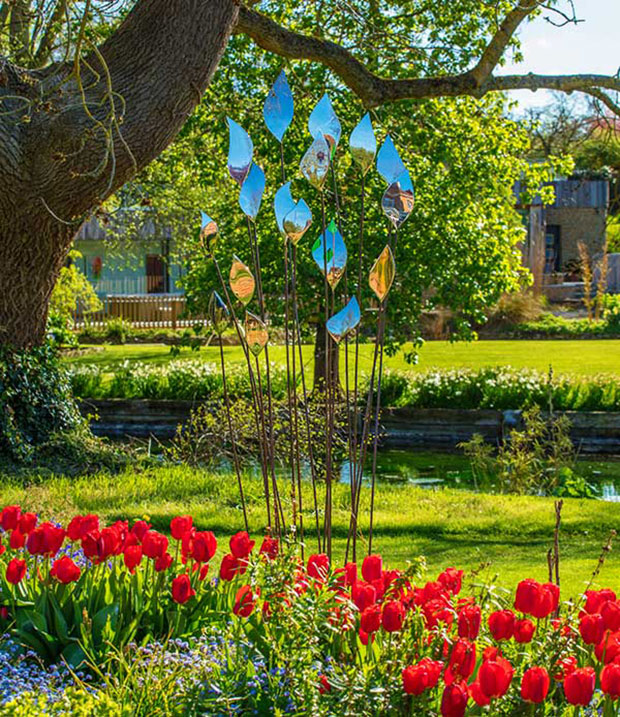 David Harber
Quiver is a seventeen steel rods that are polished and sleekly designed.
Solar Baby Dragon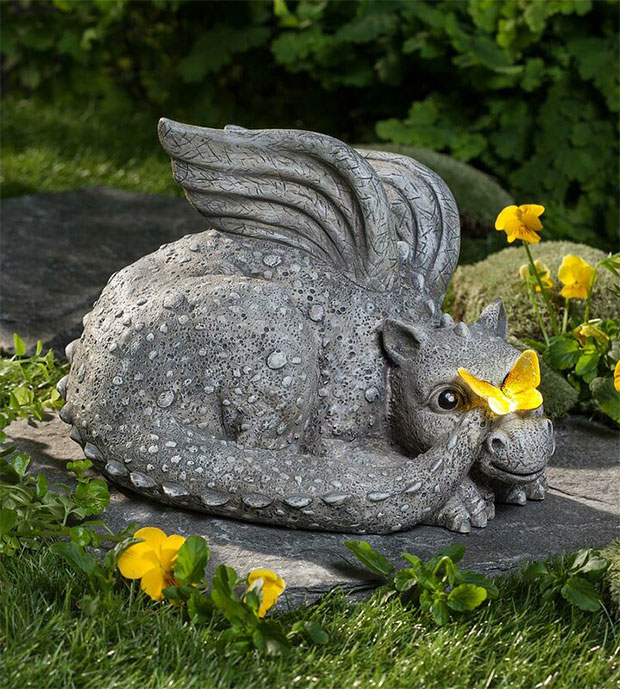 Wind & Weather
This adorable baby dragon sculpture is not only pleasing to the eyes but pretty functional too. It has a solar panel power that makes the butterfly glow at night.
FireTree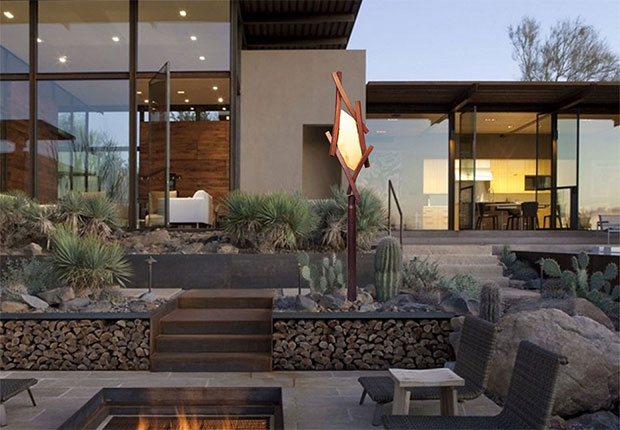 Jeff Owen
This charming fire tree garden sculpture looks regal and charming in this desert-themed garden.
Tempest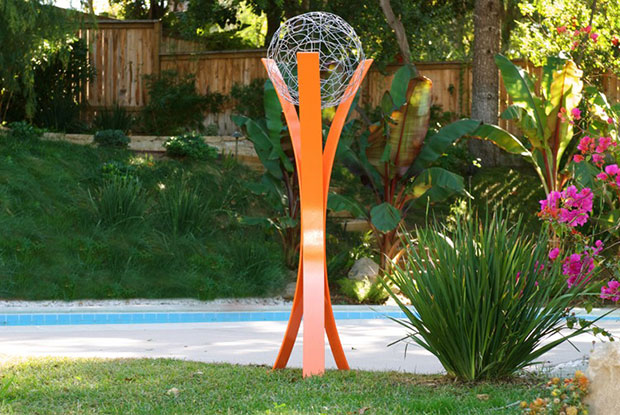 Terra Sculpture
This bright orange garden sculpture adds an eye-catching design to any outdoor garden.
Geometric Trellis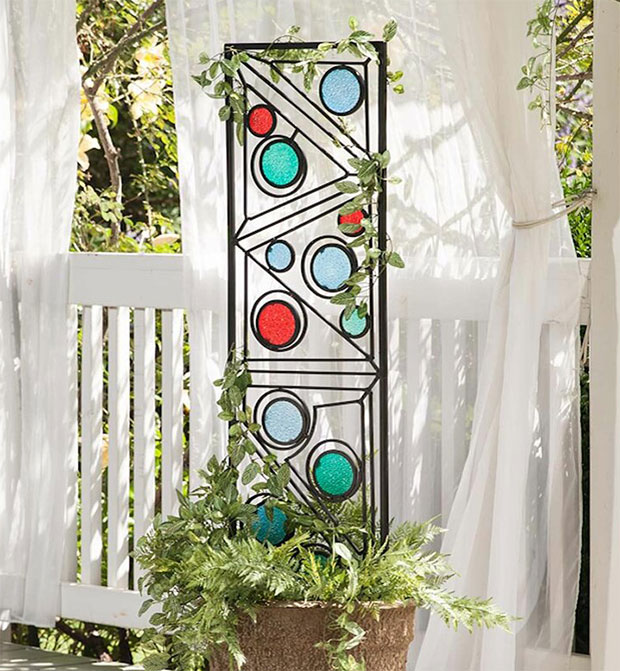 Wind & Weather
The colored glass mixed design of these eclectic garden sculptures make a perfect addition to pots and flower beds.
Iris Torus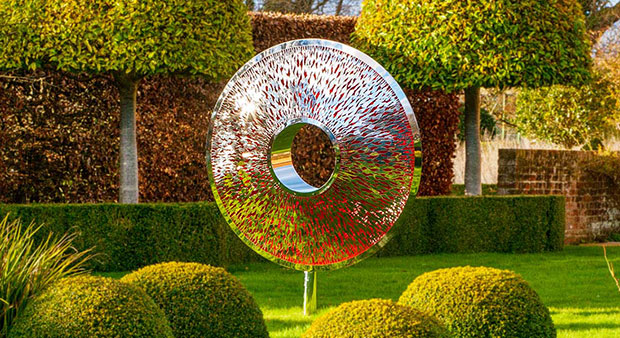 David Harber
With its reflective design, the iris torus is a large garden sculpture that will look well on elegant gardens.
Giant Warthog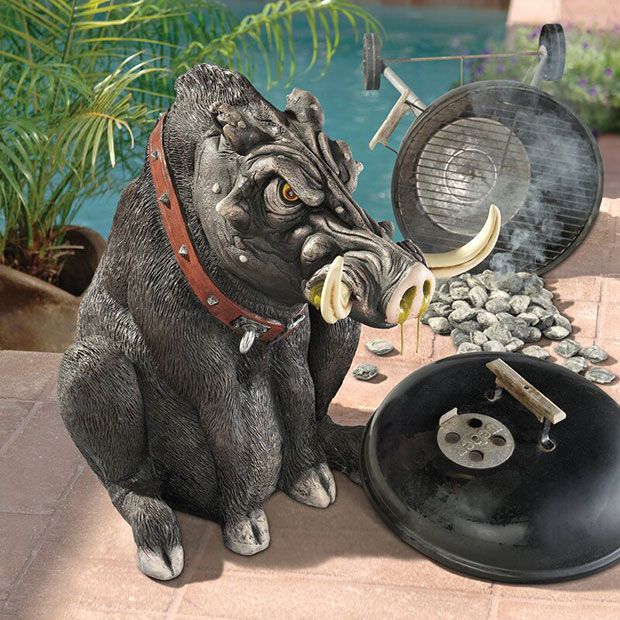 Design Toscano
This giant warthog will surely make guests stop and look with its realistic design and huffy look!
Opal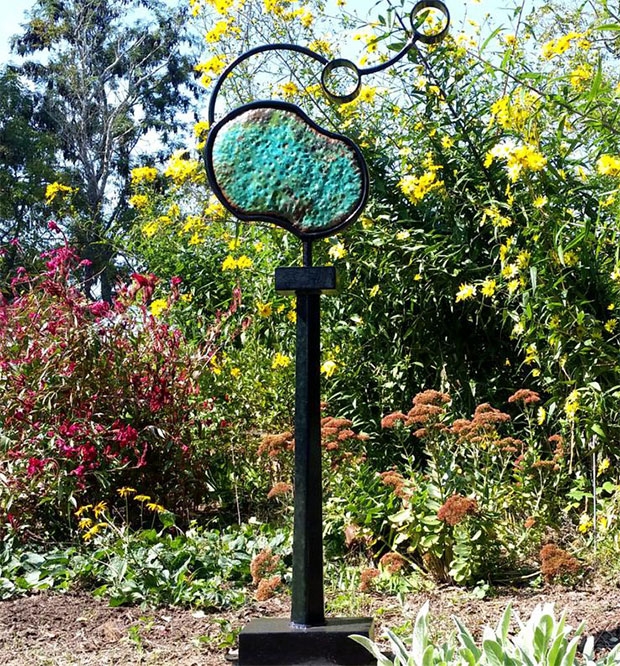 SculptureSmith
This abstract sculpture offers a kaleidoscope of colors that uses steel and copper.
Concrete Face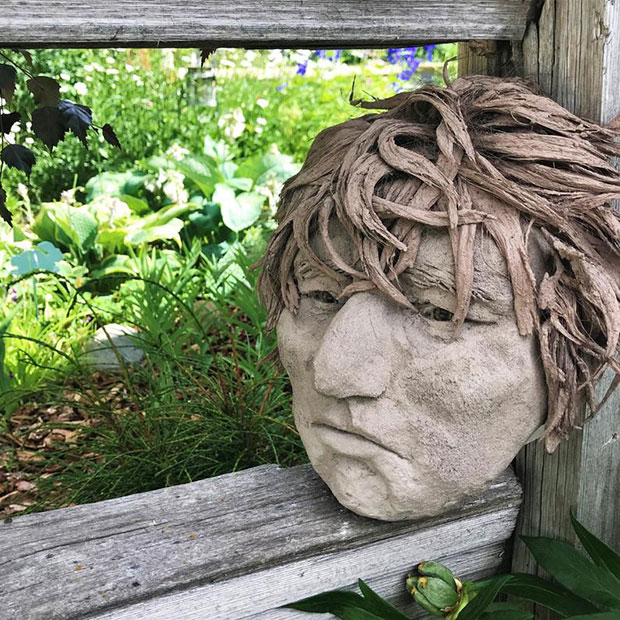 MontanaBlissArtworks
This brooding concrete face adds a unique touch to any garden with its serious facial expression.
So, what do you think? Would you want to own interesting and eclectic garden sculptures?
Let us know in the comments below!
Like This Post? Pin It!