50 Enticing Patio Light Designs For Safety and Aesthetics
|
If you have a patio or planning to have one, it is never complete without patio lights. They're especially important if you want to use your patio at night to ensure people's safety as they move around the space and see things. In addition, patio lights will elevate the overall look and ambiance of your patio at night.
With this in mind, the selection has many patio light designs. What you choose will depend entirely on many factors like how your patio is designed and what kind of ambiance you want it to have.
How do you light a backyard patio?
Good lighting is essential to any backyard patio to make the space feel inviting and safe. So, installing lights wouldn't just simply be placing one in random places. They have to be properly and efficiently placed in critical spots. The most important thing to remember is to install your patio light where they need to be.
When you do so, you must remember what spaces must be properly lit: entertainment, safety, and security. When you have clearly outlined your patio space, installing your patio lights will come easy. Another thing of note to remember is the importance of light layering.
Here are the sections or spaces in your patio that you should remember when plotting lights and how you should light these spaces:
1. For entertainment spaces, this would be the lounging area, dining table, and fire pits. Here, you have an incredible selection of innovative patio light designs to choose from. Since this is the most decorative section and with most activity happening, this is the most illuminated space. But when you are lighting this place, remember not to overdo it. The amount of illumination outdoors should not be the same level of light as indoors.
For light layering in these spaces, you must remember accent lighting. Low-level accent lights should be used in defining areas or to highlight spots that could have accidents happen due to the absence of light.
2. Height changes in stairs and decks, and edges of the patio, lawn, or landscape surfaces fall under safety spaces. Here, landscape lighting is the ideal choice. As mentioned above, these are lights to highlight spots where accidents could happen. You can install them in spots like trees or hedges, by the pathway to note boundaries. Just ensure that these are installed low to the ground to not create glare, but enough to illuminate your path.
3. Finally, security spaces include the front door, backdoor (for backyard patio), driveways, and mailboxes. Good lighting in these places can expand the security you can have for your home. These are spots where you may need to pause to dig for your keys and thus, should be illuminated adequately. Overhead lighting or sconces would be efficient here.
What kind of light do you use for an outdoor patio?
With the variety of patio light designs, there are available, it may be confusing as to which kind of light you should use in which spaces. While its functional purposes are important, outdoor patios generally use ambient lighting of varying styles and designs to create the perfect aesthetic.
In using the spaces mentioned above, here are the patio light designs that can be used in each:
1. Entertainment spaces
Overhead lighting would be the wisest option here as you will be directing light where it needs to be. Outdoor pendants and string lights are some patio light designs you can install here.
If this space has posts from a pergola or is near the walls of your home, wall sconces could be great. If your patio has an overhead cover like a pergola or arbor, ceiling fixtures and outdoor fans with lights can also be an option, especially if your home is located in places where the temperature doesn't drop at night.
If overhead lighting is not an option, you could very well use portable table lamps or floor lamps. There are also plug-in floor lamps that are becoming more popular for their chic and polished look. If you have an outdoor kitchen or outdoor grilling station, targeted light fixtures, like barbeque lights, should be something to consider.
Spot and flood lights can help expand the entertainment space into your whole yard.
2. Safety spaces
Landscape lighting is the most ideal in these spaces. The deck and step lights are perfect to highlight stairs. Task lighting would be a great addition to let you know where landscaping controls like electrical breakers and water taps are. Path lights and bollard lights are great to note boundaries like pathways and landscapes.
3. Security spaces
As mentioned above, overhead lighting and sconces are great around security spaces. Flood lights are for extreme cases, especially if these are specific spots that are accessed regularly, like the trash bin area. Though, hardscape lighting would be best for large features like trees and decorative walls. On the other hand, if there are spots that are not used regularly, you could use lighting with motion or photo sensors.
Cost and energy tips for patio lights
With outdoor patio lights, you can expect some of these fixtures, especially ones for safety and security, would be running up all night. But wouldn't this pose a problem on your electric bill and be wasteful of energy? Luckily, innovations have been made with patio light designs to answer these problems with energy-saving outdoor lighting.
So, here are some tips that could help you save cost and conserve energy:
1. LED and CFL bulbs
Use light-emitting diode (LED) or compact fluorescent lights (CFL) bulbs, instead of incandescent bulbs.
2. Timers
To reduce your electricity bill, use outdoor lighting timers. These light fixtures allow you to program lights or other outdoor electrical appliances to turn on and off automatically. This means your patio lights will only turn on when needed.
3. Lights with sensors
Concerning the one above, light fixtures with sensors are great alternatives. Lights with motion sensors only turn on when they sense movement. There are also lights with daylight sensors that have a photocell, which senses daylight, automatically turning off during the day and turning on at night.
An important note to remember though for these ones is that CFL bulbs' lifespan is greatly reduced with sensors. But LED bulbs work perfectly for these.
4. Maintenance
Keeping your patio light bulbs clean will allow them to have a longer lifespan since the dirt will absorb light and decrease the bulb's efficiency. Your light bulbs should be cleaned at least twice a year.
Remember to observe electric safety measures when cleaning your light bulbs!
5. Solar lighting
Another great way to save energy and reduce electricity costs is by using solar light fixtures. If you live in an especially sunny area, take great advantage of this.
Enticing patio light designs for inspiration
Now, let's take a look at some patio light designs you can consider for your own home!
Piedmont Remodel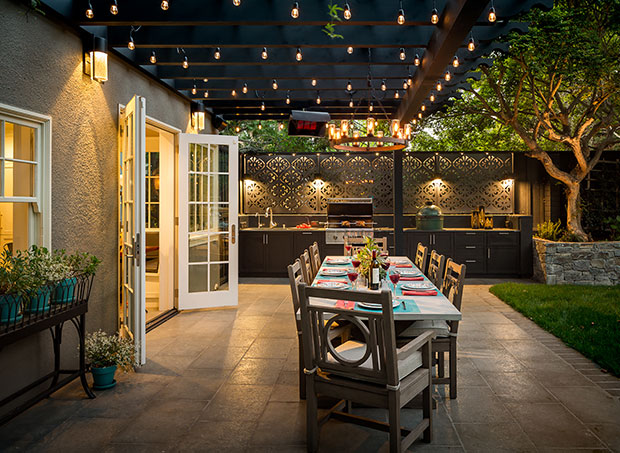 Hanomoc Design
You will find many patios designed with a pergola. These are of great assistance in installing various patio light designs like string lights and chandeliers.
Courtyard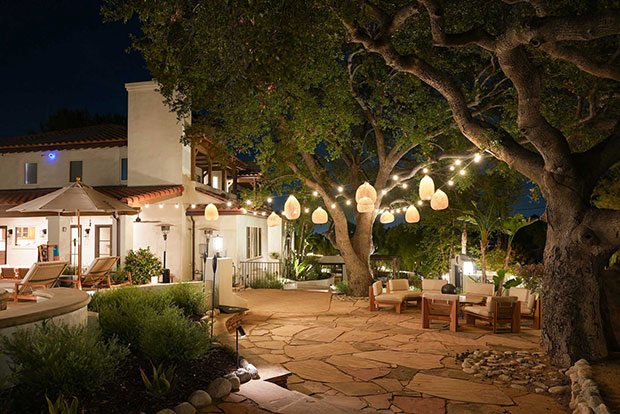 For an open patio design like this, the trees are a great advantage and leeway to hang string lights. In the case of this home, it's a combination of that and lanterns.
Pool Patio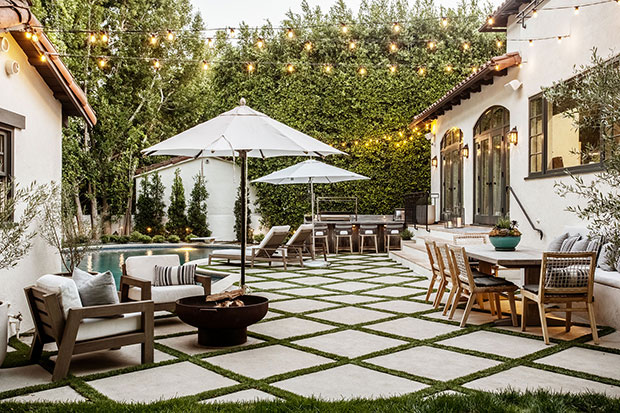 The string lights definitely bring a festive feeling and surely add the perfect ambiance for a late-night swim.
Yard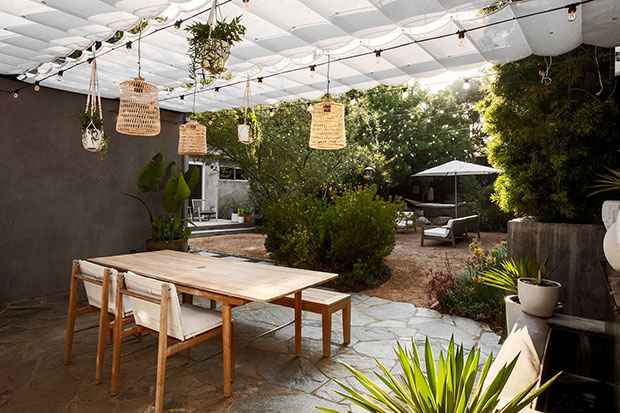 The overhead fabric covers plus the hanging planters come together with the string lights for a charming and more intimate look.
Patio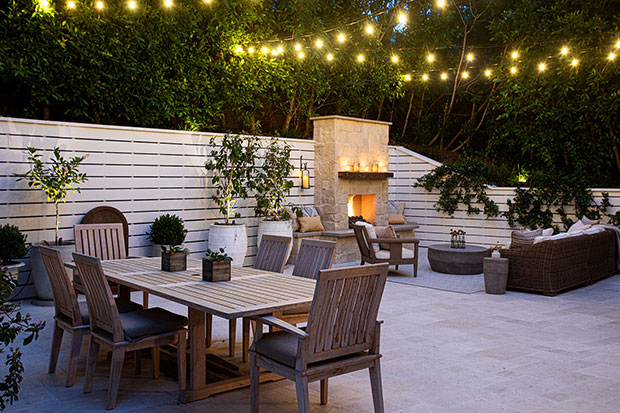 You won't ever find a uniform patio light design in any outdoor patio. It's always a combination of many designs and styles. And with an outdoor fireplace here, they even have candles to add to the moody ambiance.
Poolside Patio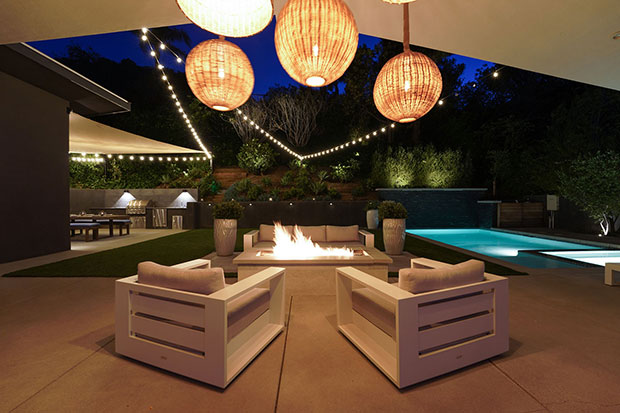 Kate Anne Landscape Design + Build
Hanging lanterns over the lounging area make the space well-illuminated, while the string lights elevate the overall atmosphere.
The Garden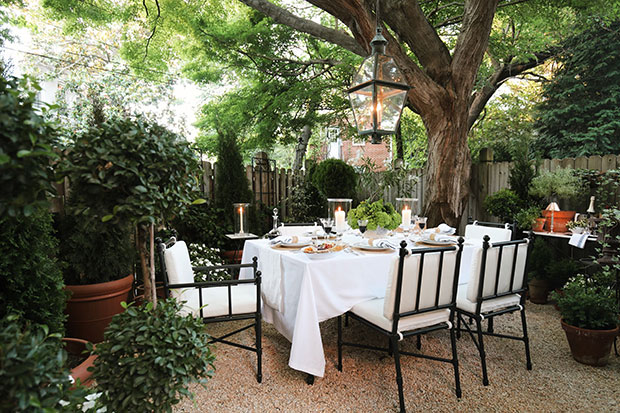 Josh Young Design House
If your patio is made for ambient or romantic dinners, there are patio light designs that could help set the mood. A lantern and candles would certainly help. The candles are even in cases for added protection!
Bed-Study Garden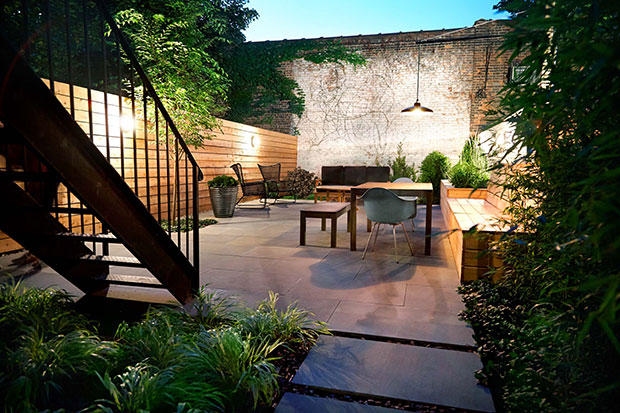 These light sconces definitely ensure that the entire backyard patio is well-lit. And with the absence of a pergola or any of that like, they build a post specifically for an overhead task lighting where there is a table.
Boerum Hill Garden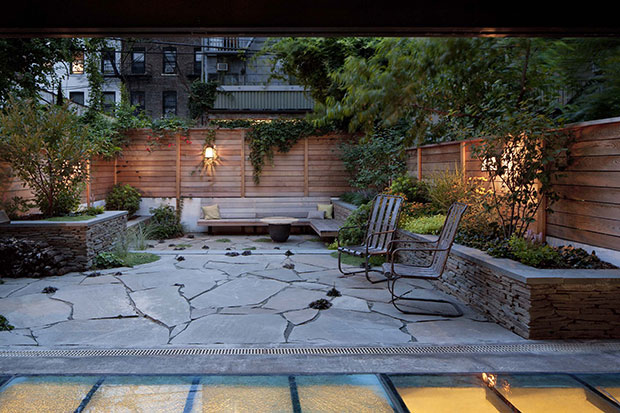 When you opt for wall sconces with light that faces only one way, make sure it directs its light to the ground. In this home's garden patio, it is easier to see the boundaries of the planter boxes and such.
Clinton Hill Modern Garden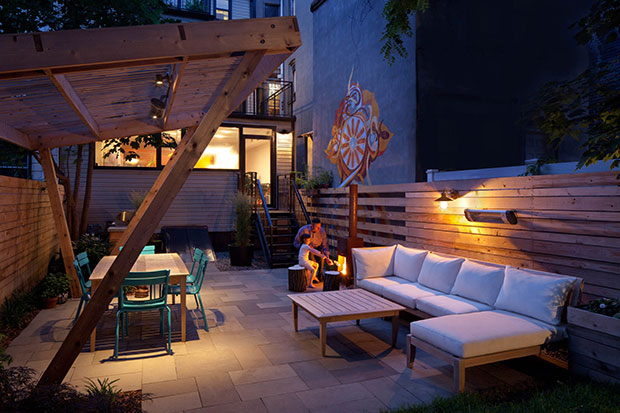 Notice how there are flood lights as well as smaller spotlights for better illumination for more task-focused activities on the patio.
Lefferts Gardens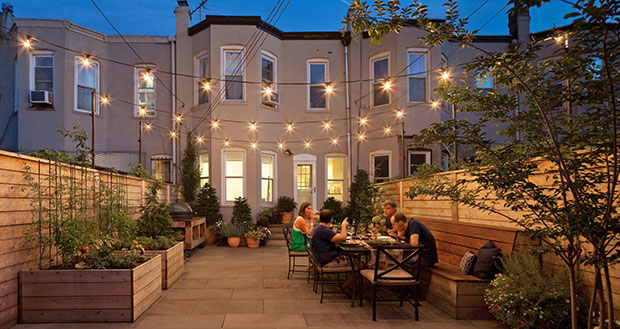 Installing metal posts to make way for string lights to be placed on your patio is one way to go at it if you don't have the luxury of having trees around your patio.
Forrest Hills Modern Garden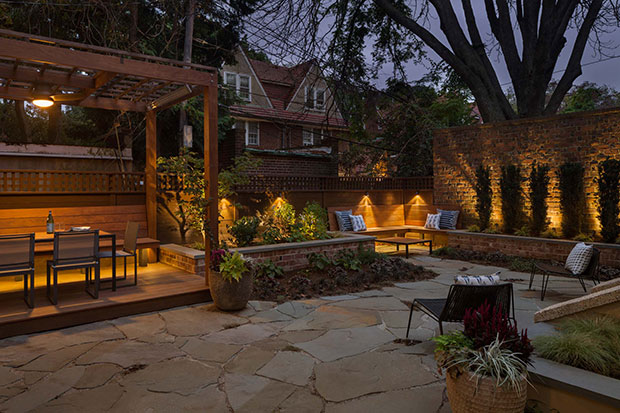 New Eco Landscapes
Take notice of how they had sconces installed in the corner where there is a tiny lounging space.
Modern Curved Courtyard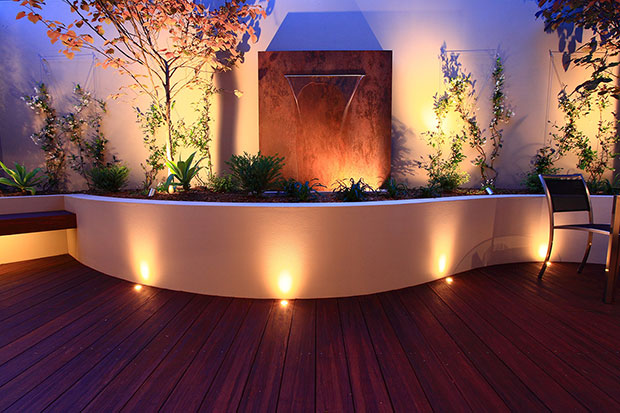 If you have a water feature like this, you can still showcase it at night with spotlights.
Reclaimed Hanging Garden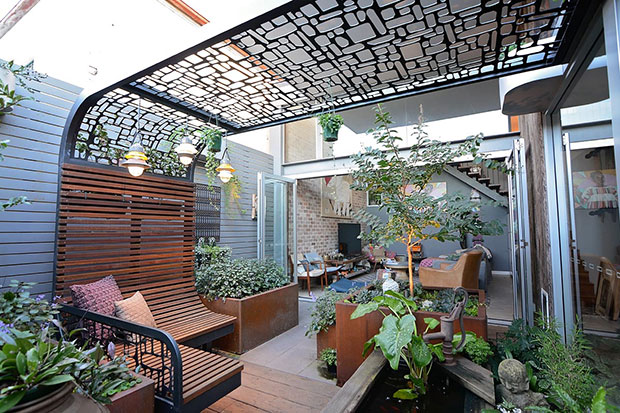 Outhouse Design
This home has a great and unique alternative for a pergola or any similar structures. The hanging lights even compliment it greatly.
Maruccia Residence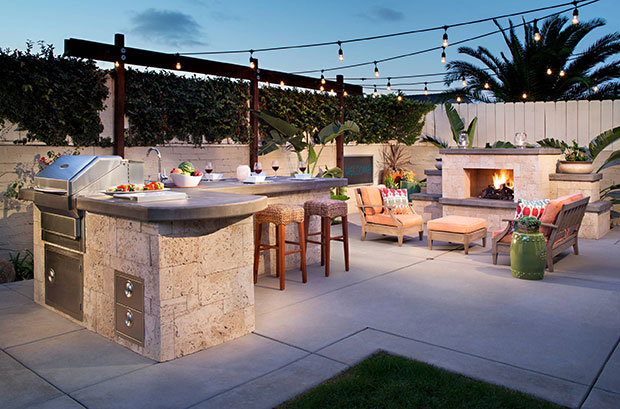 With the patio layout, these string lights couldn't be more perfect for it.
Zurich Residence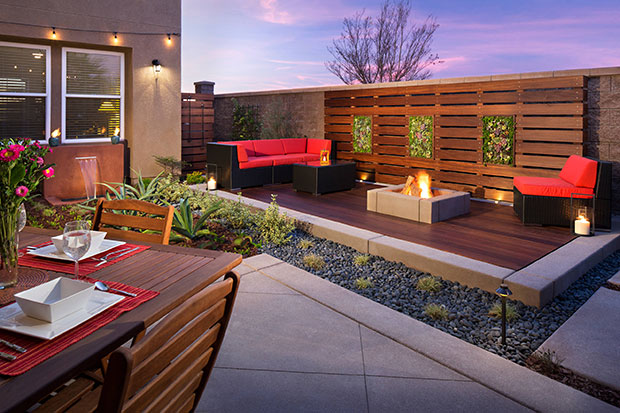 This home has quite a variety of patio light designs. The pathway light is an obvious choice to illuminate your steps. Then, you have those floor lamps around the lounging area. And don't miss the string light wrapped around the home.
Panorama Residence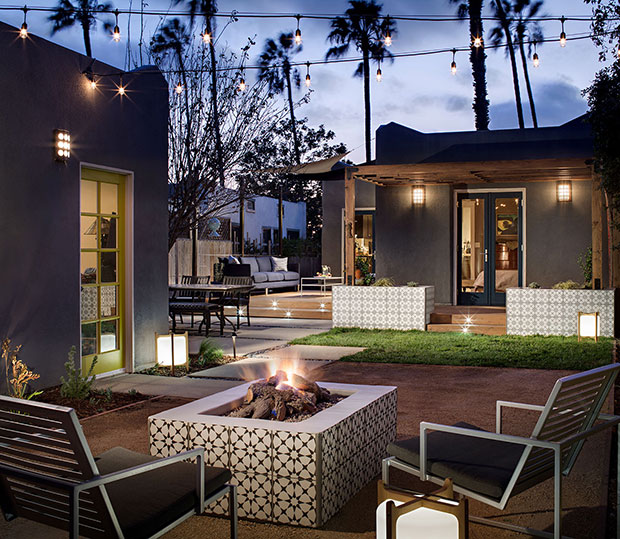 Bring your attention over to the bulky outdoor plug-in floor lamp. Surely, you won't be tripping yourself over when you take a walk at night.
Fern Valley Residence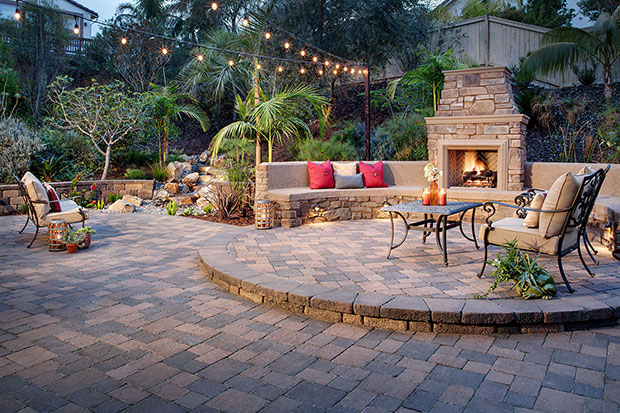 Promised Path Landscaping
The hardscape lighting, apart from the fireplace, will make sure you have enough light to see while lounging around.
Patio Remodel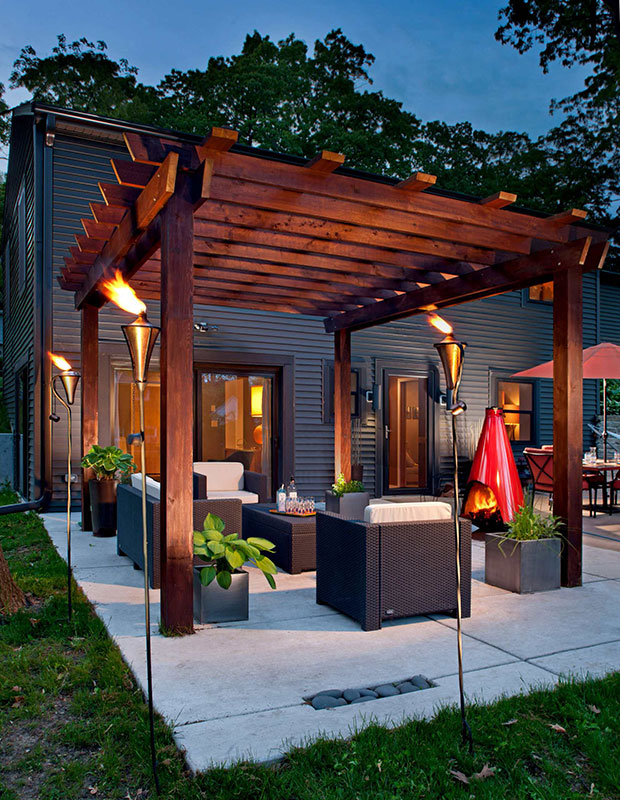 Edmunds Studios Photography, Inc.
The tiki torches are definitely one of the more unique patio light designs.
Lorraine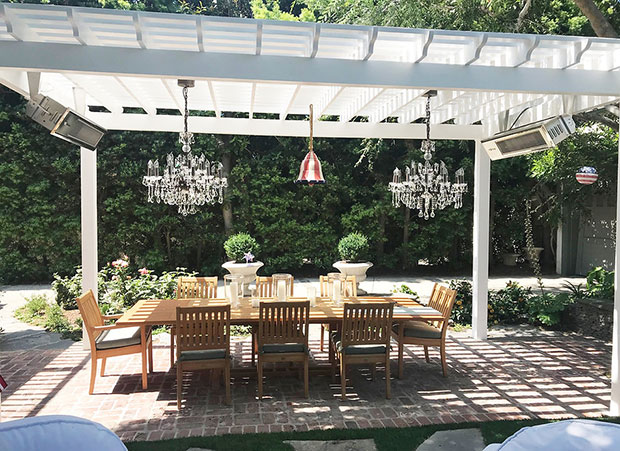 Andrea Scharff Landscape Design
For patios that are made for dinners, here are some patio light designs that you could consider for your home.
Carlsbad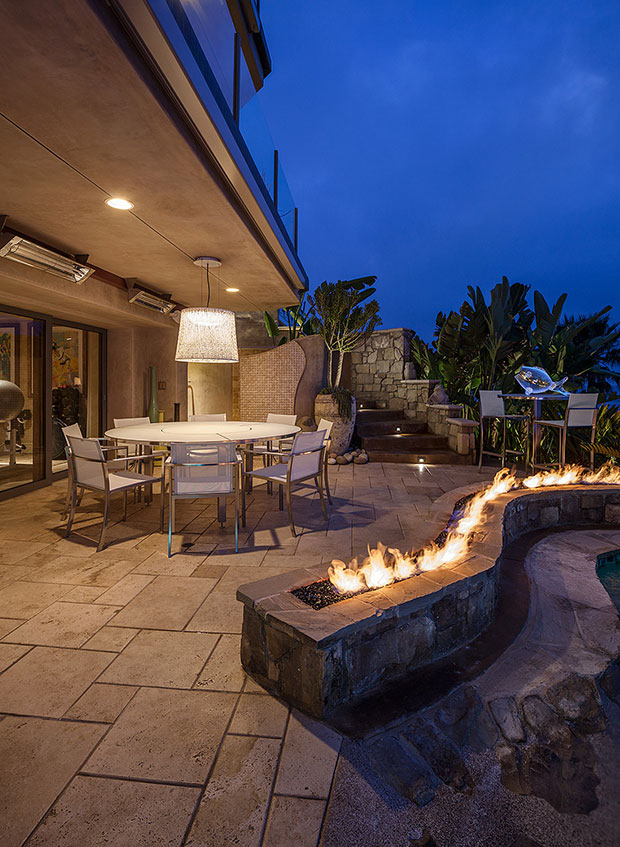 dRichards Interiors
A fancy chandelier over your outdoor dining table would certainly set a mood. And another thing to note is the flood lights on the ceiling's corner.
Minnesota River Rustic Lodge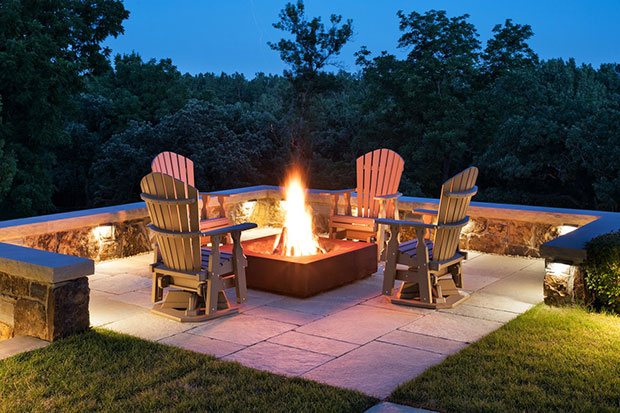 If you have a patio like this, it would be nice to have hardscape lighting wrapped around it.
Wayzata Arts and Crafts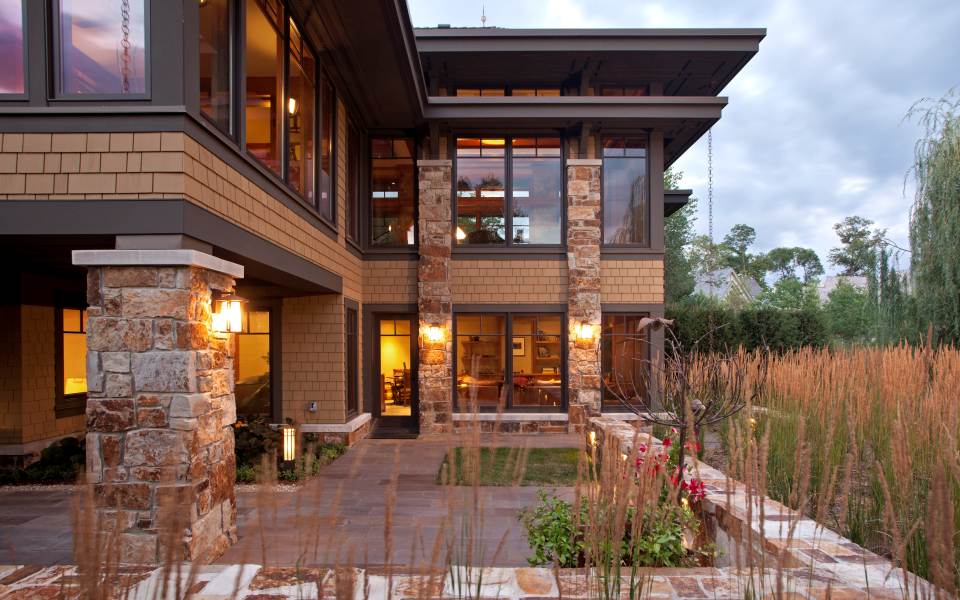 John Kraemer & Sons, Inc.
You can keep your patio light designs to the minimal with sconces and subtle hardscape lighting.
Custom Outdoor Kitchen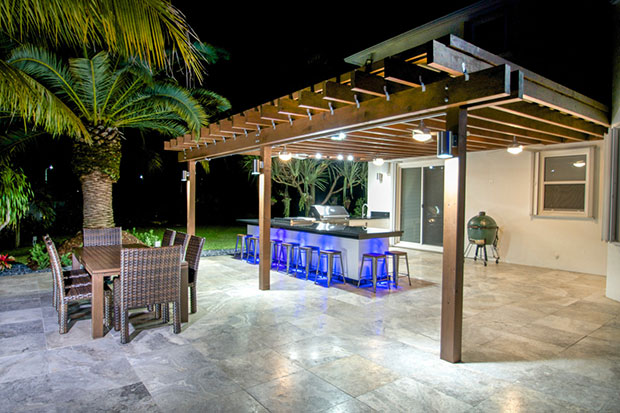 Some outdoor patios can be humid and hot even at night, so outdoor fans with light fixtures could be a great option.
Custom Outdoor Living Space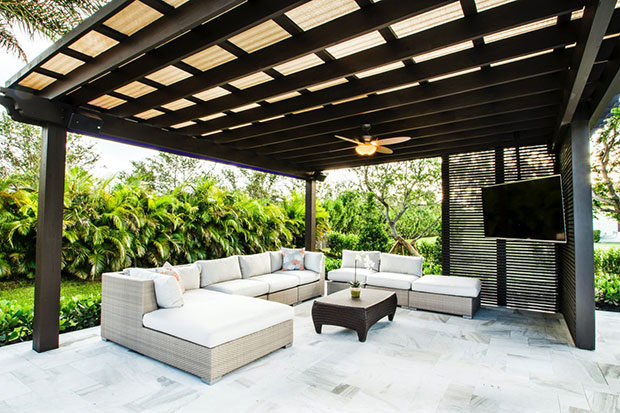 Luxapatiao
With this pavilion providing full entertainment, it is only expected for lighting to be provided. And here, it is in the form of an outdoor fan with lighting.
Private Residence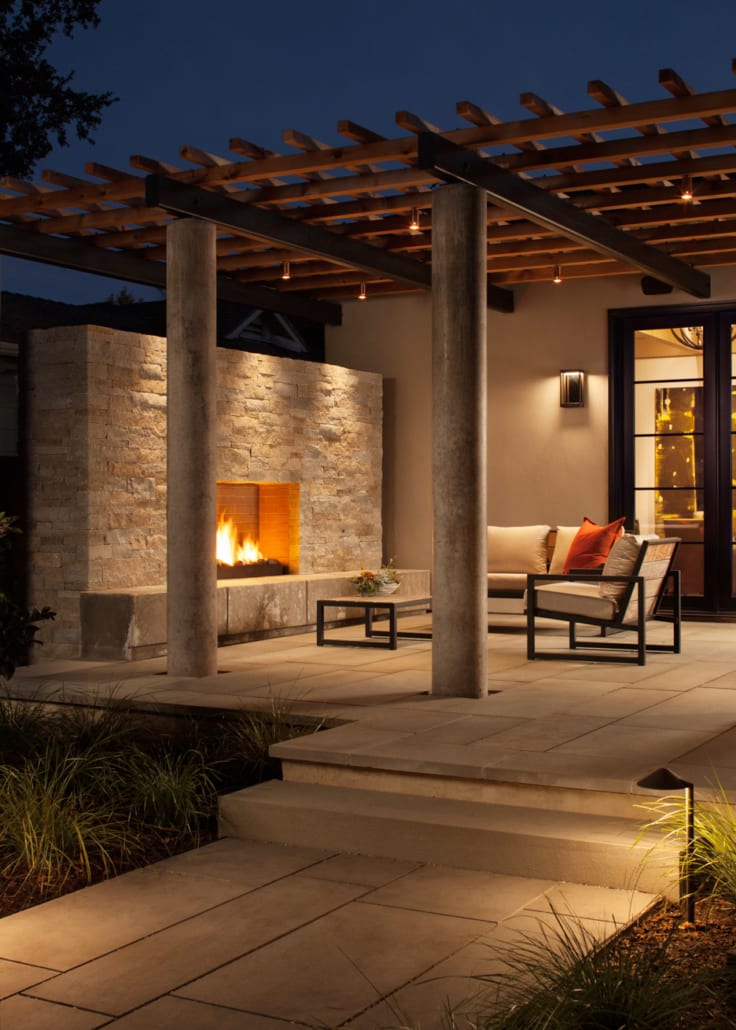 Whenever a pergola is present on a patio, the usual go-to patio light designs would be string lights or a chandelier. This home is a little different with these ceiling fixtures.
Mid-Century Modern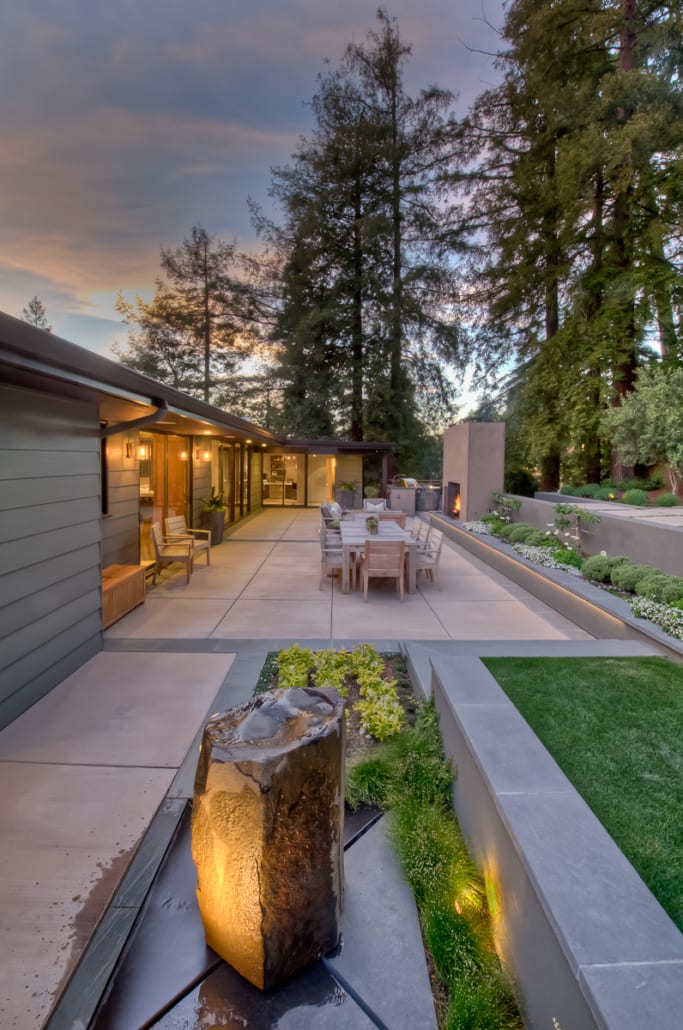 David Thorne Landscape Architect, Inc
The advantage of a small yard patio is they are close to the main house, so it is easy to install patio lights by the way of sconces. Still, at this home, they have lights installed through the planter boxes.
25 Mile Creek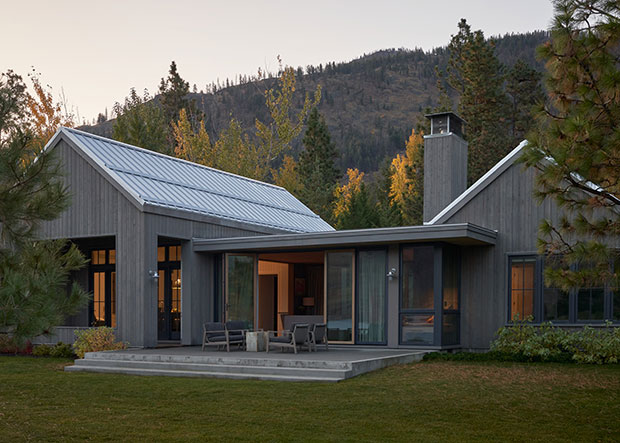 Hoedemaker Pfeiffer
Similarly, wall sconces are ideal for small patios directly connected to the main house. Try to match your patio light designs with your home's style.
Solana Hills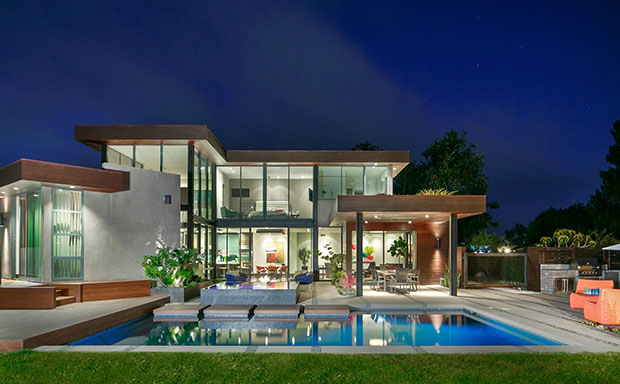 For a patio that has so much going on in features and activities, you can also expect different patio light designs to cater to these needs.
Muirlands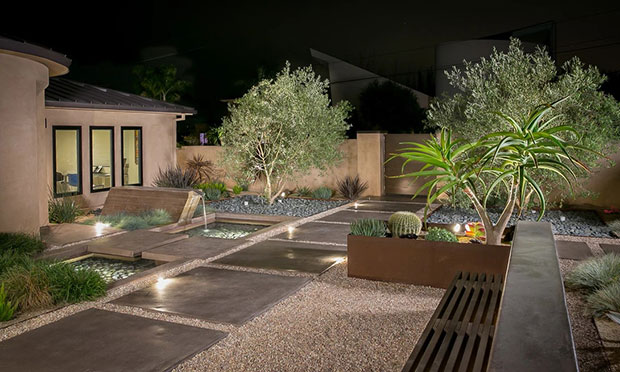 This home's patio is a perfect example of the smart placement of pathway lights. They are installed low to the ground and are placed alternately.
Mozart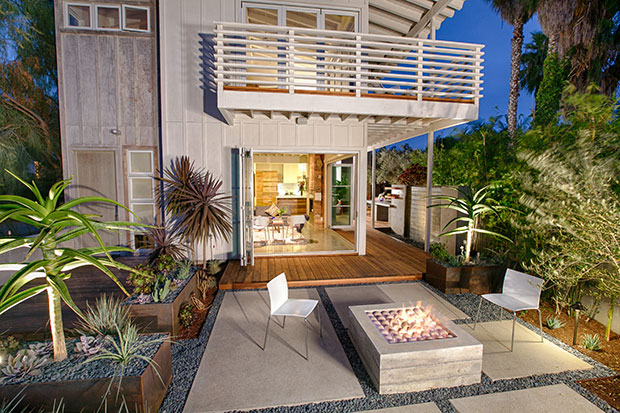 Grounded Landscape Architecture
If you have plants you want to showcase even at night, spotlights would be a great choice.
Via Del Monte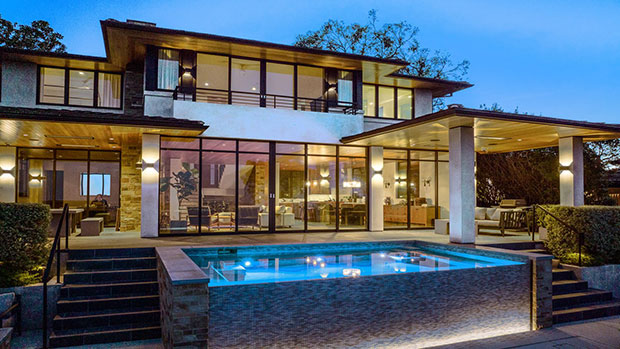 Tomaro
Some wall sconces' light faces one direction, and for outdoor patios, they are often in the direction towards the ground. However, some have light going both ways like these ones.
White Wing, Cholla Model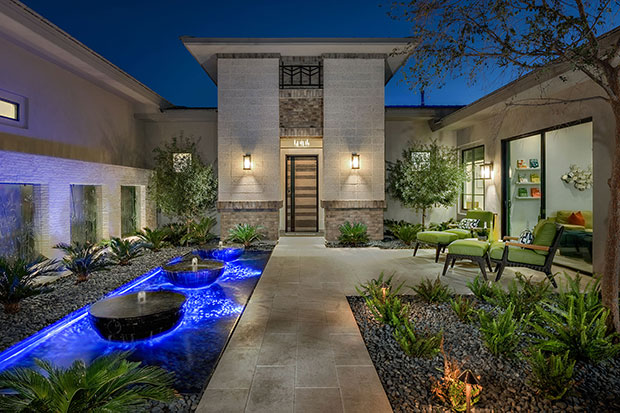 The wall sconces and path lights are to be expected as they are common. But with incredible water features like these, you wouldn't want to miss showcasing them with their own light fixtures.
Paradise Valley 002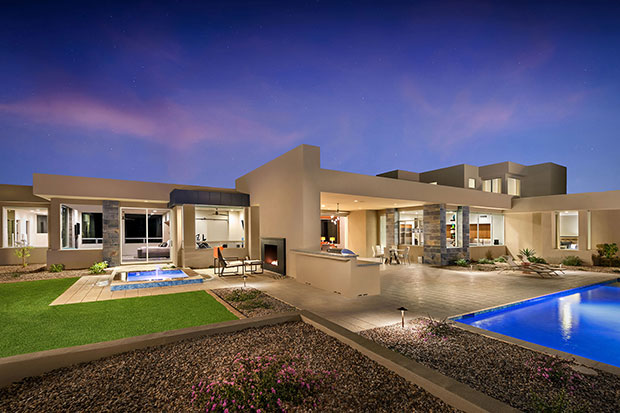 Rather than installing pathway lights every step of the way, placing them in corners or turns where accidents could most likely happen will save you some costs in buying light fixtures and electricity bills.
Saguaro Estates 002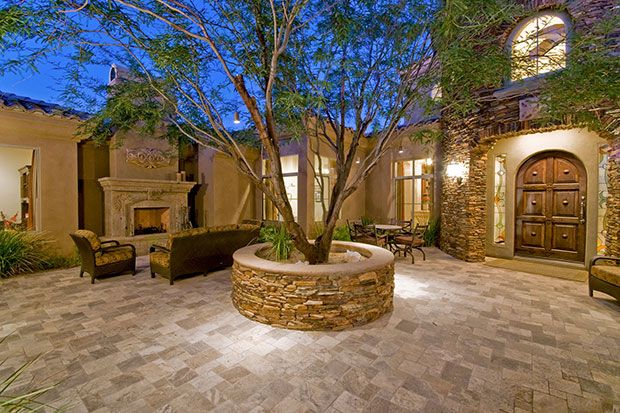 Est Est, Inc.
It's subtle but the few hanging lights around the tree branches will surely help anyone avoid walking straight into it.
Issaquah Sunset View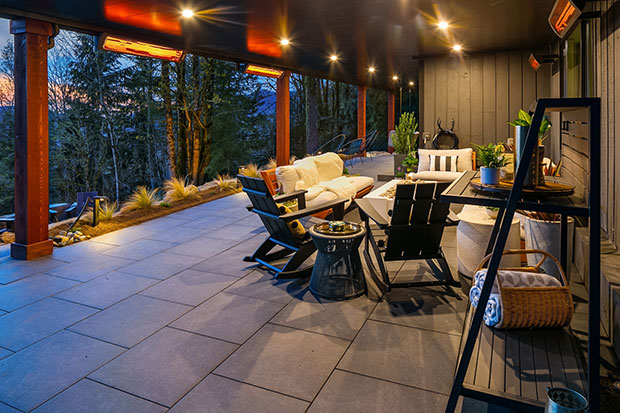 A roof over your patio will certainly guarantee fixed lights. They even have heat lamps installed!
Crown Jewel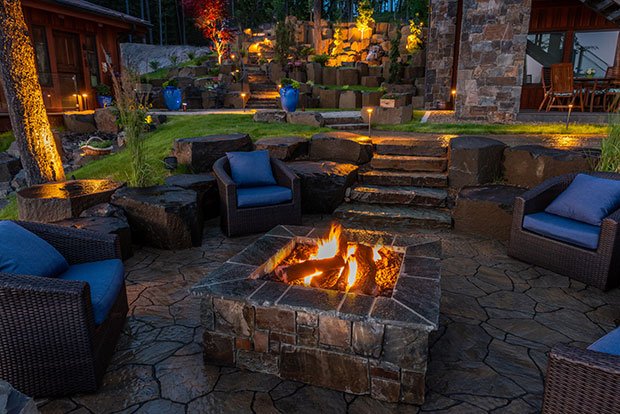 This home has an incredible landscape where pathway lights took greater priority. They also ensured features like plants and trees are adequate lit.
Cozy Backyard Living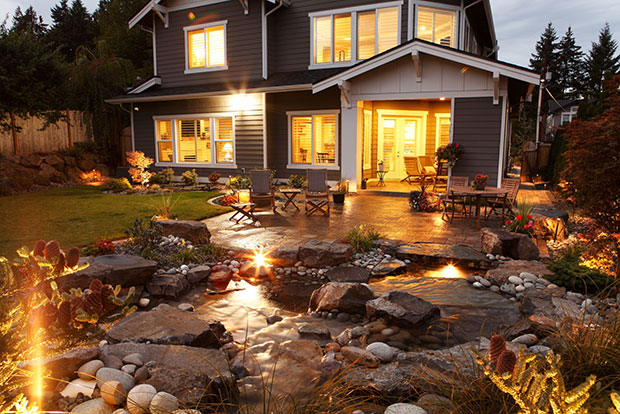 Even the waterscape in this home's garden is as illuminated as the rest of the patio.
Field of Dreams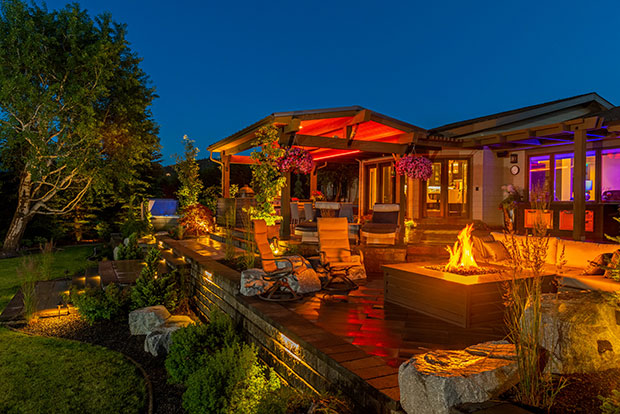 Alderwood Landscaping Design
The pavilion's neon lights are a great addition that manages to illuminate beyond the pavilion to a certain extent.
Modern Eclectic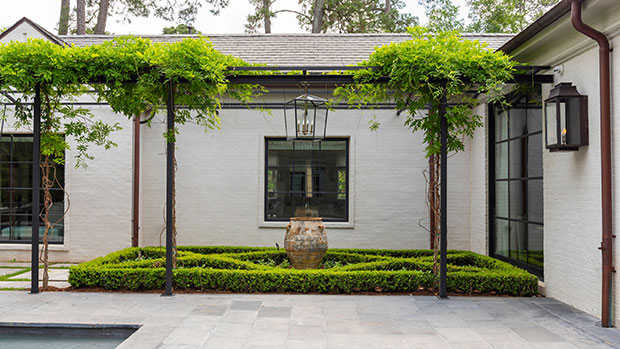 Newberry Architecture
The candle-shaped bulbs definitely bring some traditional sophistication to your patio.
Outdoor Living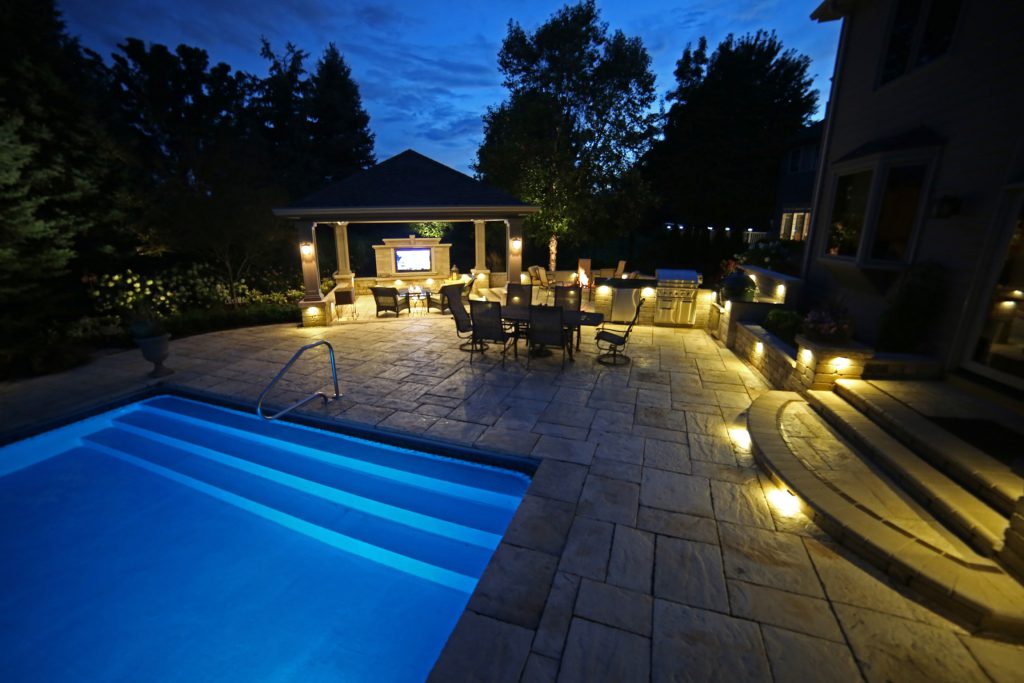 This home's patio light designs are definitely focused on illuminating critical spaces.
Backyard Patio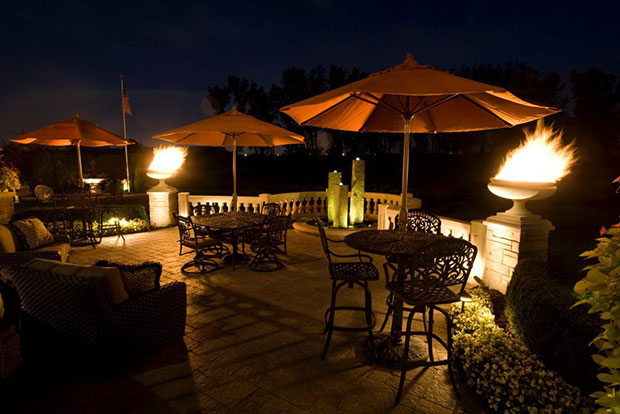 Take your focus onto the water fountain feature that also has light fixtures. That definitely puts aesthetics and function together.
Lounge Area with Pergola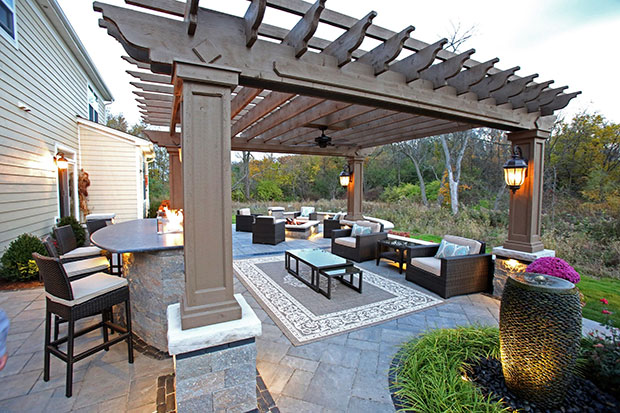 JR's Creative Landscaping
Taking advantage of the pergola's posts to bring in a traditional-looking wall lamp that compliments the pergola's design.
Townsend Backyard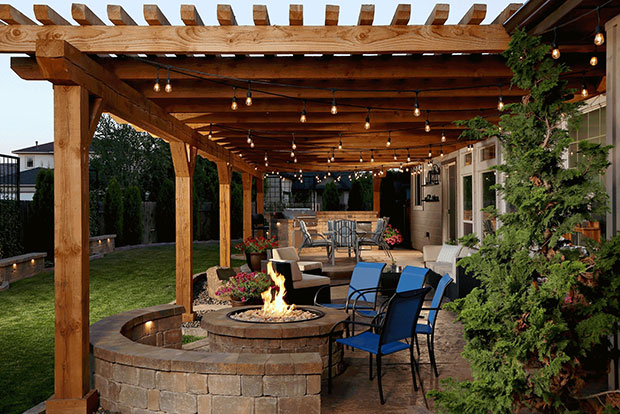 Yardscapes Northwest
Notice how the kitchen area is most illuminated due to targeted light fixtures.
Grant Patio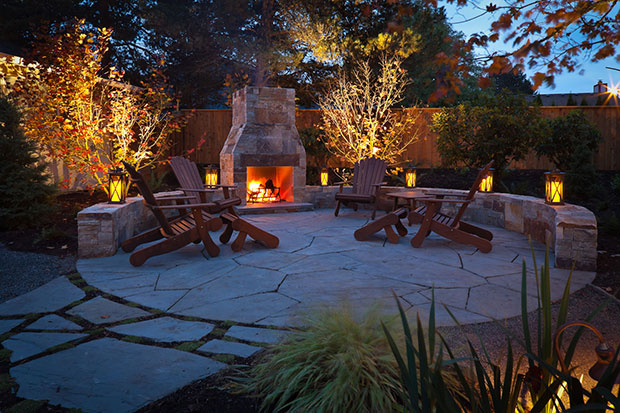 Beautiful Bones and Purple Stones Landscape Design & Build
Instead of lighting installed into the hardscape design, they have these plug-in lamps illuminating this beautiful fire pit.
Enchanted Evening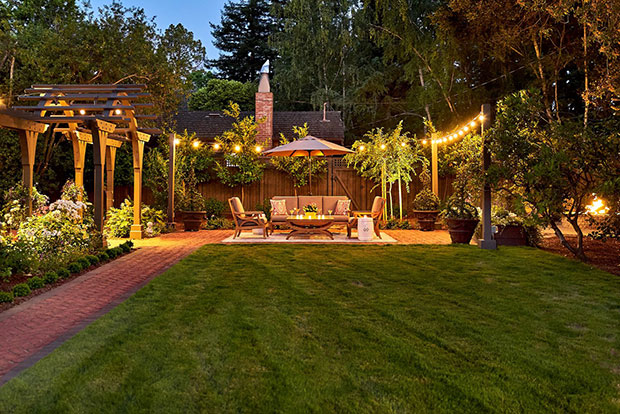 Complimenting this patio design is the string lights that truly make this quite an enchanted view.
Beneath Starry Skies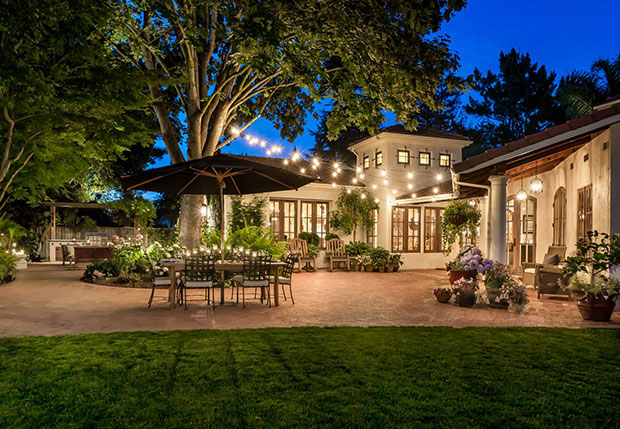 Casa Smith Designs
The string lights are a great match with the home's design style and this stunning patio design.
Sonoma in the City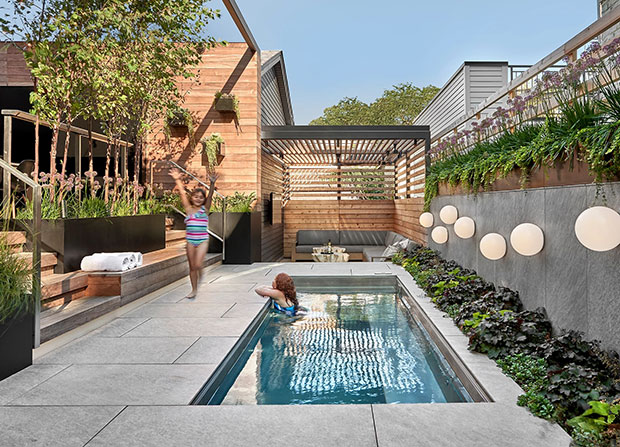 dSpace Studio
Quite the unique patio light designs we have here with their globe shape.
Stanley Avenue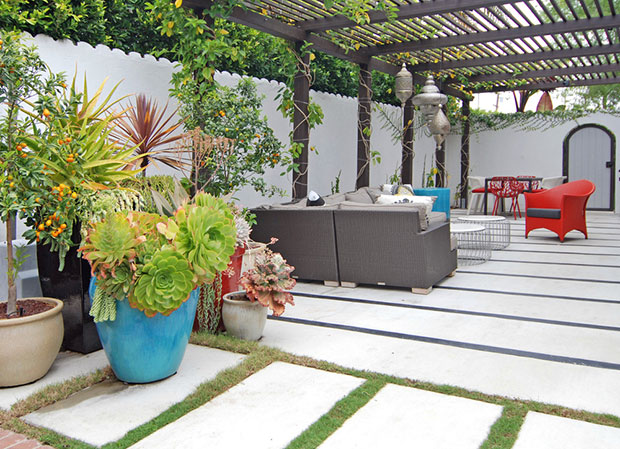 MJLID
If you have them or are interested in such, why not bring unique hanging lamp designs into your patio to elevate its overall look?
Brooklandville Pool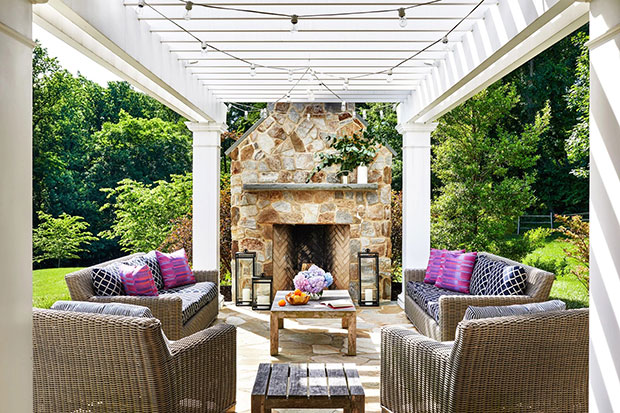 Winsome Interior Design
Most string lights in pergolas are hung similarly. Get more creative and place them in an interesting pattern like this one.
That's all for our patio light designs! What combination of patio light designs did you like the most?
Like This Post? Pin It!