40 Luxury Outdoor Fountains To Add Class To Your Garden
|
Sometimes your luscious garden or your front yard could feel a little plain and boring. It may seem the place needs an added touch of something to liven it up. Consider this: luxury outdoor fountains!
There are various styles and types of outdoor fountains to choose from. Different types and styles of outdoor fountains mean they are bound to vary in prices, from installation to maintenance costs. But each one of them offers benefits that you may want to consider. Not only is it going to add a splash of beauty and enhance the look of your yard or garden, but outdoor fountains are also nice additions to create a calming and relaxing environment in your yard. Perhaps, with an outdoor fountain, you can upgrade the entire landscape of your yard.
Types of outdoor fountains
As mentioned above, there is a wide variety of outdoor fountains to choose from. Winding it down to luxury outdoor fountains, still entails a diverse range in shapes, sizes, and designs of outdoor fountains. But most of these falls into the seven most common and broad categories.
1. Self-contained fountains
Self-contained fountains are the most popular type of water fountains as they are affordable and easy to install. So, they essentially can be placed just about anywhere. The key thing about self-contained fountains is the fact that they have their own reservoir, plumbing, and pump to function on their own.
2. Spouting fountains
For luxury outdoor fountains, the ones that may come to mind would be sprouting fountains. Some large parks and mansions are known for having such grandiose spouting fountains of complex variants. These fountains come with pipe features that spray water into the air for that dramatic yet striking look. And even though this may be what you imagined luxury outdoor fountains are, spouting fountains are not so expensive.
3. Tiered fountains
The more traditional type of outdoor water fountains is the tiered fountains. Just like its name, tiered fountains are so because of the basins placed level with each other. Such construction allows for the creation of subtle and relaxing sounds the water makes as it falls from one tier to another.
4. Wall fountains
Wall fountains are, well, integrated into an existing wall or built into a new wall. For small yards and gardens, wall fountains are excellent choices! Other than being installed into a wall, wall fountains have spouts that spit out the water into a lower basin. There are two types of wall fountains: freestanding and wall-mounted. Freestanding wall fountains have a flat back and attached basin. On the other hand, a wall-mounted fountain is a self-contained unit that can be hung on the wall.
5. Cascading fountains
Cascading fountains are more often used to refer to fountains that have steps of rock, in which the water gently and steadily flows from the topmost step down to the bottom level, even though tiered fountains are also considered cascading fountains.
6. Disappearing fountains
Unlike the self-contained fountains, disappearing fountains don't need a pond, pool, or basin, or any visible water feature to work. Instead, the water source is underground, making it a more modern type of fountain. In addition, disappearing fountains like this mean less maintenance as you don't have to worry about algae growth. In terms of aesthetics, disappearing fountains usually feature other stunning works of art like sculptures or urns.
7. Japanese fountains
Fountains in Japanese gardens have spiritual significance to them. The bamboo spout trickling water down a basin, surrounded by rocks, provides a serene atmosphere to the garden.
8. Swimming pool fountain
Some swimming pools add more excitement to them by installing a fountain. And if you even add colorful lights, the water movements, especially at night, will look even more magical.
Tips in choosing outdoor fountains
There are various luxury outdoor fountains to choose from. The various choices don't fall short in aesthetics and a lot are affordable. So, how do you choose the right outdoor fountain for you? Here are some quick tips that should help you!
1. Choosing the right style and design
The important part of selecting the right outdoor fountain is that the style and design complement the design of your own home. With that said, figure out how you want the fountain to utilize. Is it a centerpiece or an accent? What about the corresponding space around it? How is it going to be used and how would you want the fountain to look alongside that?
2. Consider maintenance costs and requirements
Before you even make a decision of having an outdoor fountain, make sure you've got the costs right. This includes maintenance requirements. How are you going to keep it clean? In some fountains with ponds, the common theme is to keep fish in them. How are you going to keep up with feeding and caring for them?
3. Choose the right fountain material
Some common materials used for luxury outdoor fountains are cast stones, fiberglass, stainless steel, copper, and natural stone. Each comes with its own pros and cons. But rather than focusing on the aesthetics, focus on aspects such as weight, size, and shape. Make sure that your patio will be able to handle the weight of the material of your fountain. Note: fiberglass fountains are much lighter than cast stones or concrete.
Afterward, look into the overall size and shape. This will depend on your landscape and how much space you have. If the fountain is the focal point, you may want a larger water feature. If you have small space, fountains with basins may not be suitable. Hence, wall fountains are common for small areas.
Luxury Outdoor Fountains for Inspiration
Now, let's take a look at some of the picks for luxury outdoor fountains that could add class to your garden!
Del Monte Gardens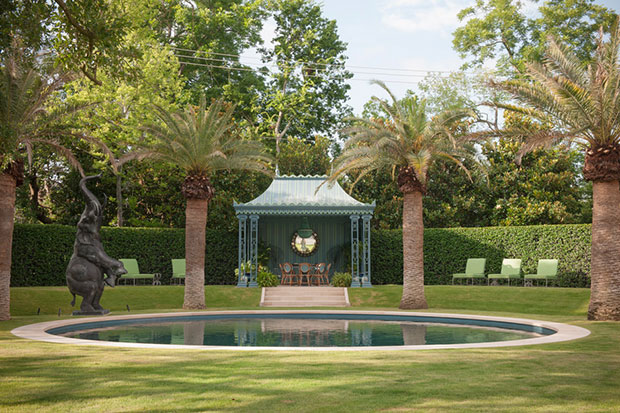 Curtis & Windham Architects
Starting off luxury outdoor fountains is this fountain of the likeness of an elephant. This one's definitely one of the more costly outdoor fountains. But it makes up for it with being unique and extraordinary.
Bayshores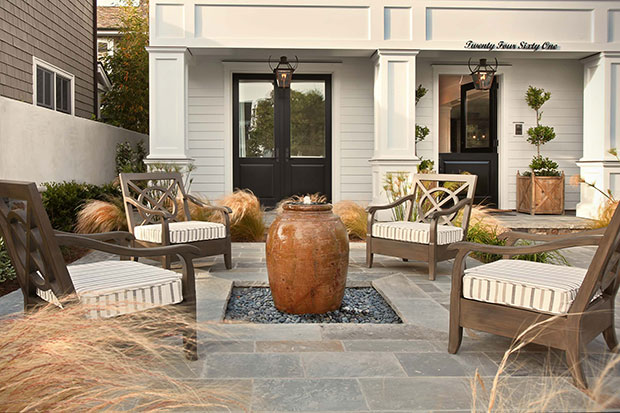 Brandon Architects
A simple but relaxing yard set-up for an outdoor fountain. This outdoor vase fountain is not one of the more traditional fountains you see, and that's what gives it its edge.
Memorial – Spring Valley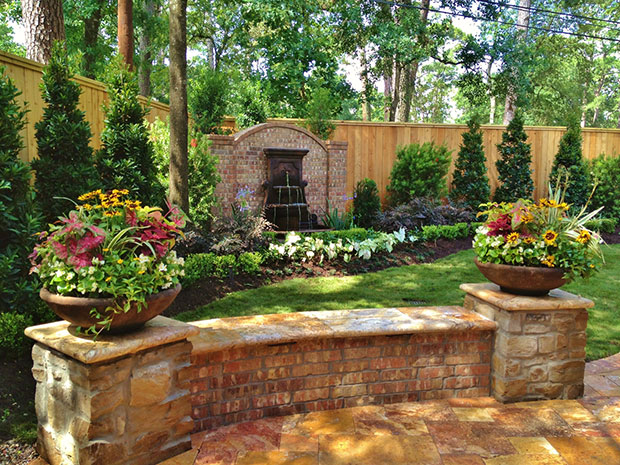 Designs by Elizabeth
This wall fountain looks even more perfect with the great landscaping that was done around it. It's almost as if the fountain made all that lush garden grow from its foundation.
Pepper Hill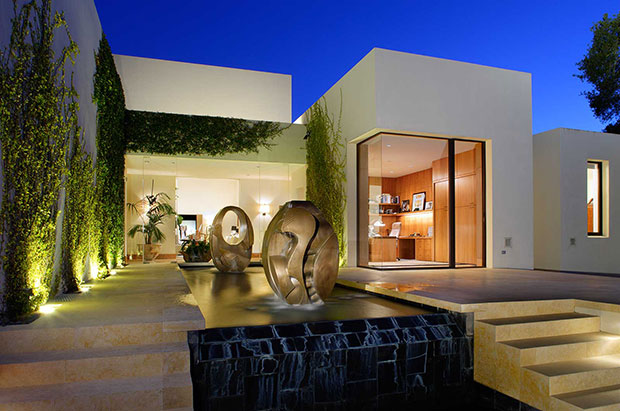 Warner Group Architects, Inc.
From its unique spout structure and intricate design details, this is surely one of the luxury outdoor fountains that give an additional one-of-a-kind and cutting-edge look to anyone's yard. It's very contemporary and well-suited for homes of the same design style.
Pool Environment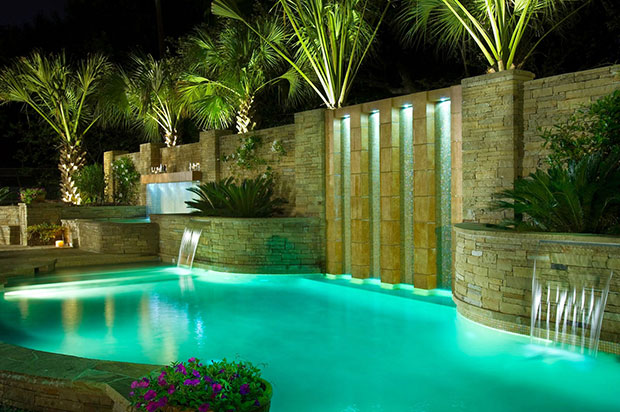 Pool Environments, Inc.
When you have a swimming pool, it seems to be a lot easier to have luxury outdoor fountains installed. This home literally has few variations of wall fountain designs, elevating the aesthetics of their pool and yard.
Meaders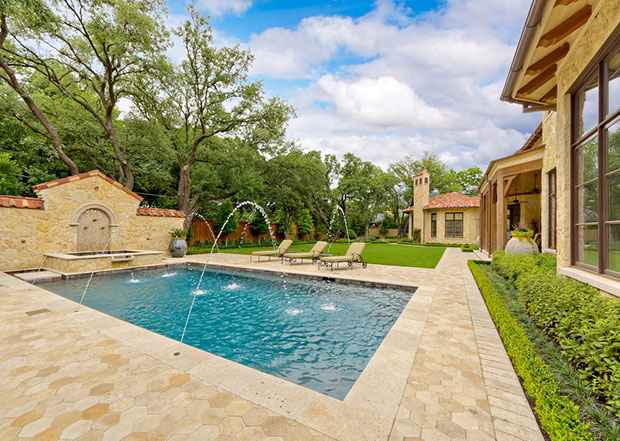 Aside from the spouting pool fountain, they even have a wall fountain installed, amplifying the overall look of this pool.
Hathaway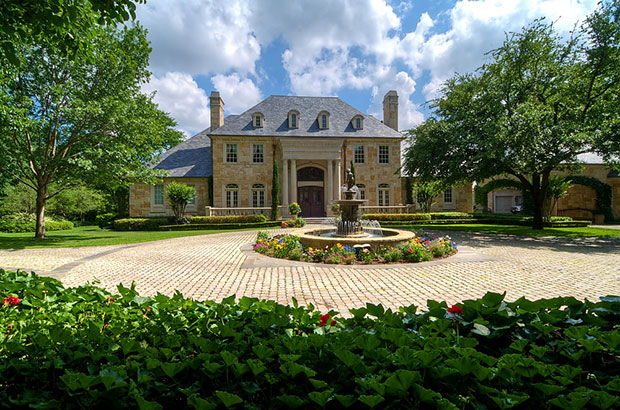 Harold Leidner Landscape Architects
Here's a classic landscape design for when you have an outdoor fountain in your front yard. The spouting fountain is completed by a beautiful statue sculpture.
Shingle Style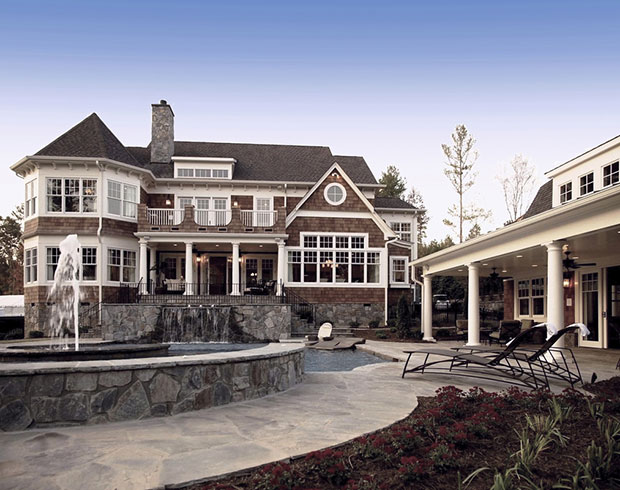 VanBrouck & Associates, Inc.
Luxury outdoor fountains seamlessly fit in with extensive pools like this. It's definitely a fun, cool, and chic addition.
Cascading Fountain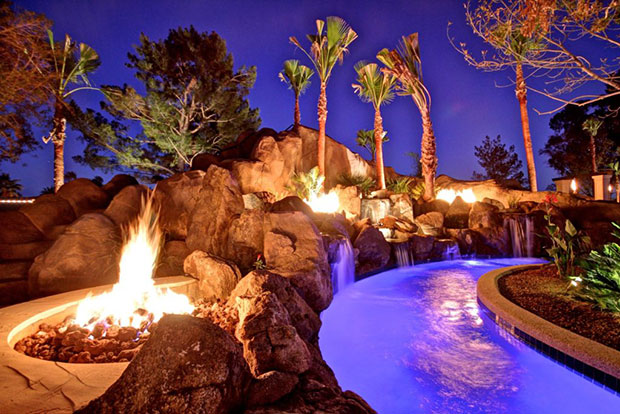 Eagle Luxury Properties
Another favorite luxury outdoor fountains idea is having a cascading fountain to go alongside extensive swimming pools. This is especially common if you want to have that tropical island feel to your yard pool.
Italianate Remodel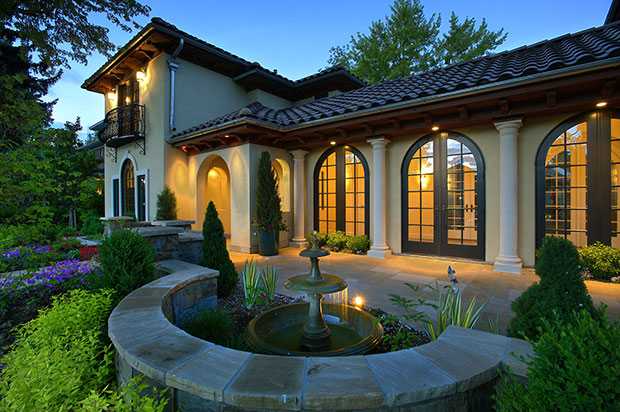 KGA Studio Architects
Some luxury outdoor fountains don't have to be huge. This home's own outdoor fountain isn't as huge and extensive as the ones we have previously seen on this list. But it is a beauty of its own, especially with the garden landscape complimenting it.
Luxury Custom Pool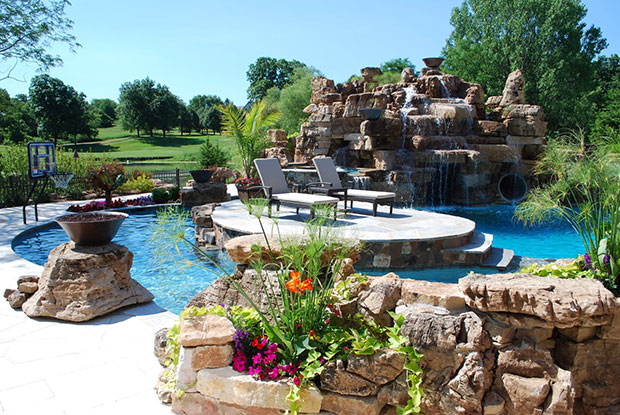 Southampton Builders LLC
Cascading fountains like this are perfect examples of luxury outdoor fountains. It perfects and completes the island theme of this residence's backyard pool.
Water Feature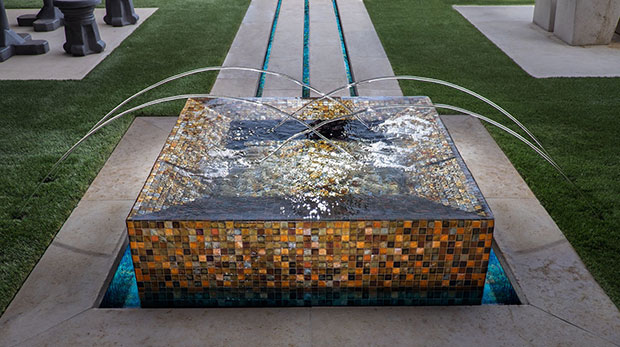 Red Rock Contractors
Here we have a very interesting water fountain feature that works well as an accent piece to the greater landscape piece.
Custom Features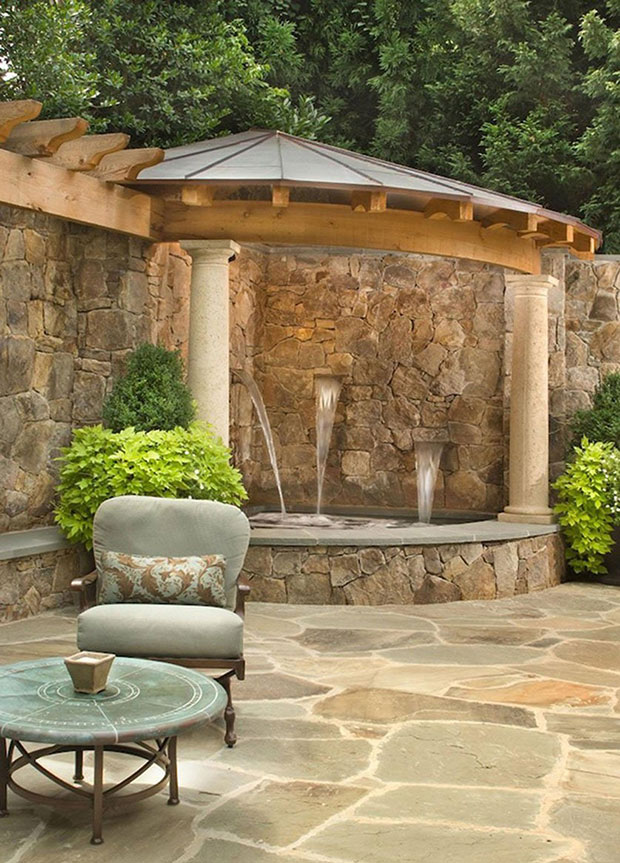 This wall fountain's spouts are installed in a really unique and unconventional way. In addition, the whole fountain even has its own roof overhead.
Custom Statue Fountain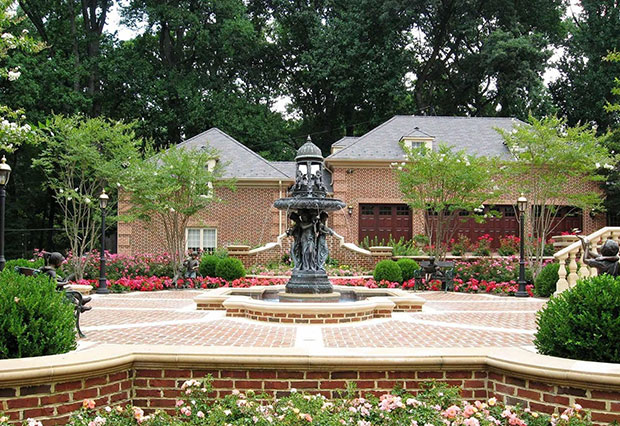 The custom-designed statue is excellent, attracting all the attention from the rest of the landscape. Luxury outdoor fountains like this will have to be certainly more expensive, especially with the intricate design details.
Custom Water Feature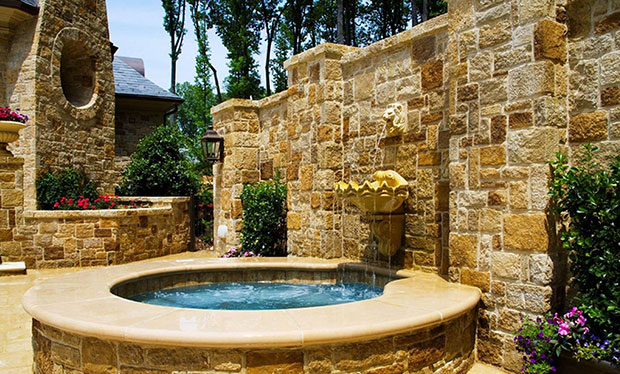 The little lion head spout is a chic interesting detail that you may miss. But then there's that shell-shaped basin which allows for another cool flow of water down to the bottom level basin.
Pool Feature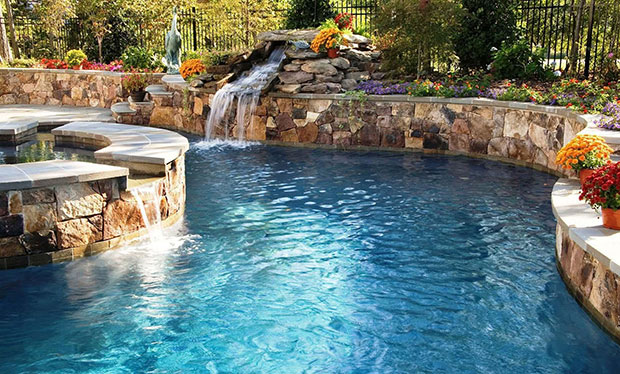 Lewis Aquatech
Rather than the bigger cascading rock fountains previously seen above, you can also have a small stack like this. It creates the same tranquil ambiance.
Transitional Courtyard Garden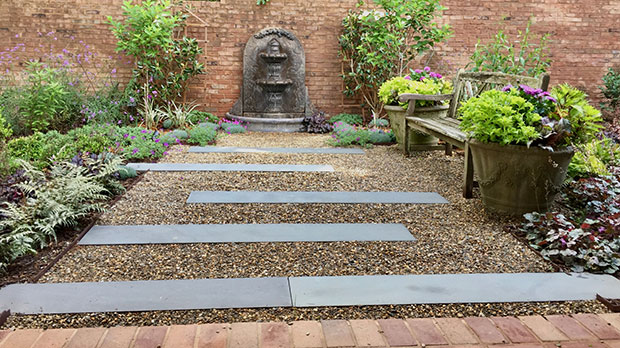 Jay Sifford Garden Design
This wall fountain is quite an interesting piece because it is seemingly a combination of wall and tiered fountains.
Black Cauldron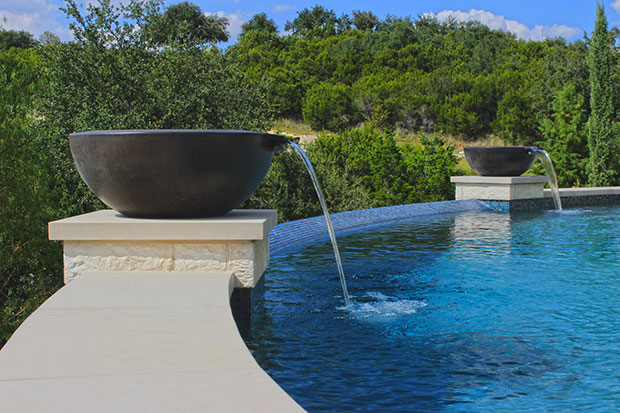 If you want smaller and subtler outdoor fountains, consider this cauldron fountain. It is definitely sleek and stylish.
Grotto with Slide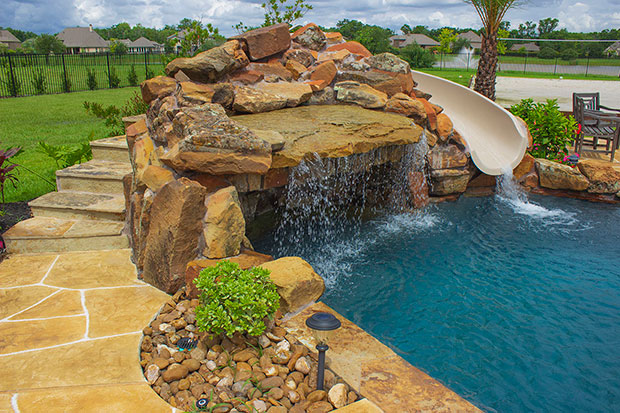 To add more fun to natural stone fountains, why not build a slide into them? You would be bringing in cool aesthetics with fun entertainment.
Fox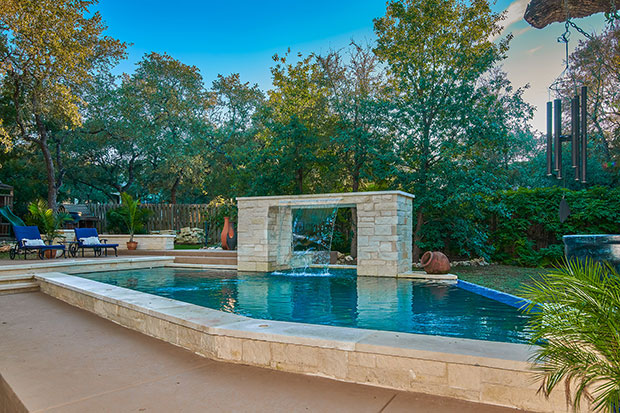 Here's a pretty cool, different, and contemporary fountain design. This fountain arch isn't something you always see or imagine when talking about luxury outdoor fountains.
Elliott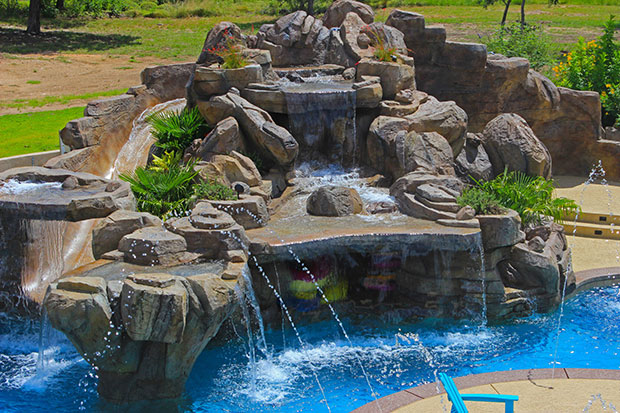 Cody Pools
Now, here's a rather different-looking cascading fountain that is visually looking more like a tiered fountain; although tiered fountains are essentially cascading fountains.
Southlake Home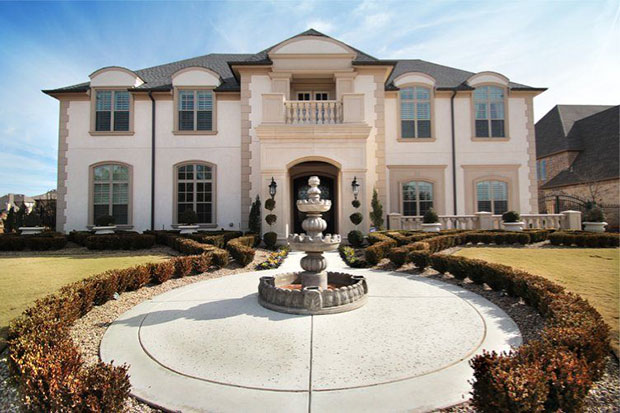 Stewart Custom Homes
Much of these traditional tiered fountains are wide and huge. But this one, for instance, is slimmer in comparison. Also, it needs to point out the cool shape and structure of the basin tiers.
Exterior Home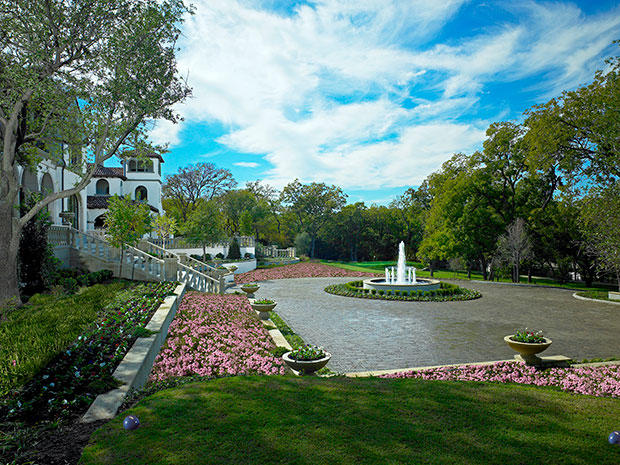 These luxurious spouting fountains are quite common in the front yards of huge mansions such as this one.
Platinum Exterior Home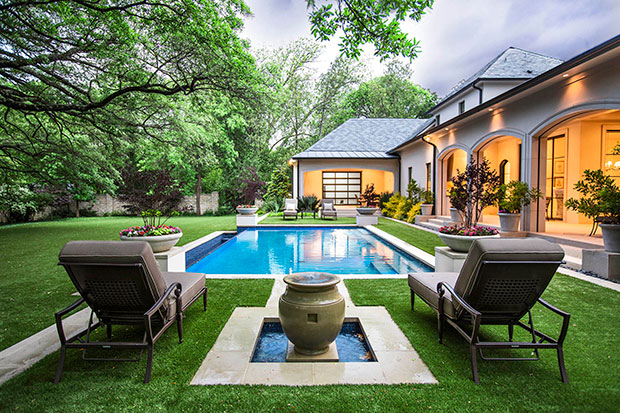 Platinum Homes by Mark Molthan
Similar to the vase fountain in Bayshores, this one's made for a relaxing garden ambiance. Although unlike the previous example above, this fountain connects to a pool.
Disappearing Ceramic Urn Fountain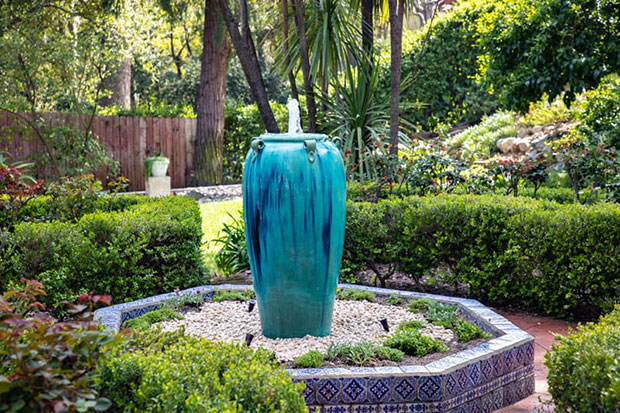 This disappearing urn fountain is certainly a unique centerpiece to any garden out there. This is one of those luxury outdoor fountains that look too expensive but actually are not.
Mediterranean Outdoor Living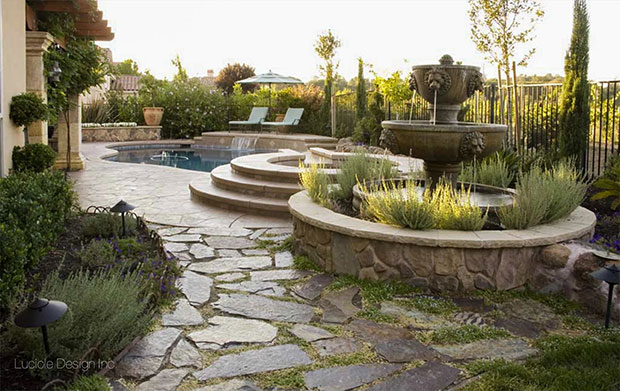 Luciole Design Inc.
A lot of wall fountains have lion heads as the spouting structure. And while it is true for this outdoor fountain, it is built onto the sides of the basins of a tiered fountain.
Artisan Tudor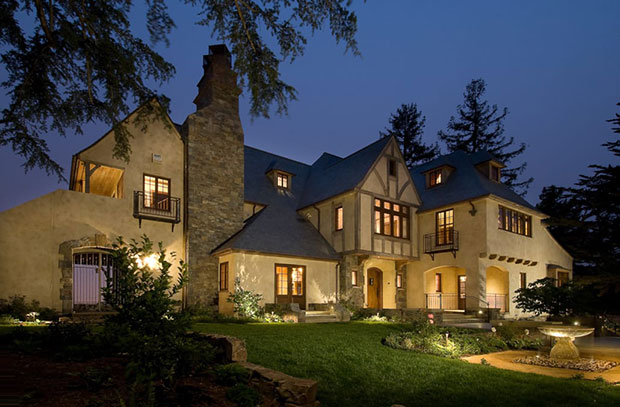 David Thorne Landscape Architect, Inc
A simple but chic outdoor fountain that is definitely been used as a birdbath. It's clear at this residence that this outdoor fountain acts more like an accent piece rather than a centerpiece.
Design Feature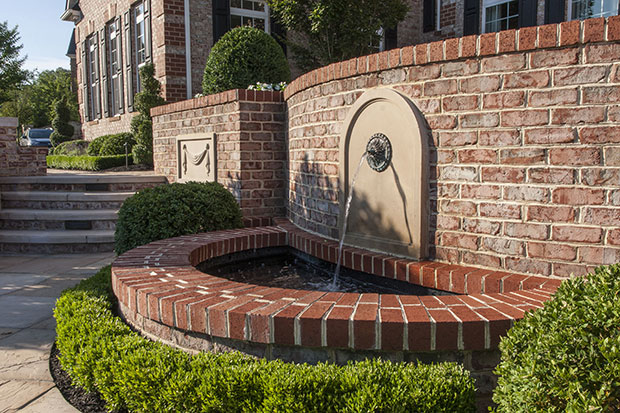 Wheat's Landscape
A small wall fountain like this may disappear in the midst of a huge garden, but it does its job in elevating the overall look of the space.
Mediterranean Luxury Estate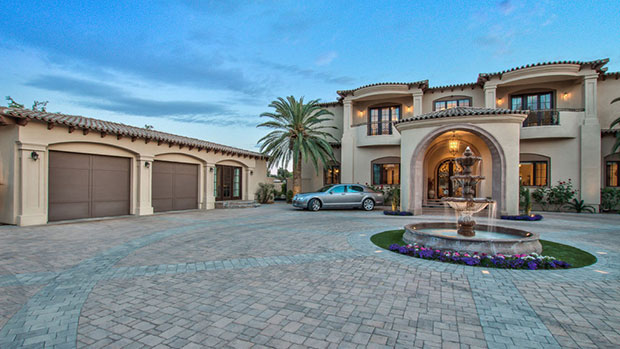 A great centerpiece with fixed lighting is installed within the fountain structure itself. Even at night, this fountain will definitely shine.
Territorial Spanish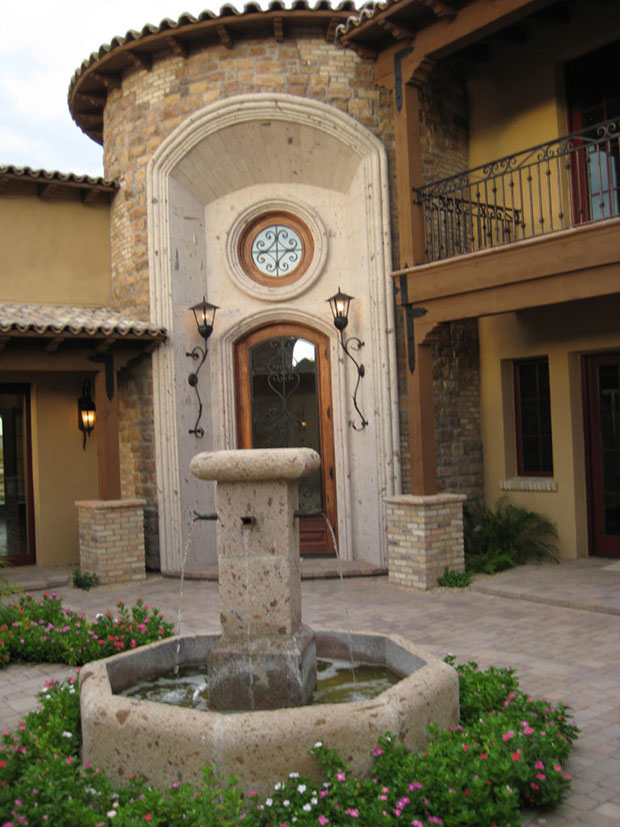 Integrity Luxury Homes
Luxury outdoor fountains can also have that vintage, old-aged look such as this one. It's a perfect piece to greet you when you come in and out of the house, giving some sense of tranquility.
Palm Garden Apartments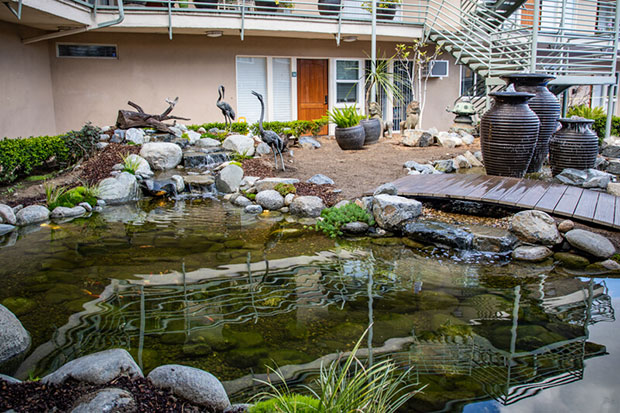 Here are more disappearing fountains! But we have three here instead of just one urn fountain. And this one is suited in a small residential pond.
Pasadena Showcase

These two pillar-like disappearing fountains are wonderful additions. It's pretty cool that one is stouter and shorter than the other, and what's great about them too is that they look like pillars welcoming you into the oasis of a garden in this home.
Showroom Urn Fountain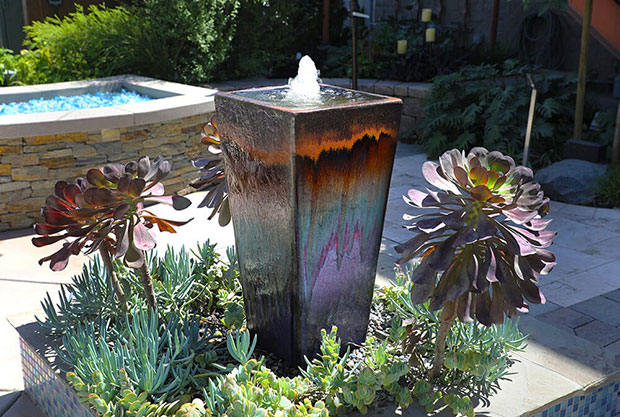 Luxury Outdoor Fountains California Waterscapes
Now, this urn fountain has really interesting colors that interestingly complements the vegetation around it.
Elegant Sanctuary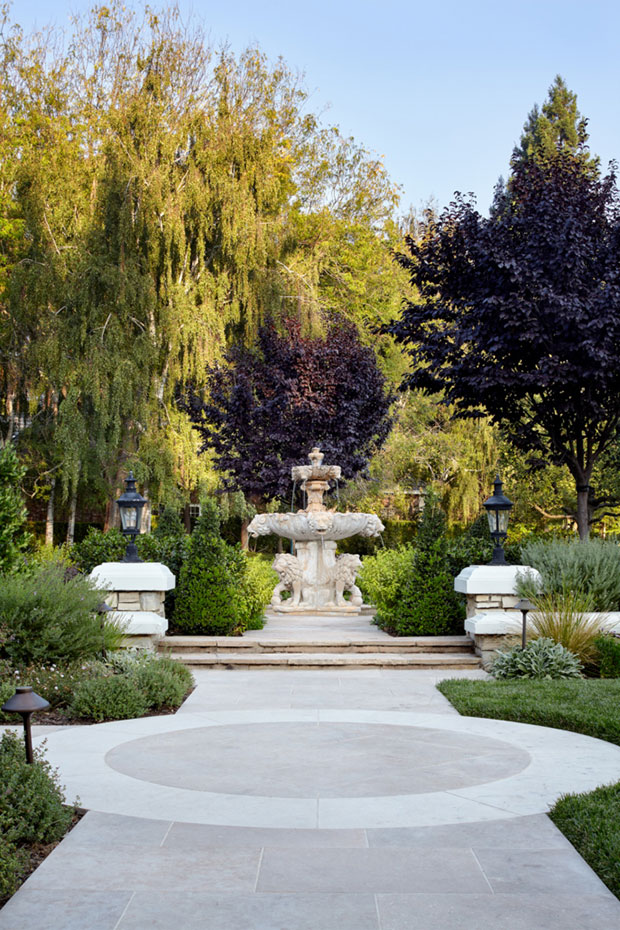 David Thorne Landscape Architect, Inc
There's something about luxury outdoor fountains incorporating lions into their designs. Now, this one is looking fierce and mighty with the lion design.
Park Lane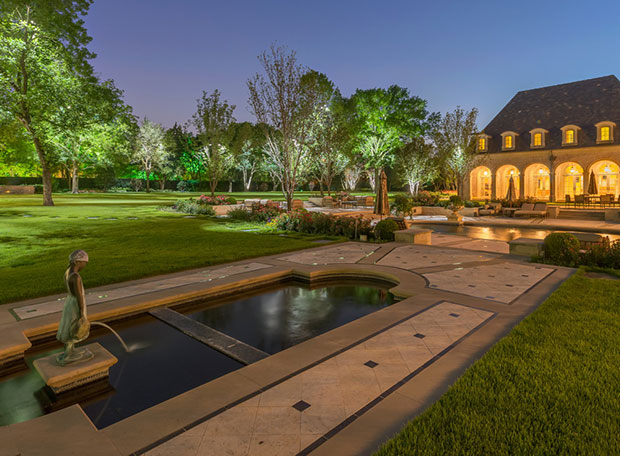 Harold Leidner Landscape Architects
Here is another one of these unique luxury outdoor fountains. Here's a statue of a little girl that is seemingly pouring water into the pool.
Bird House Urn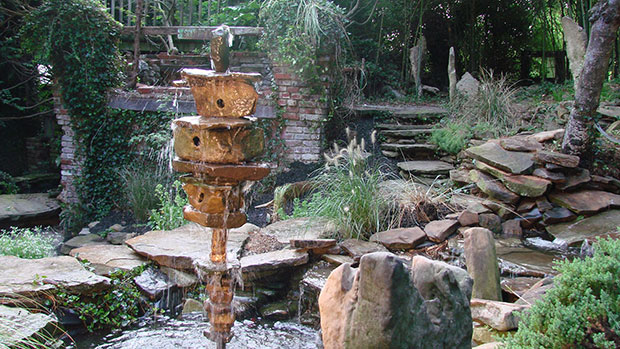 Art 2 Die For
This particular outdoor fountain tops this list of the most interesting fountain in terms of aesthetics. And it's perfectly placed in a pond too to create that nature-inspired aesthetic.
Perennial Splendor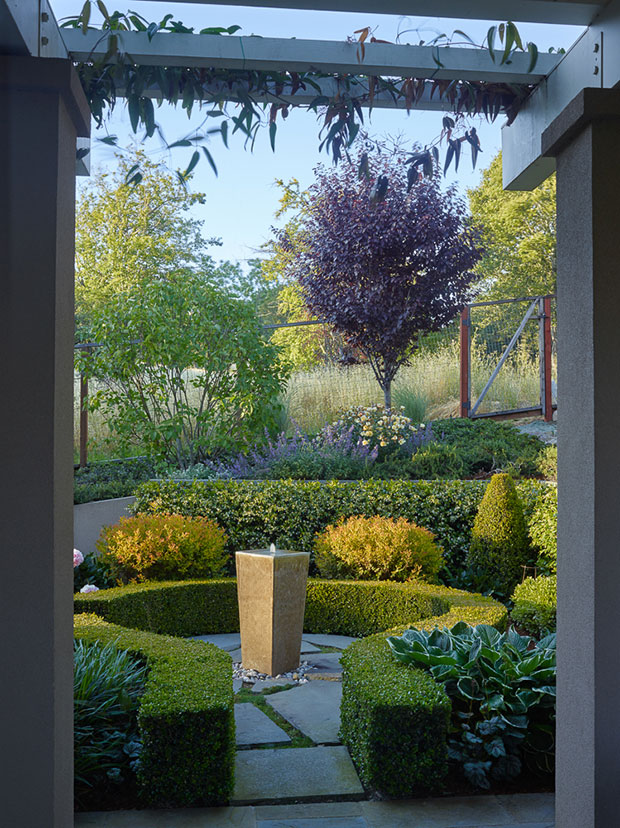 The simplicity of this disappearing urn is its most attractive point. Its color even complements the lush garden landscape.
Mid-Century Modern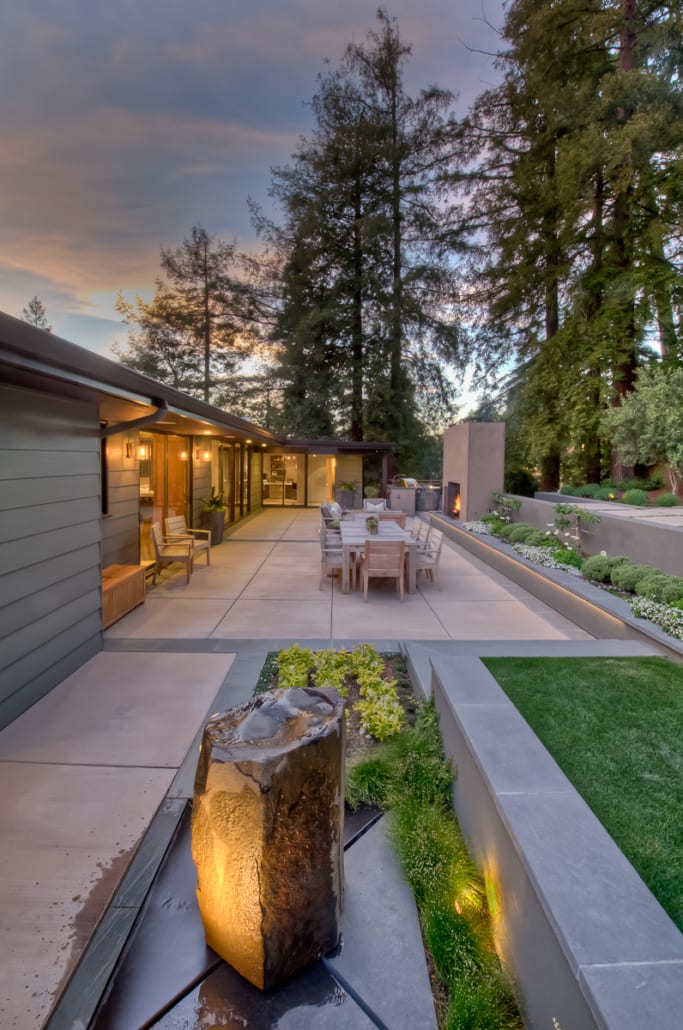 David Thorne Landscape Architect, Inc
Another outdoor fountain with a very interesting look. Its tree stump-like image is a nice contrast to the mid-century modern setting of this garden.
Salazar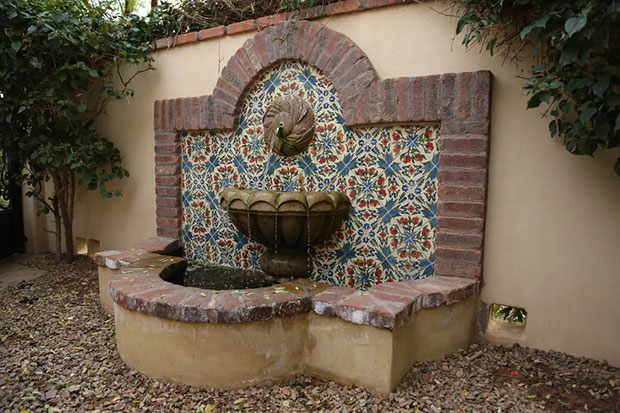 Enhance A House
Apart from the obvious age of this wall fountain, those colorful back tiles still bring much life and personality to the piece.
Lenoir Plantation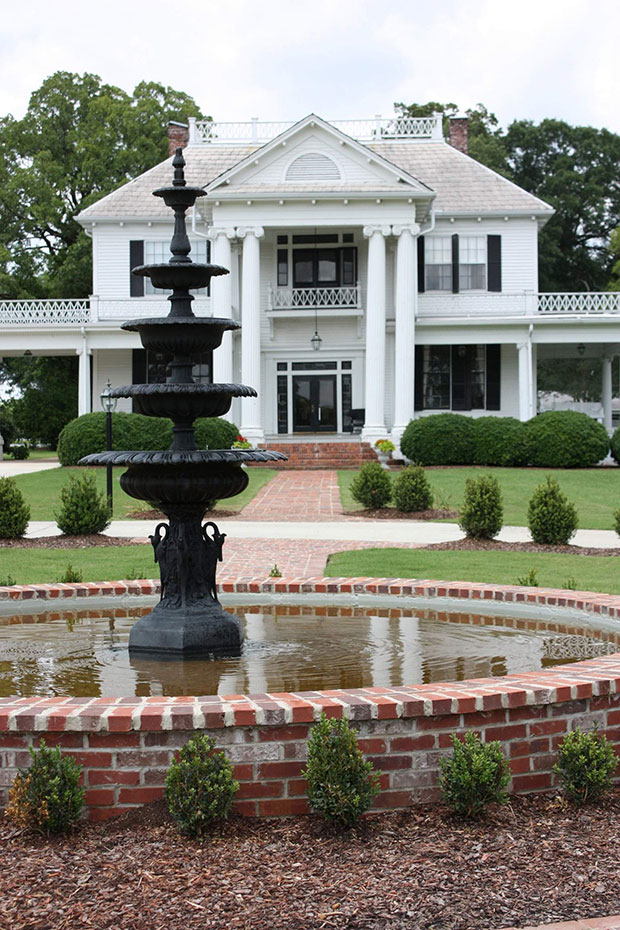 SGK Landscapes
While most tiered fountains have about 2-3 basin tiers, this one has more, which is effective in making the shape of this fountain look slimmer than most tiered fountains.
So, there go some luxury outdoor fountains! Which one of these got you inspired to have your own outdoor fountain at home?
Like This Post? Pin It!