50 Unique Roof Designs for Your Home
Most often than not, our roof designs are the last thing we think about when building our homes. Understandably so as it's quality is of the topmost priority than any other.
But with the latest innovations in the construction industry today, more and more architects and engineers are incorporating creativity to roof designs to their projects. These technologies allow them to be more creative and combine aesthetics and quality in one amazing output.
Designing a roof is no easy feat and definitely not to be taken lightly when planning on building or renovating yours. Additionally, deciding on roof designs also have several considerations to think about.
If you are in the process of building or renovating your roof at home, we have these amazing tips and design ideas for you. We have also included some useful tips that you, as a homeowner, can consider. Remember that as the end-user plays an important role when saying yes or no to a design proposal from your contractor.
Types of Roof Designs and Styles
There are several types of roof designs that architects and engineers are using for various building types. Most of these designs are selected depending on the area where the house will be built, the available materials, and of course, the structure of the building itself.
Additionally, knowing your roof style can help decide on the roof material that will be used. Below are some of the most unique roof styles:
1. Butterfly Roof
Butterfly roofs are designed with two tandem pieces that meet in the middle. They are angled up in a V-shape that resembles a butterfly's wings in flight. Some of the advantages of having this roof are:
Can be used to collect water in the center of the roof where a holding tank is usually placed.
Offers wind protection.
Allows for the installation of larger windows.
Increases light and solar.
2. Bonnet Roof
A bonnet roof is a type of a hip roof and has four sides with a steep upper slope. It also has a more gentle lower slope that provides a cover around the edges of the house. This type of roof has several advantages including:
Suitability for high-wind areas.
Better protection from both sun and rain damage.
Adds extra living space and extra lighting.
Favorably gutter installation.
3. Cross Gabled Roof
Cross gabled roofs are roof designs that resembles a triangle when viewed from the front yard. They typically consists of two or more gable roof ridges that intersect at an angle. Common advantages for this type of roof are:
Simple in design and can save on construction costs.
Easily sheds water and snow.
Provides more space for the attic or vaulted ceilings.
Allow more ventilation.
4. Jerkinhead Roof
The jerkinhead roof type is a gable roof with the two peaked ends clipped off. This type of roof is also known as clipped gables or snub gables. With its complex design, the following are some of its advantages:
More stable than the regular gable roof.
The design is more resistant to wind damage when the end of the roof is clipped or turned down.
Provides more space than a traditional hip roof.
5. Sawtooth Roof
A sawtooth roof is a parallel pitch roof of two or more roof where the sloped and vertical surfaces alternate. Certain advantages of the sawtooth roof are as follows:
Allows more natural light inside the home.
Provides the opportunity for vaulted ceilings and/or loft living space.
Excellent choice for eco-friendly home designs such as solar panels, geothermal and radiant heating systems.
How to Choose a Roof
As mentioned above, there are several factors at play when deciding to choose a roof. The choices you make from the shape, material, and color will have an impact on other aspects of your roof.
In general, you will want a roof that lasts for a long time, affordable, efficient, easily maintained, and one that looks good. Striking a balance between all of these, ideally, should be what you are aiming for.
Below are some extra points you need to consider:
Local requirements and climate
Before starting your plan, it is best to check with your local council first. This ensures that you will be complying with any roof-related building regulations or recommendations in your area. By doing so, you save yourself the time to make changes, just in case the design you wanted does not comply with the rules.
This is also the best time to learn about the preferred roof designs according to your area's climate. Examples are adding leaf guards for gutter for bushfire and/or cyclone area, and adding a steeper pitch on your roof for homes built in the alpine region.
Appearance
Once the necessary permits and considerations have been considered, it is now time to focus on your roof design. Most of the time, people design the roof around the design of the house, for example, a flat roof for a Mediterranean home. When choosing colors, it is also important to note that while light colors reflect the sun's heat, dark colors absorb it.
Affordability
Like most building materials, roofing materials vary in terms of costs too. As a homeowner, it is important to weigh the benefits of your choices.
Roof Designs for Inspiration
Most of the time, commercial buildings take the limelight when it comes to unique roof designs. Thankfully, designers and architects are moving away from that and focusing on residential buildings.
When we think back and decide what's best for our home, our roof is often forgotten. Especially on how it should look. But, that shouldn't be the case.
With more and more innovative designs budding in the market, we are sure that many more spectacular residential roof designs will be popping up.
Here are some of the most unique roof designs we have found that we are sure you will enjoy too.
Ga On Jai House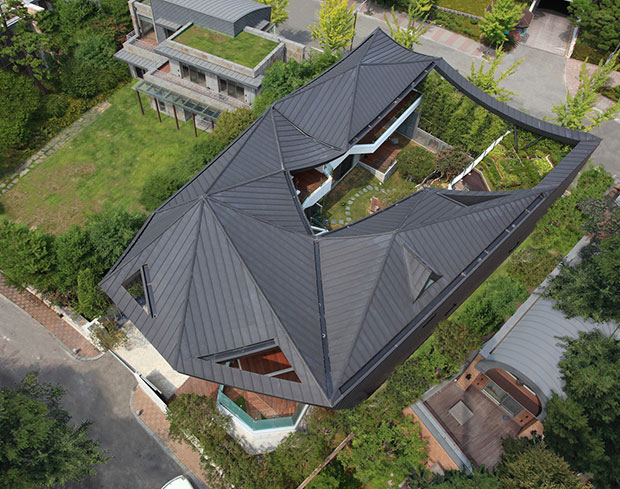 IROJE KHM Architects
The symmetrical shape of the roof on this house is truly breathtaking. We love how the architect has designed the roof with sweeping shapes. The provided open space at the back is also a lovely touch for the house's garden.
Nautical Lines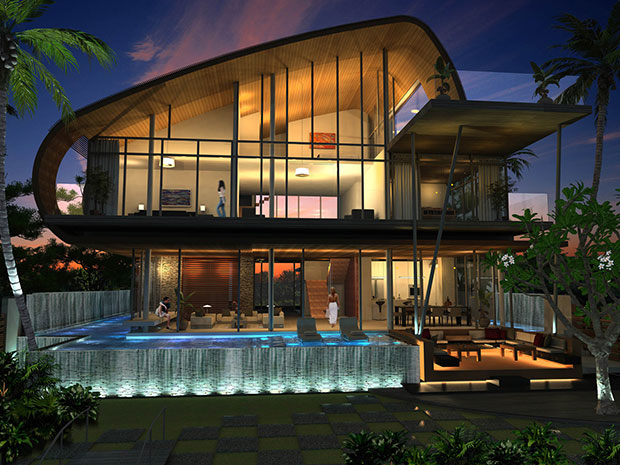 Greg Shand Architects
This home in Singapore features a lovely wide and wavy roof. It adds a rather airy and open look.
Chenequa Residence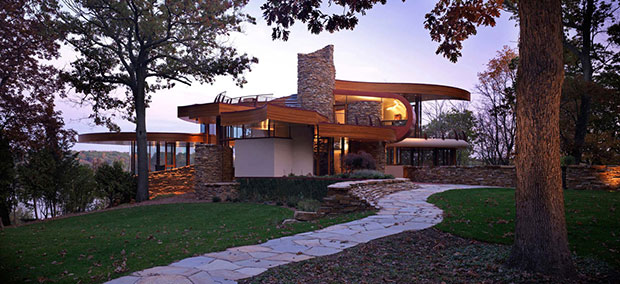 Robert Harvey Oshatz Architect
The unique roof design of this home in Milwaukee is one of its kind. The design blends well with the surrounding landscape with its flat and stepping roof design.
Origami House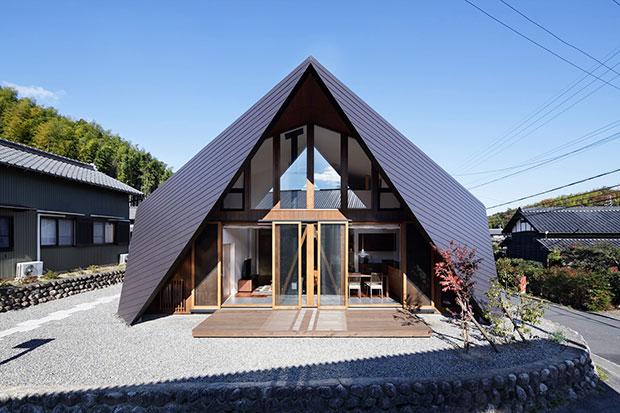 TSC Architects
This Origami House in Japan features a unique roof that resembles that of origami, with the corners touching the ground.
Starkman Residence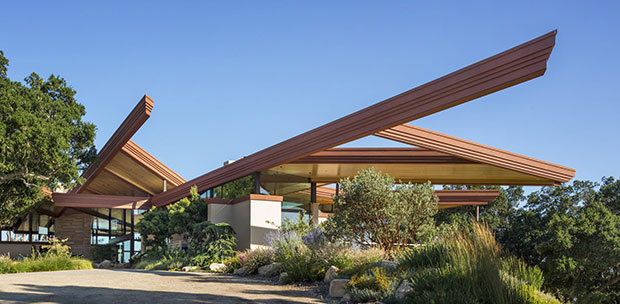 Norm Applebaum Architect AIA
The Starkman Residence in Fox Hollow is another example of a home with a unique roof design. The rood was made of concrete to control wind loads of up to 85 mph.
Leura Lane Modular House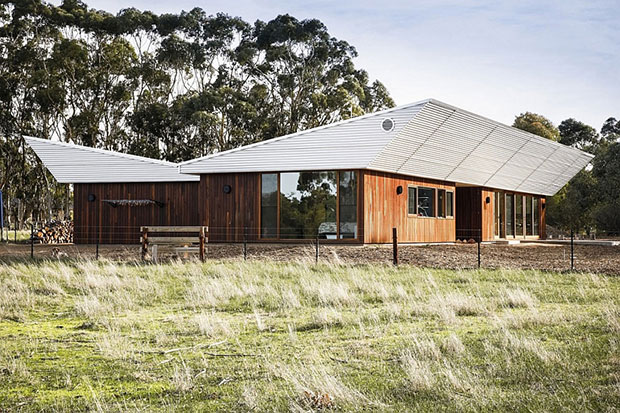 Cooper Scaife Architects
The roof of this modular house in Leura Lane has a unique design that does not only stands out for its edgy roof but also because of its energy-efficient modular housing design.
La Piscucha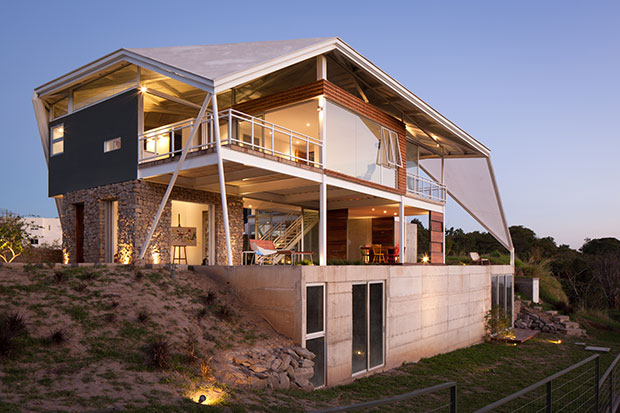 Cincopatasalgato
The modern and sophisticated design of the La Piscucha will take your breath away. Its edgy and unique roof is an eye-catcher with its artistically folded roof.
Rooftop Garden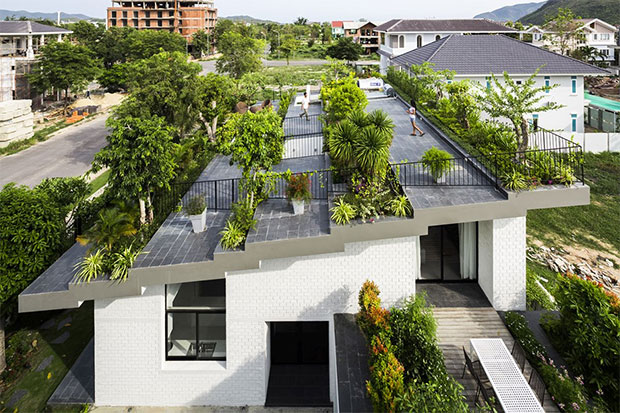 ICADA and VTN Architects
Garden lovers who don't have any space for a garden will love this rooftop garden in Vietnam. The roof is simply unique with the integration of both modern and environmental aspects in the design.
The APEX House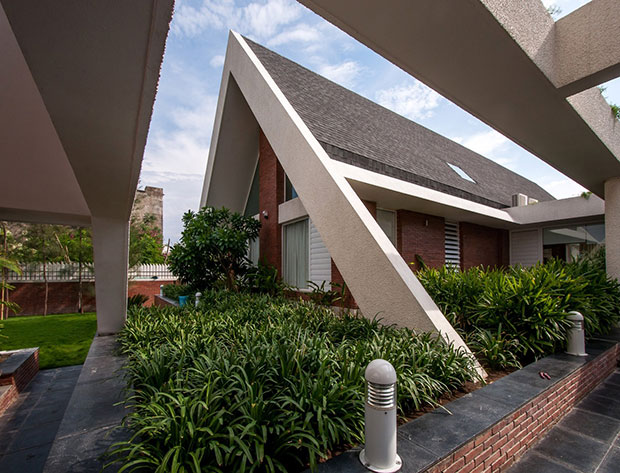 Design Buro Architects
The triangular roof design of the APEX House in India is a fine example of a modern home with a unique roofing design. It makes use of large beams to support the roof and the house structure.
The Dancing Light House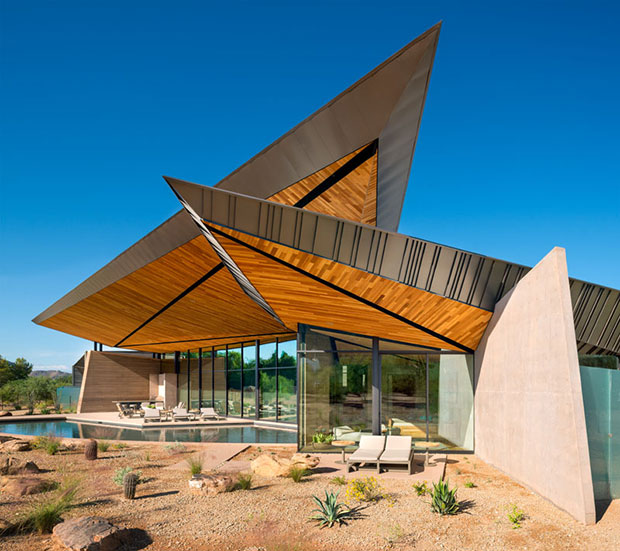 Kendle Design Collaborative
The Dancing Light House in Arizona's floating roof canopy blends well with the desert forms and mountain views of the surrounding area. Its sharp and impressive design adds a rather modern look to the house.
Sunshine Villa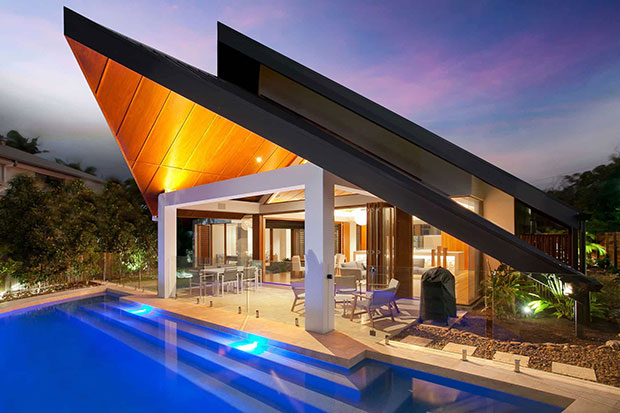 Chris Clout Design
Sunshine Villa's roof reminds us of the beaches and, definitely, sunshine. The home is inspired by a Thai residence.
Ultra-Modern Tiny House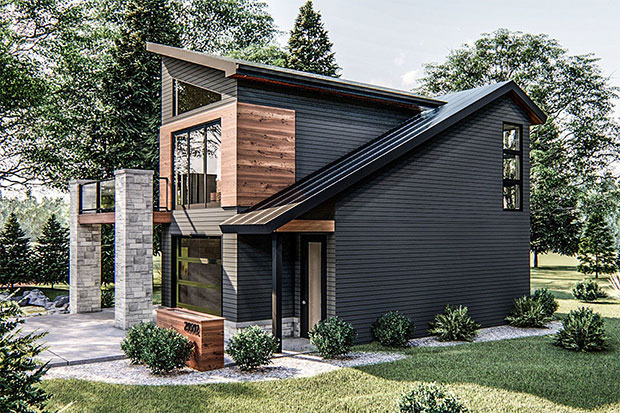 Architectural Designs – DJ Designer
This house features a contemporary house plan and ultra-modern facade. We love how the roof gives the house more personality with its unique design.
Tile Roof House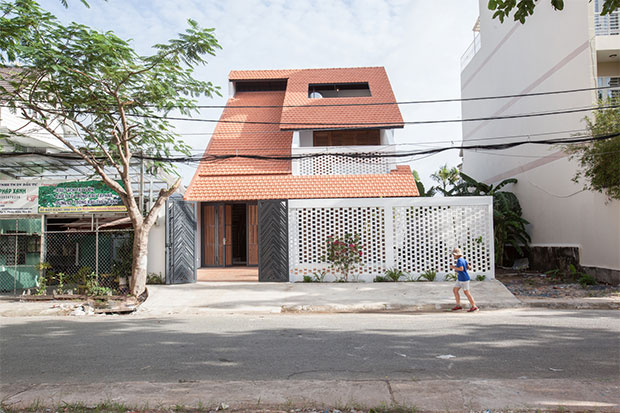 k59 atelier
This home's roof is made of terra-cotta material and is designed in an open gable roof type. The architect also added an opening on the roof instead to allow for a balcony and a sunroof at the top.
Barrel-vaulted Private Kempten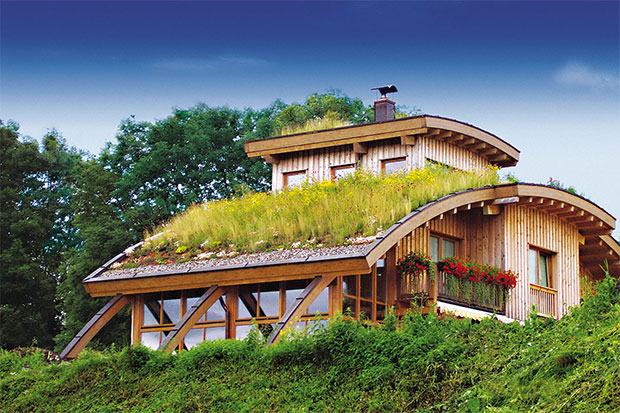 Greenroofs.com
Plant-lovers will love this 38-degree barrel-vaulted private residence's roof design. The designer has added a synthetic waterproofing membrane and insulation layer with the integration of an anti-slip system.
Modern Lake House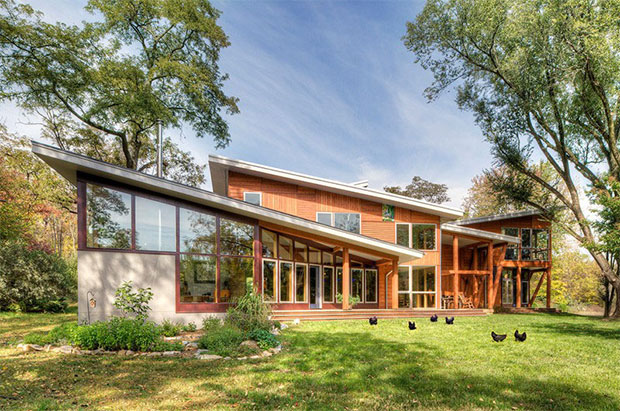 Reader & Swartz Architects
This modern home adopted multiple sloped roofs. The effect is equally satisfying as it adds a bigger and brighter feel to the house.
Pond-Side House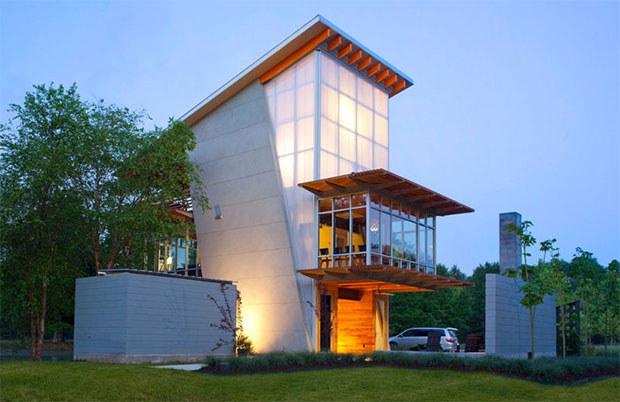 Holly & Smith Architects
The Pond-side House's modern roof is as unique as the purpose of its design. Its slope roof has solar panels and lets rain waterfall back to pond.
Wood-Clad Modern Home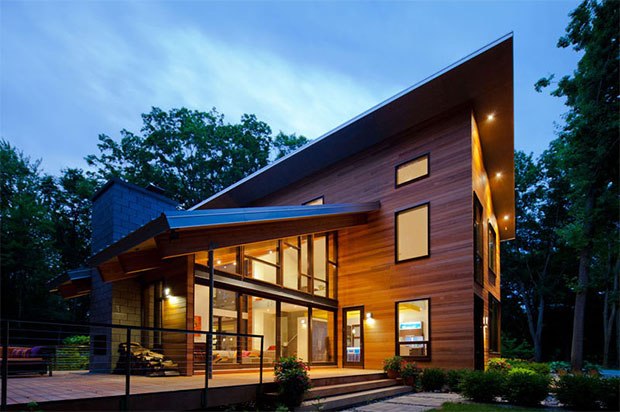 Lucid Architecture
The sharp and edgy lines of this house in Western Michigan is truly remarkable. It s wooden-clad design perfectly blends well with the surrounding.
Modern Russian House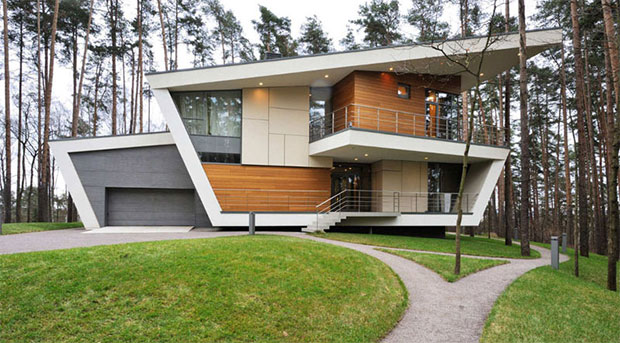 Atrium Architects
This modern Russian home has a rather futuristic design. The architect has made use of the same lines of the roof and the exterior.
Zinc House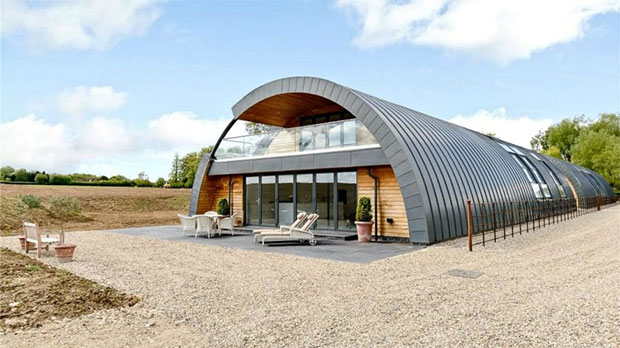 Strutt & Parker
The Zinc House in Essex used to be an old and dilapidated Nissen Hut. Now, its gorgeous zinc roof.
11 Jalan Insaf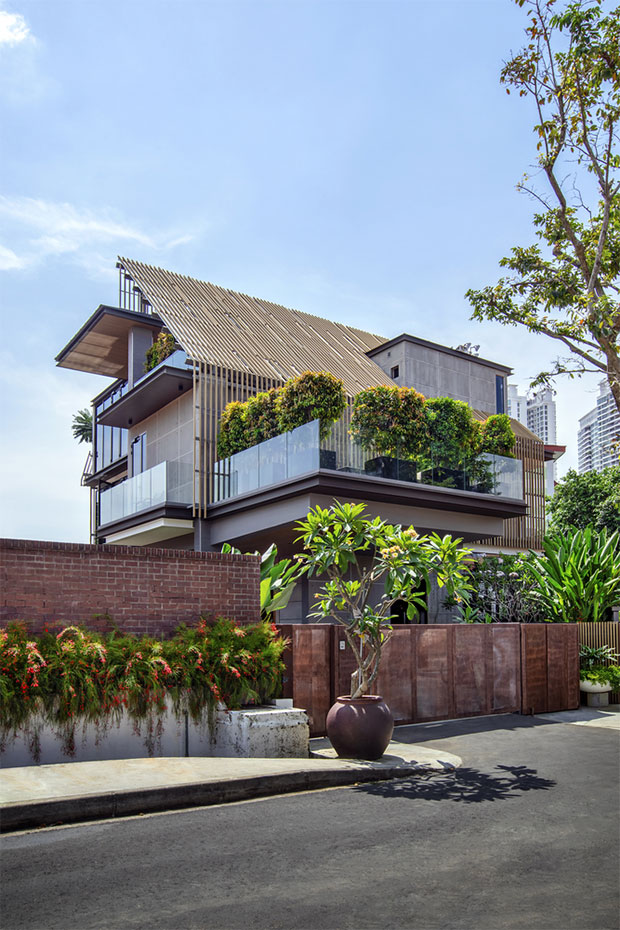 FOMA Architects
This home in Singapore is another home with lush greenery and awesome roof design. The architect has used timber louvers on its exterior.
The Chimney House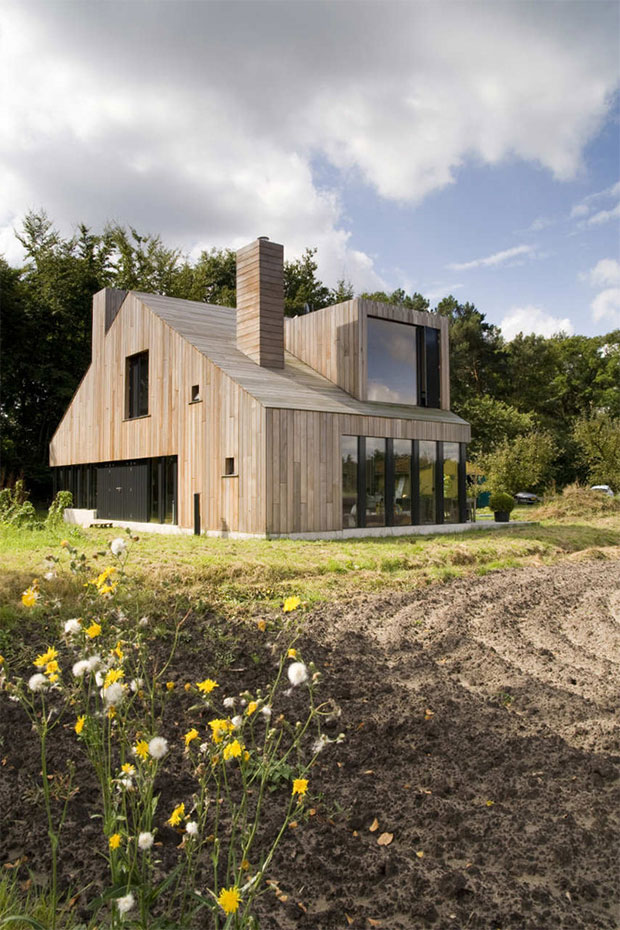 Onix – Haiko Meijer
This beautiful home called the Chimney House has a saddleback roof that makes it extremely unique. It blends well with the four chimneys on the roof and makes it ap[pear like one cute box.
Midcentury Home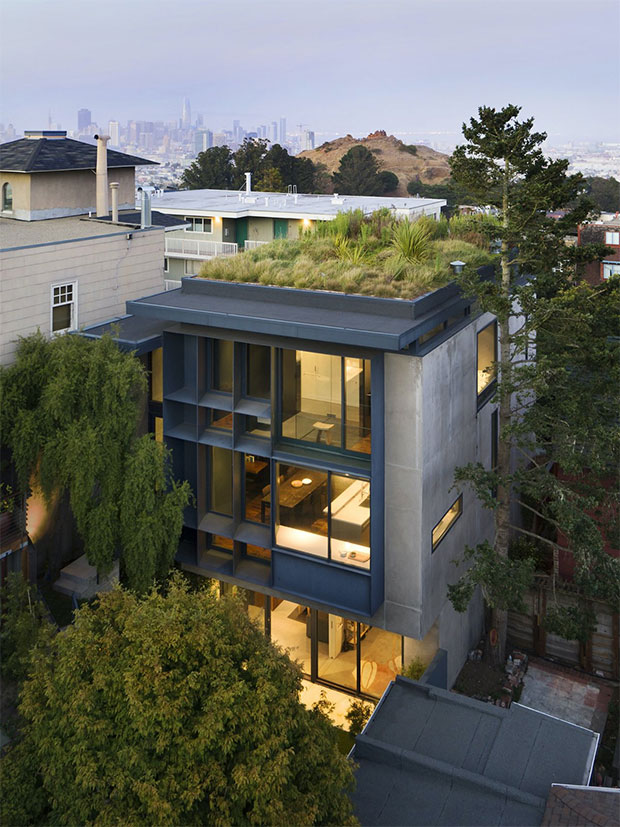 Aidlin Darling Design
This home may look just like any other modern home from the outside, but when you look at the top, you'll be surprised. The home has a living roof with natural grasses and succulents planted on it.
Roprachtice House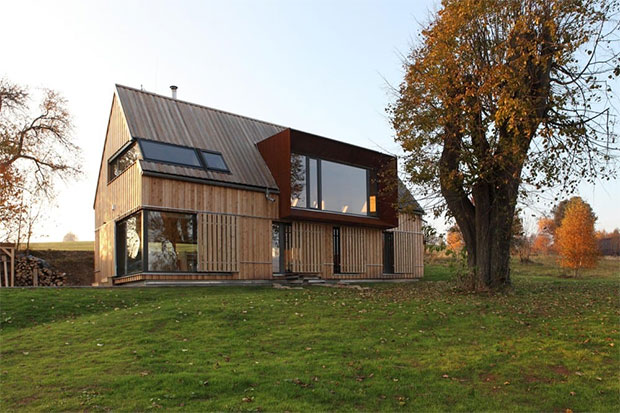 PRODESI
The Roprachtice House is a unique home in the Czech Republic with strong rural accents and wooden beams. This house also features a rectangular wide window on the side which adds a unique look to the overall structure.
Fennel Residence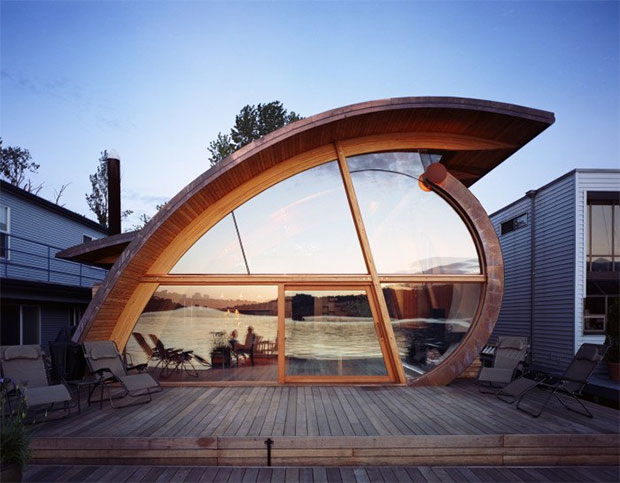 Robert Harvey Oshatz
This floating home called the Fennel Residence is located on the Willamette River. Its curved glass facade overlooks the water and offers a relaxing abode.
Summer House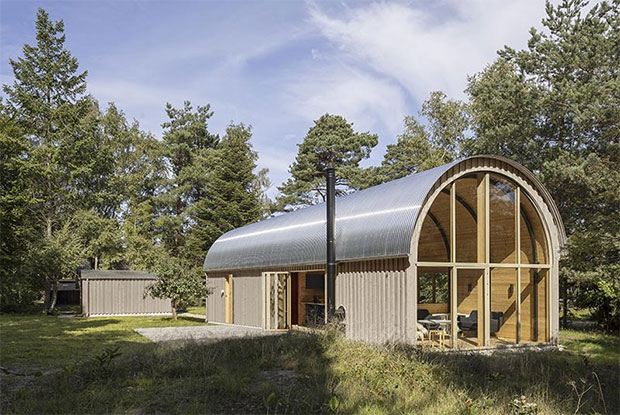 Valbæk Brørup Architects
This curved corrugated metal roof home in Denmark is also included in the unique roof design list. The summer house is designed with an extruded tube shape with a roof of rolled steel plates.
Nasu Tepee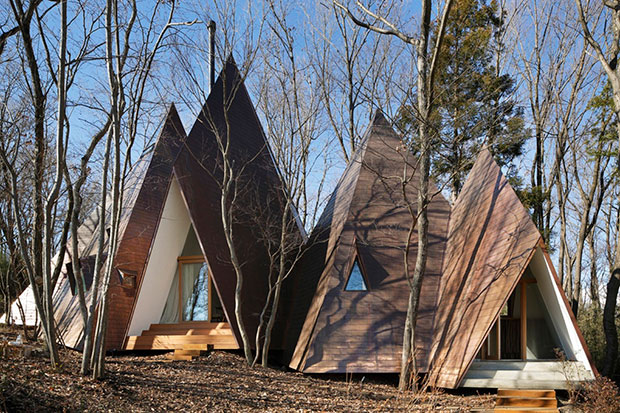 Hiroshi Nakamura & NAP
This house in Japan, has a very unique roof that simply blends well with its surroundings. The architects have made a tent-shaped house with only the highest ceiling at 8 meters.
Palm Spring Estate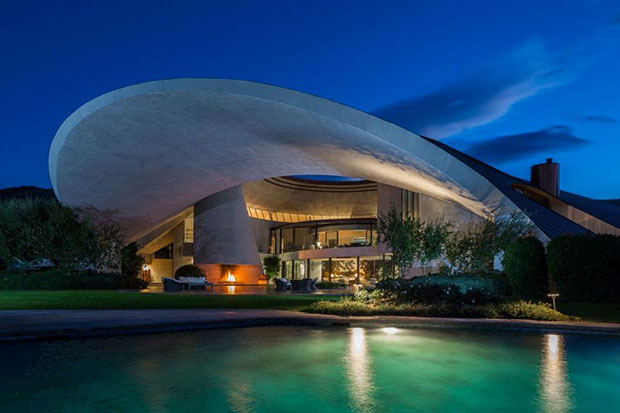 Brian Thomas Jones Photography
One of the most popular homes with a unique roof is that design that architect John Lautner made for Bob Hope in Palm Springs. Its unique dome-shaped is as impressive as the structure.
Las Terrazas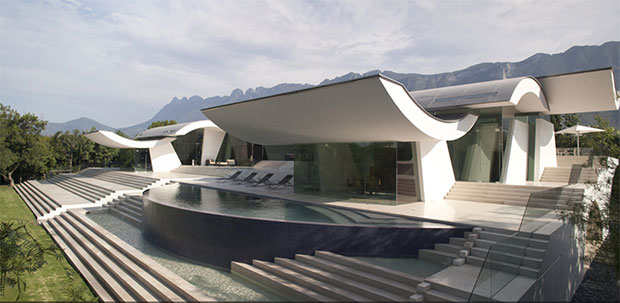 Wallace E. Cunningham, Inc.
This unique roof design does not look like your average home. The designer has made use of thick and curvy materials for the roof which blends well with the house structure.
Shake and Stone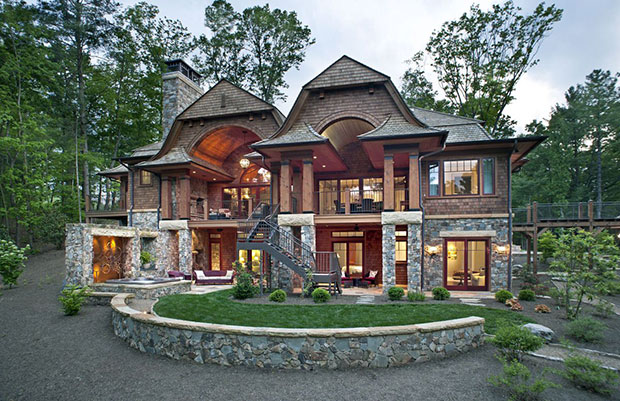 Tyner Construction Co. Inc.
This home has a truly unique roof with its classical design. The unique shape blends well with the timeless structure.
Cape Dutch Modern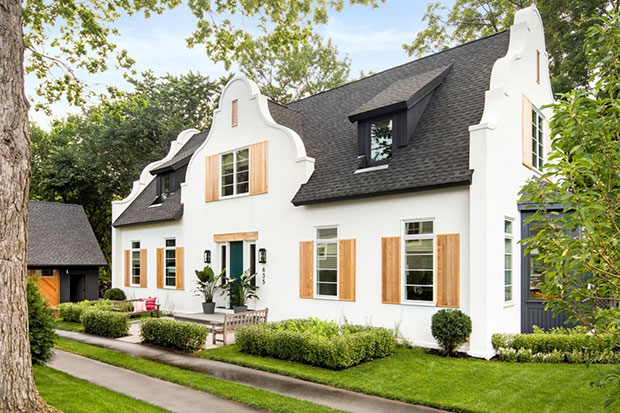 Charlie & Co. Design
The roof of the Cape Dutch is a unique architectural design in Minneapolis. The roof has a classy yet modern appeal to it.
Villa H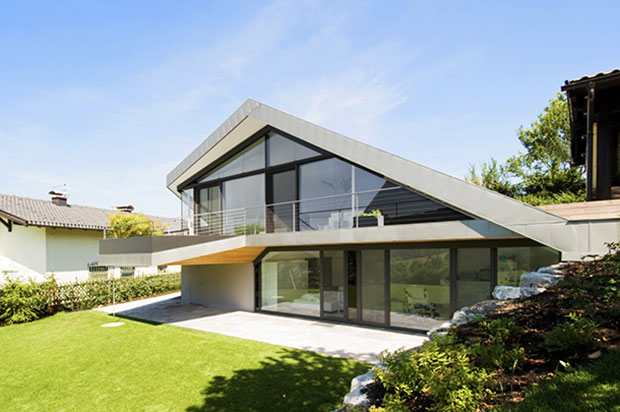 Smartvoll
Villa H's roof adds a modern and unique design to the house. The architect-designed it so that it is a carport support-free feel-good bracket for the main areas of the house.
Form Follows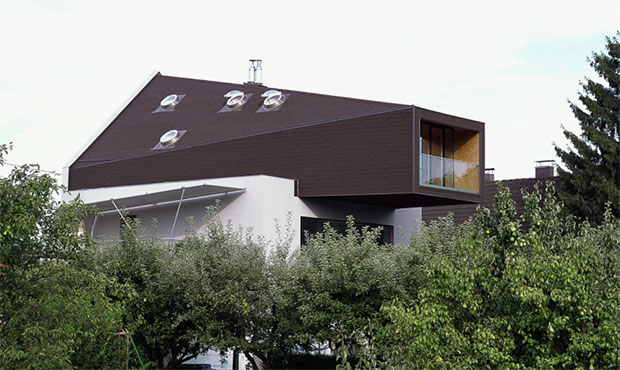 X Architects
This roof design courtesy of the X Architects is a fine example of a uniquely shaped roof that blends well with the surrounding area.
Garcia House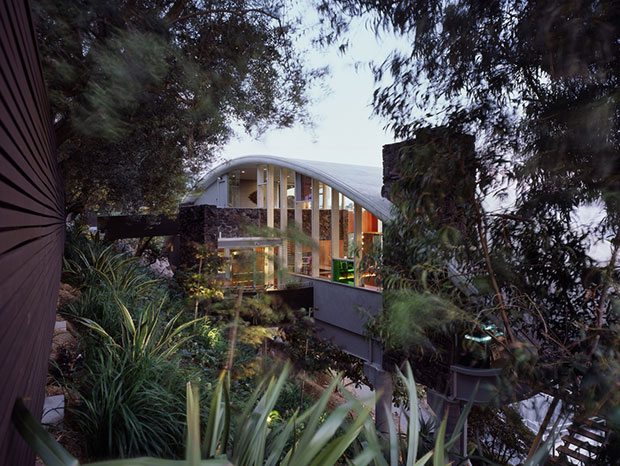 Marmol Radziner
The Garcia House' dramatic curved roofline is as unique as the area where the house is built. Its design feels like unlike any other house there is.
Roof On The Hill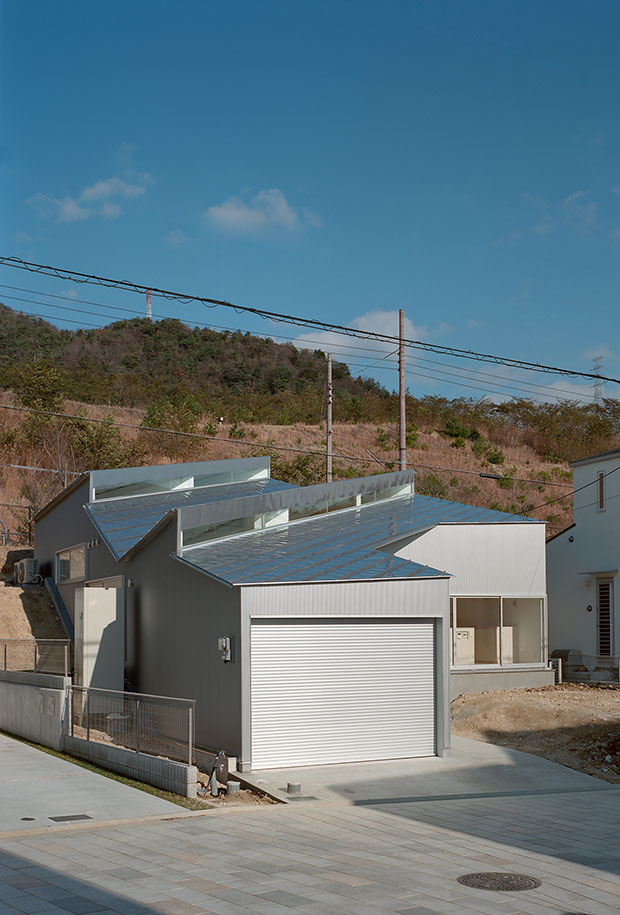 Alphaville
At a glance, this structure does not look like a house at all. A closer look and the house is made up of 3X3 meters of a grid steel frame. Its roof is that of a saw-tooth roof type with an exposed steel beam.
House Under the Forest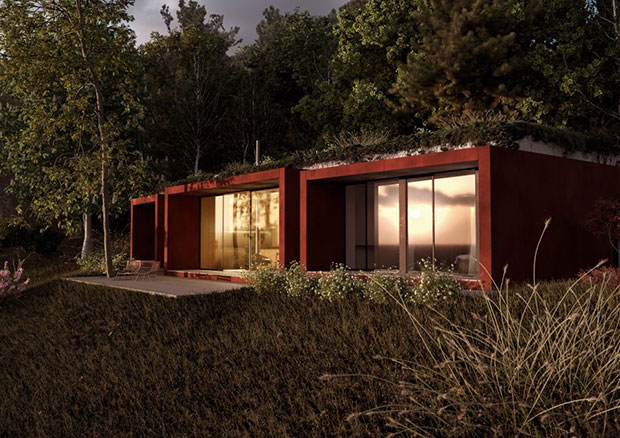 MDMA Architects
Here's another eco-friendly and environment-lover home that takes roof designs to another level. Its roof is covered in plants and blends well with the earthy landscape.
Love2 House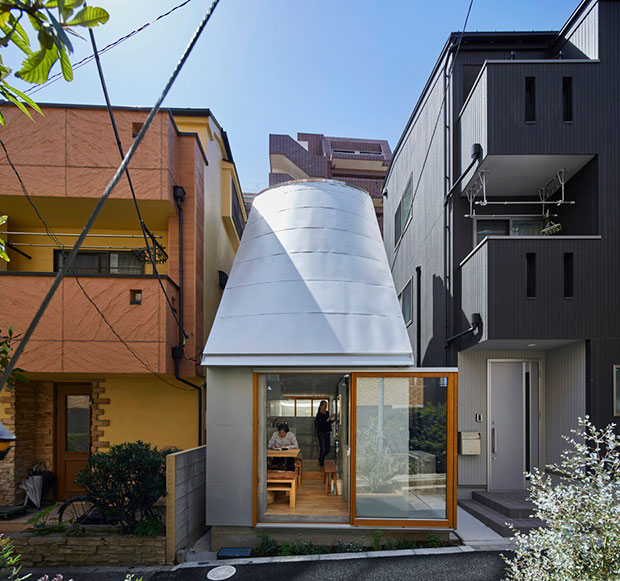 Takeshi Hosaka Architects
Love2 House is a tiny home in Tokyo with 2 differently height roofs. The architect added slightly curved top edges with 2 skylights, making it more comfortable.
Courtyard House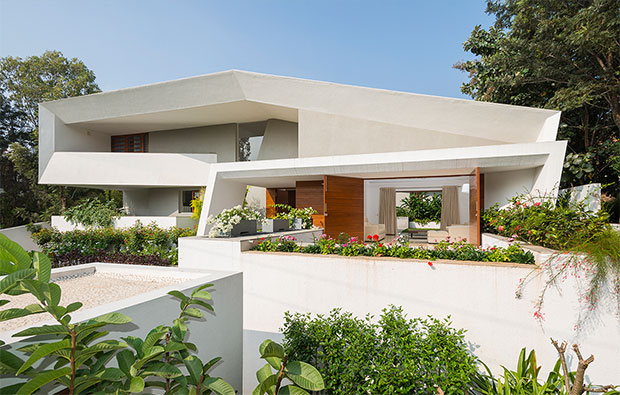 Architecture Paradigm
This house is designed with a double-roof layering at unconventional angles. The designer has also added a generous amount of plants and greenery around the area to make the design pop-up more.
Modern Home Design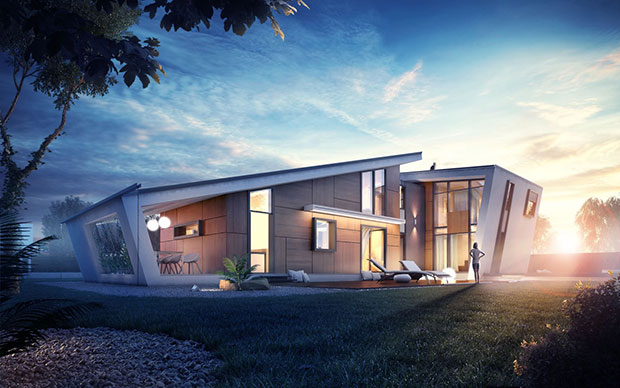 Ioan Ralea-Toma
This residential home design makes use of ascending and sharp roof. The design is beautifully made with a glass wall on one side.
Mullalyup House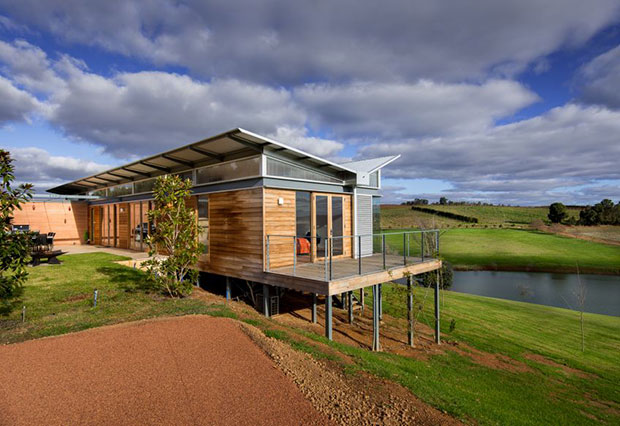 FINESPUN Architecture
The Mullalyup House's butterfly roof type looks ready to fly on its open and refreshing surroundings.
La Cabañita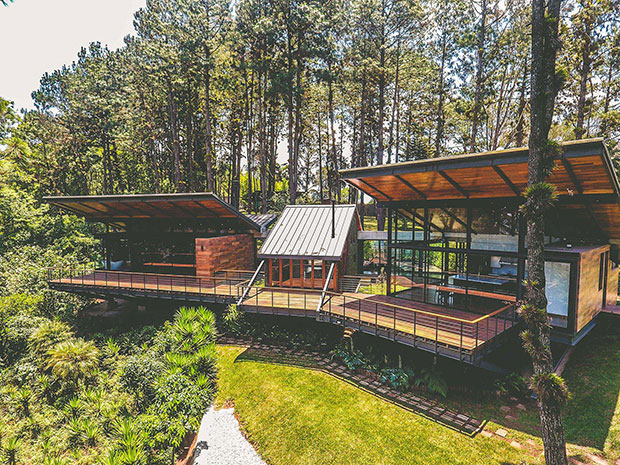 Paz Arquitectura
Another beautifully designed butterfly type of roof can be found in Guatemala City. The home is a unique combination of glass, wood, and steel.
Studio House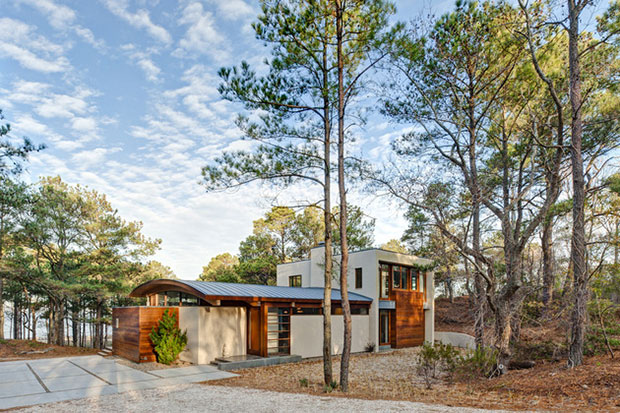 Grade New York
This Studio House in Virginia Beach has an element of nature in its design. The architect has combined the flat and curved roof type and the result is quite satisfying.
Cam Thanh A&A Villa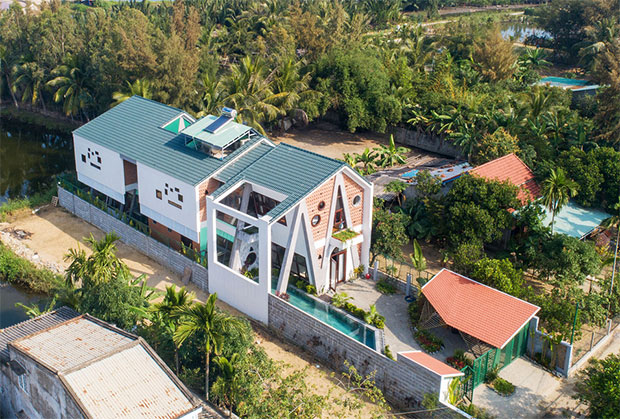 VRA Design
The villa does not only has a unique roof but a unique structure as well. Its designers have integrated culture and nature into the house.
House Carbon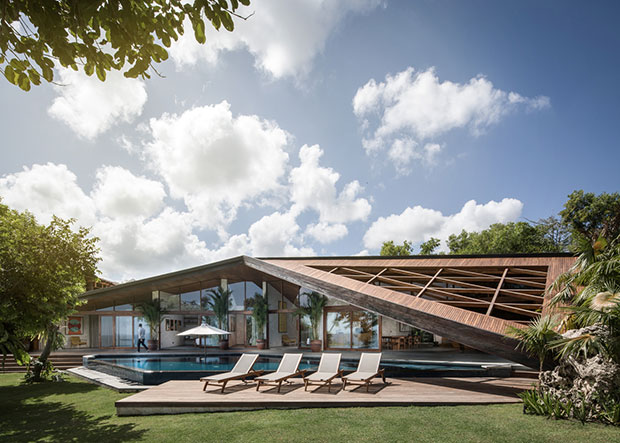 Alexis Dornier
The roof of the House Carbon is a composition of folded planes that compliments the beautiful view of the ocean. A large portion of the roof is extended on the front, adding shade and unique architectural design.
Chameleon Villa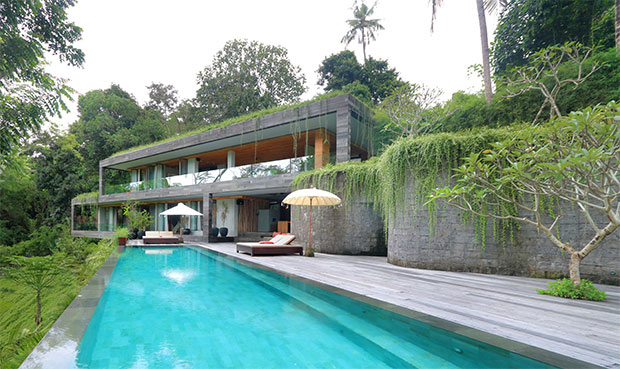 WOMHouse Architects
A residence that lives up to its name, the Chameleon Villa in Bali truly blends in spectacularly with its surrounding. The designers make use of a flat roof and then covered it with vegetation, not unlike those found in the surroundings.
Clay House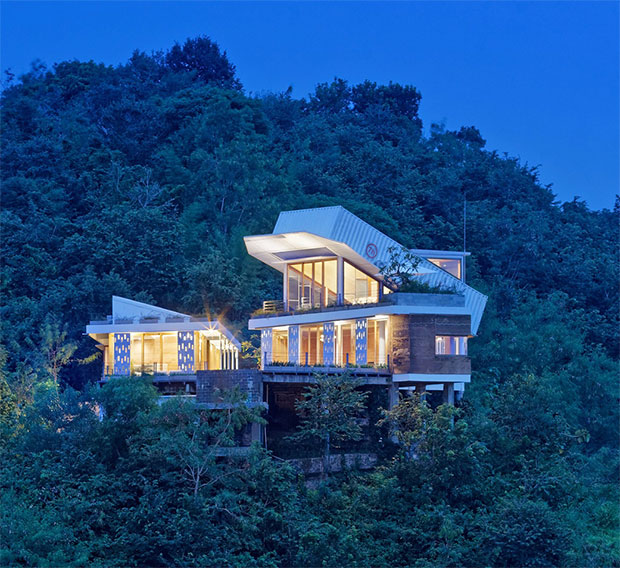 Budi Pradono
The Clay House in Lombok features a slipping shipping container as one of its roofs. This home sits on a hill and the clever design of the structure is truly eye-catching.
Al House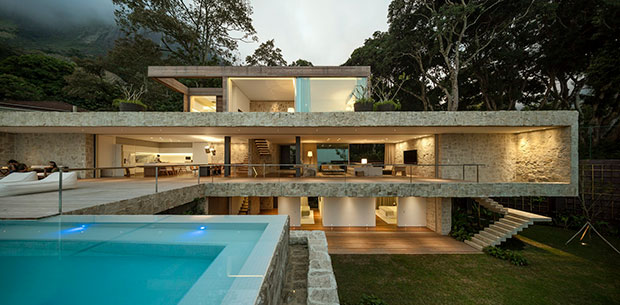 Arthur Casas
With a design that looks natural and complements the area, the Al House features a flat roof with earthy tones.
Villa Bio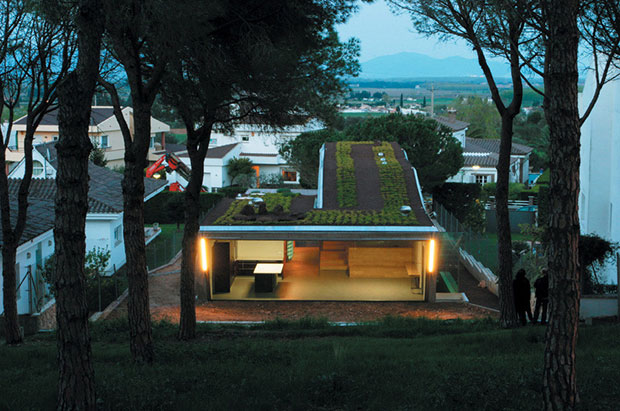 Enric Ruiz Geli
This unique home called Villa Bio is another great example of a modern house with a green roof. From above, the house looks like a small hill with soft grass.
Kallis-Sharlin House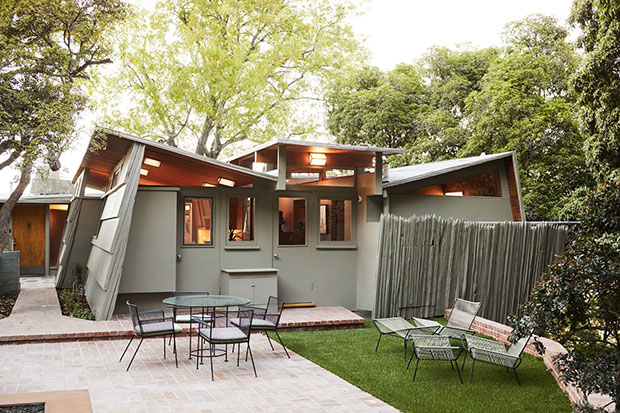 CREDIT
The house' butterfly roof is further emphasized by its unique layered wall. The designer also added geometrically shaped lights to further emphasize the edgy design of the structure.
Michigan Lake House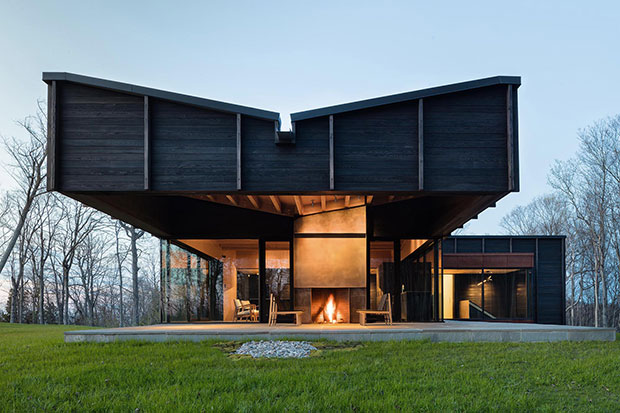 Desai Chia Architecture
This charring wood design of the Michigan Lake House's roof stands out and adds another unique aspect to the house. The roof is also designed in a unique way for a butterfly roof.
Maranz Residence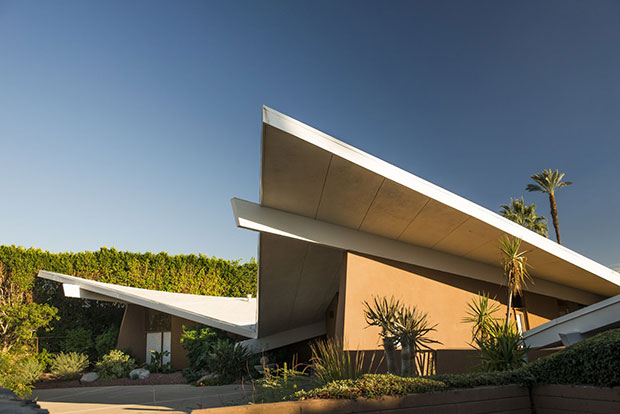 Val Powelson
This unique home showcases an expansive butterfly roof. The plans were said to be based on the hyperbolic paraboloid roof.
With that fantastic list, who can now say the roofs should be boring? Obviously, with just the right creativity, design, and engineering, everything is possible!
Now, do you think you can look at the roofs the same way as before?
Like this post? Pin It!