40 Relaxing Outdoor Daybed With Canopy Designs
|
Over the years, a backyard has become something of a relaxing oasis. Many backyards aren't just simply a garden. Now, people actually make an effort to create a beautiful landscape, equipped with outdoor furniture for people to relax and gather.
One of these pieces of furniture is an outdoor daybed. While hammocks have long been a popular choice, outdoor daybeds offer the comfort of your bed and the fresh breeze of the outdoors. And if you're bothered by the sun's rays, you can always find an outdoor daybed with a canopy.
How to choose an outdoor daybed?
An outdoor daybed is one thing, an outdoor daybed with a canopy is another. In that alone, you already have a lot of options. But how do you choose the right outdoor daybed for you? Here are the key areas you need to check when picking out an outdoor daybed with canopy.
1. Size
First thing to consider is the size of your outdoor daybed. If you have a limited backyard space, you don't want to have a daybed too big in your yard; otherwise, it's going to make your yard look unharmonious. This is also a good meter to decide how much space you want or need to use.
2. Material
When it comes to outdoor furniture, durability is a key factor to be kept in mind. Make sure that your outdoor daybed with canopy is made of the best quality materials and structurally sound.
3. Weight capacity
Another thing to note is how much weight your outdoor daybed is capable of holding. Most outdoor furniture can support about 240 pounds per person.
4. Canopy
For an outdoor daybed with canopy, you need to check the quality of the canopy. First, make sure that it's weather-resistant. Make sure that water doesn't go through the fabric when it rains.
5. Seating
Another point of note is how many people can seat your outdoor daybed. You will need to consider how big your family is or how often you have guests over.
When should I buy an outdoor daybed?
1. When you have the resources to make your yard something of an oasis, you should definitely consider including an outdoor daybed among your outdoor furniture.
2. When you already have an old, worn-out daybed, perhaps, it's time to get a new one to freshen up your place.
3. Outdoor daybeds are simply the trend these days. An outdoor daybed with canopy can be a multi-functional aesthetic fixture. You may have a hammock, but it doesn't provide the same comfort as a daybed. A chaise lounge could be an alternative, but unlike, outdoor daybeds with canopy, they don't have a feature that provides shade.
Where should I place an outdoor daybed?
Outdoor furniture needs to have consistent maintenance. This does not exempt outdoor daybeds. So, your outdoor daybed's placement is something you must keep in mind not just for aesthetics, but as well as to make it easy for yourself to keep them clean or at least avoid the worst possible damage your furniture can get.
Usually, in an open backyard space, it is recommended to have your outdoor daybed on a paving stone patio. But if you don't have that in your yard, at least consider installing artificial grass. This will make the immediate surrounding of your daybed more comfortable without having to worry about mud after rain, soil, or wet blades getting into your cushions and bedding. Natural grass also comes with lots of pests that may crawl into your daybed when you're trying to relax.
In some smaller yards, a nice unused sunny corner is a great place to lay out your outdoor daybed with a canopy.
Outdoor daybed with canopy designs for inspiration
Let's check out some relaxing outdoor daybeds with canopy designs!
Behling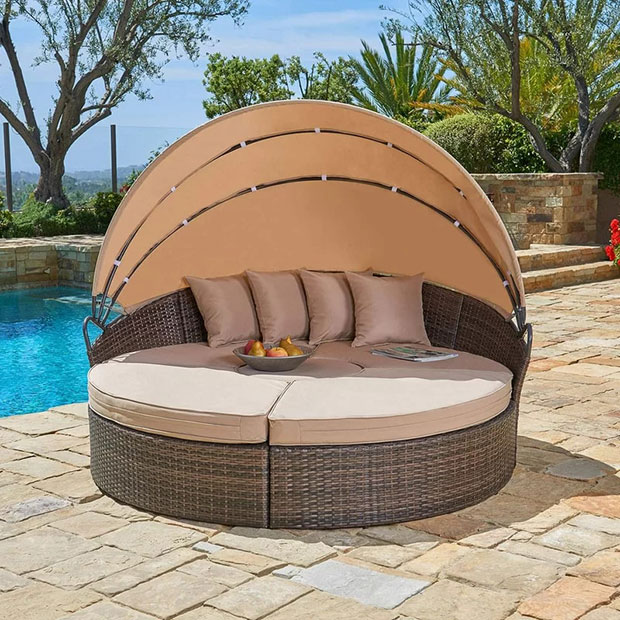 One of the greatest innovations of recent years is how many outdoor daybeds you can find with retractable canopies like this. Though this daybed can be separated into sections, so if you're not using it to lie down, you can have them separated for more people to sit down and have a conversation around.
Aaron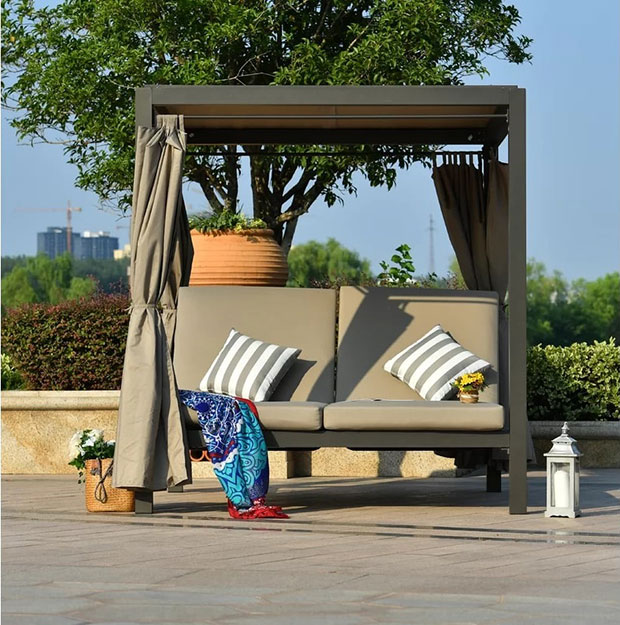 Brayden Studio
Some outdoor daybed with canopy has the canopy already set in place so they resemble something like a pergola or gazebo. The four posters around it make it possible to have curtains that you can draw in and out to avoid the sun's rays.
Morgandale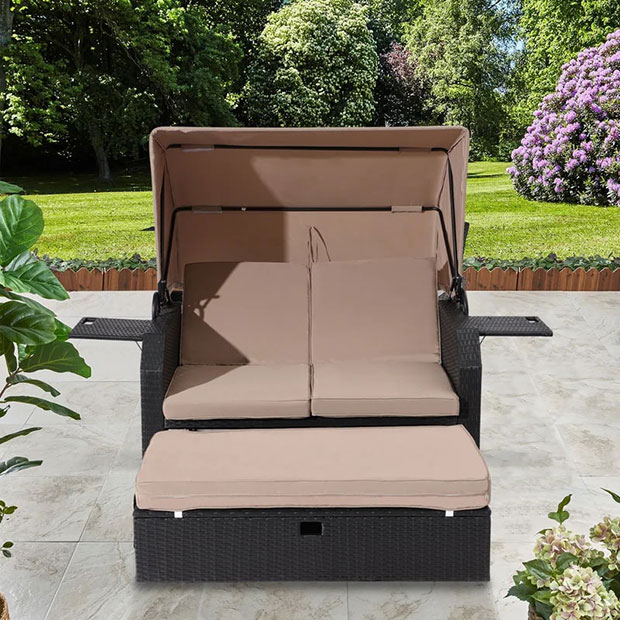 This design allows you to put a book or drink to the side, allowing you to take full advantage of that outdoor relaxation without having to push or pull around additional furniture.
Allateef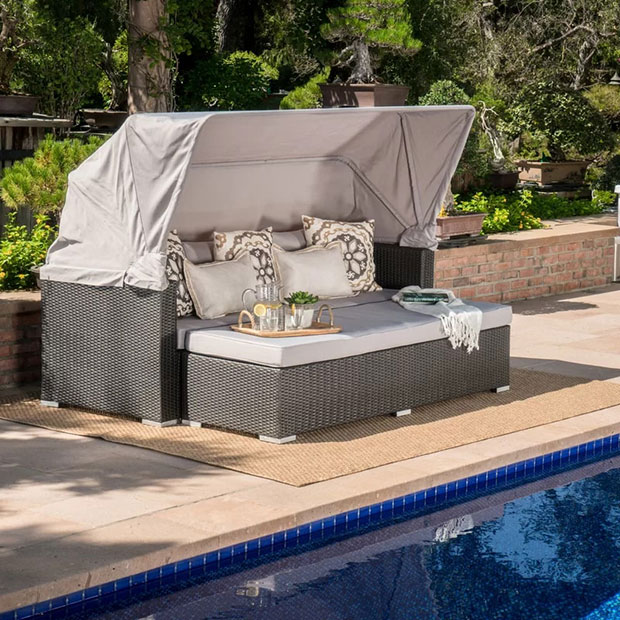 Wade Logan
The section by the foot can be separated into an ottoman-like style of seating. It's perfect for when you have many guests over.
Bousquet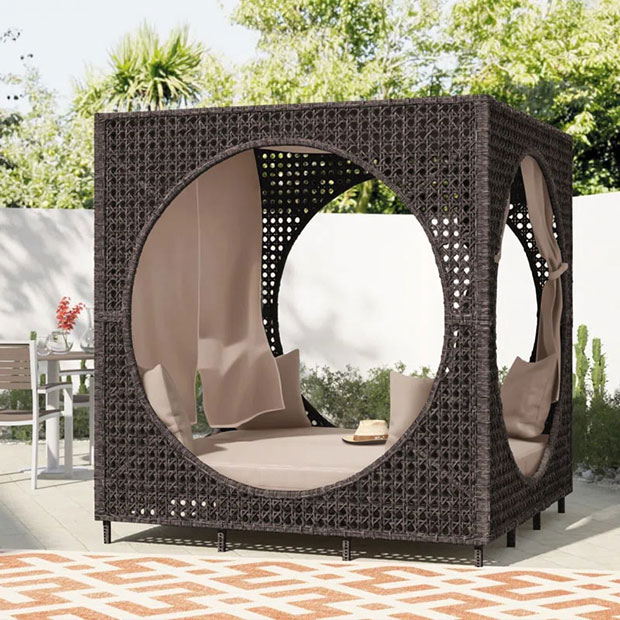 Now, this is one of the most unique outdoor daybeds with canopy designs. With its cube-shaped structure, it will feel like you have your own little room in the backyard.
Onika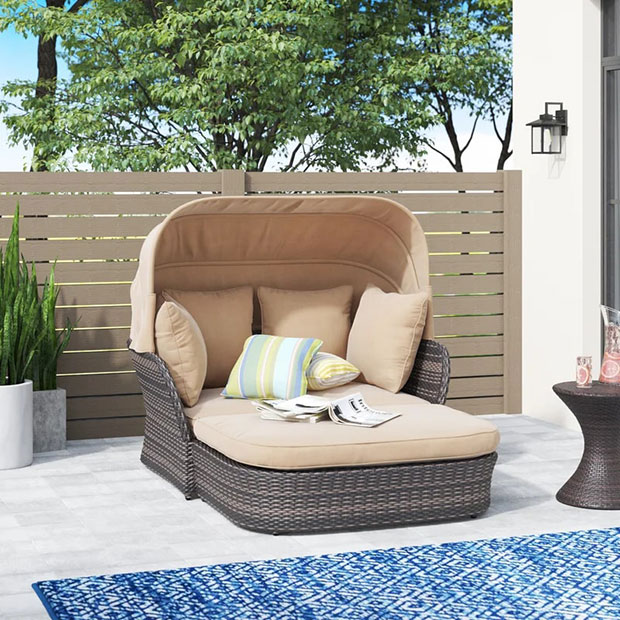 If you're not expecting many guests or want your space to be more intimate, there are smaller outdoor daybeds with canopy like this for you.
Tressie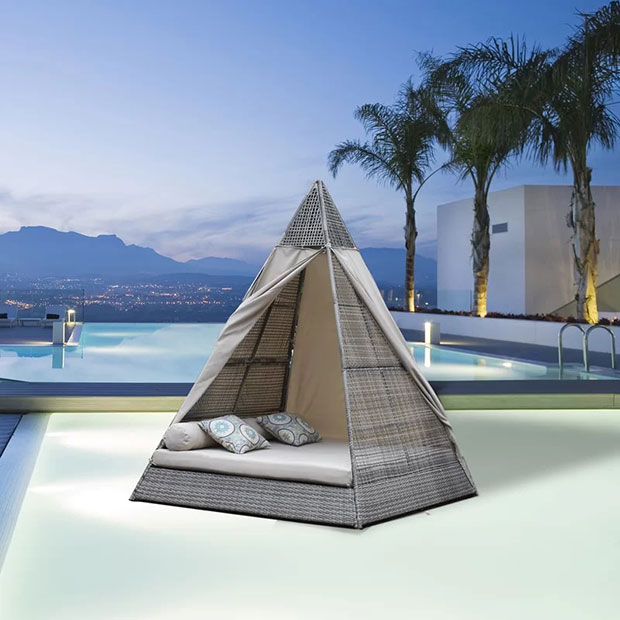 Beachcrest Home
One of the more adventurous outdoor daybeds with its tipi-inspired design. You will surely have a fun outdoor experience with this one.
Erryn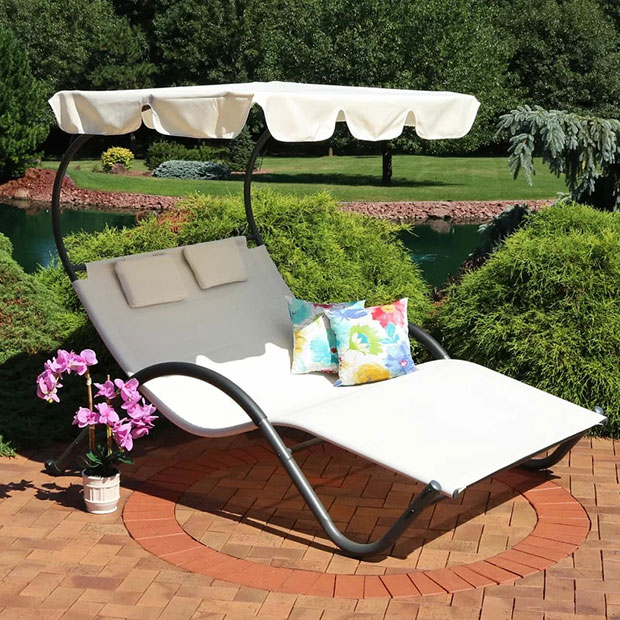 Etta Avenue
This chaise lounge-inspired daybed is certainly an intriguing design and choice.
Lavina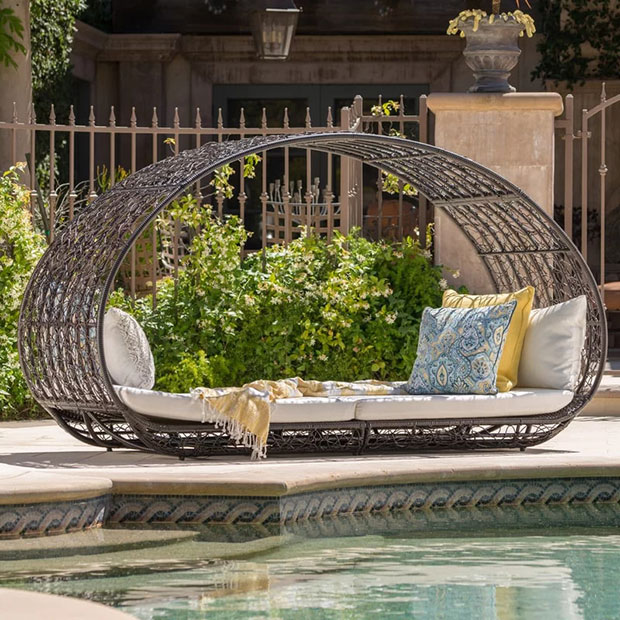 Arlmont & Co.
The ornate design gives a fairytale sort of feeling. Its small size is also perfect for those with limited spaces in their yard.
Outdoor Patio Daybed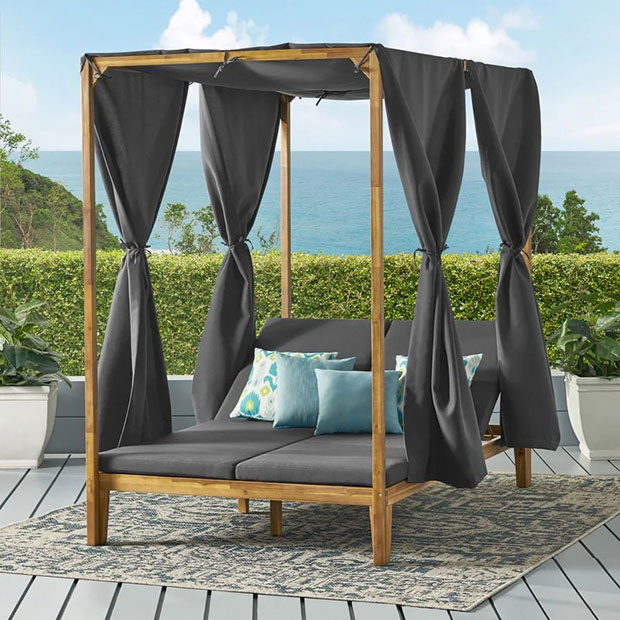 This outdoor daybed with canopy can double as a chaise lounge with the cushion capable of being lifted up. It also has curtains if you want some sense of privacy as you lounge in your yard.
Chatteris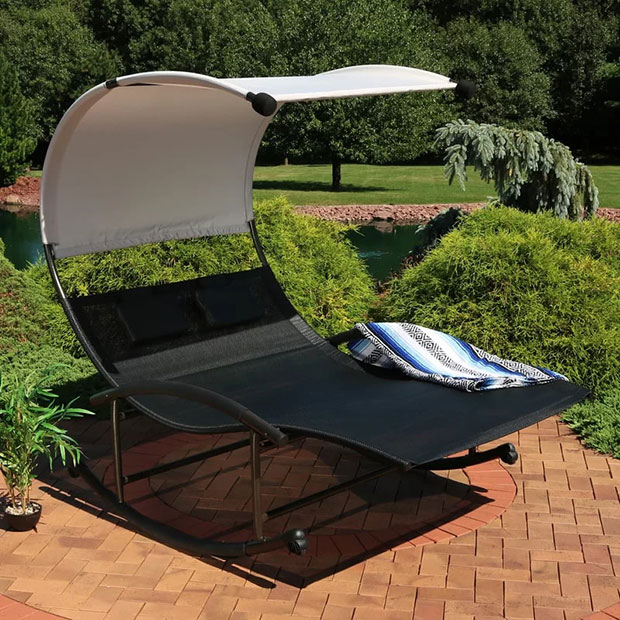 Ebern Designs
It's fairly interesting how the daybed is black and the canopy contrasts it with white. It brings a cool chicness to the overall look of the daybed.
Banyan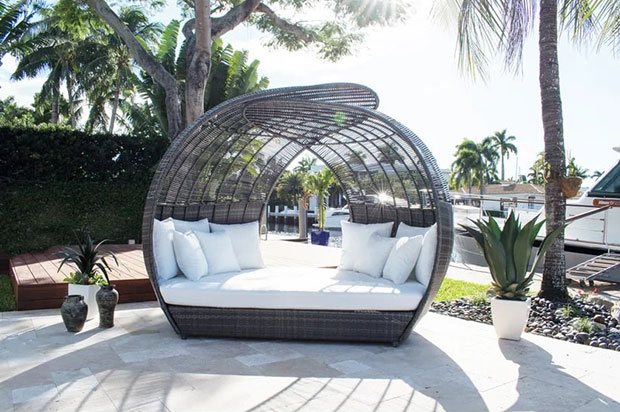 Panama Jack Outdoor
The unique design of this outdoor daybed will definitely have you feeling like you're taking a break in some tropical resort.
Chitwood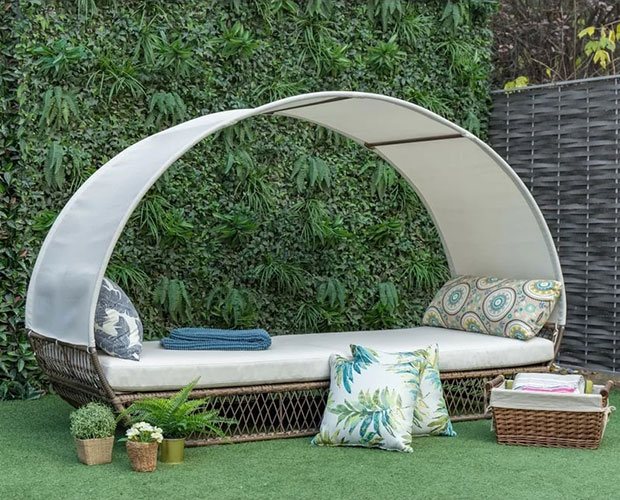 , Unlike the Lavina outdoor daybed which lets the canopy shade be bare, this Chitwood daybed actually has a fabric overhead that will surely keep the sun beating on your skin.
Brentwood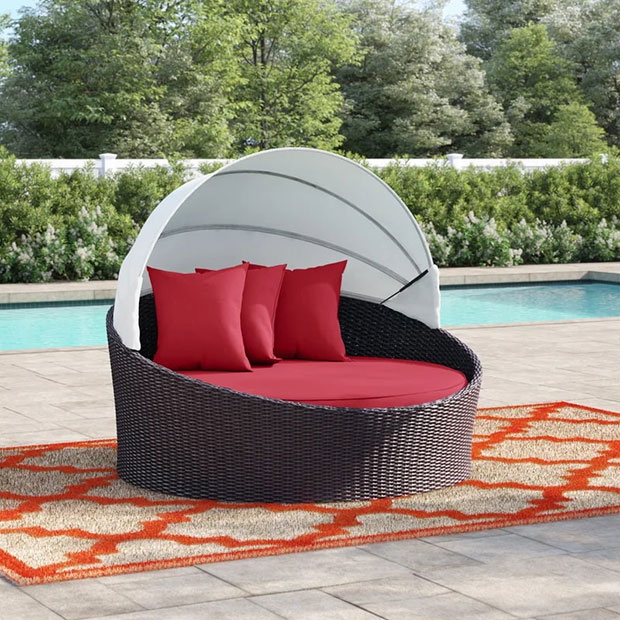 Sol 72 Outdoor
For smaller yard spaces, there are also options for smaller outdoor daybeds with retractable canopies. This one is certainly more intimate than others.
Phoenixville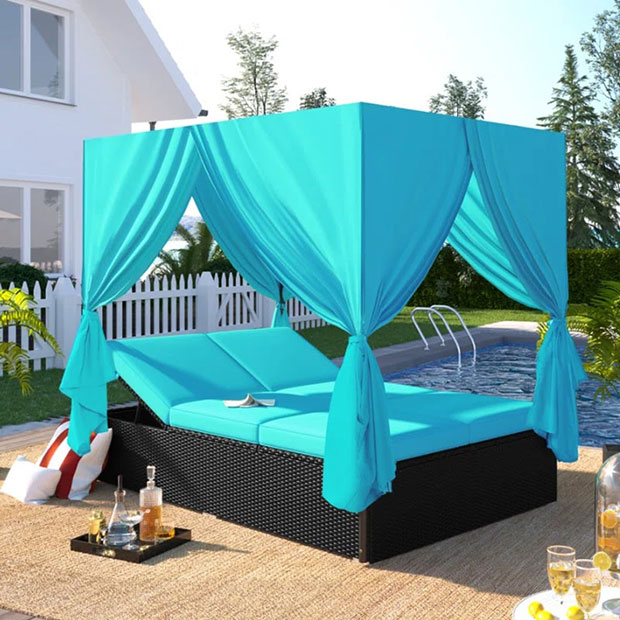 Here is another similar-looking outdoor daybed with canopy. But instead, it has this sturdy rattan base. The overall design itself is described as chic and romantic.
Outdoor Wicker Patio Daybed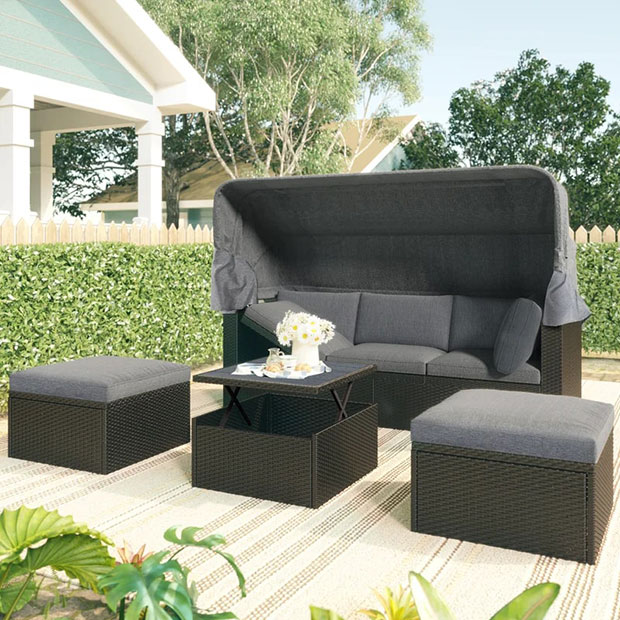 Latitude Run
Now, this outdoor daybed with canopy is most interesting with its multi-functionality. With a retractable canopy that you can hide, your daybed can look a lot like an outdoor sofa with its set. It's like having multiple pieces of furniture in one.
Eye Catcher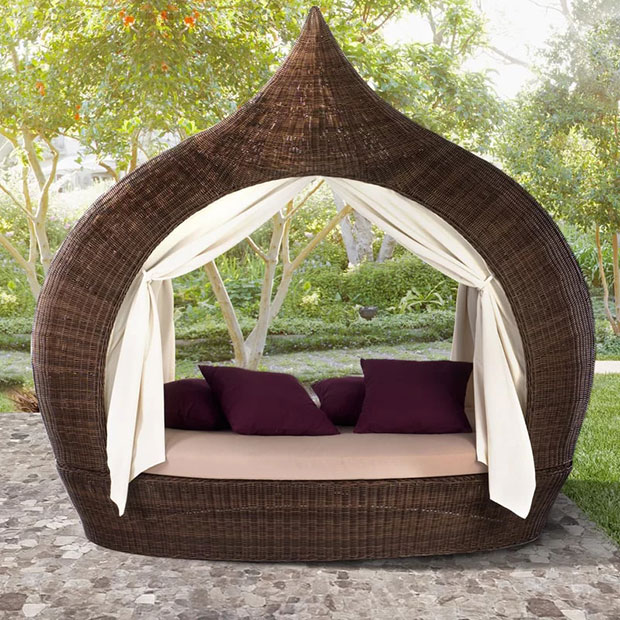 Domus Ventures
Just like its name, this outdoor daybed is definitely an eye-catcher. This kind and size of the daybed are definitely not one for small yard spaces.
Leesburg Family Retreat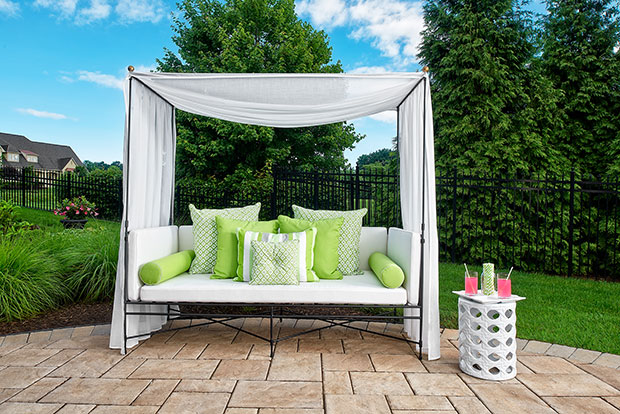 Grace Thomas Designs
The thin fabric overhead as the canopy brings some elegant wistfulness that is very suitable for this expansive family retreat garden.
Naples Quail West Transitional Home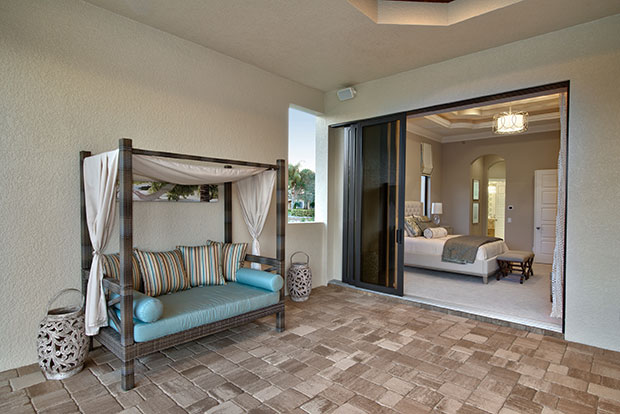 Norris Furniture & Interiors
With a rattan frame, you can either keep a monotone look or spruce it up with some colors. To avoid your outdoor daybed with canopy from looking boring, bring in some colorful accent pillows or cushions.
Laylanee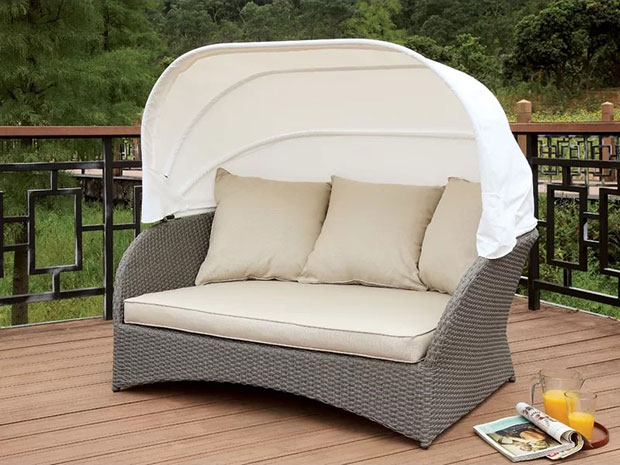 Red Barrel Studio
The curved armrests give this outdoor daybed with a retractable canopy a more casual look. As such, it's perfect for patio decks.
Hodgins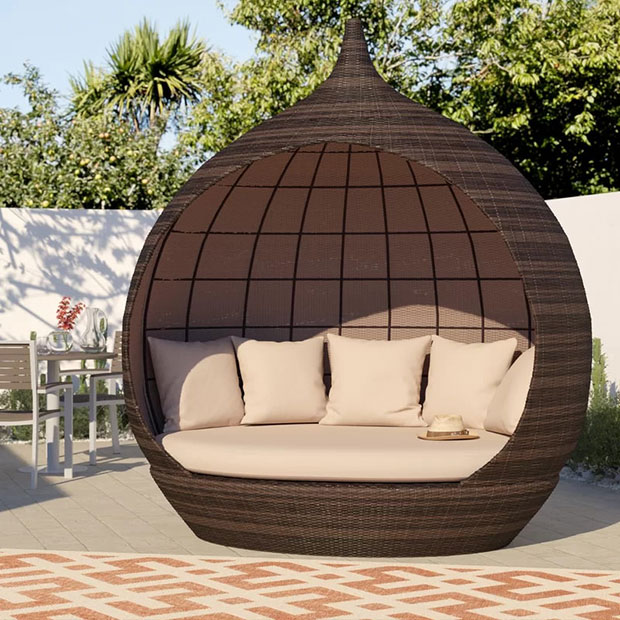 Bay Isle Home
Unlike the Eye Catcher outdoor daybed, this one isn't open on either side. It's only open to one side, so it has a feeling of being inside a pod.
An Indoor & Outdoor Oasis

Busybee Design
Now, it probably has never crossed your mind that you could even add lighting fixtures to your outdoor daybed. But it is only possible with a canopy design that allows for fixtures like this to be hung.
Diller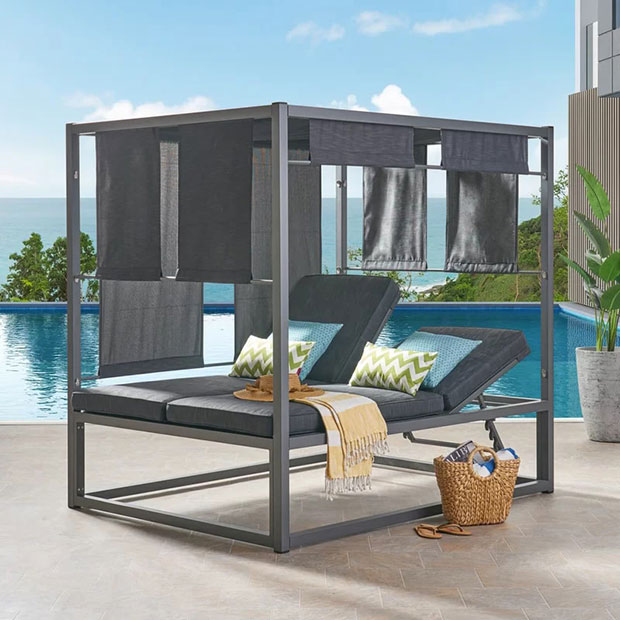 Orren Ellis
One of the most important features of this outdoor daybed with canopy is the adjustable canopy. So, you can keep yourself shaded from the sun no matter what direction it takes throughout the day you're lounging outdoors.
Antigua Canopied Daybed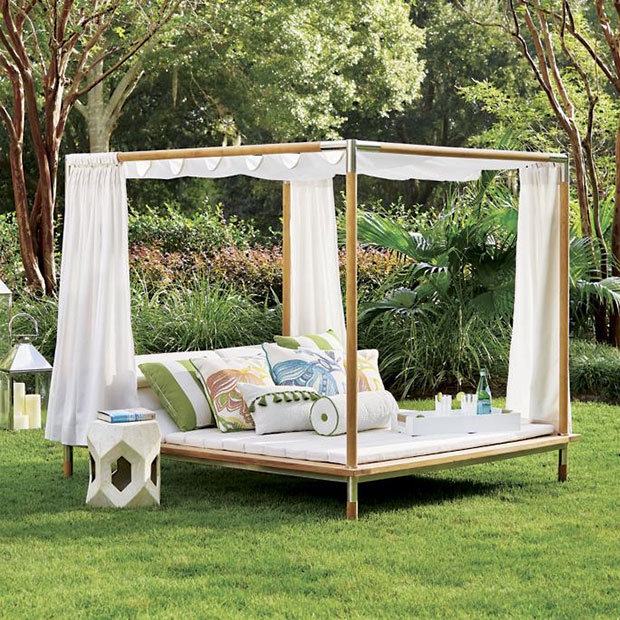 It's pretty cool that they didn't just simply put a piece of fabric over the top of the daybed frame and called it a day. The folds add to the aesthetics of this daybed.
Eliza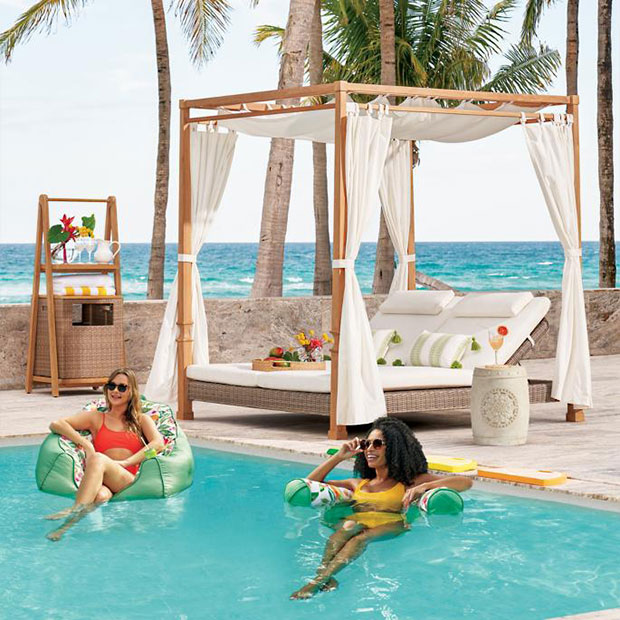 While many similar outdoor daybeds with canopy have simple four posters and frame, the designers of this paid some attention to adding some ornate details that elevate the overall look.
Contemporary Patio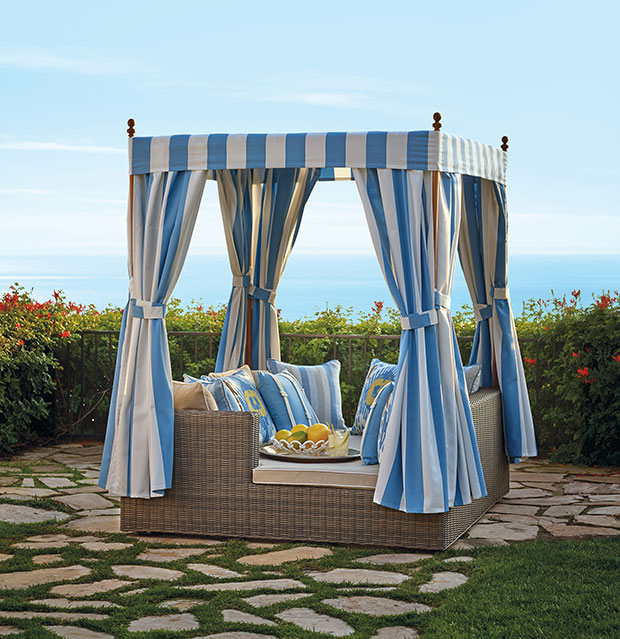 Frontgate
The interesting point of this daybed is how it looks intimate without the structure looking like an enclosure.
California Craftsman Hillside Garden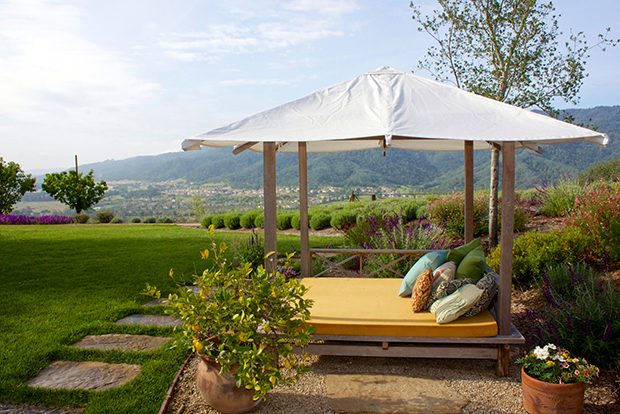 Karen Aitken and Associates
For some luxurious homes, their outdoor daybeds look more like small gazebos with their canopy design. But that design is quite efficient in giving shade to those who will be lounging in this daybed.
Country Living in Fort Worth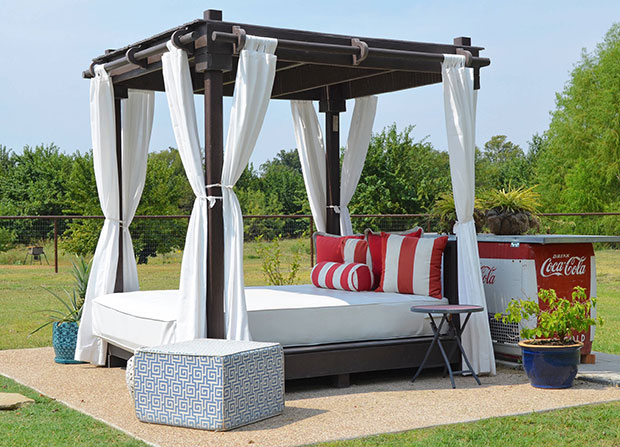 Sarah Greenman
Out of all the outdoor daybeds with canopy designs on this list, this one has the most domineering appearance with how sturdy it looks.
Tuskany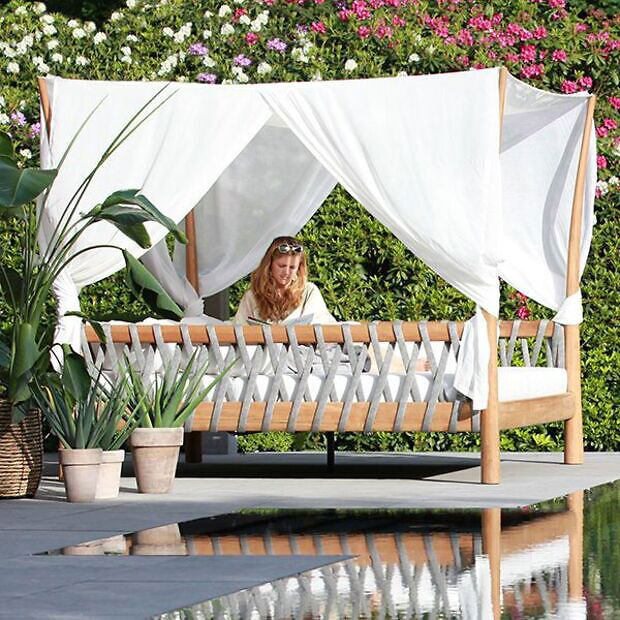 If you take a closer look, the posts of this daybed are a little curved. So, it gives this outdoor daybed with canopy a subtle but stunning silhouette.
Organix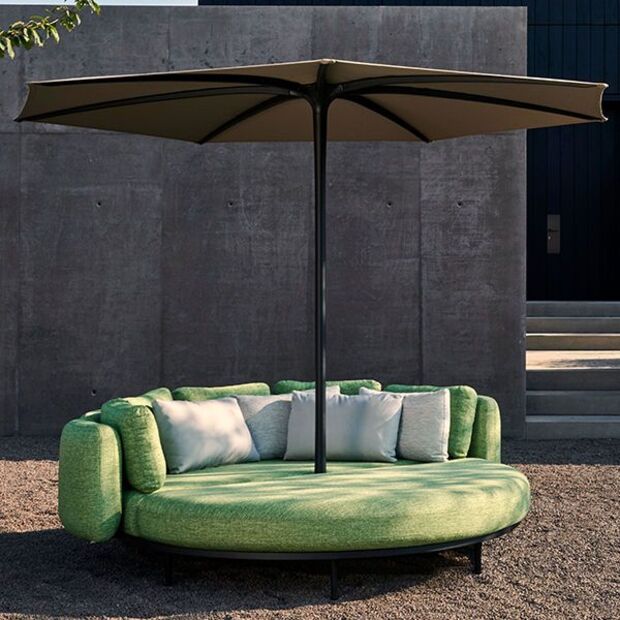 An umbrella squeezed right in the middle of the daybed frame is a refreshing and unique look compared to most outdoor daybeds with canopy designs.
Seacoast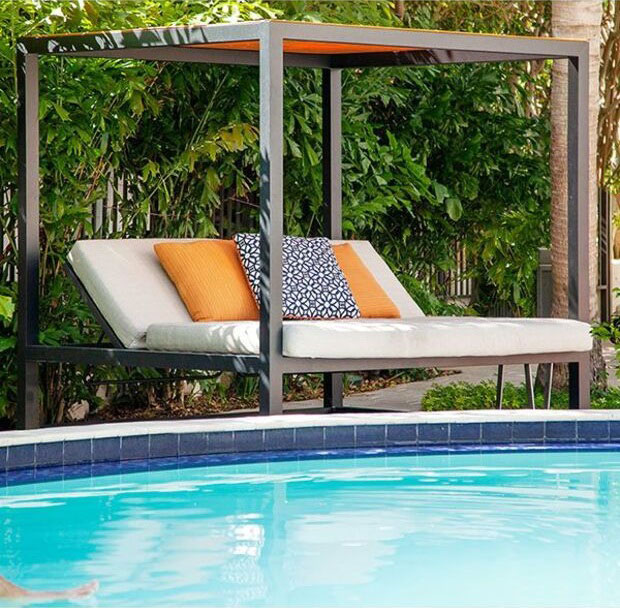 With a simple contemporary design, this kind of outdoor daybed is perfect for those who just want to keep it lowkey and casual in their yard spaces.
Cabana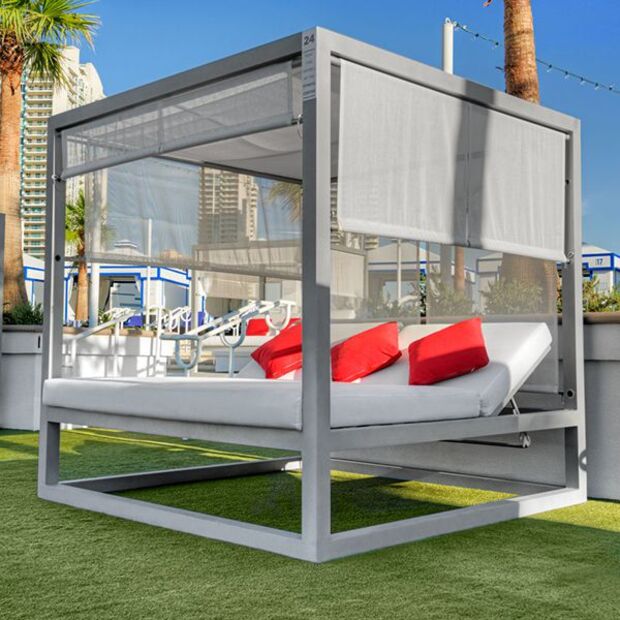 This Cabana outdoor daybed has a structural frame very similar to that of Seacoast. The only difference is the adjustable shades on the sides. So, if you want that additional shade. This may be the one for you.
Tampa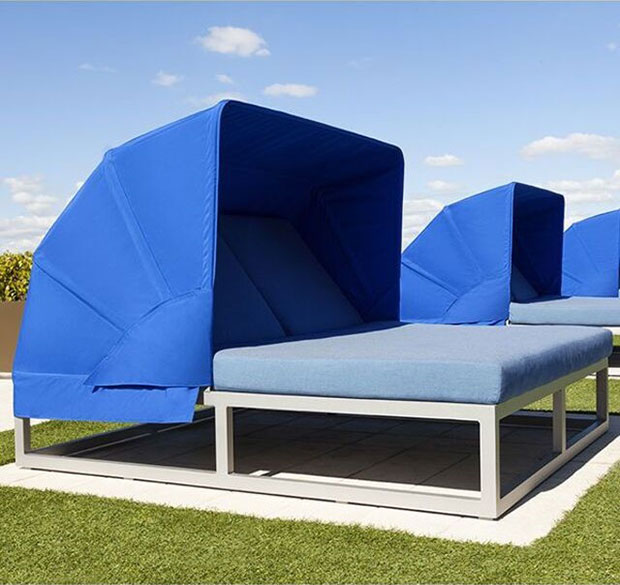 This outdoor daybed with canopy design looks like a combination of a daybed and chaise lounge.
Portofino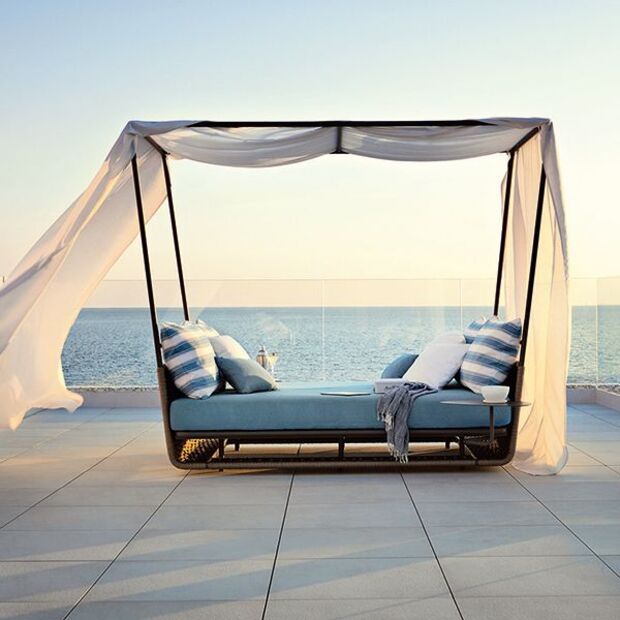 With a stunning silhouette, this outdoor daybed is surely going to elevate the overall look of your patio or yard. Plus, it even comes with its own attached tiny table.
Vela4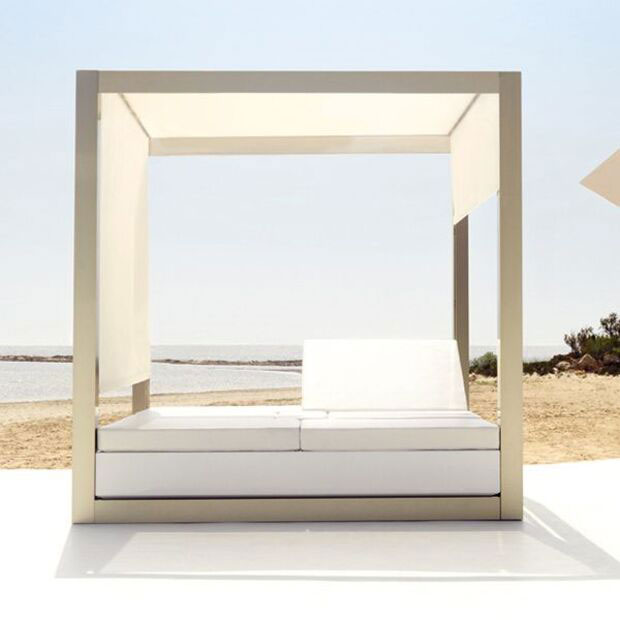 An interesting feature of this daybed is how one curtain goes up and the opposite one goes down. So, when you're trying to adjust your shade from the sun's rays, you don't need to adjust every curtain.
Vela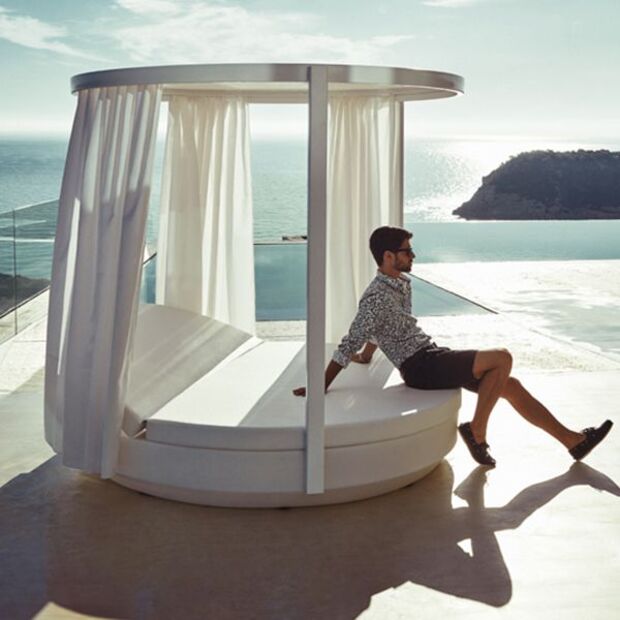 Rectangular or square outdoor daybeds are quite common, so round ones are quite the refreshing fixtures.
Ulm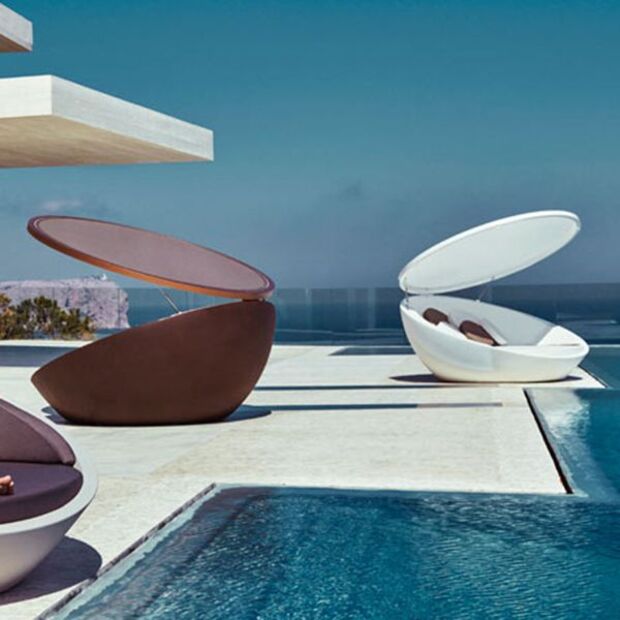 Now, this one has quite the most innovative and interesting look out of all the outdoor daybeds on this list. It almost looks like compact powder.
Strips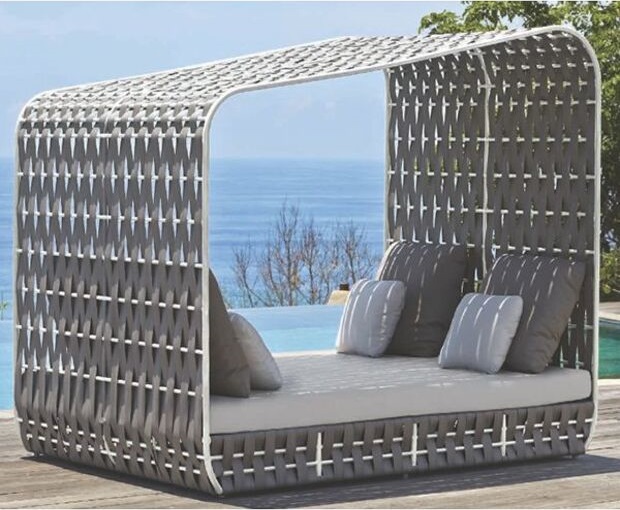 This wide wicker design is stunning and can fit at least two people.
Coast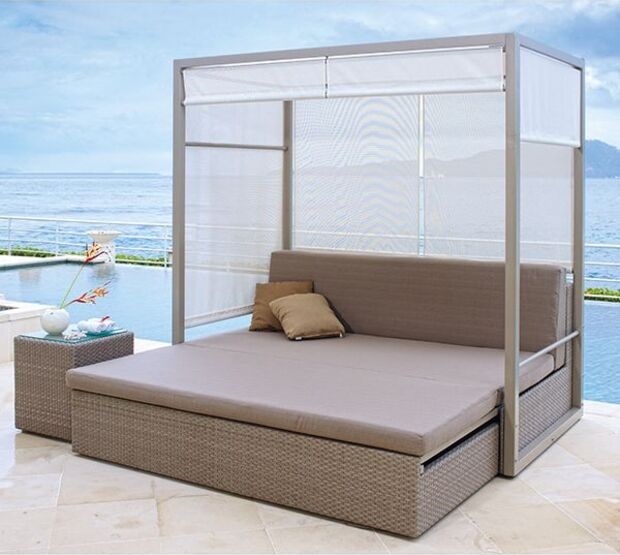 The great thing about this daybed is that if you don't need to use it as one, it can be used as a sofa thanks to the extendable bed.
Illuminated Faz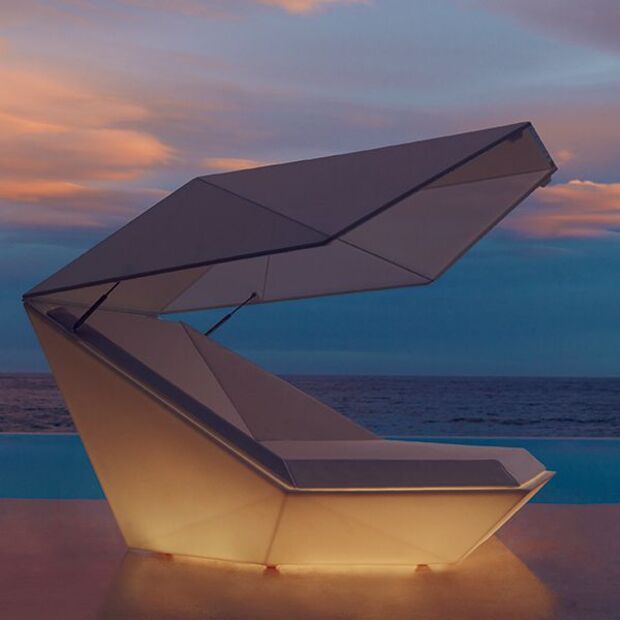 Home Infatuation
If you're looking for an outdoor daybed with a futuristic look, this may be for you. It even has LED lights installed!
That's all for our selection! Which one of this outdoor daybed with canopy designs is your favorite?
Like This Post? Pin It!