30 DIY Kitchen Hacks That Will Improve Your Kitchen Big Time!
|
Have you discovered a kitchen hack lately that blew you away? Well, these DIY kitchen hacks will amaze you even more!
If there is one space in the house that is busy, that would be the kitchen. We prepare food not just three times a day but more than that.
Sometimes, we work for long hours in preparing and cooking something. But sometimes, we work for a few minutes only. Whatever length of time we spend in the kitchen, one thing is for sure, we spend time working in this space and we want everything to be in order and we want to do things in the easiest way possible. That is why these DIY kitchen hacks are here for you to get some ideas.
DIY Litchen Hacks List
This list of DIY kitchen hacks will improve not just your kitchen space but how you work in the kitchen. It would be easier to have things in proper order and to maximize the space as well for storage.
There are many DIY kitchen hacks that we can find that is easy and will also help us recycle some pieces of stuff that are already existing in the house. So, check this list and prepare to have a better kitchen space once you try the hacks below.
1. Bamboo skewers for knife storage.
Use a bunch of bamboo skewers for knife storage. For sure, you will never find it hard to insert knives.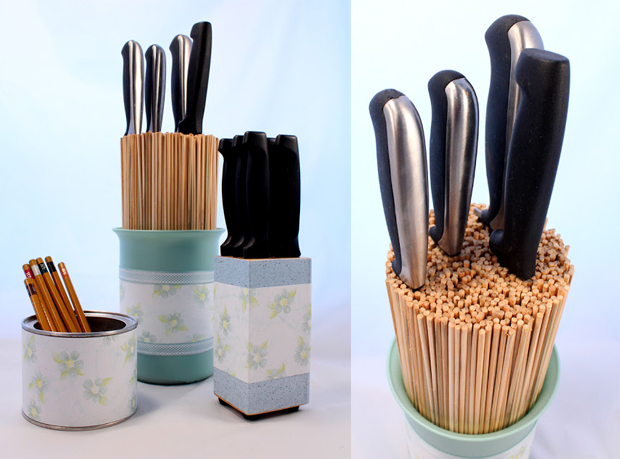 feliciakramer.blogspot.com
2. Tic Tac containers.
You can use empty Tic Tac containers as spice storage. Don't forget to add labels too.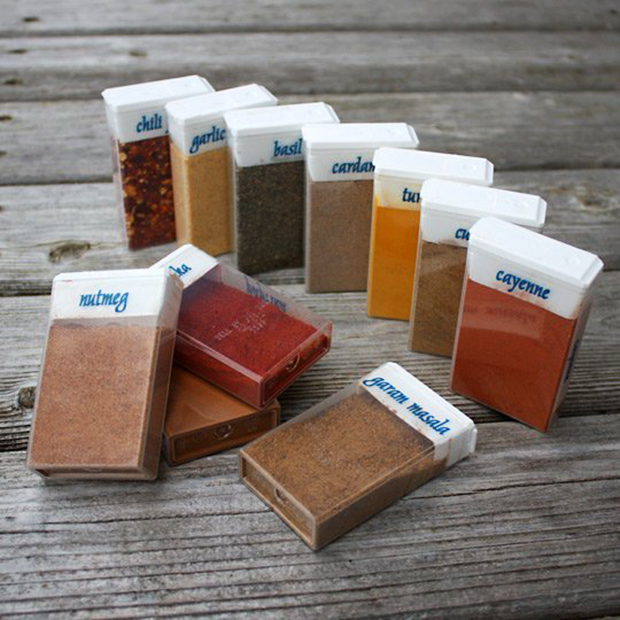 thekitchn.com
3. Cans storage
Don't throw your cans away for they can be a lovely wall storage. Just attach them to a wood and you are done!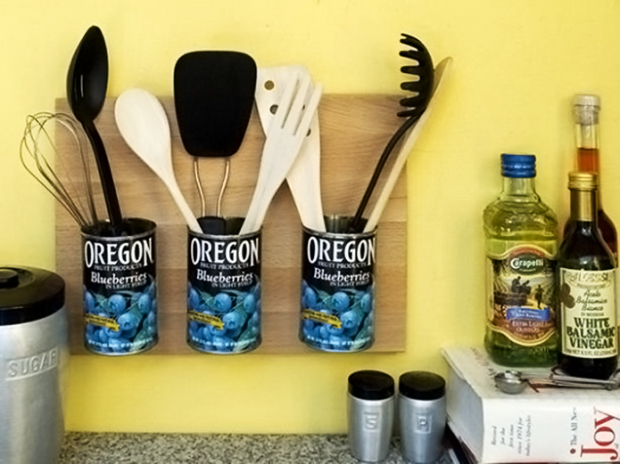 humble-homes.com
4. Chalkboard painted grocery list
Paint the insides of a cabinet so it can be a chalkboard painted grocery list that you can write on and erase.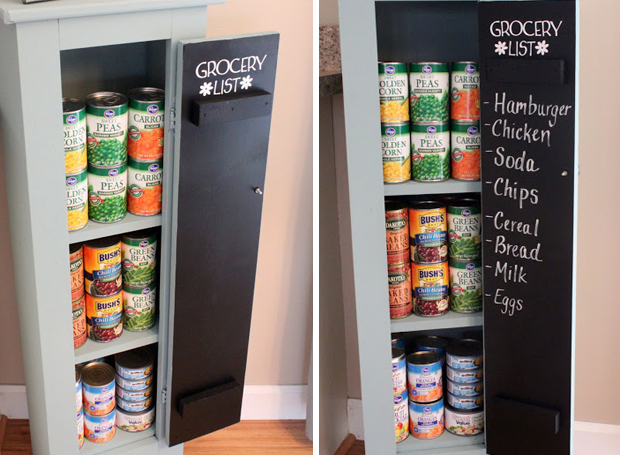 loveoffamilyandhome.net
5. Kitchen utensils organizer
Make your own kitchen utensils organizer using a corkboard and containers. Such a fun way to recycle!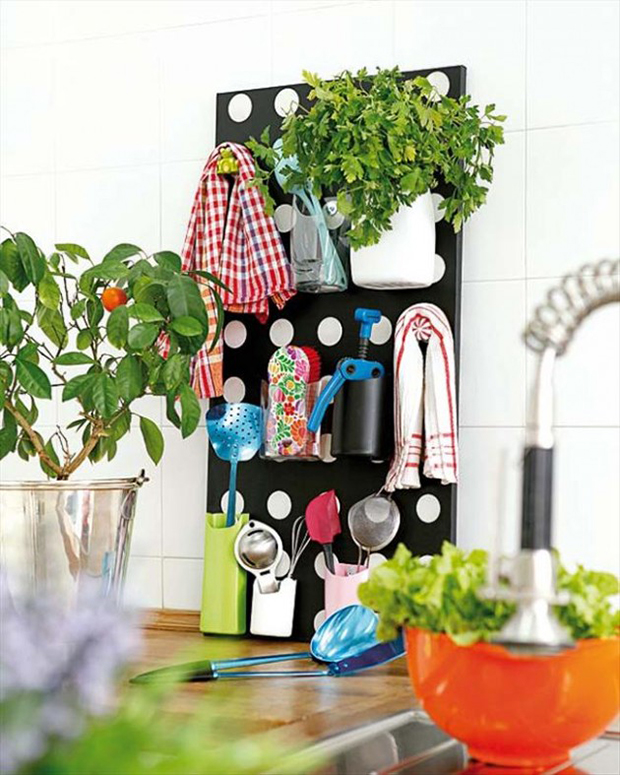 diy-enthusiasts.com
6. DIY shelf and pot storage
Use a gutter and some wood to make a DIY shelf and pot storage for your DIY kitchen hacks. You'd certainly be organized this way!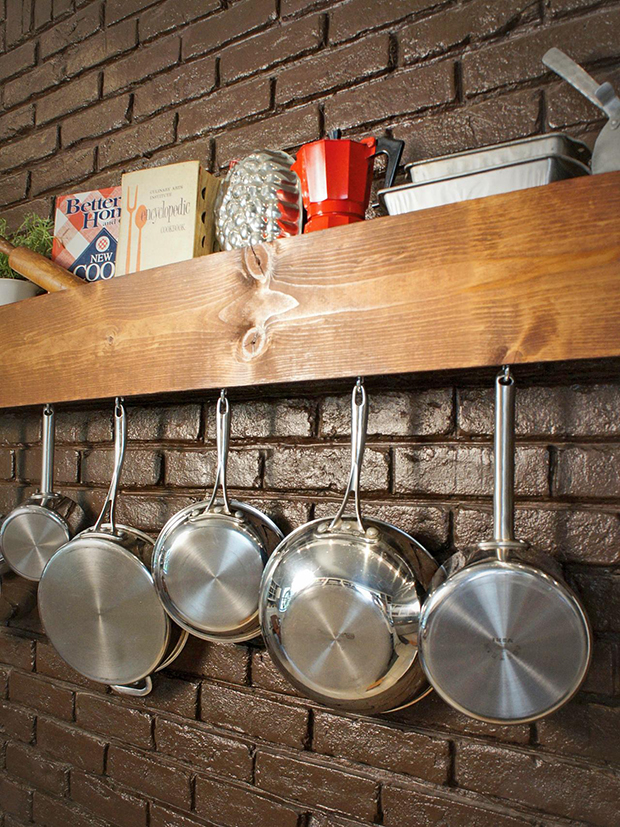 hgtv.com
7. Storage under the shelf
Add a storage under the shelf using jars simply by mounting the lids under the cabinets. Simple yet amazing!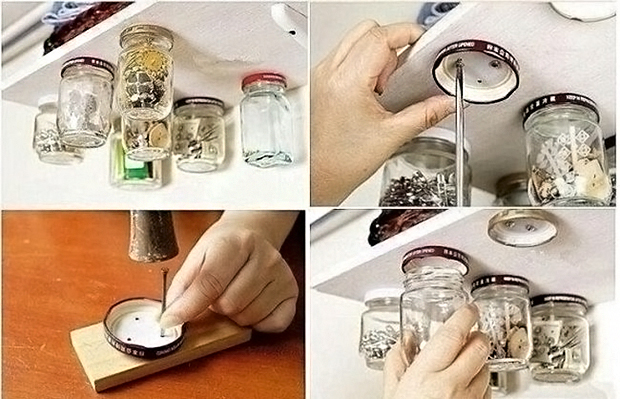 homeharmonizing.com
8. Metal storage bin
Attach metal storage bin to the wall and put some labels to organize kitchen stuff.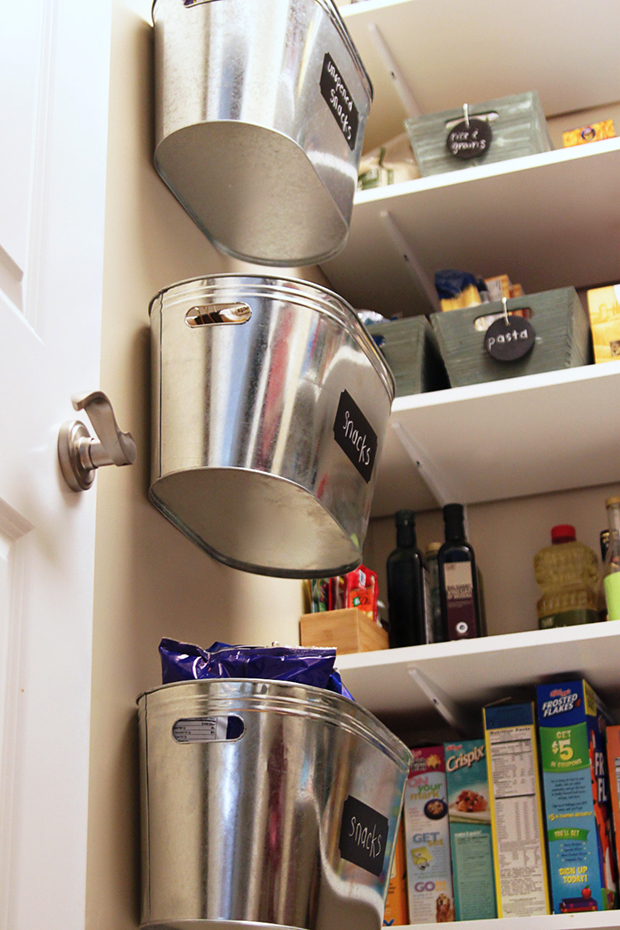 lilblueboo.com
9. Ceramic storage
Store your kitchen utensils in a ceramic for a fab looking space!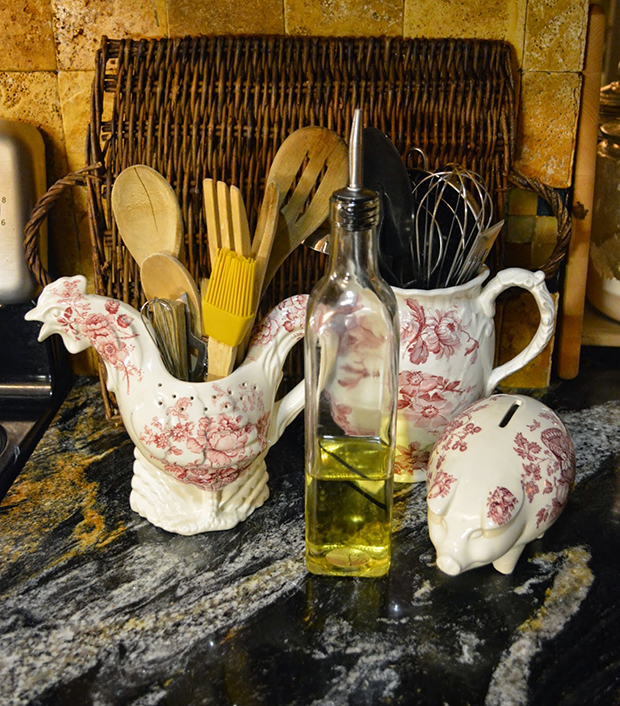 nancysdailydish.blogspot.ca
10. Magnetic wall spice storage
Make use of that wall space by adding some magnetic wall spice storage like this. Isn't it amazing?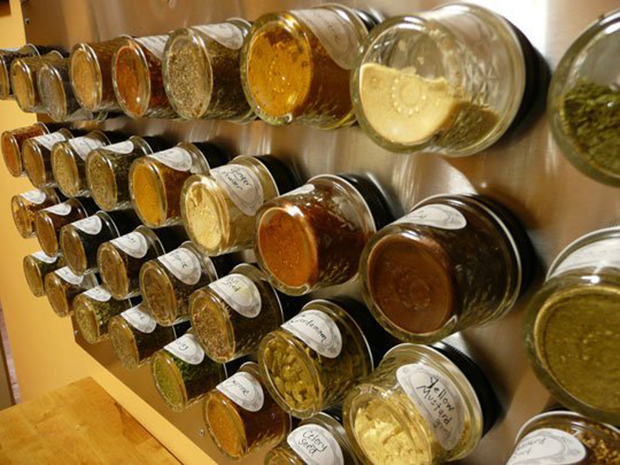 thekitchn.com
11. Magnetized strip for knife storage
Add a magnetized strip for knife storage on your backsplash.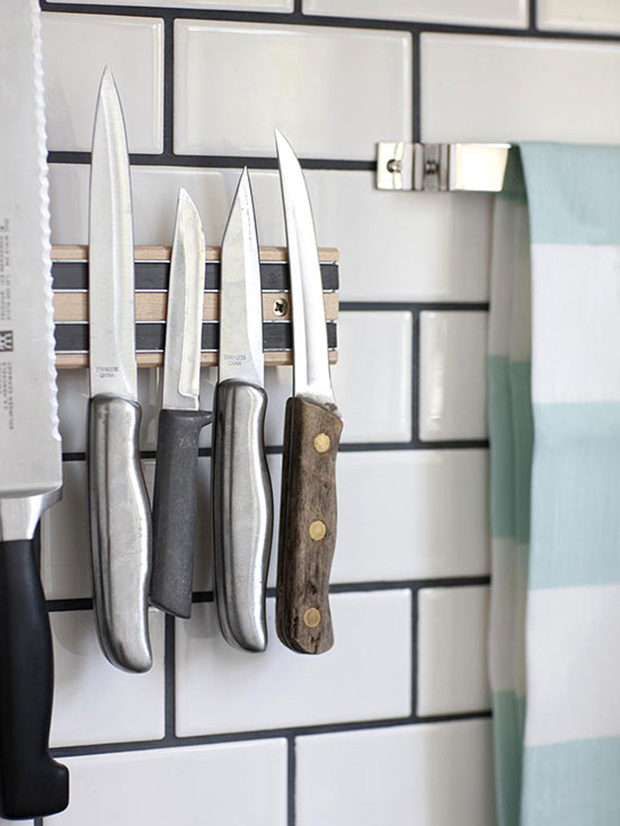 bhg.com
12. Old door
Got an old door? Add some hooks so you can hang some kitchen items there.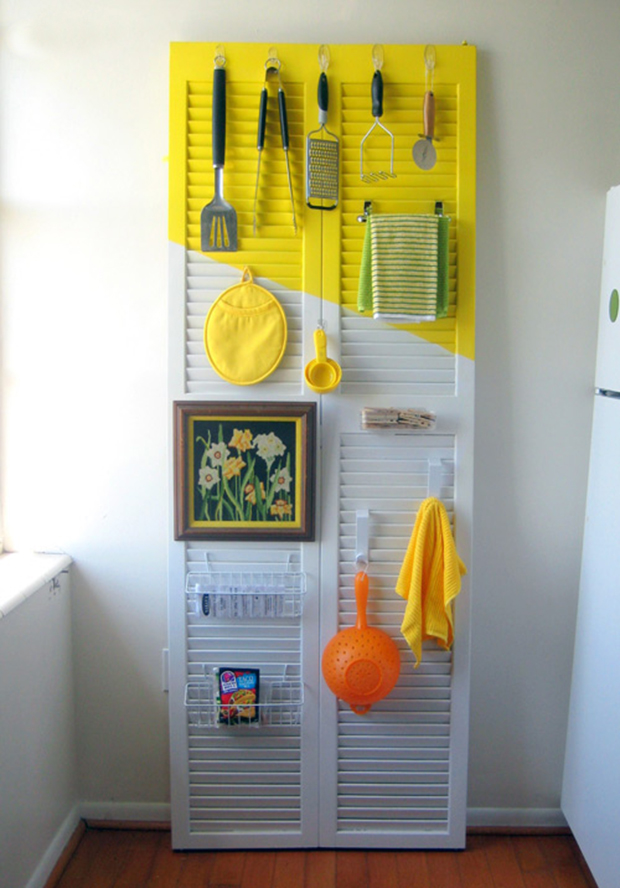 designsponge.com
13. Peg board
This peg board looks fun! The chalk traces around each item will remind you where that pan goes.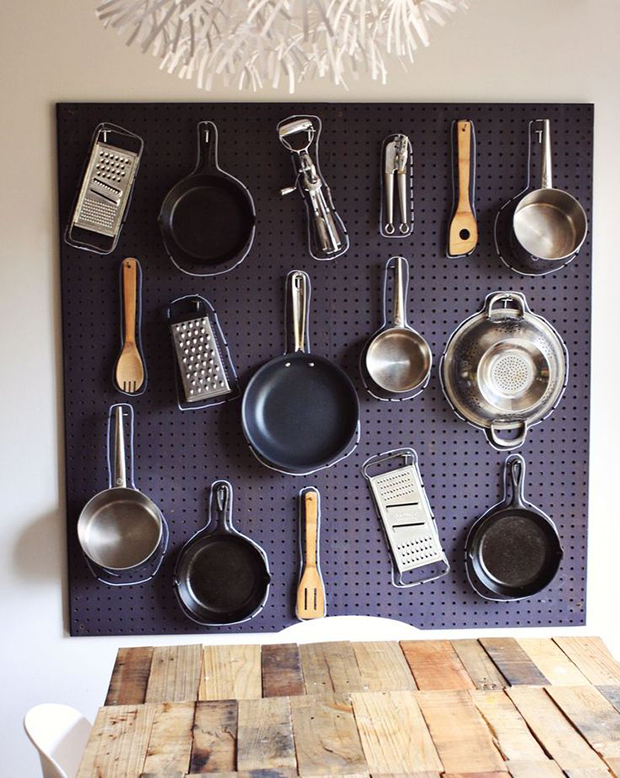 dmcihomes.com
14. Vintage trophies
Your kitchen will look beautiful by using vintage trophies as storage for your utensils.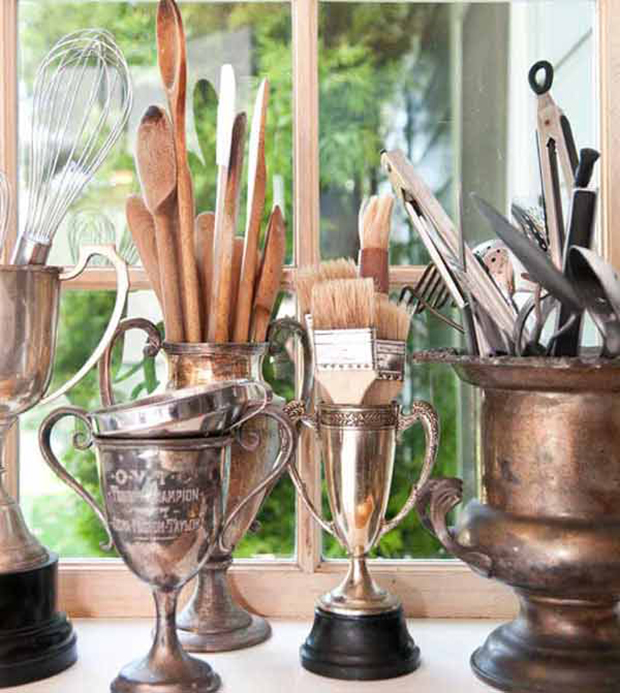 heatherbullard.com
15. Stainless-steel rod with S hooks
Install a stainless-steel rod with S hooks where you can hang your utensils. You would never dig into a drawer ever again!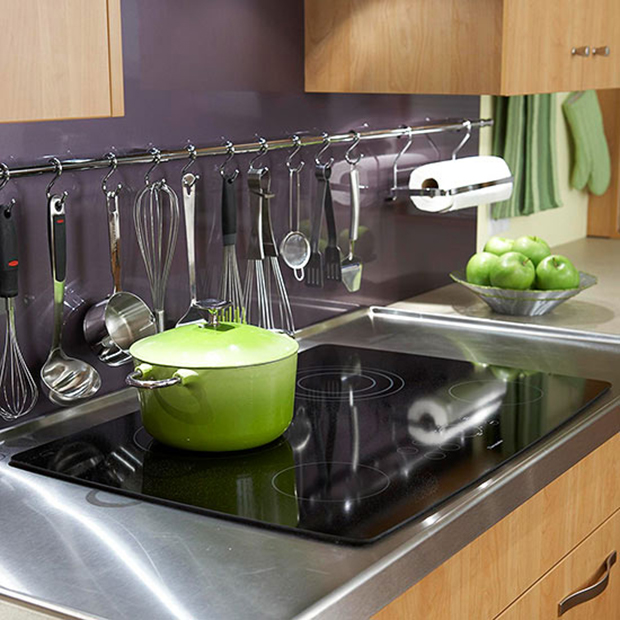 bhg.com
16. Paper towel holder
Keep your cookie cutters in a paper towel holder. They'd never get lost for sure.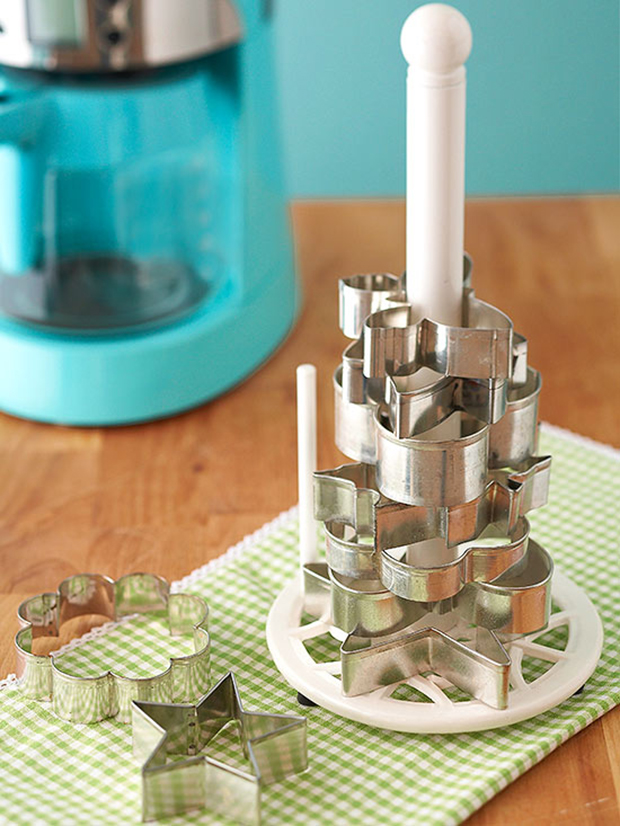 bhg.com
17. Fabric cones
Make lovely fabric cones with a board backing and hang them on the wall. Cute idea, right?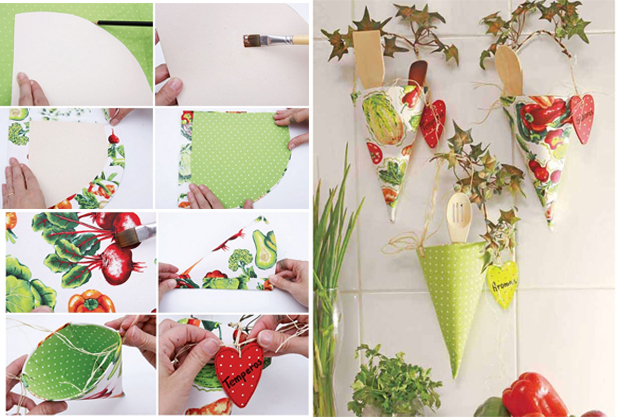 diy-enthusiasts.com
18. Magazine rack
You can store your tin-foils and other items in a magazine rack. Attach it in your cabinet door.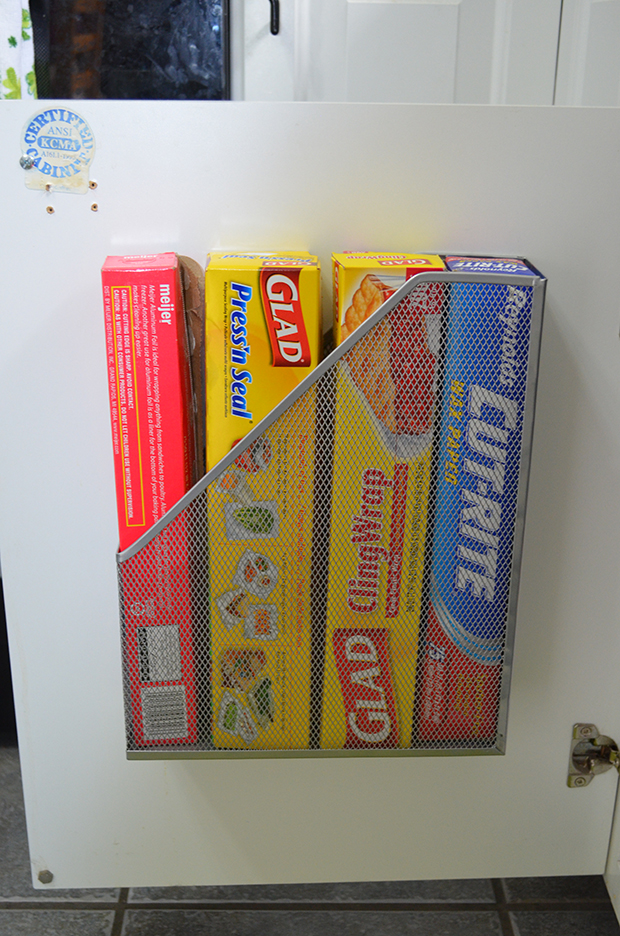 goodhousekeeping.com
19. DIY Pipe Wine Storage Table
This DIY Pipe Wine Storage Table is an amazing idea to store your wine. I think oat meal boxes can work well for this too.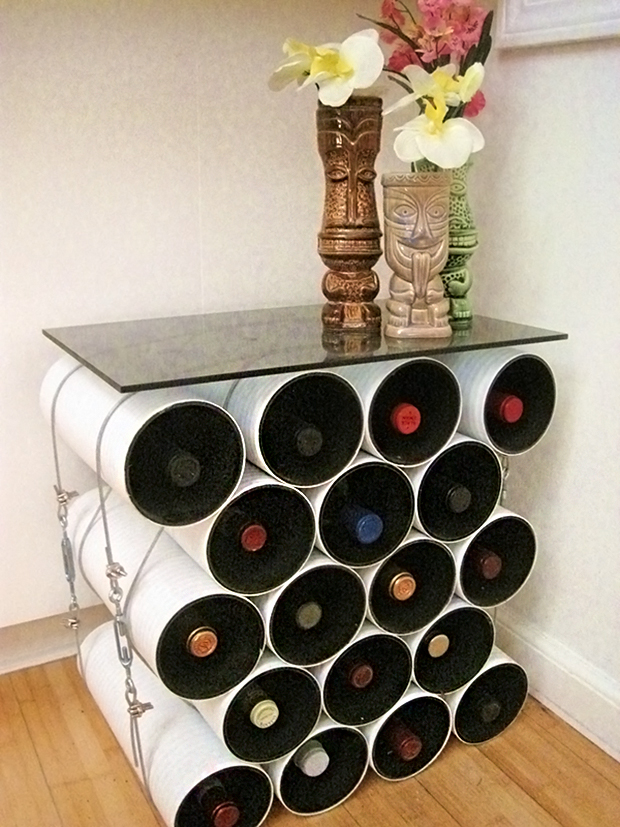 decoist.com
20. Cutlery hanging pocket
Make a cutlery hanging pocket using fabric and a wooden chopping board then hang them!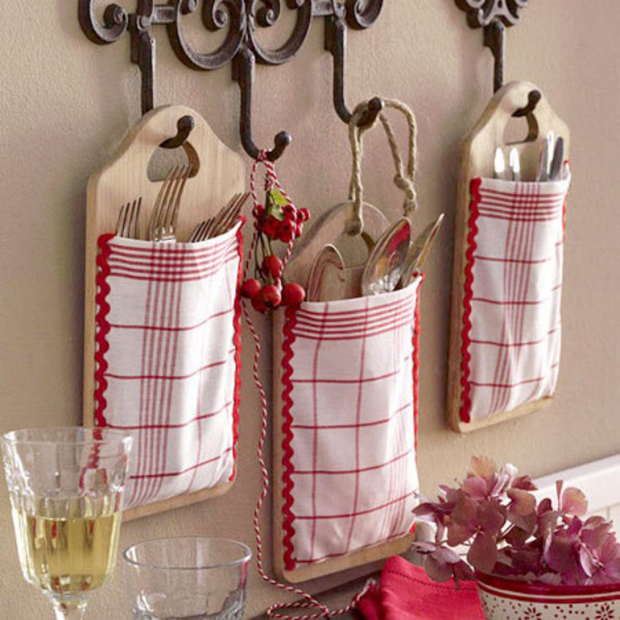 modernmagazin.com
21. Wooden pallet
Turn a wooden pallet into a shelf and a place to hang your pots.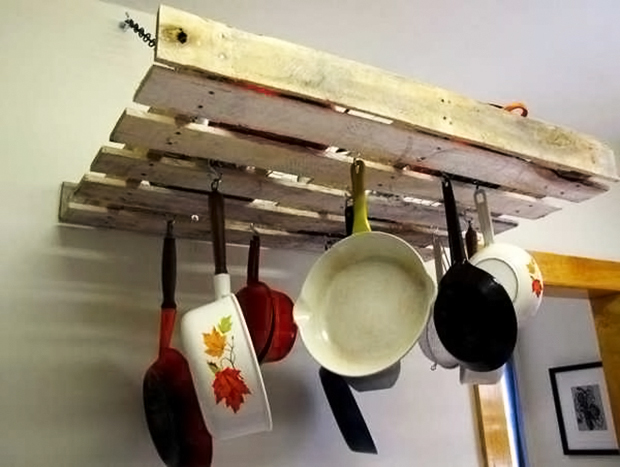 lushome.com
22. Wooden crate
Paint a wooden crate and add some wine bottle holder inside it so you can store bottles of wine or even cooking oil without spills.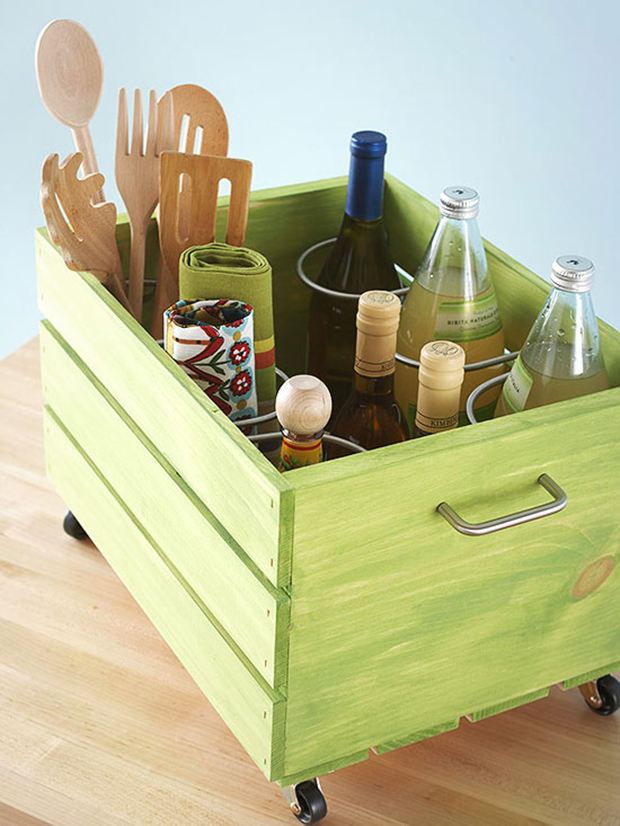 bhg.com
23. Measuring cups
This is a clever idea to store measuring cups by painting the back of a cabinet door with chalkboard paint and hang the cups on hooks.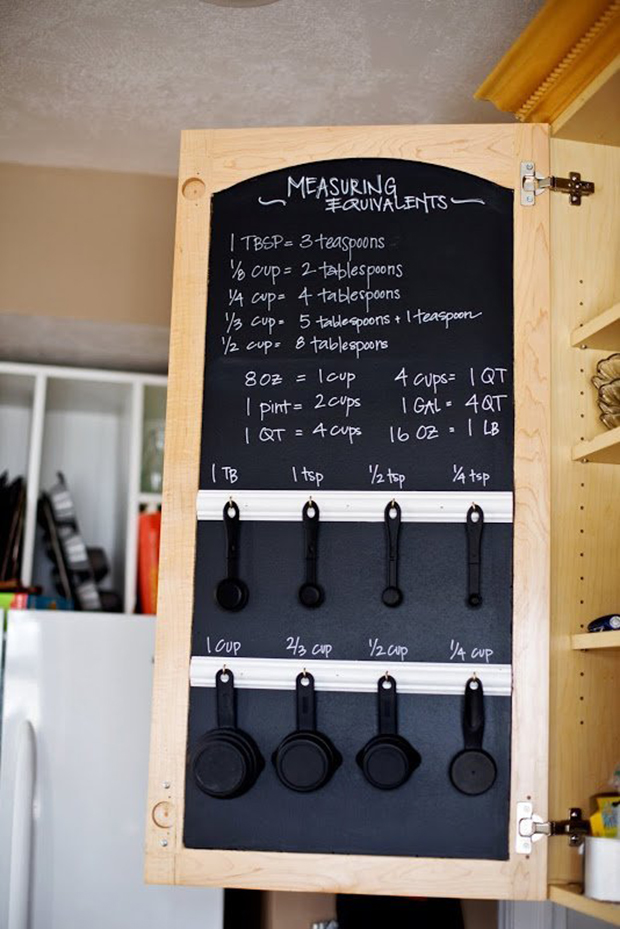 thekitchn.com
24. Hanging clips
Got some excess food? Worry not. You can keep them by using hanging clips. It would remain crunchy!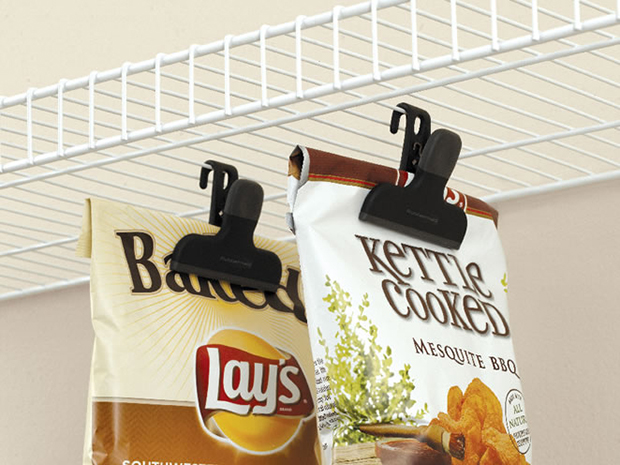 diply.com
25. Towel rack for lid storage
Never lose your pot lids again by using a towel rack for lid storage in your cabinet door.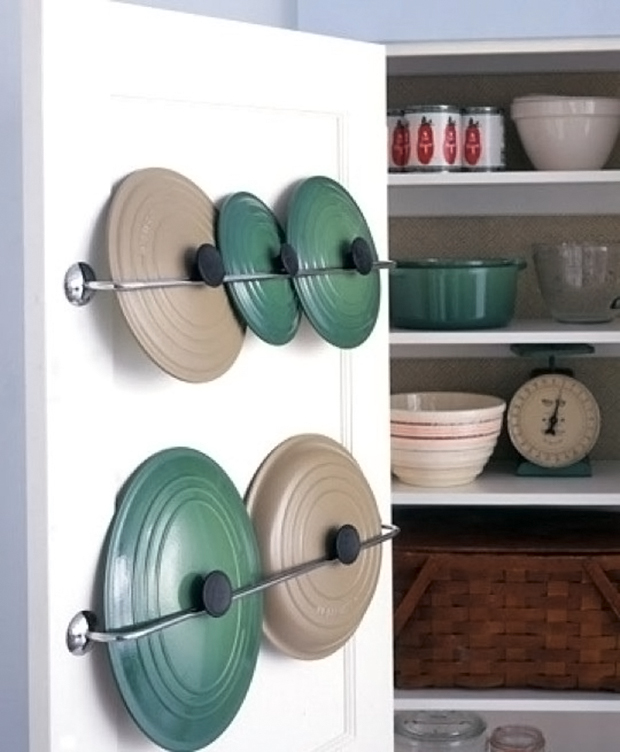 marthastewart.com
26. Tension rod
Your trays will not be scattered anymore using a tension rod to keep them organized.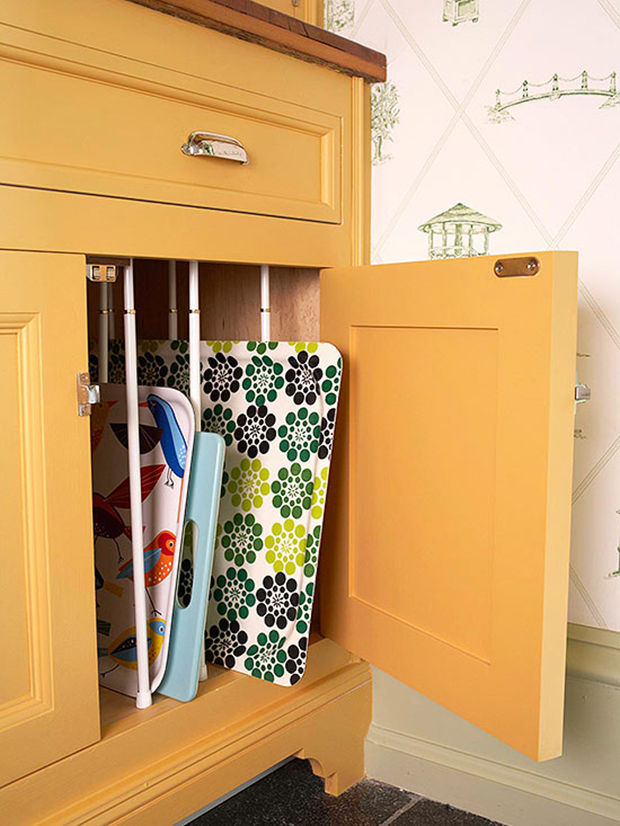 bhg.com
27. Hooks organiser
The insides of a cabinet can be used to keep pot holders, gloves, utensils and others by adding some hooks into it.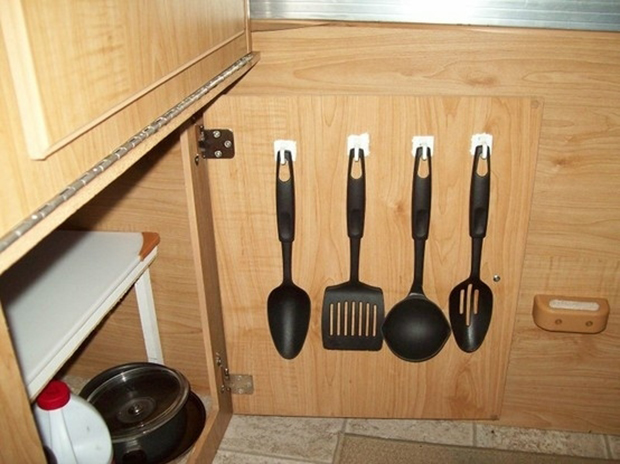 buzzfeed.com
28. Hang pots from the ceiling.
Another good way to store pots is to hang them from the ceiling and they will look like decors at the same time.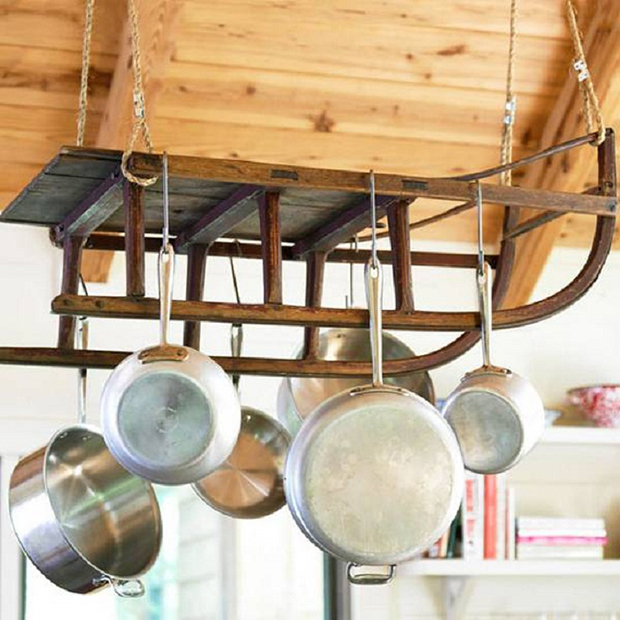 dailywt.com
29. Stick magnetic racks to the side of your fridge.
To store your spices or some items in the kitchen, stick magnetic racks to the side of your fridge.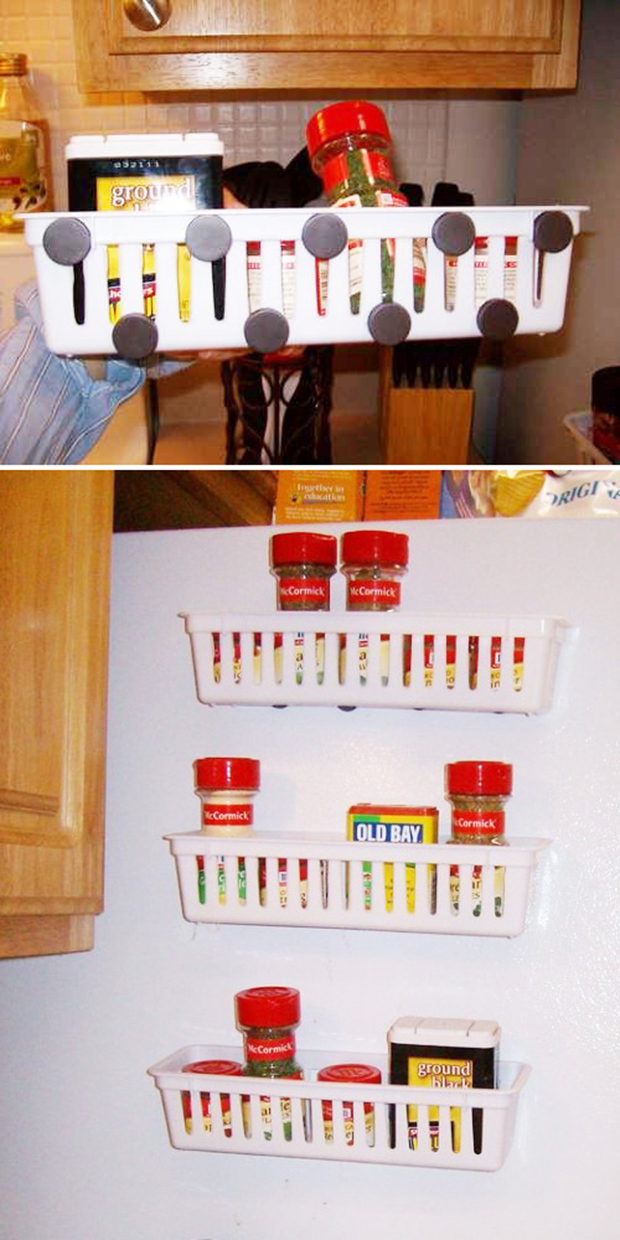 instructables.com
30. Cellophane and upper part of a bottle
Well, the instruction is clear on how to use a cellophane and upper part of a bottle to store various goods in the kitchen.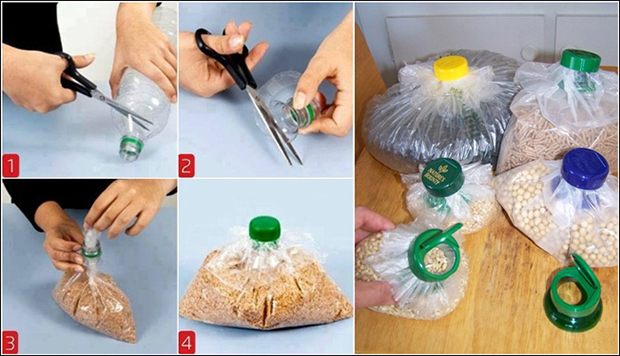 amazinginteriordesign.com
Didn't we tell you that this will improve your kitchen? We are pretty sure that if you apply some of the tips above, your kitchen will be more organized and functional.
Also, you will be able to work better too. Who would think that even cans and bottles can save your kitchen?
Just be creative and nothing is impossible! If you liked this list, share this post with your friends too. They will surely get new DIY kitchen hacks from this!