60 Asian-Inspired Living Room Design Ideas to Add Zen
|
As one would expect, Asian-inspired living room design ideas mean elements of Asian – Chinese, Japanese, or Indian – cultures being incorporated into the space. Traditional design elements and symbols (i.e. Shoji screen) are the usual go-to design details that get integrated.
While that may be a key element in Asian-inspired living room design ideas, these interiors are supposed to evoke serenity and tranquility. This mostly means that the room is uncluttered, heavily emphasizing quality over quantity. Asian-inspired living rooms tend to have less furniture because of this. In a way, the interior design takes a minimalist approach. The Asian décor elements often add elegance to it.
How do I make my house look Asian?
Asian-inspired living room design ideas can be an eclectic mix of design elements of various Asian cultures. But it could also be your standard interior design styles, like modern and traditional, but mixed with Asian design elements. To make your house "look Asian", there have to be ways or steps for you to take to make it possible.
Here are tips on creating an Asian-inspired living room!
1. Backdrop
Asian-inspired living room design ideas are often inspired by colors of nature; hence, décor often mimics scenic landscapes and reinterprets natural colors to fit with the interior design. Besides, white, you get the option of natural and neutral colors to start your Asian-inspired living room.
2. Dynamic colors
While a neutral backdrop is a foundation to your living room, adding dynamic colors brings out a different kind of charm to it. If you have a soft neutral backdrop, it will do wonders to have gold accents around the room.
3. Visual and textural balance
Balance is a key theme in Asian-inspired living room design ideas. How else are you going to achieve that serenity and tranquility without balance? Even with different textures around your room, you must be able to create a balance of it. Try adding some glass partitions or natural stone decorations, bamboo blinds, and organic textures.
4. Water feature
A water feature is a great way to add that ambiance of tranquility. The sound of flowing water is said to be harmonious and positive in Feng Shui. Add even just a small water feature in your living room.
5. Style fusion
As mentioned before, many Asian-inspired living room design ideas are actually a fusion of various Asian themes. Obviously, each culture is different and thus evokes a different look and certain ambiance. So, when you attempt a fusion of styles, it is important to know about these styles.
The Japanese design style is rooted in simplicity and minimalism. If you want to add some ambiance to Zen, this design style may work for you. Whereas, traditional Chinese décor is more lavish and expansive. Typically, the Indian style is colorful and showcases Indian motifs and cultural icons.
6. Lighting
Regardless of your living room's theme, lighting is an important design detail. In Asian-inspired living room design ideas, the right lighting can add some charm and accentuate the theme. Stylish paper lanterns, sculptural lighting, and candles are perfect choices for Asian theme styles.
7. Organic design
Another important aspect of Asian design is organic and sustainable design. Often, interiors are incorporated with smooth polished stones, bamboo blinds to replace traditional drapes, and woven tatami mats. Potted plants and shrubs are also some things you can find in Asian-inspired living rooms.
8. Essence of Nature
In addition to the potted plants and shrubs, you can further bring an authentic Asian-inspired interior with sandalwood incense, scented candles, and chimes. Aroma and sound play an important role in creating a pleasant setting.
9. Minimalism
As mentioned above, Asian-inspired living room design ideas mean no clutter. Because of this, these living rooms tend to have clean and straight lines, sleek symmetry, and minimalist decorations. This is pretty common in Japanese design style.
10. Oriental décor
An easy tip to truly capture Asian style in your living room is adding oriental décor. This includes décor such as small statues of Buddha and jade statues, decorative fans, Asian scroll paintings, and a Shoji screen.
Asian-inspired living room design ideas
Now, let's take a look at some cool Asian-inspired living room design ideas!
Mahalaxmi Residence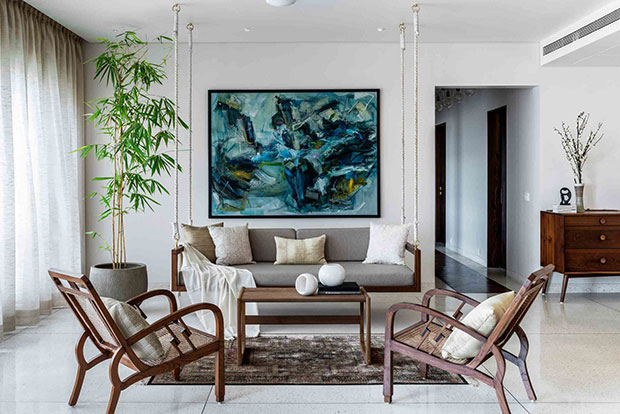 Besides the natural colors, the tall bamboo plant truly emphasizes the Asian-theme style.
Worli Residence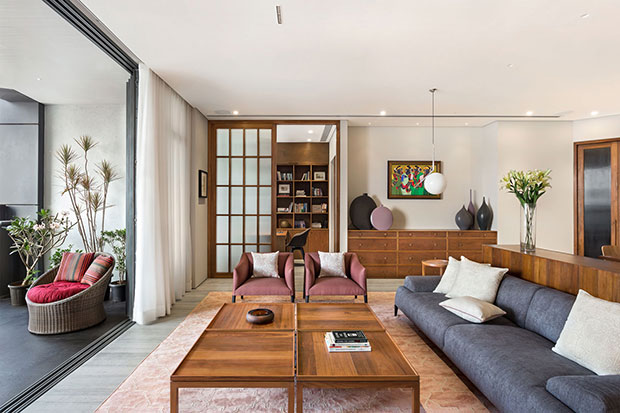 In design, these four coffee tables perfectly highlight Asian décor. Though, overall, this living room looks like it's east meeting west.
Saat Rasta Residence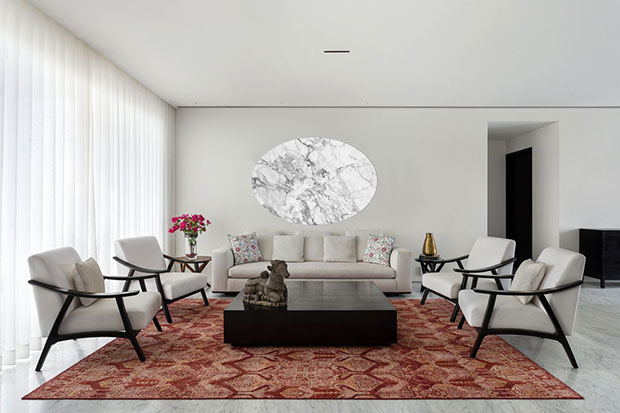 The décor choices, as seen in the statue and vase, are nice subtle details. But this rug with its intricate Indian pattern is the one that truly captures the essence.
Mahalaxmi Residence II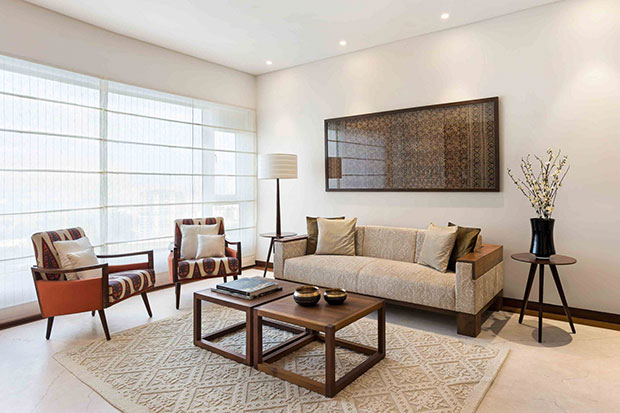 We Design Studio
There's nothing more perfect than your furniture choices that perfectly capture the Asian theme. Bold prints and patterns are the staples of the Indian design theme.
My Home Bhooja Mahesh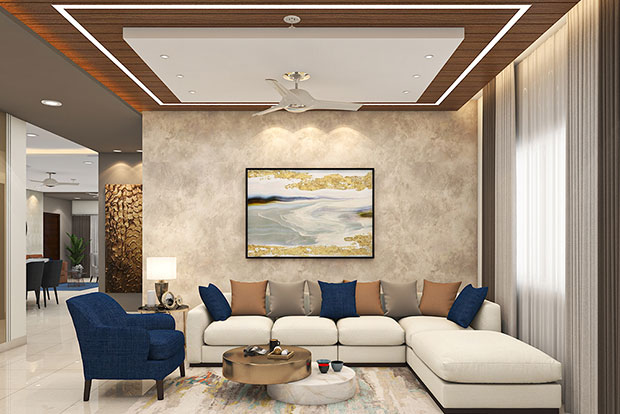 This home polishes its stained-designed walls with a beautiful, abstract painting.
Praveen Lansum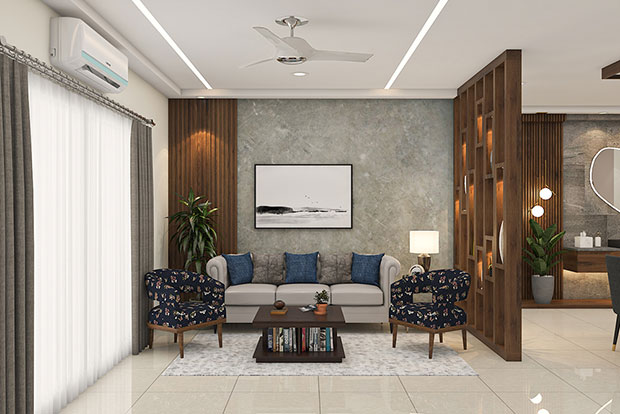 A compact coffee table is perfect to provide some storage as well as display. That room divider is also smartly made to be an additional display stand.
Muppa Indraprastha Villas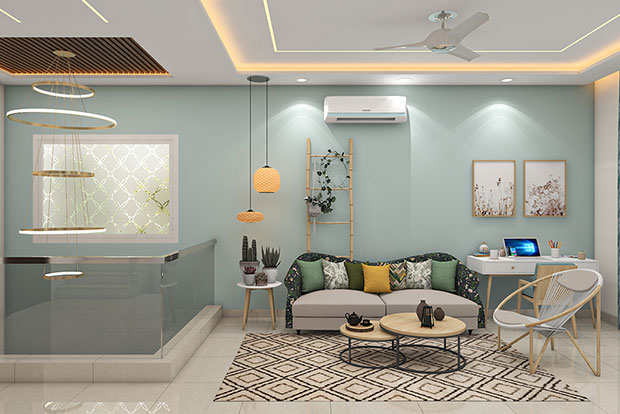 The hanging paper lantern, the planters, and the nature motif grab the essence of the Asian theme.
Legend Chimes Villa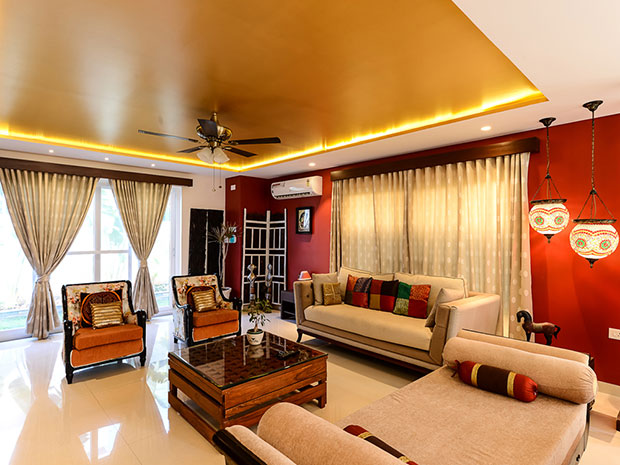 The vivid colors and bold patterns are a perfect combination for Indian-style design. Not to mention that hanging lantern definitely is an eye-catcher!
Rainbow Vistas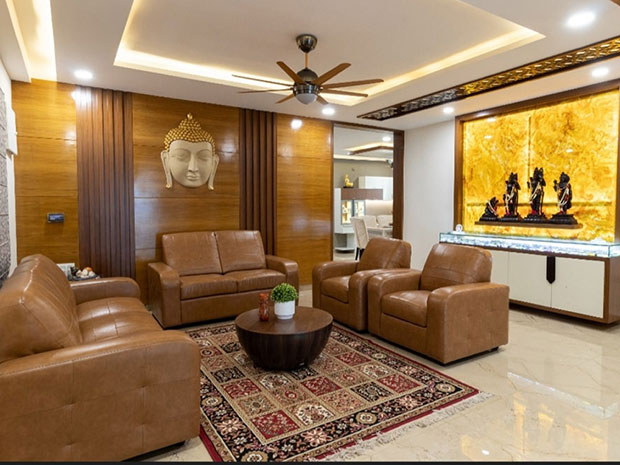 Cultural and religious icons are a quick and easy way to incorporate Asian-style themes into your living room. Though, take caution in using these icons that its respectful to the culture.
Rajapusha Atria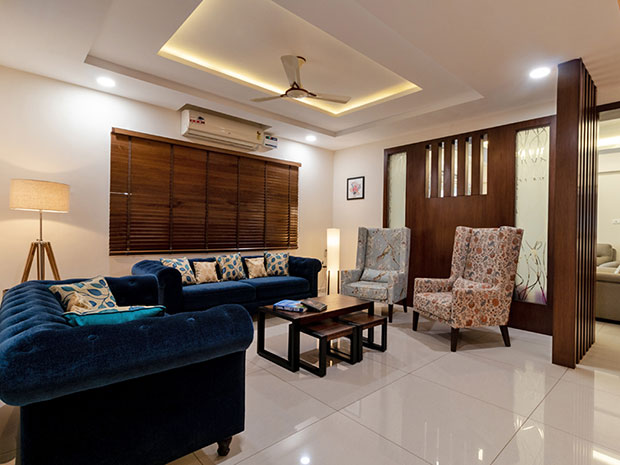 The bamboo blinds are a great touch, consistent with organic design. The difference between the natural wooden features to the bold prints of fabric is a beautiful contrast.
My Home Avatar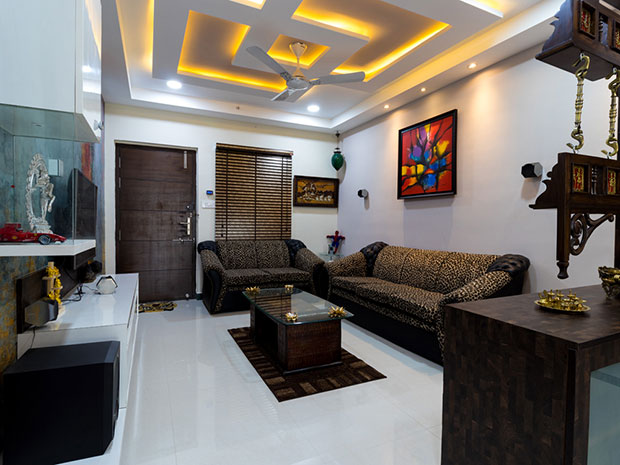 In a sea of neutral colors, the sparse gold accents give this room some luxurious charm. And the bursts of vivid colors add some bright personality.
Rajapusha Atria Naina Joshi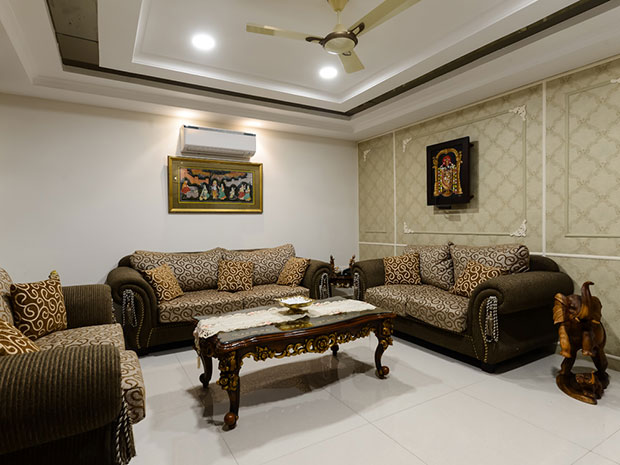 Infinite Ideas Interiors
While not all Asian-inspired living room design ideas work with ornate furniture, it is perfect in Indian-inspired living rooms.
Colorful and Creative in Palo Alto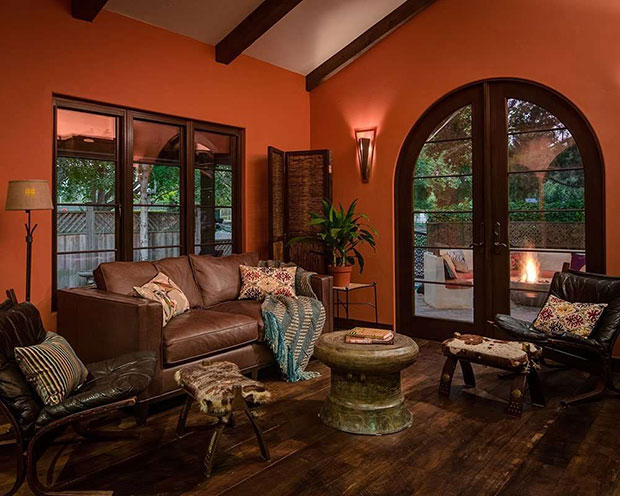 Harrell Remodeling Inc.
This living room is filled with uniquely designed furniture – unique to its culture of inspiration and so can only be seen in perfect harmony with Asian-inspired living room design ideas.
Noe Valley Senior Apartment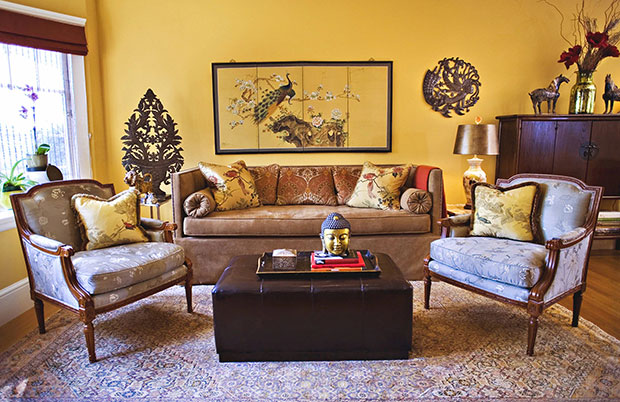 This living room does not hold back in adding the perfect and appropriate décor. Plus, the yellow-painted walls give it a refreshing look.
Union Square West Co-Op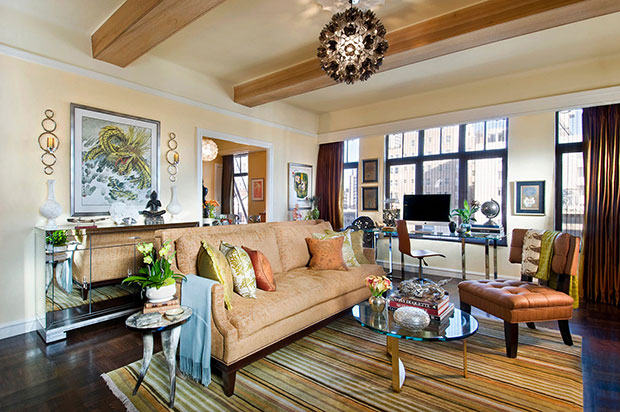 Adeeni Design Group
This living room boasts an eclectic mix of design elements from various cultures, including Asian, particularly Chinese.
Indian Valley Novato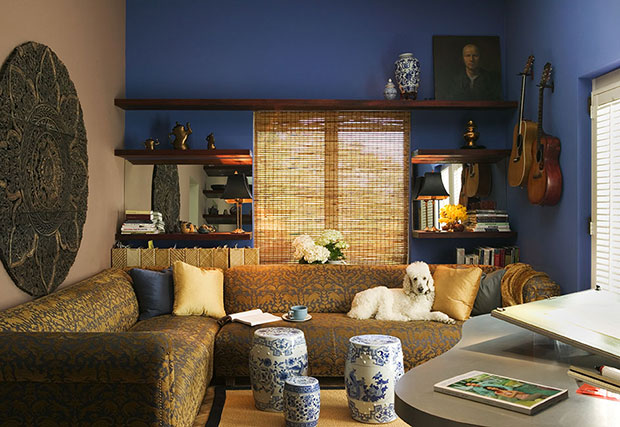 Jane Ellison Design
This shade of blue works harmoniously well with the golden yellow colors present.
Asian Influence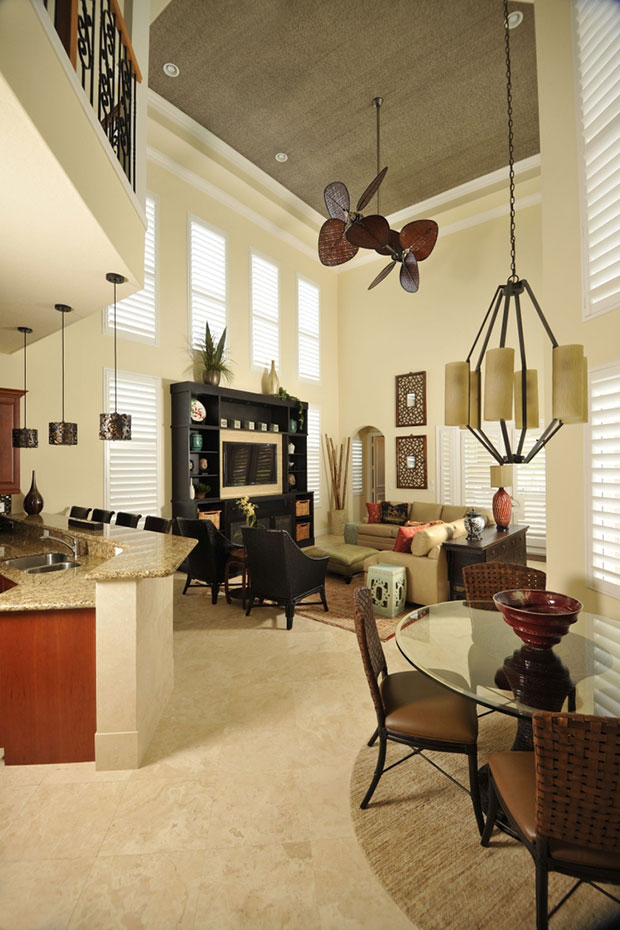 Though primarily filled with western design elements, you can see the Asian influence in the décor found around the room.
Private Residence Boynton Beach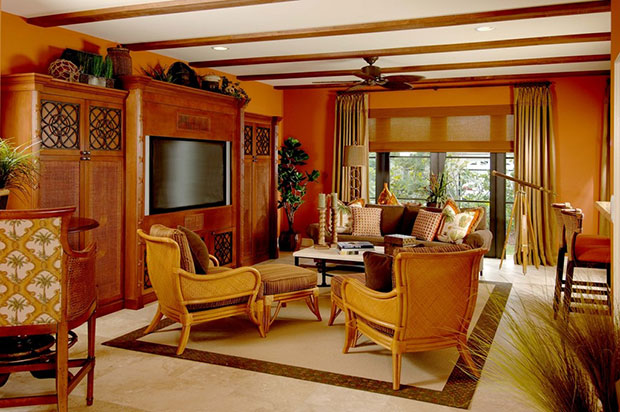 Bandon Blue Designs
All these natural and neutral colors bring a cool and homey ambiance.
Morton Street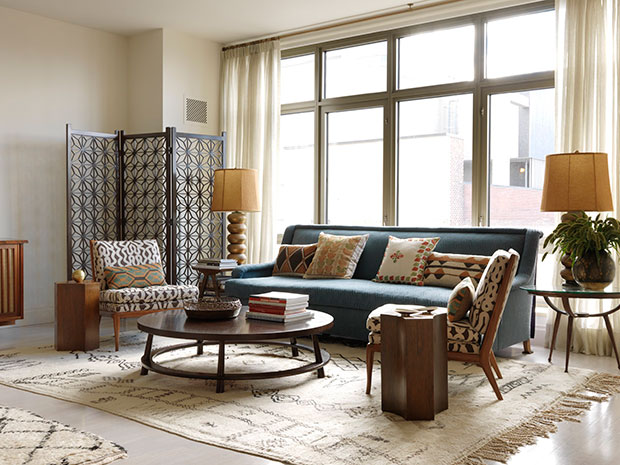 It's a great design choice to not have all fabric with prints. Carefully curate the ones that would have print and those without, this creates some balance and does not make it visually overwhelming.
Hamptons Designer Showhouse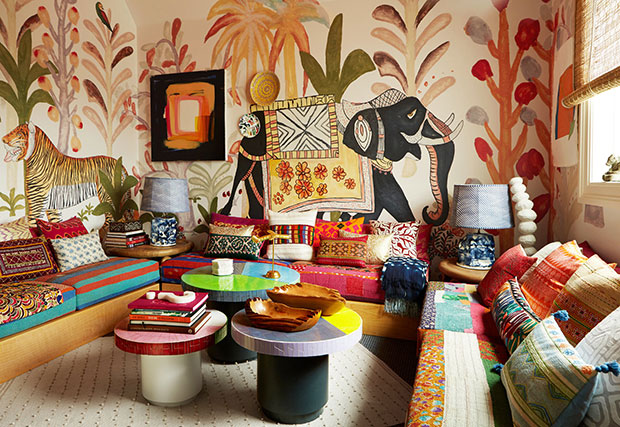 Sara Bengur Interiors
But if you're going to have a bright and colorful living room, make sure you fully commit to it like this living room.
Big View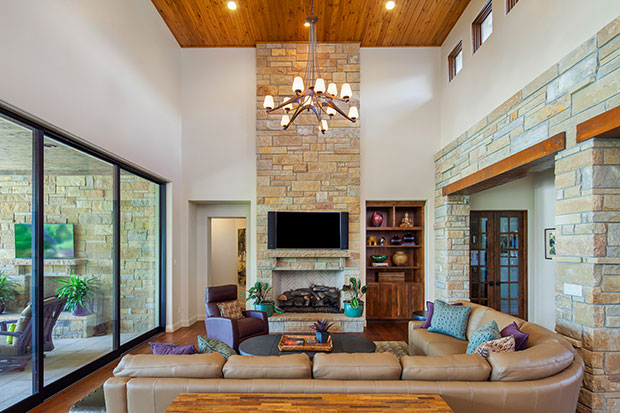 Dawn Hearn Interior Design
Combining Eastern and Western designs can bring quite a progressive look to Asian-inspired living room design ideas.
Modern Japanese Farmhouse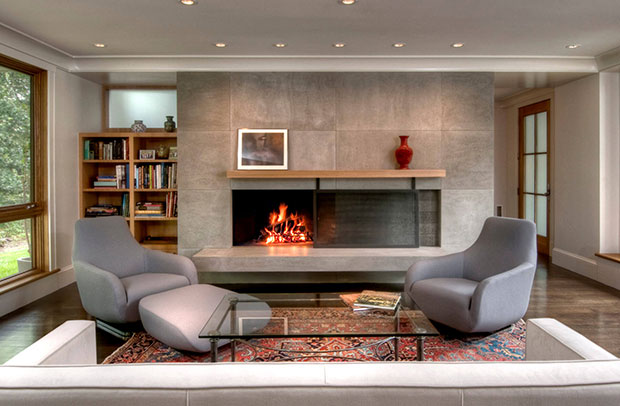 Gilman Guidelli & Bellow Custom Builders
True to Japanese interior design style, the minimalist look is something worth-noting for!
Japanese-Inspired Remodel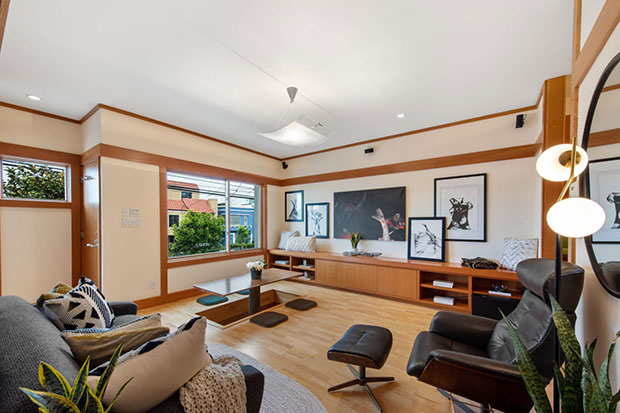 Mark Brand Architecture
The most eye-catching feature of this room is its unique coffee table design, inspired by Japanese design itself.
Tarrytown House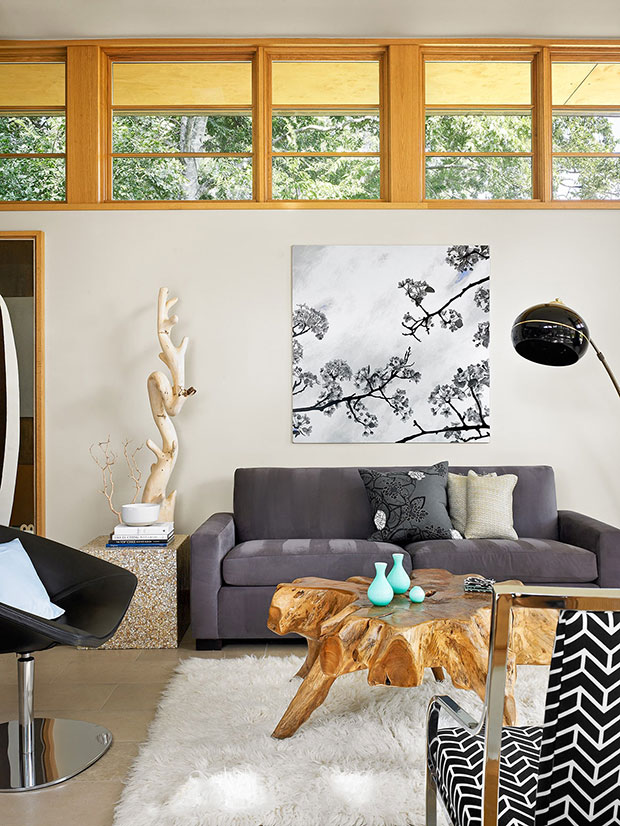 Webber + Studio, Inc.
The decorative pieces were chosen at this home truly capture the essence of Asian-inspired style. Meanwhile, it brings some western elements through a couple of the furniture pieces.
Ahmad Residence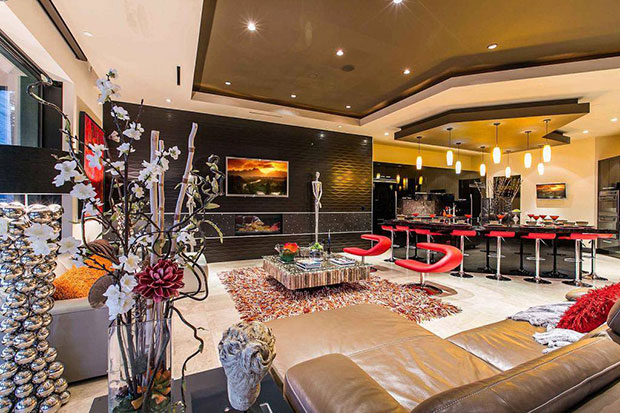 Richard Luke Architects
Adding a little bit of nature can elevate any Asian-inspired living room design idea, whether it's a simple and minimal style or a luxurious one.
Puravida Interiors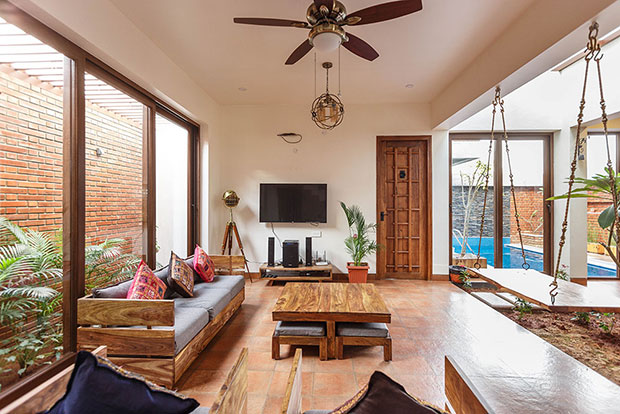 The Design Firm
This living room feels bigger and more open due to the large windows. But the addition of plants and earthy colors definitely emphasized that.
Craftsman Teahouse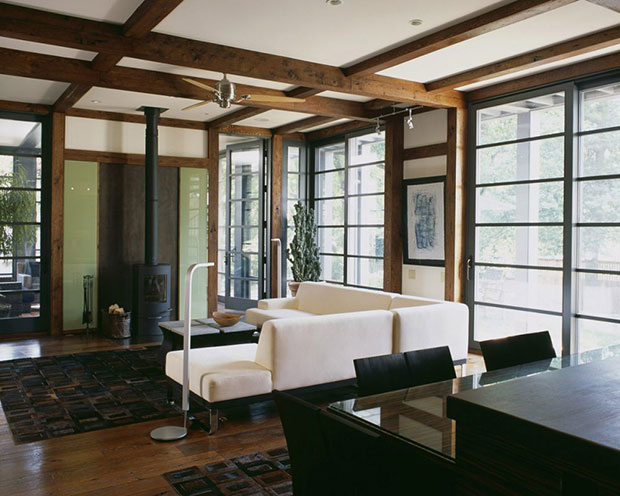 Gardner Architects LLC
With a more modern iteration of the Shoji screen and the minimalist approach, this living room is true to a modern style of Asian-inspired living room design ideas.
Mishima House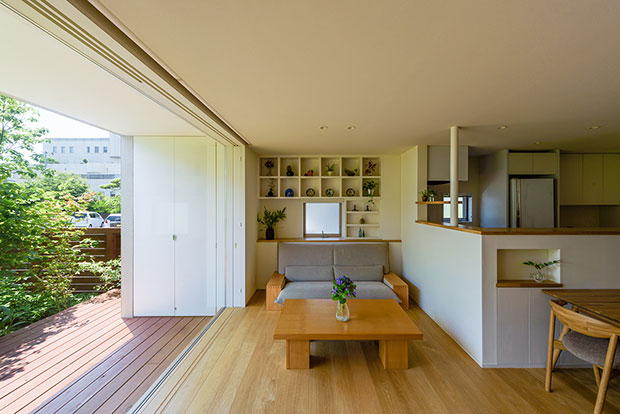 In true Japanese-style homes, this is quite the neat living room.
Iguchi's House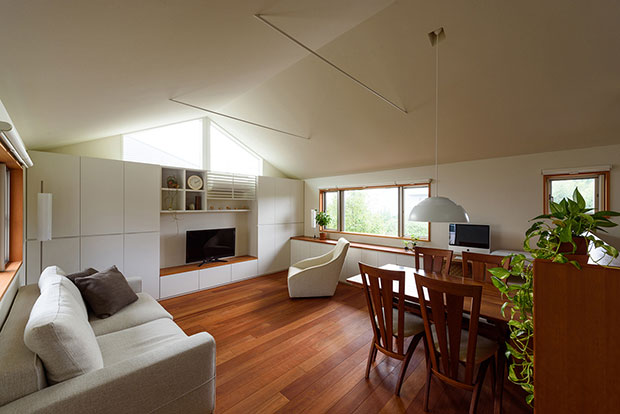 For small homes, Asian-inspired living room design ideas like this would do well with the available space. It is stylish enough without sacrificing functionality.
Takada's House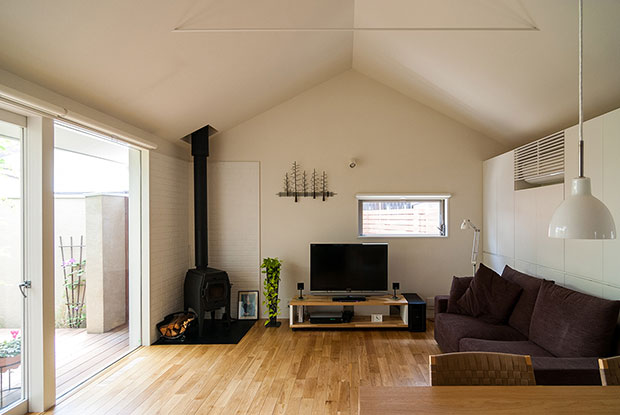 Japanese-style living rooms really thrive off simplicity. With the minimal number of furniture, this living room looks more spacious than it really is.
Ookina Machiya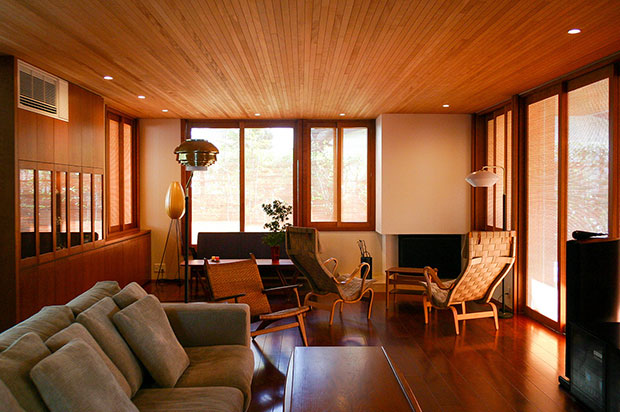 Atsushi Murata Architectural Laboratory
The natural light plus the earthy colors give this living room a warm and homey ambiance perfect to wind down and relax.
International Tropical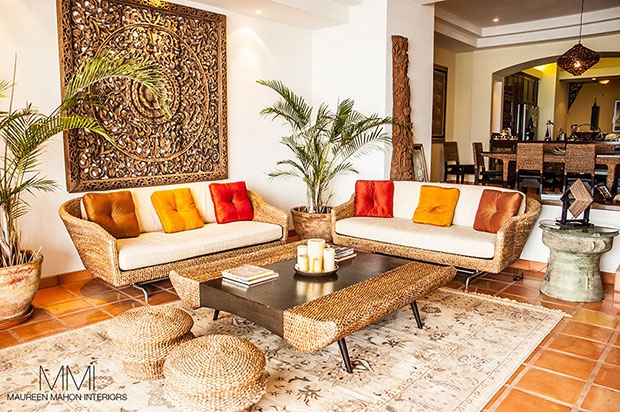 Maureen Mahon Interiors
The rattan furniture with the plant décor truly brings an Asian tropical feel to this home.
Ritto House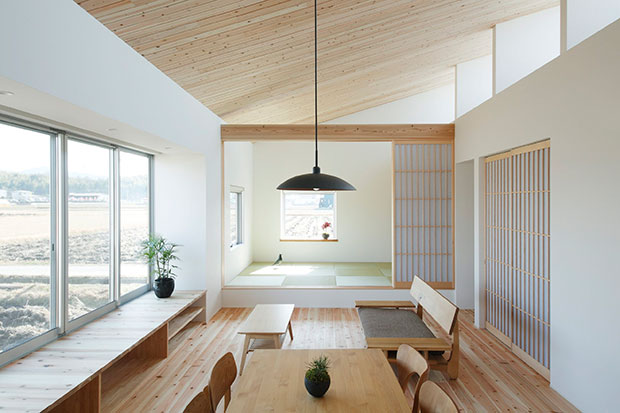 If you're the type of person that doesn't want too many furniture pieces at home, this very minimalist living room is perfect for you!
Misakicho House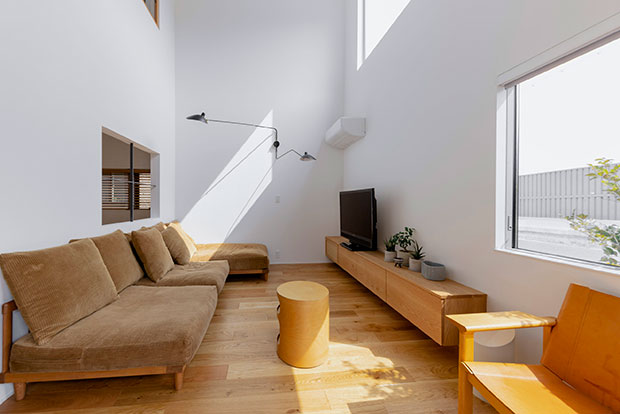 The earthy colors are a perfect complement to the pristine white walls.
Oidecho House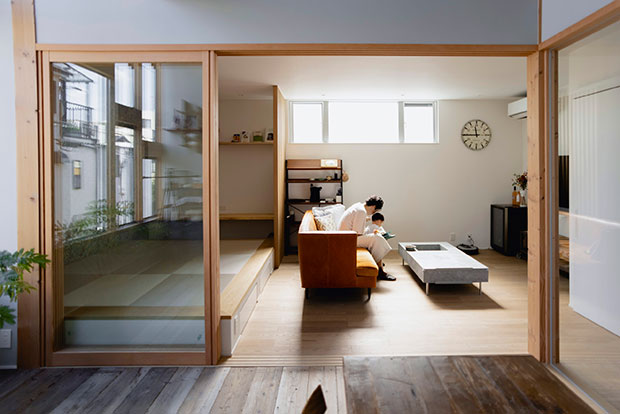 Bulky furniture is not the norm in Asian-inspired living room design ideas, especially in Japanese-style living rooms.
Matsuo House 2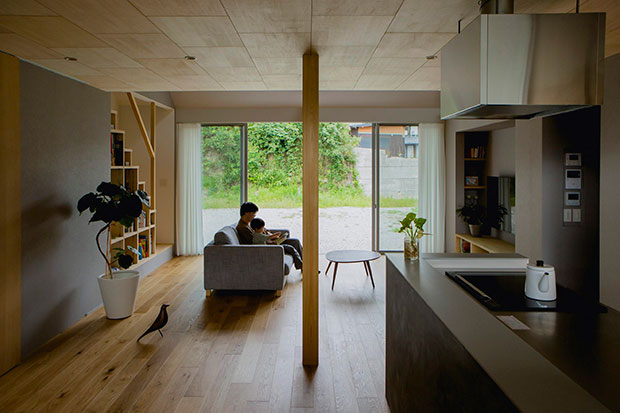 Taking advantage of every corner and space as storage helps to declutter the living room which is important in Asian-inspired living room design ideas.
Kamigasa's House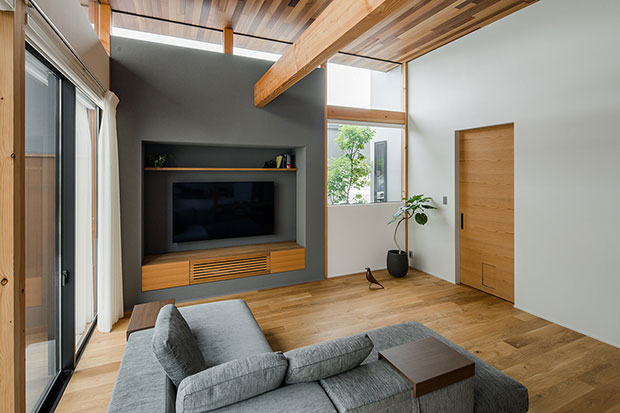 Instead of having a coffee table to hold drinks, this living room has a creative innovation in place of that. Notice the wooden blocks on the back of the couch.
Kaideima House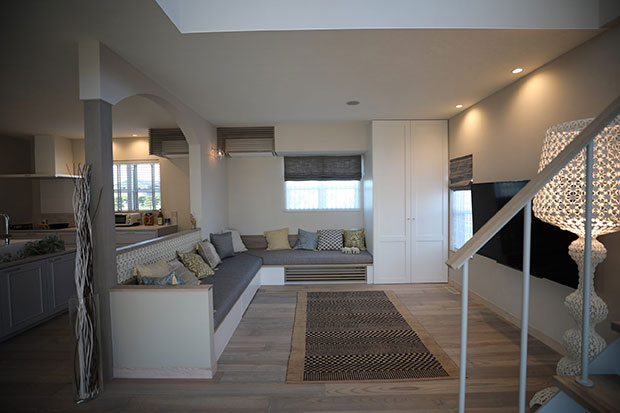 With limited space, this living room cleverly has a built-in bench seat to make up for the space problem.
Mizuguchi House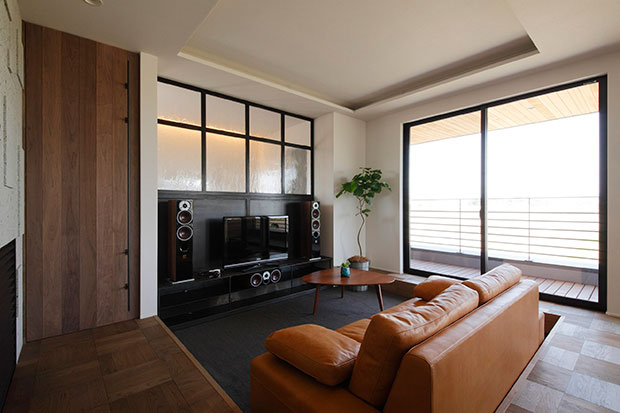 Alts Design Office
This living room design ensures an intimate designate space for the living room.
Secluded Treehouse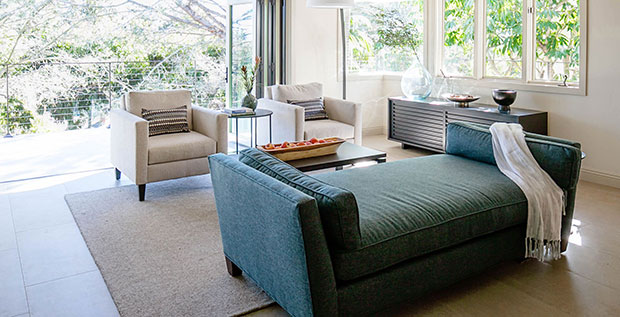 For Asian-inspired living room design ideas, there is no need to be grand with Asian-themed or inspired décor. Small and subtle details are enough.
Pacific Northwest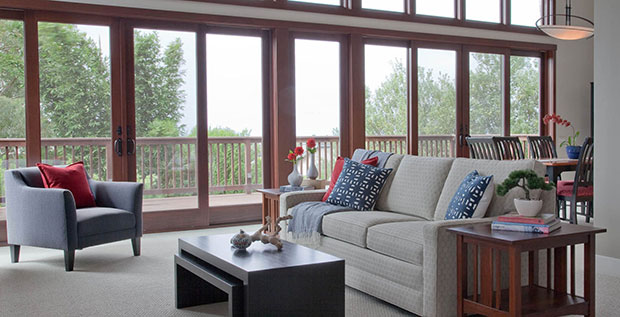 Kelly Smiar Interior Design
The furniture brings out some Asian-style inspiration with some western charm to it.
Asian-Inspired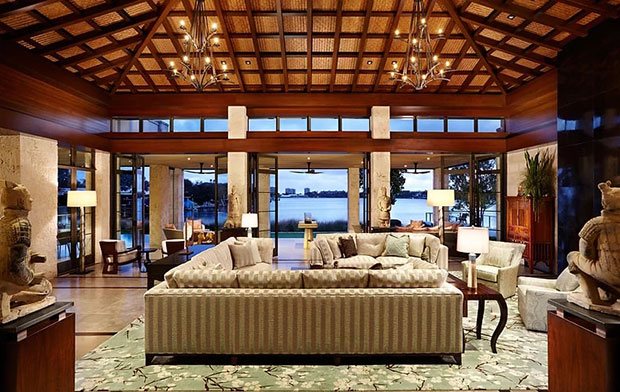 Mary Washer Designs
The floor rug definitely shines in this living room and emphasizes the room's style.
Apartment 301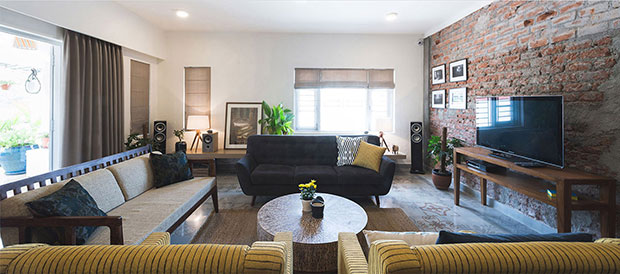 Praxis
The pairing of an upholstered sofa with a wooden one gives some sense of "east meets west".
Eclectic Asian Fusion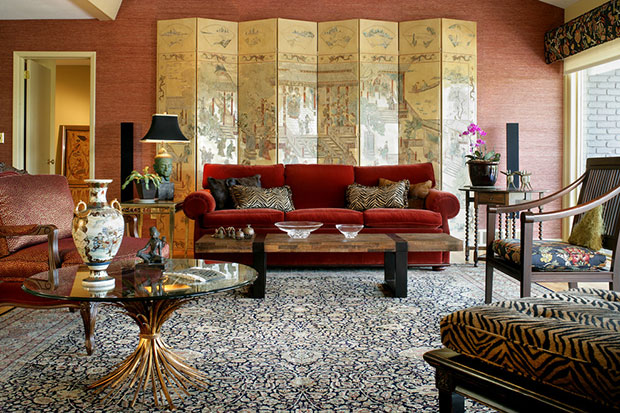 TSD Global Designs
Like its name, this living home truly embodies an eclectic Asian fusion. The vivid colors and stunning prints, along with the décor, come together for a very striking living room.
Island Asian Fusion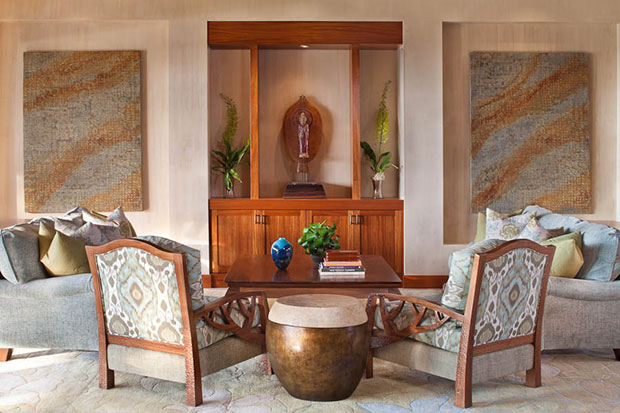 Willman Interiors
The color choices are pretty and neat, perfectly complimenting the furniture and decorative pieces.
Shine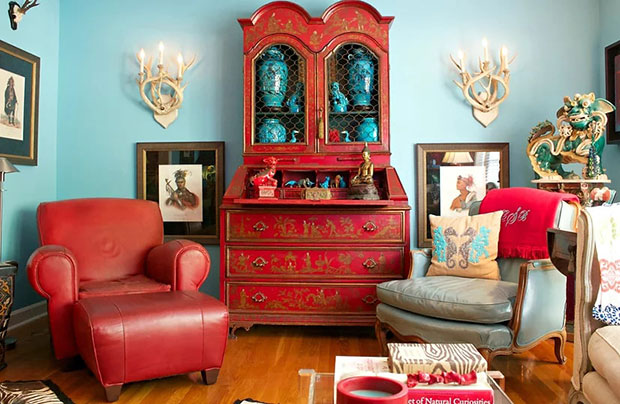 Brinkster Photography
Compared to the Japanese-styled homes, this does not fall in line with a minimalist design. With a little mismatched color palette and various décor, it's a very lively living room at the very least.
Once in a Blue Moon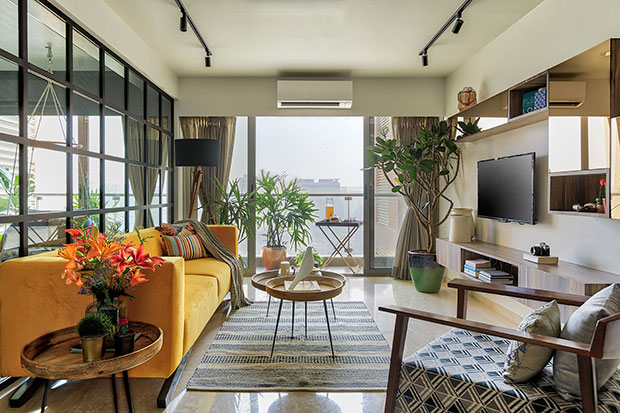 Zero9
The number of plants as decoration in this living room is marvelous. It's not overwhelming but it does its job to create some sense of serenity.
Amin Residence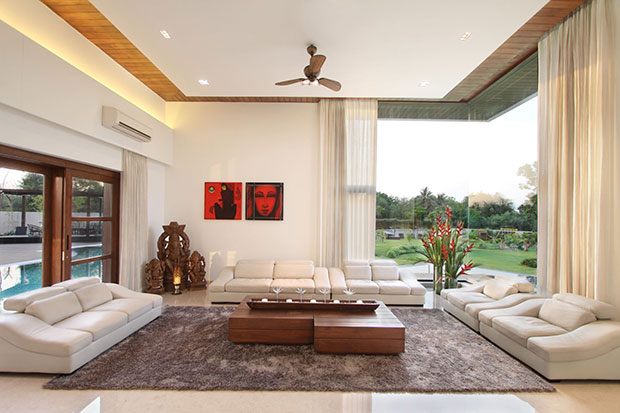 This home has very interesting sofa seats that may be related to the culture.
Lambhvella Home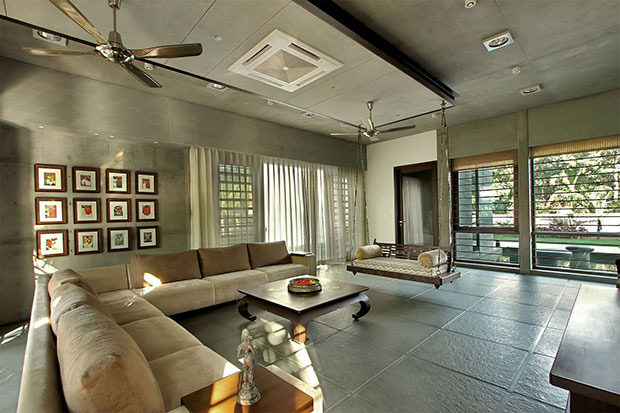 The hanging seat is definitely an attraction in this living room.
Dr. Nirav Bhalani's Residence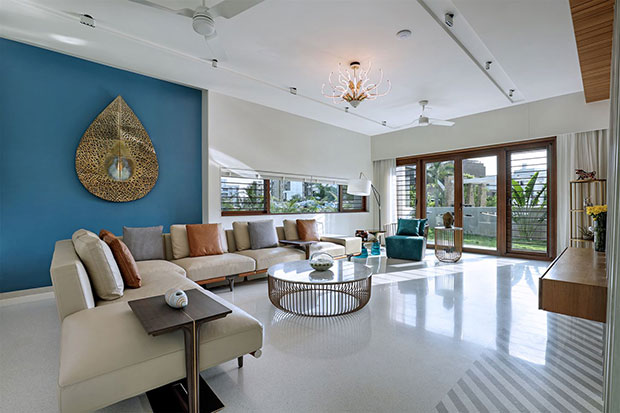 With these pretty interesting coffee tables and side tables, brings a unique charm to the overall look of the living room.
Mansukh Rojiwadia Penthouse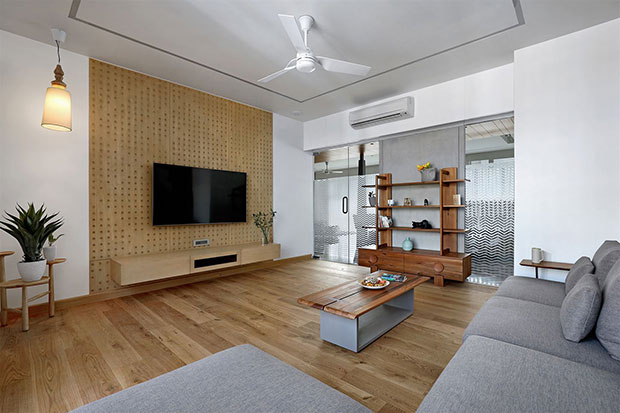 The wall design behind the television resembles a mat, a pretty interesting design that adds some personality.
Madhav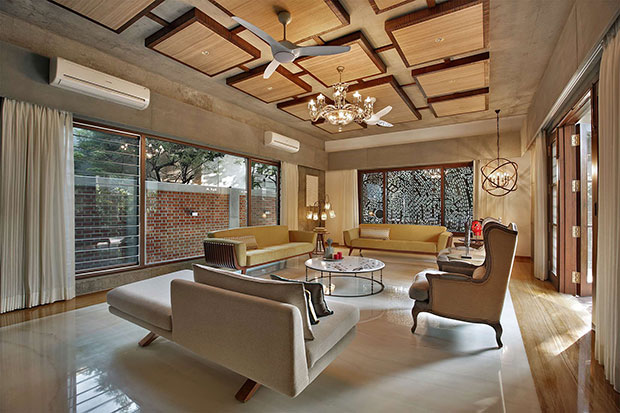 A mosaic glass window that references a certain culture should be the cherry on the top for Asian-inspired living room design ideas.
Pinball House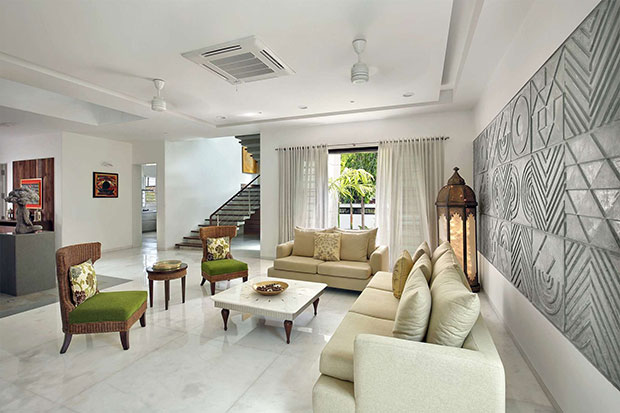 This living room doesn't hold back with its lighting choices. An ornate floor lamp with a design that is related to Indian culture.
Niraant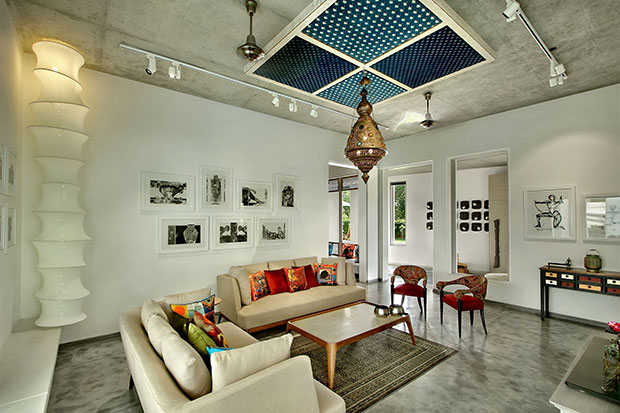 Dipen Gada & Associates
With an enchanting chandelier, you wouldn't even pay much attention to the white walls.
Asian Inspiration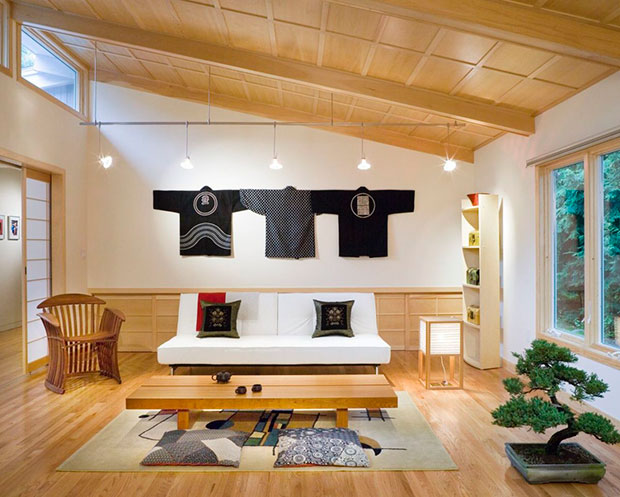 Feinmann, Inc.
From the furniture choices to the bonsai plant, this living room makes it very clear where they got the inspiration.
House of Light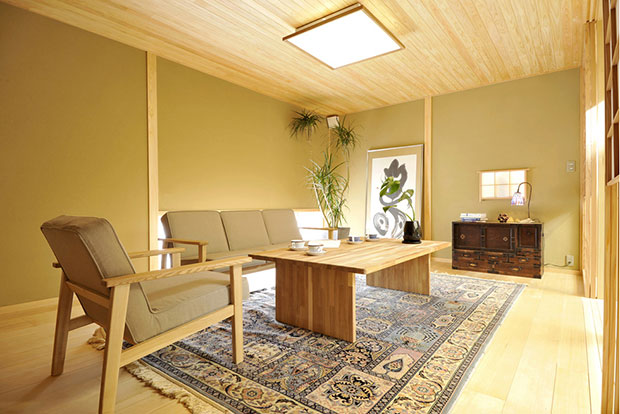 Nakazo Co., Ltd
That leaning artwork emphasizes the casualness of this living room design.
Zen Cabana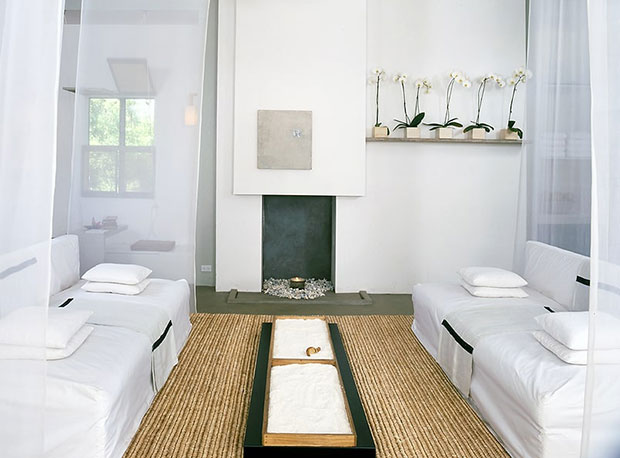 Rozalynn Woods Interior Design
For the dominance of white paint and fabric in this living room, that woven mat is definitely a welcomed sight.
Tribeca Maisonette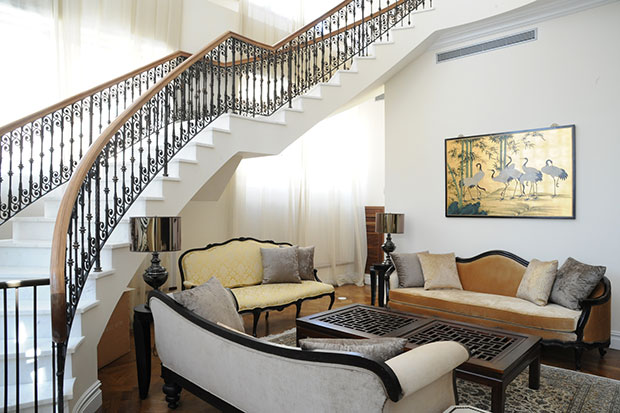 Aline Matsika
This coffee table design will certainly have people's heads turning.
Singapore Penthouse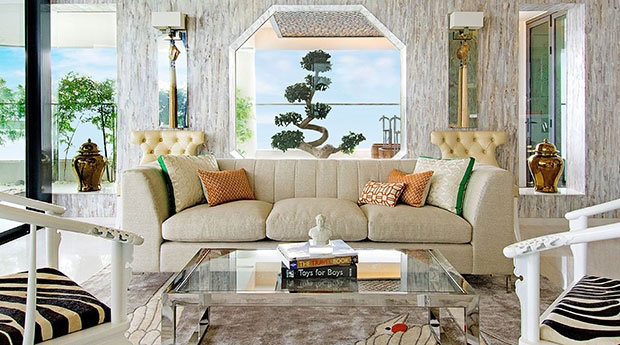 Mixing Asian styles with some western ones could create such a luxurious look like this.
Japanese Ski Lodge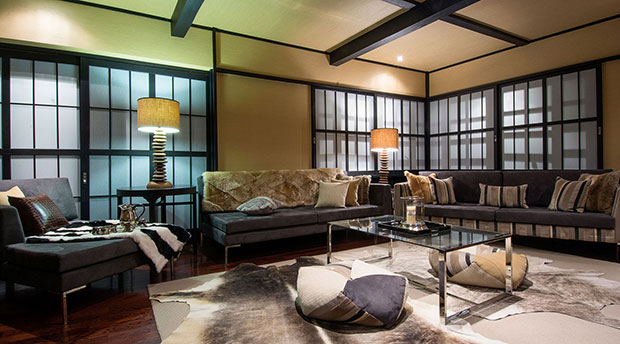 Design Intervention
Take your attention over to the lamps that look like stacked stones. Find yourself some décor that could reference cultures like this.
That's it for Asian-inspired living room design ideas! Which of these do you think would add Zen to your home?
Like This Post? Pin It!