55 Cute Small Side Tables for the Modern Homes
|
Small side tables are perfect accessories to any room, elevating the room's function and comfort. As the name suggests, it is placed beside a furniture piece a person would sit on, often holding essential objects that are within easy reach for the person. Hence, they are usually no more than higher than the height of the arm's rest or lower than the height of the seat.
In large rooms, these small side tables, however, can just easily disappear into the background. More so, they often become neglected in the corner. The same thing could be said for smaller spaces, really. But in this case, these small side tables are easier to incorporate into the overall look of the room.
Whichever room in your house, whether in your living room or by the bed, there is a small side table stylishly and functionally perfect.
Where to place side tables in a room?
Small side tables do not have a definitive, regular function much like your regular coffee or center tables. But even with their small size, they can hold a book, cup, or remote control. Or it could be simply used as a display table for centerpieces such as a beautiful, small potted plant or a vase of flowers. This kind of versatility allows side tables to be found throughout the home. But where is the right place to put them in?
1. Living rooms
Small side tables are commonly found in the living room. They are usually used for holding drinks, table lamps, TV remotes, reading materials, or decorative items. You can place tables on each side of a couch or a loveseat. For a symmetrical appearance, you can space them at an equal distance from each arm. For a casual and asymmetrical look, use mismatched small side tables. In a small, intimate conversation, place a small side table between two chairs.
2. Bedrooms
It's common to find side tables in bedrooms as lamps are usually placed to provide ample light for reading or watching TV. Yet, they can also hold cups, glasses, alarm clocks, books, and such. Hence, small side tables are placed by the head of the bed on each side so that you don't have to get out of bed to turn on or off the light, and have easy access to these objects.
Small Side Table Designs for Inspiration
Now, let's check out some small side tables perfect for modern homes!
Withernsea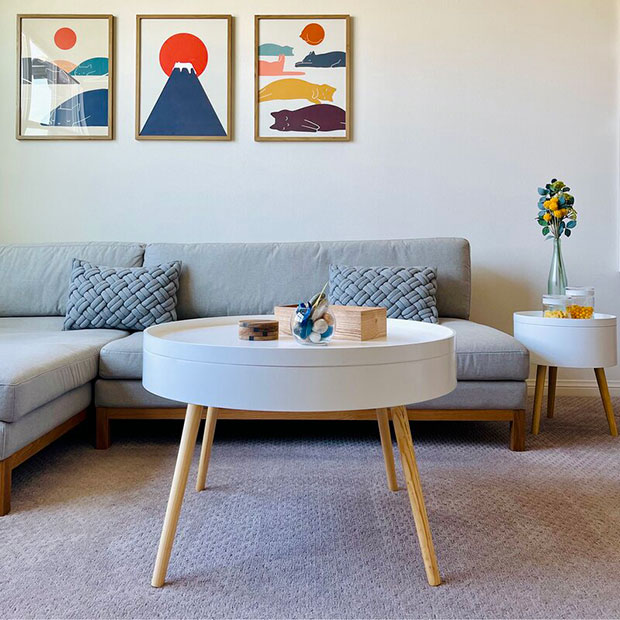 George Oliver
Beneath the tabletop lid is a spacious storage room, keeping the top neat and organized. It's a stylish minimalistic look that can easily slot into any living room.
Pelley Solid Wood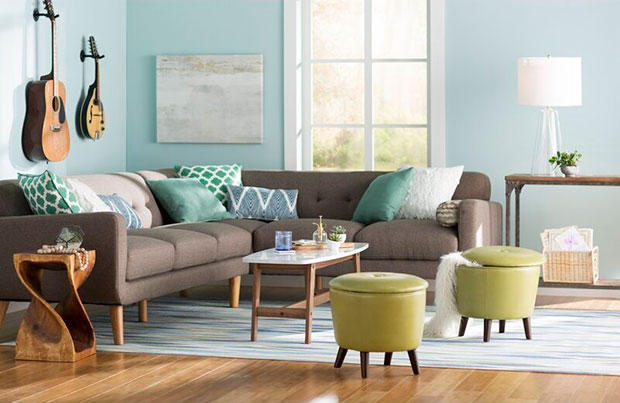 Mercury Row
Some small side tables may have a common look among them. But consider one like this, crafted from solid acacia wood with a curving square body feature. It definitely elevates the overall look of the room.
Tower Tray Top Block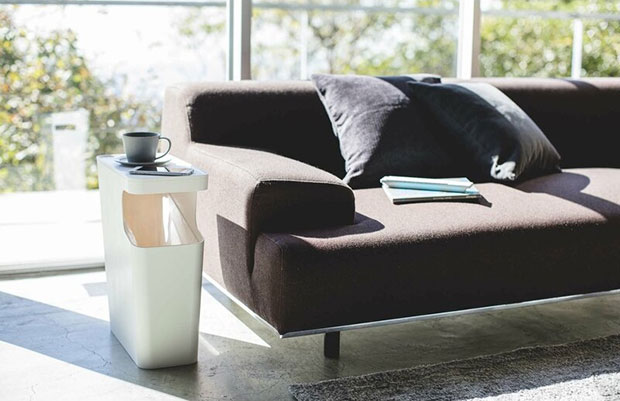 Yamazaki Home
Here's a fairly interesting small side table that also doubles down as a trash bin.
Encinal Concrete Block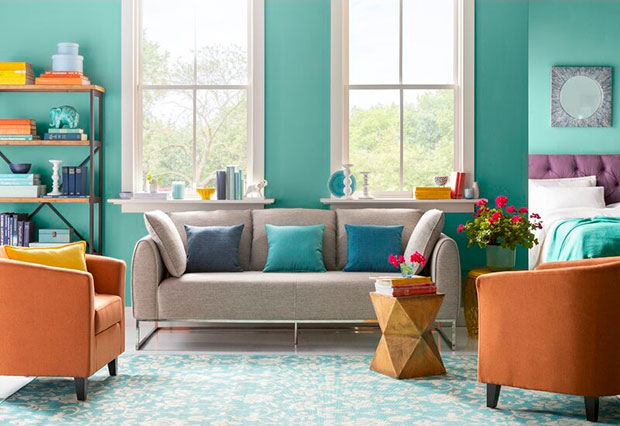 Union Rustic
For modern and contemporary design rooms, small side tables like this with their well-crafted geometric figure is a perfect fit.
Plain Steel End Table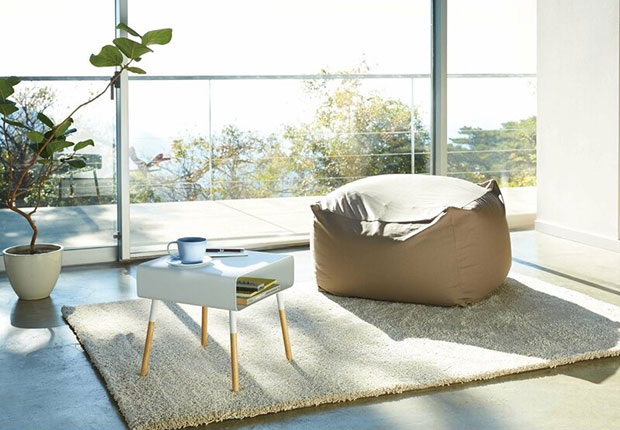 Yamazaki Home
With a lower bed frame, there is an additional storage shelf for essential objects, making it a versatile side table, fitting in any room in your house.
Hadlee Block End Table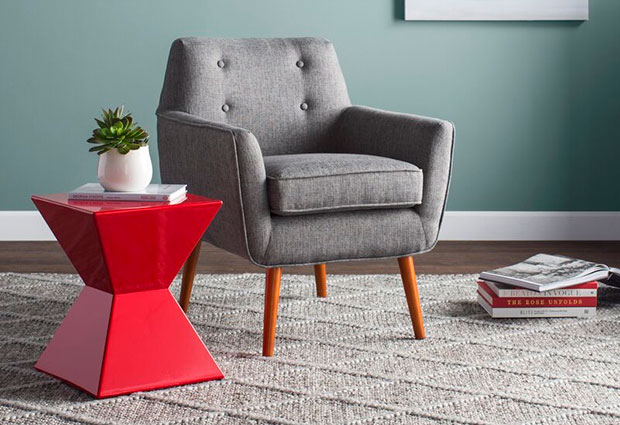 AllModern
Small side tables that look like modern art sculptures are definitely perfect for modern room designs. More so, when they are painted in vivid colors, it elevates the overall look of the room.
Haubert Pedestal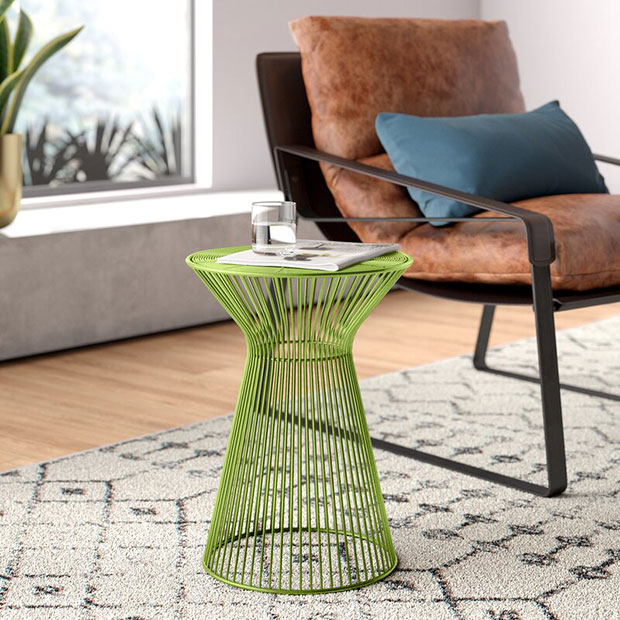 Wade Logan
If you're tired of solid small side tables, check this one out! Crafter iron, this posh piece of a table will certainly look the part in a modern room design.
Holbeach Ceramic Garden Stool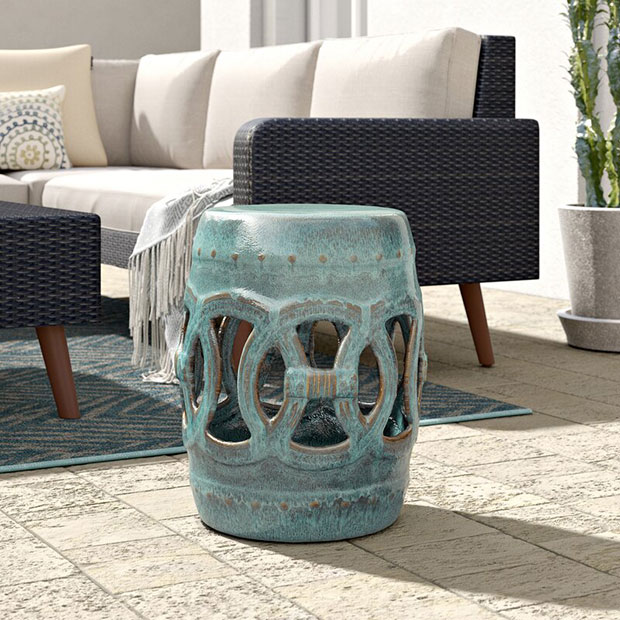 Mistana
Masterfully crafted with incredible openwork details, this is a garden stool that can also be used as a side table. Its unique look will certainly bring a different kind of charm to the room.
Froelich End Table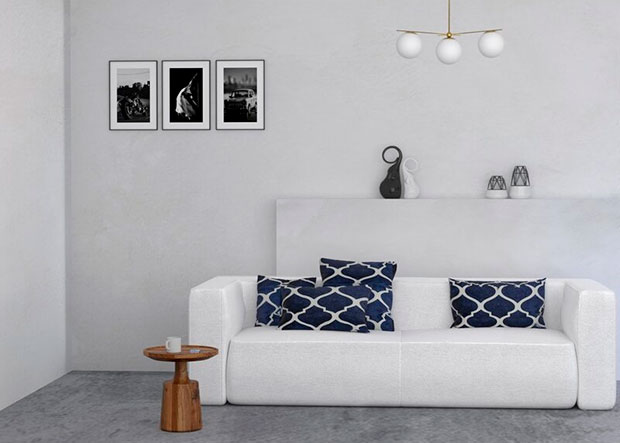 Joss & Main
A solid table with its intricate shape and masterful craft will surely make its mark in any room. In a room design like this, its solid wood structure and natural color tone is complementary style.
Arwen with Drawer Storage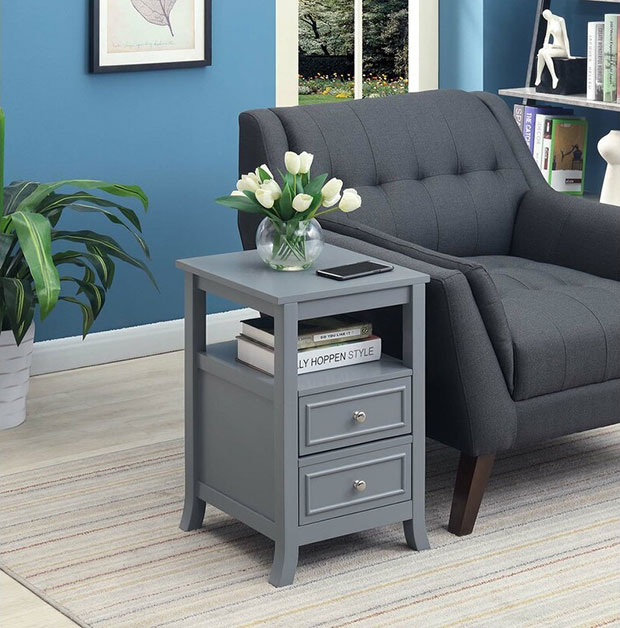 Winston Porter
This small side table has that classic look that would certainly fit with traditional and modern design rooms. But it will also certainly fit right in with contemporary rooms. In addition, the many storage spaces and areas it provides, it's certainly a coveted one.
Jonathan Solid Wood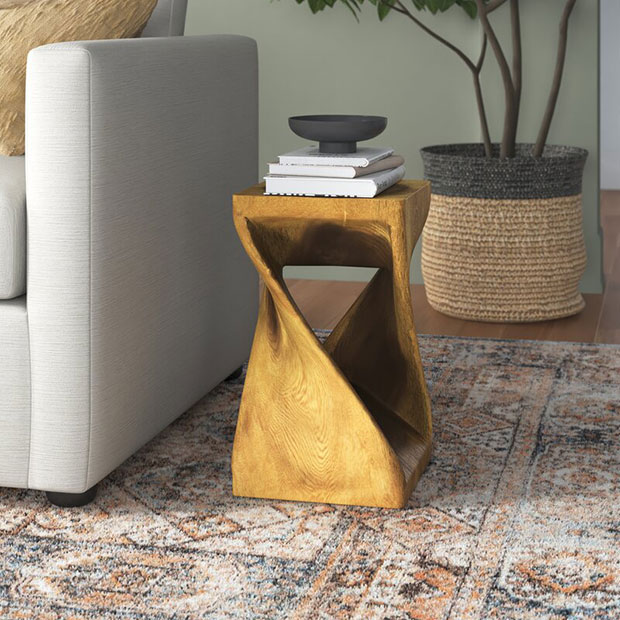 World Menagerie
Solid wood side tables like this give off a state-of-the-art sculptural creation that will certainly grab anyone's attention as soon as they enter the room.
Revaan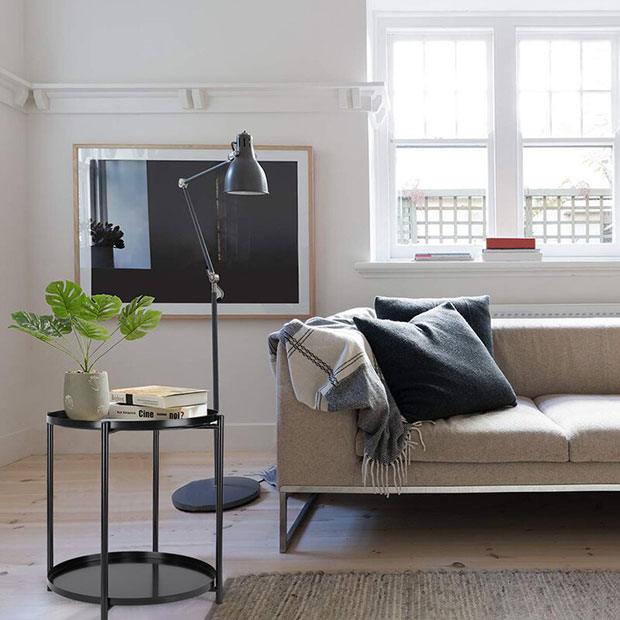 Ebern Designs
If you fancy a multipurpose side table, there are those with top lids, like this one, that could also be used as serving trays. And its slick look suit any modern and contemporary room.
Acrylic I-Beam Table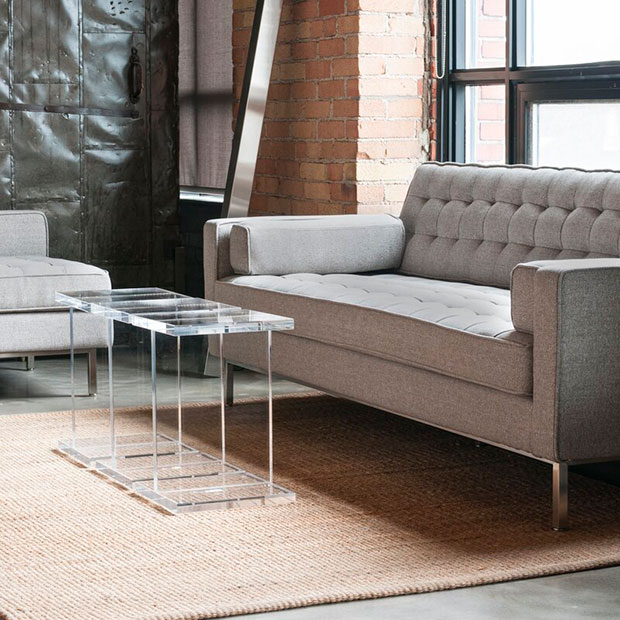 Gus Modern
Tired of small side tables made of wood or iron? What about one that's made of solid acrylic panels? It is quite the novel look and one that is also distinctive.
Marva End Table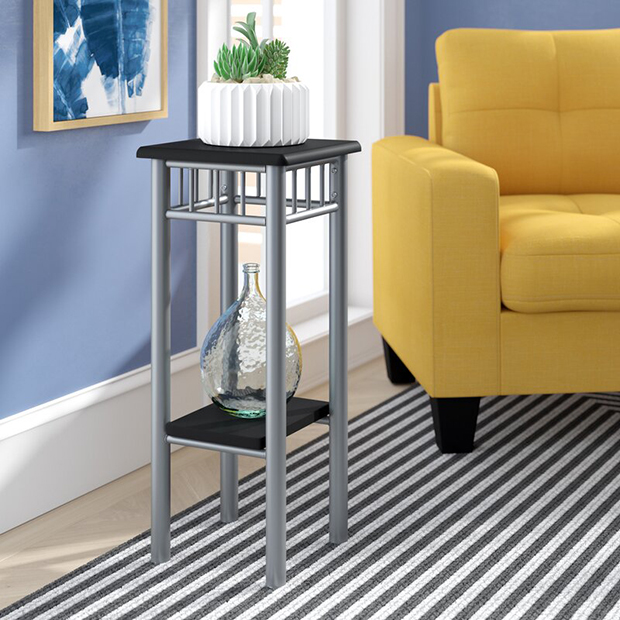 Latitude Run
However or wherever you use it, whether as a nightstand or next to your couch, this stylish table can easily slot right in with not only its looks but also with its function.
End Table Set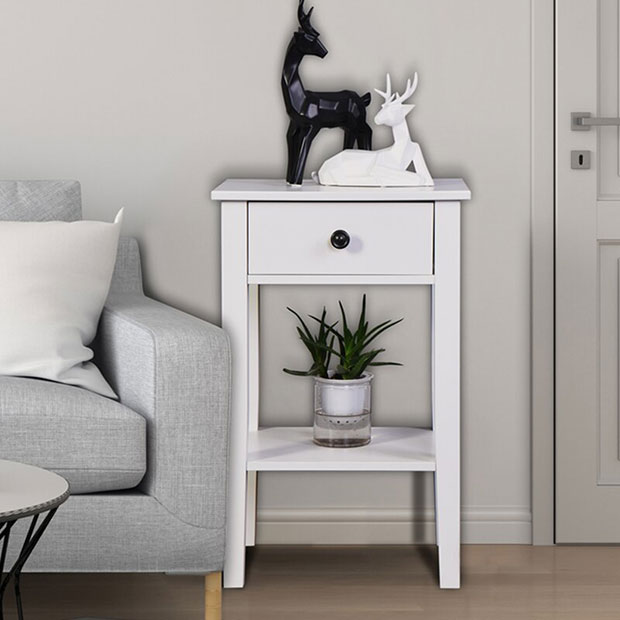 Red Barrel Studio
For any side table, you will want a sturdy one that could hold virtually anything.
Caoimhin End Table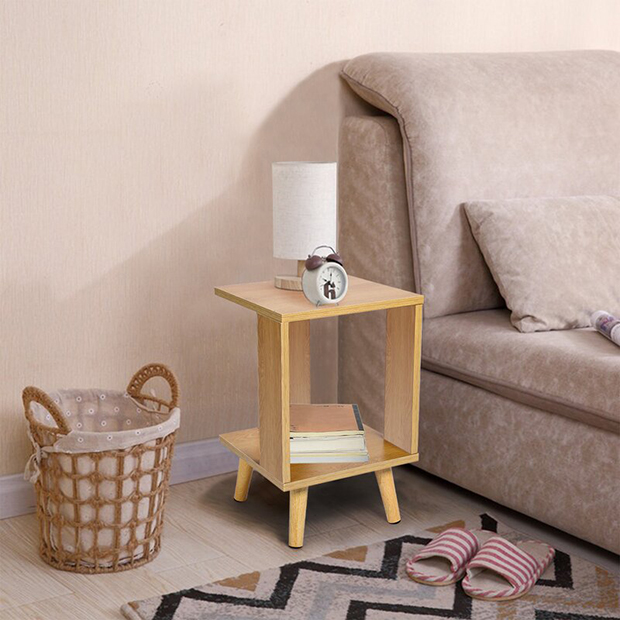 George Oliver
More of small side tables that are structurally interesting! It will definitely look the part of being a stylish addition to any room, and still provide the necessary function.
Juri Drum End Table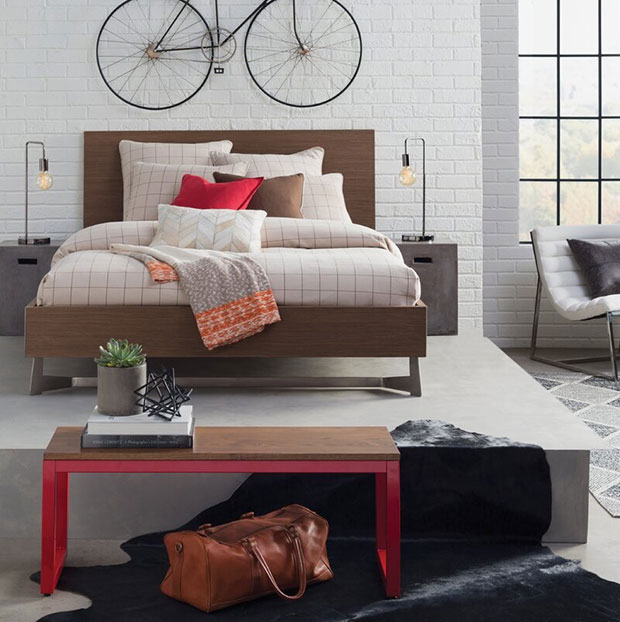 AllModern
As it is made of concrete, you are guaranteed its sturdy construction. But it also makes way for its interesting figure and tone. This unique side table is perfect for modern industrial homes.
Kriston Cross Legs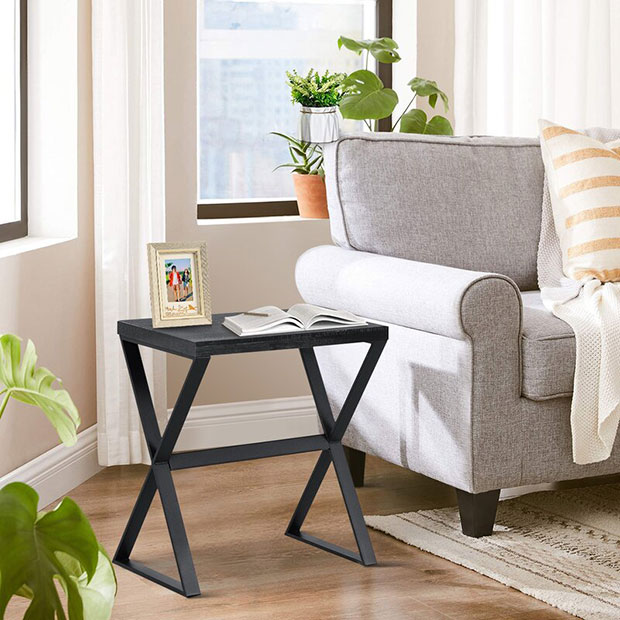 17 Stories
A simple side table but is perfectly neat still. This will suit any classic modern home.
Gaspah Solid Wood Pedestal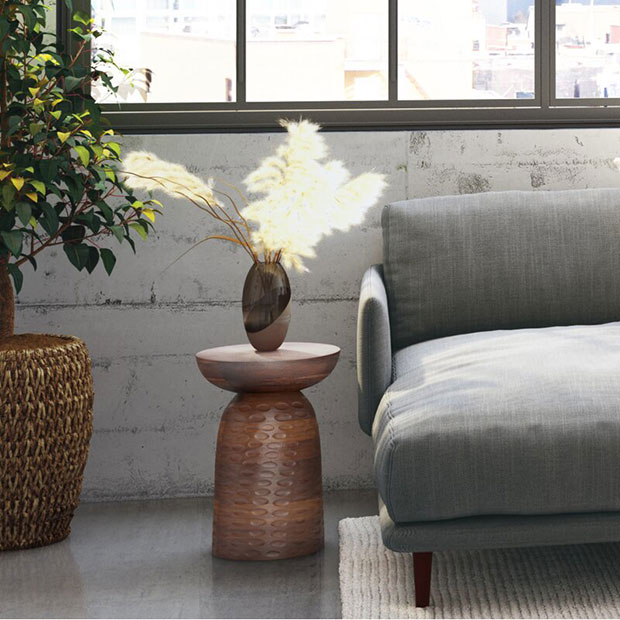 George Oliver
If you want to spice up your interior, get a small side table with an interesting shape and distinct design details. Its sleek style is sure to make a bold statement in any room in your house.
Abdulazis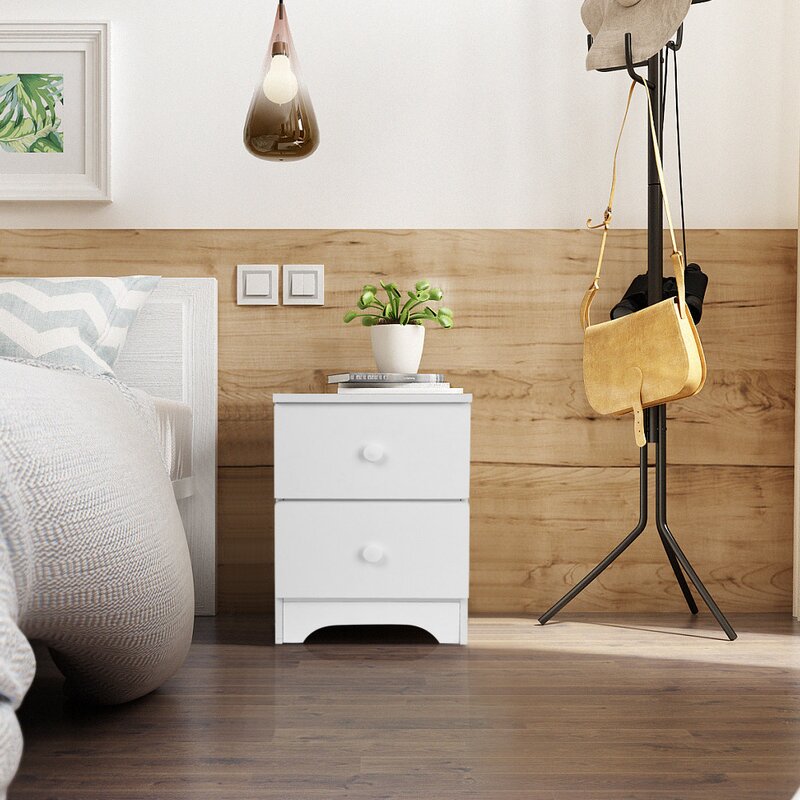 Red Barrel Studio
In small room spaces, it will certainly help to look out for slim, small side tables. Side tables like this offer more value in storage than in aesthetics.
Block End Table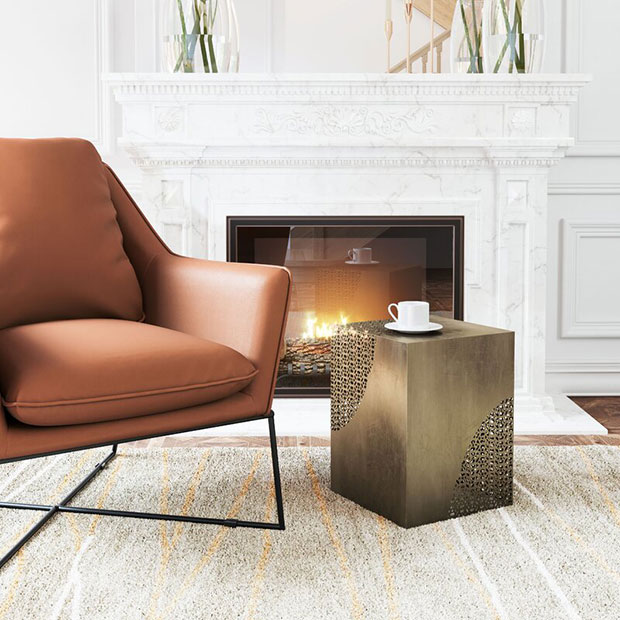 Brayden Studio
This minimalist modern table brings in an added casual elegance to any room interior. Its unique style and sleek, clean lines separate itself from other small side tables.
Holbrook Ceramic Garden Stool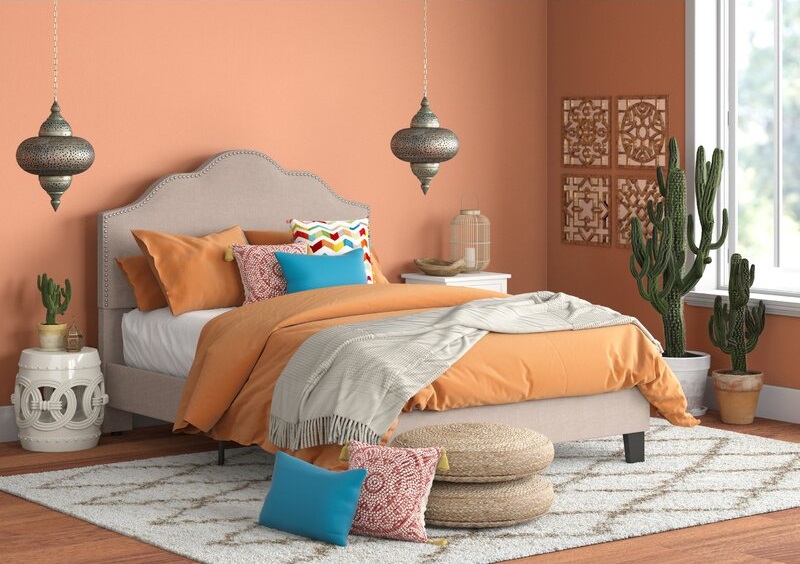 World Menagerie
Ceramic garden stools like this are multipurpose. You can take it inside and outside of your home and still bring the same stylish look.
Aaliyiah End Table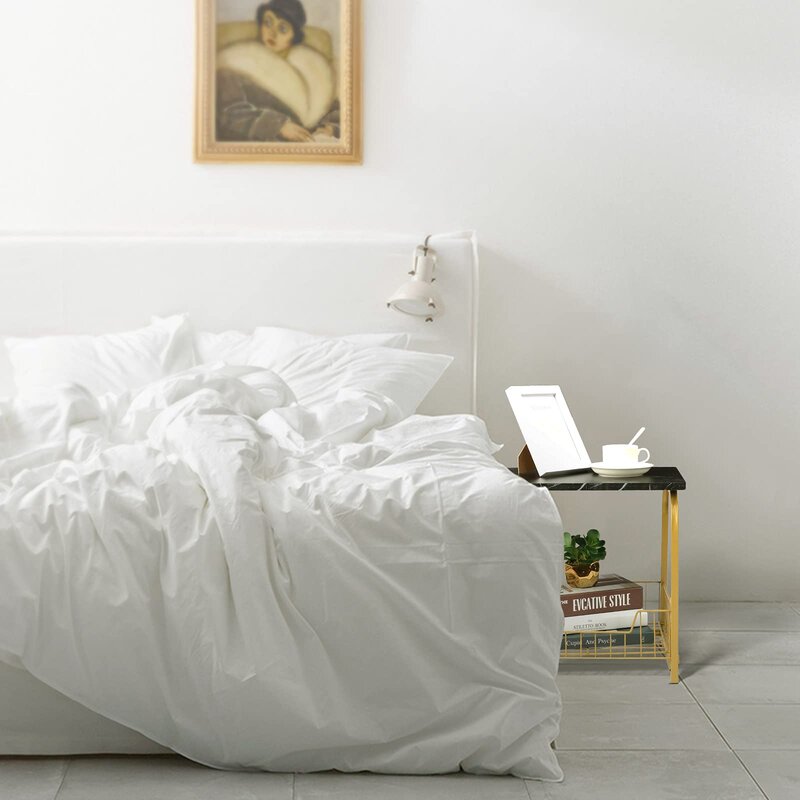 Mercer41
Some of these small side tables have two shelf tiers. But this one, the second tier is instead a basket.
Bowen Ceramic Garden Stool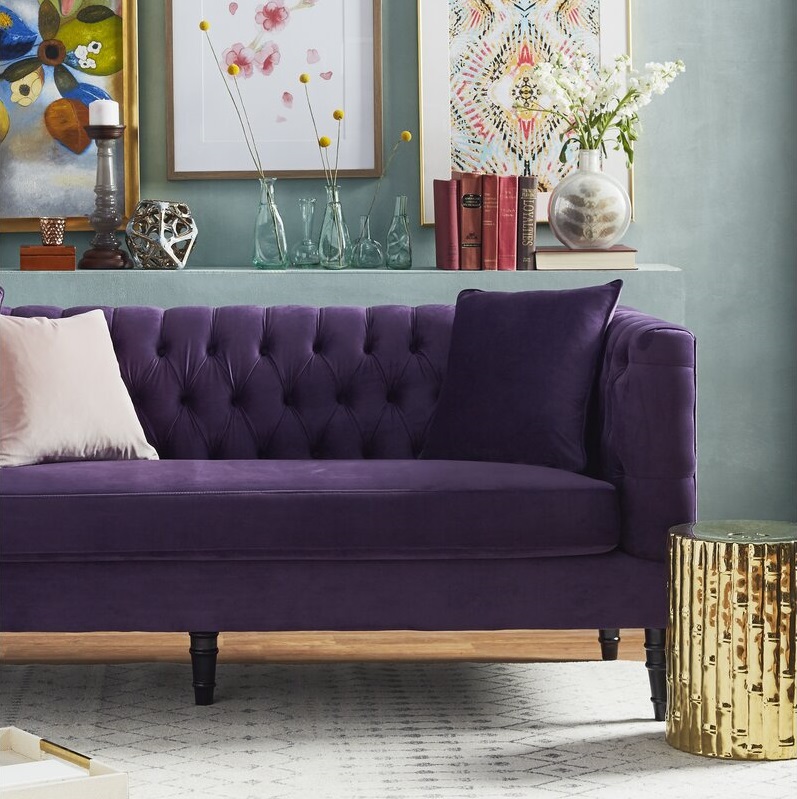 Mistana
Unlike the ceramic garden stools/side tables that look antiquated, this one, in particular, is painted in gold with a textured bamboo design. This is perfect in modern and contemporary homes for its fanciful, sleek, and sophisticated look.
Raouf End Table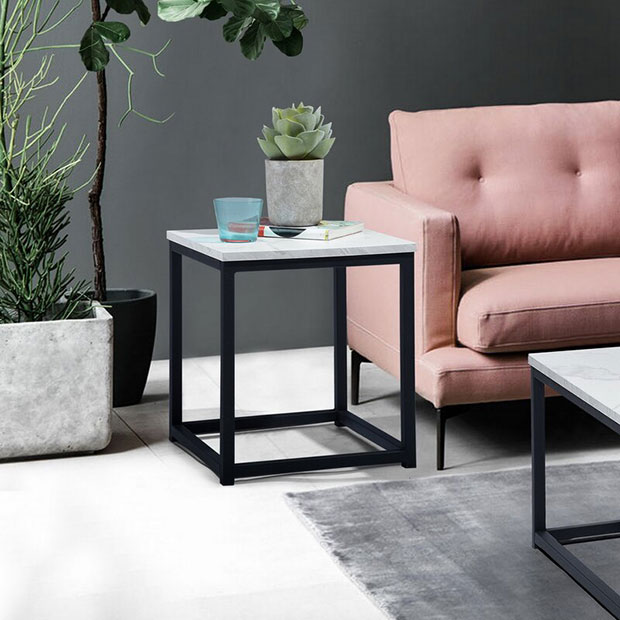 Latitude Run
For minimalist modern homes, you may want a simple accent piece that complements your home design style. With that faux marble top, this small side table is looking really chic and classy.
Candiece End Table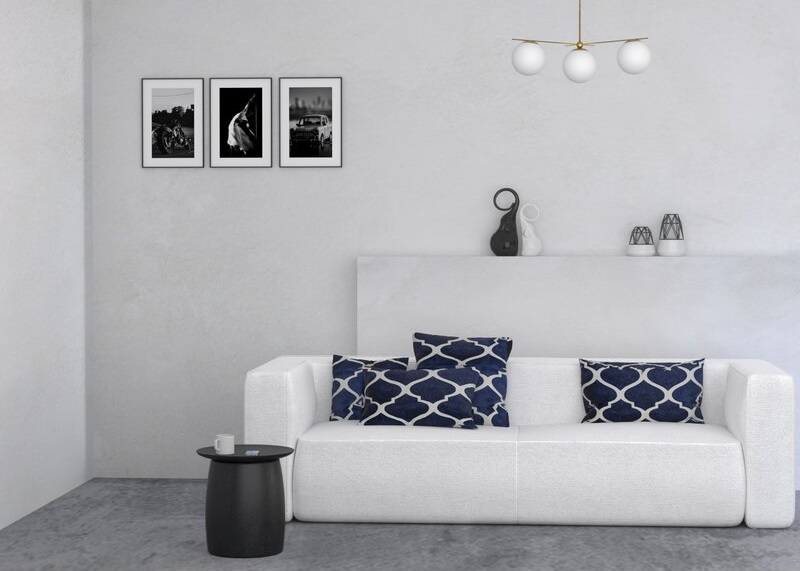 George Oliver
A solid sleek black side table can bring such a simple elegance into any room interior. Even with side tables like this, you don't need over-the-top and extravagant side tables to elevate the room's overall look.
Anjelica Drum End Table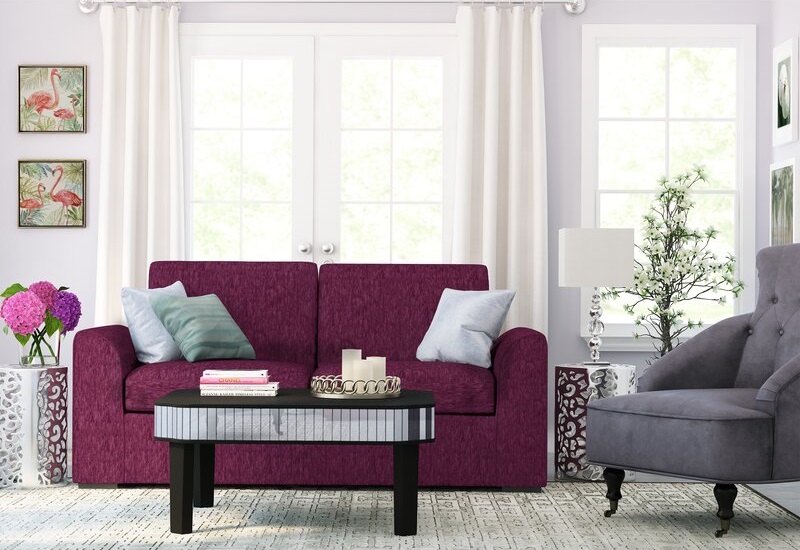 House of Hampton
With elegant detail work and its color, these side tables take it up a notch in terms of the room's elegance.
Bartie Pedestal End Table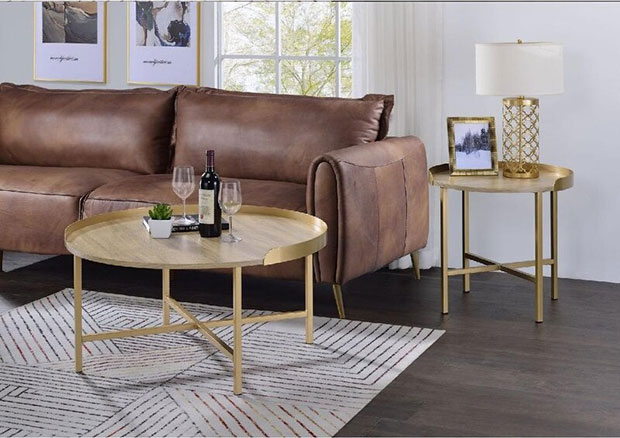 Everly Quinn
A simple modern side table design with an interesting tray-style tabletop design. It's stylish and in this room setting particularly, stands out in the living room.
Timber Table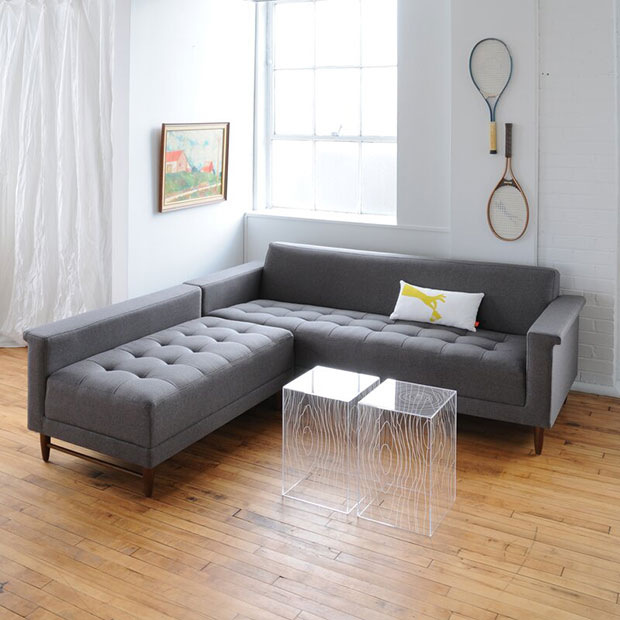 Gus Modern
A very unique and interesting side table made of acrylic plastic but with an intricate design detail to resemble an actual timber.
Circular Side Table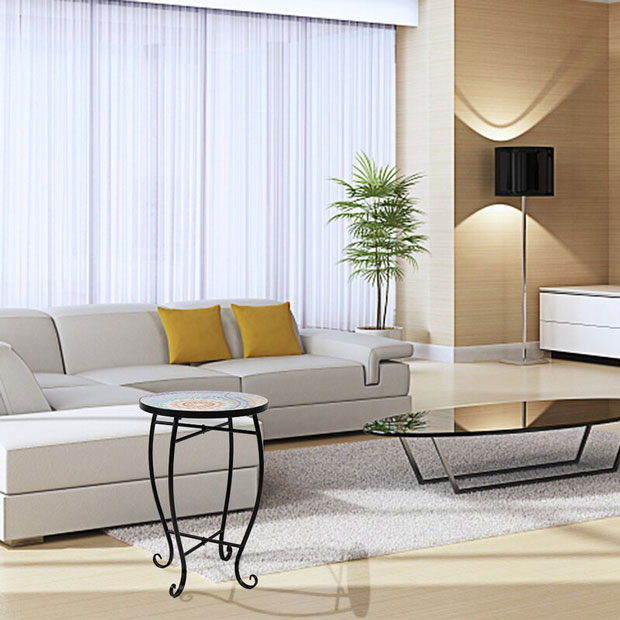 If you are into art, you may want to check out artsy small side tables like this one. With its flower mosaic tabletop, it will certainly liven up any room interior.
Aalisa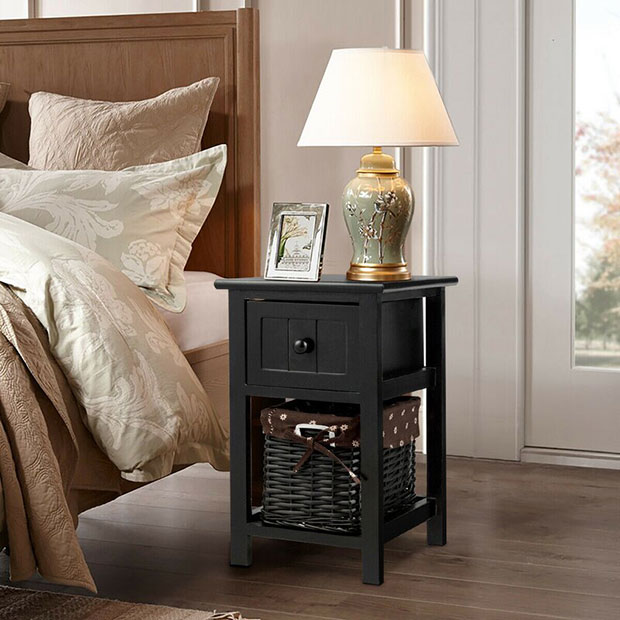 Red Barrel Studio
Although small side tables are not exactly meant to provide a lot of storage, some side tables do give you that additional storage space. Besides the easy-glide drawer, you can perfectly place a wicker basket like this one for additional storage.
Inman End Table with Storage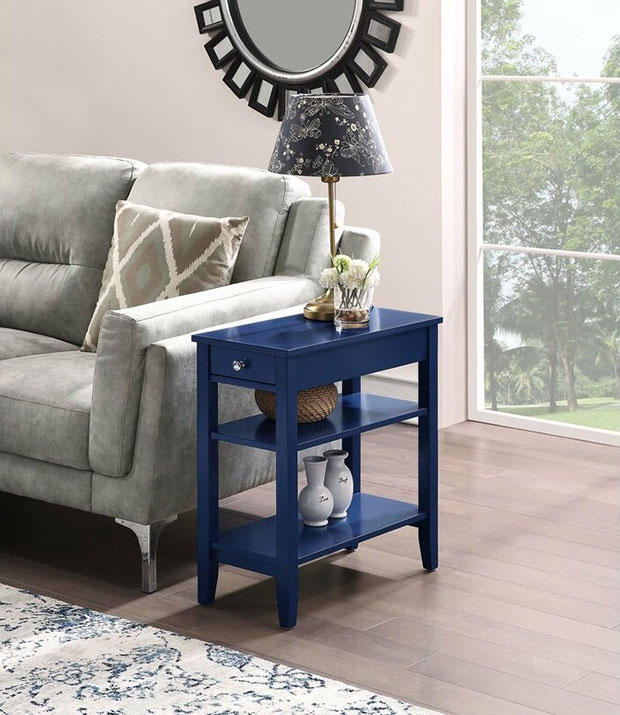 Three Posts
Consider small side tables that have more depth in size like this one. Its depth is about the same as that of the couch, although less in width. With a couple of shelf tiers, side tables like this will allow you to store and display objects of various sizes and shapes.
Alezzi Solid Wood End Table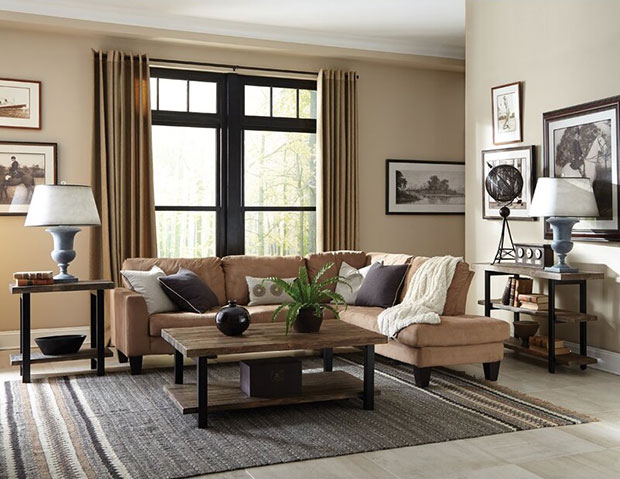 Industrial Lodge home
Any modern rustic or modern farmhouse-style home will certainly love this type of side table. Aesthetically, it will fit right in with the rest of the home's look.
Selah End Table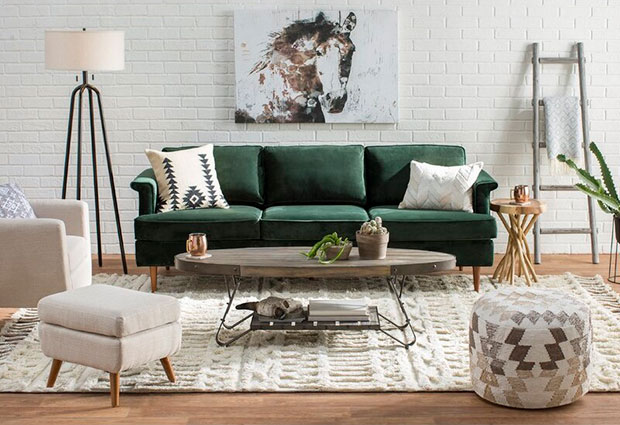 Sand & Stable
This is one of the small side tables with a very interesting look. With a base of intertwining sticks, it's looking like the roots of a tree.
Haines End Table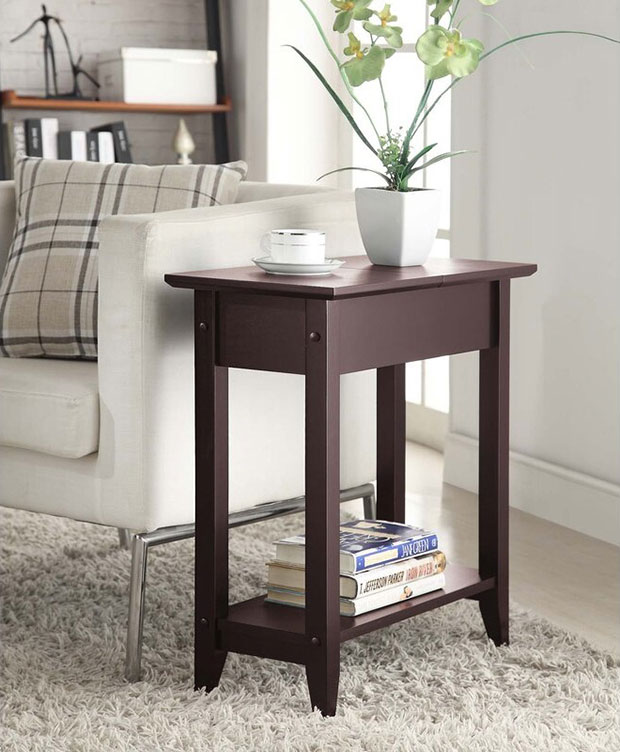 Andover Mills
This may seem like a side table you've seen before. But the tabletop lid actually hides a secret compartment where you can keep small objects like the TV remote control.
Jardin Pedestal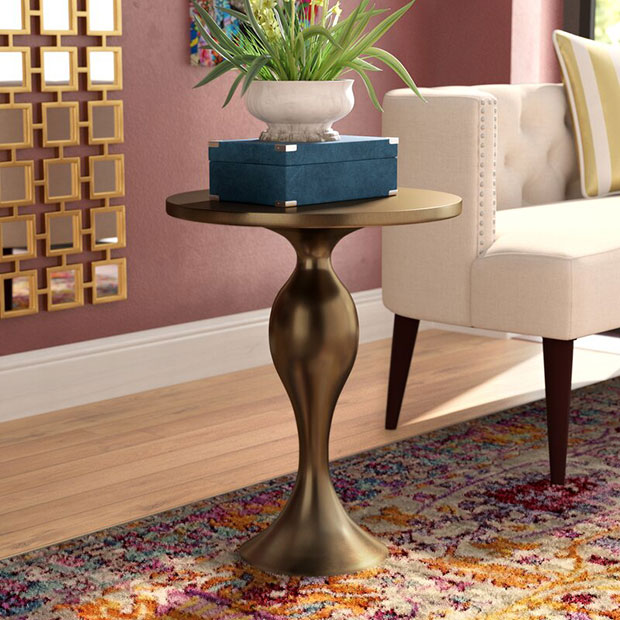 Laurel Foundry Modern Farmhouse
Give your room interior some little glam with this side table. With its gleaming metallic finish and soft retro touch, it is sure to dazzle up the room.
Abbottsmoor End Table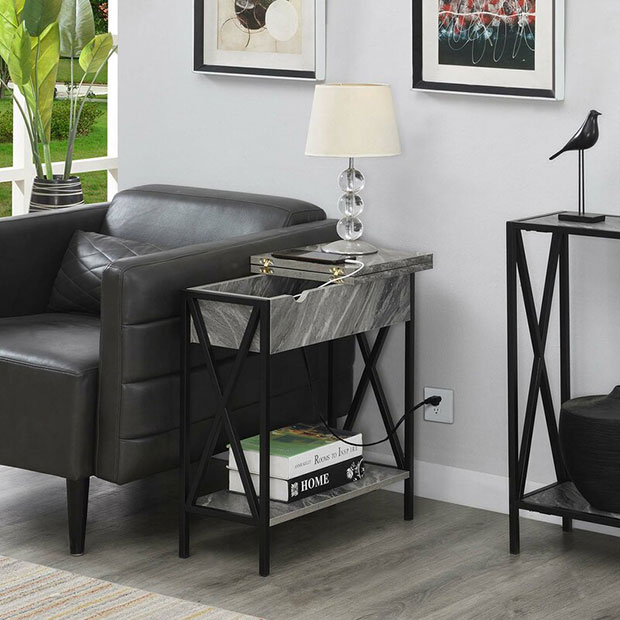 Andover Mills
Another small side table that reveals a secret compartment when you lift the top lid off. Inside it, too, there is an electric outlet for your convenience.
Salas End Table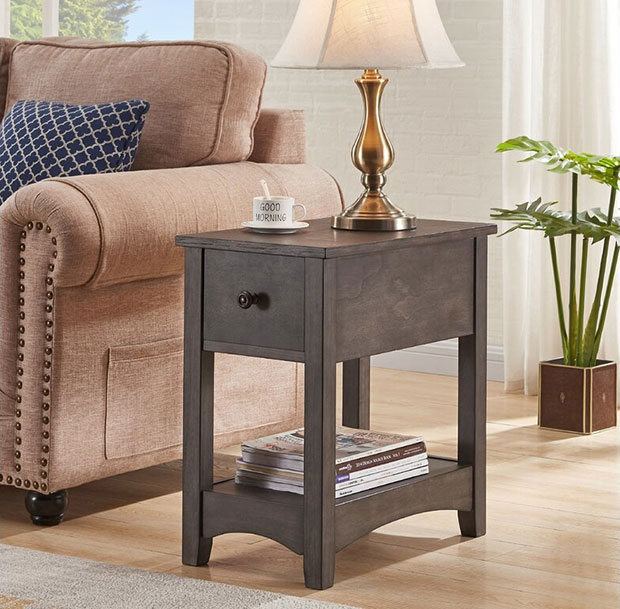 Canora Grey
A very classic-looking side table, especially with its natural and earthy colors, fitting for modern homes.
Ifrane End Table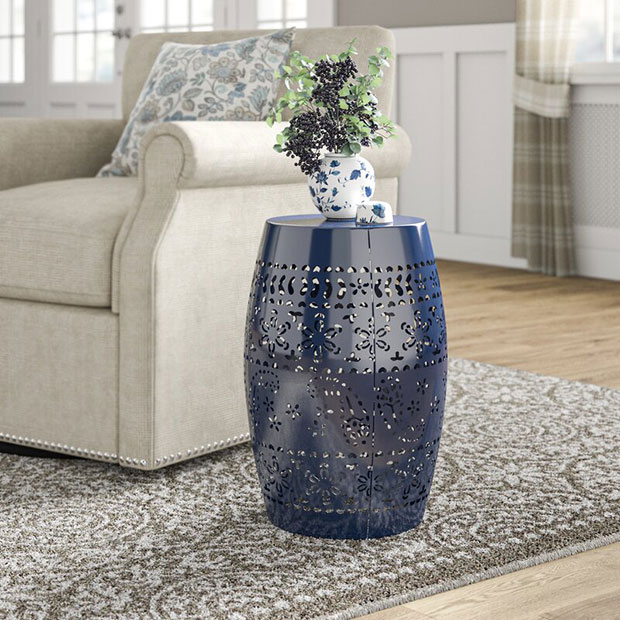 Bungalow Rose
The botanical cutouts make this side table quite the pretty accent piece to any room interior. Not only that, but it's versatile furniture.
Hugh End Table with Storage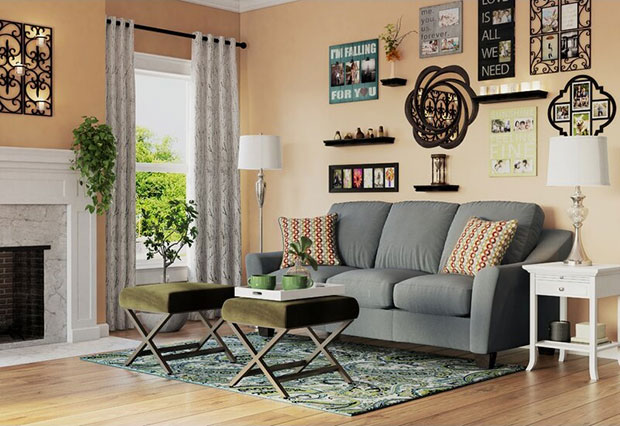 The little curve in this side table's legs is novel and the intricate detailing and carving are subtle but beautiful. This will certainly fit in any modern interior design.
Ahern End Table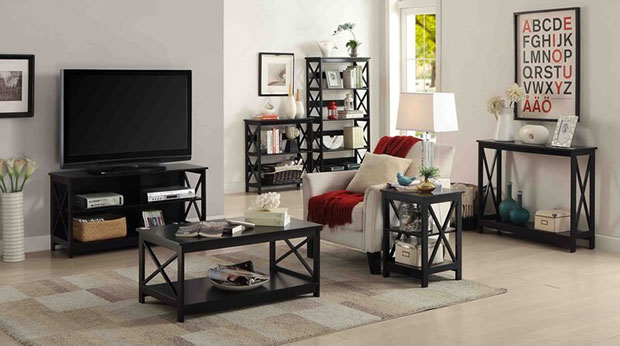 Andover Mills
This side table is designed to fit any traditional and modern home. The open shelf configuration offers a clean and neat look to the furniture and the overall look of the room's interior.
Annie End Table Set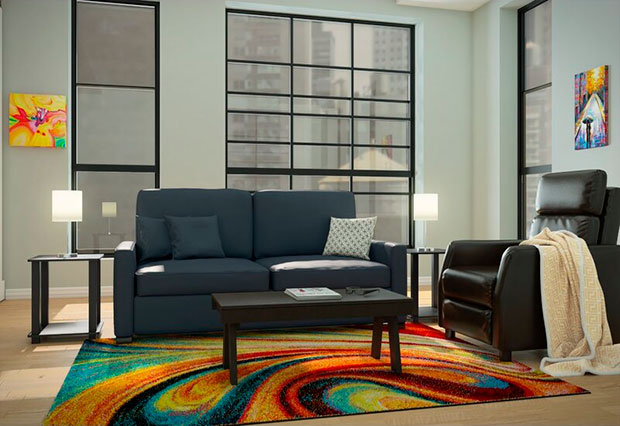 Zipcode Design
The simple yet neat look of this side table makes it very fitting for modern and contemporary interiors. The bottom shelf looks perfect for a stack of books.
Fig Solid Wood Drum End Table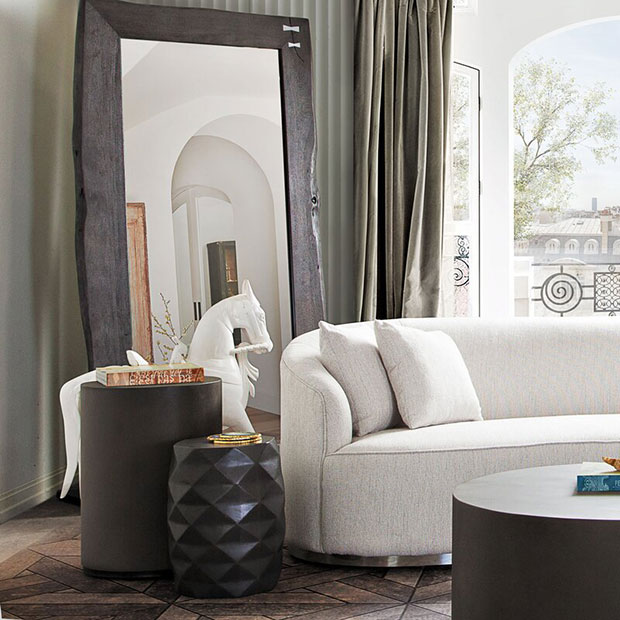 Diamond Sofa
The geometric motif is unique and interesting, and it adds some unique personality to the room.
Bancroft Glass End Table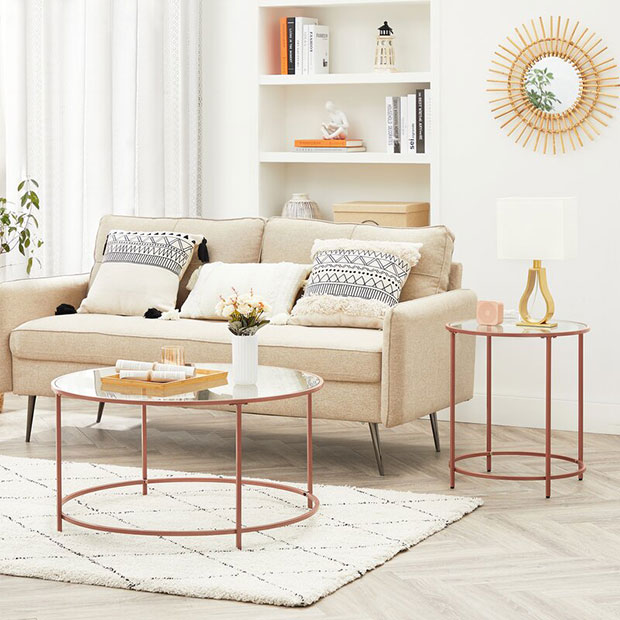 Everly Quinn
With its glass tabletop, this side table is looking very stylish and fits many design styles.
Enrique Cross Legs End Table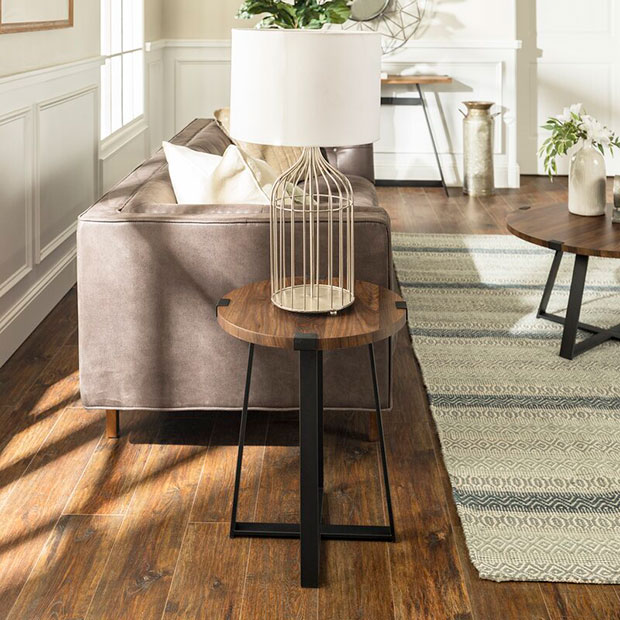 Laurel Foundry Modern Farmhouse
The stark contrast yet striking combination of iron legs with the solid wood tabletop is beauty to the eye. It perfectly slides in with the rest of this living room's overall look.
Aralee End Table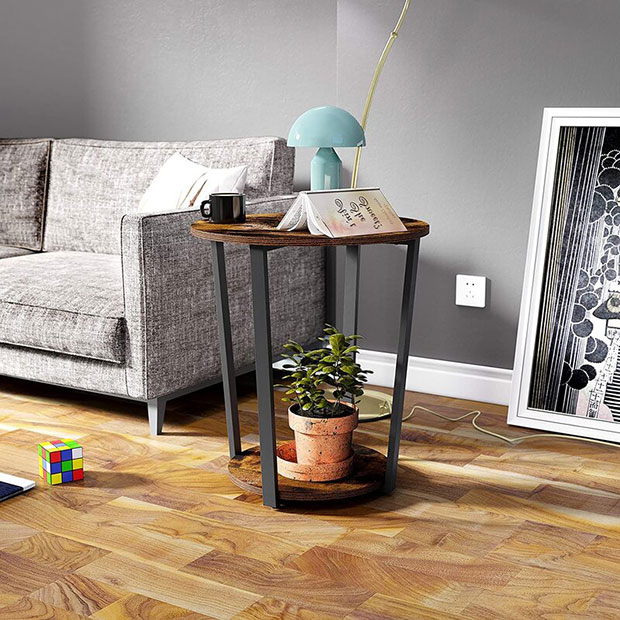 From the get-go, this table's unique design already makes it a desirable accent piece for your room interior.
Mayon End Table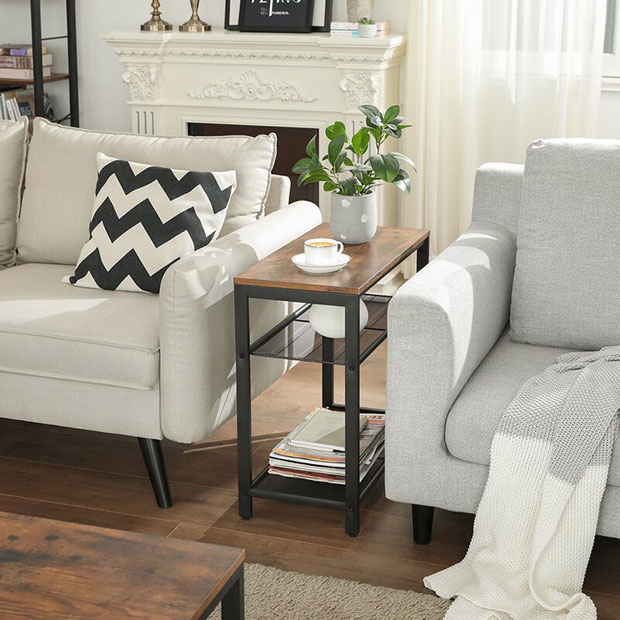 17 Stories
This side table with its mesh shelves is giving quite the industrial style look. But it fits right in with this modern living room.
Perspective Steel Frame End Table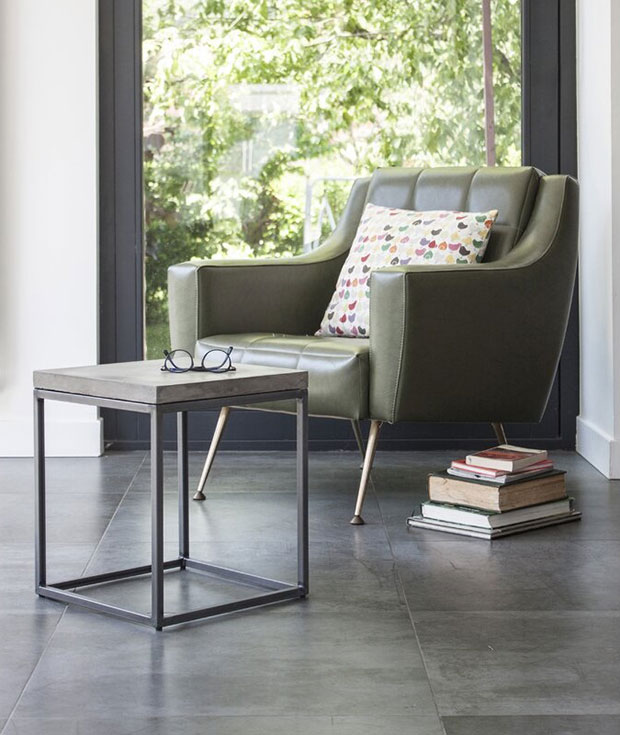 Lyon Beton
The slick and slim profile of this side table is a perfect fit for minimalist and modern homes.
Dmitry Drawer End Table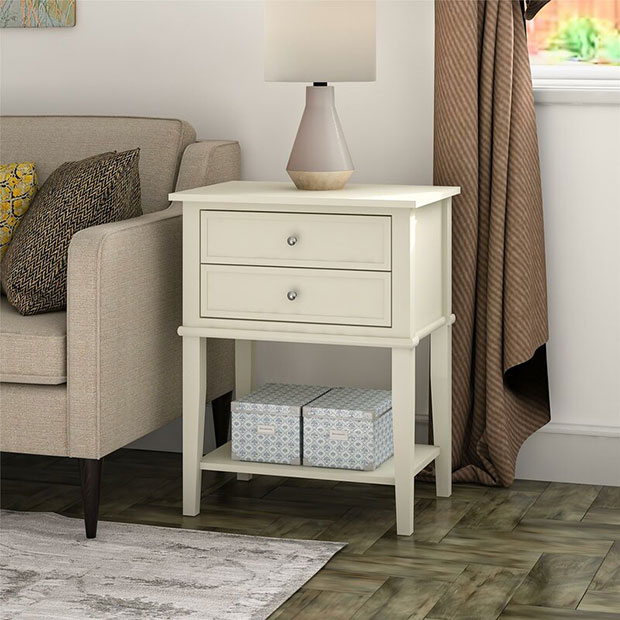 Beachcrest Home
Most small side tables previously on this list have had only one drawer, but this one, in particular, has two drawers for storage and then a shelf for an added display surface.
Krantz End Table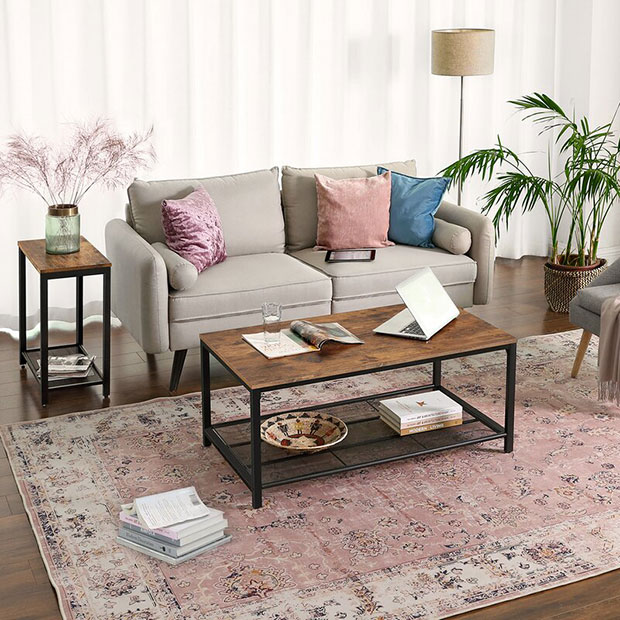 Loon Peak
Here's another industrial-inspired side table. Its wooden table top is perfect to display decors or potted plants.
Bouchette Solid Wood Block End Table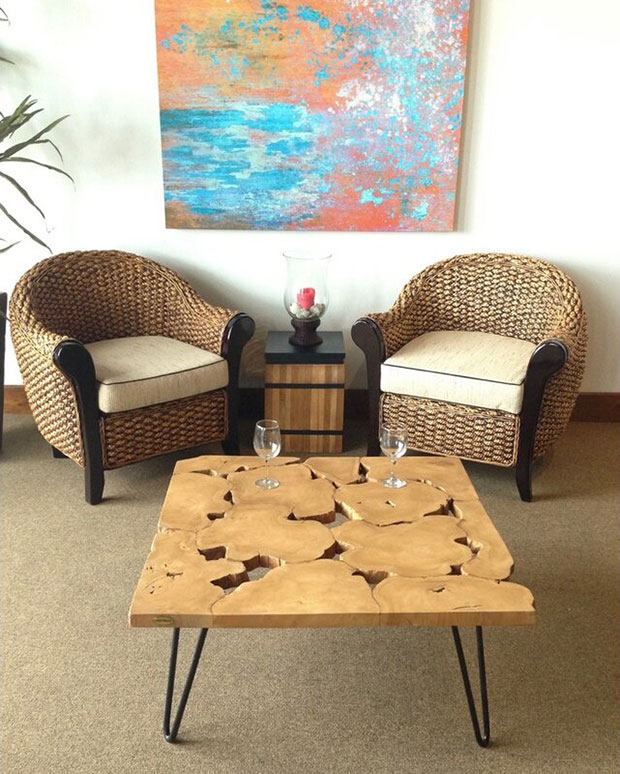 Union Rustic
This side table plays a beautiful combination of rustic and industrial design styles that you will definitely want to have in your home.
Minburn End Table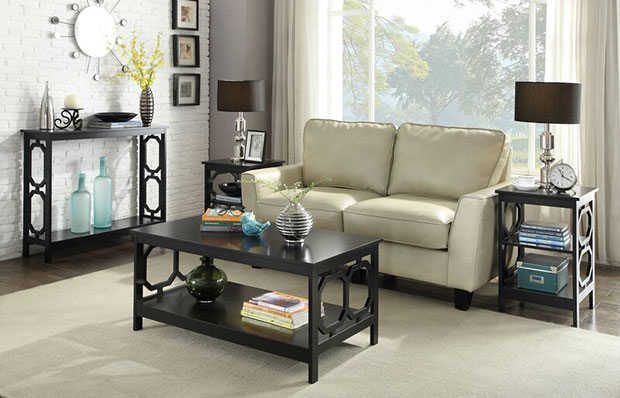 Winston Porter
This charming and chic table has an interesting framework that certainly elevates the overall look of the room.
Womack Drawer Nightstand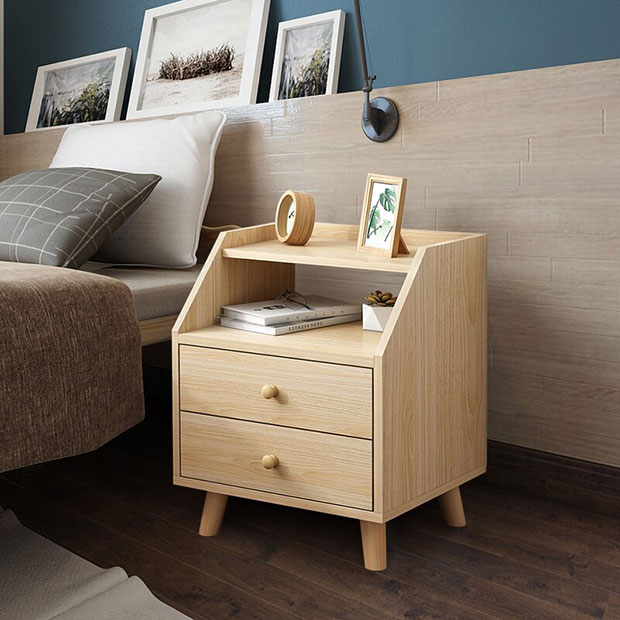 Corrigan Studio
Here's an innovative side table hat that is especially perfect as a nightstand due to its multiple storage areas and display surfaces.
Vikki Solid Wood C Table Nesting Tables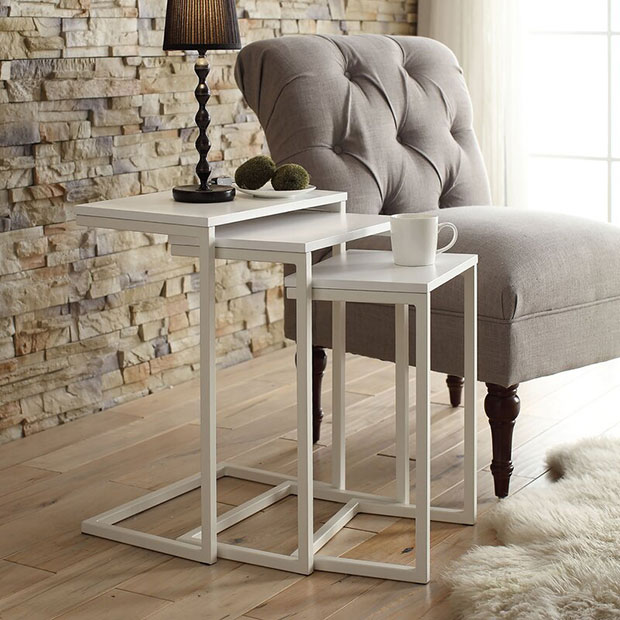 Laurel Foundry Modern Farmhouse
This table set provides many surface spaces that are tucked underneath one another which is very useful if you don't need an additional surface to put down things.
Padron Drum End Table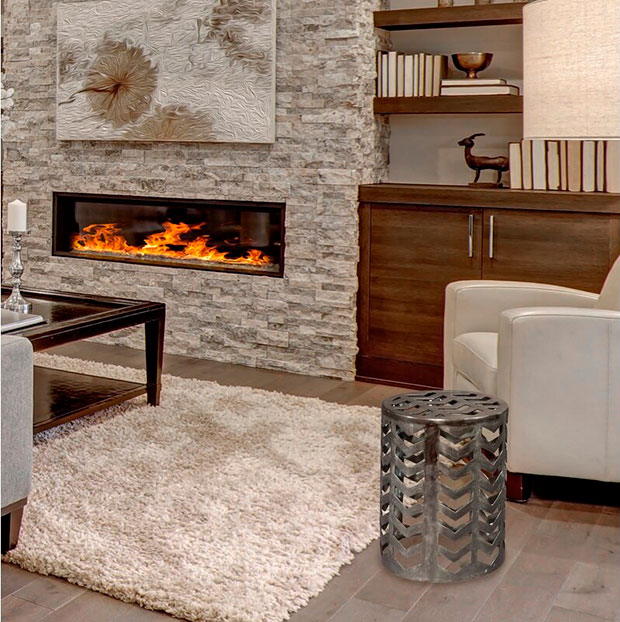 World Menagerie
A very eclectic style of a side table that will surely bring some personality to any room interior.
That's it for small side tables! Which one of these caught your attention?
Like This Post? Pin It!