50 Colorful Bathroom Tile Ideas for Homeowners
|
Have you considered looking for colorful bathroom tile ideas for your home? If not, then maybe now is the time to ponder how charming colorful bathrooms are!
Our bathrooms are considered one of the most peaceful places in the house. Peaceful in the sense that it is where we recuperate from a hard day's work and refresh ourselves.
Most of the time, our bathroom tiles have neutral colors to accommodate any type of design for the furniture and fixtures. In general, bathrooms need to have an airy and open feeling. Otherwise, one will feel cramped and uncomfortable.
Here, a bathroom tile will play a significant role when choosing the color for your bathroom.
Which tiles are best for bathrooms?
Bathroom tiles come in different shapes, sizes, and materials. Some of the most popular and common materials we see are ceramic, vinyl, and porcelain. But if you are looking for more ideas, below are some good options that you can also consider when choosing the best bathroom tile ideas:
On a note, we will also include those mentioned above to have a clear view of all of your options
1. Ceramic and Porcelain Tiles
If you prefer stone or wood designs, or lattice-patterned squares, ceramic and porcelain tiles are one of the best options for you. This type of tile is easy to maintain and are harder than clay-based tiles. Although, some of the disadvantages of ceramic and porcelain tiles is that they are not comfortable when barefoot and are not easy to install.
Remember to choose the ceramic tile with a grade of 1 or 2 for floors.
2. Cork Tiles
Cork tiles are warm to the touch and are very easy on the feet. In terms of designs, this type of bathroom tile comes in different colors. The installation for this type of tile is not difficult for glue-down installation.
3. Glass Tiles
When choosing glass tiles, one of the best advantages you get is the aesthetic appeal that your bathroom will have. Covering a part of your floor with a thin layer of glass creates an illusion of depth. They also prevent slips when installed properly and if you select the textured glass.
Remember to choose the glass tile that is used for floors.
4. Linoleum Floor Tiles
Linoleum tiles are made for contemporary and retro home designs. They are popular for naturally inhibiting microorganism growth and repels dust and dirt. Its disadvantage, however, is that it is relatively expensive.
5. Plastic Laminate Tiles
Plastic laminate tiles are perfect for homeowners who are remodeling as they don't raise the height of the existing floor. Also known as planks, this type of tile is durable and easy to clean. Some of the disadvantages, however, include standing water infiltration and doesn't have a lot of varieties in terms of styles.
6. Stone Tiles
Stone tiles have become popular for home use, including bathrooms. This tile is available in different colors ranging from blue, gold, green, and red as well as various textures too. Stone tiles require more maintenance like regular cleaning and sealing.
7. Vinyl Tiles
Vinyl tiles are one of the most popular of all because of its low cost and practicality. This bathroom tile is well-suited for all bathrooms inside the house and is a popular choice in terms of safety, comfort, and durability. Vinyl tiles also offer a wide array of designs and are very easy to install as it is self-adhering.
Tips When Choosing Your Bathroom Tiles
There are several choices you need to decide on when choosing your bathroom tiles. It is not just simply sitting down, looking at brochures, then choosing.
There are a lot of factors at play and to get the best, you need to know what is necessary and should be or shouldn't be considered.
Below are some useful tips to check out:
1. Determine your budget.
When doing renovations or building something, the most important thing to consider is, of course, your budget. Whether you like it or not, the cost plays an important role. Bathroom tiles come in various shapes, sizes, and prices. Prices will vary depending on the type of tile you choose.
Consider how much you are going to spend on your tiles. It is best to assess your area first and then compute how many tiles you will need.
2. Select your color scheme.
Colors play a big role when choosing your tiles. You can choose neutral colors or bright ones, depending on your preferences. By considering your colors, you also take into account the furniture and fixtures you will be putting inside the bathroom.
3. Choose your focal point.
When decorating your bathroom, it is best to decide which of the features you want to stand out. It can be the shower enclosure, the bathtub, or the bathroom sink. It's up to you.
Once you have decided, choose the perfect wall tile to highlight it. This will serve as your backsplash that will complement your focal point.
4. Consider your stand out tile and accent tiles.
Your bathroom tile designs can be divided into 3 types: your stand out tile, your accent tile, and your regular tile.
The stand out tile is your tile that will add more personality to your bathroom. They can be patterns, a bold color, or one with an interesting shape.
The accent tiles will complement your stand out tiles. Make sure that your accent tiles will not take the attention from the stand out tile – so plain, neutral, or textured are good options.
5. Get creative with the layout of your tiles.
Just because your tile colors are set, it doesn't mean that you can discard your tile layout. You can make use of tile patterns to make more art and creative designs.
Colorful Bathroom Tile Ideas for Inspiration
When designing a bathroom, one of the most exciting and fun parts is the mixing of materials and color of your floor and wall. You don't necessarily have to choose the all-white or the all-marble design, because there are plenty of brilliant colors and designs that you can go for.
Unconvinced? Well, here is a cool and colorful bathroom tile ideas for you!
Bubblegum Pink Tiles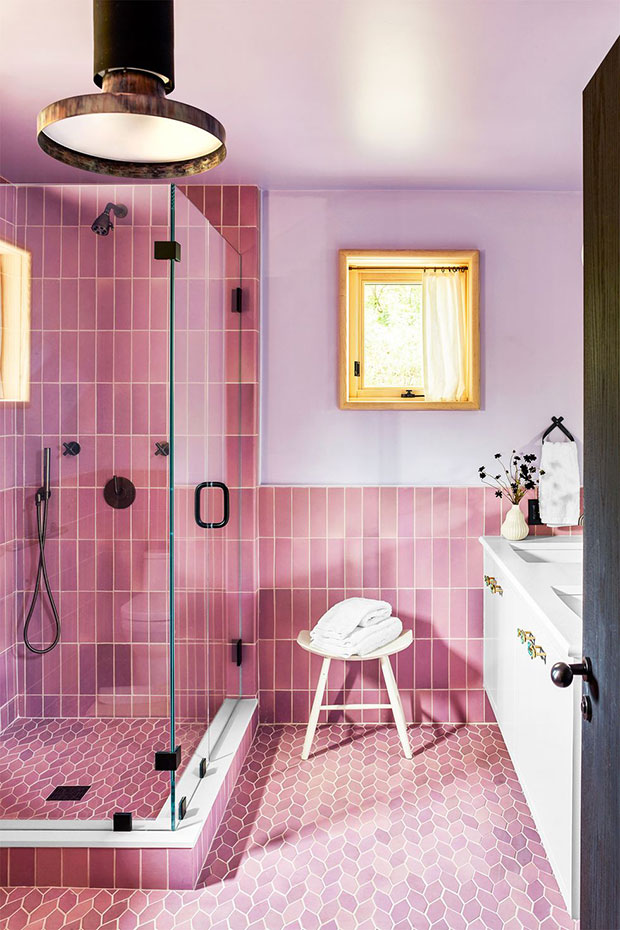 Corey Damen Jenkins
If you like fun colors, then this bubblegum pink tiles is a good option. The designer has used them on the walls and the floor.
Blue Bathroom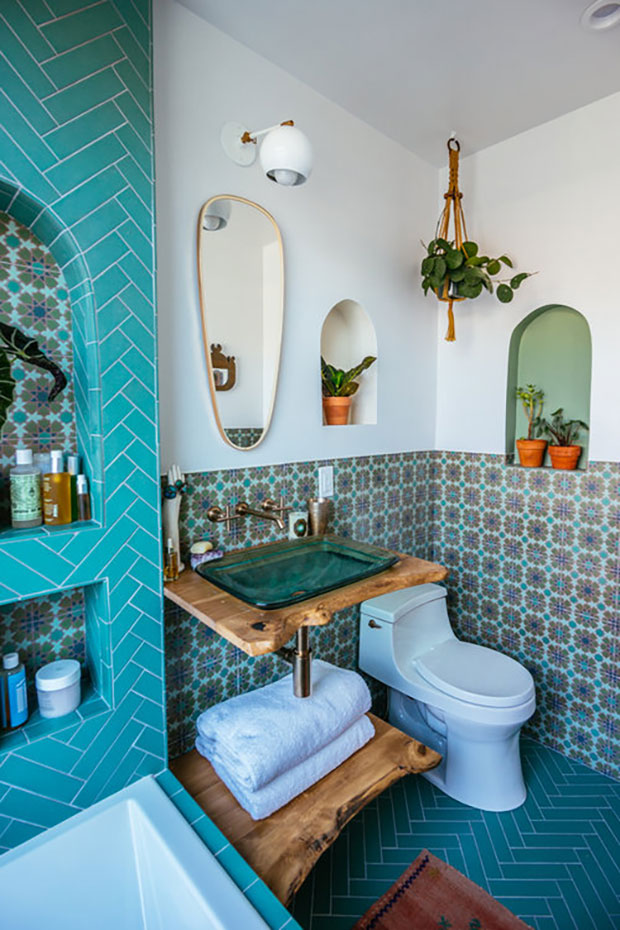 Justina Blakeney
The designer has used patterned tiles on this bathroom. She also added plants on the in-wall nooks for a fresher look.
Bright Bohemian Bath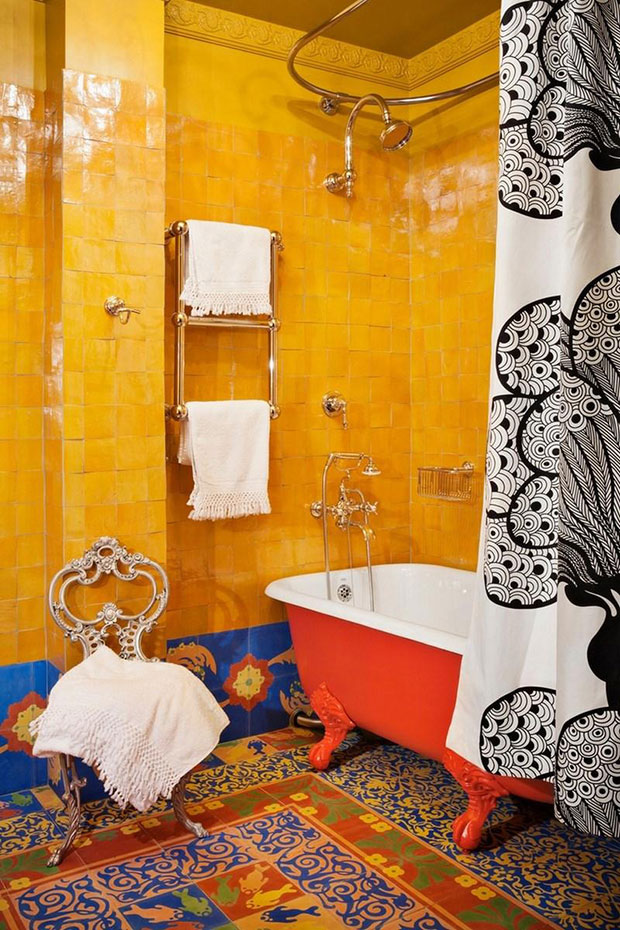 Liza Rachevskaya Interior Design and Decoration
This brightly designed bathroom embraces the bohemian-themed room. The designer has used bright colors of yellow, orange, and blue to compliment the colorful patterns.
Black and Blue Bohemian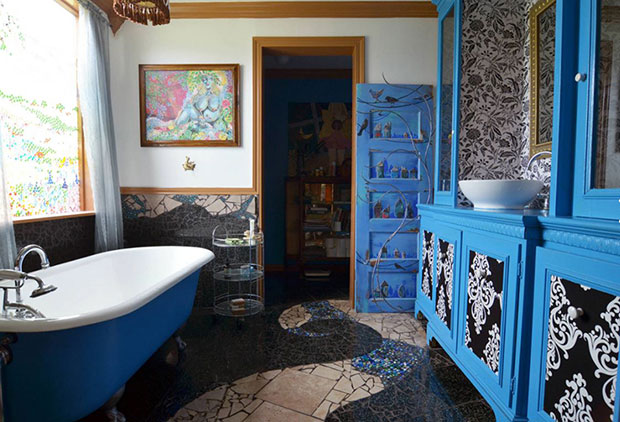 Sarah Greenman
This artistic bathroom is a cool combination of black and blue colors. The designer also made use of swirling mosaic tiles for the walls and the floor.
Boho-Chic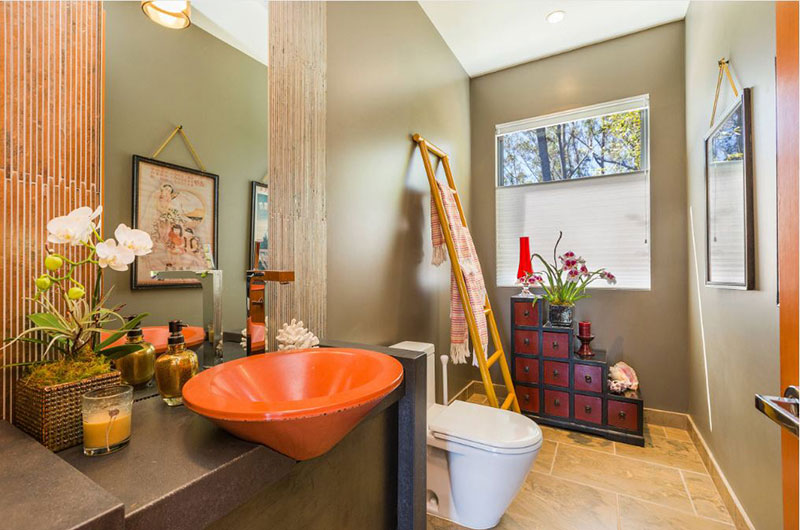 Juliana Carlsen Interiors
This bathroom makes use of plain but bright tiles that are further enhanced by the colorful decors.
Hither Green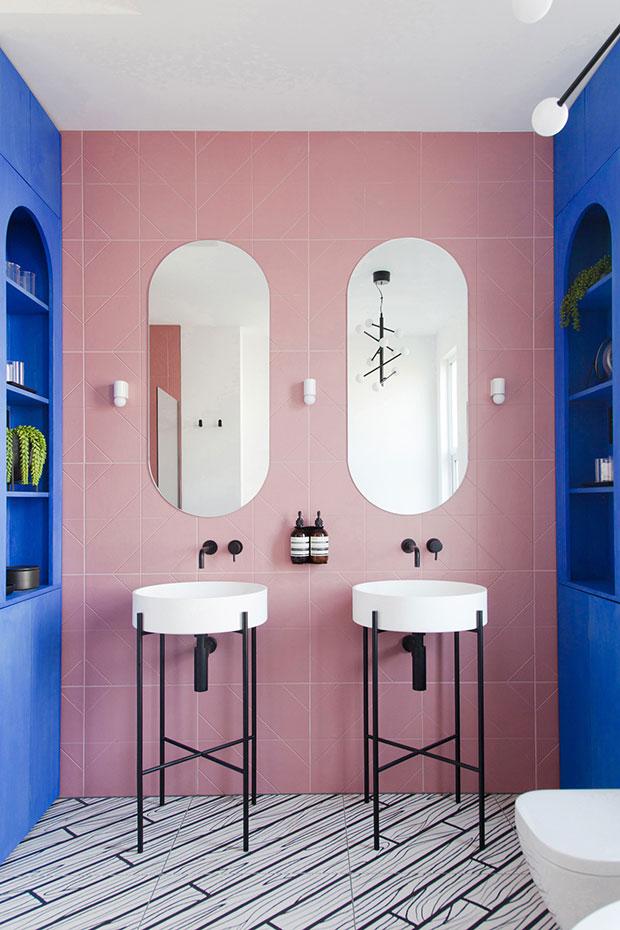 2LG Studio
The lovely combination of pink and blue are used in this charming bathroom in South London. The patterns of the tiles are also artistically designed: a great addition to your bathroom tile ideas.
Retro Tiled Room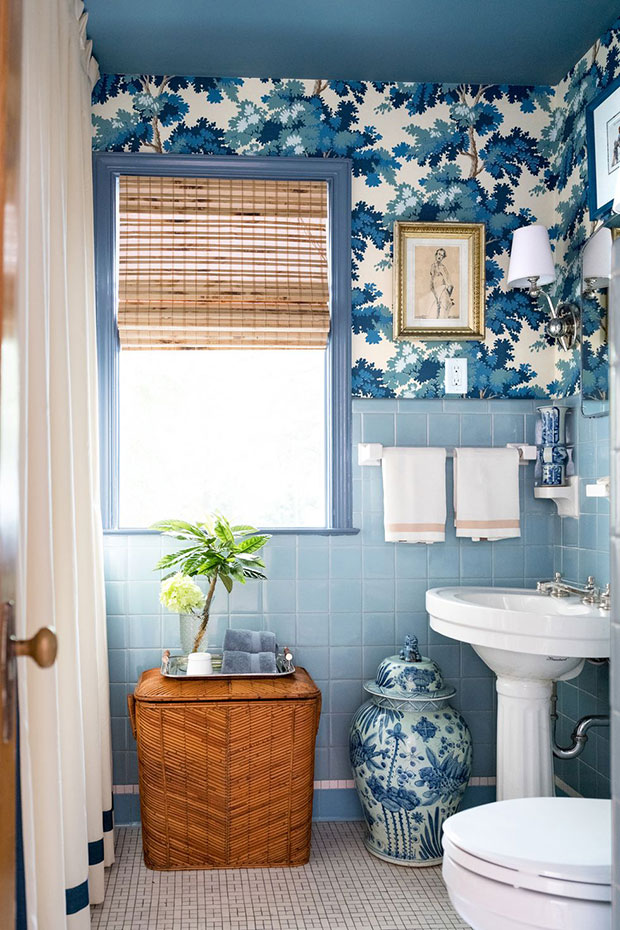 Shaun Smith
This retro-style bath makes use of the blue color for its walls. The designer also makes use of blue decors to further compliment the room design.
Hardinge Road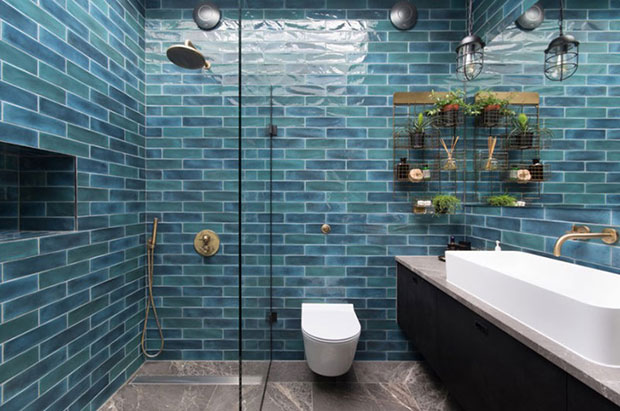 Domus Nova
The designer has cleverly incorporated plants into the already blue-green room.
Green and Gold Bath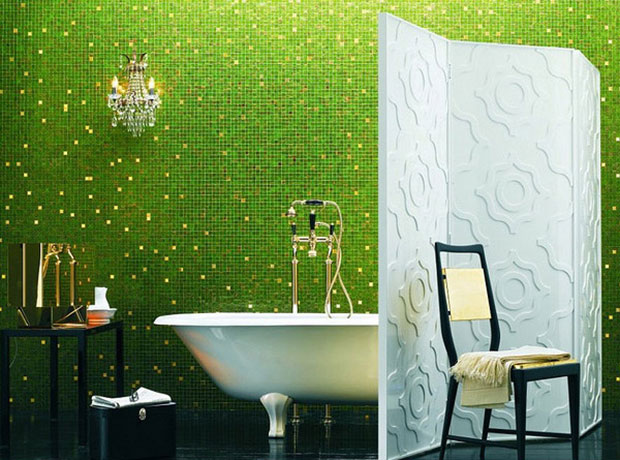 Bizassa
This bathroom uses green and gold mosaic tiles that result in a brightly-lit room.
Laurel Canyon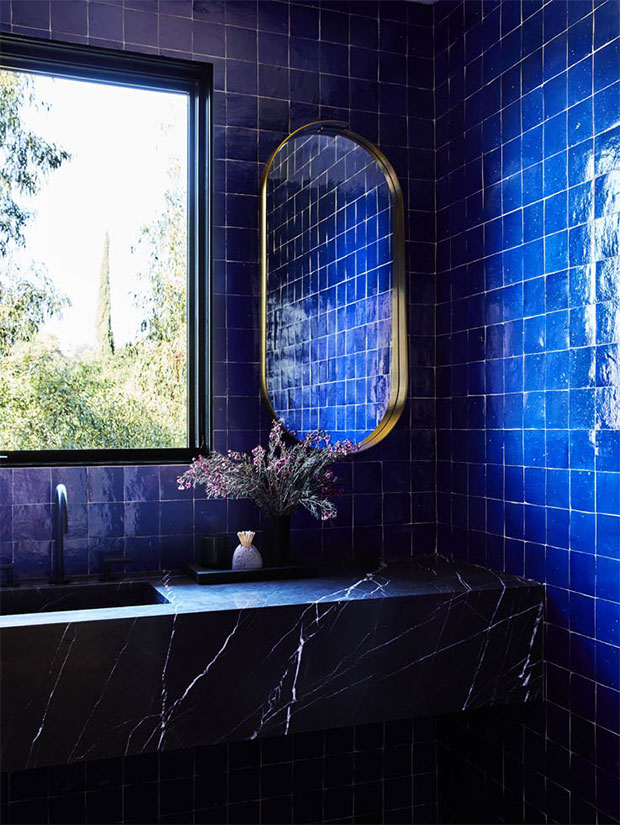 Studio Lifestyle
This bathroom tile idea uses a bright blue color. The color is further brightened by the gold-lined mirror on the wall.
Garden House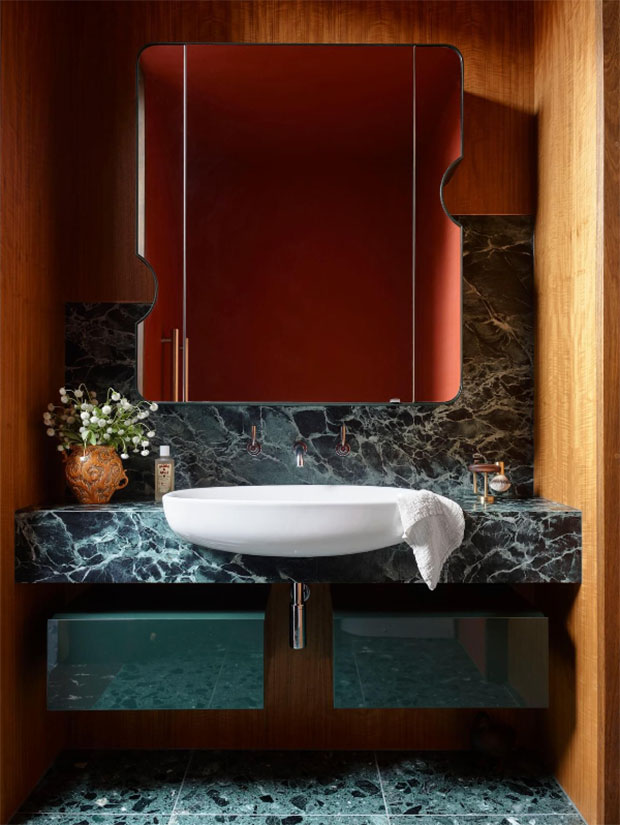 Arent & Pyke
The designer has neutralized the bright orange color of the wall with the dark marble backsplash of the sink and the floor. The unique shape of the mirror is also interesting to see and very eye-catching.
Beige Mosaic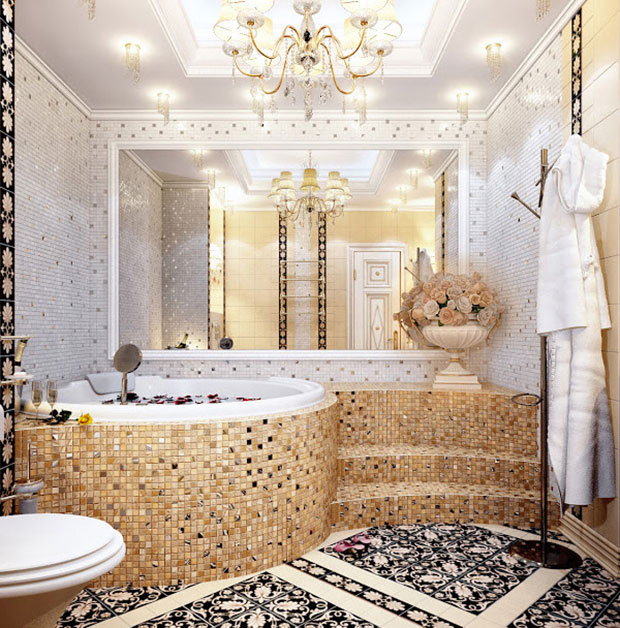 Happy Irena
One look at this bathroom and you can say that it is a plain luxury. The color beige adds sparkling color to the room.
Mount View Revival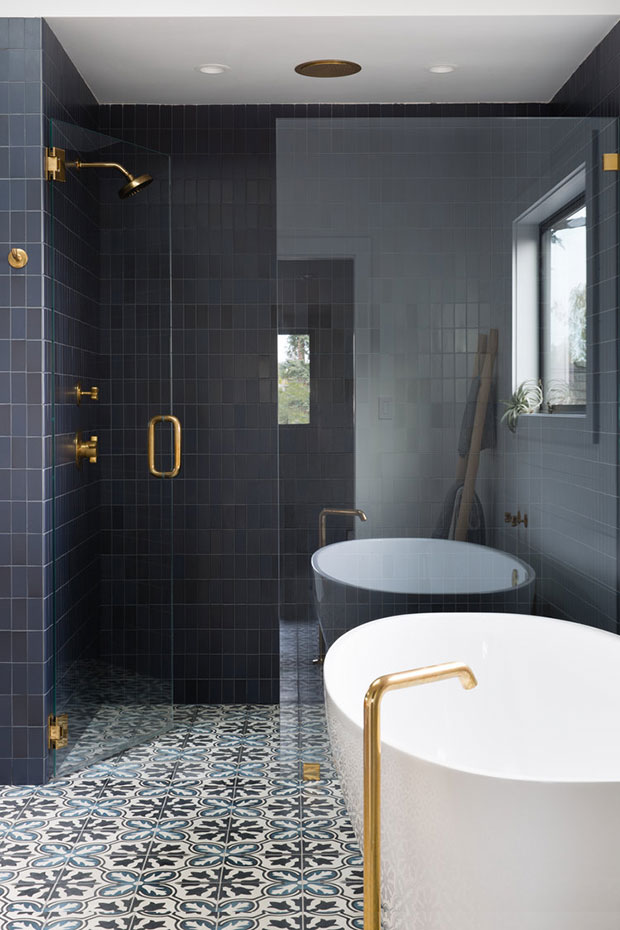 Regan Baker Design
The combination of white, blue, gray, and gold in this bathroom makes the room look elegant and welcoming.
Sari Medina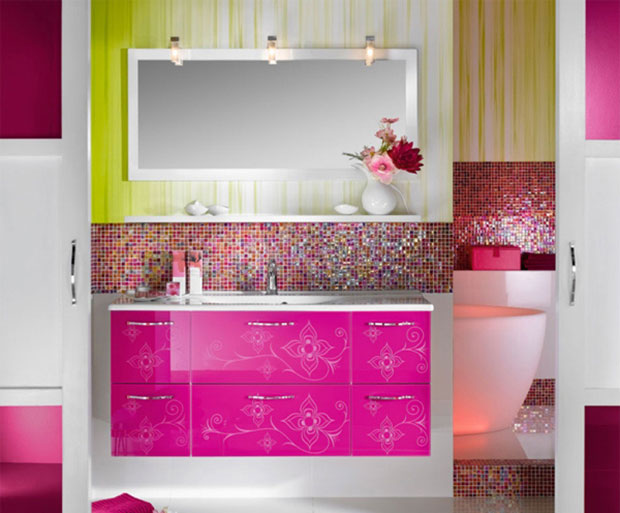 Delpha
The striking and bright combination of yellow-green and pink makes this bathroom tile idea very vibrant.
Pink Pattern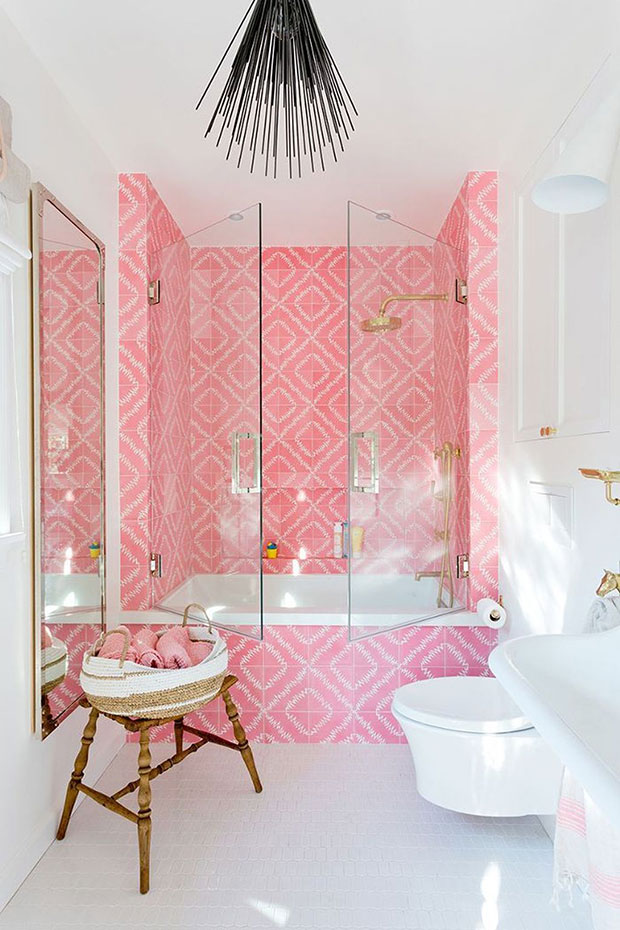 Trend Design
The light pink color and easy diamond patterns of this bathroom tile idea look very charming and chic. Combined with the white floor and walls, this tile design is comforting.
Colorful Patterns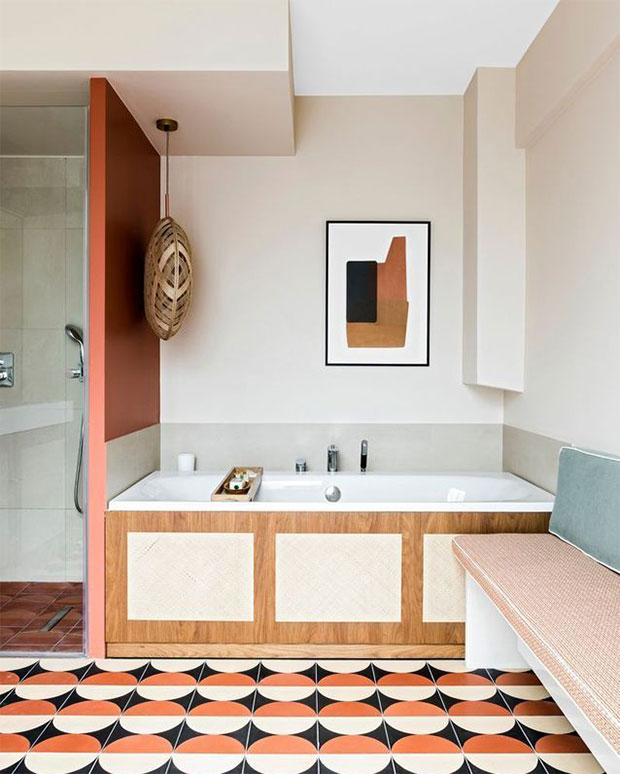 Romain Ricard
The colorful pattern of the bathroom floor is emphasized by the plain and bright walls. The designer has made use of the peach color to give the room an airy feel.
Modern Elegant Bathroom Tile Ideas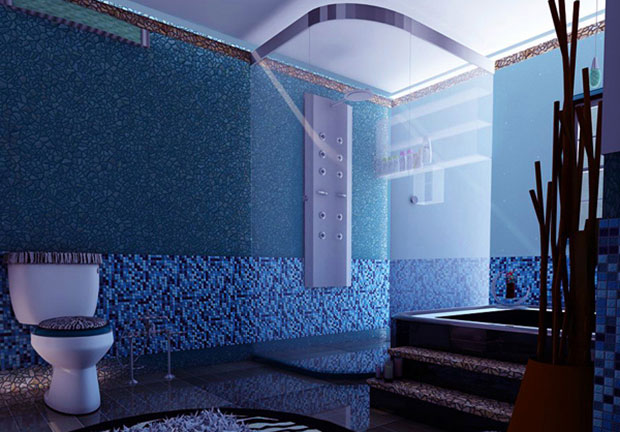 Jaffisan
The design of this bathroom looks modern and elegant with its blue mosaic tiles. It is even more emphasized with its sleek shower enclosure.
Red and White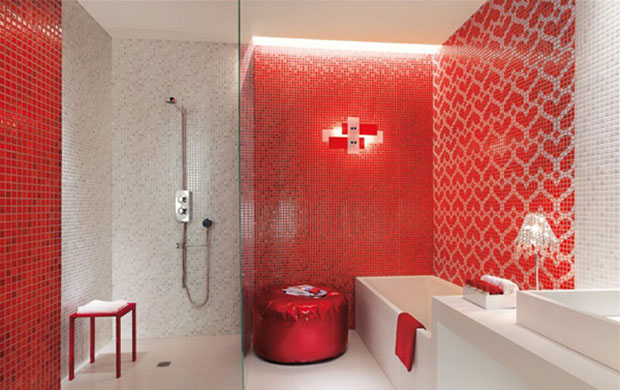 BilVil Architecture
This bright room is definitely one of the most sparkling bathroom tile ideas we have seen. It uses a unique tile layout technique to add a charming touch to the design.
Patterned Wall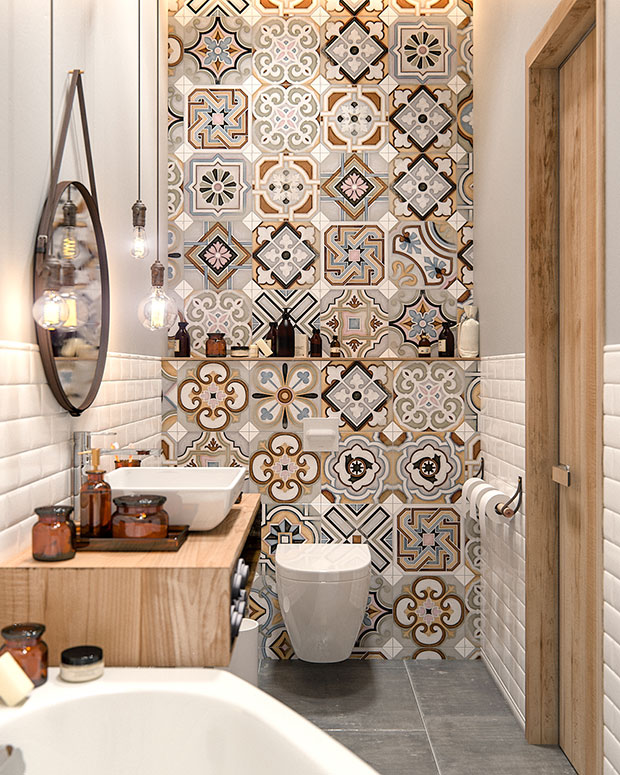 Trend Design
While most patterned bathrooms have bright colors, this bathroom tiles design makes use of neutral but equally striking patterns. The design adds a charming and relaxing ambiance to the room.
Siam Facade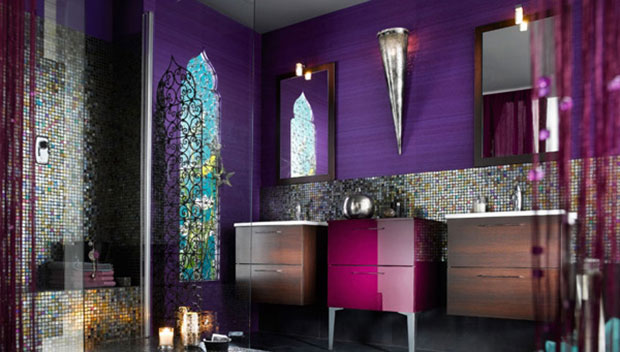 Delpha
This bathroom makes use of
unique home decors like the triangular lamp at the center. Its vibrant hues of purple and pink also add a striking and elegant look to the room.
Floral Tiles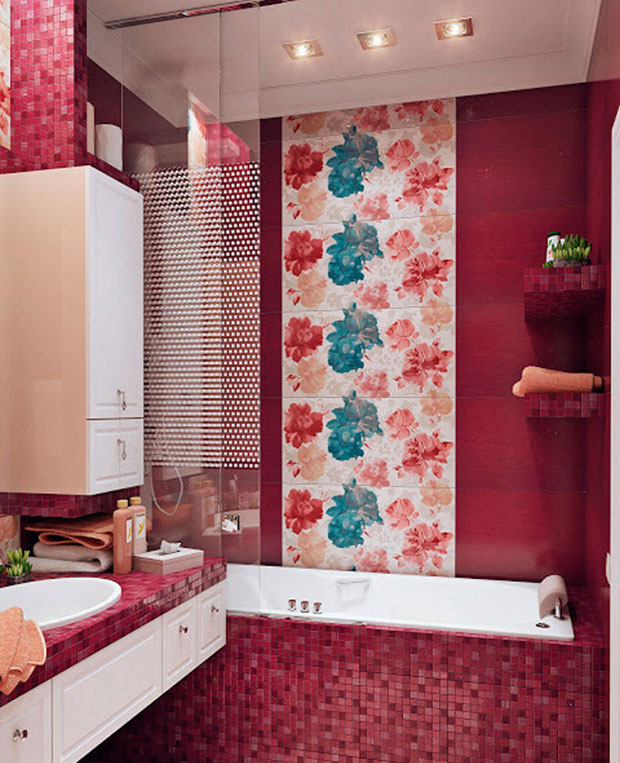 Rusu Ruslan
The floral tile design of this bathroom adds a refreshing look to the hot red color of the bathroom tiles.
Ardsley Residence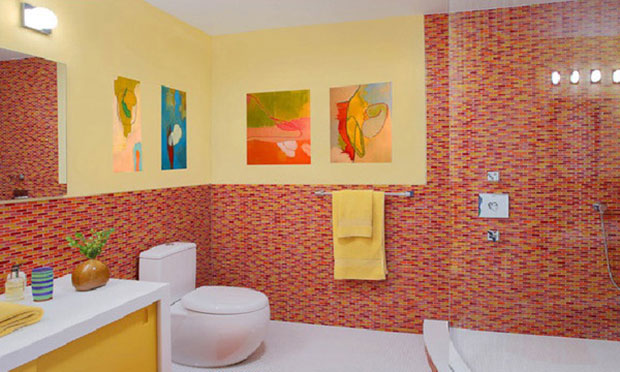 Eisner Design
One glance at this bathroom tile idea and you will feel happy and comfortable. Its bright colors and lively wall art will make you want to examine them.
Brown Mosaic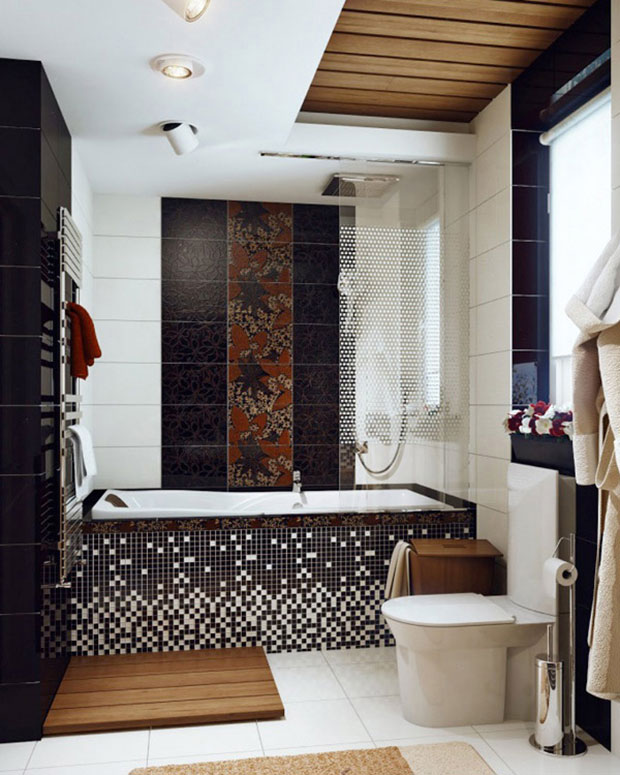 Rusu Ruslan
While the designer used white and brown tiles for most of the wall and floor, they used this to further emphasize the colorful patterns for the bathtub and the wall behind it.
Maverick Bathroom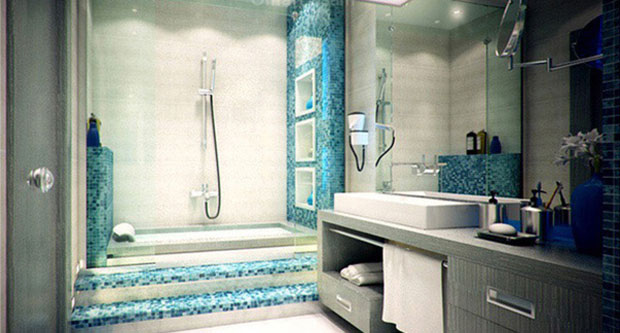 Omar Essam
The refreshing combination of blue and white in this bathroom tile ideas will make you want to stay here for a couple of hours.
Porcelanosa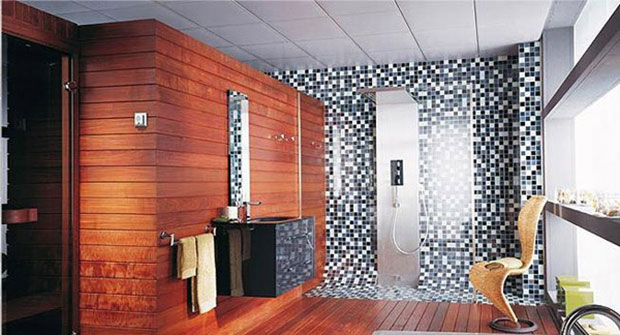 Fissore Ceramiche
The black and white mosaic at the shower area is an effective technique to draw attention to the shower.
Sea Wall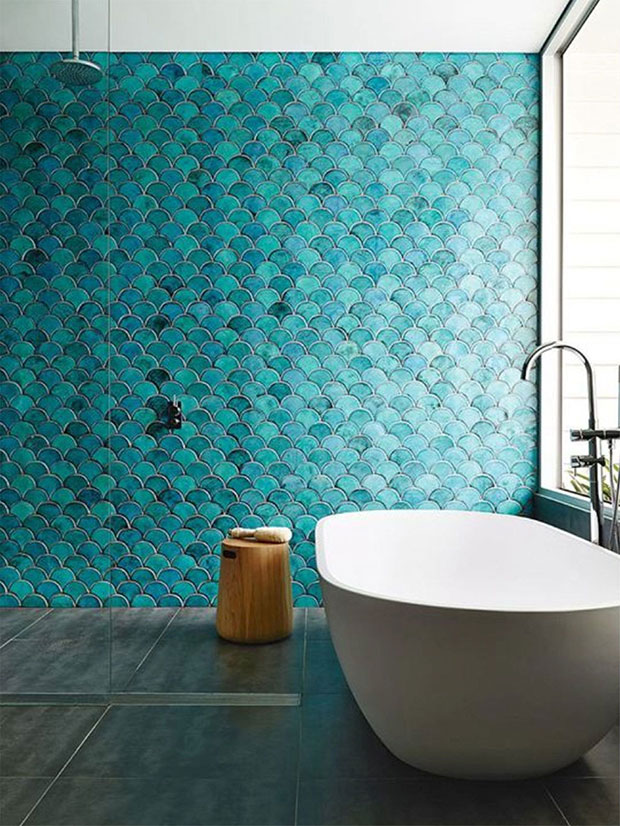 Trend Desing Book
Looking at this green wall makes one think of the sea, fishes and relaxation!
Black Drops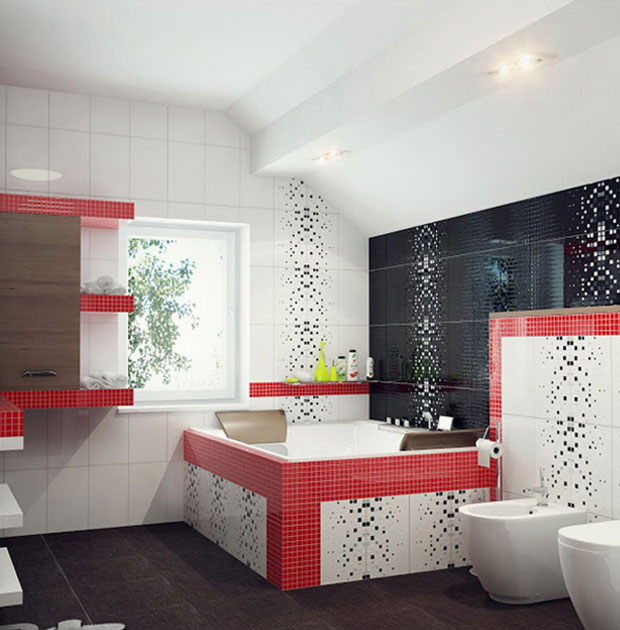 Rusu Ruslan
While most of the wall and floor use plain design, the designer added a splash of color with the red and black mosaic tiles.
Orange Bathroom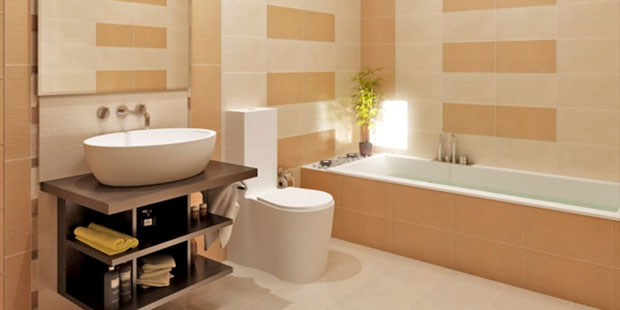 Hans
The elegant orange color of this bathroom is refreshing and calming.
Franklin Street Loft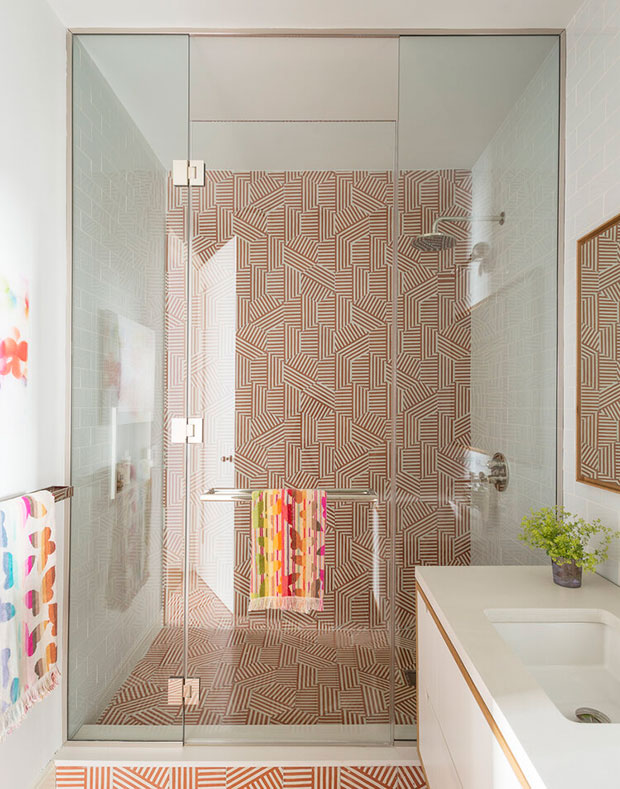 Studio DB
The fun patterns of this bathroom tile are charming to look at. It is balanced and complemented by using white tiles on other areas of the wall and the sink.
Child's Bath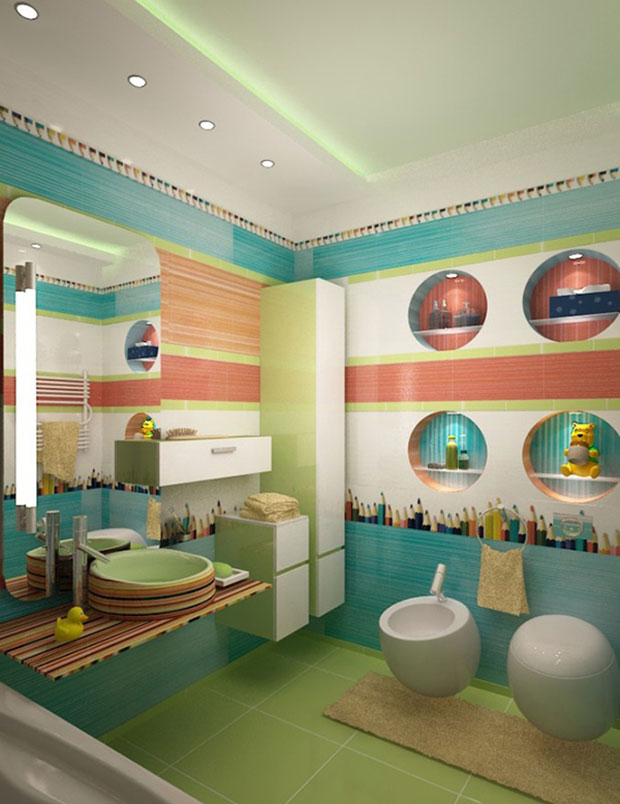 Elena Ponomarenko
This fun-colored bathroom is perfect for families with kids. The cute combination of colors and lines will surely be a hit with the children.
Hello Kitty Bathroom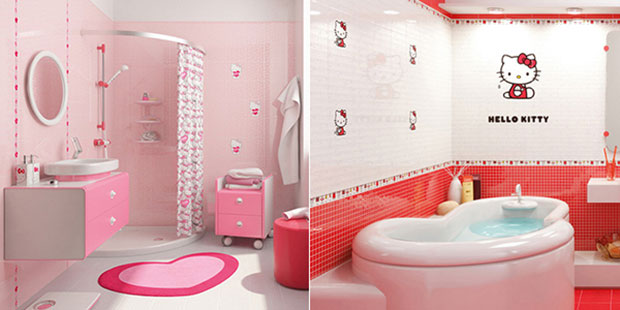 Cheap Floors
Hello Kitty fans will fall in love with this hello-kitty bathroom tile idea! The designer has added the iconic image of the cartoon to the cute pink design of the room.
Butterfly Bath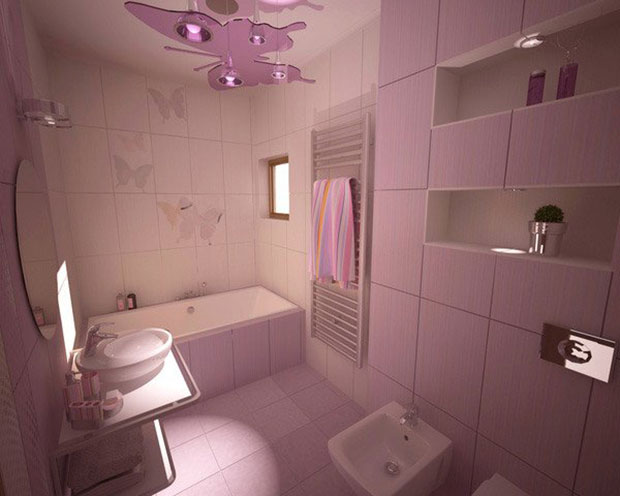 Home Design Lover
This bathroom is a cute combination of purple and butterflies. The design is very charming to look at, especially the purple butterfly on the ceiling.
Turquoise LA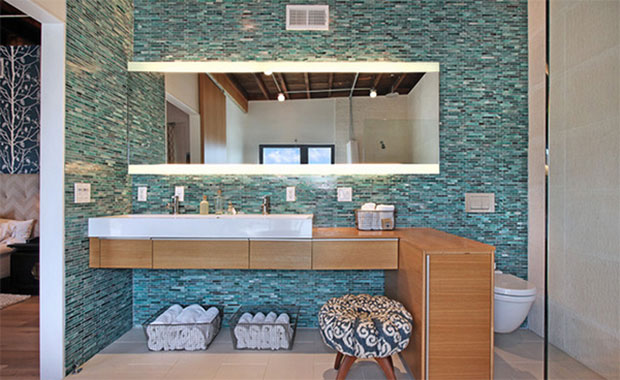 Jeri Koegel Photography
This lovely 3-colored mosaic bathroom tile idea looks elegant and charming.
Yellow and Green Bathroom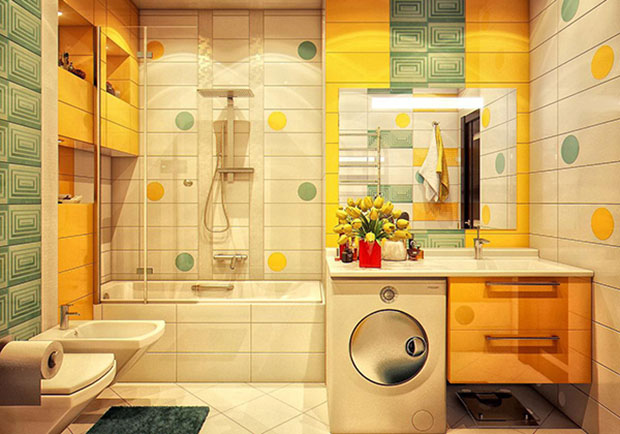 Happy Irena
The fun and lively combination of the colors in this bathroom tile ideas makes you think of youth. The designer has also added some fun shapes to further enhance the room.
Modern Home Bathroom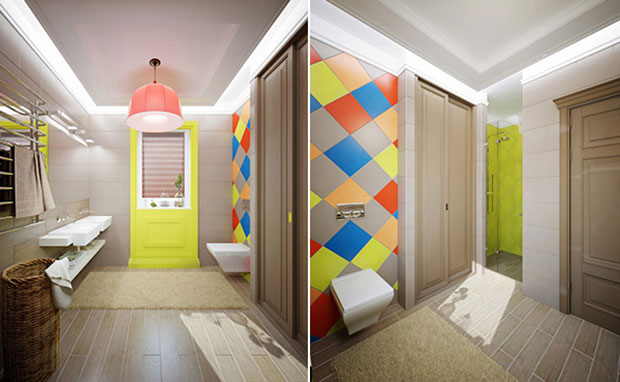 Svetlana Nezus
The colorful tiles on one wall, adds a fun touch to this minimal and modern bathroom.
Jade Garden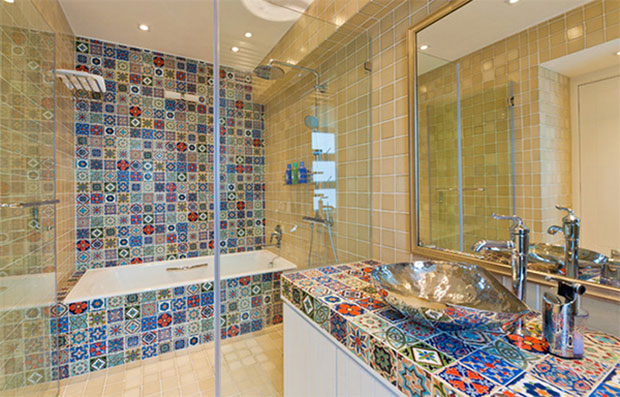 Chinc's Workshop
This bathroom with its color patterns and color exudes a Moroccan vibe that makes you smile.
Fairytale Bathroom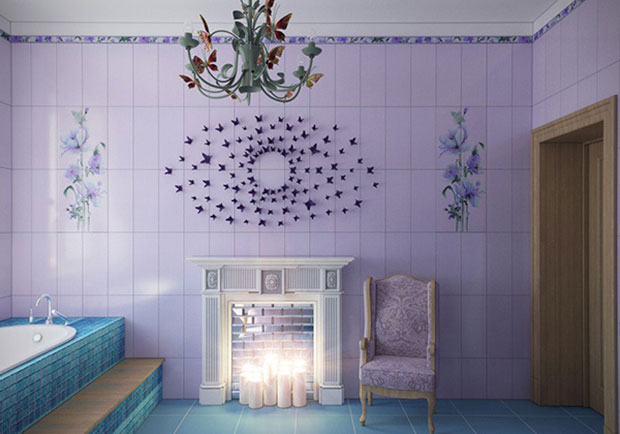 Olga Petrova
The blue and purple combination of this bathroom is surprisingly whimsical and enchanting. The designer has also added lovely features of butterflies and plants to the room.
Green Pillared Room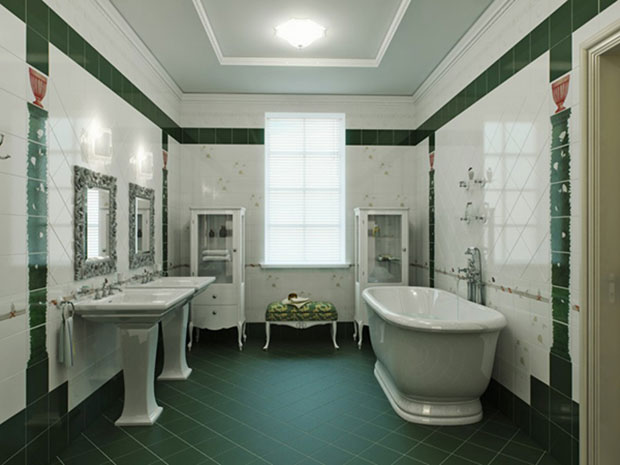 Vyacheslav Kulagin
This bathroom looks unique its green pillar on the side. It complements the green floor tiles. The dark colors are also made lighter by the white tiles.
Floral Wall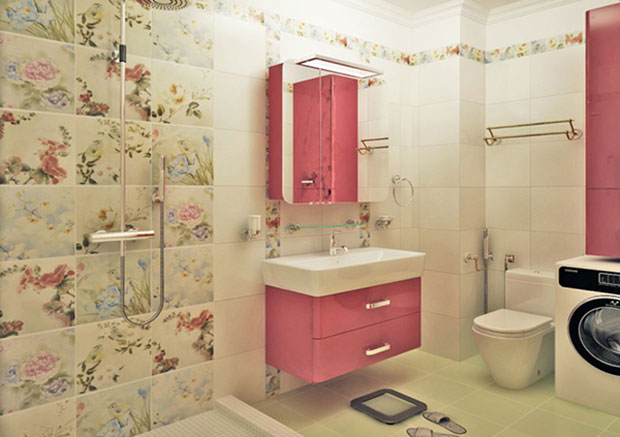 Natalia Serebriakova
The floral tiles of this bathroom add a charming look to the bathroom. The pink counter adds a feminine touch to the room.
Flower Wall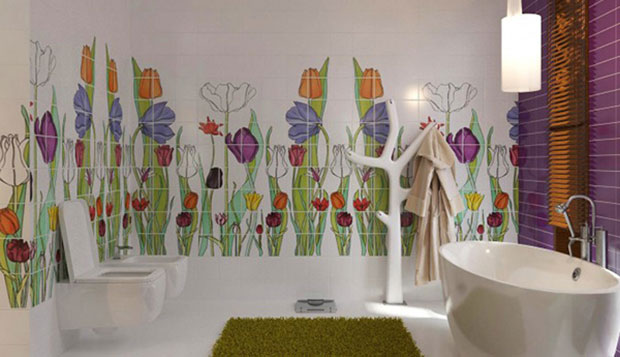 Maria Svidinskaya
The flowered-wall looks amazing and very feminine. The designer also added a tree-like towel rack on the side to further emphasize the natural feel of the room.
Colorado Retreat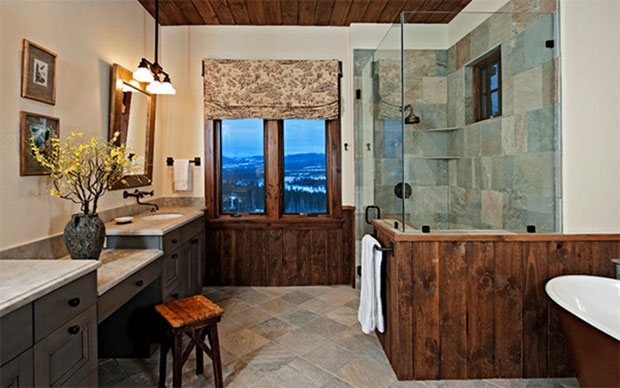 Bulhon Design Associates
This bathroom has a homey and warm feeling with its wood furnishings. The designer also used blue and brown tiles on the floor and on the wall near the bathtub for a cooler ambiance.
Hot Air Balloon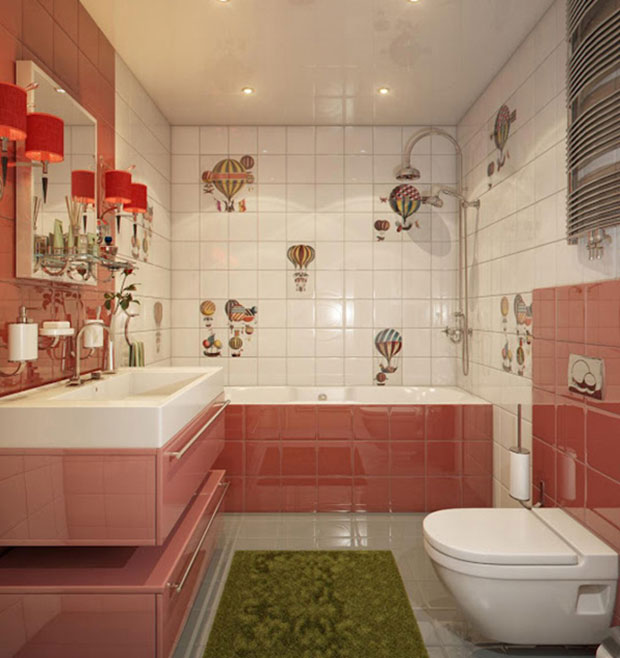 Happy Irena
The pretty color of this bathroom makes you think of dreams and adventures! The designer also added hot air balloon wall tiles to add a distinct feature to the room.
Laufen Kids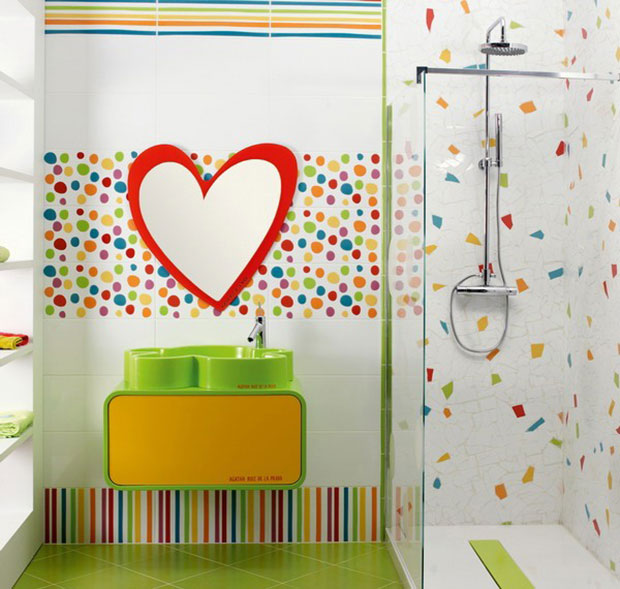 Home Design Lover
The cool shapes and color of this bathroom make you feel young! the designer has cleverly combined fun colors with shapes on this cheerful room!
Japanese Mosaic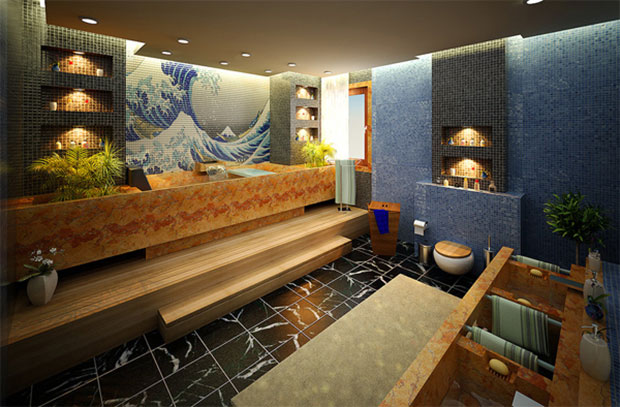 Semsa Bilge
This colorful Japanese mosaic bathroom tile idea will make you want to stay in the room for hours.
Seattle Modern Bathroom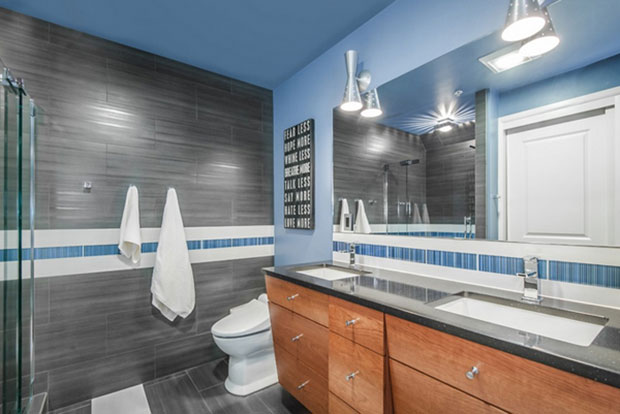 W2 Design, LLC
This gray and brown combination is perfect for a boy's bathroom. The designer also added small mosaic tiles mixed with the large tiles.
Glossy Bath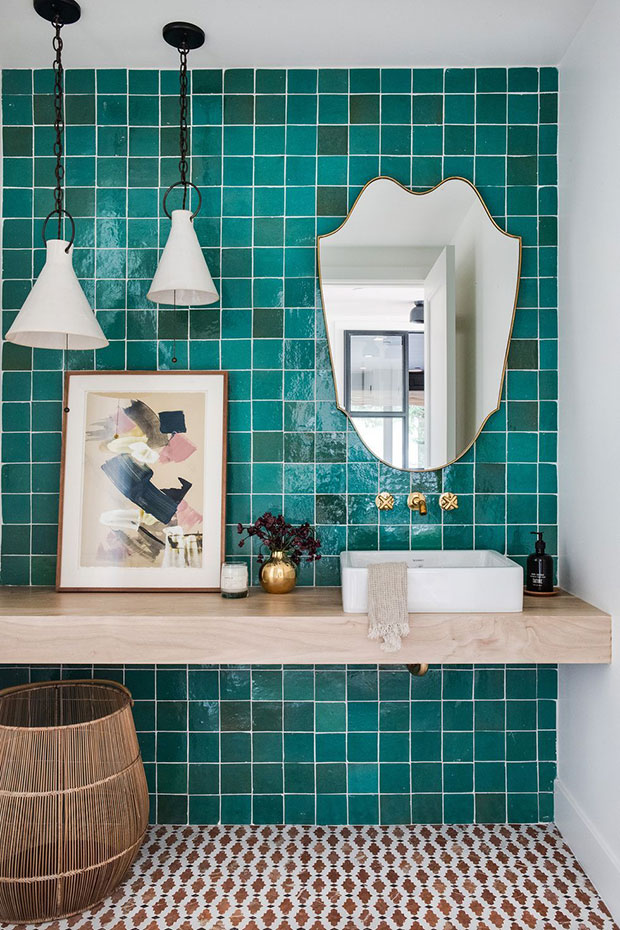 Shannon McLaren Wilkins
The glossy green of this bathroom looks very refreshing and makes you think of the ocean.
Red Tile Bath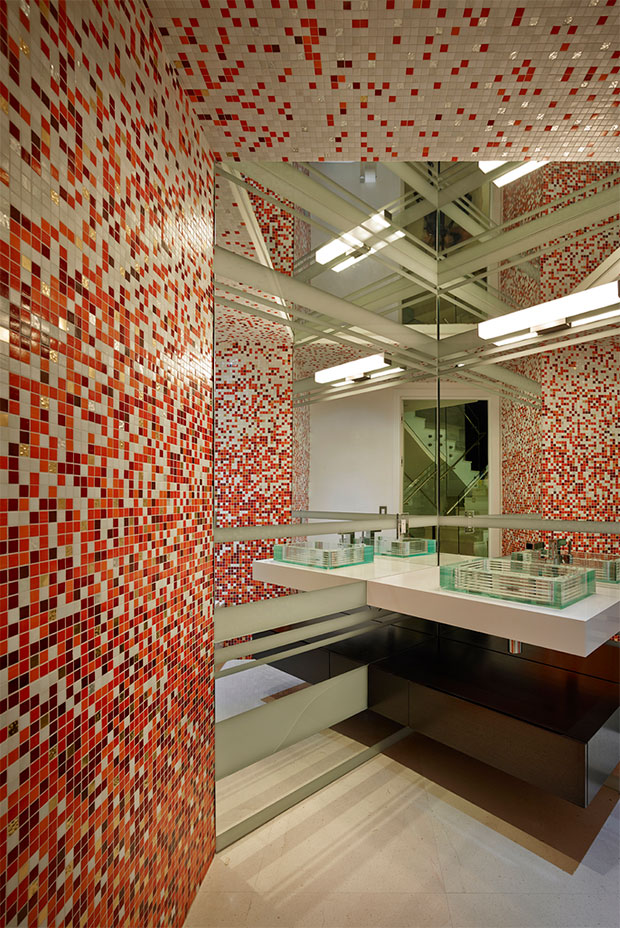 Pepe Calderin Design
The unique shades of red in this bathroom tile ideas is truly eye-catching. The mosaic tiles were also arranged in a way that resembles an explosion of colors.
Multi-Graphics Tiles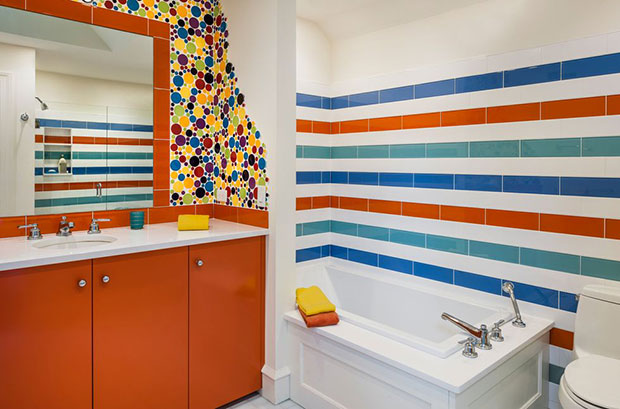 Eberlein Design
The vibrant colors of the bathroom tile idea in this room are neutralized by the white walls and bathtub.
Girl's Bath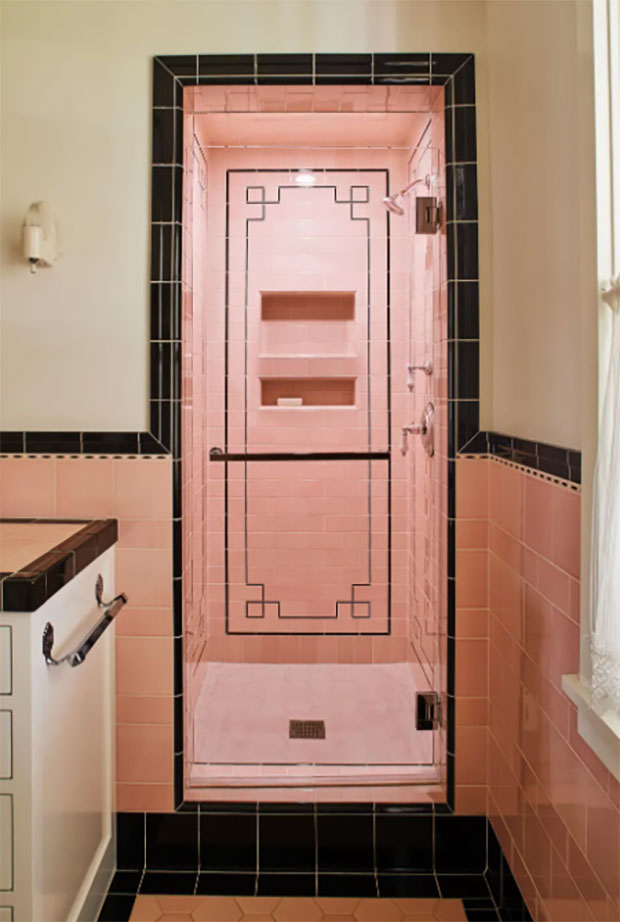 Tim Barber Ltd
This pink and black tiled bath will make your little princess squeal with delight.
Smith's Point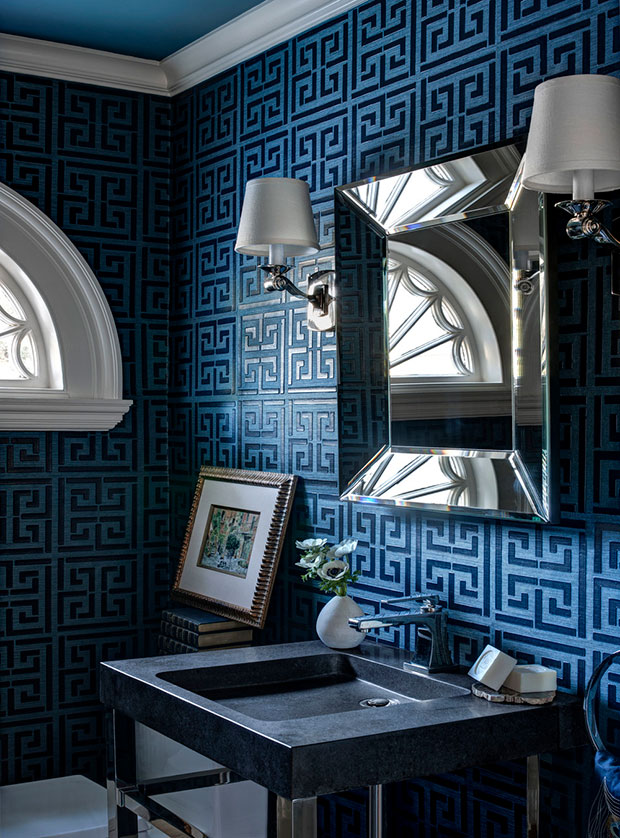 Honey Collins Interior Design
This dark-colored bathroom looks striking and elegant. The designer used white and silver to balance the dark play of colors.
As you can see, there are so many ways to design your bathroom, without giving up on the theme that you would like to have.
Which bathroom tile ideas, so far is your favorite? Tell us through the comment section below!
Like This Post? Pin It!