60 Lovely Bathroom Mirror Ideas to Accessorize your Bath
|
No bathroom design is ever complete without a bathroom mirror. Bathroom mirrors serve an important purpose to help you get ready for the day (or night). Functionality aside, bathroom mirrors are great decorative statements that could truly elevate the overall look of your bathroom design. In fact, they can even help make your bathroom feel even more spacious than it really is.
A variety of bathroom designs mean there are just as many bathroom mirror ideas to fill that aesthetic role. The right one – no matter the size, shape, and style – could make a huge difference for your bathroom.
What type of mirror is best for bathrooms?
As expected, with various bathroom mirror ideas, there are different types of bathroom mirrors to choose from. The common types include wall mirrors, full-length mirrors, floor mirrors, pivot mirrors, decorative mirrors, and lighted mirrors. But there's a specific quality to these mirrors that is best for bathrooms.
Whatever bathroom mirror ideas you will have, bathroom mirrors should always include tempered glass. If you consider how frequently a bathroom is used, you are going to expect moisture, fogging, and humidity. Tempered glass is not only durable, but it also won't fog and can withstand changes in heat and humidity.
How to choose the bathroom mirror?
Though you can probably mix and match your way, many of the best bathroom mirror ideas are the ones that fit with the existing aesthetic of the bathroom. So, how do you choose the right bathroom mirror?
1. Before you even get to choose a mirror, the first things you need to consider are the sink size, your height, and wall space. You would want your mirror's glass just to be a few inches above eye level for the tallest person using the bathroom. In addition, it should hang low enough for the shorter individuals.
2. Consider mirror sizes. Small, large, and everything in between, can work and offer something different. It's going to depend on preferences. But a large mirror will give you additional reflection space, making the bathroom appear more spacious. Whereas, small mirrors open the room for other decorative items like lamps and sconces.
3. The mirror's frame. Another choice that depends on preferences is having a mirror with or without a frame. Frameless bathroom mirror ideas give a clean and stylish look, more appealing to modern sensibilities. On the other hand, framed bathroom mirror ideas have a more traditional elegance. They add extra details and fill up a space.
Now, let's take a look at some lovely bathroom mirror ideas that will definitely catch your attention!
Randall St.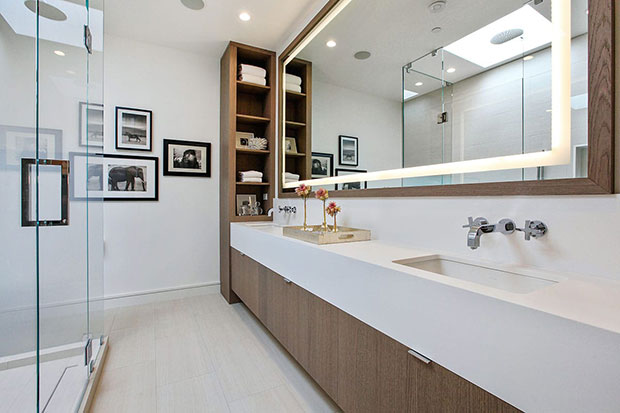 A long mirror that parallels the long vanity adds a beautiful symmetry. But also, interesting to note is the frame within the frame that has built-in lights.
26th Street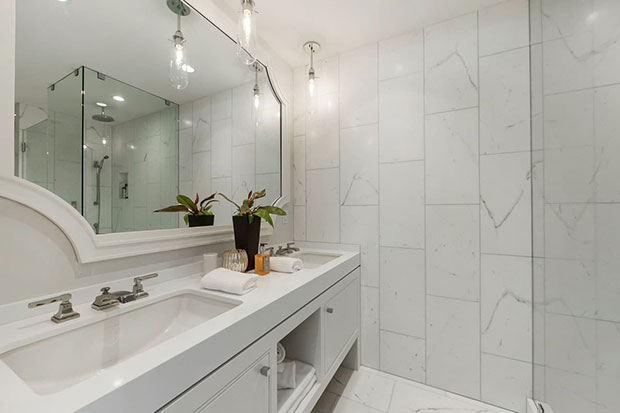 Cardea Building Co
Without the regularly-shaped appearance, bathroom mirror ideas like this definitely and instantly give a boost to your overall bathroom design.
Cypress Oak Creek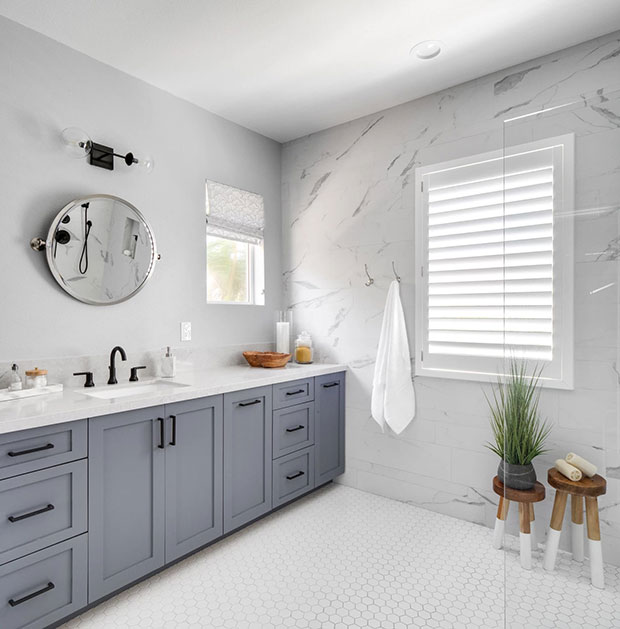 Kennedy Cole Interior Design
A pivotal bathroom mirror is not all too common or popular. But it adds a bit of posh and a lot of styles.
Townhouse Del Mar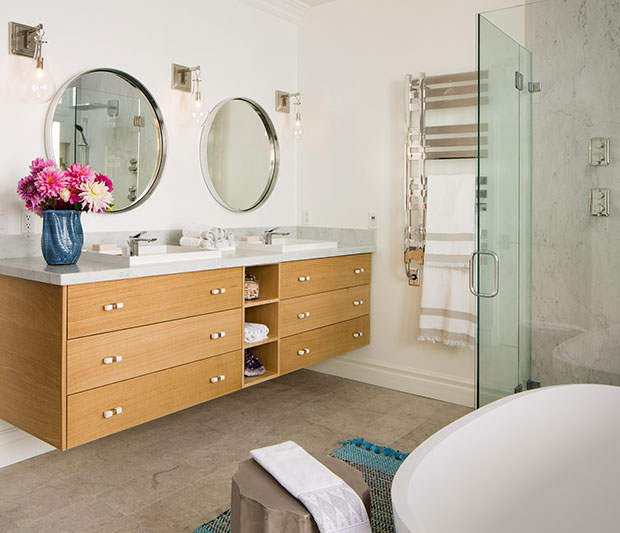 Anne Sneed Architectural Interiors
Complementing the round mirrors with stylish sconces makes this for very pretty bathroom vanity.
Arizona Luxury in Adobe Brick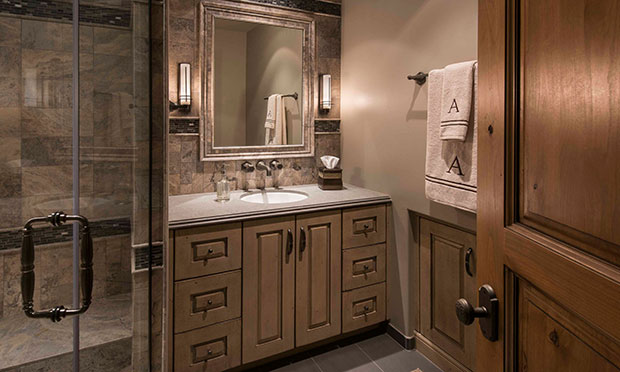 Janet Brooks Design
With the way the mirror frame blends well with the backsplash tile, it almost seems like the mirror was embedded into the wall.
School House Eclectic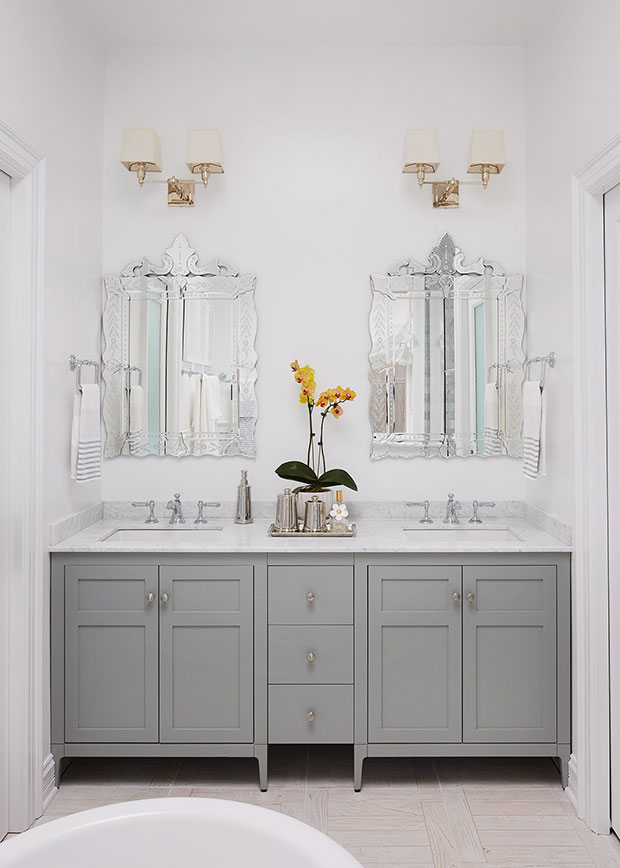 Third Coast Interiors
An ornate mirror with a reflective frame, giving it an impression that it's frameless.
Hillside Hacienda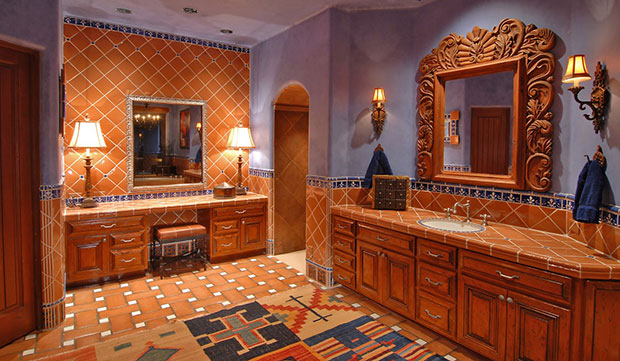 Friedman & Shields
Framed bathroom mirror ideas are going to take up more space on the wall than their frameless counterparts. But extravagantly ornate framed bathroom mirrors have taken even more space! So, before you choose such mirrors, make sure you actually have the wall space for them.
Fowler Interiors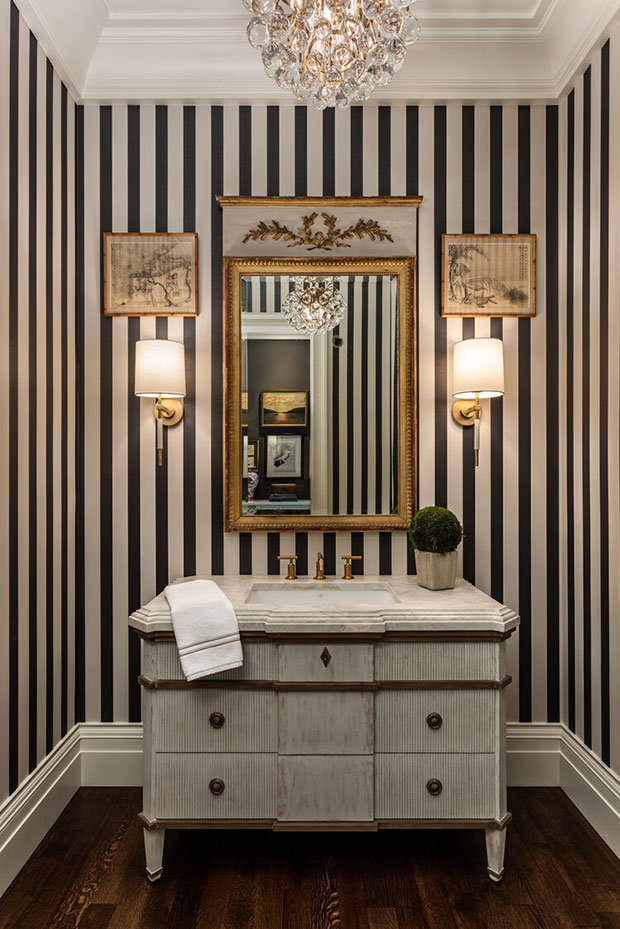 If you're going to have an ornate mirror like this, make sure other decorative pieces complement it. The overall look of this bathroom vanity is stunning all because the bathroom mirror and other décor work together in harmony.
Custom Bath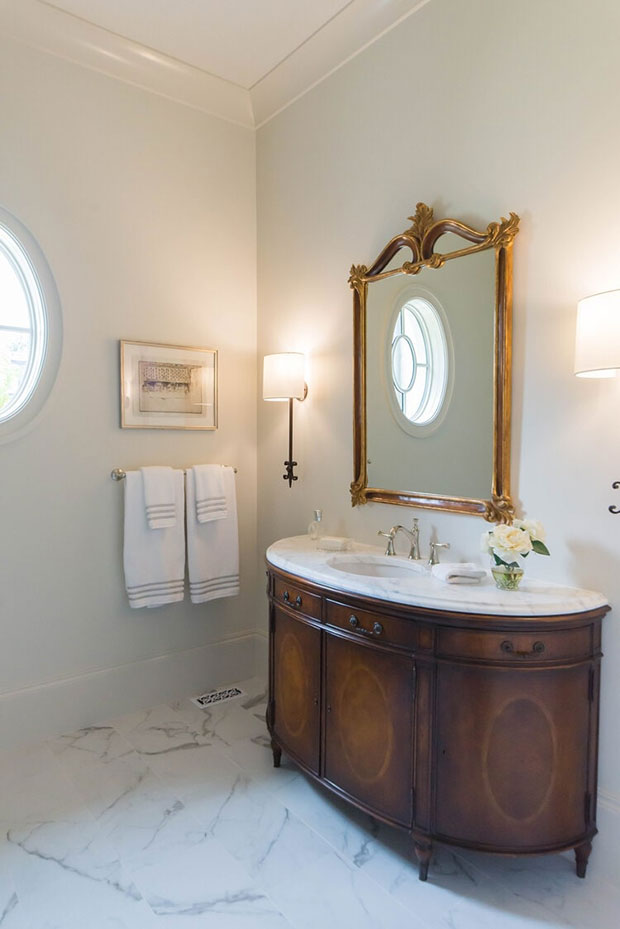 Peery Homes
This bathroom mirror is a perfect match for this striking vanity counter. In a bathroom of white walls, this combination anchors the beauty of it all.
Cabin in the Woods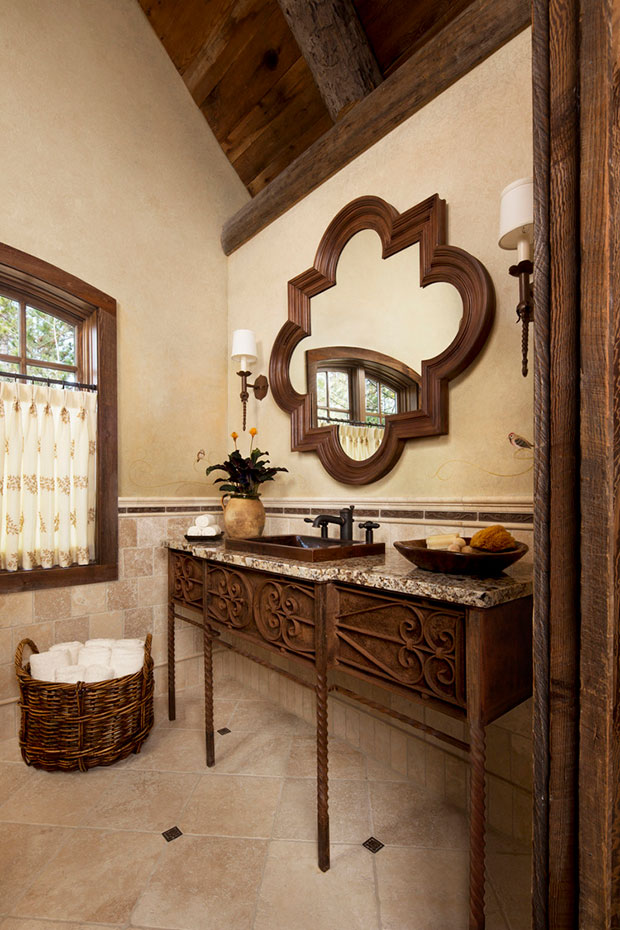 Many bathroom mirror ideas don't adhere to common and regular shapes. This completes the stunning bathroom vanity look here.
New Tradition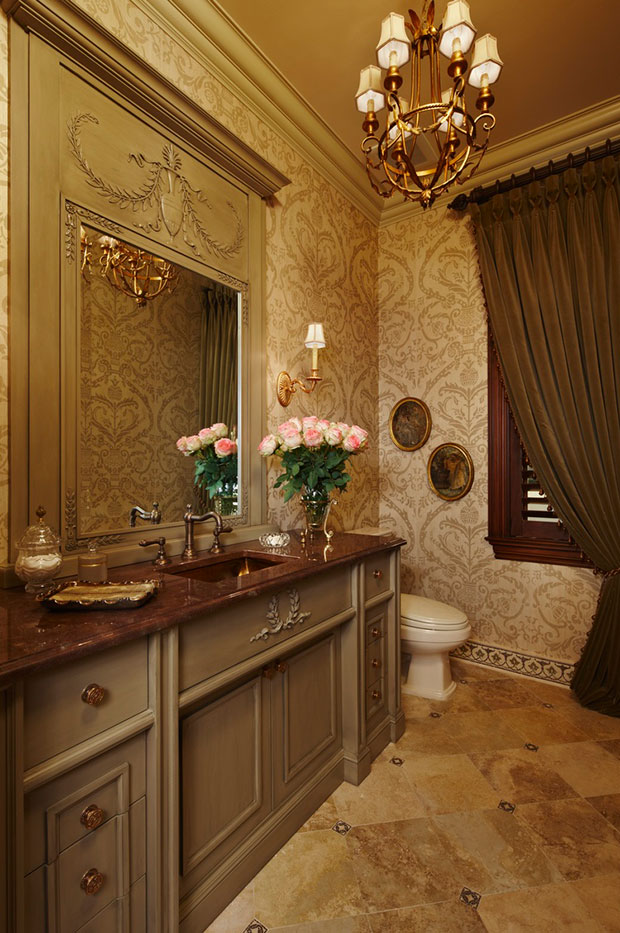 Jennifer Taylor Studio
With the royal elegance radiating from this bathroom, this custom-built bathroom mirror is a perfect touch. The frame is specially customized to make it appear like the glass is embedded into the wall.
Apartment for TV Presenter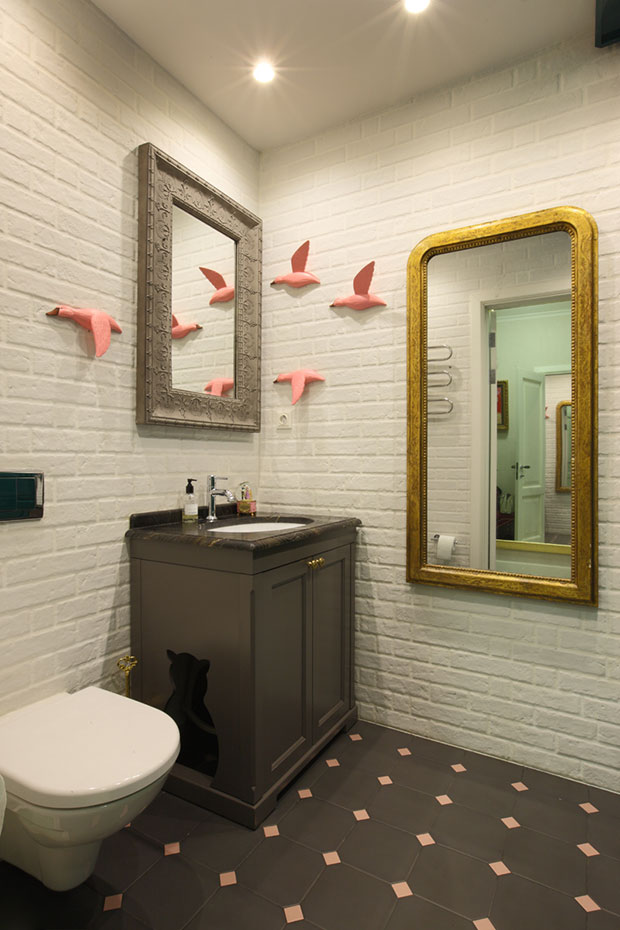 Atelier Interior
You can never go wrong with just one bathroom mirror. Take the smaller one above the sink for when you need a close-up look when you do your make-up or brush your teeth. Then use the longer one to examine your outfit. To make things better, pick ones with different designs. You will surely have such an overall eclectic bathroom look.
Apartment in Angelovo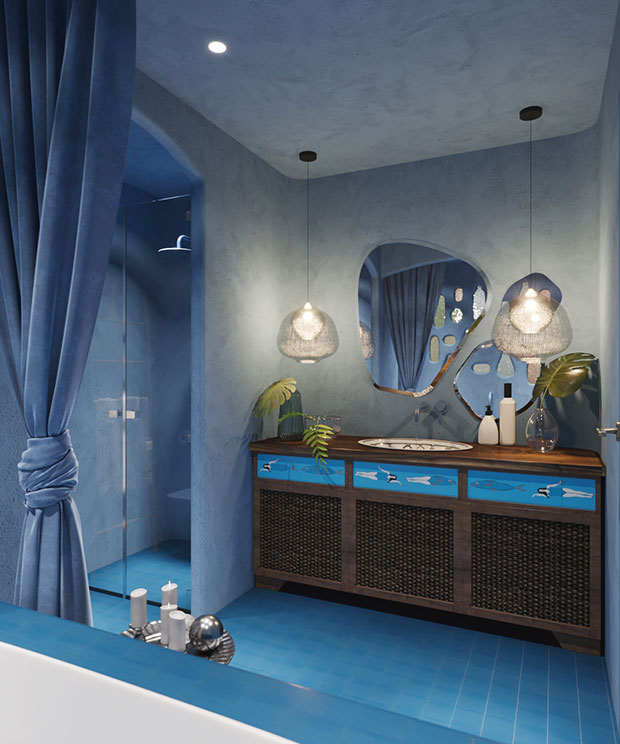 Art Group Daria Vasilkova
If you're looking for some inspiration for unique bathroom ideas, you need to check this one out. With the sea-themed bathroom, these irregularly-shaped mirrors could not be any more perfect.
Eclectic Bathroom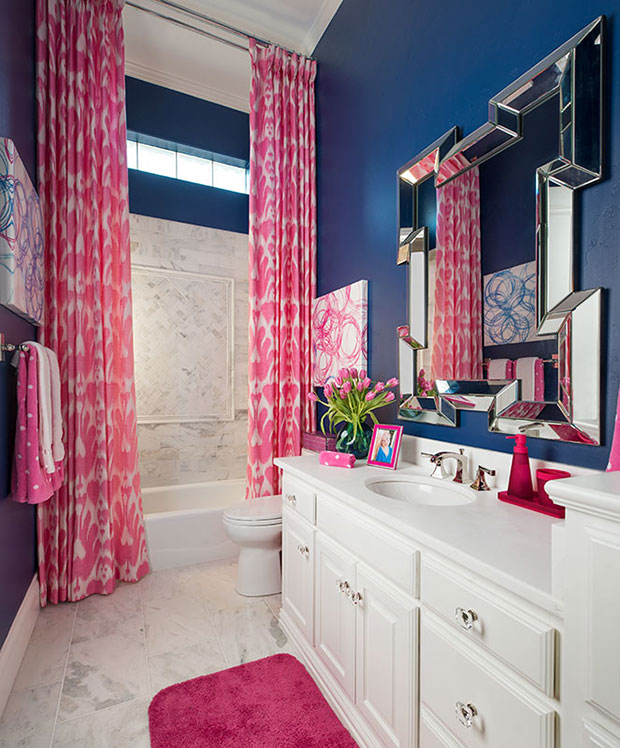 IBB Design Fine Furnishings
The plain walls are the perfect backdrop for this glamorous bathroom mirror.
Hollywood Regency Glam Bathroom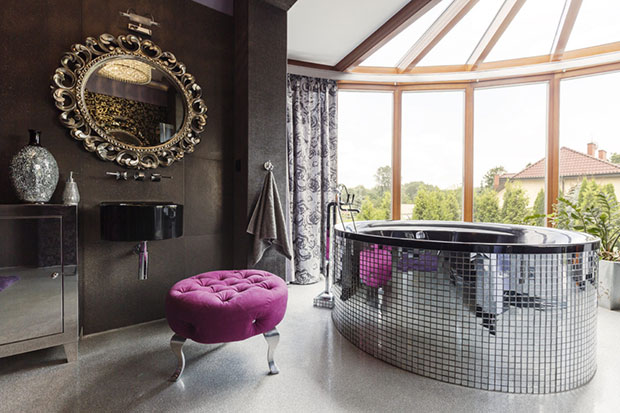 NS Designs
And speaking of glamorous, this bathroom mirror is the perfect choice to complete this look.
Dark Neutral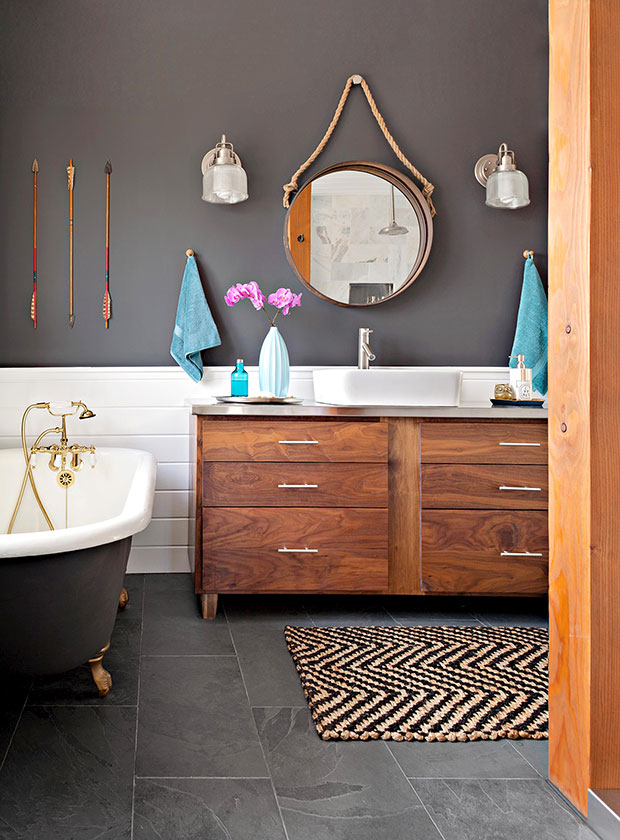 Edmund Barr
Bring some coastal charm to your bathroom with a round mirror hanging by a thick rope.
Gray Marble Room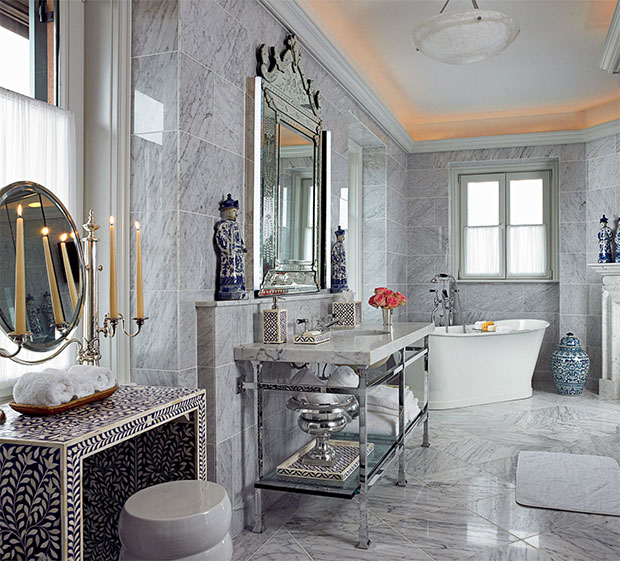 Kim Sargent
One of the best bathroom mirror ideas is the ones that fit with the bathroom's theme. And it is made obvious in this bathroom, with all the décor pieces, the value of ornate décor that includes the mirror.
Blue Bathroom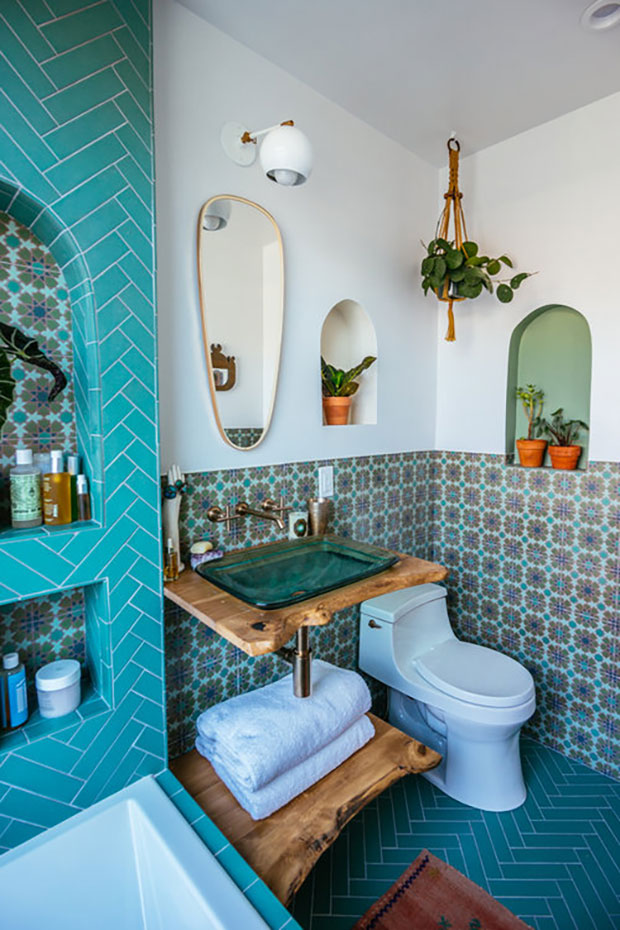 Justina Blakeney
Forgo round or rectangular bathroom mirror ideas, and check out more eccentric mirror shapes. This teardrop-shaped mirror is a perfect touch to this bathroom, considering the shape of the wall niches.
Garden House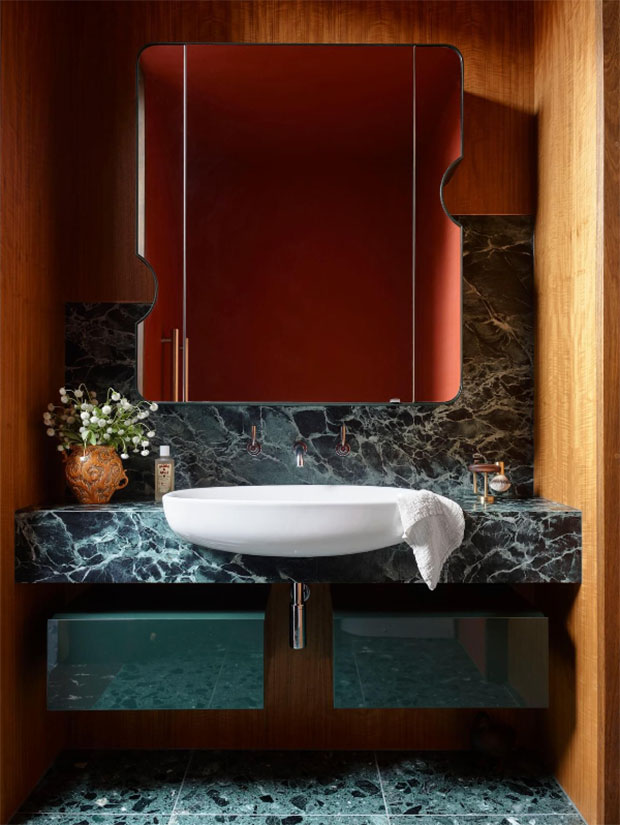 Arent & Pyke
A rather simple bathroom mirror compared to the ones seen before. Even with the little details, it has its charm that is perfect for this style.
Glossy Bath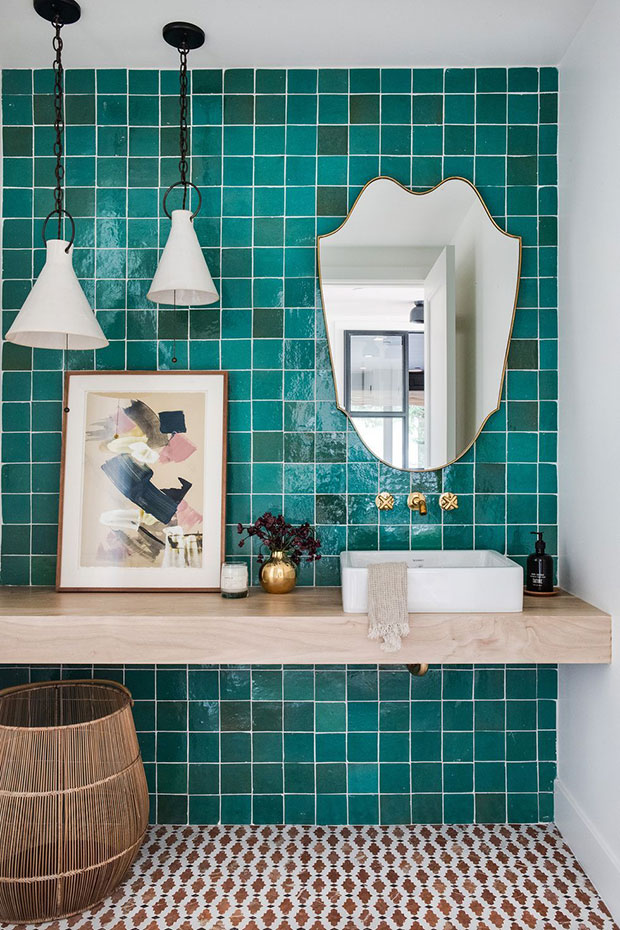 Shannon McLaren Wilkins
In terms of its design, this bathroom mirror is as simple as it goes. But its shape alone attracts attention.
Smith's Point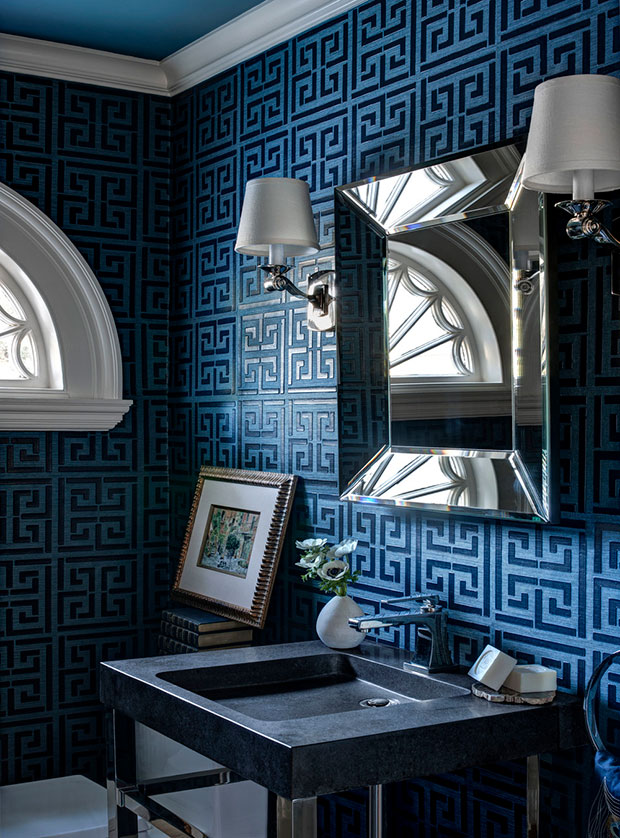 Honey Collins Interior Design
This would be a classy addition to any bathroom with the right aesthetic. Not so much ornate details are a perfect choice to not clash with the already stylish wallpaper.
Seaside Bungalow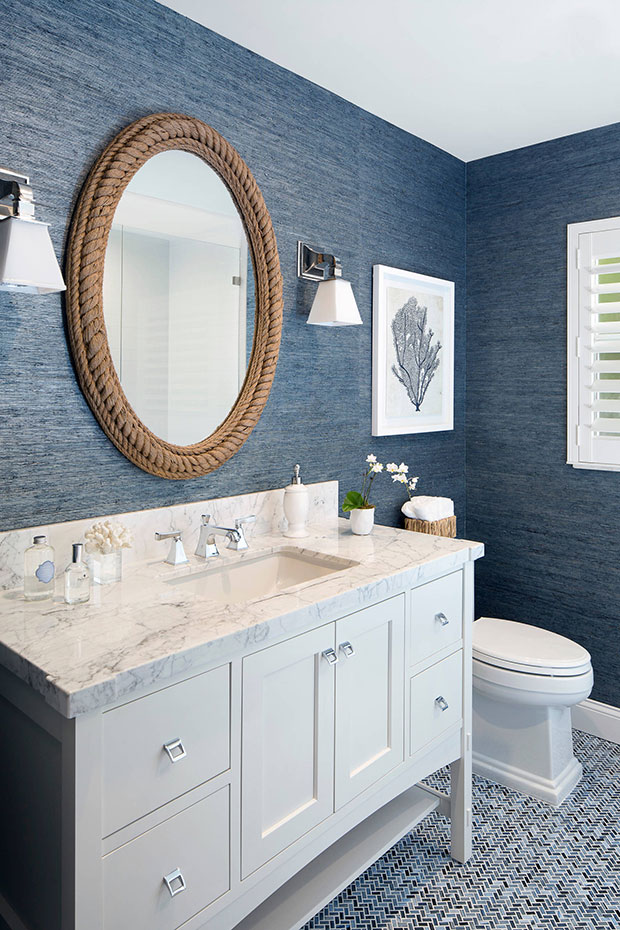 Lisa Michael Interiors
With this wallpaper design and this bathroom mirror design are bringing together the perfect coastal charm.
Classic Kitchen and Bath Remodel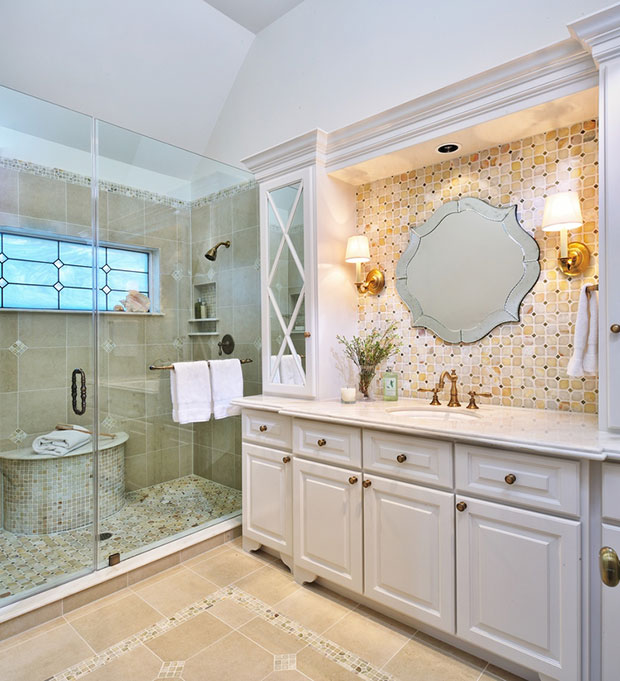 This bathroom mirror design has a pretty design. And with the backsplash tile and sconces on either side, it makes it look like a sun.
A Home Full of Treasures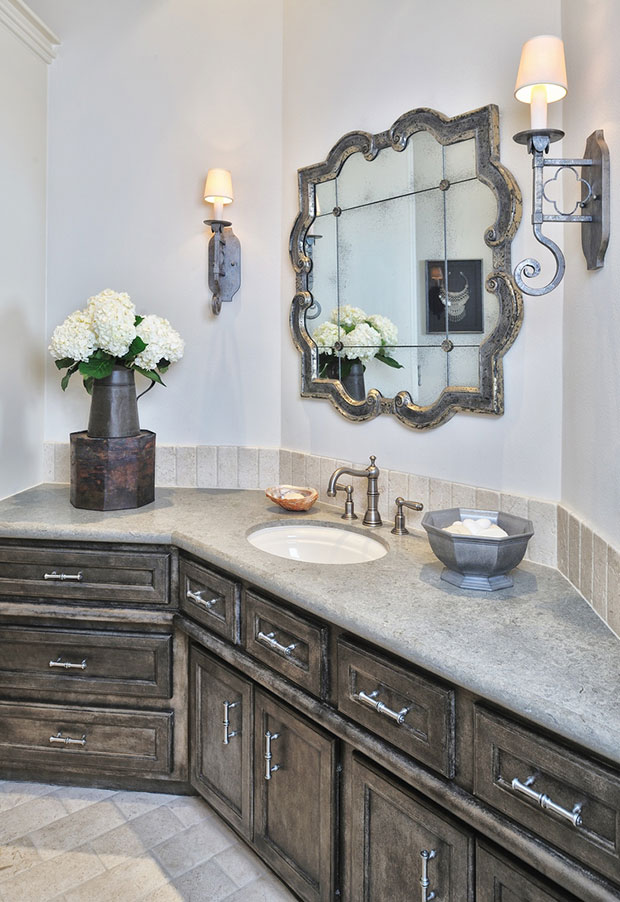 Carla Aston
To capture some traditional elegance in bathroom mirror ideas, antiquated yet functional mirrors are perfect choices.
5th Avenue Residence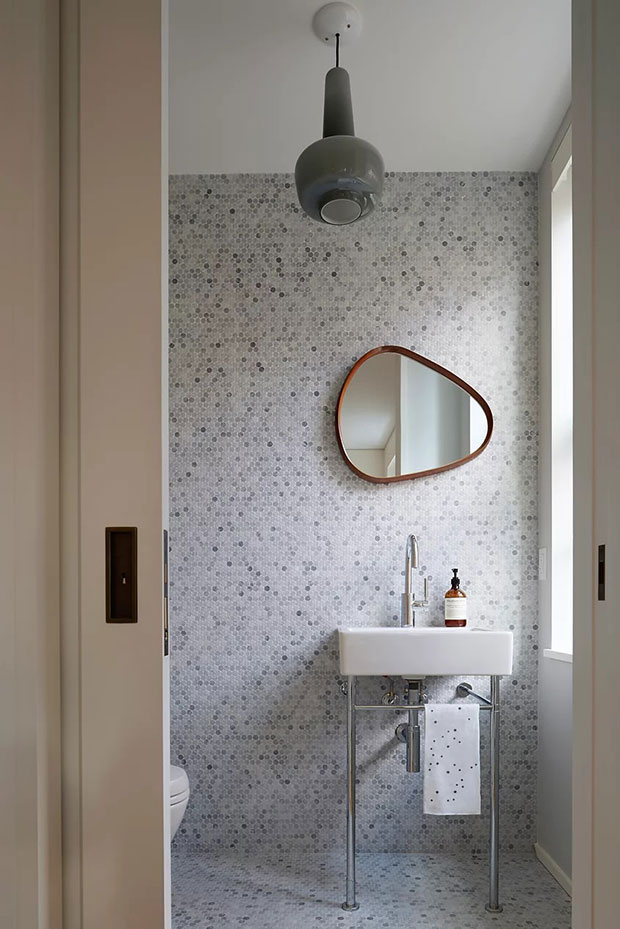 Pulltab
The advantage of bathroom mirror ideas, is you can fix it any way you want and it's going to give a different look and feel to your bathroom every time.
Oceanfront Bath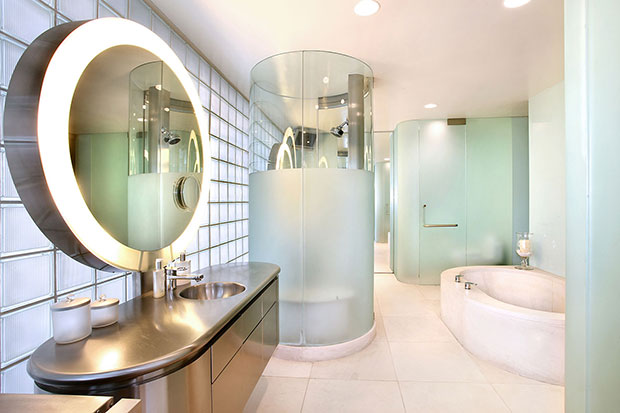 Jeri Koegel Photography
LED mirrors like this are quite fashionable. In the context of this entire bathroom design though, it adds to the futuristic look.
Vieudelou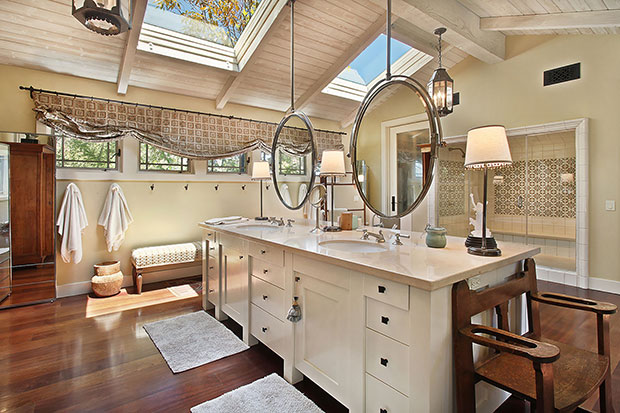 Jeri Koegel Photography
Bathroom mirrors that hang from the ceiling? These are the kind of bathroom mirror ideas that are not so common. It's cool, stylish, and eccentric.
Stokes Master Bathroom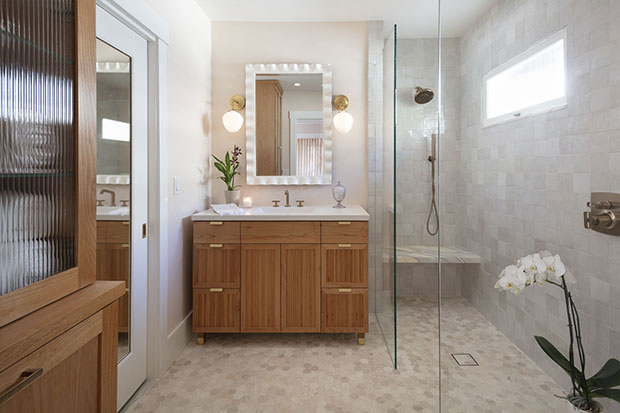 The wave designs on the frame give it an appearance of dynamic textures. But overall, with the wall sconces on either side, this bathroom vanity gives the appearance of those Hollywood vanity mirrors.
Joy Master Bathroom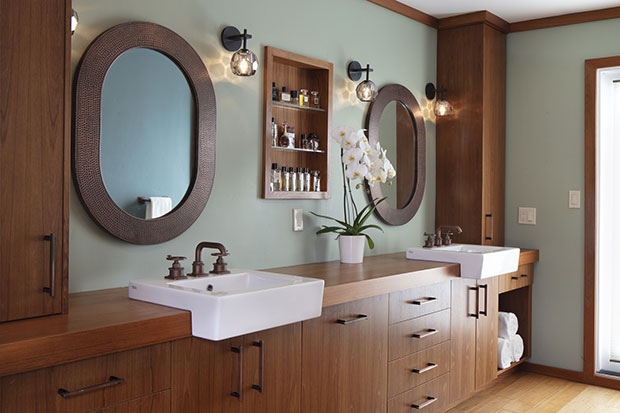 These bathroom mirrors are the perfect finishing touches for this bathroom vanity design. The colors are in perfect harmony.
Petrini Bathroom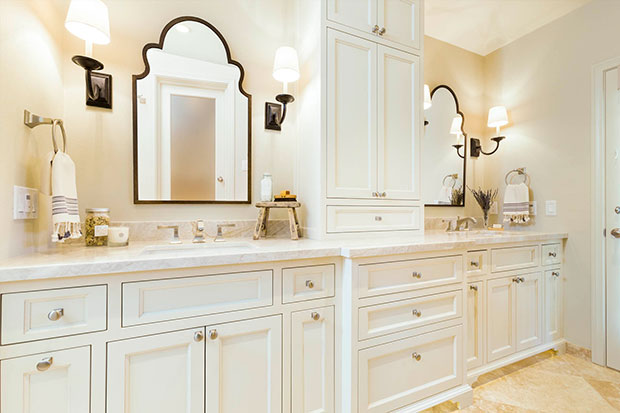 Projects General Construction
In a pristine white bathroom vanity, this mirror design is like a breath of fresh air.
Bath Remodel
Add some glam into your bathroom with bathroom mirror ideas like this. Though they are designed similarly, they are in different sizes, creating a unique dynamic on the overall look.
Bathroom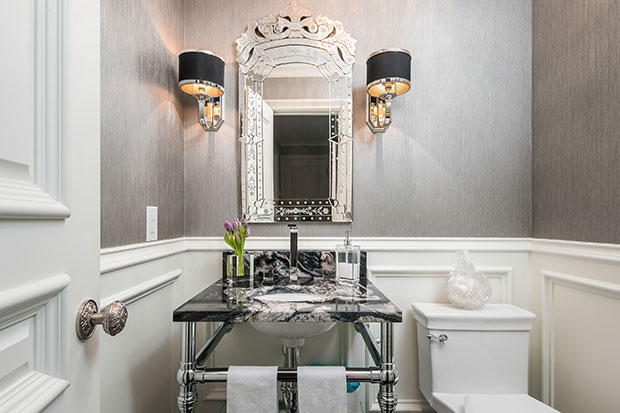 With its frame design, this bathroom mirror is looking very fitting for royal-themed or classic elegance designs.
Bathroom Vanity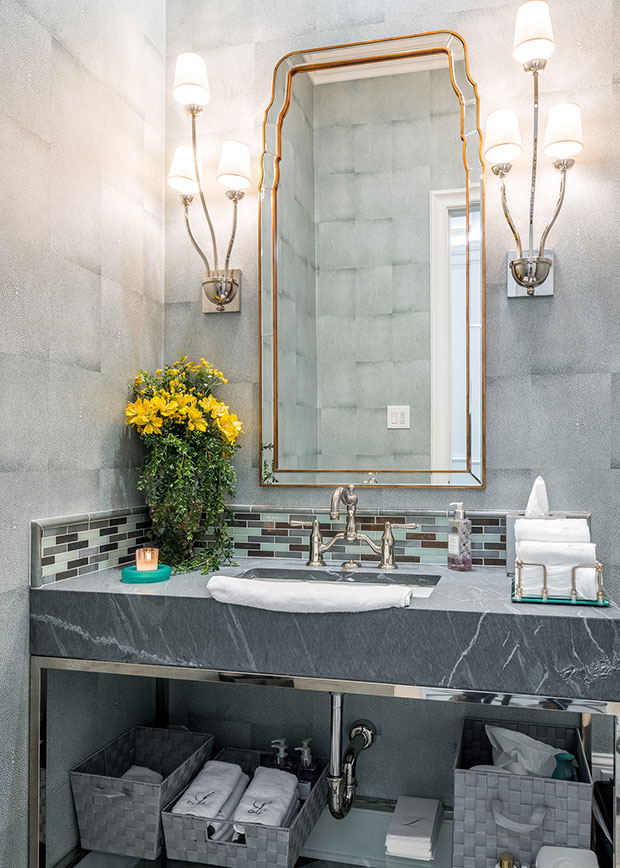 Henderson Custom Remodeling
The framing is beautiful as it tries to give a seamless look.
Modern Napa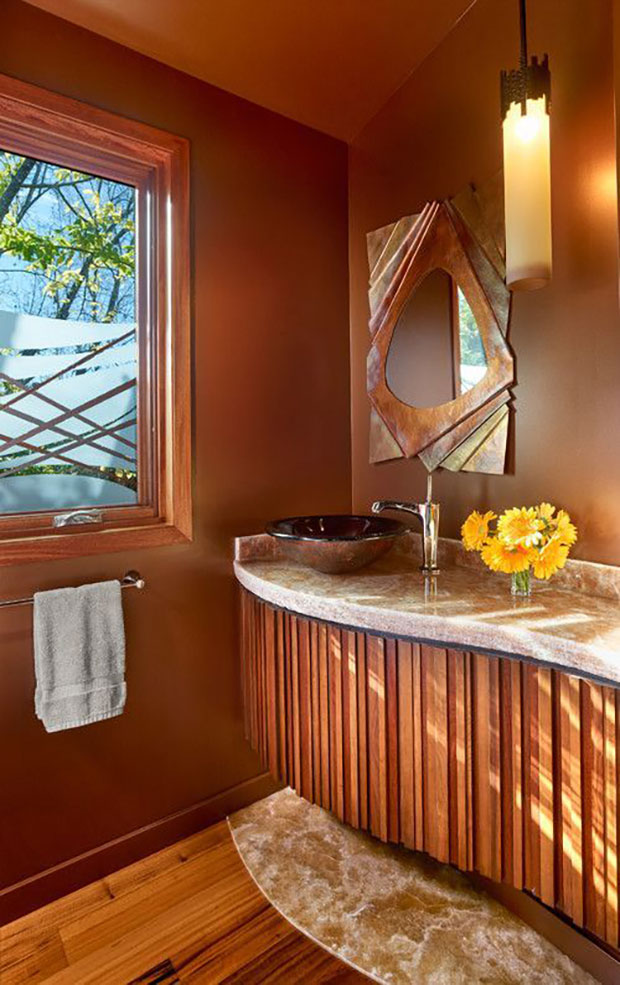 Susan Hersker Interior Design
If you're looking for unique bathroom mirror ideas, this one definitely takes the cake. An extraordinary frame and gloss over emphasize its beauty.
Ocean Park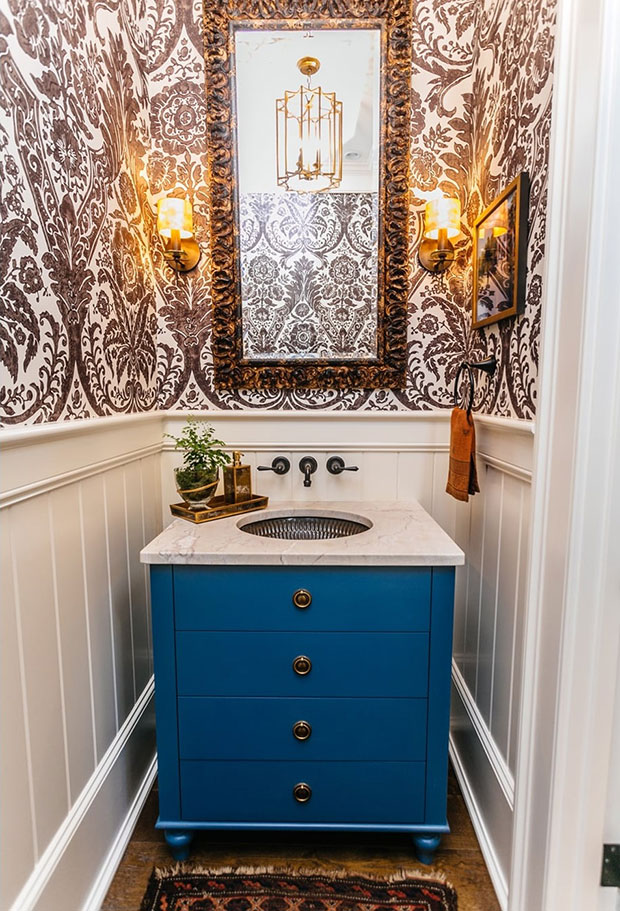 Buffington Homes
One of the most ornate bathroom mirror ideas that is perfectly matched by the bathroom's wallpaper (or is it the other way around?).
A House in the Woods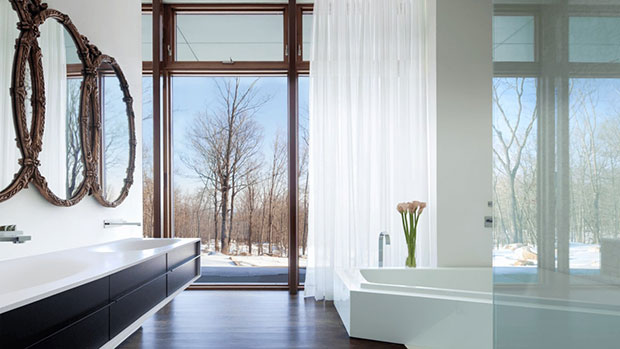 William Reue Architecture
Instead of having a long, rectangular mirror, add some spice to your bathroom with interlinked round mirrors like these.
Healdsburg Southern Charm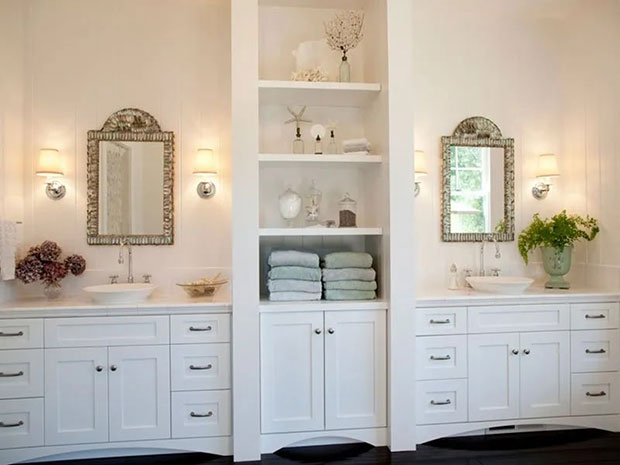 Julie Williams Design
These ornate mirrors definitely bring a much-needed popping personality.
Cow Hollow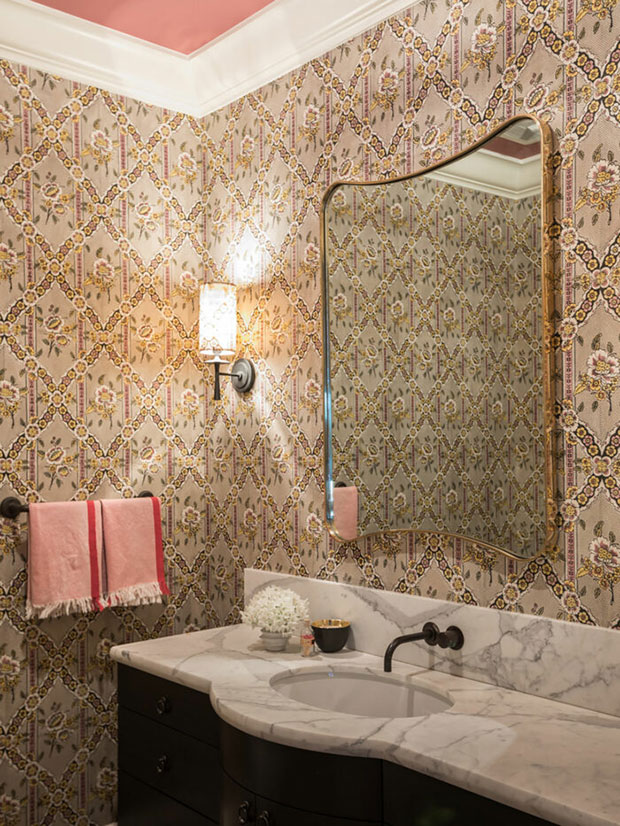 Picking a bathroom mirror with a subtle frame gives a neat and chic look like this.
Atherton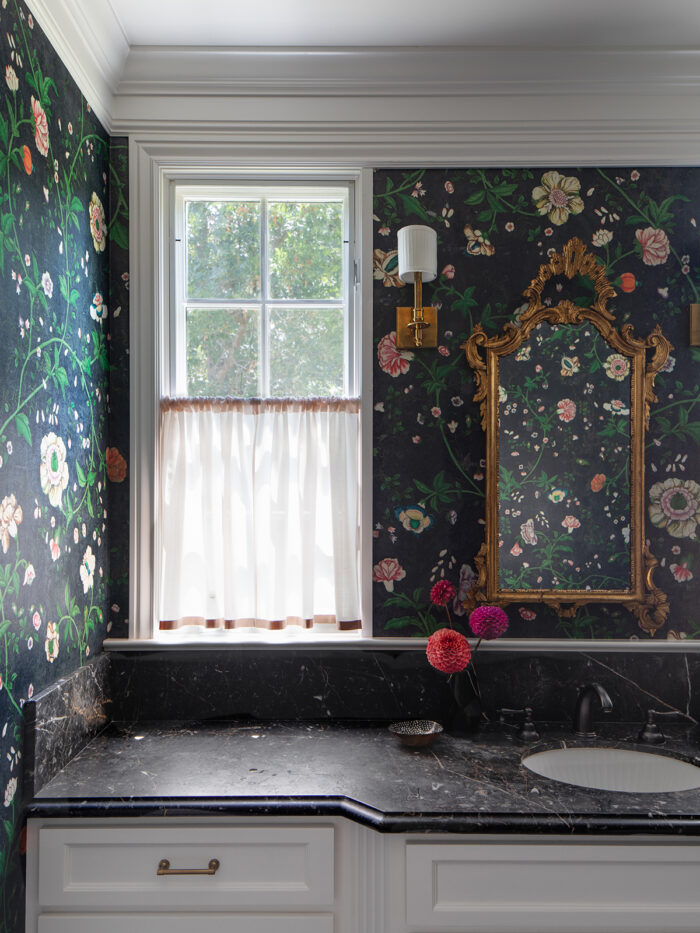 Redmond Aldrich Design
With a floral wallpaper design, an ornate mirror could have been visually overwhelming against it. And yet, this bathroom makes it work somehow.
Moorland Avenue Home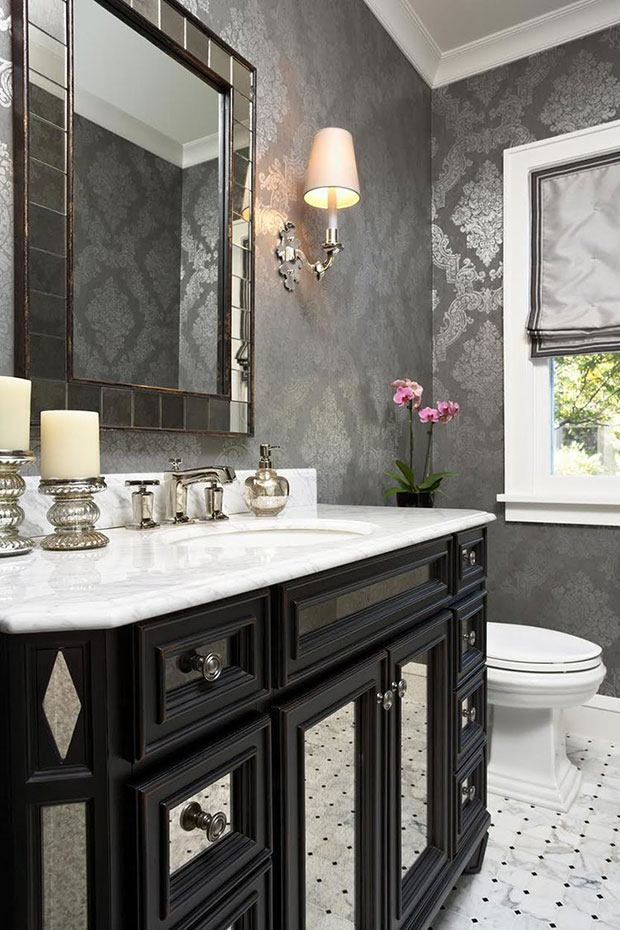 Elsie Interiors
The antiquated iron rust on the mirror works wonders in this sophisticated bathroom design.
Sugar Lake Summer Home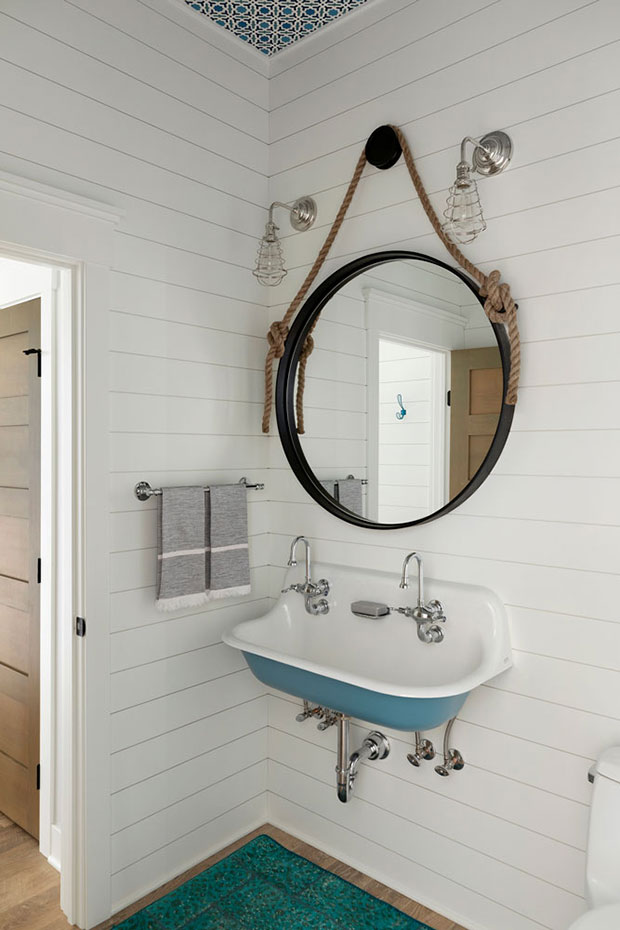 Bathroom mirror ideas like this are not your sophisticated ornate ones but they surely bring out a simplistic charm you will want to have in your bathroom.
Excelsior Waterfront Home Guest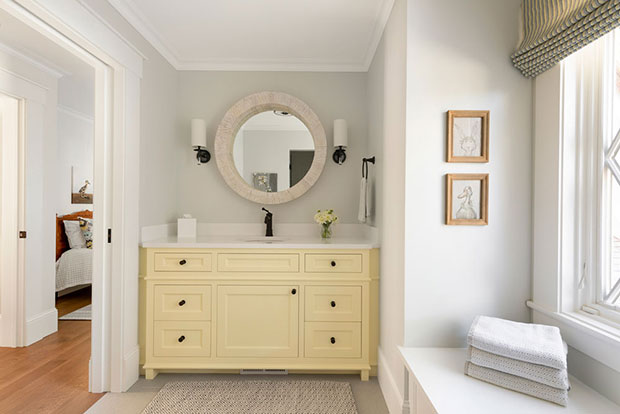 The frame around this seems big and bulky. If you prefer mirrors like this, make sure you actually have the wall space to accommodate them.
Seattle's New Traditional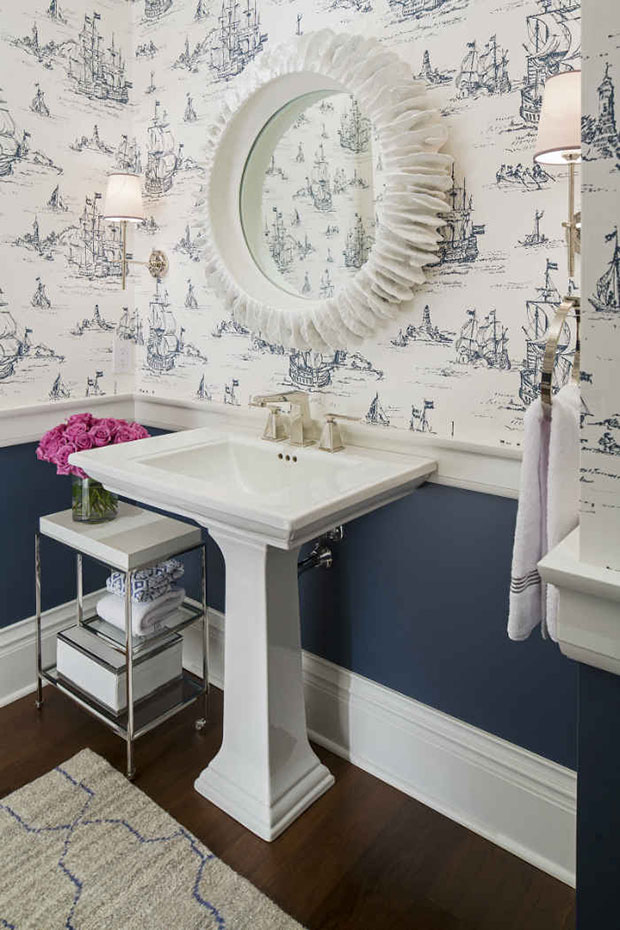 This bulky mirror frame gives a fluffy texture illusion (when it really is not!). In contrast to a simple, traditional sink, this mirror is a perfect match.
Peavey Lake Remodel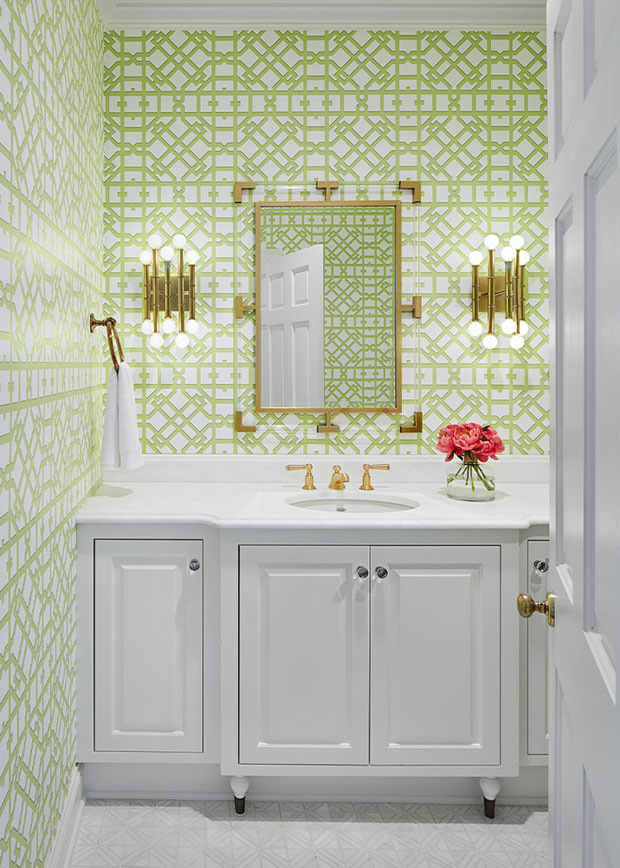 Your bathroom mirror ideas shouldn't just be limited to the bathroom mirror itself. In this bathroom, the mirror and the wall sconces are perfectly matched.
Rustic Lake House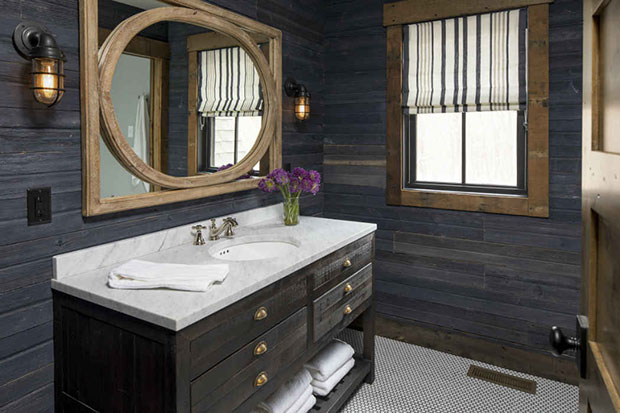 Aside from modern sensibilities or traditional elegance, best believe you can find a bathroom mirror fit for rustic style too!
East Coast Remodel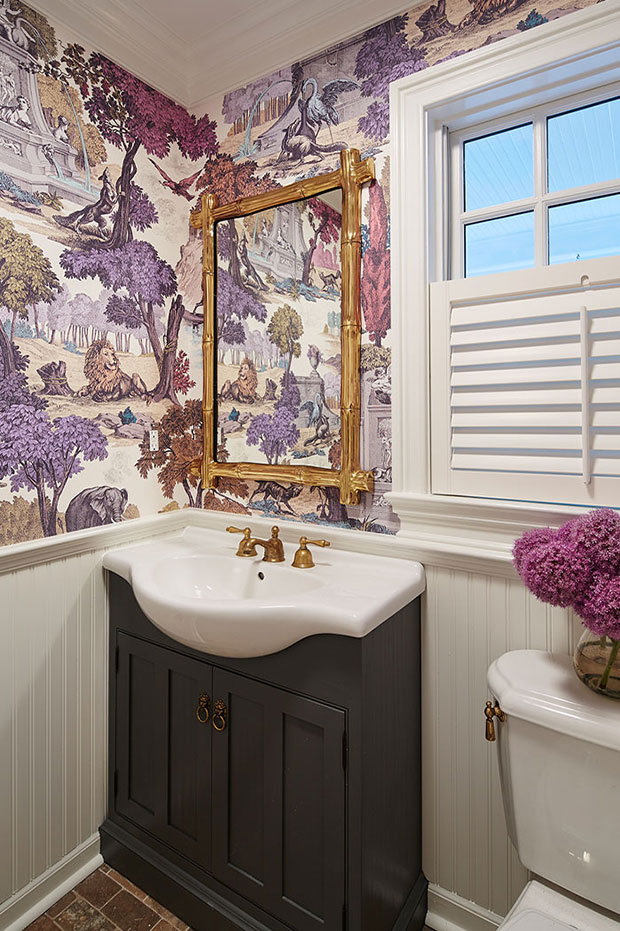 A unique frame that brings an authentic feeling with it. Against this colorful wallpaper, the bathroom mirror design is quite the perfect fit.
Coastal Seattle Home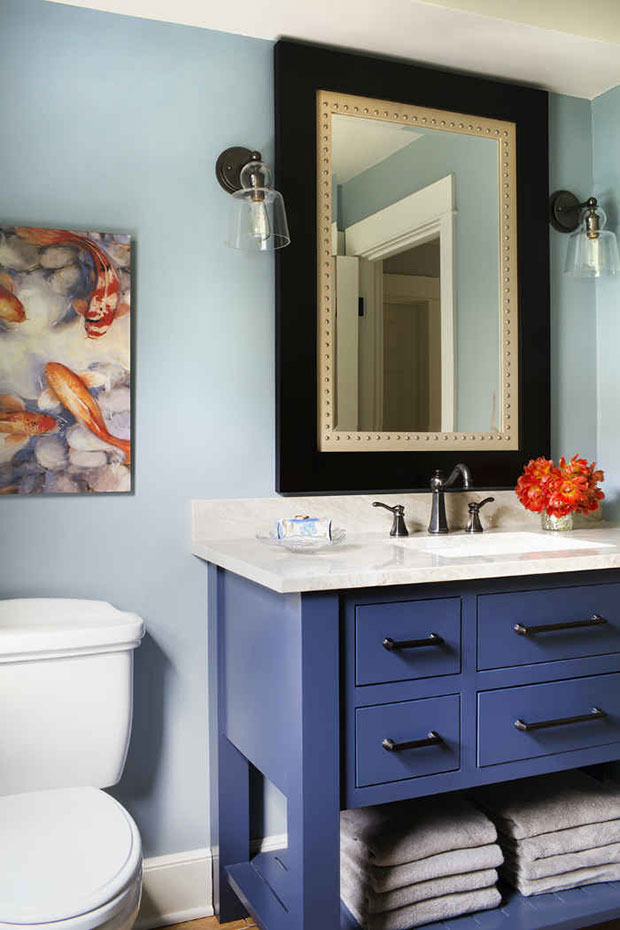 Martha O'Hara Interiors
It's rare to see a bathroom mirror above the sink that reaches the ceiling with that wide frame.
Blended to Perfection Bath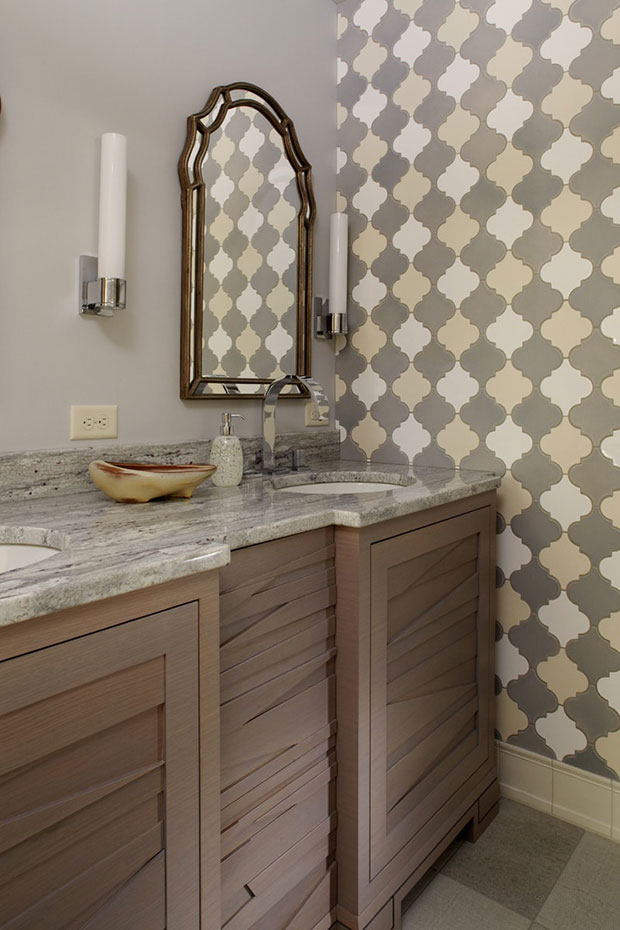 To perfectly match the vanity cabinet, this bathroom mirror with its rustic charm is really what is needed.
Boathouse Hideaway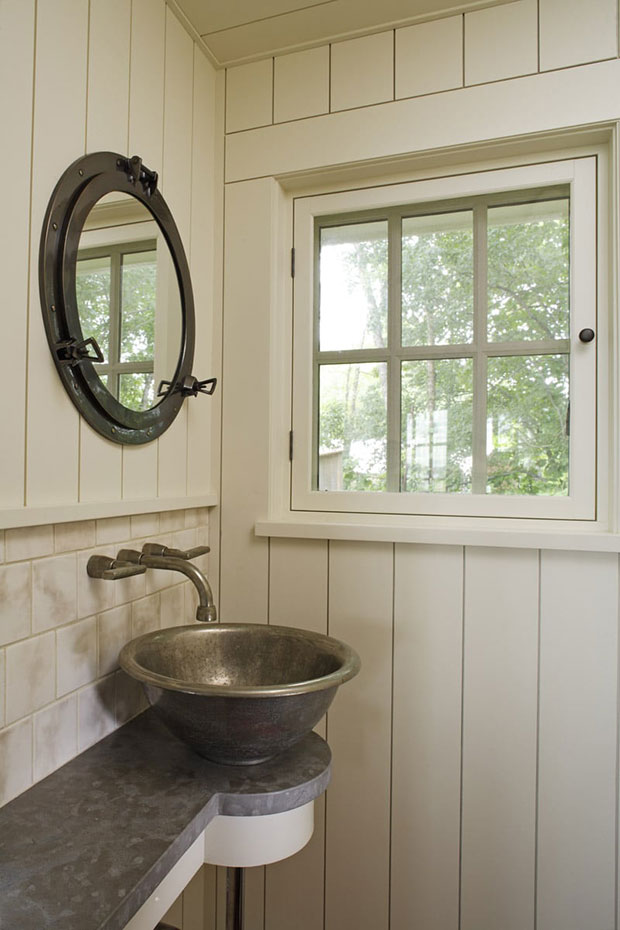 LiLu Interiors
This porthole design for a bathroom mirror is quite charming. With its material, it even adds a rustic appeal to an otherwise, farmhouse-style bathroom.
Wildwood Mansion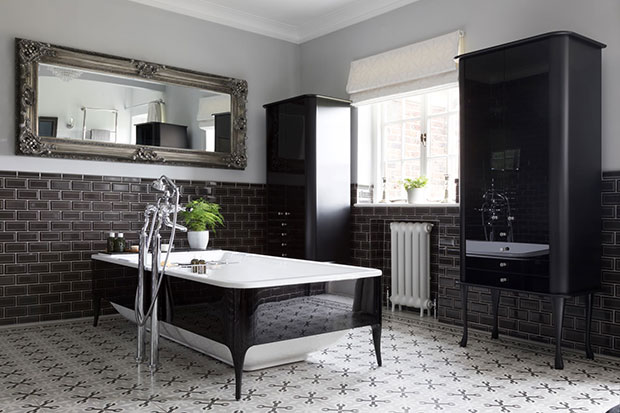 Sometimes bathroom mirrors aren't just above the vanity sink. In this home, they have a mirror above the bathtub for some reason.
Trevereux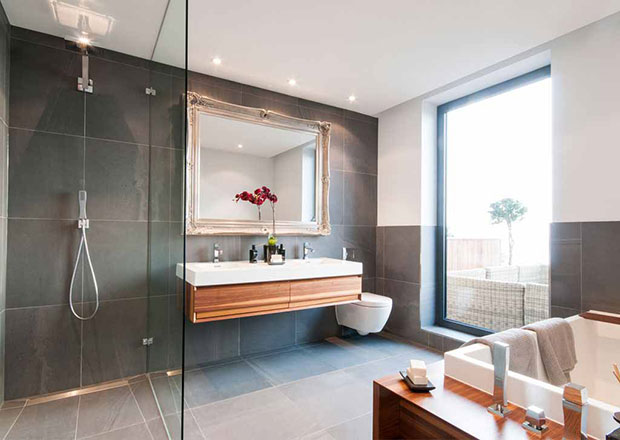 A beautiful frame that doesn't have overly intricate ornate details. But it's enough to add visual interest to this bathroom.
Tunbridge Wells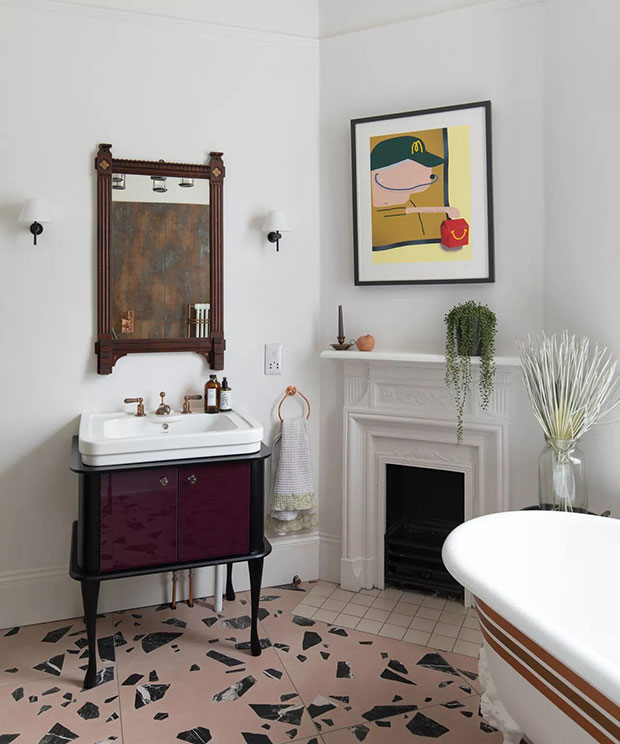 C.P. Hart Ltd
The frame of this bathroom mirror is reminiscent of the architecture of medieval castles. Thus, bringing that traditional style that contrasts so much with the modern artwork of a person working in McDonald's.
Earl's Court Apartment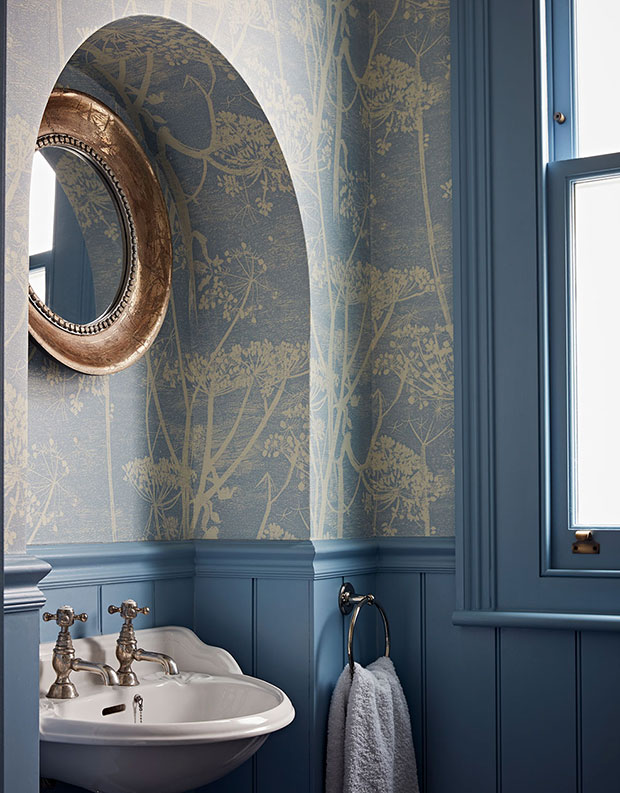 This bathroom mirror has a very interesting design that almost looks like an antiquated plate, unearthed from the depths of the earth.
Venice Palazzo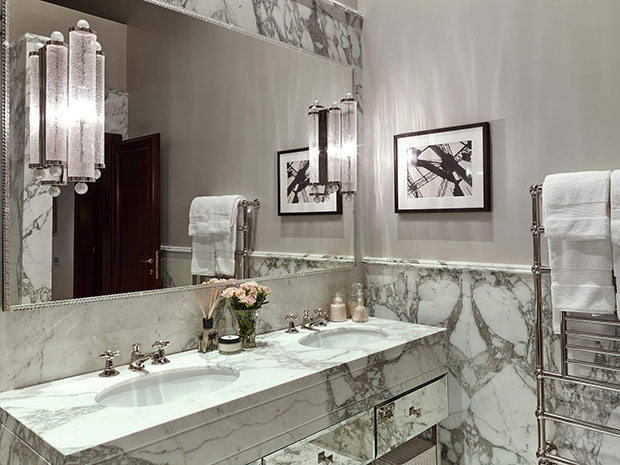 In most cases, the light sconces are placed outside on either side of the bathroom mirror. But in this bathroom, the sconces are placed right on the mirror itself.
Knightsbridge Pied-a-terre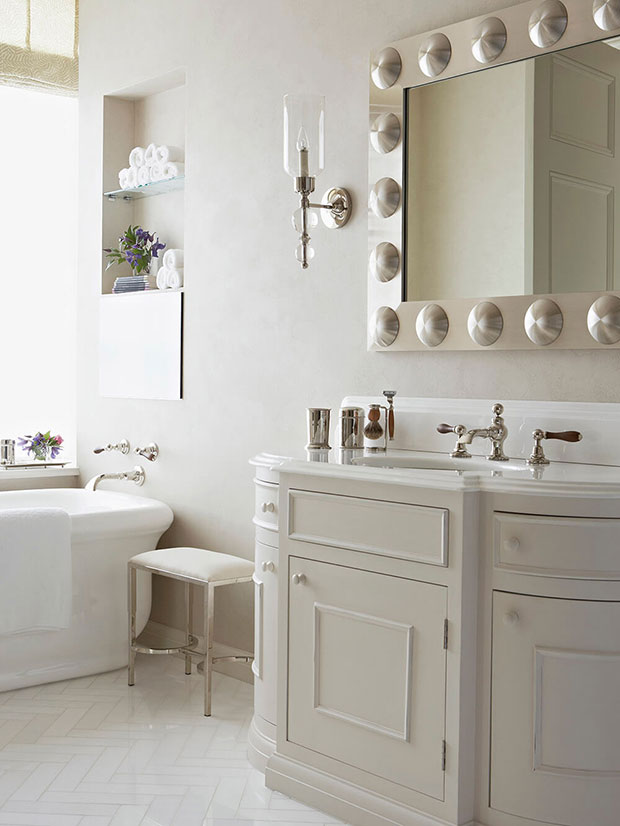 This kind of bathroom mirror design is very fitting for a Hollywood-like ambiance.
Covent Garden Executive Suite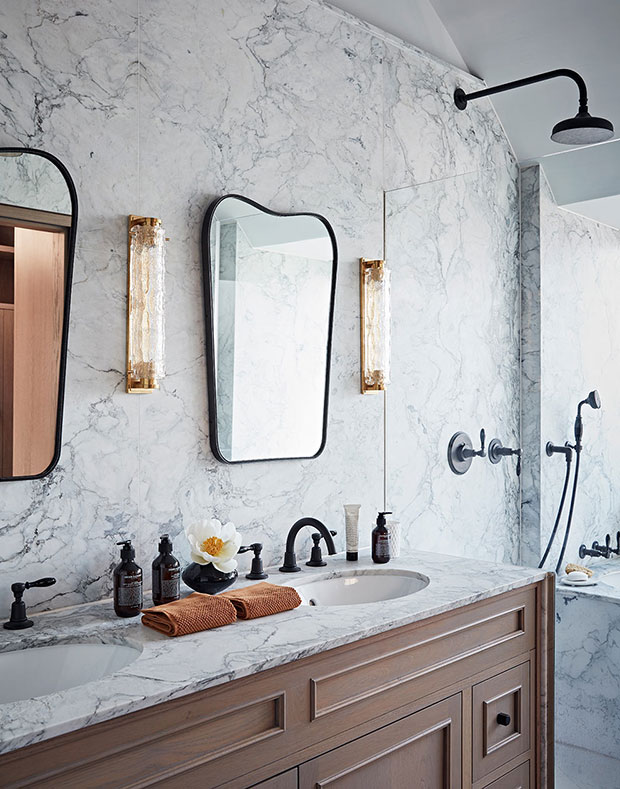 Godrich Interiors
For modern and contemporary bathroom designs, simple yet chic bathroom mirror designs are the perfect décor pieces.
Kerrisdale II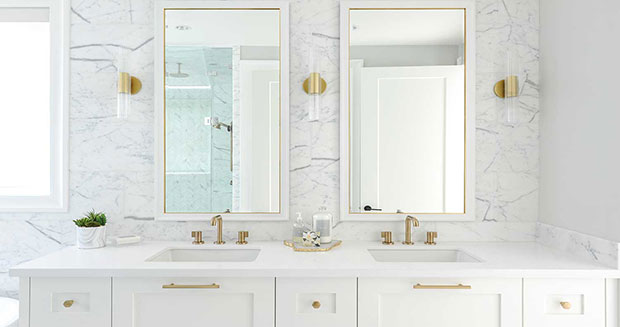 Enviable Designs
The gold accents on the edge of the frame are a clear consistent touch with the rest of the bathroom vanity look.
Twist on English Style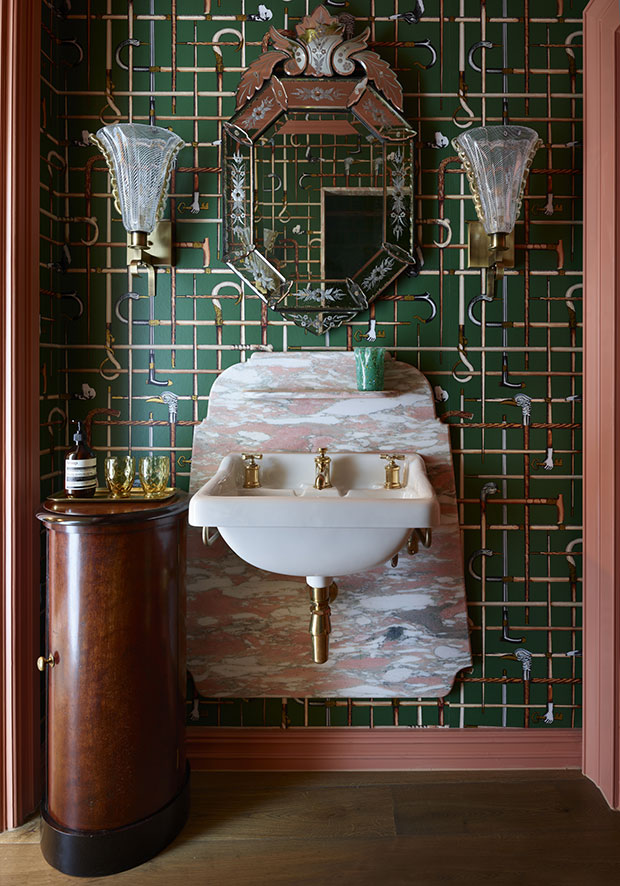 With an extensive décor and design details in this bathroom, it is only fitting to have an equally visually astounding bathroom mirror to complete the look.
Pink Perfection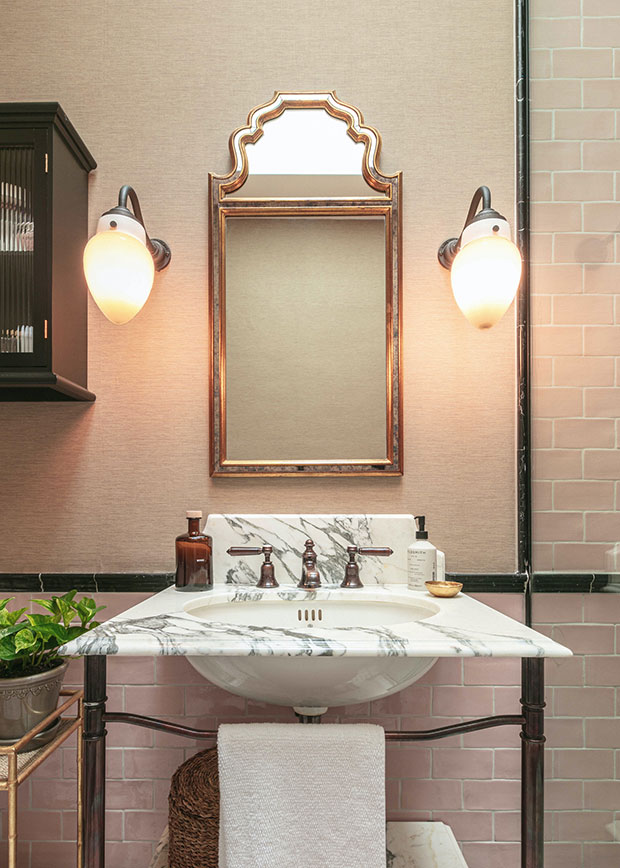 The curves on this bathroom mirror are perfectly complemented by the curves of the sconces next to it.
Parisian Townhouse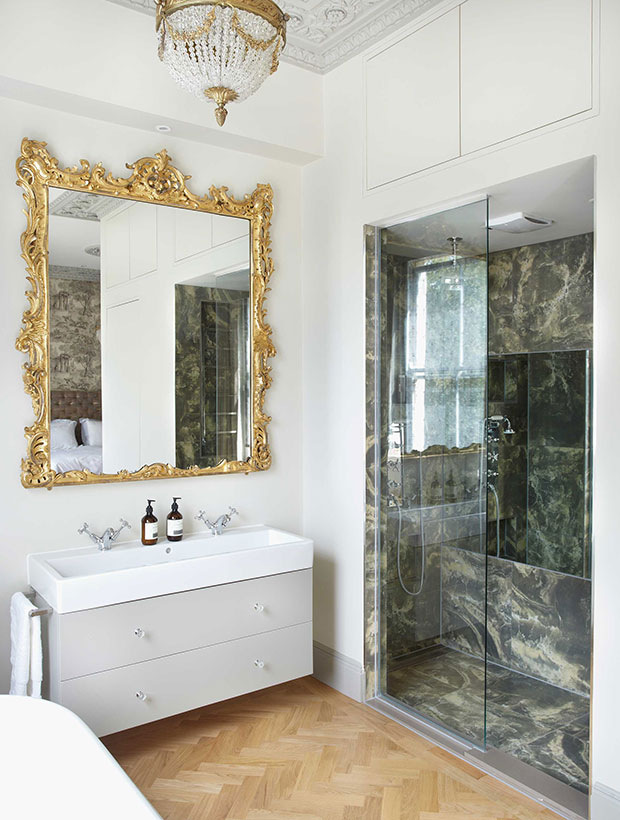 Drummonds
As you would expect from a Parisian Townhouse, this ornate bathroom mirror perfectly encapsulates the rest of the home's theme.
That's all for bathroom mirror ideas! Which of these caught your attention?
Like This Post? Pin It!