50 Washroom Vanity Ideas to Freshen Up
|
Some bathroom interior designs are not complete without a vanity. In most times, it's a necessary fixture. But they can be a focal point, especially for striking washroom vanity ideas, to complete the overall look of your bathroom.
Bathroom vanities sometimes referred to as washroom vanities, are often up in their visual aesthetics. Imagine freshening up every day in front of an equally functional and aesthetic washroom vanity.
What is the latest trend in bathroom vanities?
Most washroom vanity ideas come with the latest trends to complete the overall look and are in with the current times. Before you start coming up with your own washroom vanity ideas, let's take a look at the latest washroom vanity trends.
1. Black vanity
Washroom vanities in themselves become the focal point of your bathroom. But you can make an even bigger statement with a black or dark vanity. Especially for bathrooms with natural décor and white or neutral colors, the dark vanity could beautifully contrast that.
2. Floating vanities
Floating vanities or wall-mounted vanities are very fashionable trend. With its floating appearance, it allows for the bathroom to look more spacious than it is. It also frees up floor space, allowing you to store additional objects underneath it like a wicker basket.
3. Modern rustic style
Bring in the warmth of modern charm with vintage aesthetics to your bathroom with a modern rustic style vanity.
4. Vessel-style sink
Instead of the usual washroom vanity style where the sink is installed within the countertop, a popular trend these days is a vessel-style sink. It's installed atop the vanity countertop, giving the vanity a striking charm and adding an edge that can't be seen in other styles.
5. Pedestal sinks
Pedestal sinks are back in style. The classic ones will definitely bring a retro charm, but there are more modern iterations of it. If you properly decorate your bathroom, a pedestal sink could look more impressive than on its own.
6. Furniture-like vanities with storage
To avoid clutter in your bathroom, opting for a vanity with storage is the perfect solution. Look for washroom vanities with a furniture-like feel and look. One that has open shelving and drawer spaces is ideal.
7. Two washroom vanities
Having one washroom vanity is sufficient, but two washroom vanities can be better! Imagine double sink sets in a long bathroom vanity. They can also be separated into two separate vanities, which can be sometimes utilized as a like "his" and "hers" spaces.
How do I choose a vanity?
You may have several washroom vanity ideas already. But before you could really put that into fruition, you must put careful thought into choosing the right vanity for you. Consider these steps or tips on how to choose a vanity.
1. Usage
Before choosing a vanity, you should consider the people who are going to be using it and how they will use it. If you have a partner, and both of you need to use the sink at the same time, you may want to consider a double sink or two separate bathroom vanities. If you are someone who does their makeup and hair, you may want a vanity with a sizeable countertop surface space and storage to accommodate supplies.
2. Plumbing
Figure out where the plumbing is located as this would dictate where your vanity is going to be placed. Thus, affecting the kind or style of vanity you are going to have. As it stands, changing your plumbing is going to cost you more money and time. In addition, working around the plumbing is going to narrow down your choices for vanity styles. Better know your placements beforehand.
Floor-mounted vanity can use a typical plumbing layout, whereas, a wall-mounted one needs to move the plumbing hookups for your sink.
3. Placement and size
Similar to the plumbing issue, you will be able to narrow down your vanity style choices by visualizing where your vanity would be placed around your bathroom. Consider things like the door swing, the shower and toilet, and the flow of traffic. Would you have your vanity placed where it hits the door? Would you have it placed next to the toilet or far from it? If your shower enclosure is a swinging door, will it hit the vanity? The placement of your vanity shouldn't be a bother to foot traffic either.
4. Storage
Most, if not all, washroom vanity ideas come with ample storage. Depending of course, on the above conditions, you cannot just want "lots" of storage. You will need to find the perfect vanity that will give you someplace to store your bath supplies by mixing and matching.
Another note to remember is that drawers and cabinet doors can also take up space. Cabinet doors will swing out and to the side while drawers extend to the front, which one of these would work better for the placement and layout of your bathroom.
5. Sink Style
When it comes to picking your vanity style, there are so many aspects that need to be considered such as the sink, countertop, faucet, etc. But it's best to put your attention to sink style the most. Picking the sink style could also help you decide on how much countertop space you need since the sink style takes up that space too. The sink style may also be affected by how you are going to use your vanity as mentioned above.
When it comes to sink styles, you have an under-mount, drop-in, vessel, and integrated. The Undermount sink is the most common one and is installed beneath the countertop's cut-out. Drop-ins are installed or "dropped" into the cut-out of the countertop. A vessel, which is a popular trend, is a bowl-shaped sink that sits atop the counter. The integrated sink style is one that is built into the countertop for a seamless look.
6. Materials
Your vanity is going to be in contact with various substances throughout its lifetime. Water, makeup products, and cleaning products are just some of them. Humidity is a factor too. So, it's important that your vanity, no matter what washroom vanity ideas you have, is made up of materials that are durable and can withstand wear and tear.
There are plenty of countertop materials that are durable such as ceramic and plastic. Stone is known to be extremely durable and stain-resistant. As for the base, wood is the most common material.
Washroom vanity ideas for inspiration
Now, if you're still torn up in choosing the right washroom vanity for you, let's take a look at some washroom vanity ideas that could help you!
Bathroom Vanity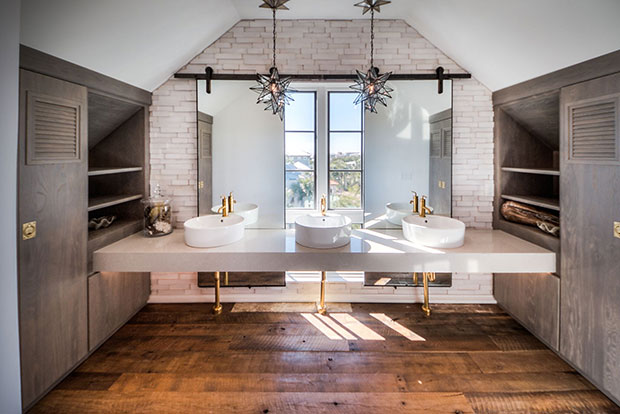 You may have been introduced to double sink washroom vanity ideas, but take a look at this three-sink floating washroom vanity.
Vanity Collection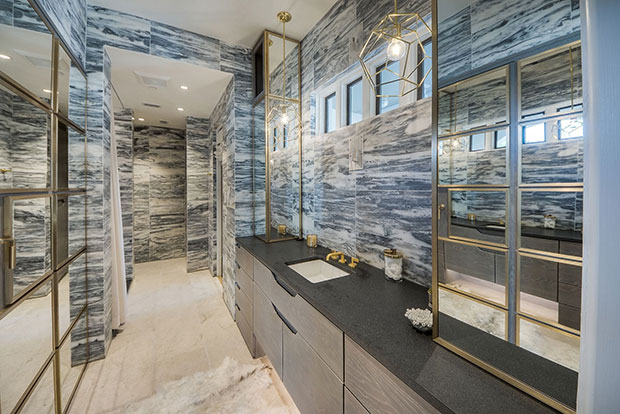 You won't even need a vanity mirror with mirror-clad cabinets like this. It even gives some kind of camouflage illusion.
Bathroom Vanity
Floating vanity with vessel sinks? This has to have one of the sleekest and most modern looks for washroom vanity ideas.
Tara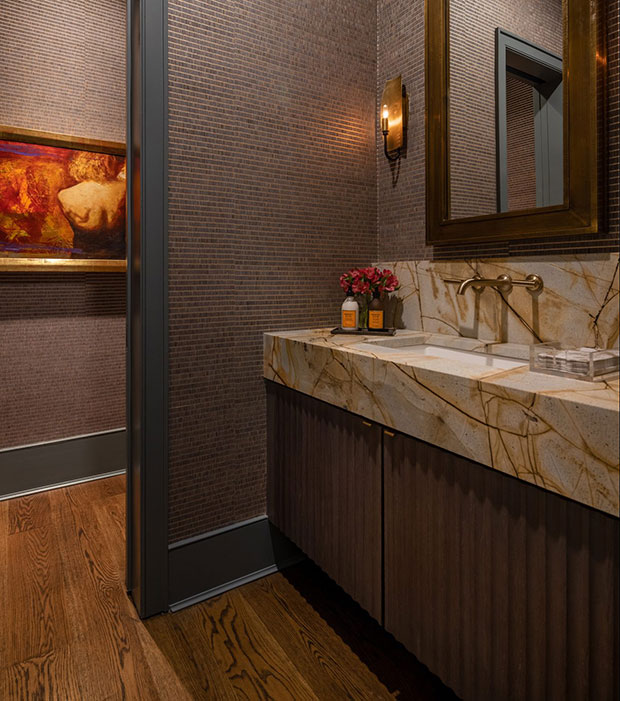 Keystone Millworks
With a look of sophisticated elegance is completed by its earthy and bronze colors. Take note of the door cabinet style too, adding some subtle details.
Seaside Bungalow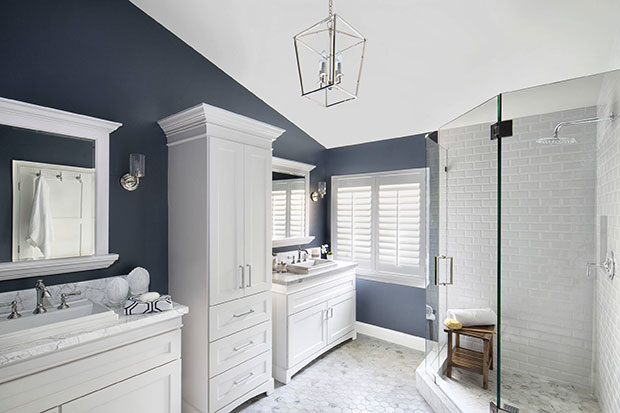 Thinking of double washroom vanity ideas? Here is a bathroom with two vanities separated by a tall cabinet. Perfect for couples who want to have their own spaces when preparing in the morning.
Carriage Hill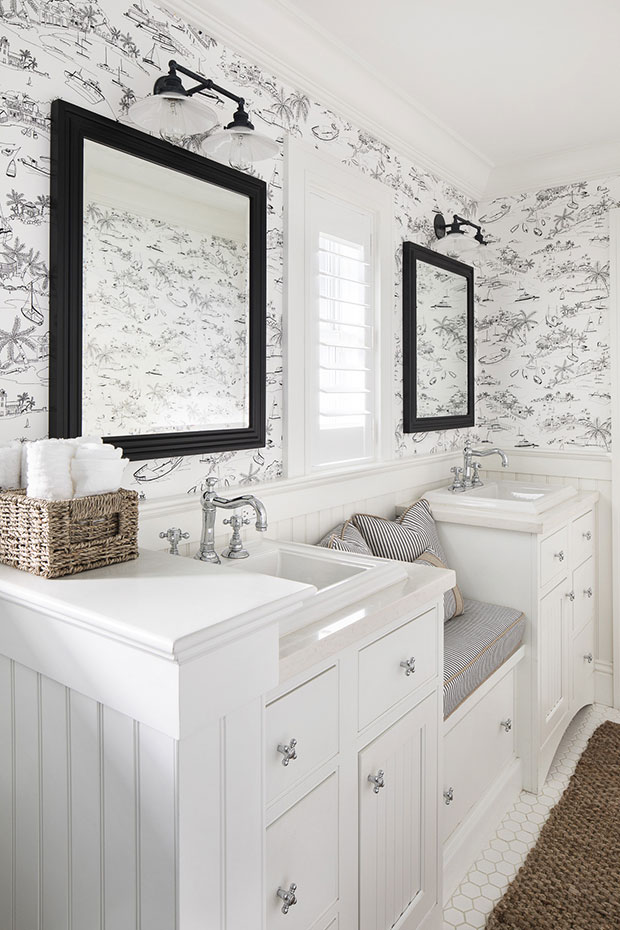 Lisa Michael Interiors
If the washroom vanity right above is separated by a cabinet, in this home, they are conjoined by a bench seat.
Waterhouse Retreat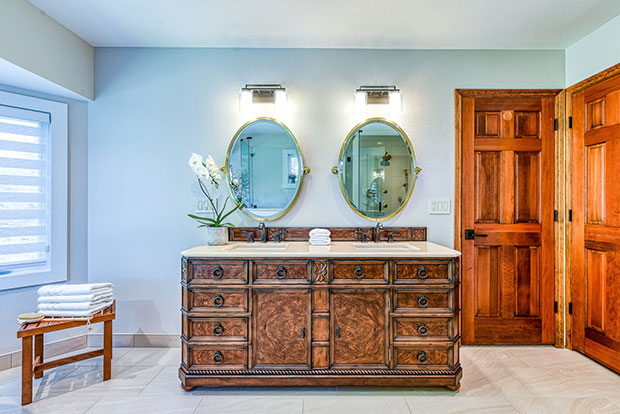 This vanity is quite the striking look with the intricate details and natural wood grain. It is perfectly paired with a plain countertop.
Breathtaking Master Bath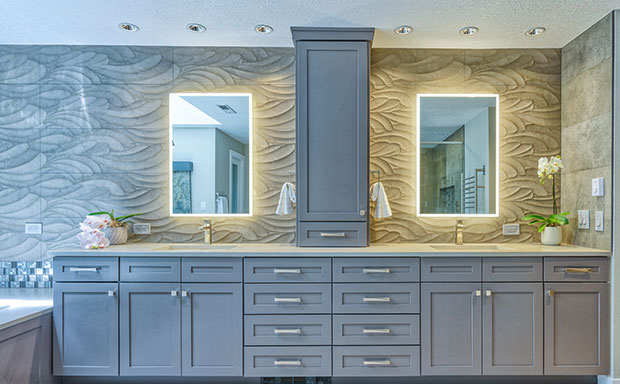 Sutherland Design Home
The wall tile design is a beauty that is much needed to add some pattern in a rather plain design of the vanity. In addition, the mirror backlight is a great addition that makes this look like a sophisticated vanity.
Rich Wood Tones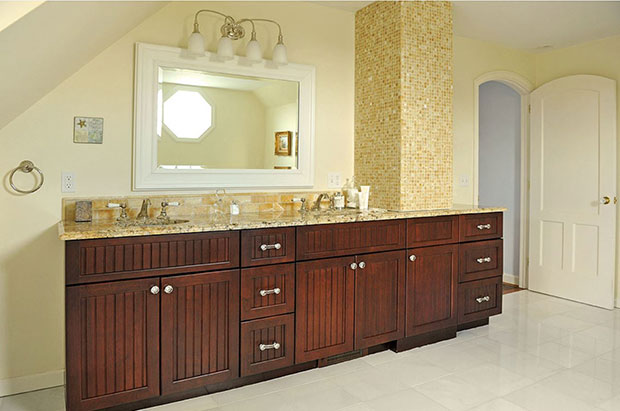 Hebert Design Build
Notice how this vanity is placed next to the door, but due to the door swing being on the other side, it does not affect the vanity placement.
Columbus Square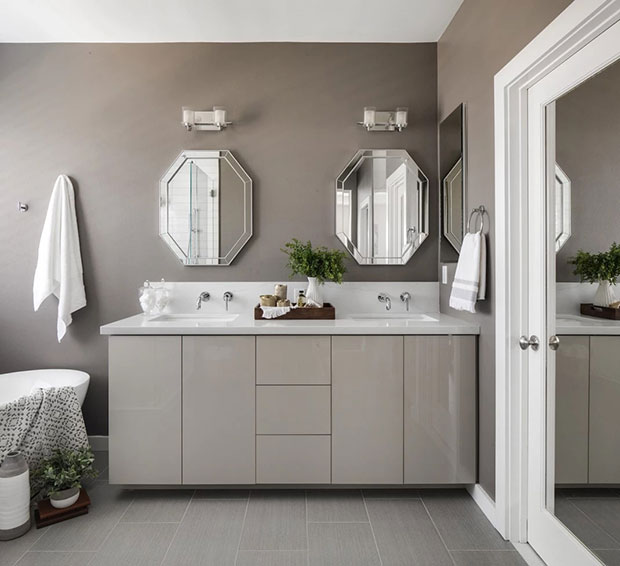 If you're looking for more contemporary washroom vanity ideas, you can take a look at this one.
Cypress Oak Creek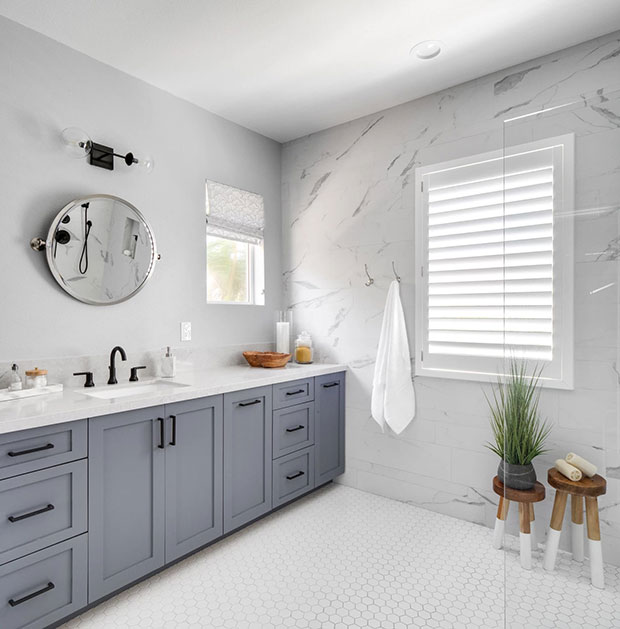 The highlight of this vanity is this pretty and sleek mirror. It adds some retro feel to this otherwise, modern bathroom.
Fullerton Hills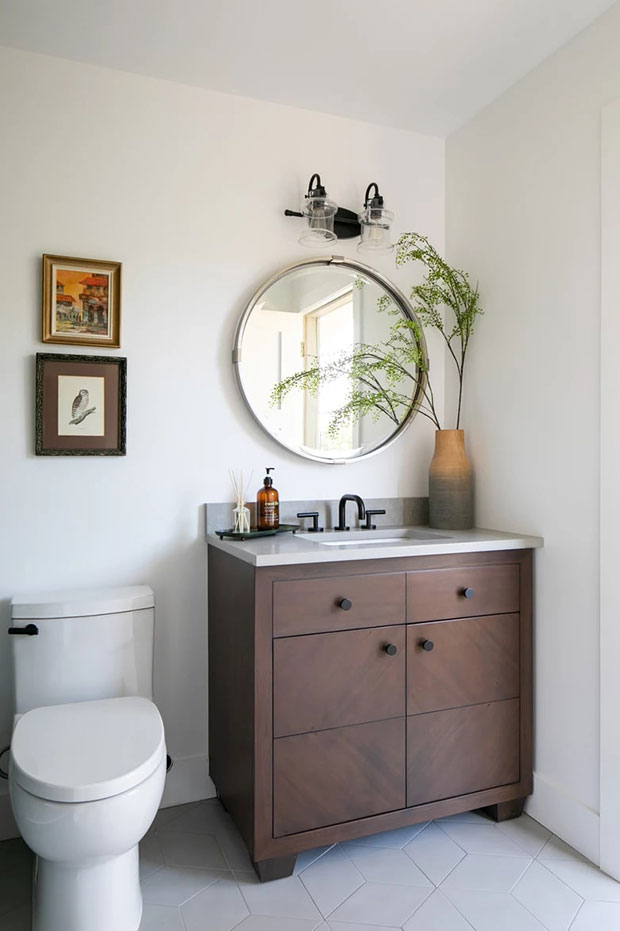 Kennedy Cole Interior Design
If you have a small bathroom, a small vanity like this could work. See, how despite the size, it doesn't fall short in its visual appeal.
Coastal Ranch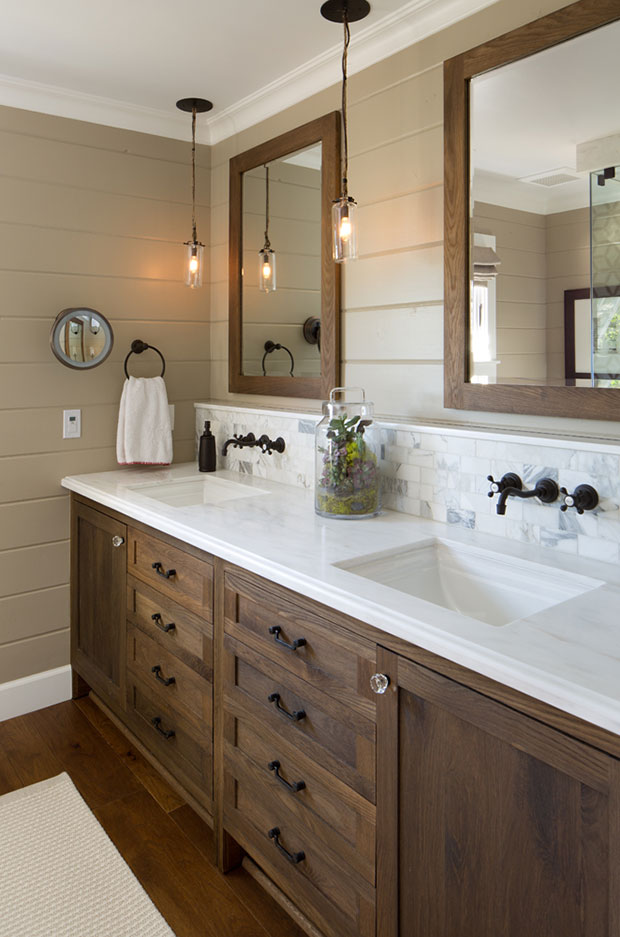 You might find plenty of contemporary and modern washroom vanity ideas. But here's one in coastal style, offering a very homey appeal.
Del Mar Craftsman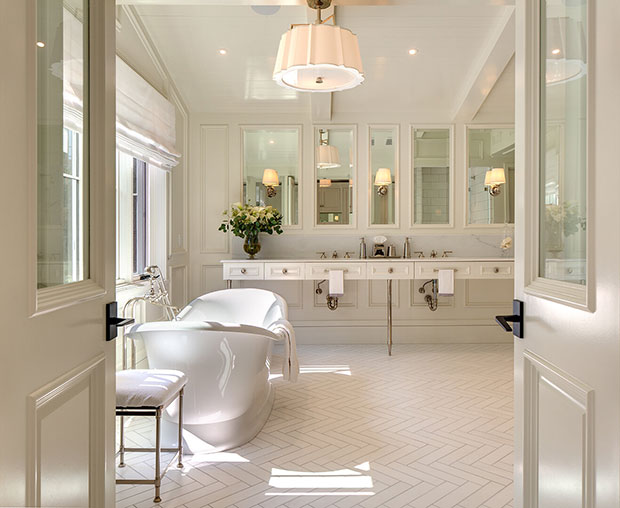 This long and thin vanity table has an elegant and sophisticated design that will definitely have you enjoying a bath.
Mountain Collaboration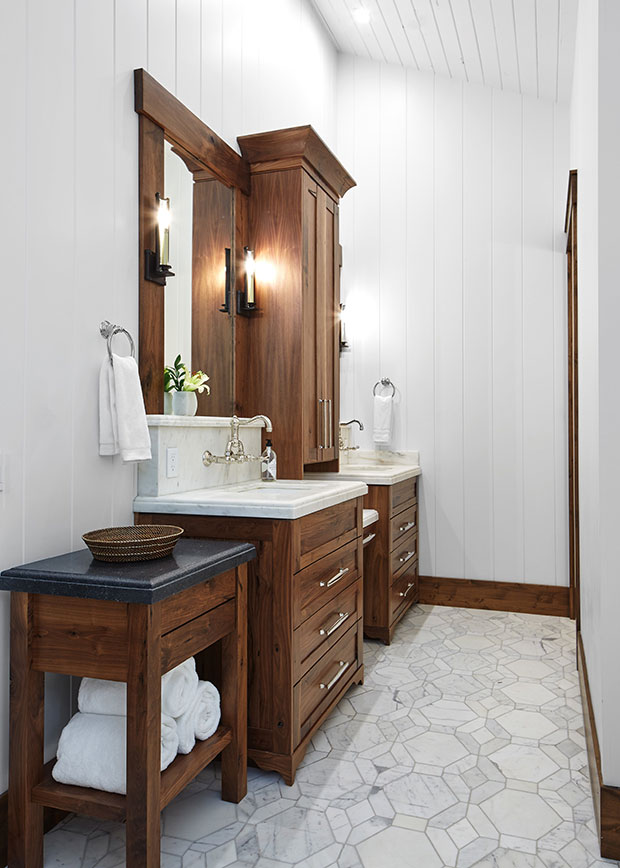 Add a bit of rustic charm into your bathroom with a washroom vanity like this.
Solana Beach Remodel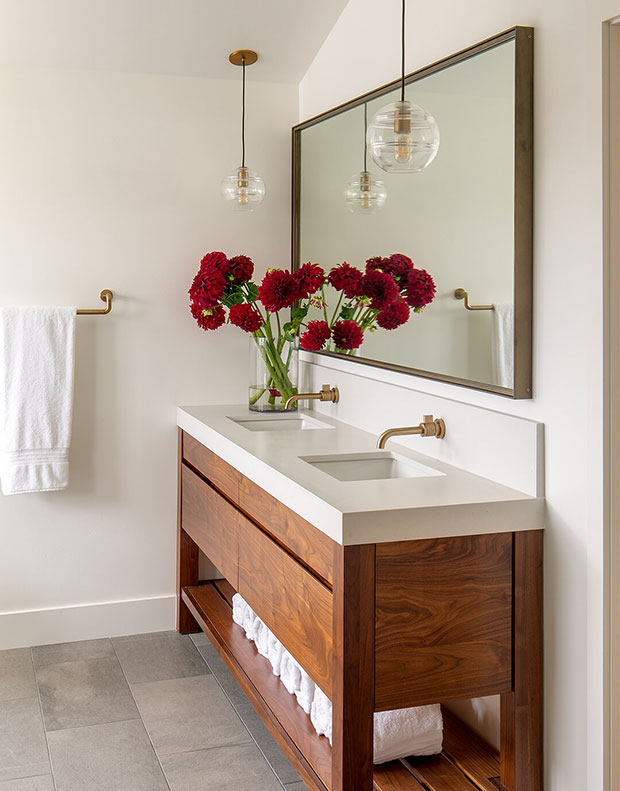 Here's quite a simple but beautiful bathroom vanity. The open shelf is perfect to store extra towels.
Ocean Front Del Mar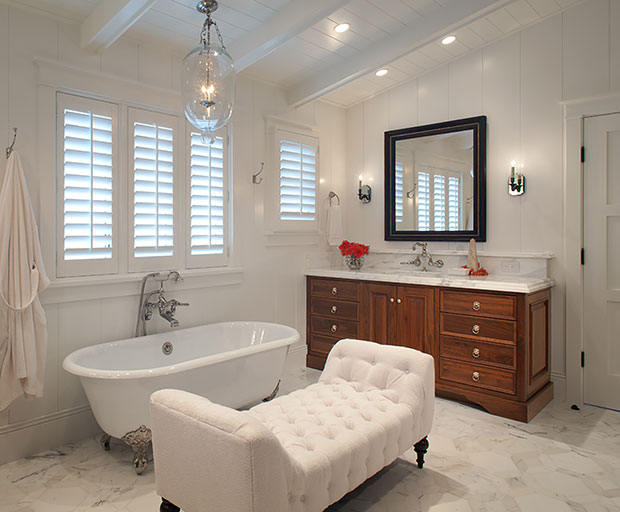 In a pristine white bathroom, this vanity definitely stands out, owning up to being the focal point.
Townhouse Del Mar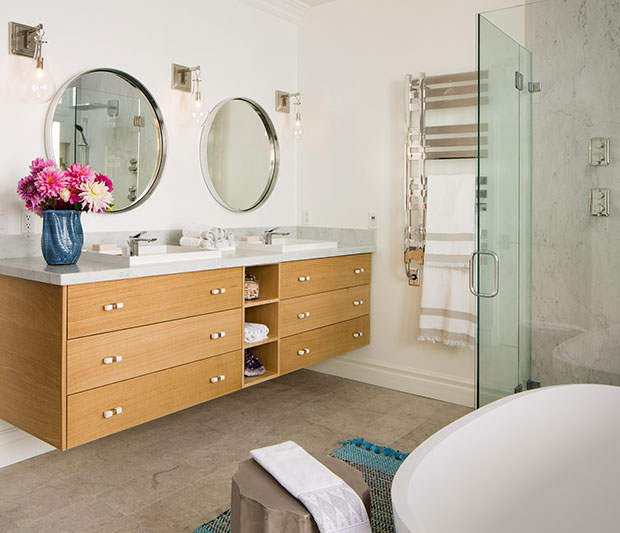 A floating vanity that offers ample storage appropriate for a variety of bath supplies.
Cardiff Seaside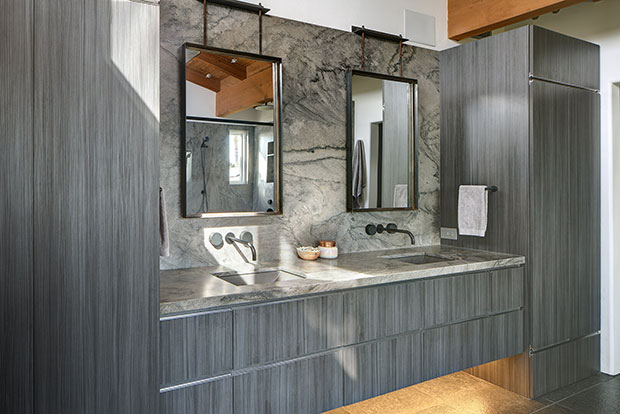 You may find many washroom vanity ideas to be like this. A floating vanity squeezed between two large cabinets is perfect for large bathrooms.
Mountain Retreat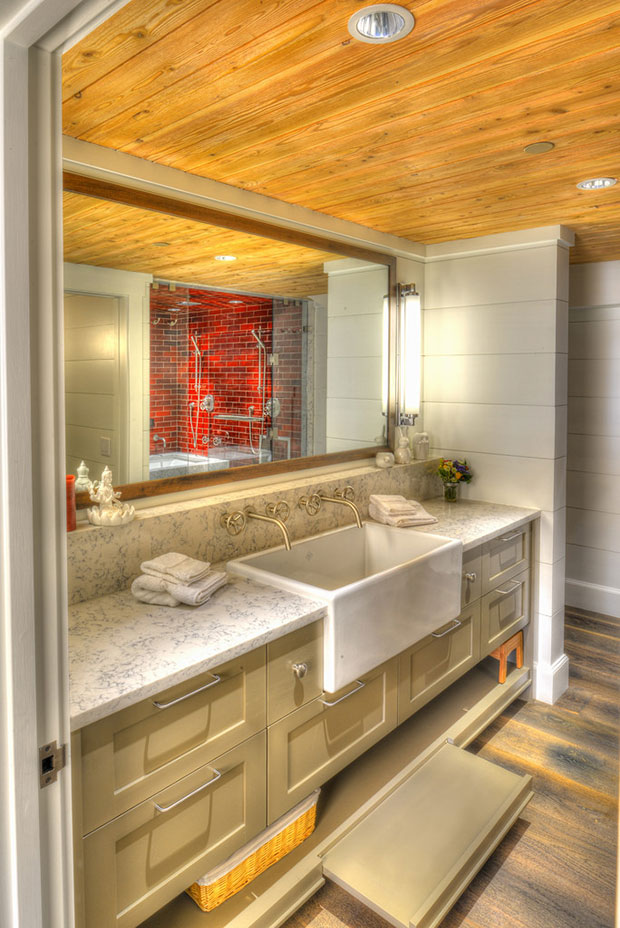 Anne Sneed Architectural Interiors
This washroom vanity design is pretty interesting and unique as it has a hidden pull-out platform perfect for children.
Arizona Luxury in Adobe Brick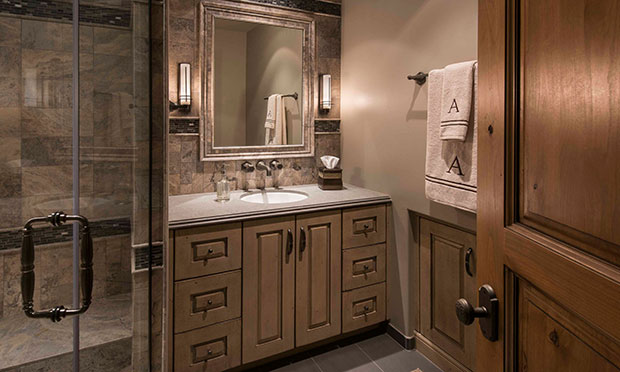 Notice how the mirror looks like it is integrated to the wall due to the intricate wall tile design.
Camelback Mountain Retreat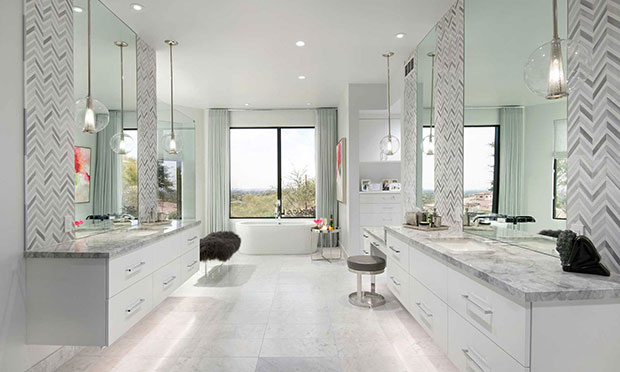 If you have the luxury of having a bathroom suite, take advantage of it by having two bathroom vanities.
Contemporary Desert Southwest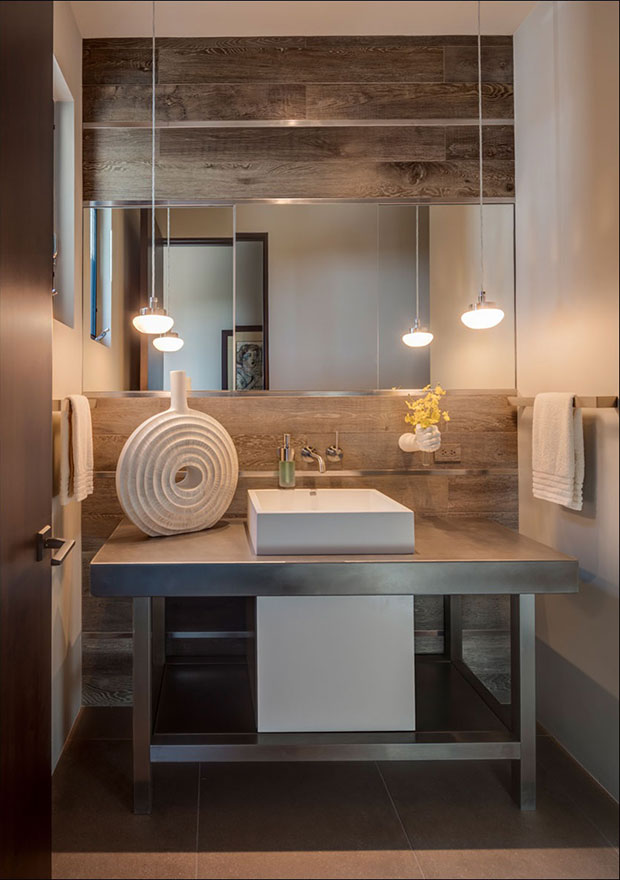 This bathroom vanity brings both industrial and rustic charm for an interesting bathroom look. Another note-worthy detail is how nearly half of the wall is mirror.
Contemporary Interior Design Remodel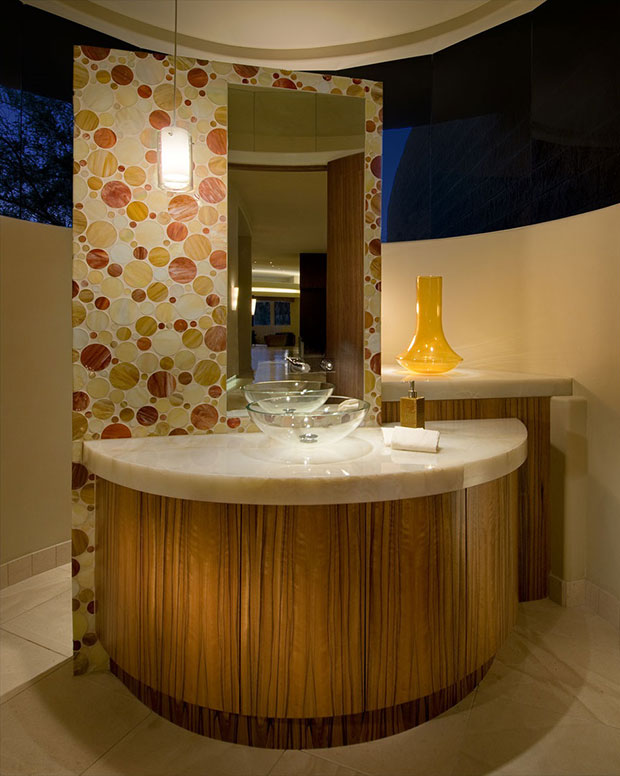 If you're searching for unique washroom vanity ideas, look no further than this bathroom. With an eclectic design, you are going to surely have fun while preparing.
Pinnacle Peak Masterpiece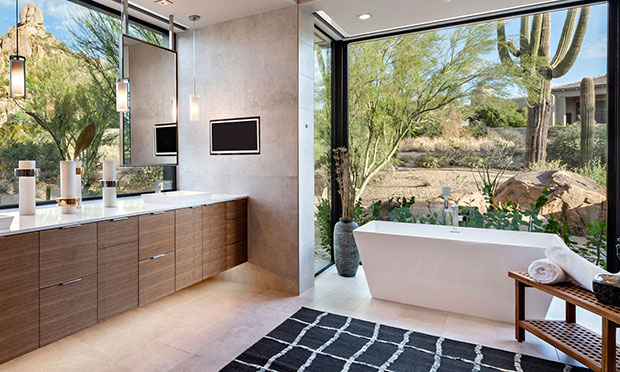 Placed against a large window, the hanging mirror is a nice contemporary touch.
Paradise Valley Contemporary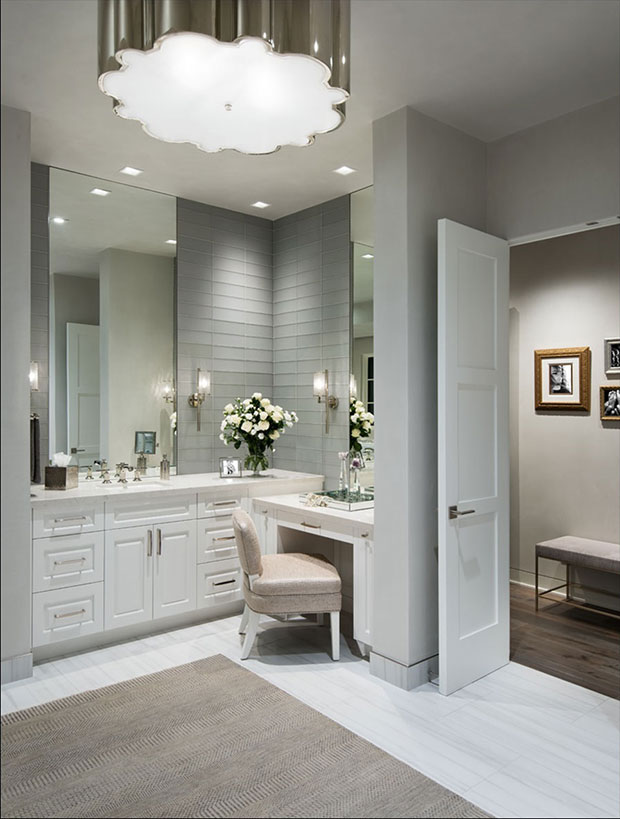 Washroom vanity ideas can also be casual and pretty just like this. It even has a lower level countertop for when you need to sit and prepare.
Desert Mountain Transitional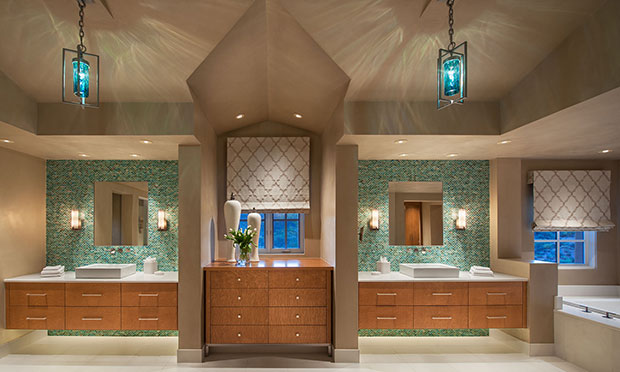 This has to be one of the grandest-looking washroom vanity ideas. The separation is clever as it gives a semblance of privacy.
Luxury Contemporary Remodel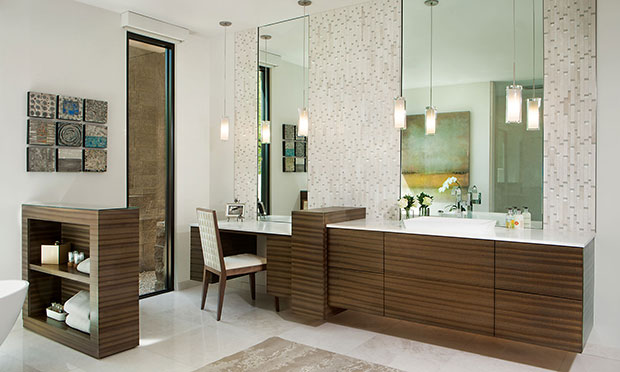 Here's another washroom vanity idea where you can take a seat while doing your makeup!
School House Eclectic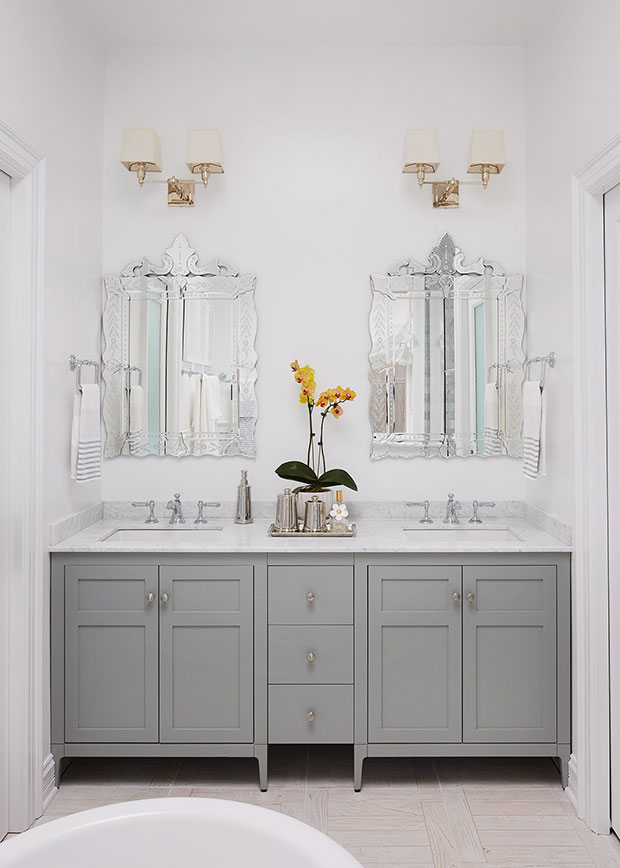 Despite the rather simple vanity design, the mirrors make up for it with its unique elegance.
Evanston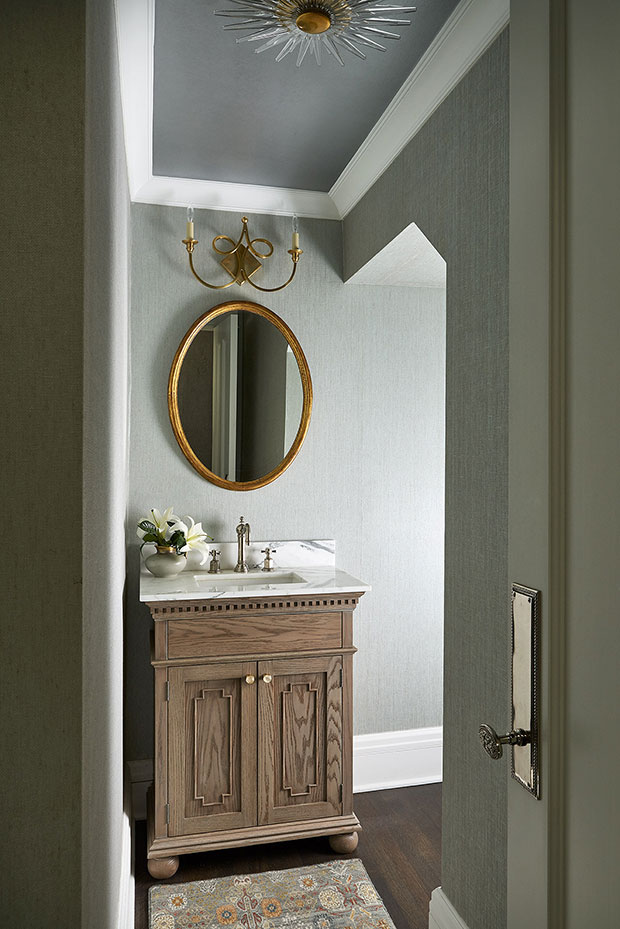 While not the biggest and grandest, it is one of the most traditionally elegant washroom vanity ideas on this list.
Warm Modern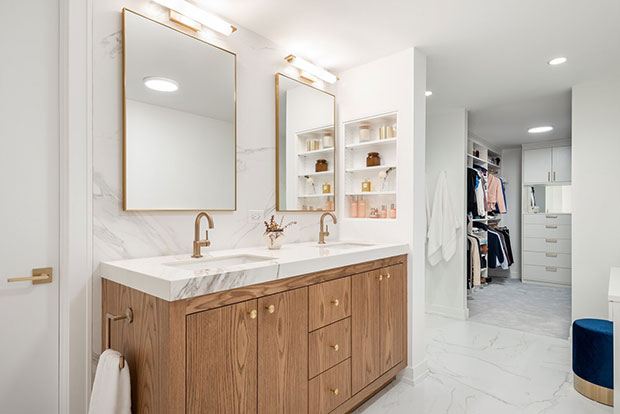 This floating vanity is just a little off the ground, which is pretty interesting. Another design detail that should be noted is how the wall next to the vanity is built with a recess for easier access of chemical products needed.
Textured Neutral Bath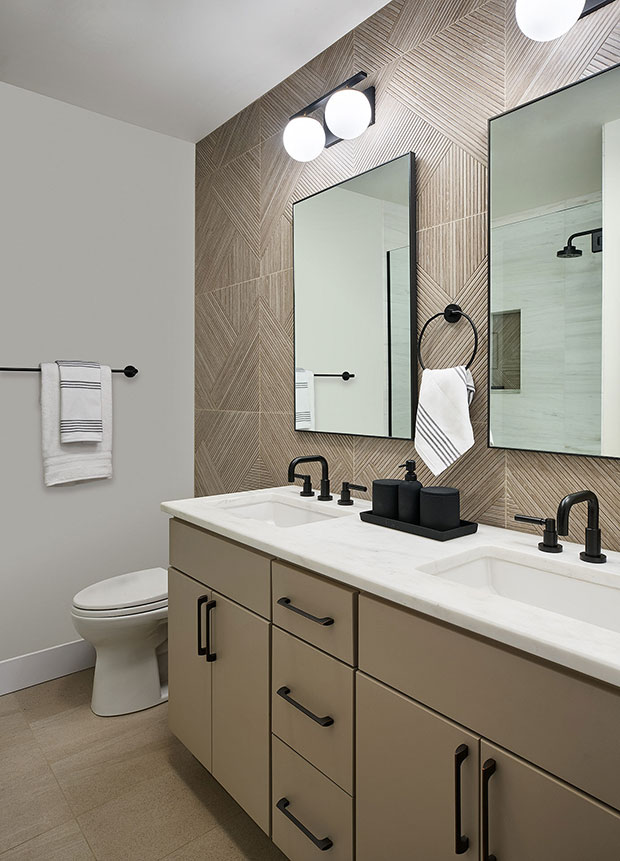 With the patterned and textured wall tiles, it seems only right to have plain cabinets. The color choices here are incredible as they create a chic look.
New Traditional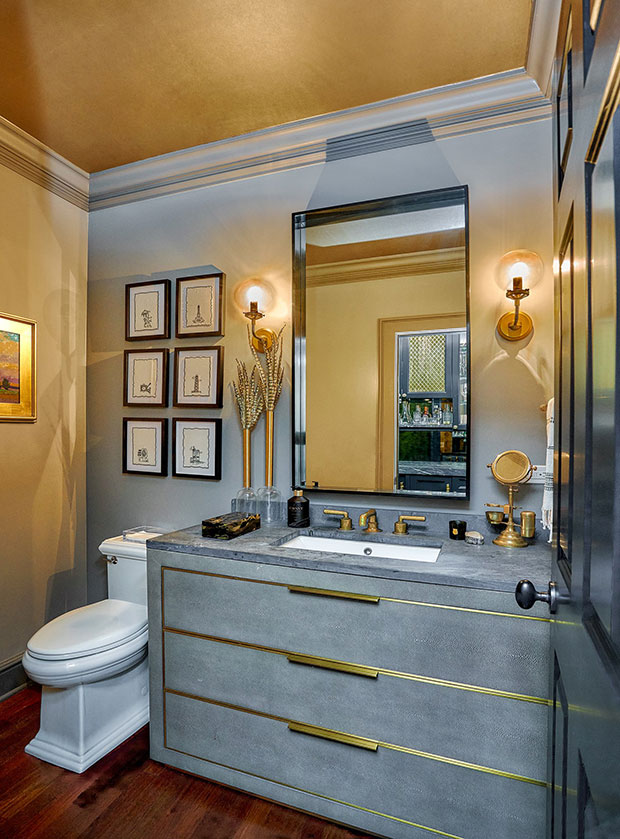 Third Coast Interiors
The combination of silver-grey paint and gold accents definitely got this to be one of the most expensive looking washroom vanity ideas.
Luxe Home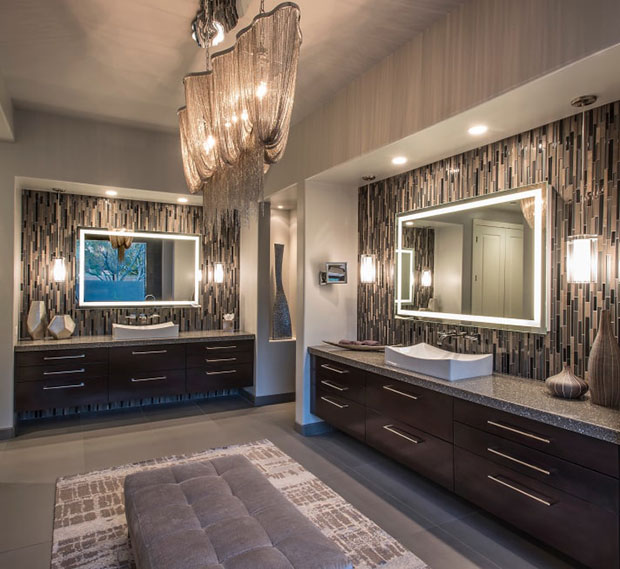 Consistent with the home's theme, this bathroom is also just as luxurious. In fact, there's something about bathroom mirrors with backlight that highlight that luxurious feeling.
Paradise Living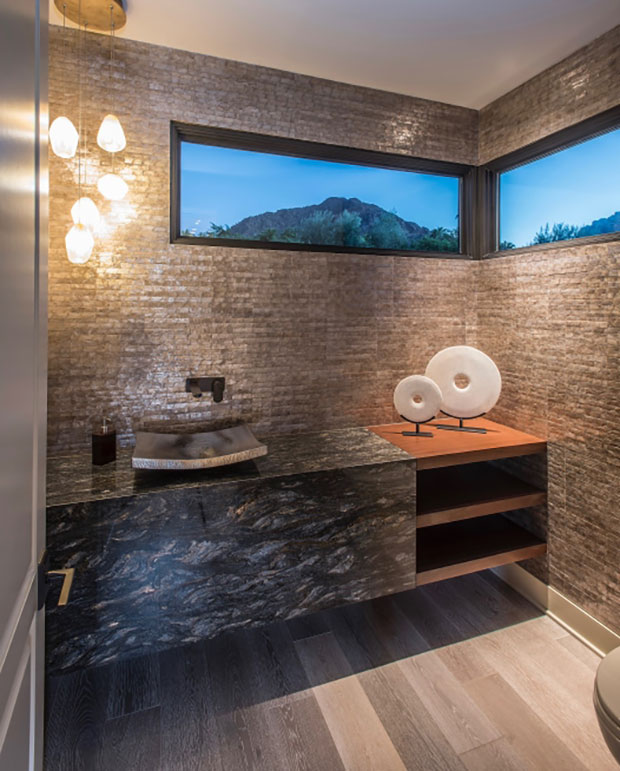 Rather than your traditional sink, here we see a unique basin design.
Venetian En Suite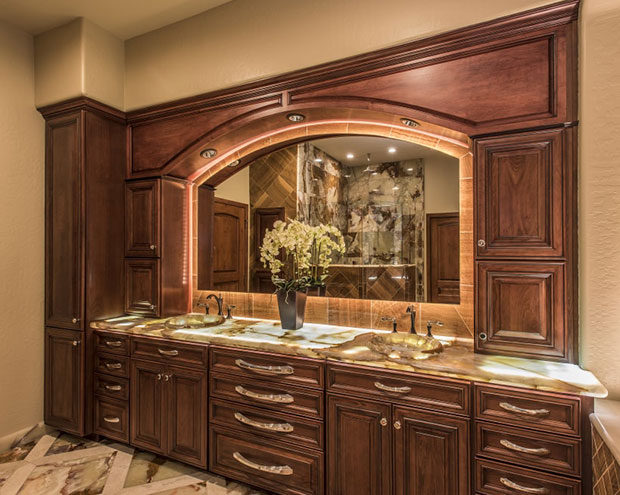 Away from modern and contemporary washroom vanity ideas, this elegant traditional design will surely have you feeling luxe and sophisticated as you prepare.
Tempe Loft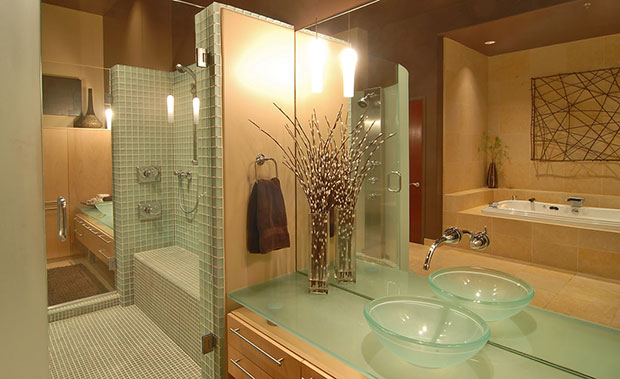 Here's a washroom vanity idea that we haven't quite seen yet. Instead of having the glass countertop directly placed on top of the wooden base, it is elevated a little, creating an interesting look.
Contemporary Territorial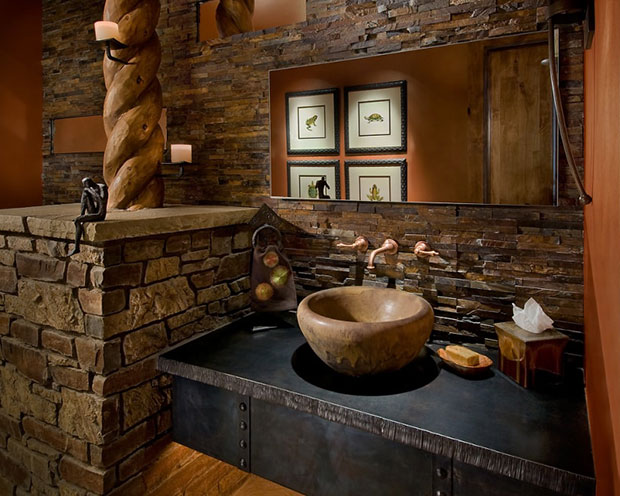 This is one of the most intriguing washroom vanity ideas, with the rustic elements that is reminiscent of medieval interiors.
Vibrant Contemporary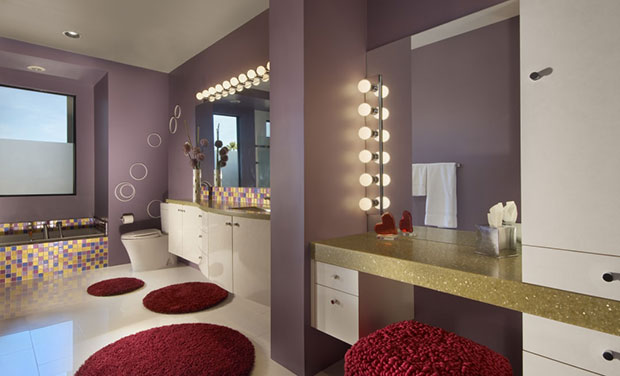 Just like its name, this bathroom really does live up to it with the bold and vivid colors. The lights by the mirror will give you a feeling of being a celebrity.
Hillside Hacienda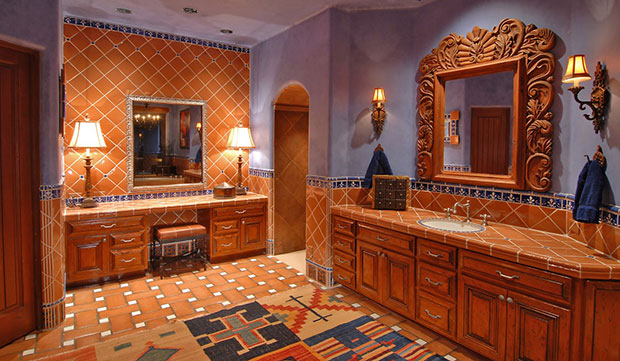 Everything about this bathroom is filled with various colors, patterns, and textures. And at the center of it are the bathroom vanities.
Harbor Views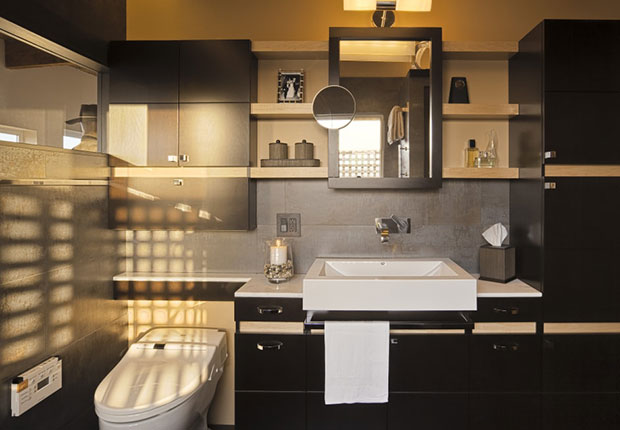 Friedman & Shields
This washroom vanity is filled with geometric lines and shapes, calling for a chic, contemporary aesthetic.
Fowler Interiors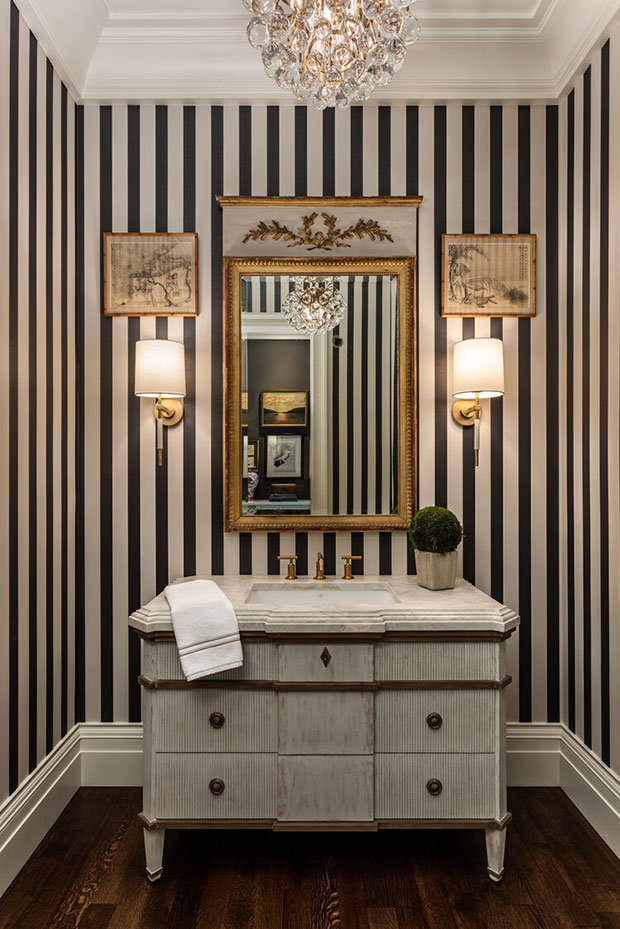 The rustic and traditional elements come together so well for an outstanding eclectic visual.
Custom Bath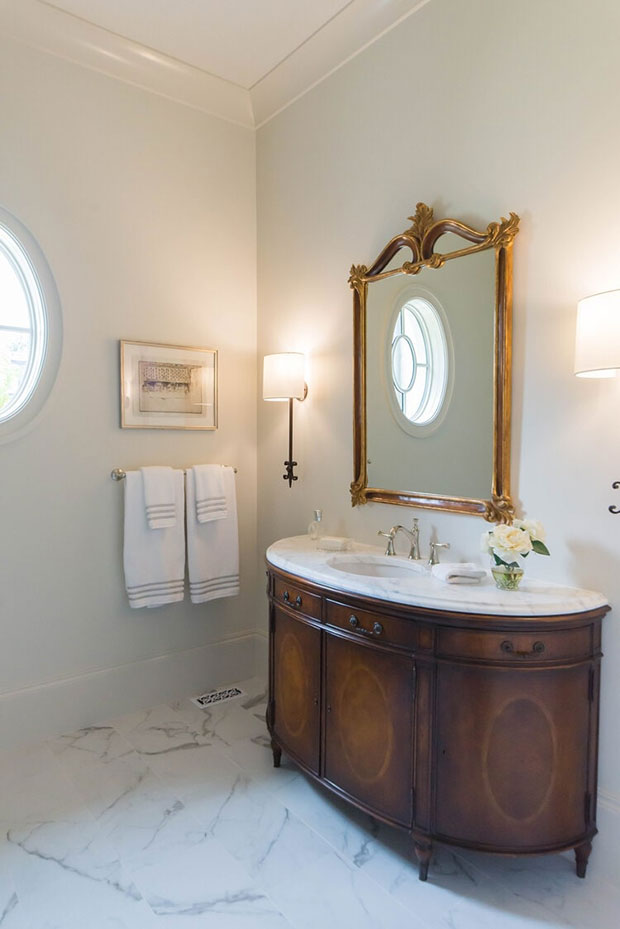 Peery Homes
The vanity counter and mirror are a perfect pair. In addition, the vanity shape is a welcome sight, as oppose to the usual rectangular washroom vanity ideas.
Cabin in the Woods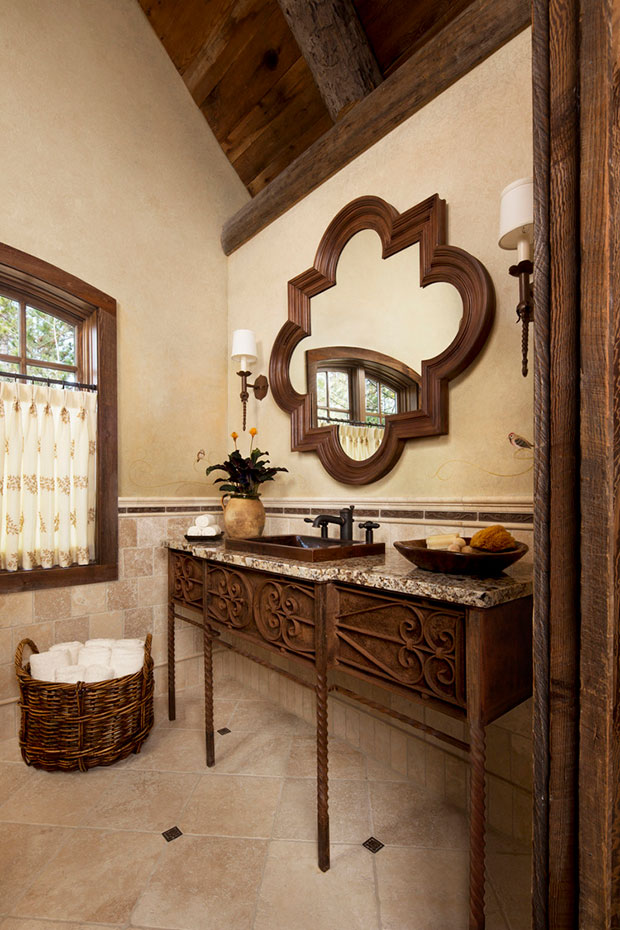 This vintage vanity in itself already brings in so much personality to this bathroom.
Classic Beauty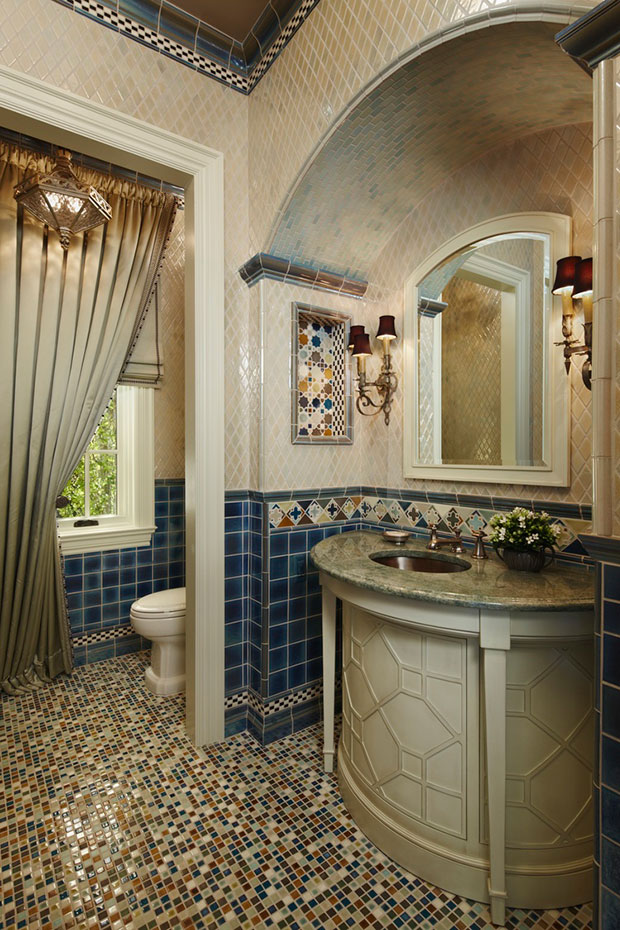 With the shape, material, and pattern, this bathroom vanity is indeed a classic beauty.
Luxurious Living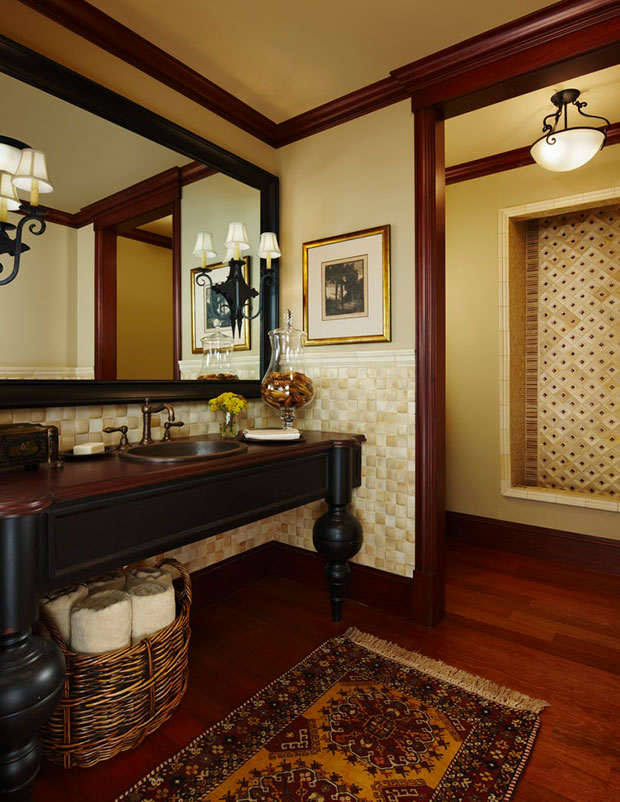 Though with its unique look, this bathroom vanity lacks in storage spaces. Instead, the homeowners opt for a wicker basket to keep extra towels.
New Tradition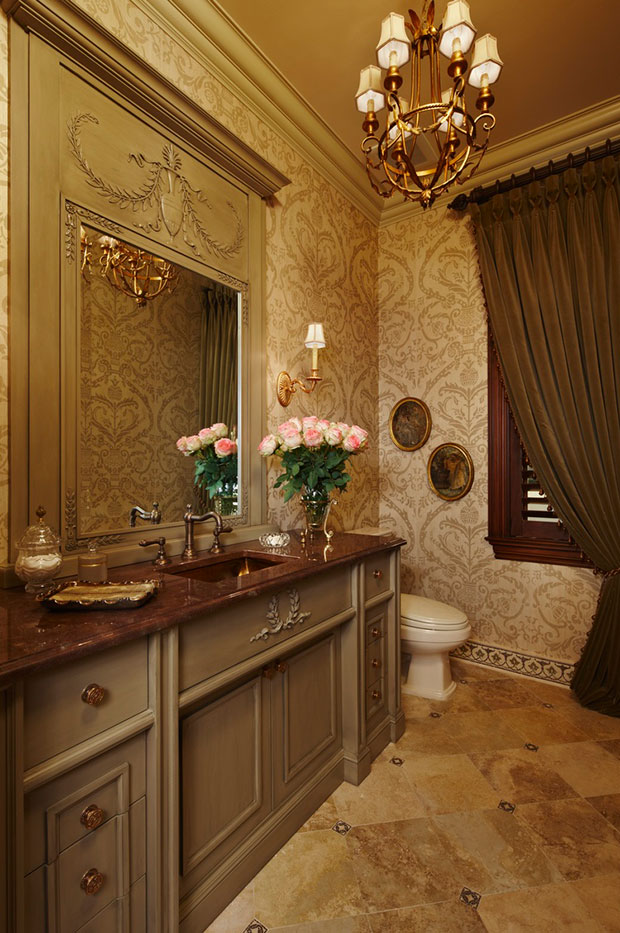 A sophisticated elegance like this only comes with this traditional design.
Cottage Style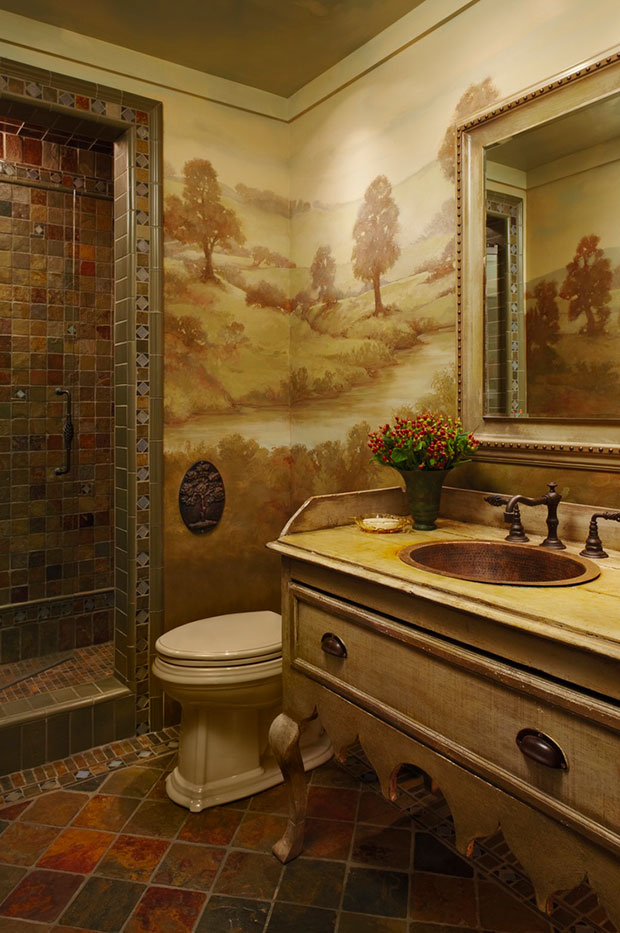 Jennifer Taylor Studio
This rustic vanity is a perfect fixture in this quite decorative bathroom.
Tillinghast Estate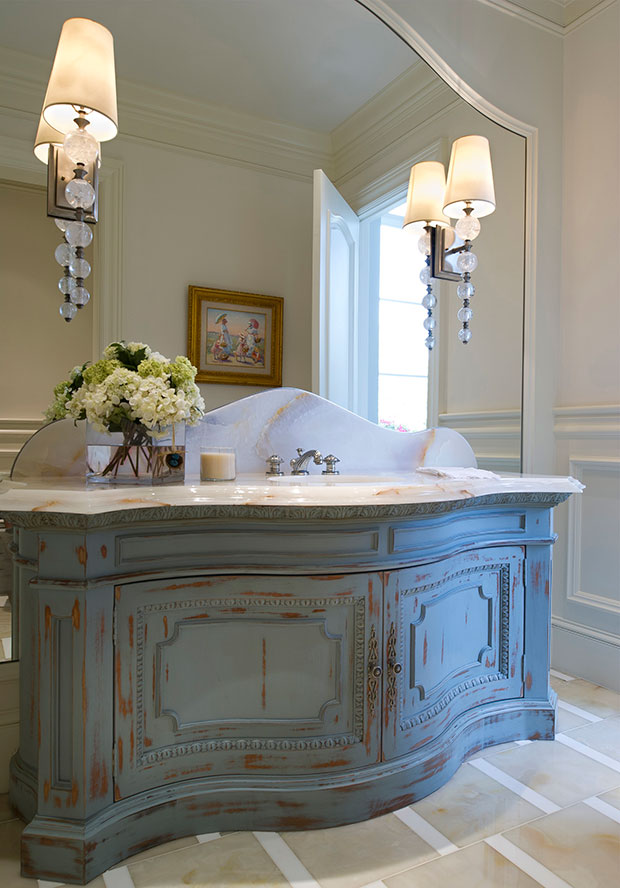 The rustic appeal of the vanity base is a nice complement to the otherwise sleek and modern design of the bathroom.
Beach Cottage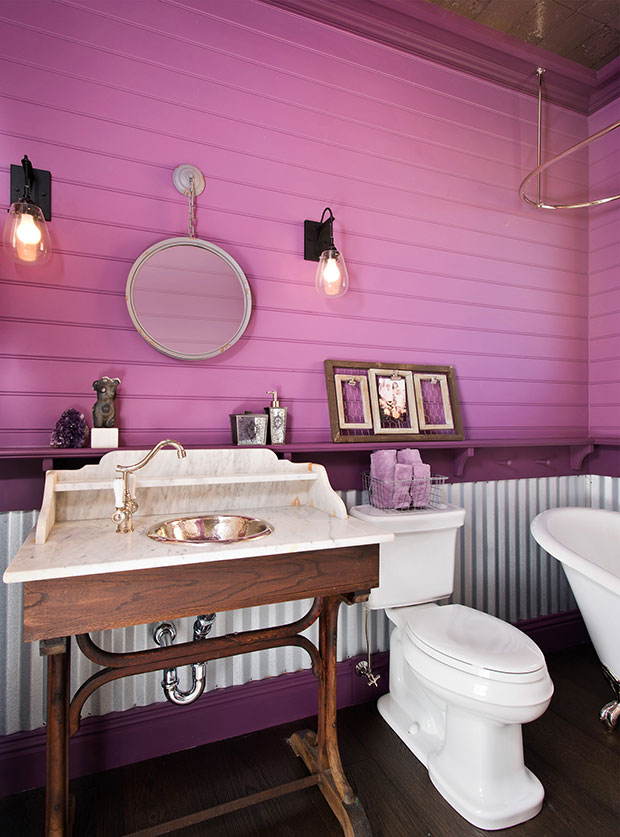 Yawn Design
Even with its simplicity in design, this rustic vanity is perfectly in place for this rustic bathroom design.
That's it for cool washroom vanity ideas!
Like This Post? Pin It!