50 Eclectic Bathroom Ideas to Steal Attention
|
Bathrooms are consistently one of the most used areas in any home. It becomes important to homeowners to design their bathrooms in their preference and in a way that is most convenient to them.
There are various design styles to choose from. Many bathrooms design styles that you may have seen are modern, contemporary, or traditional styles. These are easily the most common and popular styles that immediately comes to mind whether you are having a new bathroom installed, or you're redecorating or remodeling.
However, if you want some of your personal style – one that is unique and interesting – to reflect in your bathroom, you may want to consider eclectic bathroom ideas. Or, if you don't want your bathroom to have a singular style, then, you really need to look into eclectic bathroom ideas.
What is eclectic style bathroom?
Eclectic style bathroom, to define simply, is drawing inspiration from a variety of design sources. Eclectic bathroom ideas are all about uniting a variety of styles, incorporating everything from vintage elements to art and décor elements from different eras, design movements, and decorating styles.
Much of eclectic bathroom ideas around the world is combining design styles together (i.e. rustic elements with contemporary design) and adding unique accessories. It's always a mix and match of complementary and contrasting styles to create a visually impactful room.
Bathrooms are often small spaces, separating themselves from the rest of the home's design style, which makes eclectic design style perfect in this setting. The eclectic style also comes into the picture here when homeowners want to express some personality and to do some design experimentation without being constrained by "design style rules".
Eclectic bathroom ideas feature a wide array of décor accessories such as artwork and photographs from across different historical periods. It's also about the combination and clashing of various shades of colors to have a nearly psychedelic look. Mixing and matching different textures is also a must for eclectic bathroom ideas. In general, eclectic bathroom ideas require creativity and out-of-the-box ideas.
Eclectic Bathroom Ideas for Inspiration
Let's check out some eclectic bathroom ideas that will surely steal attention!
Newport Beach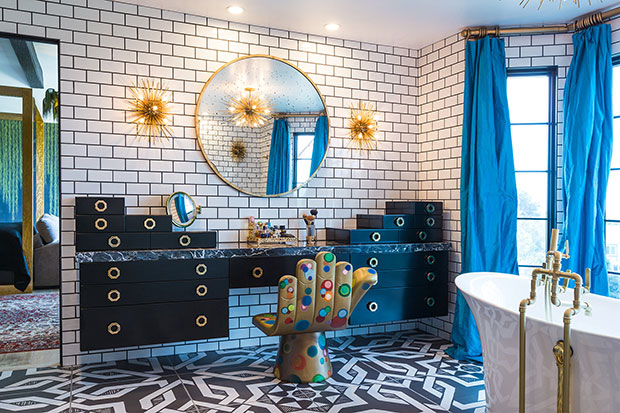 Moya Living
To start off strong is this bathroom in Newport Beach. While the clawfoot tub perfectly fits into the eclectic style, it's this unorthodox bathroom vanity and its accompanying chair that really pops out. Also, take note of the extravagant lamps.
Country House Chalet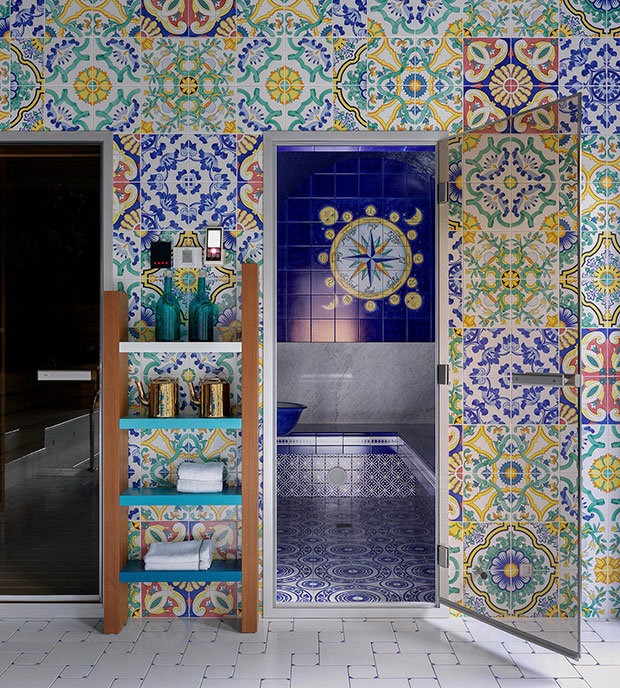 One of the easiest ways to express eclectic style in your bathrooms is through the bathroom tiles. With tame and uniform floor tiles, the striking variety of wall tile designs is a good combination.
Apartment in Park Rublevo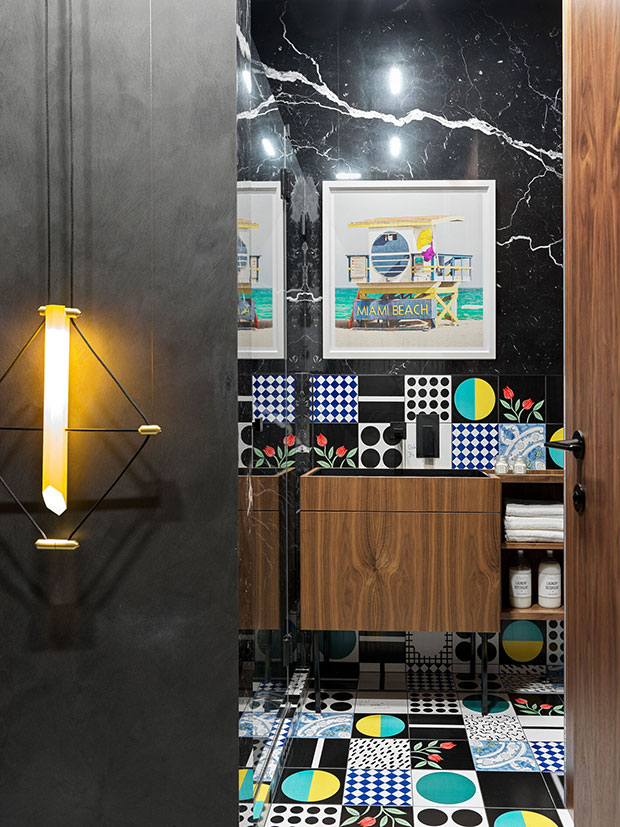 Contrasting the bathroom in the Country House Chalet, this apartment in Park Rublevo chose to use eclectic bathroom tiles for the floor and backsplash. The colorful tiles complement the marble wall tiles quite nicely, creating an overall sophisticated look.
Townhouse in Park Avenue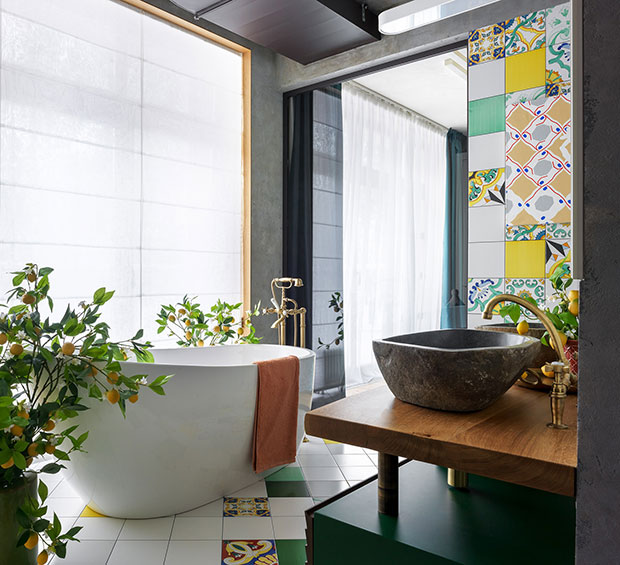 Art Group Daria Vasilkova
Besides the obvious tile variety, the art décor accessories, as well as the plants, reflect some of the points for eclectic bathroom ideas.
Mountain Magic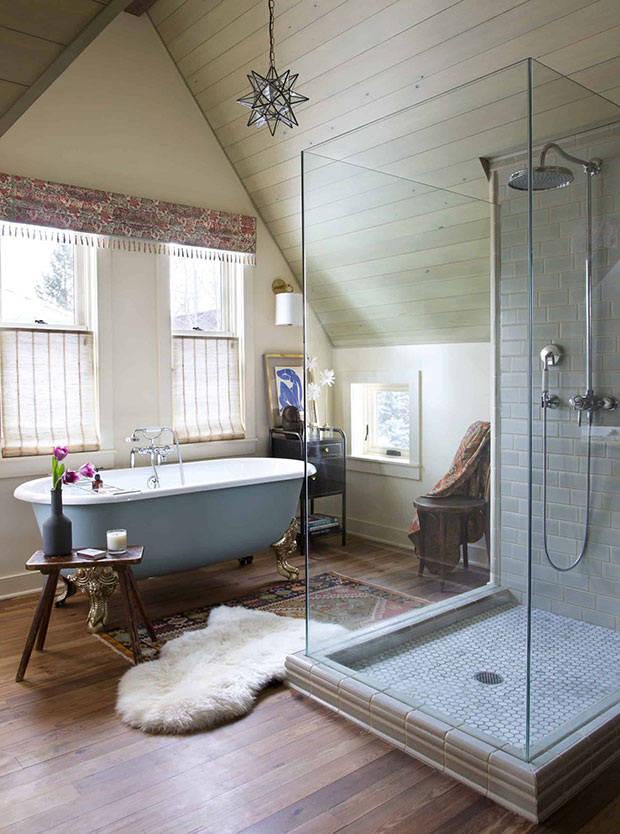 Andrea Schumacher Interiors
The combination of rustic elements with modern interior design is a perfect example of eclectic style. This one though is on the tamer side of eclectic bathroom ideas.
Spanish Bath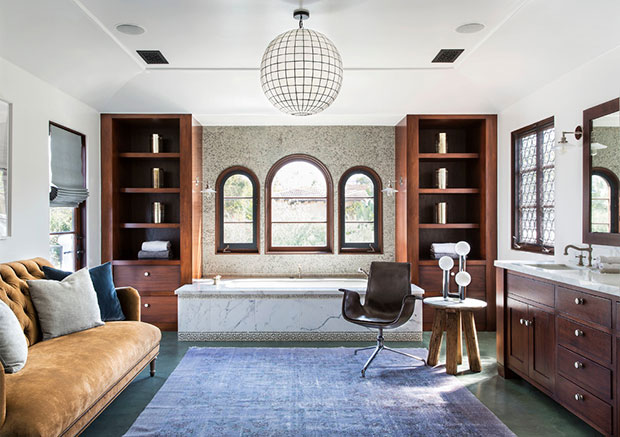 Laura Hull Photography
An elegant and sophisticated bathroom. Much like the bathroom in Mountain Magic, this one lives off the subtlety of the eclectic style by the combination of styles. Although there is not much in décor, we could see it in the different textures exhibited in furniture.
Apartment in Moscow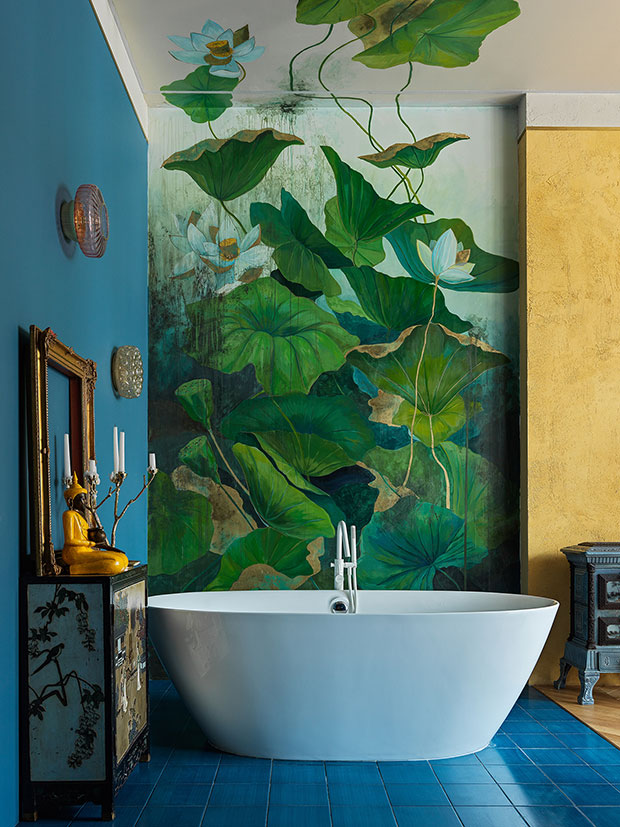 Art Group Daria Vasilkova
Forget eclectic bathroom tiles or wallpaper. Painting your bathroom wall can be more personal. Not to mention the unique and seemingly out of place furniture in the bathroom.
Chelsea Townhouse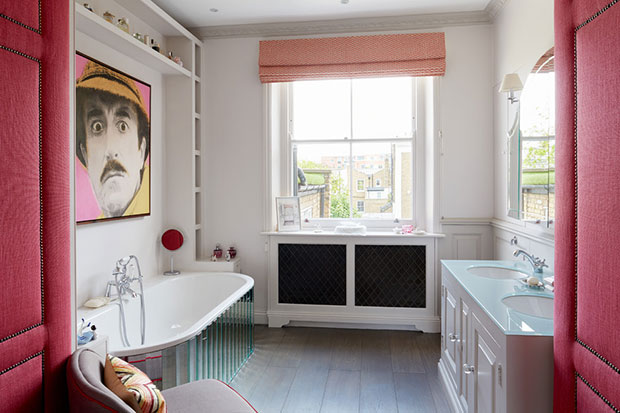 NBB Design
Eclectic bathroom ideas do not always have to be so bombastic. It could be in the subtle features such as the colors and textures. This bathroom, in particular, does not overwhelm the senses and still look pretty and chic.
Pony Up Ranch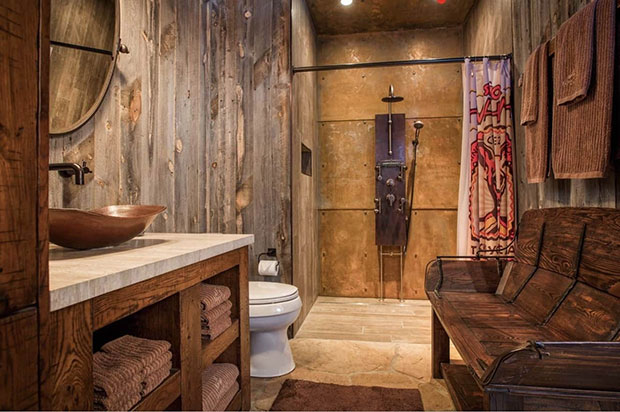 Andrea Schumacher Interiors
A nice combination of rustic elements with modern industrial design.
House by the River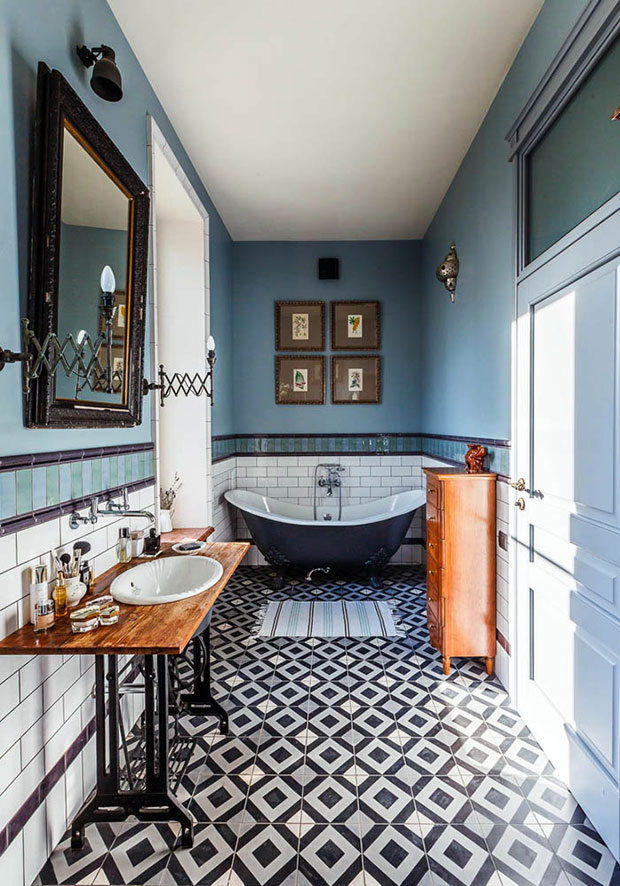 Faktura Group
The rustic furniture pieces are truly a great combination with modern classic design. It makes up for a cozy and relaxing bath.
Apartment in Greenfield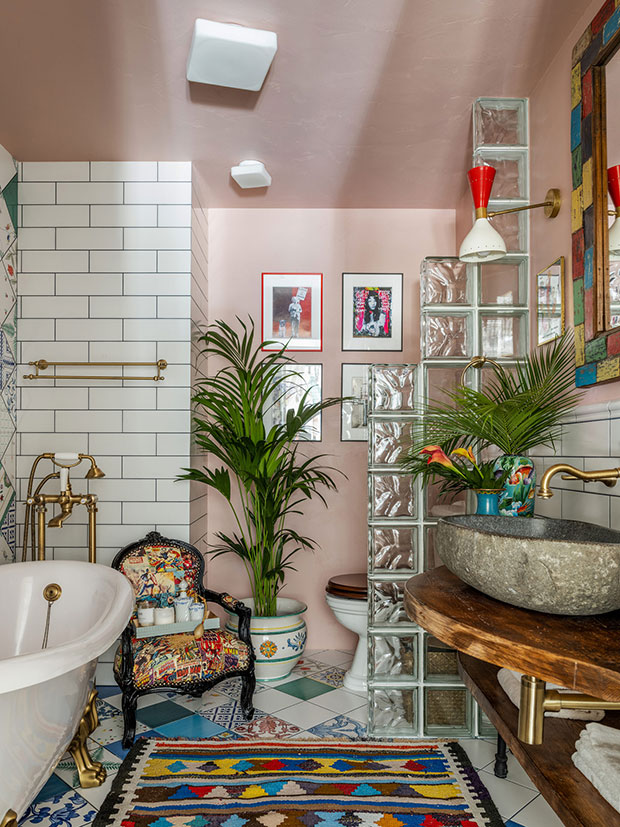 Complete Tile Collection
If the colorful floor tiles are not enough, why not put a colorful rug too? That pastel pink paint makes a pretty complementary color to go with the vivid ones. Also, need to point out the rustic mirror frame that goes with all the modern elegance.
House in Moscow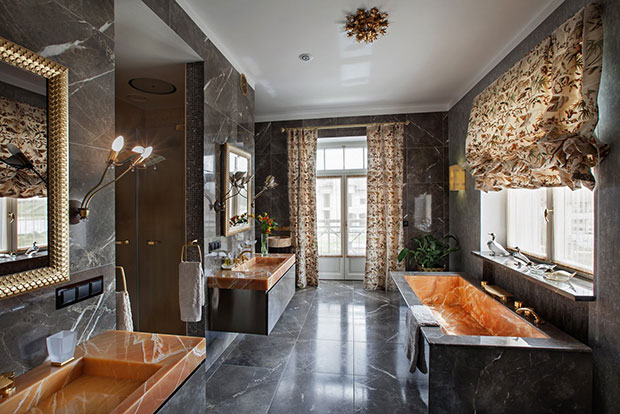 Valentina Saveskul
All the marble in this bathroom instantly gives it a sophisticated elegance. But the pieces and patterns are what gives it more personality.
Eclectic Bathroom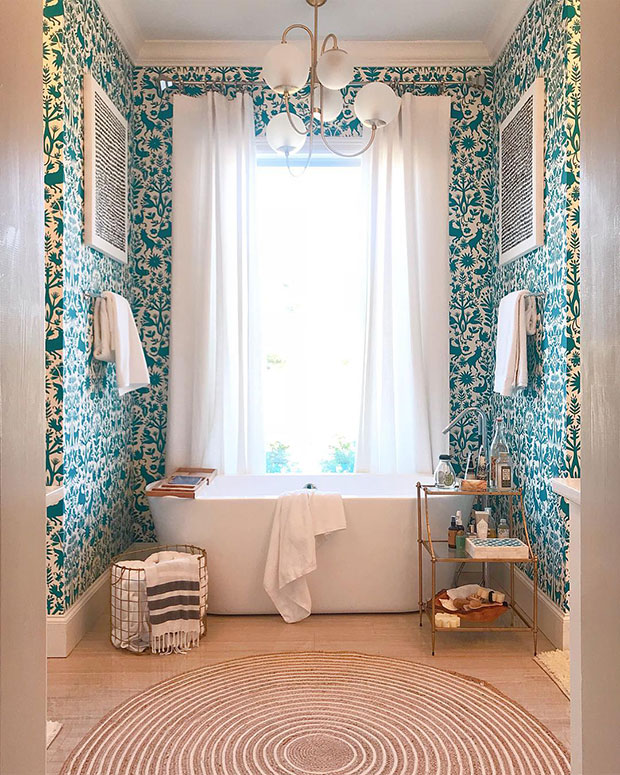 Instead of eclectic wall tiles, you can try a more inexpensive option with bright and expressive wallpapers like in this one. To bring some balance, any furniture or furnishing is kept to the minimal but still bringing in style.
Master Bathroom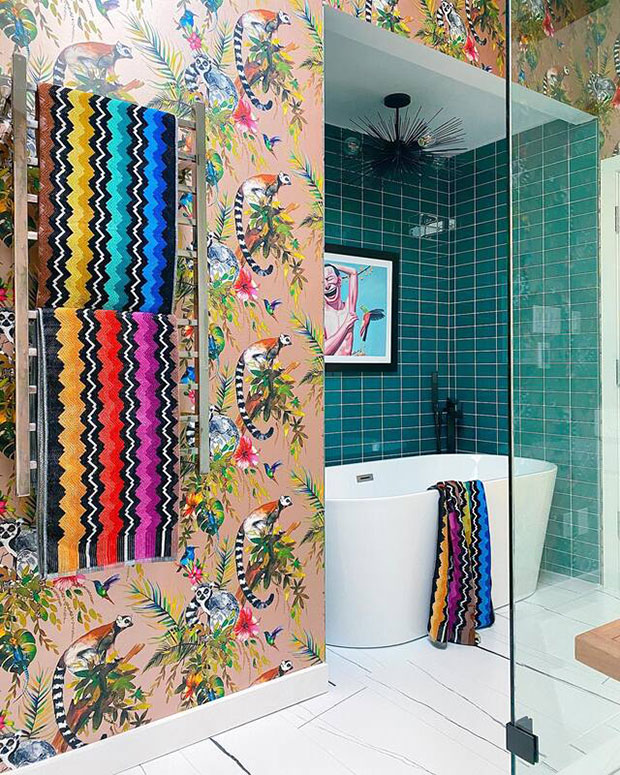 Shauna Glenn Designs
With the fun and eccentric wallpaper, the unique artwork by the bathtub fits right into the aesthetics. The colorful towels are also a great choice to go along with the room's overall aesthetic.
Fusion Bathroom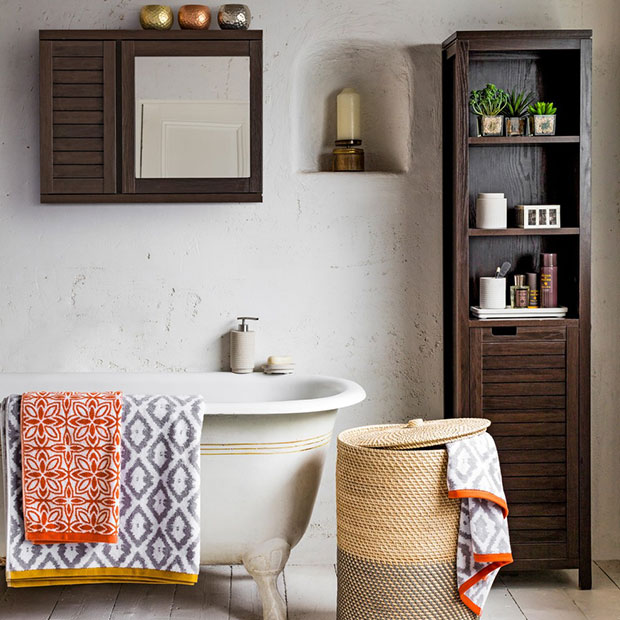 John Lewis & Partners
Pairing rustic elements with modern design seems to be a popular combination for eclectic bathroom ideas around the world.
Apartment in Welton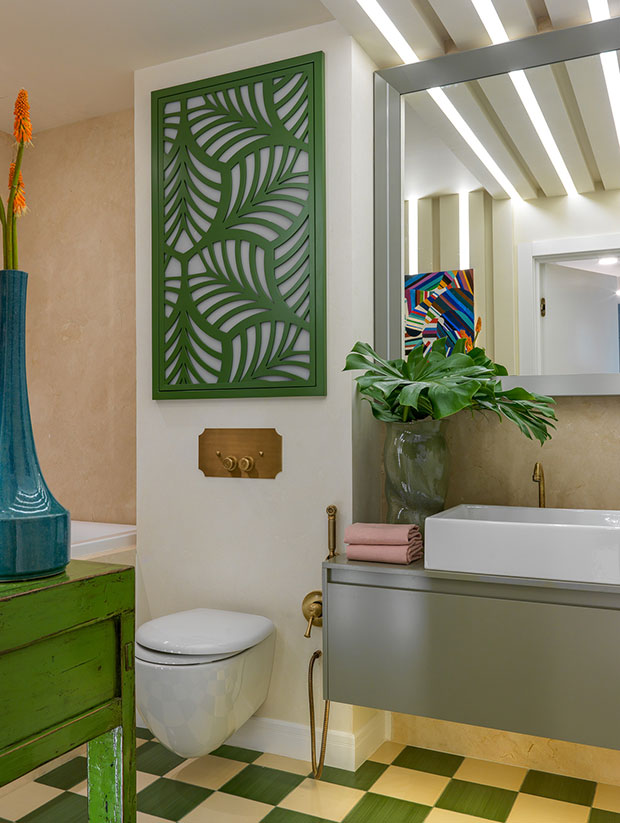 Art Group Daria Vasilkova
Beside the obvious in the bathroom floor tiles, you can add little décor accessories and pieces across the room. Another noteworthy detail is the addition of that rustic stand into this contemporary bathroom.
Hut in floodplains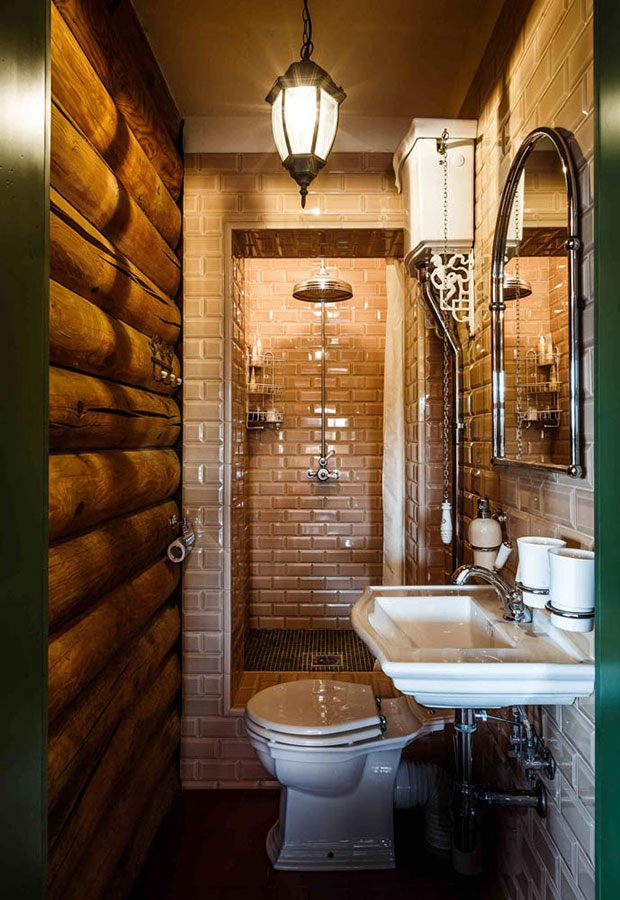 Faktura Group
The first thing you may notice is how shiny this bathroom is. But you may also notice the log wall that is reminiscent of rustic cabins, fitting into the English-Colonial style of the bathroom.
Wharf Road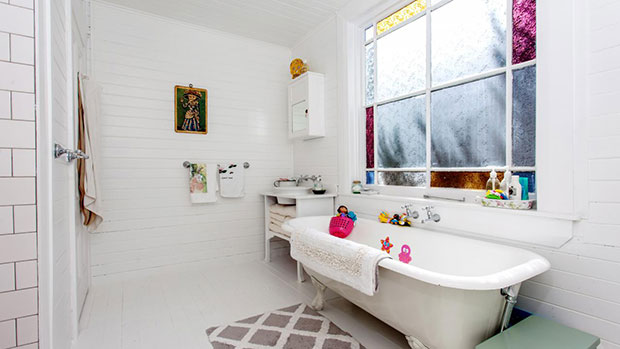 Karl Majurey Architects
This is one of those eclectic bathroom ideas that are close to being minimalistic. But still, take a look at the beautiful stained windows. You may want to consider adding such a detail to your own bathroom.
Apartment in Malaya Ordynka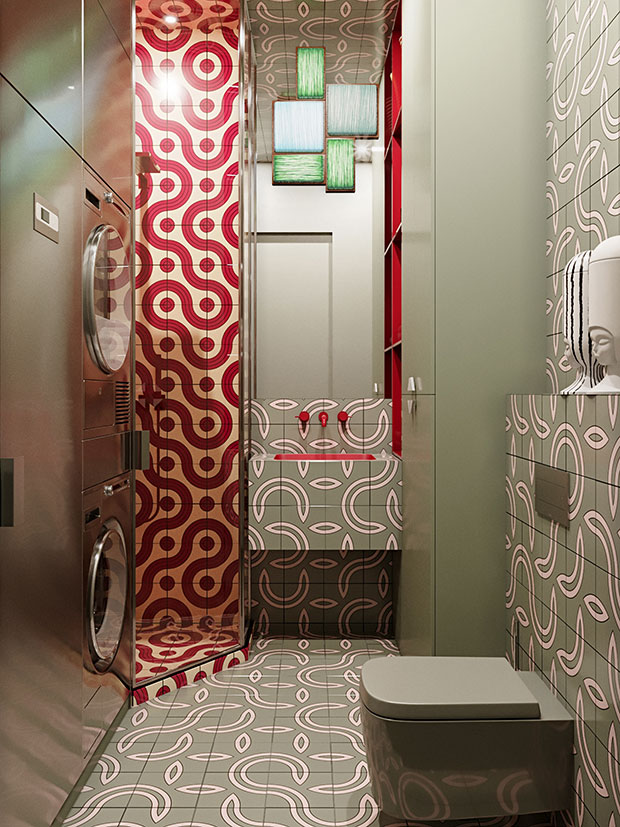 Art Group Daria Vasilkova
The bathroom of this apartment in Malaya Ordynka is very artsy. With the unique and striking tiles, the modern and futuristic look is completed. Also take note of the interesting lamp.
Bright House in Krasnodar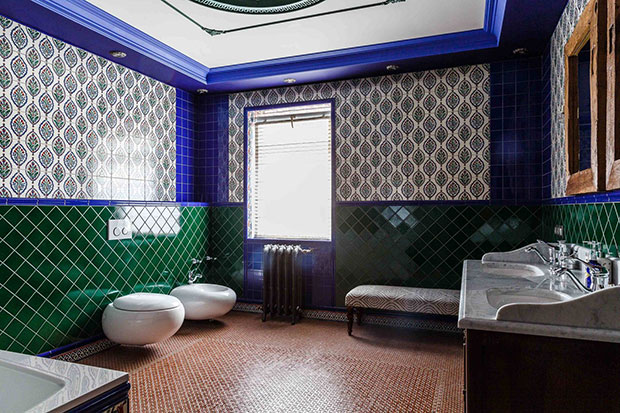 Faktura Group
With all the flurry of bright and vivid colors in this bathroom, you may fail to notice furnishing design styles that contrast with each other but are eclectic together.
Apartment in Taganka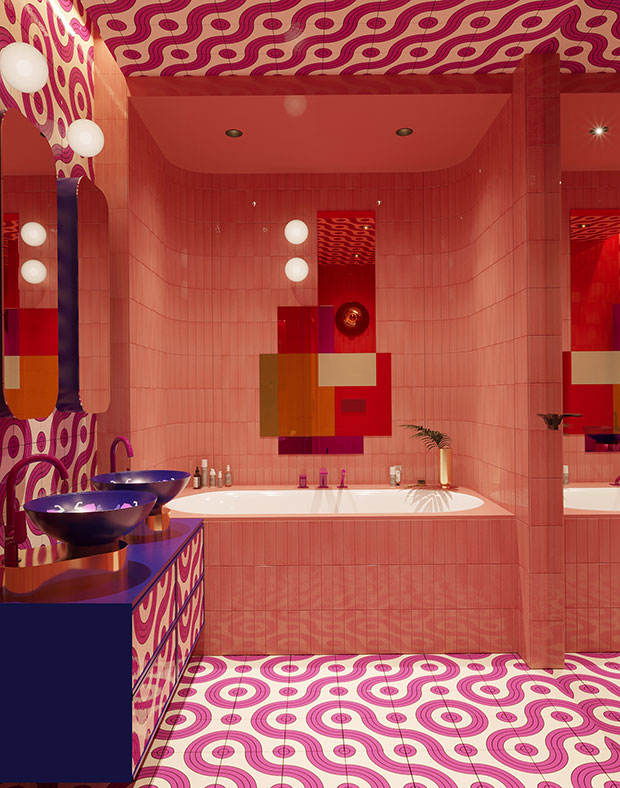 This bathroom in an apartment in Taganka is very much giving other-worldly aesthetics, as if you've been jumped 100 years into space. The contrast of these varying shades makes this a bathroom that will definitely steal people's attention.
Apartment in Redside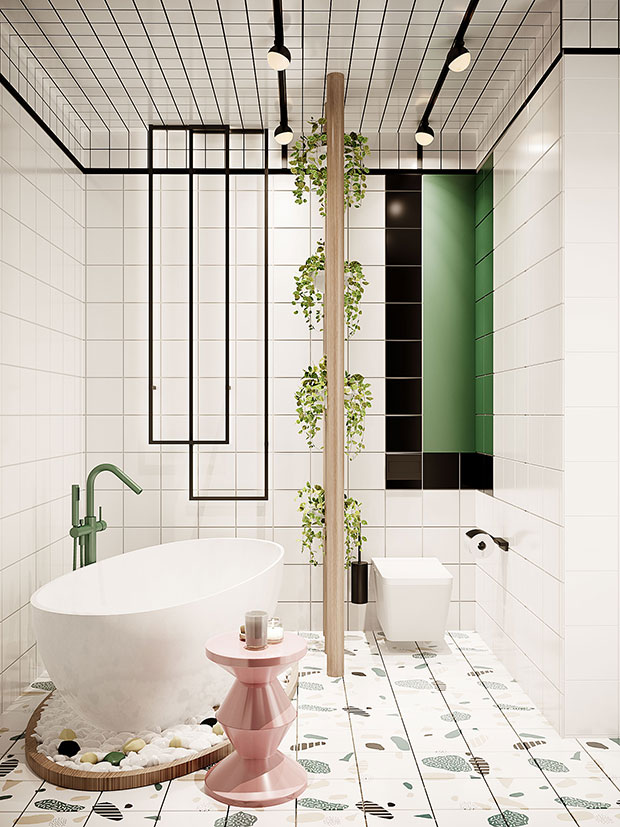 Taking a short break from the previous grandiose bathrooms, here's a little toned-down eclectic bathroom. While it still offers the same artsy design, the color choices are within a range of colors that could be considered tame in comparison.
Apartment in MID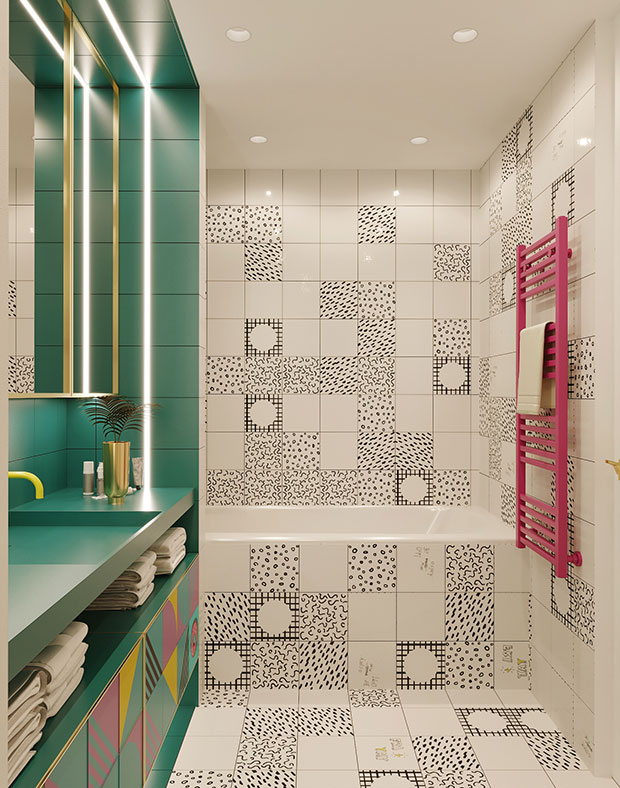 Art Group Daria Vasilkova
Back to eclectic bathroom ideas that do not hold back in its creativity level! The colors used here are a lot more organized in the sense that they are not found everywhere, but are rather sectioned.
Magnificent Bathroom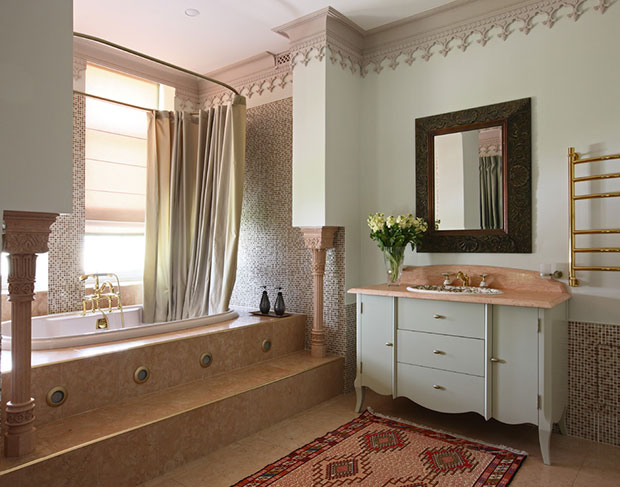 With its traditional elegance, this bathroom adds with furniture and décor that will level up the beauty.
Apartment for TV Presenter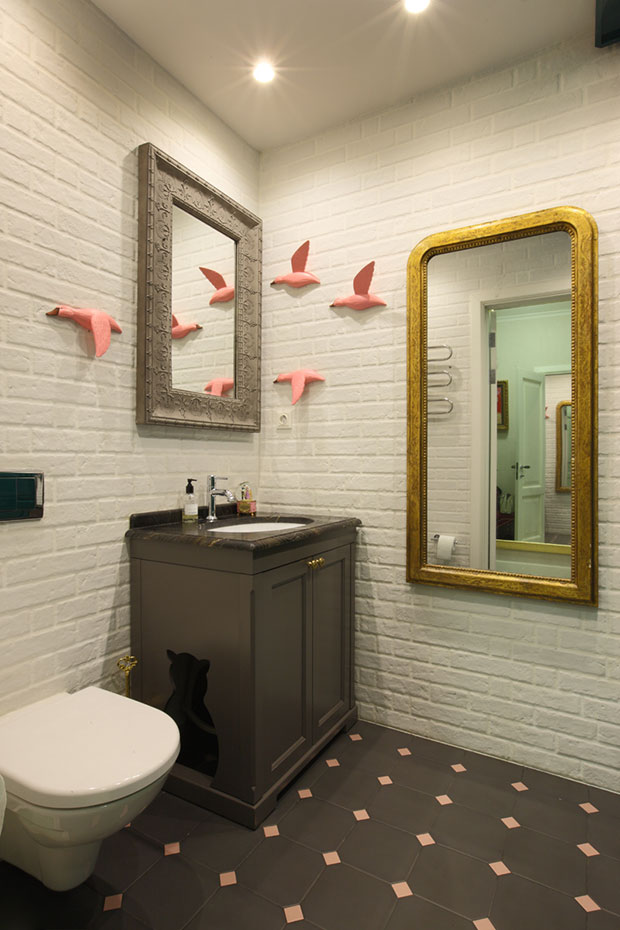 Atelier Interior
For eclectic bathroom ideas that are not too much focused on the colors, this apartment bathroom brings in that style through furnishing and décor pieces. From the exciting mirror frames, the wash stand, and the bird décor. It is minimal compared to the ones we've seen on this list, thus far. But it's pretty and chic.
Rublevo Park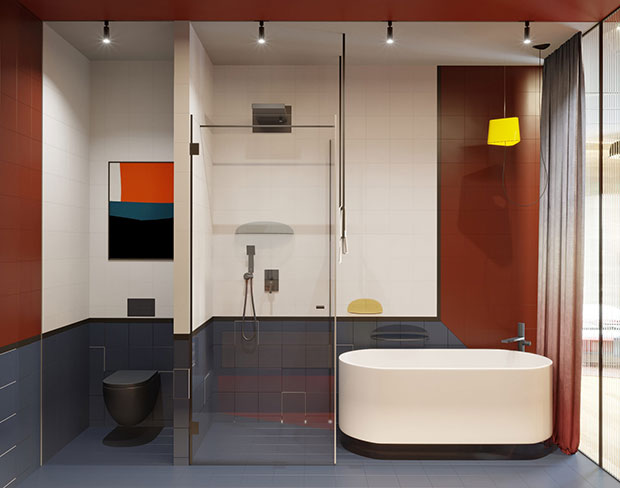 Art Group Daria Vasilkova
Back to the more artistic eclectic bathroom ideas! The way the colored tiles are arranged are geometric, bringing in some personality. This also completes a contemporary look to the bathroom.
Warm Colors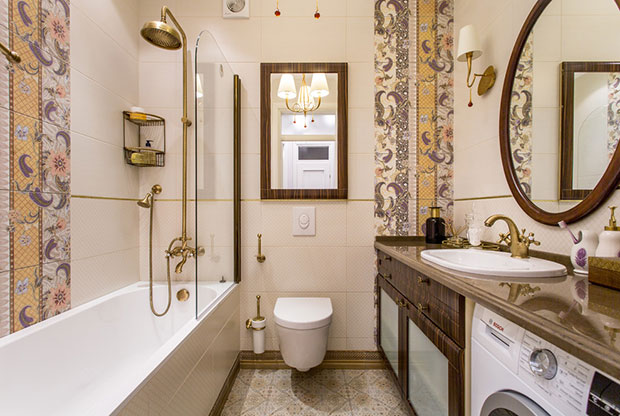 TriArt Studio
For your eclectic bathroom ideas, you do not need to have every bathroom tile changed into the artistic designed ones. Like in this bathroom, corners and specific spaces of placements were decided in which to put the floral-themed tiles. But it also doesn't mean that the rest of the tiles in the room have to be plain. Although subtle, you should notice that the rest of the bathroom wall tiles have lattice designs.
Park Avenue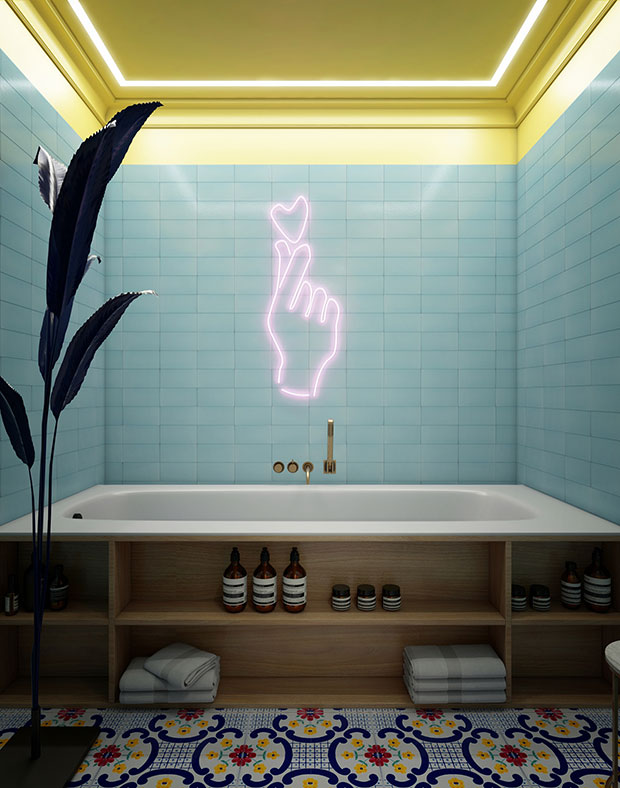 Over to eclectic bathroom ideas with a funkier look, check this bathroom in Park Avenue. The light and colors used in the room give much of a retro yet somehow futuristic look. That artistic light on the wall, too, is a nice touch that seems to keep up with modern times.
Apartment in Angelovo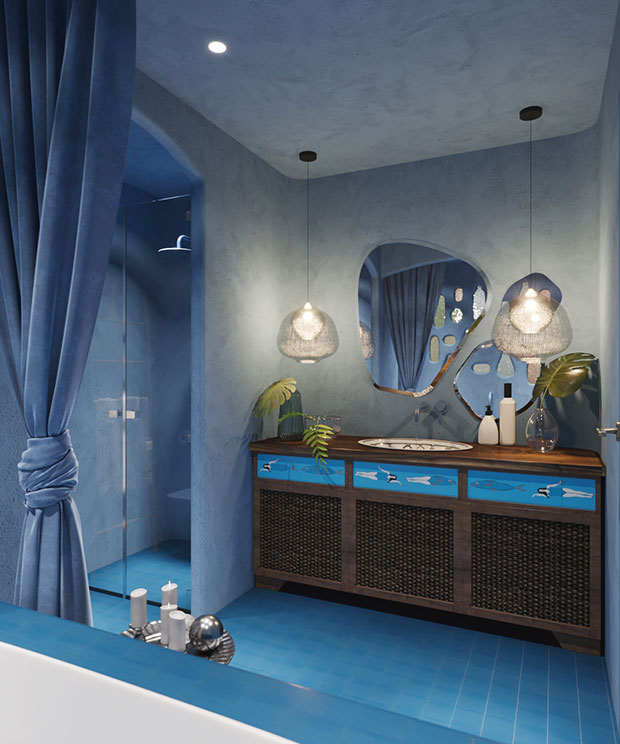 Art Group Daria Vasilkova
If you want any sea-themed or inspired eclectic bathroom ideas, look no further than here! The unique mirrors and the stained glass bring out some quirkiness. Those hanging lights too add into the theme. Also, don't forget the style of the wash stand stands out in a more modern bathroom style.
Speakman Gallery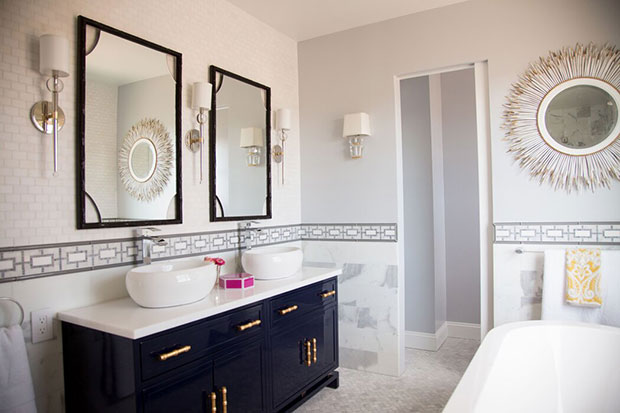 Speakman
In a lot of eclectic bathroom ideas, the first option to capture this design style is having art décor pieces installed in the room. Though the colors in this bathroom are not all too bold, the art décor brings in that eclectic style.
Apartment in Spain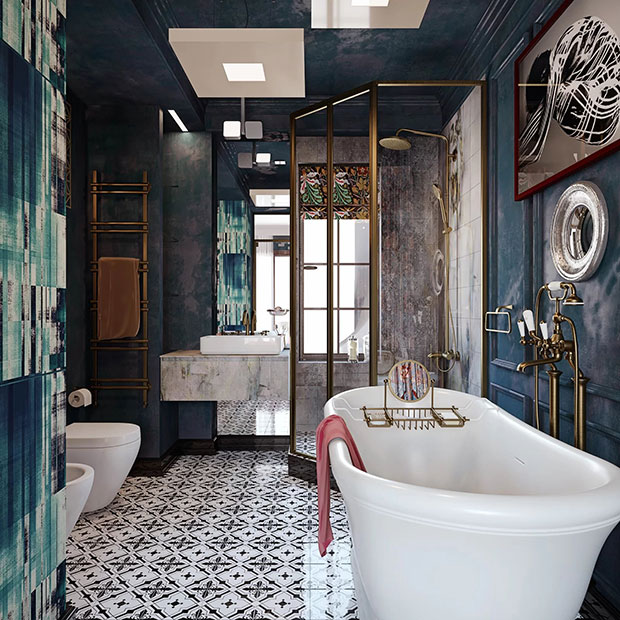 Art Group Daria Vasilkova
This eclectic bathroom has a very interesting color palette used. Along with the furniture and accessory choices, it's giving much of an art décor piece that will have you wondering if this is truly a functional bathroom.
New Waterfront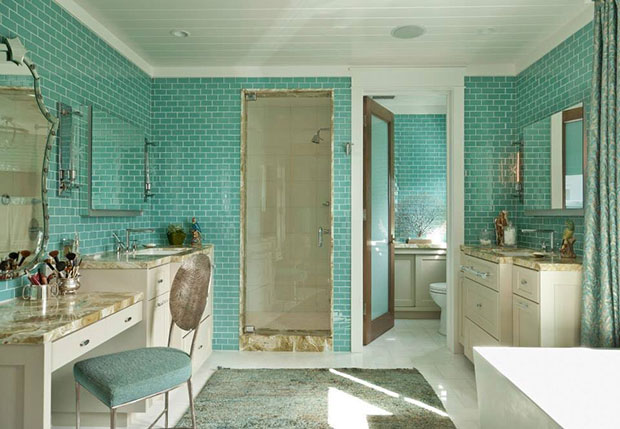 Anne Michaelsen Design
This bathroom has a clear color palette theme going on. But it compliments it with pieces of accessories and décor, as well as other complementary colors to truly bring out that eclectic look.
Townhouse Apartment Complex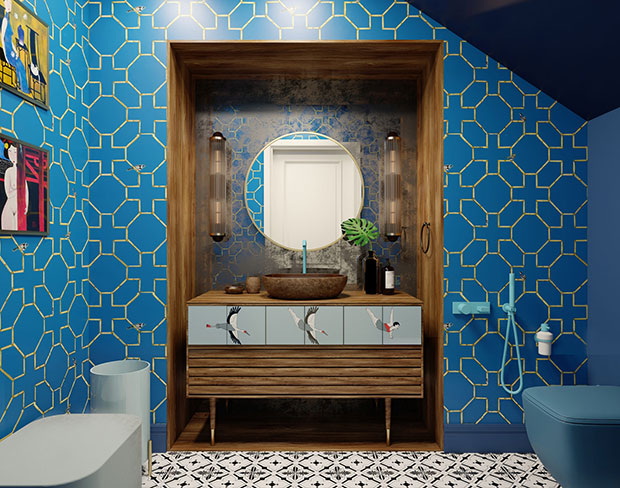 Art Group Daria Vasilkova
While the tiles and wall paint are very interesting enough, divert your attention to the furniture, artwork, and furnishing details that add into the eclectic style.
Fayette Park Residence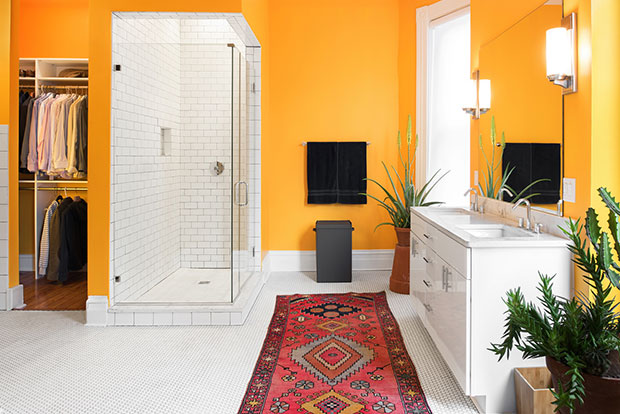 Nomi Architecture
Brighten up your bathroom with a singular, vivid paint color. Allow some neutral or white colors in furniture or furnishings, and let some décor or accessories be painted in colors that contrast with the wall paint. Having all this uniform and organized colors, then adding a uniquely colorful patterned rug to become somewhat the centerpiece of the room.
Red Side Apartment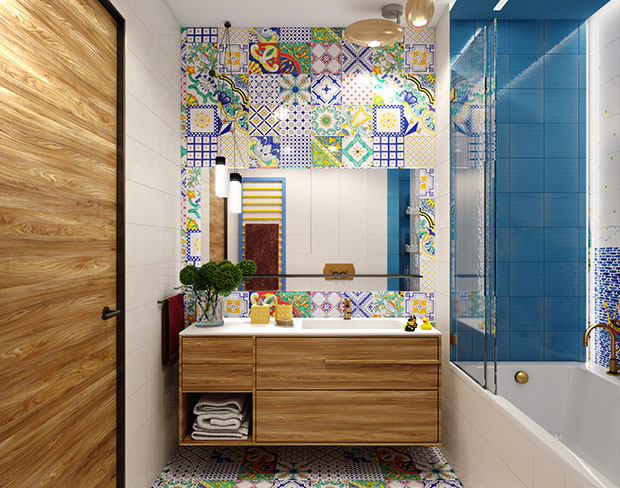 Coming from the same interior designers of the bolder eclectic bathroom ideas we've already seen on this list, they come up with another masterpiece of a bathroom with this one. Rather than having every corner and side of the bathroom be covered up by eclectic bathroom tiles, have it be concentrated to a side, or sides, creating a rather interesting bathroom look.
Mosfilmovskaya Street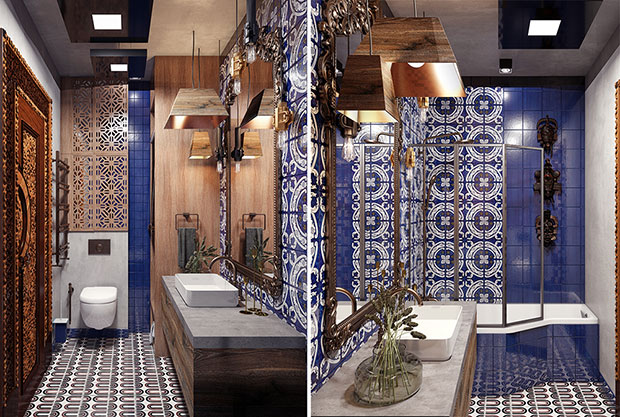 Art Group Daria Vasilkova
Your eclectic bathroom ideas can be something personal or have inspiration from one's personal life. That is to say, you can take inspiration from your lifestyle or the culture of your people to decorate your bathroom like this one. With patterns and decors that take inspiration of your own culture, add that with some modern or contemporary design styles. You will surely be creating a one-of-a-kind eclectic bathroom.
San Bernardino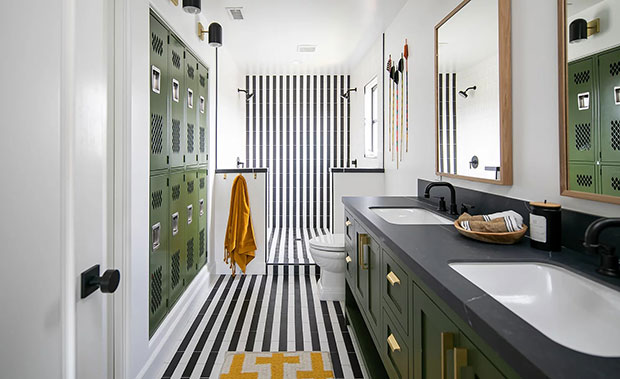 Skout Interior Design
The color combinations in this bathroom are unique and yet somehow work so well together. The décor choices are also one to be thought of for.
Eclectic Bathroom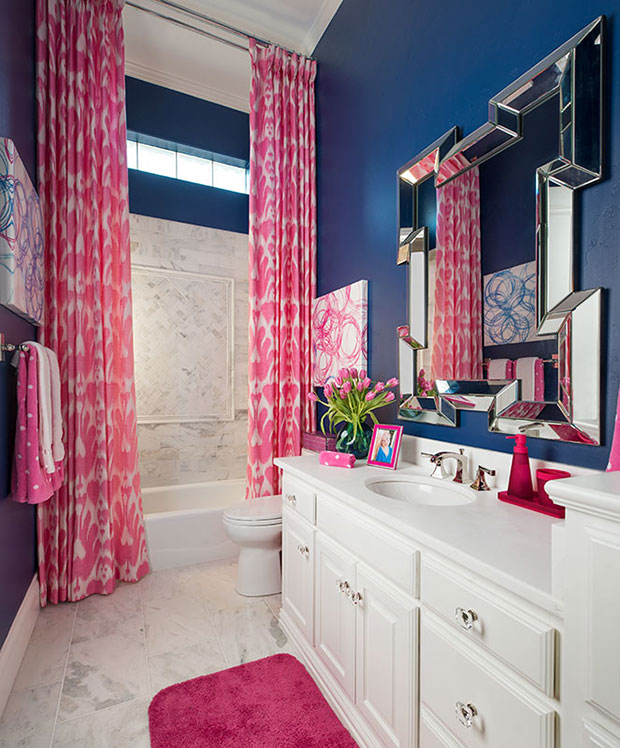 IBB Design Fine Furnishings
The bright pink accents create a beautiful contrast with the dark blue walls. It accentuates the elegance that is brought by the bathroom furnishing. And the addition of those artworks brings some quirkiness.
Eider & Ivory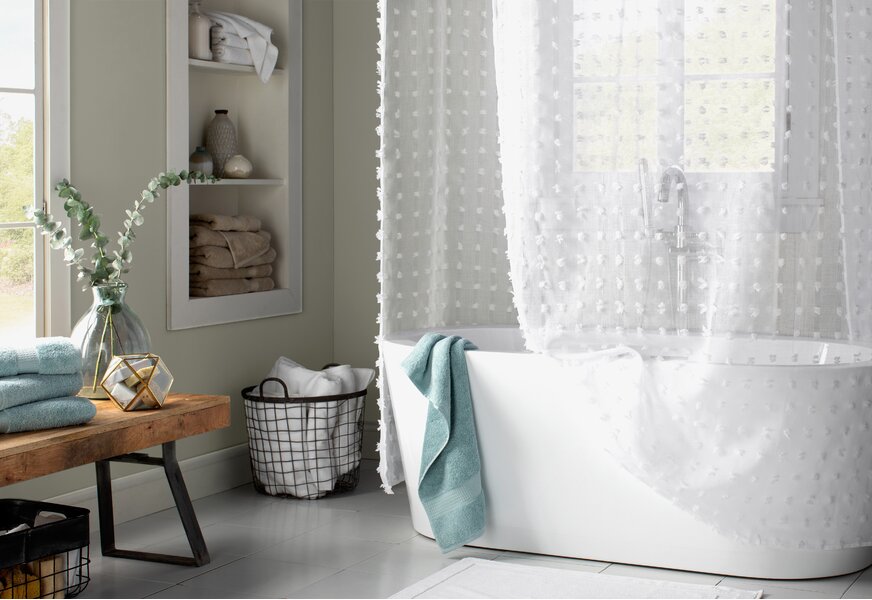 Eider & Ivory
Another example of eclectic bathroom ideas that do not rely on the colors to bring the style into the room. But it is rather seen in the combination of furniture pieces from different design styles. It's simple and tame in comparison, but it brings its own loveliness.
Tiles for Catalog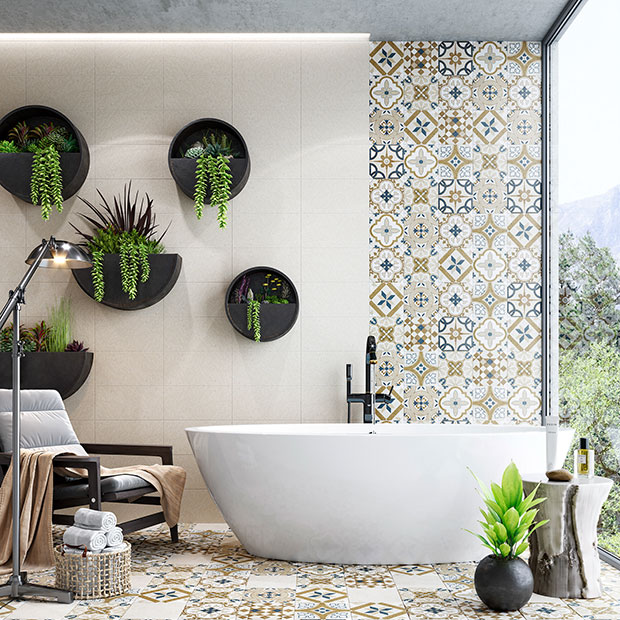 Pavel Mihalenok
Aside from the interesting format of the bathroom tiles, the décor and furniture in this bathroom are what truly makes this an eclectic bathroom. It makes the rustic and modern design pieces work together so well.
Hollywood Regency Glam Bathroom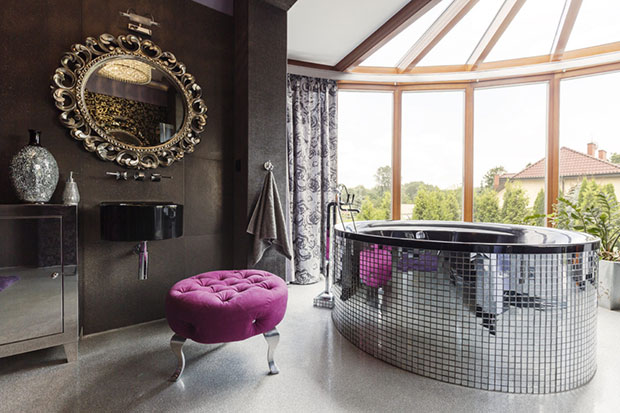 NS Designs
Much like its name, the eclectic design style of this bathroom truly gives it a glam look. The color choices and the décor bring that much.
There's Calm in the Chaos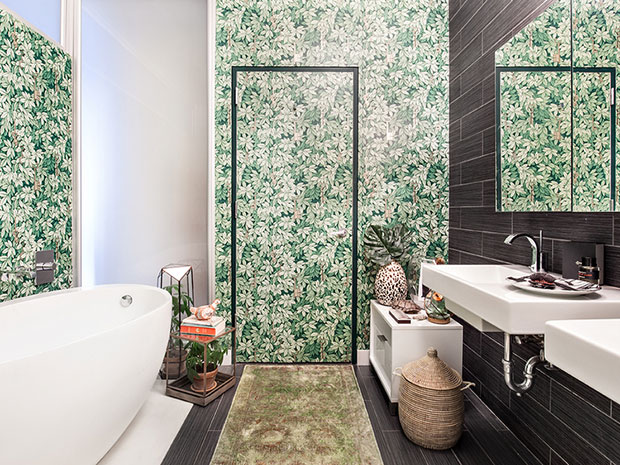 Allison Lind Interiors
Even with an eclectic bathroom, you would still want it to exude an atmosphere that is calm and relaxing. Like this bathroom, choose patterns and colors that can evoke such atmosphere. Then, add some decorations and accessories to accentuate that even more.
Eclectic Southwest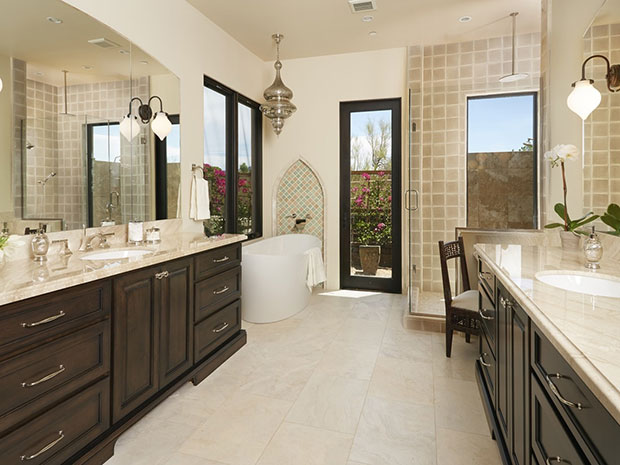 Sanders Design Studio
The main point of this bathroom is to emulate eclectic style through the clashing and working of different design styles into one room.
Boho Bathroom Remodel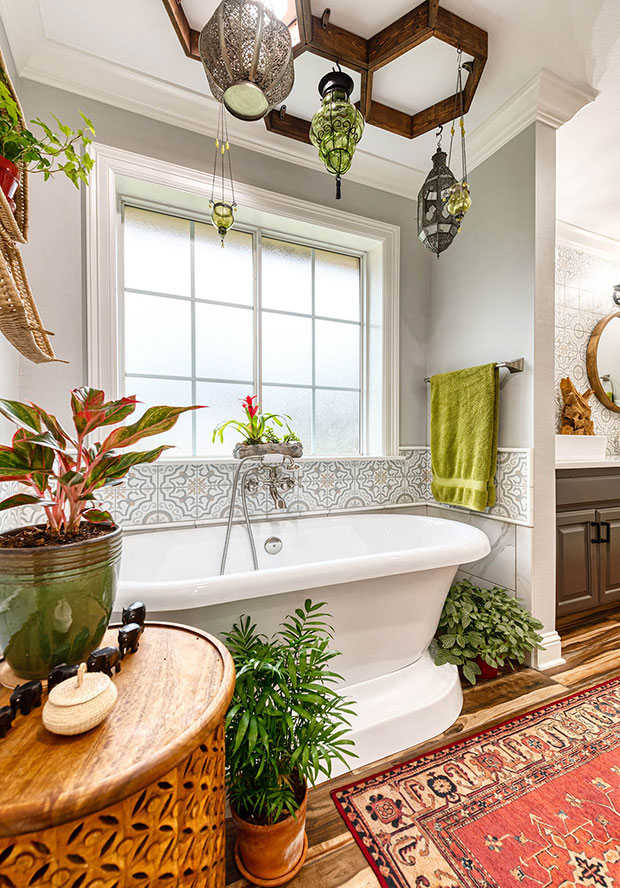 Ashley's Building & Construction
Like many of these eclectic bathroom ideas, having potted plants seems to be a trend. What's also a common theme is having patterned rugs and eclectically designed bathroom tiles.
Eclectically Glamorous Home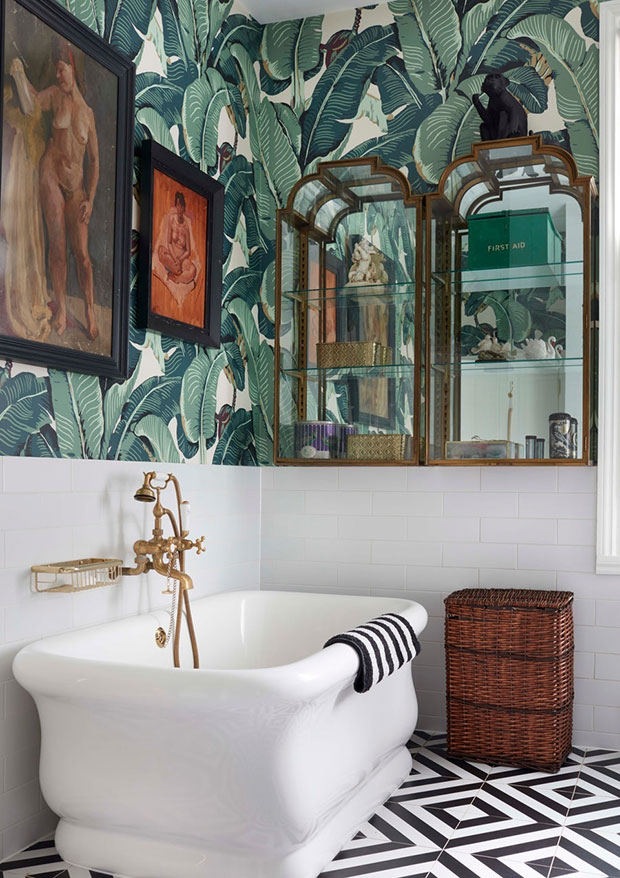 Complete Tile Collection
The artwork pieces and décor highlight the uniqueness of this eclectically glamorous bathroom. Also, take note of the unique wall cabinet.
Arbuckle Design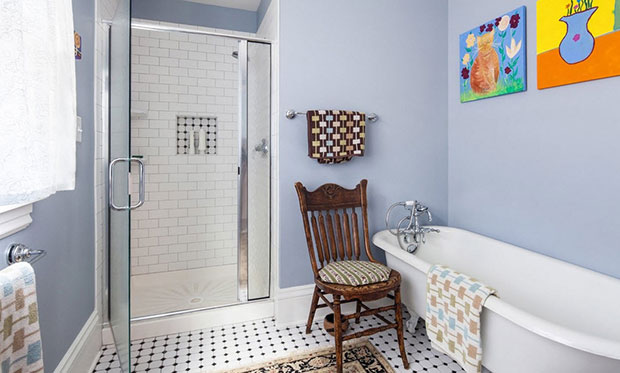 Arbuckle Design
The variety of patterns that can be found in this bathroom primarily bring in that eclectic style. But it's also the furniture and furnishing choices that add into it.
Eclectic Bathroom Style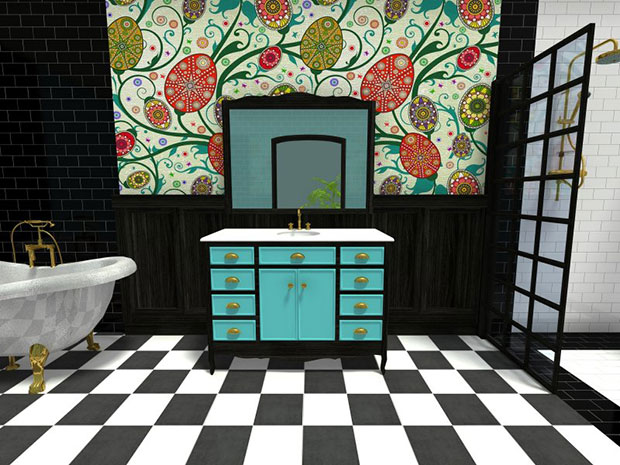 RoomSketcher
Having each wall clad with different styled tiles may not be cost-friendly, but it certainly commands an eclectic style room. Perhaps, you can find a way to emulate something similar but more cost-efficient.
Highbury Loft Apartment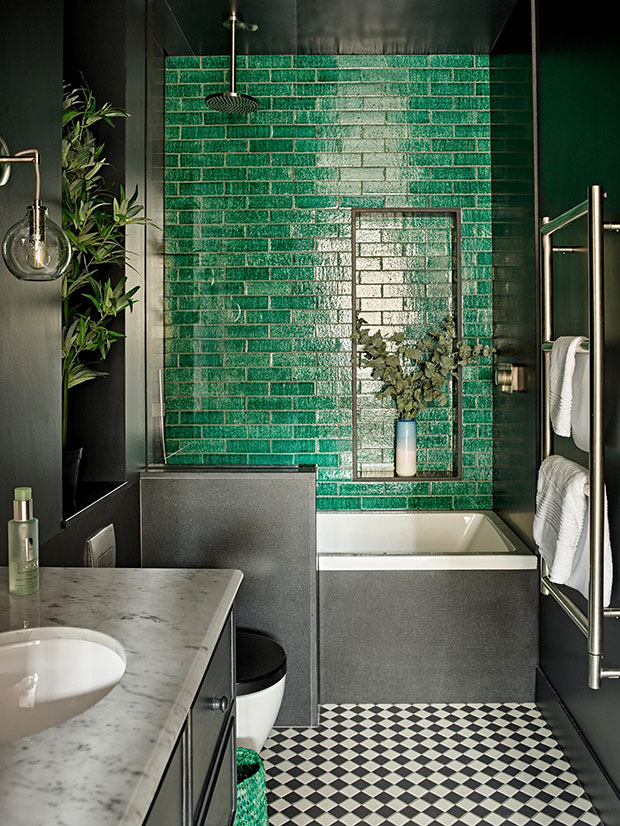 Romilly Turner Interior Design
This green and grey color palette is cool and slick, but it also kindles some eclectic aesthetic.
Randolph Street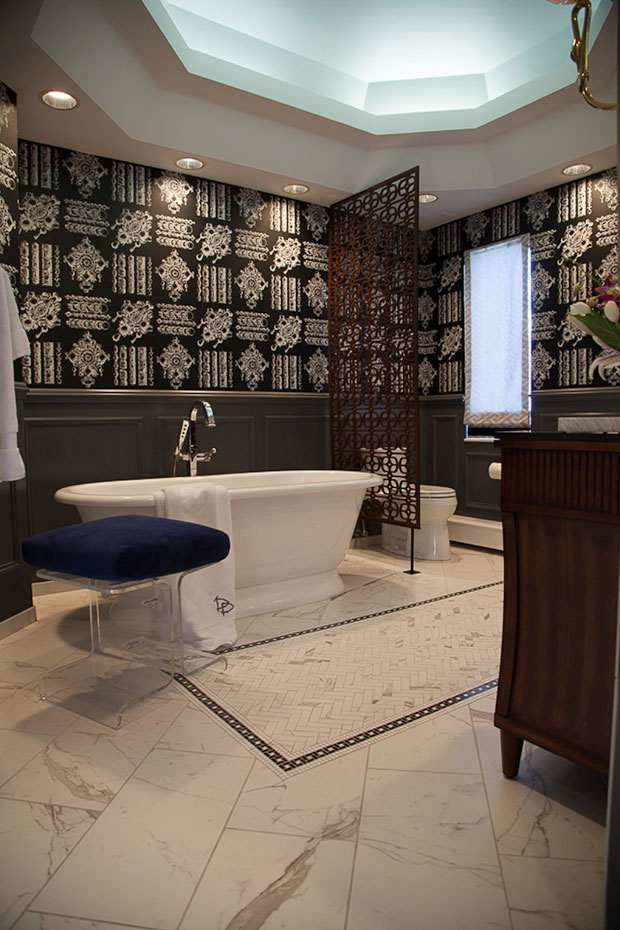 Minimalistic in terms of the colors, but this bathroom makes up for it in patterns and textures. The way it also combines different interior design styles in the furniture pieces brings out an elegantly eclectic bathroom.
Blue Bathroom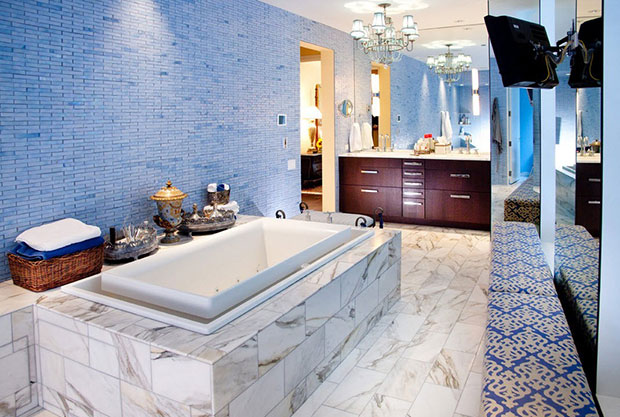 Lisa Wolfe Design
It's been said that the color blue is a nice color to go with in eclectic design. It surely shows in this particular bathroom. But, of course, don't forget the contribution of the furnishing and accessory pieces that highlight to this style.
There we have it! Are there any of these eclectic bathroom ideas that got you considering remodeling or redecorating your bathroom?
Like This Post? Pin It!