60 Lovely Mediterranean Dining Room Designs That Never Go Out Of Style
|
Mediterranean dining room designs often leave us enthralled and impressed. It has a certain charismatic characteristic that is simply irresistible.
Mediterranean style is often referred to as the simple and romantic aesthetics of countries in Southern Europe. It is known for its light and warm tone and the extensive use of natural materials that include wood, cotton, and ceramics.
Most often, these Mediterranean dining room designs are referred to as classic and traditional. But with the innovation of design comes the many versions of Mediterranean dining room designs.
Mediterranean dining room designs often have bricks and stones as backdrops. This gives a room more personality and lots of designing opportunities.
What Are The Key Elements For A Mediterranean Inspired Interior Design?
To put it simply, there are 5 items that you need to think about when opting for Mediterranean dining room designs. And these are as follows:
1. Whitewash walls. Mediterranean-inspired designs often have simple tones and colors. One best way to achieve that is to whitewash your walls. Don't worry, you can definitely add pops of color to it.
2. Exposed wood. Another key factor that most Mediterranean designs have are exposed wood, so make use of that. They can be rafters, beams, or even shelves that natural shine.
3. Texture. Choose rugs and centerpieces with rich textures. This can add a pop of color and a fresh vibe to your Mediterranean dining room designs.
4. Accessories. Include accessories to further brighten your dining room. These can be centerpieces with rich colors or cool tones.
5. Blur Boundaries. Make use of other natural elements that make people think of the outdoors instead of being indoors. You can put in lots of flowers or plants around your dining room.
Mediterranean Dining Room Designs For Inspiration
If you are looking for Mediterranean dining room designs, then this is the place for you. We have some gorgeous Mediterranean dining room designs that you will fall in love with!
White Walls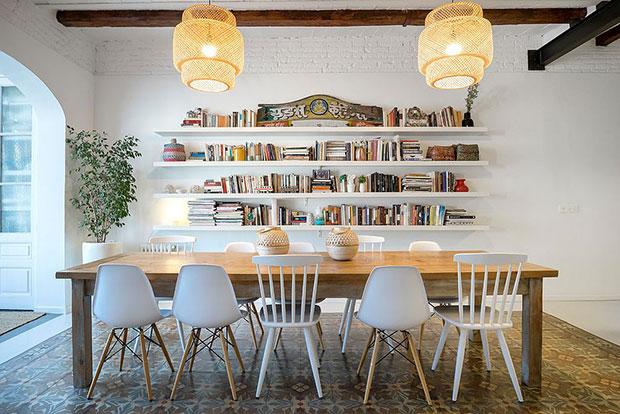 Decoist
This Mediterranean dining room design features a lovely white wall with a collection of books on one side. The design makes the room look spacious and inviting, perfect for family meals.
West Chalet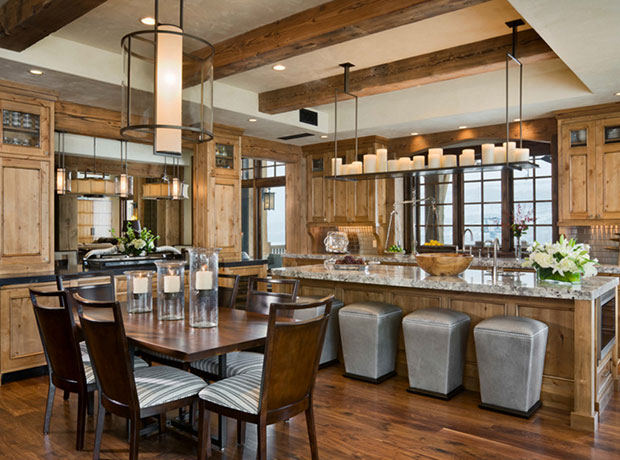 Locati Architects
The exposed beams and wood walls, make this dining room look charming. The chandelier is perfect and complements well with the interior design.
Circular Room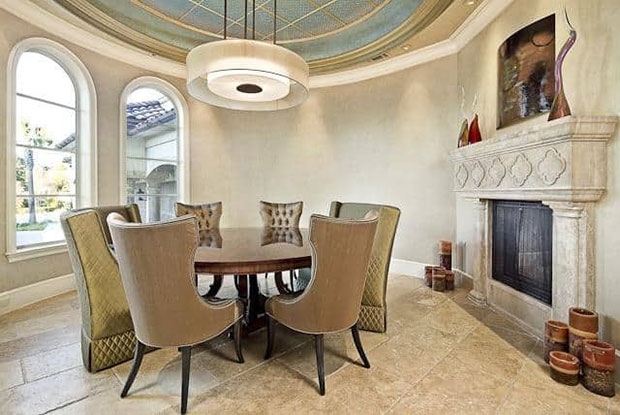 Architectural Designs
This room has a circular space that has been used well with a round wooden dining table and an impressive fireplace. The beige tone and warm accents make this room a whole lot more spacious.
Warm Tones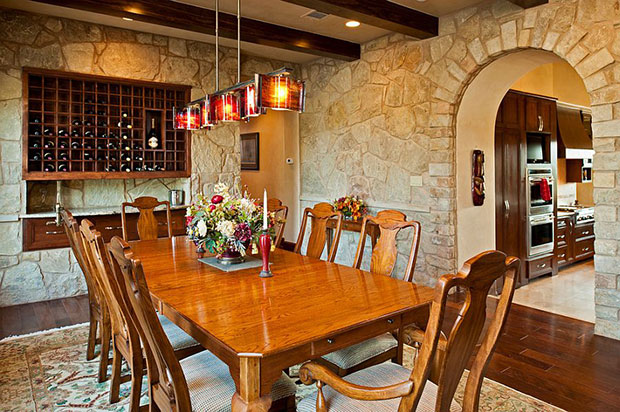 Decoist
Another lovely example of stone walls used in Mediterranean dining room designs. The room has a warm tone that makes it very inviting. The lighting is also romantic and very chic.
Elegant Room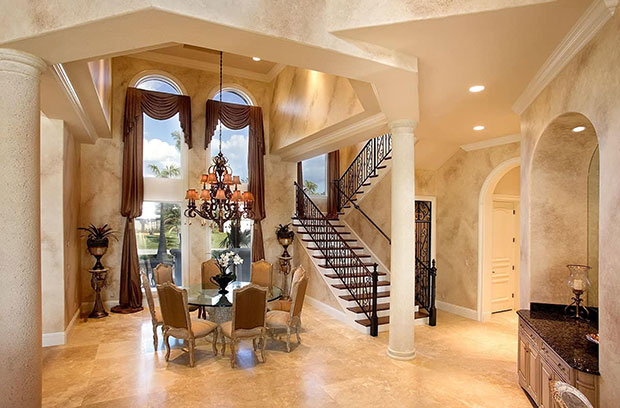 Architectural Designs
The high ceiling and tall arched windows of this beautiful dining room look elegant and luxurious. The dining space has a lovely and elaborate design that will turn heads.
Brick and Stone Walls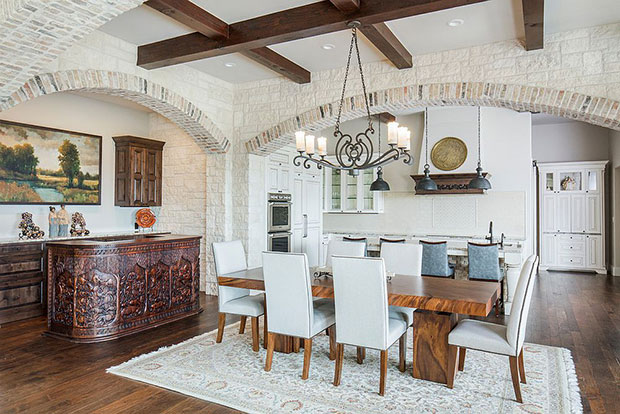 Decoist
Another beautiful dining room is featured here with brick and stone walls and warm and wood accents.
Wooden Frames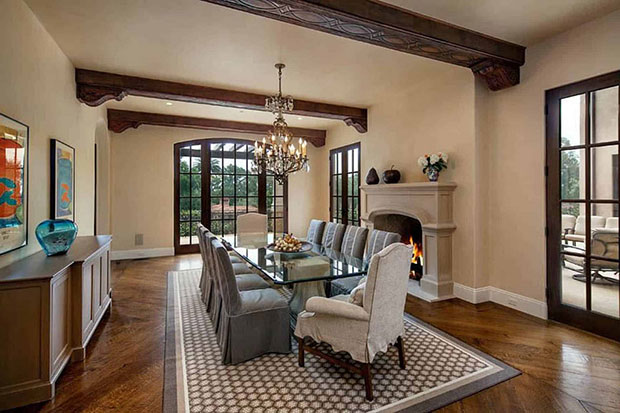 Home Bay
This lovely and spacious Mediterranean dining room design has exposed wooden beams with intricate details. It also features a lovely fireplace on the side to warm-up space.
Warm Accents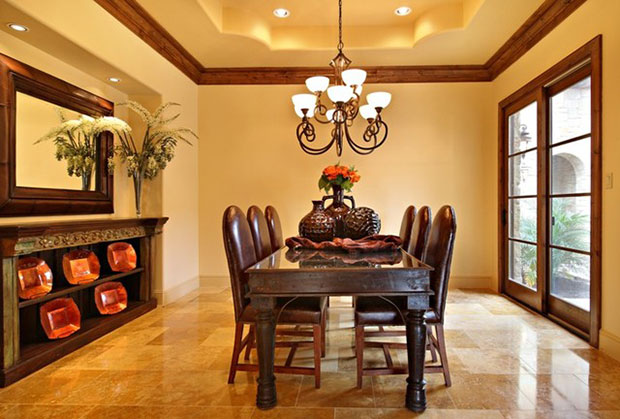 The Wow Decor
This dining room features warm accents and displays. The lovely displays at the dining table are eye-catching.
Impressive Chandelier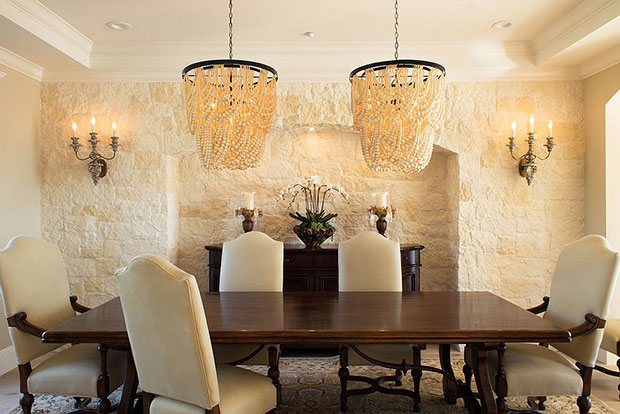 Decoist
The impressive lighting fixture in this Mediterranean dining room is one of the highlights of this design. Look how elaborate it is yet the decorations including the table and chairs look simple and elegant.
Clean White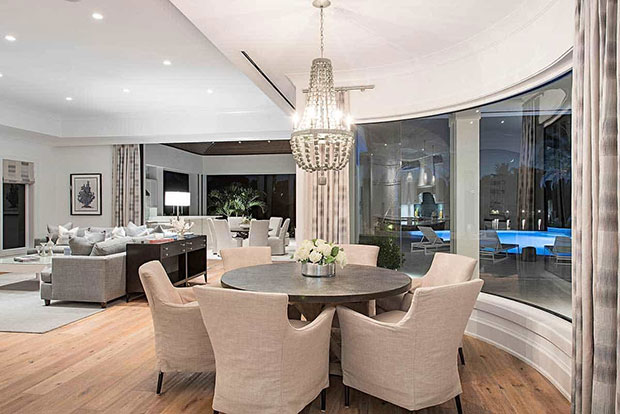 Architectural Designs
The curved glass wall in this dining room makes a great backdrop for the round dining table and impressive decorative chandelier. The armchairs also have beige slipcovers that add a nice contrast to the white walls.
Mini-Outdoors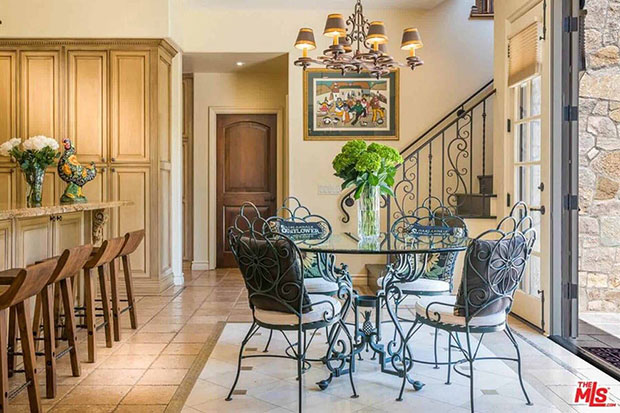 Home Bay
The lovely informal dining room set-up here is quite charming. It has a piece of wrought iron furniture including the chandelier, chairs, and glass table.
Elaborate Display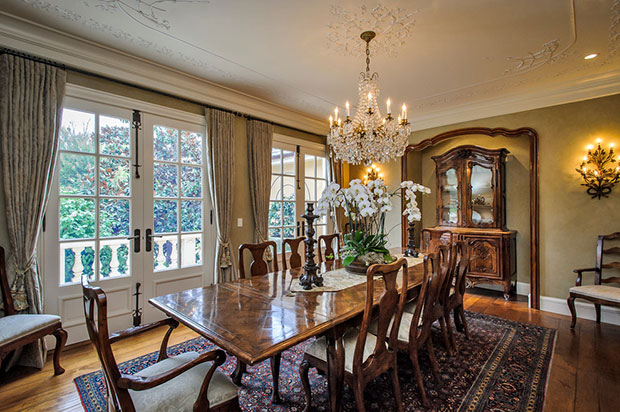 The Wow Decor
The elaborate displays of lights and decors in this dining room are impressive. We love how the large doors leading up to the terrace are located here with equally impressive curtains.
Classic Home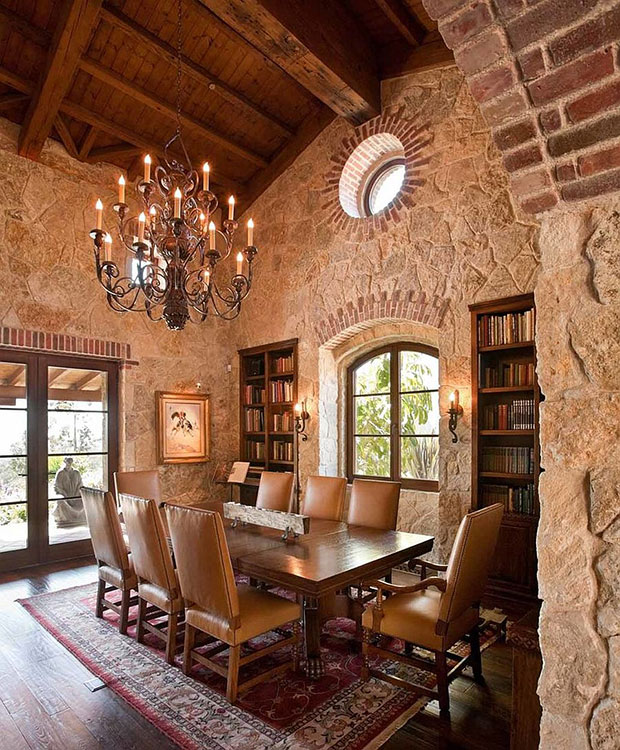 Decoist
The rough walls and ceiling of this dining room have a certain rustic appeal and charm. The room is accentuated with the lovely warm wood furniture and display.
Gorgeous Space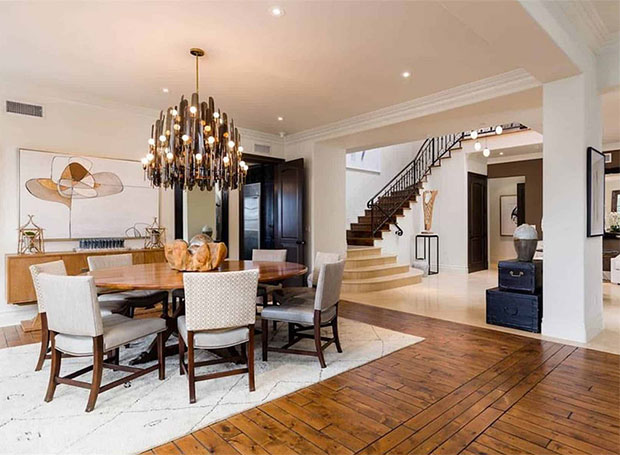 Home Bay
This dining room is located in a spacious open space in the house. The chandelier is quite impressive too and does not fail to catch attention.
Malibu Villa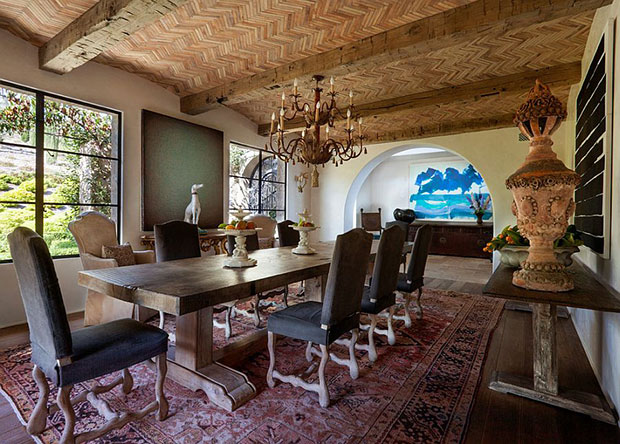 Decoist
This unique dining room has natural accents that will make you think of the outdoors. It has several antique and unique pieces displayed around the room.
Modern Touch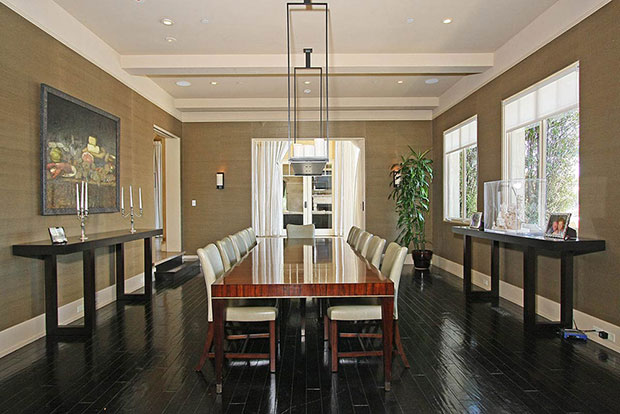 The Wow Decor
Mediterranean dining room designs usually have natural accents like this gorgeous dining room. It has a high ceiling and is placed in a well-proportioned room.
Scenic Views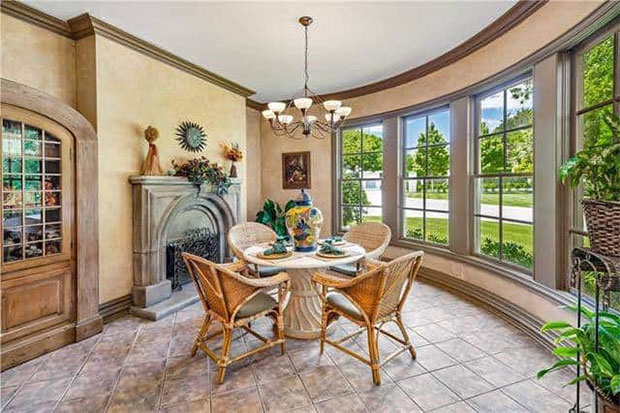 The House Designers
The comfortable design and style of this dining room are impressive. It has a cute display on the fireplace and wicker chairs around a stone table.
Elegant Gray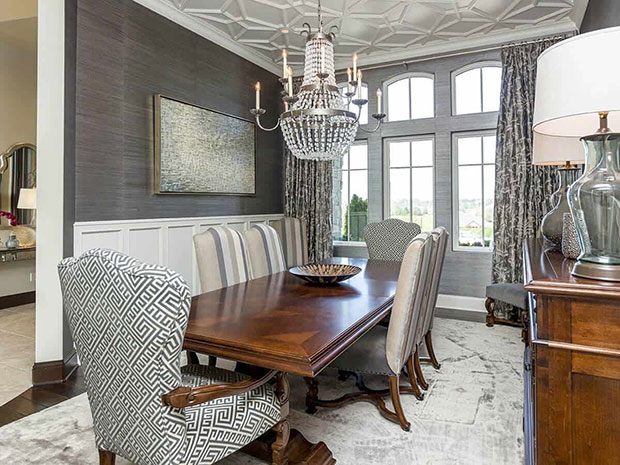 Architectural Designs
This dining room has gray accents that add an elegant appeal to the room. The ceiling also has lovely patterns that catch the attention.
Modern Mediterranean Dining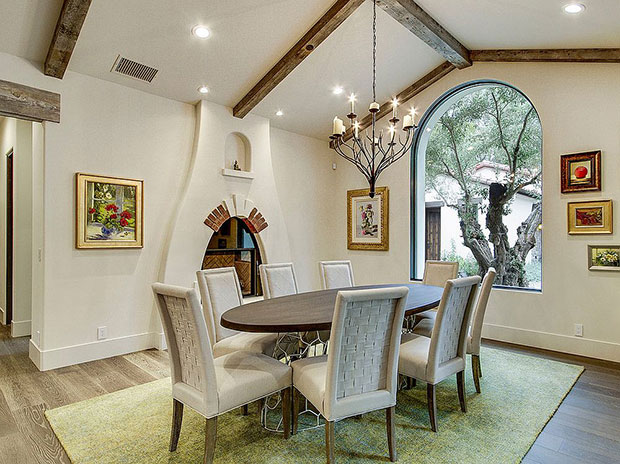 Decoist
We love how spacious and comfortable this dining room looks. The high ceiling and impeccable taste in decor give off an elegant feel to the room.
Gorgeous White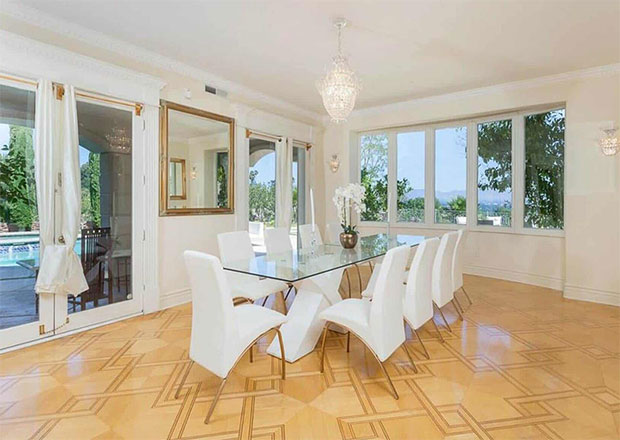 Home Bay
The light hardwood flooring in this room adds a nice contrasting touch to the white walls and chairs. The chandelier on top is not eye-catching at all but complements well with the space design.
Ranch Home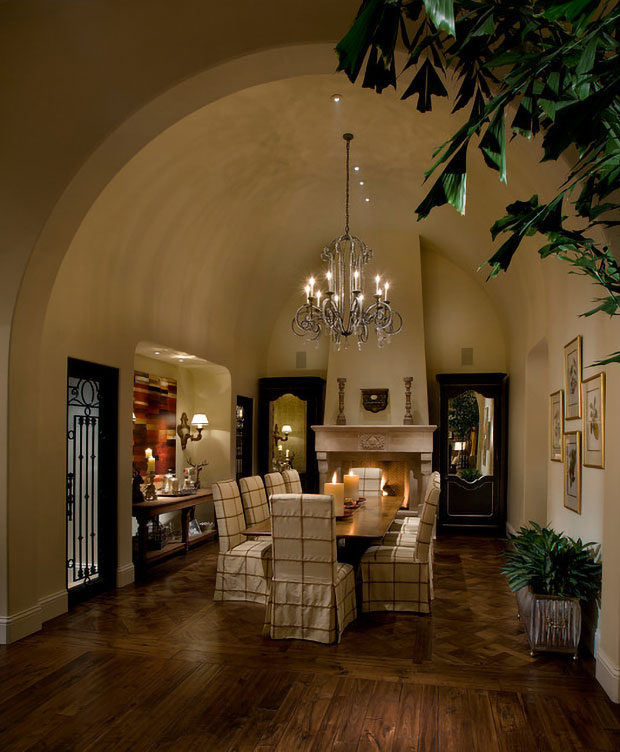 La Casa Builders
Mediterranean dining room designs can exude exquisite taste too, just like this gorgeous home. The room has a high sloping ceiling that is made perfect by the chandelier at the center. Its fireplace is a nice add-on too.
Tuscan Estate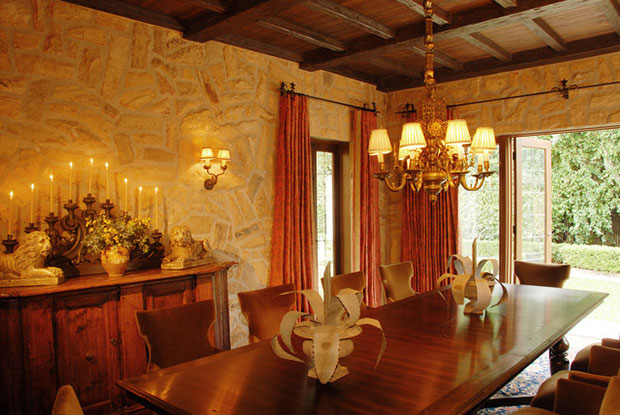 Timothy Corrigan
This lovely Mediterranean dining room was designed with eco-friendliness in mind. The candelabras on the side add a dramatic flair to the room that is charming.
Room Near Nature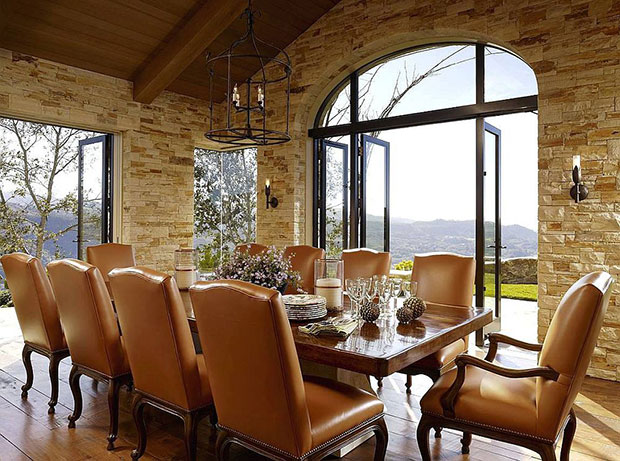 Decoist
The wide-open doors in this dining room add a relaxing ambiance to the space. The brown leathered chair also complements the brick walls and exposed beams.
Exquisite Dining Room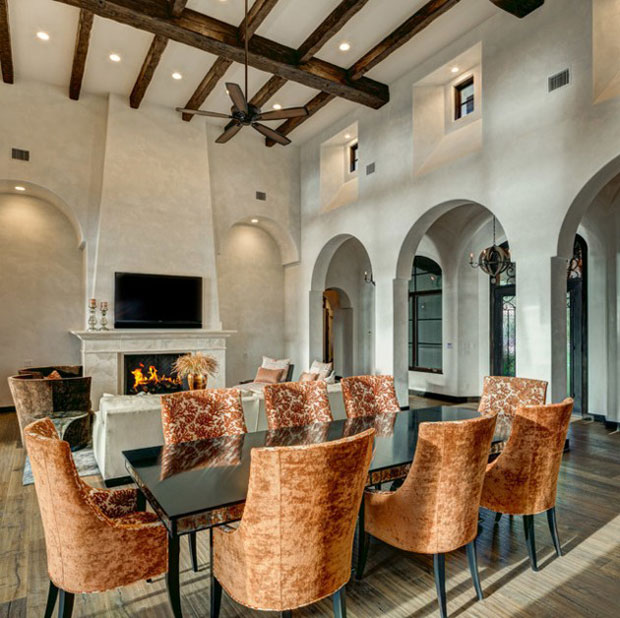 Geschke Group
Like most Mediterranean dining room designs, this one has high ceilings, exposed beams, and white-washed walls. We love how contrasting and rich the upholstery of the dining chairs here.
Hillside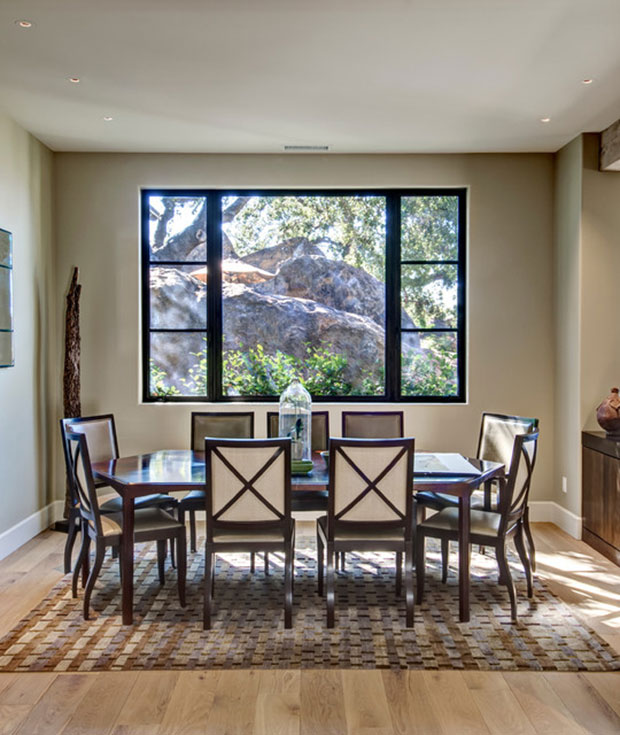 Cornerstone Architects
Designed with simple decors, this dining room is simple but pleasing to the eyes. It has a patterned rug and an interesting decor on the corner.
Mediterranean Dining Room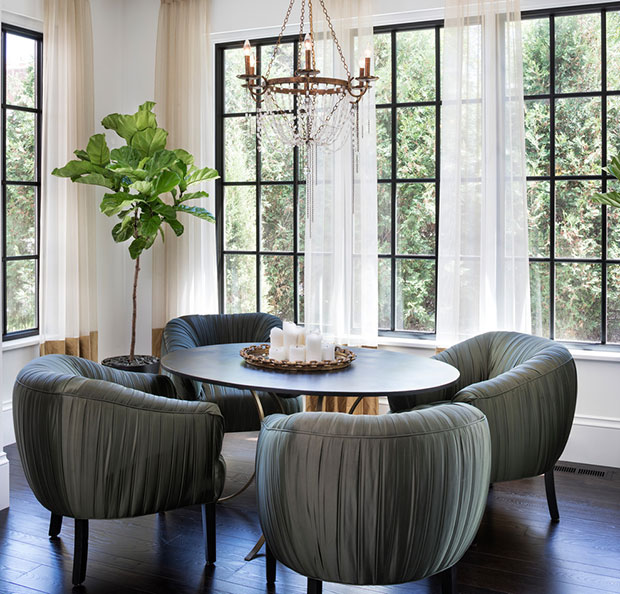 Swan Architecture
Rounded and cushioned dining chairs here make for an ideal spot for families and friends to gather. It also serves as an interesting focal point to the design.
Private Residence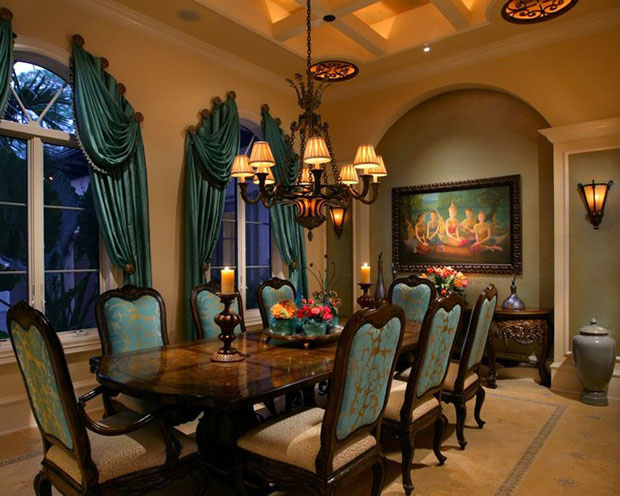 Harwick Homes
Elaborate drapes and equally eye-catching art serve as one of the focal points in this room. The chandelier also adds a dramatic glow to the room.
Relaxing Room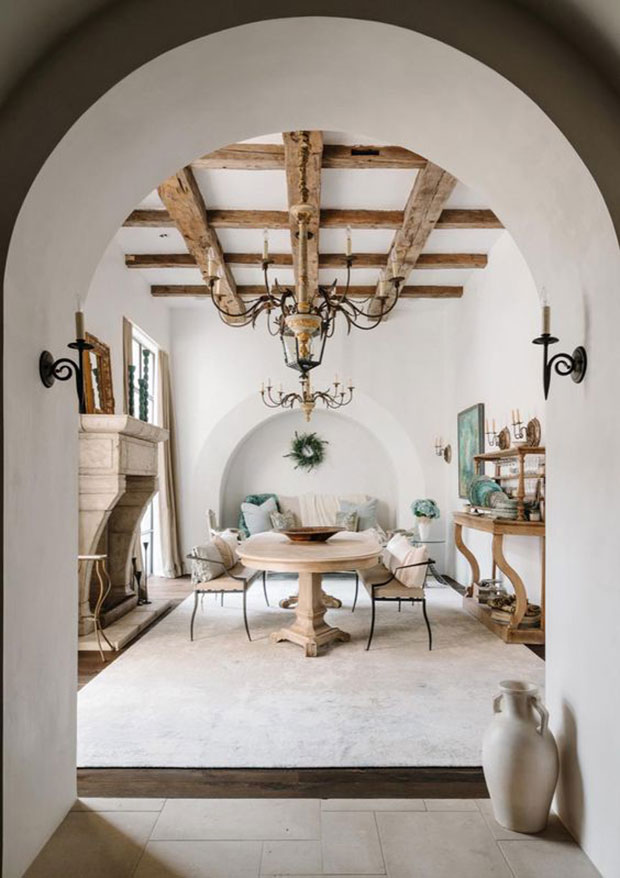 This relaxing dining room has wooden furniture and fixtures that complement the open airy design. We love the simple and rustic appeal of the decors in it.
Miami Beach Home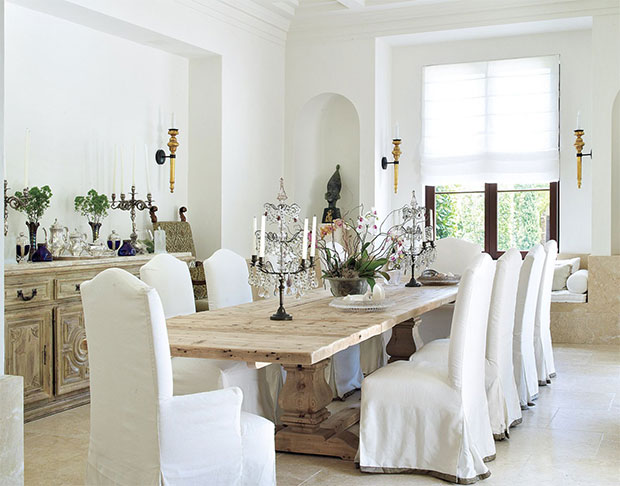 Tria Giovan
The coffered ceiling and elaborate decors here make the room more stylish and elegant. It also features a large wood dining table with linen white chairs.
Warm Hues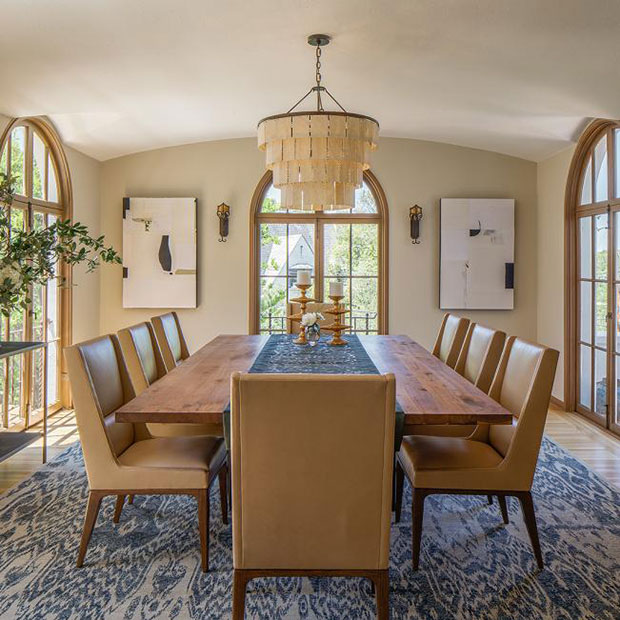 Eric Rorer
The warm hues of brown are complemented by the blue patterned rug on the floor and the table runner. The chandelier is also a great focal point with its elaborate design.
Sophisticated Farmhouse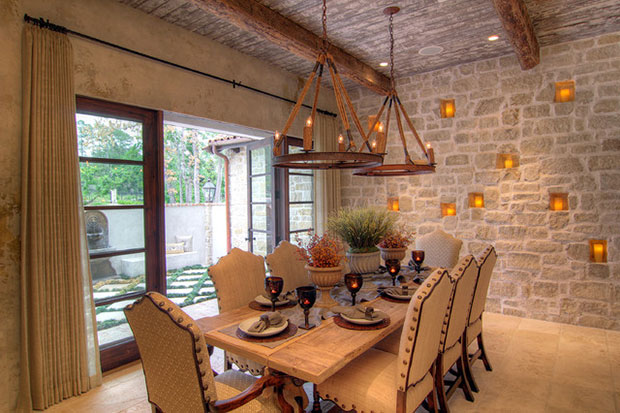 Eklektik Interiors
This farmhouse has a natural elegance that takes you back in time. The wood chandeliers are very complementing to the rough interior.
Catalina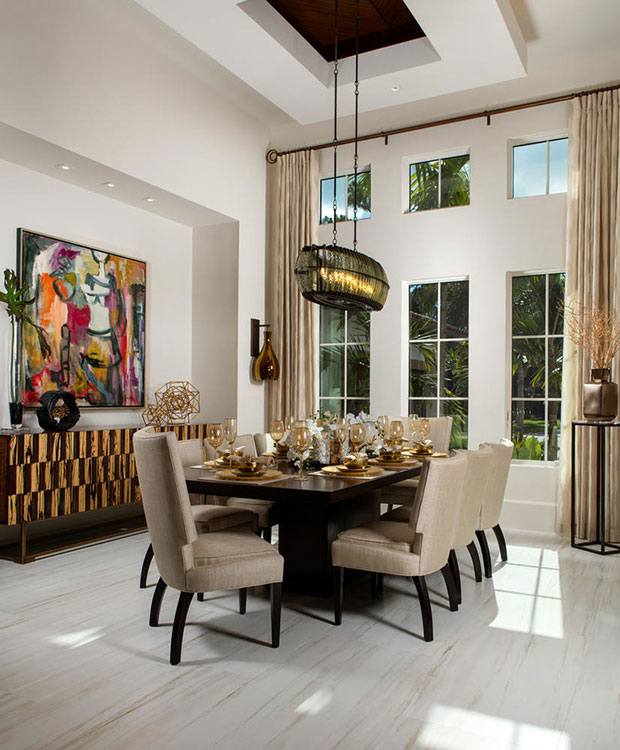 Romanza
Mediterranean dining room designs can also take in a more modern and elegant look like this one. The gold accent in the room adds a nice elegant touch
Charming Dining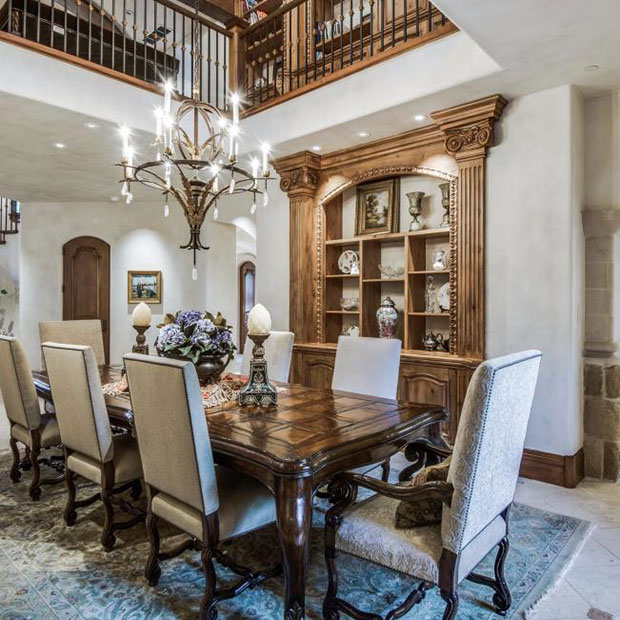 Ebby Halliday Realtors
The charming interior of this dining room is designed with wooden fixtures and an elaborate chandelier. The in-wall shelving is also an interesting addition with its elaborate corners.
Piney Point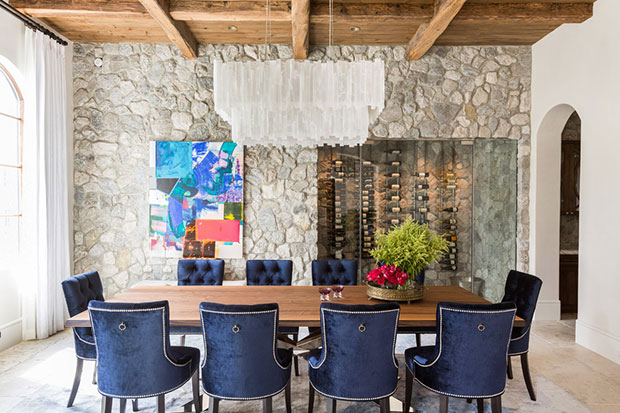 Marie Flanigan
The gorgeous rich upholstery of the dining chairs in this dining room pops a bright color to space. It also has an interesting chandelier on a backdrop of stones and exposed wooden beams.
Paradise Valley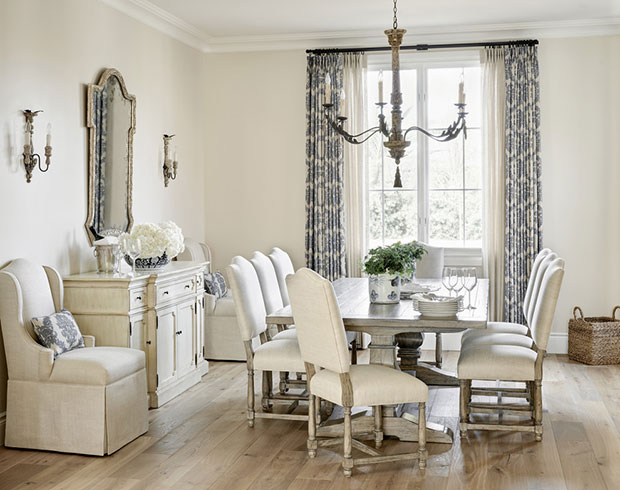 PHX Arch
This dining room space has a refreshing ambiance with its plush dining chairs and elaborate lighting fixtures. The curtains and throw pillow also adds a pop of color to space.
Curb Appeal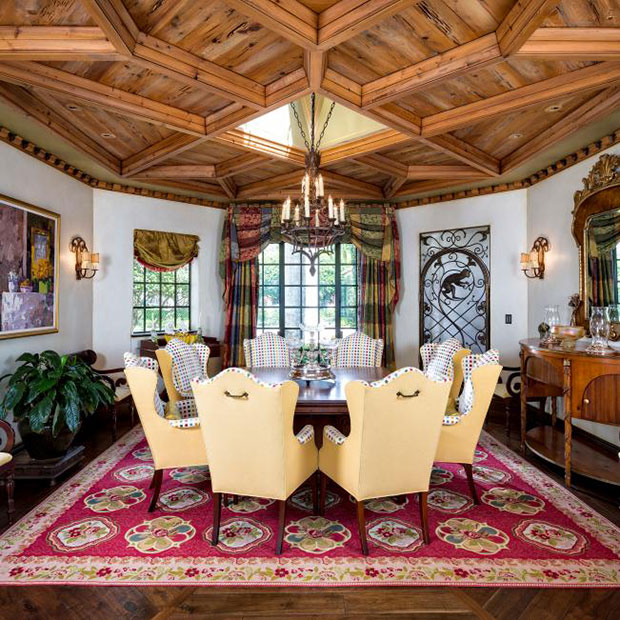 William Raveis Real Estate Mortgage and Insurance
This room has a rounded shape but has been added an edgy look by the geometric shapes of its ceiling. It also has elaborately designed furniture and fixtures with colorful accents.
Westlake Residence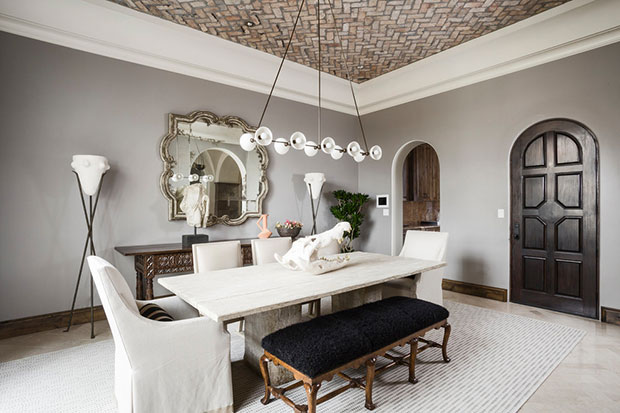 Hassht
This gorgeous space has an interesting and eclectic design that is charming. From the interesting floor lamps to the unique chandelier, the room is unforgettable.
Natural Hues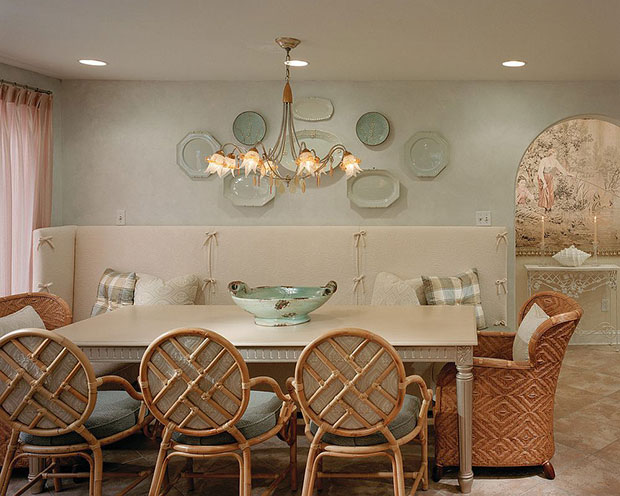 Decoist
The mismatched chairs in this dining room add a chic and charming look to the room. Notice the cute bulbs of the chandelier too.
Bright Residence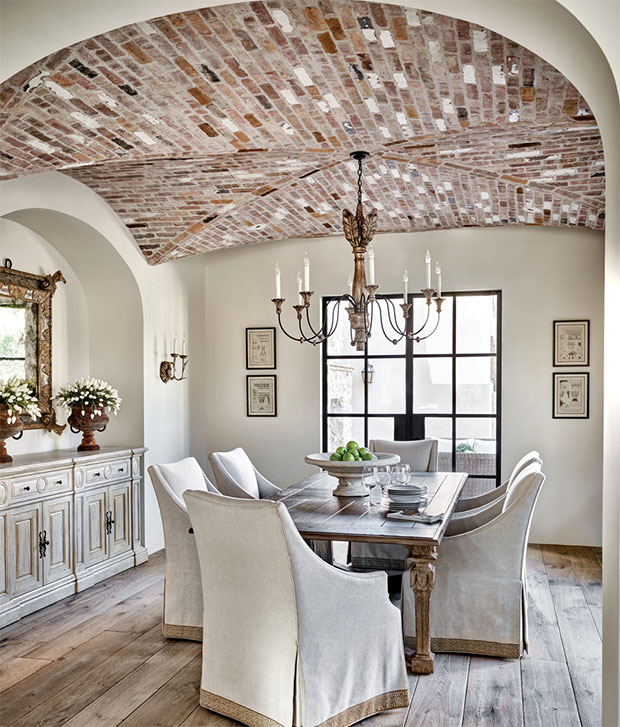 Lissa Lee Hickman
Its vaulted ceiling adds a dramatic look to the room. It also features a large and interesting chandelier with a big farmhouse-style dining table.
Mediterranean Style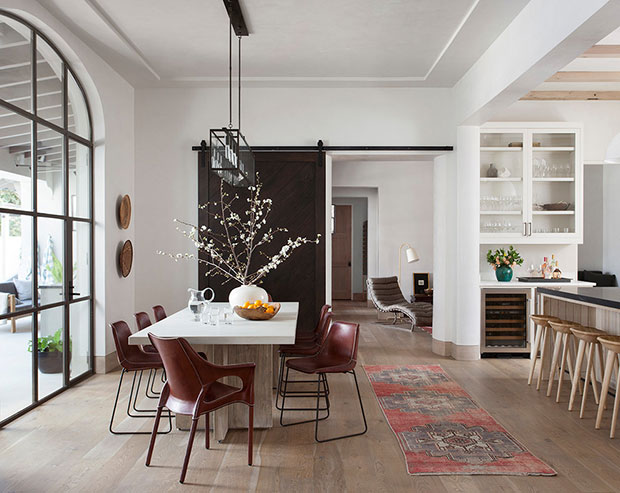 Ryann Ford
This dining space features a lovely pendant light and a table with the base having the same hue as the floor. Its table decor is also interesting.
Horseshoe Bay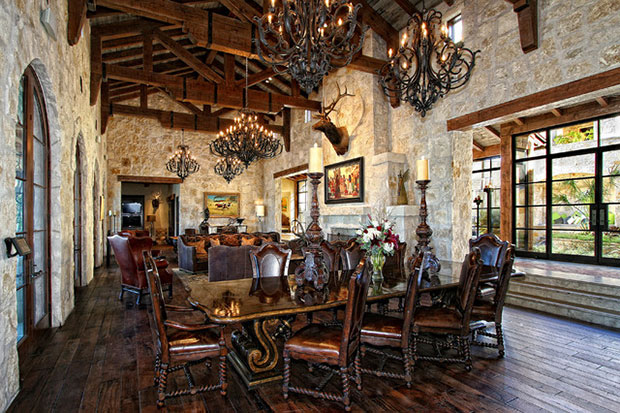 ZH Custom Homes
This dining room has a pretty elaborate and elegant theme that will make you marvel at its beauty. Notice the classic chandelier and the classy dining table and chairs.
Italian Farmhouse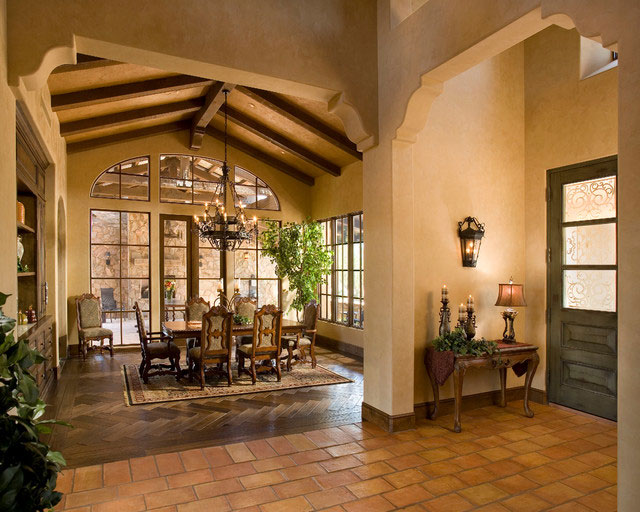 The Phil Nichols Company
This dining room has a high ceiling and large windows that welcome natural light. The plant on the corner adds a bright color to the room with its warm accents.
Gray Bench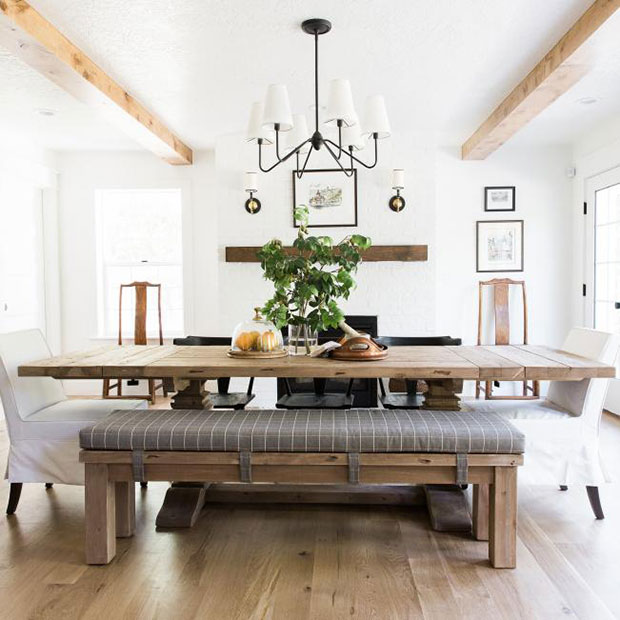 House of Jade Interiors
Mediterranean dining room designs' theme of white is muted down by the warm tones of the room's furniture. It has a lovely gray bench too that adds an interesting touch to the room's setup.
Smart Modern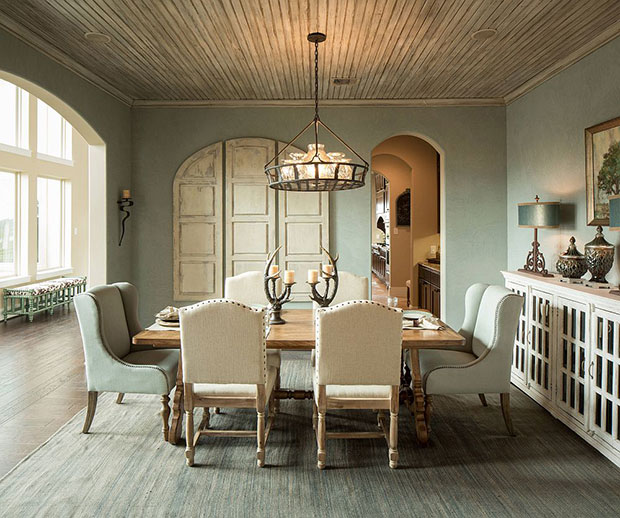 Decoist
These classic wing chairs are very pretty and look well with the interior. The designer also adopts some interesting pieces of decoration including the candelabra at the center of the table and the chandelier.
Gold Mediterranean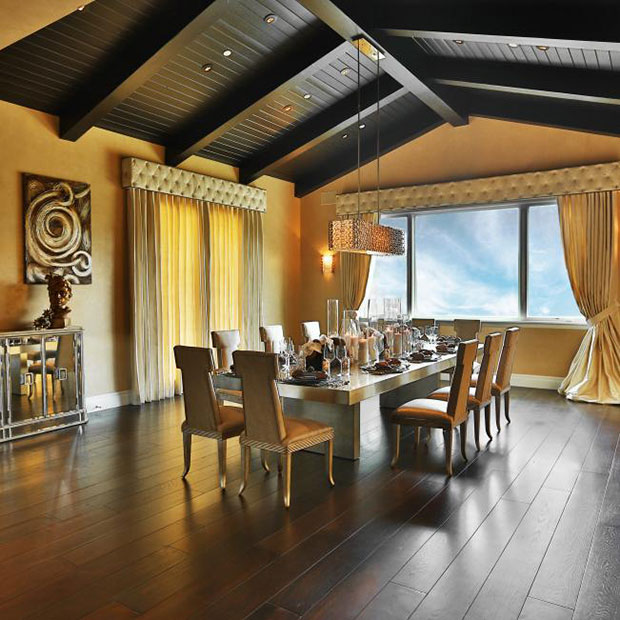 Christine Bentley Photography
The golden hues of this room make it an elegant space. It has a gorgeous vaulted wood ceiling and gold decorations.
Modern Mediterranean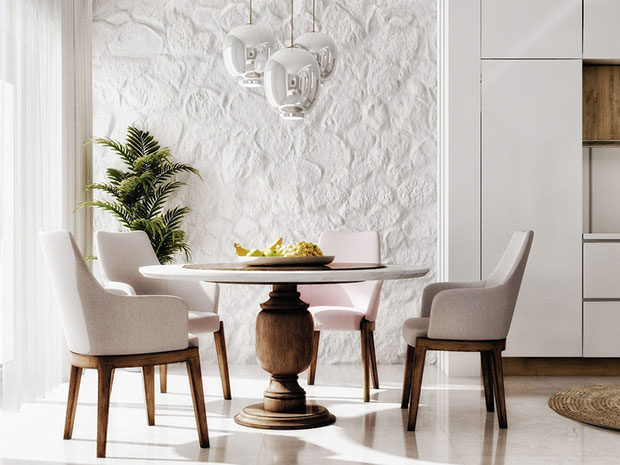 Home Designing
This room's whitewashed rustic stone wall adds a nice texture to the room's interior design. It also has a lovely pendant light that is interesting and unique.
Mediterranean Style Ideas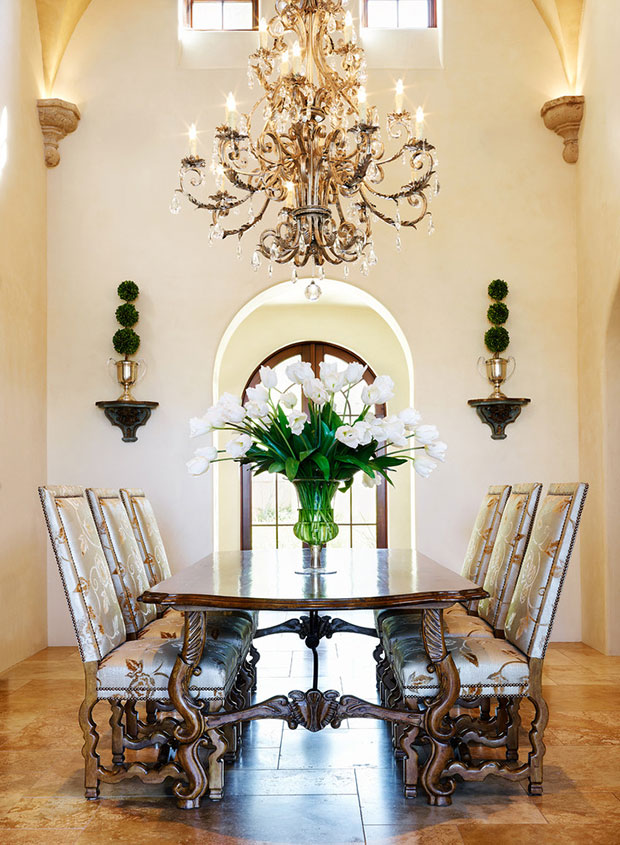 Decoration Love
The elaborate chandelier in this dining room looks great with the high ceiling. It also has a splash of green colors that makes the room even brighter.
Aspen Leaf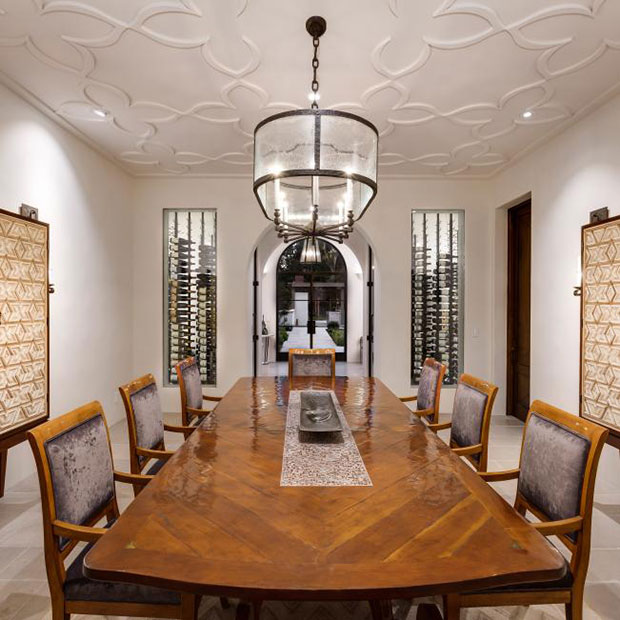 Tom Zikas
The room has minimal decorations but those that are inside it are bursting with personality already. The ceiling has gorgeous patterns and the chandelier has a unique and interesting shape that catches the eye.
Touch of Scandinavian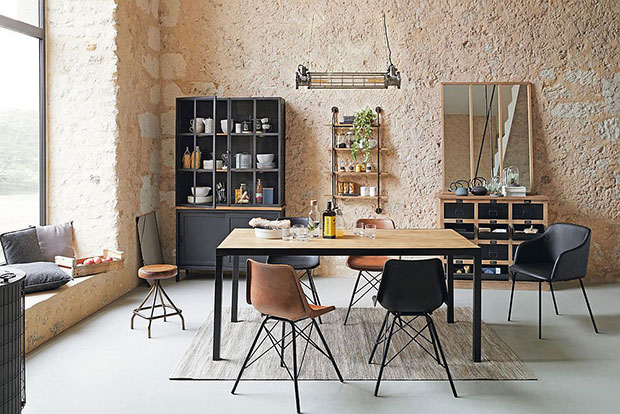 Decoist
Like other styles, Mediterranean dining room designs can also incorporate different styles. Here, the room has a touch of Scandinavian design.
Bright Mediterranean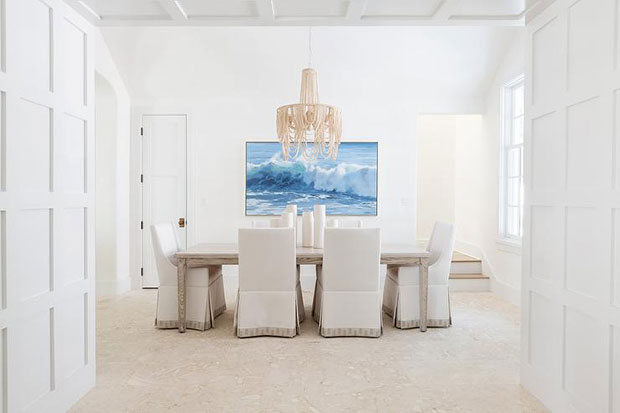 Urban Grace Interiors
This bright room has minimal decorations with furniture of the same or near shade. The bright blue painting on the wall adds a pop of color to space.
Blue Hexagon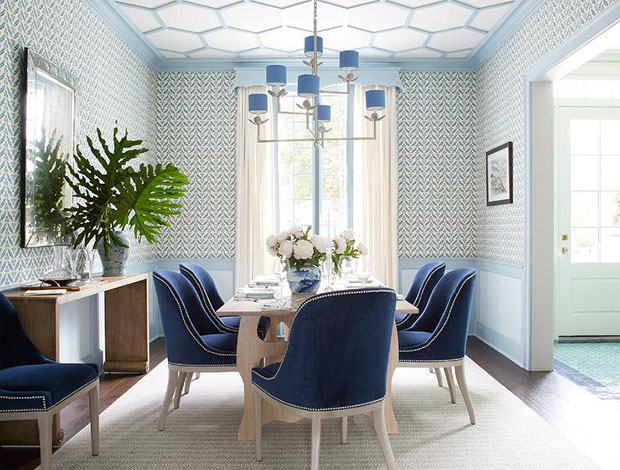 Andrew Howard Interior Design
Accented with blue colors, this room looks lovely and cozy. The blue hexagon trim on the ceiling also adds an interesting look to the room.
Neutral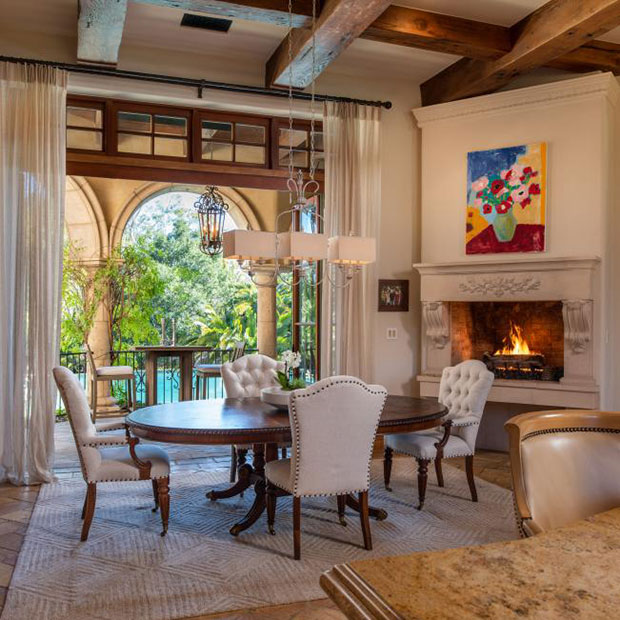 Willis Allen Real Estate
The lovely and stunning home design boasts of stone-accented architecture. It has a wooden dining table and upholstered chairs. The chandelier is also noteworthy with its elaborate design.
Magnificent Dining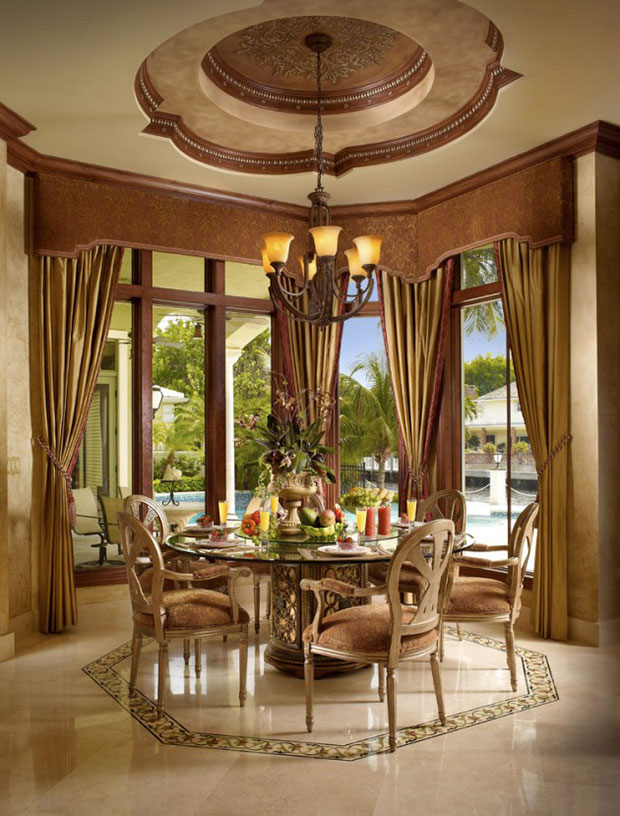 Decoration Love
Another magnificent Mediterranean dining room design are displayed here with its lovely curtain design, gorgeous dining table, and lovely ceiling decoration.
White Mediterranean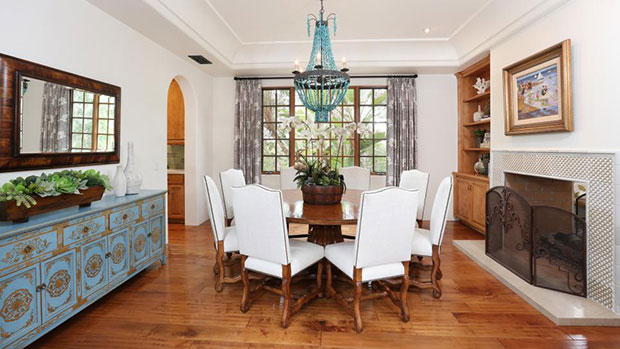 Blackband Design
This dining room has interesting design elements that will turn heads. From the blue chandelier to the lovely fireplace, this room has a personality of its own.
Pink and Gray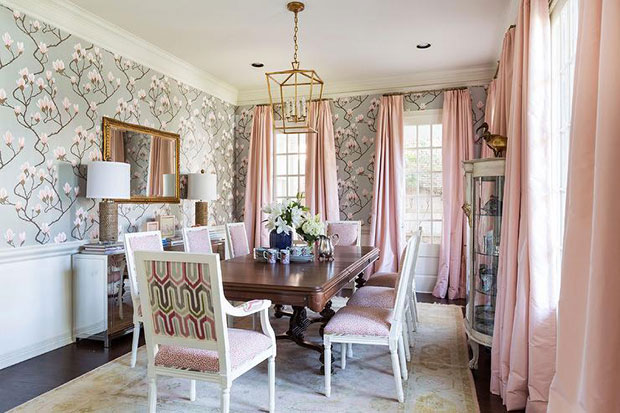 Creative Tonic
Feminine touch is evident here in this pink and gray dining room design. It also has a brass lamp and a french style dining table.
Dining Area With Bar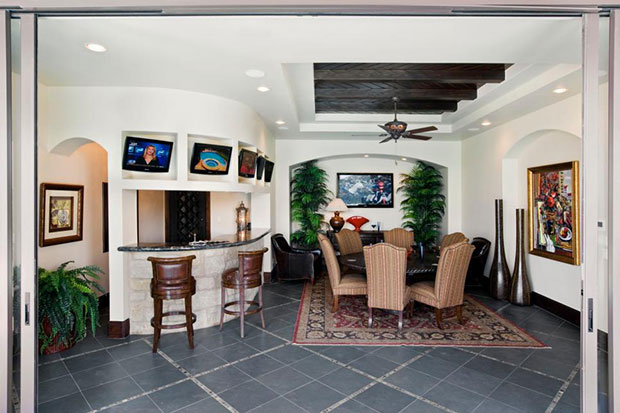 Jenkins Custom Homes Design&Build
Because of its white walls, this dining room has lots of colorful decorations including a patterned rug and dining chair. The large vases on the floor are also eye-catching and very interesting.
White and Green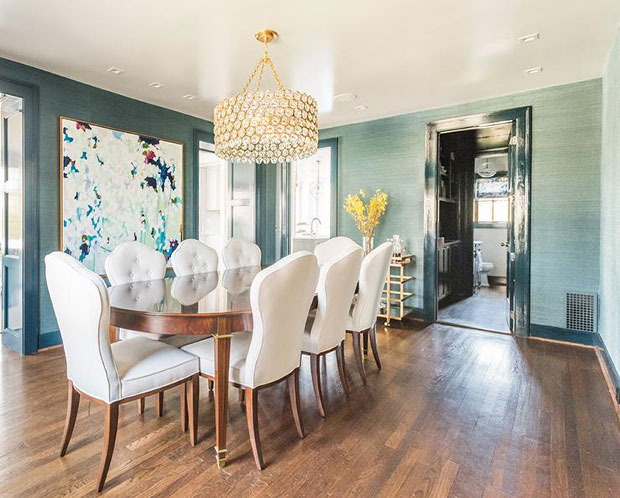 Summer House Style
This dining room features French dining chairs and a green wall. The chandelier is equally impressive with its intricate design.
Cottage Dining Room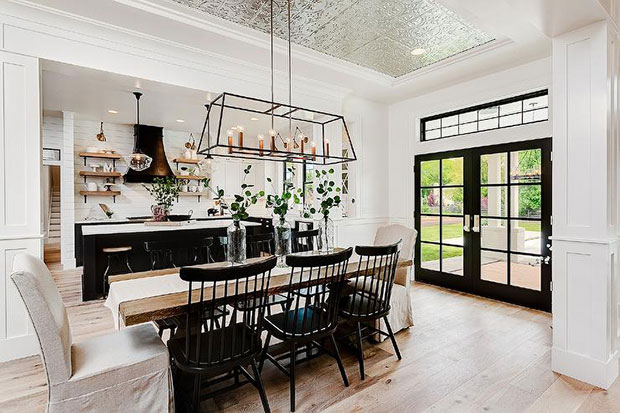 Clark and Co Homes
The black and white motif of this dining room looks comfortable. It has black spindle dining chairs and an interesting chandelier.
Petite Dining Space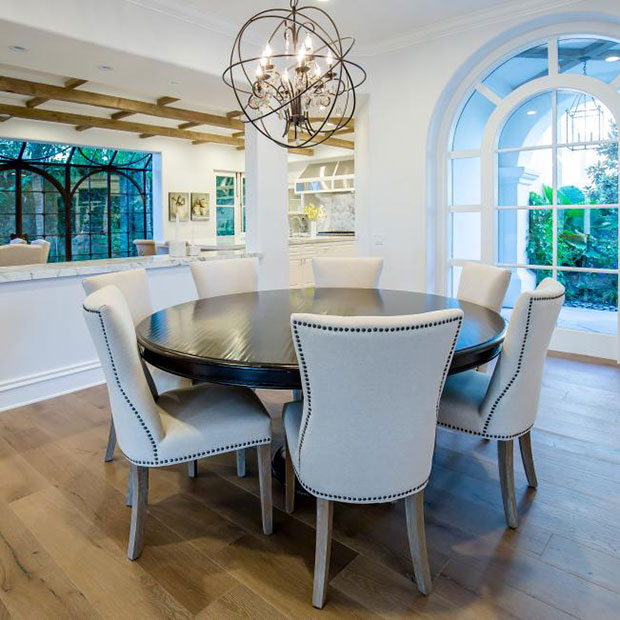 First Team Estates
This small dining space is made bigger by the tall arched window on the side and open wall to the rest of the house. Its chandelier looks interesting too.
Storage Dining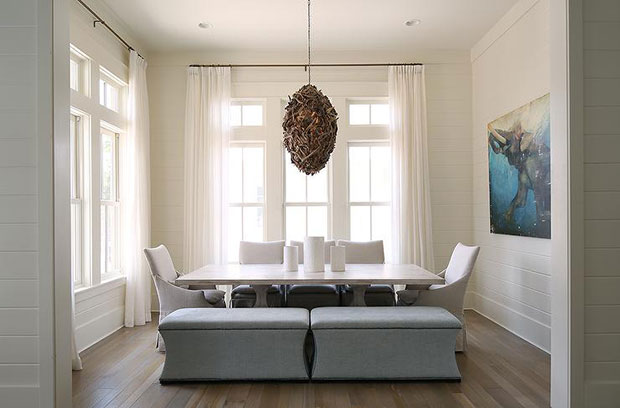 Cummings Development and Design
This charming dining space has no other furniture except for the dining table and chairs. Interestingly, the dining benches are also storage spaces. Take a look at that pendant light made of driftwood.
With this extensive collection, we hope that you have found one or more Mediterranean dining room designs that will be perfect for your home.
Which one is your best design so far?
Like This Post? Pin It!