40 Lovely Round Dining Table Designs For the Gracious Homemaker
|
Any dining room is not complete without a dining table. It is, after all, the focal point, not just visually but also functionally. So, the right dining table shape must be fitted into your dining room.
Round dining table designs are some popular choices due to the advantages their shape brings it. For small dining rooms, round dining table designs can be very advantageous due to their lack of corners and edges. On the other hand, if you have a spacious dining room, round dining tables can provide a refreshing alternative to the usual rectangular dining tables.
How do you decorate a round dining room table?
Round dining table designs can be a little more difficult to decorate compared to square or rectangle dining table designs. Here are some tips and guides to decorating a round dining room table!
1. Setting – Using a round place setting and proportional decoration is the best way to decorate round dining tables. Of course, as expected, the color scheme and style of the dining table design and décor must match the rest of the room.
2. Shape – In your round dining table, there should be just one straight-edged element. If you're going to use a rectangular runner, don't use square plates anymore.
Now, here are decorative elements you may need to complete the look of your round dining table designs.
1. Table cloth
Table cloths are not always present on dining tables. Some prefer not to have them showcase the full beauty of the dining table design itself. But sometimes, homemakers prefer to have them to protect the table surface and the added elegance tablecloths bring.
As one would expect, a round tablecloth works best with round dining table designs.
2. Table runner
Table runners for round dining table designs are quite interesting since technically runners run down the center which round dining tables don't have. Regardless, runners are great accessories to set the food onto or place decorations on.
For obvious reasons, round runners work so well with round dining table designs. They are perfectly placed in the center and easily add color. On the other hand, you can definitely use rectangular runners for your round dining tables. It adds some dynamic to the overall look of your dining table. Though, remember that there should only be one straight-edged element in your round dining table.
3. Place settings
Your crockery that will go along with your dining table is something that you should pay attention to. As mentioned above, the decoration must be proportional, meaning plates, bowls, and cups should be round to match the round dining table. If there aren't any straight elements on your dining table, you may consider square plates.
4. Centerpiece
Though some put food at the center of the table, round dining table designs can look even better with a centerpiece. So, if you're going to have a centerpiece, pick something rounded that is less than a quarter of the diameter of the table. Be wary that your centerpiece isn't too tall either, since this could prevent people from talking to each other.
A basket would make a good centerpiece. It could hold fruits, flowers, or decorative items of your choice. A decorative vase itself wouldn't even need floral additions. On one hand, flowers in a basket, for example, would be a romantic centerpiece to have if you're having a romantic and intimate dinner. Small planters can make good centerpieces as well. Candles are an option too, though they can be hazardous if you have children. An alternative would be investing in LED candles.
What shape of placemats goes on a round table?
Placemats are one of the important elements you need to consider in decorating your round dining table. Not only do they add some visual appeal to the overall look of your dining room, but it also helps protect your table's surface from stains, scratches, and the like.
For round dining table designs, round placemats are the way to go. Using any other shapes will bring visual trouble with the placemats overlapping, unlike round placemats. Wedge placemats are another recommended placemat shape for round tables. They have a curvy, trapezoid shape that makes it advantageous since the longer end is placed parallel to the edge of the table, making way for dishes and centerpieces on the inner side of the table.
Round placemats are not hard to find at all. They also come in various designs and materials like lace or woven.
What type of chairs goes with a round dining table?
Styling a round dining table isn't just limited to what you place on the table itself. The chairs you pair it with also matter. But apart from that, comfort is something that needs to be focused on as well when deciding on the dining chairs.
In terms of style, of course, the first thing you need to consider is that the dining table and dining chairs match in style. And as much as possible, go with a finish that matches each other, if not the exact same. Moreover, complete the overall look of any round dining table design by selecting a chair that has a slightly rounded back to mimic the shape of the table.
To find the right type of dining chair, make sure you do the math. How many people can be seated around your round dining table?
Let's take a look at some refreshing round dining table designs you may want in your dining room!
Hypes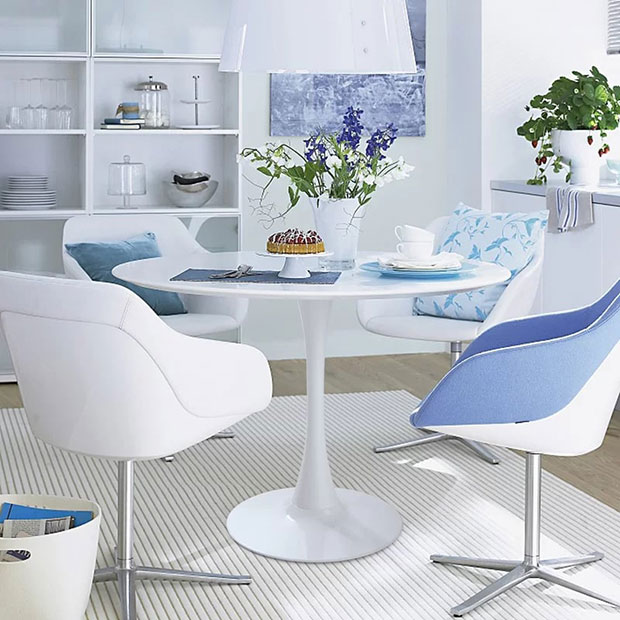 One of the more popular round dining table designs is the one with pedestal legs like this. It's a more contemporary style that one will surely like to be up to date with the trends.
Bicknell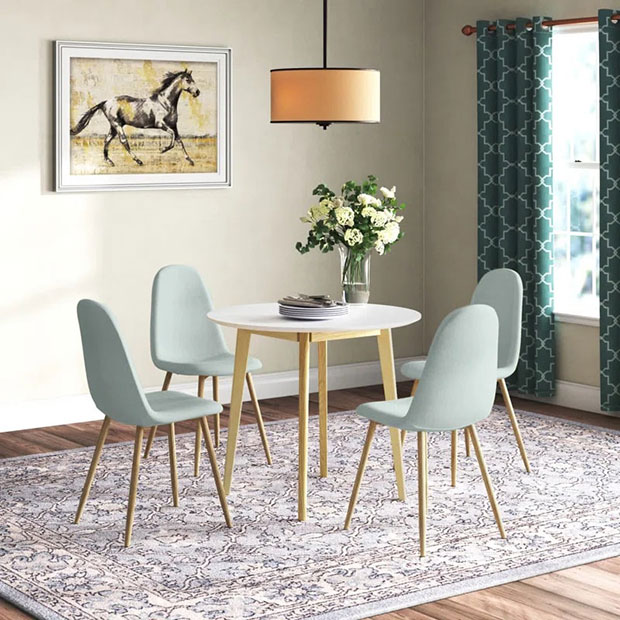 Wade Logan
A sleek and simple design for those who like to keep a minimalist dining room design. This is also perfect for small households that don't have regular guests.
Bedolla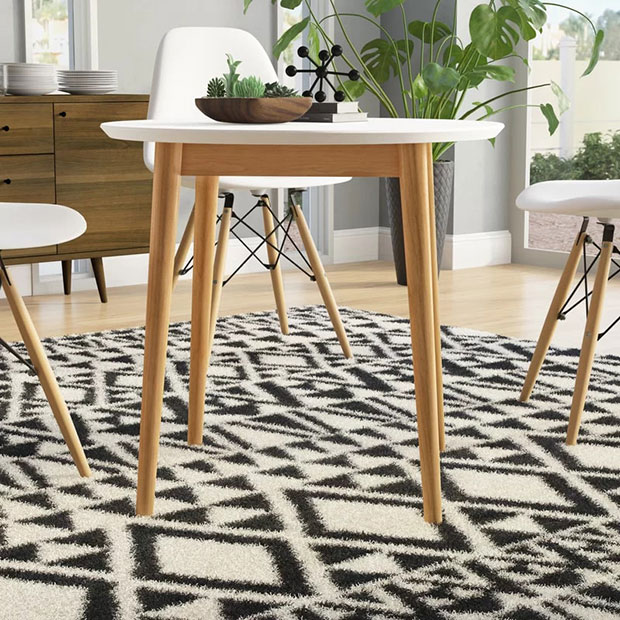 If you want a simple modern design, but with a thicker girth, this table is perfect for you compared to the slimmer leg tables of the one above.
Dedria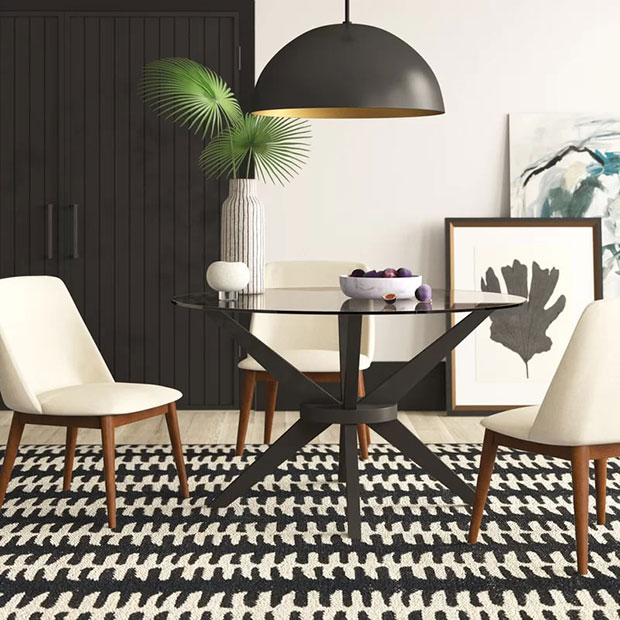 Bring a refreshing look to your dining room with these asterisk-looking table legs. This would definitely look good in contemporary dining rooms.
Jina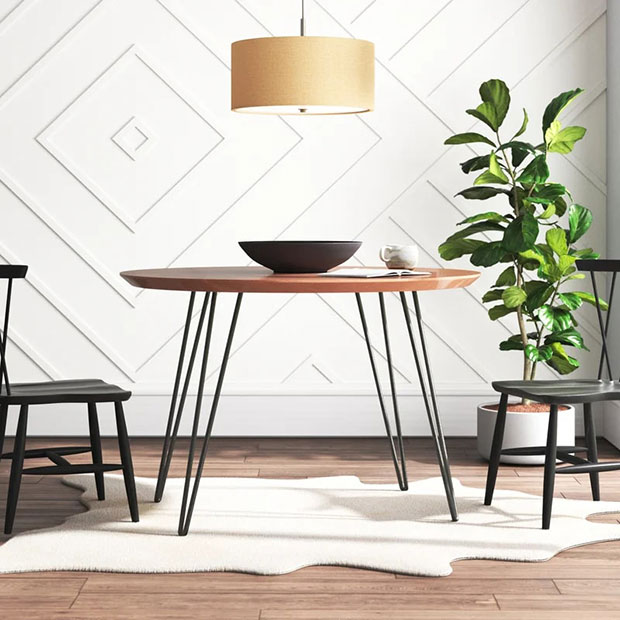 George Oliver
Completed with metal hairpin legs, this modern dining table could easily fit in industrial dining rooms too!
Candace Mango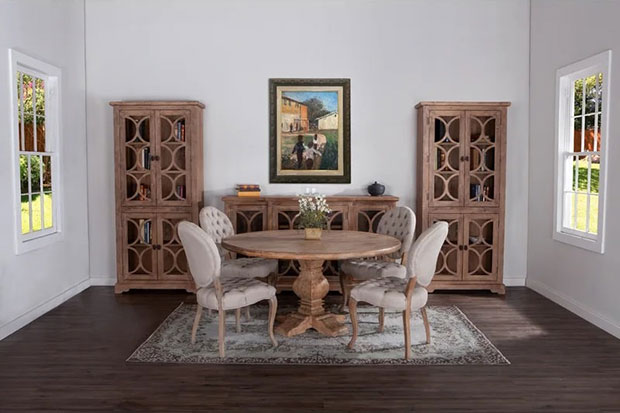 Ophelia & Co.
If you're searching for round dining table designs fit for traditional dining rooms, have a look at this one. The expertly carved curves are something of delight!
Lafond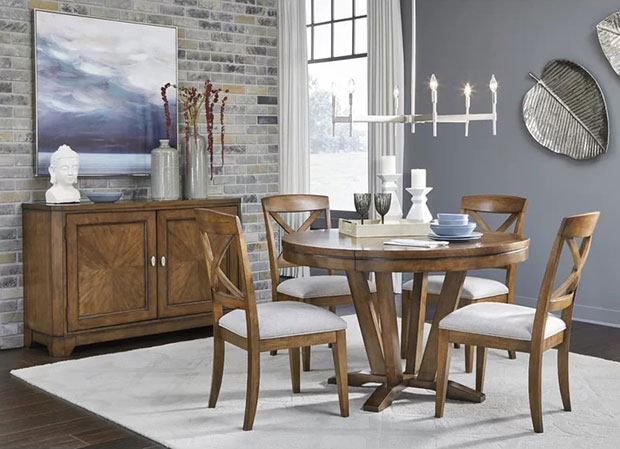 Interestingly, the tabletop is designed to have a traditional look but its sleek pedestal base is bringing mid-century modern.
Barclay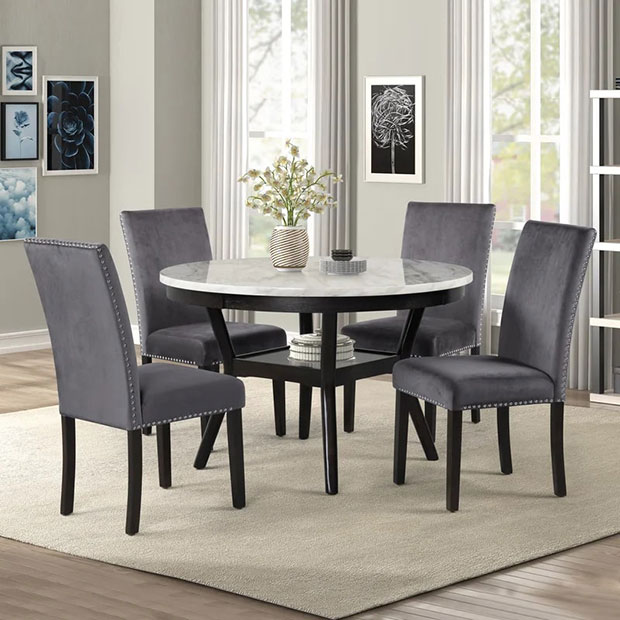 Three Posts
Who can say that round dining table designs – or any shape, for that matter – would also have a built-in shelf? This certainly allows for extra placemats to be stored underneath.
Traynor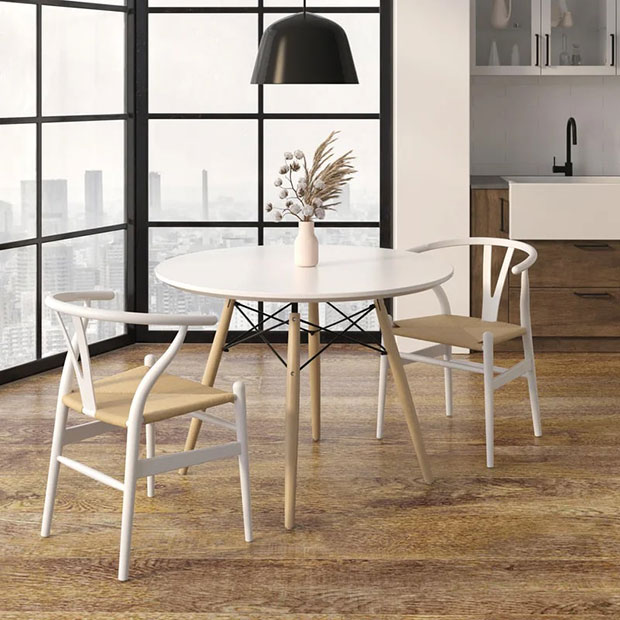 The crisscross metal support connecting the four splayed legs is an interesting design detail that makes this one attractive round dining table.
Lanford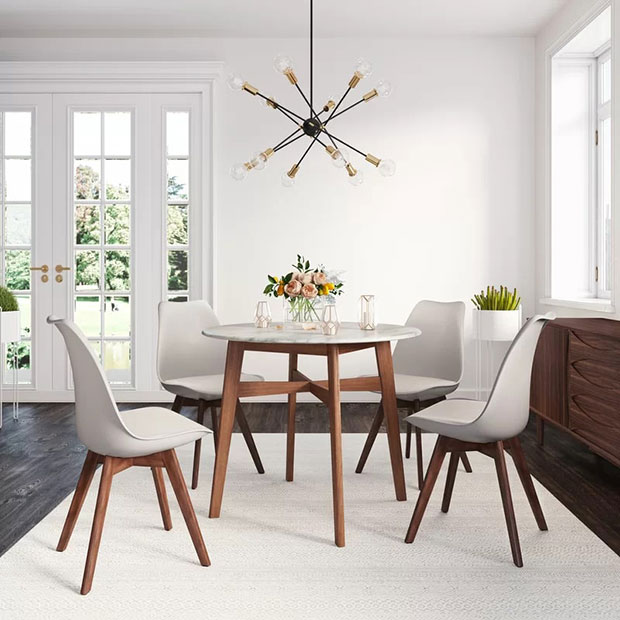 Hashtag Home
The faux marble finish on the tabletop definitely makes this round dining table even more stylish and brings a tiny hint of glam.
Kona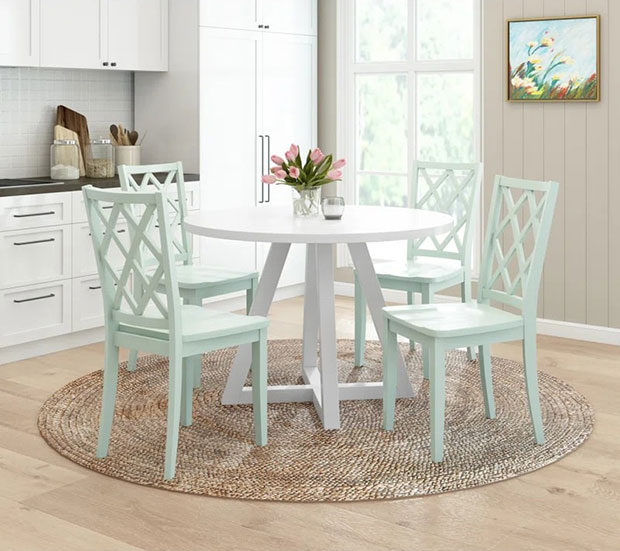 Lane Furniture
A four-seater round dining table design with a stylish base that will certainly help in avoiding feet clashing underneath.
Monahan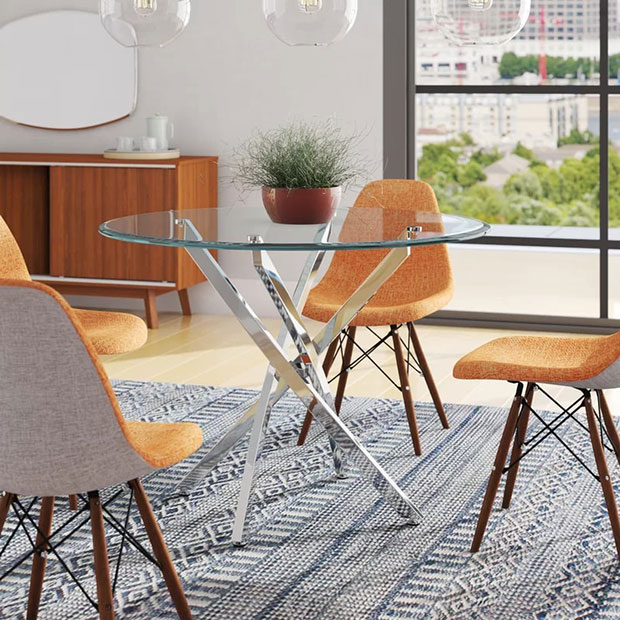 Orren Ellis
If you want to add a bit of glam to your dining room, add this round dining table with an interesting leg base design and glamorous metallic finish.
Elora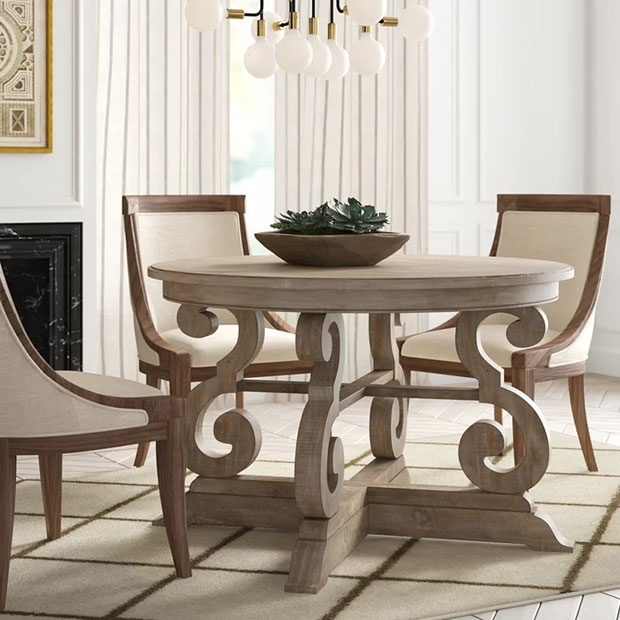 The chunky molding and beautifully carved base will certainly make heads turn. With its rustic update, it could even fit rustic and farmhouse dining room designs, apart from traditional dining rooms.
Acklin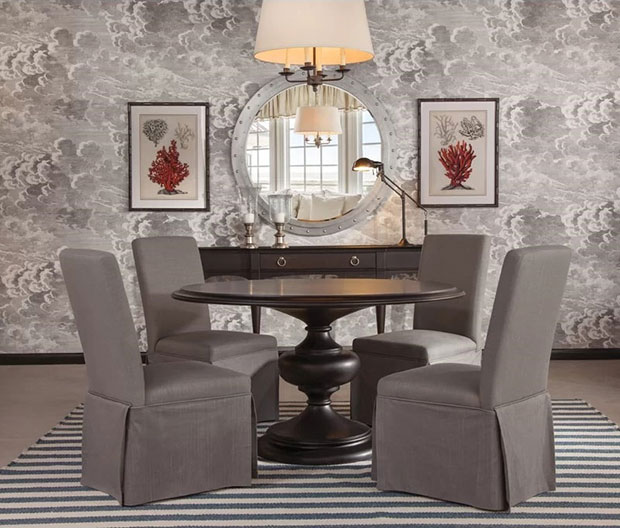 Greyleigh
Pedestal base round dining table designs don't have to look basic. With its traditional silhouette, the pedestal base offers a stunning look to go along with the tabletop.
Lumini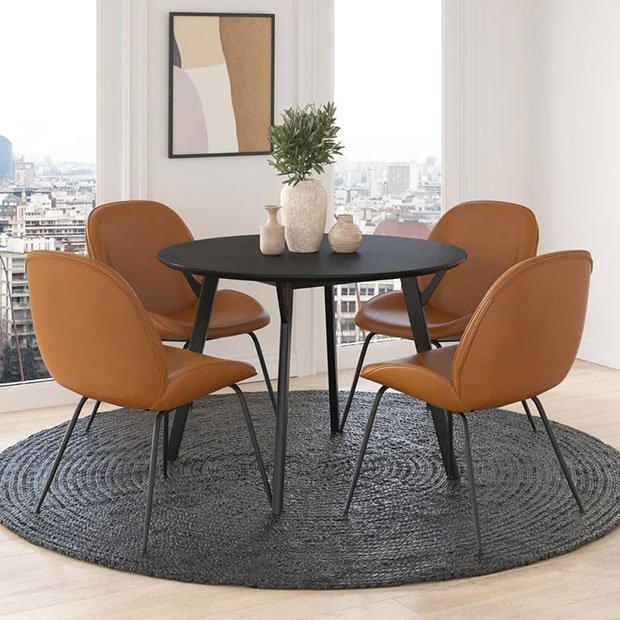 The side braces are an interesting design detail for this Scandinavian-inspired round dining table.
Carlo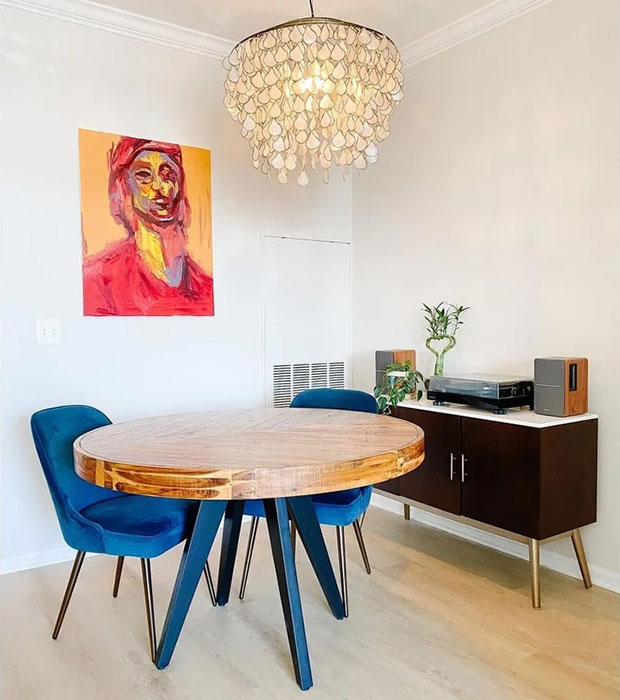 AllModern
The rustic finish on the tabletop surface is a nice contrast to the leg's modern finish.
Anya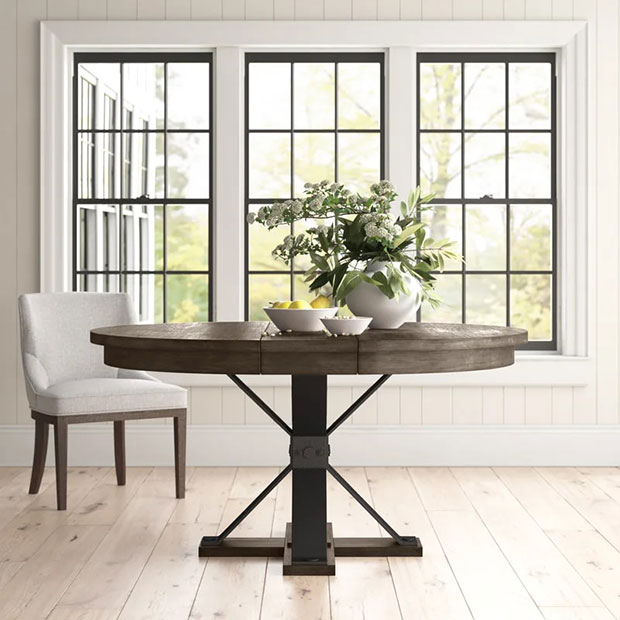 Birch Lane
This mixed-material round dining table design will certainly fit in various dining room designs such as rustic, industrial, and farmhouse.
Deonte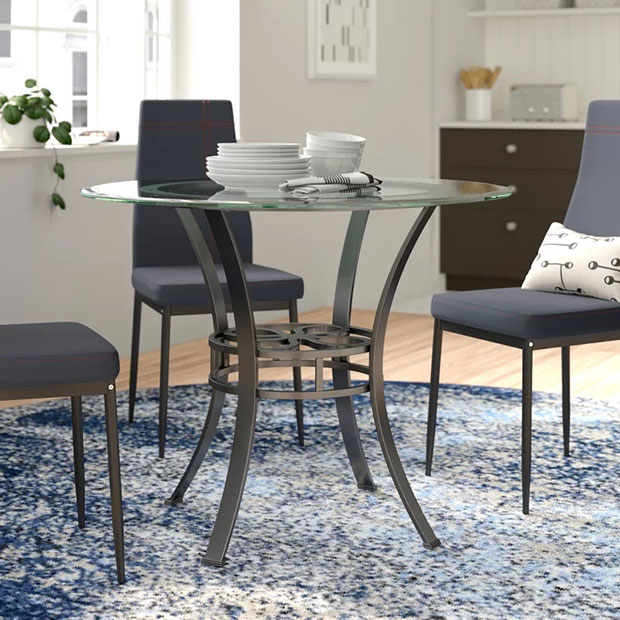 Red Barrel Studio
The scrollwork design on the base and the bowed legs separate this particular round dining table design from others. It's definitely going to be a stylish addition to your dining room.
Atanasa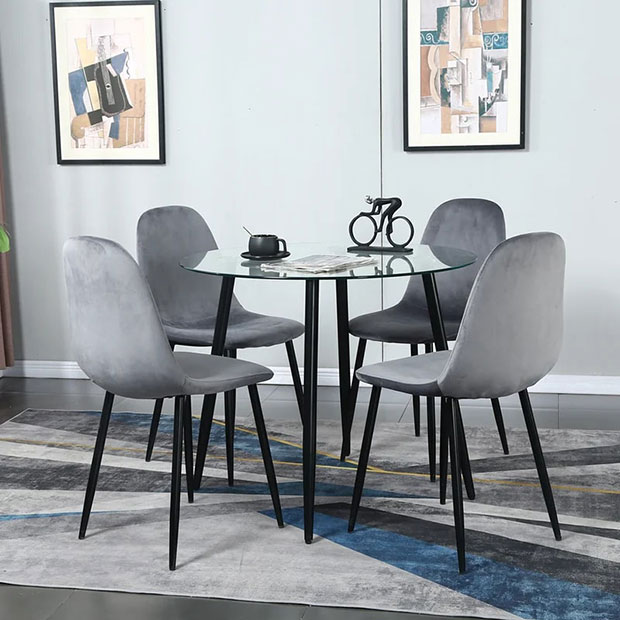 Corrigan Studio
Even the most minimalist round dining table designs can add a stylish sleekness to your dining room.
Bonas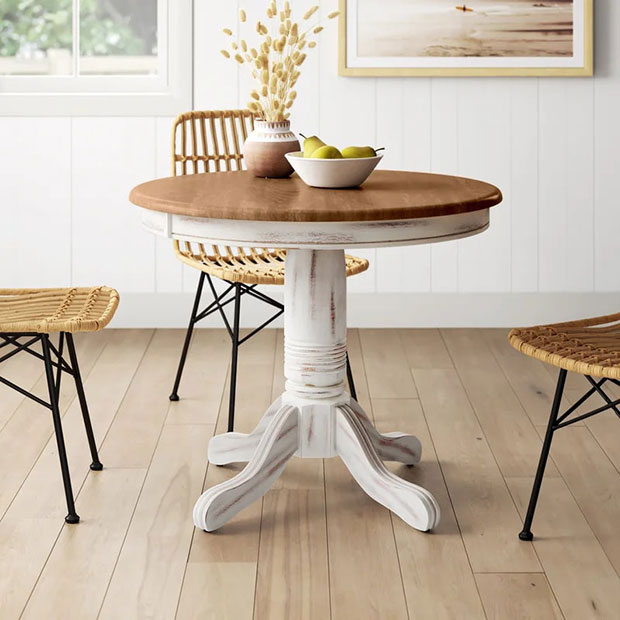 The distressed finish will make this round dining table perfect in shabby-chic dining rooms.
Eugley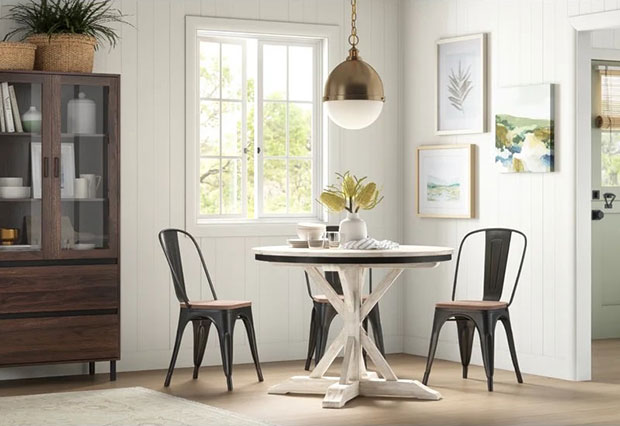 The natural wood grain plus the weathered look contribute to the coastal farmhouse charm of this dining table. It will certainly blend well with many dining room design styles such as farmhouse, rustic, and shabby-chic.
Enzo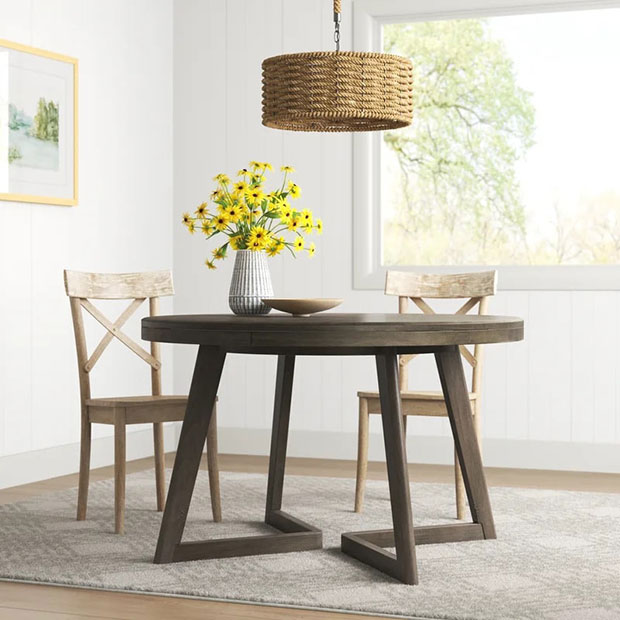 The sled-style legs are quite the refreshing design as opposed to the common round dining table designs.
Natalie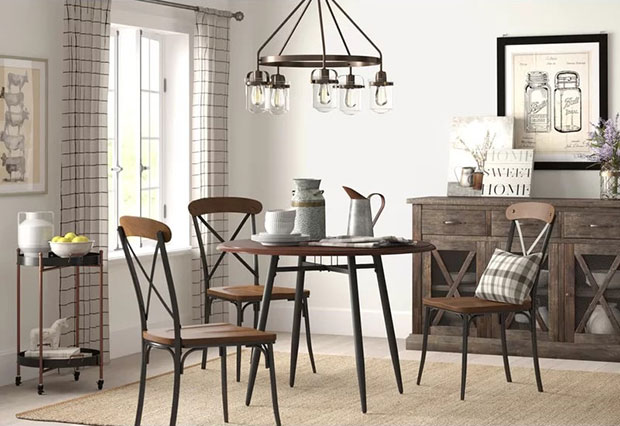 With a mixture of rustic and modern elements, this dining table would be such an eclectic addition to the dining room.
Coulson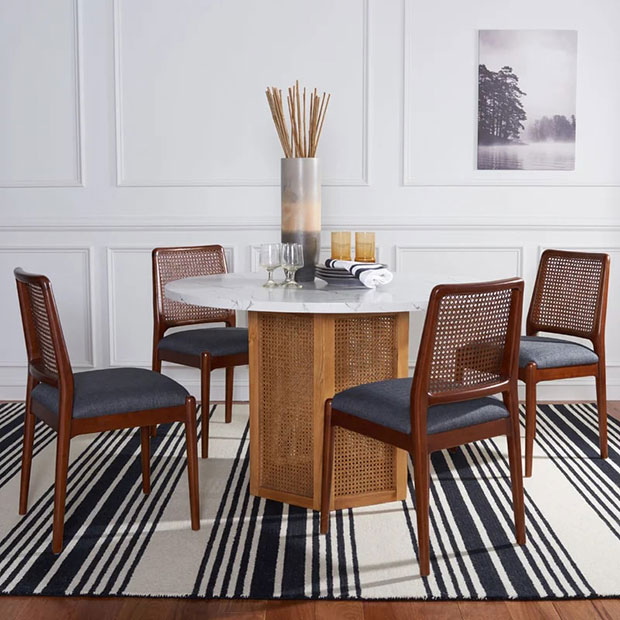 Sand & Stable
It's clear how this particular table is one of the most unique round dining table designs on this list, what with the faux marble tabletop on a wooden hexagonal base.
Lumet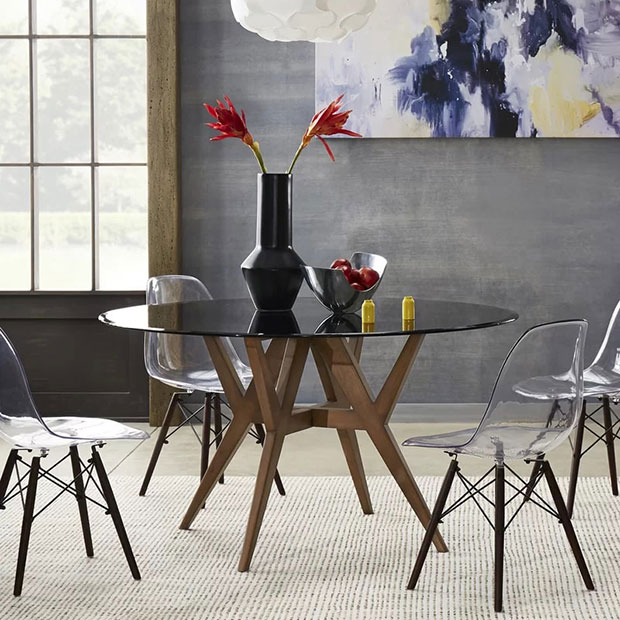 Ivy Bronx
Add this to the list of round dining table designs with pretty interesting base designs. Overall, this dining table looks like a museum-worthy sculpture.
Simmerman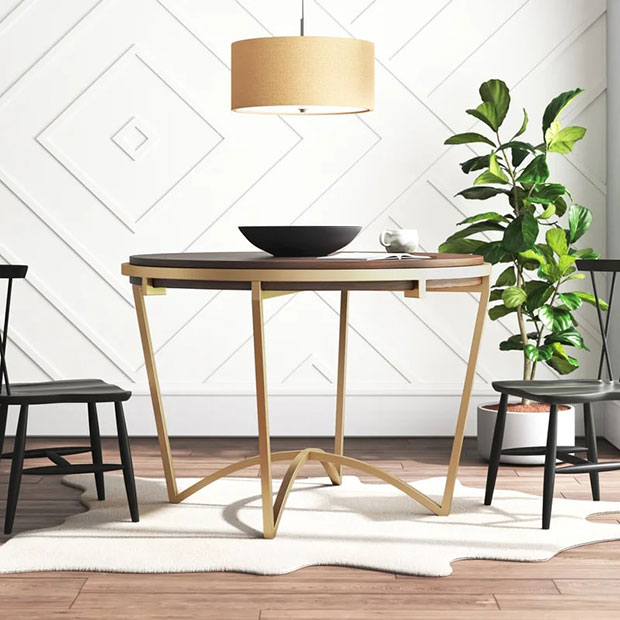 The geometric shape of the base is stunning and would look good in contemporary dining room sets.
Elderton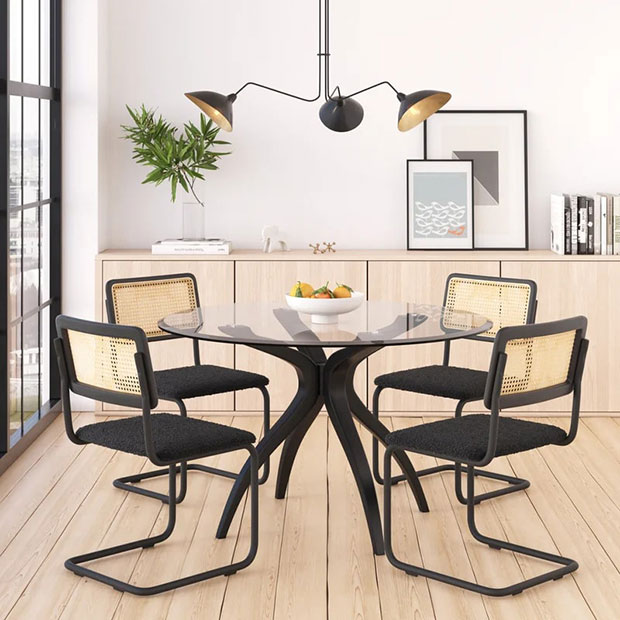 The boomerang-inspired legs design would certainly help with not making it cramp for the legs underneath the table.
Gamino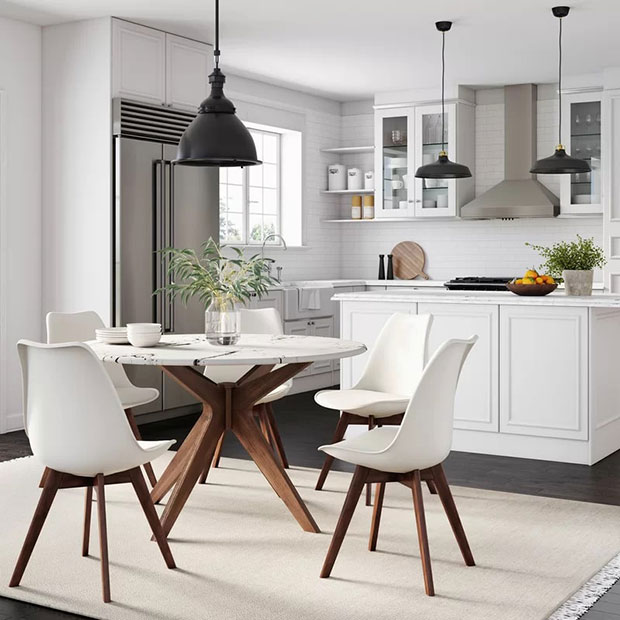 Mercury Row
The striking leg design should not distract you from the sophisticated elegance that the finish brings.
Paramus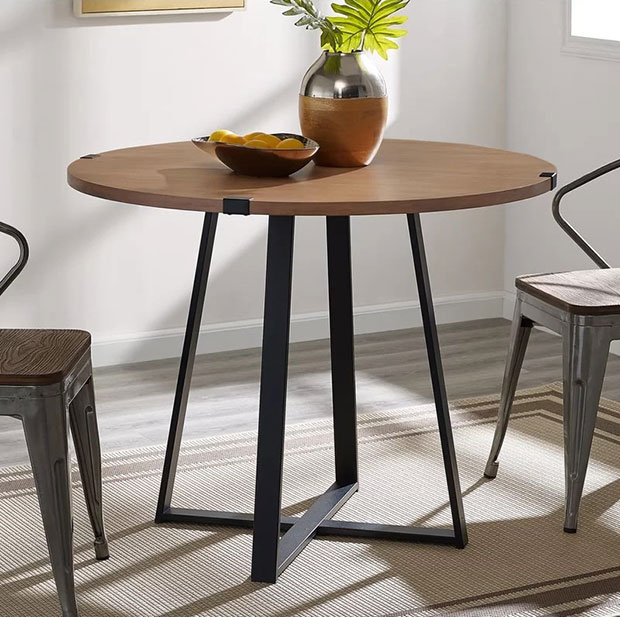 Laurel Foundry Modern Farmhouse
The crisscross metal base brings an urban industrial charm that could be perfect for modern industrial homes.
Kameron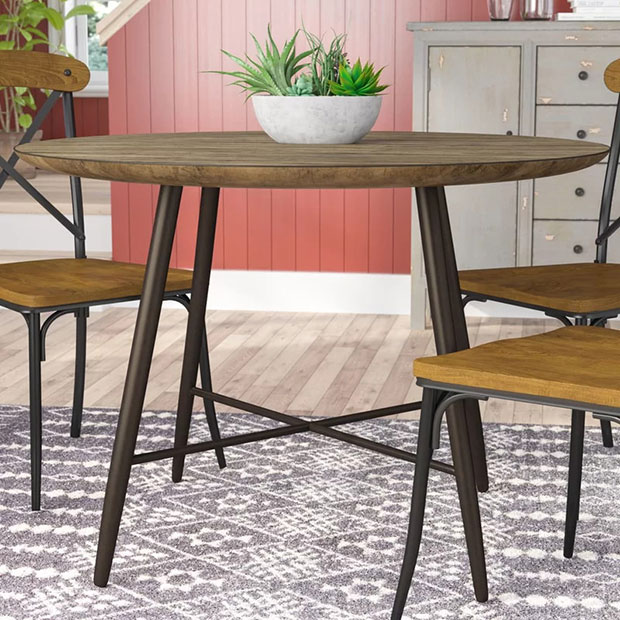 Laurel Foundry Modern Farmhouse
The tabletop's shape is quite stunning and is a refreshing look to the usual flat tabletop surfaces.
Modern Fin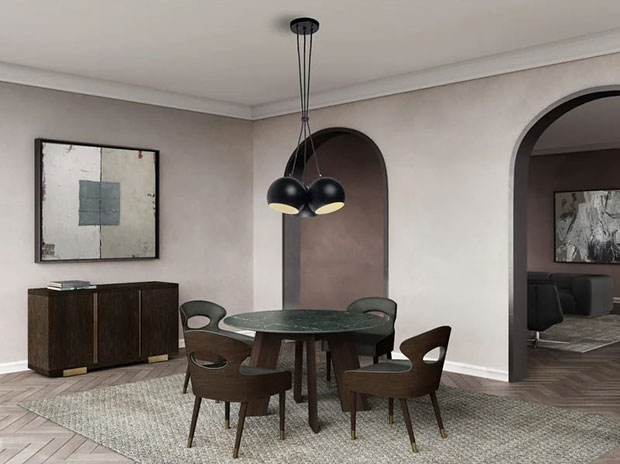 Cavalletto Home
The wide oak legs and Indian marble tabletop are greatly paired with these wide rounded back dining chairs.
Aileana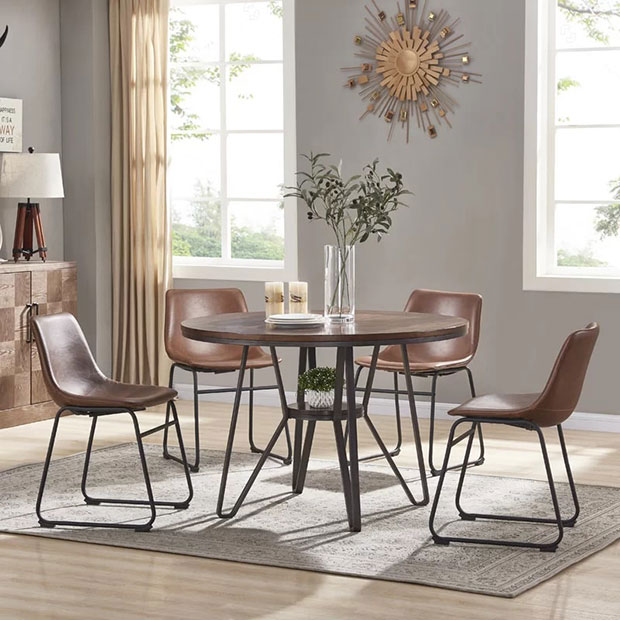 Union Rustic
Another round dining table with a built-in shelf around the legs. This place put a small planter on it so it's like there are two centerpieces.
Byron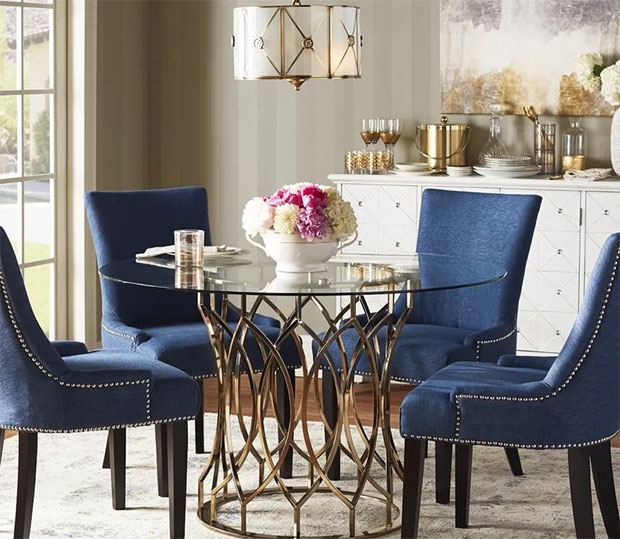 Etta Avenue
Thanks to the shiny gold finish you can have a glam addition to your dining room with this dining table.
Cecelia Drop Leaf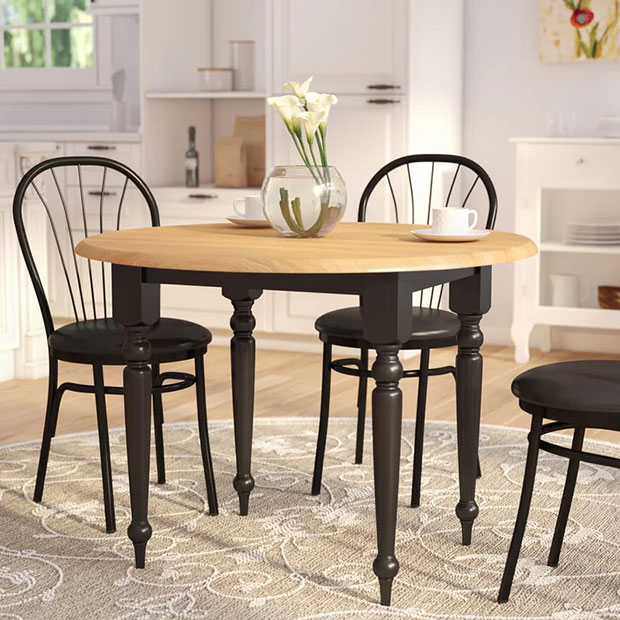 Alcott Hill
The turned legs design is simply stunning that would elevate the overall look of your dining room
Aqueduct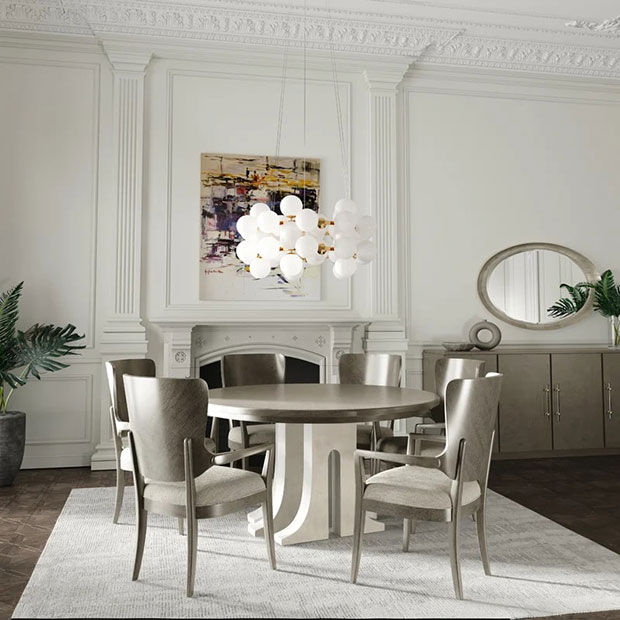 Casa Ispirata
The gloss finish definitely gives this dining table a classy and sophisticated look. It's even highlighted with perfectly matching dining chairs.
Konieczny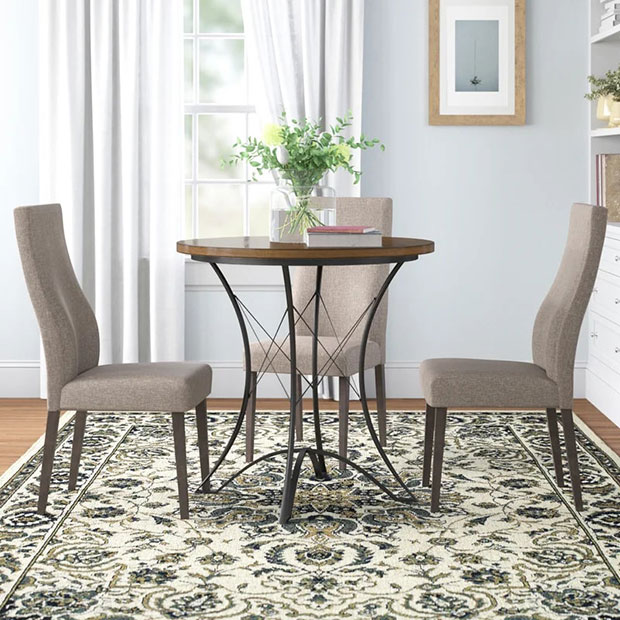 Trent Austin Design
With the metal legs and wooden tabletop, this counter height dining table combines for one great industrial beauty.
Jaylin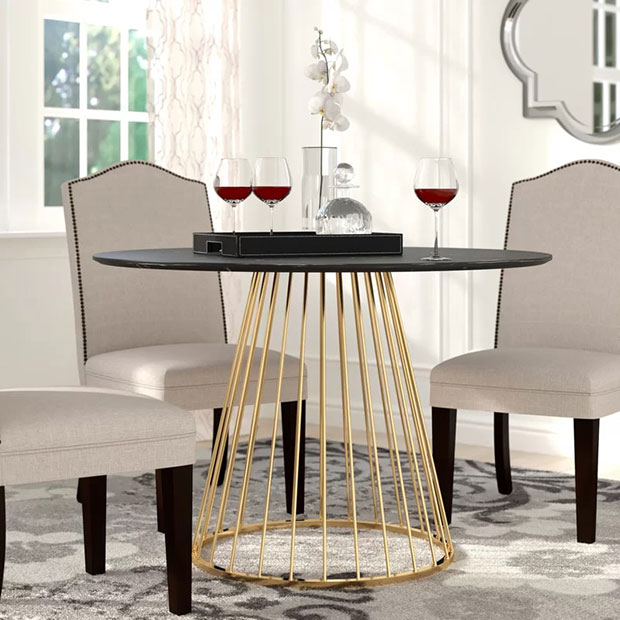 Kitsco
Here's a nice combination of a modern silhouette with glam materials that is certainly an upgrade to whatever old dining table you had.
Aadvik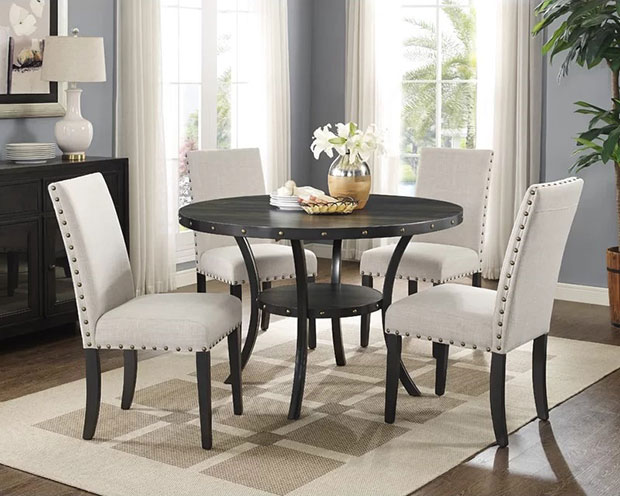 Andover Mills
Compared to the other round dining table designs with a built-in shelf, this one is more spacious and could certainly hold up something bigger than the smallest planter.
Arisa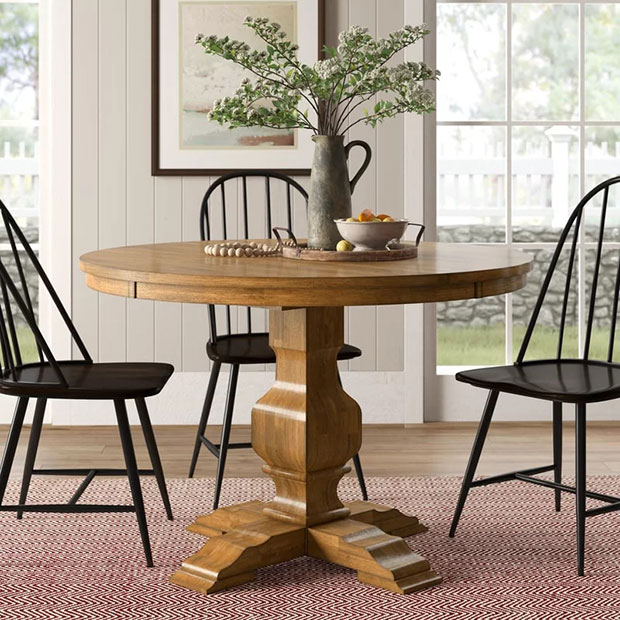 Winston Porter
Another well-crafted traditional round dining table design to bring some personality to the dining space.
Eastep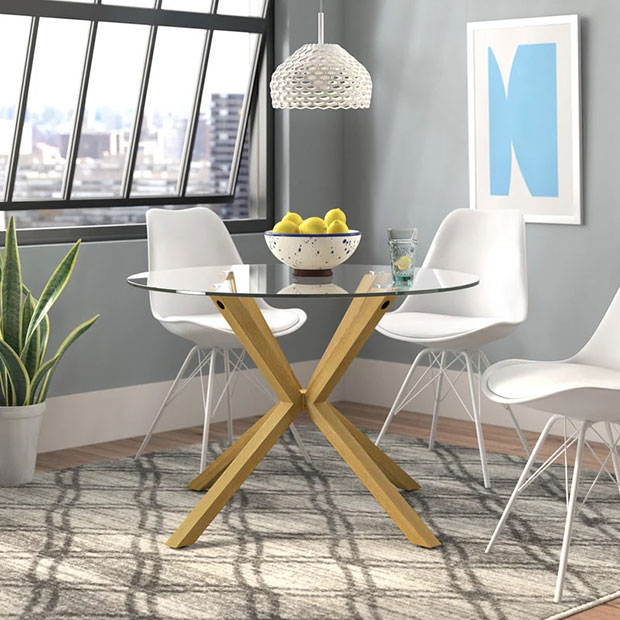 Zipcode Design
The sculptural steel legs plus the glass tabletop combination is exactly perfect for contemporary dining room designs.
That's all for our round dining table design picks! Which one of these got your attention the most?
Like This Post? Pin It!