50 Glass Dining Table Designs For A Classy Dining Room
|
When decorating one's dining room, you may take a long time to decide on your dining table. Being the focal point in this space, your décor and other fixtures may revolve around the dining table of your choice.
Enter, glass dining table designs. Glass surfaces have the reputation of feeling clean, sophisticated, and streamlined. Glass dining table designs are popular for those who want to incorporate trendy contemporary interior décor into their homes. Though, you will also find some designs that don't just fit in with contemporary style.
Which type of glass is best for the dining table?
For glass dining table designs, it is important to look into the glass being used for your tabletop, or anywhere else. There are many factors that you need to look into such as durability, thickness, and purpose of your table. All of these depend on how your table is used and where it is located. Annealed and tempered glass are the most common options for glass table tops.
However, tempered glass is widely considered the best type of glass for dining tables as it is more durable than other glass types. If it breaks, it is into small pieces that are less likely to cause harm.
How thick should a glass dining room table top be?
The level of thickness of your glass table tops varies depending on the glass dining table designs. For one, the glass thickness is practically dependent on the base of your dining table. If the glass is only being used as a protective cover, then ¼ inch thick is sufficient. But if the glass is the table top itself, then you may need thicker glass. In this case, the most popular thicknesses are 3/8", ½", or ¼". Take note though that the weight can be a concern if the glass is too thick for the size of the table.
Another thing of note is that glass thickness can also be different depending on the type of glass used. For example, annealed glass, one of the common options for glass table tops, can be ½ inch thick. This is for unsupported table tops like large dining tables or solid-surface coffee tables. It can also be ¾ inch thick, which is the safest and most reliable option for large dining or coffee tables. For tempered glass, 1/8 inch thick is best for small and lightweight table tops. As a glass insert, 3/16-inch-thick tempered glass is adequate. And if it's a protective cover, ¼ inch thick tempered glass is recommended.
What are the 7 types of glass?
In interior design, you will see many types of glass being used. Some of these you may find in various glass dining table designs.
1. Annealed glass
Sometimes known as the standard glass type. This is the base product from which more advanced types of glass are formed.
2. Heat-strengthened glass
Sometimes referred to as semi-toughened or semi-tempered. It's twice as strong as annealed glass.
3. Tempered glass
Fully tempered glass is five times stronger and safer than the two above. This glass type is well-resistant to thermal stress and wind pressure. This one is considered the best type to use for dining tables.
4. Laminated glass
The glass types above can be laminated. This one has bullet-resistant capabilities, fragment retention, sound dampening, ultraviolet filtering, and fire-resistant.
5. Insulated glass
Insulated glass is recommended for windows as it encourages heat gain in winter and heat loss in summer. It repels UV rays and is resistant to wind pressure.
6. Coated glass
Coated glass is scratch and corrosion-resistant. It's also highly durable, performing well in harsh conditions.
7. Acid-etched glass
This is the glass type with a soft matted, frosty appearance.
Glass Dining Table Designs for Inspiration
Let's check out some classy glass dining table designs!
Kara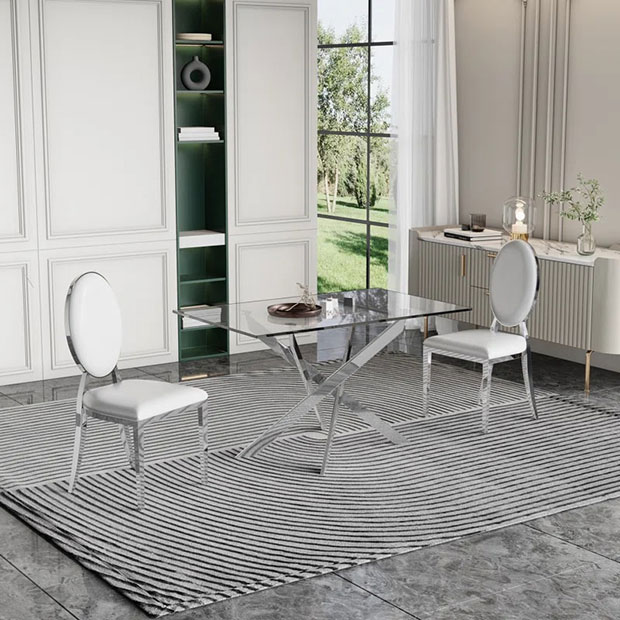 Its crisscross legs have the appeal of an avant-garde work of art, making it one of the more sophisticated glass dining table designs.
Ammerman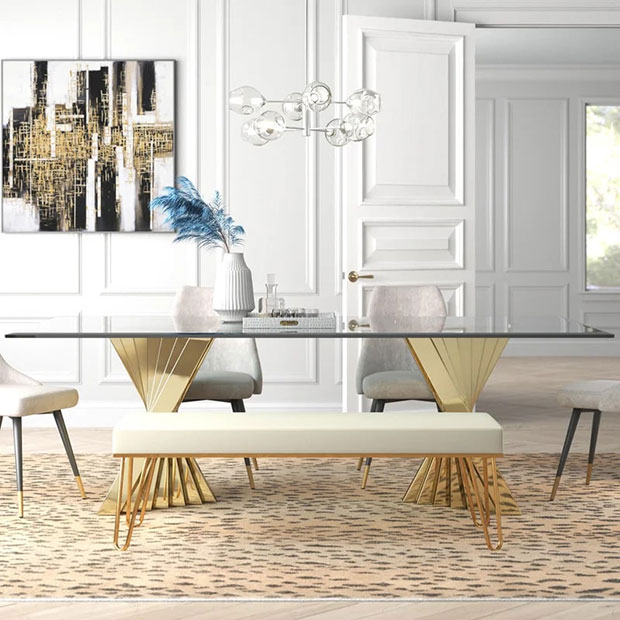 Incorporating a golden finish to your base is an easy way to come up with glamorous glass dining table designs.
Mullin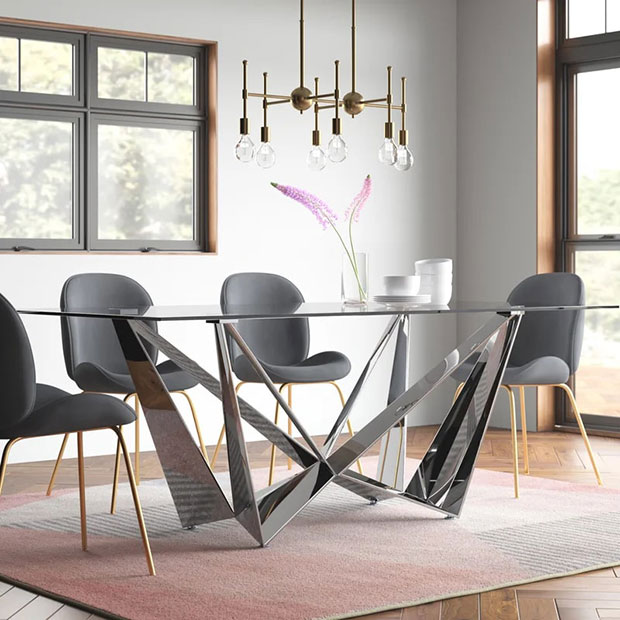 The unique angles of the base are enough to truly make this dining table the focal point of any dining room.
Lunado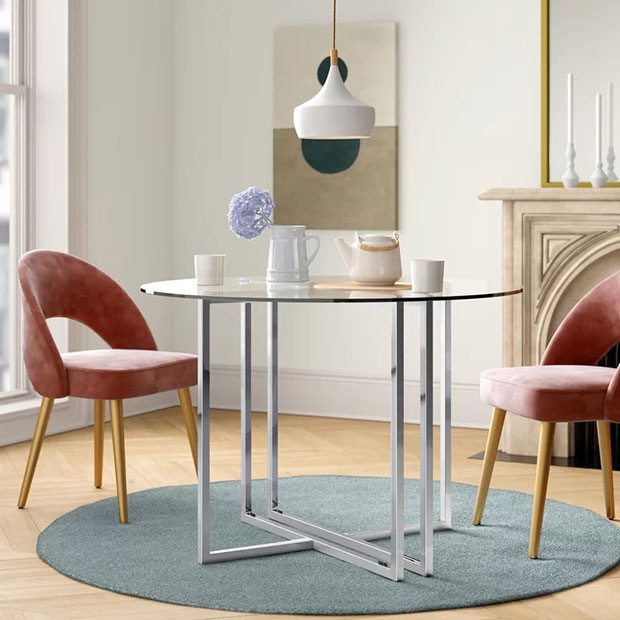 Willa Arlo Interiors
Though with a much simpler base design, this glass dining table still exudes a sophisticated simplicity.
Catuy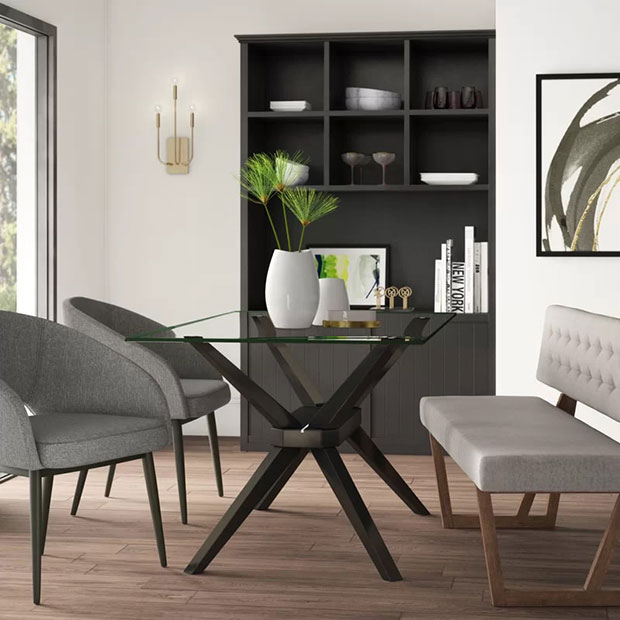 With a sleek and contemporary design, you can have yourself an updated look in your dining room.
Cova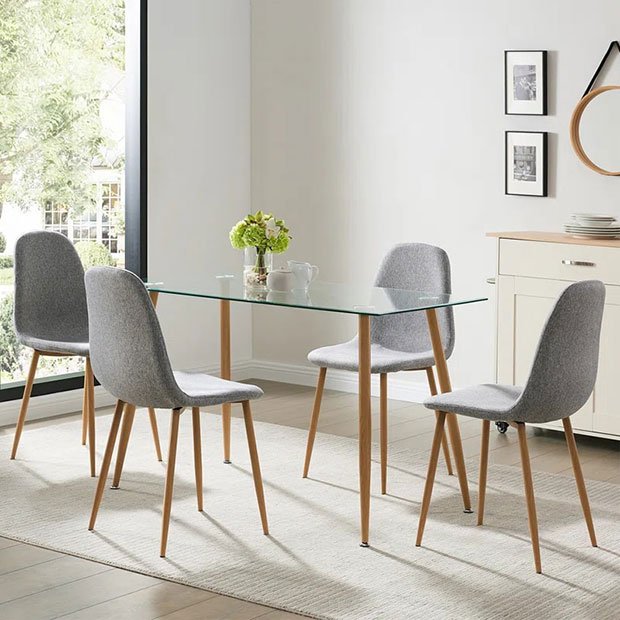 The flared legs are a sleek and chic design. It is perfect for homes with minimalist but trendy interiors.
Deden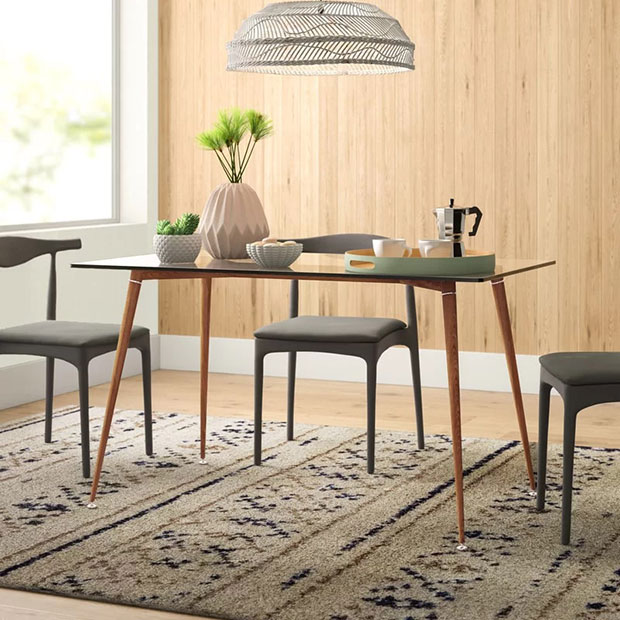 With its mid-century-inspired design, this is one of the most versatile glass dining table designs. Its wooden base could work in modern farmhouse homes as well as it does in mid-century modern spaces.
Couy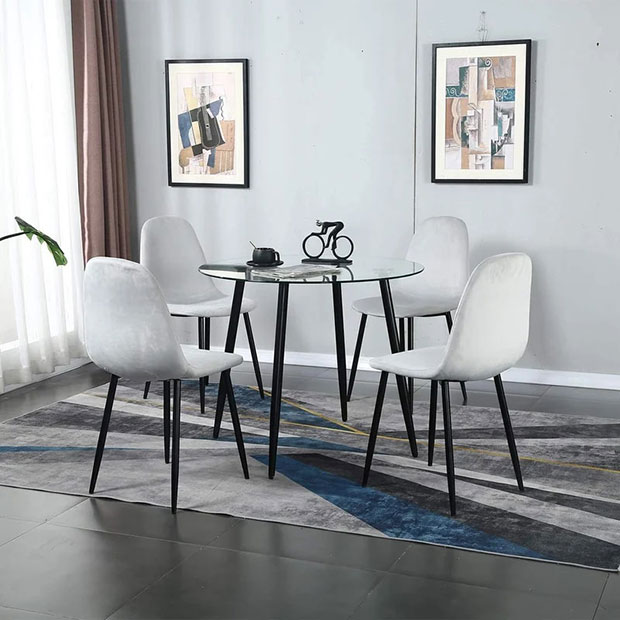 The black paint finish on its metal legs gives this dining table that classic contemporary chic look. Perfect for small, intimate dinners.
Parvin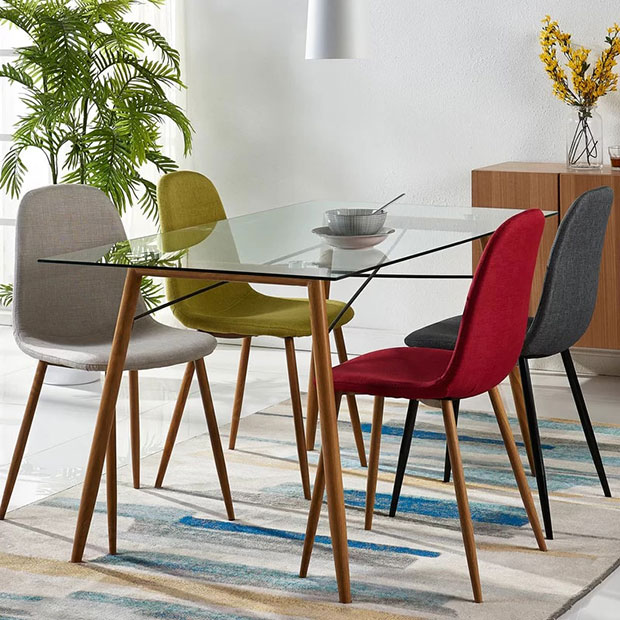 George Oliver
A contemporary design with modern sensibilities. Its tapered legs are ensured stability with additional metal support.
Hazle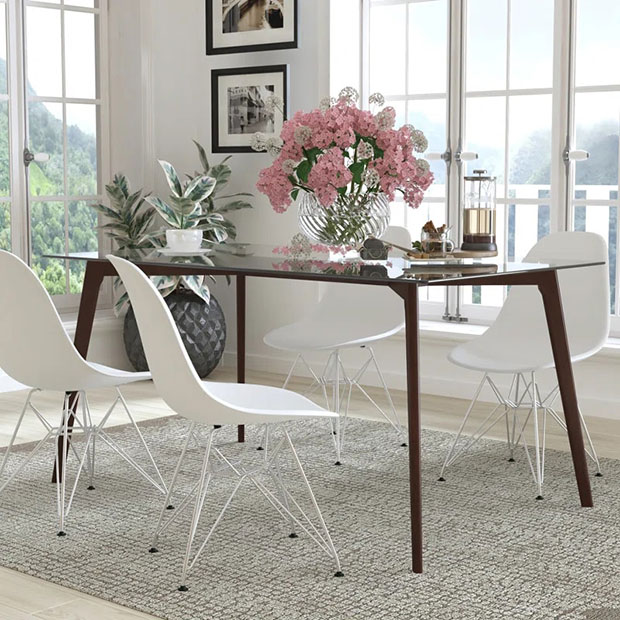 The dark espresso finish brings a sophisticated elegance to the overall look of this dining table. If you're thinking of fine dining in your home or having a formal dinner, glass dining table designs like this would be the most appropriate.
Yeager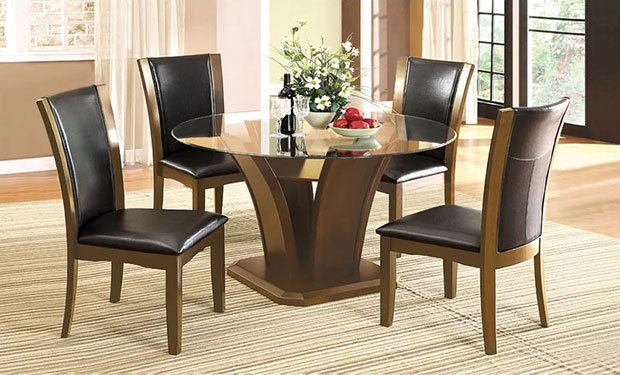 Latitude Run
Many of the modern glass dining table designs there are today involve having artistic base designs like this one. If you're looking to make a statement, then such glass dining table designs should be in consideration for you.
Tabor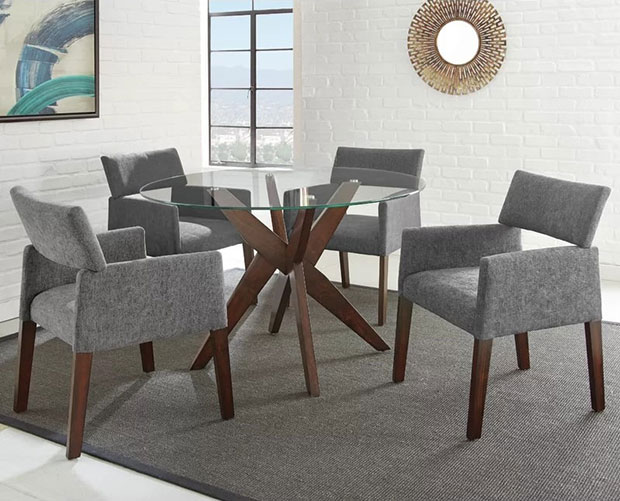 With a jackstones-inspired base design, it's like you have a bit of contemporary art in the middle of your dining room.
Ameema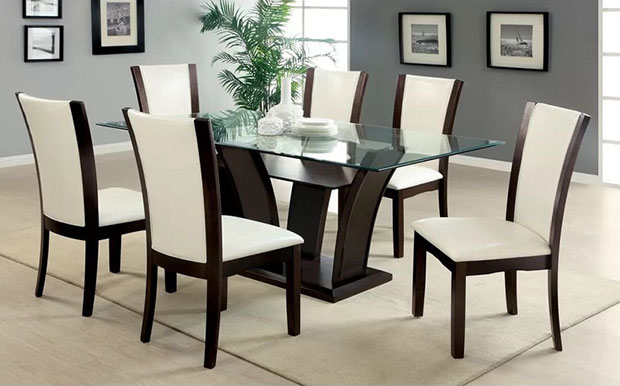 This glass dining table design even has a space below the glass table top for you to store placemats and similar objects needed in dining.
McShane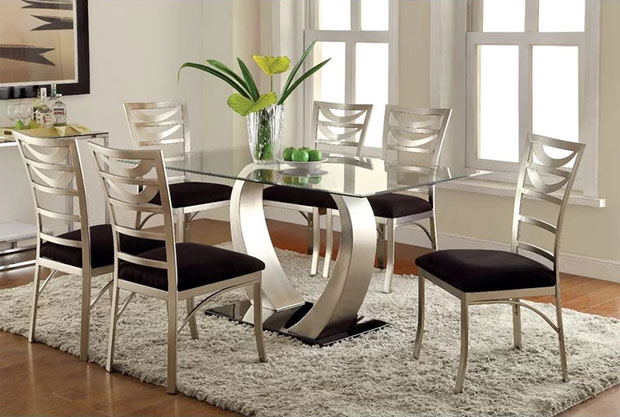 Bring some sophisticated glamour into your living room with glass dining table designs like this. With its sculpturesque base design, it is surely going to make a statement in your dining room.
Tupper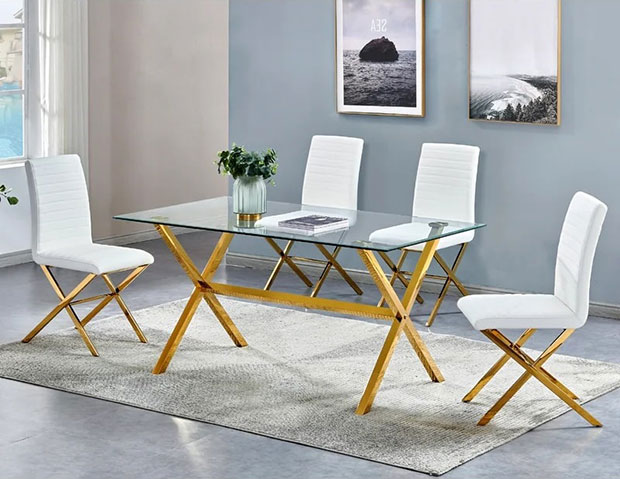 The crisscross legs design is simple and common but the gold paint finish gives it an expensive and glamorous look.
Meekins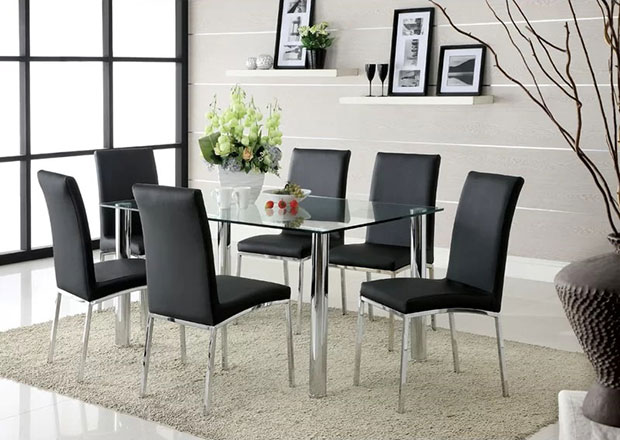 The simplicity of this design brings forth a clean and streamlined silhouette that is perfect in minimalistic modern dining rooms.
Meece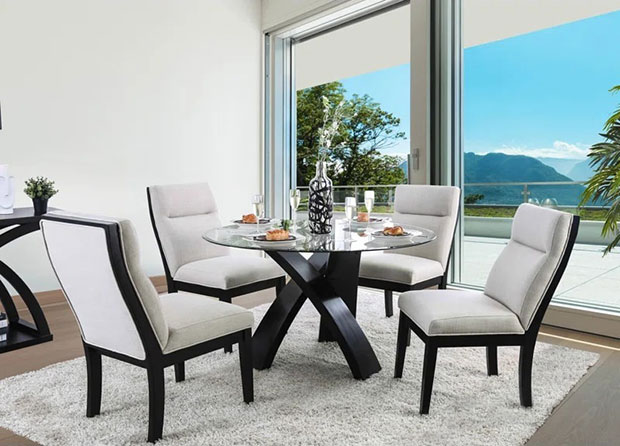 They could have just left it with a straightforward crisscross legs design, but instead, they added some curves to each leg to give it some dynamic.
Abiela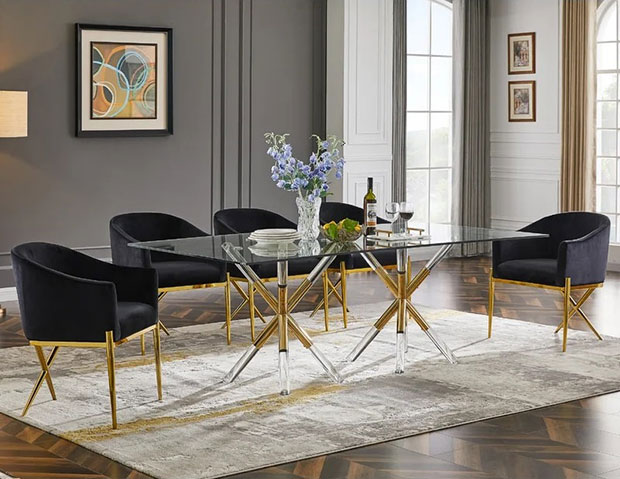 Wade Logan
Most glass dining table designs you will find have either metal or wooden base legs. But this one has acrylic legs instead. It certainly creates a refreshing overall appearance to this dining table.
Seibold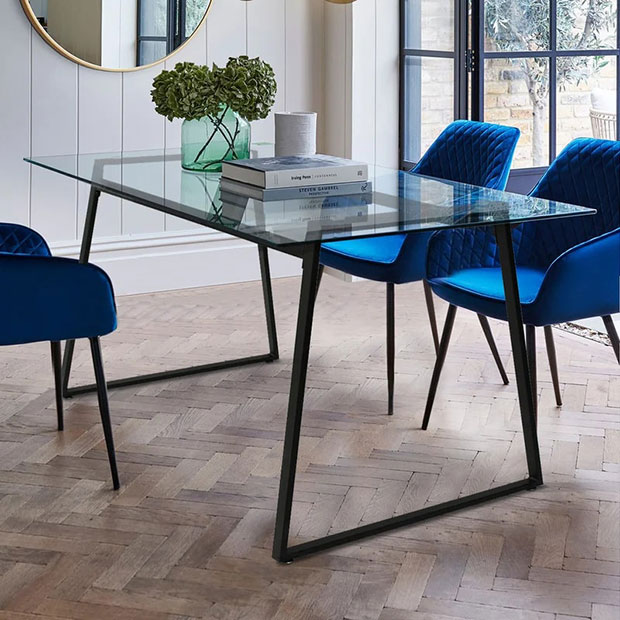 The clean lines of this dining table give it a simple but sophisticated look. Though at first glance, it doesn't have the appeal for formal dinners, it can totally be used in one.
Gambill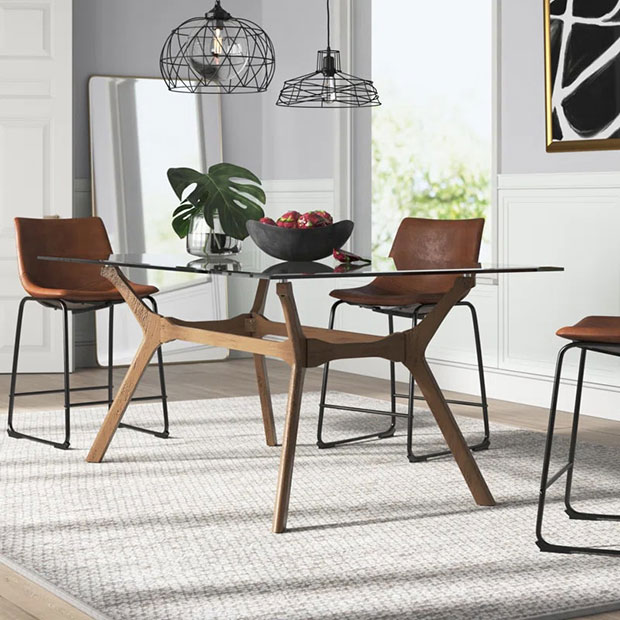 The curves and embellishments all over its wooden base legs bring some personality to this dining table design.
Rowlett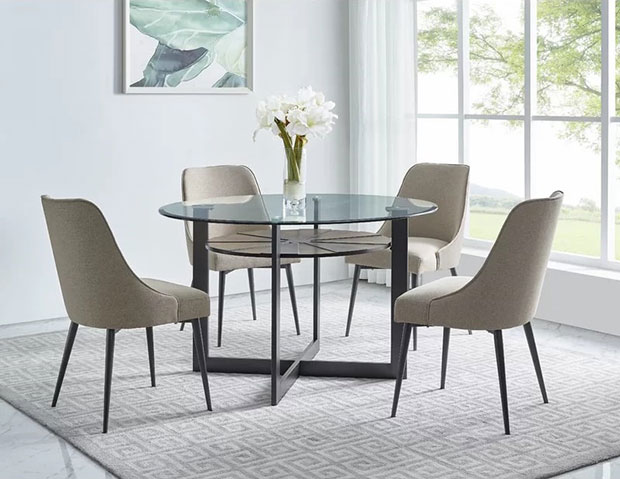 The under-table shelf design is incredible and adds dynamic to the overall look of this glass dining table.
Philips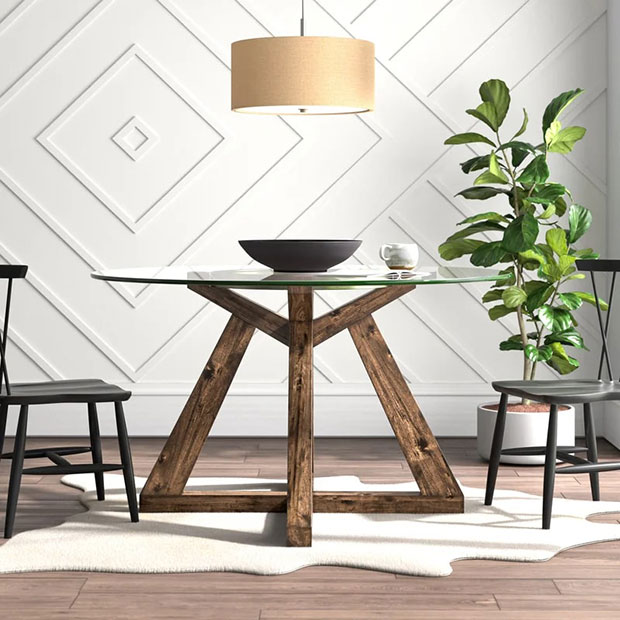 Mercury Row
Glass dining table designs are not only limited to mid-century, modern, and contemporary designs. As you can see with this one, its rustic charms are perfect for rustic and farmhouse-style dining spaces.
Reiner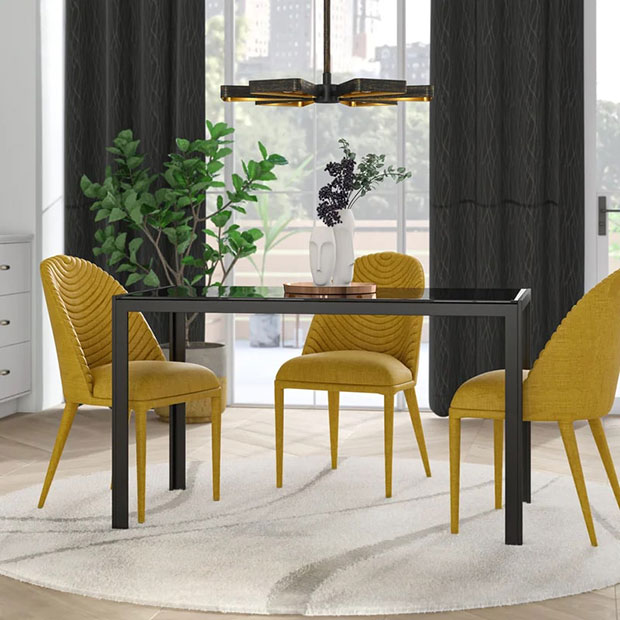 While most of the glass dining table designs on this list have the glass as the tabletop itself, here's one where the glass acts as a protective cover. With the black finish of the table, the clear glass brings a sophisticated look to the entire furniture. It can be used in both casual and formal dinners.
Reesa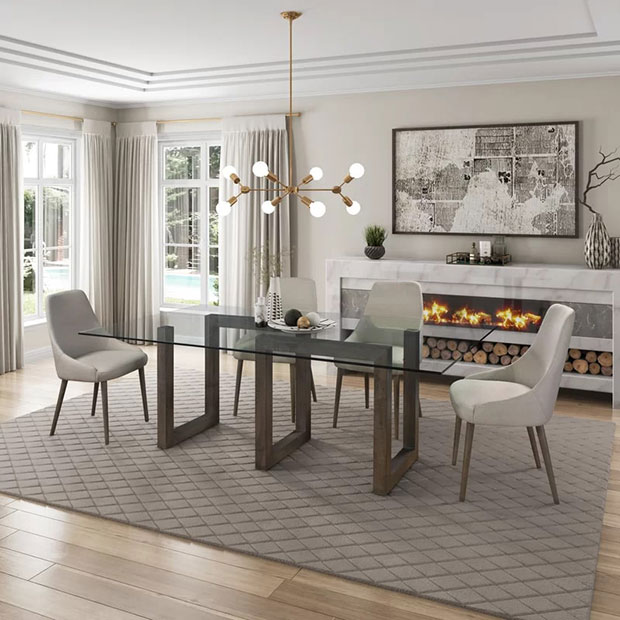 There are plenty of glass dining table designs with striking base legs. But this table's geometric base design is definitely one to remember.
Coley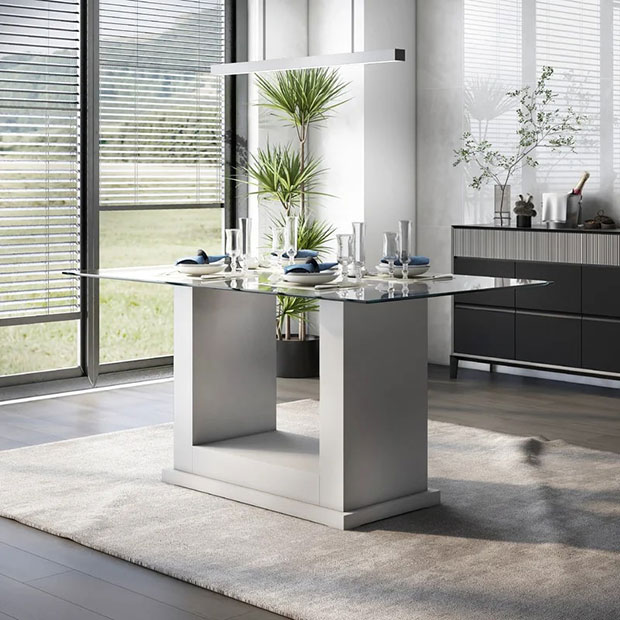 The pedestal base design is refreshing as it is uncommon among rectangular dining table designs. But it certainly adds to the charm of this particular dining table.
Ariel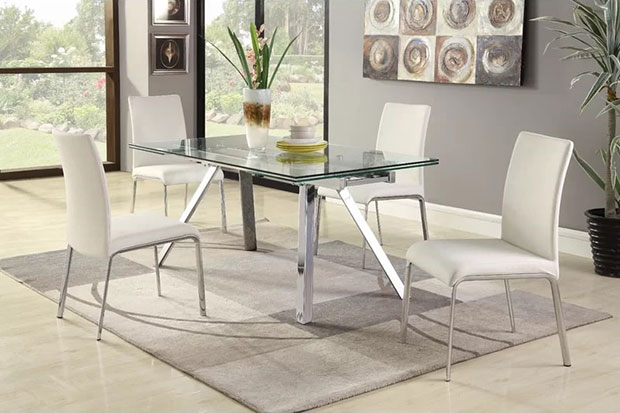 If you have guests over every now and then, it would be a hassle to change your dining tables on every occasion. So, why not get an extendable dining table like this one? When you have guests over, you can easily extend the glass table top to accommodate them.
Walsh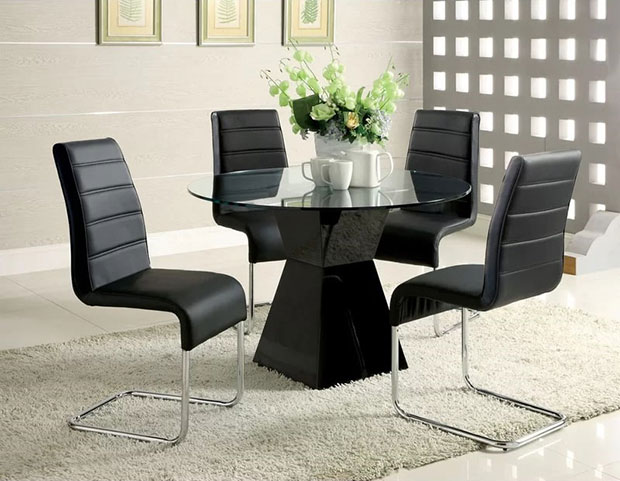 This dining table has a pretty interesting design as it looks more like a pedestal for display rather than for dining.
Tondreau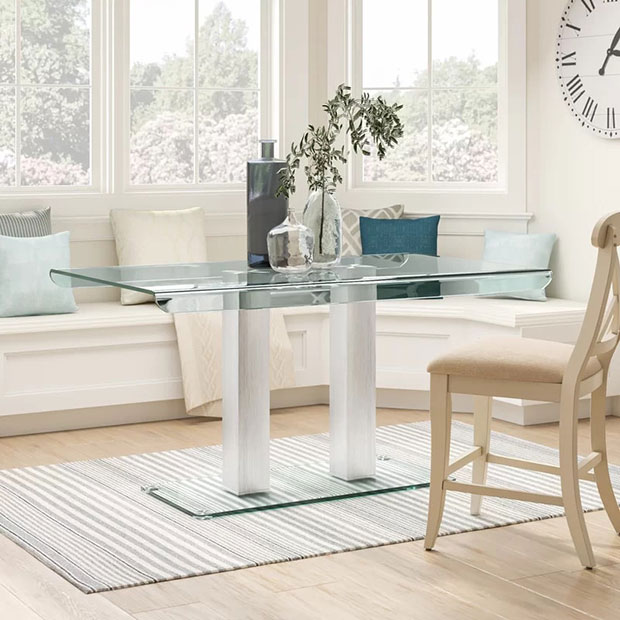 Not only does this dining table have a glass tabletop, but it also has a glass base. Another thing of note is the bent edges on each of the table's long sides.
Alana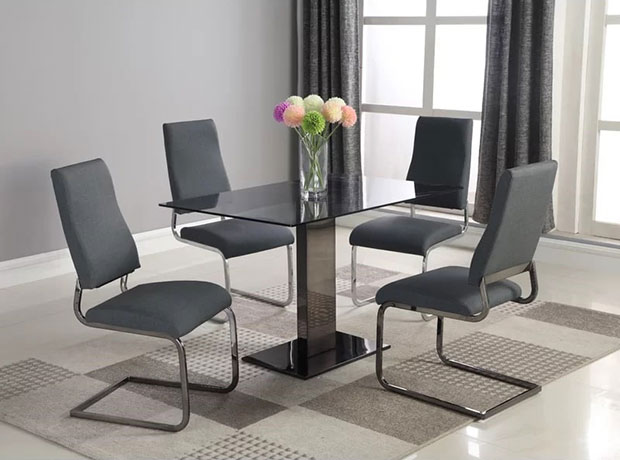 Orren Ellis
The tinted glass choice is very interesting and charming, as it brings a different kind of luxurious and chic feeling to the entire design.
Chantail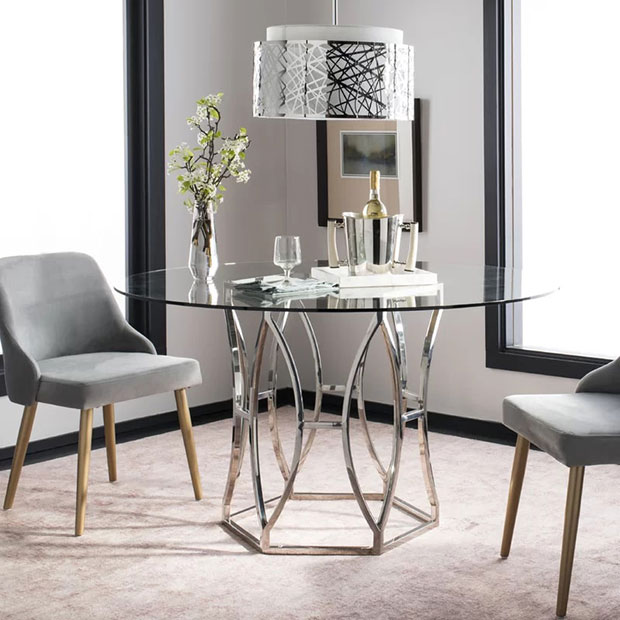 These glass dining table designs don't need many ornate details to make a statement. But this particular dining table embraces it with geometric patterns.
Hersch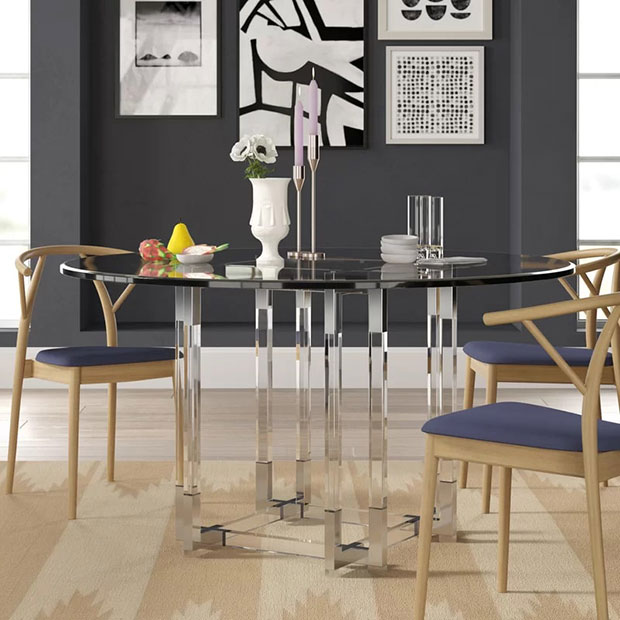 Mercer41
The acrylic and brass base is an incredible design choice. It adds a special charm to the overall look of this glass dining table.
Brint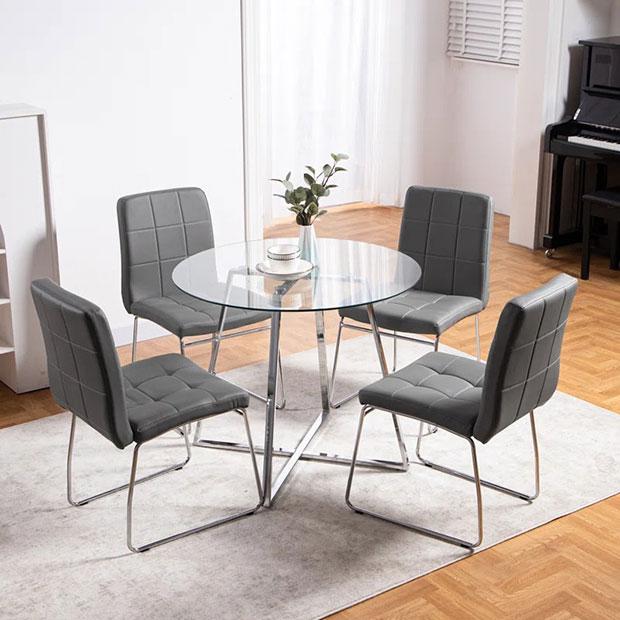 For smaller dining room spaces, round glass dining tables like this are cool options if you want to bring that contemporary chicness that glass dining table designs bring.
Crilly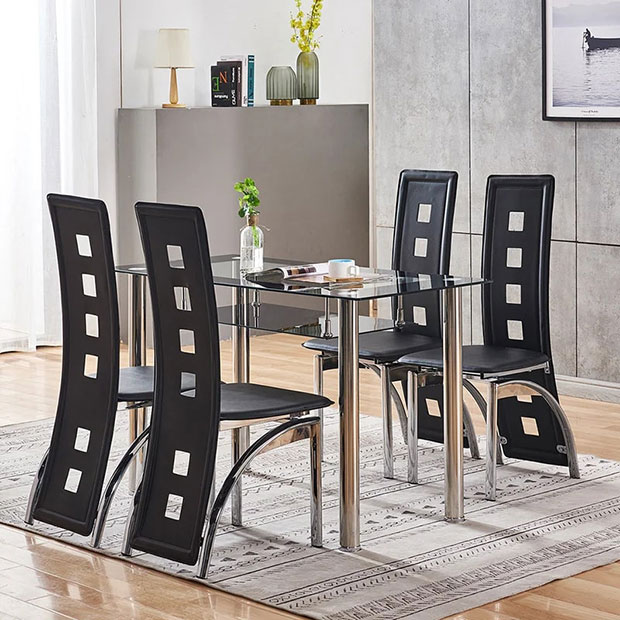 Wrought Studio
Its sleek and chic design is perfect for contemporary home designs. It's also quite a versatile table as it can be used as an office desk or a living room table.
Solomon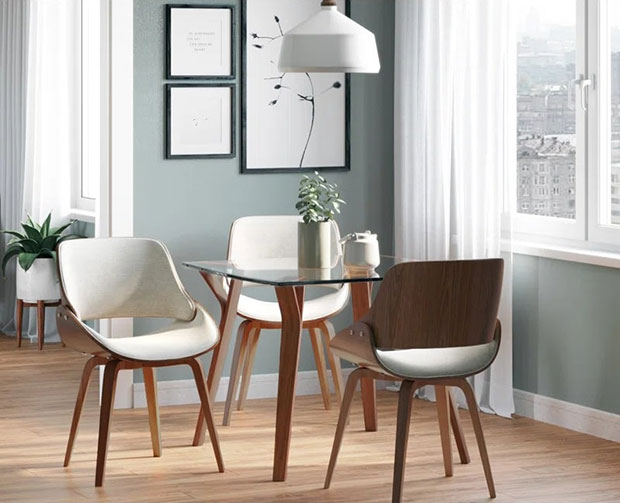 Foundstone
Glass dining table designs have the danger of looking similar to one another, so slight variations in base legs design like this are helpful to set themselves apart.
Hartford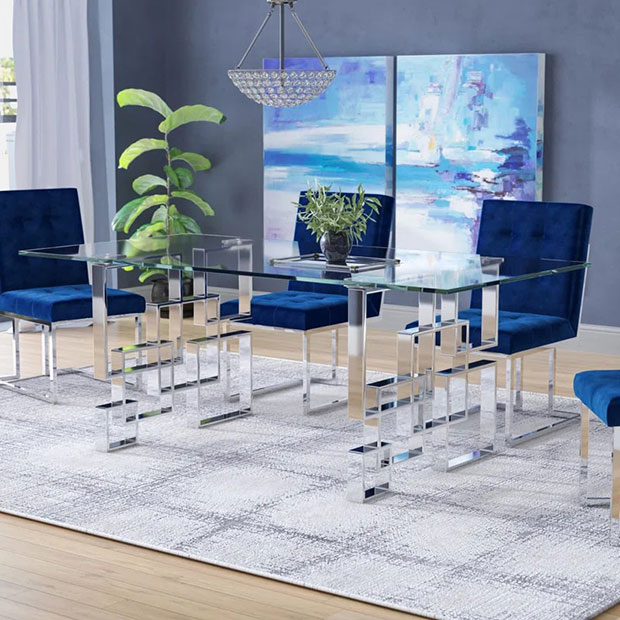 This chrome base's geometric design is stunning and almost unbelievable. Who would have thought dining tables could have such designs?
Chih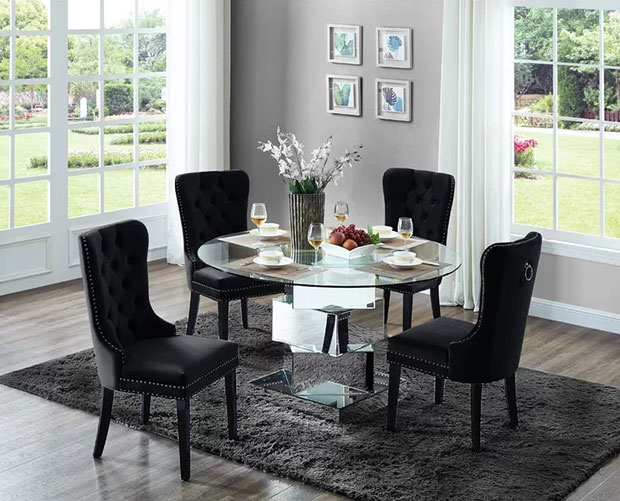 It's not just the tabletop that is glass, even the geometric base is finished with a glass mirror. Now, you have many reflective surfaces on your dining table alone.
Dwaine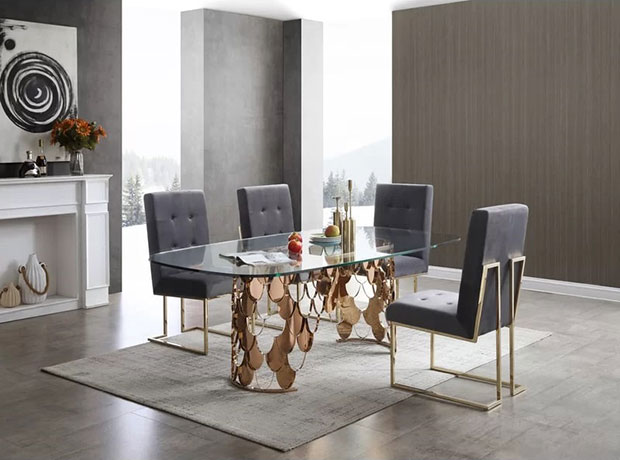 Everly Quinn
This dining table's base design is very reminiscent of fish scales, and it is only further alluded to due to the rose gold finish.
Aedel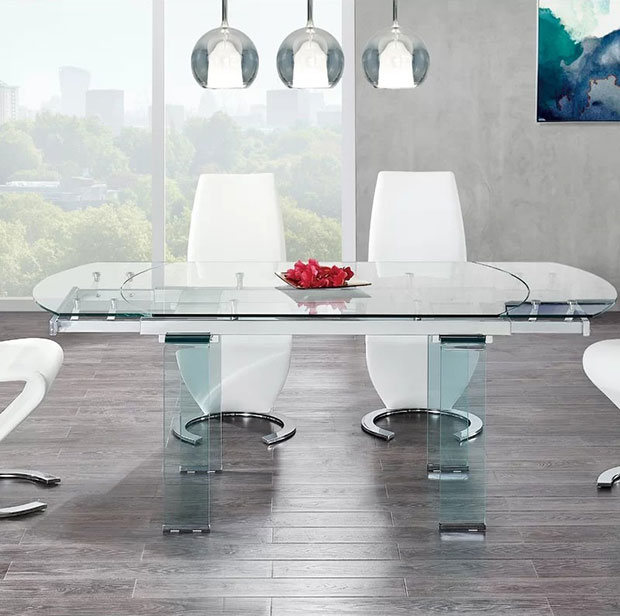 At first glance, you may wonder whether this table's legs can even handle the weight. But don't worry! The tabletop and legs are all made of tempered glass. In addition, this is also one of those extendable glass dining table designs!
Bashawn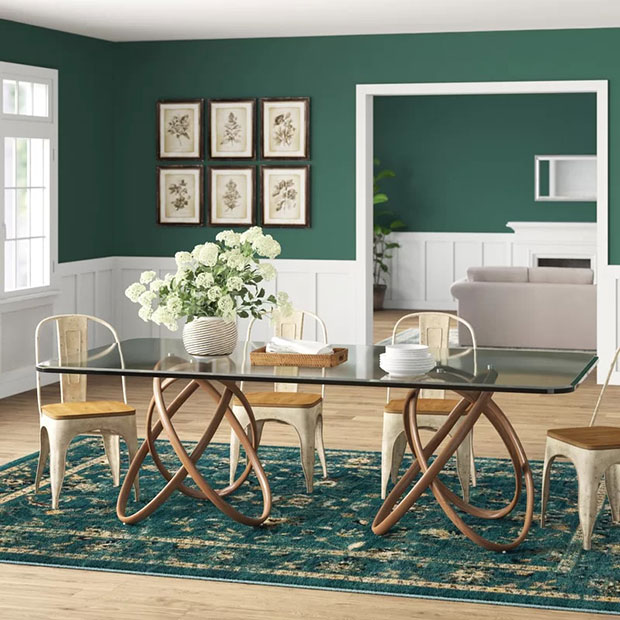 Brayden Studio
The astral circular leg designs are a thing of beauty and wonder. You can't help but think these designs are defying some laws of engineering!
Callan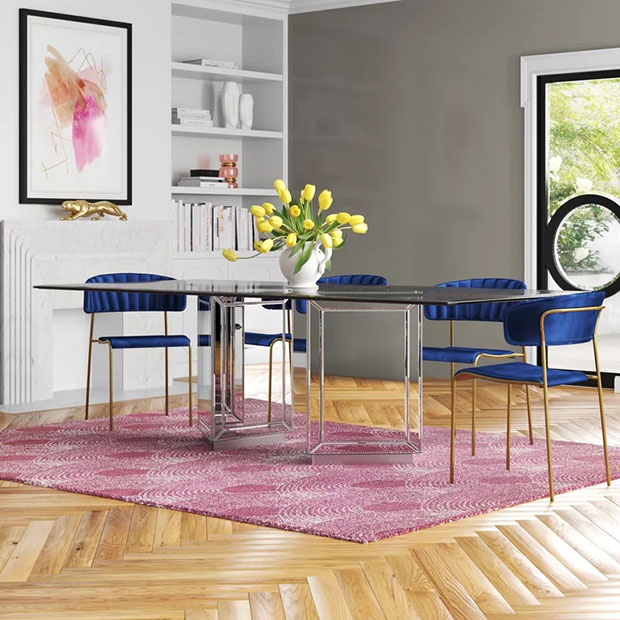 These triangular pedestal legs with mirrored panels for covering are stunning. It also offers a slight contrast against the slightly tinted glass tabletop.
Braelyn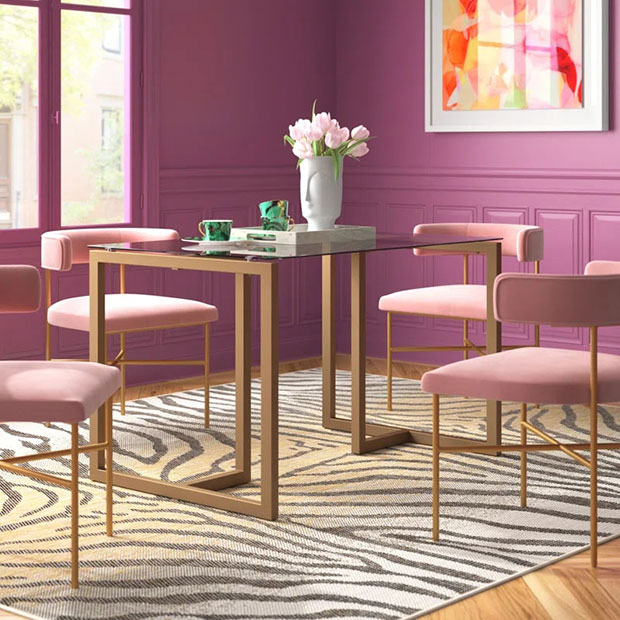 The base legs are smartly designed to allow lots of legroom.
Biskra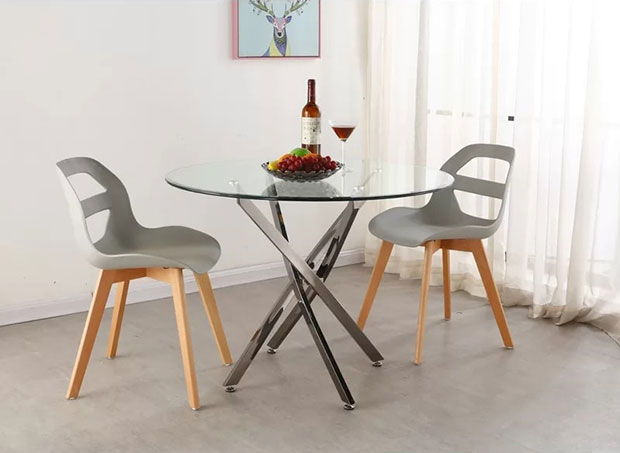 The curved steel legs twist and overlap with one another for a distinct look that will have this dining table surely stand out.
Caila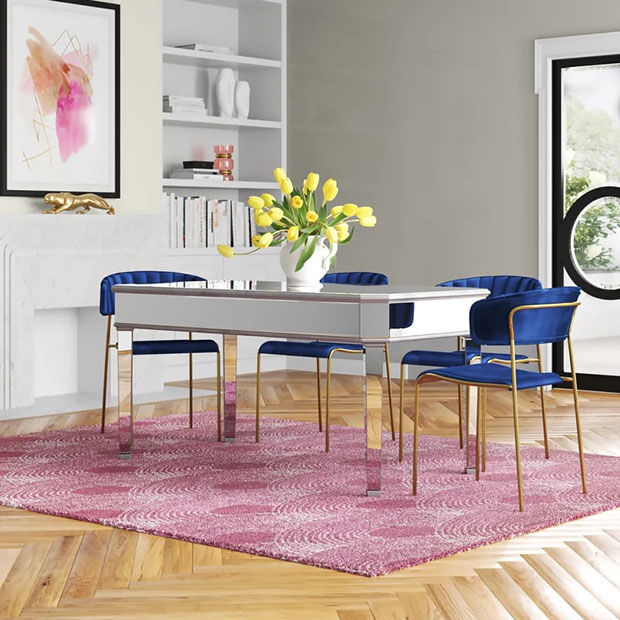 Etta Avenue
Though at first glance, it doesn't look like it, this is totally a glass dining table! It has a glass tabletop with birchwood around the edges to keep it in place. Plus, the surfaces are covered in mirrored panels!
Lumet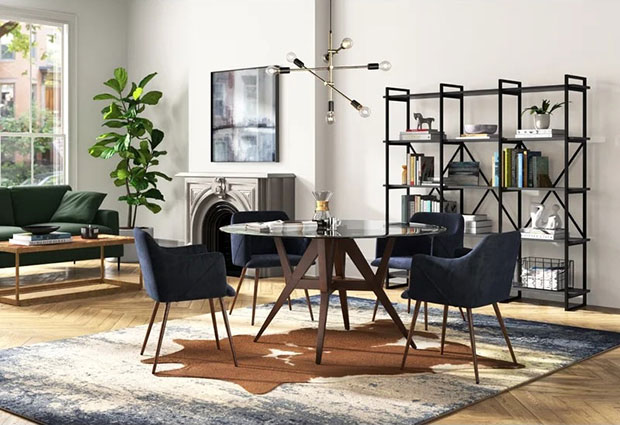 With a striking base design and walnut finish, this glass dining table design could also fit so well in industrial-style dining spaces.
Fabius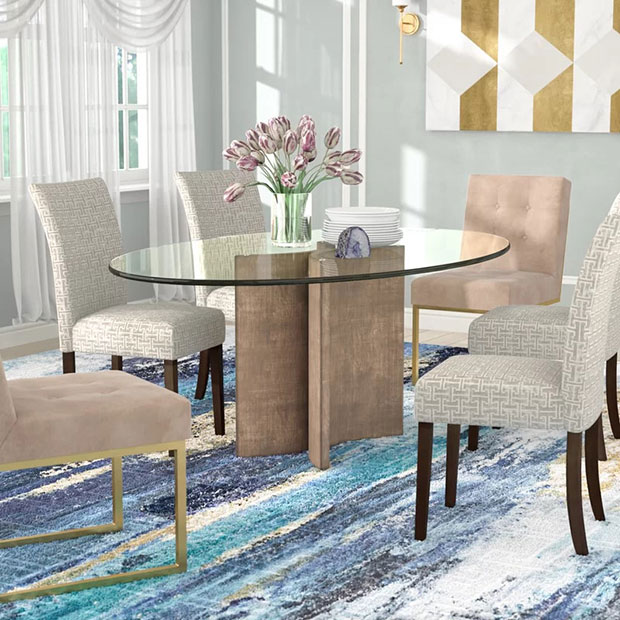 The curved x-shaped base design is super stunning. And the antique champagne finish adds a touch of softness to an otherwise glamorous look.
Lowestoft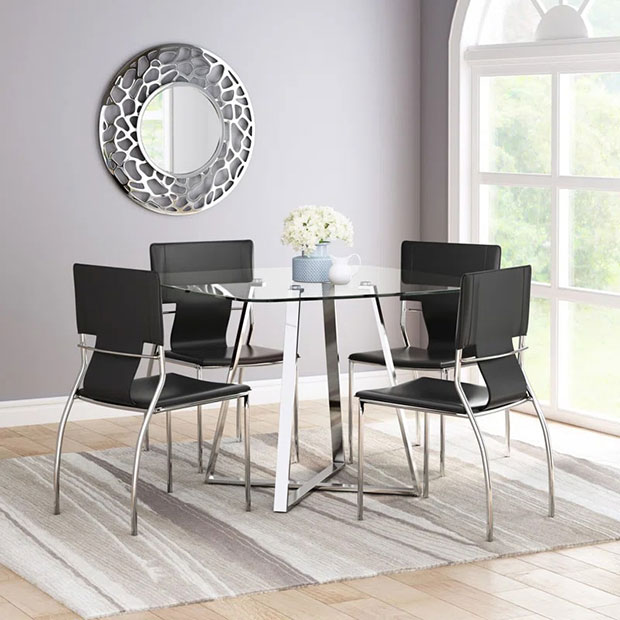 Many glass dining table designs may fit the contemporary trends, but even these could have some retro sensibilities as seen in this particular dining table.
Ransome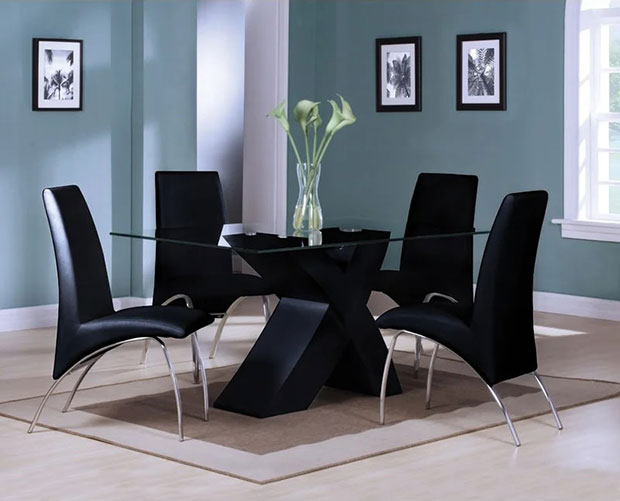 Ivy Bronx
The x-shaped base really brings out an artistic feeling to this glass dining table.
Deonte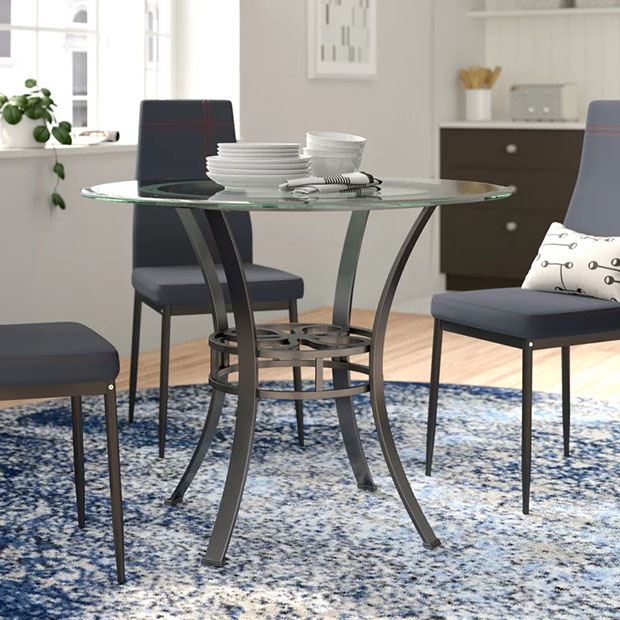 Red Barrel Studio
The scrollwork is exquisite and adds personality to this glass dining table design.
Osvaldo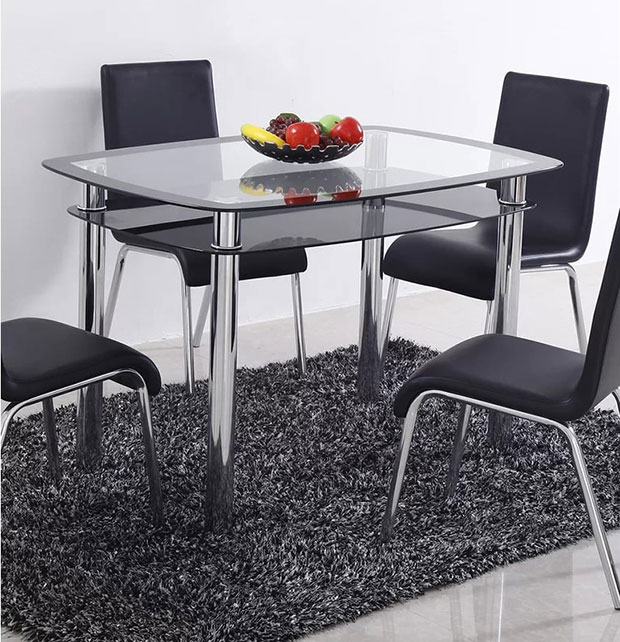 Ebern Designs
The tinted under-shelf is a nice detail that adds dynamic in contrast to the clear tabletop glass.
Trevor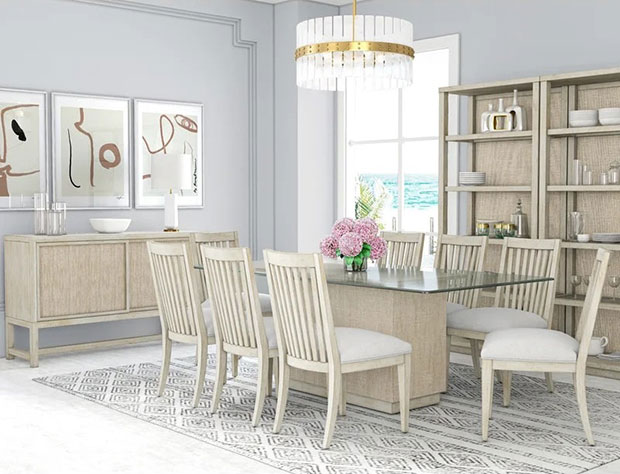 Joss & Main
While many of these glass dining table designs look formal and sharp, this one has a softness thanks to the beige finish.
That would be all for classy glass dining table designs! Did any of these convince you to switch over to glass dining tables?
Like This Post? Pin It!