50 Gorgeous Rectangular Dining Table Ideas for the Classy Homemaker
|
When choosing a dining table, rectangular dining tables are usually our first choice. This is because they usually fit more people and can be easily arranged in dining rooms. When looking for new table designs, there never seems to be a shortage of rectangular dining table ideas!
When decorating one, placemats are a favorite. Another option is to add a table runner across. Table runners are narrow lengths of clothes placed at the center. Aside from the decorative purpose they serve, table runners can be placemat replacements for your dishes too.
Rectangular dining table ideas come in various styles, colors, and materials too. Some of the most popular are made from wooden material. If you want to go for a more classy look, a marble dining table is a great option too.
Most rectangular tables have 36 inches to 40 inches in width and can accommodate 4 to 6 people, and the even longer ones can seat up to 10, depending on the length. The only limitation will be your dining or floor space.
Rectangular Dining Table Ideas for Inspiration
If you are looking for rectangular dining tables, here are some great examples to choose from!
Wrentham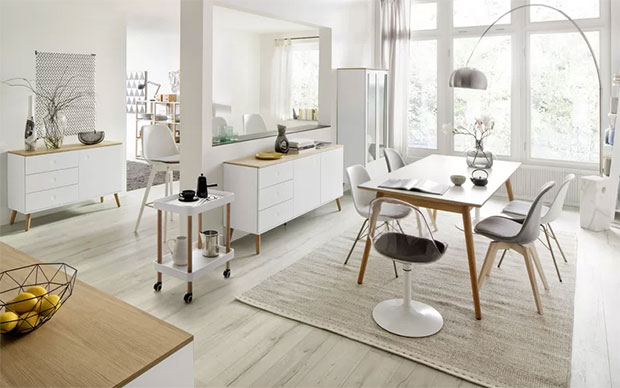 The white dining table in this room fits perfectly with the white furniture and paint inside the room. It is also accented with brown hues here and there.
Hiers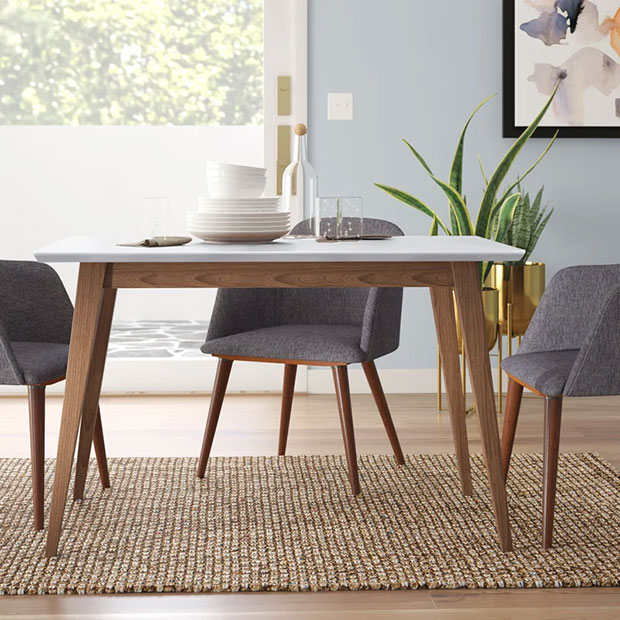 Like most rectangular dining table ideas, this design has a minimal and modern look. The material is made from eucalyptus with a nice white tabletop.
Ondina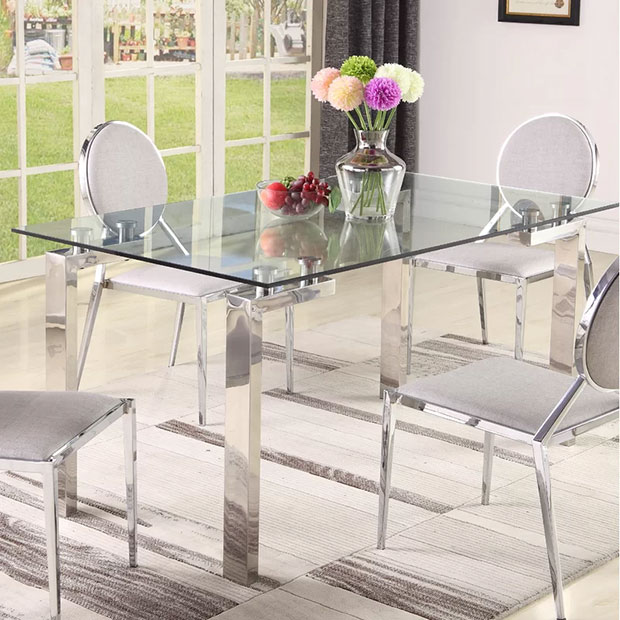 This dining table design has a unique modern look with its glass tabletop and stainless steel legs. The seats around it further cool the look.
Miesville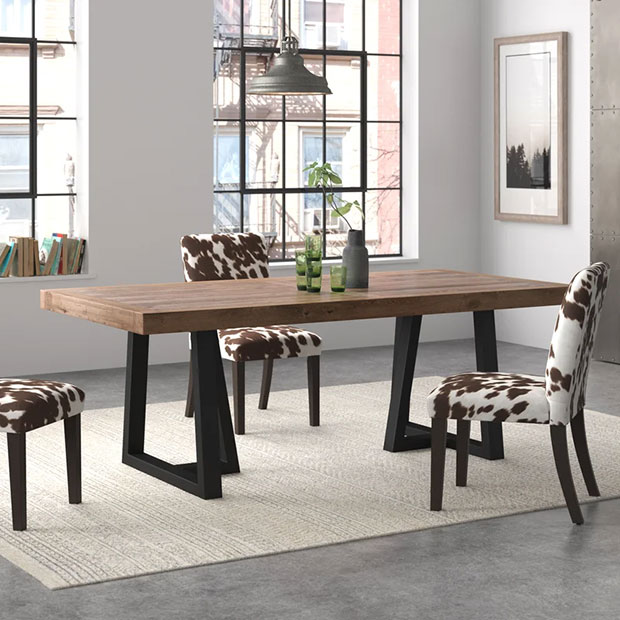 For a more eclectic touch, this dining table design with its slanted leg trio will fit the bill. The casual dining feel of this room looks great!
Teviston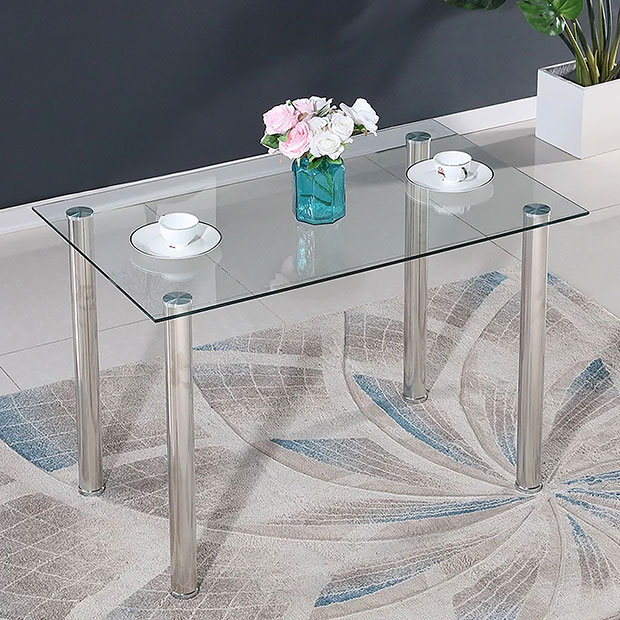 Wade Logan®
For an ultra-modern look, this rectangular dining table has a glass tabletop and iron legs. The design is simple and complements the abstract floor rug.
Aleksei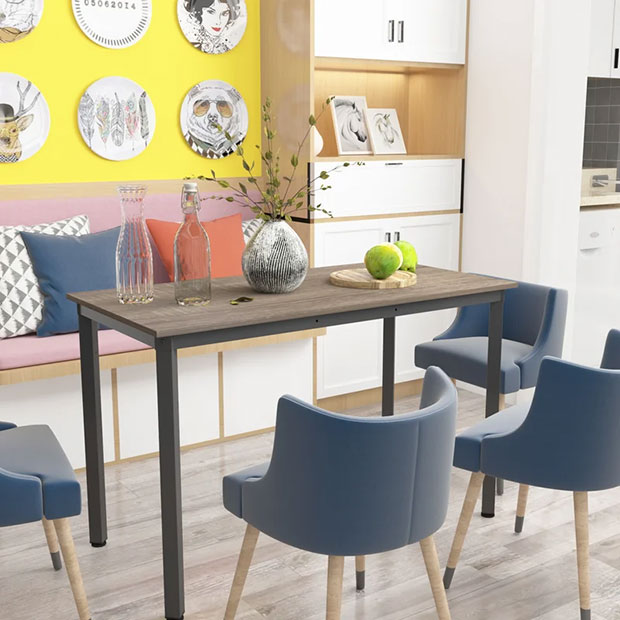 Andover Mills™
A clean and minimal look is brought out with this rectangular dining table. Its classic design will allow it to fit into any dining room space.
Katarina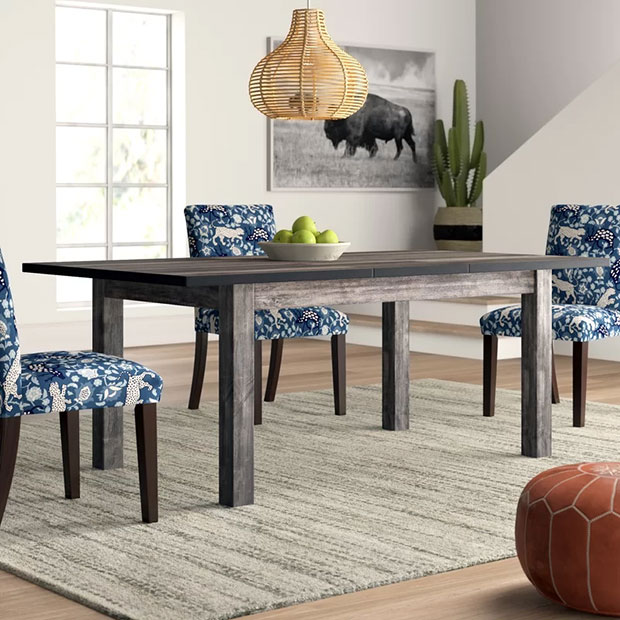 Mistana™
This rectangular dining table ideas has a contemporary yet rustic look. The style is perfect for country-themed dining rooms.
Cato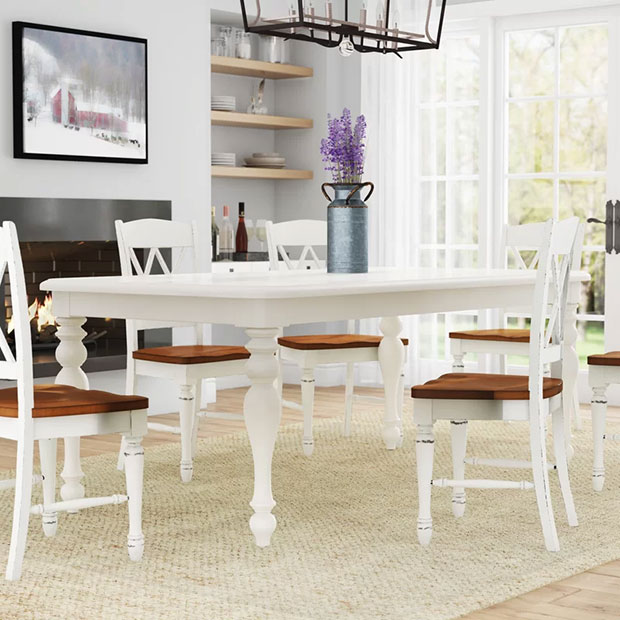 Like all rectangular dining table ideas, this dining table is not too imposing but rather complements the dining space. That lovely table decor is also very eye-catching.
Malden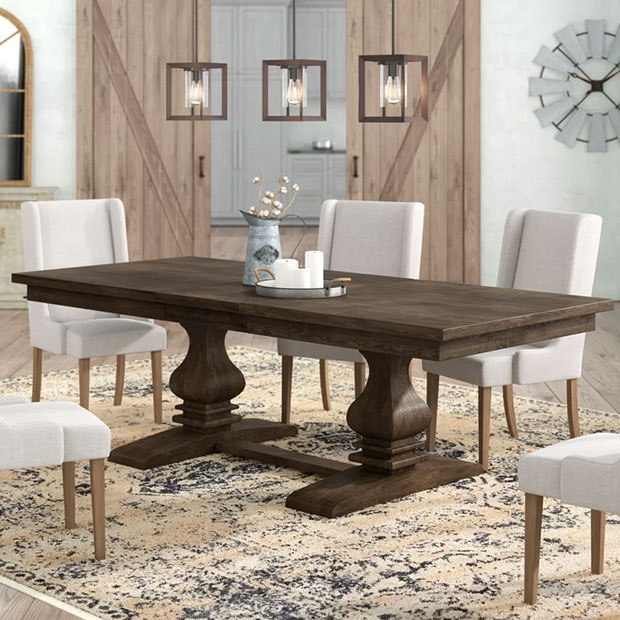 The dining table large and its solid legs make it a signature piece that embraces a classic look. It has a brown hue that also pops with the rest of the room's brown colors.
Culbert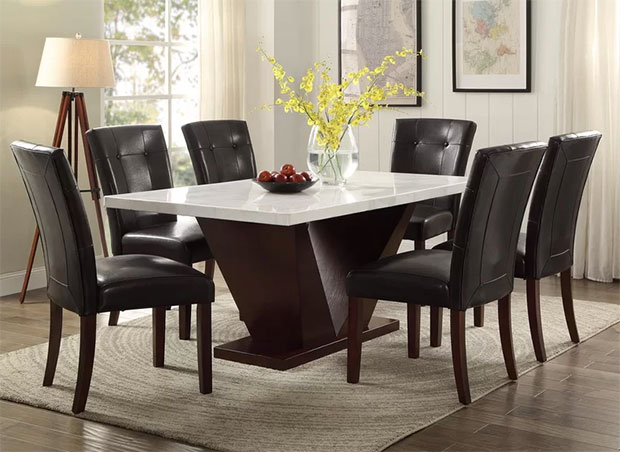 Lark Manor™
Luxury is the first thing that comes to mind with this rectangular dining table. Its tabletop is made from marble and has solid wood for its base. The design is well complemented by the leather upholstered seats.
Catello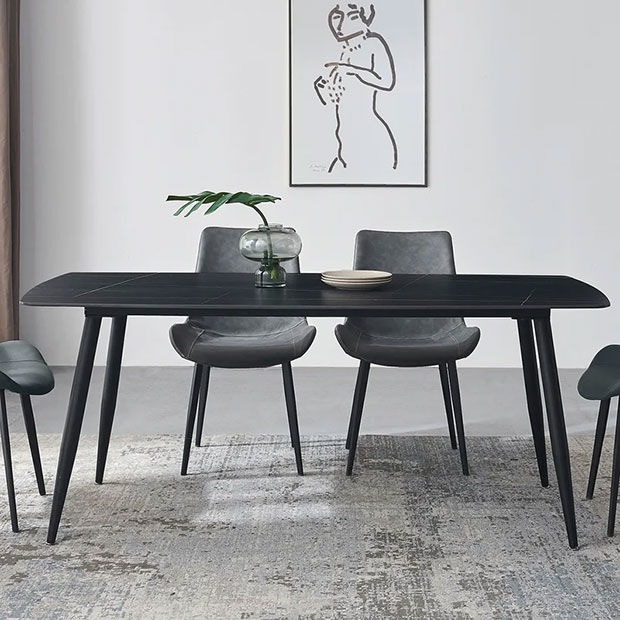 George Oliver
Instead of the usual wooden dining table, this table has a stone tabletop in black color. The effect is quite classy and adds a nice modern look.
Wooden Table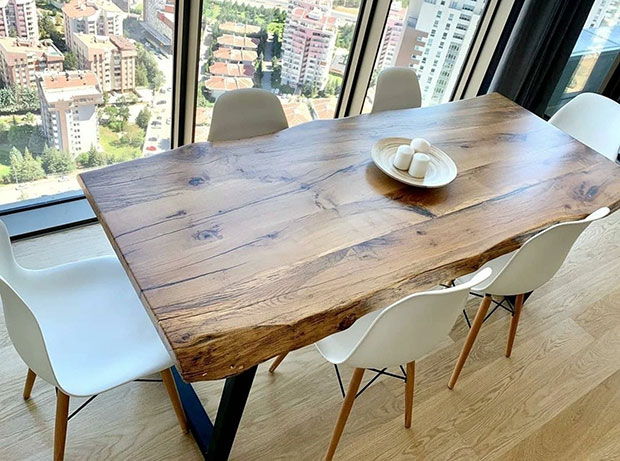 For industrial-themed homes, this solid wooden table will add the perfect touch. Its natural surface design is a refreshing look from the urban view outside.
Epoxy Wood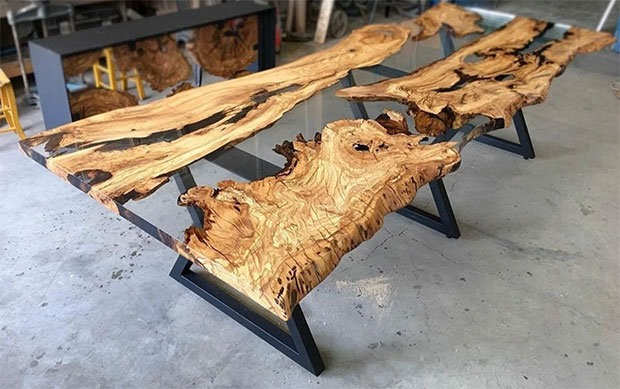 Woodenboardstore
If you are looking for a more eclectic or unique dining room ambiance, this epoxy wood dining table is a perfect choice. This is handmade wood resin and has a nice industrial-themed look.
Solomon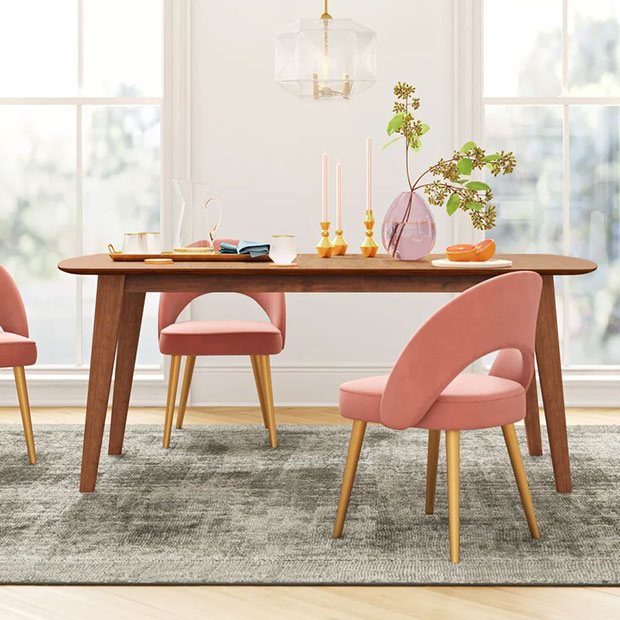 The lovely ensemble of brown and rose gold makes this dining space very stylish.
Langley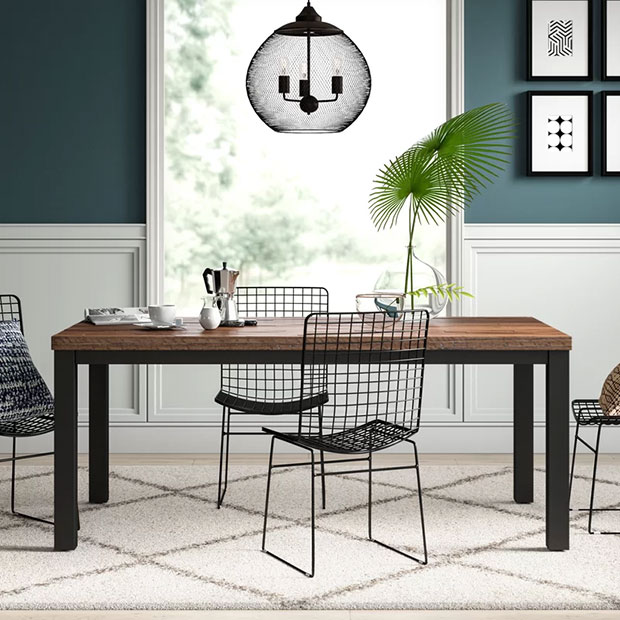 This dining setup has a unique display of furniture that perfectly complements the industrial design of the table. The chair's mesh design and the pendant light make it more unique.
Flournoy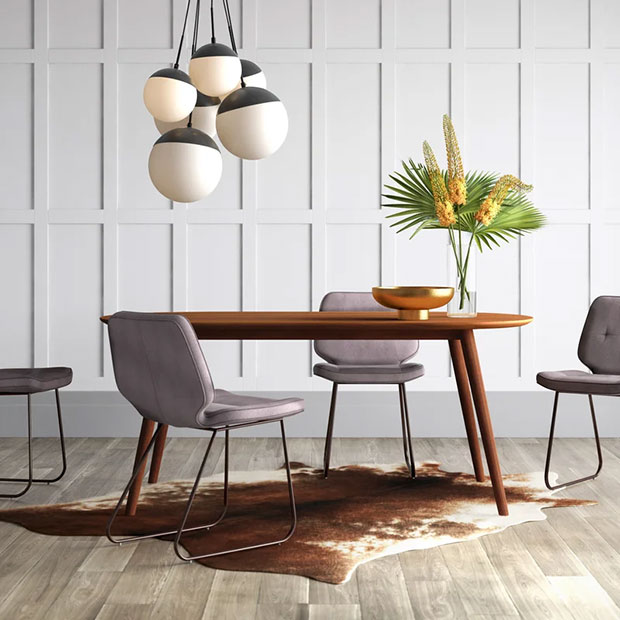 Mercury Row®
For a Scandinavian-inspired look, this rectangular dining table idea is spot on. It has an oak veneer top in a brown color.
Broderick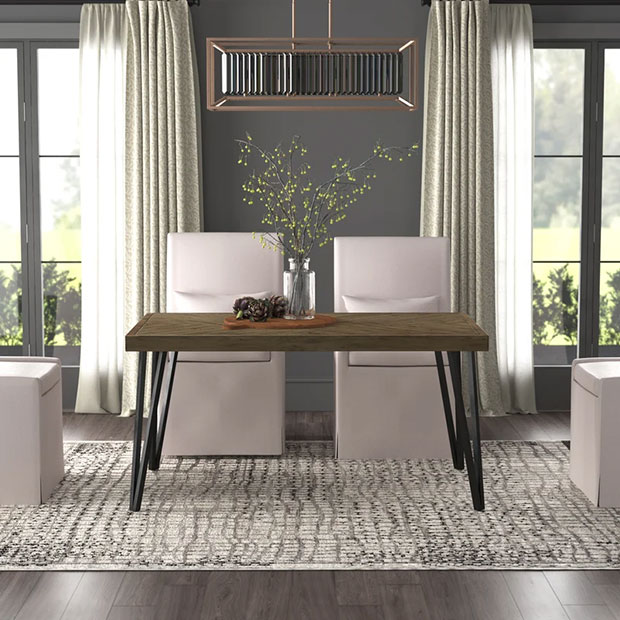 Greyleigh™
This dining table complements the chandelier above and is a stark contrast to the white chairs around it.
Reiner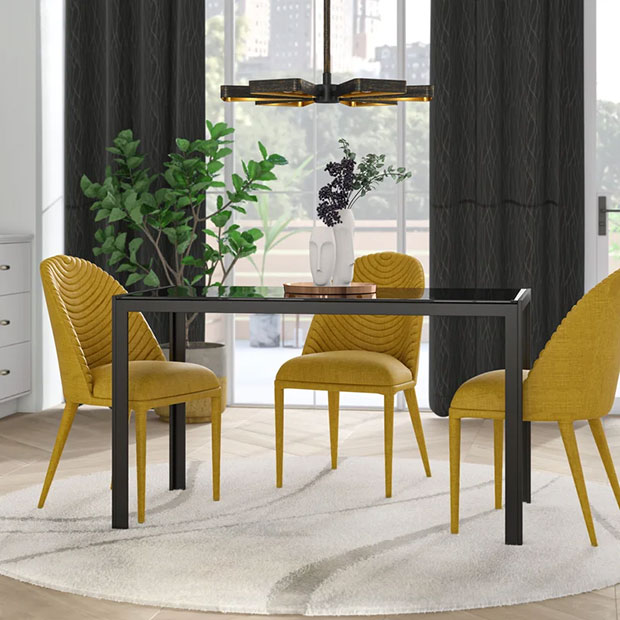 The elegant black color of this rectangular dining table idea makes the room more classy. It is also further enhanced by the unique chandelier and bright yellow chairs.
Fallin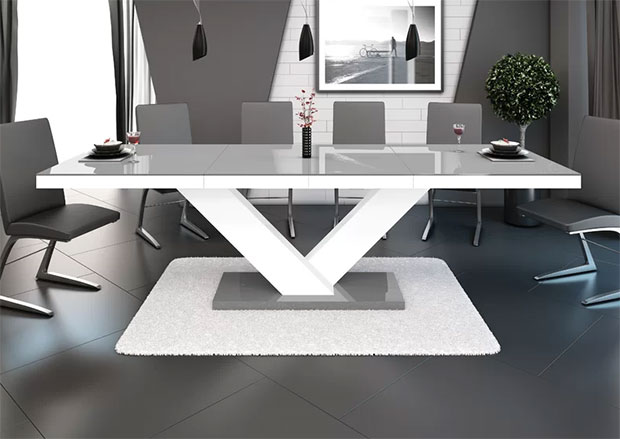 With its v-designed table legs and glossy white finish, this dining table looks very modern. It is made from manufactured wood.
Kalinda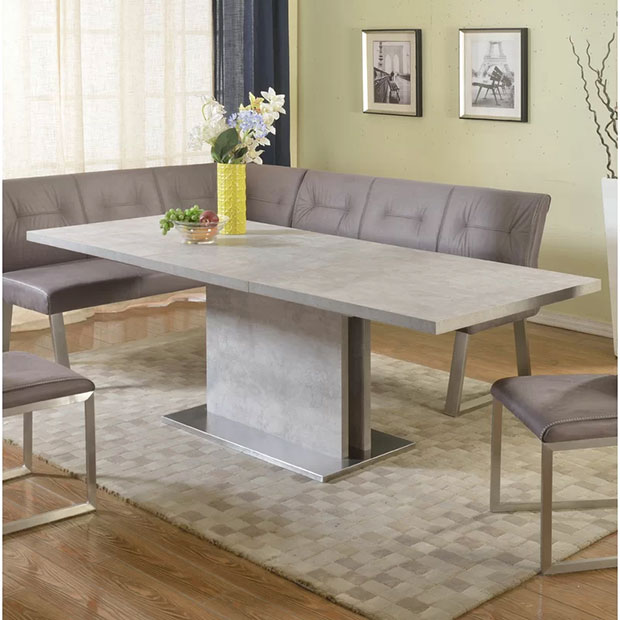 Another rectangular dining table ideas with a unique look are featured here. It has a butterfly leaf extendable design that allows it to seat up to 8 persons.
Gabir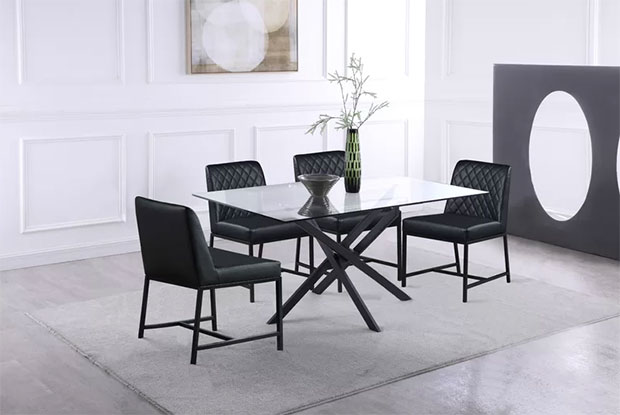 Orren Ellis
This dining table is not too imposing with its glass tabletop and black base. The base is also eye-catching, making it a focal point to the otherwise minimal room.
Montauk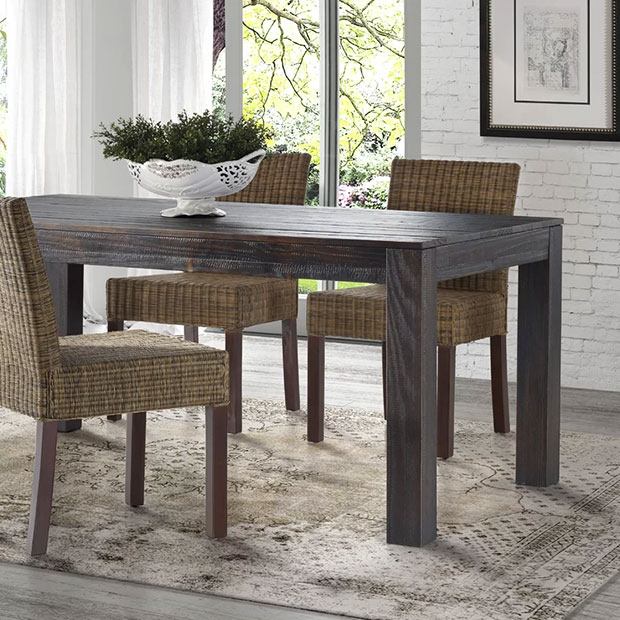 Grain Wood Furniture
With its solid pine material and sturdy legs, this rectangular dining table ideas have the ideal farm-style dining room look. The rough upholstered chairs make the style more prominent.
Darrah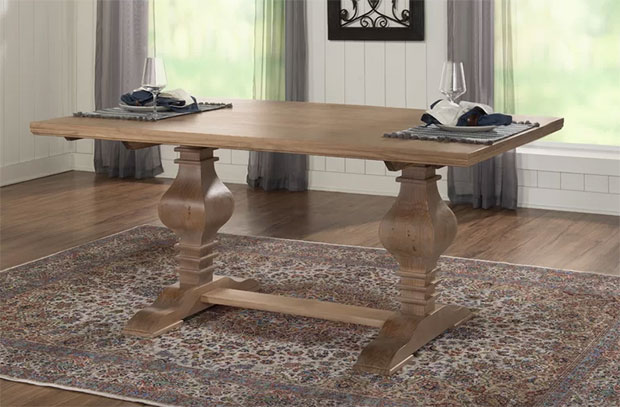 Ophelia & Co.
For a classic and traditional look, this dining table has it. The intricate base pedal is quite classic.
Gurmej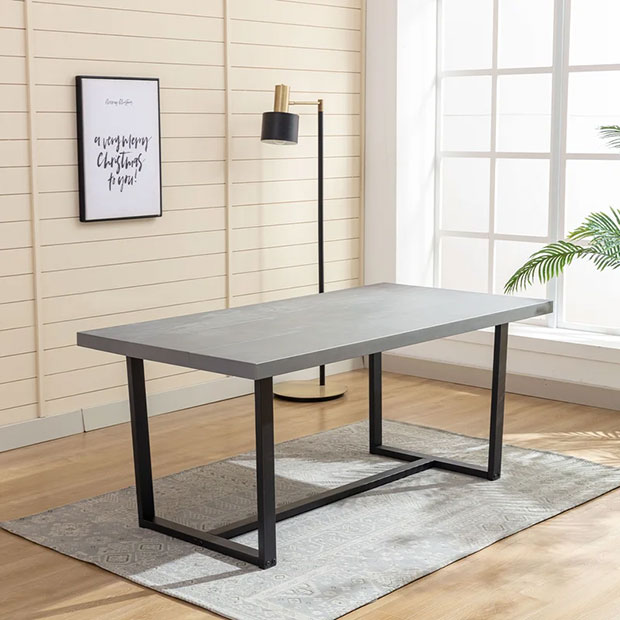 17 Stories
The iron table frame looks great with the floor lamp. It adds a lovely contrast to the bright room.
Gulbranson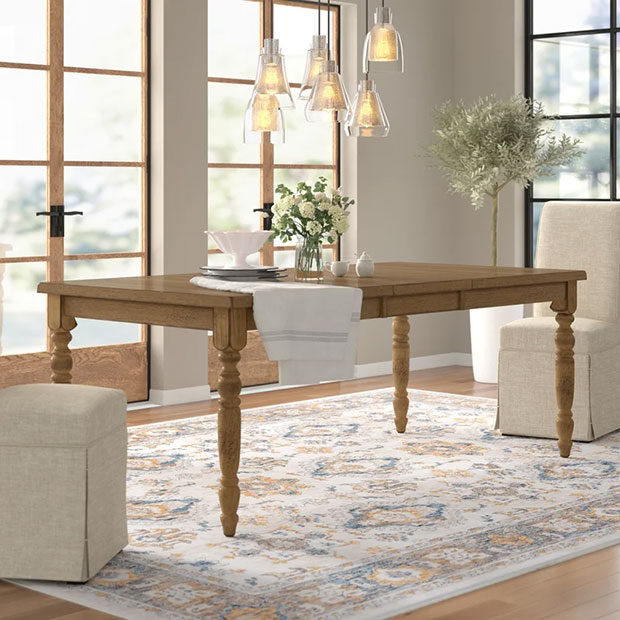 If you love having guests over for dinner, this rectangular dining table is perfect for you. On normal size, it can seat 6 persons and when fully extended can accommodate 8. The design is very traditional and is even more emphasized with the charming pendant light above.
Melstone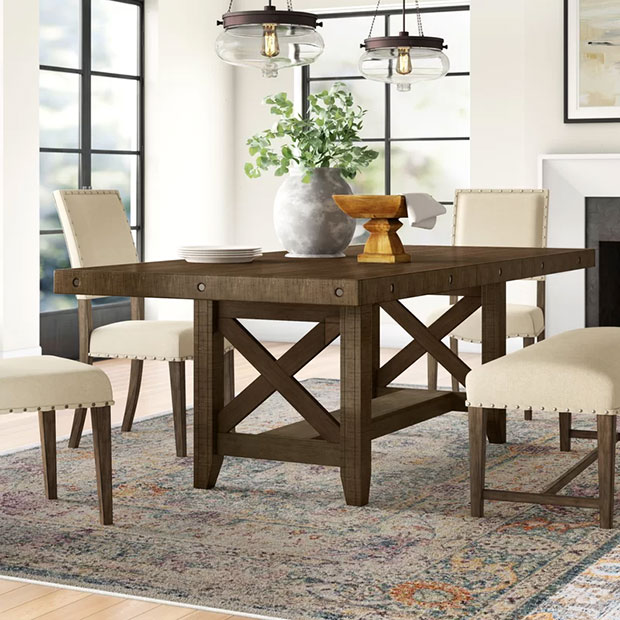 Sturdy looking and adding a country-cottage look, this dining table design has a trestle base cross panel legs coated in rich brown color. The color is a nice contrast to the bulb design of the pendant light and the white upholstered seats.
Northam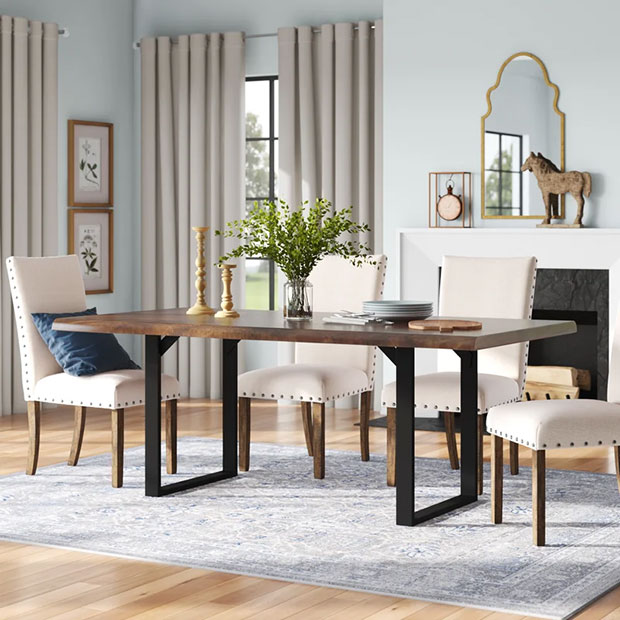 This dining table design has a rustic yet modern look that fits well in modern homes. It has a dark metal accent that touches the warmth of the room.
Sackler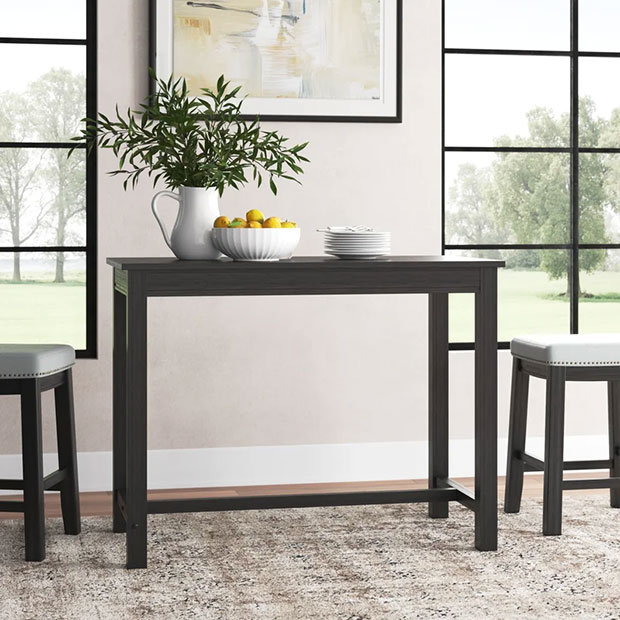 Three Posts™
If you have limited space and are opting for a unique look, this dining table is a perfect choice. It has a solid wood base and wood veneer top and looks well with the stool chairs.
Winona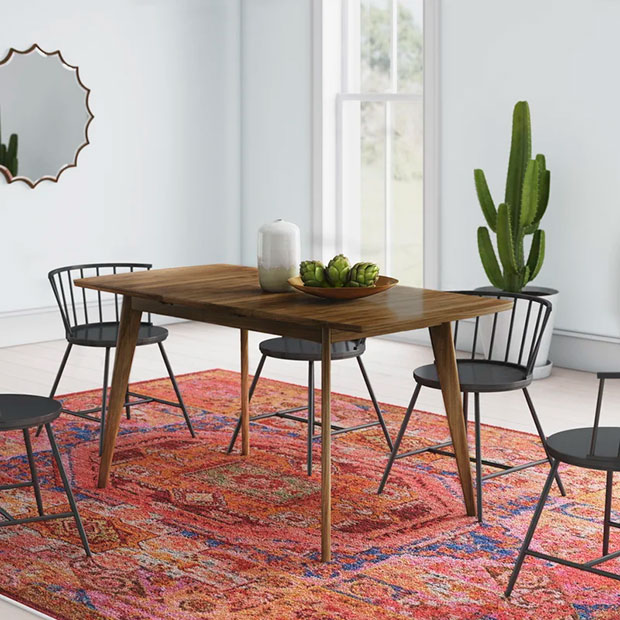 Mistana™
The wooden color of this rectangular dining table ideas looks great with the fiery design of the carpet. The room has a nice outdoorsy look with the cactus behind it and the sun-shaped mirror on the wall.
Evanston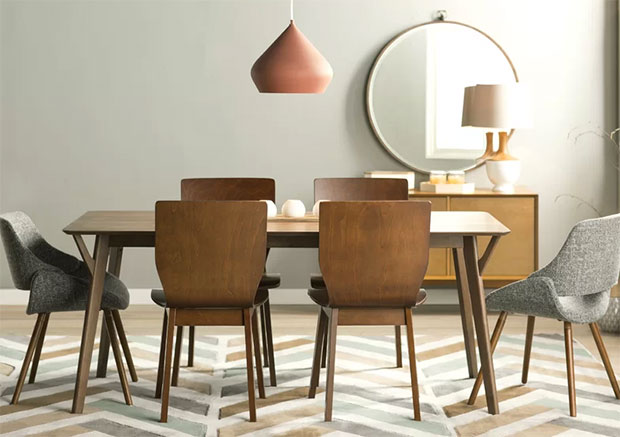 AllModern
The homey ambiance of this dining room setup is made possible with the ensemble of brown hues in the furniture and decorations. The dining table is complemented with brown chairs and an earth-colored carpet.
Braxton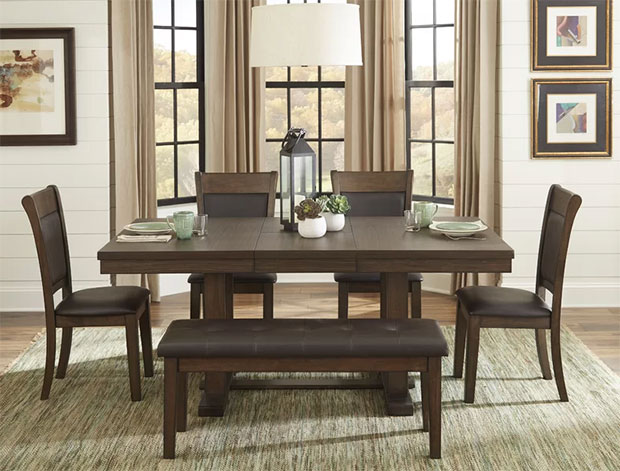 Foundstone™
Perfect for seating up to 6 persons, this dining table idea has a unique and homey design that makes it perfect for a traditionally-designed home. The combination of chairs and the bench makes it super comfortable too.
Pettry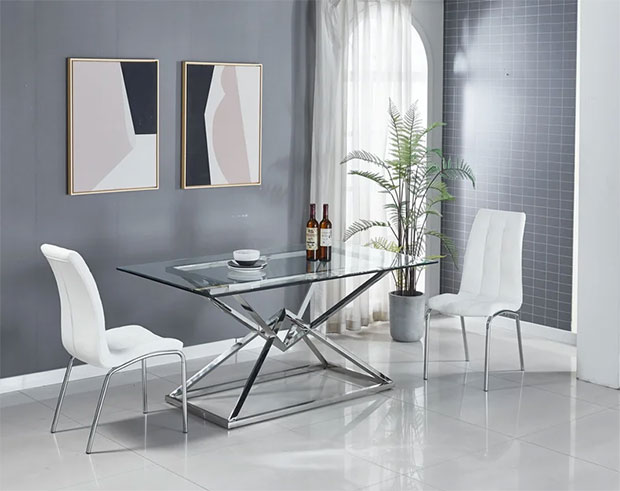 This dining table design has an ultra-modern look with its hourglass-shaped table legs. The silver color looks cool and charming.
Kara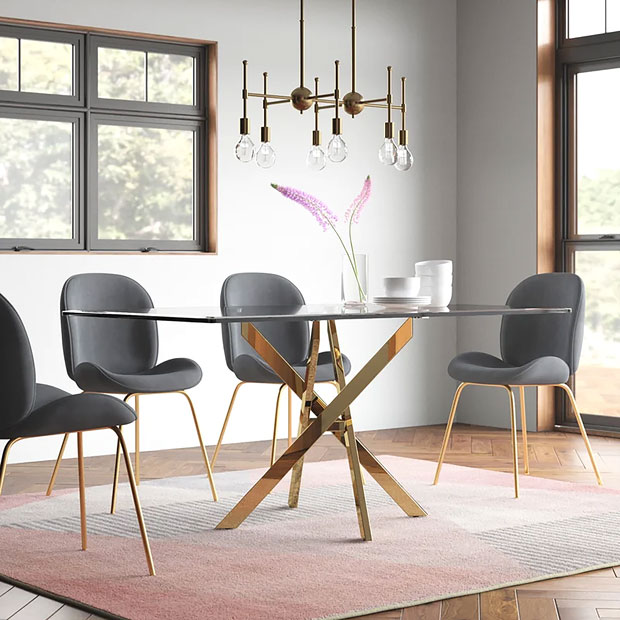 Willa Arlo™ Interiors
Gold accents make this dining room classy and elegant.
Brooksville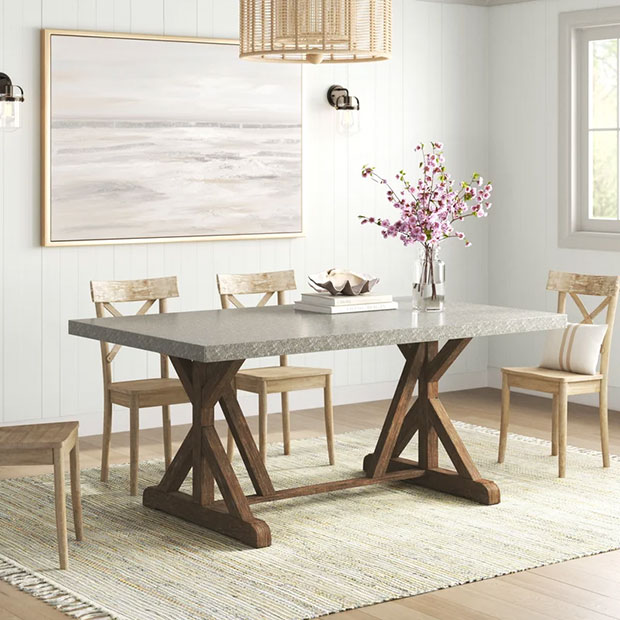 This dining table has a solid trestle base support and pine wood for the tabletop. The fresh look is emphasized by the cute vase on the table and the charming pendant light above.
Ernie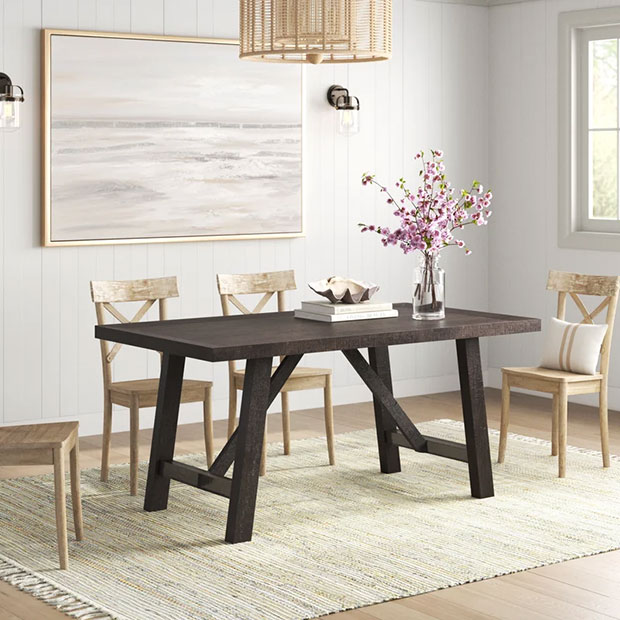 This dining table embraces a rustic look with its acacia wood material. It has a vintage appeal that works well with farmhouse-style homes.
Lana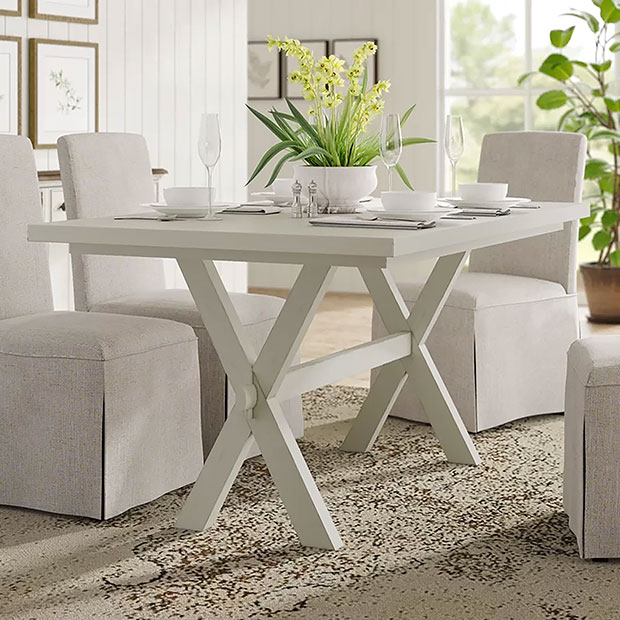 Sand & Stable™
These rectangular dining table ideas have a homey feel to them. Its white color adds a farmhouse feel to the room.
Streicher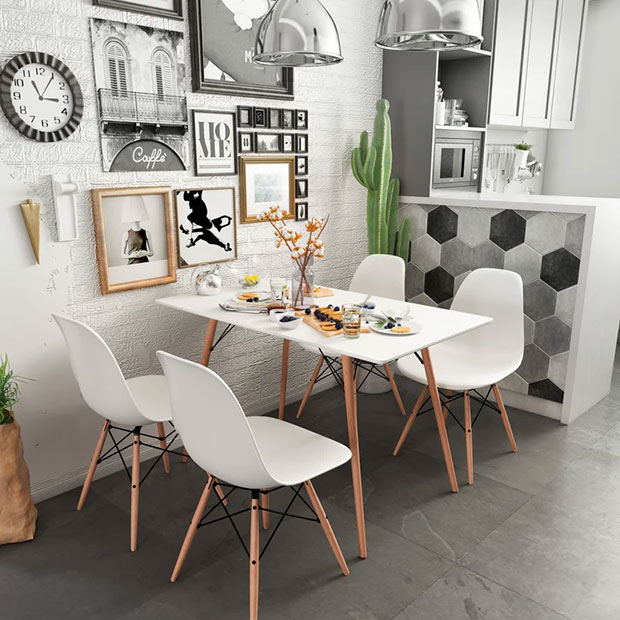 George Oliver
This dining room has a unique look with its Scandinavian dining table set. We like how the designer has made the wall personal with photos.
Larchwood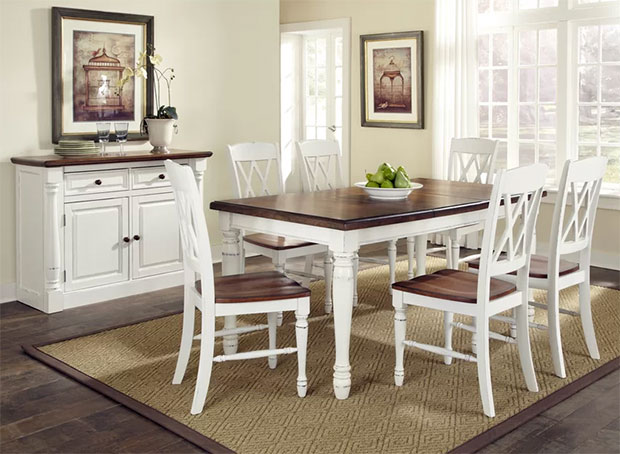 August Grove®
The white accents of this room are further pronounced by the dark brown tabletops and cabinet on the side. The room has a country feel that makes it very comfortable to eat in.
Septimus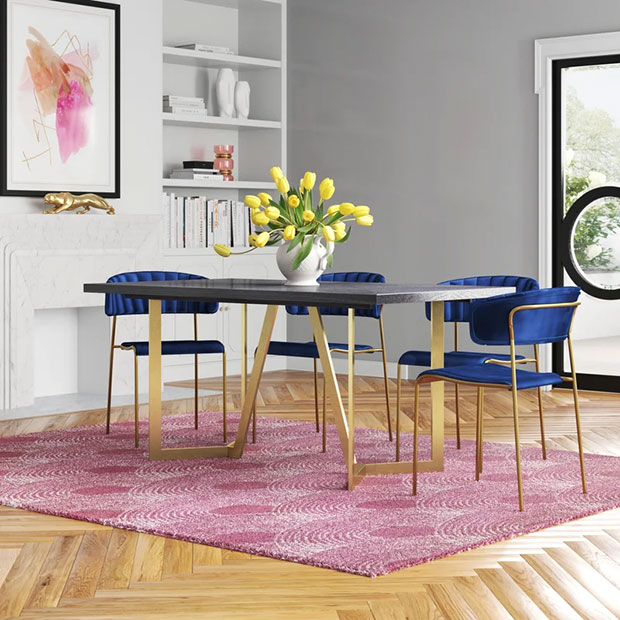 This dining room is made more feminine with its pink highlights around the room. Its pink table base looks great too and adds a stylish touch to the space.
Iyana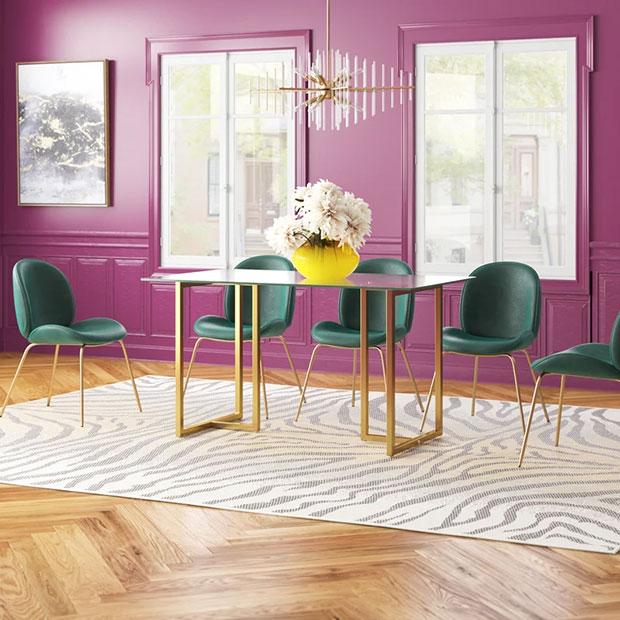 Etta Avenue™
For a glamorous look, this dining table design is a perfect choice. Its golden leg table makes the pink room glow.
Johnstown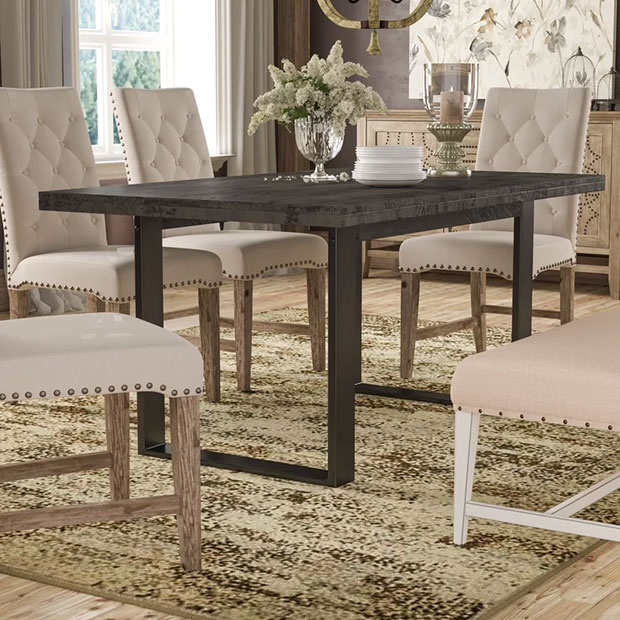 For a rustic charm to add a twist to the dining room, this trestle dining table fits the bill. It has a nice distressed finish that looks great with the elegant setting of the room.
Sechelles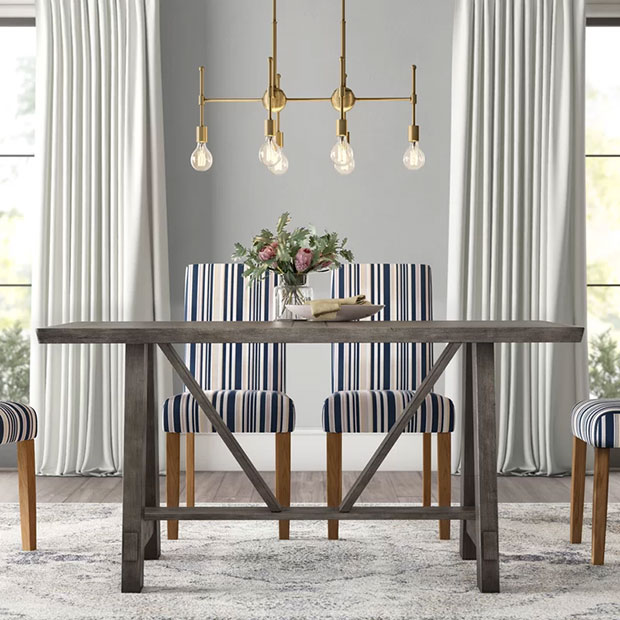 For a modern-farmhouse look, this dining table is perfect for your home. It has a wood knots design pattern and is made from rubberwood.
Paille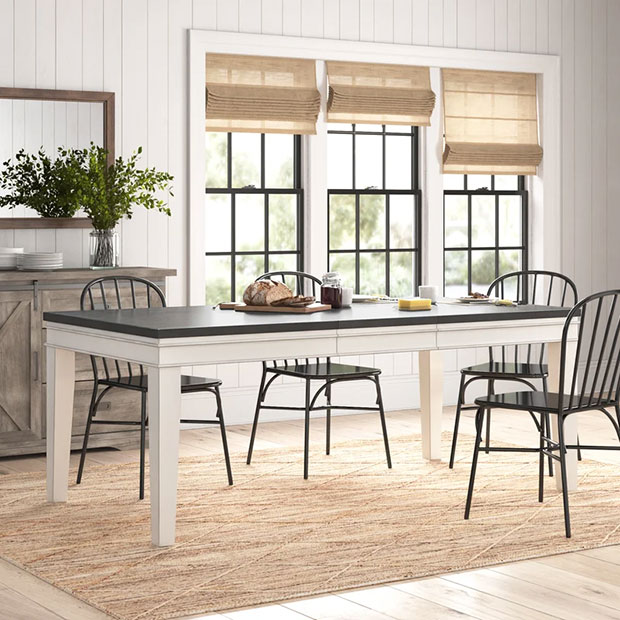 Laurel Foundry Modern Farmhouse®
This table can also be extended to accommodate up to 6 guests and can be collapsed to occupy only 4. It has a gray top color and contrasting white base for a clean look.
Jadyn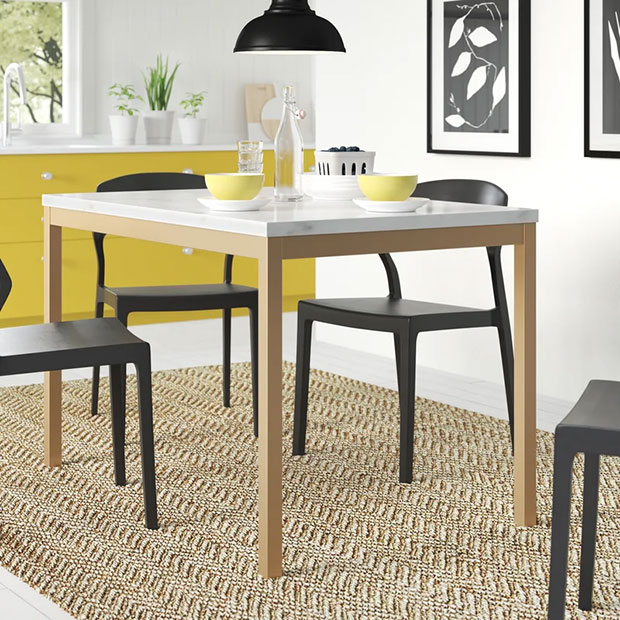 Zipcode Design™
The minimal design of this dining table makes it easily fit into any space. This here looks great with the yellow and black ensemble.
Aedel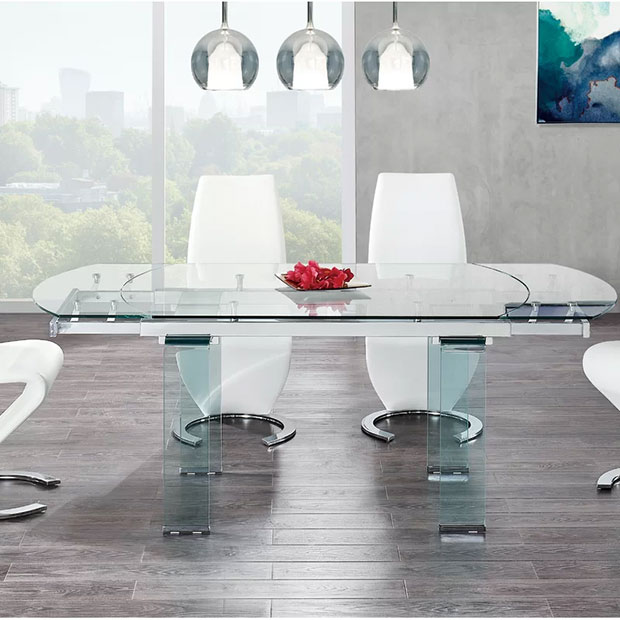 If you love an ultra-modern look, then this rectangular dining table idea is just for you. It has tempered glass legs top and leg materials. The seats also have a unique look that compliments them.
Kimbell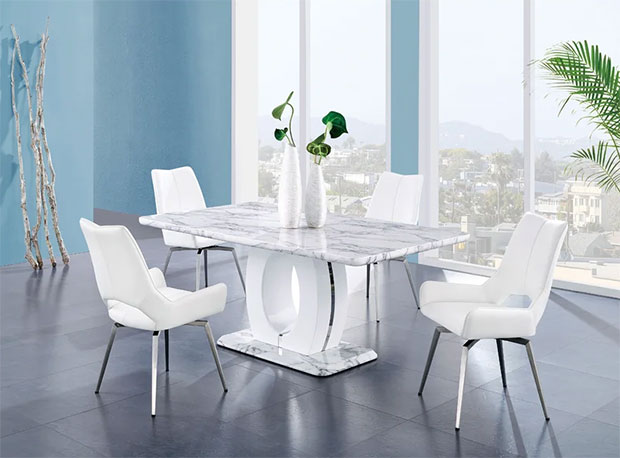 Brayden Studio®
This faux marble dining table looks elegant with its rounded pedestal legs
Martina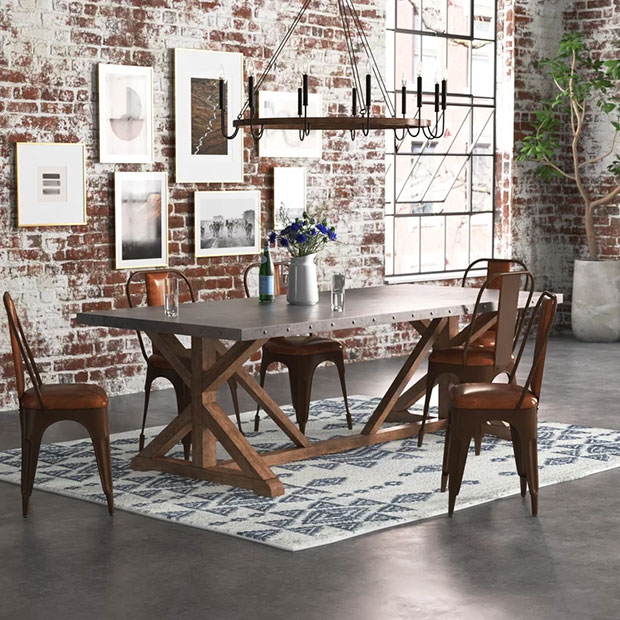 Steelside™
If you love the rustic and industrial-themed decor, this unique stainless steel tabletop is perfect for you. It blends well with the grungy wall texture and the steel seats around it.
Antietam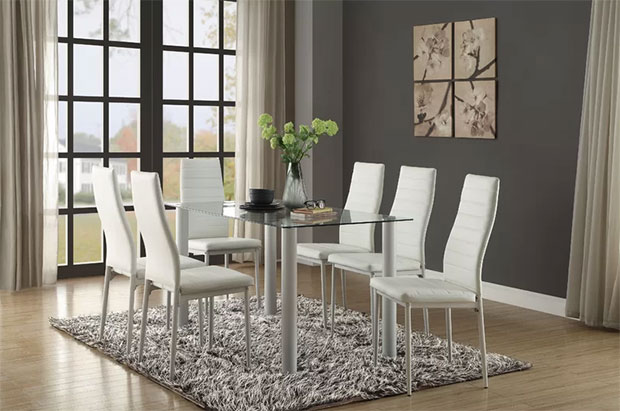 Wrought Studio™
This rectangular dining table design adds a sophisticated look with its glass tabletop. The white-leathered seats brighten the room.
Hartford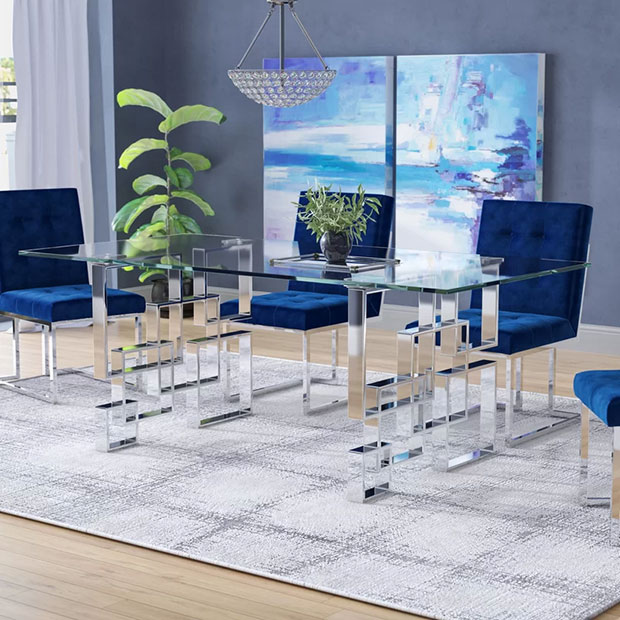 Everly Quinn
For a more sophisticated and unique look, this dining table design offers it. The table has a geometric design on the base, making it decor in itself.
These rectangular dining
table ideas have showcased several lovely dining tables to choose
from. Have you had the chance to choose which one is your favorite?
Like This Post? Pin It!