55 Wooden Dining Chair Designs For a Classy Dining Room
|
Wooden dining chair designs are a classic staple of many dining rooms. They're pretty common and have that timeless feel to them. Though, there may be some who will not find wooden dining chair designs appealing due to it being often associated with traditional style. But if you look further, you will find a variety of wooden dining chair designs from mid-century to contemporary designs.
But regardless of the styles, wooden dining chairs truly have that timeless appeal to them that is just perfect if you want to achieve a classy look for your dining room.
Can you mix and match wood dining chairs?
Mixing and matching dining chairs are becoming a trend these days. But can you specifically mix and match wooden dining chairs? Absolutely!
Mixing wooden chairs with upholstered ones is a classic look in this mismatched trend. This is because the neutral tones of wood allow other features of whatever wooden dining chair designs you've got to stand out. It would be the different textiles and fabrics that create the statement.
Maintenance tips for wooden dining chairs
The great thing about wooden furniture is that it can last a long time; hence, the timelessness of wooden dining chair designs. But that lasting life doesn't just happen without the proper maintenance for them.
For your wooden dining chairs, here are some maintenance tips to remember.
1. Avoid heat
Place your dining chair away from uncovered windows, vents, or fireplaces. Light and heat can damage the wood.
2. Dust often
Dusting your furniture, including your dining chairs, is the easiest task you can do to maintain their good condition. Remember to only use a soft cloth like microfiber or cotton.
3. Keep it clean
If your chair needs more than dusting, due to a spot or soiled, you're going to have to clean it. Don't use an all-purpose cleaner though as it can damage the chair's finish. Instead, use a mild dish detergent mixed with water. Dip a cloth in the solution, wring it out, and gently wipe the wood surface. Rinse it with a water damped-cloth and then wipe it with a soft, dry cloth.
4. Protect the wood
Some wooden dining chair designs may not have a polished finish of their own, so you may have to do it yourself to protect the wood. There are lots of commercial polishes and sprays that contain petroleum distillates or silicone oil. Just don't use too much of them though or it will create a buildup of dirt.
5. Treat wear and tear
It's not entirely impossible to cause injuries to your dining chairs so you are going to have to treat those injuries. Some liquid polishes can hide small abrasions. But if the scratches are much worse, you can paint over the damaged area.
6. Re-oiling
If you have stored wooden dining chairs, you may need to re-oil them. Find an appropriate cleaner like Murphy's Oil Soap and apply it liberally onto furniture. Let it soak into the wood for 15 minutes. If you plan on applying a protective coating, let the oil set for at least 24 hours first before doing so.
7. Re-waxing
In the long run, your wooden dining chairs will age and you're going to need to re-wax them. When you apply a coat of wax, use a Scotch Brite pad, and spread it around with light pressure, following the grain. Don't let the wax set for more than 20 minutes and remove excess wax with a clean Scotch Brite pad and buff with a soft cloth until the surface feels smooth.
8. Avoid unpleasant odor
Some older furniture may begin to have an unpleasant odor. Sprinkle some baking soda on your chair. You can also leave your chair outside, under a shaded area on a warm and dry day.
9. Remove stains
It's a general rule of thumb to quickly clean any stain on your wooden furniture. Different stains have different ways of cleaning them. For example, crayon marks can be removed by applying mayonnaise over the area and letting it sit for a couple of minutes before cleaning it with a damp cloth and then a dry one.
What wood materials are best for wooden dining chairs?
When we buy our dining chairs, we only want to choose the best quality of course. For wooden dining chair designs, other than the design itself, it is important to know that your chair is made of the best wood material. Here are some of the best wood materials known for their durability and craftsmanship!
1. Silverwood
One of the oldest and top choices for many wooden dining chair designs. Moderately durable and strong, but especially resistant to rot.
2. Teak
Significantly strong and durable and can withstand wear and tear and a wide range of climate changes. Low maintenance.
3. Cedar
Strong and durable. Natural aroma due to Cedar oil.
4. Mahogany
Finest and strongest type of wood. Resistant to moss and rot.
5. Oak
Strong, durable, comfortable, and extremely sustainable.
6. Acacia
Densest and hardest type of wood. Strength is unparalleled.
7. Mango
Dense, strong, and hard. Resistant to rot and does not wear out quickly. Sustainable option.
8. Ash
Durable despite being a lightweight wood. Sustainable and affordable.
9. Maple
Durable, strong, and resistant to rot.
Wooden Dining Chair Designs for Inspiration
Now, let's take a look at some of the best wooden dining chair designs for a classy dining experience!
Schrader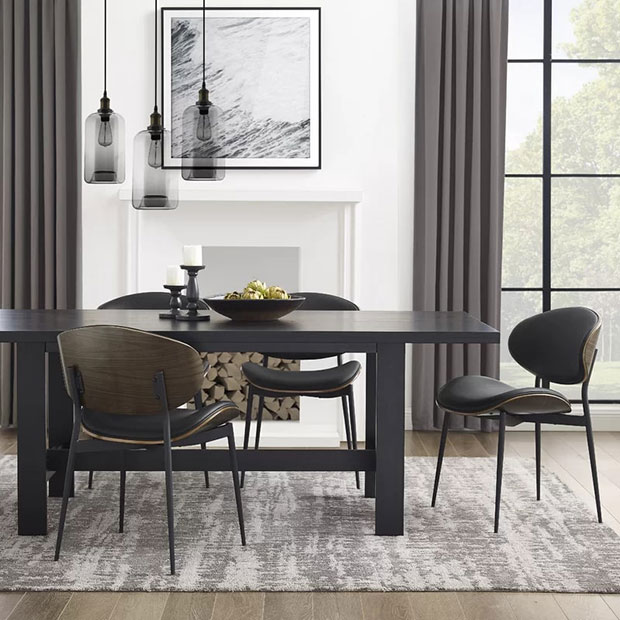 If you're looking for contemporary wooden dining chair designs, this may be one for you. It's a definitely chic addition.
Edison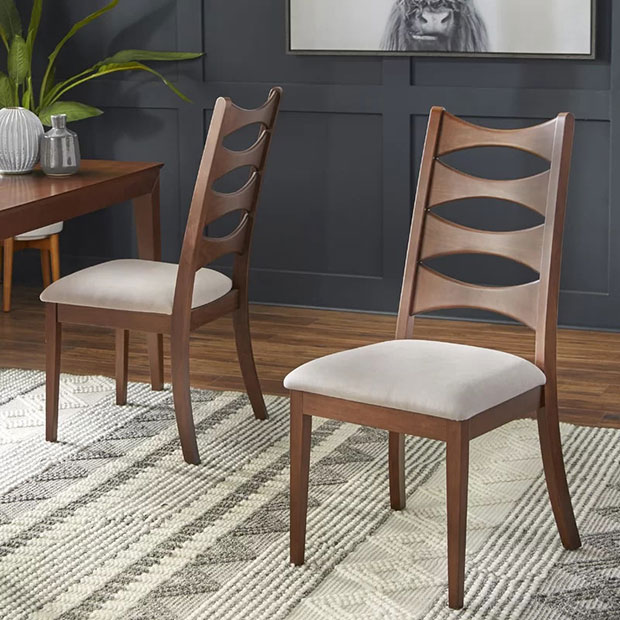 Union Rustic
With a stylish silhouette, you can't go wrong with a wooden dining chair like this. It has a padded seat too so you're guaranteed to have a comfortable dinner.
Aulii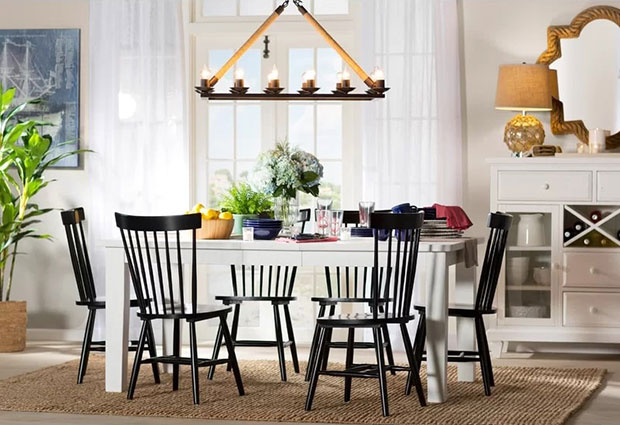 Ebern Designs
This is one of the more classic wooden dining chair designs. Apart from its timeless beauty, this chair brings a cozy feeling into the dining room.
Omur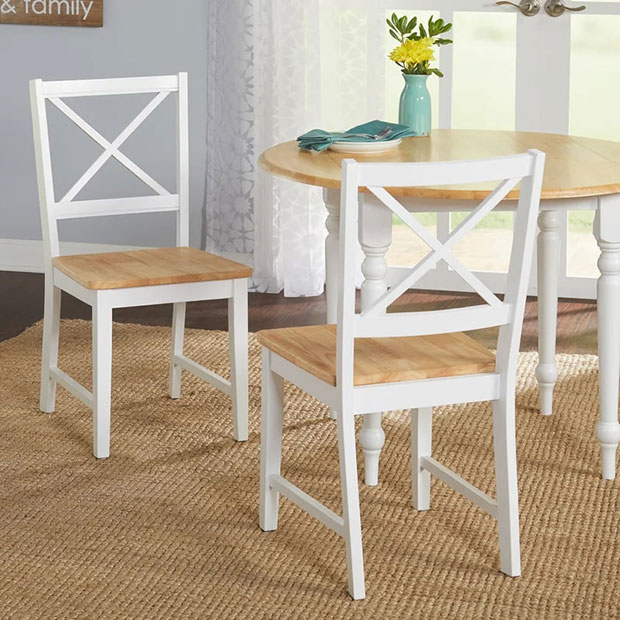 Breakwater Bay
Even farmhouse-style wooden dining chair designs can be a classy addition to your dining room. Here, the mix of wood materials creates such a beautiful dynamic.
Pretor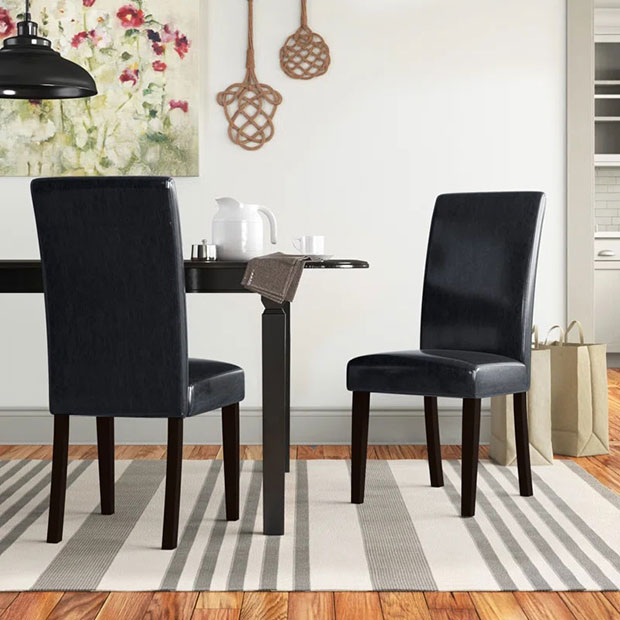 Andover Mills
If you're looking for a classy addition, upholstered wooden dining chair designs are some of the easier choices.
Demi-Lee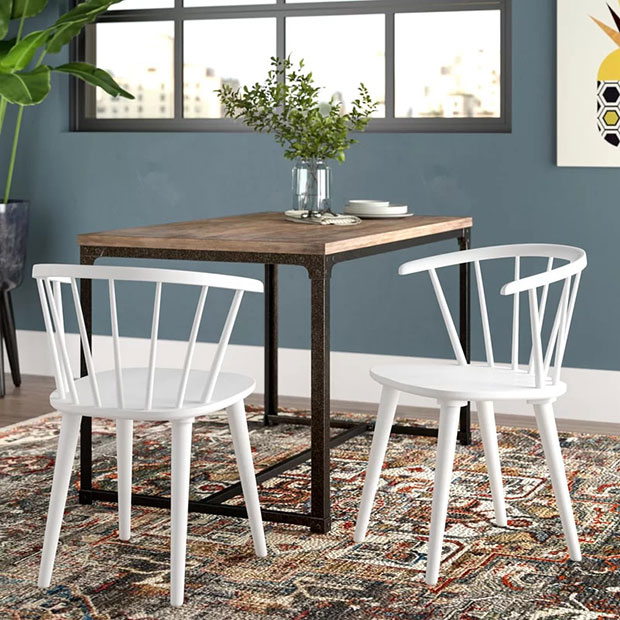 George Oliver
Windsor back type of chairs have some of the classic wooden dining chair designs. Their simplicity makes them popular with the minimalists.
Parkerson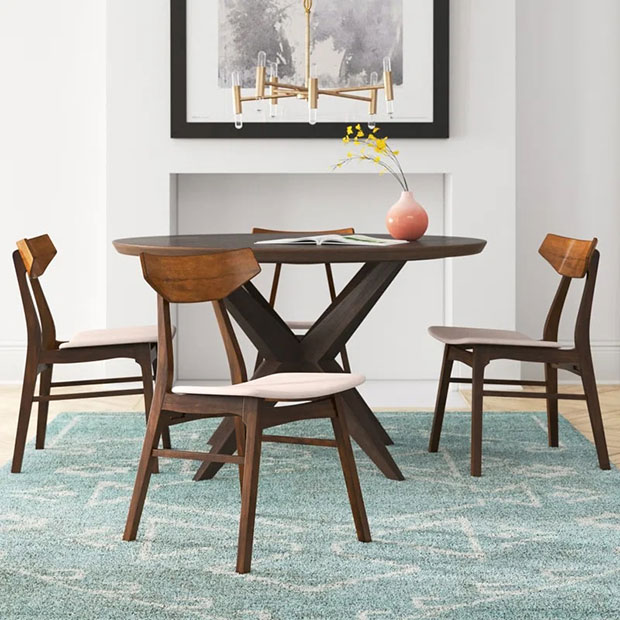 Mercury Row
With its mid-century-inspired design, this dining chair is quite a versatile piece. It could fit in casual and formal dinners.
Cainvsille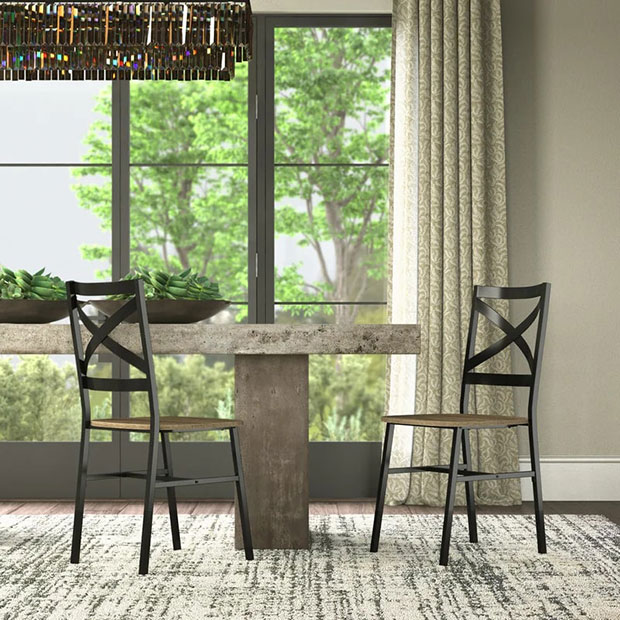 Greyleigh
Perfect for a modern farmhouse aesthetic, it has the right touch of traditional but with an updated look.
Frohna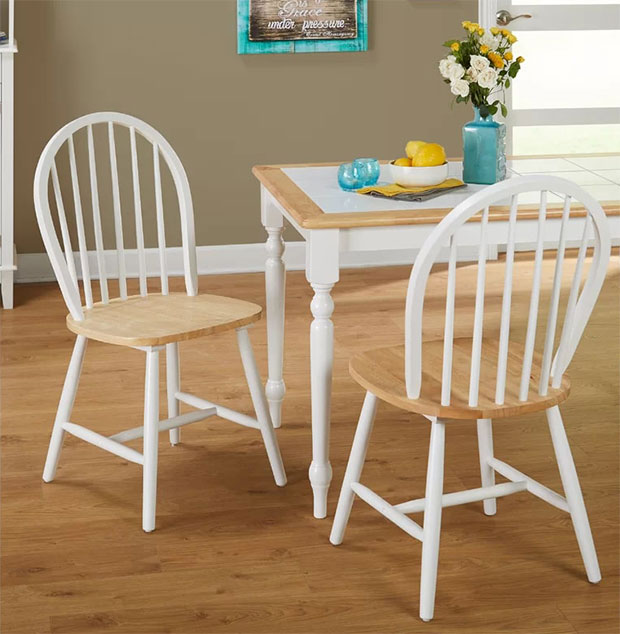 The classic Windsor style plus an alluring finish completes the modern chicness of this dining chair.
Malcolm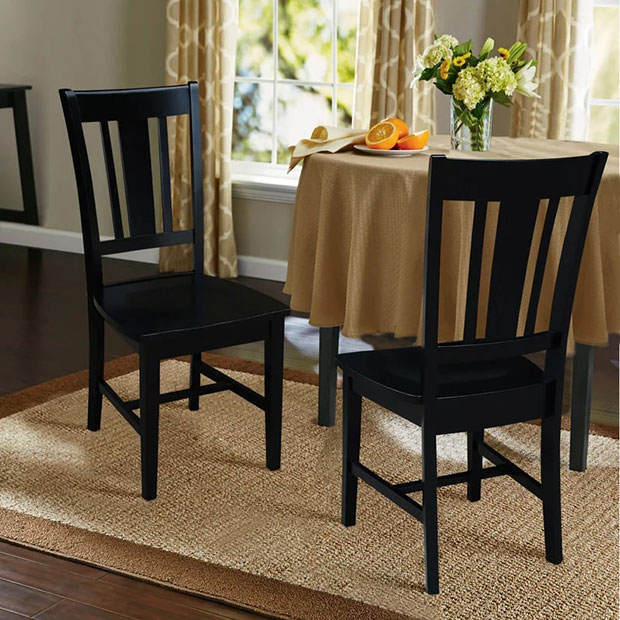 The curved form of the frame is stunning and definitely makes this dining chair design stand out.
Standridge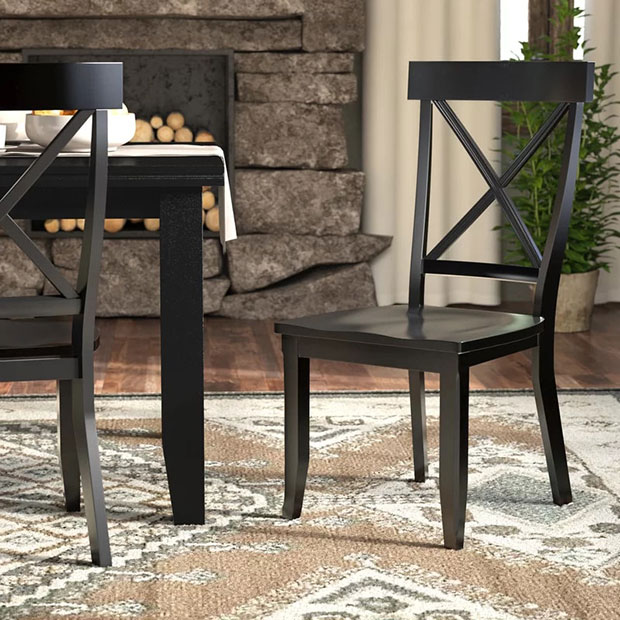 The curved form of the frame creates a stunning silhouette. It helps the overall design to really stand out.
Fleurance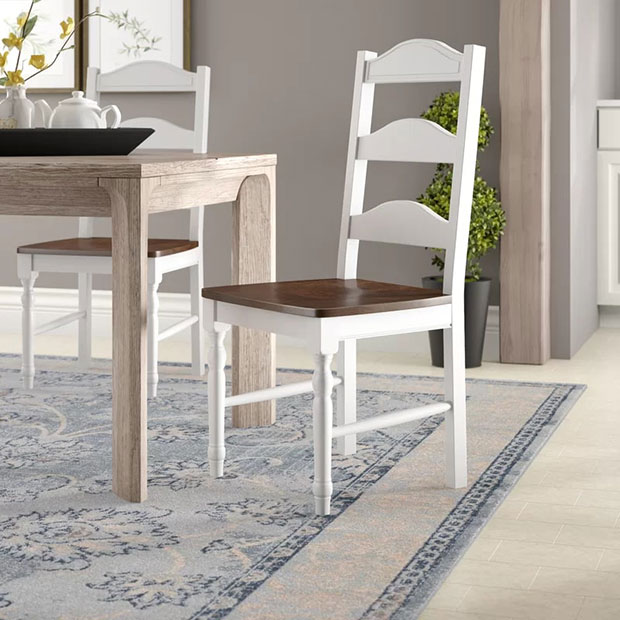 August Grove
The ladder design with a curved top is exciting and refreshing. Plus, the brown finish on the seat offers a nice contrast to the clean white finish of the rest of it.
Eshell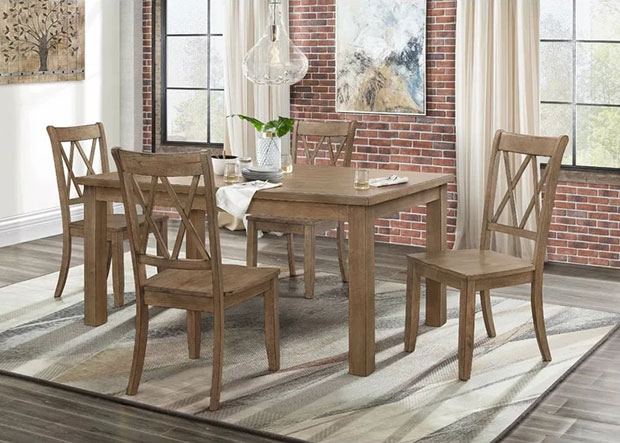 The double-cross back is a nice additional touch of style. That and the distressed look makes this dining chair perfect for modern farmhouse dining rooms.
Anze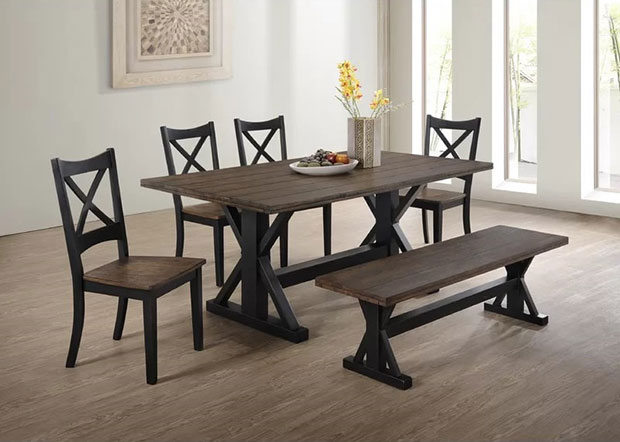 The dark two-tone finish gives these wooden dining chairs a classy look.
Birdt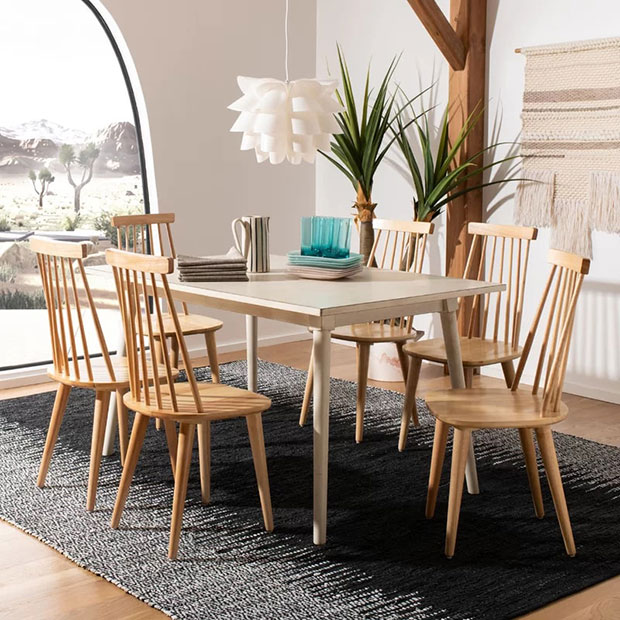 With a vintage flair, these dining chairs will certainly liven up the overall look of your dining room.
Poe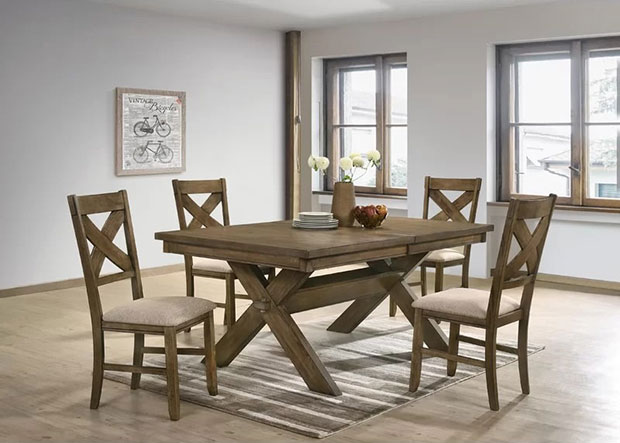 Gracie Oaks
With a hazelnut brown finish, this dining chair is perfect for many dining room styles, like modern farmhouse or rustic. Whatever style though, these wooden dining chair designs definitely have a cozy feel to them.
Huling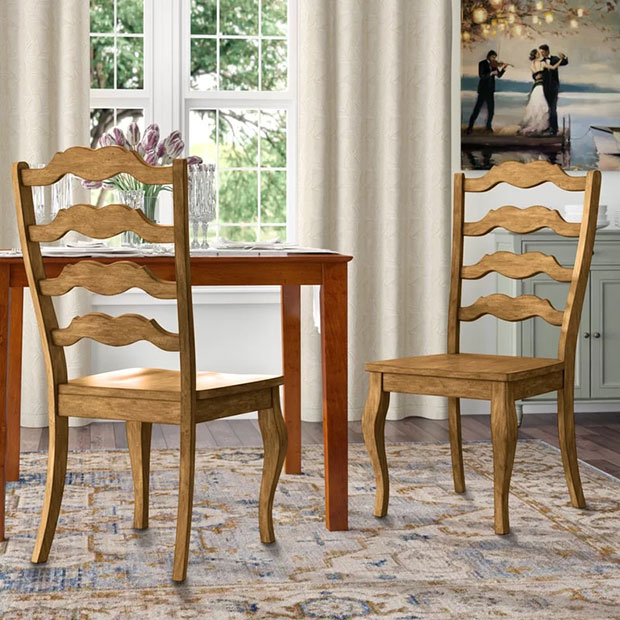 The eye-catching ladder-back design is definitely going to make a statement in any dining room. Its contoured seat is also there for people to have a comfortable time during dinner.
Fortville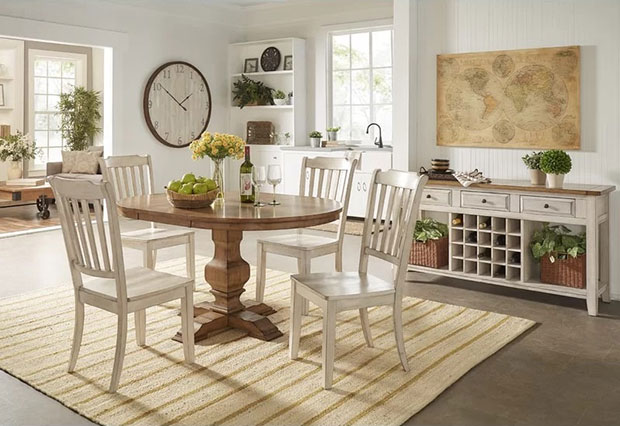 This French cottage-style-inspired dining chair is quite a versatile furniture. The slatted backrest and contoured seat help give you comfort and support.
Fortville Slat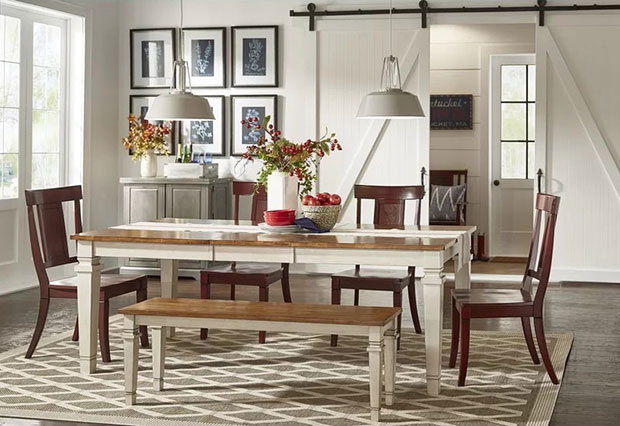 The contours and tapered legs bring lots of personality to this dining chair design.
Itchington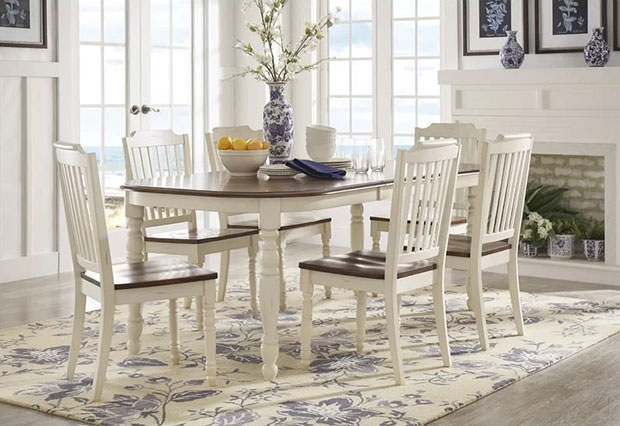 For many wooden dining chairs designs that don't have cushioned seats opt to have different paint finishes for the seat and the rest of the chair.
Isadore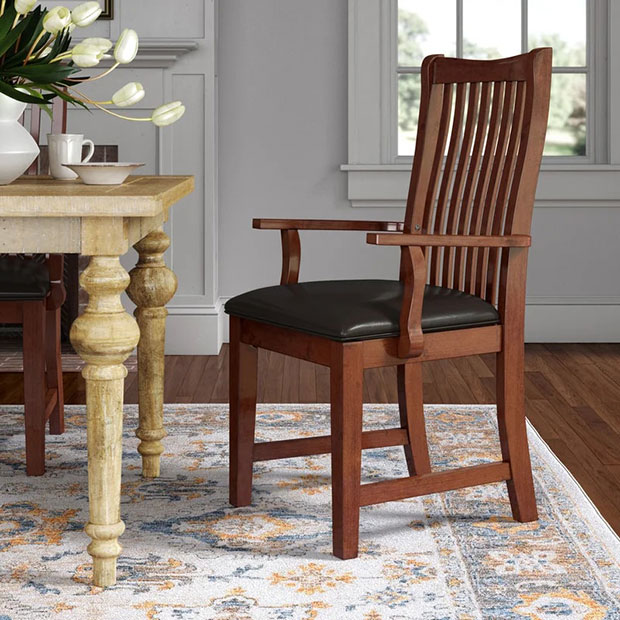 Not many wooden dining chair designs have armrests. But this one has them, giving it a classic traditional look.
Kenworthy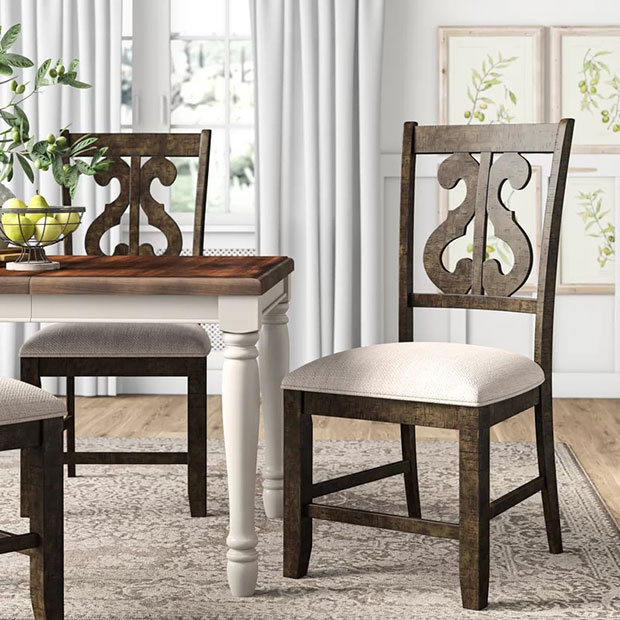 The scrollwork design on the back of the chair is something novel and unexpected. But it surely makes this chair stand out.
Courtdale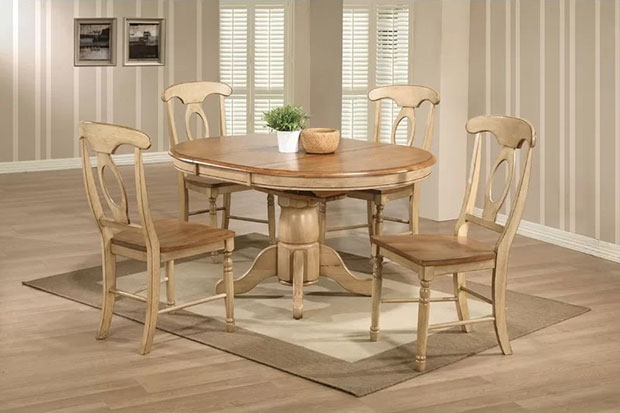 Three Posts
The cutout back gives this dining chair a breezy flair that will surely be a great addition to your dining room.
Savannah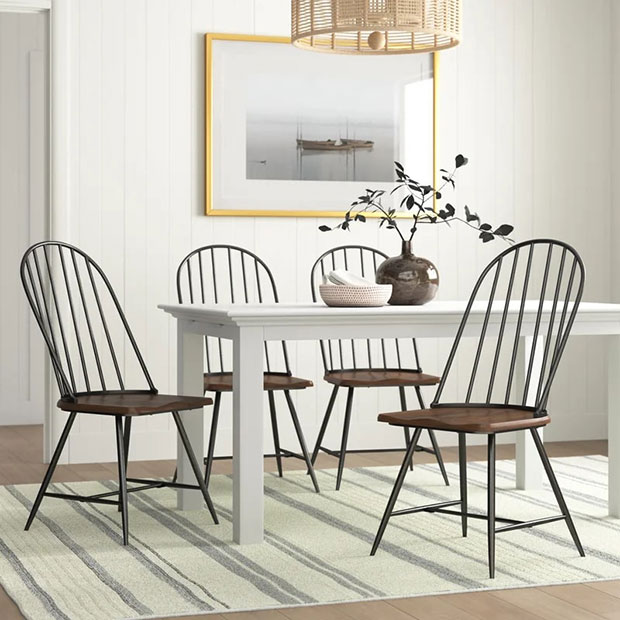 Even with their simple design, these wooden dining chair designs boast a simple elegance.
Captiva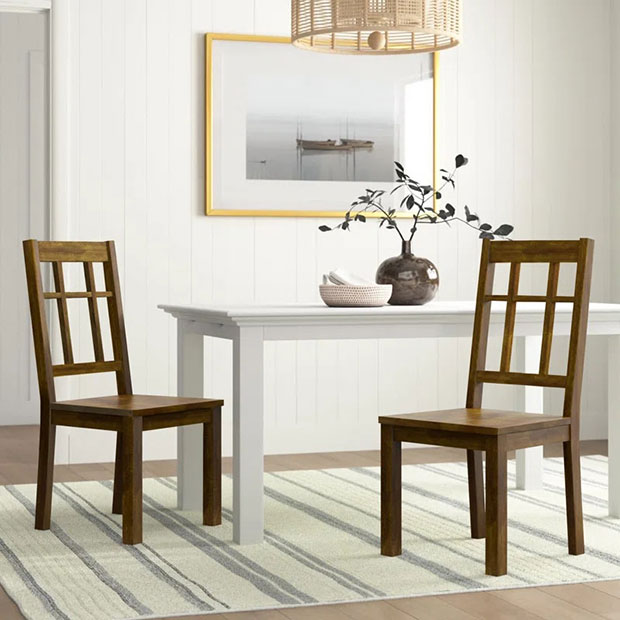 Sand & Stable
The unique cut-out design sets this chair apart from others.
Carielle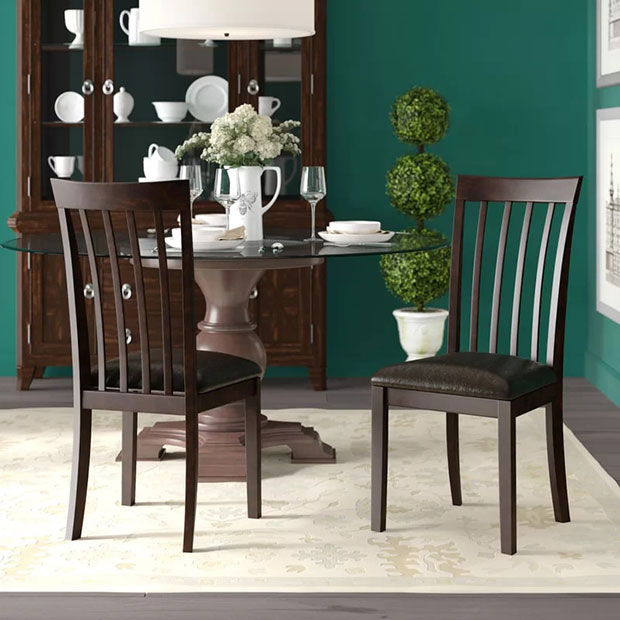 Winston Porter
The upholstered cushioned seat being around the same shade as the chair's finish gives a chic appeal to the overall look. It's definitely one to have for classy dinners.
Stephentown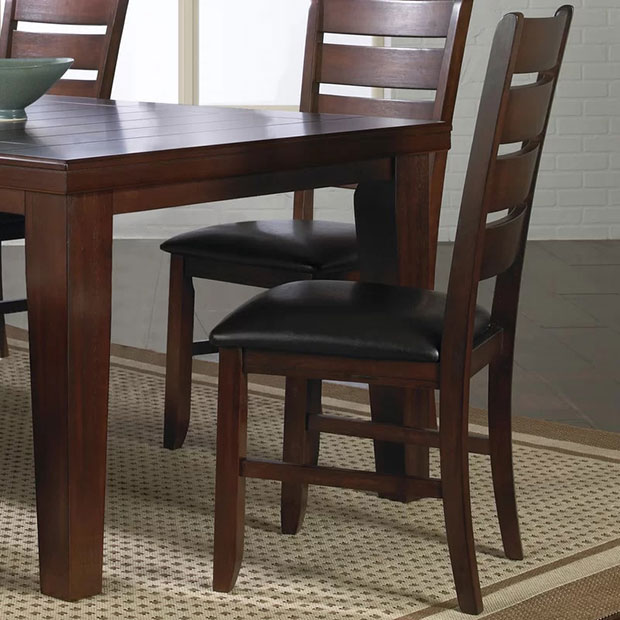 Red Barrel Studio
The rich finish plays a great combination with the faux leather seat. A perfect combination of stylish and comfortable!
Pearsall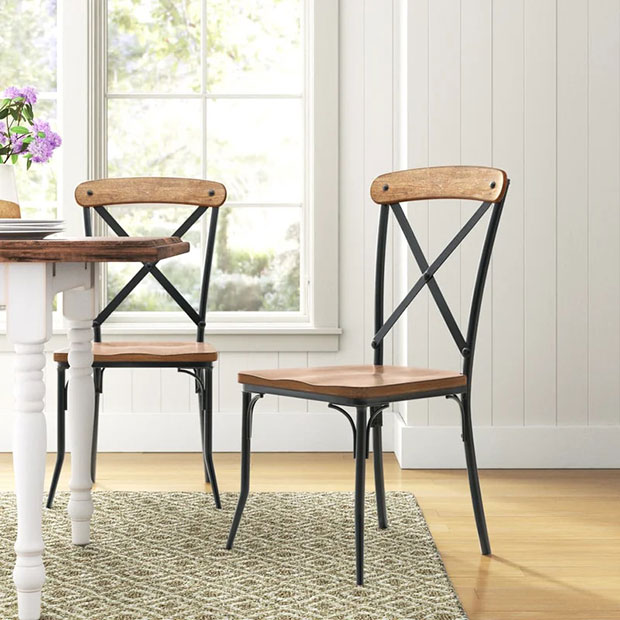 With an industrial charm to it, even dining rooms with urban or transitional design styles can have a classy dining room look.
Ornelas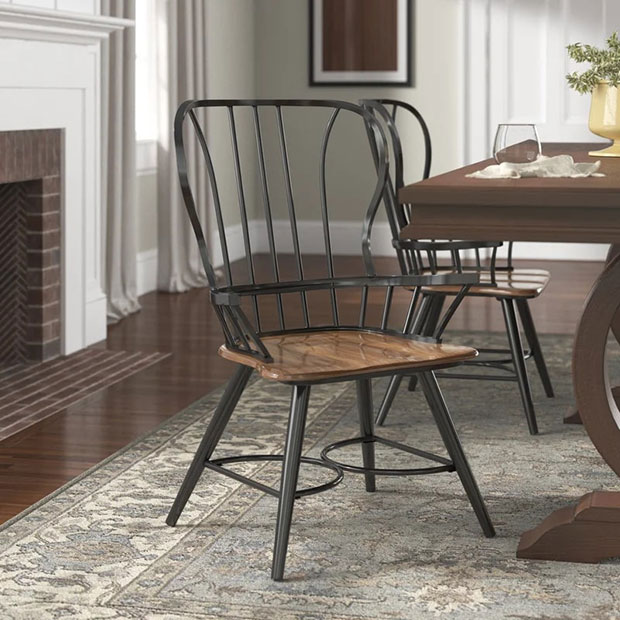 The sleek armrests are quite the design highlight for this wooden dining chair. It also has a nice touch of warmth that goes well with many dining room styles.
Kendig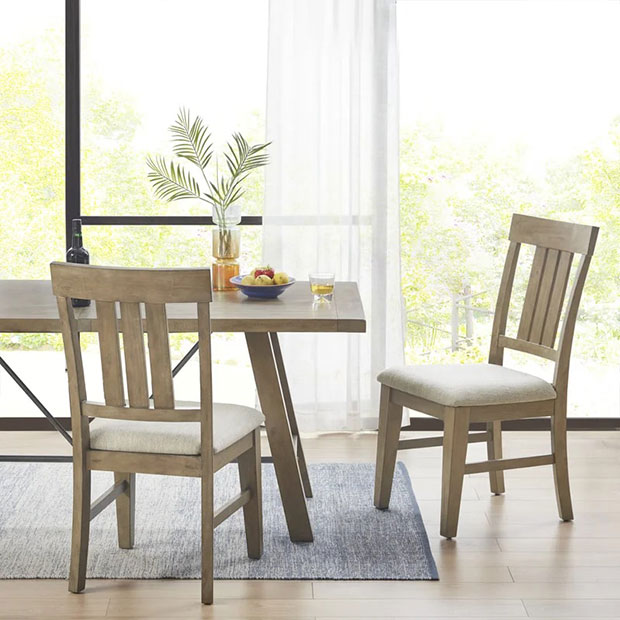 Laurel Foundry Modern Farmhouse
The earthy, farmhouse-inspired design is perfect to add a touch of a warm, rustic look to your dining room.
Fultonville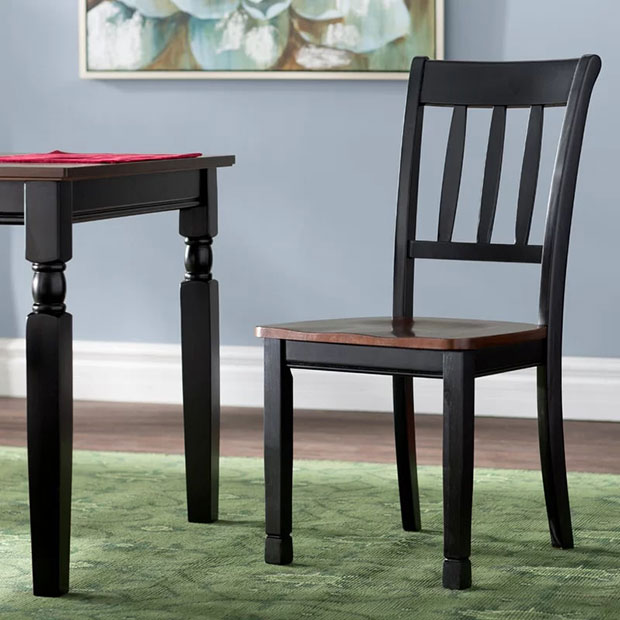 The subtle leg design is a nice touch of detail that offers some dynamic to the overall look of this chair.
Aladdin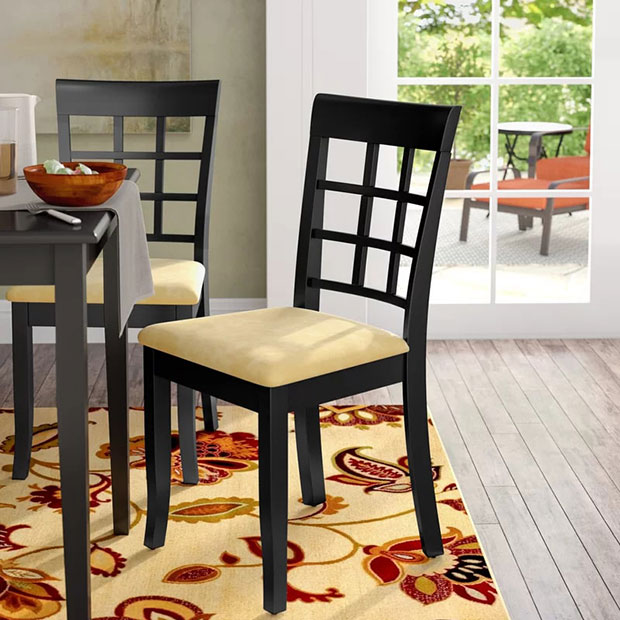 The contrast between the black finish on the wood and the cream-colored cushioned seat is pretty and chic.
Earlville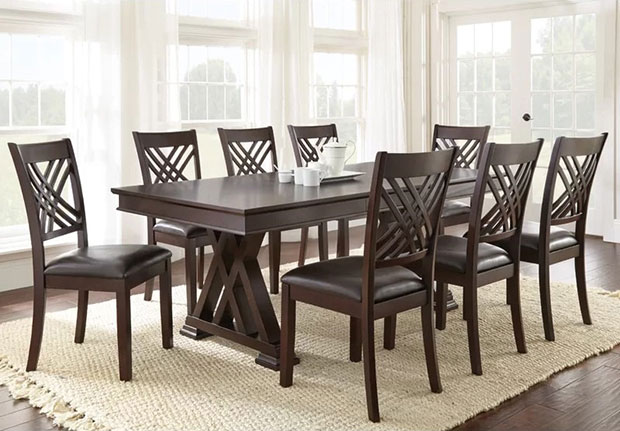 The overlapping cross design is definitely one of the nicest back designs amongst wooden dining chair designs.
Tanan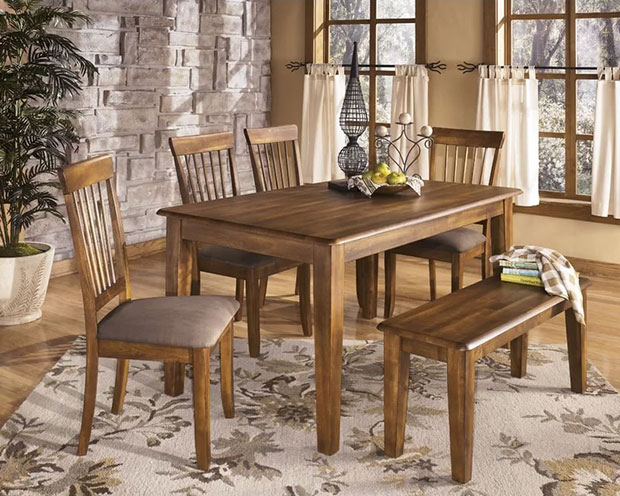 The thin slats design is certainly an interesting choice but it does add visual interest to this dining chair.
Chipman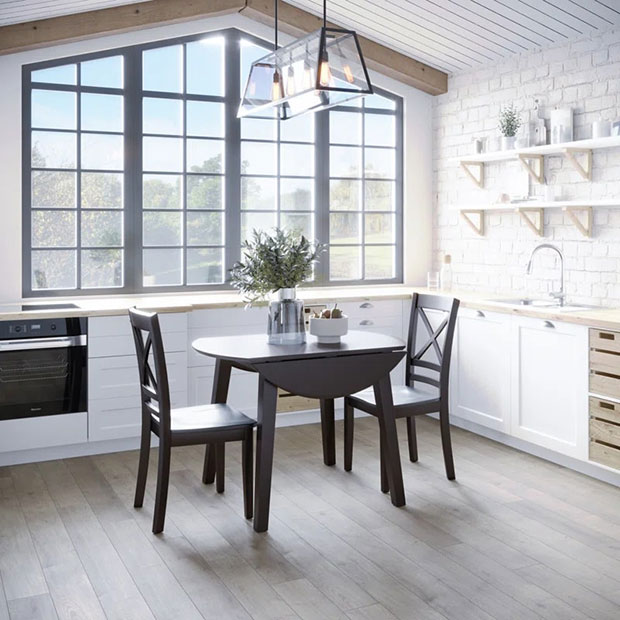 With a distinctly traditional design, you instantly have a classic and timeless piece to add to your dining room.
Guntersville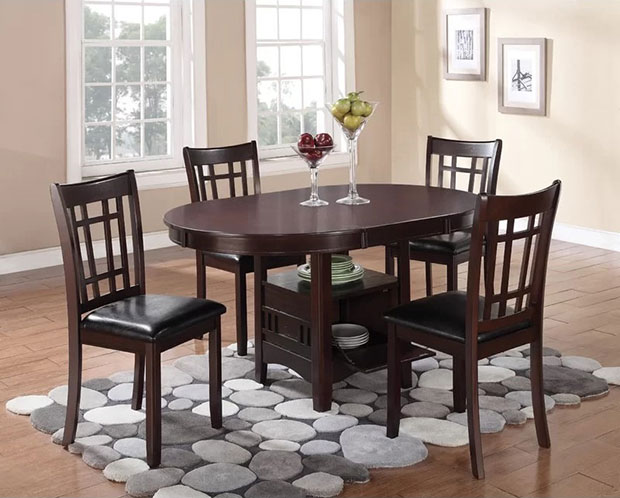 The espresso finish brings a formal chicness to the overall look of this dining chair.
Campo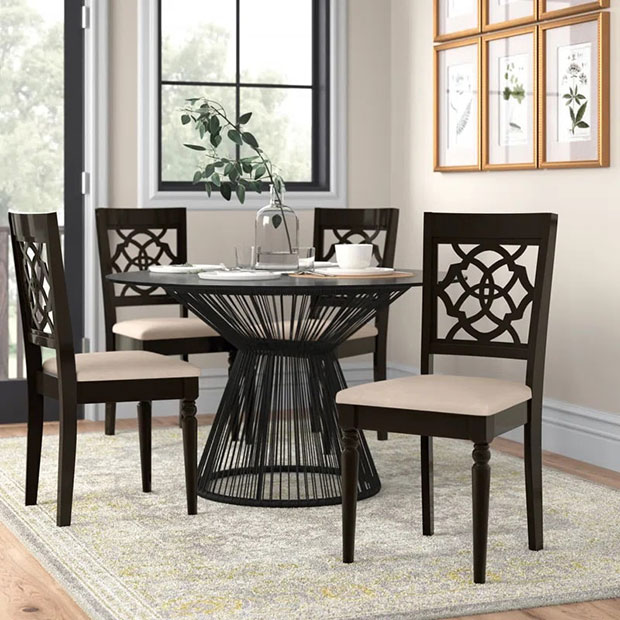 One of the most decorative back designs on this list. It's definitely going to catch everyone's attention.
Vintondale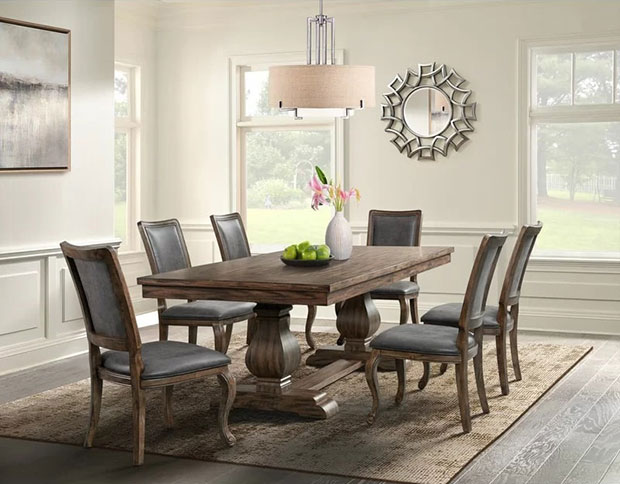 These dining chairs boast a classic and timeless design. You can have your classy dinners while feeling luxurious.
Emmons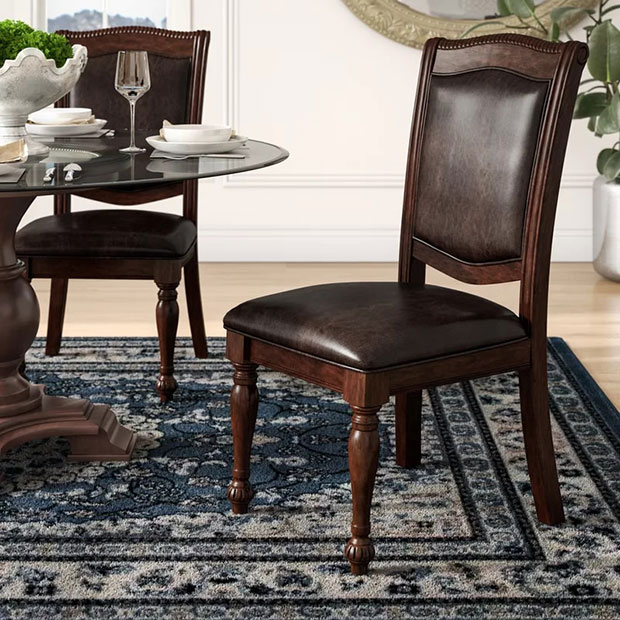 Lark Manor
With a cushioned back and seat, this chair ensures you will be comfortable.
Cleophee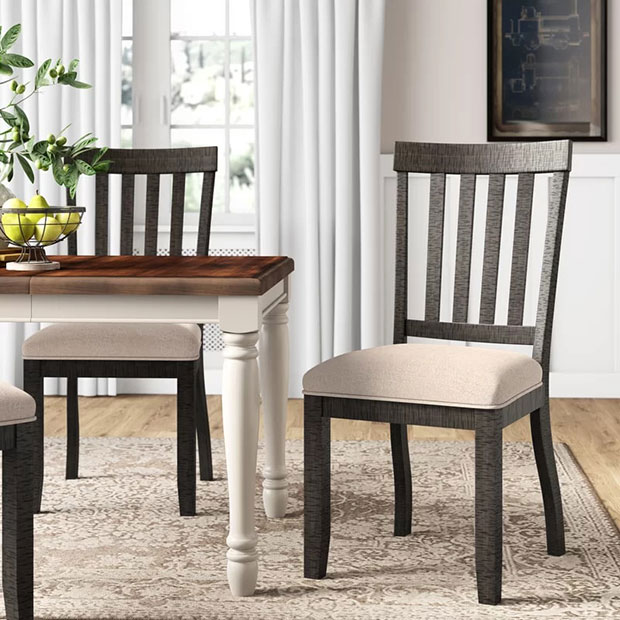 The beige linen upholstery offers a nice contrast and complements the dark ash finish.
Butler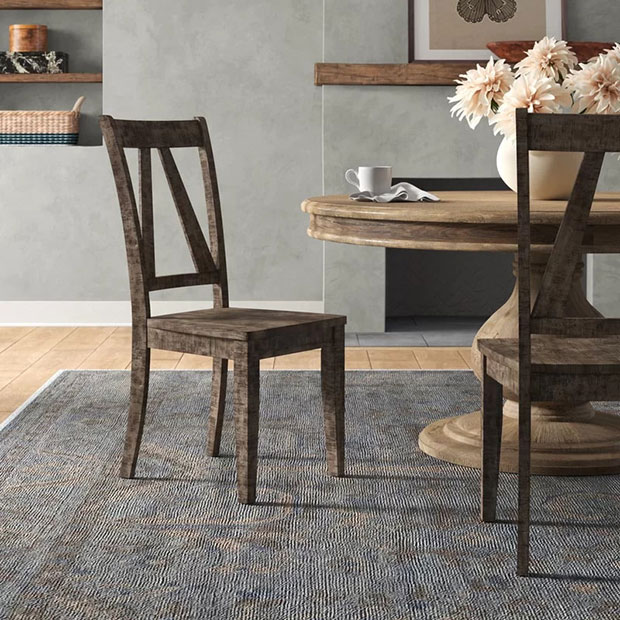 This rustic chair will definitely set a mood and specific homey ambient for your dining room alone.
Kinston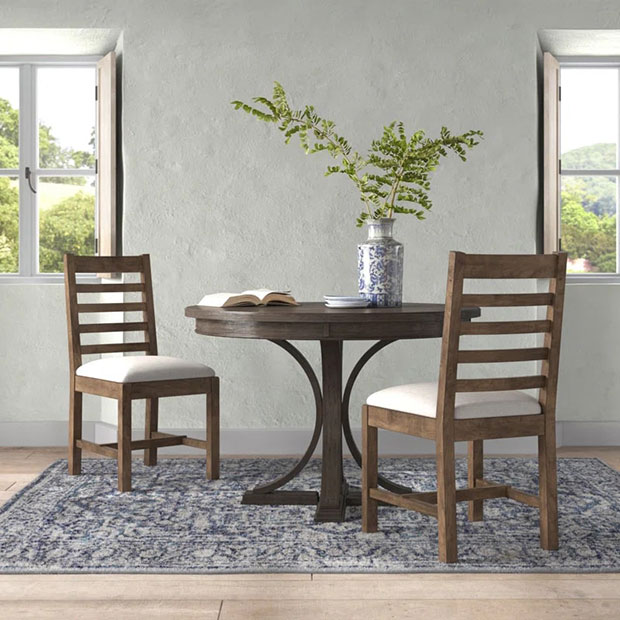 Birch Lane
A very simple and classic design that is given some textural dynamic with its upholstered seat.
Roger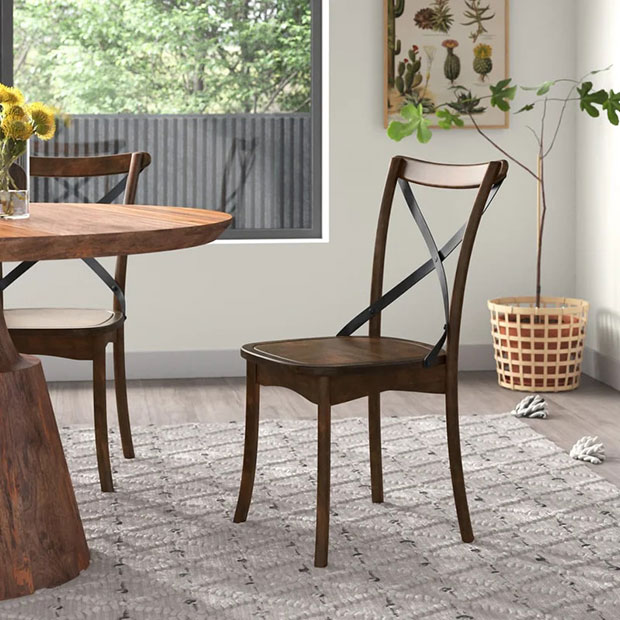 Foundstone
Its back design is so interestingly structured that it brings a lot of visual intrigues.
Bastion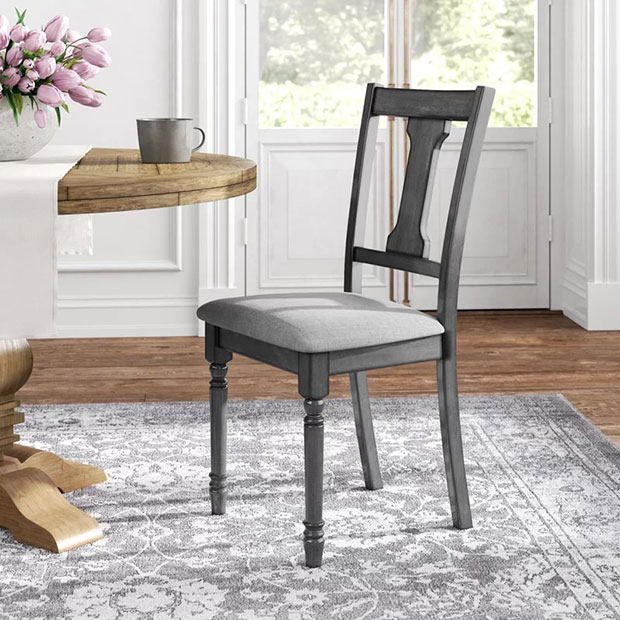 Kelly Clarkson Home
The distressed look is interesting and is one to surely bring a unique visual charm.
Bellmead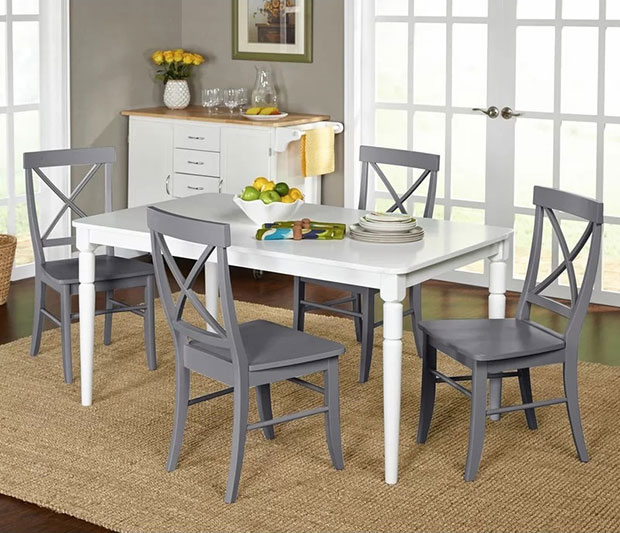 Dovecove
Bring a casual and coastal aesthetic to your dining room with these dining chairs.
Etta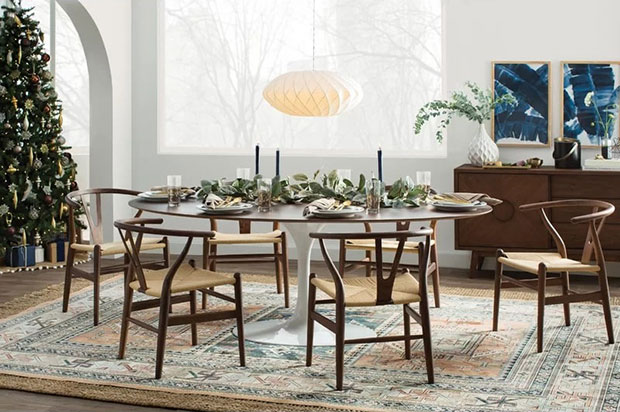 AllModern
The woven cord seat is definitely an interesting choice. But it brings a fun vibe to the overall look of the dining room.
Sharon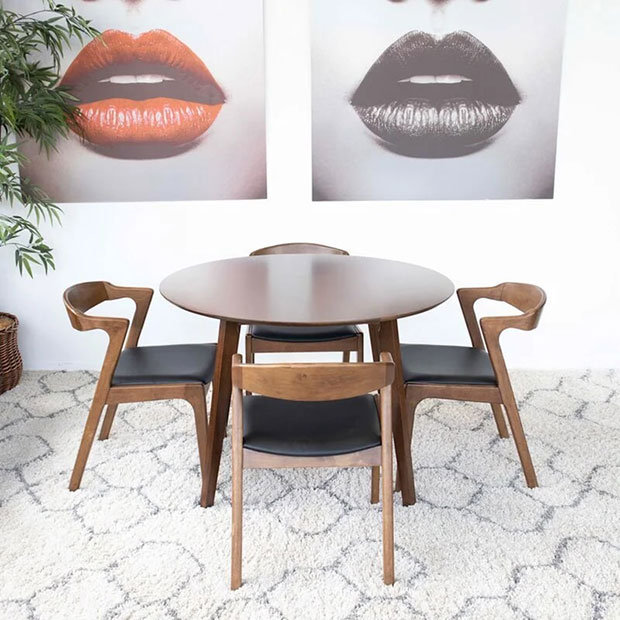 With a cool silhouette, this is looking like one of the chicest wooden dining chair designs. Definitely perfect for contemporary dining rooms.
Leni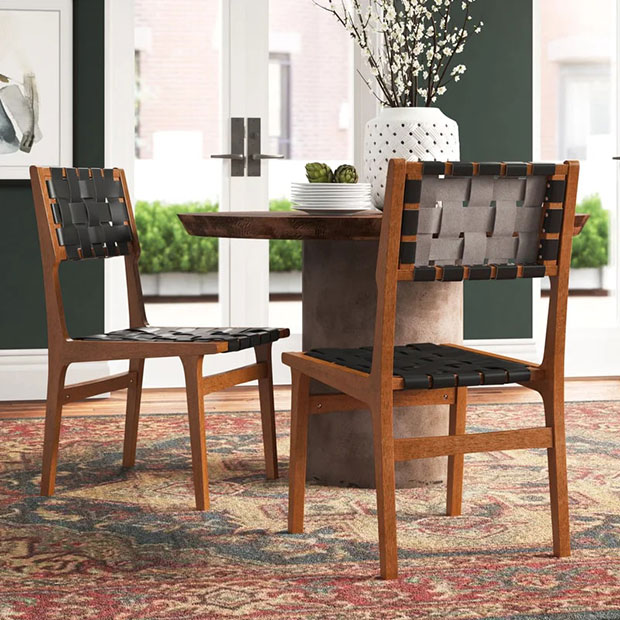 Joss & Main
The woven faux leather seat and backrest ensure comfort and style.
Ramani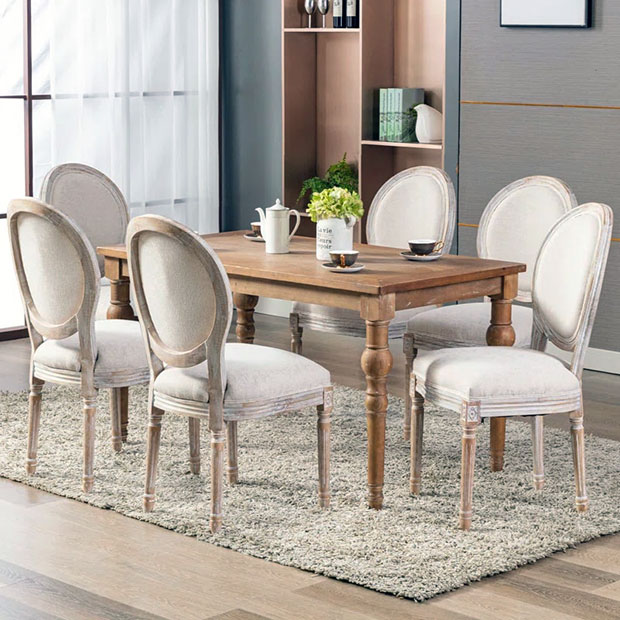 One Allium Way
For shabby-chic dining rooms, you will definitely want to consider a dining chair design like this.
Bryssia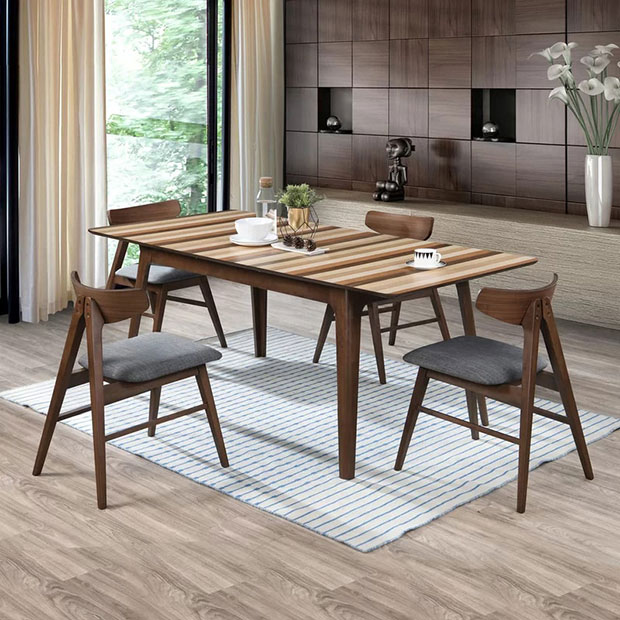 This Scandinavian-inspired dining chair is definitely a stylish and cool addition to any dining room design style.
Gunnhildur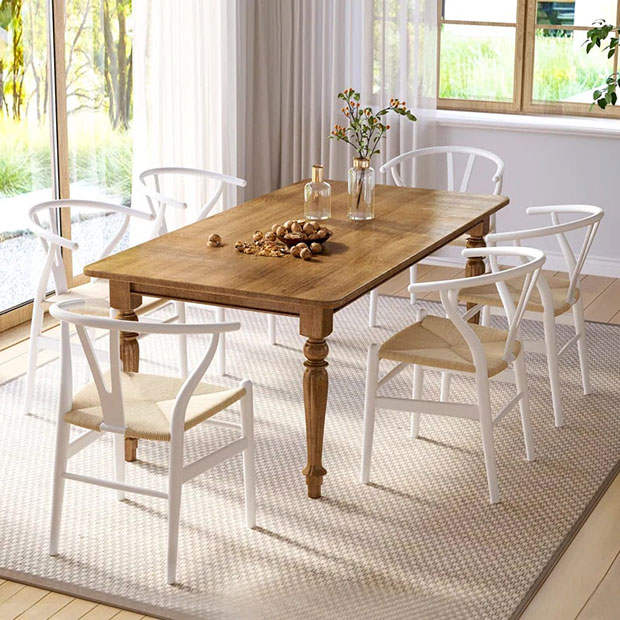 Corrigan Studio
Bring some casual fun to your living room with these dining chairs.
Lalonde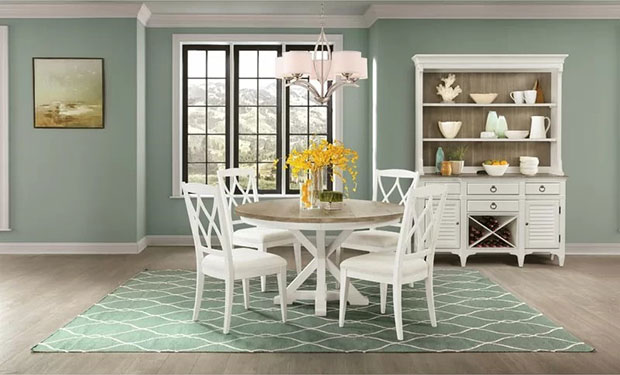 Rosecliff Heights
The backrest design is such a preppy detail that will certainly elevate the overall look of your dining room.
Albia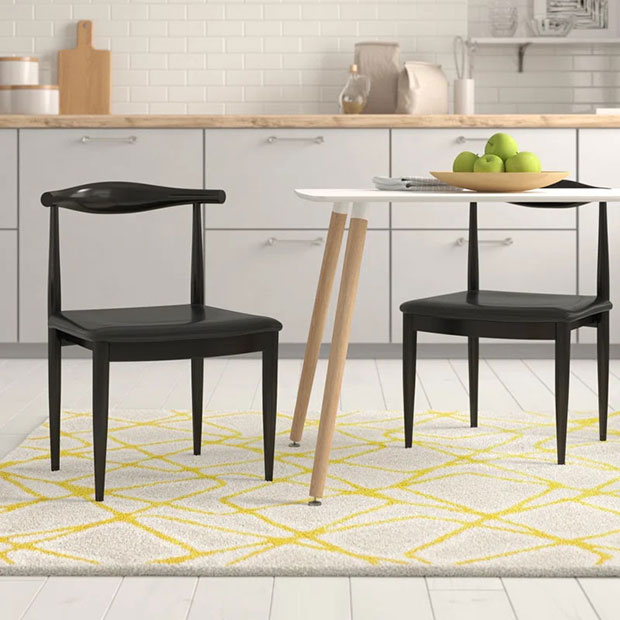 Zipcode Design
The glossy black finish gives this dining chair an updated look that will surely fit in modern and contemporary dining rooms.
Aliasa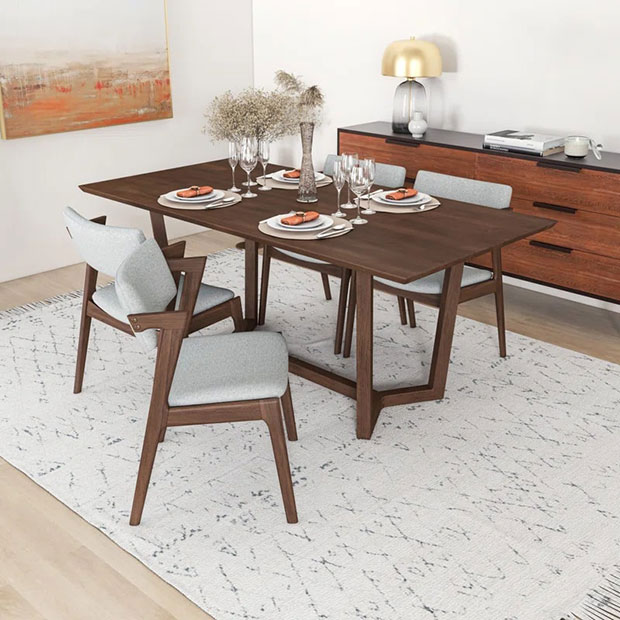 Wade Logan
The angular design makes this one of the more interesting wooden dining chair designs on this list. It's definitely made to fit with the contemporary style.
Visconti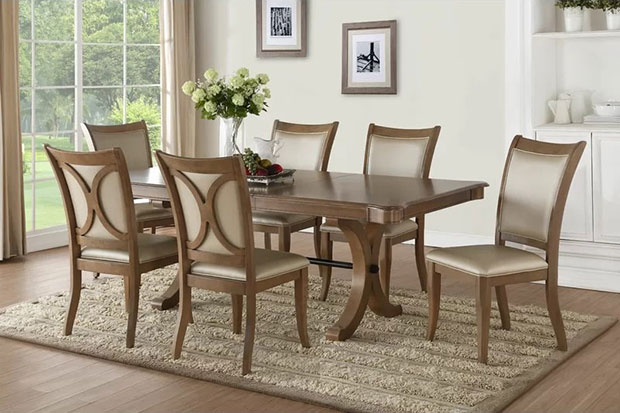 Ophelia & Co.
If you're searching for a traditional-looking chair to fit with an old-school classic feel, this chair design is definitely one for you.
That's all for our picks of wooden dining chair designs! Hopefully, one of these caught your attention and inspired you!
Like This Post? Pin It!