45 Modern Dining Chairs To Complement Your Dining Space
|
Every dining room is completed by a dining set, which of course includes dining chairs. It is the very foundation of a dining room, after all.
Though functionality takes priority for your dining room, style should not be forsaken. Especially with the current times and current trends, the style must be also given some attention. Modern dining chairs are great choices to bring style and provide the needed comfortable seats to dine. And the catch is that you've got plenty of choices for modern dining chairs!
How to choose your perfect dining chairs
With a variety of modern dining chairs, you may be drawn to a couple and be left undecided about which one to pick. So, how do you choose the perfect dining chairs to complete your dining table?
First off, you need to remember that your dining table does not necessarily have to match your dining chairs or vice versa. That's a thing of the old! In fact, even your dining chairs don't have to match! Your head chair can be a different style from your side chairs. Some even place a bench opposite the side chairs.
All that aside, what are the important keys you need to remember when selecting the right modern dining chairs for you?
1. Scale
The scales of your dining table and dining chairs must be compatible. The height (from the top of the table to the floor) range of most dining tables is from 28 to 31 inches, with 30 inches being the most common. And from the top of the seat to the floor, dining chairs' heights usually range from 17 to 20 inches. So, the distance between the seat and the tabletop is around 8 to 14 inches.
Take note that taller chairs tend to give a more formal look, meanwhile, chairs with lower backs will give an open look to your dining space.
2. Seat height
The seat height is important to take note of as this will dictate how comfortable the dining chair is to you when you take a seat. You should be able to find the distance from the seat height to the table height. This is also important to see how the chairs fit under the dining table.
3. Seat width and depth
It's also important to note the measurement of the side of your seat by side. And the depth that will tell you how far back you can sit. How many are going to fit around your table? Take note that the chairs shouldn't be bumping with each other's legs. Otherwise, it's going to feel cramped and uncomfortable to be so close.
4. Arm and back heights
For modern dining chairs with armrests, you have to make sure that it doesn't bump or brush into the bottom of the tabletop or the apron. Another thing to note is the height of the backrest, not the overall height of the chair. Make sure that the back of your dining chairs is at least 2 inches taller than that of the top of the table.
5. Style
And after you're done looking through the necessary and compatible scales, you have to make sure that your table and chairs are of compatible style. Having a common element is enough to ensure that your table and chairs look good together. This common element can be the style period, the color undertone of the finish, or the level of formality.
How can you tell if a dining chair is of good quality?
Dining chairs are set to go through a lot of wear and tear due to being used not just once a day, and sometimes they are even used as a climbing tool. It is then very important to ensure that your dining chairs should be sturdy enough for any of these uses and will be functional for a long time.
If you're going to buy your modern dining chairs yourself, there are things you must check to ensure they are of good quality. First, make sure that it's sturdy by moving it around and giving it a gentle jiggle. Poor quality chairs would shift or sway on the legs or back.
For wooden seats of modern dining chairs, make sure that it's a single piece and not made of pieces glued together. Move your hand over the surface of the chair and check the smoothness, otherwise, there might be splinters or tears. If you're opting for vintage or antiquated dining chairs, make sure that it's strongly built and that they can support the adult weight.
For upholstered seats, make sure that it's not made of low-foam density as these will flatten out eventually and then lose their cushiness. Make sure that you have a firm seat by looking at the base. The base must be slightly curved, tilting towards the rear. Also, a good quality upholstered seat should be finished on the underside and on the upper side, and should be firmly and tautly attached to the frame.
Now let's take a look at some cool modern dining chairs!
Jorja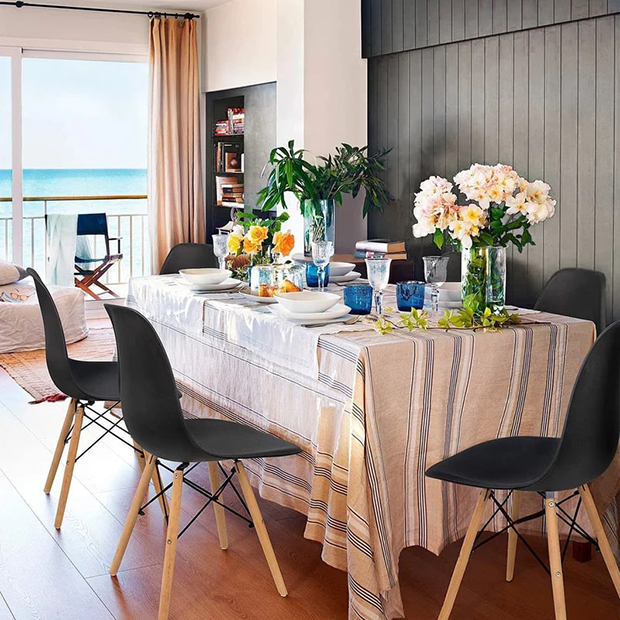 George Oliver
With a sleek modern design, this dining chair is an immediate choice for modern dining chairs. Its curved backseat design also makes it a very comfortable seat.
Eringisl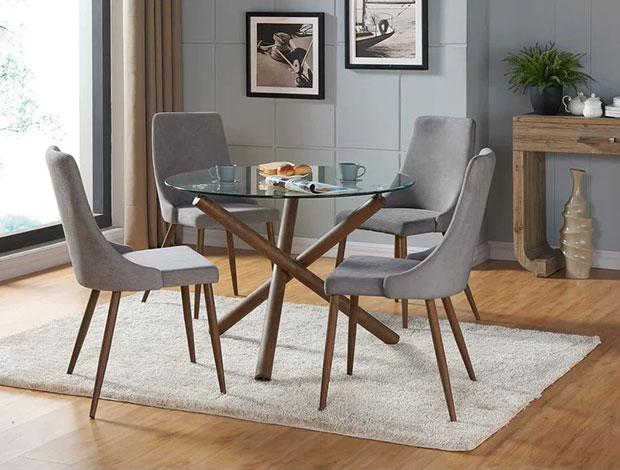 Boasting a mid-century styling, a dining chair like this would certainly bring a sophisticated look into your dining space.
Enrico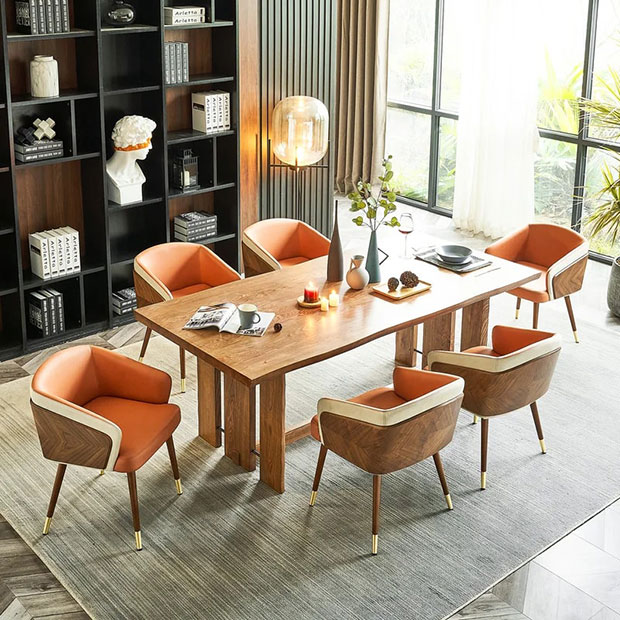 George Oliver
An interesting design that allows this particular modern dining chair to be also used not just in the dining room, but also in the home office and living room.
Drumawillin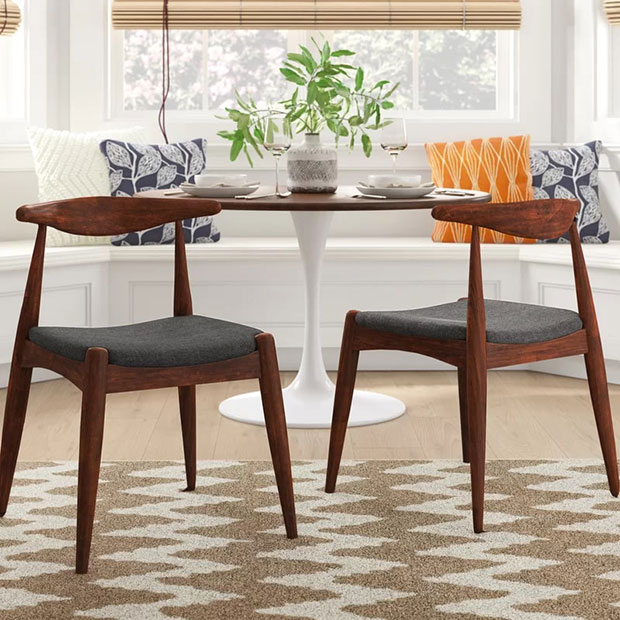 With a versatile design, these modern dining chairs are perfect for both casual and classy dinners. You wouldn't need to change them out for when you want to have formal dinners.
Atanase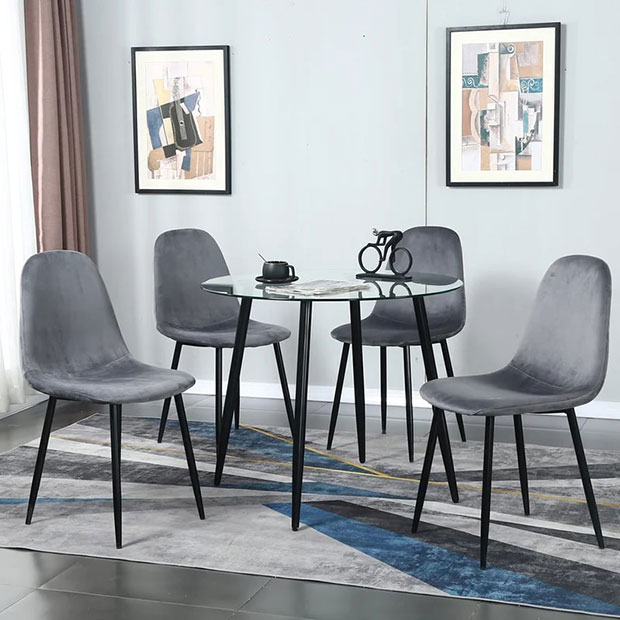 The velvet upholstery is an elegant design that will give your dining space a sophisticated look. It is also a design that will work for contemporary dining rooms.
Gunnhildur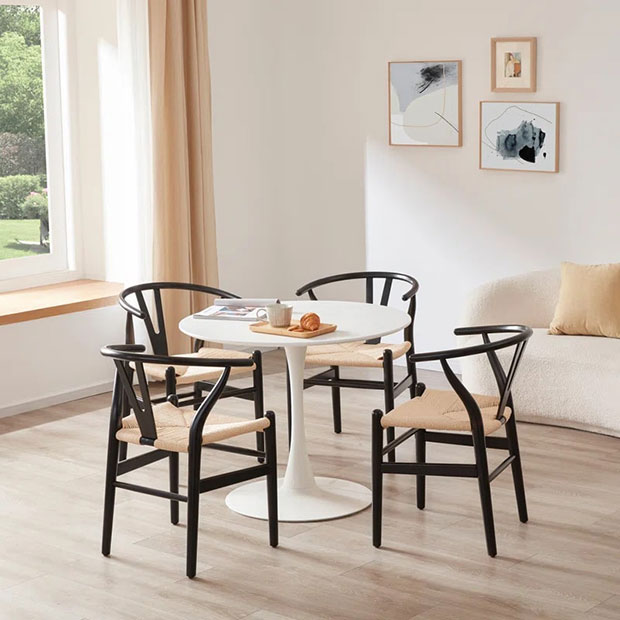 The most unique feature of this dining chair is the seat that is made from high-density woven rope. You won't have to worry about your seat sagging when your sit down for a long time.
Almontiser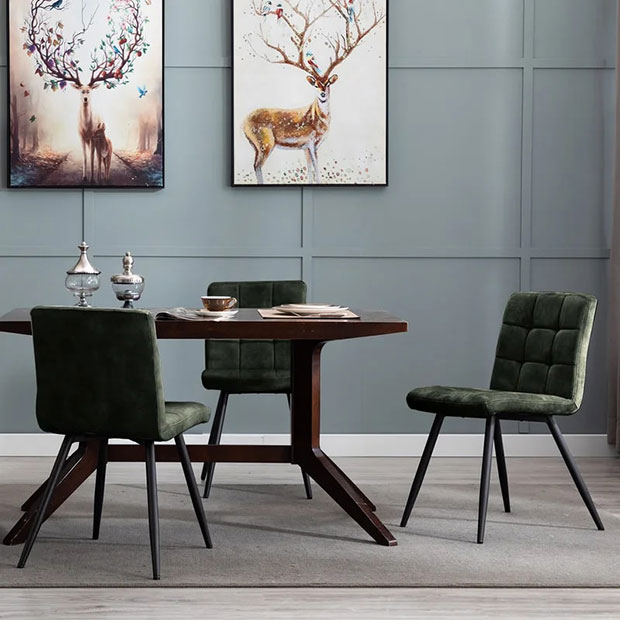 Many modern dining chairs are designed that makes them suitable for all types of rooms. The tufted design though makes it also suitable for contemporary-styled dining spaces.
Darton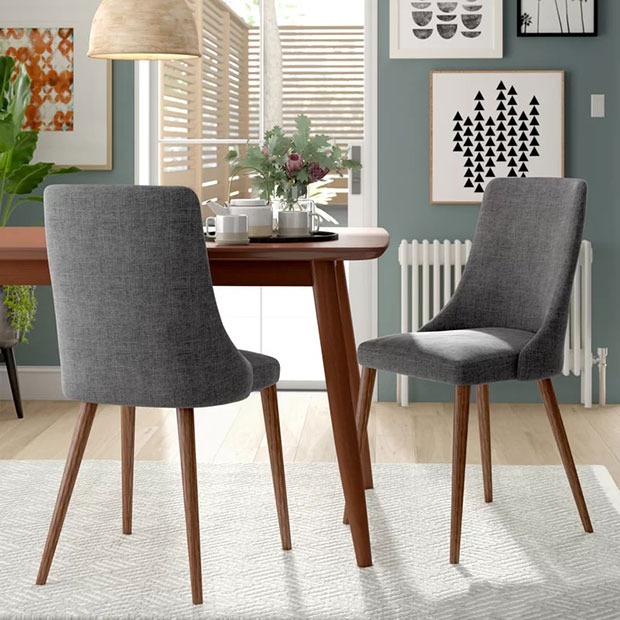 Modern dining chairs boast of not-so elaborate design that will always make a big statement in any modern dining space.
Brote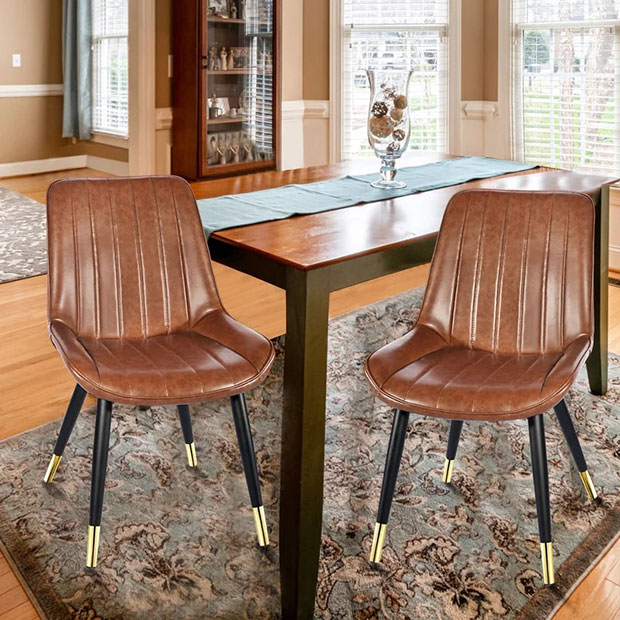 If you want to bring a bit of a retro look to your dining room, you have modern dining chairs like these that will be perfect for you.
Bronya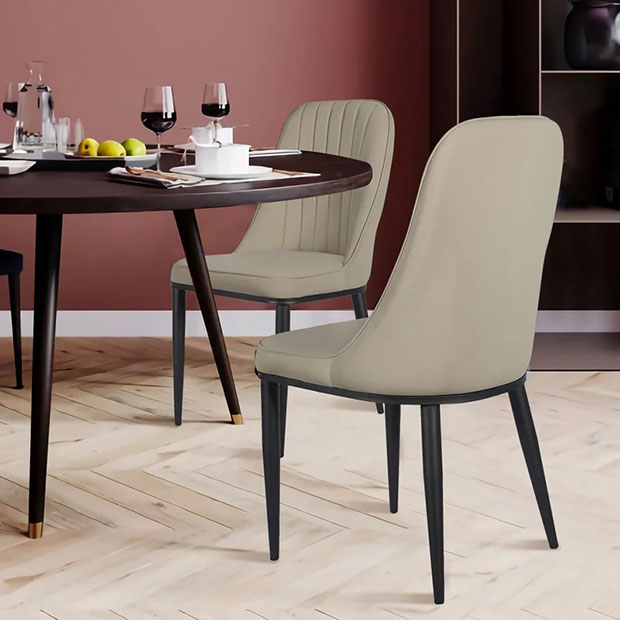 Another modern dining chair with a retro feel to it. Its faux leather upholstery and silhouette though give it a classier look that should be perfect for formal dinners.
Cambon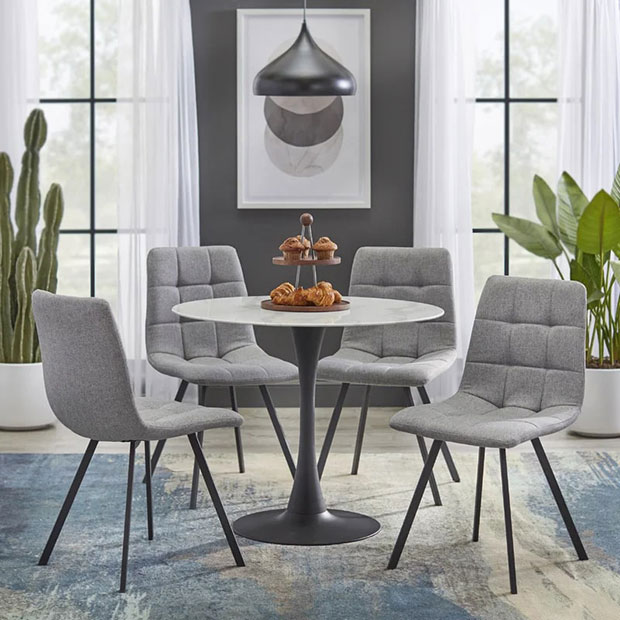 Corrigan Studio
Even with a slightly vintage look, these modern dining chairs bring a bit of contemporary flair into the dining space which should look very interesting in the overall look of your dining room.
Palomo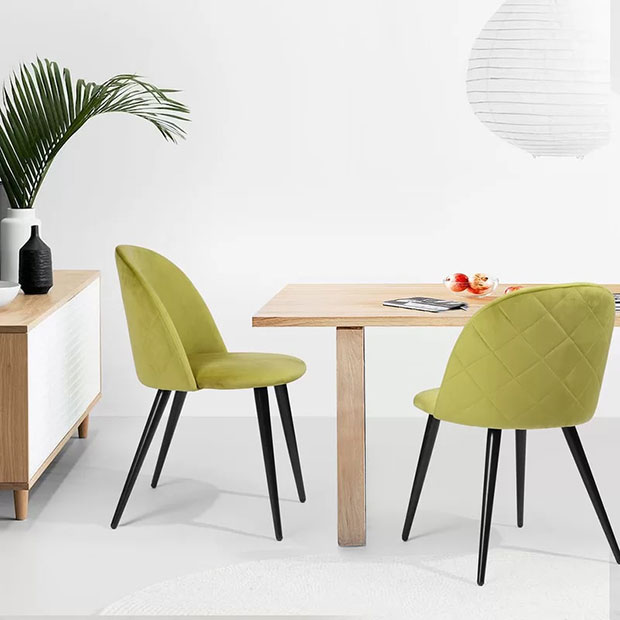 The sleek and modern design would definitely update the overall look of your dining room, as well as be up to date with the current times. In addition, the diamond quilting gives this chair a more refreshing look.
Palomo Side Chair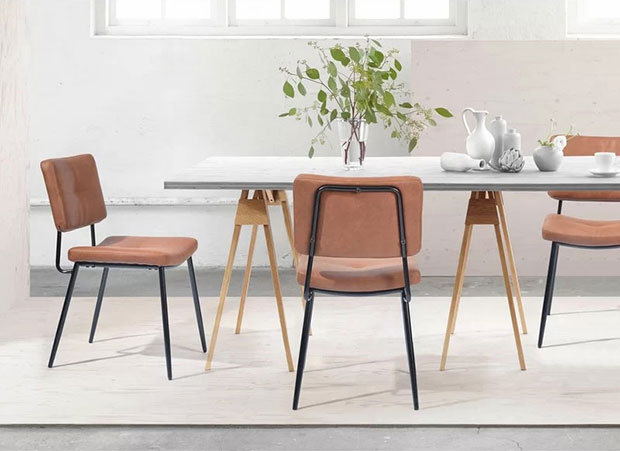 With a cushioned backrest, you are ensured to have an even more comfortable time at the dinner table.
Durflinger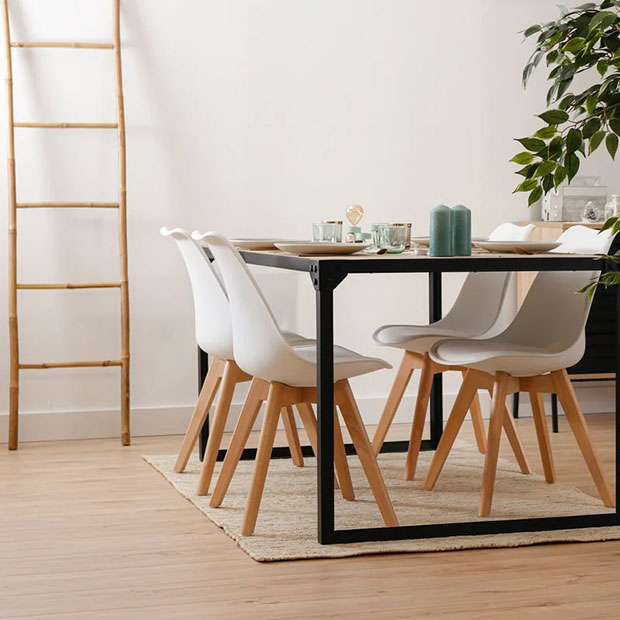 Made of heavy-duty plastic, you may think it will be a hard place to sit but it actually has a foam-filled cushion seat so you can sit on it for a long time.
Hassell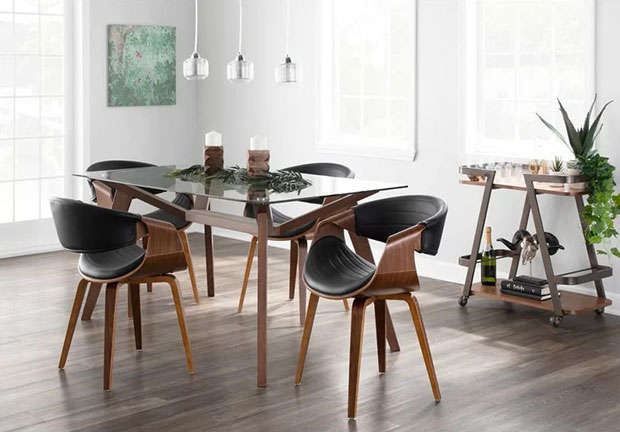 Wade Logan
With its unique, artful design, these have to be one of the most interesting modern dining chairs. It will certainly light up your dining room.
Fellsburg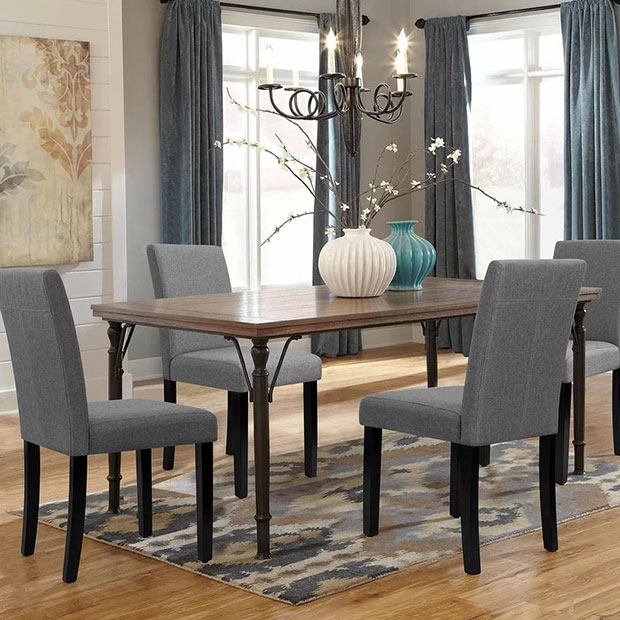 Tall dining chairs like these are perfect for formal dining. But of course, they fit just as well in everyday dining.
Noah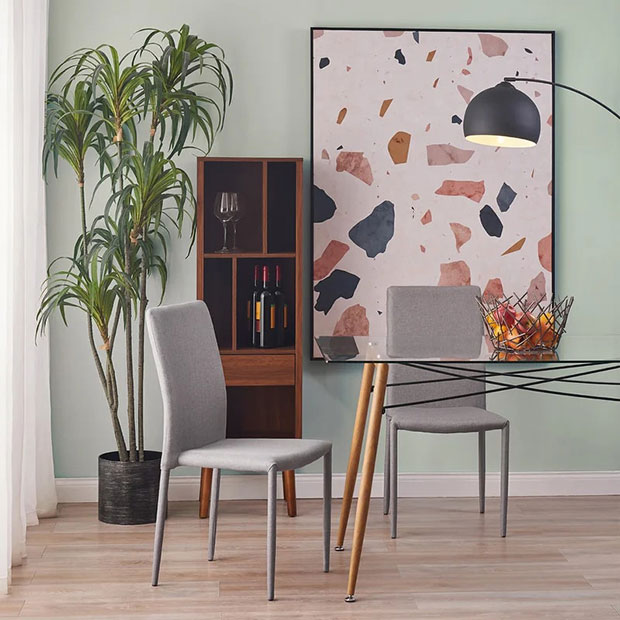 It's interesting to see that these dining chairs are covered in upholstery down to the legs. It is certainly something you don't see in many modern dining chairs.
Arban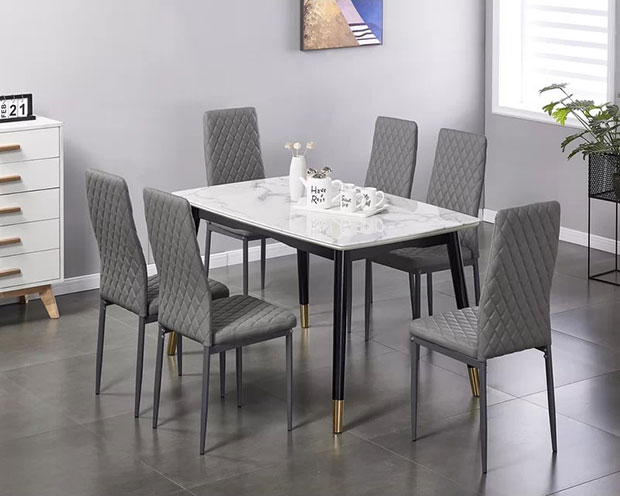 The tufted upholstery gives it a classier look, which should also fit with contemporary homes just as well as with modern dining rooms.
Harlow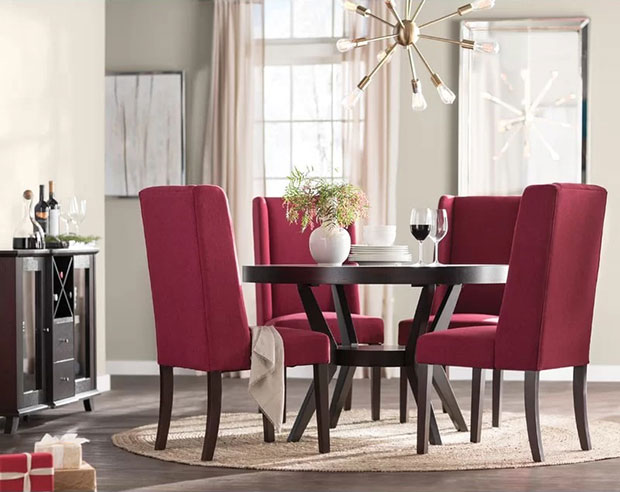 Latitude Run
With a wingback design, these dining chairs bring some traditional charm into their overall look.
Wade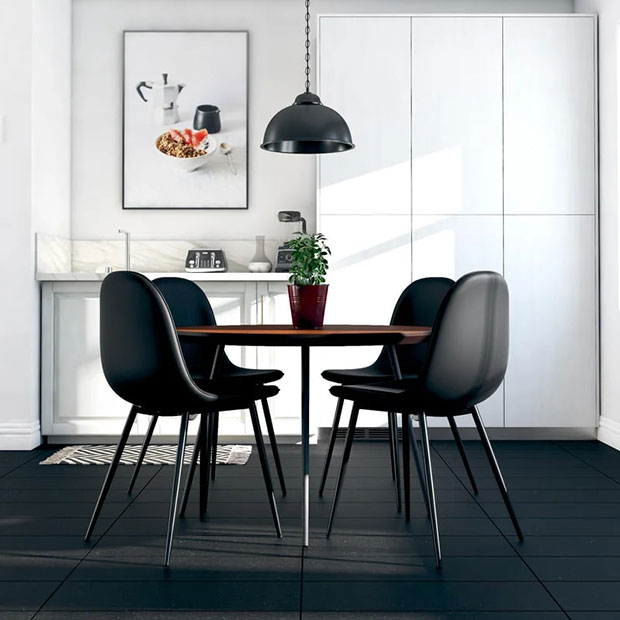 The black faux leather design brings a contemporary flair to a mid-century-inspired design. Sleek and trendy, it would certainly be an impressive addition to your dining room.
Covet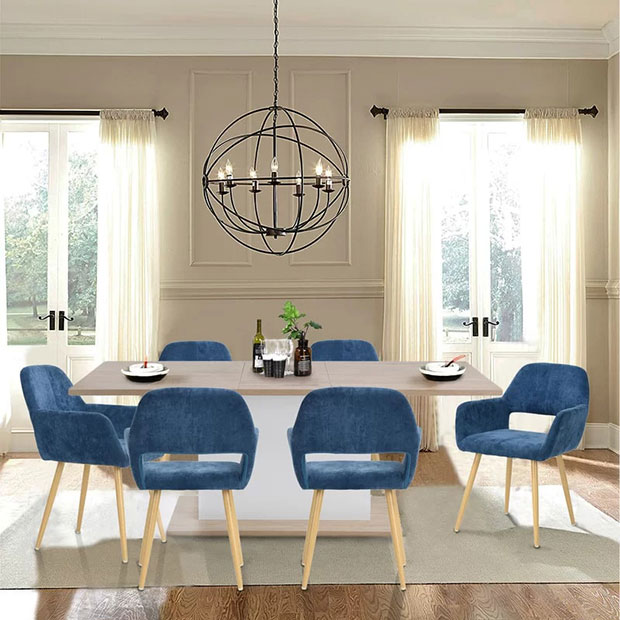 Hashtag Home
With its sleek and modern design, you can use these modern dining chairs anywhere at home!
Thorton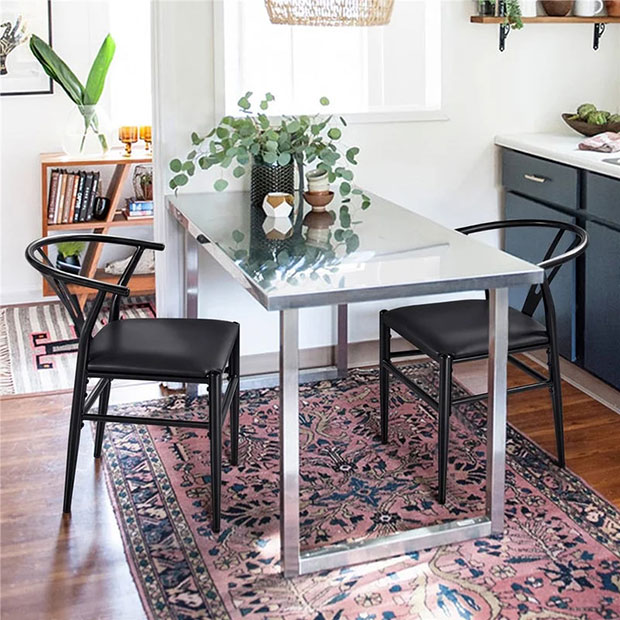 Hashtag Home
The metal frame and cushioned seat make this dining chair fit in industrial dining rooms as well.
Amanda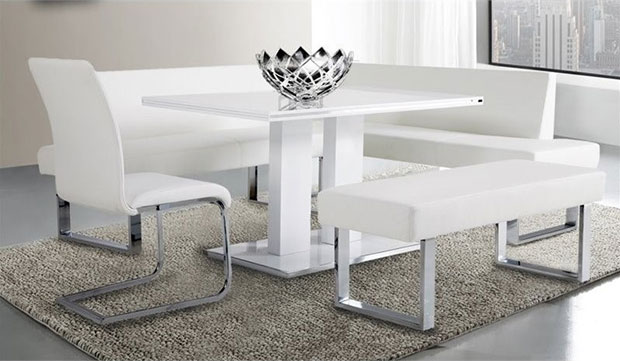 Though more of a contemporary design, this uniquely designed dining chair should be able to fit in modern dining rooms.
Azalea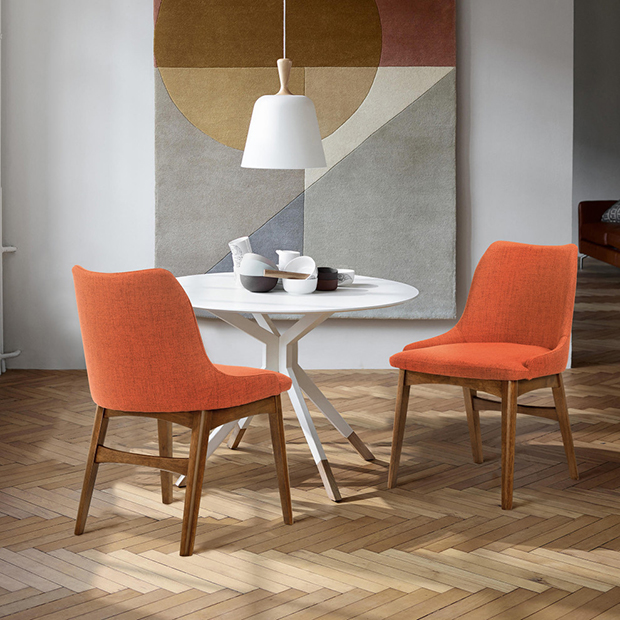 Armen Living
A wide back dining chair would certainly make it very comfortable for anyone who sits in it.
Top Grain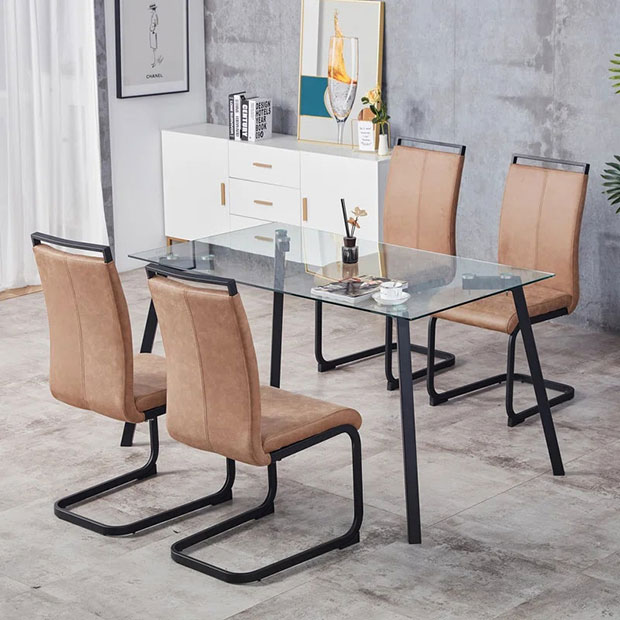 The curved back in many modern dining chairs like this are ergonomically designed to make it more comfortable for you. Even with the faux leather upholstery, the soft padded seat will make sitting on this for a long time bearable.
Maryln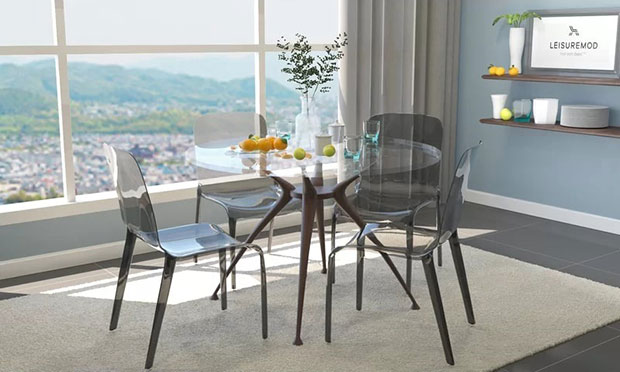 Tired of the usual modern dining chairs made of wood or metal? Why not get one made of polycarbonate material? It's sturdy and durable, so you can be ensured of good quality. It will be good if you want a casual look in your dining room.
Walsh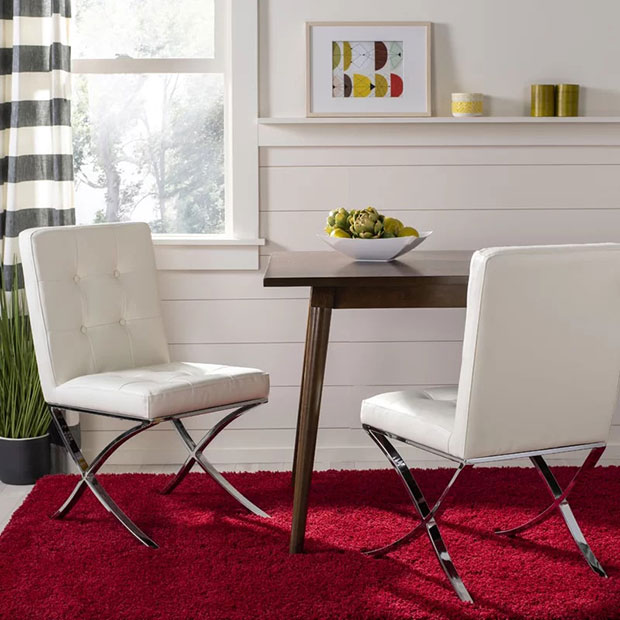 The tufted upholstery design and the silver crisscross legs would certainly bring a luxurious feel to your dining. It will look great if you're having a formal dinner with guests to impress.
Loresa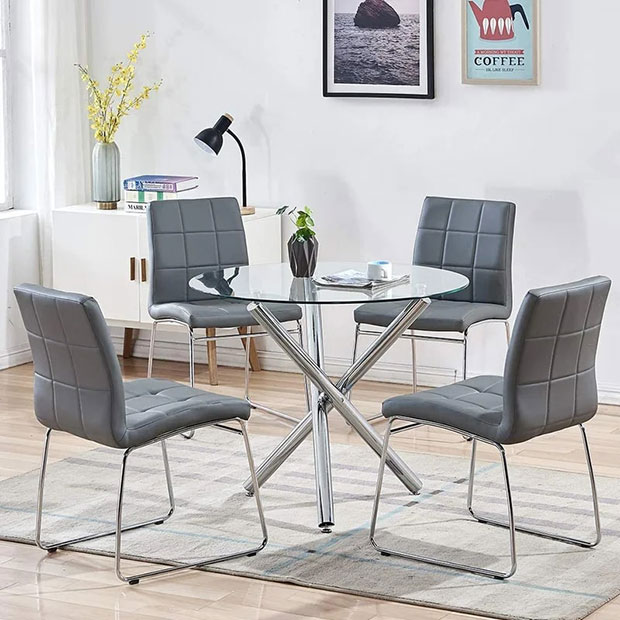 Orren Ellis
Stylish with some contemporary charm, you are sure to add some elegant charm to your dining room with these modern dining chairs.
Winona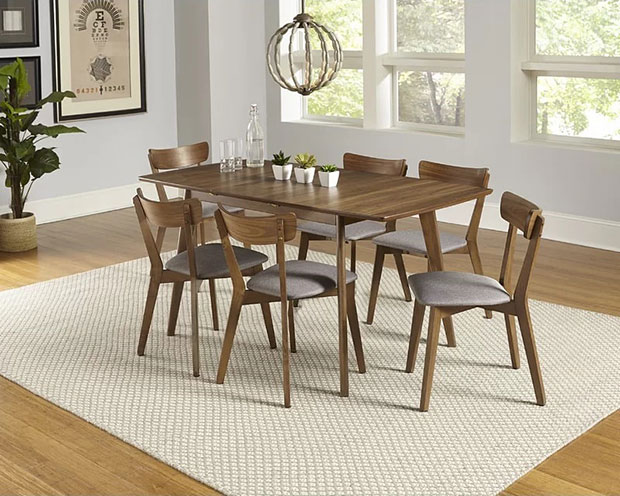 Mistana
Despite its quite simplistic overall design, this dining chair boasts a beautiful silhouette that makes it look quite exquisite.
Galligan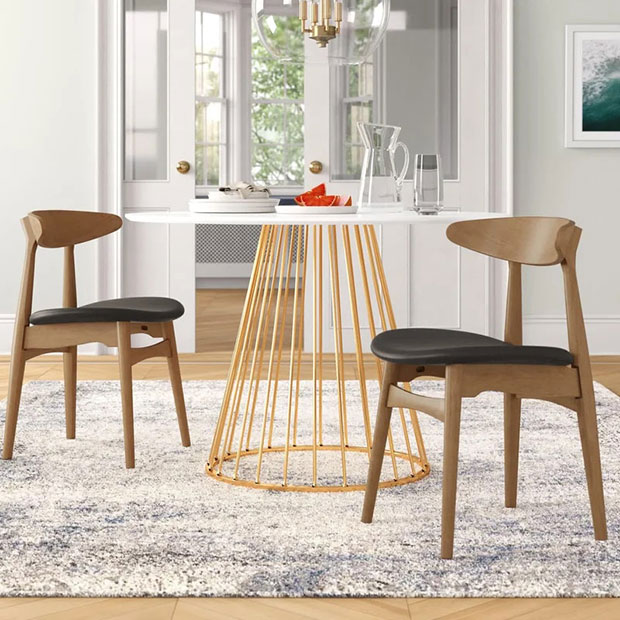 Instead of upholstered fabric, we get faux leather upholstery for this fine dining chair design.
Amya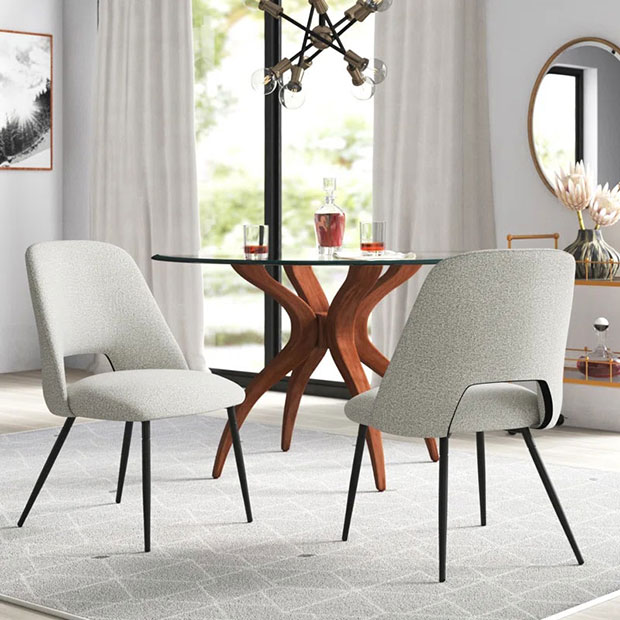 Mercury Row
With a stylish design, you can totally upgrade the overall look of your dining room with this dining chair. It will even look good in your living room.
Eshell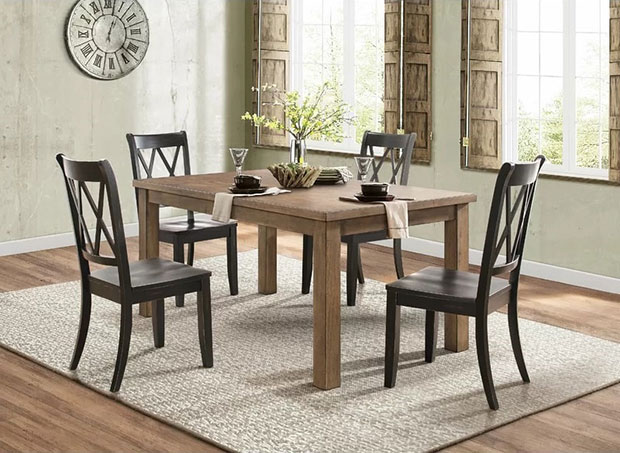 The more traditional design of this dining chair would be perfect for modern farmhouse dining spaces.
Birdt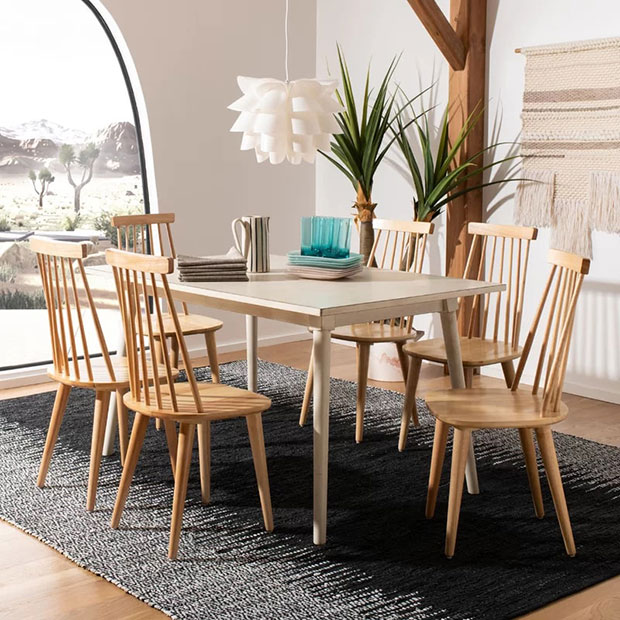 Gracie Oaks
A more refreshing and modern take to what ordinarily is a classic design should shake things up for your dining room.
Jago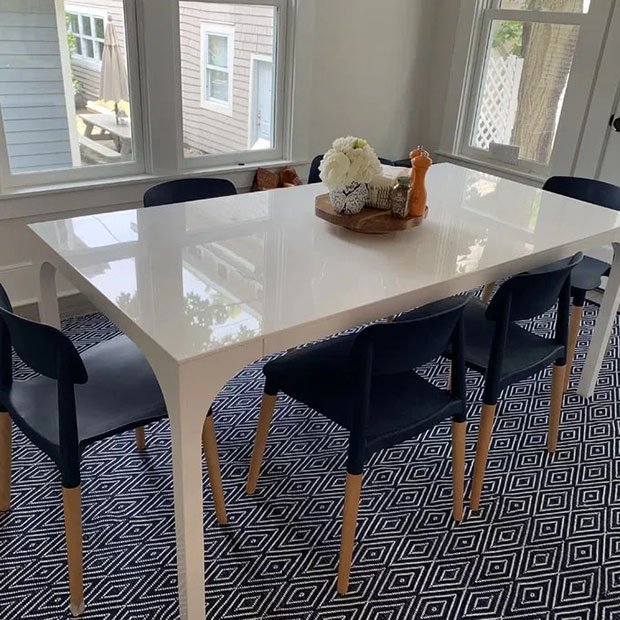 A combination of wood and polypropylene, this dining chair truly has a modern look to it that would certainly fit in homes for young homeowners.
Jordan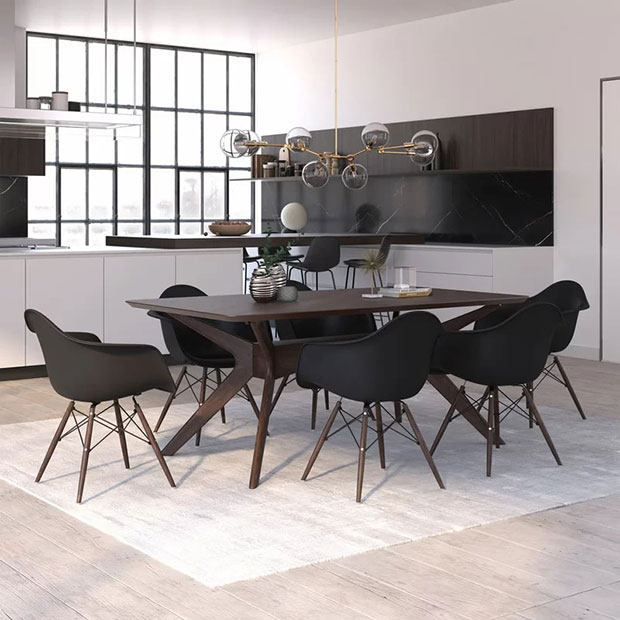 This one-piece molded seat is definitely going to be a stylish addition to any dining room.
Jace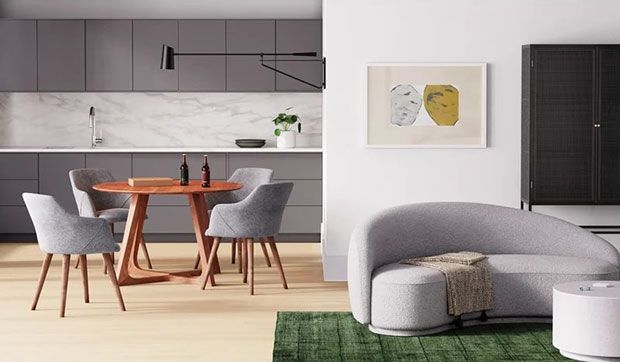 While it's quite common to have armless modern dining chairs, you can still find stylish armchairs like these. The streamlined silhouette is definitely something that makes it very appealing despite the relatively simple design.
Kazbah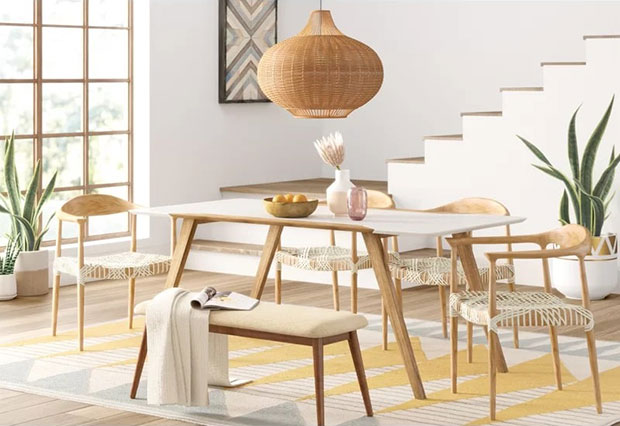 AllModern
Its woven seat gives this Scandinavian-inspired dining chair a breezy feel. For those who want a more casual feel to their dining room, this would definitely be an option.
Brady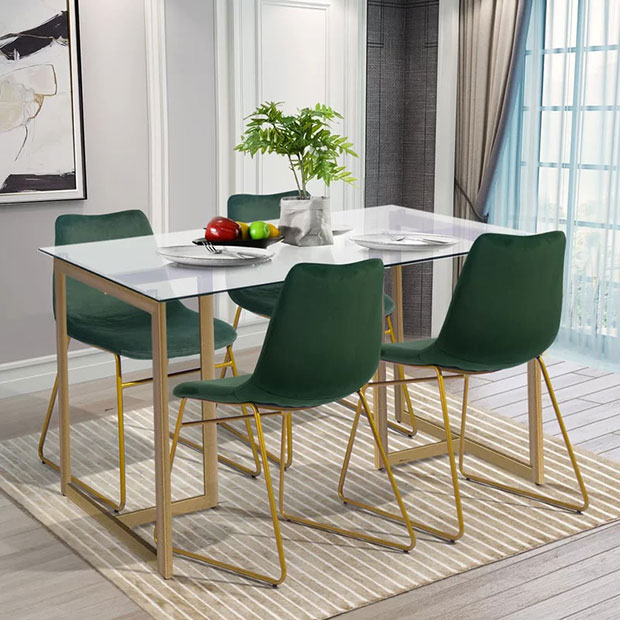 Etta Avenue
If you want to add some glam charm to your dining room, this dining chair would certainly do the trick with its gold-finished legs.
Winfield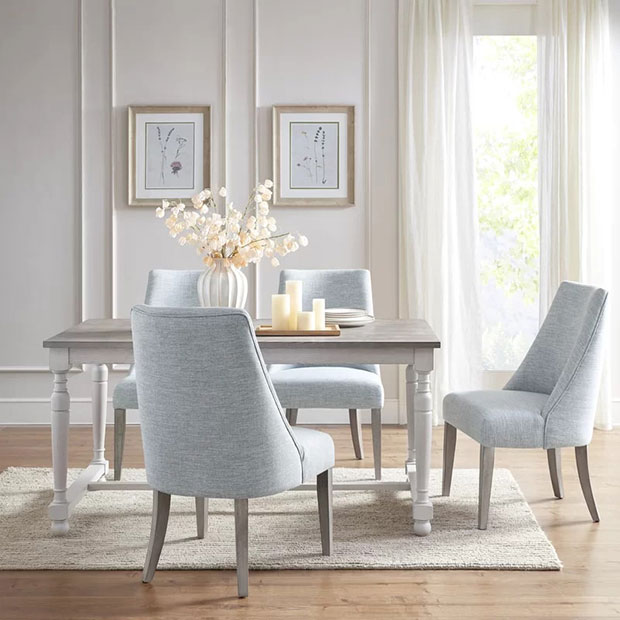 Martha Stewart
The curved back design feels more compact so brings a more casual look compared to other similarly designed modern dining chairs.
Savannah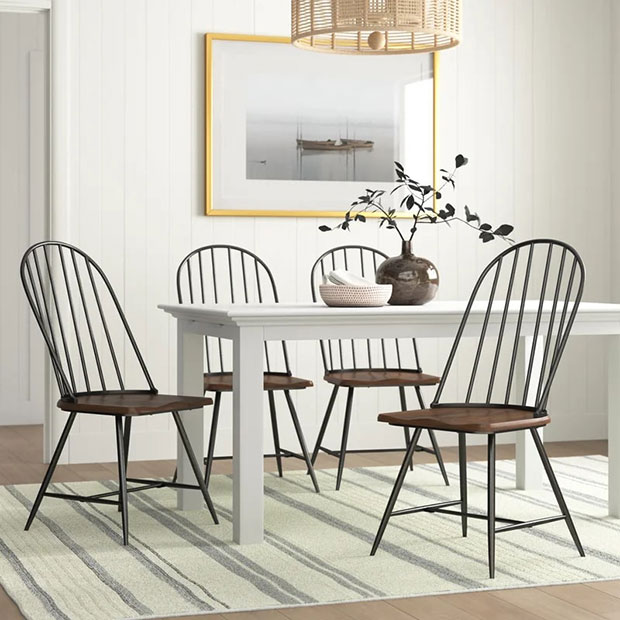 Sand & Stable
Windsor-style dining chairs always have that traditional elegance appeal. But this refreshing take on it brings the right amount of modernity.
Stacking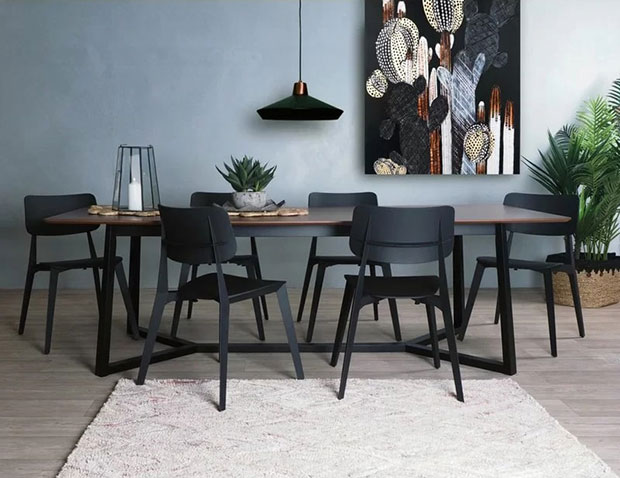 TOOU
With their clean and strong lines, these dining chairs are very reminiscent of stackable monobloc chairs, a timeless design is given a more modern spin to fit with the current trends and aesthetics.
Jakon Linen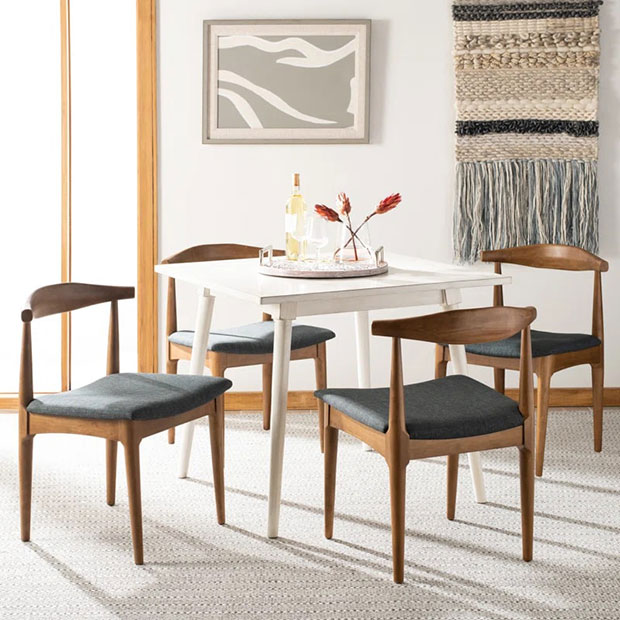 Bay Isle Home
The thin backrest is a refreshing look to other similar design dining chairs.
Sheffield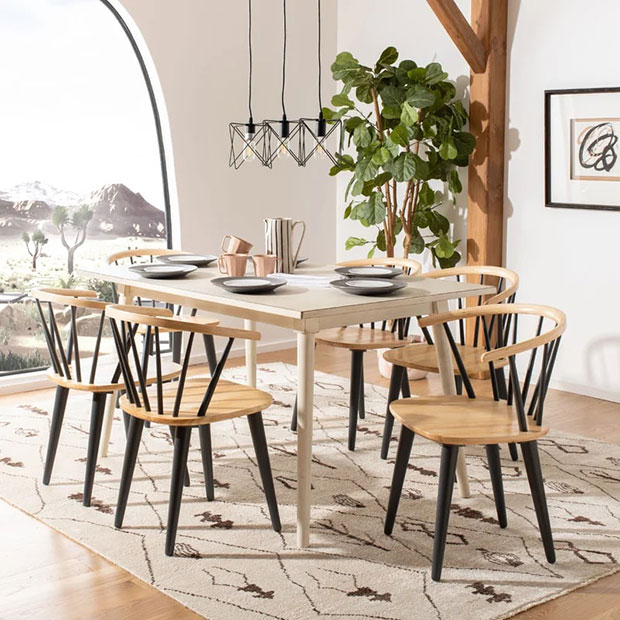 Joss & Main
The graceful curves are a cool design choice for Windsor-style dining chairs.
Huntley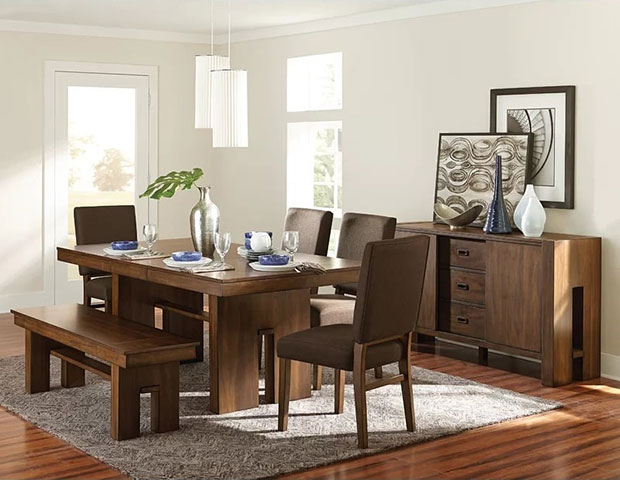 It's very interesting to see that not the entirety of the backrest is covered in upholstery. This definitely sets it apart from other similar designs.
Schrader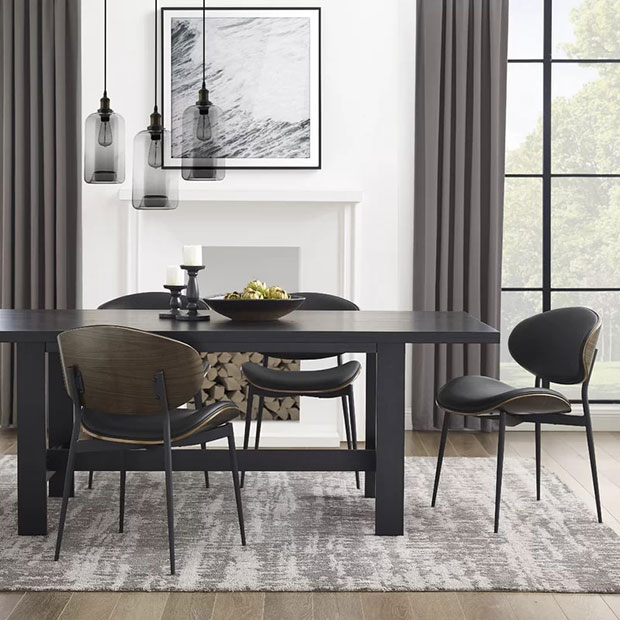 Union Rustic
While the curved seats complement the backrest's curvature, this chic design is definitely one to be desired.
That's all for our picks of modern dining chairs! Which one of these caught your attention the most?
Like This Post? Pin It!