46 Gorgeous Marble Dining Table Designs For The Luxury Homes
|
Marbles are often interpreted as a symbol of luxury across the globe. With its beautiful glossy appearance, its no wonder lots of homeowners want one. In fact, marble dining table designs are found in a lot of dining rooms – specifically on classic and modern minimalist style homes.
Like all types of material, marbles have certain advantages that homeowners can make the most of. For one, marble products are quite sturdy and, if maintained properly, can retain their beauty for a long time. That said, marble dining tables can last long and can be considered a good investment as a piece of home furniture. Another great thing about marble dining table designs is that they can come in different hues and colors. Marbles, by nature, are found in a variety of finishes, colors, and veining intensity. This way there are a variety of options to choose from.
For fashionable homeowners, marble dining tables are easily one of the best choices to have. This is because marbles have an aesthetically stunning appearance due to the unique patterns on them. You won't need to add too much decor to your dining table or even the kitchen counter with it.
Its bedazzling shine is another good thing about it. The natural polish look of the material offers a glamorous look and style to any living space. Finally, marble dining tables are environment-friendly because it is made up of natural stones that do not produce toxic waste. Unlike wooden dining tables, marble dining tables are more natural.
Are marble dining tables hard to maintain?
Because of the nature of how dining tables are used, it is important to choose a material that will stand the test of time. This is where marble dining tables easily excel. With the right maintenance methods, a marble dining table can last long.
On the maintenance side, however, marble dining tables can be hard to maintain. Keeping the table in perfect condition entails placing covers when serving food and drinks. You have to ensure that acidic substances are kept out of the way. This includes ketchup, coffee, wine, and orange juice. That said, putting a placemat in place can help conserve the aesthetic design of your marble table.
How much does a marble dining table cost?
Marble dining tables can be very expensive, depending on the thickness of the material you use. The quality of the stone, the color, and other added features of the table can add up to its total costs. Prices of marble dining tables can start from $200 to $4,000.
Marble Dining Table Designs for Inspiration
If you are looking for the perfect marble dining table for your home, these design options are great for you!
Madrid Dining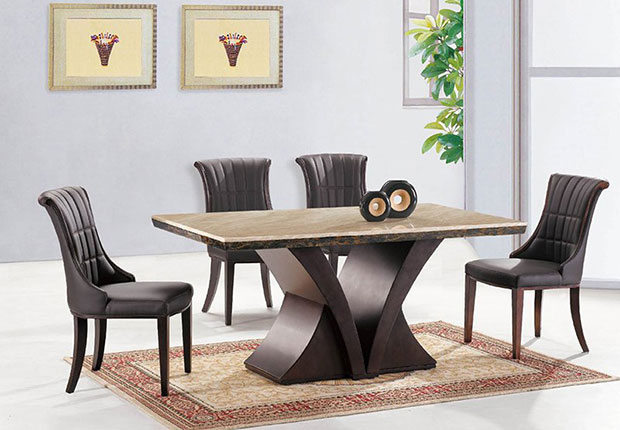 Designer Marble
This lovely marble dining table embraces a brown hue that adds warmth and beauty to the design. The unique table legs are also eye-catching.
Luxury Dining Table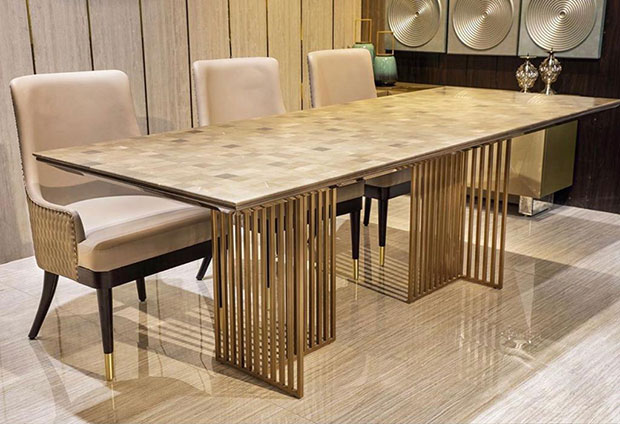 Royal Marble Craft
The classy design of this marble dining table is emphasized by the golden highlights in the legs as well as the chair.
Bura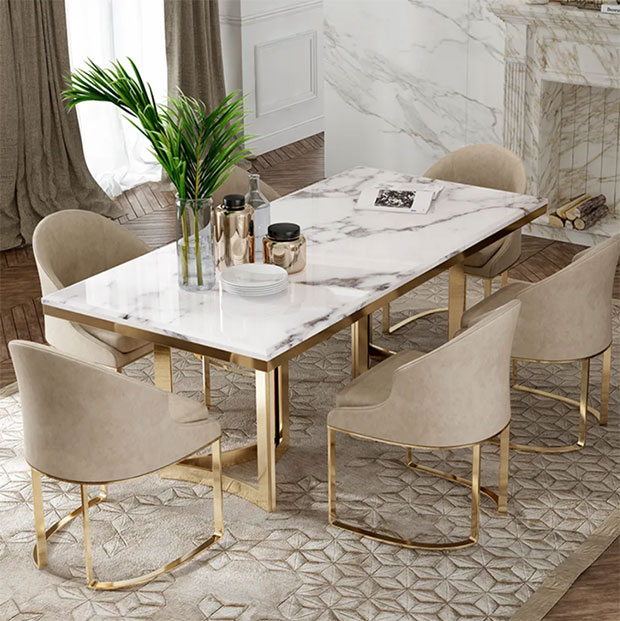 This dining table has a solid white marble slab for its tabletop. It has a golden frame which makes the piece shine.
Modern Luxury Table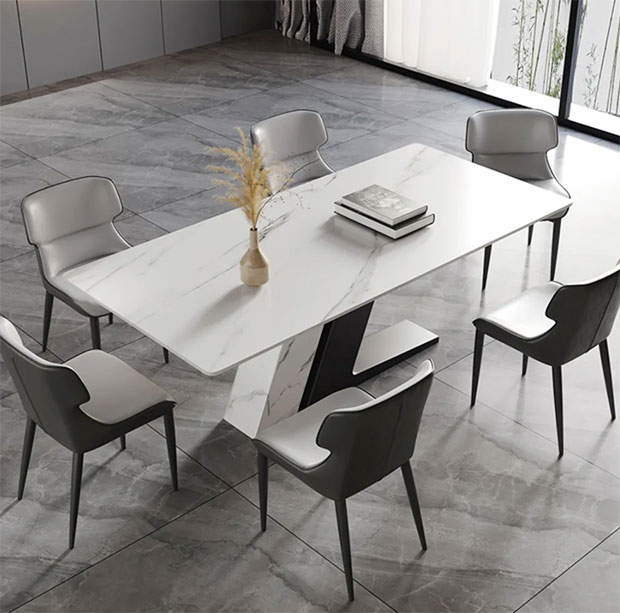 Povison
For a modern dining room look, this rectangular dining table is the perfect add-on. It has a stainless steel base and rounded corners for a safer design for families.
Hibbard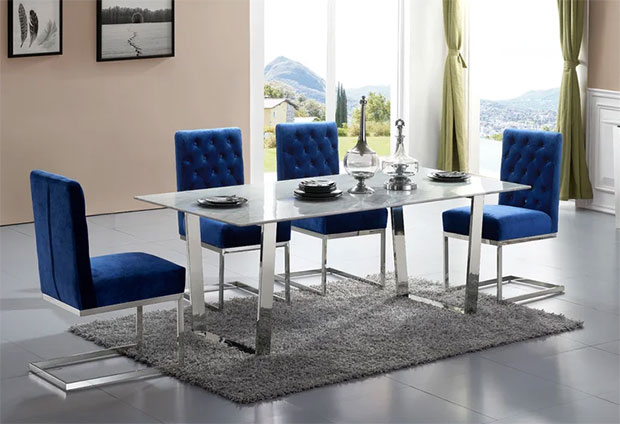 Ivy Bronx
The sophisticated style of this silver marble dining table design adds a toned-down elegance to a room. The chair design is also the perfect design for the table with the blue upholstered seat turning heads.
Black Marble Dining Table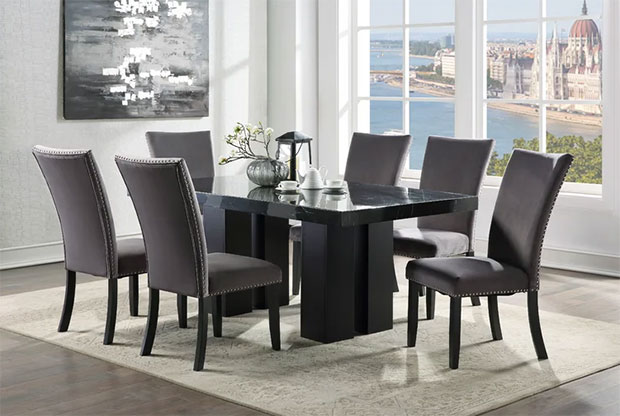 The dark hues of the marble dining table and the upholstered chair add great contrast to the white walls and large open windows of the room.
Mahria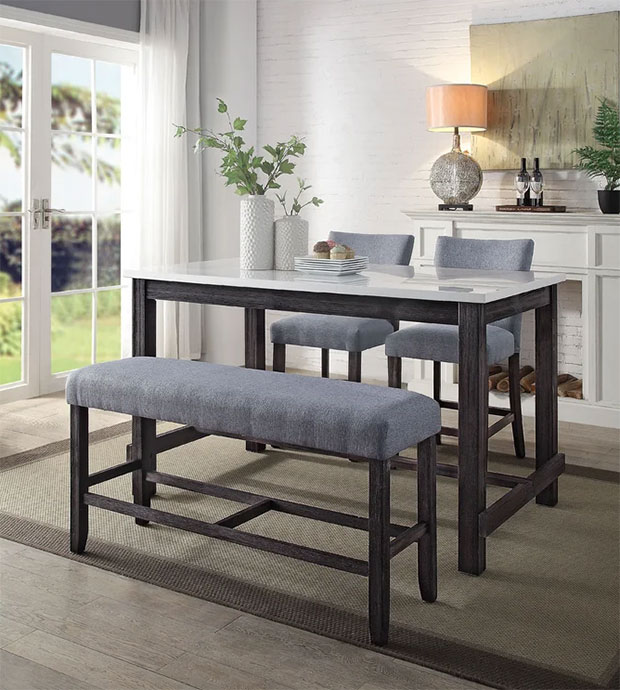 For a more casual look, this counter-height dining table adds a piece of gorgeous furniture to any room. The design is simple yet stylish and looks great with the counter chairs and bench.
Chadron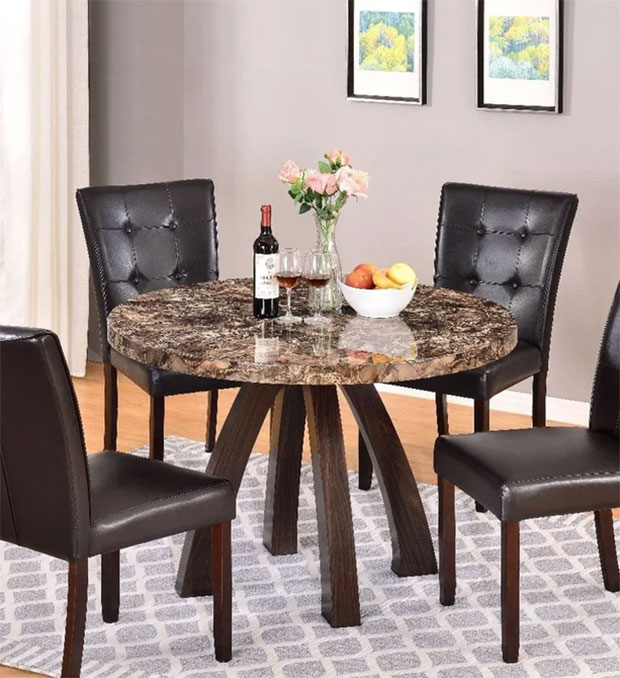 The warm color of this dining table is perfect for light-painted rooms to make it stand out. The cute design is perfect for small homes and small families.
Creekmore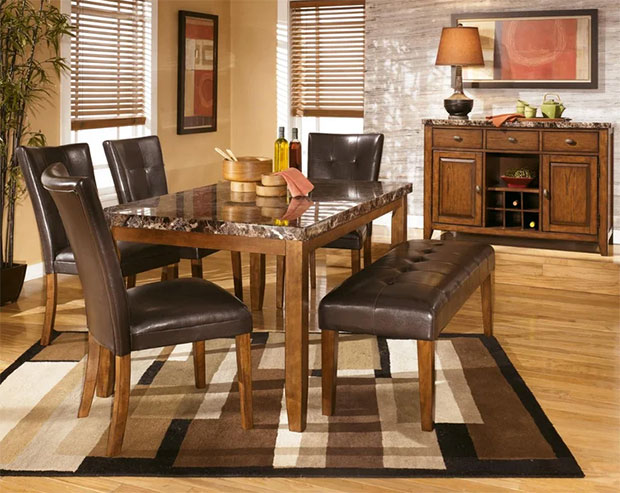 Red Barrel Studio®
The country and traditional look of this marble dining table are comforting. Its earth-tone and leathered-seat chairs make this a great addition for any home looking for a comfortable look.
Kella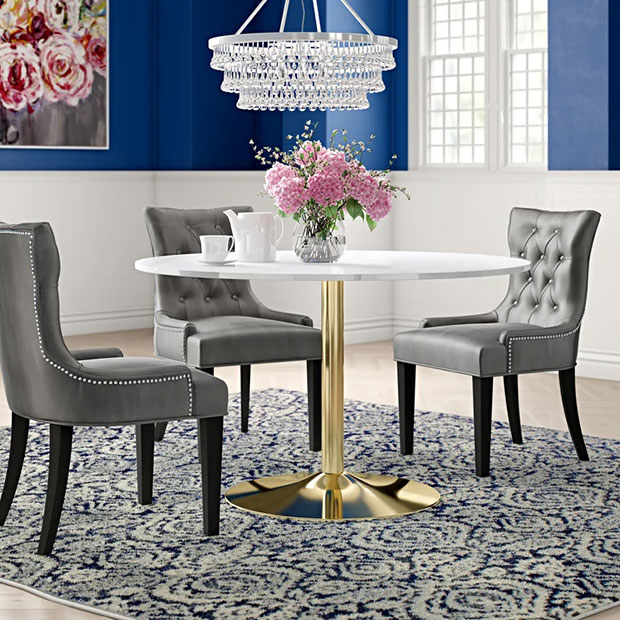 This marble dining table design embraces a casual yet trendy look. The gold accent of the pedestal leg is eye-catching.
Nailsworth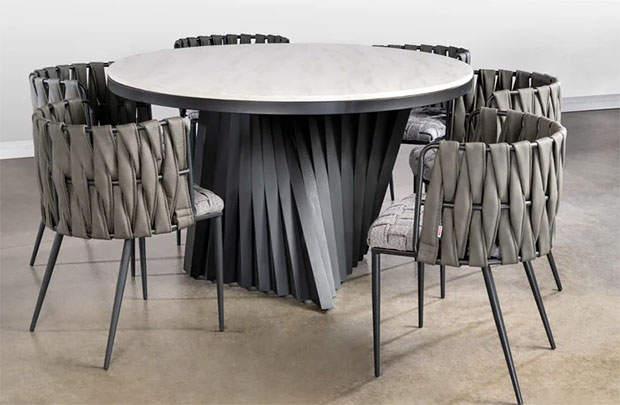 This marble dining table's geometrically designed legs are quite artistic and a head-turner. The black color is quite a contrast to the white marble tabletop.
Hagler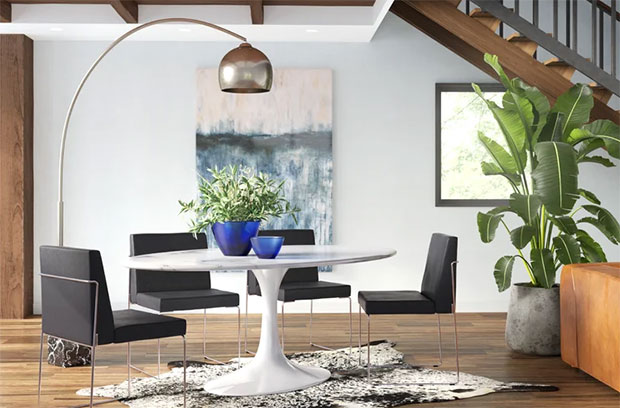 Everly Quinn
The pedestal leg of this marble dining table adds a modern look to the dining room. It is also accentuated with the floor lamp, instead of the usual modern chandelier.
Zahid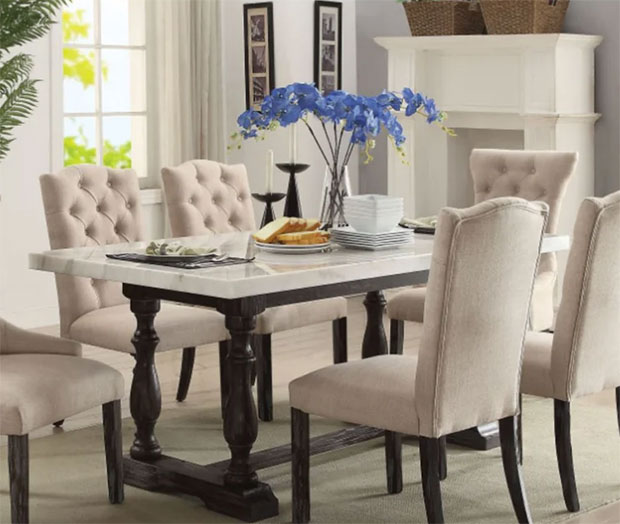 Canora Grey
For a vintage and traditional look, this trestle dining table is a perfect choice. It has a wooden trestle base that contrasts the white marble slab.
Chanton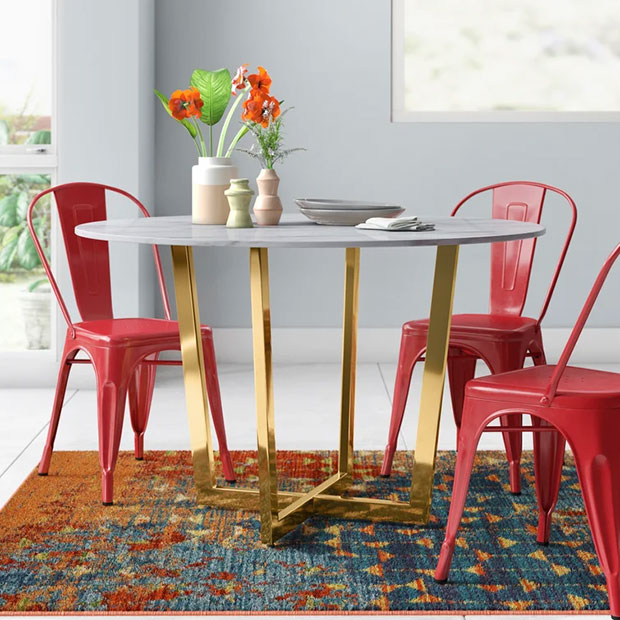 Mercer41
The red steel chairs around this trestle marble dining table add a comfortable and unique look to the dining table.
Armidale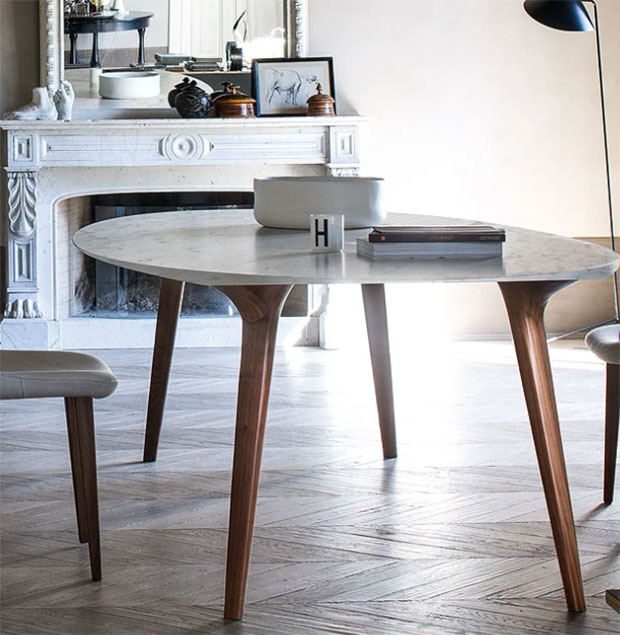 shabby chic dining room designs.
Friedell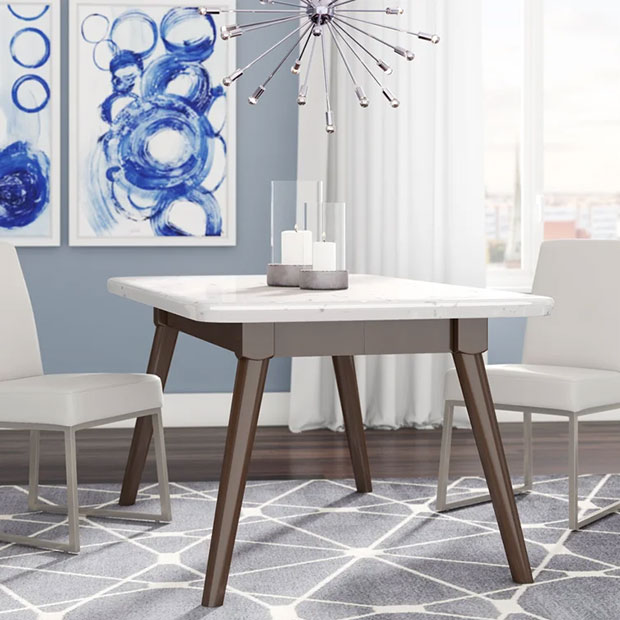 Darby Home Co
This small marble dining table design is perfect for small homes or those with limited dining spaces. It is also decorated with a candle centerpiece that makes it more charming.
Mandeville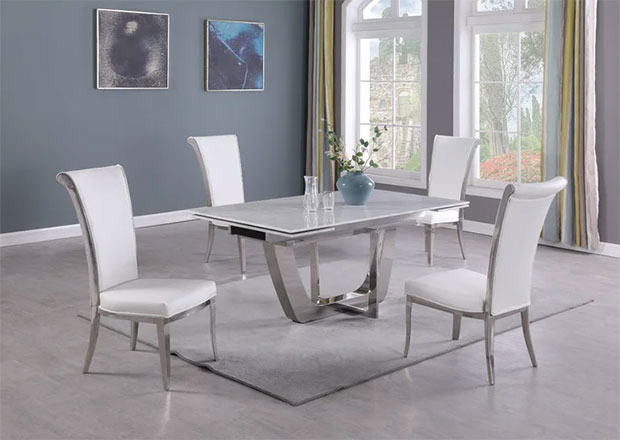 Rosdorf Park
If you are sometimes expecting guests, this extendable pedestal dining table is a gorgeous option. The classy look coupled with the silver table legs adds a modern look to any home.
Unique Dining Table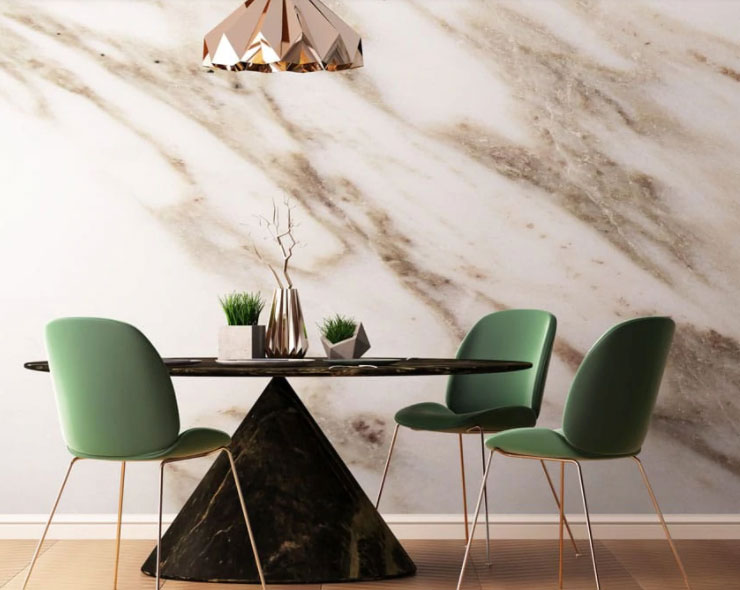 Sefa Stone
Perfectly balanced and uniquely designed, this marble dining table is a piece of art in its own right. The unique chandelier and the edgy centerpieces complete the awesome look.
Italian Marble Table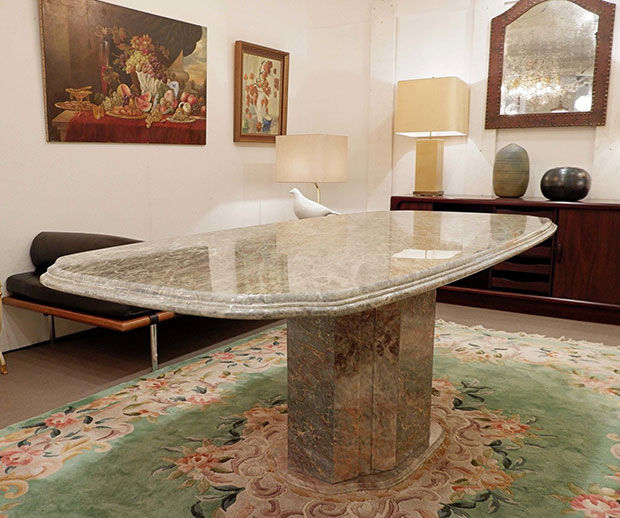 Pamono By Chairish
If you want a classic and luxurious marble dining table design, this Italian marble table is perfect. The item has been made in the 1970s so it's a vintage item.
Icon Marble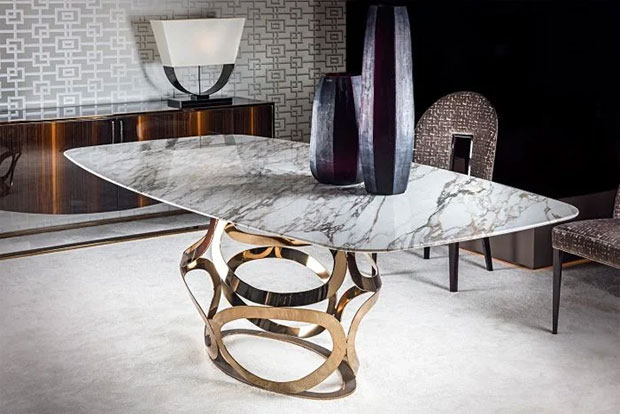 Giorgio Soressi for Costantini Pietro
Looking quite expensive with a regal design, this marble dining table adds a luxurious touch to any dining room. The sculptural base is definitely eye-catching and will turn heads!
De Casa Marble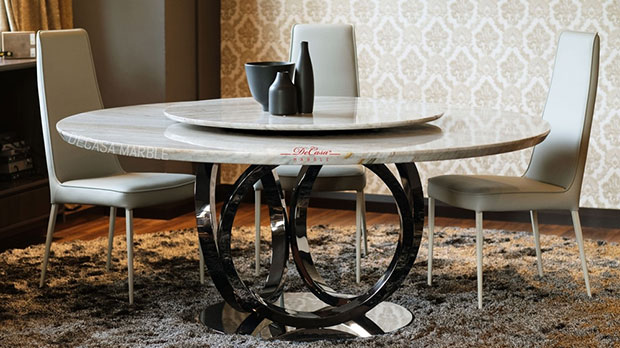 De Casa Marble
For rounded dining spaces, this dining table would be the perfect fit. It also has a movable or rotating centerpiece so that sharing of food is easier.
Pinecone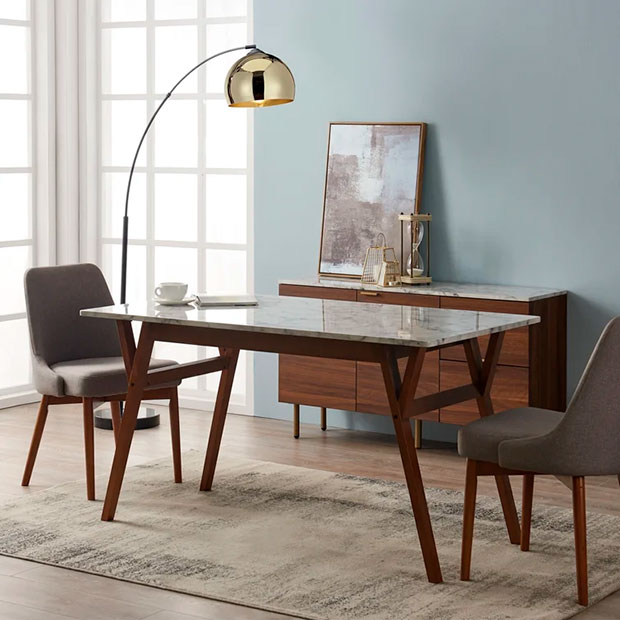 Wrought Studio™
This marble dining table is perfect for a casual yet modern home. Its base is made of solid wood and has a sturdy design.
Aitken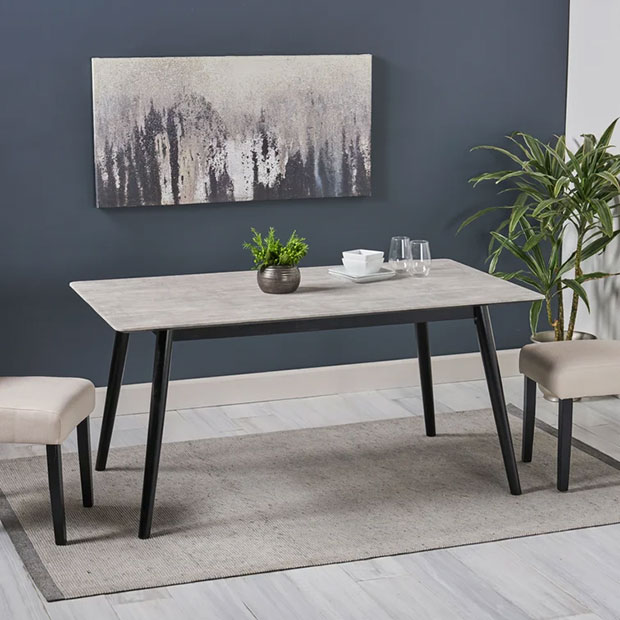 The marble table has a faux marble tabletop and solid wood legs. The gray color looks amazing with the gray wall and the small plant at the center.
Fernwood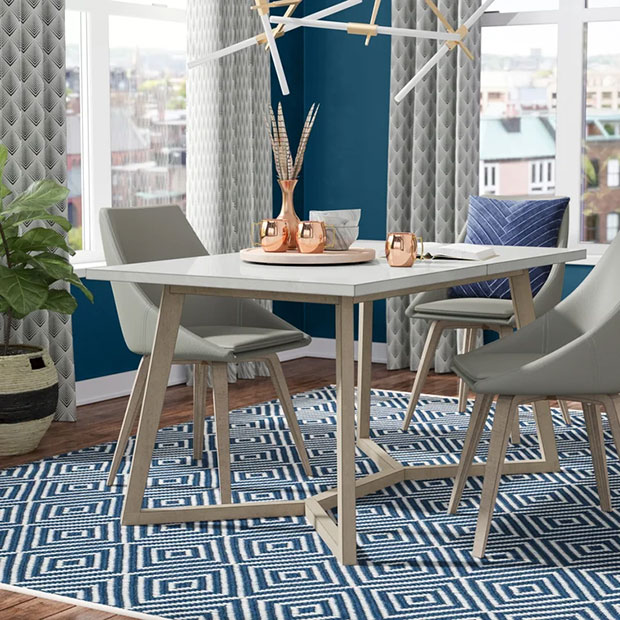 This dining table has a cute crossbar base that doesn't look too heavy and certainly not overwhelming to the eyes. It also has a leaf extension installed for additional guests and family members.
Francesca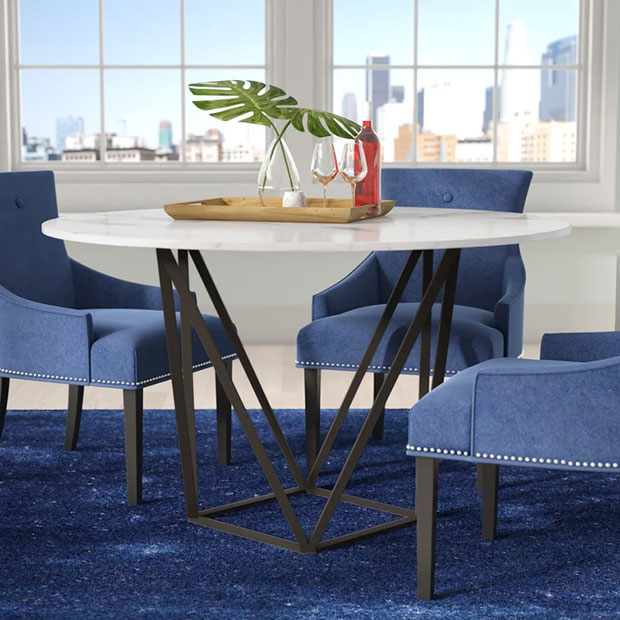 Brayden Studio®
For small spaces and small families, this marble dining table is a great option. The black steel base adds a geometric touch to the table.
Brookby Place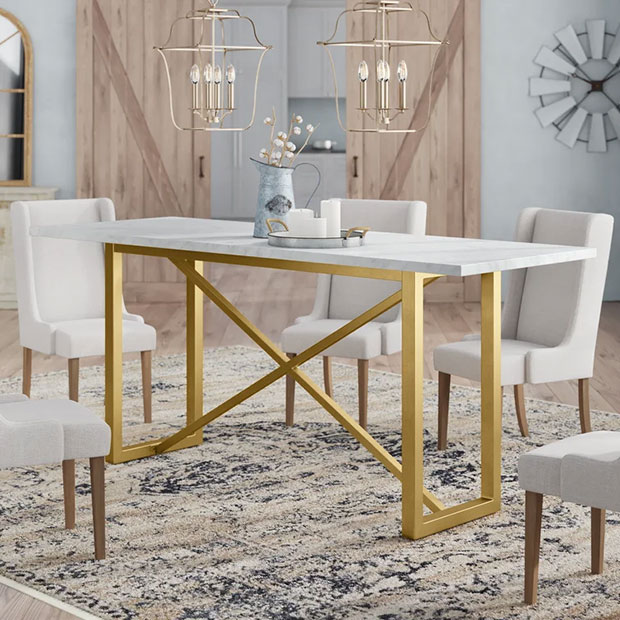 Foundry Select
This dining table is perfectly complemented by the industrial-themed chandelier and the unique centerpieces. The cushion velvet dining chairs softens the otherwise edgy look.
Hyslop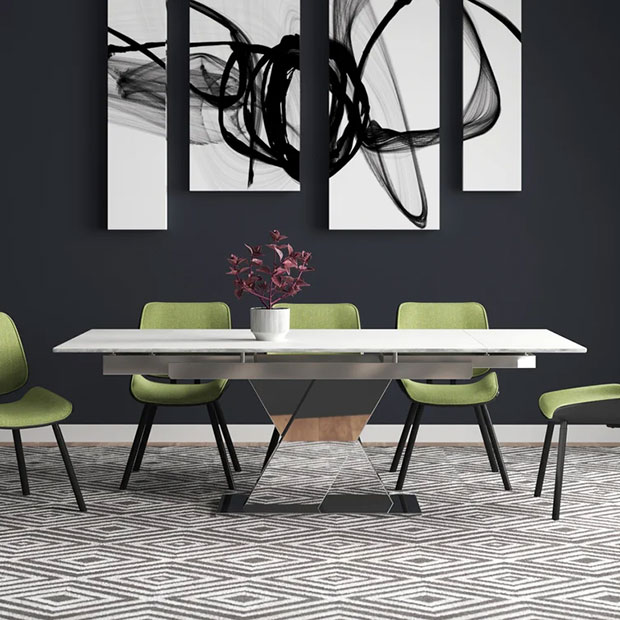 Whether or not you are expecting guests, this dining table is perfect for you. It can be extended when needed and has a self-storing leaf table mechanism. The design is eye-catching and will be a conversation starter.
Janet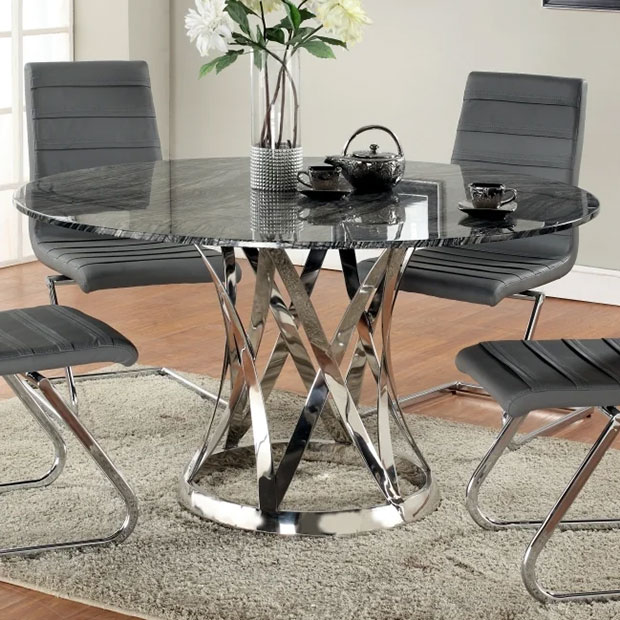 Orren Ellis
Looking ultra-modern is this rounded marble dining table design. The silver tabletop and silver pedestal base is a head-turner that adds class to any room.
Shuster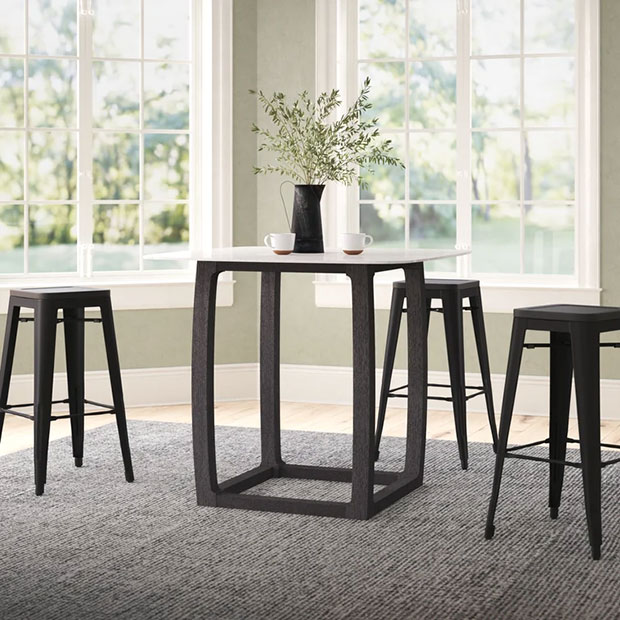 One Allium Way®
If you love something unique, this marble dining table that adopts a counter height is the perfect option for you. It has an open pedestal base, perfect for small spaces, and a unique home setup.
Vibieffe Opera

Go Modern
For classy and luxurious homes, this dining table will fit in perfectly. The tabletop has a curved design that is family-friendly.
Gray Marble Table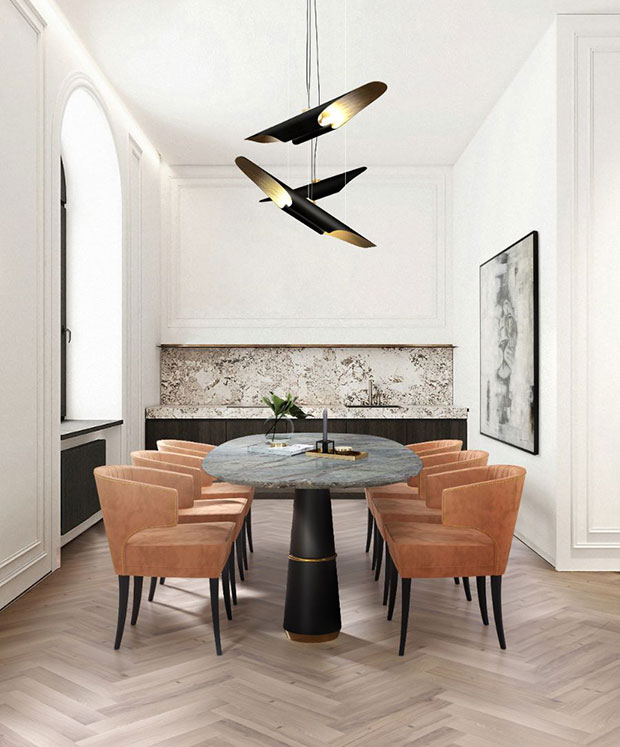 This dining space has been designed to accentuate the eye-catching dining table and chairs at the center. The color of the table's leg complements the charming chandelier.
Modern Dining Table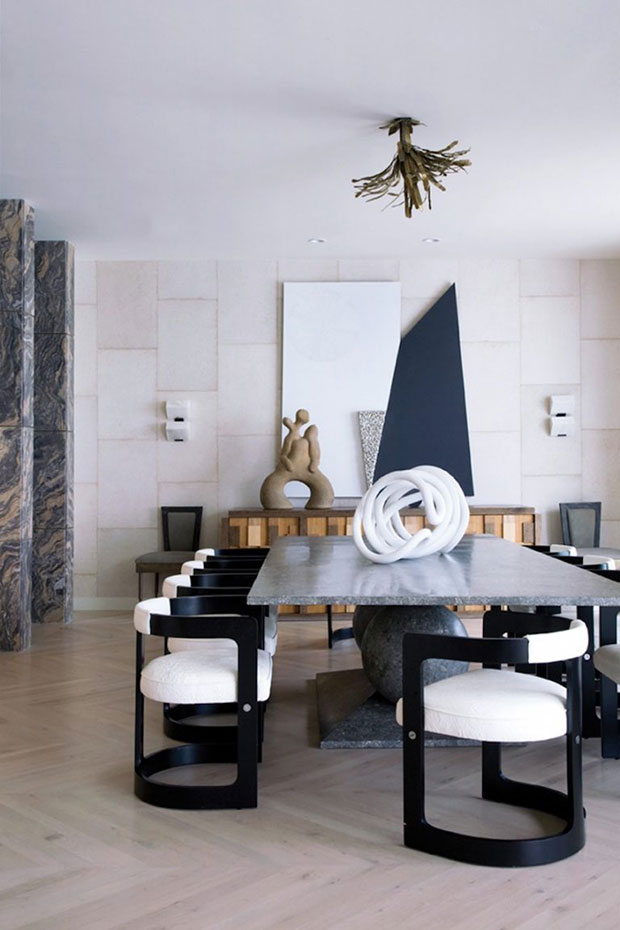 This eclectic dining room is even made more unique with the dining table's solid base. the rounded chairs soften the geometric style of the room.
Marble Dining Table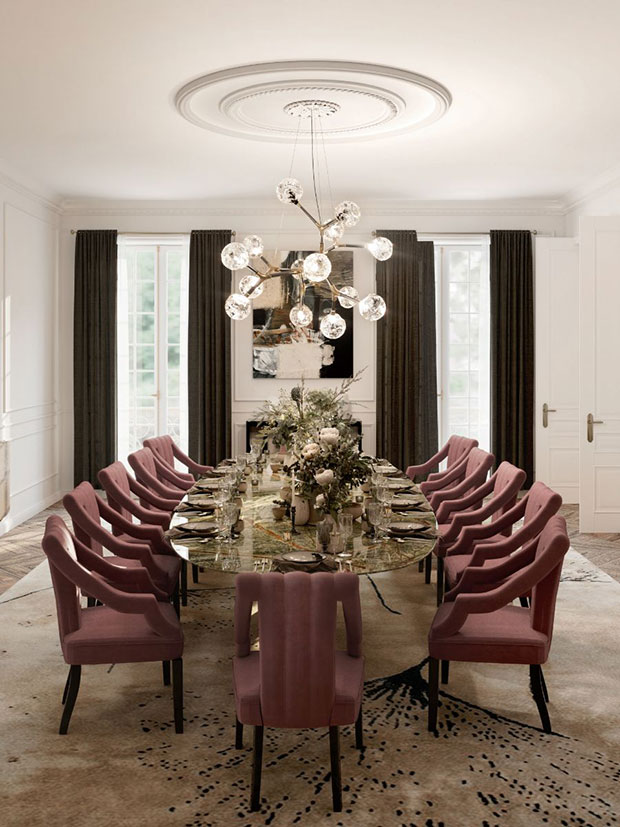 For homeowners who love having guests over, this dining table is perfect. Its gold color adds a luxurious and classy touch to the room and is even more emphasized by the velvet dining chairs.
Algerone by Luxxu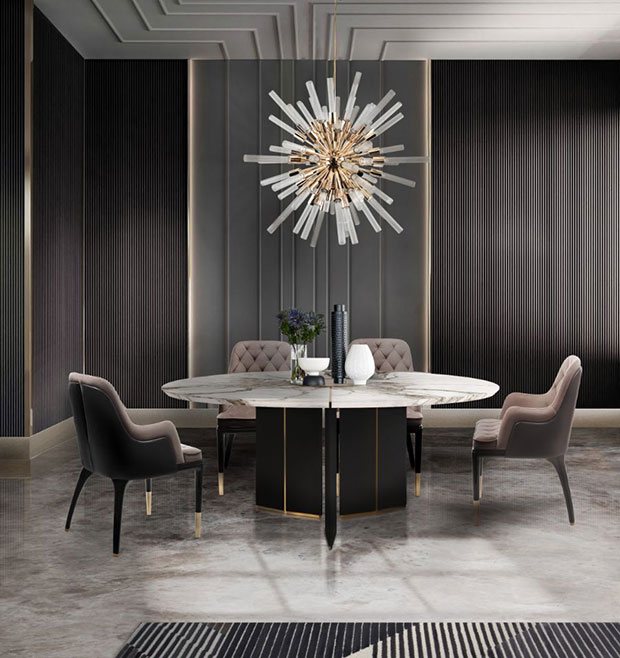 Brabbu Design Forces
This opulent dining table has a solid yet unique base accented in gold. The chandelier is equally as head-turning.
Mirfield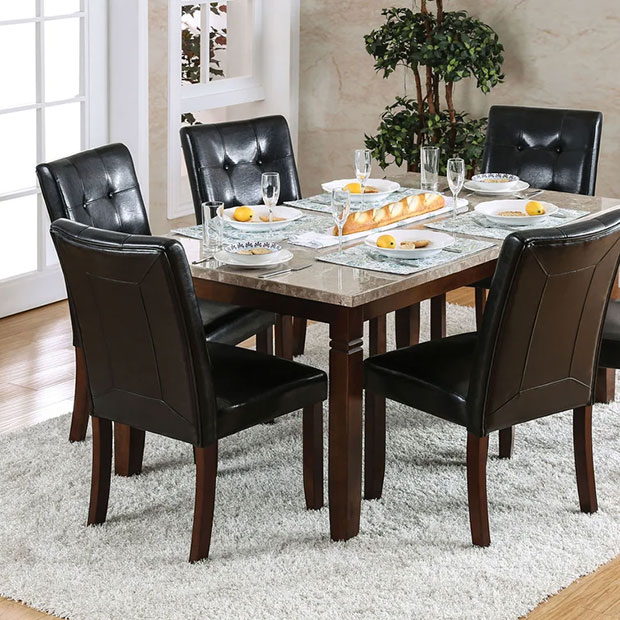 Fleur De Lis Living
The dining table has an ivory marble for its tabletop which is emphasized by the dark brown solid base of the table and the leathered chairs around it. Its design has a traditional style, perfect for any home.
Destiny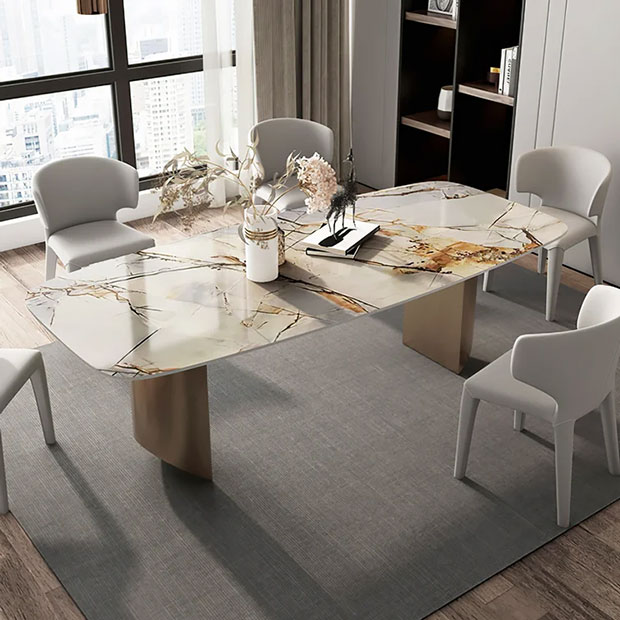 This dining table's sintered stone adds an interesting design to the dining room. Its gold highlights perfectly match the stainless steel pedal legs.
Bientot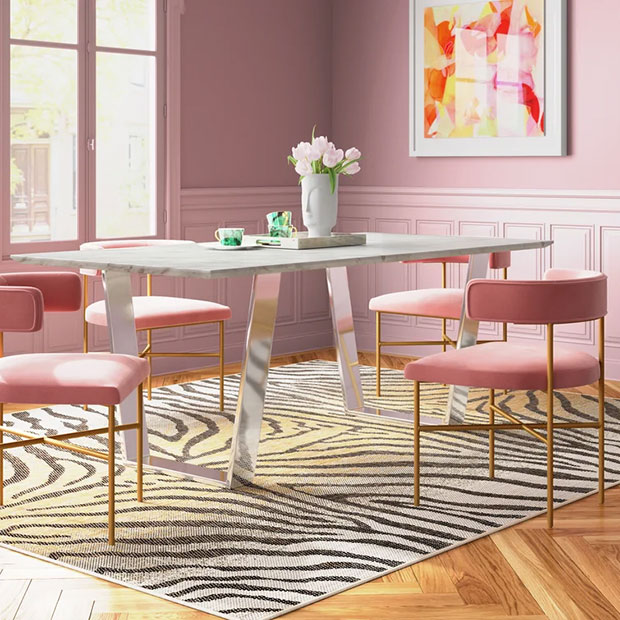 Etta Avenue™
This dining table exudes a glamorous look with its design and color. The chairs look perfect together with the sled legs and sleek white marble tabletop.
Glines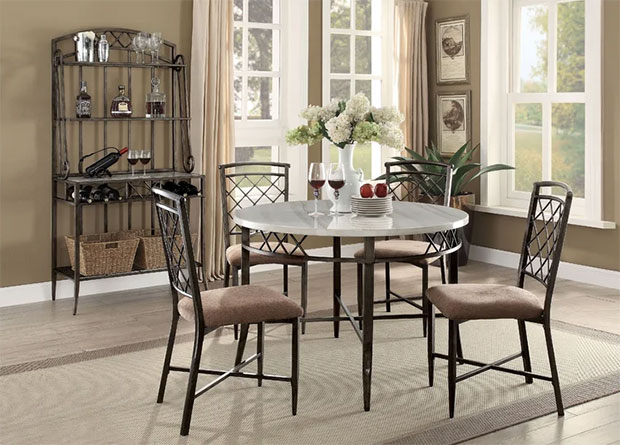 Astoria Grand
The casual look of this marble dining table is perfect for industrial home design. It has a metal base with a round faux marble.
Urban Deco Milan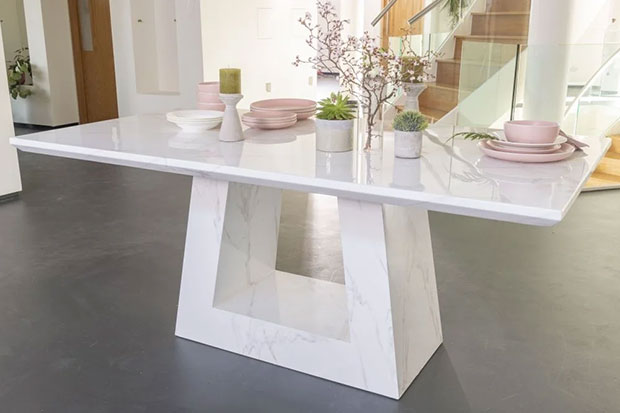 Urban Deco
For a gorgeous centerpiece to your dining room, this solid engineered marble dining table is one of the best options. It has an interesting leg design and gorgeous white color.
Paris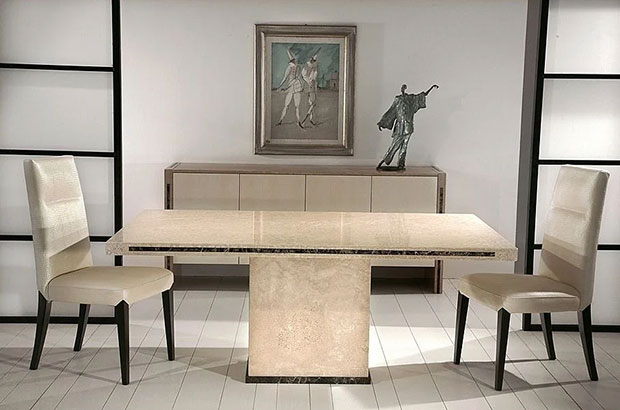 Another gorgeous marble dining table is showcased here. It has a neutral color with black highlights and is perfectly paired with the beige upholstered chair.
Butterfly Dining Table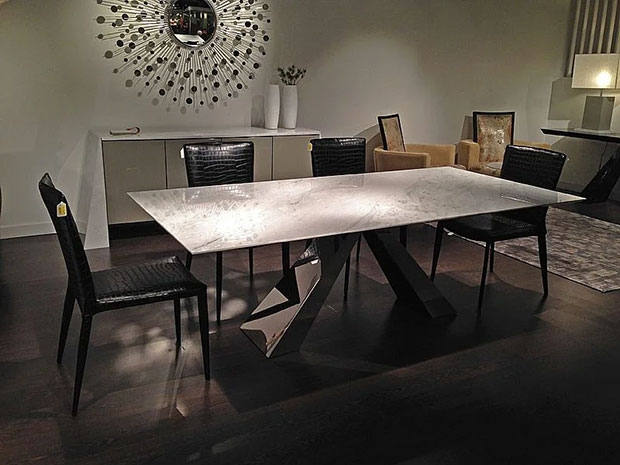 Stone International
The sharp detail of this marble dining table is softened by the wall mirror designed as a sunburst on the wall.
St. Mark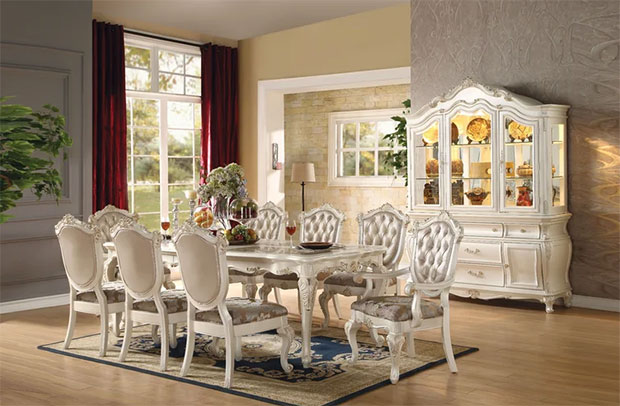 Astoria Grand
This dining table has a romantic and vintage look with its beautiful floral carved leg table. The design is quite elaborate and looks well in classy homes.
Mozart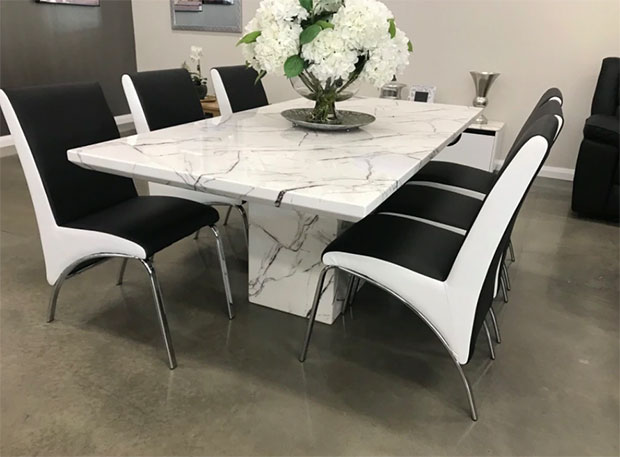 Home Sweet Home Online
The sintered design of this dining table complements the black and white color of the dining chairs around it. Its centerpiece is also eye-catching and softens the edgy look.
Comet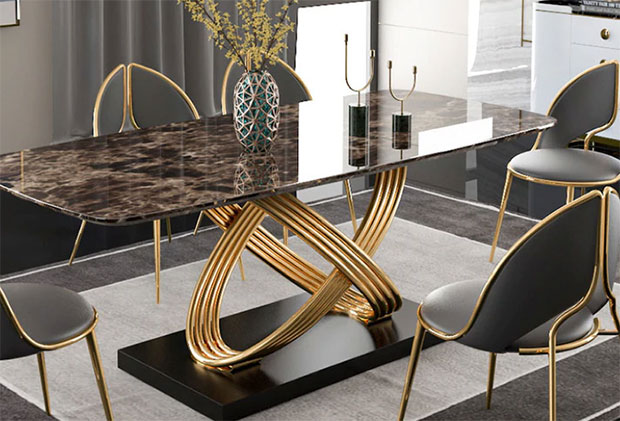 Just like its name, this marble dining table is indeed like a comet, shiny with its golden accents and unique table leg. The gold-accented dining chairs fit perfectly to the design.
Hudae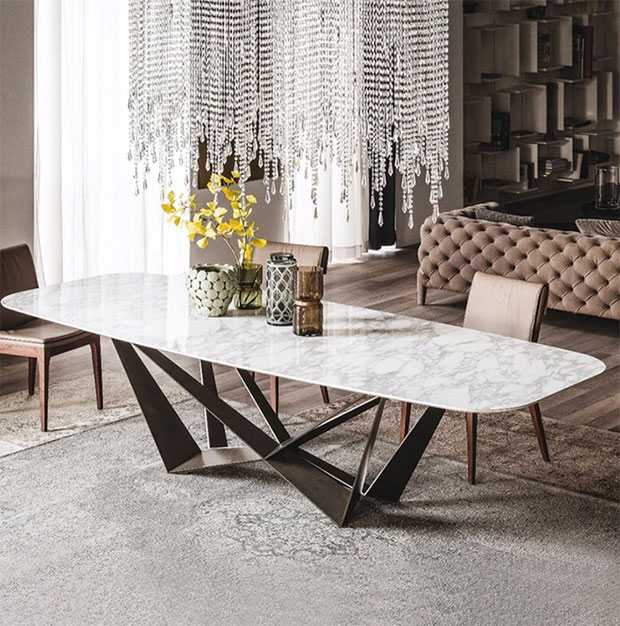 HMEZSOFA
The geometric shapes of this marble dining table are certainly eye-catching. The chandelier paired looks incredible too.
Andria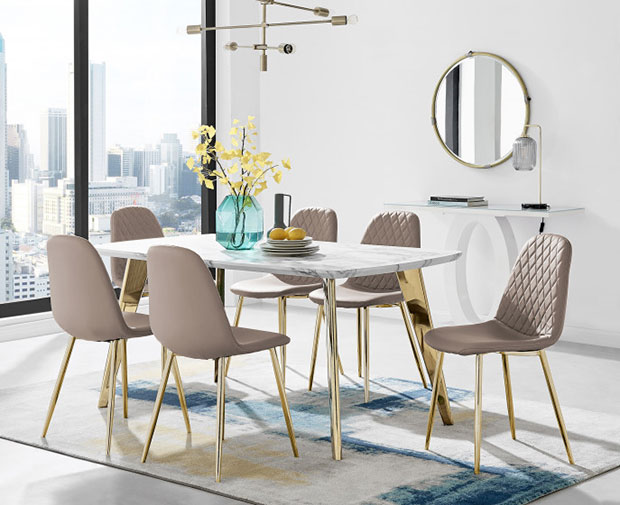 Furniture Box
This dining table is stylish and glamorous with its gold-effect legs. The Corona chairs fit perfectly to the table's design.
The dining tables showcased here are so stylish, it must be very difficult to choose one!
We hope we have inspired you to incorporate a marble dining table design for your dining rooms!
Like This Post? Pin It!