50 Excellent Wooden Dining Table Designs For Your Home
|
Have you ever wondered why most dining rooms have wooden dining table designs? Let us have a look.
The dining table is one piece of furniture in the house that is frequently used. It is a place to eat meals together and gather family members and friends.
Some even use it as an extra workspace for those working from home or a study area when home libraries are not available.
Regardless of how you use it at home, having a beautiful and classy wooden dining table can be a great addition to your aesthetics. It would always be an important piece of furniture that will draw people in, no matter what.
How To Choose a Wooden Dining Table?
Functionality is always an important factor that you need to look into when choosing a dining table. Physical appearance will always come in second, because how will you truly use the dining table if it wouldn't even fit your home?
Below are some factors you need to consider when choosing between several wooden dining table designs:
1. Choose one that fits your dining area. Dining tables can be very deceptive when it comes to size. Sometimes what you think is small enough can be bigger than expected and vice versa.
Remember that you need space around your table to move around. A minimum of 3 feet on all sides is advisable.
2. Consider the shape. Dining tables are commonly square and rectangular. But some circles and ovals are available.
Hence, it is important to choose one that fits your dining area as well as fit your needs too. A round or oval table is best for tighter spaces. It is also best if you are fond of having guests over because its shape is best for conversation.
3. Pay attention to support. Unexpectedly, the dining table's support or legs also play an important role in choosing a table for your home. Make sure that the legs are sturdy enough and that it has enough room to maneuver around.
4. Consider the type of wood. Wood comes in a variety of styles. When choosing wood for your wooden dining table design, you also need to consider what type of wood will work best for your home.
If you have a certain type or variety being used at home and you want it to be the same, consider that. Otherwise, if you want another type, then go for it.
5. Look into how the table is made. Your dining table is as good as how it is made. That said, it is important to check the finishing used and how the table parts are connected.
How To Care For Your Wooden Dining Table?
If cared for properly, a solid wood dining table can be used for a lifetime. Below are some tips on how to care of your wooden dining table:
1. Dust it often. Enough build-up of dust can scratch the wood's finish. If available, use soft, lint-free cloth (cheesecloth, a cotton diaper, or a cut-up old t-shirt) and dust the table at least weekly.
2. Keep away from the radiator. Avoid placing your wooden table near a radiator or a heat register. The temperature could damage the wood with warping and split.
3. Watch humidity level. Keep the humidity level in your home between 40-45%.
4. Be careful with what you put on top. Use coasters with non-scratching bottoms. Additionally, use padding under sharp, hot, or cold objects. Remember also to avoid using nail polish remover, alcohol, or other solvents near or on the table.
5. Avoid sunlight. Position the table that it avoid direct sunlight.
Wooden Dining Table Designs For Inspiration
Among all dining table designs, a wooden table is one that never gets old.
Not only is its design classy, but it also goes well with almost all other dining room designs. From modern to traditional and even contemporary.
Below are some fantastic examples of wooden dining table designs that you might want to consider for your home.
Circle Wooden Dining Tables
Circle dining tables are perfect for saving space. Its rounded corners are undoubtedly safer, especially if you have kids running around the house.
Carter Home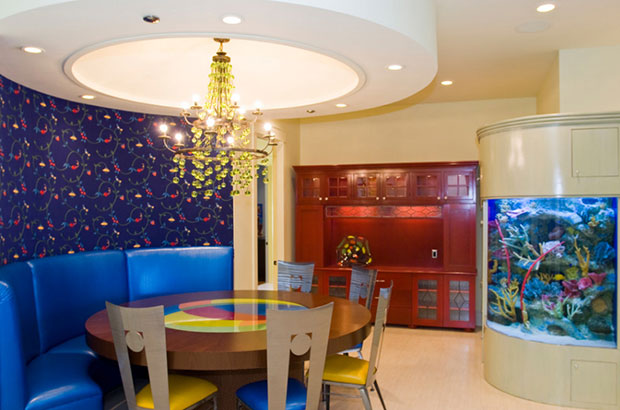 O'Shea Builders Inc.
This colorful wooden dining table is eye-candy with a colorful masterpiece at the center. The lovely blue couch and the yellow-cushioned chairs around it looks fantastic!
32nd Street Home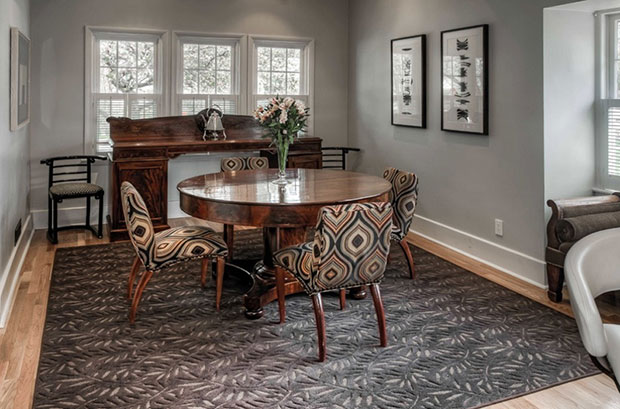 IKDesign
The printed dining chairs around this gorgeous dining table looks great! Its pedestal-designed legs look classy.
Round Falk Table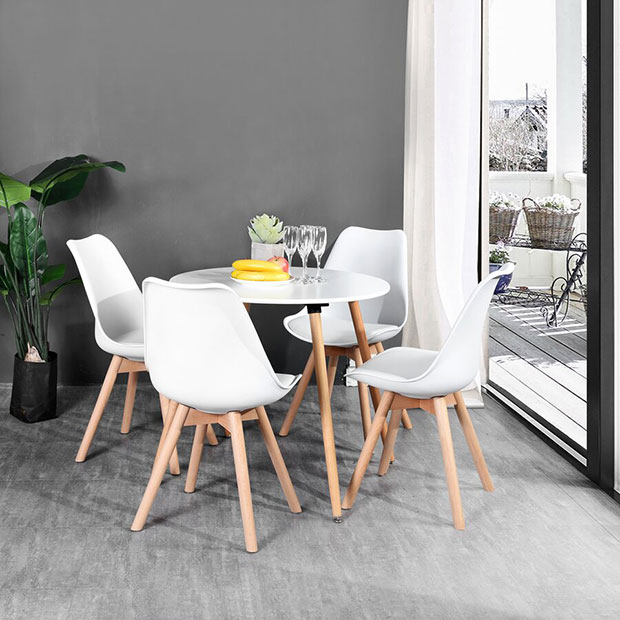 George Oliver
This chic wooden dining table looks amazing and will look great with a minimalist dining room.
Modern Round Table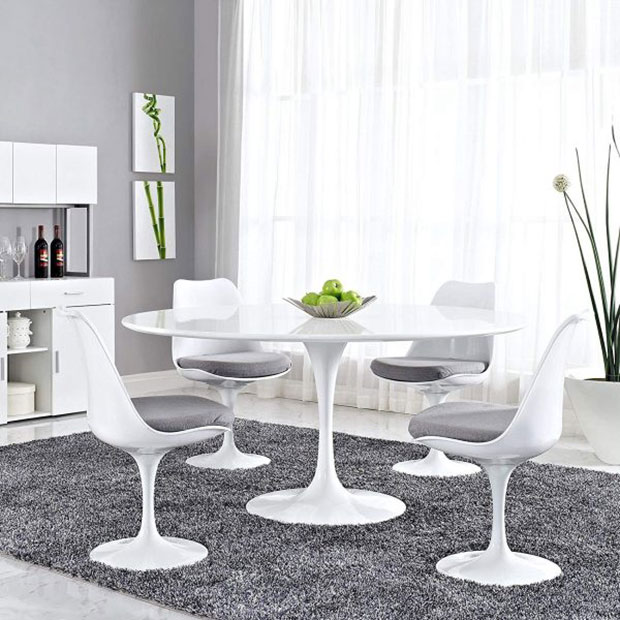 Modeway Store
This round wooden dining table design has a glossy white finish with a pedestal as its support. Paired off with pedestal-legged chairs, the design is undeniable futuristic!
Denver Penthouse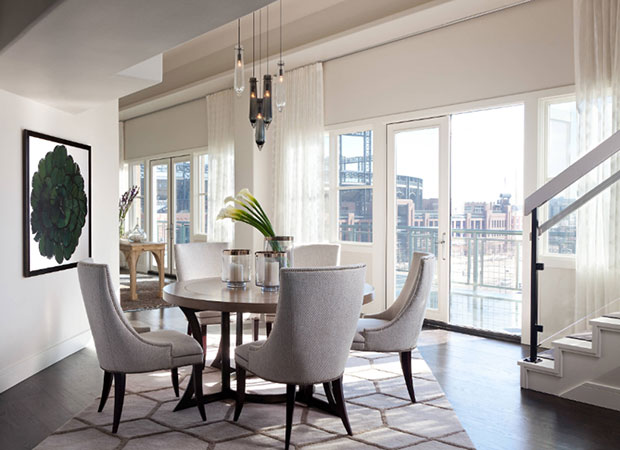 Ashley Campbell Interior Design
The fashionable combination of this circular dining table and the plush armchair is gorgeous!
Stock Dining Table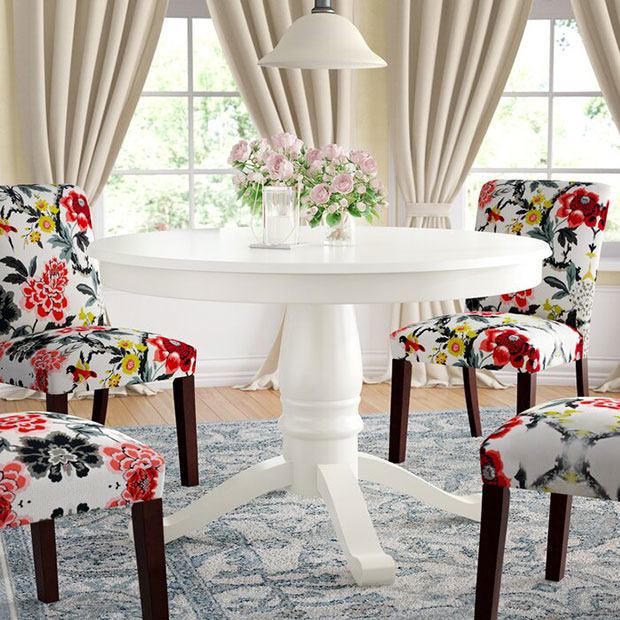 Beachcrest Home
This round dining table looks classy and traditional with its angled cabriole legs and neutral white finish.
Atlantic One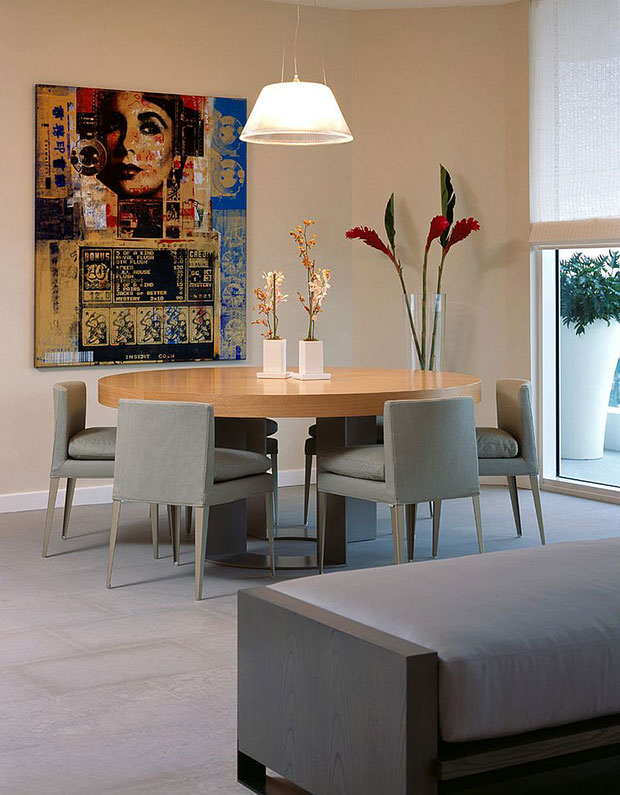 Lisa Kanning Interior Design
The table's glossy and brown finish looks great with the contemporary chairs.
Victoria Hagan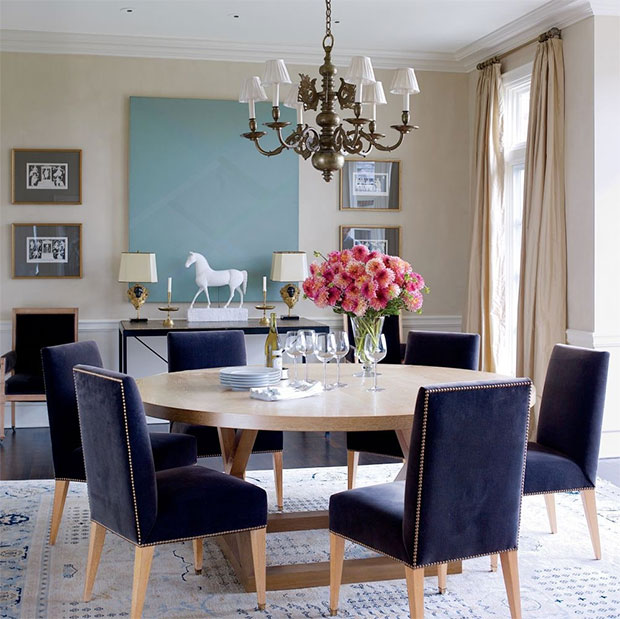 Francesco Lagnese
The solid design of this wooden dining table complements the classical look of this dining room. Even more eye-catching is the velvet-clad chairs.
Molena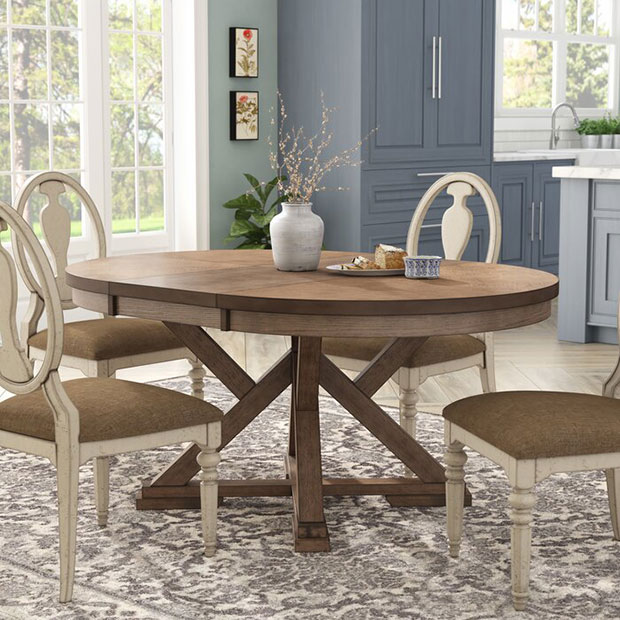 Birch Lane
This round wooden dining table design boasts solid wood and a distressed finish.
Round Dining Table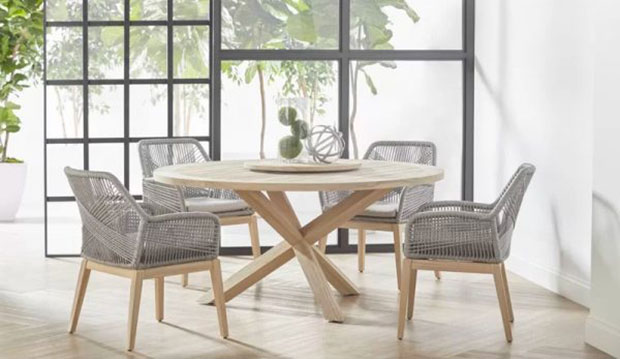 Home Designing
This dining table has a sturdy base and is paired with a Lazy Susan for easy access to the food being served.
East Bay View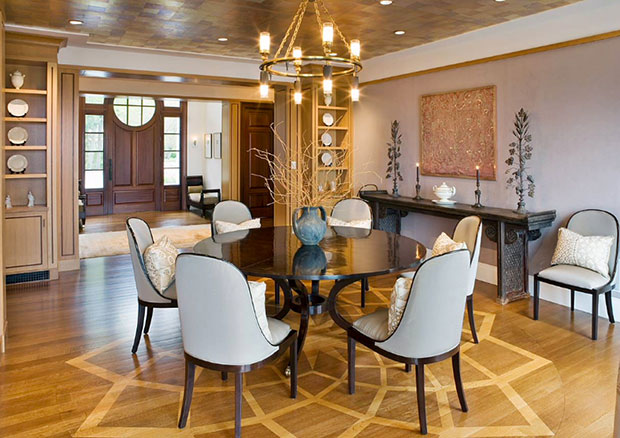 Nicholaeff Architecture + Design
The glossy wood finish of this wooden dining table looks elegant. The lovely chairs around it plus the gorgeous interior design is a great match.
Luxurious Dining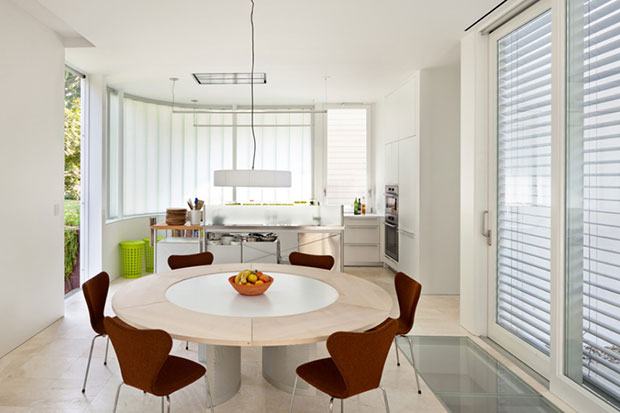 Meditch Murphey Architects
Another fantastic round dining table with its white finish and adorable chairs.
Square Wooden Dining Tables
Square dining tables are perfect for maintaining balance and proportion in a symmetrical room. For families, a square table helps the conversation going since the family will be dining face-to-face.
Yellowstone Club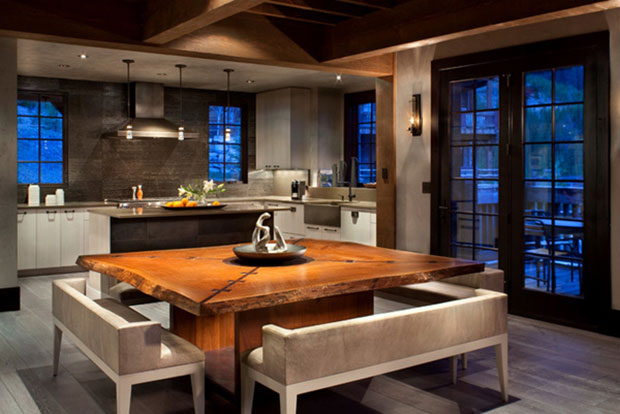 Lisa Kanning Interior Design
This solid square wooden dining table design has a sturdy and rough edge design that looks great with the low-backed chair around it.
Wood Square Table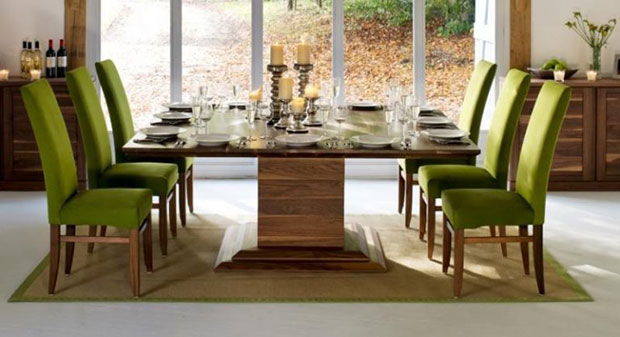 Dining and Living Room
This elegant table can accommodate up to 12 people. The candles on the top add a classic look to this table.
Square Oak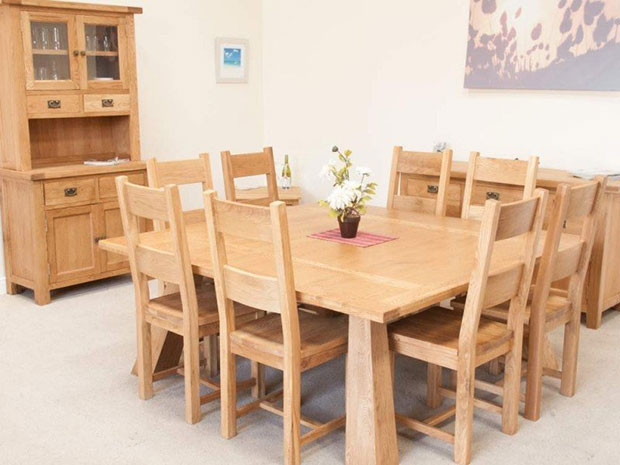 Emily Hilton
This large 8-10 seater has a lovely light brown finish and big sturdy legs that look great.
Travis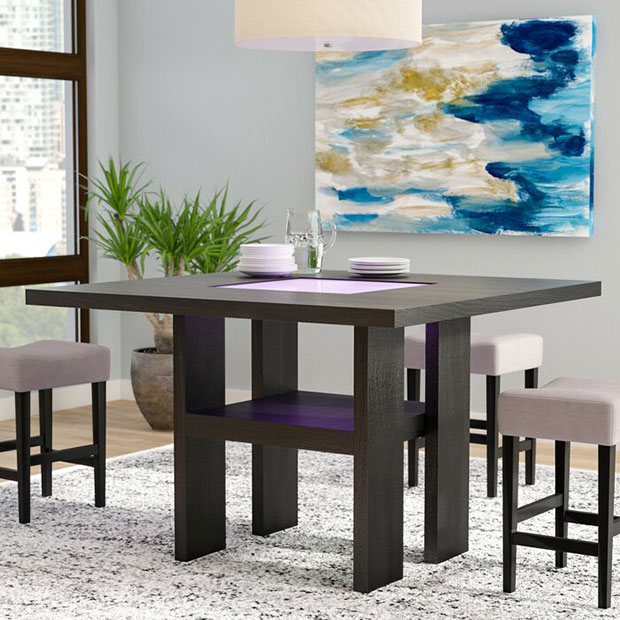 Latitude Run
This contemporary counter-height dining table has a glass insert with a three-way LED light.
Hudson Square Dining Set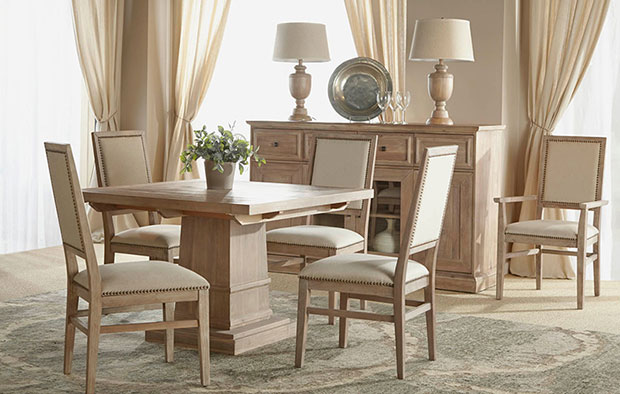 Orient Express Furniture
The table looks traditional with its pedestal support and gorgeous chairs.
Square Table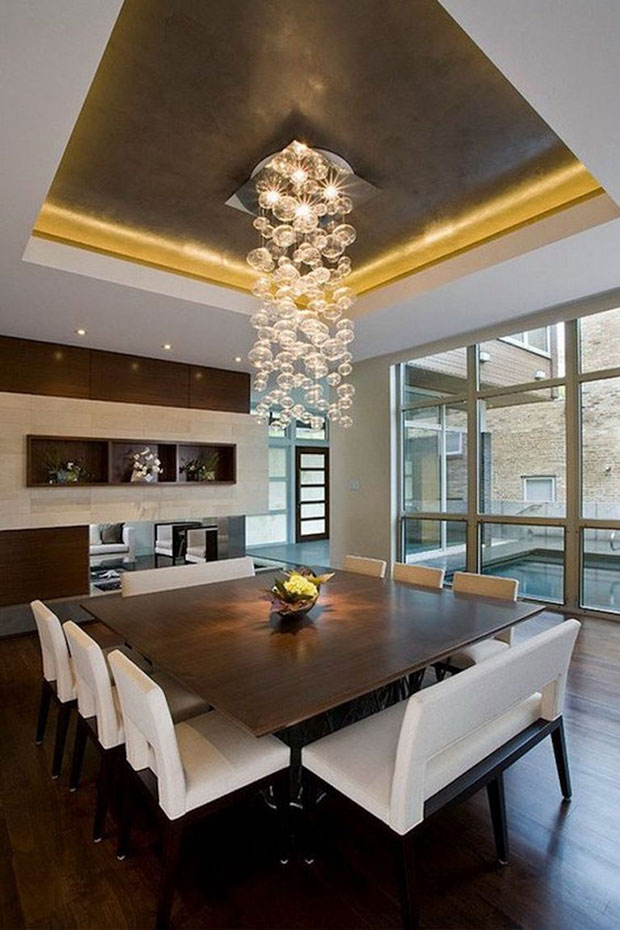 CREDIT
This large wooden dining table is perfect for a large group and looks quite comfy with the soft cushioned chairs around it.
Sunset Lake House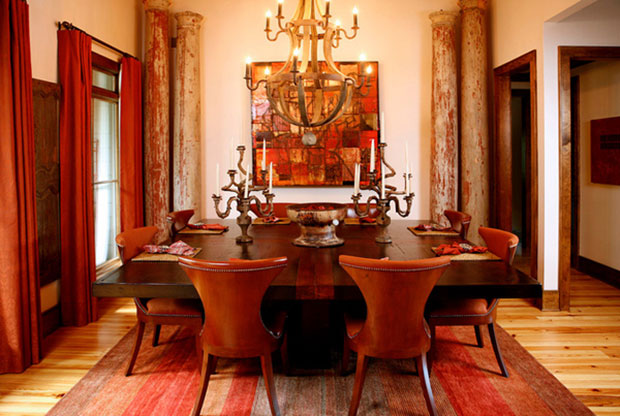 Bliss Design Firm
The large and stunning dining table is an imposing figure in this space. Its curvy chairs and the chandelier looks great too and adds a medieval look to space.
Abdul-Hakeem Table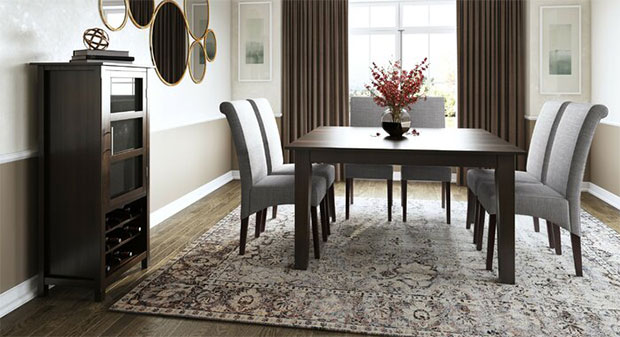 Alcott Hill
The dining table has an elegant and classy look that is perfect for rooms with light colors. It has thick legs and an extra thick top for a more elegant look.
Orange and Wood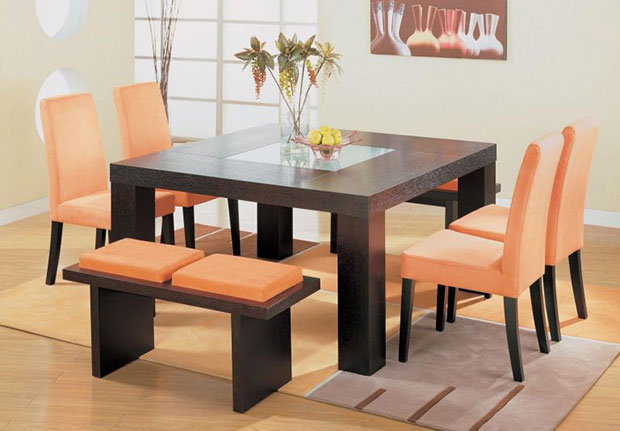 Dining and Living Room
The bright chairs on this wooden dining table design brighten up the dark wood color of the dining table.
Sinead Dining Table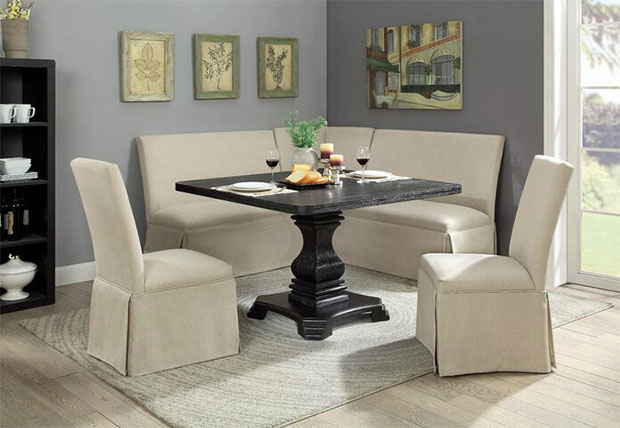 Ophelia & Co.
This wooden dining table design is made from solid wood that exudes rustic charm. The chairs are quite classical too.
North Oaks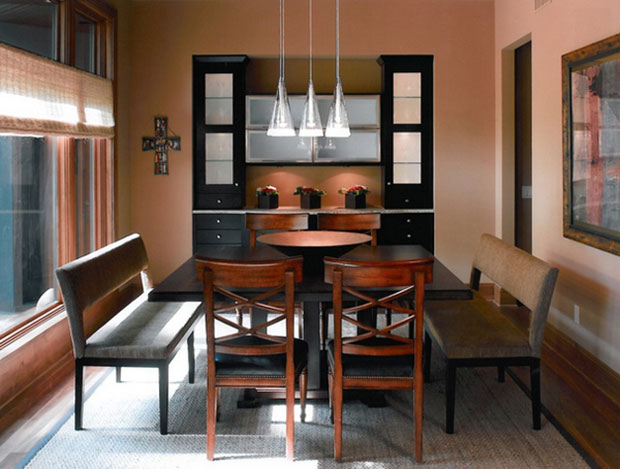 Bruce Kading Interior Design
This dining table has pedestal support with a wide base. It is complemented by benches and cute pendant light.
Parade Ascot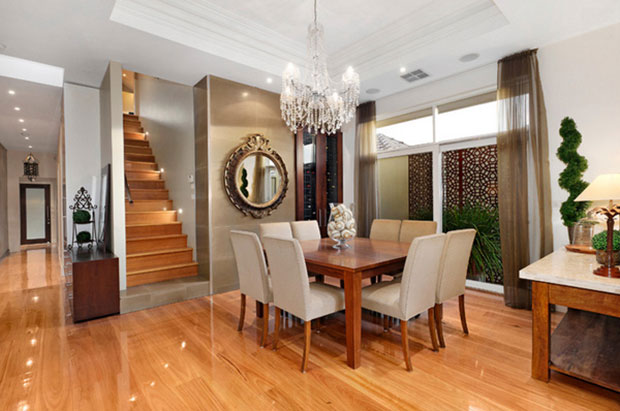 Bagnato Architects
Like most wooden dining tables, this here complements the elegant space of the dining room with its cushioned chairs and elegant chandelier.
Horseshoe Bay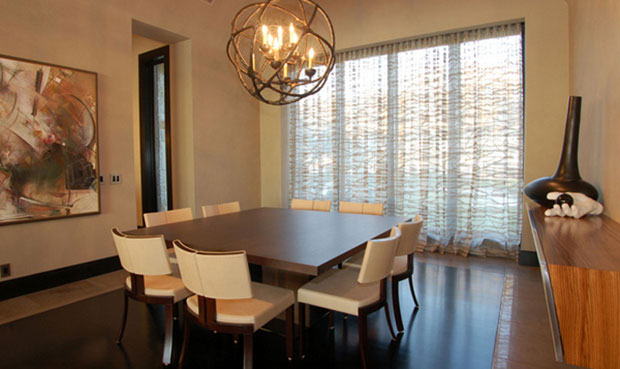 Cornerstone Architects
This dining table adds a modern look to this dining room.
Rectangle Wooden Dining Tables
Rectangle dining tables are the most commonly used dining table. They are perfect for elongated dining rooms.
Wallis Residence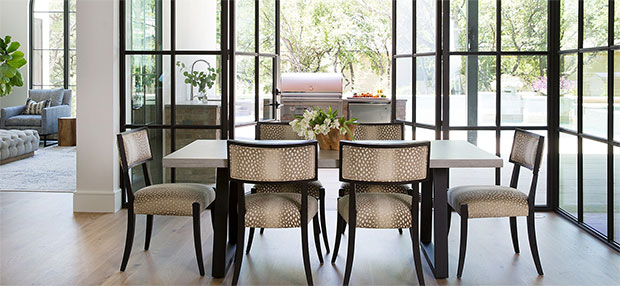 Cornerstone Architects
The simple design of this dining table complements the large open walls on this space.
California Home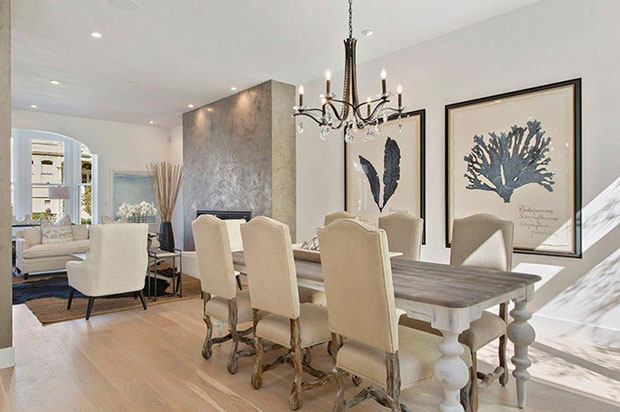 Napoleon
The light color of this room is refreshing and even more so is the dining table. The table legs are quite unique as well as the chairs.
Curson Residence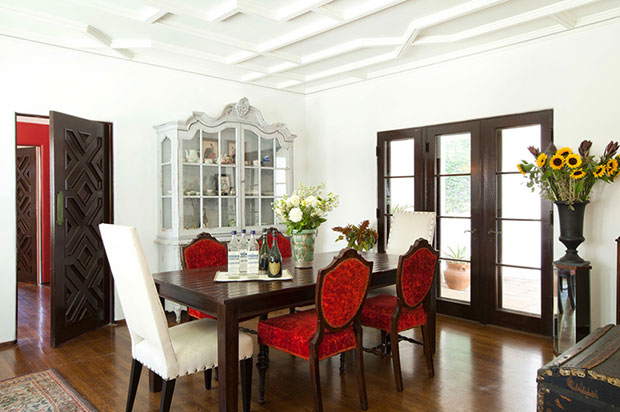 Wandr Design
The contrasting colors of the chairs in this dining set add a unique touch to the sturdy solid wood of this wooden dining table.
Montauk Pine Solid Wood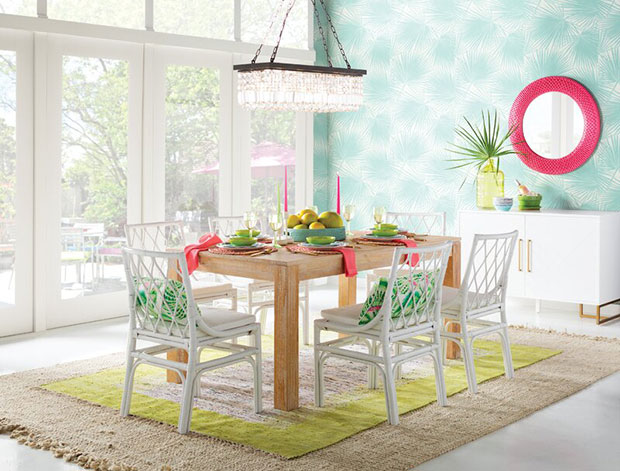 Grain Wood Furniture
This dining set gives off a rustic modern farmhouse look with this modern and eco-friendly design of the table.
Extendable Pine Wood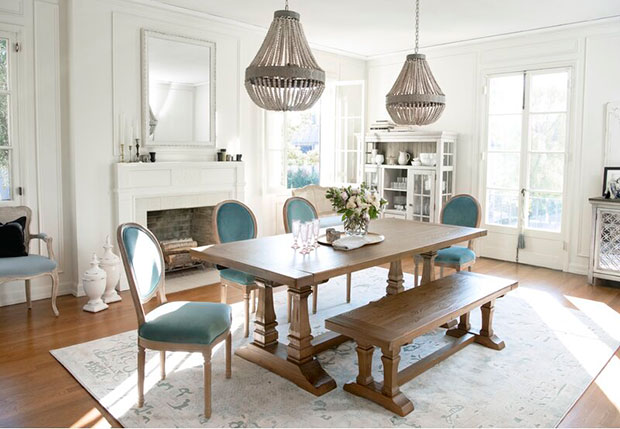 Kelly Clarkson Home
These extendable wooden dining tables are made of pine that can accommodate up to 12 guests. It has a classic trestle base with carved, double columns.
Lake Road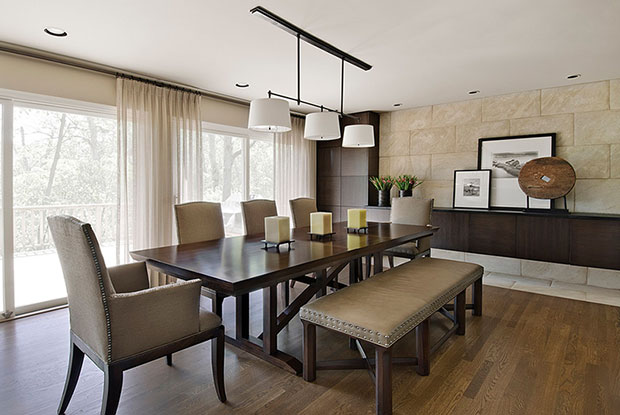 AMW Design Studio
The classic smooth tabletop of this wooden dining table is perfectly matched with the high-backed chairs and bench. Its color complements the warm brown color of the interior.
Earls Extendable Dining Table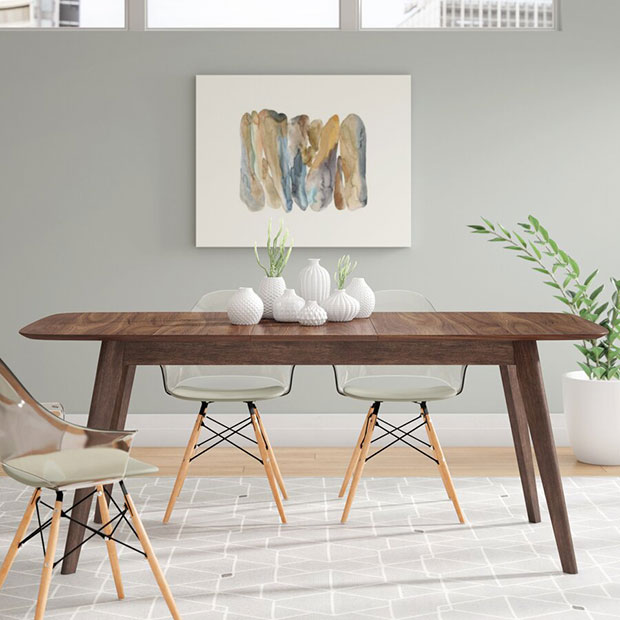 Corrigan Studio
This is also an extendable wooden dining table that can accommodate up to 6 persons. Its tabletop has a chamfered edge profile and rounded corners.
Ridgewood Cove Residence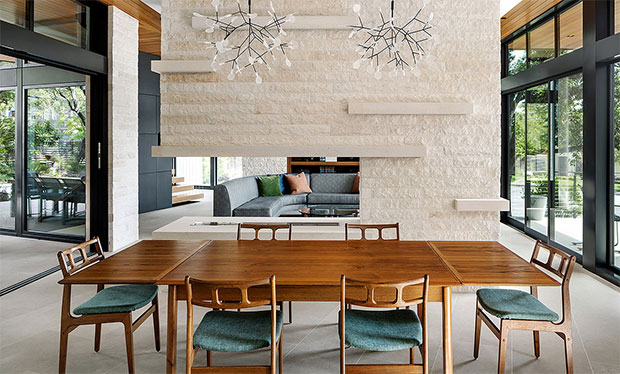 Cornerstone Architects
This dining table can be extended to give more counter space. The unique design of the chairs adds a cool aesthetic to the dining set.
Opulence Newstead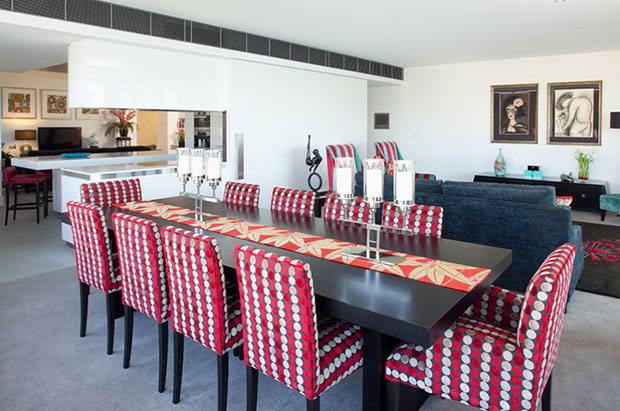 John Croft Design
The colorful fabrics in this dining table are great to see. It adds a splash of color to the room.
Lefever Rubber Wood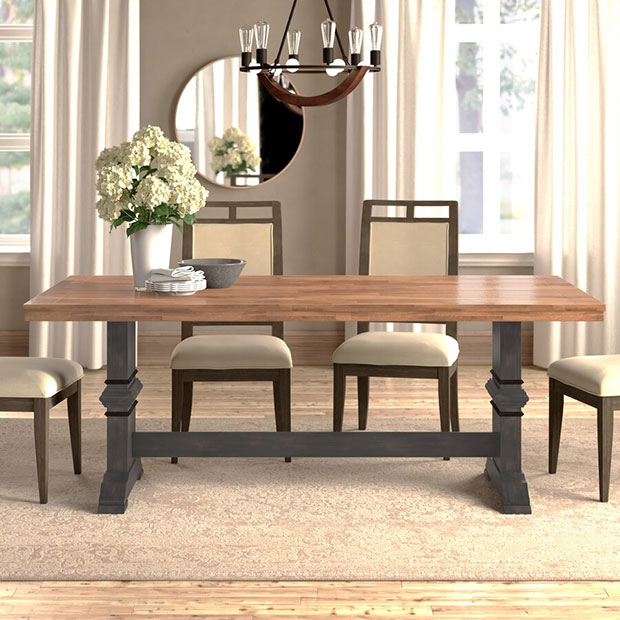 Birch Lane
This dining table is made of rubberwood for the top and oak for the base. Its classic design includes a thick rectangular tabletop with grooved details and a rich oak finish
Jalen Dining Table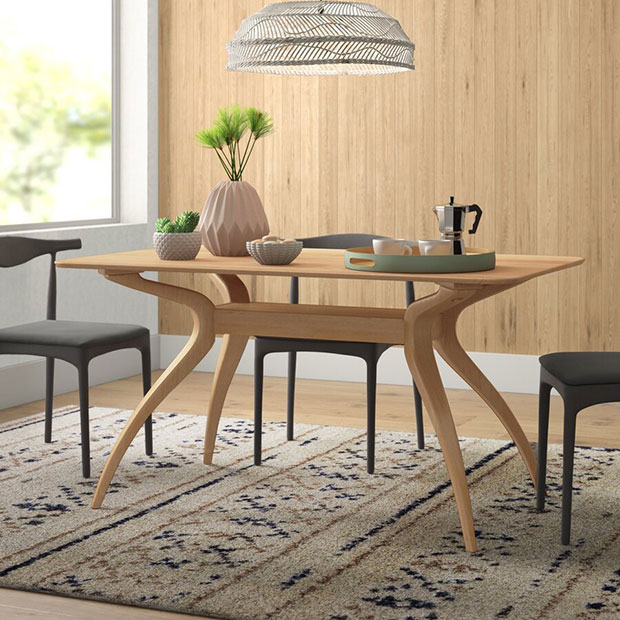 AllModern
The wooden dining table design of this table embraces a mid-century design. It is made of solid and manufactured wood and has a unique curving leg.
Downers Grove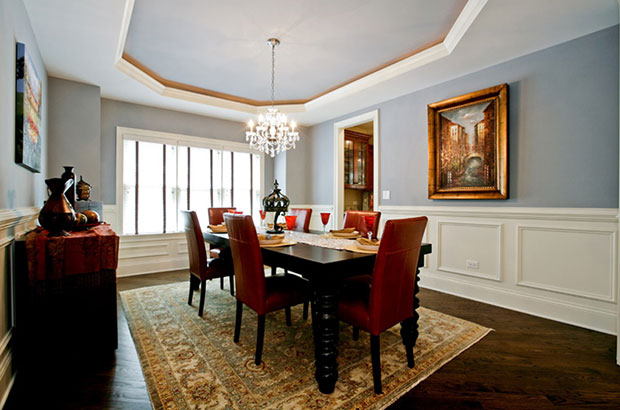 Oakley Home Builders
The fun and unique shape of these wooden dining tables add a nice soft edge to the table and the chairs surrounding it.
Oval Wooden Dining Tables
If you want to have fun with your dining table design, oval wooden dining tables can give a cool twist to your room. Afterall, quirky home decors and furniture are exciting and certainly eye-catching. You can even pair it with a colorful kitchen to match your taste.
Shelburne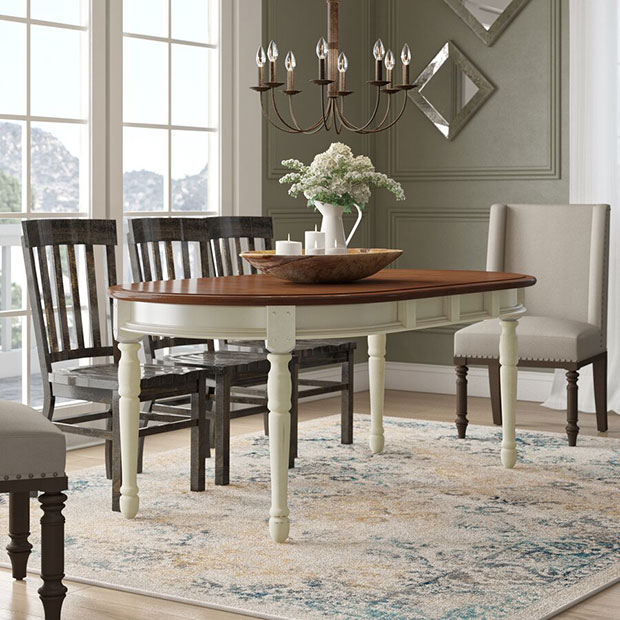 Laurel Foundry Modern Farmhouse
This traditional-designed wooden dining table has 38-Shelburne has four turned legs and sports an oval-shaped tabletop.
Ellis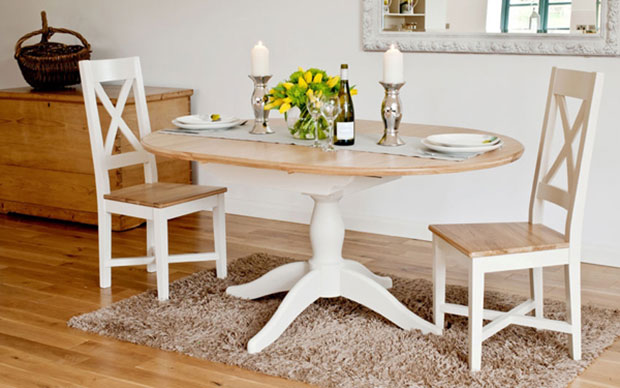 Fusion Furniture Store
This white table looks with its pedestal support. It looks perfect for a romantic setup!
Portola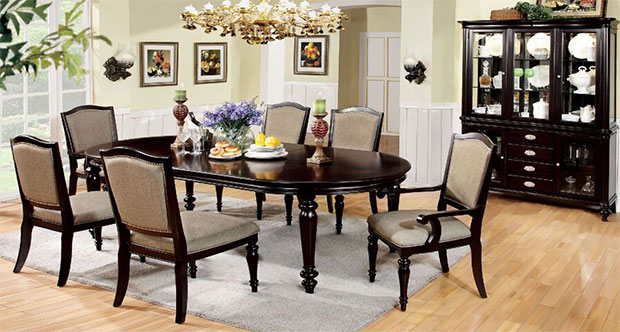 Darby Home Co
Made from dark walnut, this gorgeous dining table is perfect for a classic and elegant room design.
European Apartment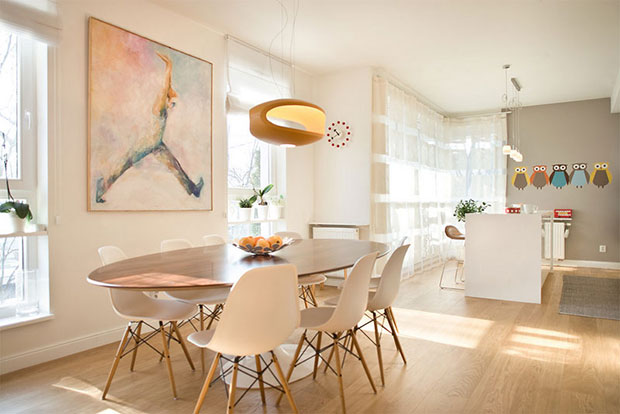 Knoll
The table has a mid-century design with a minimalist look. It is perfectly combined with the white mid-century chairs.
Engerman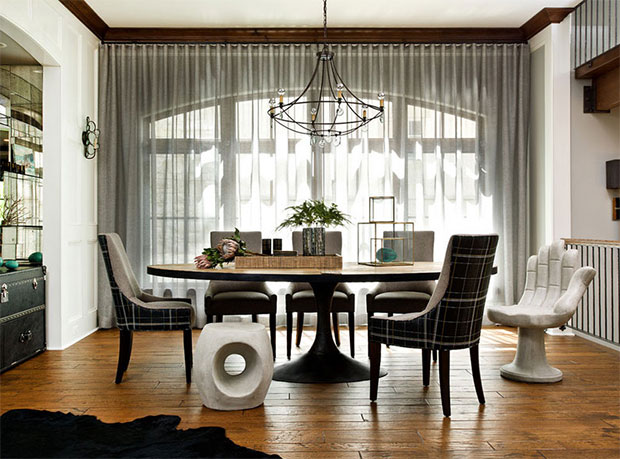 Engerman Companies
This unique dining room is made up of eclectic furniture including the hand-shaped chair. The combination is perfectly complemented by the beautifully crafted Asian solid wood table.
Ranstead Drop Leaf Table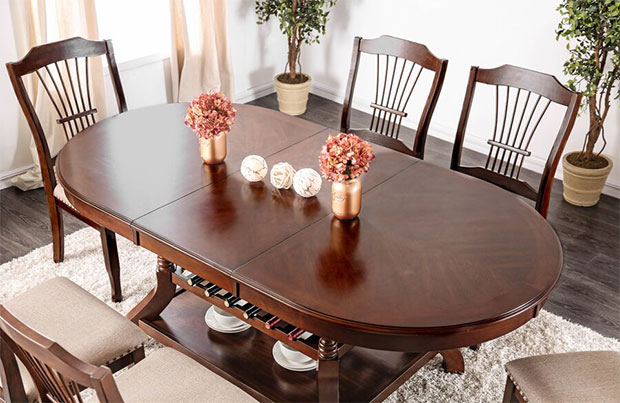 Charlton Home
This wooden dining table is made of pine, birch, and wood veneer. It is extendable and has a base at the bottom for stuff such as wine and extra cutlery and utensils.
Hinkle Dining Table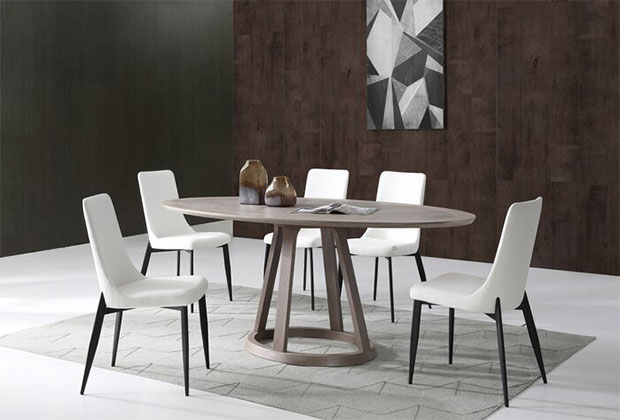 Wayfair
The combination of sleek and chic contemporary style with industrial design makes these wooden dining tables a great addition to any home.
Belfast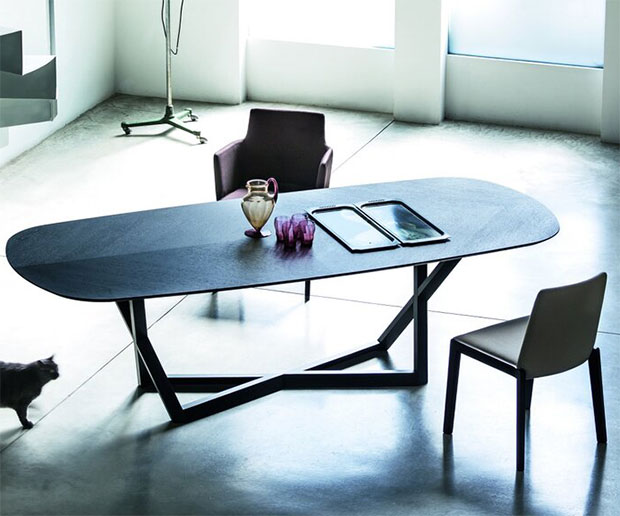 YumanMod
This table is made from a solid oak wood frame. It consists of two oblique trapezoids which add a unique touch to the table.
Conerly Oval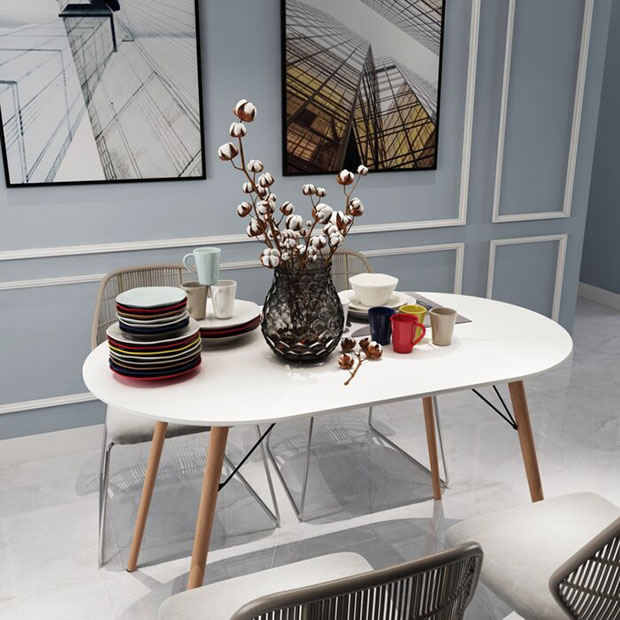 Corrifan Studio
Made from manufactured wood, these wooden dining tables add a mid-century vibe to the dining room.
Double Pedestal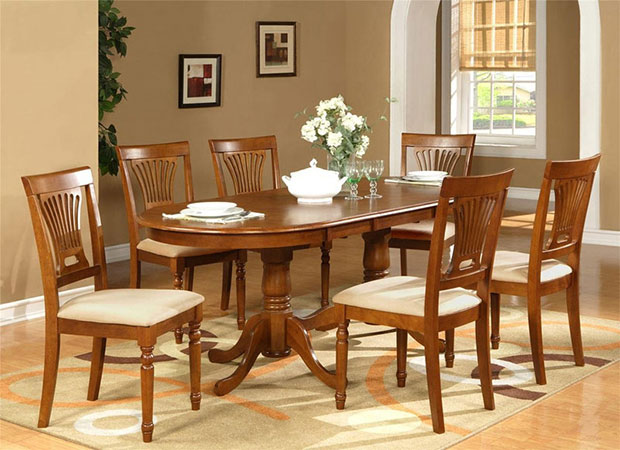 Moroso Construction
This double pedestal wooden dining table adds a traditional and elegant vibe to any dining room.
Wisser Dining Table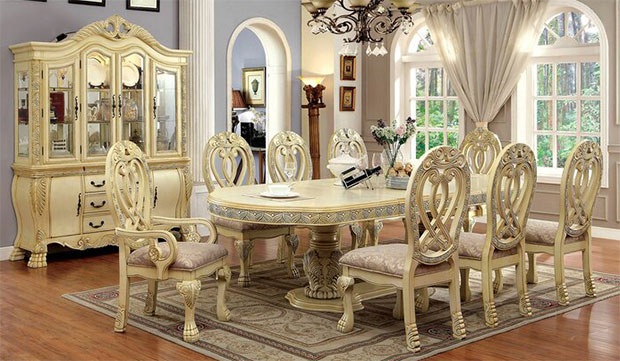 Astoria Grand
For a dramatic and royal look with your elegant room, this dining table is perfect.
HGG Drop Leaf Dining Set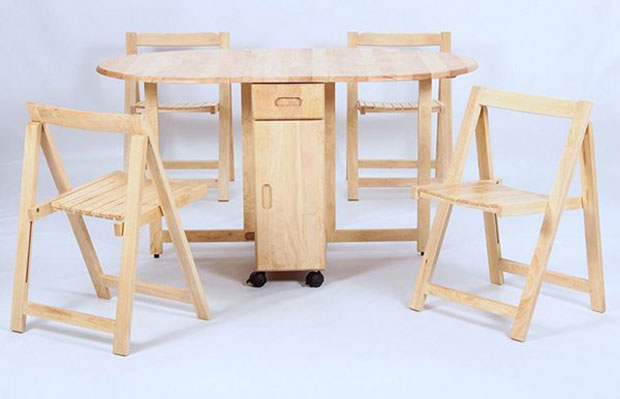 Home Gift Garden
This drop leaf dining table adds a relaxing and casual style to the home.
Butterfly Table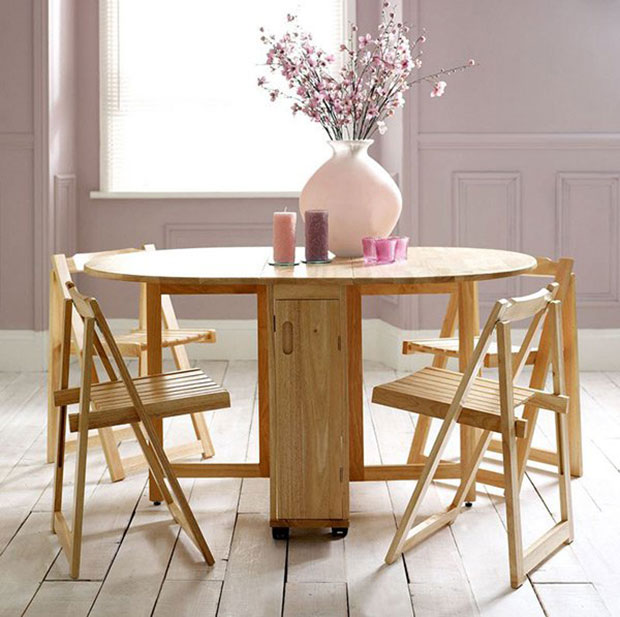 Dunelm
This butterfly table is made of rubberwood with a natural wood finish.
More than just the style, wooden dining tables offer a large variety of shapes, designs, materials, design themes, and even functionality that other table designs can't offer.
Have you found your next dining table here?
Like This Post? Pin It!