63 Lovely Dining Room Design Ideas For A Pleasant Dining Experience
|
The dining area is one of the most visited places in a home. In most cases, dining room design ideas tend to be formal, some even stuffy. There's not much attention being given to it unless you're planning a formal gathering or dinner party of sorts.
Still, even during normal and uneventful occasions, wouldn't it be nice to decorate and design your dining room to make every meal even more appetizing?
How to Choose the Dining Room Design
As always with interior design, there are a variety of styles to choose from to come up with dining room design ideas.
First and foremost, it is important to design your own unique space that reflects your personality and lifestyle, and at the same time, is designed to be functional. As it is always, there should be a balance between function and aesthetics.
Dining Room Design Ideas
We'll look through some dining room design ideas to give you some inspiration!
Modern Dining Room Designs
The key points in modern dining room design ideas are the sleek and uncluttered style. This kind of design style prioritizes function over aesthetics. The décor is minimal, which is made of natural materials, neutral, and earthy colors. This goes the same for the furnishing around the room. If you're into a monochromatic theme, modern dining rooms might be for you.
Scroll down for some modern dining room design ideas!
Parkland Residence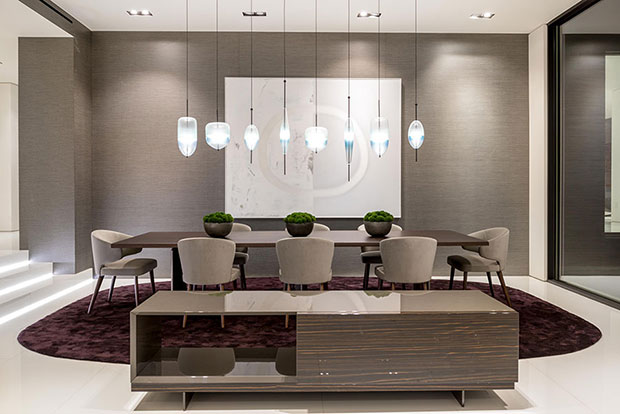 MGS Architecture
The minimal décor emphasizes the sleekness of this particular dining room. Even with the lack of striking decorations, it doesn't make this space look boring. Instead, the light features above the dining table bring in that extra splash.
West Hollywood Modern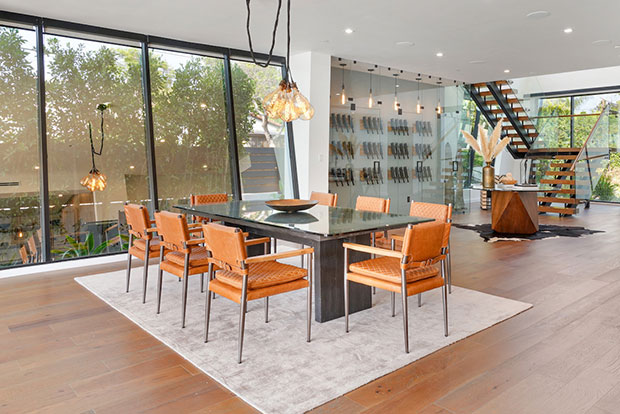 Meridith Baer Home
To contrast the rather plain color scheme, these bright orange dining chairs are nice additions. In a way, they are even in the same tone as the wooden floor.
Bohemian Modern Estate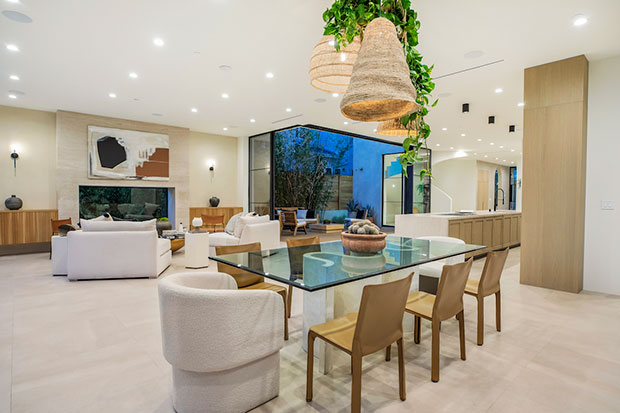 Meridith Baer Home
An open floor plan is common in modern design styles. This way the color scheme of the dining room matches with the rest of the home, particularly of the spaces nearby it. Take your attention though to the very interesting overhead light.
Canterbury Castle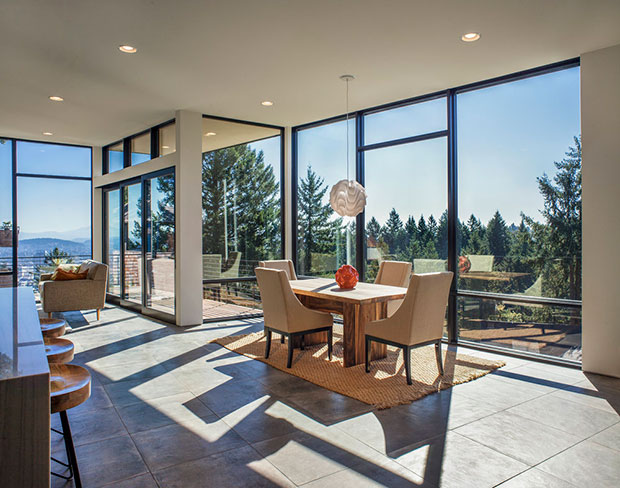 iBuildPdx Company LLC
A very simple yet intimate modern dining room design. To match with the natural wooden, the peach-colored seats and rug work in perfect harmony. Heck, even the little chandelier above the table gets the theme.
Madrona Residence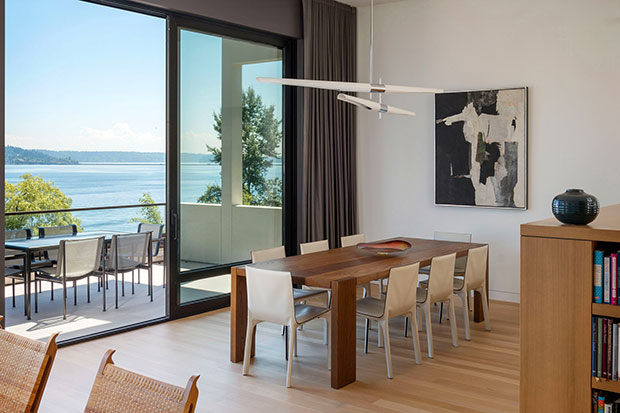 Cass Calder Smith
Open floor plan in dining room design ideas makes the décor look sparse. And that is very true for modern dining room designs. Some artistic additions sometimes come in with the chandelier or a modern painting on the wall.
Plaza Pacifica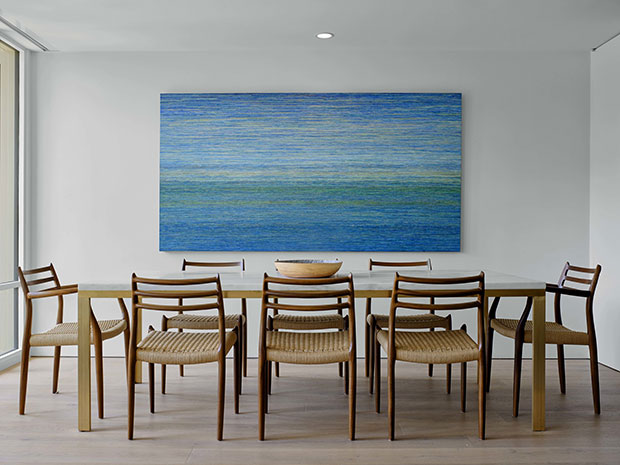 Messa O'Rorke
From the rather neutral and warm colors, this dining room is afforded some splash of bright colors with the painting on the wall. This is one of those simple dining room design ideas that are just enough to bring a cozy atmosphere.
Modern Bohemian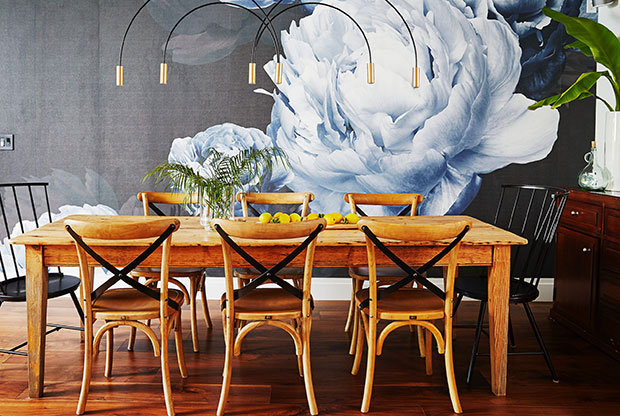 Julia Katrine Designs
Bringing a little twist into this dining room is this beautiful floral wallpaper.
Wine Country Modern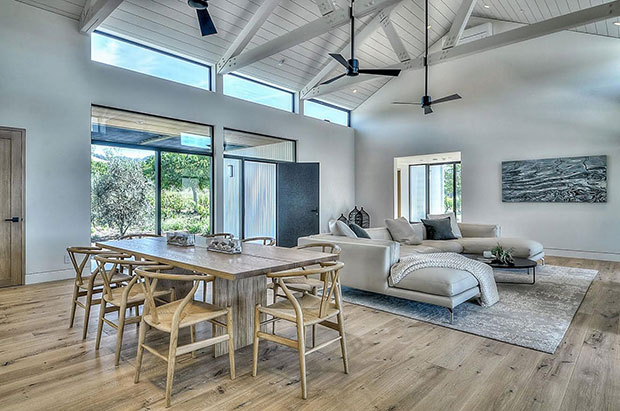 Julia Katrine Designs
With an open floor plan like this, it is really suitable and recommended that you match your dining set style with that of the rest of the space that it shares.
Sunridge Modern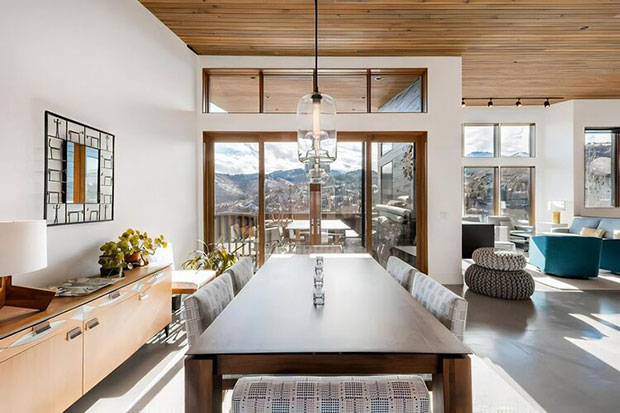 Williams Metcalf Interiors
It's pretty interesting how the dining table and the cabinet create a tone contrast with their respective natural wooden materials.
Beacon Hill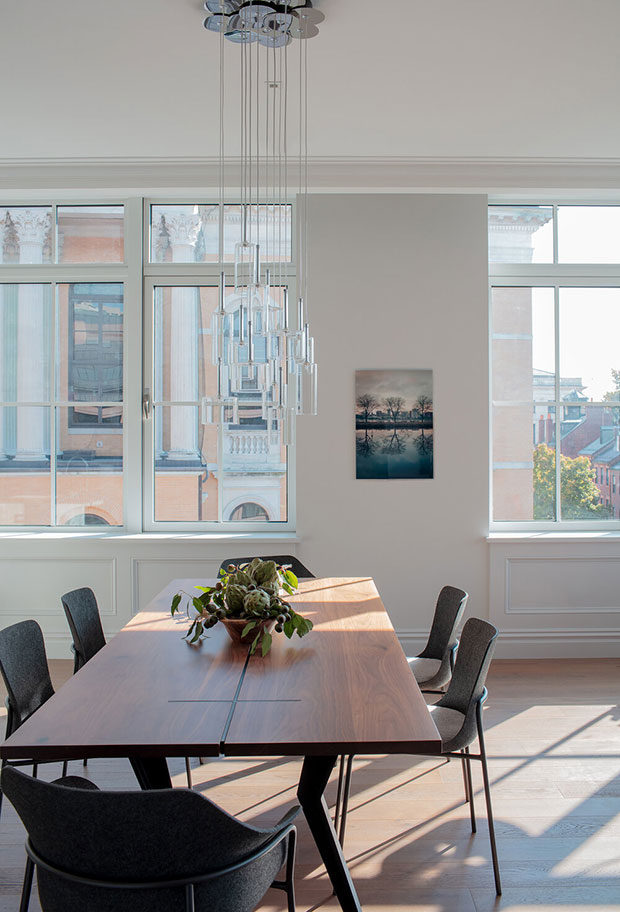 Studio Watt O'Keefe
Modern designs really like to embrace natural light. With the dining set sitting at a darker color tone, natural light is very much welcome.
Contemporary Dining Rooms
Contemporary dining room design ideas are all about the now and the future. It is all about simplicity and sophistication, sharing some similarities with modern design. Both design styles are minimalistic, sleek, and have clean lines and an open space plan. But contemporary designs feature materials such as glass and metals, in contrast to modern's wooden materials.
Let's take a look at some contemporary dining room design ideas!
West Palm Beach Contemporary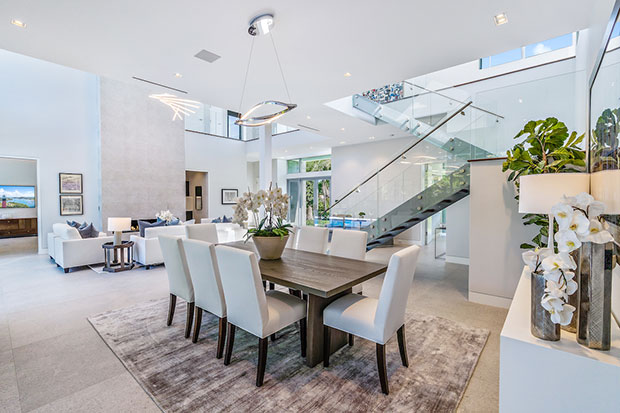 Meridith Baer Home
The rug interestingly enough compliments the dining table, creating perfect color harmony in this dining space.
Studio City Contemporary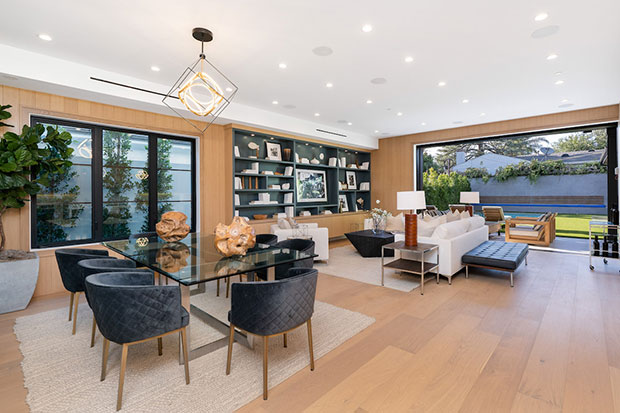 Meridith Baer Home
The dining set at this home perfectly encapsulates the contemporary style. Also, take note of how the chandelier matches the dining set with its colors.
Larkspurt Contemporary Update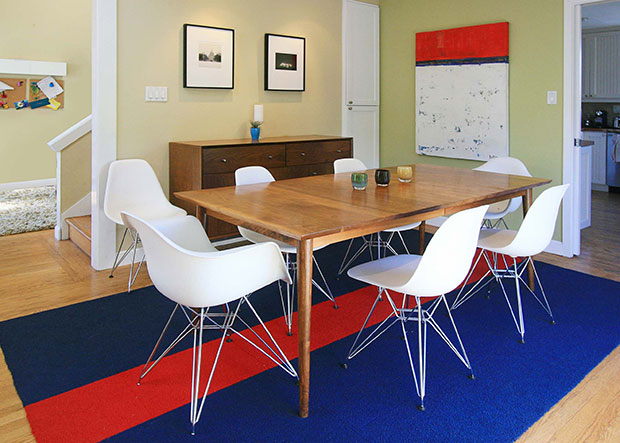 Julia Katrine Designs
The chairs and the dining table have such interesting contrasting styles that create a fun-looking dining room.
The Avantmore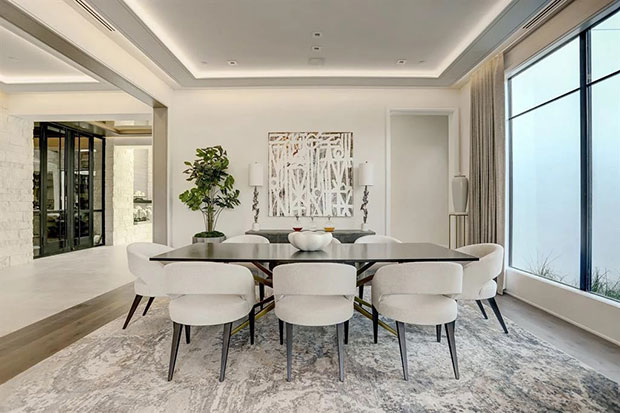 Al Ross Luxury Homes
Love how this dining room follows a neat color scheme, as everything works in perfect color harmony. It's also pretty interesting how the rug matches with the wall painting.
First Hill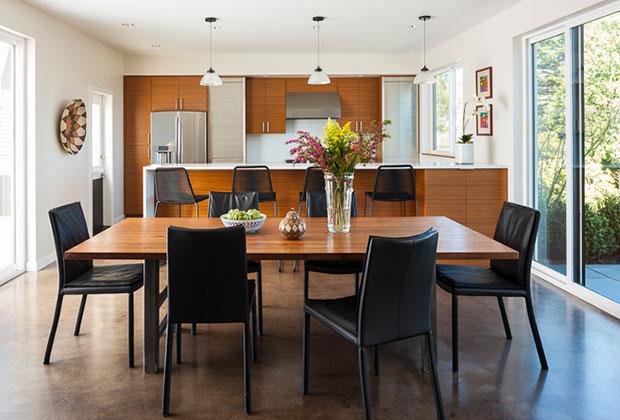 Colleen Knowles Interior Design
The faux leather chairs set with the wooden dining table blend well together to create this warm dining room.
Poppy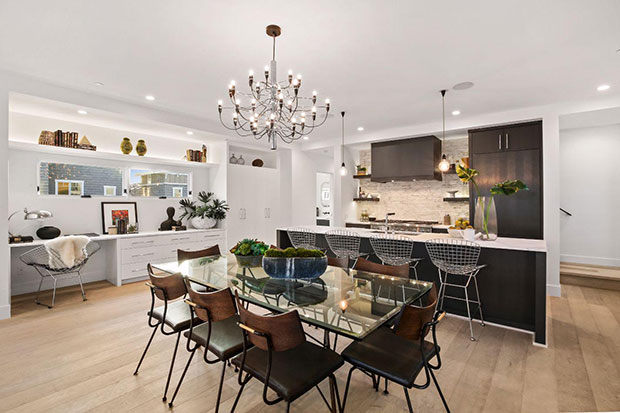 Nicholson Companies
The unique set of dining chairs elevates the look of sophistication in this dining room.
The Rainman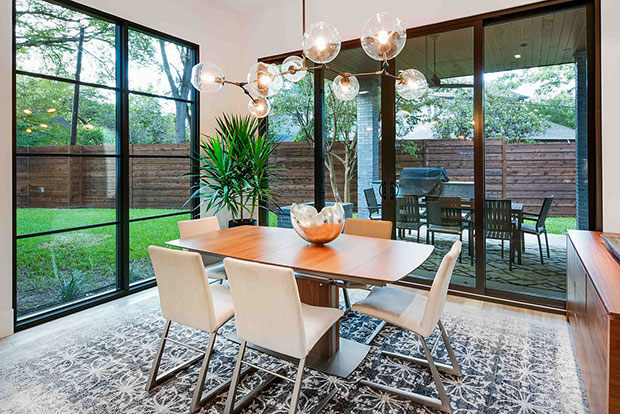 Rosewood Custom Builders
For a softer sophisticated look, these white dining chairs fix up that aesthetic. And the unique chandelier only elevates that.
Zilker Contemporary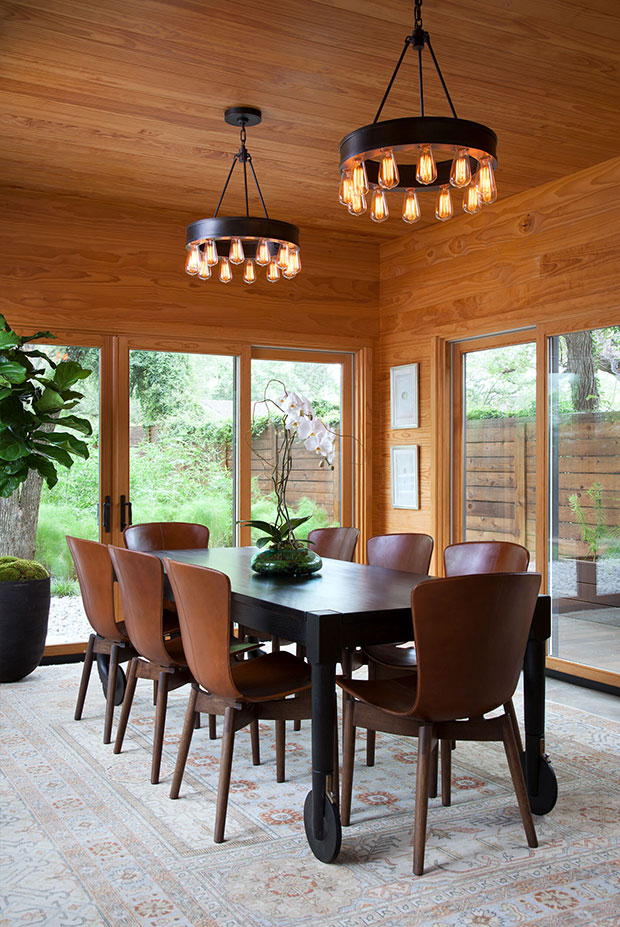 Cravotta Interiors
This home has pretty interesting yet beautiful choices for dining tables and chairs. And it all works too well with the rest of the color palette of the room.
Stonegate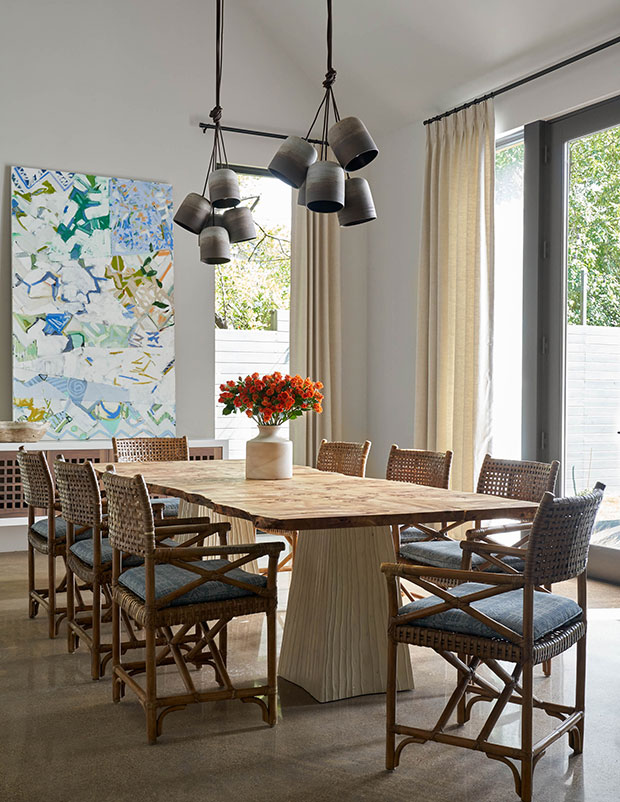 Coats Homes
With more intriguing furniture choices, this dining room surely brings out a unique contemporary style of its own.
Contemporary Waterfront Elegance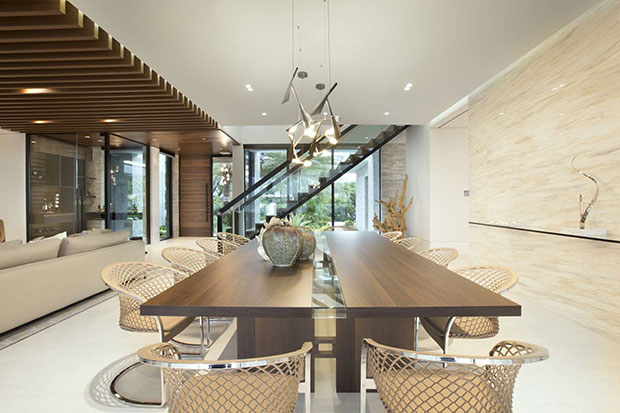 Dkor Interiors
With the sleek dining table and an open floor plan, you can clearly see the overall elegance of this particular dining space.
Traditional Dining Rooms
Appealing to the conventional home aesthetics, traditional dining room design ideas are supposed to be timeless, comfortable, but not overly fancy. Every aspect of this design style is inspired by or based on styles from the past since traditional design is largely based on 18th and 19th-century European styles.
Here we have some traditional dining room design ideas!
Pebble Beach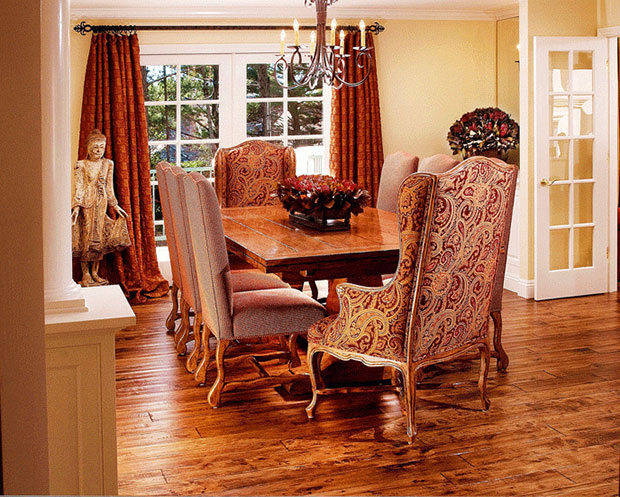 Debra Drake Interior Design
The patterns and intricate details in the furniture and furnishing around this dining room perfectly capture the traditional dining room design.
Traditional Rambler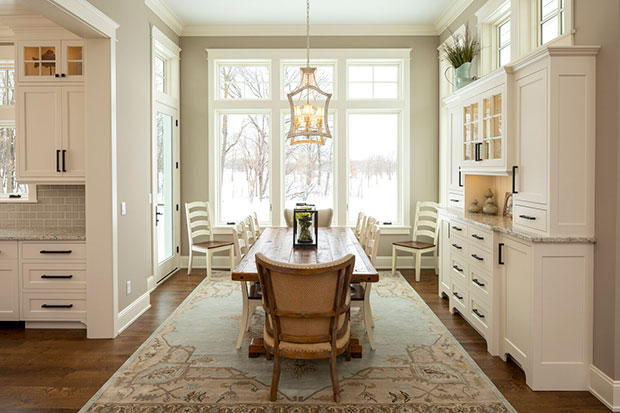 Mark D. Williams Custom Homes Inc.
Some of the timeless traditional dining room design ideas feature a cupboard in the room and some floral patterns as seen in the rug.
Arden Road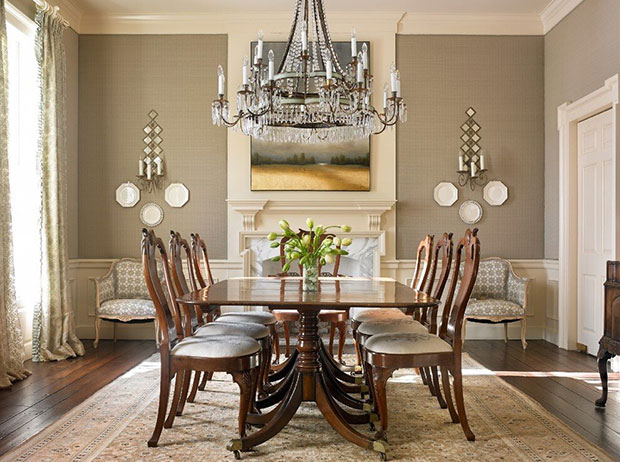 Liz Williams Interiors
The extravagant chandelier and the intricate detailing should be a dead giveaway to the traditional elegance of this dining room.
Mountain Ranch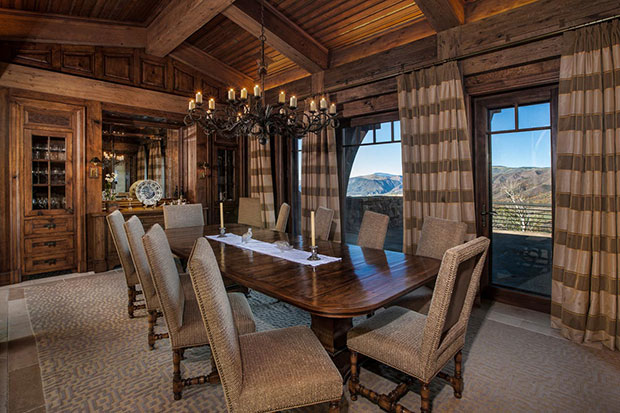 Poss Architecture + Planning and Interior Design
Curtains and candle-lit chandeliers, wainscotings, and ornate details. All of this makes a very tantalizing traditional dining room.
Georgetown Twilight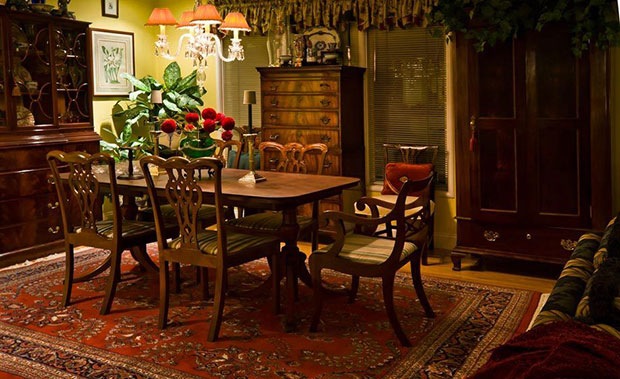 Dennis Mayer – Photography
In contrast with modern design, the traditional design does not shy away from décor. In fact, it is even encouraged in this design style, and it is clearly shown in this dining room.
Forest View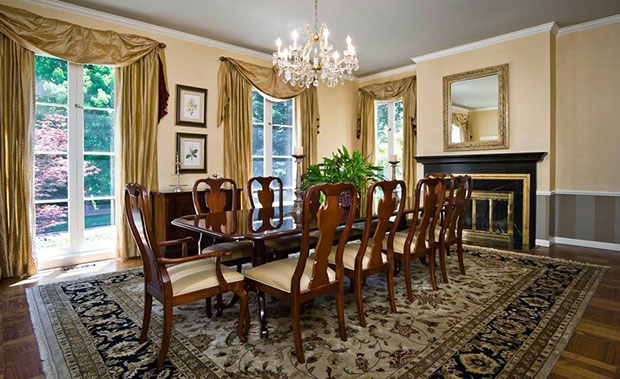 Dennis Mayer – Photography
For fancy dinners or formal get-togethers, traditional dining room designs are quite the perfect style to go with it. This particular dining room is definitely going to have your guests talking.
Curated Dwelling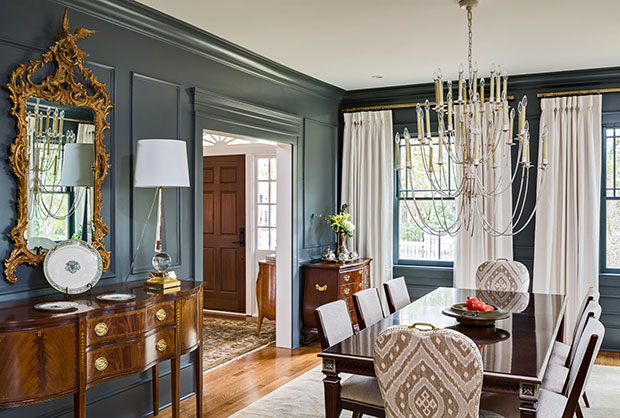 Fowler Interiors
Polished and brilliant – two words to describe this exciting traditional dining room.
New Canaan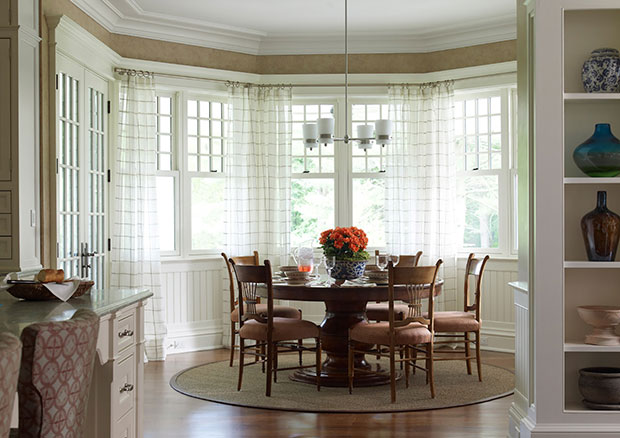 Michael Smith Architects
Set your dining room apart by opting for a round table instead of the usual long rectangular ones. Circular dining room spaces like this or small spaces, in general, could benefit from having a round table instead.
Rejuvenated Villa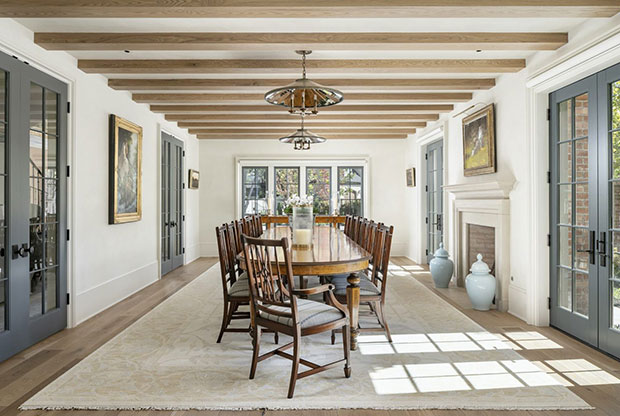 Jackson & Leroy
Compared to the other traditional dining rooms above, this one looks brighter and livelier due to that much natural light coming into the room.
Oakcrest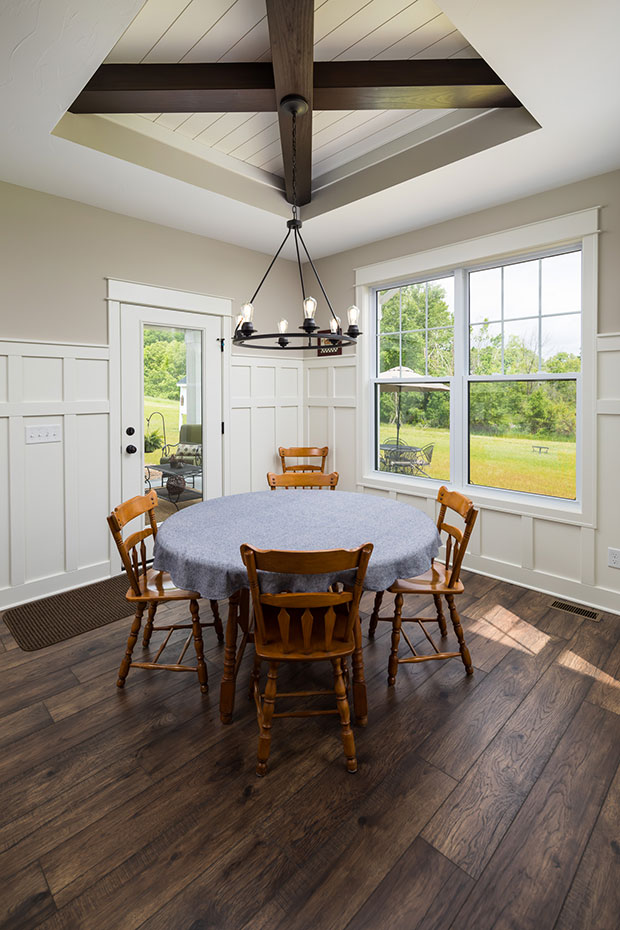 Snowden Builders
A very simple yet intimate dining room. It also gives off a feel of coziness.
Transitional Dining Rooms
Dining room design ideas do not have to strictly adhere to a single design style. The transitional design brings modern and traditional designs together for a more unique room style. With a transitional dining room, you can have that classic look but with a modern twist.
Let's dive into some transitional dining room design ideas!
Maple Drive Transitional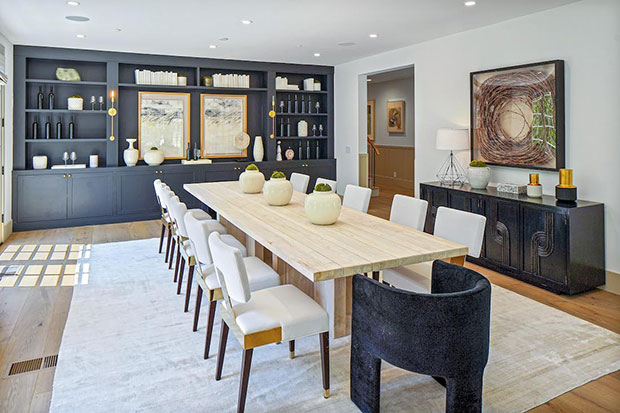 Meridith Baer Home
Even with modern-style furniture, this dining room retains the coveted classic look.
Holmby Tudor Revival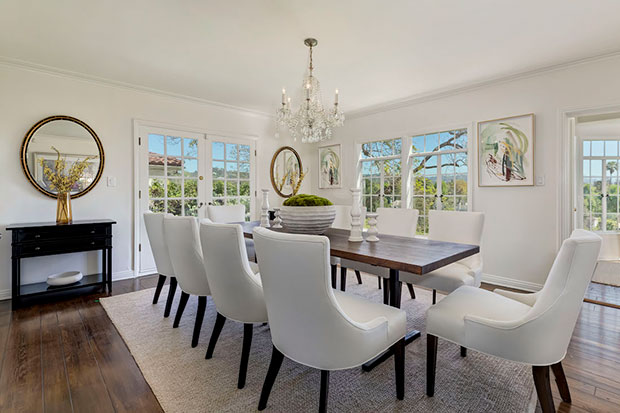 Meridith Baer Home
The many décors add some spice into this room. And those chairs bring in a very neat look to the space.
Vibrant Transitional Dining Room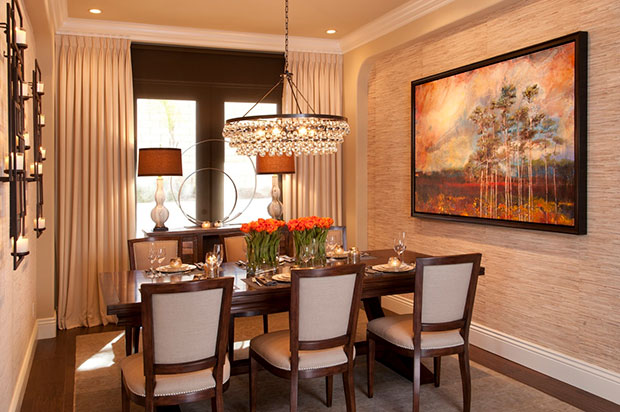 Robeson Design
This dining room is giving very much of a formal dinner vibe. While the décor and paint do their job well, it's the lighting that really brings it all together.
Highland Remodel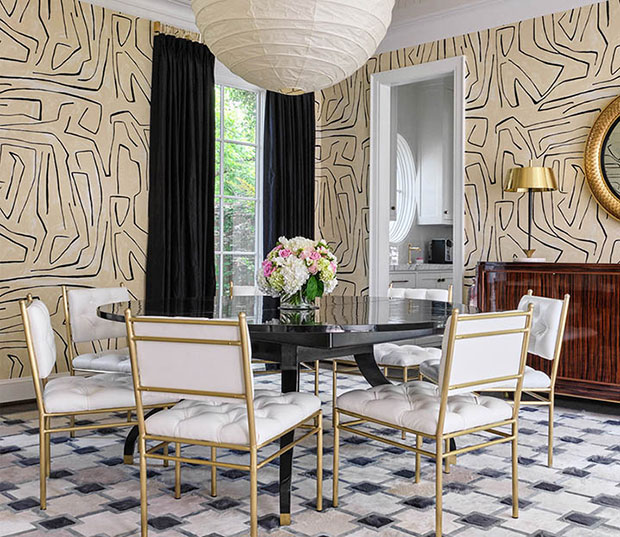 Hudson Construction
There are some really flashy décors in this dining room, with the wallpaper topping it all off.
Lincoln Park Home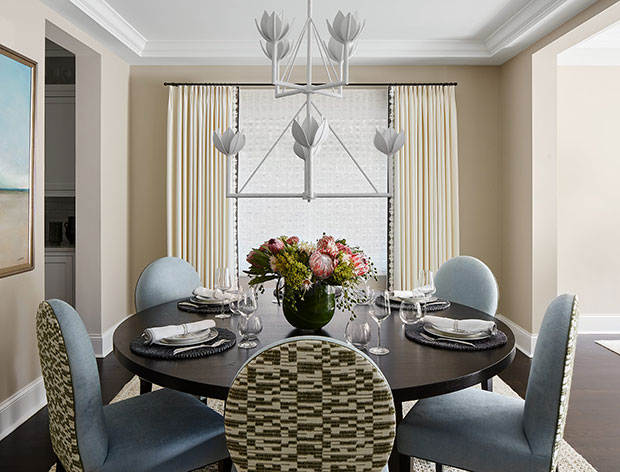 Gemma Parker Design
Bring your attention to this intricate and excellent ironwork of a chandelier. It may not be the first thing you notice at first glance, but it definitely grabs your attention once you've seen it.
San Gabriel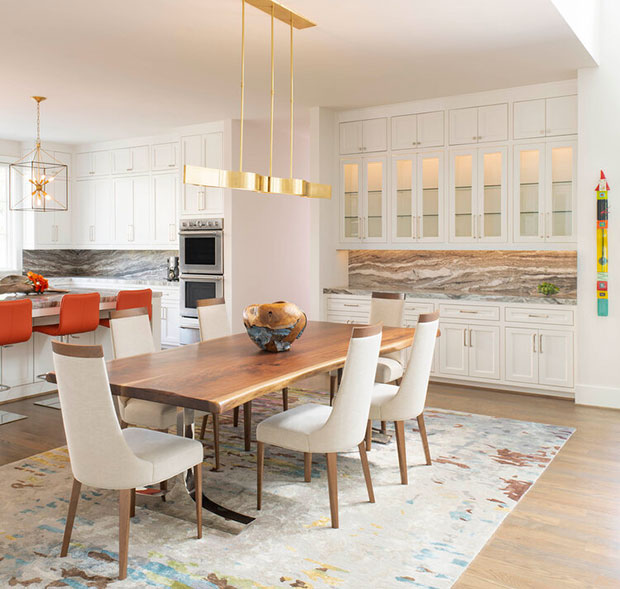 Mohment
The colorful rug adds some personality to this dining room, elevating it to a cooler and more fun atmosphere.
Mountaintop Retreat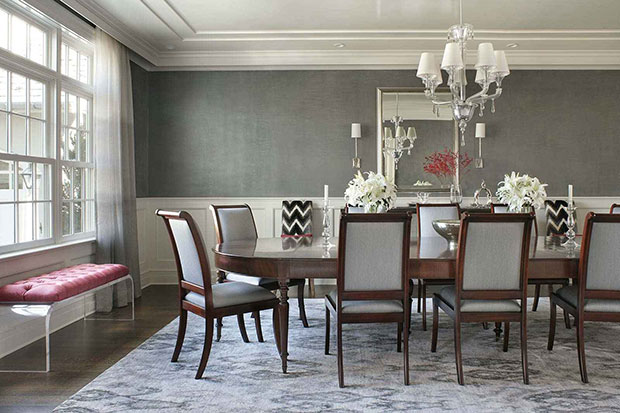 Valerie Grant Interiors
The consistent darker color theme makes this room look sophisticated. And the small splashes of red emphasize this further.
Chevy Chase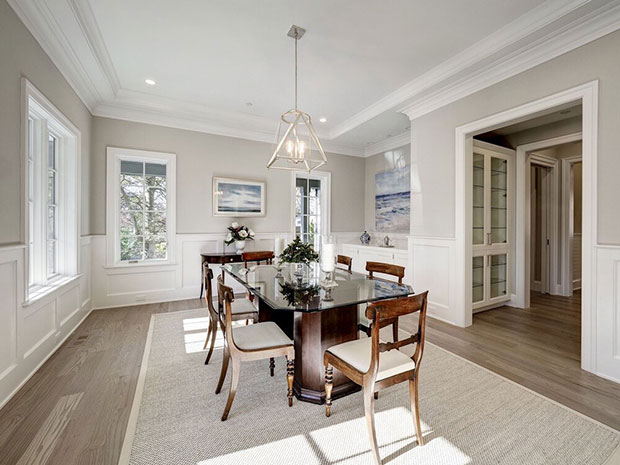 AAI Poggenpohl
In a room painted in shades of white, the wooden dining table and chairs were chosen to really stand out.
Historic Decatur Whole House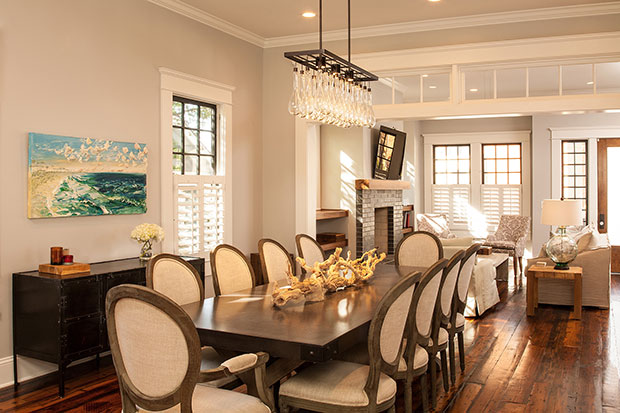 Alair Homes
The dining set's natural wooden material composition is quite the perfect contrast to the overhead chandelier.
Herb River Drive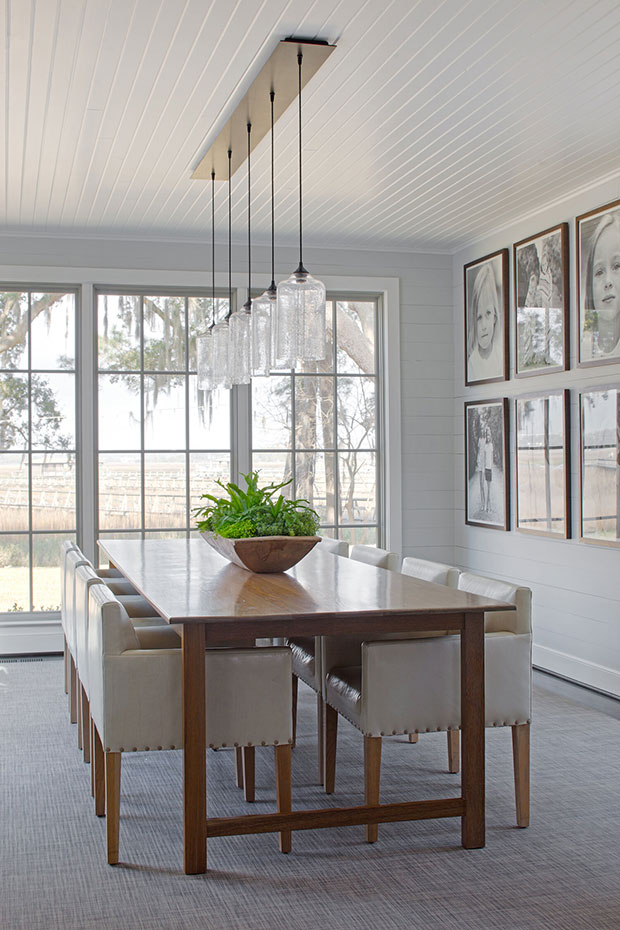 Rethink Studio Interior Design
For a more intimate and cozy setting, take a look at this particular dining room.
Rustic Dining Rooms
Key points to look out for rustic dining room design ideas are the natural, rough, aged, and casual design styles. This is a design style that encompasses various styles.
Take a look at a couple of rustic dining room design ideas down below!
Dining Room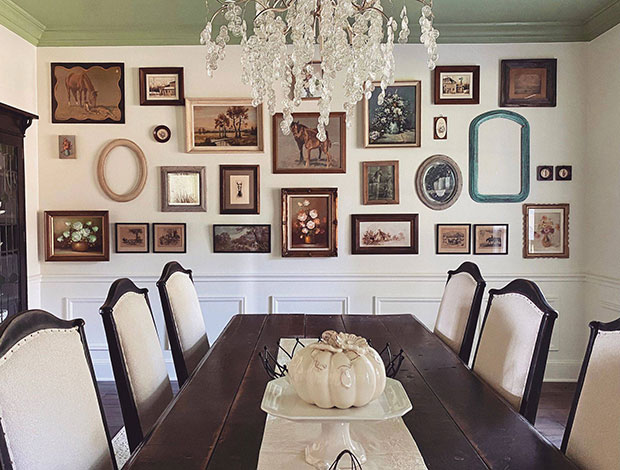 Larie Barnett Interior Decorator LLC
The weathered wood planks used on this dining table make it hauntingly beautiful. And with those varied frames, this dining room almost looks like a set for a thriller movie.
Greenburg Residence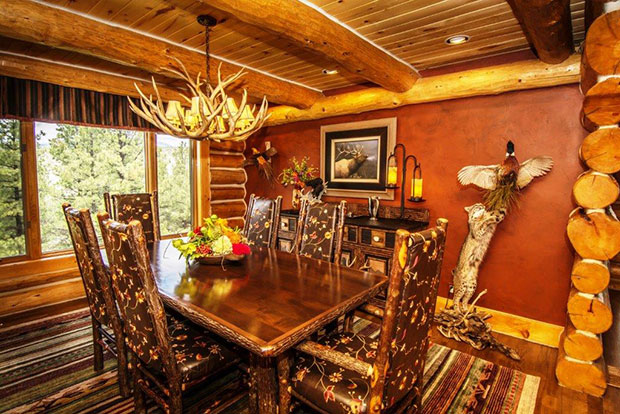 Timberline Framers, Inc.
This particular dining room probably embodies that modern rustic feel. You can even feel nature in here with all that animal-inspired décor.
Martis Camp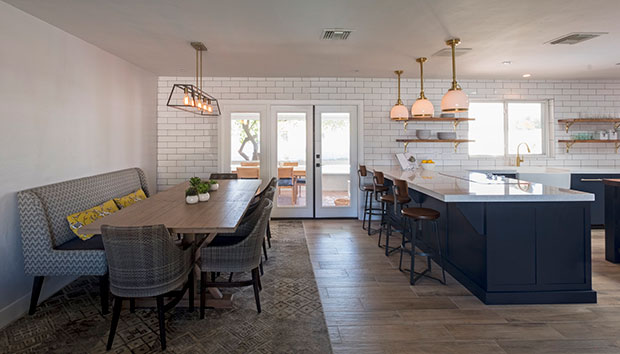 Studio V Interiors
The wooden floor and the aged-looking dining table truly set up the rustic look and natural feel.
Emma Ellis Ranch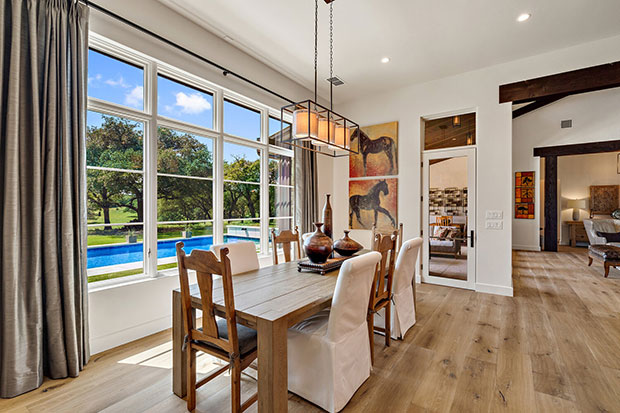 Vanguard Studio
Interesting how they alternate the chairs with slipcovers and those without them. It gives a little variety to it.
Marble Cliff Crossing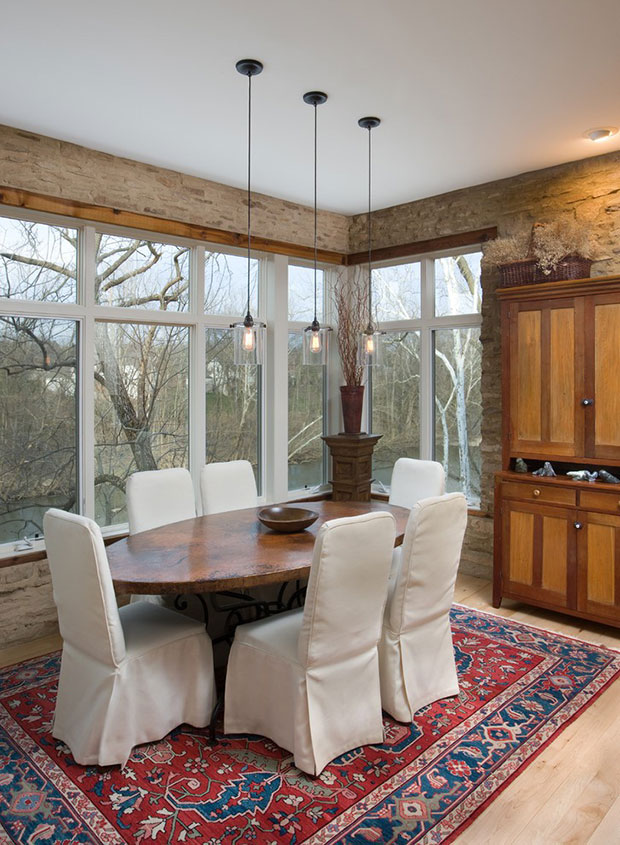 Melaragno Design Company
This uniquely patterned rug adds a layer of life to this rustic dining room.
Fly Fishing Lodge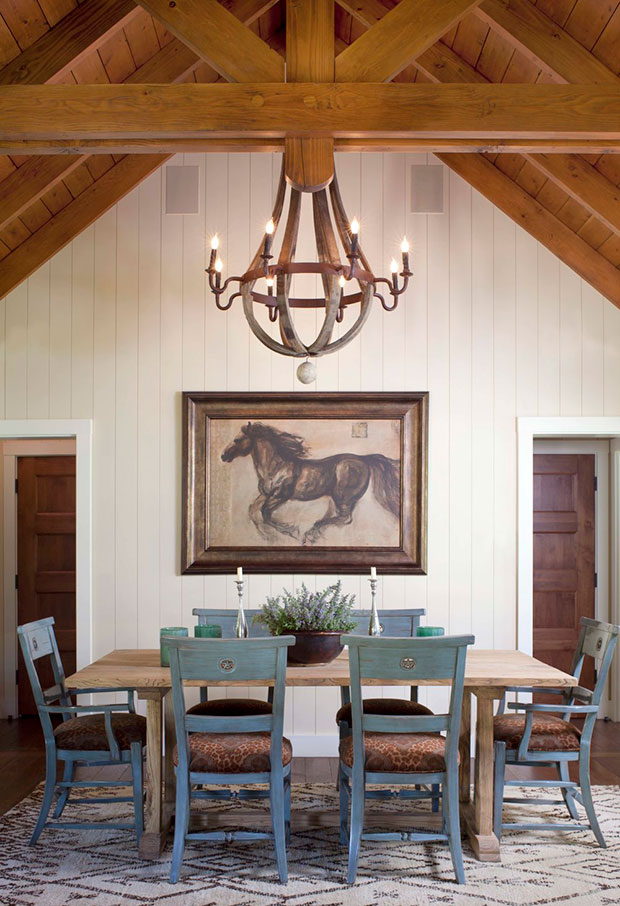 Ashley Campbell Interior Design
This particular chandelier perfectly complements the aged look of the dining set.
Texas Hill Country Reclaimed Resort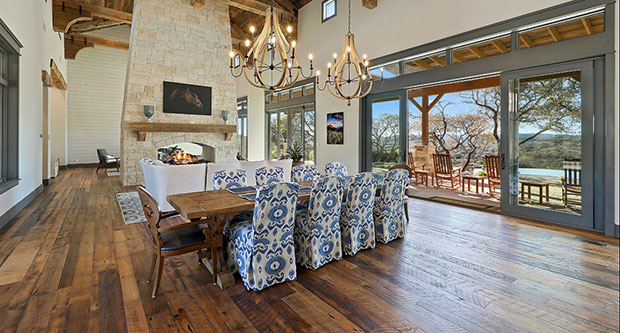 WoodCo
Having brightly patterned slipcovers on your dining chairs is a nice touch to bring some life and color.
Industrial Dining Rooms
The industrial design mixes up various design styles too. But with this style, embraces piping and ductwork to have that raw, unfinished, and casual atmosphere.
Let's have a look at some industrial dining room design ideas!
Franklin Street Loft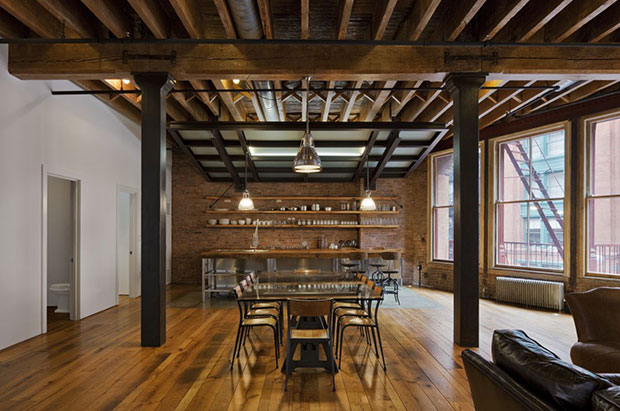 Jane Kim Design
The open space plan makes the room look and feels freer. It has just the right cozy atmosphere to go along with the chicness.
Tahoe Retreat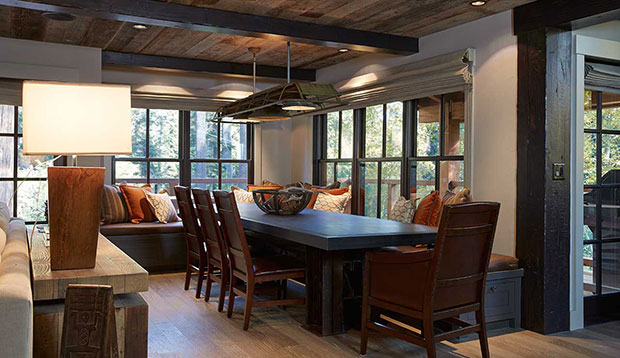 Tineke Triggs Artistic Designs for Living
The dining chairs are pretty interesting choices. It almost feels a little cyberpunk-ish.
Tahoe Tavern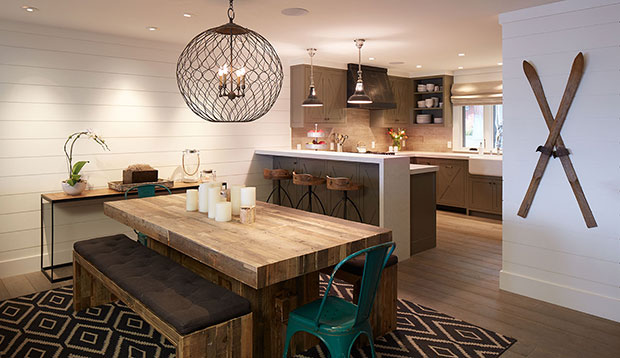 Tineke Triggs Artistic Designs for Living
This dining space has that pretty interesting look where it doesn't look like much thought was put into it. But that's what industrial style is all about.
Howard Street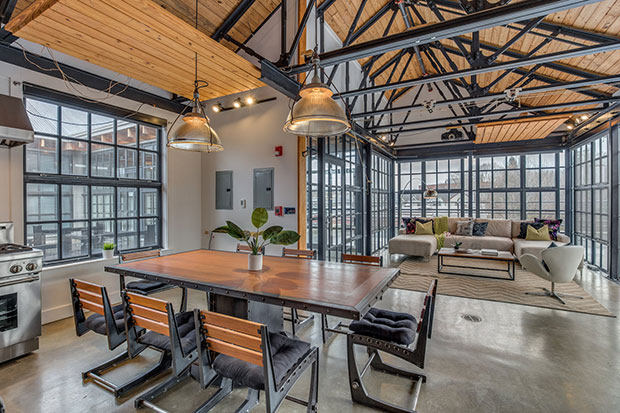 Chrissis & Company Interiors
The entire dining set, especially the chairs, just has to be the coolest furniture ever featured. It almost has a futuristic feel to it.
Blues and Green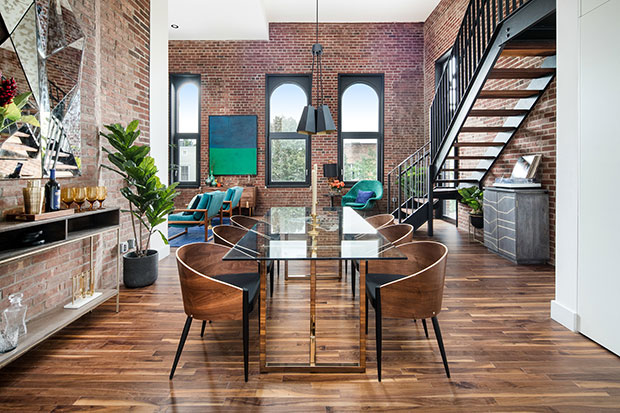 Dickey Design
With some sleek and chic furniture pieces, this dining room is giving a sophisticated yet casual overall look.
Shabby-chic Dining Rooms
With the appearance of being pleasantly old or slightly worn, shabby-chic style is one of the more interesting design styles. If you're interested in learning more about shabby-chic dining rooms, there's a full article with tips and more examples.
Here are a few shabby-chic dining room design ideas!
European Chateau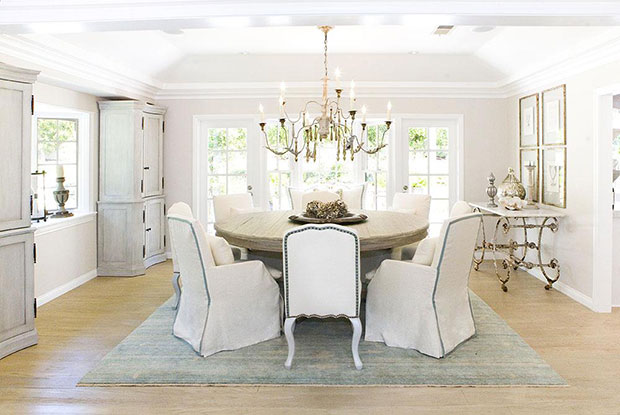 Bliss Home & Design
Refurbished old furniture like these will easily fit into this design style.
Floral Chair Beauty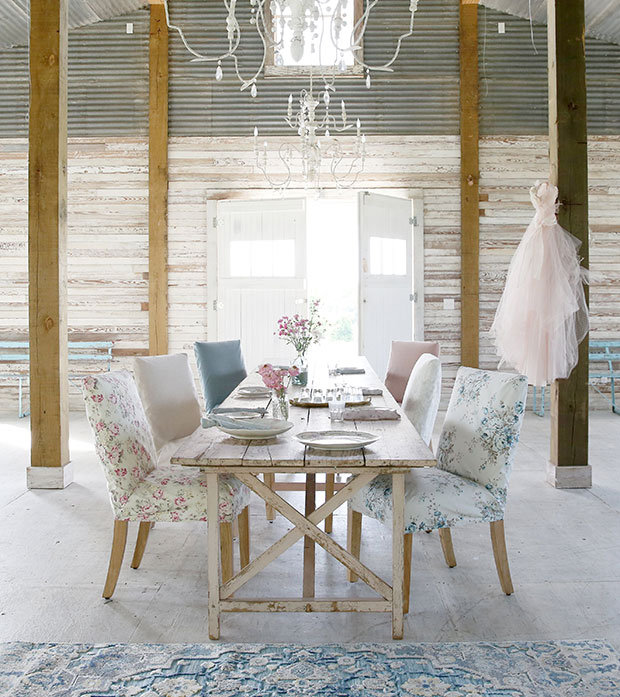 Rachel Ashwell Shabby Chic Couture
Where it's usually plain white slipcovers in a lot of shabby-chic dining rooms, mismatched chair linens are also a thing here.
Shabby Chic Couture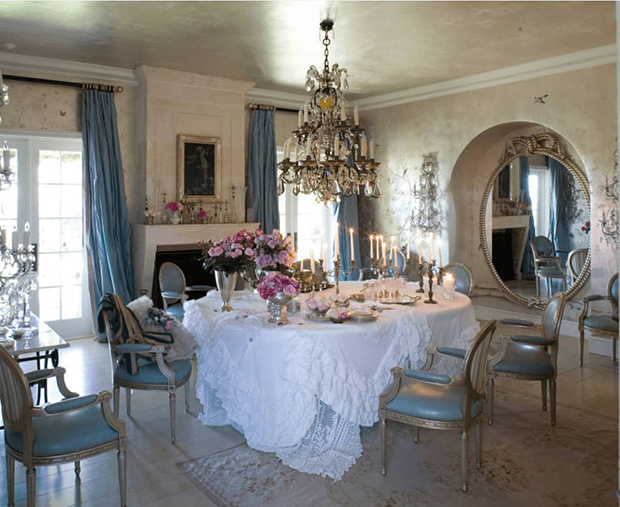 Rachel Ashwell Shabby Chic Couture
Even with all that décor, you can see that antiquated style in them that makes the room all the more elegant.
French Cottage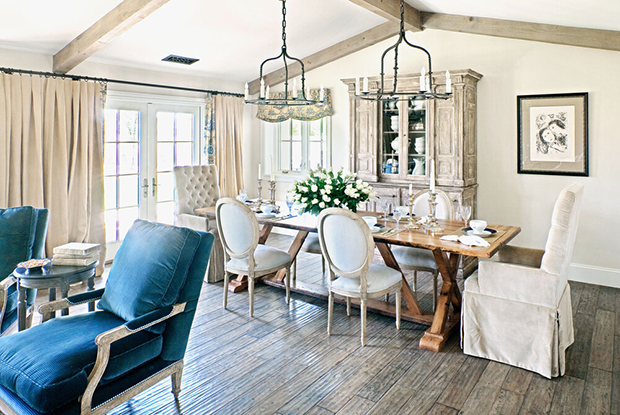 Palm Design Group
All that refurbished furniture certainly draws out the best of the shabby-chic design.
Mulholland Traditional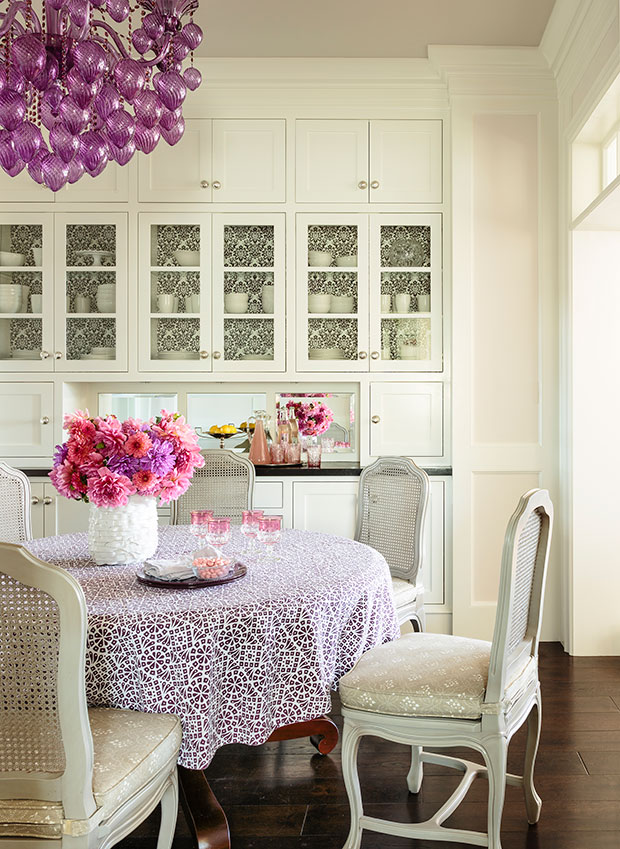 Alison Kandler Interior Design
Colorful linens like this can be used in shabby-chic dining rooms to bring an additional life into them.
The Pillar House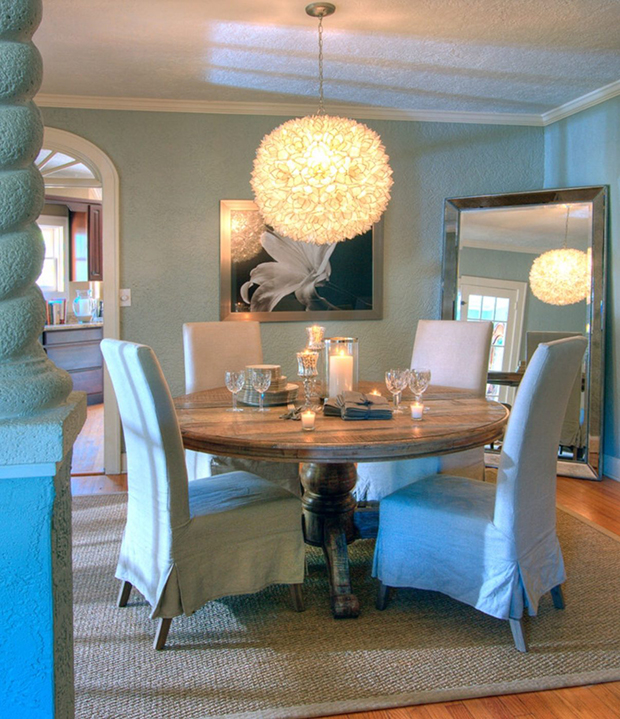 Tweak Your Space
The chandelier in this dining room is looking pretty much like the sun, and so, is quite a unique addition.
Coastal Living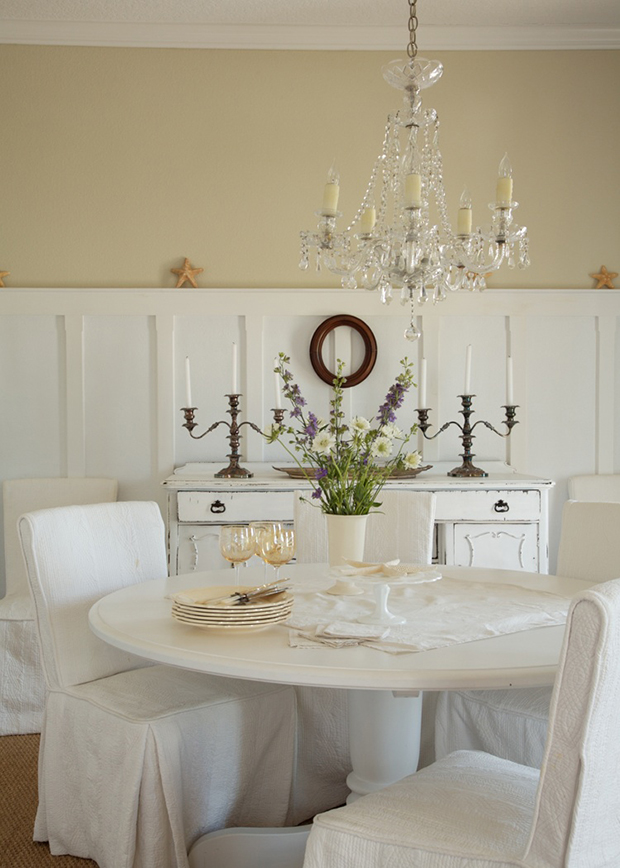 Tweak Your Space
The vintage look of this room is even more emphasized by the chandelier and the candelabra décor.
Coastal Dining Rooms
Coastal interior design is practically trying to create that coastal beach vibe without the mess of the beach. It is defined by seaside elements and colors. Colors that are a mixture of neutrals and pops of color; elements like touches of rope, driftwood, or shells even. This design is all about creating a relaxing and easy vibe as if you are on the beach yourself.
So, here are some coastal dining room design ideas to get you started!
Southern Home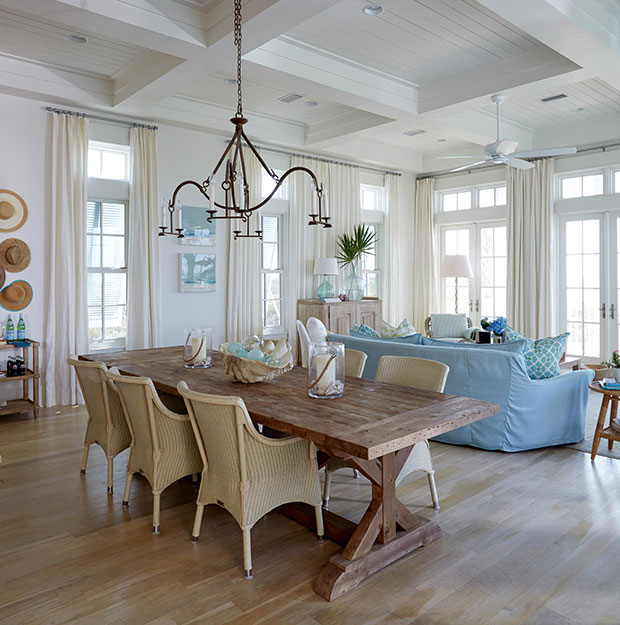 Sierrra Pacific Windows
That seashell bowl really is the cherry on top of this coastal dining room.
Gerda Terrace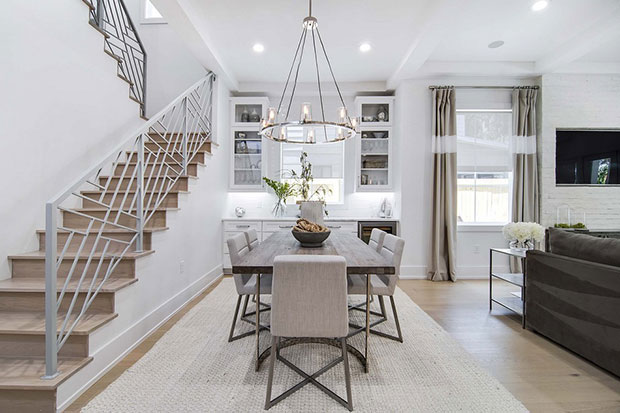 M. Lahr Homes
The sandy-colored rug and the type of wood material used for the dining table give it an impression of fine dining on the beach.
The Gatewood Project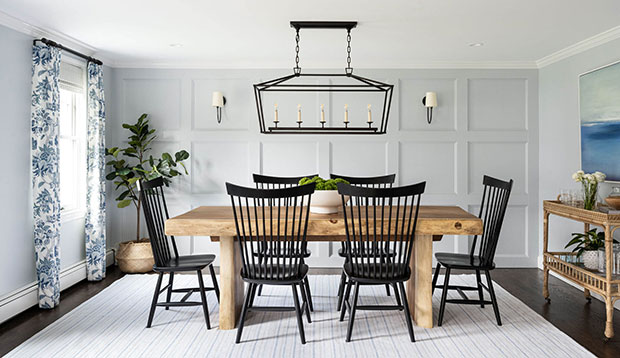 Sarah Merrigan Design
The blue curtains and that painting are just enough to bring a cool atmosphere into the room.
Mimosa Lane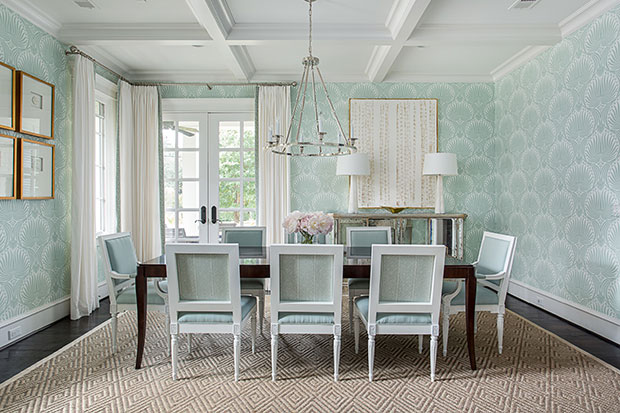 EJ Interiors LLC
The dining seats match the color of the seashell wallpaper. These color tones create a very cool vibe.
High Summit Drive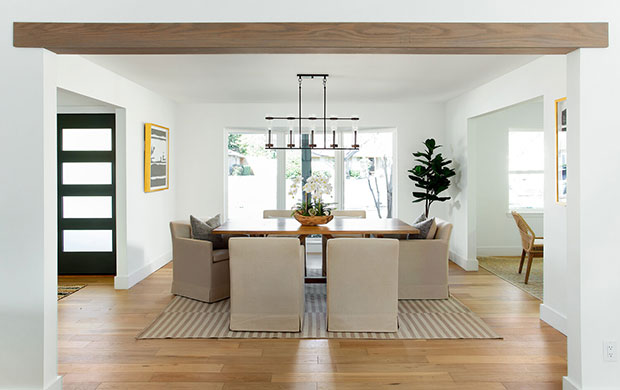 Jessica Koltum Home
Another thing about coastal design styles is how it embraces natural light, using it further create a relaxing atmosphere.
Seaside Abode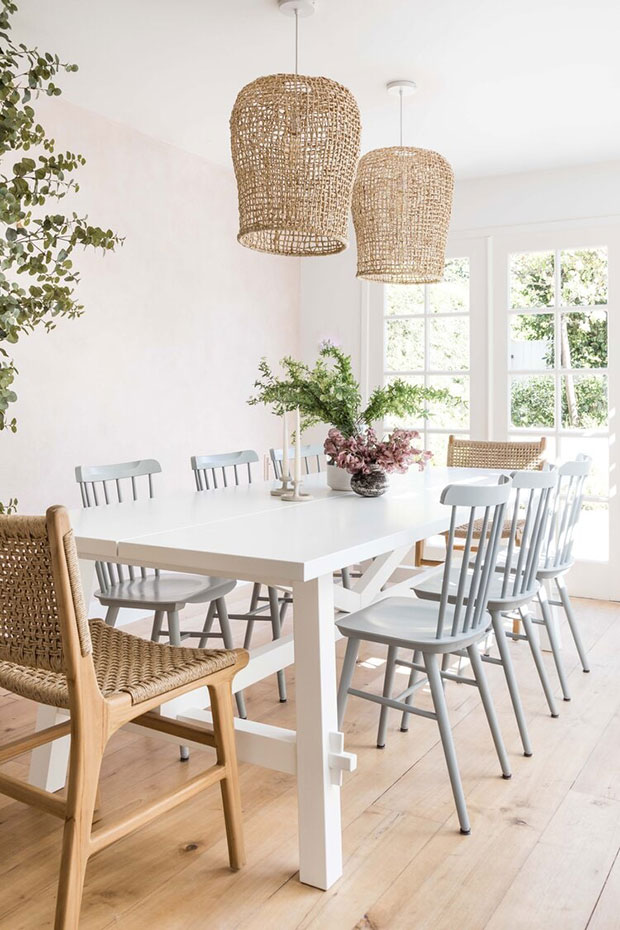 Pure Salt Interiors
The dining set furniture quite has the casual look. Also, take note of the interesting chandelier.
Eclectic Dining Rooms
If you have trouble sticking to a single style, eclectic design style is the answer for you. Mixing elements of various designs can create such an exciting and fun dining room.
Here are some eclectic dining room design ideas you may want to check out!
Leather District Loft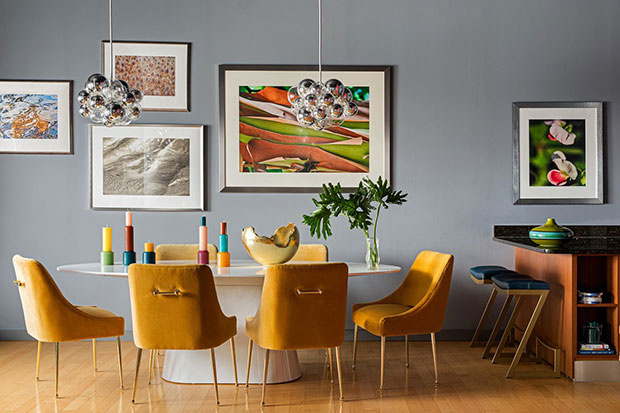 Dane Austin Design
Some informal and casual-looking dining tables and chairs quickly set the tone for this dining room. Direct your attention, as well, to the bubble chandeliers.
Anderson Kaible Dining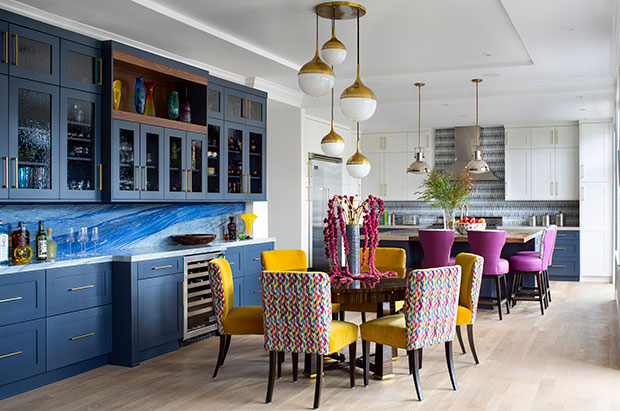 Atelier Interior Design
Contrasting the blue cupboard and backsplash tile are some colorful seat covers. Not to mention the furnishing and décor truly emphasize this eclectic design.
Popkin Dining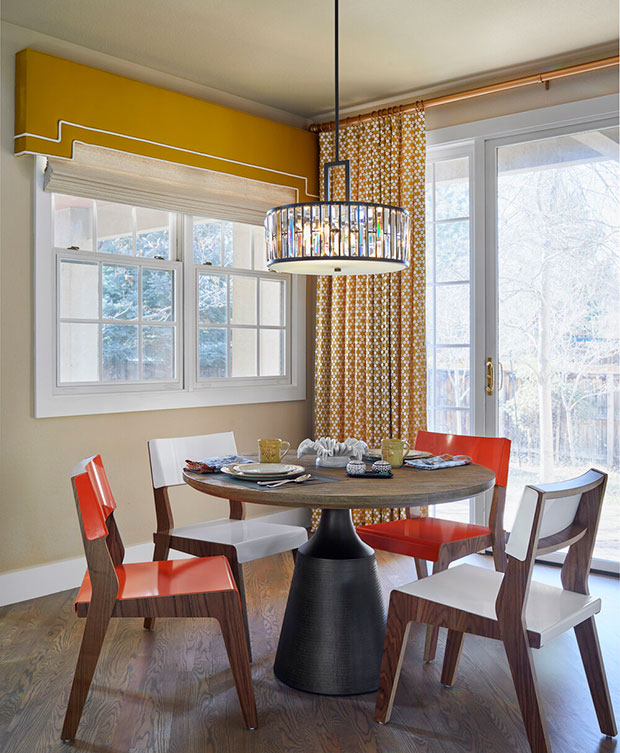 Atelier Interior Design
This dining room has pretty interesting furniture choices. It makes for a very casual and fun meal.
Bohemian Apartment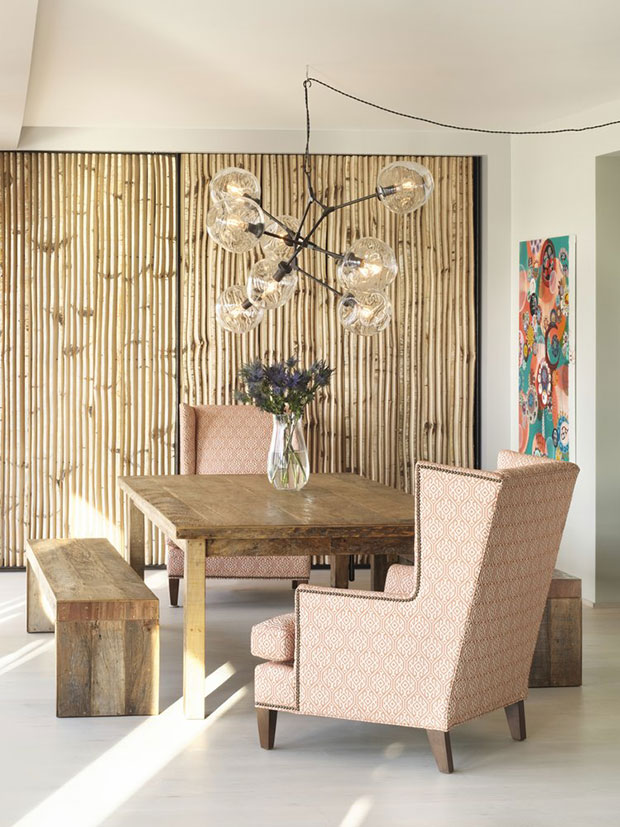 INC Architecture & Design PLLC
Some furniture pieces that don't quite mix together are perfect for eclectic dining rooms.
Hollywood Hills Home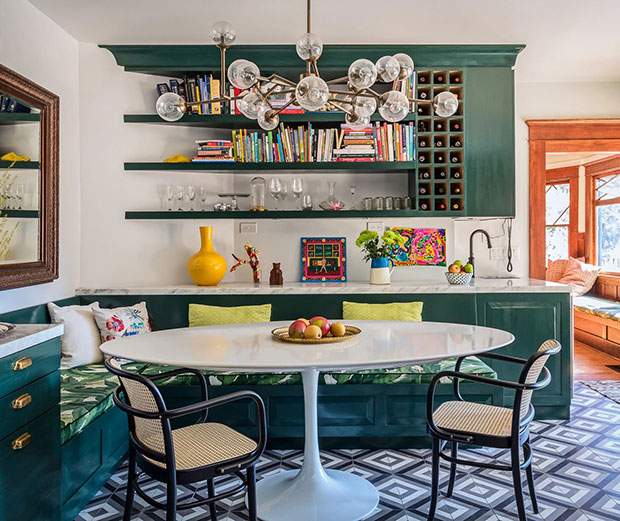 Poppy Interiors
For cozy, casual, and fun family meals together, you may want to look at this eclectic dining room.
So, what do you think of all these dining room design ideas? Hopefully, these have helped you decide what you want to do with your own dining room.
Like This Post? Pin It!