60 Awesome Modern Dining Table Designs You'll Want for Your Home
|
A dining room isn't complete without a dining table. For some, it is more than just a place to eat. It's a place for the family to gather and catch up. No matter the design style of your room, you'll find various modern dining table designs that could very well fit into it. You will find that modern dining table designs can be versatile.
How to choose a modern dining table
When you have many modern dining table designs to choose from, it might be hard to pick one that you need and want.
The dining table is often the focal point of your dining room so it must be a comfortable and perfect fit. More than the aesthetics that various modern dining table designs bring, other factors should be considered in choosing the right modern dining table for your home.
1. Space
First of all, before you start picking a dining table, consider the space where you are placing your dining table. How much available space you have would have to determine how big (or little) your dining table will be. You will also have to consider whether this space is for formal dining use or is it for day-to-day use. Regardless, there should be enough space for people to walk comfortably and get in and out of their seats.
2. Material
Selecting the right dining table by the material it's made of is also up for great consideration. You will have to consider how often do you use your dining table. Wooden dining tables bring a nice warm vibe and comfort that is perfect for daily use. Dining tables made of concrete, bamboo, and marble are also hardy and stylish.
If it's a dining table that is used less often, for example only for dinner parties, you could consider ones that are of higher maintenance. For this, you have dining tables made of glass and medium-density fiberboard.
3. Style
Modern dining table designs can be quite versatile. You may find many modern dining tables that fit with various design room styles. Modern and contemporary dining rooms obviously fit this bill. But you can also bring in modern dining table designs to rooms inspired with industrial and rustic charms, for example.
4. Shape
The most common dining table shape is rectangular as most dining rooms are rectangular. They are also common since they can seat a large number of people. This is especially great if you host dinner parties. However, such a table shape plus chairs would mean it could be too big for tight spaces. So, it is best for bigger dining room spaces.
On the other hand, if you have fewer people dining together, you may want to consider square-shaped dining tables. Such a table is great for small dining spaces and gives a more intimate setting.
Similarly, round dining tables are perfect for small spaces. Plus, this allows most versatility. Round tables allow for everyone to see and easily converse with each other. It feels more casual than rectangular dining tables. Though, if you have a larger round table it could make people feel far away from each other.
Lastly, oval dining tables create a unique visual in your dining room. If you want to deviate from rectangular tables, you can opt for long oval dining tables if you need to seat quite a several people in a smaller size room. The curves create an illusion that they occupy less space, yet offer some feeling of intimacy and flexibility similar to that of round dining tables.
5. Size
The number of people you can fit at a dining table depends on the shape as well. Larger (in diameter) rectangular and oval tables can seat more people compared to round and square tables.
You need to remember that each person needs about 2 feet of eating space and allows enough space for food and place settings. Another thing you must remember is the table-to-wall space since you would want to leave space for people to get in and out of their seats. The rule of thumb states that there must be 42-48 inches between the table and the walls.
Modern Dining Table Designs for Inspiration
Let's take a look at some modern dining table designs for your consideration!
Mountainside Residence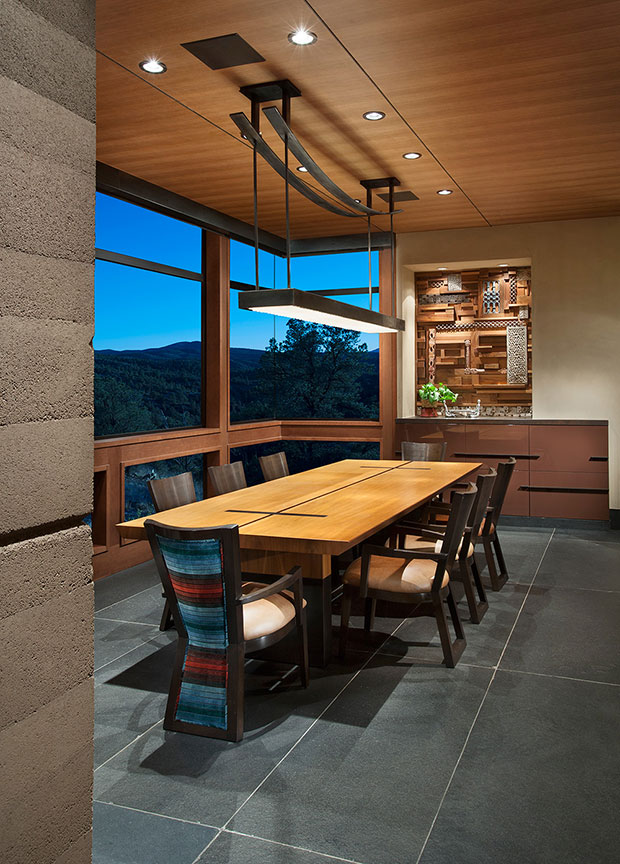 IMI Design
Some modern dining table designs could have the tendency of being a little underwhelming. So, much of the details that will get you looking twice are subtle.
Alan Double Pedestal Dining Table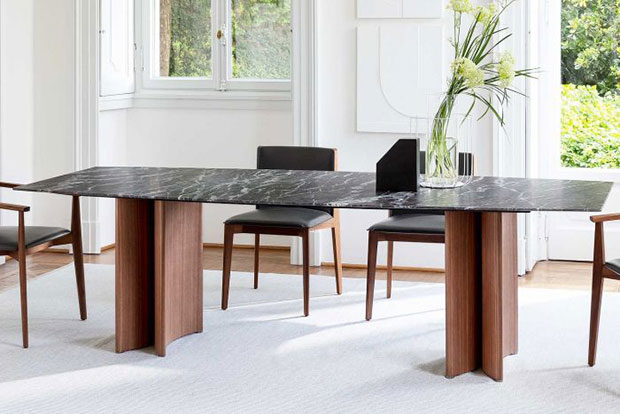 Buratti
While the tabletop surface catches attention for being made of marble, take note of its artistic legs.
Bay Harbor Island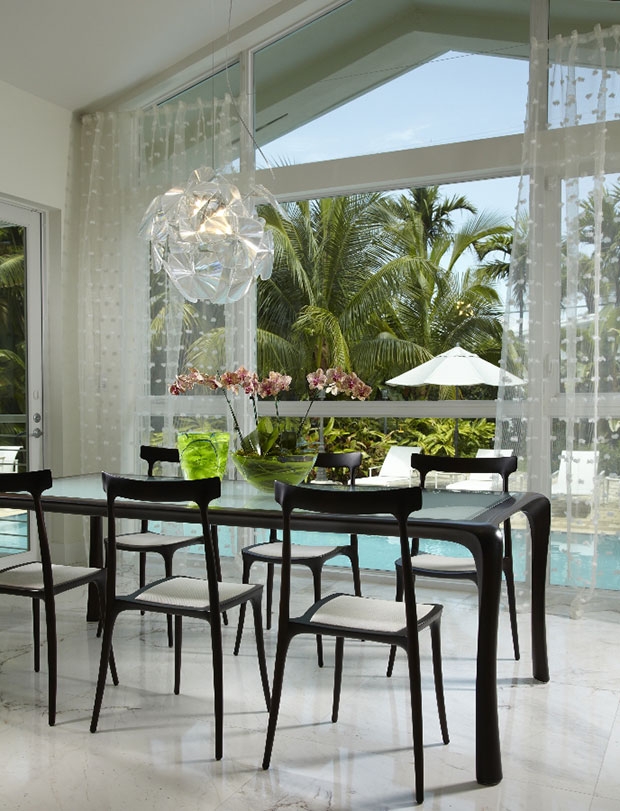 J Design Group
many variations in modern dining table designs can be seen through the tables' legs. Adding some curve details here and there could make a statement to your entire dining table look.
Modern Lakehouse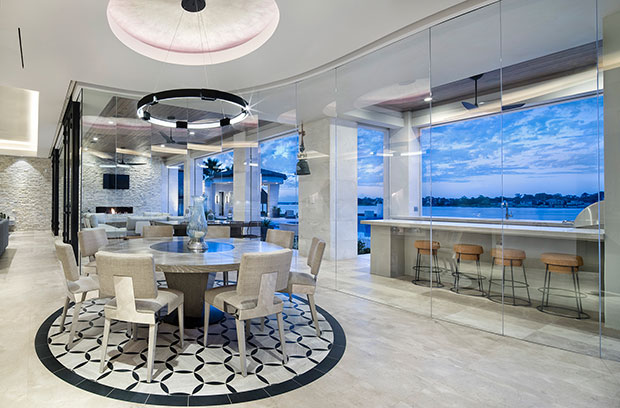 Jauregui Architects
Some modern dining table designs can look so much like great architectural feat by their material alone. But this one is also carefully crafted. Just look at the leg!
Bucktown Modern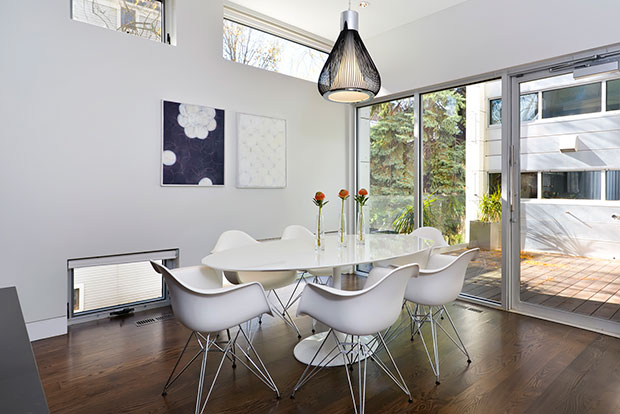 For a chic and intimate dining experience, this oval dining table brings a cool style into any dining room.
Leonard Modern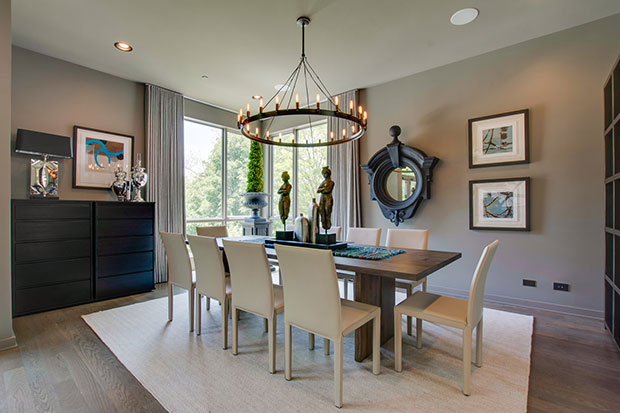 Linc Thelen Design
For more traditionally modern dining table designs, consider solid dining table designs like this. Solid and simple yet warm and cozy.
Modern Brownstone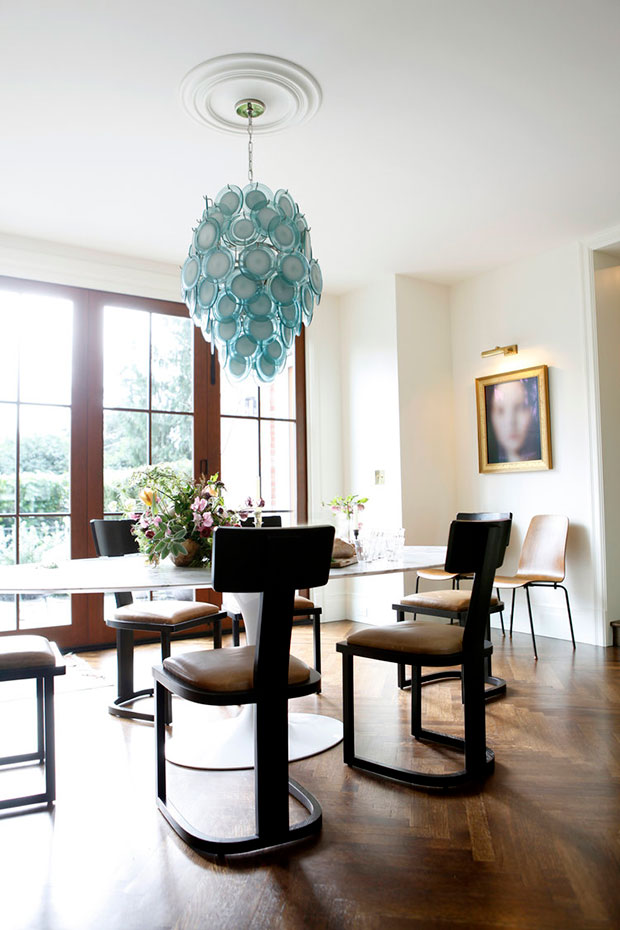 Long oval modern dining table designs can seat more but this is long enough not to make it feel like everyone is far away from each other.
Modern Farmhouse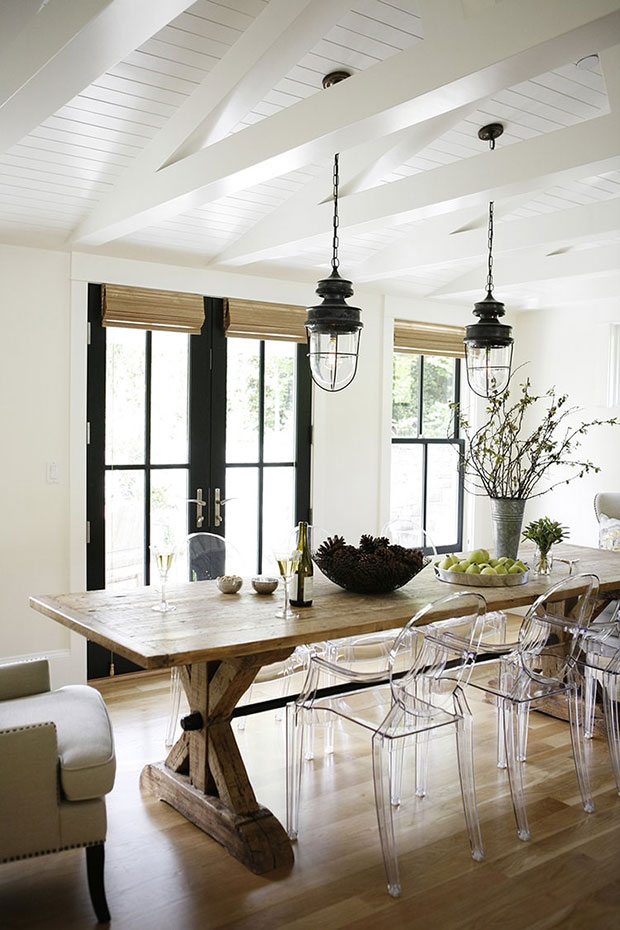 Katie LeClercq Design Studio
If your home boasts of a modern farmhouse style, choosing a modern rustic dining table would be perfect.
Modern High-Rise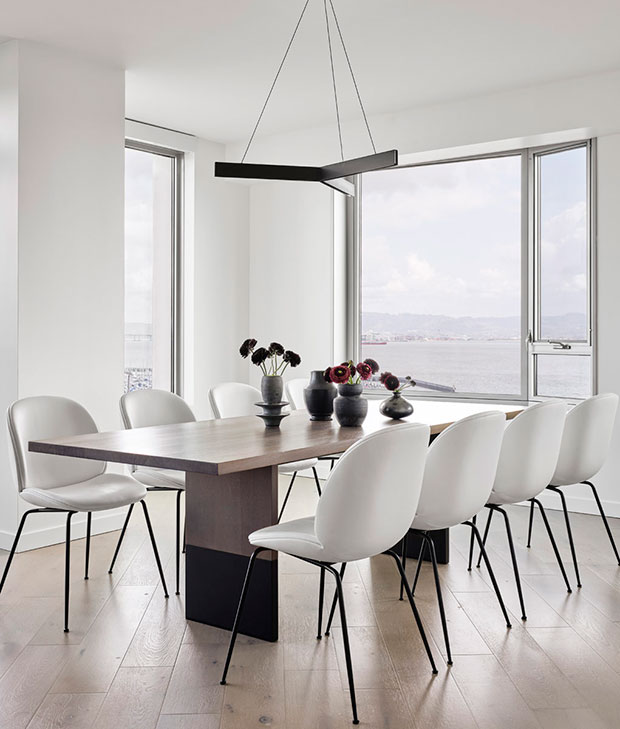 It is interesting to see the wide yet thin leg support, creating a very interesting visual. On another note, the two-tone color of the table's legs adds some visual dynamic.
Telegraph Hill Residence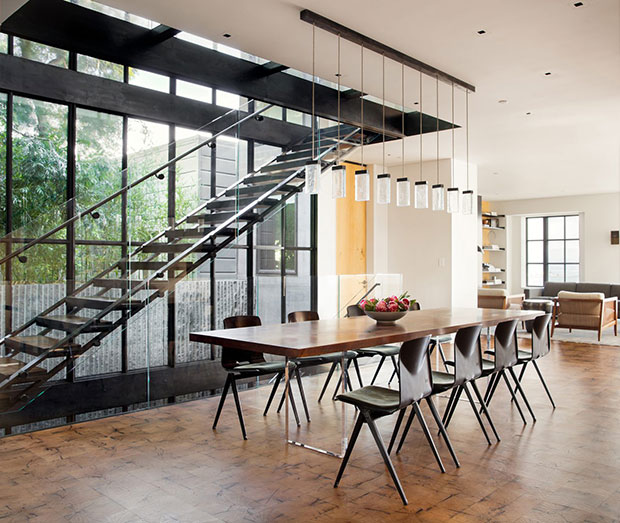 Adding some industrial charm to this dining table design is the metal legs.
Wine Country Retreat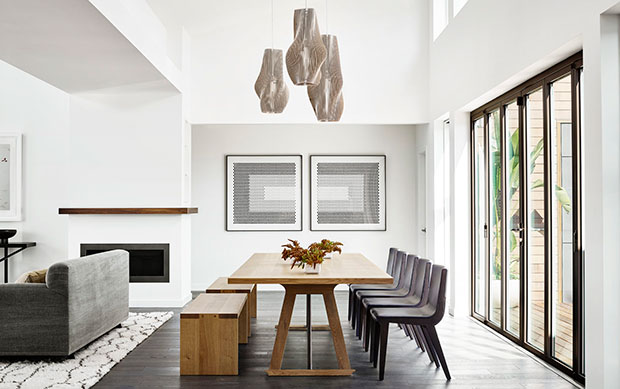 The splayed legs bring some interesting angular visuals.
Peninsula Estate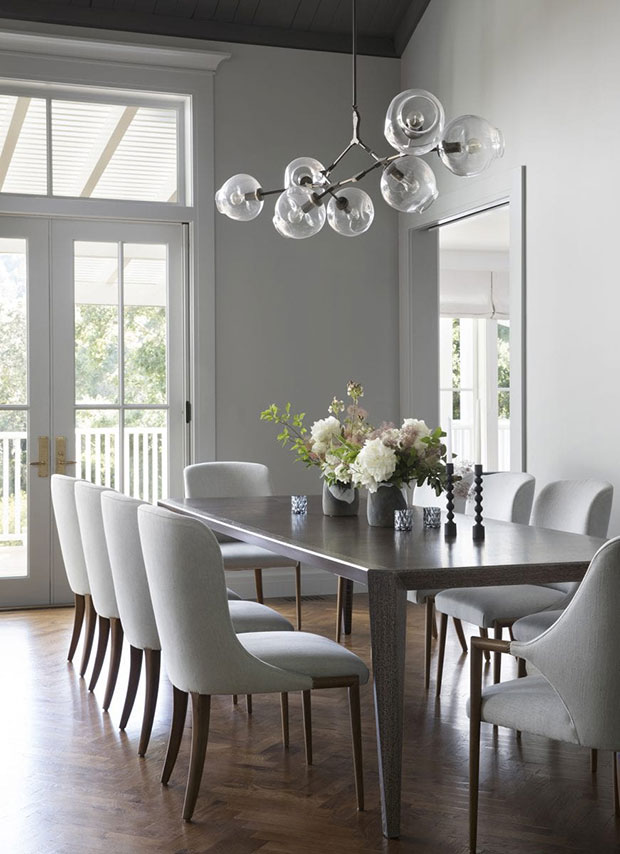 Here's a sleek modern dining table design with legs that are angled interestingly. Its natural wood graining is quite charming.
Noe Valley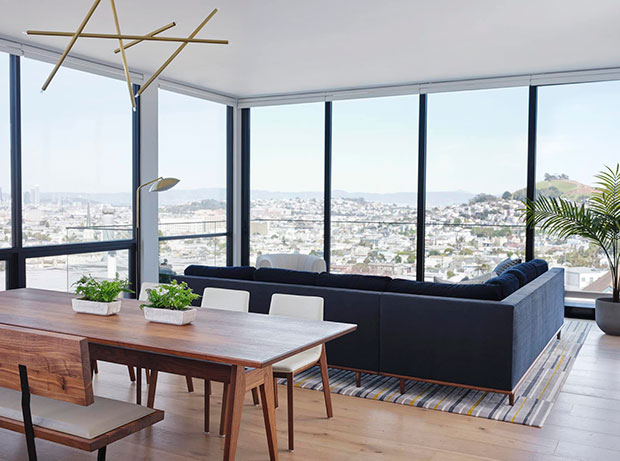 Niche Interiors
A well-polished dining table with clean lines and a simple design is just perfect for modern dining rooms.
Taylor House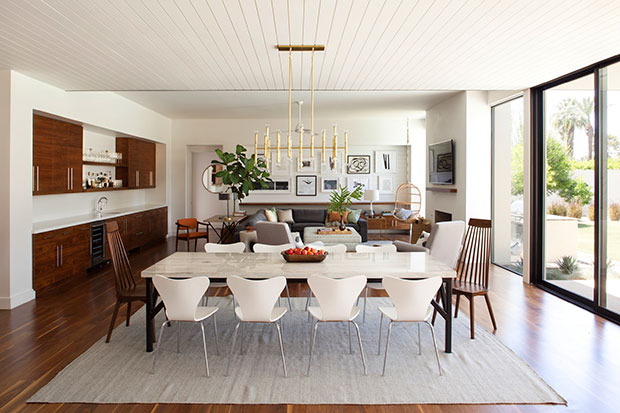 Brittany Stiles
Marble tabletop surface with metal legs creates for interesting visual look for modern dining table designs.
Glen Park Residence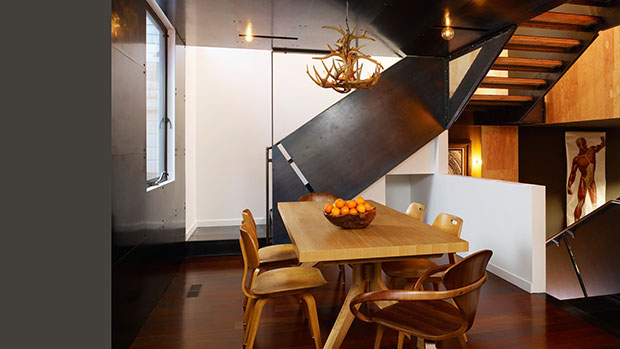 AAA Architecture
It's interesting to see the angles on the table legs. But it is pretty eye-catching how this entire dining room set-up, with the table and chairs, are all so fitting together in a theme.
Winona Dining Table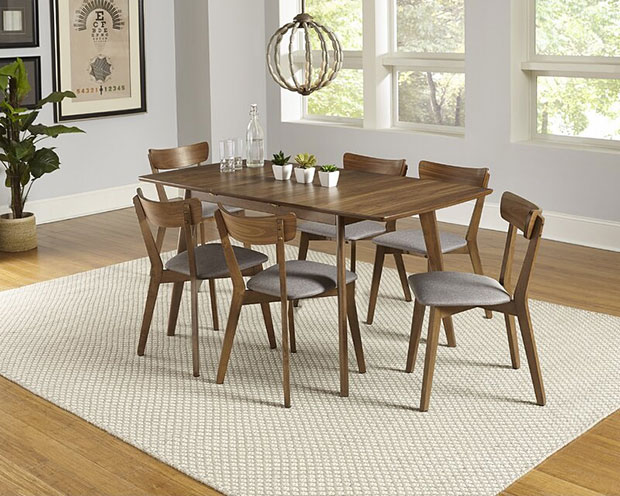 Mistana
The angled splayed legs give an illusion of this dining table being extra thin.
Rancho Santa Fe Custom Home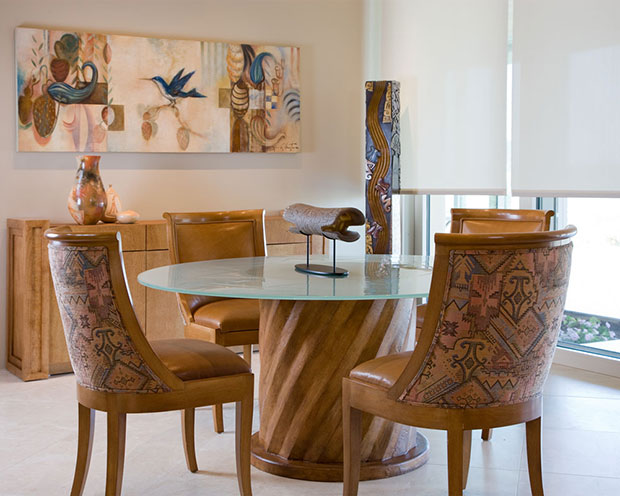 Alpha Design Group
With an interesting wooden base leg, the glass tabletop surface is a perfect complementary piece detail.
Leyt Oval Dining Table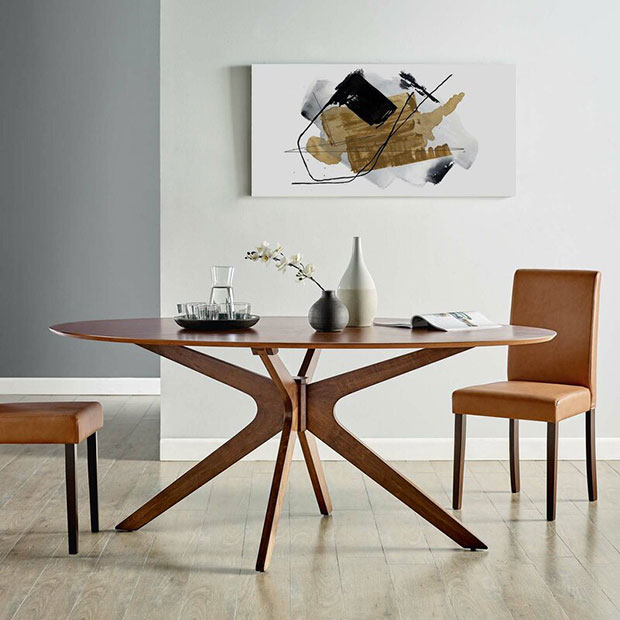 Corrigan Studio
The leg design is pretty interesting and is very reminiscent of the jacks in a game of jacks.
Downtown Apartment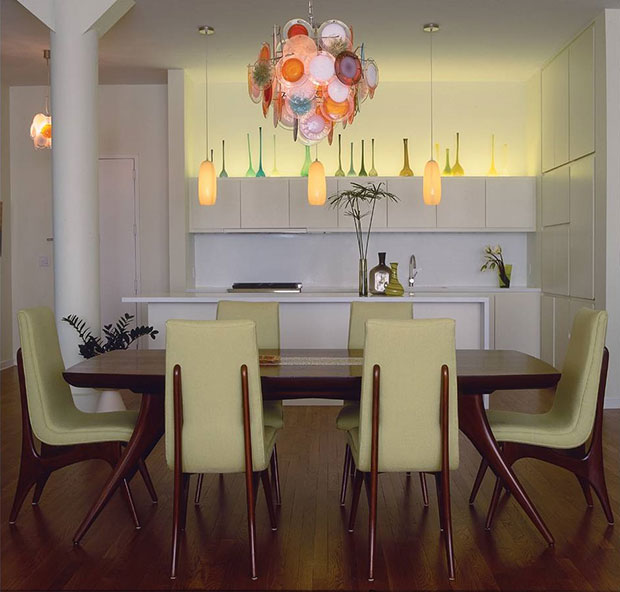 Amy Lau Design
Somehow these carpenters find many interesting ways and look for angular splayed legs. This results in some of the most beautiful modern dining table designs.
Modern Family Residence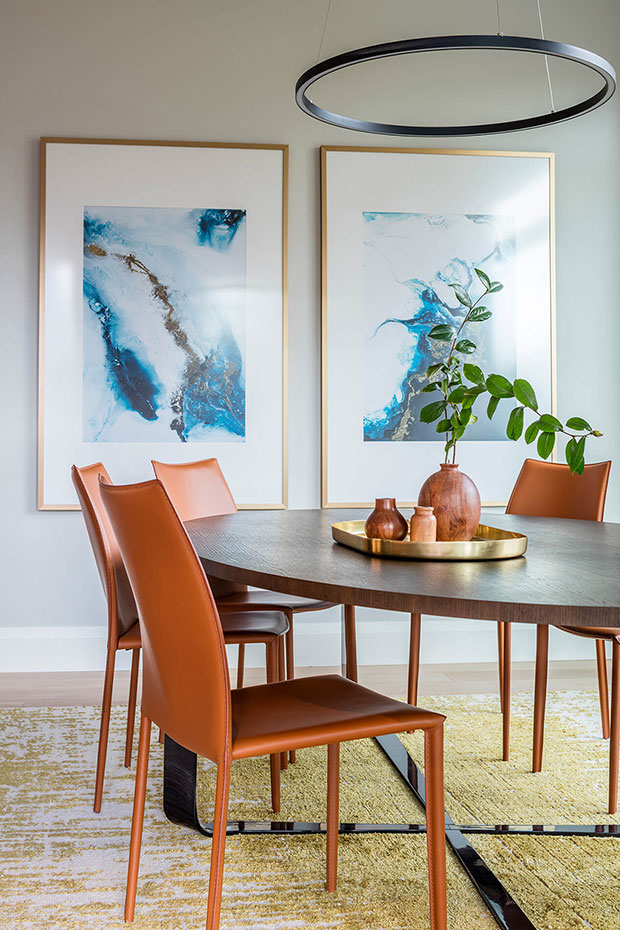 The crisscrossed metal legs in contrast to the wooden tabletop surface give this modern table some industrial charm.
Timeless Modernity in Redmond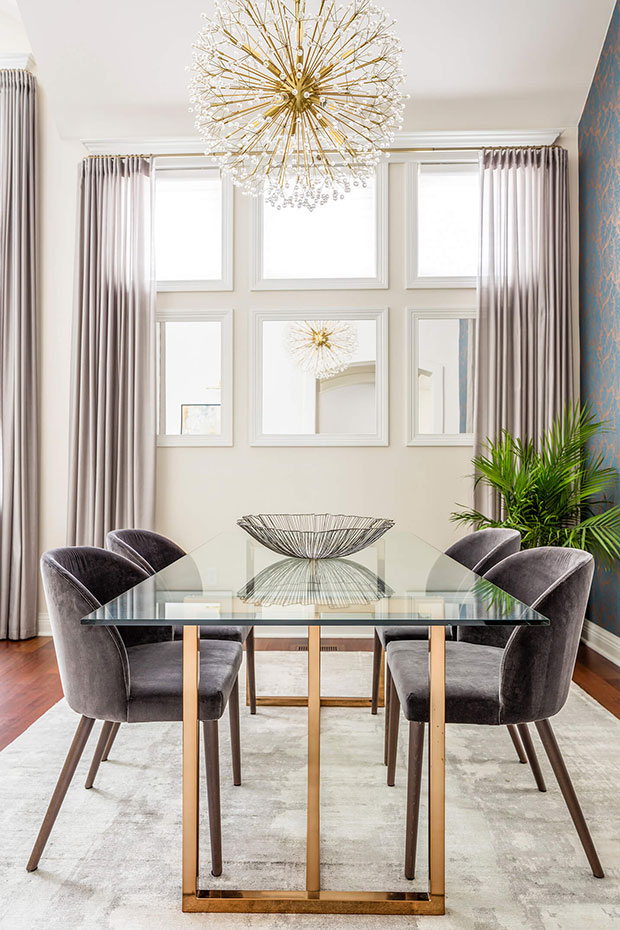 Interiors by Popov
Bronze-toned metal legs paired with a glass tabletop surface would definitely give a look of luxurious modern dining table designs.
The Braylon Double Asterisk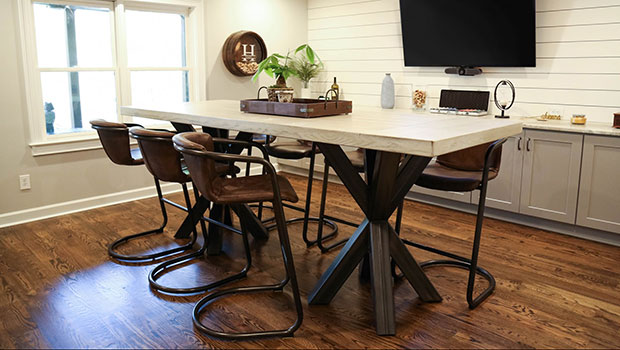 Rustic Trades
The double asterisk look of this dining table's legs are the highlight of this modern dining table design.
Heirloom Modern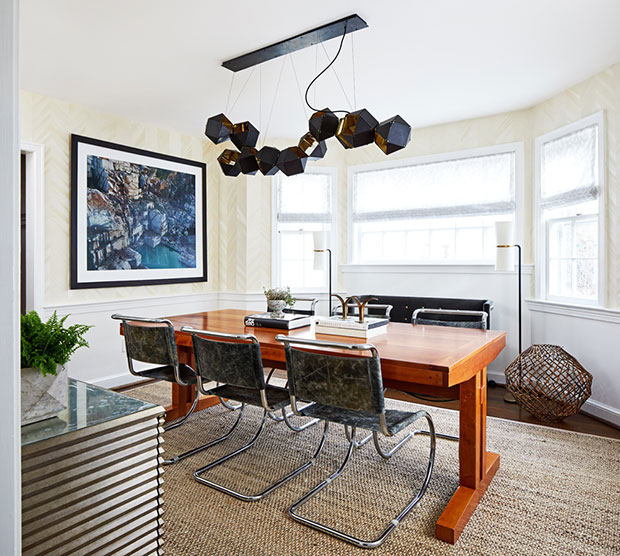 This dining table has quite an interesting look.
Urban Chic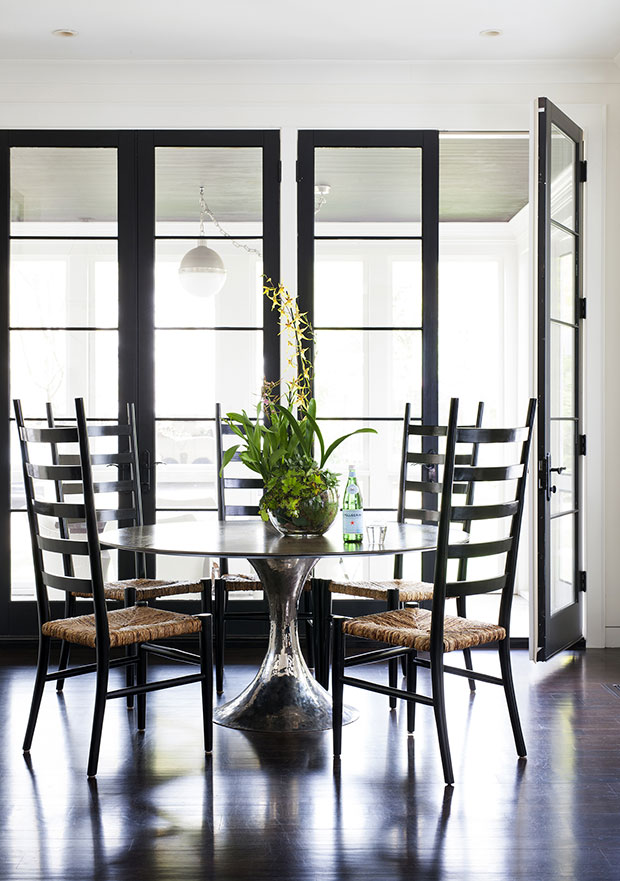 The finishing on this round dining table creates an interesting visual that borders between luxurious and industrial.
28th St. Kitchen Remodel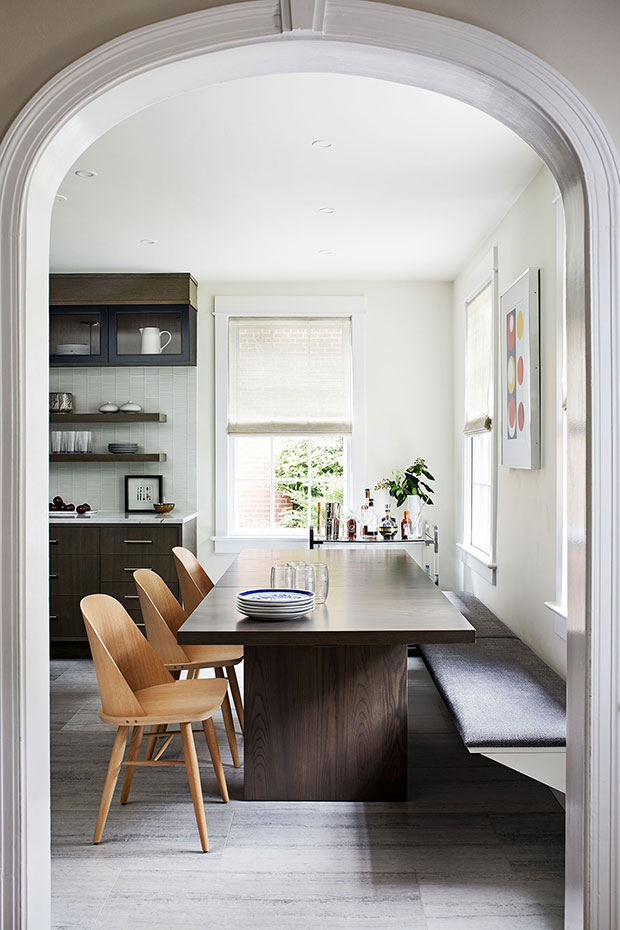 Ella Scott Design
A heavy-set dining table like this just has that homey warmth and comfort.
Illif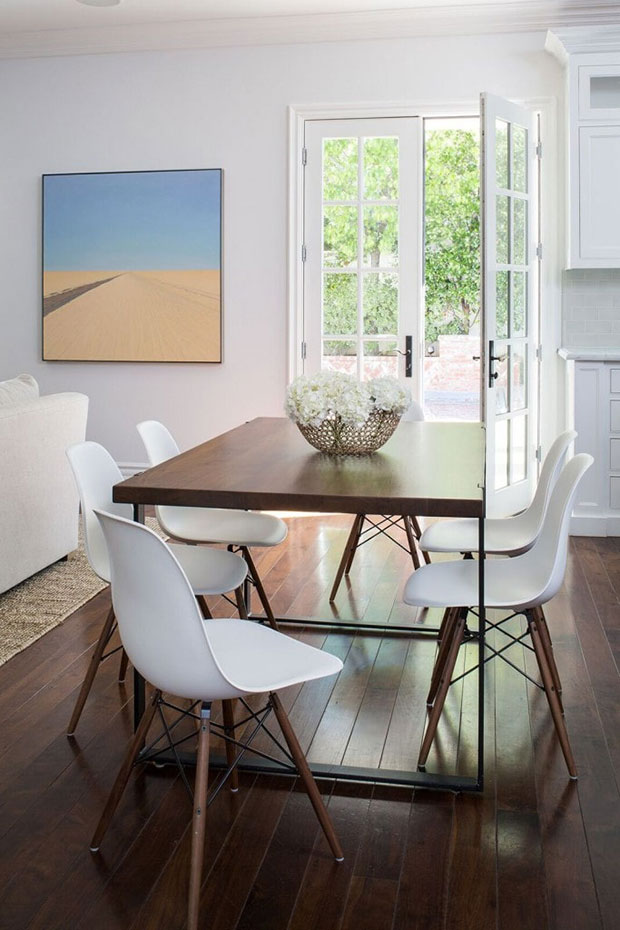 Where the legs are usually attached at the bottom of the tabletop, you can see the attachment from the sides – a pretty interesting detail.
Medio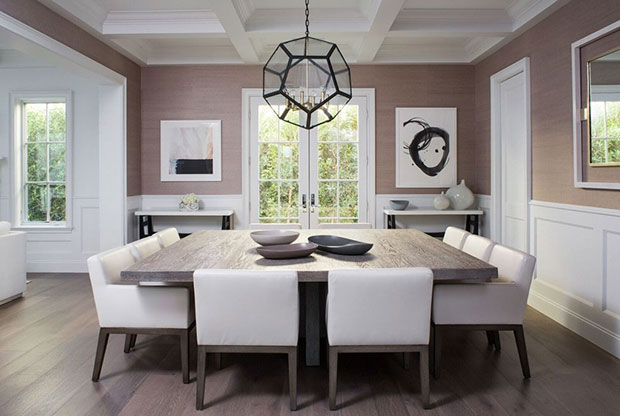 For huge families, wide dining tables like this is a perfect furniture choice.
Pesquera Drive 2

Paul Interiors
We've seen oval modern dining table designs that are monochromatic. Consider adding more color dynamic by selecting one where the tabletop surface is a shade different than the base leg.
Coastal Modern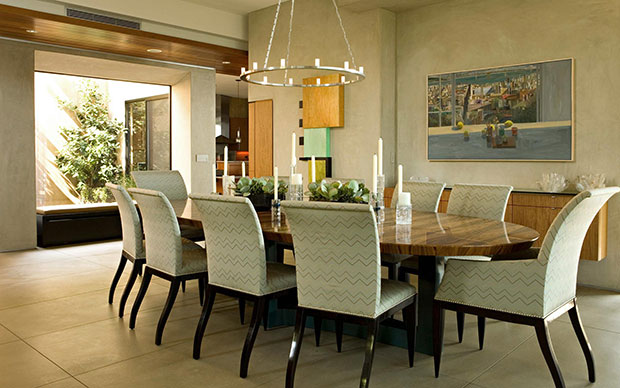 The polished oval surface stands out even more by pairing it with the darker tone of the base leg.
Seaside Luxe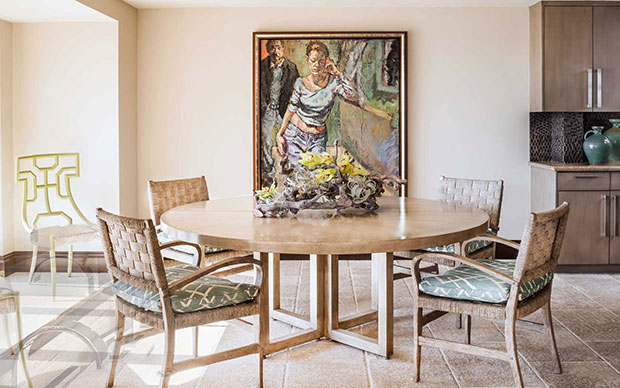 For more interesting modern dining table designs, check this one out! Its base legs are uniquely structured for a more interesting visual.
Pacific Panorama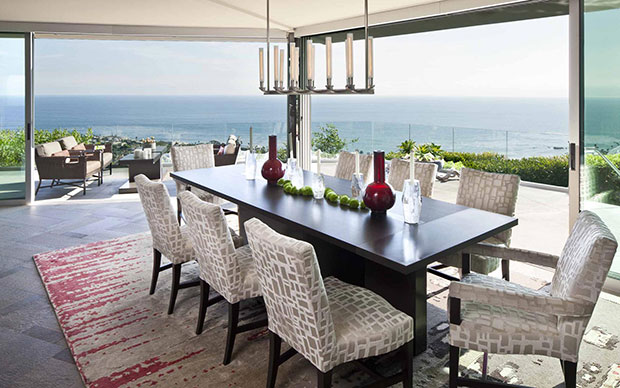 Sleek modern dining tables like this can also work in contemporary dining rooms.
Beach Bungalow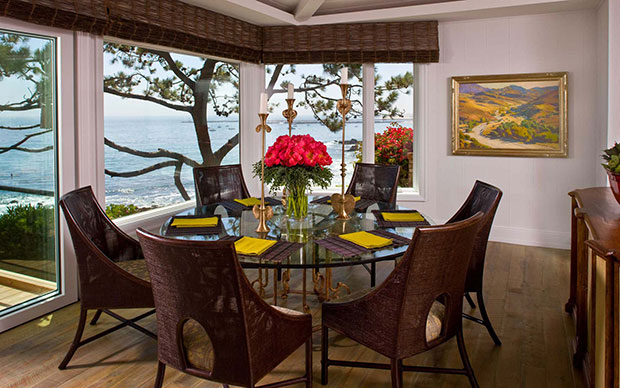 Harte Brownlee & Associates
As there's not much artsy design that could be done on the tabletop surface, much of the details are found on the base. Take note of this particular dining table design.
Second Time's A Charmer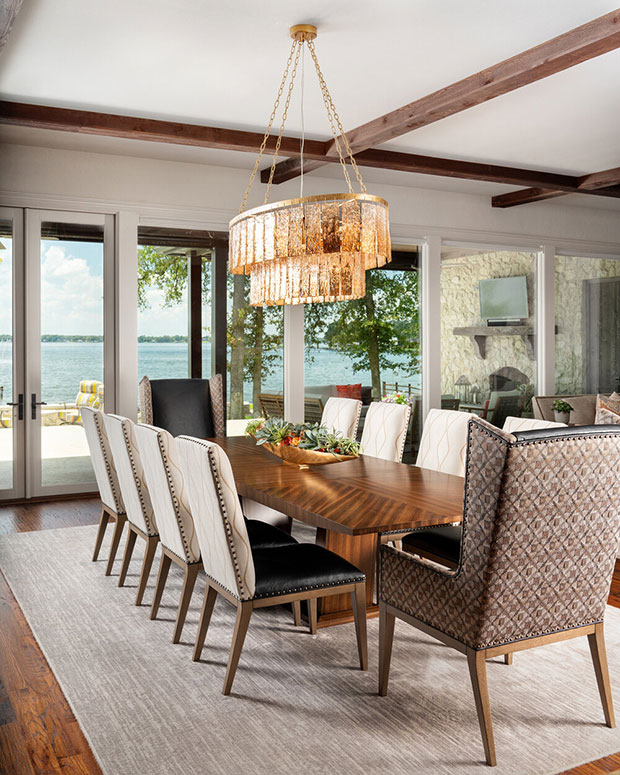 Wesley-Wayne Interiors
The wood graining is pretty interesting to see since it looks like this table is made of different wood sections.
Noe Valley Parisian Atelier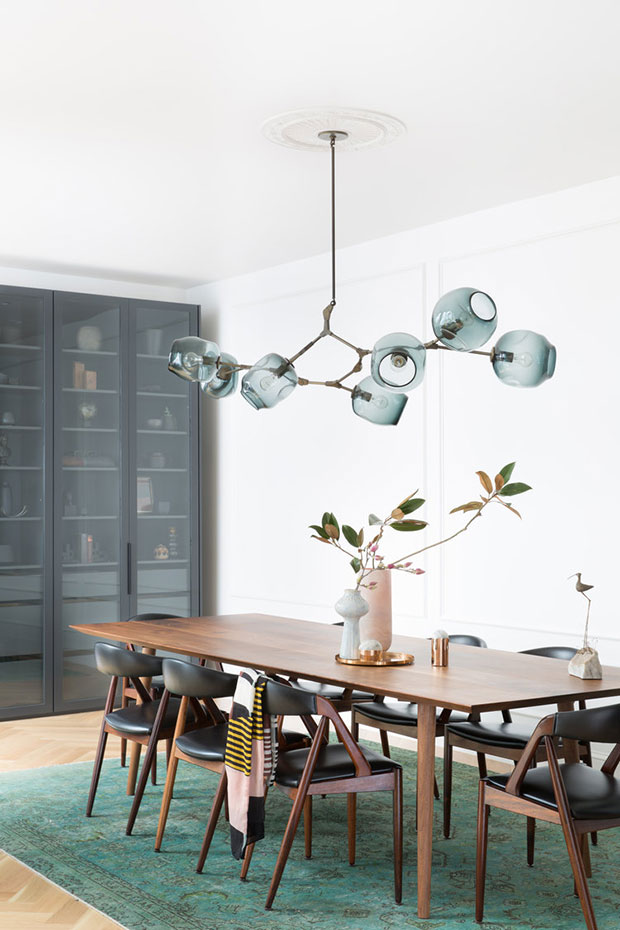 Modern dining table designs like this look lightweight. They also help give an illusion of a more spacious dining area.
Cozy Modern Dolores Heights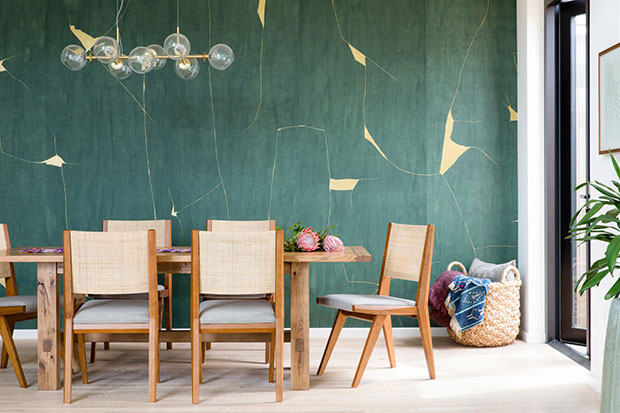 If your home, particularly your dining room, has some rustic elements, it is a great design choice to have a modern rustic dining table.
West Clay Park Revival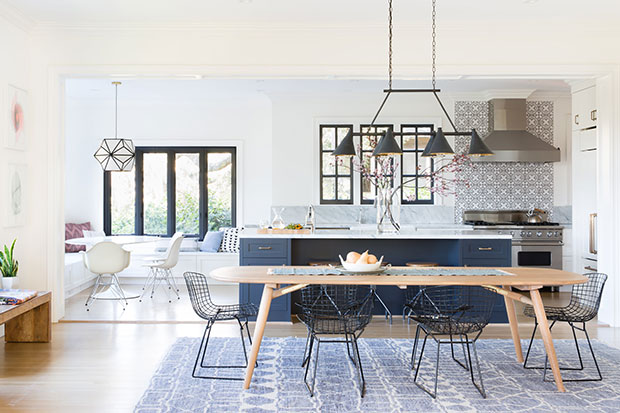 Coastal-inspired homes are compatible with modern design furniture. Take this modern dining table in a coastal-styled dining room, for example.
Sea Cliff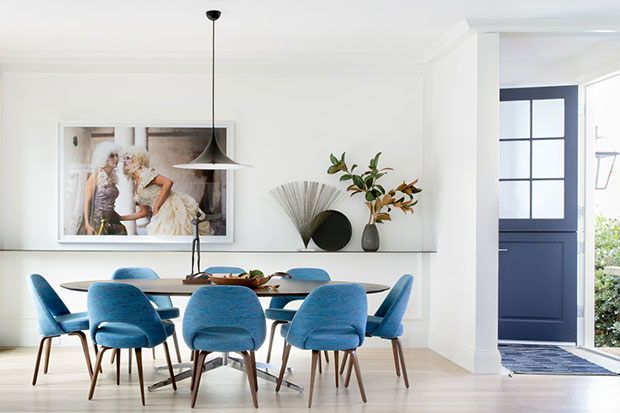 Regan Baker Design
A dark-toned wooden tabletop and metal legs are a good combination of a modern dining table.
Cape Cod Casual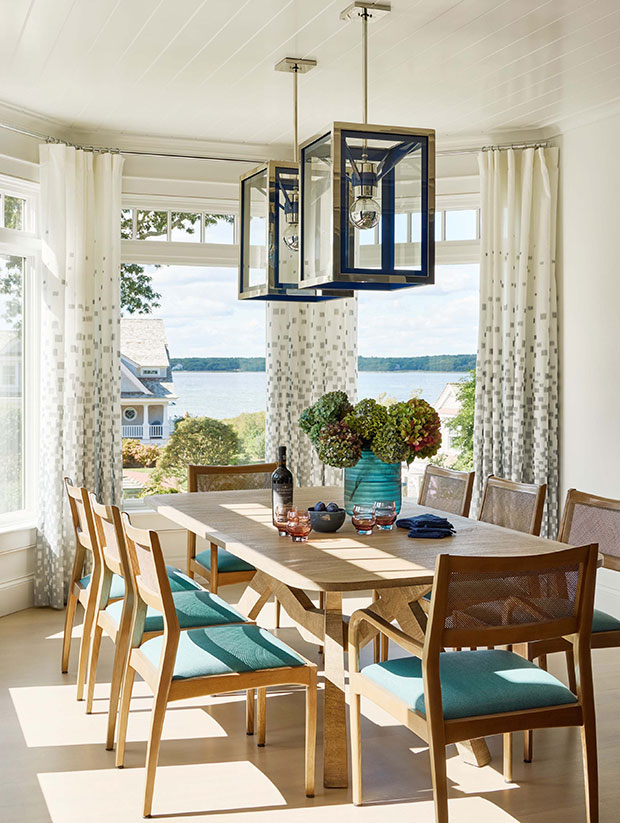 Rachel Reider Interiors
The unpolished look is as charming as it gives an authentic homey look. And considering this particular dining room design elevates the room's entire vibe.
Schulman Residence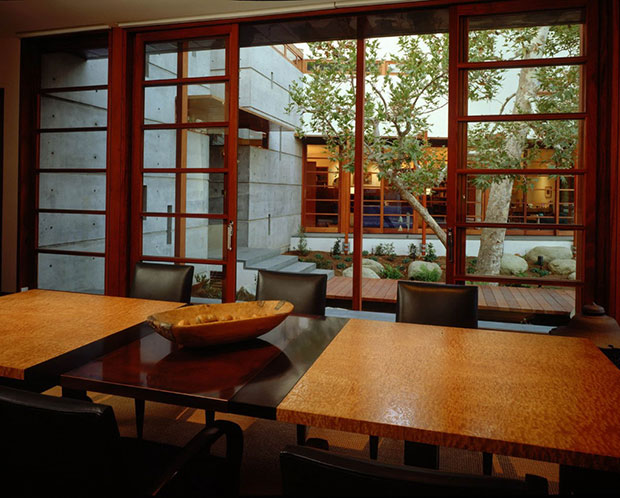 What's most interesting about this dining table is the glass-covered section in the middle of it.
Waldfogel House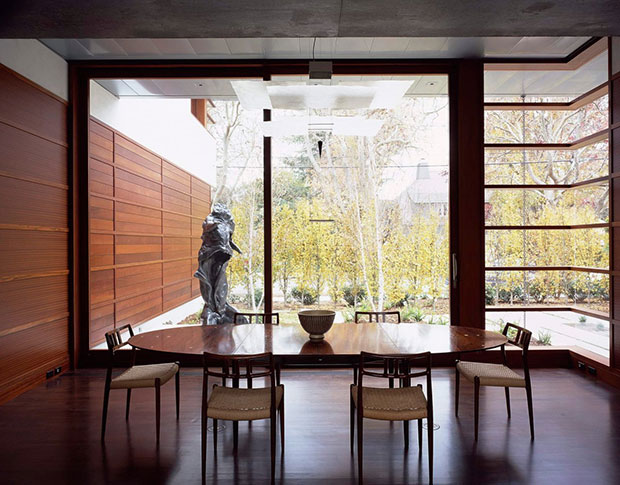 Ehrlich Yanai Rhee Chaney Architects
The overall structure of this dining table makes it seem like this is only appropriate for light meals.
Modern Farmhouse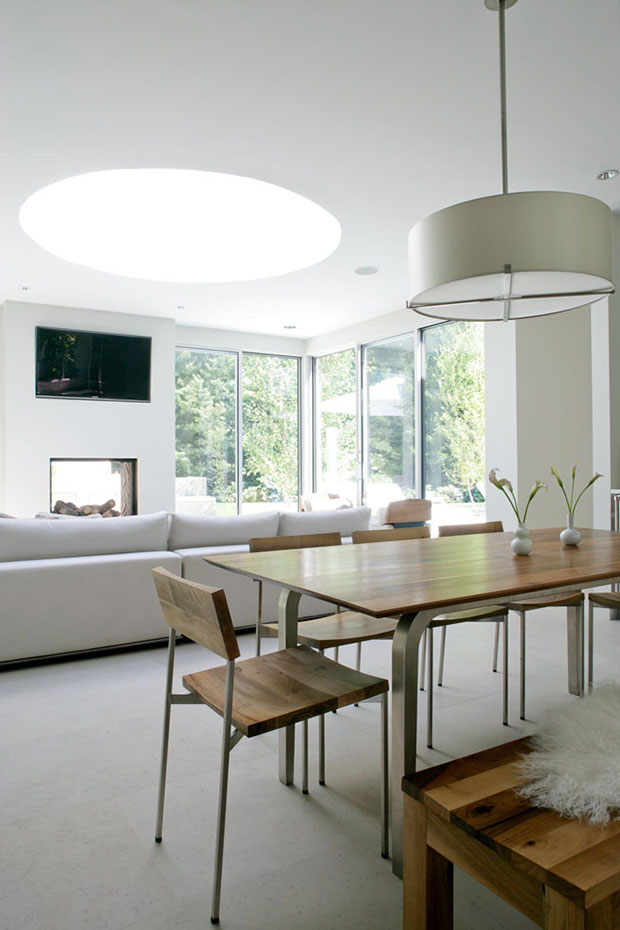 Betty Wasserman Art & Interiors
The curved metal legs add some dynamic to this dining table design.
Whitefish Mountain Ski Chalet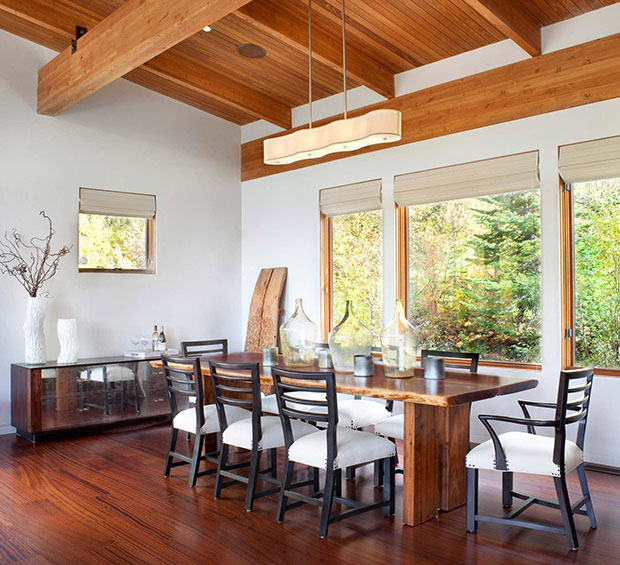 Stillwater Architecture
Even rustic homes could very well make use of modern-inspired dining tables designs.
North Fork Residence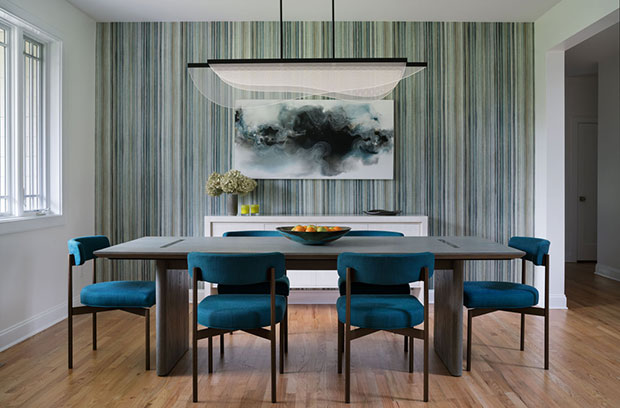 Some small deviations in materials in the modern dining table designs could add some charm to them.
Greenwich Village Apartment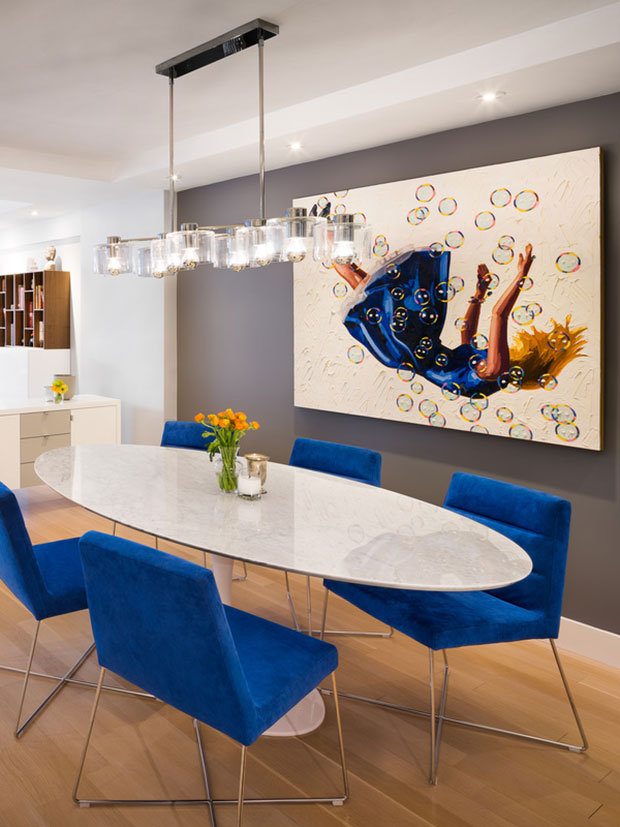 The tabletop astonishes with marble texture, creating a rather luxurious and stylish overall look to this dining table.
Upper East Side Apartment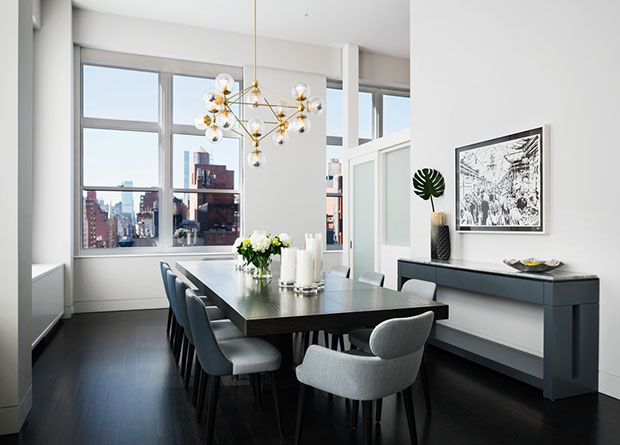 Maya Parkhani Interior Design
Some modern urban homes could make good use of sleek black wooden dining tables like this. They just complement well with the home design.
Jensen House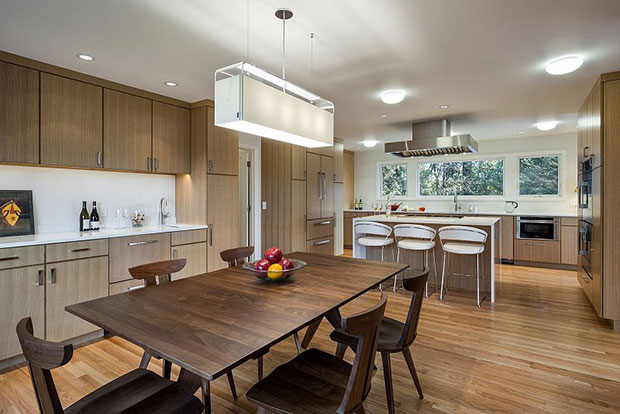 The rich wood tones are beautiful to see especially with so much natural material around this home.
Council Crest Modern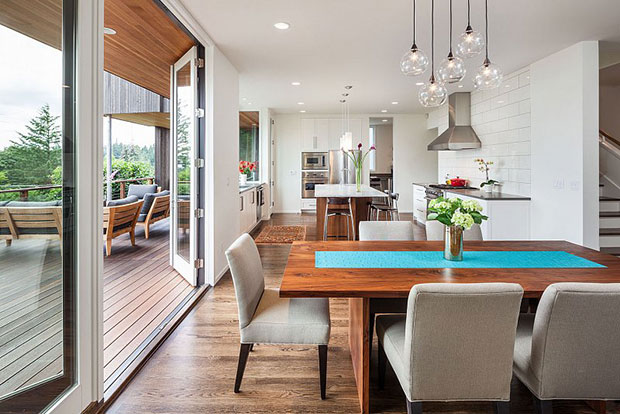 Kuda Photography
A unique design detail right in the middle of the table could add some charm to your dining table.
United Nations Plaza Residences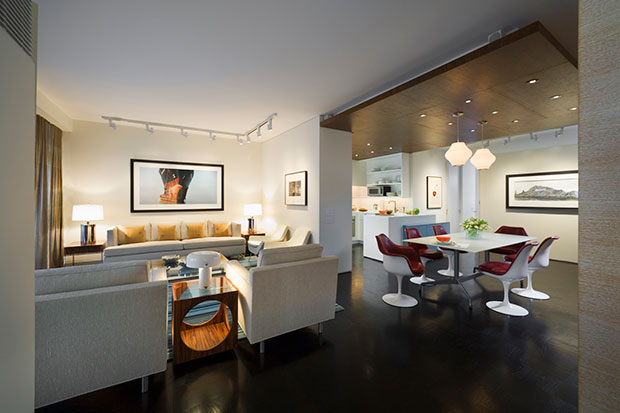 Modern dining table designs with wheels on their legs could make it easier to be moved around if you think of rearranging your furniture in an open plan home.
East 83rd Street Residence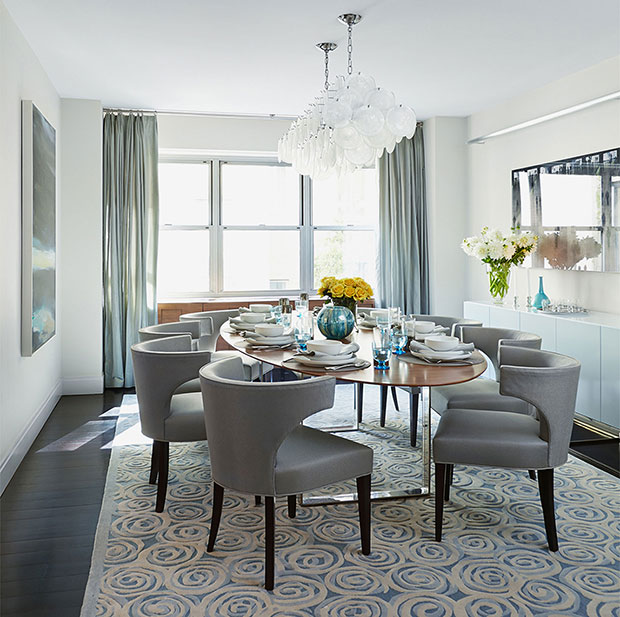 Robert Kaner Interior Design
The thin tabletop gives this dining table a sleek look. And the metal base legs add to it.
Cuernavaca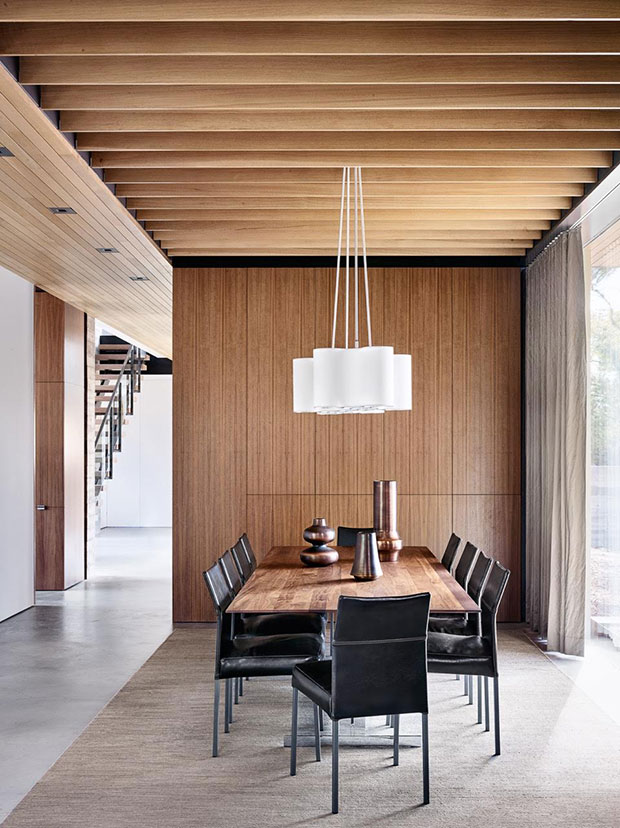 It's pretty interesting how the dining table's rich wood-tone nearly matches that of the cupboard wall.
Mount Bonnell

Risinger Build
The leg design of this dining table is the unique highlight that adds some variation to the furniture piece.
Lobos View Interior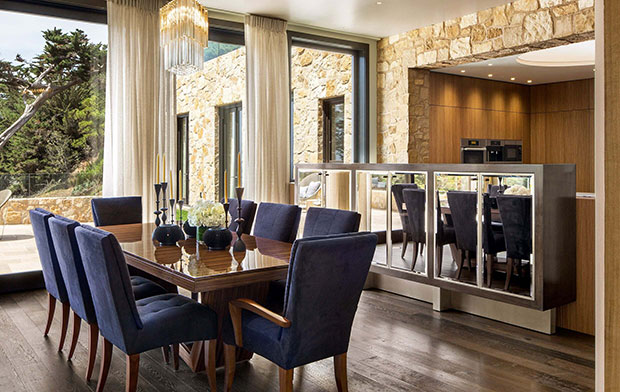 You will find some modern dining table designs with a glass surface on top of the wooden surface. It doesn't make it look so obvious but it is a great look.
Coastlands Interior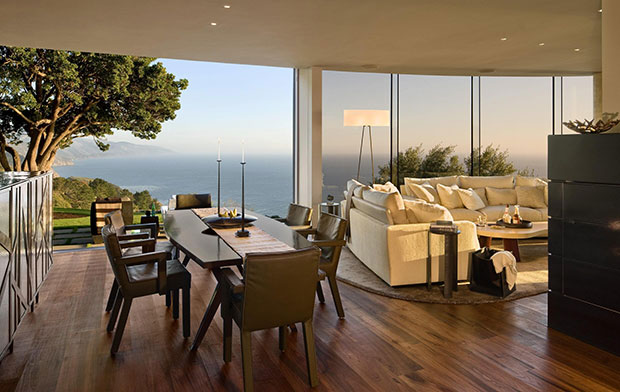 Straying from the usual dining table shapes, the curved sides add some dynamic to the overall look not just of the table, but also that of the room.
Tehama 1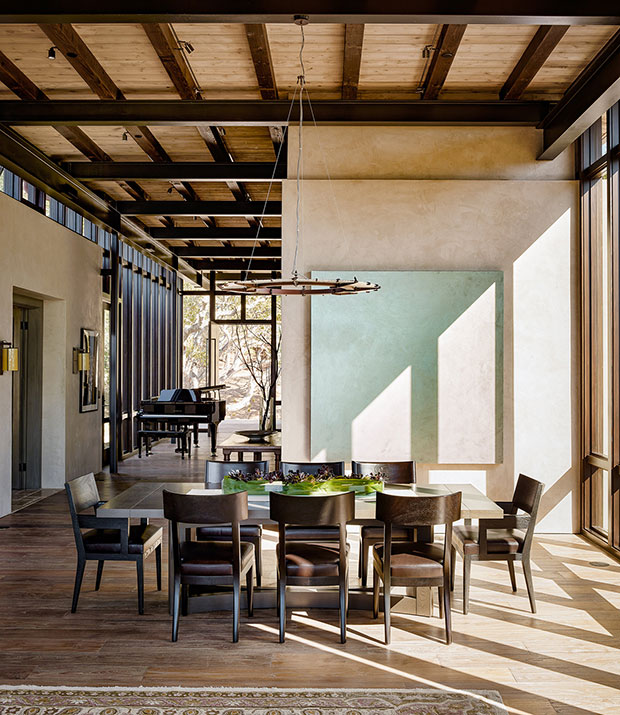 The curving of the base table leg adds some uniqueness and charm.
Mid-Century Revised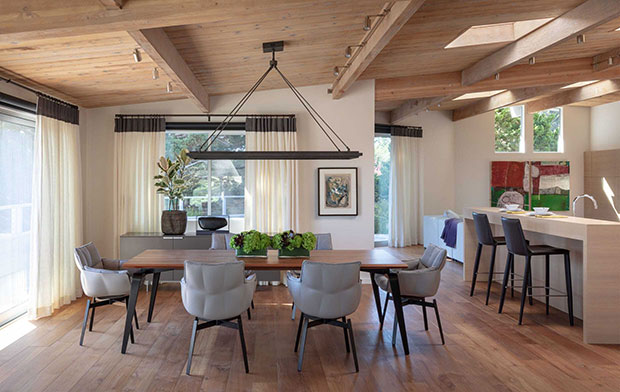 As it has been seen in a lot of modern dining table designs, the combination of wooden tabletop surface and metal legs are common but always stylishly unique.
California Family Retreat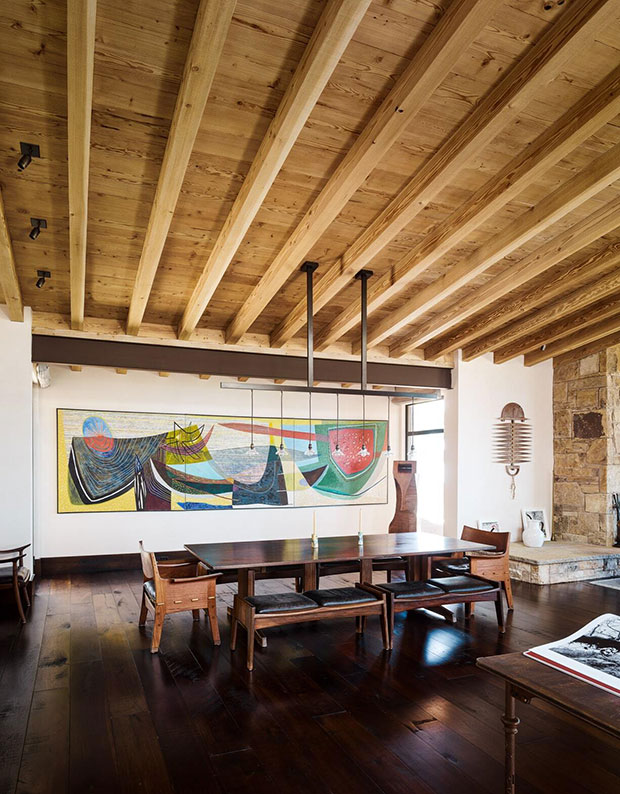 Studio Schicketanz
A long rectangular dining table like this is perfect for large dinner parties, while still giving some semblance of intimacy for its warm and cozy vibe.
Brickell Bay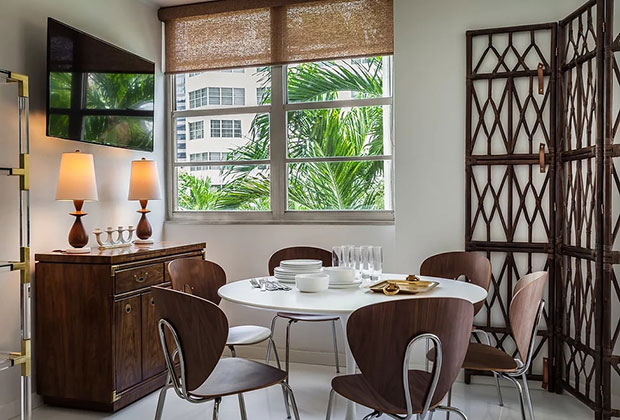 For smaller dining rooms, a simple but chic round dining tables like this should be up your alley.
Grove Isle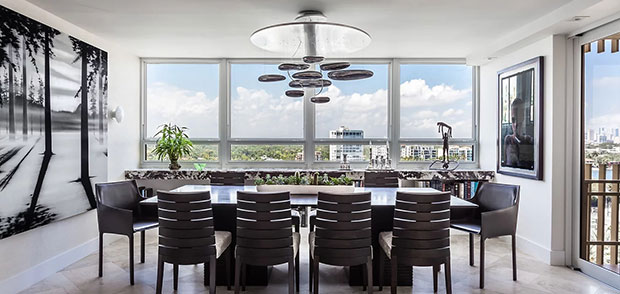 The thick and heavy legs are a nice contrast to the thin tabletop surface.
2 Grove Isle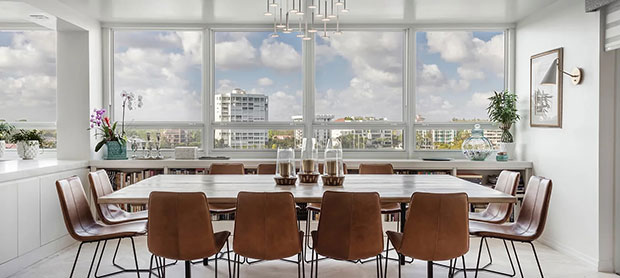 Lourdes Gabriela Interiors
Despite the chic modern setting, there's a bit of industrial charm added into the room due to the dining table design.
Laurie Perez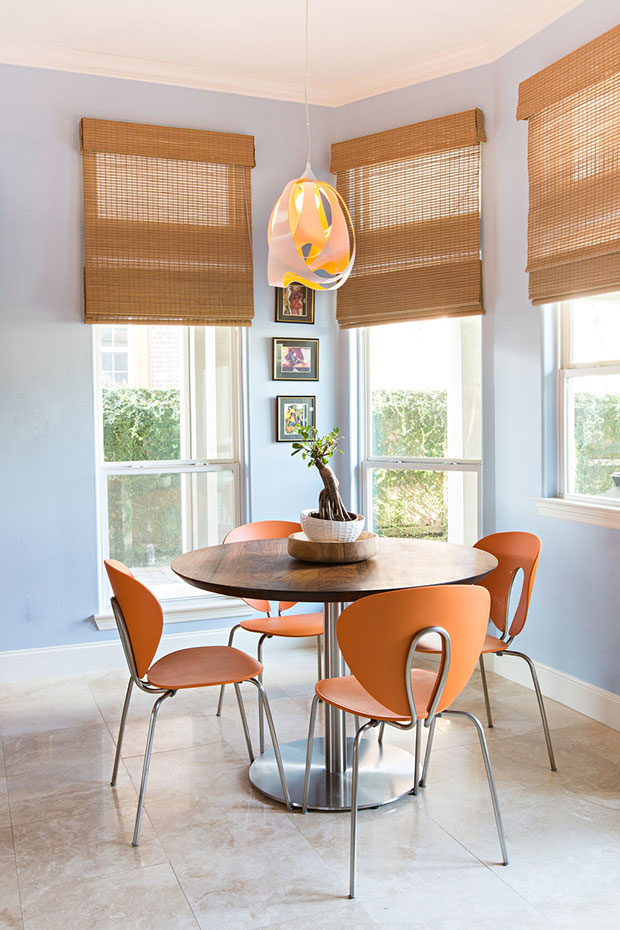 ArtVia
Now, here's a small dining table that is reminiscent of bistro table designs.
That's it for head-turning modern dining table designs that you will surely want in your home! Which of these caught your attention the most?
Like This Post? Pin It!