45 Unique Placemat Designs for Your Dining Table Set Up
|
A set of unique placemat designs can help decorate your dining table and protect it from unnecessary dirt and stains. Unlike tablecloths, placemats are smaller and used by one person at a time. They also come in a variety of shapes, sizes, and styles. This way, you can choose which is suited for your dining tables and the general ambiance of your dining room.
While placemats are sometimes rendered unnecessary, most homemakers prefer to use them since it makes cleaning after meals a lot easier. It also helps maintain the dining tables, especially those made from wood and marble. Although it is not on top of the home item priority, having placemats on hand can be useful when having guests over or simply with kids around who tend to spill everything on the table while eating.
What is the best material for placemats?
The best placemat for your home depend on a lot of factors. This includes the frequency of use and the protection your table requires from spills and stains.
1. Cork Board
Cork boards are sturdy materials that have a framed section of cork backed with wood or plastic. These are excellent materials for your placemat designs as they are spill-proof and have superb heat resistance. Corkboard placemats will be great paired with wooden dining tables.
2. Fabrics
Fabrics are another placemat material that offers table protection. They come in cotton or linen. These types of placemats are very easy to maintain and are heat-resistant. Fabric placemats are prone to stains over time and can be worn out if too much washing, however. So it is best to save them for special occasions or maybe have several on hand and then change them frequently and wash them immediately after use.
3. Plastics
Plastic placemats are usually made from vinyl and other kinds of plastics. They are great protection from spills, can be easily cleaned, and are often stain-resistant. This makes them perfect pairs for marble dining tables. Plastic placemats are best for homes with kids and for everyday use. One disadvantage, however, is that most plastics have a maximum heat tolerance. This means that very hot dishes or cups can distort them.
How thick should a placemat be?
Like almost everything, placemats have a standard size that is usually followed. The standard size is usually 12 X 18 inches. This size can comfortably fit a typical table setting. For those who have smaller tables, however, 12 X 16 inches and even 12 x 14 inches are acceptable.
Placemat Designs for Inspiration
If you are looking for dining table accessories when you have guests over, these placemat designs will give you lots of options!
Vincent van Gogh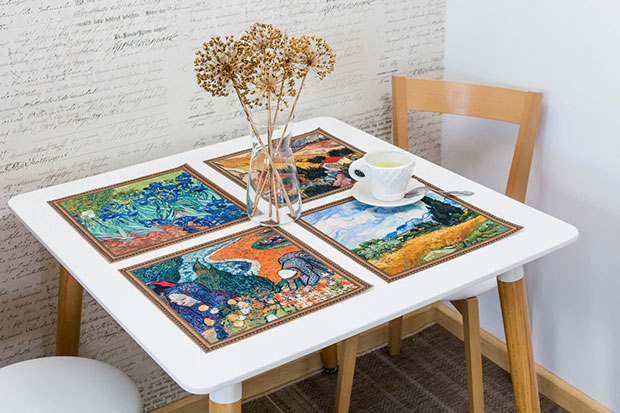 Pitex
Creative homeowners will love this unique fabric placemat with its colorful and expressive art. The white table where it is placed, emphasizes the swirl of colors and lines in the fabric.
Rectangle Cattail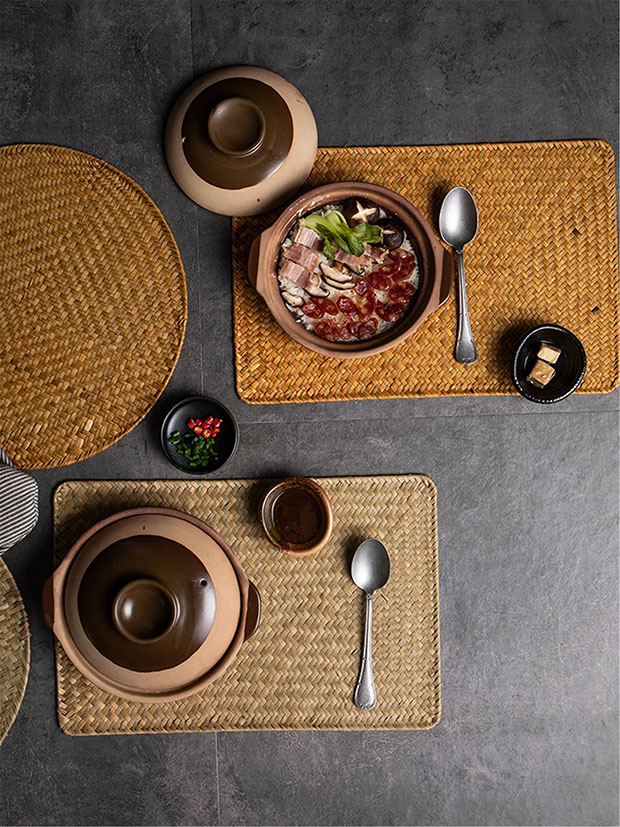 These cattail placemats add an eco-friendly touch to any dining table. The straws are woven to form either a circular or rectangular placemat. This material is lightweight and is easy to maintain.
INS Placemats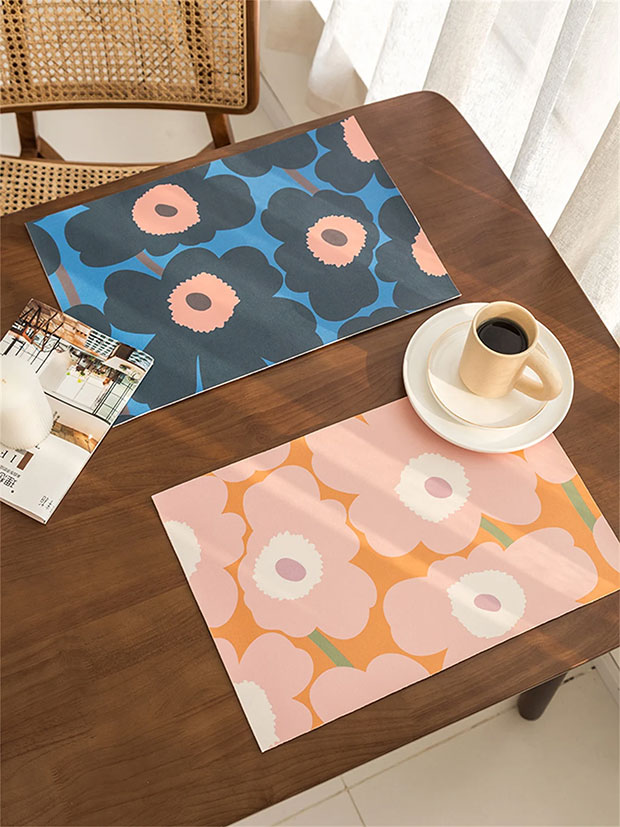 Floral designs never really go out of style. Simply because it reminds you of the outdoors. Embrace that feeling with these floral patterned placemats in colorful hues!
Oval PU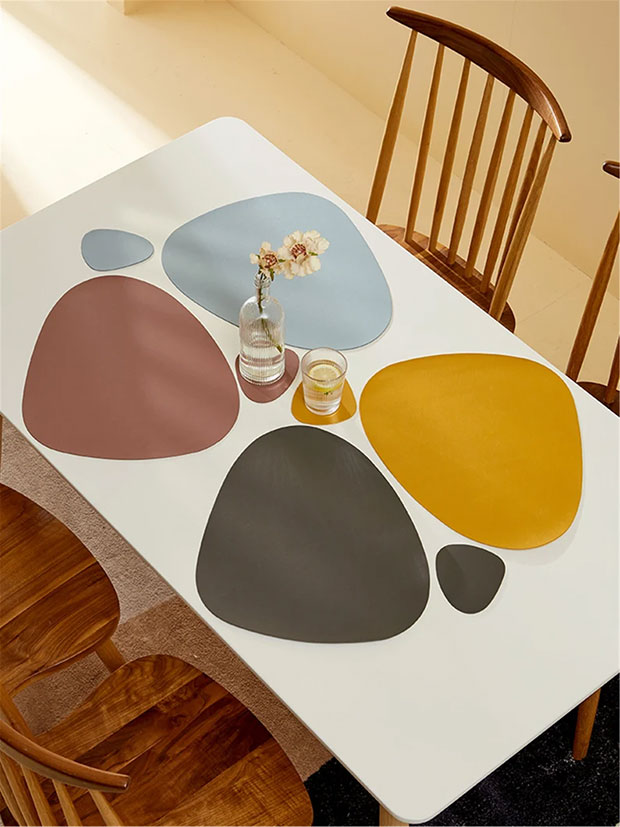 Livinginc
If you want to stray away from the usual square and rectangular placemat shapes, these oval-shaped placemats are the perfect alternative. It is made from leather so it is oil and waterproof – making them perfect for outdoor kitchens with dining.
PU Leather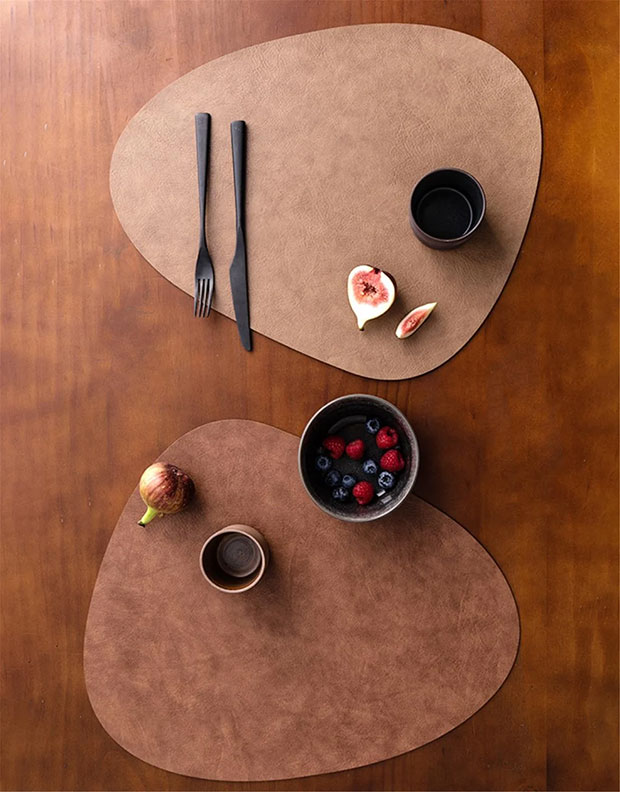 BrokenflowerGift
For a more rugged or natural look, these leather placemats are perfect. The colors are warm and rich, which adds a nice touch to any light interior home.
Farmhouse Placemats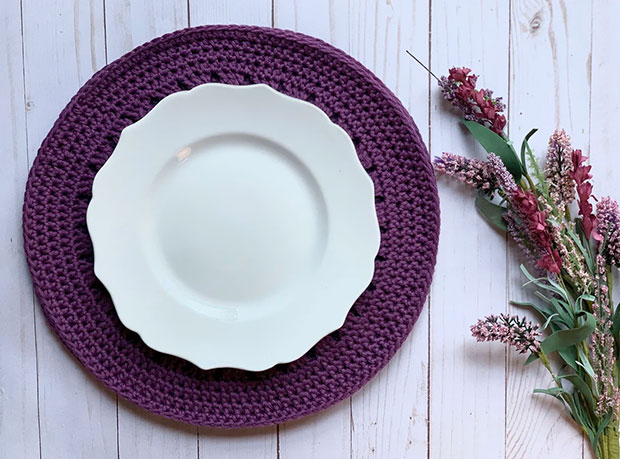 StitchedTogether89
If you love handwoven stuff, then you'll like these farmhouse placemat designs. The style is perfect for country kitchens and dining rooms. These are crocheted using pieces of cotton.
Baby Blue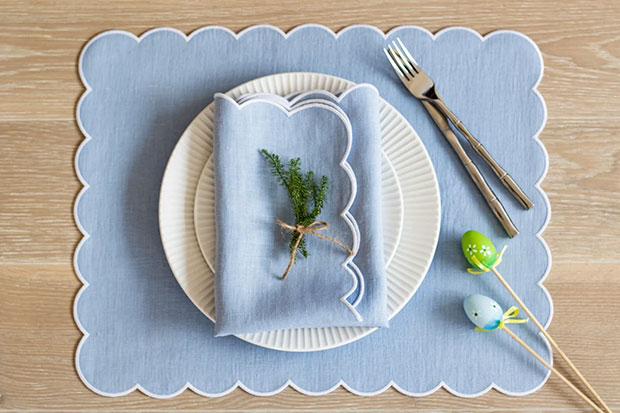 NapkinsWorld
Light and easy touch to your dining table is brought out with these baby blue linen table mats. It has a scalloped lining that softens the design and adds a more feminine touch.
Mediterranean Style Placemats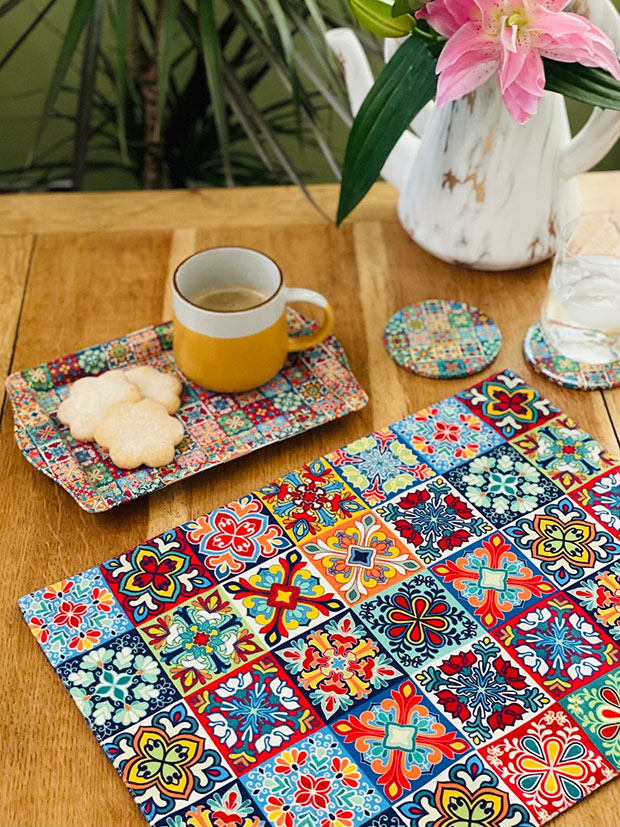 If you are looking for color in your Mediterranean dining room or you just want a touch of its style in your home, these placemat designs are perfect for you. It comes in colorful patterns with lots of amazing shapes and designs.
Boho Style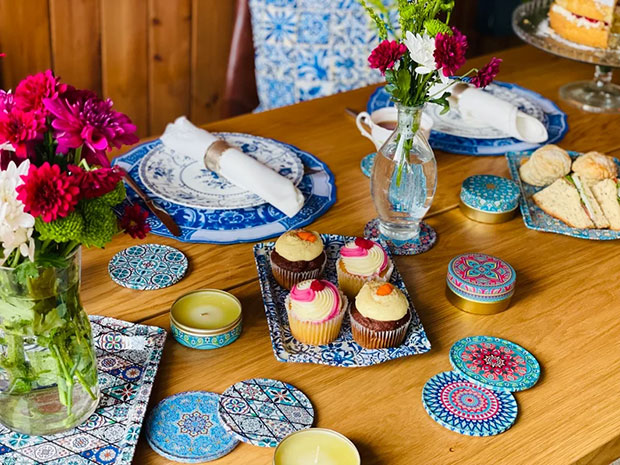 TotallyTurkish
Another Mediterranean-themed placemat designs are showcased here with its gorgeous colors and patterns. It has made from microfiber and has felt back to protect the surface.
Vintage Kantha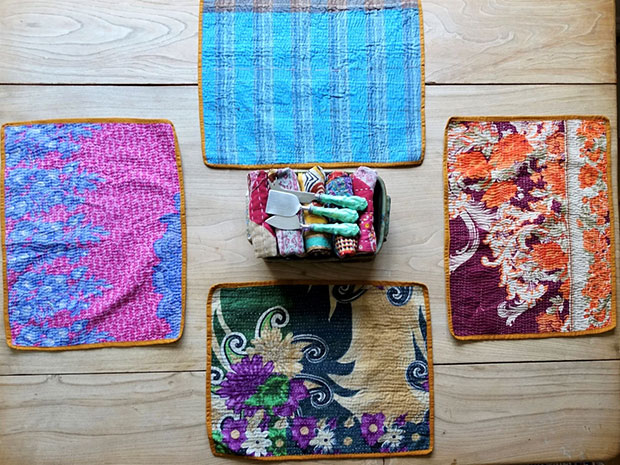 TurquoiseTreeDesign
For a more vintage look, these upcycled Indian cotton Kantha placemats are just perfect add-ons to any home. The placemat is made from cotton and is reversible, so you have a lot of design options.
Toile de Jouy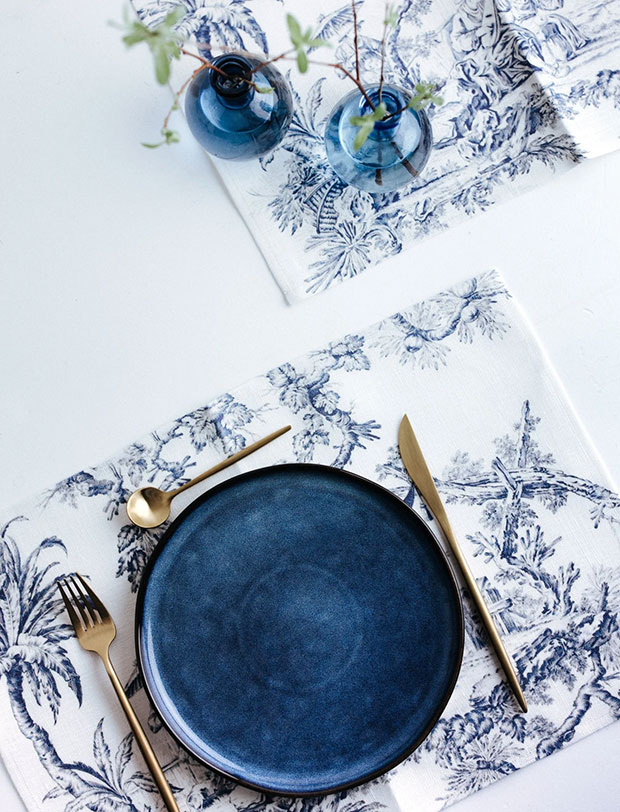 LinenIsLove
This placemat design adopts a classy look with its gorgeous print. It is made from linen and is handmade.
Bundeena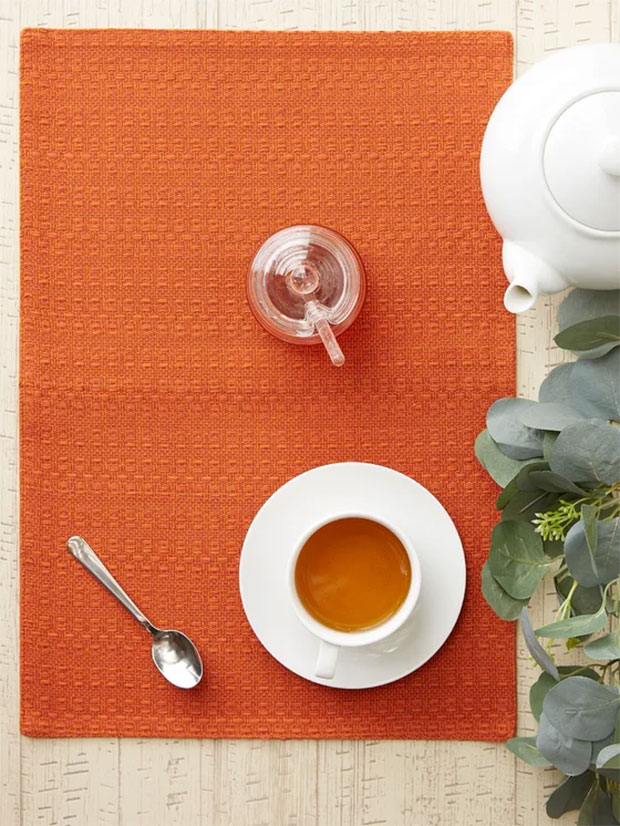 The placemat's rich orange color is set off by the light colors of the table and the utensils around it. It is made from cotton and has a nice clean and minimal design.
Neith Hemstitch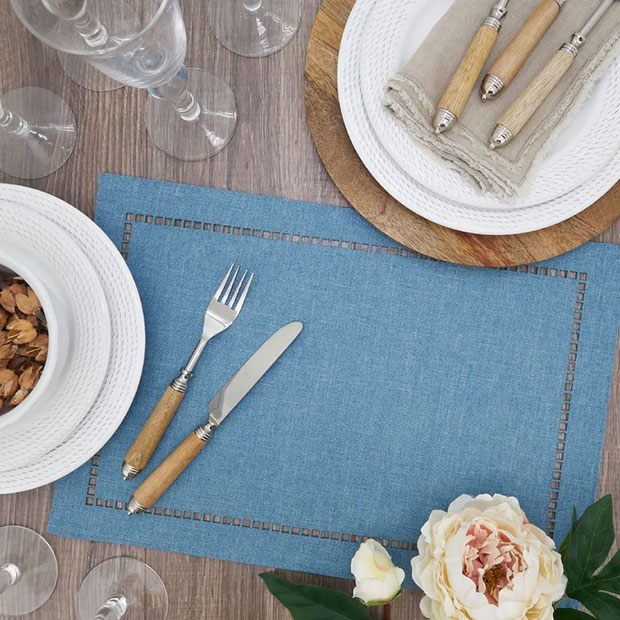 Gracie Oaks
If you'd rather have a timeless placemat on hand, this cute placemat design is perfect for you. It is made from polyester and features a solid color design.
Adelline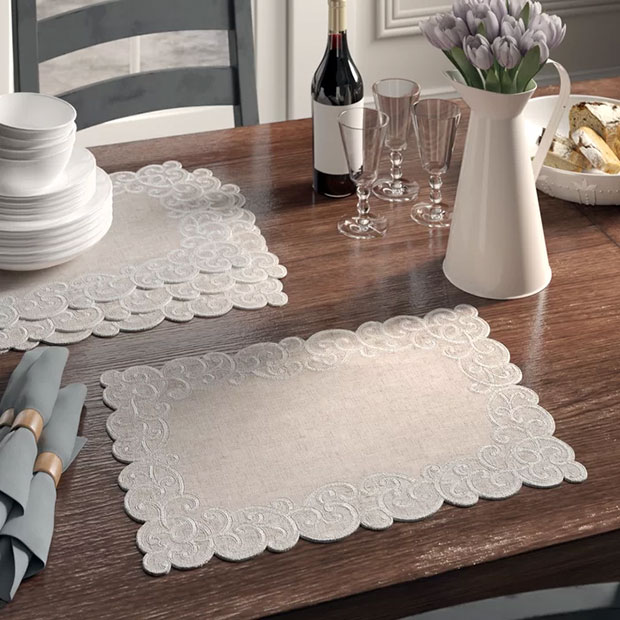 If you love embroidery, these lovely placemat designs are the ones for you. It has embroidered flourishes and scalloped trim that reminds you of class and elegance.
Peasely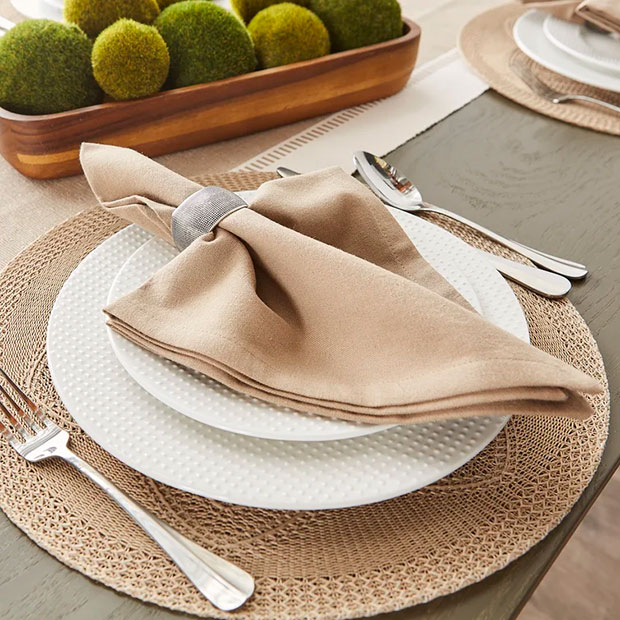 Winston Porter
This beautifully woven placemat is made from plastic. It has a rough texture that adds personality to the design.
Shephard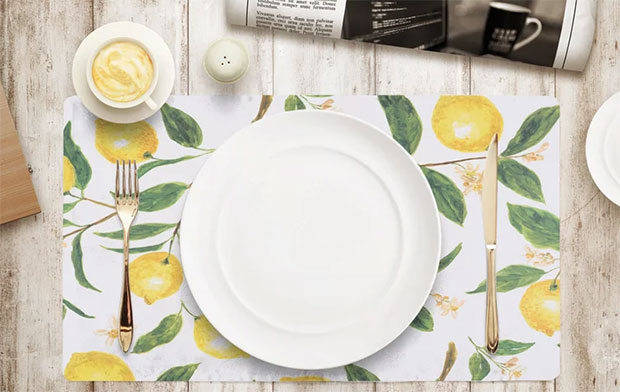 August Grove®
The placemat design is made from cork board so it is durable and heat-resistant. It is 4 mm thick with cute lemon designs.
Vinyl Placemat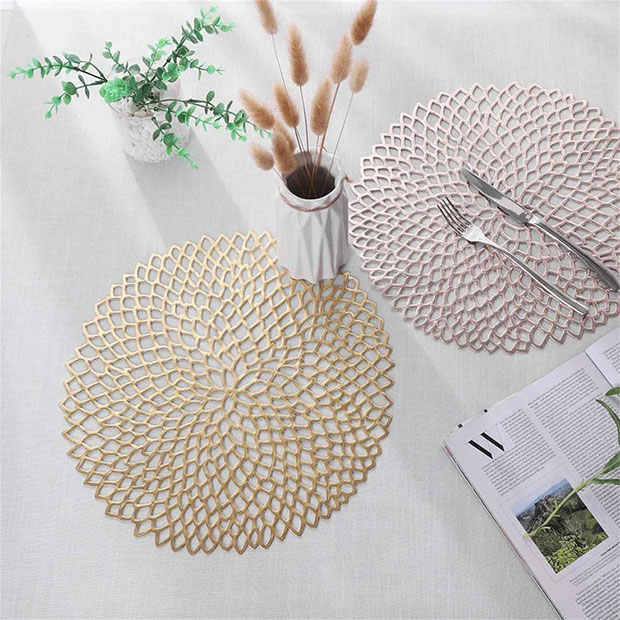 Mercer41
Unique and elegant is showcased by these vinyl placemat designs. Its hollowed-out design complements any dining table you have and adds nice decor to it.
Malachi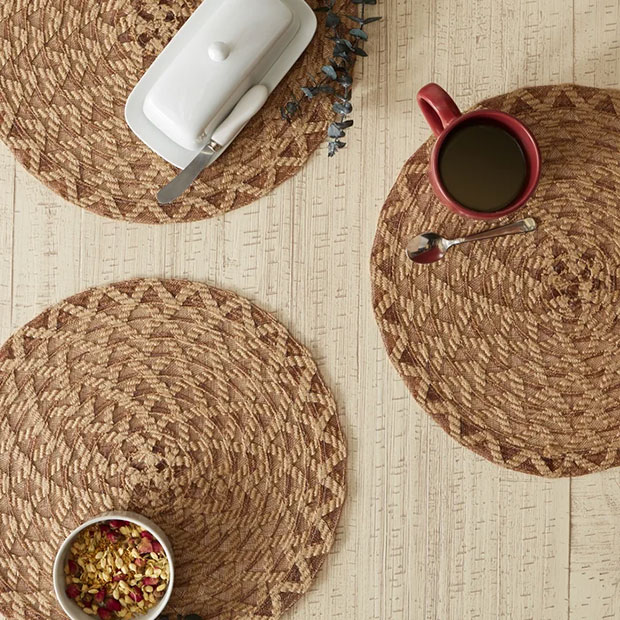 The rough texture and enticing pattern, make this lovely placemat design a great add-on to your home. It is made from polyester and has a nice warm brown color to add a cozy feeling to your home.
Delcastillo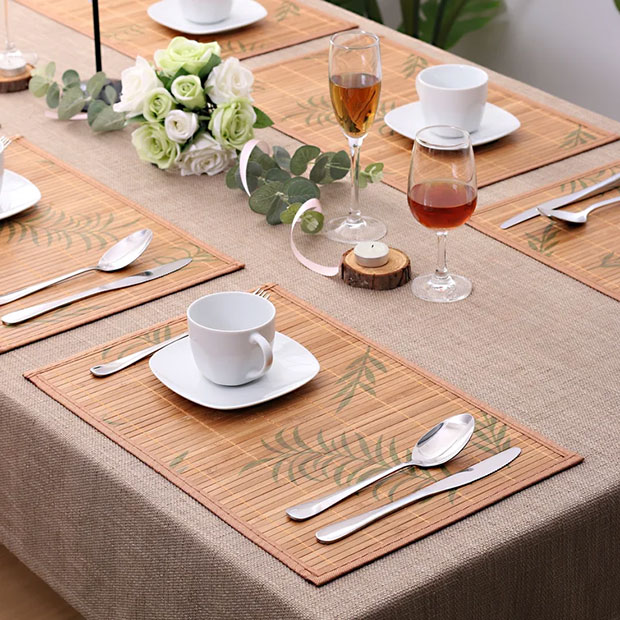 Bayou Breeze
Made from wood/ bamboo, these placemat designs are very eco-friendly and can be easily maintained. The placemat can also be rolled up for easier storage.
Labarre Whip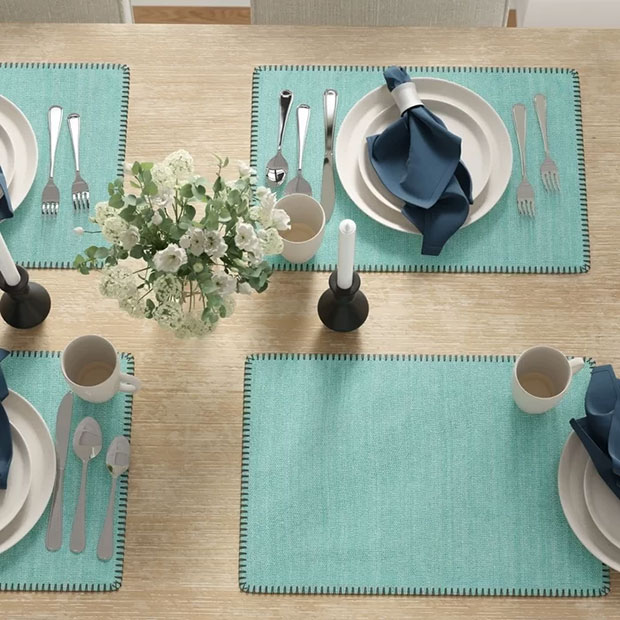 Union Rustic
Made from cotton, these placemat designs embrace a whipstitch design around the edges, adding texture and personality to the placemat. Instead of the colorful patterns we see, these placemat has solid and bright colors.
Schantz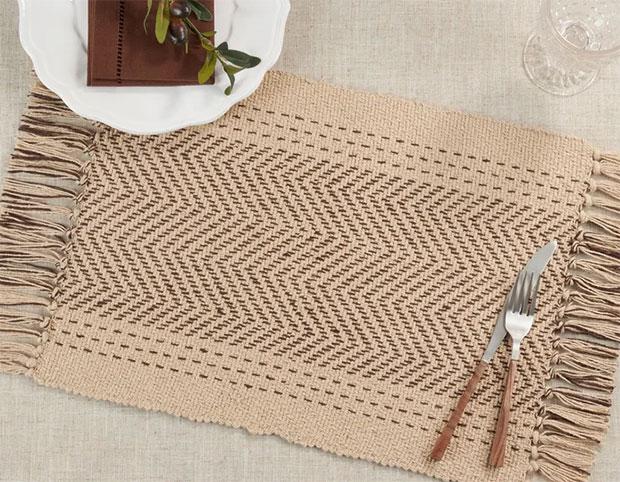 Foundry Select
The fringe edges and earth color of this placemat design make you think of the outdoors. The eastern-Indian design also adds an exotic touch to the item.
Laser Cut Design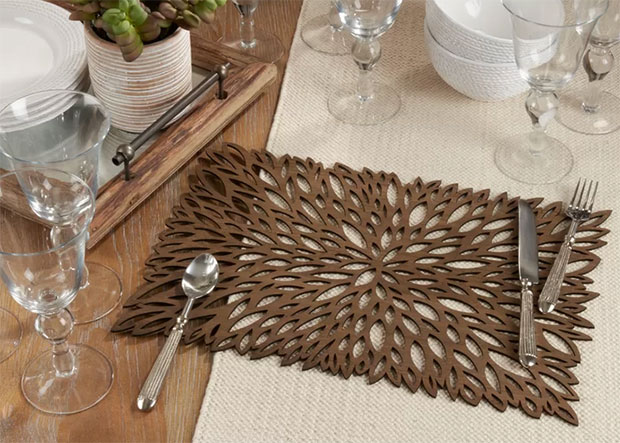 Saro
This placemat has a modern and contemporary design that adds a stylish touch to your dining table. It is made from wood/ bamboo so it can be easily cleaned with a damp cloth.
MHF Home Taupe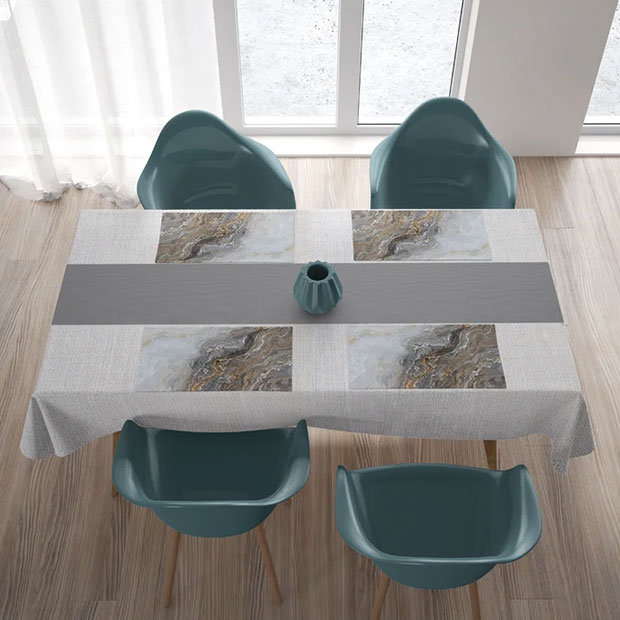 Morgan Home
The unique blend and color of the placemat designs here make it a head-turner item in your dining room. It is made from plastic so it is both water and stain resistant.
Blue Placemats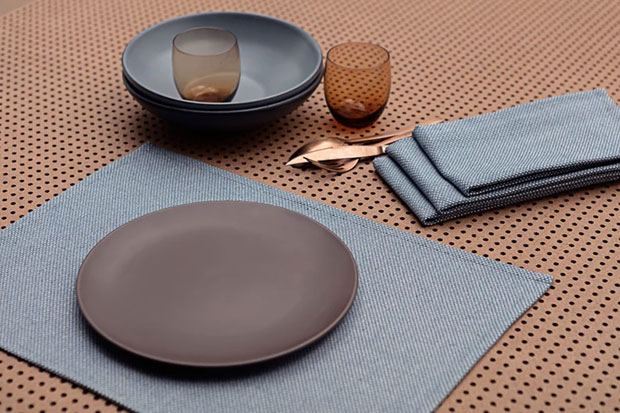 MEEMACo
Chic and casual looks are offered by this placemat design with its cotton and linen materials.
Ice Grey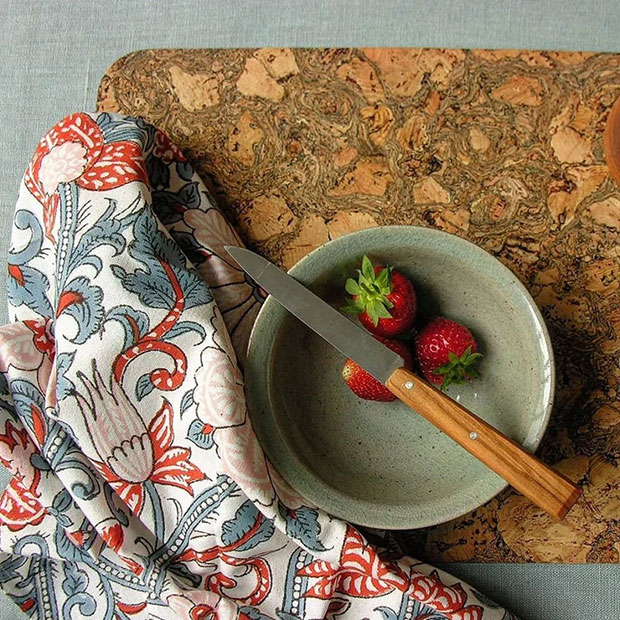 PortugueseTreasures
This placemat is naturally made from a cork oak tree. It has lovely patterns and hues of brown on the surface that will add a charming look to your table.
Heart Placemat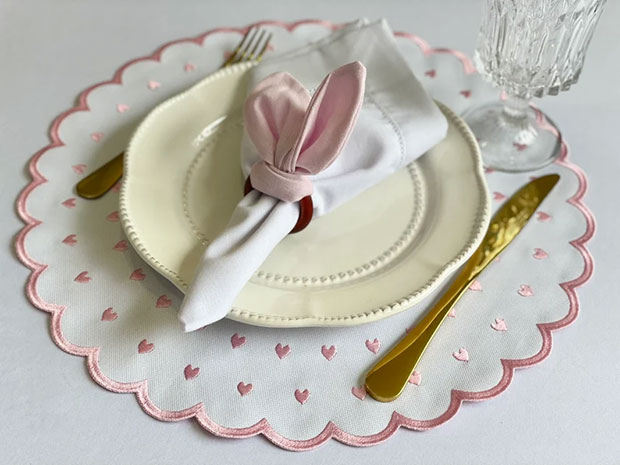 GreenleafhomeShop
The placemat design offers a cute and feminine look with its small hearts and pink highlights. It is handmade and has red scalloped edges.
White Linen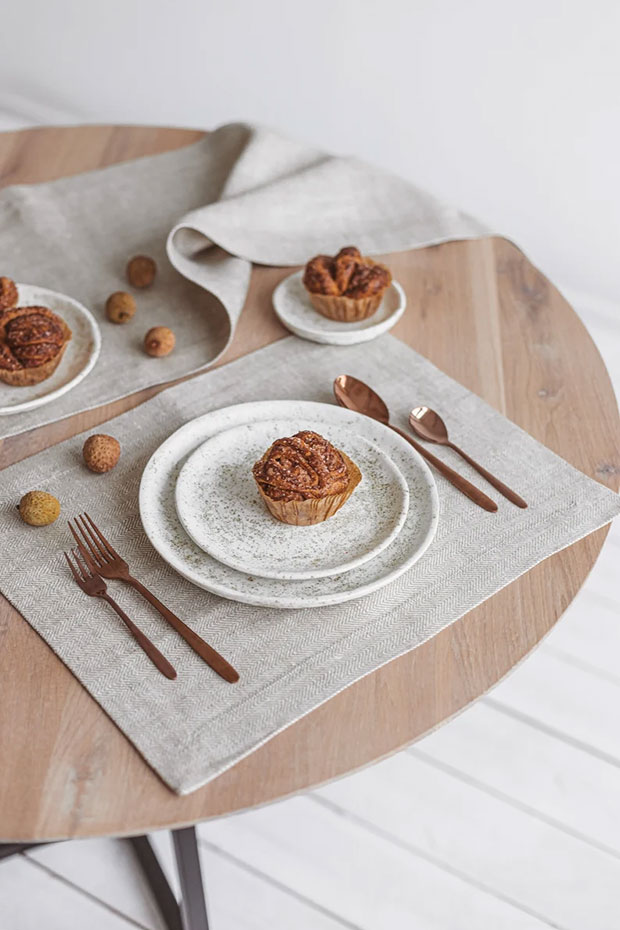 ThingStories
Timeless elegance is brought out with this gorgeous white linen placemat. White is neutral, so you can match it with any home style and dining table decor.
Floral Placemats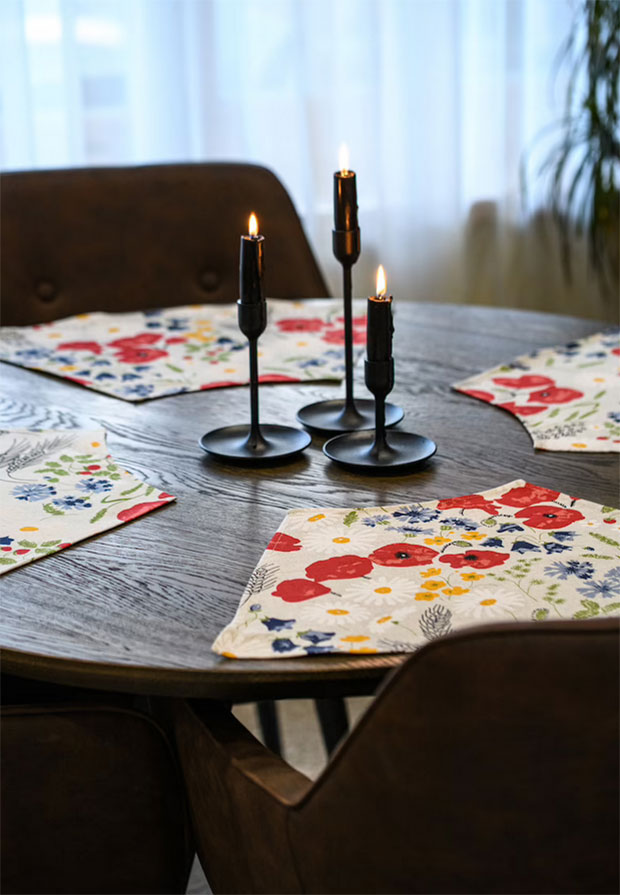 DecorDora
If you have round dining tables, these floral placemats are perfect for you. Its color and design adds a festive look to your table.
Floral Art Placemat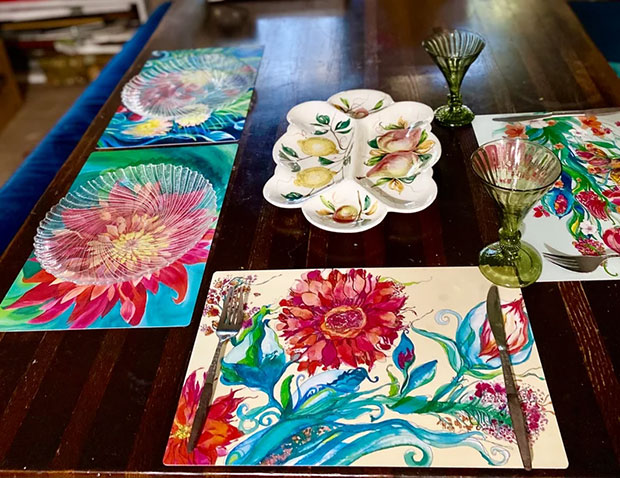 GypsyGardener
The lovely colors and floral patterns of these placemat designs are truly eye-catching. They are perfect for wooden dining tables!
Fabric Placemats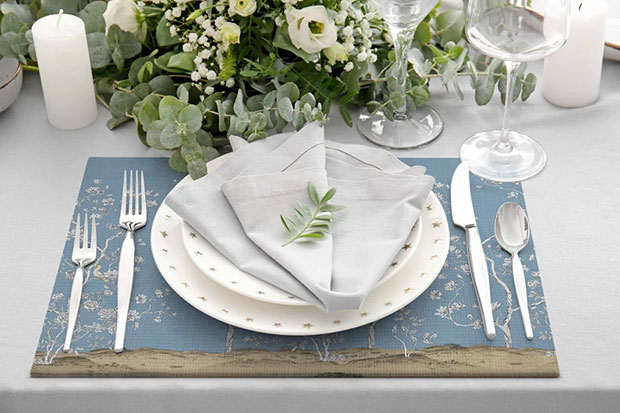 BalinciaExclusive
This placemat has a lovely plant design in colors of blue and brown. Its soft design adds a nice feminine touch to the dining table setup.
Cloud Shaped Silicone Placemat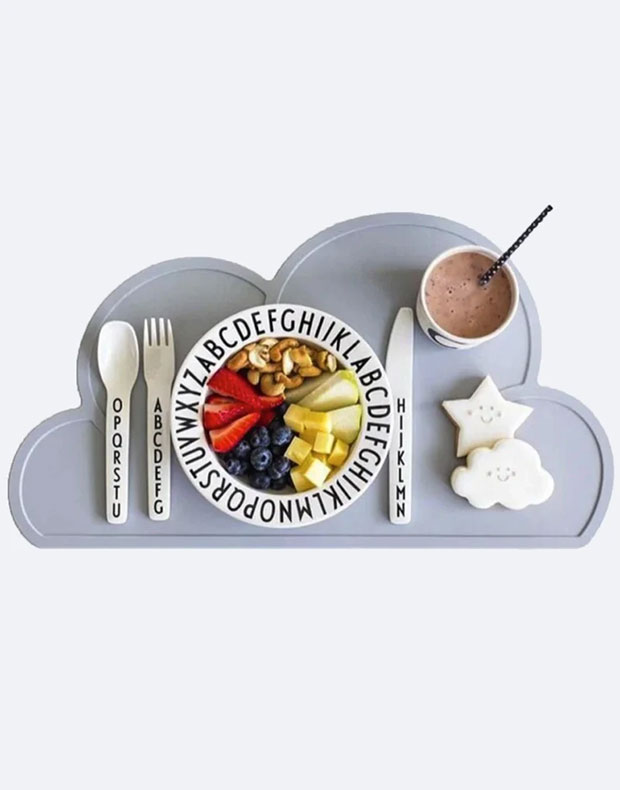 DinksBabyDecor
Perfect for families with kids, this placemat has a cloud shape design that kids will really love! It is made from silicone so it is easy to clean.
Double-Bordered Placemat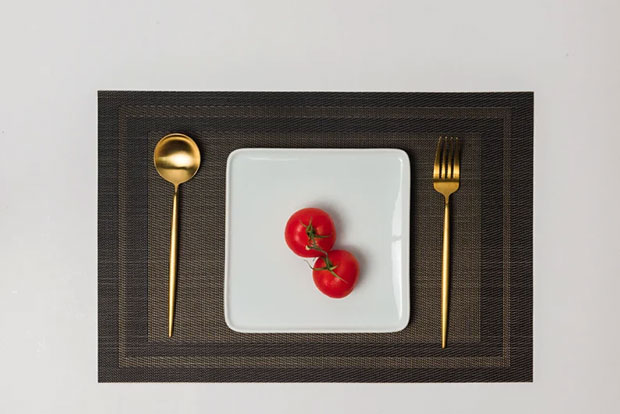 This beautiful placemat has rich dark colors that perfectly set off any white dining tables or bright dining rooms. It is made from vinyl, is heat-resistant, and washable.
Woven Bordered Placemat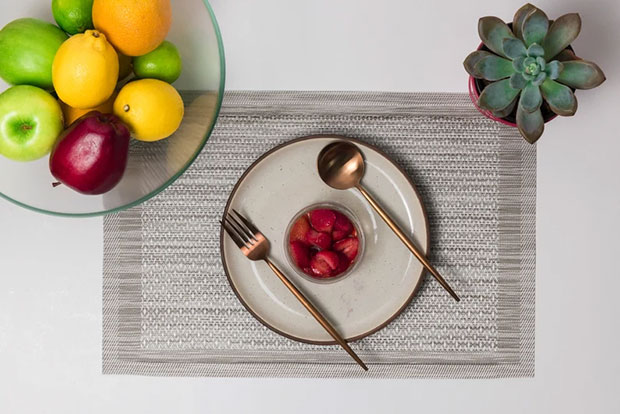 JoysComfortHomeDecor
Made from polyester, this placemat has an elegant design that makes it a non-imposing dining table decor. The placemat is perfect for special occasions and even everyday use.
Macrame Placemat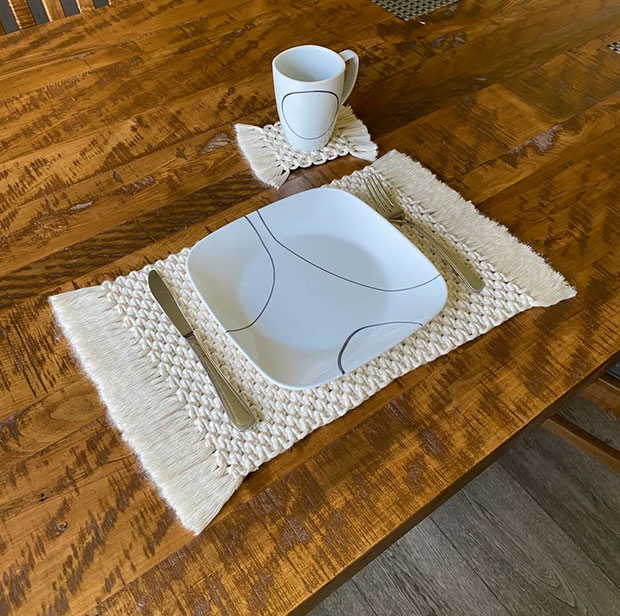 TheKnottyCrow
This bohemian-inspired placemat has a lovely and unique look.
Morency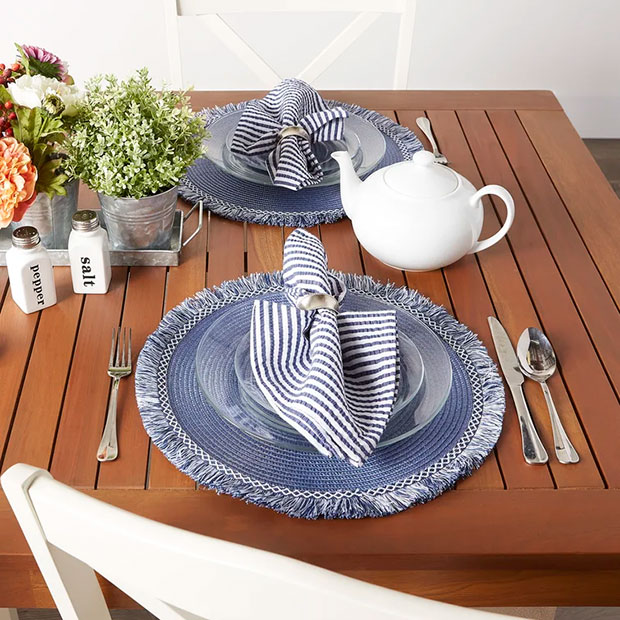 Made from polyester, this placemat design has a casual and unique look that makes it perfect for both indoor and outdoor dining setups. One look and it reminds you of beach and carefree days!
Lenworth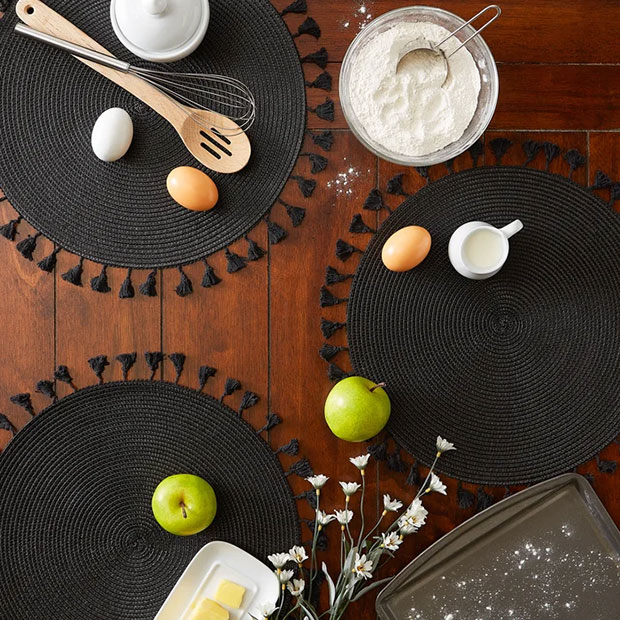 Dakota Fields
Clean elegance is brought out with these placemat designs. It is made with plastic and has lovely fringe edges.
Green Lines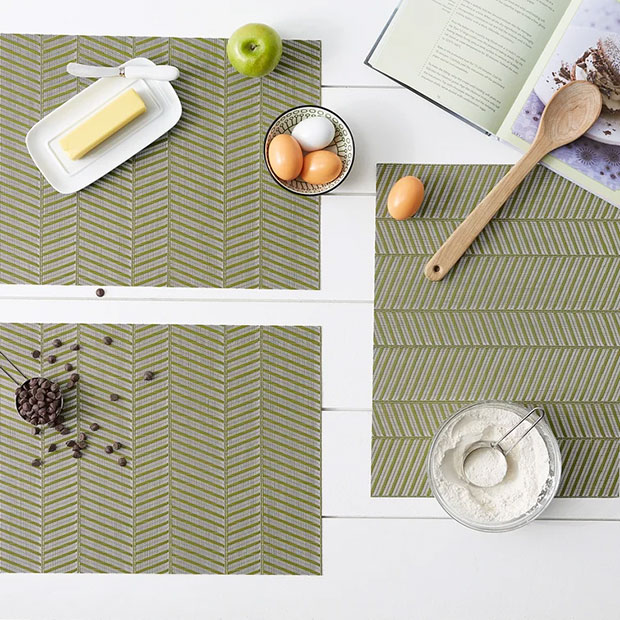 The clean lines featured in this placemat design are classy and trendy. It is made from vinyl and can be hand washed.
Vinyl Placemats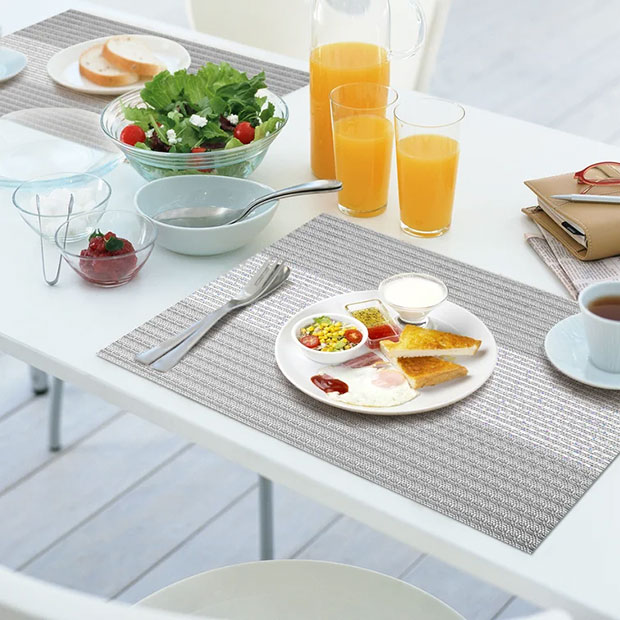 Latitude Run®
For a flexible and classy look, this vinyl placemat is perfect for outdoor and indoor dining. It is also very lightweight and can be easily rolled.
Schweiger Joy And Peace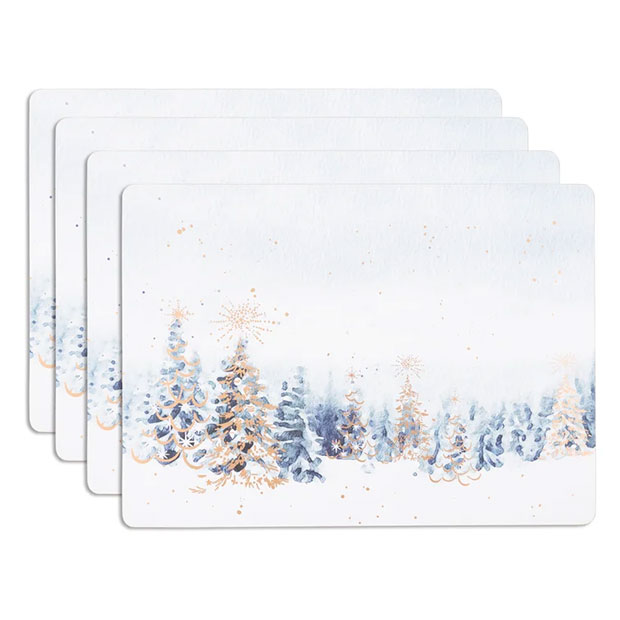 The Holiday Aisle®
For a festive and classy look, this placemat has a wonderful Christmas tree design. It is also made from cork so it is durable and can be wiped clean.
Newlyn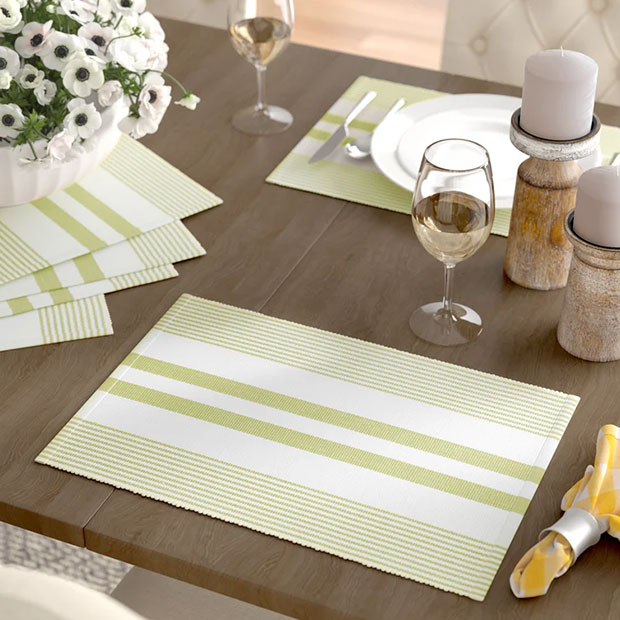 Three Posts™
The fresh color of this placemat design is cheerful and sunny. It is handmade from India and is reversible too.
Towson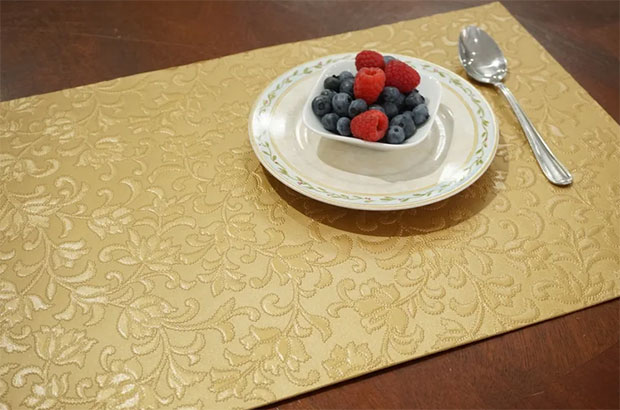 Lark Manor™
If you love gold, then this leather placemat is perfect for you. It has suede backing on the edges and can also be hand washed.
Olton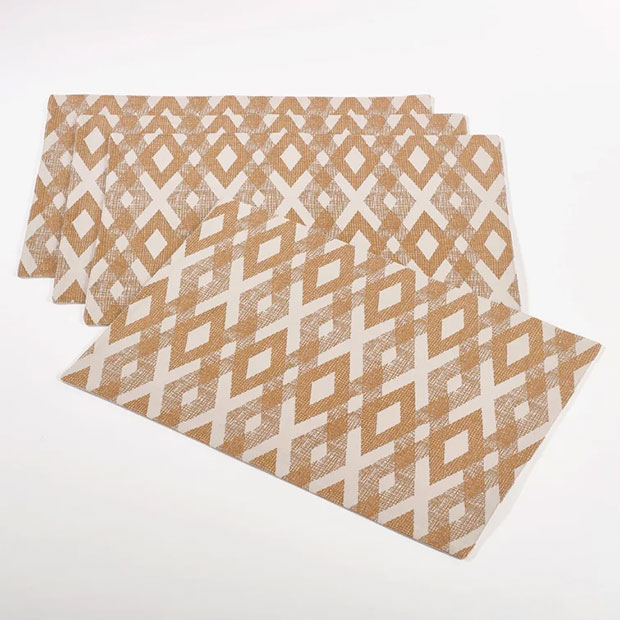 Millwood Pines
For a modern and unique look, this placemat design works well. It has a printed diamond design and is made from cotton.
Axelle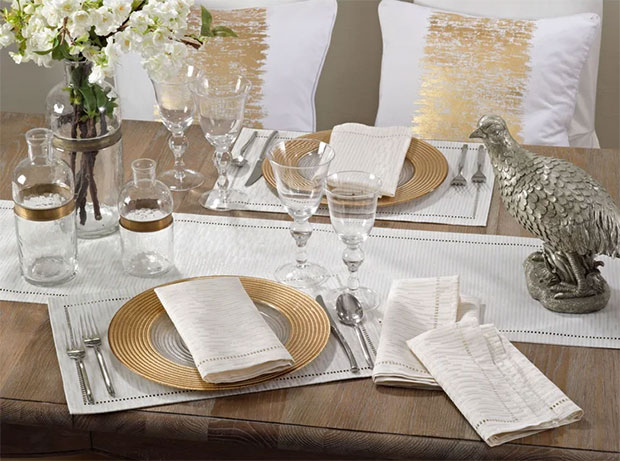 Charlton Home®
Made from polyester, this placemat design has shimmering ivory threads. It looks great with the gold highlights in the dining table setup.
Dones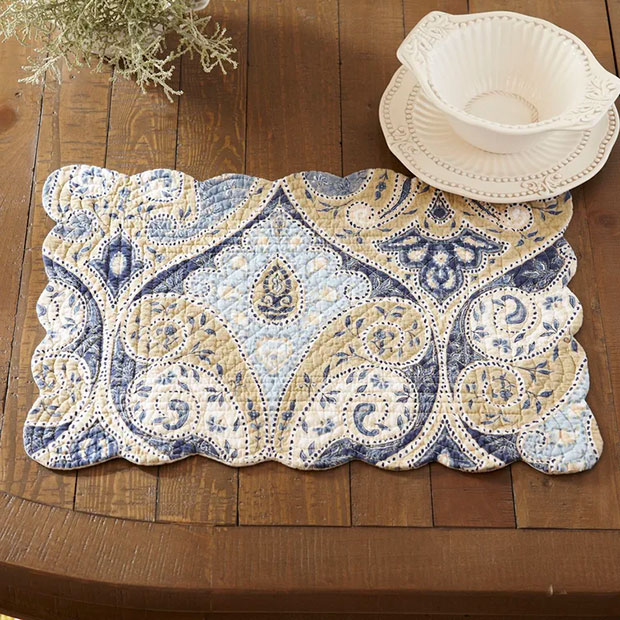 Birch Lane™
This placemat embraces a traditional look with its paisley print and various shade of blue colors. It is made of cotton and will work well in traditional and country-themed dining rooms.
Kol Bamboo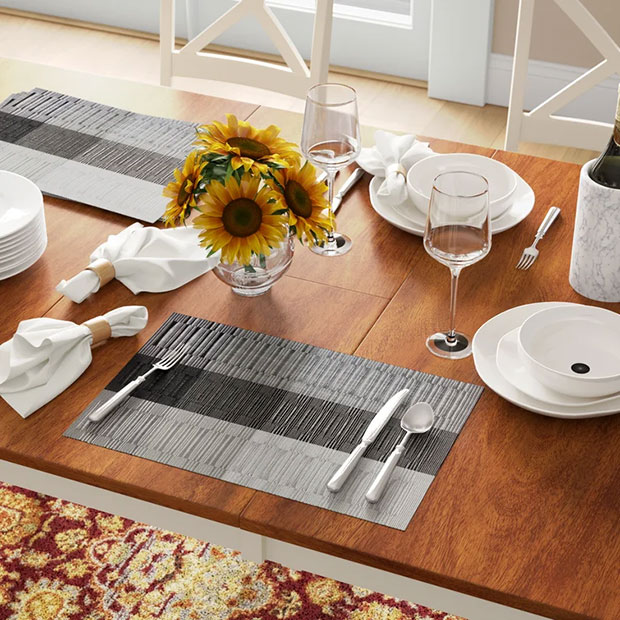 Add class and style to your dining tables with this polyester placemat. It is anti-wrinkle and is water-resistant. The various shades of gray in this placemat look great too.
Abbie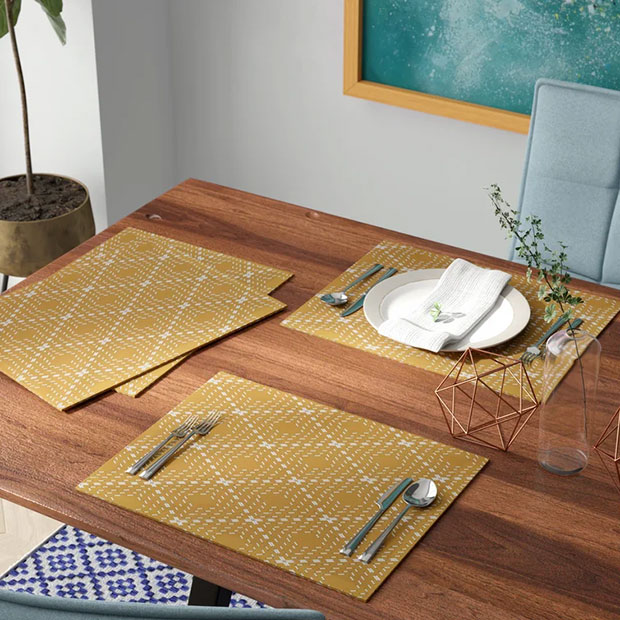 Ebern Designs
The bright yellow color of this placemat is eye-catching and adds texture to a dining table set up with its shapes.
Placemats are an amazing addition to your table and will give you that extra protection that your table needs. There are lots of placemat designs out there, and it is up to you to mix and match!
Have you found the perfect placemat design for your dining room?
Like This Post? Pin It!