Fun Aquarium Ideas for the Fish Lovers
|
Are you planning to get a fish pet but want the funkiest and cool aquarium there is? Well, we have cute and fun aquarium ideas for you that will surely inspire you!
An aquarium is like a television with a live show of fishes. I'm sure we all enjoy watching the fishes play in their own home.
But what if an aquarium can do more than contain water and fishes? That would be awesome, right!
An aquarium can actually be designed in different ways aside from the usual bowl or rectangular ones. Aside from that, it can also be a table, a sink, a toilet or even a clock!
But don't worry, the fishes are always safe whatever the design and functions of these aquarium ideas are.
1. Aquarium Bed
Would you sleep with the fishes in this Aquarium Bed? I bet you will! It is like you will be sleeping under the sea!
Imagine going to sleep and waking up with these lovely and gentle fishes overhead. It will be tempting to stay in bed all day!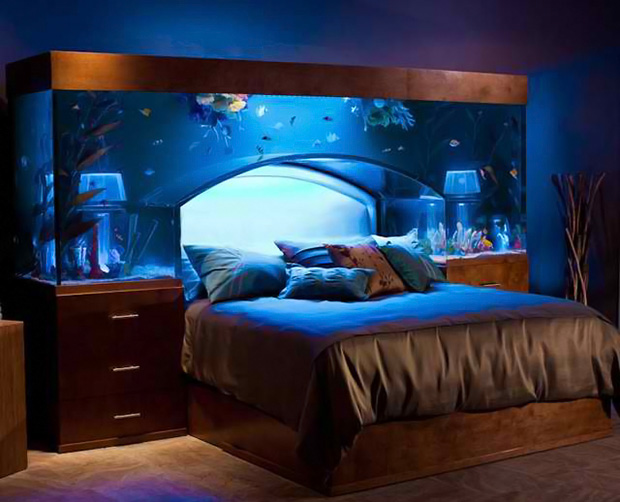 acrylicaquariums.com
2. Floor Clock Aquarium Idea
Say goodbye to old fashion clocks! Aside from telling time, this Floor Clock Aquarium can also be decor and a home for the fishes in your very own house. Cool aquarium ideas!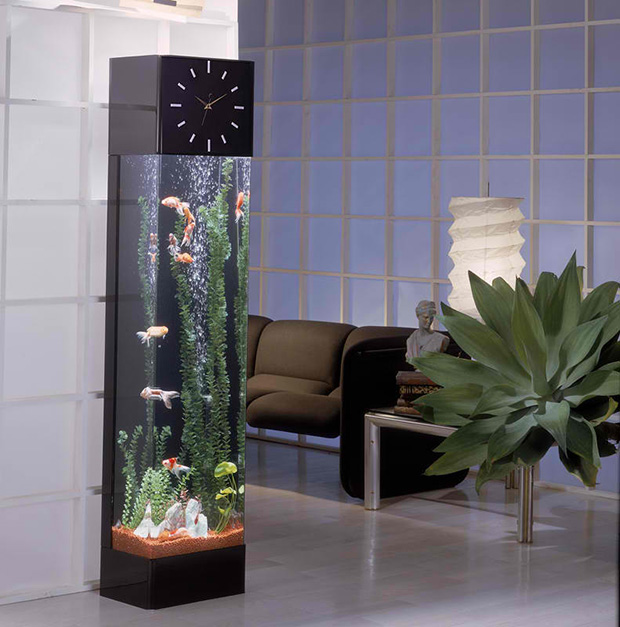 midwest-tropical.com
3. Fish 'N Flush Toilet Aquarium
It would be a bit weird doing your 'thing' with fishes on the background… You can't deny, however, that this will turn an ordinary bathroom into an amazing one.
And worry not. The fishes will not be flushed in this Fish 'N Flush Toilet Aquarium because it is consists of two separate reservoirs- one holds water for the fish and the other supplies the toilet.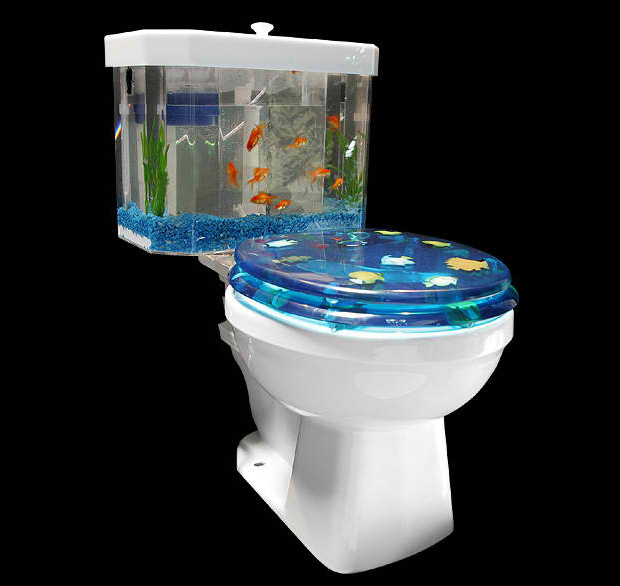 fishnflush.co.uk
4. Aquarium Sink
Dishwashing or washing your hands will never be boring with Aquarium Sink for you can watch the fishes while washing. Fun, right? But I'm afraid you'd be spending more time at the sink now.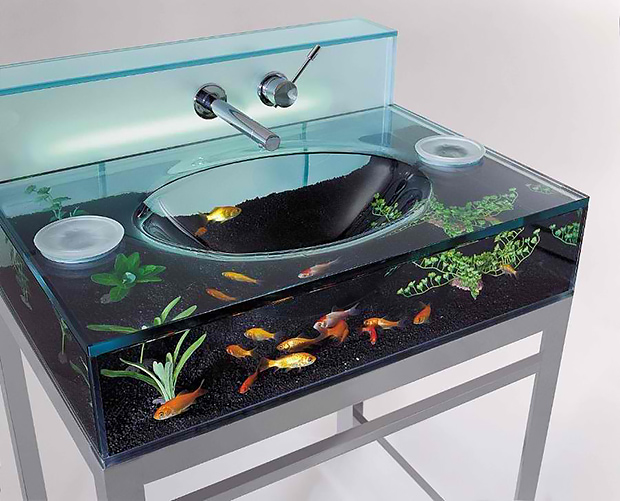 opulentitems.com
5. Table Aquarium
This Table Aquarium ideas will surely be eye-candy in your living room. Now that is space-saving. Instead of putting an aquarium on top of a table, the table is the aquarium!
This will surely be a great conversation starter especially when you have guests!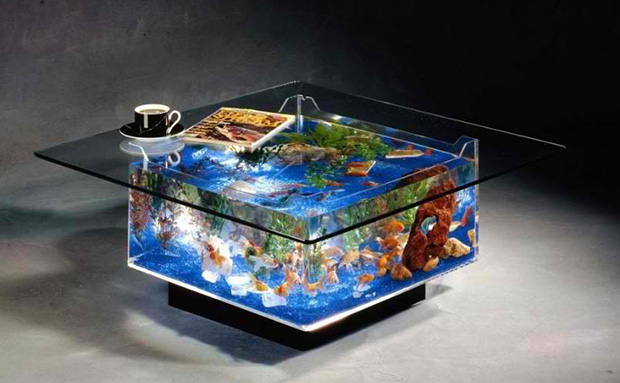 opulentitems.com
6. Aquarium Sofa
If you already have the table aquarium, then adding this Aquarium Sofa will complete your fish or aquarium themed room!
Cool aquarium ideas, if you ask me!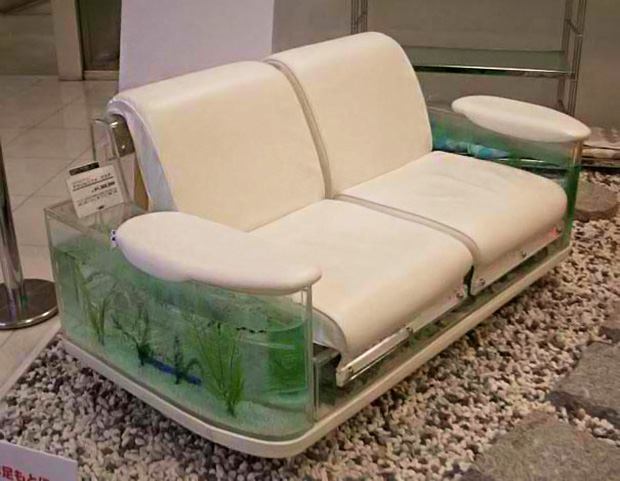 hometone.com
7. Poor Little Fish Basin
Poor Little Fish Basin will make you think of saving water! When used, the water level goes down but it actually doesn't drain out.
Once the water stops running, the water will go back to its original level. There is a separate pipeline for the bowl and the faucet.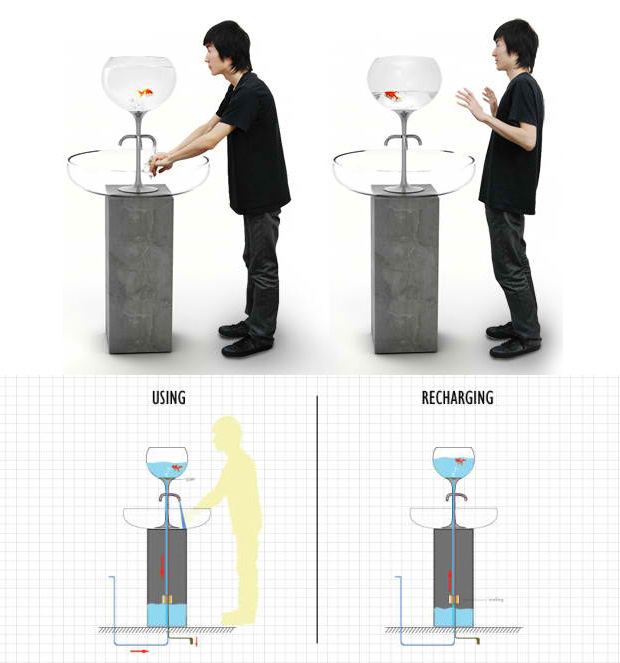 yanlu.com
8. Moody Acquario Bath Tub
This bathtub is made from tempered glass and wood replicating the feel of nature. The Moody Acquario Bath Tub is certainly one item that will change the aura of your bathroom!
It'll be like you are swimming with fishes right at the comfort of your homes!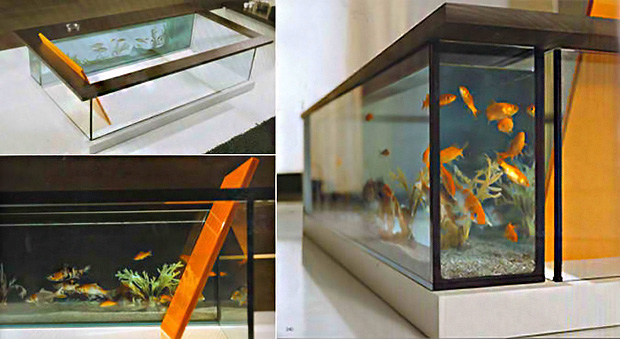 giant.co.uk
9. USB Desktop Aquarium
It would be cute to have a mini-fish tank with running water that re-circulates in it. This USB Desktop Aquarium is powered by a USB connector, has an LCD Alarm clock, dual compartment desk organizer and color-changing LED interior lights.
This will be a great addition to your home office! A relaxing and useful addition for sure!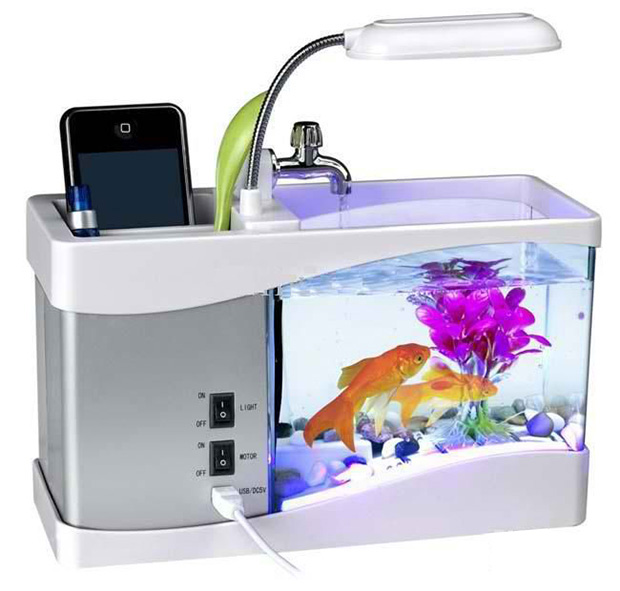 fascinations.com
10. Duplex Aquarium / Bird Cage
Constance Guisset designed the Duplex Aquarium / Bird Cage that is perfect for both bird and fish lovers. Now, you can place both in one spot!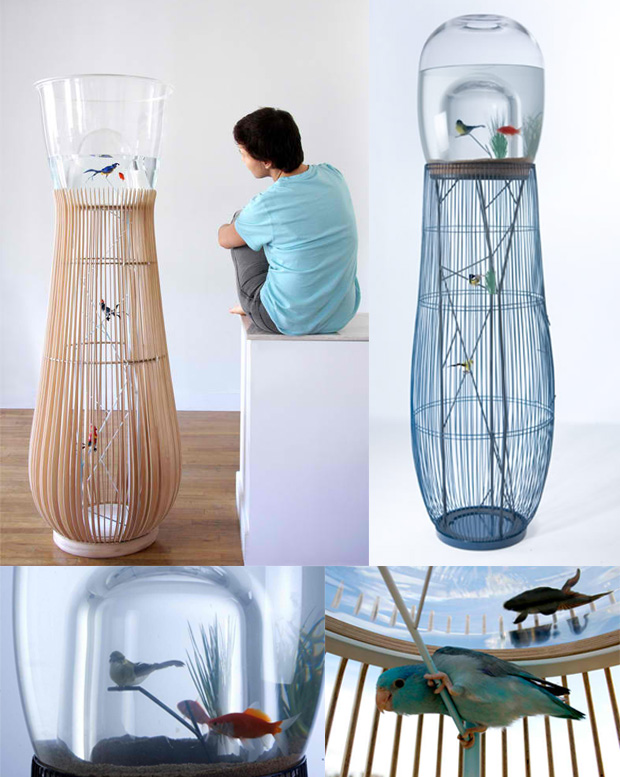 constanceguisset.com
11. Fireplace Aquarium from Seavisions
You will be amazed by this Fireplace Aquarium from Seavisions. It is huge and will surely make stunning water and fire combo!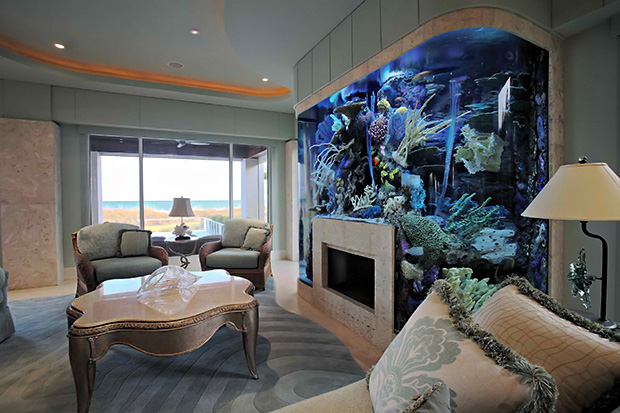 seavisions.com
12. Plano Acquario Shower
Plano Acquario Shower could be a good addition to the bathroom. Pair that with the toilet, sink, and bathtub with aquariums too!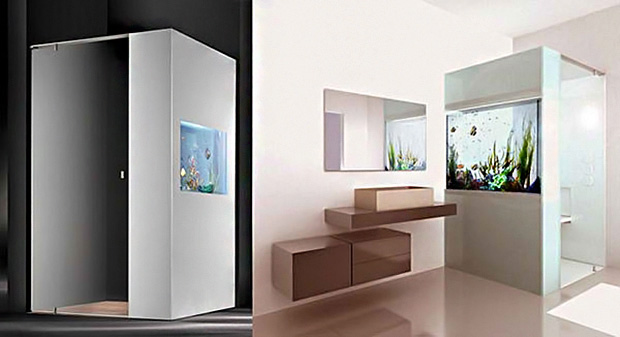 cesana.it
13. Old TV Fish Tank
Got an old TV that is no longer functioning? Turn it into an Old TV Fish Tank and watch your fishes grow! Neat, huh?!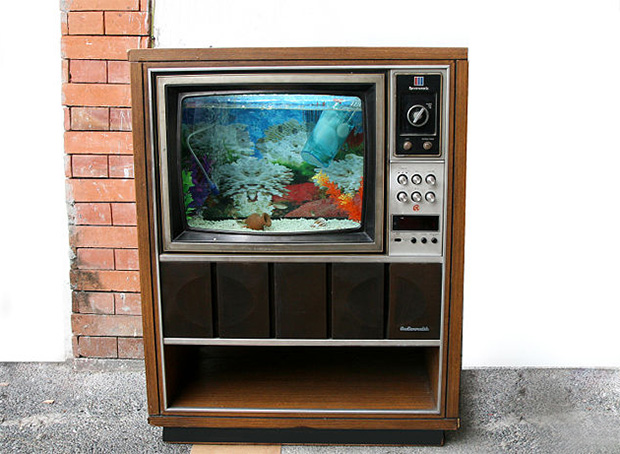 wikihow.com
14. One Pot, Two Lives
One Pot, Two Lives can contain a plant and a fish. The fishes turn their eaten bait remnants into nutrients for the plant, while the water fed to the plant is filtered as it passes through and becomes clean for the fish.
Great mutual relationship in one pot!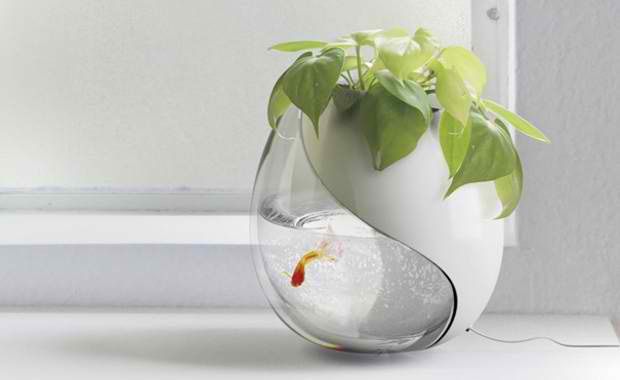 yankodesign.com
15. Aquarium Ideas for Dining Table
You can dine with the fishes without eating them on this Aquarium Dining Table. It has a pump, lights, basic filter system and is 25 Gallon in size. Not bad!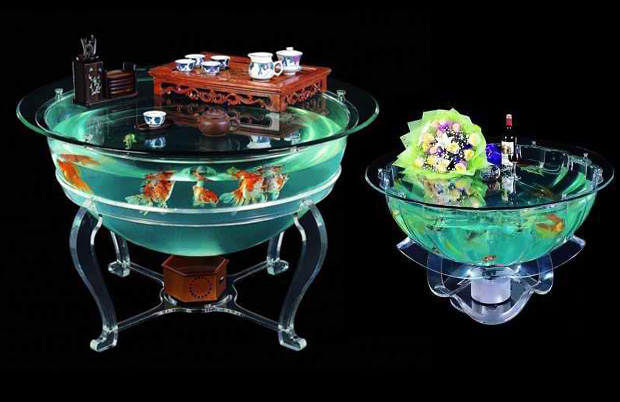 kijiji.ca
Cool, right? I actually think the idea of having an aquarium-furniture/accessory fusion is amazing because you can get two great things in one. The designs are just awesome!
Come to think of it, you can actually create a house that is aquarium themed but you have to make sure you can maintain all of them! Oh my, that would be a lot of work! But then again, look at the bright side! It will be soooo relaxing!
Don't forget to share this to your friends! <3