40 Head-Turning Accent Chair Designs For Your Room
|
Our living rooms are often decorated with lovely furniture, lighting, and decors. One of these lovely pieces of furniture that we can add is lovely accent chair designs that enhance a room.
An accent chair is more than just additional seats in the room. These are used in interior design to create a visual point of difference and simply make the room more interesting. While some accent chair designs stand out, they somehow pull together the design of the room through a similar pattern, color, or texture.
The selection of an accent chair's design is intentional and purposeful. Therefore, choose it carefully.
How to choose the perfect accent chair?
Like all furniture, accent chair designs also comes in a variety of color, shapes, and sizes. With this in mind, it is necessary to consider your choices first before purchasing to ensure that it will not be the odd one out of your interior design.
To help you make the correct choice, below are some tips to consider when choosing the correct accent chair designs for your home:
1. The room's style.
Accent chairs go well with any type of living room. But the catch is, that the color, design, and style have to match it. For example, if you have a modern living room, choose a modern design.
2. Colors
Color is a major factor to consider when choosing an accent chair design. It should match your room or any of the available color shades. While color choices can be a problem when you have set your heart on a specific design only to find out that it doesn't have the color you need for your home.
3. Fabric
Most people will overlook a chair's fabric and would rather focus on its color. But this shouldn't be the case. Fabrics have textures that complement the design of your room. For example, if your room has lots of heavy textures scattered around, smooth and light accent chair designs will work.
4. Size
Size is obviously one of the factors that need to be considered when choosing from several accent chair designs. Not only does incorrectly choosing an accent chair clutter up the room and take up more space than it should, but it also messes up the overall design of the room. That said, the incorrect size of your accent chair can mess up the balance of a room.
Accent Chair Designs for Inspiration
If you want to check out the various accent chair designs, here are some interesting pieces you might want to consider:
Red Leaf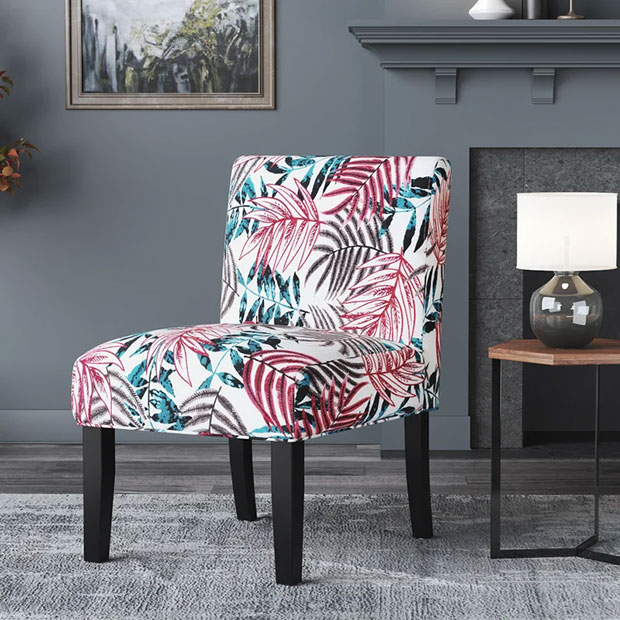 Beachcrest Home™
This slipper chair has a fun upholstery design that can add color to any room. One look at this chair and you are easily transported to the beach and the outdoors.
Lucea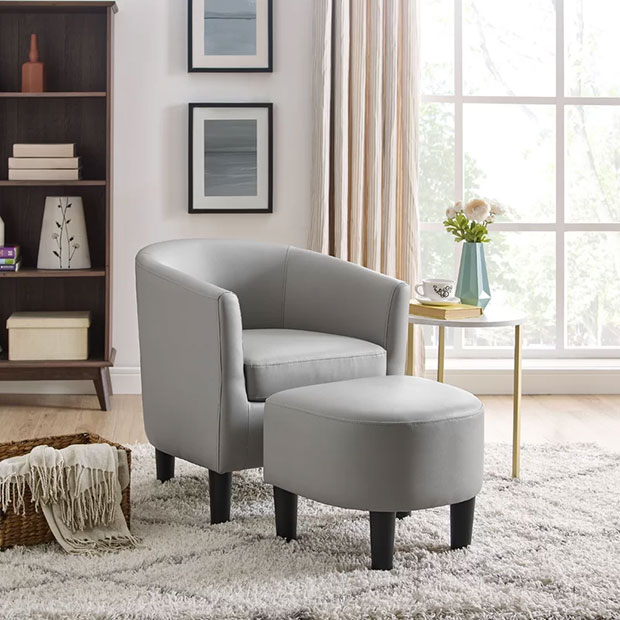 The accent chair is paired with an ottoman for extra legroom or seating space – whichever you prefer. It is made from faux leather and has a nice neutral color, perfect for modern homes.
Kamylle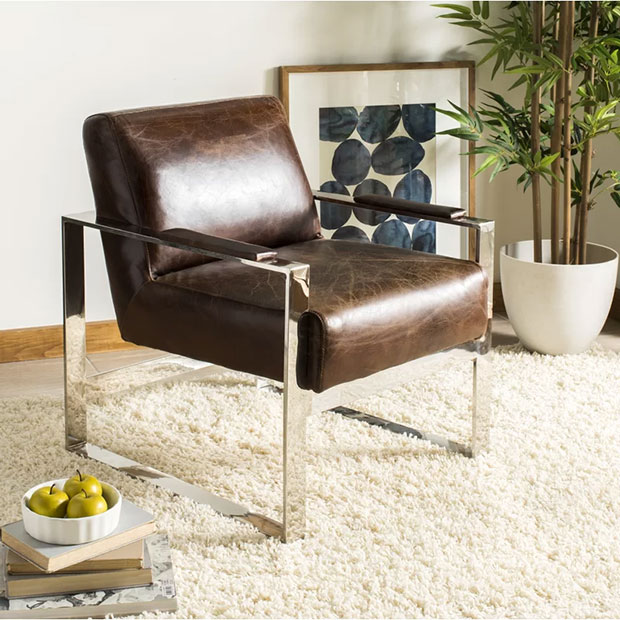 Latitude Run®
For a modern feel, this leather accent chair is a perfect choice. Its warm and neutral color makes it stand out in the white room.
Amara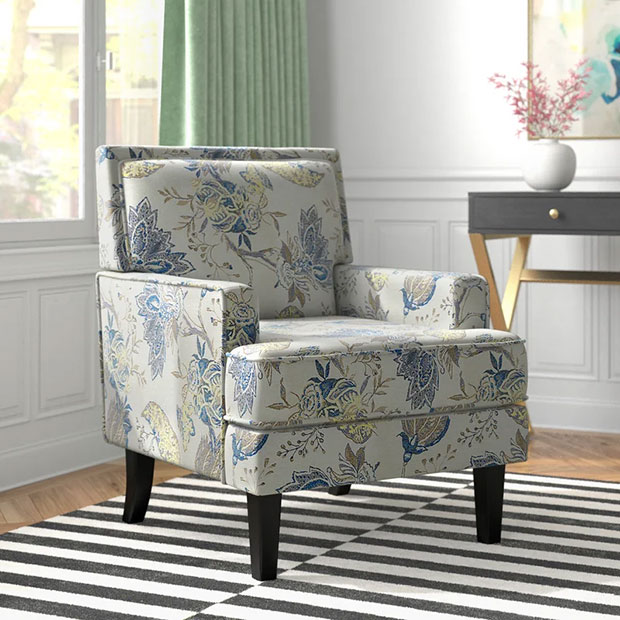 This classically designed armchair is perfect for hanging out with friends and for relaxing at home. It has a slightly slanted seat and soft cushion.
Claudie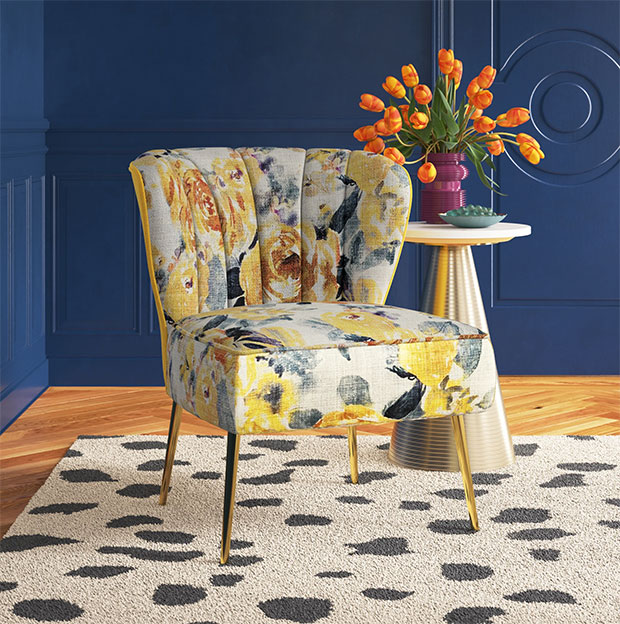 Etta Avenue™
This accent chair design has a vibrant style that adds color to any room. Its contemporary design makes it the perfect addition to a bohemian, glam, or mid-century modern designed living room.
Desi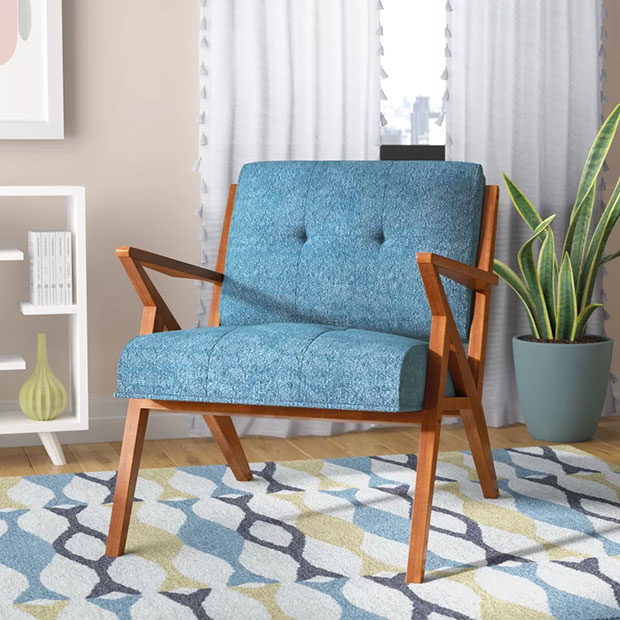 This accent chair's leaned-back style makes it the perfect seat to sit back and relax. Its style also embraces the mid-century design that is perfect for traditional homes.
Tibbie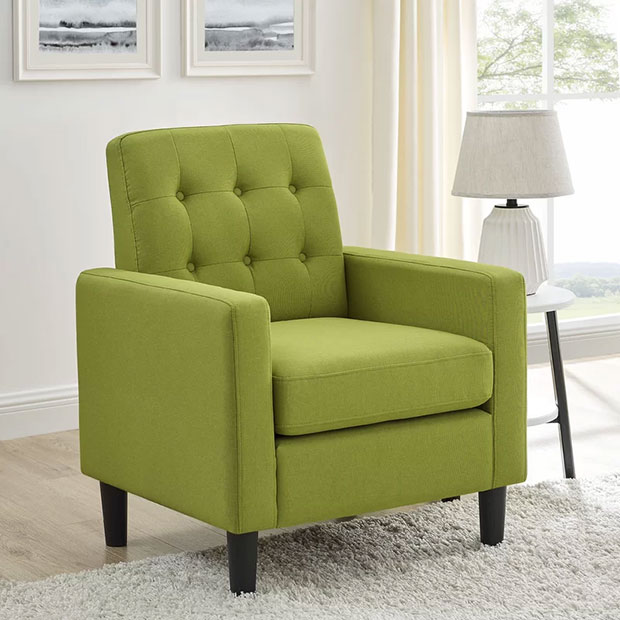 Wade Logan®
If you are into books and have a nice home library space in the house, accent chair designs like this are the perfect furniture to have. It has a foam-filled comfortable seat that will make you want to curl in with a good book.
Ronaldo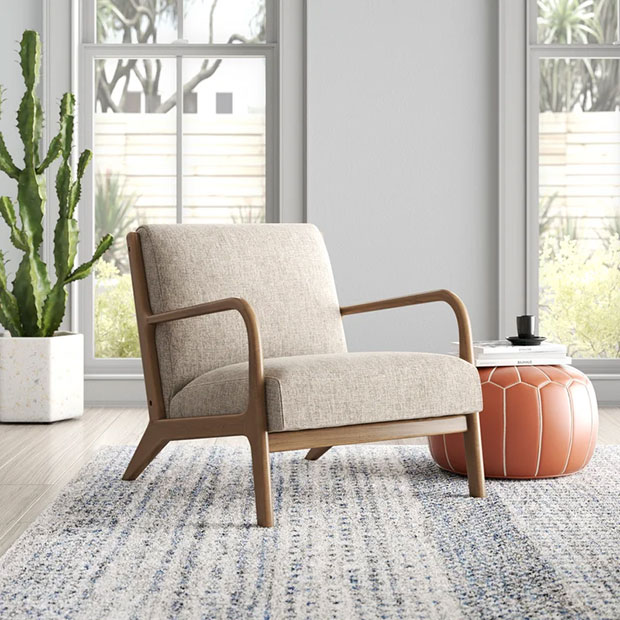 Mistana™
The low-back design of this wide armchair is the perfect seating for those who want to sit back and relax. This look will perfectly fit in contemporary and mid-century designed homes.
Bolen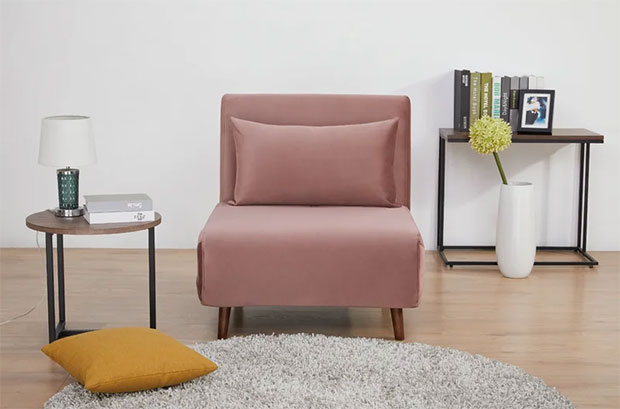 Corrigan Studio®
If you have a small space at home or frequently expect guests, this convertible chair can be converted into a chaise lounge or bed. It has a nice coffee color seat that warms the room.
Aurich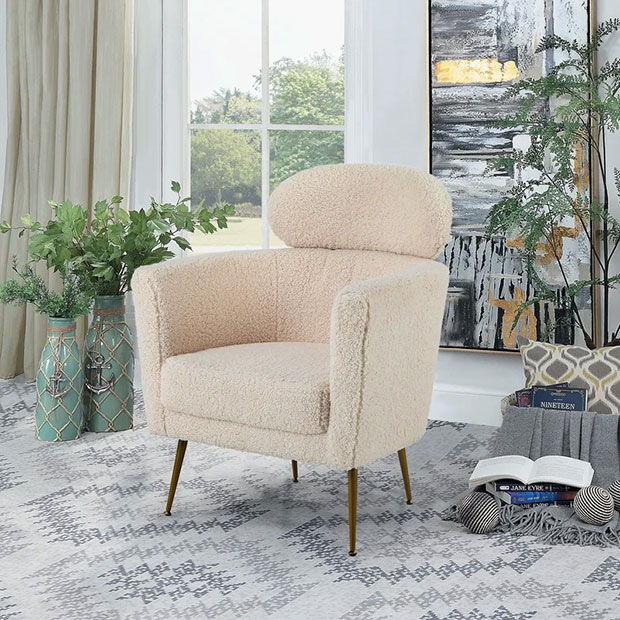 This accent chair has a soft and fluffy texture that makes you want to curl up. It is made from a polyester blend that is UV/fade resistant.
Decota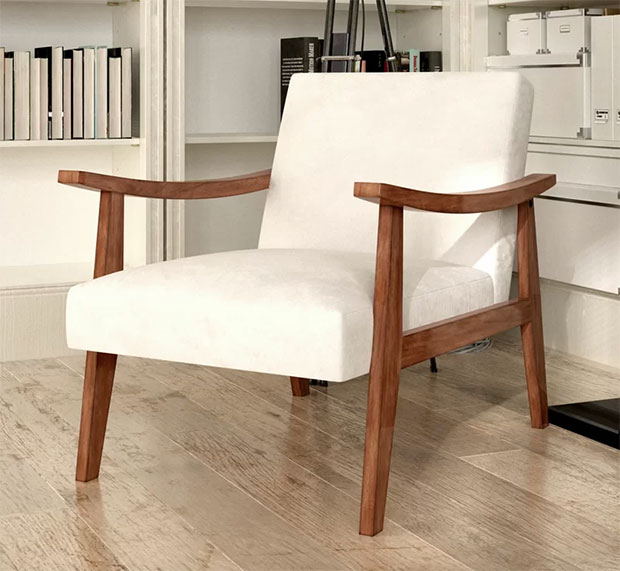 Bring a nice touch of comfort to your room with this accent chair. It has a comfortable curved arm for easy rest and flared tapered legs.
Motsinger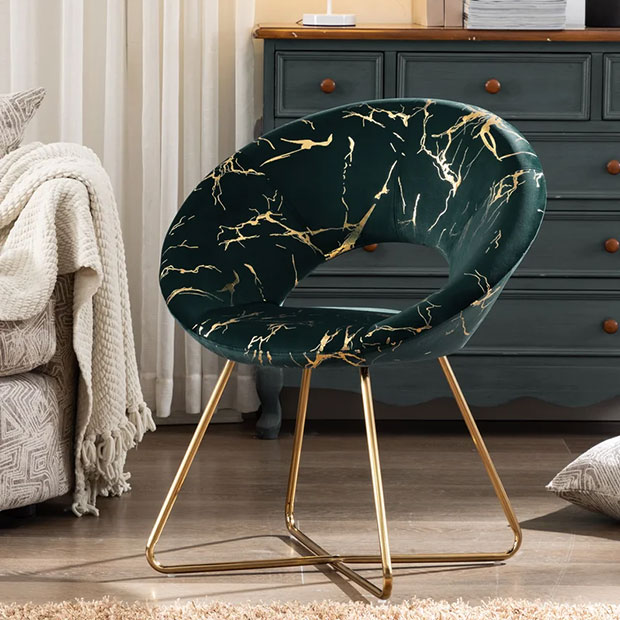 The accent chair's cute patterns, make it a head-turner when placed in a room. It has a wide semi-circle back that allows you to sit comfortably.
Cairi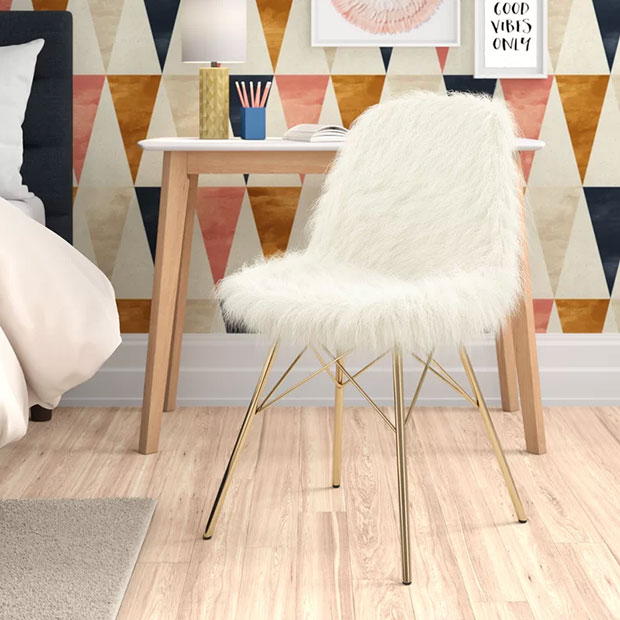 For a fab and glamorous room, this comfortable and shaggy seat. This is perfect for young adults and even teenagers to add to their room.
Giunta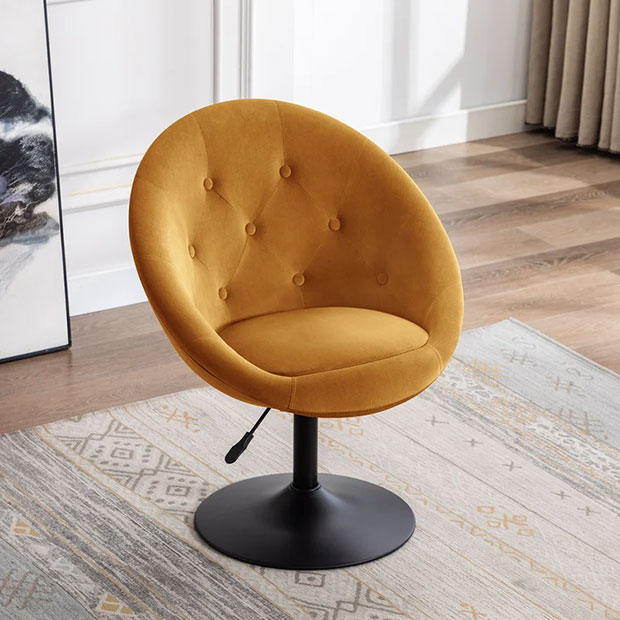 George Oliver
If you are the more moving type, this swivel barrel chair is perfect for you. The design is perfect for modern homes.
Hayden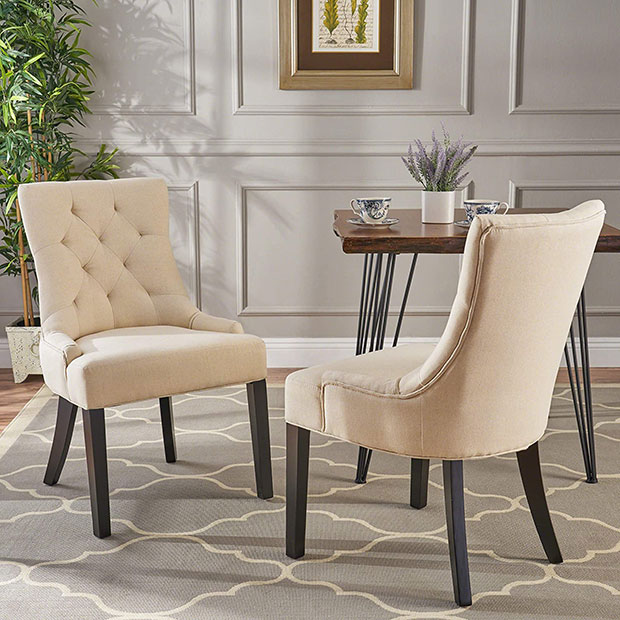 Christopher Knight Home Store
These accent chair designs are most fitted for luxury types of homes or those who want to add class to their spaces. It has a high back with foam-filled seats.
Upholstered Lazy Chair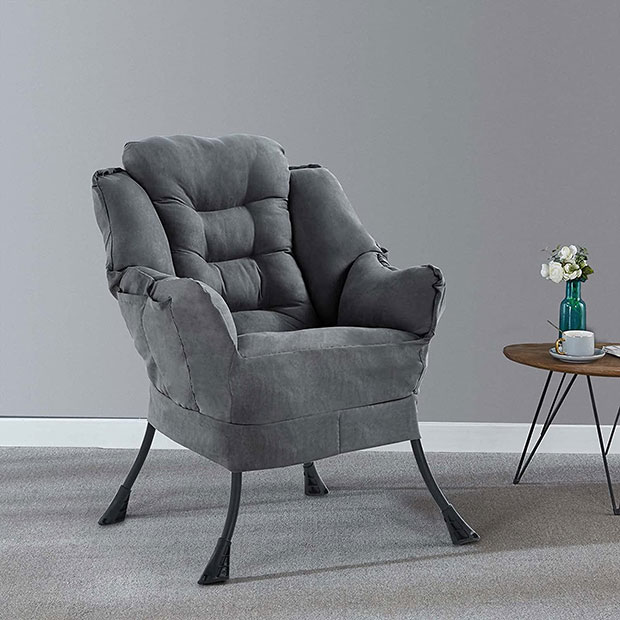 Fridtrip
This accent chair has side pockets where you can easily slip phones, remote control, and small books. It has a nice and comfortable seating that makes you want to sit in all day.
Milliard Cozy Chair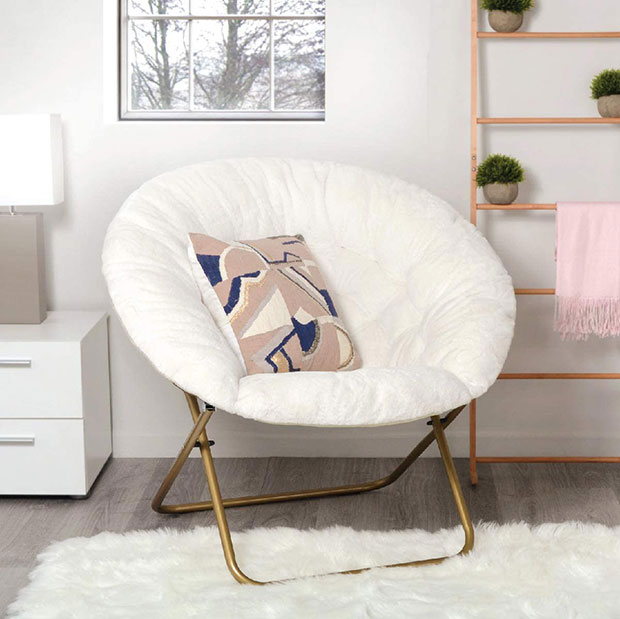 Milliard Store
For comfortable seating, accent chair designs like this has a furry seat design and extra-large size that can snuggle you up comfortably. It can easily be stored away too, if you need extra floor space or going away for a few days.
Leominster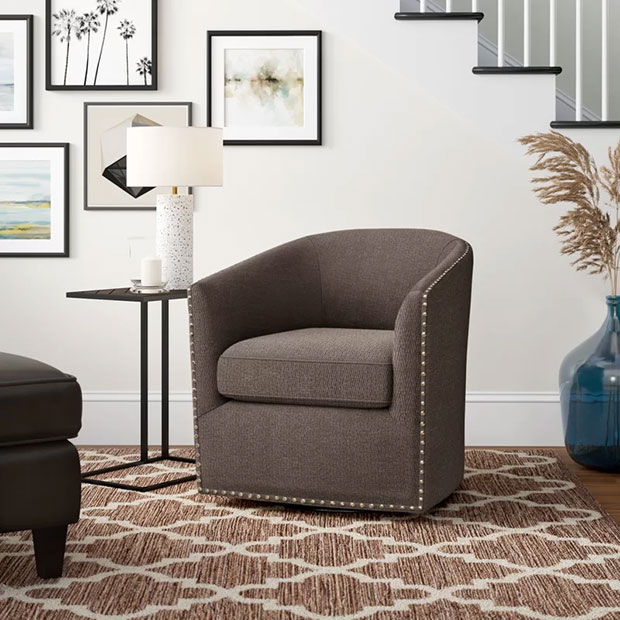 Red Barrel Studio®
This barrel armchair has a swivel base that allows you to turn in different directions to keep up with conversations. Its seat is also ultra-comfortable with its foam filling and web suspension seat construction.
Moriah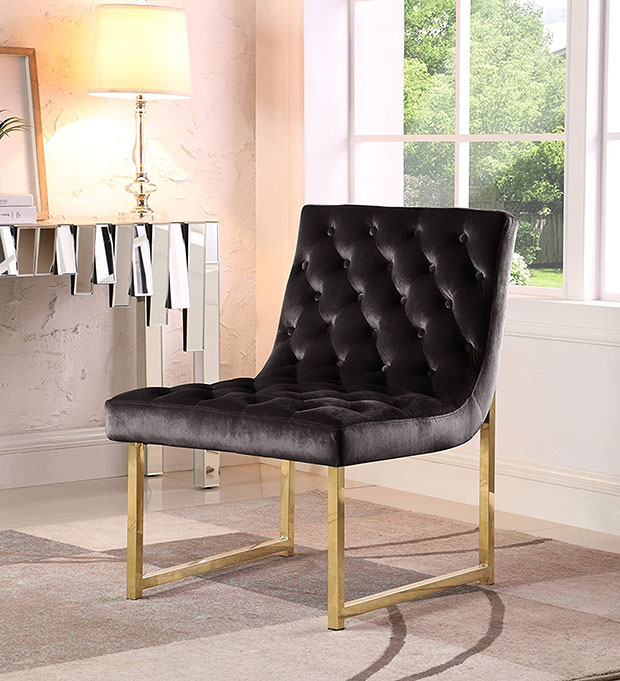 Iconic Home
The accent chair has a stylish and luxurious design that makes a room look more expensive. It has a golden brass base with a tufted leathered seat.
Brianne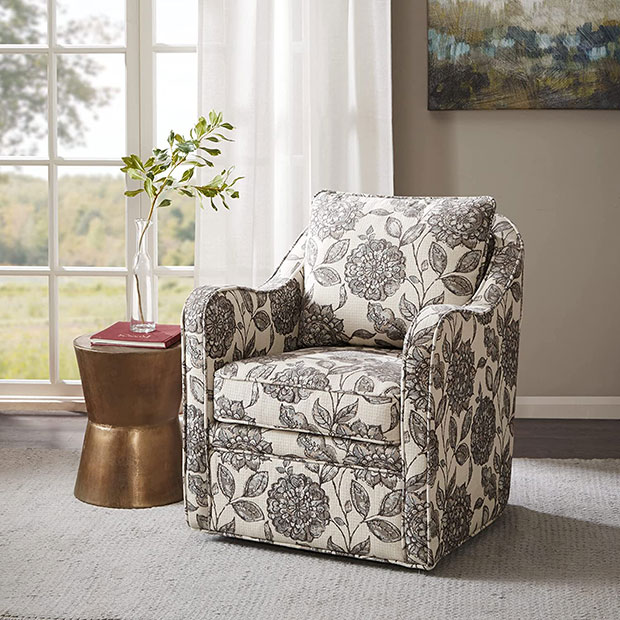 Madison Park Store
For country-inspired and traditional homes, this swivel accent chair is the perfect fit. It has a floral patterned seat that screams comfort.
KGOPK Accent Chair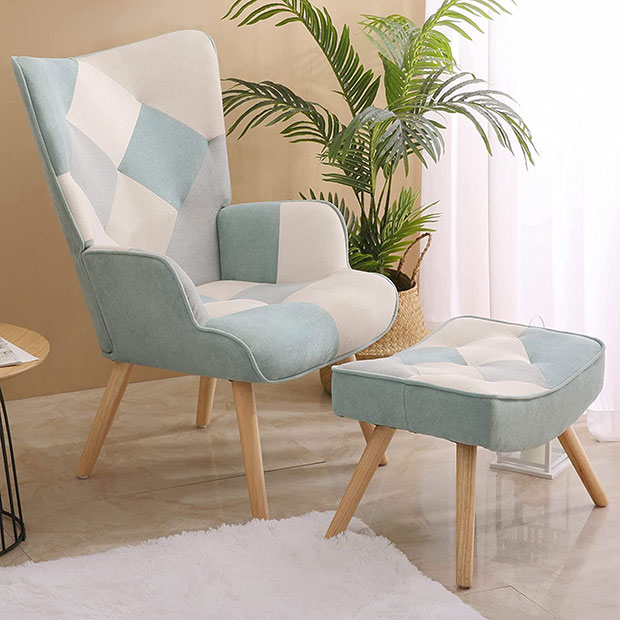 KGOPK StoreT
Accent chair designs like this one comes with an ottoman for comfortable seating. It has a curved and tall back that allows you to rest your head comfortably. Its cute pattern is also very chic and adds texture to a room.
Lancaster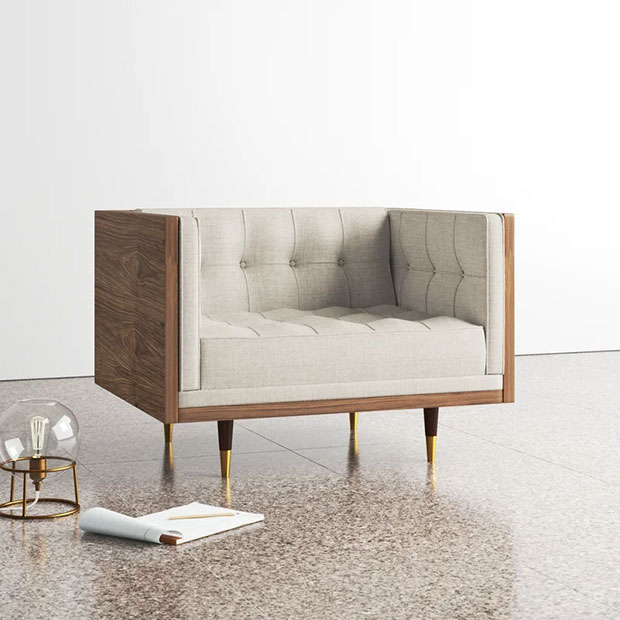 This modern design will be a fabulous add-n to your room. It has a squared seat with hand-stitched cotton twill upholstery.
Polaris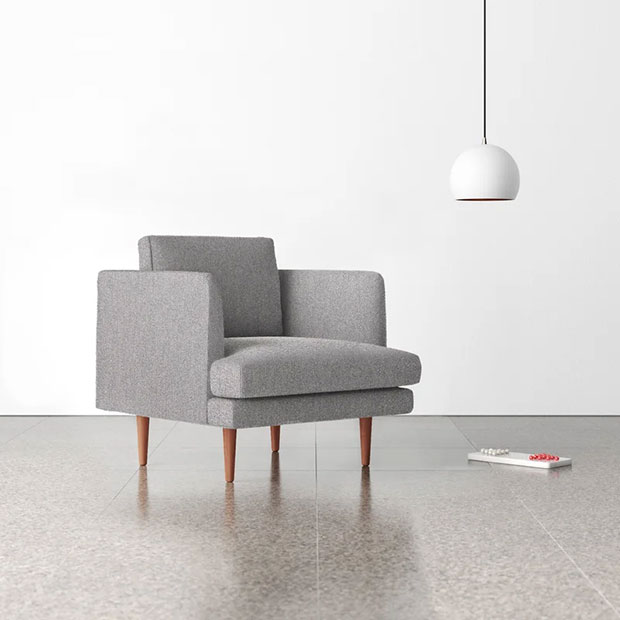 AllModern
The chair's design embraces a mid-century look with its low structure. It has a T-shaped seat that allows for comfortable seating.
Esme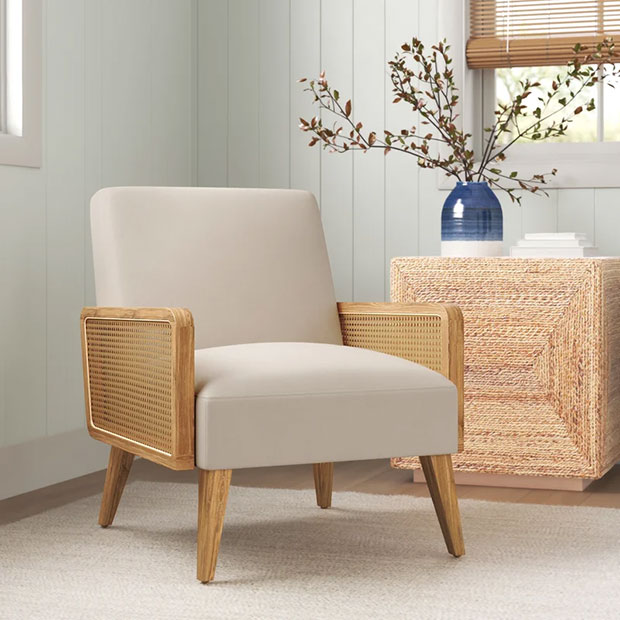 Sand & Stable™
Beach-themed rooms will suit accent chair designs like this. It has a square and wicker arm made in solid and engineered wood.
VASAGLE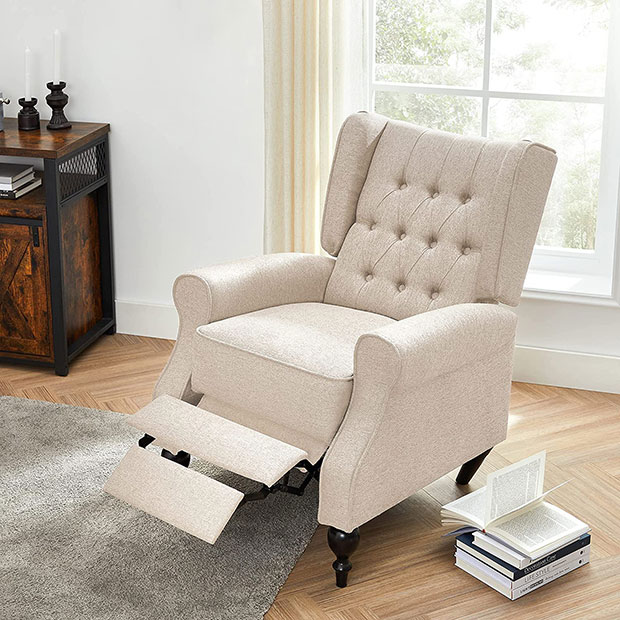 VASAGLE Store
Classy and elegant style is brought out by this accent chair that can be adjusted. Aside from the reclining design, it also has a footrest that you can use.
Lavaca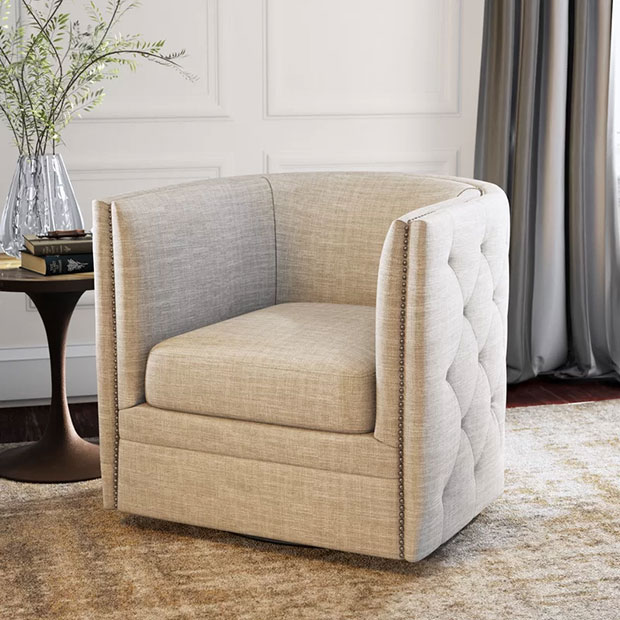 Greyleigh™
This accent chair has an ultra-comfortable tufted back and foam-filled seat. Its design embraces a classy and fashionable look.
Brooksville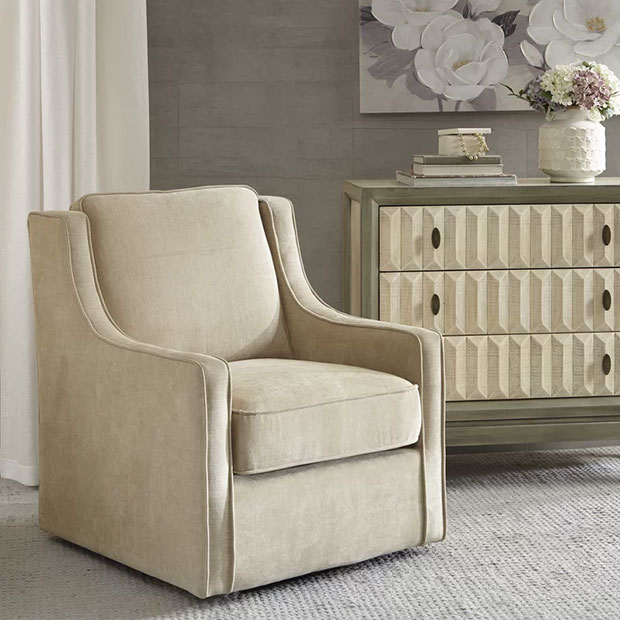 Sand & Stable™ Baby & Kids
The accent chair above has a classy and traditional design that will make it fit into any home style. It has square arms and cushioned back, perfect for family homes.
Paul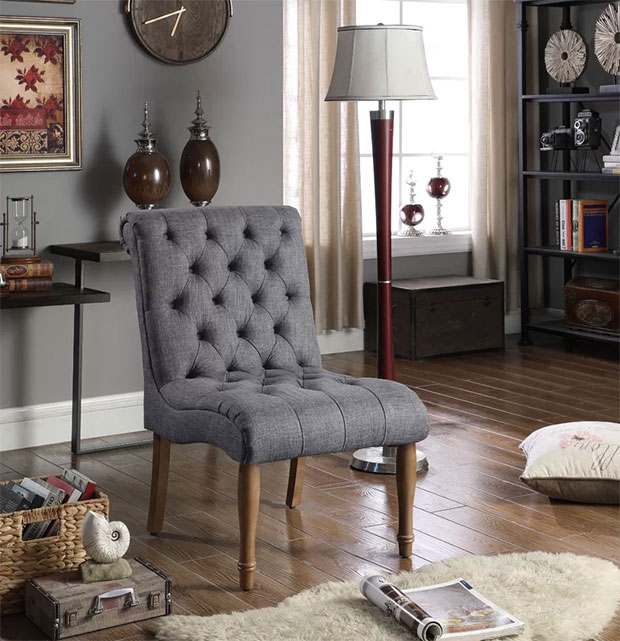 Charlton Home®
Designed to be ergonomically fitting for users, this accent chair has an armless design with a high back and round crest top. The style is not imposing yet very charming and elegant.
Clarice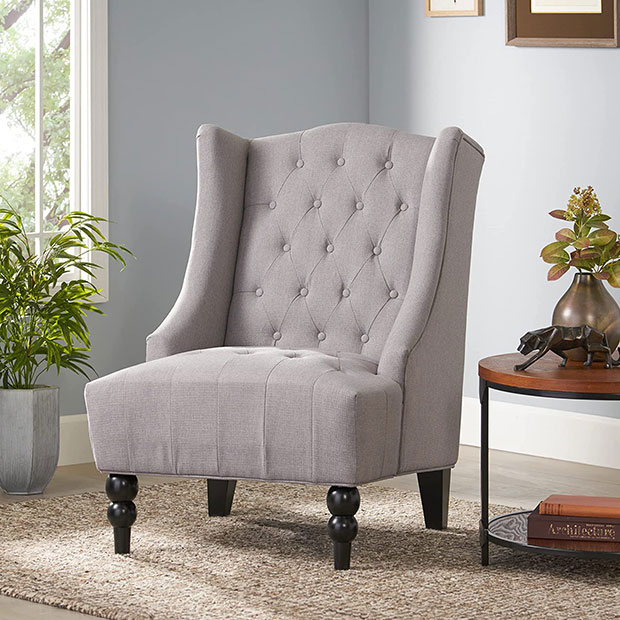 Great Deal Furniture Store
For a classy look, this accent chair has a tall wingback and is wrapped in high-quality fabric. It has a modern look that will look well in your living room.
Tallulah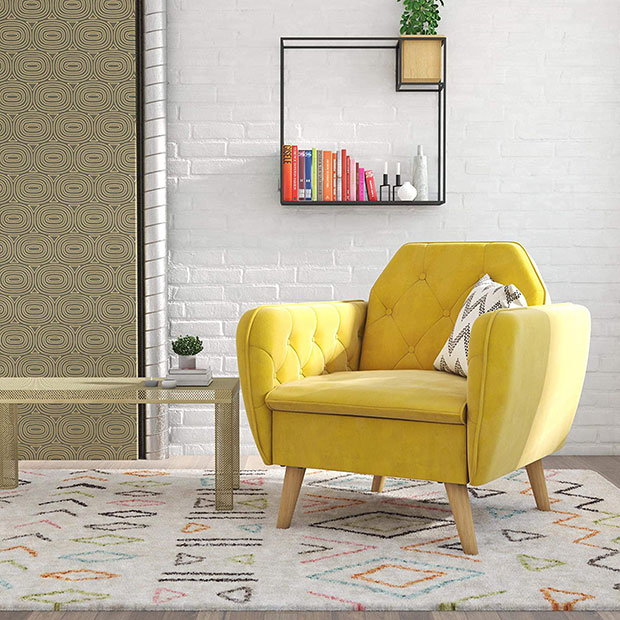 Novogratz Store
With its vibrant color, this accent chair can easily turn heads. It boasts of a mid-century design and has diamond button-tufted arms.
Teddy Velvet Club Chair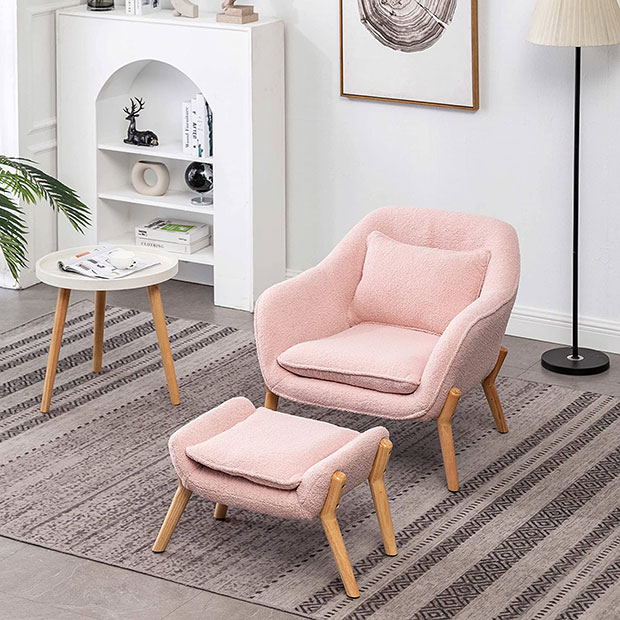 ALIMORDEN Store
For a retro-inspired look, this accent chair will give you just that. It has comfortable seats and armrests plus comes with an ottoman for you to rest your feet.
Bengtson

Laurel Foundry Modern Farmhouse®
Add a splash of color to your room with this slipper chair. It is wrapped in purple faux leather with tiny beads on the edge for a classy look.
Aajaylah

Gracie Oaks
Designed for ultra comfort, this accent chair has flared arms and a straight back. This is also perfect for narrow spaces.
Olson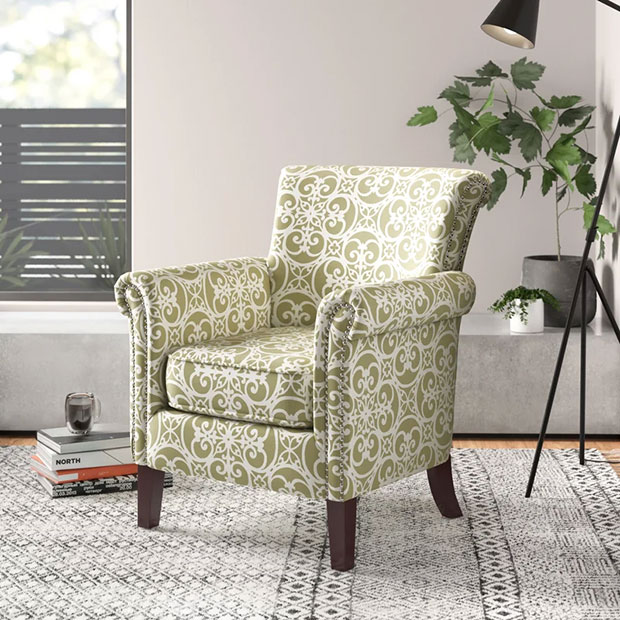 Alcott Hill®
Wrapped in a fretwork pattern, this accent chair is perfect for traditional home designs. It has a curved back and armrest with an extra cushion for a comfortable seat.
Euart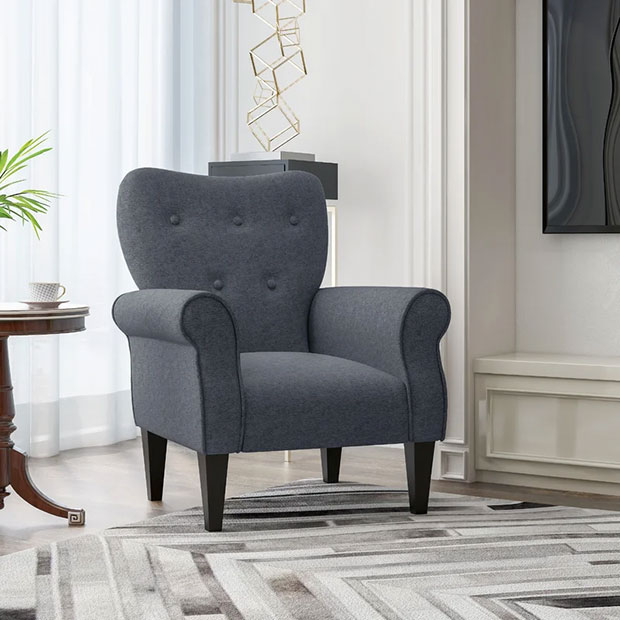 Andover Mills™
Classic design is embraced by this accent chair with its rolled arms and curved back. The seats have a sinuous spring frame and pocketed coil construction.
Rockefeller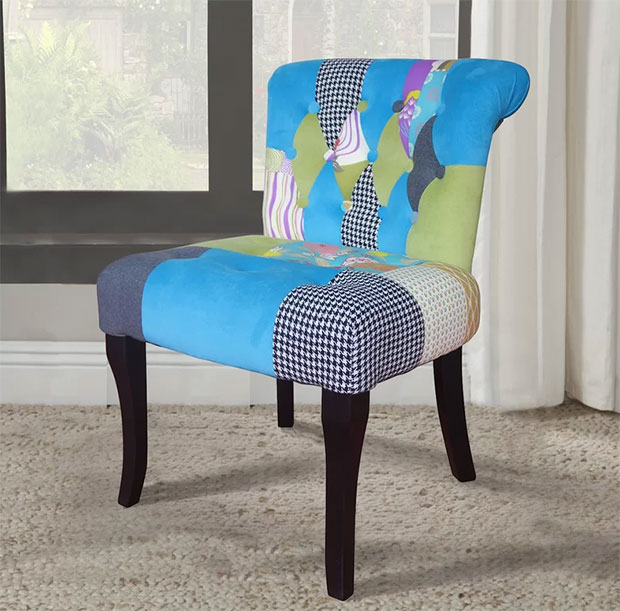 Ebern Designs
If you are looking for an accent chair with personality and lots of color, this here is perfect for you. It has a high and curved back with colorful prints that will surely turn heads.
Bima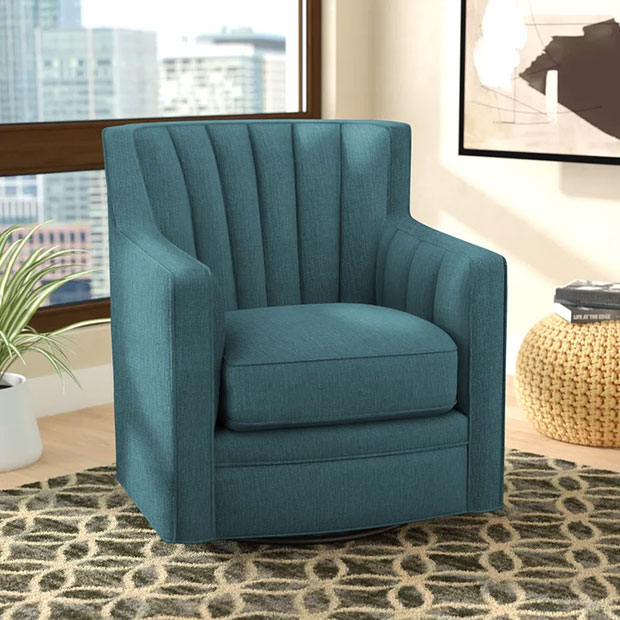 Zipcode Design™
This comfortable seating space has an inviting medium-firm cushioned seat and channel back. The design is perfect for modern and contemporary-styled homes.
Lillianna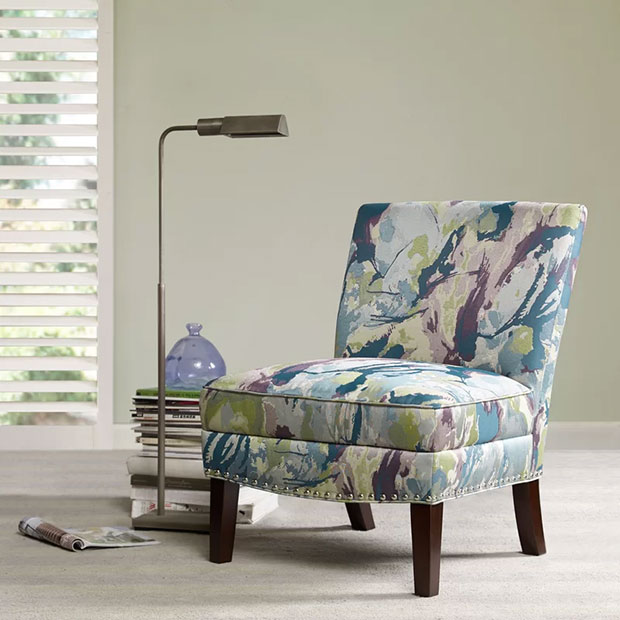 Ivy Bronx
Creatively patterned with abstract design, this accent chair is a head-turner. It has a traditional style that can fit any home design.
Rodrigo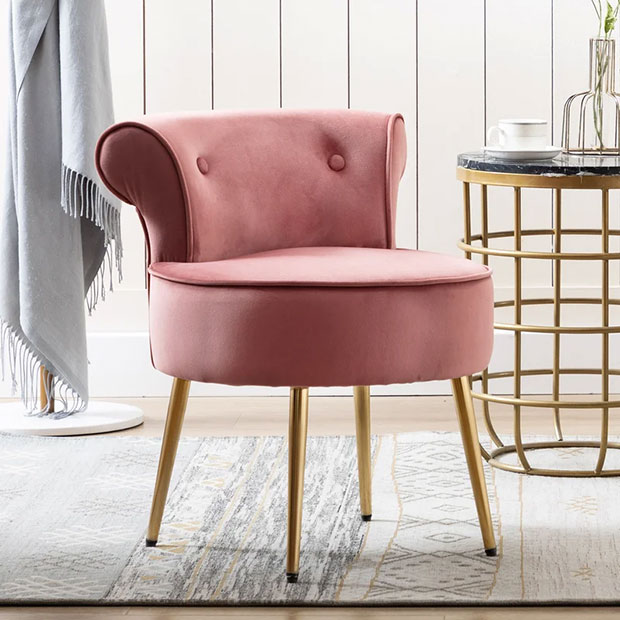 Etta Avenue™ Teen/span>
Looking fab and glamorous, this accent chair has velvet upholstery. It has a luxe style that makes it a stylish addition to the room.
Pearson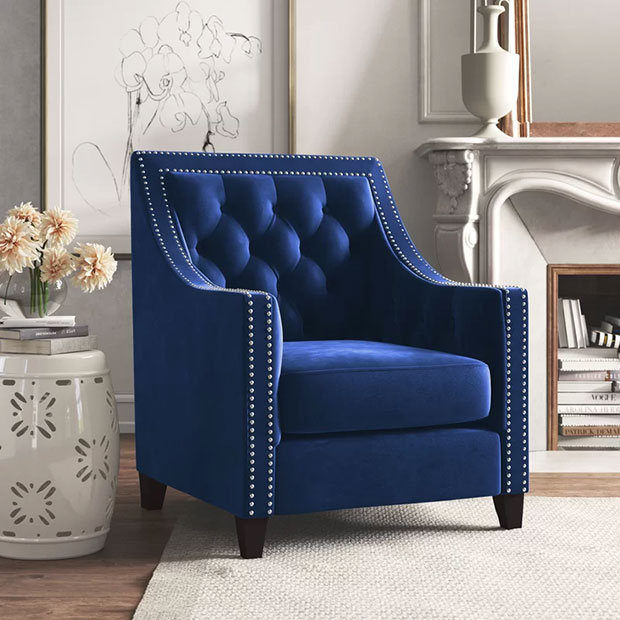 Kelly Clarkson Home
Looking bright and classy, this accent chair has polyester velvet fabric and sloped square arms. It also has a tight back and button tufting.
Now that you have taken a look at this collection, have you decided on which one to get? Which is your favorite so far?
Like This Post? Pin It!