65 Inviting Bathroom Design Ideas To Freshen Up
|
The bathroom could be said as one of the more overlooked rooms in any home. It has a reputation of being strictly utilitarian; so, understandably, not much thought is put into bathroom design ideas. But if you're about to remodel or reconstruct your home, put some thought into it. In fact, the bathroom could be more stylish than it is usually thought of. Though indeed, the bathroom is really meant to be more functional, you could use it to be more creative to put in some visual aesthetics to it.
Points to remember when designing a bathroom
Once you're ready to embrace the fact that your bathroom can be more than a boring, practical room, you can now dive into brainstorming various bathroom design ideas.
But before all that, there are key points you need to remember when designing a bathroom. Here are they:
1. Theme
Deciding on the overall theme for your bathroom influences the overall design. For example, if you want to go for a tropical theme, your bathroom should be filled with light and plants and with wood or white accents. Figuring this out first we'll help you get an idea of how you want your bathroom to look and then figure out what you need.
2. Layout
A well-designed bathroom is both functional and aesthetically pleasing. The best layout you can have depends on the amount of space you have to work with and your (or your family's) needs. This is important so the space available to you is used efficiently and placements of your plumbing and pipes. It answers questions like: Do you need a bath? How large does your vanity going to be?
3. Lighting
Lighting is an understated important fixture in any room. Other than the obvious function of providing light, it can transform a room by setting the mood and making the room look bigger and more spacious.
The most important point to remember is to get as much natural lighting as the window (or windows) in your bathroom allows. If you don't have any windows, make sure you have great lighting. LED lightbulbs are recommended. But you can try pendant lighting and such.
4. Tiles and flooring
An easy and simple way to keep your bathroom from being boring is through your bathroom tiles. Many bathroom tiles are fresh and stylish to choose from. With this, you can incorporate some splash of color with accent tiles. You can choose a statement tile that may have been present in another room in your house and incorporate that into your bathroom.
Also, pay attention to the kind of floor tiles you use are not ones that could cause accidents. Anti-skid tiles are available and are the safest options.
5. Dry and wet zones
Speaking of accidents, bathrooms are one of the most dangerous spaces in your home as slip and fall accidents can happen. To avoid such accidents, you may need to establish dry and wet zones. When planning the design of your bathroom, this should be taken into consideration.
6. Fixtures
Another thing to consider is the fixtures in your bathroom. Furniture fixtures from tub to toilet, to your vanity table. Such fixtures affect the layout so that your bathroom is totally functional. What are the things that you absolutely need? What is your routine like? Such aspects affect where things are placed, especially when available space is also a factor. In addition, you also need to consider your budget.
7. Storage
An organized bathroom is not only necessary, but it also helps in elevating the overall look. After all, who sees a cluttered room and thinks it's beautiful? They say there's never too much storage. But if you have limited space, then you must be smart and maximize your space to fit all the things you need in your bathroom. Designate storage spaces specifically for cleaning materials and toiletries. And another space for towels and linens.
This is when your creativity is really put into good use!
8. Accessories
Getting all the necessary fixtures out of the way, it's time to look into accessories that you could add to your bathroom. These accent pieces surely elevate the aesthetics of your bathroom and make it more inviting and relaxing. Planters and little trinkets are some common accessories. These accent pieces can also be placed not just on the shelves or countertops, you can get creative and let them hang around the bathroom. Paint is another simple and cheap way to accessorize your bathroom.
How to make a bathroom stylish
We have covered key points to remember when designing a bathroom. And while that helps in creating an efficient and functional bathroom, sometimes you must take extra steps to give it an additional flavor. In other words, apart from the basic or backbone design of your bathroom, you must also focus on making your bathroom look good or stylish.
Here are some things you can do:
1. Add art
Add some exquisite works of art such as paintings and small sculptures to your bathroom. If there's any art that you like or resonate with you personally, you can try to hang those or place them on the shelves.
2. Add baskets
Solution for clutter problem was already presented above with smart storage. But if you want to add some style, consider using baskets made of wicker, rattan, or woven plastic. Its texture and ornate appearance alone are definitely going to spice up the room.
3. Stylish shower curtain
If you require a shower curtain, pick one that expresses your style. Be it with or without prints or patterns. You could also dress your windows, either with curtains or a decorative window film.
4. Add rug
Brighten up your bathroom by adding a rug. Much like with the curtains, pick a rug that will add some personality to your bathroom.
5. Plants
As mentioned above, tiny planters are popular accessories for bathrooms. Adding a bit of nature can make the room more relaxing.
6. Lighting
If you want to set the mood when you're taking a bath, consider getting some mood lights aside from the standard LED lights used to light up the room. Or you could also look into state-of-the-art industrial adjustable options.
7. Mirror
Adding a large mirror instantly makes the room more spacious than it really is. To add, if your mirror is ornate, or has its distinctive design charm the more it adds personality to your bathroom.
Now, let's check some inviting bathroom design ideas you want for your home!
Contemporary Bathroom Design Ideas
Kingman Place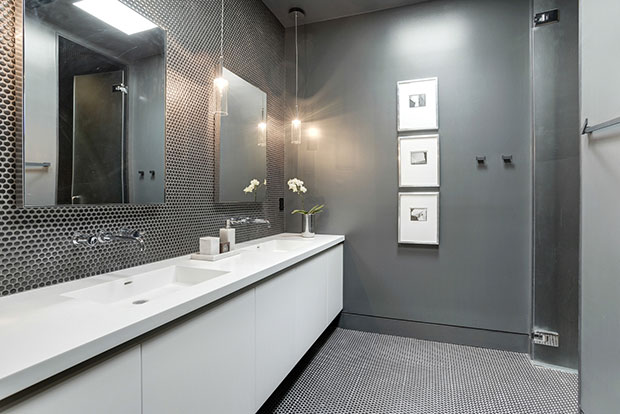 Grey dominating the color scheme in this bathroom help highlight the sleek contemporary style.
Watergate Duplex Condo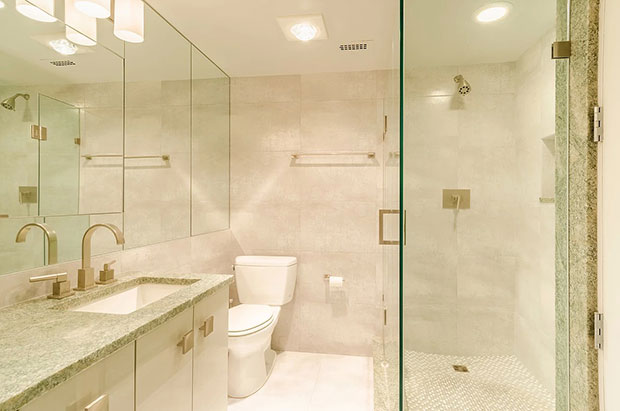 Jon Hensley Architects
Nearly an entire wall section of the mirror has surely made this bathroom look larger. It's also pretty interesting that the mirror isn't simply one large thing.
Fuller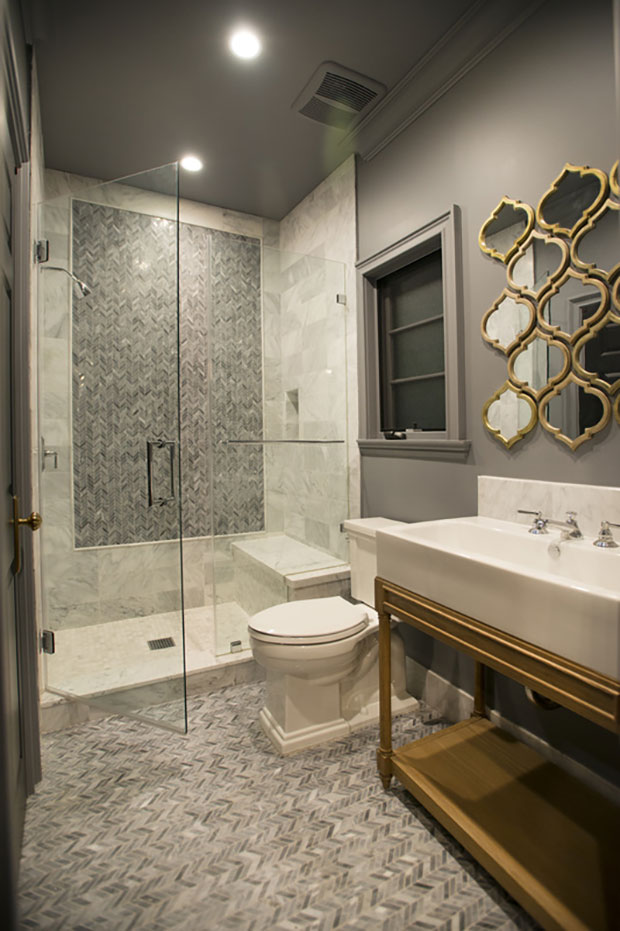 Builtworks Inc.
Contemporary bathroom design ideas can't be just plain. This one, in particular, has some ornate mirrors to add some personality.
Carlton Art-House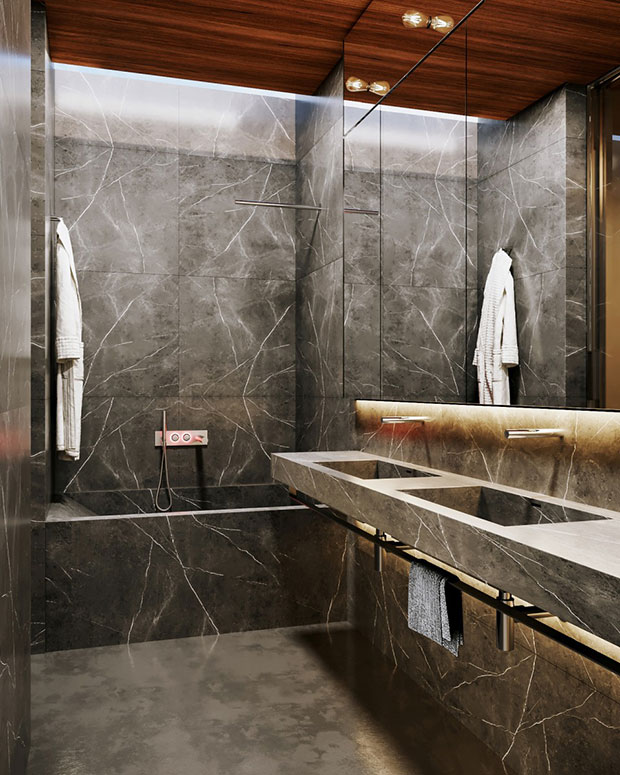 Take note of how the marble tile choice in itself is bringing much style and personality.
Hell's Kitchen Combination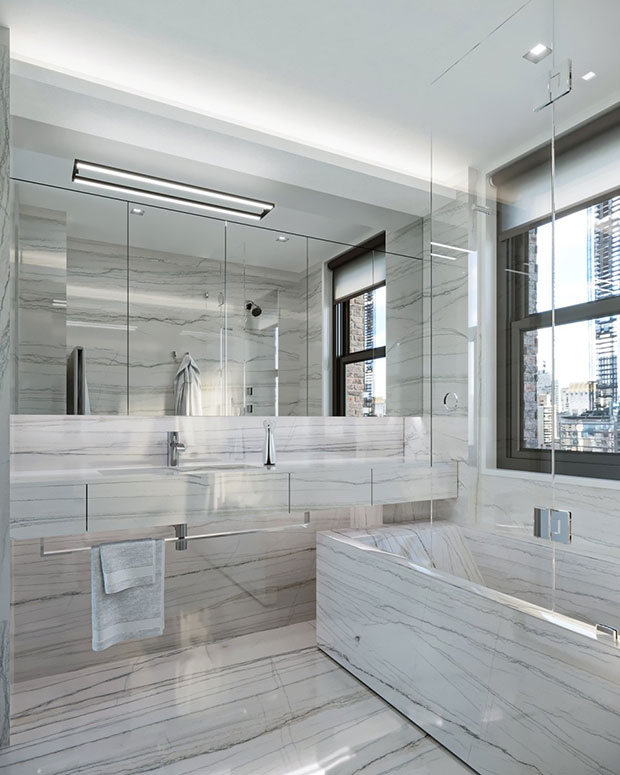 Lilian H. Weinreich Architects
Similarly, the tile choices really bring out some style. But more importantly, the light tone helps make the bathroom look even brighter, in addition to the natural light and mirrors present.
Gramercy Park Duplex Rental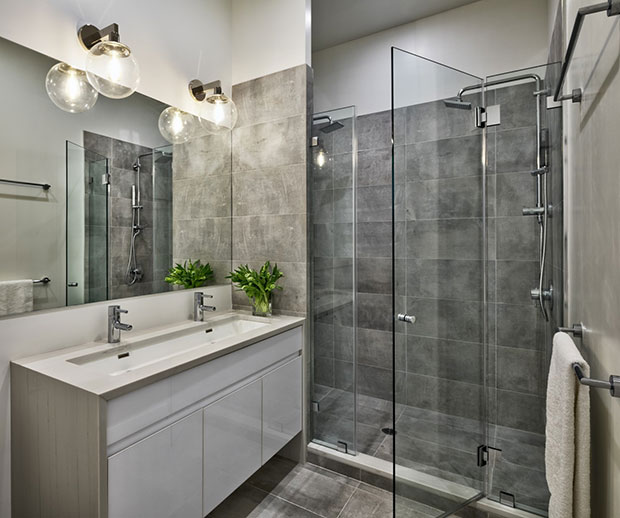 Lilian H. Weinreich Architects
One might expect standard lighting for contemporary bathroom design ideas. But having extra lighting setting the mood by the mirror is a good design choice.
Home Addition and Renovation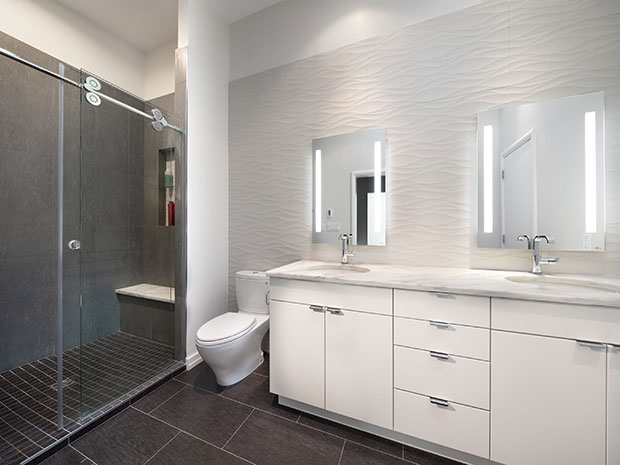 Four Brothers Design + Build
A rather simple bathroom design. But you'll have to pay attention to the artistically finished wall.
Glam Master Bath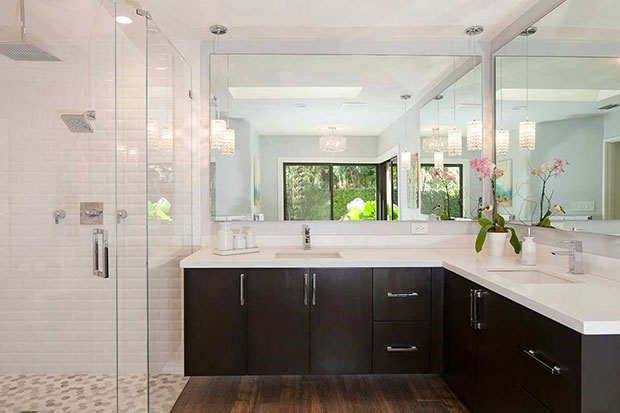 Darla Powell Interiors
What's sorely missing in some of the previous contemporary bathrooms is a beautiful planter to bring some homey and relaxing vibe.
Westlake Hills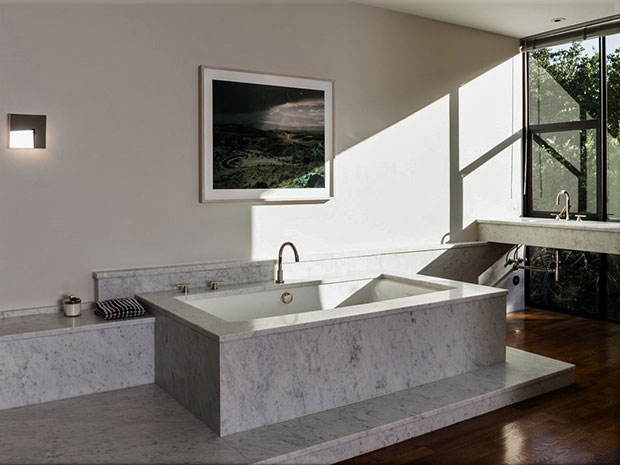 Collaborated Works
Hanging a painting by your bathtub is a nice touch. Imagine having a relaxing bath and looking at one of your favorite art pieces.
Cresskill Bath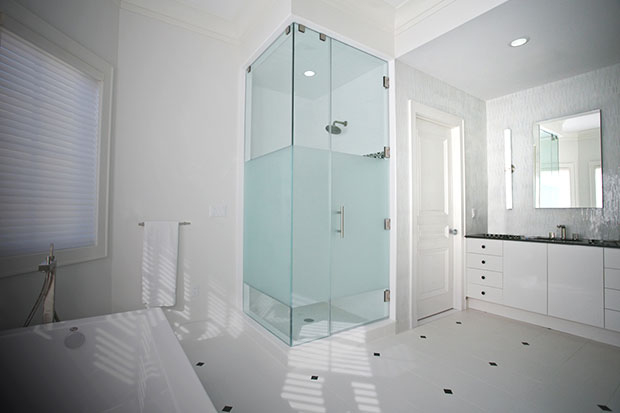 KatzNovoa Architects
A neat and clean look of a bathroom. The sparse black color and the subtle extra finishing make this room pretty interesting.
Modern Bathroom Design Ideas
Murray Hill Studio Combination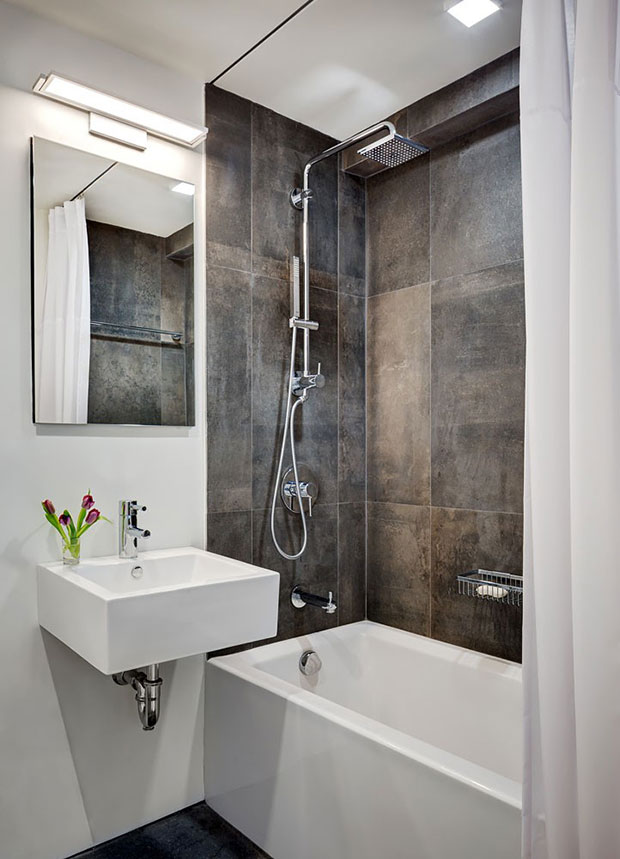 A popular design motif is having the bath/shower area wall made of completely different tiles. Leaving the rest of the bathroom's wall plain white easily and beautifully contrasts.
Central Park South Bathroom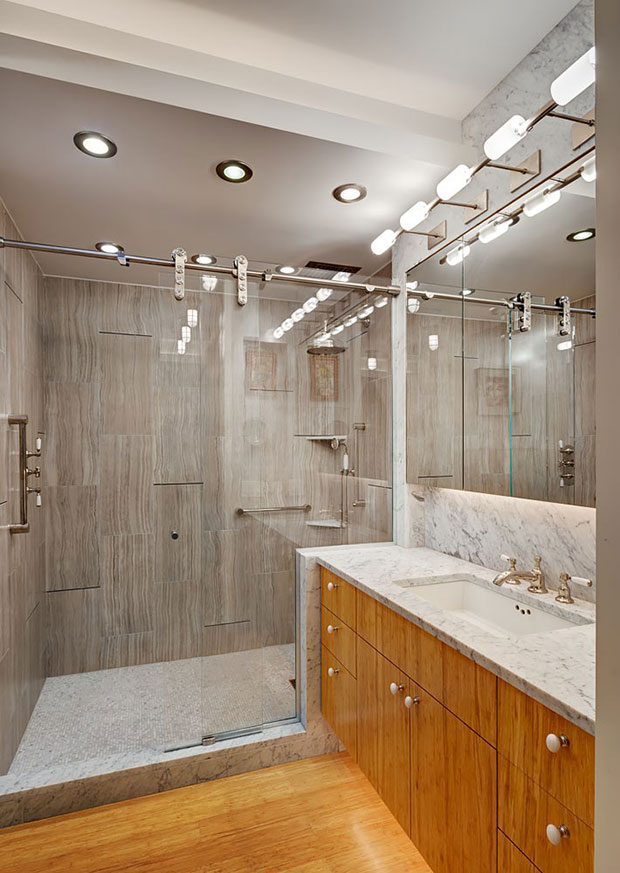 The wooden sections are a nice contrast to the marble tiles, adding some dynamic and texture to the overall look of the bathroom.
Central Park South Apartment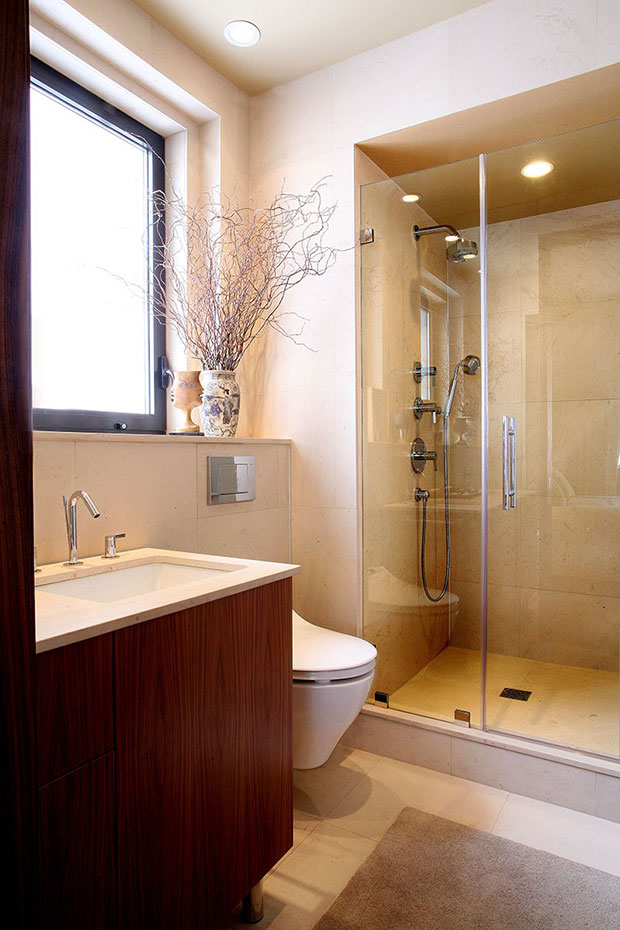 Lilian H. Weinreich Architects
A little shelf area by the window is a nice design touch that allows for accessory pieces like these vases to be out on display.
Townhouse Renovation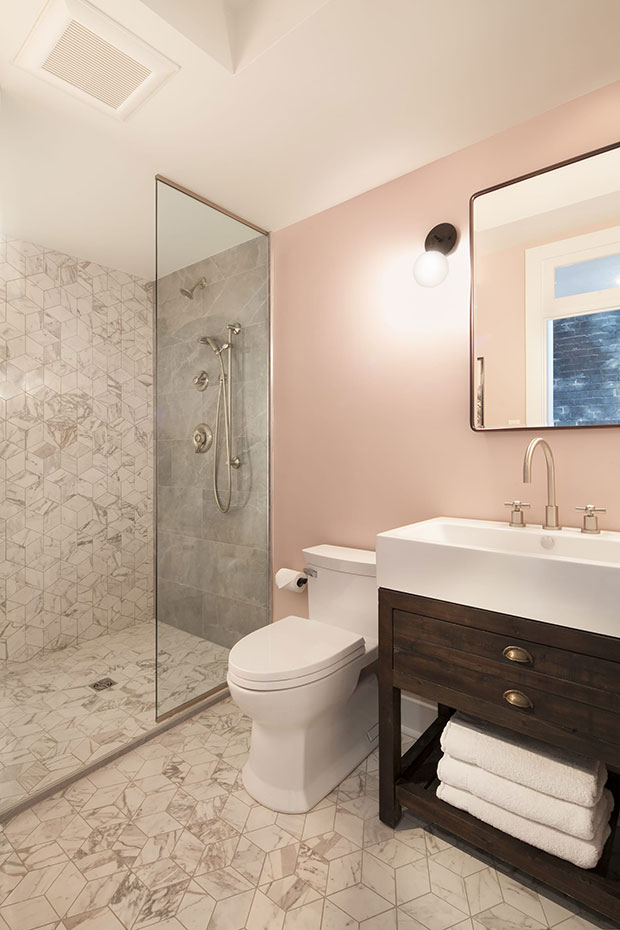 The dark wood tone of the bathroom vanity is a perfect contrast to the pastel pink wall behind it.
Row House Remodel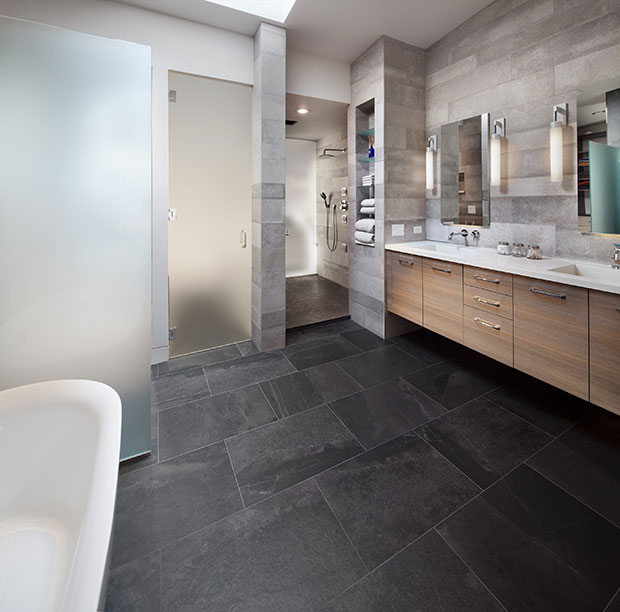 It is interesting to see the levels of shade, from some light color tones to some darker ones, being present in this bathroom.
Full Home Update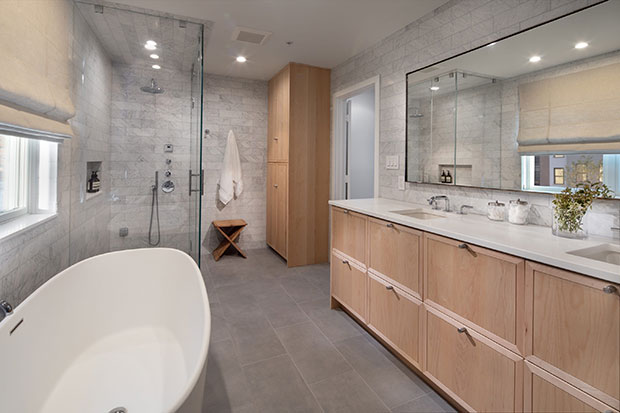 This bathroom has an efficient layout that really considered the person's movements inside.
Full Home Remodel in Brookland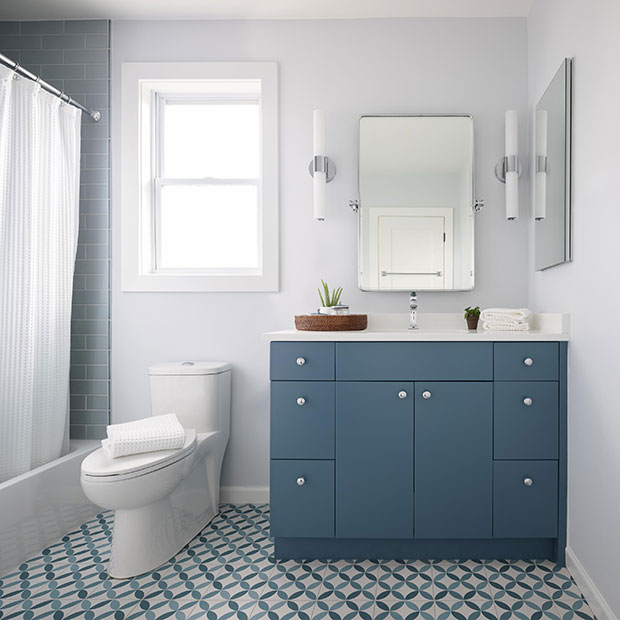 Four Brothers Design + Build
You can always steer away from natural color tones and replace them with cool paint tones that you prefer.
Coral Gables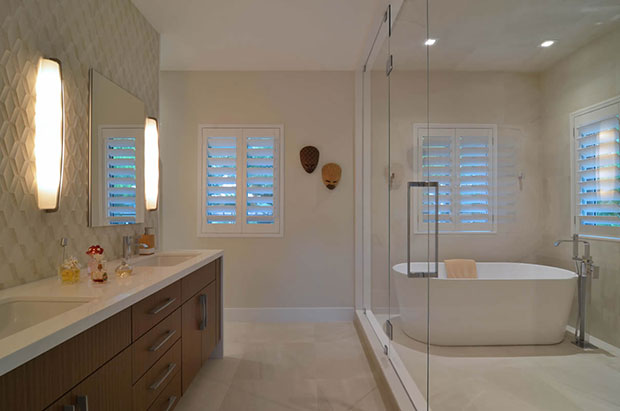 KatzNovoa Architects
The finishes on the wall behind the vanity cabinet are just a perfect complement to the wall lights.
Modern Master Bath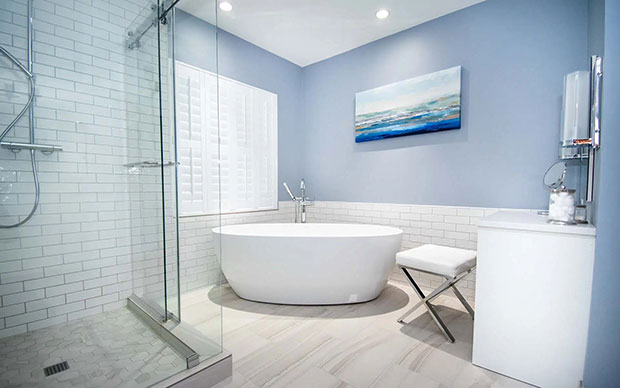 The color motif of this bathroom matching with the painting on the wall is such fascinating detail, whether it's done intentionally or not.
Cool & Modern Master Bath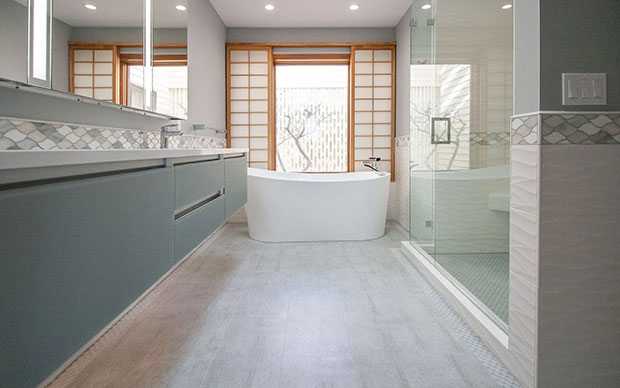 Devine Bath
The windowpane design is an interesting choice that brings the whole look together in a unique homey vibe and looks.
Traditional Bathroom Design Ideas
Poinsettia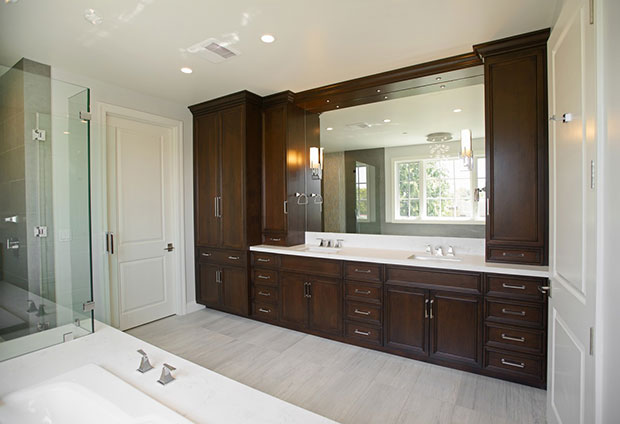 Builtworks Inc.
Dedicating an entire wall section for a whole bathroom storage cabinet and vanity is the way to be. The dark wood tones for it give this bathroom a classic and elegant look.
Master Bath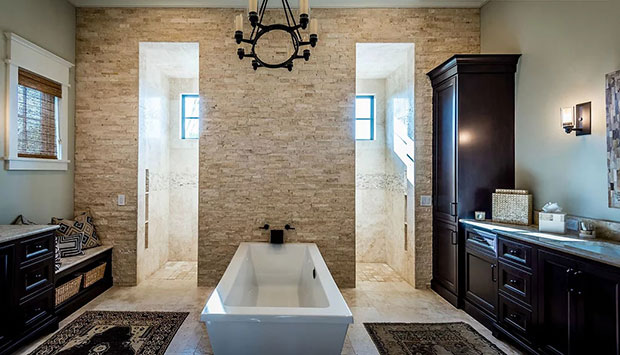 StoneWorks Inc.
If you are looking for some elegant bathroom design ideas, traditional bathroom design ideas are a good way to start. The timeless look will always give you that.
Victorian Row House Remodel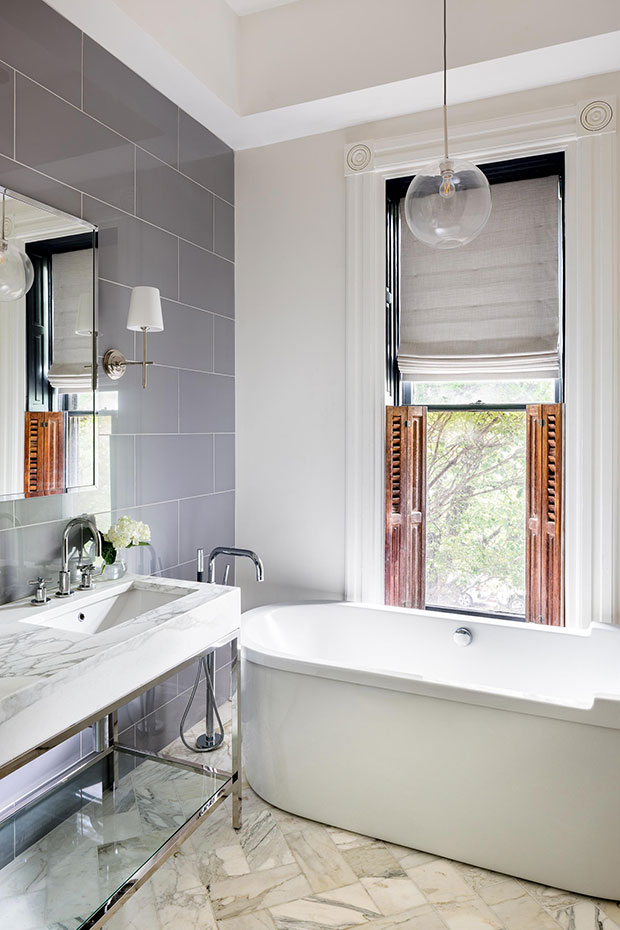 This small bathroom window does its job to be a focal point but it isn't without its complementary pieces around.
Sophisticated Row Home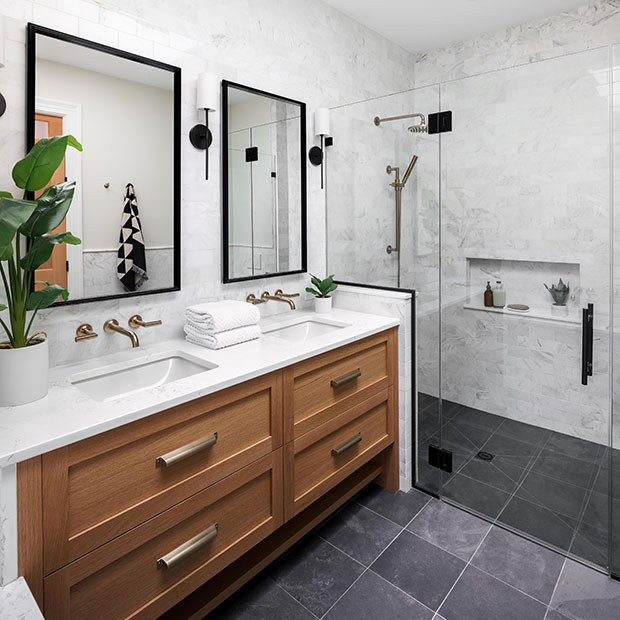 Four Brothers Design + Build
Bring some splash of modern into your traditional bathroom to make an exemplary bathroom look.
Livingston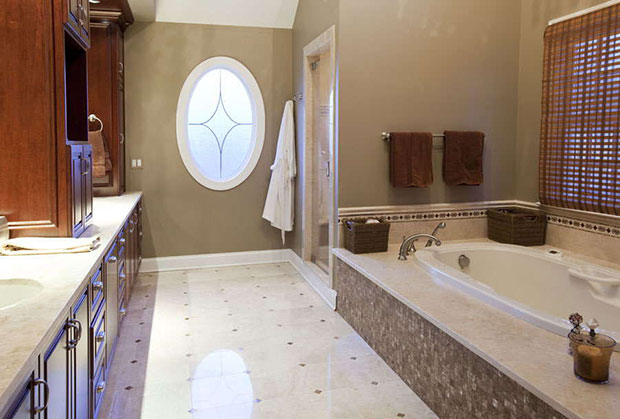 The attention to detail in this bathroom is amazing and how every one of it emboldens the traditional theme design.
Short Hills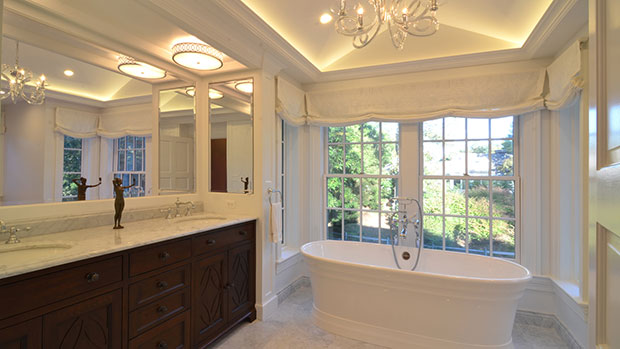 Some bathtub designs are a perfect fit for traditional bathrooms. And free-standing bathtubs are one of those.
Livingston Bath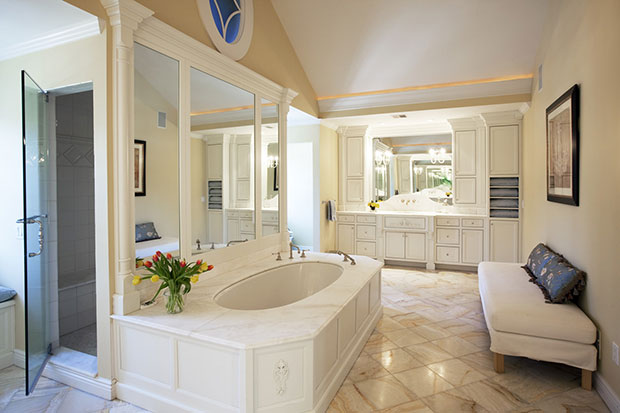 KatzNovoa Architects
Bring your attention towards the tub surround where it boasts off intricate design details.
Traditional Master Bath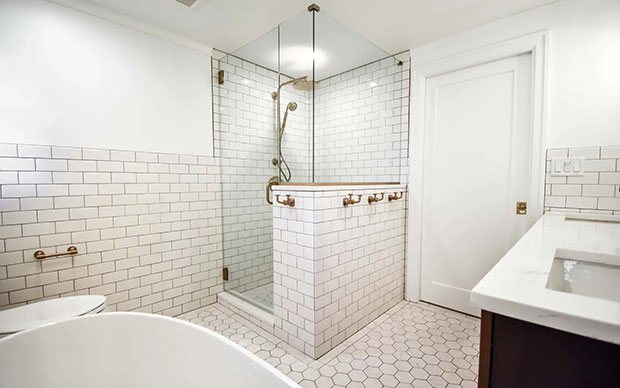 The ornate hooks are perfect small details to this traditional design bathroom.
Elegant Master Bathroom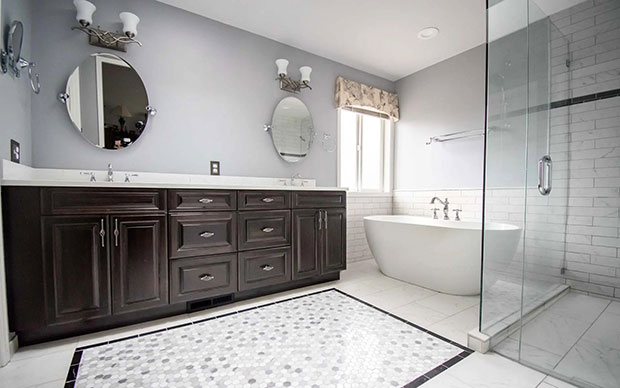 Devine Bath
The ornate mirrors and wall lamps work perfectly together.
Ornate Traditional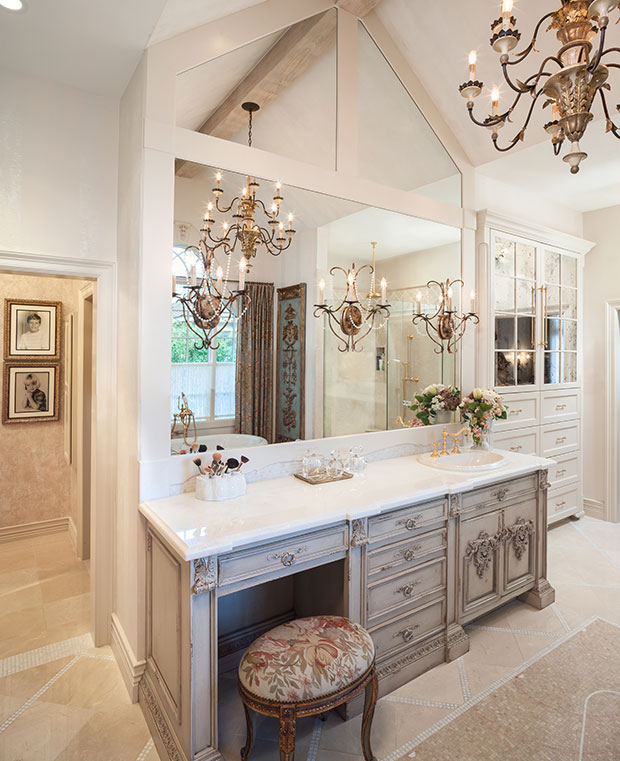 By Design Interiors Inc.
A timeless beauty that can only be found in traditional bathroom design ideas.
Transitional Bathroom Design Ideas
Transitional Home Remodel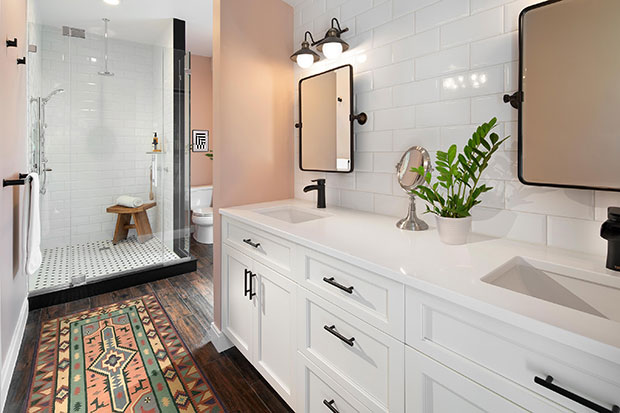 While transitional bathrooms in itself are exciting what with the combination of traditional and modern styles, still, feel free to add some personality with an eclectic rug!
Third Story Home Addition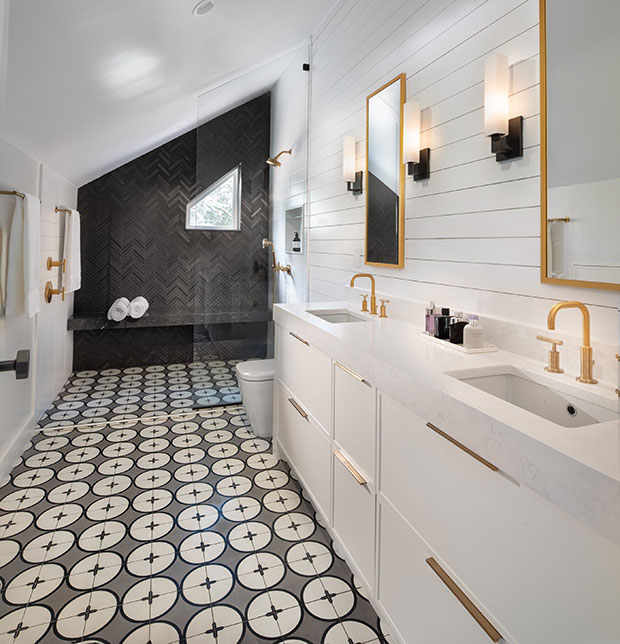 Four Brothers Design + Build
Some of the golden coats of metals around bring some of the classy traditional styles.
Dunbarton Bathroom Remodel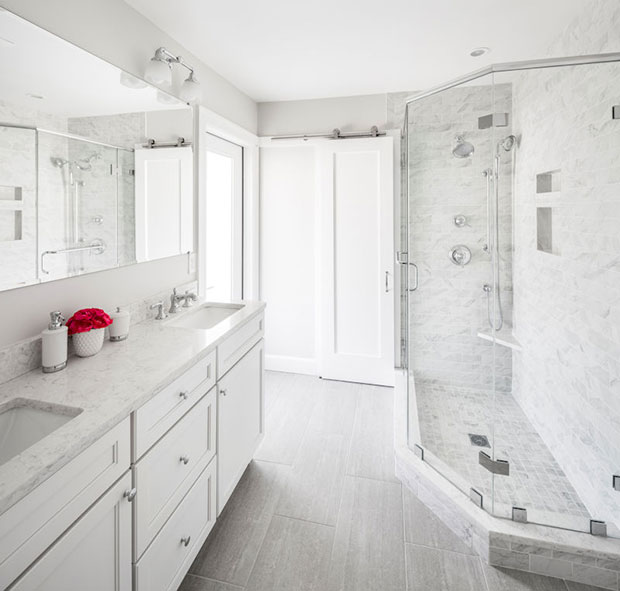 Masters Touch Design Build
A grey and white bathroom is always going to give you a neat bathroom look.
21st Century Farmhouse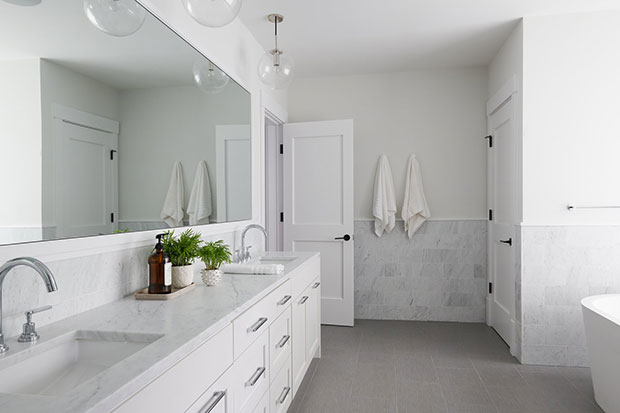 RR Builders
If you have a long vanity sink, it would be great to place some little planters in between sinks like in this bathroom.
Atherton Residence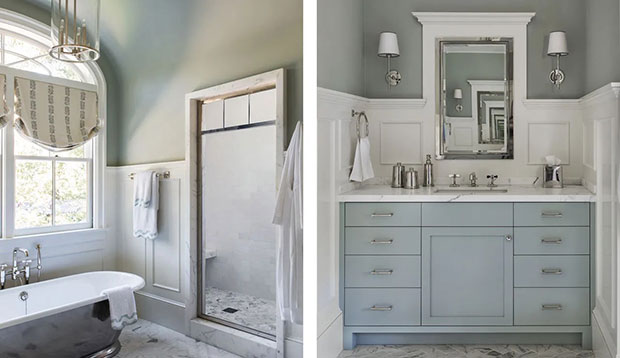 Tineke Triggs ADL
Just a good amount of traditional and modern furniture pieces together completes a transitional style look.
Classic Transitional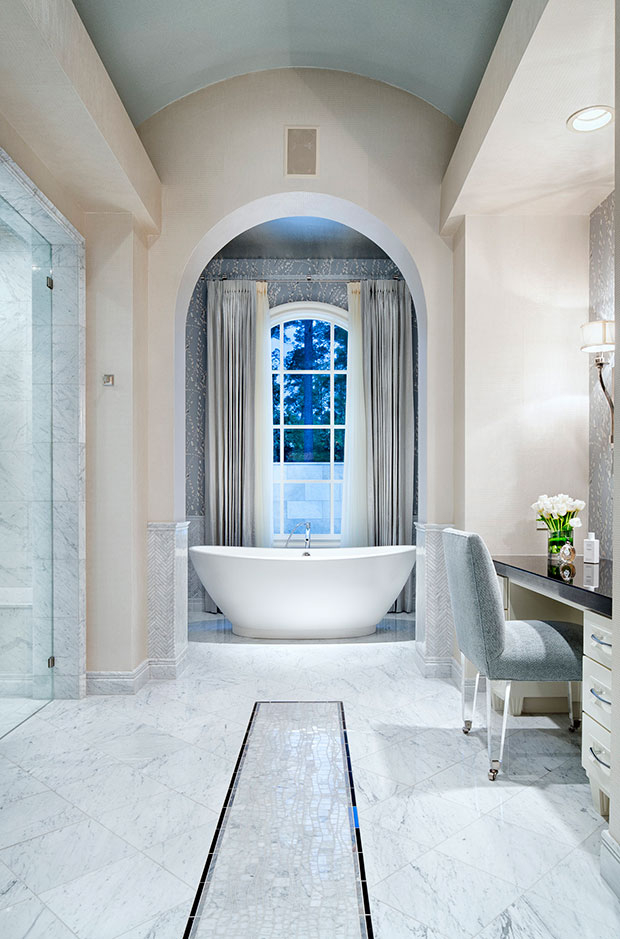 This is truly a classic transitional home even down to its bathroom design. The pieces and materials together are giving traditional elegance but against the background of modern finishing.
Santa Barbara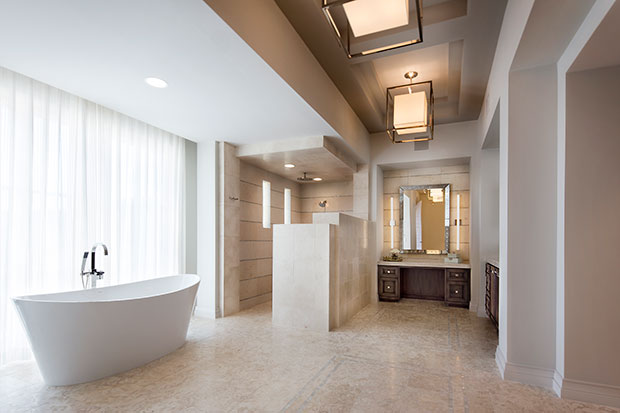 A spacious bathroom like this gives you lots of room to really consider the layout that is most comfortable for you.
Tuscan Transitional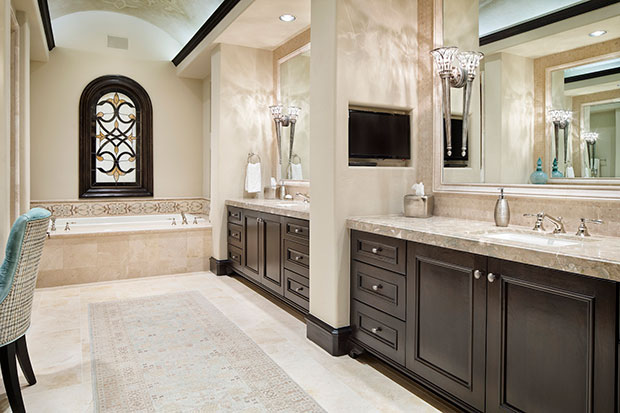 Jauregui Architect
The artsy window immediately gets your attention once you step into this bathroom.
White & Grey Transitional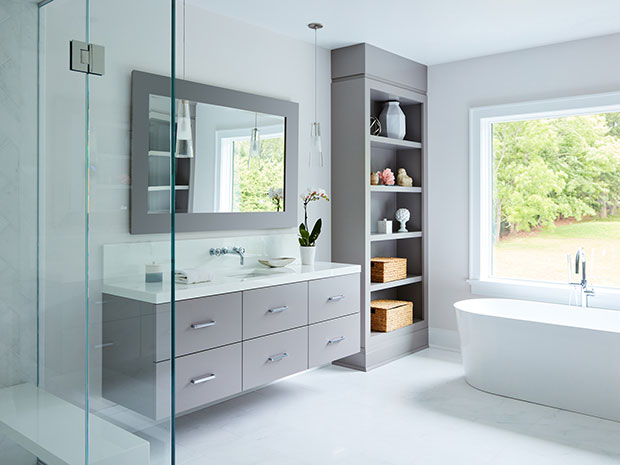 Karen Berkemeyer Home
This color combination is quite popular in transitional style rooms as it really brings out the best of it.
Eclectic Bathroom Design Ideas
Newport Beach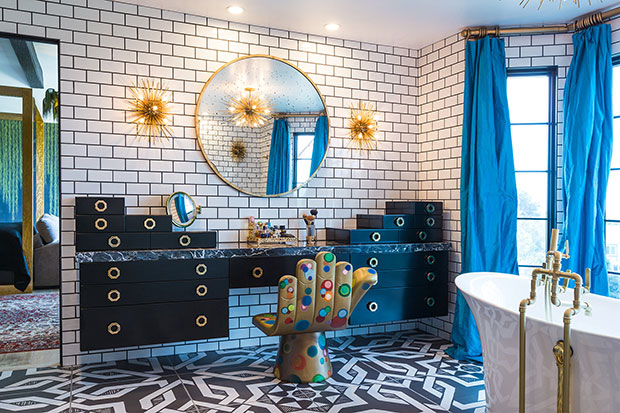 Moya Living
Here are the chosen few exciting eclectic bathroom design ideas that we've previously covered. The unorthodox vanity of this bathroom truly carries the personality.
Apartment in Greenfield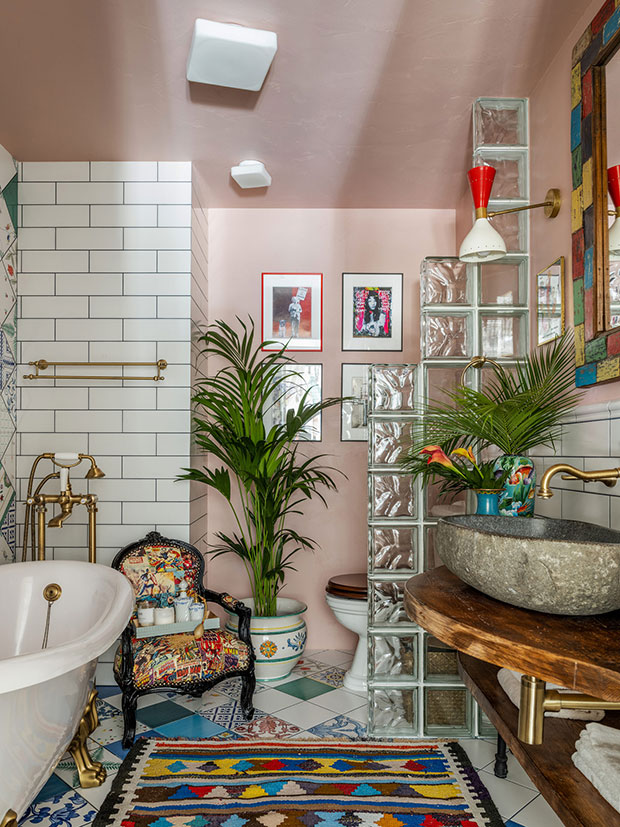 Complete Tile Collection
The mismatch of furniture and accessory pieces truly covers what makes this bathroom eclectic.
Bright House in Krasnodar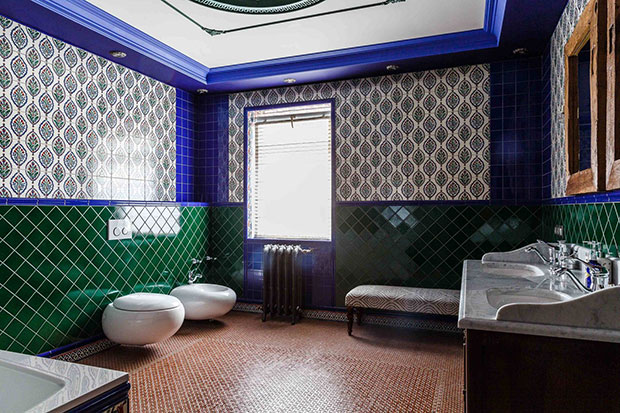 Faktura Group
The vivid colors immediately pop as you look at this bathroom, drowning out some contrasting furnishing details.
Rublevo Park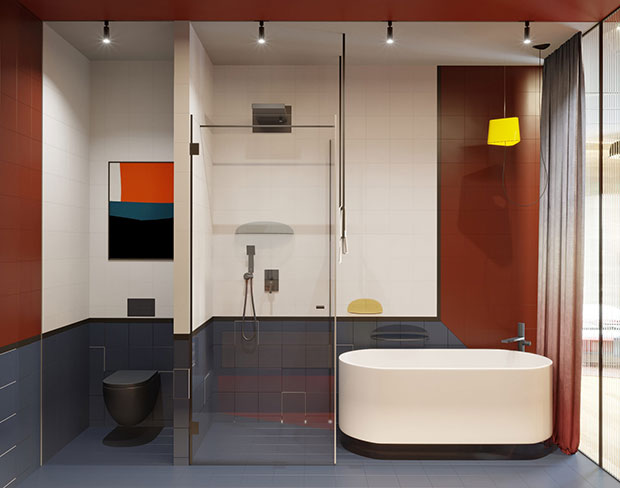 This bathroom has some artistic charm to it with the geometric patterns and variety of colors.
Apartment in Spain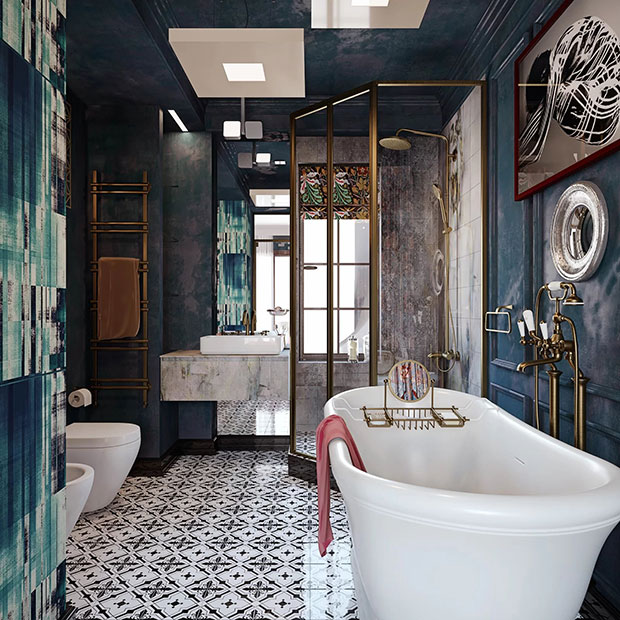 Art Group Daria Vasilkova
Along with its interesting color palette, this bathroom looks like an art décor piece you wouldn't really believe it's a functional bathroom.
Industrial Bathroom Design Ideas
Division Street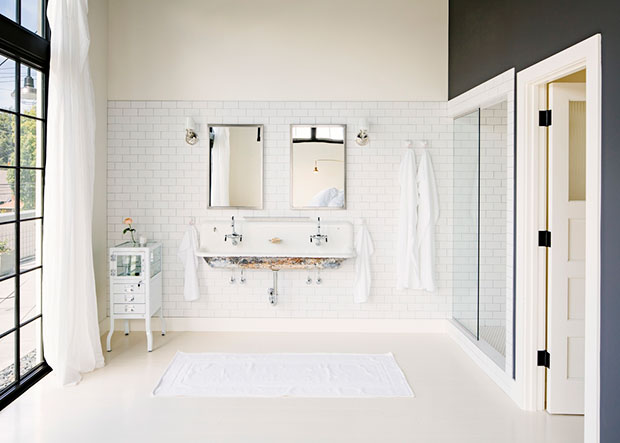 Emerick Architects
The minimalistic look helps emphasize some industrial aspects to this bathroom.
Clarissa Project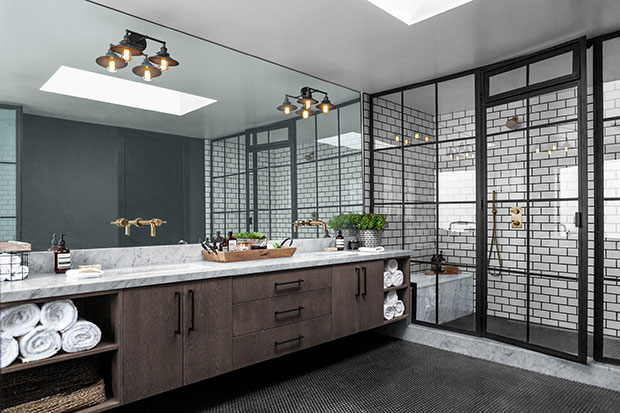 Andrew Heiser
The metalwork around here brings in an urban charm.
Industrial Farmhouse Basement Remodel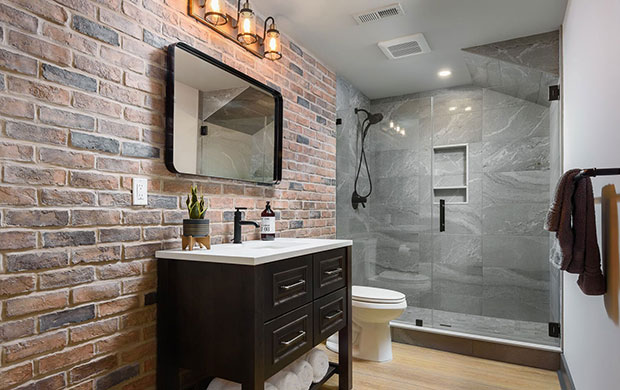 La Bella Casa Interior Designs, LLC
There's no better way to introduce industrial bathroom design ideas than with a bare brick wall.
Modern Texas Prefab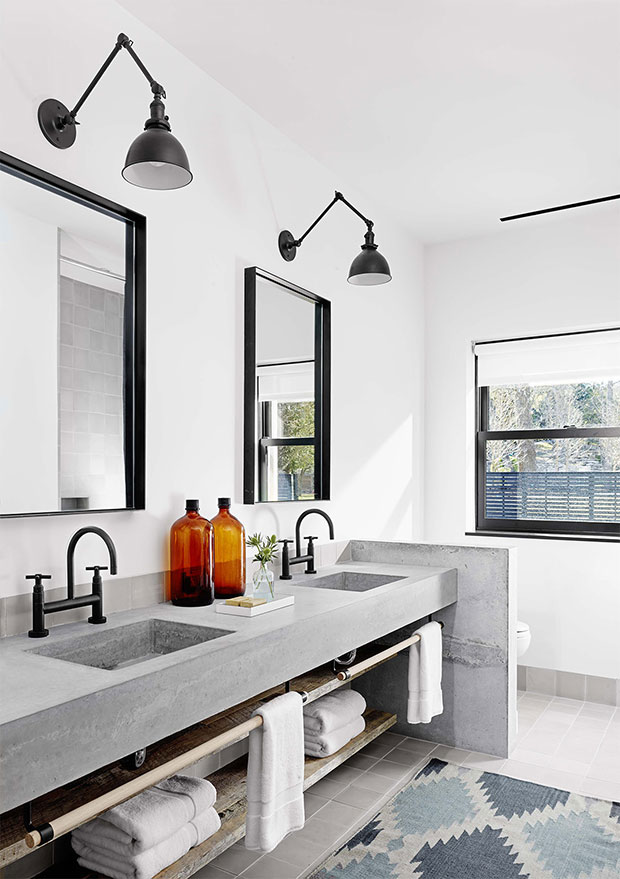 Aamodt/Plumb
The unpolished and unfinished look of the vanity sink highlights the industrial charm.
Franklin Street Loft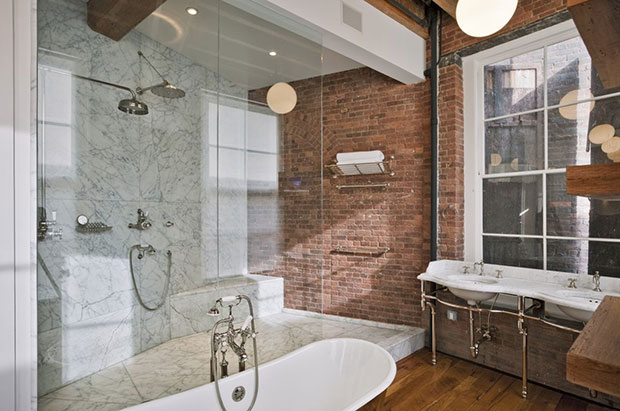 Jane Kim Architect
The exposed plumbing doesn't look too shabby, rather blending in with the classy parts of this bathroom.
Garden Street Residence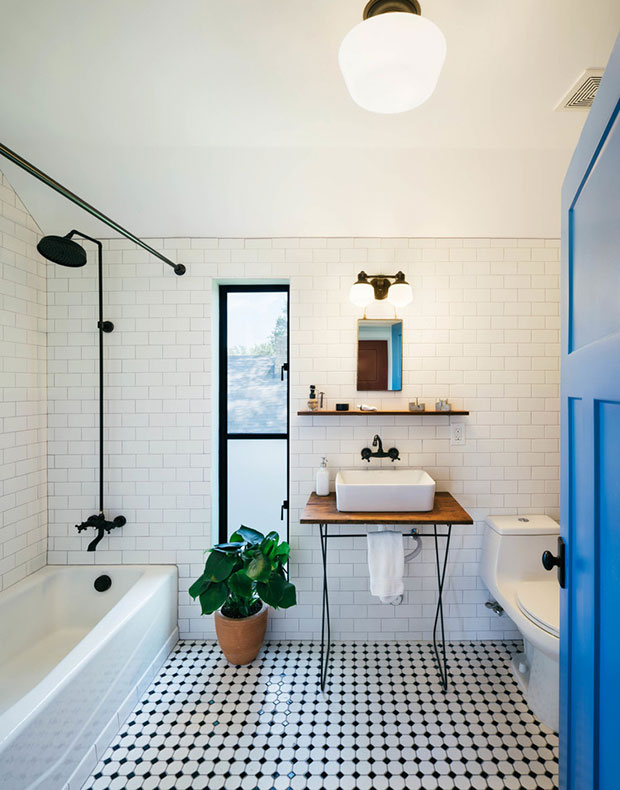 Pavonetti Architecture
Another charm of industrial bathroom design ideas is how it looks bare and stripped, simple and minimalistic.
Rustic Bathroom Design Ideas
Jackson Hole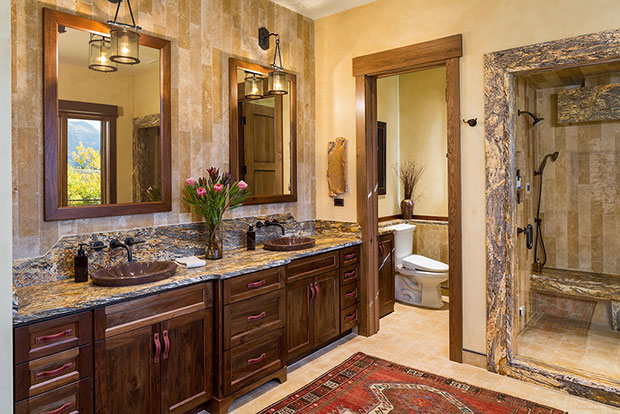 The marble vanity countertop is chosen perfectly to complement the rustic door frames.
The Lodge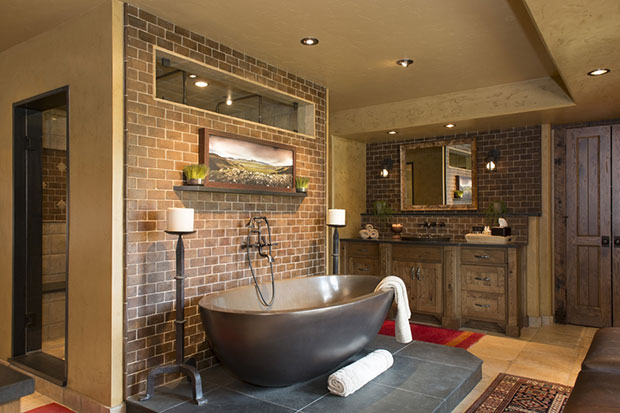 An easy way to design a rustic bathroom is by picking rustic vanity cabinets.
Little Bear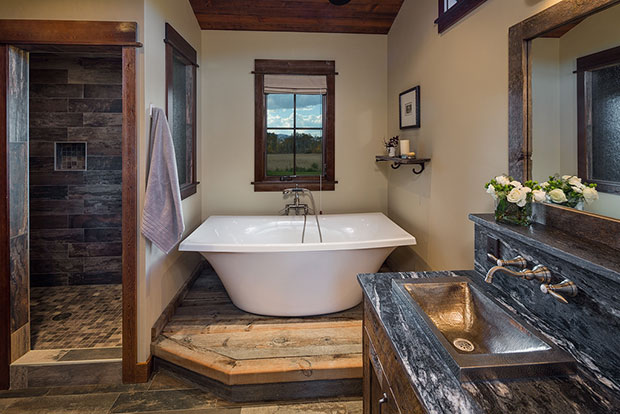 Zoske Construction
Now, this bathroom vanity sink goes fully committed to rustic wood for its material.
Log Elegance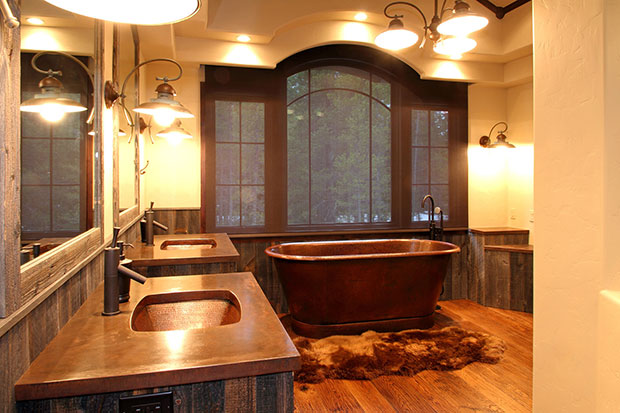 Sweet Homes of Colorado Inc.
The pairing of bronze tones with rustic wood is exquisite as seen in this bathroom.
Art Barn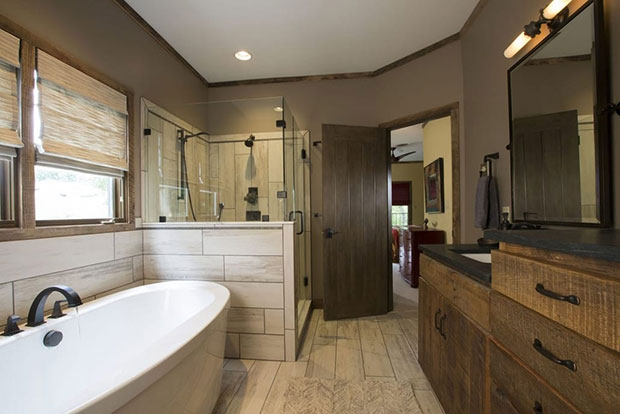 WSM Craft
The wooden plank-looking tiles are beautiful and have interesting finishing touches here.
Rustic Retreat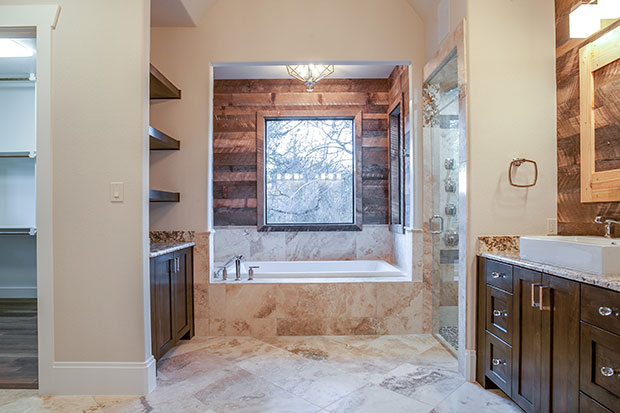 This bathroom has a nice balance of marble and rustic wood to create an interesting and charming bathroom.
Rustic Farmhouse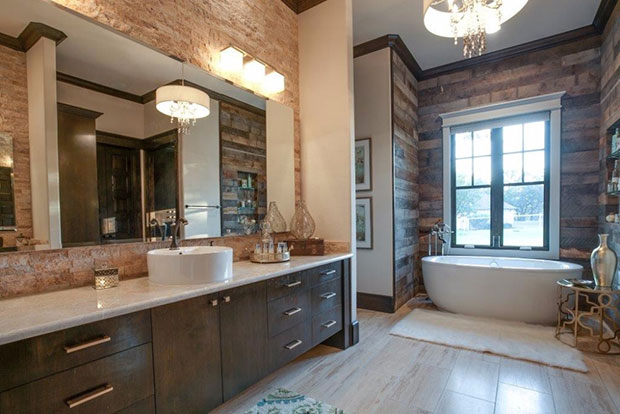 Noble Classic Homes
Who would have thought that a room with walls of brick and wood could be so beautiful?
Farmhouse Bathroom Design Ideas
Farmhouse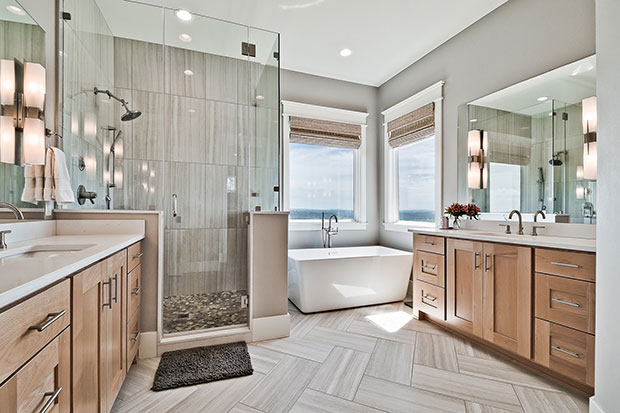 There's just a minimal amount of rustic charm to truly highlight the simplistic beauty of this bathroom.
The Blessings Home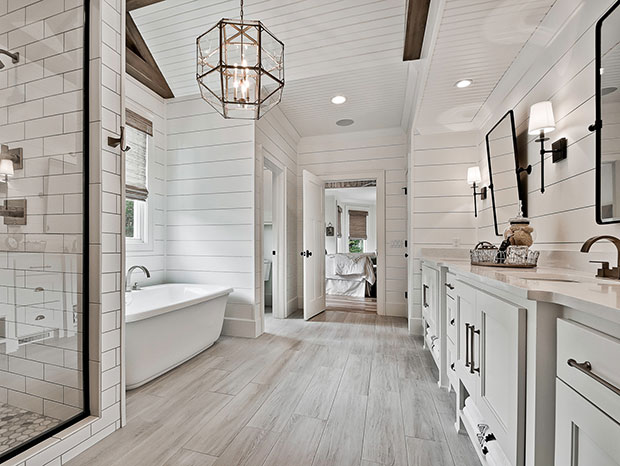 Celtic Custom Homes
With some modern comforts, rural aesthetics are present to truly create a genuine farmhouse bathroom design.
Daniel Island Drive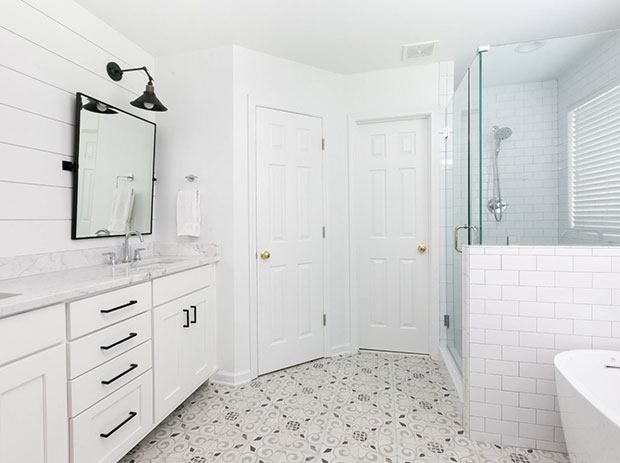 Delpino Custom Homes
The main point of farmhouse bathroom design ideas is the simplicity of a space that doesn't sacrifice the cozy and style.
Craftsman Farmhouse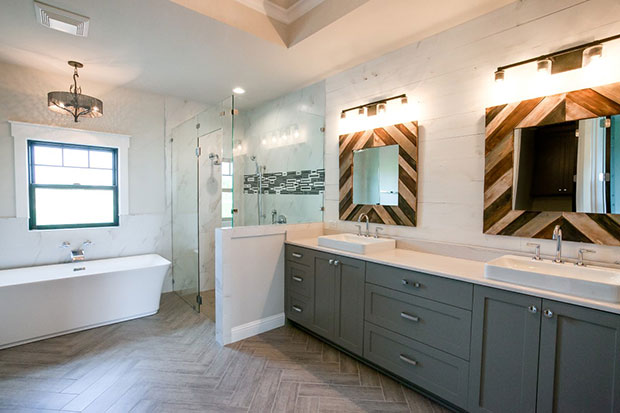 The mirror frame is the highlight of this bathroom; the piece that gets your attention the moment you enter the room.
Highlands Modern Farmhouse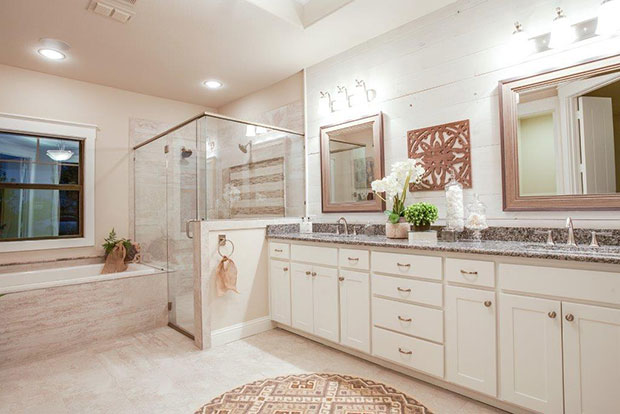 Noble Classic Homes
While neutral colors seem to be popular in farmhouse bathroom design ideas, you can try some light pastel colors.
Upstate Farmhouse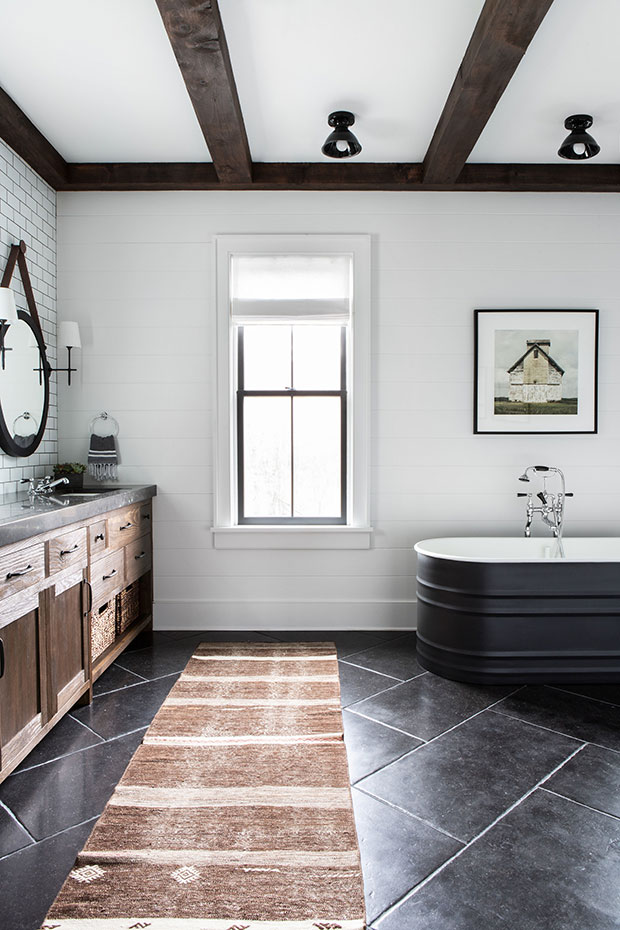 Chango & Co.
This bathroom is nothing but comfort and cozy written all over it. Still, it is pretty cool and stylish.
Coastal Bathroom Design Ideas
1217 Water View Lane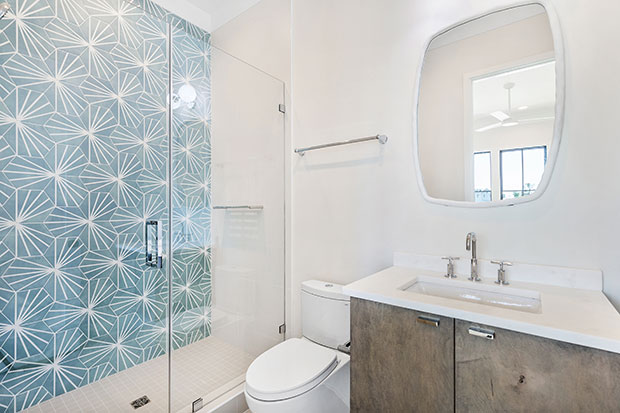 The shower wall finished with tiles that are reminiscent of seashells creates a soothing ambiance.
1205 Water View Lane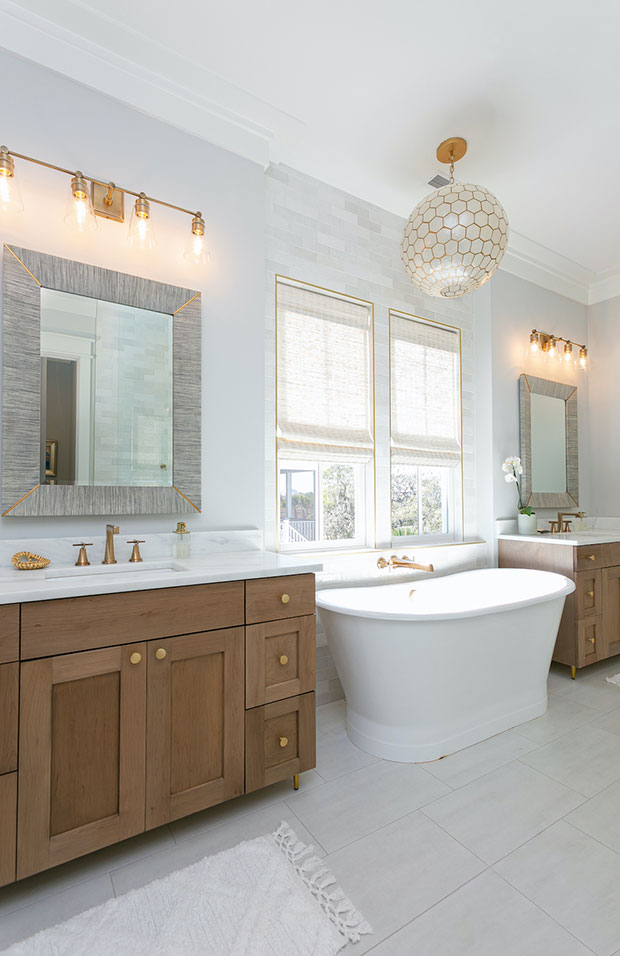 Delpino Custom Homes
Soft color palettes are essential in creating a coastal bathroom.
Long Beach Retreat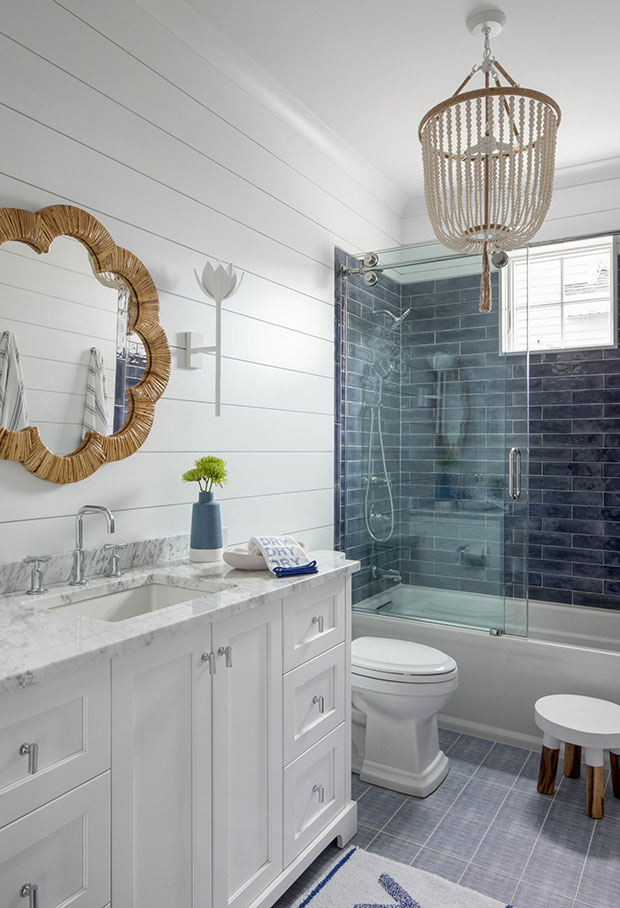 Karen B. Wolf Interiors LLC
While the mirror frame quickly grabs your attention, put your attention onto the rose-shaped wall lamp.
Westport Contemporary Beach House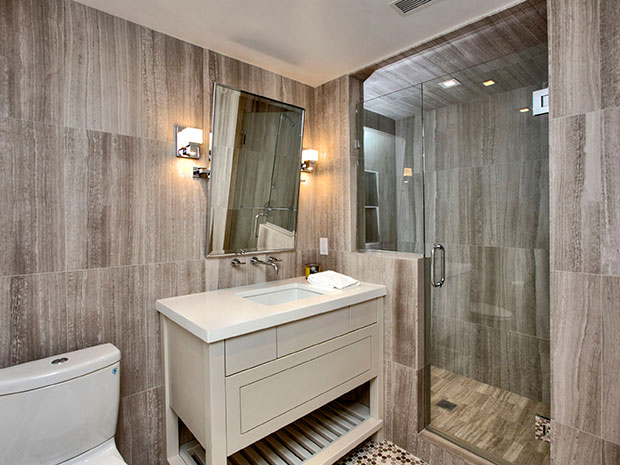 Karen Berkemeyer Home
The tiles on this bathroom have an interestingly sandy look that is perfect for coastal bathroom design ideas.
Tropical Bathroom Design Ideas
Kuikawa Lot 4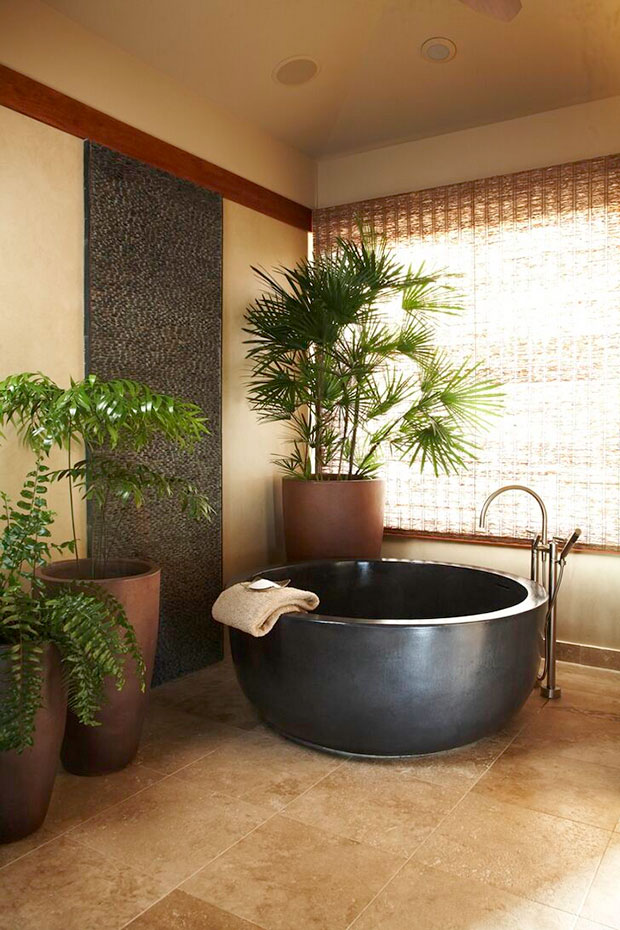 One of the key elements for tropical bathroom design ideas is to not be shy with placing plants around your bathroom. These tropical plants are perfect for such.
Kukio Lot 82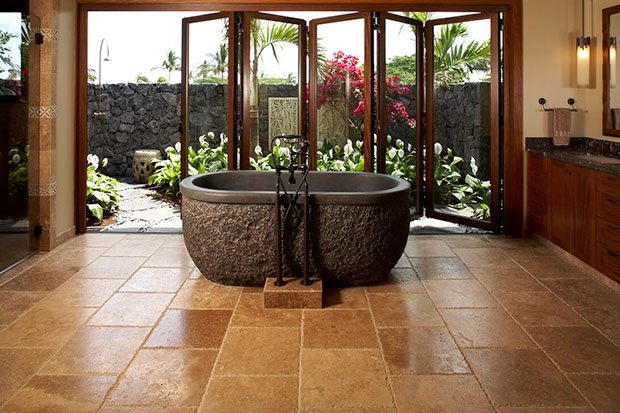 GM Construction Inc.
A bathtub design with an unpolished, rock-like textural appearance is a perfect focal piece for tropical bathrooms.
Resplendent Bathroom

Mantis Design + Build LLC
We've seen planters placed by the vanity sink but here's a bathroom with planters inside the shower area!
That's it for some amazing bathroom design ideas you may want to consider or take inspiration from!
Like This Post? Pin It!