65 Relaxing Swimming Pool Bar Designs for Fun-Lovers
|
It's almost summertime and what better way to spend your days by the pool!
Having a swimming pool alone is a dream. Have a pool with a pool bar? Now, that's the next level! Swimming pool bars sometimes referred to as swim-up bars, are a hot trend. A swimming pool bar is a perfect spot to entertain guests if any. If you're throwing a summer pool party, a swimming pool bar would make the pool and party even more attractive. It's a spot for people to have a conversation, some food, and even a drink.
Overall, no matter what swimming pool bar designs are, they can be a luxurious addition, but it also brings in a lot of fun.
What are the design considerations for a pool bar?
Whatever swimming pool bar designs you have in mind, there are standard design considerations that are followed when constructing. The basic structure includes barstool seating, a countertop, and sometimes a serving area in the dry area outside of the pool.
But swimming pool bar designs can range from a simple counter with submerged seats to a luxurious poolside kitchen. Just with this, you get the idea that budget and space are critical and practical considerations.
The location of your swim-up bar matters. If you're going to have a bar that is integrated into an outdoor kitchen, then you are going to have to consider stuff like drainage system, water, electricity, storage, and maintenance.
The size and shape of your backyard are going to dictate how much area can be allocated for your pool, and in turn, how much of the pool area can be devoted to your pool bar. Subsequently, this will also affect other features that you may want to consider like shades (i.e. pergola, gazebo) and poolside companions (e.g. waterfall).
A well-designed swimming pool bar is one that you can access from the pool and from the dry area. On the pool's end, it should be placed in the shallow area where there are between 30 to 42 inches of water. The bar counter typically projects 6 inches above the pool's coping.
Whatever additional features you would want to have, it should meet your preferences and style. Though, you must take note that your swim-up bar-style should go along with the theme of your outdoor area and swimming pool décor. Like any other room in your home, the goal is to create harmony in design.
Swimming Pool Bar Designs for Inspiration
Now, let's take a look at some fun swimming pool bar designs that you will surely love!
Barton Creek Two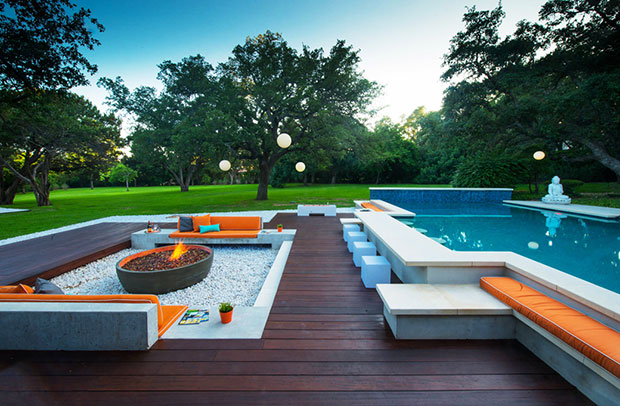 Austin Outdoor Design
This is slightly different from a lot of swimming pool bar designs you will see. But what's cool are the cube seats that act as barstools in the dry area.
Camp Residence June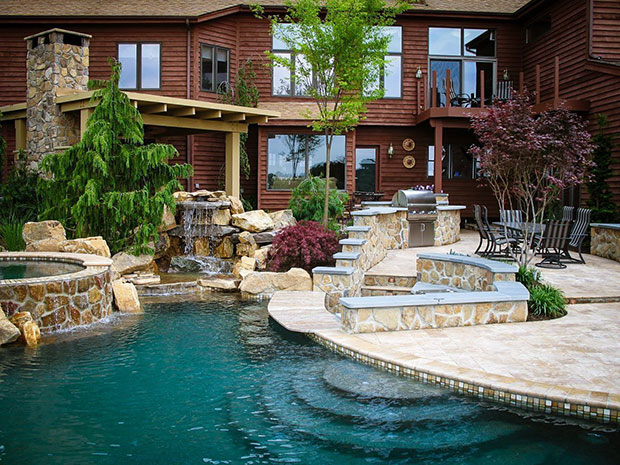 Spayd's
This swimming pool bar design is pretty interesting with water features such as a waterfall and spa near it for a better ambiance while you enjoy your food or drink.
La Quintana Pool & Spa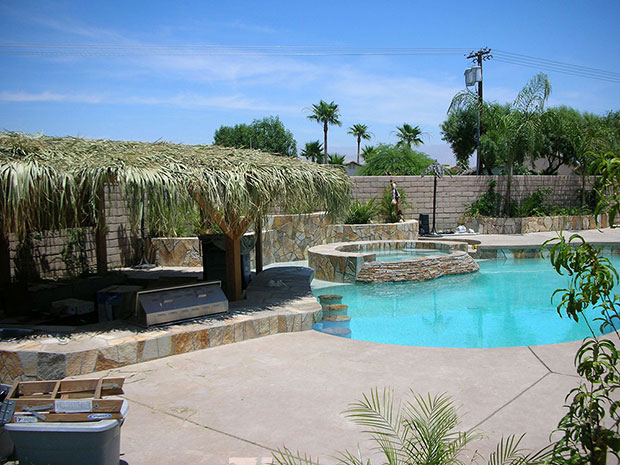 Kancun Pools & Spa
For tropical theme swimming pool bar designs, it is a common thing to have a cabana with a thatched roof to provide some shade.
Scenic Exhibit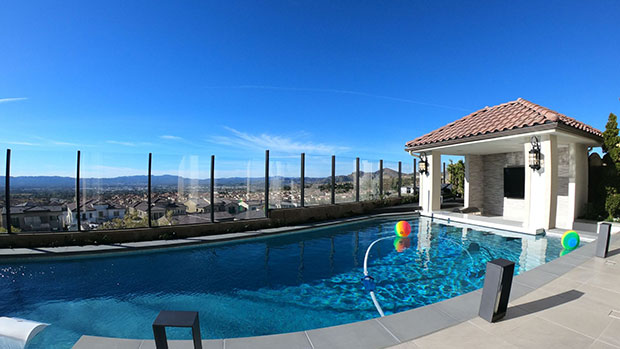 Green Scene Landscaping & Swimming Pools
If you have a gazebo-like this, better install a TV for a better entertainment experience. Imagine taking a rest, eating, and drinking, while also watching some of your favorite shows.
High Meadow Ranch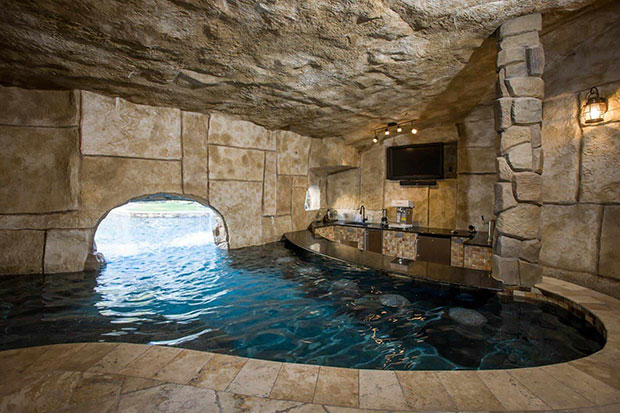 Marquise Pools, LLC
Here's one of the more interesting swimming pool bar designs! An underground pool bar, hidden beneath the rock landscape. It gives a very intimate ambiance.
Exotic Luxury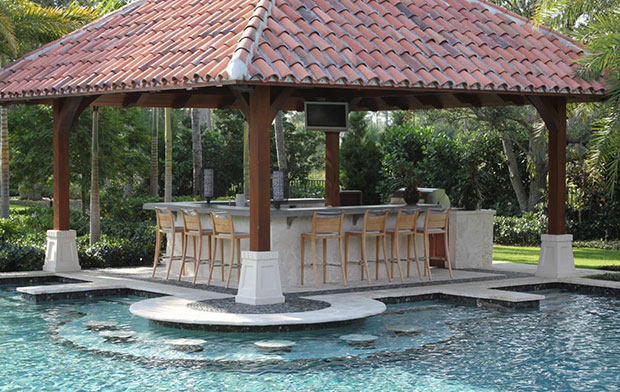 Krent Wieland Design, Inc.
A pretty unique design in comparison to most swimming pool bar designs. It's not your typical bar top as it looks more like bar stools were built next to the concrete paver. Homes with an already existing pool and outdoor kitchen could do such if you want to have a swim-up bar.
Swim Up Bar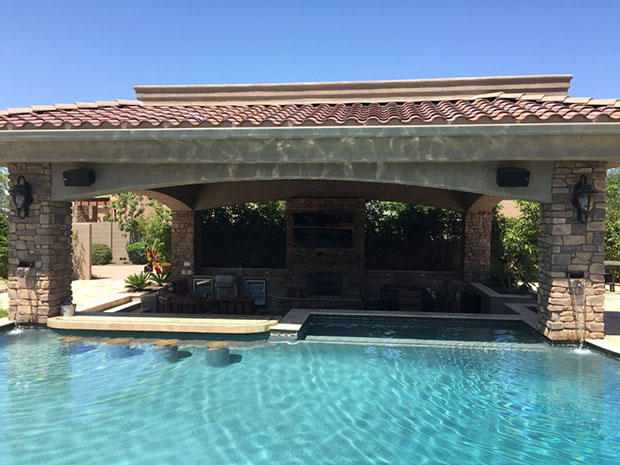 If you have an extensive backyard, don't be shy to have an extensive swimming pool bar design. Having the columns near the pool have a waterfall feature is such a nice touch.
Swim Up Bar 2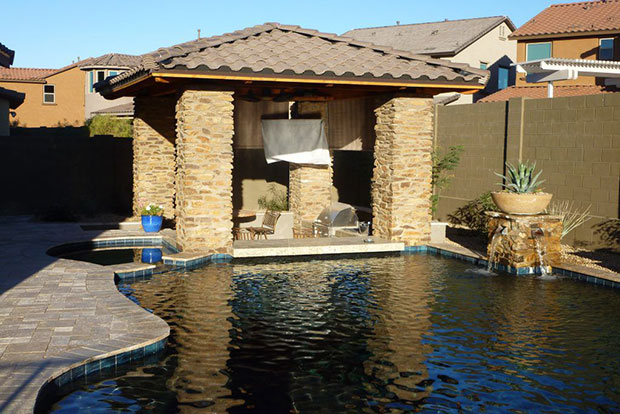 Big Daddy Pools & Spas
The spa next to the pool bar is a great design detail as both places could offer some tranquil relaxation
KZ Residential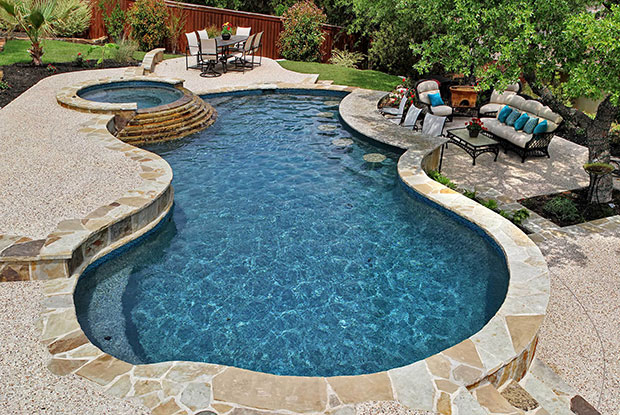 Rather than the dry side of the swimming pool bar integrated into an outdoor kitchen, there is a dry lounging space that is naturally shaded by a tree.
San Antonio Geometric Pool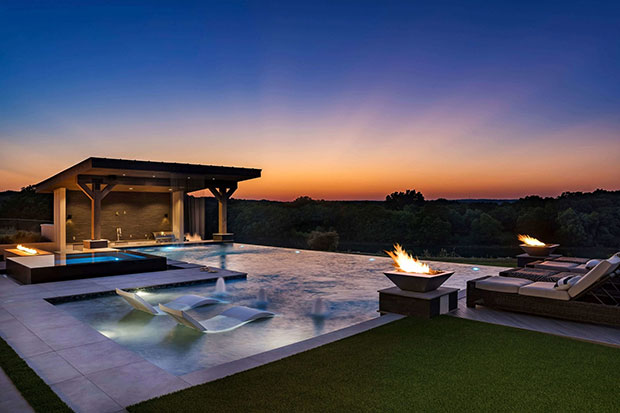 Keith Zars Pools
Imagine sitting down by the swimming pool bar and waterfalls down on you from above. This is what this swimming pool bar design offers.
Estancia Olimpico Coastal Pool Bar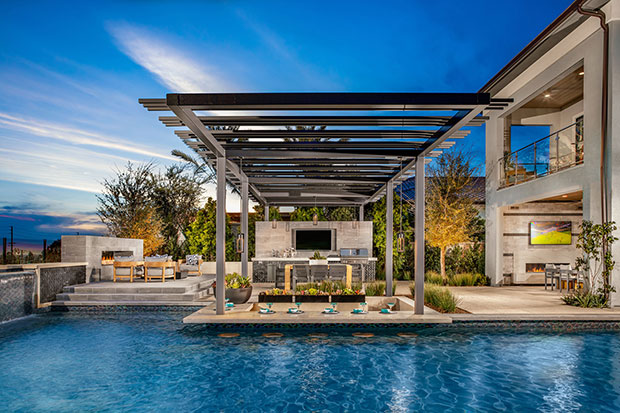 One of the more attractive swimming pool bar designs as it is at a resort-level of aesthetics. Its louvered roof brings some shade while adding some visual interest.
Marbella Collection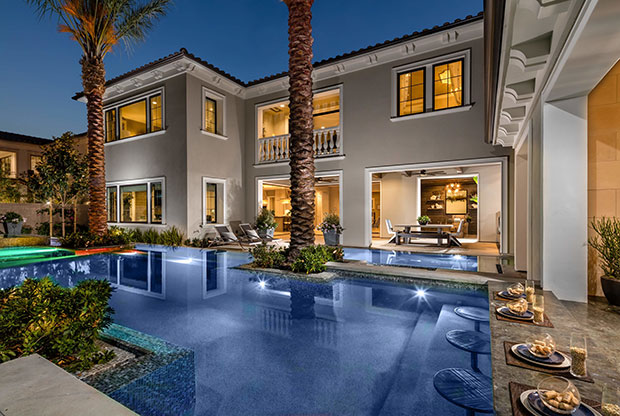 Land Creative Inc.
In this negative edge pool creates an interesting look that makes the bar stools look like its blanketed by a translucent blue sheet.
Scottsdale Swim Up Bar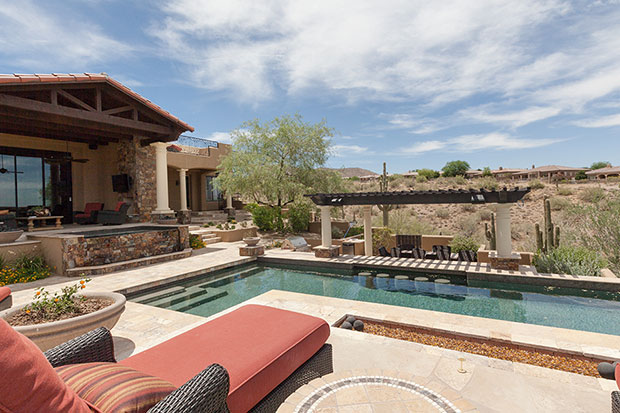 Pergolas are common shade choices for many swimming pool bar designs. Uniqueness and variety then come with the pergola design.
Luxury Backyard Living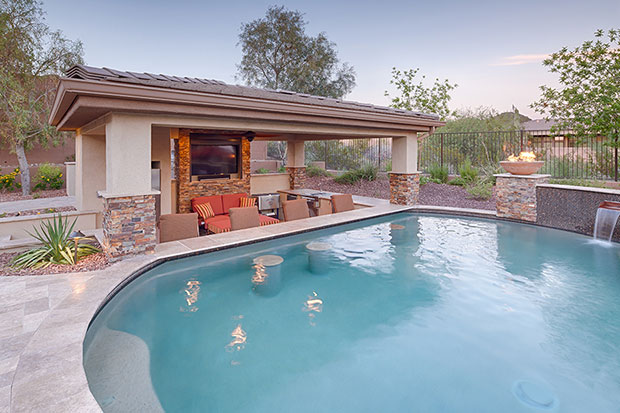 A swimming pool bar integrated with an outdoor kitchen and lounging area could save you some space and budget.
Swim-Up Bar in Chandler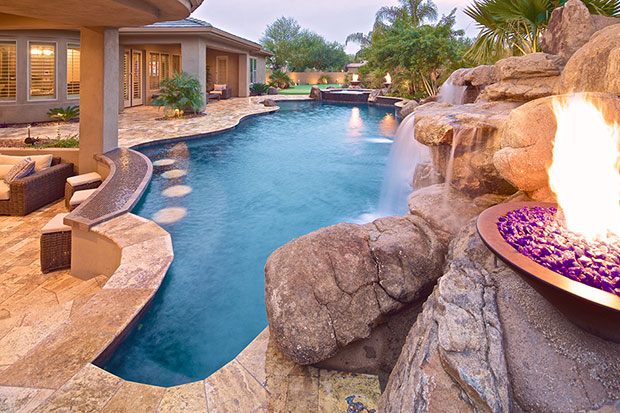 The cascading waterfall and fireplace together create a relaxing ambiance perfect for when you want to relax by the swim-up bar.
Chandler Showcase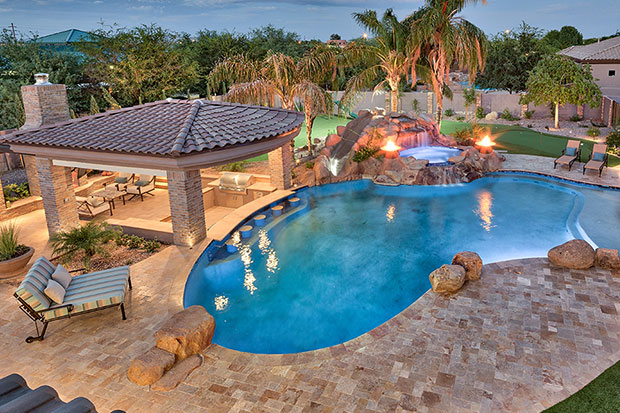 Besides providing shade by the swimming pool bar, this gazebo is wide enough to cover an outdoor kitchen and a lounging area, complete with its own fireplace.
Chandler Backyard Living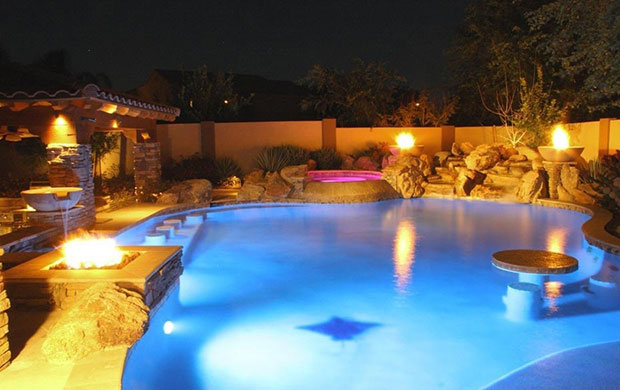 Unique Landscapes
Aside from the pool bar, this pool even has a little circular table across from it. If there isn't any more space by the bar, why not bring your drinks over to the other side?
Ladera Ranch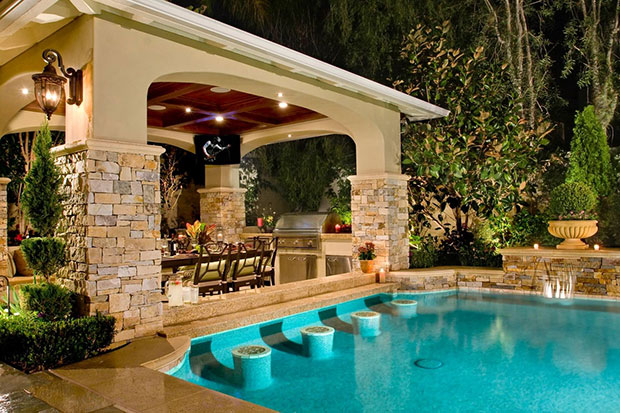 Mirage Landscape
This is one of the few swimming pool bar designs where the bar top is lower than the countertop of the outdoor kitchen.
League City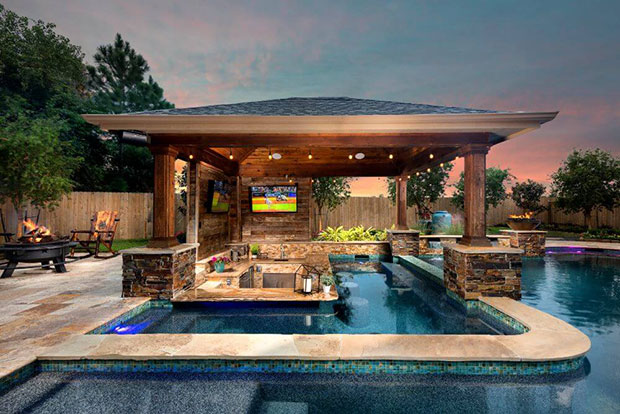 It's quite rare to see swimming pool bar designs where the bar stools are fully covered by the roof. But this entire swimming pool bar is covered by a gazebo.
Friendswood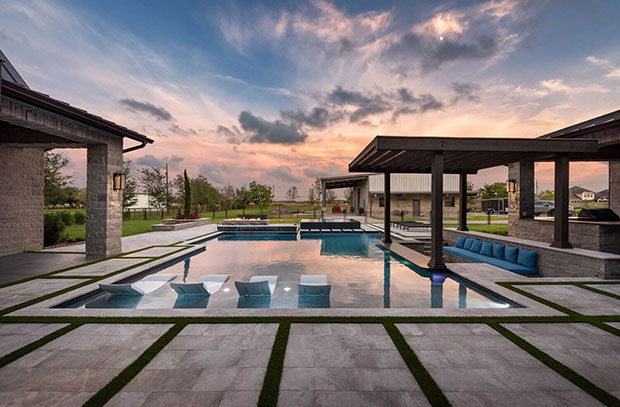 The bar is close to the in-pool lounging area is a great pool layout, with the two being a place to cool down and chill.
League City 2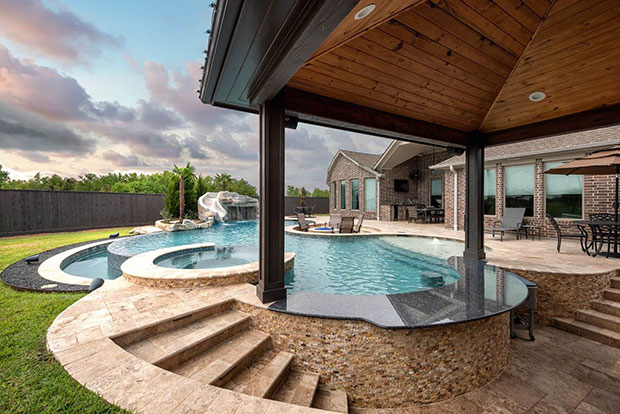 Tipton Spires Design | Build
After taking a dip in the spa, you can easily and quickly cross towards the pool bar if you need some refreshments.
Bali Style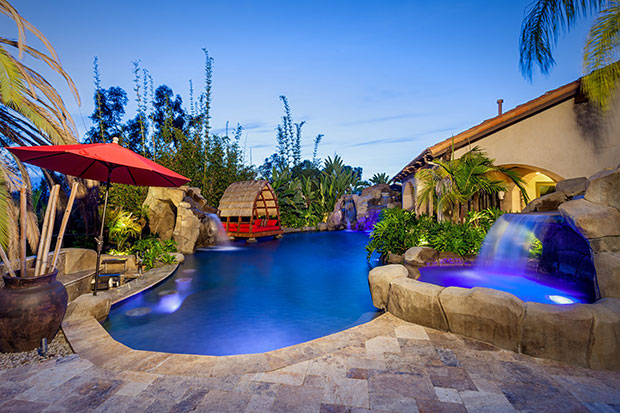 This entire backyard plays well into the tropical theme. The little red umbrella may provide little shade compared to gazebos, pergolas, and cabanas, but it's the perfect choice for this tropical landscape.
Make Me A Resort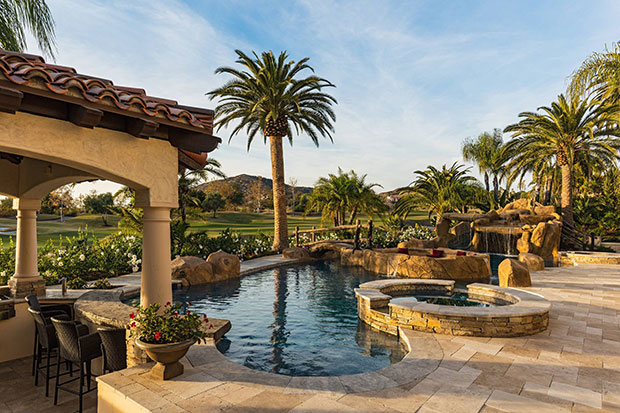 Having the pool bar close to the steps going in and out of the pool makes access easy.
Happy Life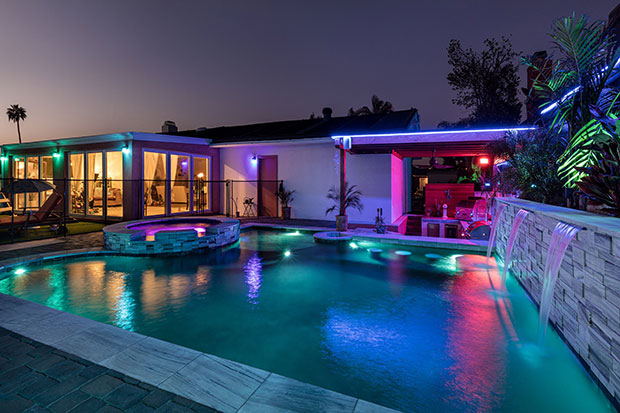 Distinguished Pools
The colorful LED lights create a great party ambiance to this entire pool area, especially the swimming pool bar.
Swim-up Bar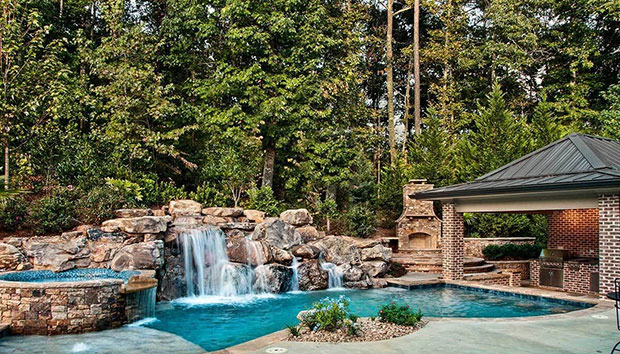 Selective Designs by Shane LeBlanc
The amount of water features around this pool creates a visual and aural ambiance perfect for a laidback time in the pool.
Tiki & Turtles in South Lyon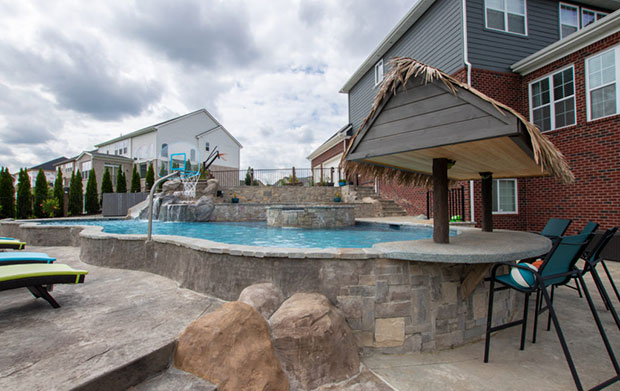 Legendary Escapes
For a relatively smaller swimming pool, this small roof shade looks very simple but it's really a cute choice.
Staycation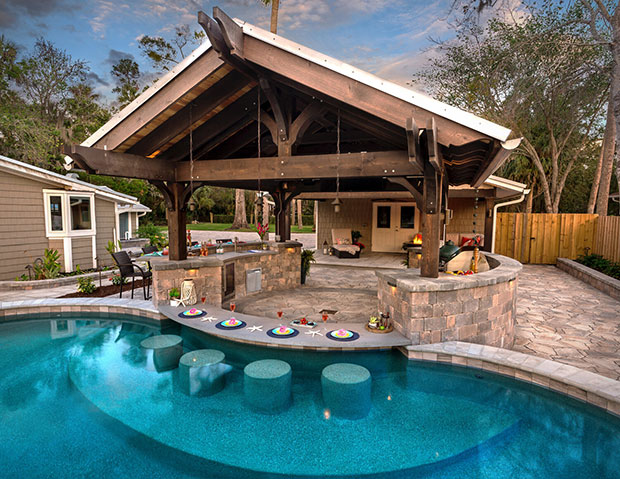 This outdoor kitchen pavilion is more than enough to prepare food and refreshments for all the guests at a pool party.
Saint Johns Sanctuary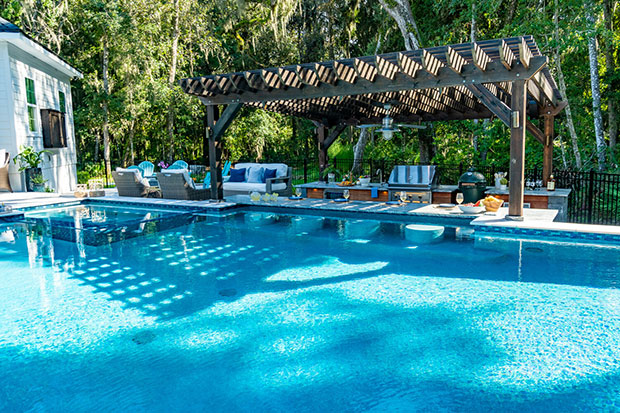 Pratt Guys
The rustic pergola structure brings some personality to an otherwise modern outdoor kitchen.
Ozark One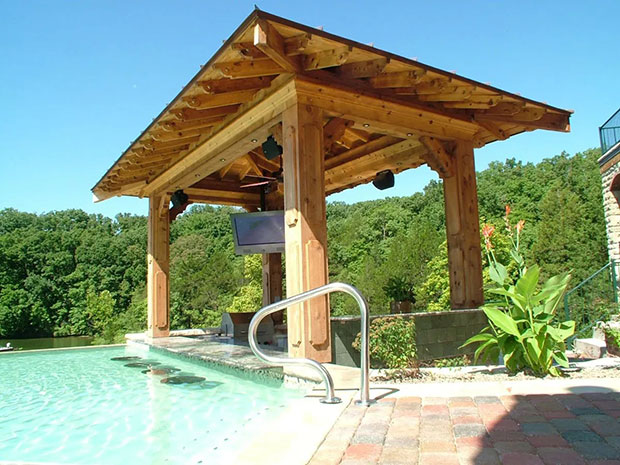 Derrick Architecture
Though a simple pergola structure, the outdoor kitchen can provide some media entertainment while resting from a long swim by the pool bar.
Springdale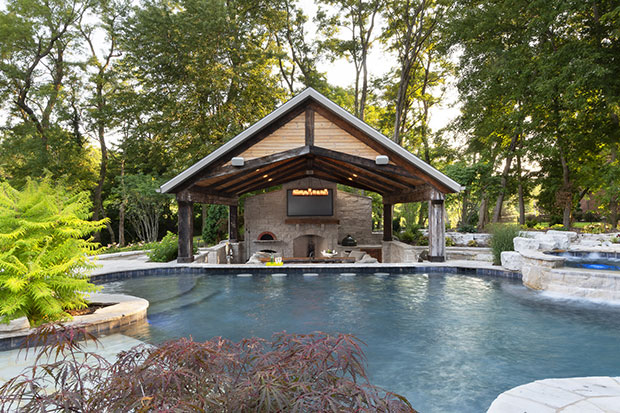 Like many swimming pool bar designs, the pavilion brings together an outdoor kitchen and a lounging area, providing entertainment for those who want to swim and those who want to be dry.
Alabaster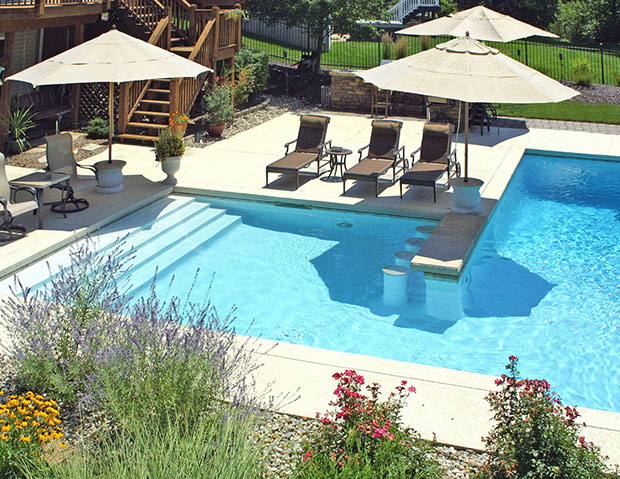 Liquid Assets Pools
Joining the list of unique swimming pool bar designs, this one doesn't have a "dry area". But it's properly shaded with an umbrella.
Swim-up Bar Custom Pool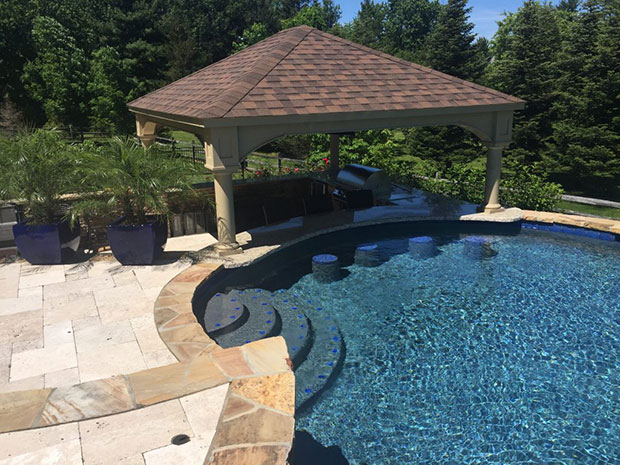 FS Landscaping Contractors
Bring your attention to the bar stools. Where they are usually plain, the pool designers paid extra attention to bring some personality to these ones.
Bluffview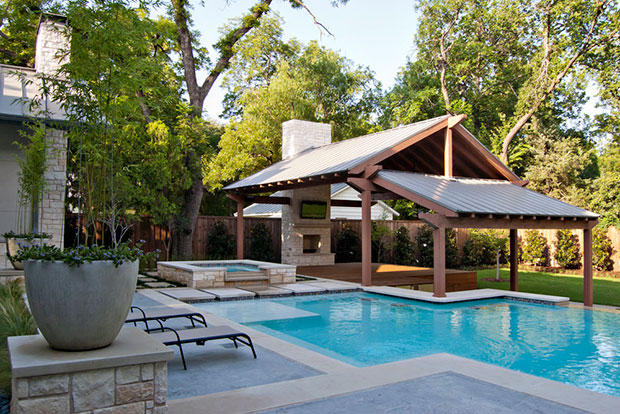 Archiverde
Typically for swimming pool bar designs, the bar is just one line or a curve. But with a corner side, you can have a conversation with someone perpendicular to you, rather than beside you.
Key Largo Modern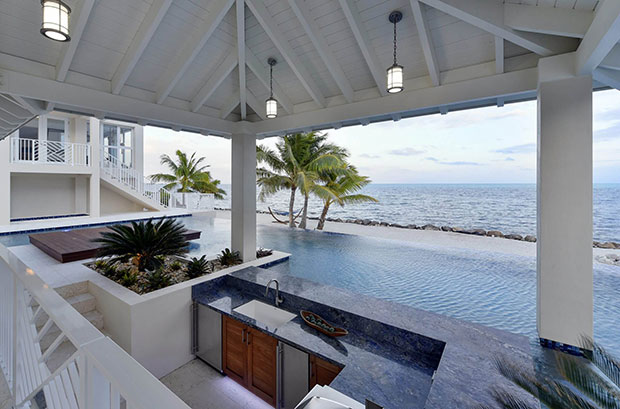 The outdoor kitchen, if there is any, is an integral part of a swimming pool bar. It should be given just as much attention. Take this, for example, the countertop echoes the pool and sea view from this kitchen.
Lands End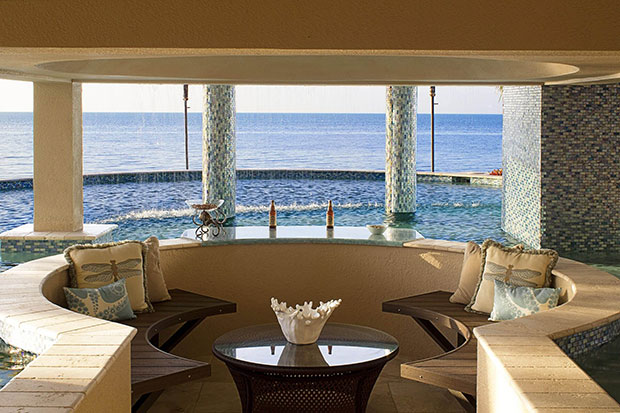 Above this swimming pool, there is a spa that spills water over to the pool. So beneath, the balcony-like structure, they cleverly placed this swimming pool bar. Truly one of the clever swimming pool bar designs!
The Rock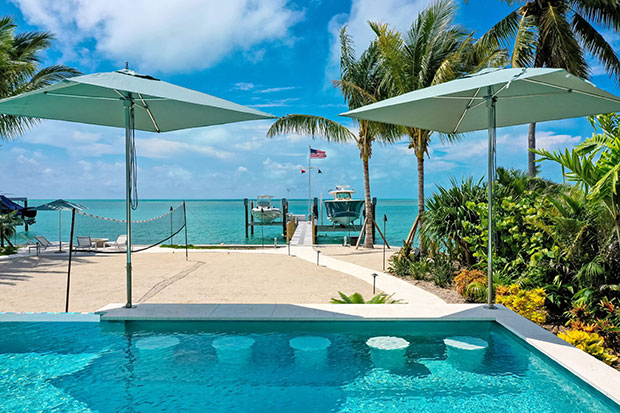 If you want to take a rest from swimming, you can perch yourself right here and watch the ocean view you are afforded, and maybe catch the beach volleyball game that's going on.
Bait Shack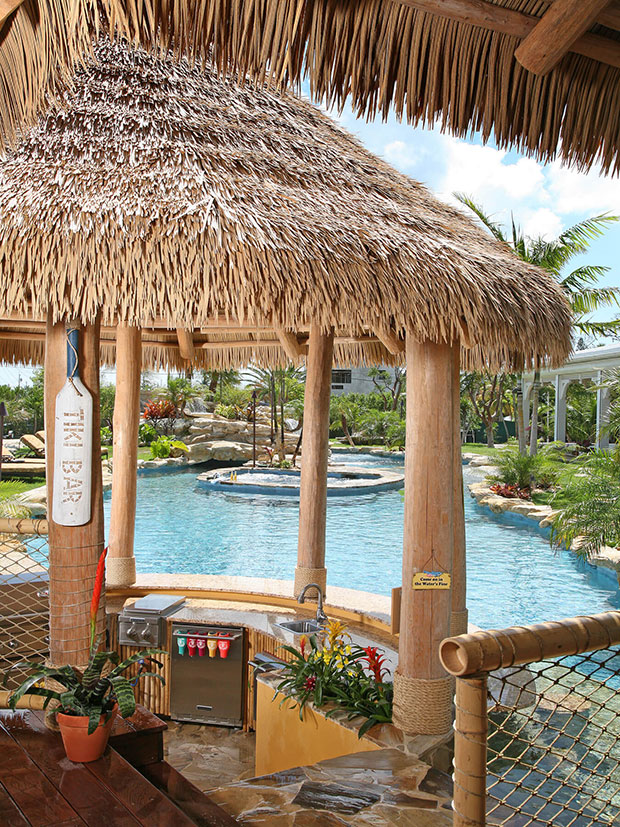 A tiki bar for your swimming pool bar design is a great idea, especially if you want to capture a tropical theme.
The Tides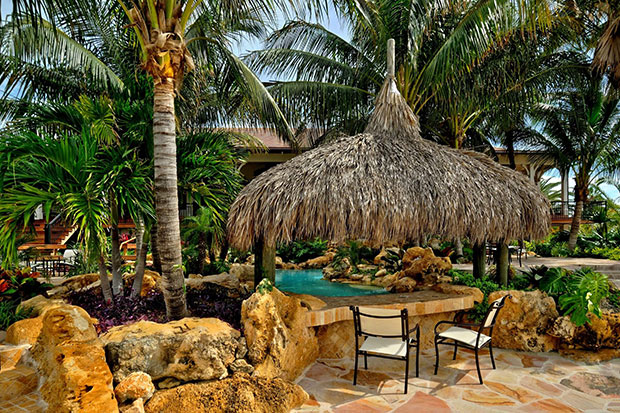 In this free-form pool, they took the narrowest curve and changed it up to a swimming pool bar. With the landscaping, a thatched roof over the bar is the best design.
Sunset Point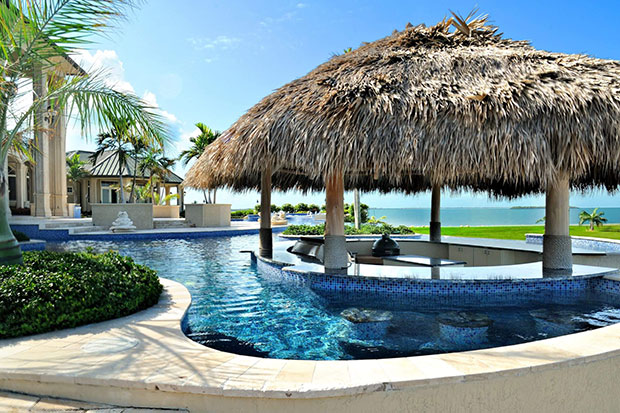 D'Asign Source
Where most swimming pool bar designs are on the sides or corner of a pool, this one has itself almost surrounded by pool water with its round configuration.
Luxury Pool with Tiki Bar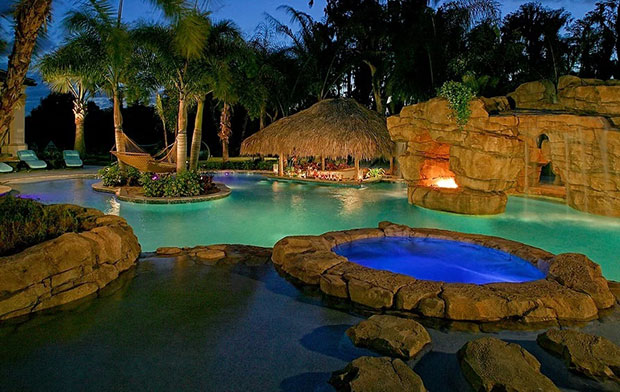 Southern Pool Designs
With this luxury swimming pool, is expected to have a tiki bar to perfect the landscape.
Baker Residence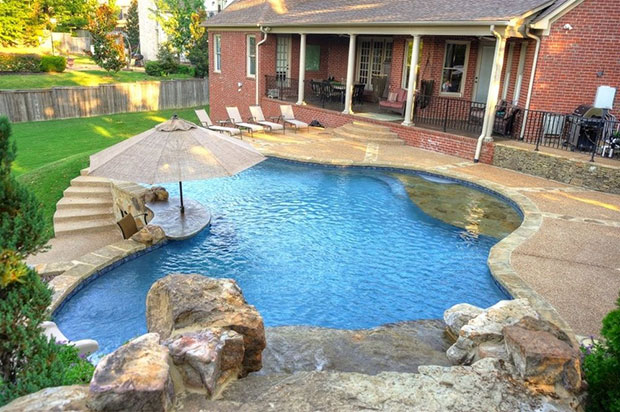 Serenity Hardscapes
A small and simple swimming pool bar. While most bars that opt for an umbrella as shade have them placed on the side or corner, they have it placed in the middle to give more shade.
Swimming Pool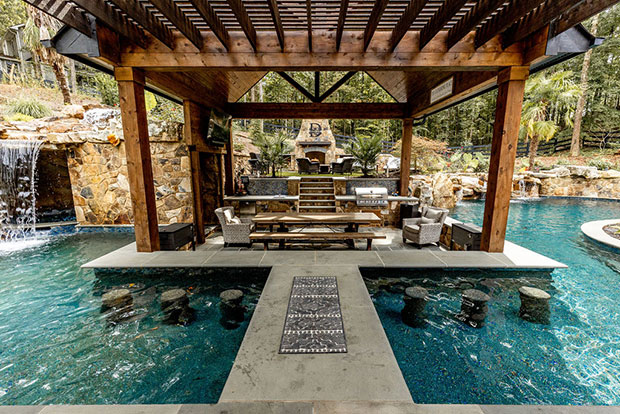 This extensive swimming pool rightfully has such an extensive gazebo for its swimming pool bar. The outdoor kitchen and dining connect to another section that is solely for lounging, also covered by a gazebo.
Free Form Pool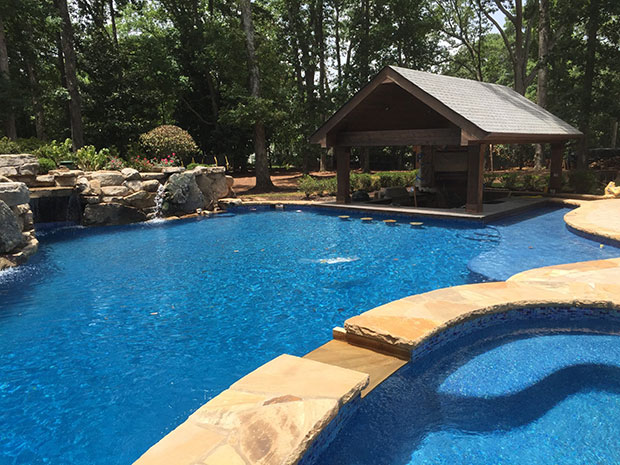 In a woodsy home like this, the pool with a swim-up bar is a great overall look of the landscape.
Luxury Pool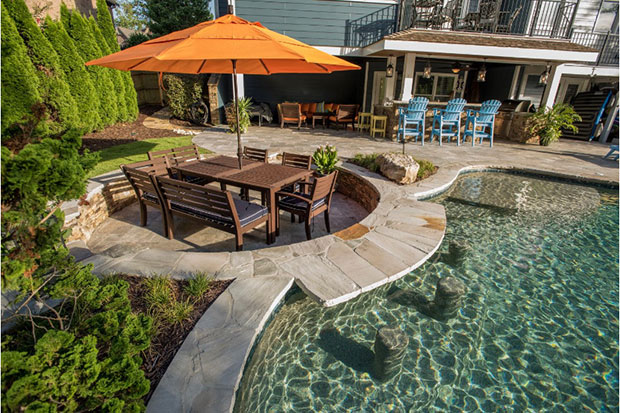 Some swimming pool bar designs don't always have to be integrated into an outdoor kitchen. In fact, with this one, the outdoor kitchen is away from the swim-up, but close to outdoor dining.
Luxury Swimming Pool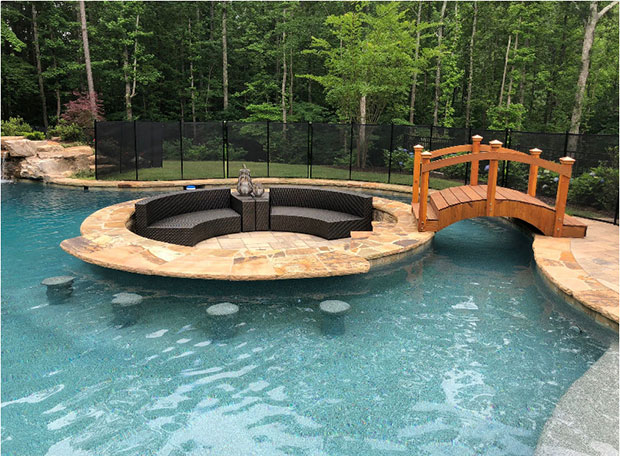 Another unconventional swimming pool bar design, the swim-up bar is located in an elevated lounging area within the pool.
Poolside Cabana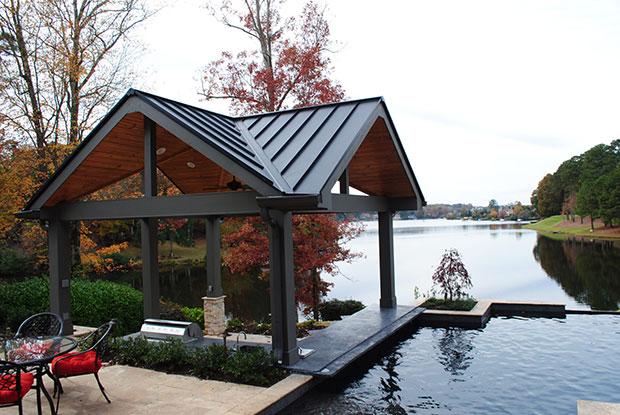 To level with the pool bar top, the outdoor kitchen is on the lower ground.
Pool Cabana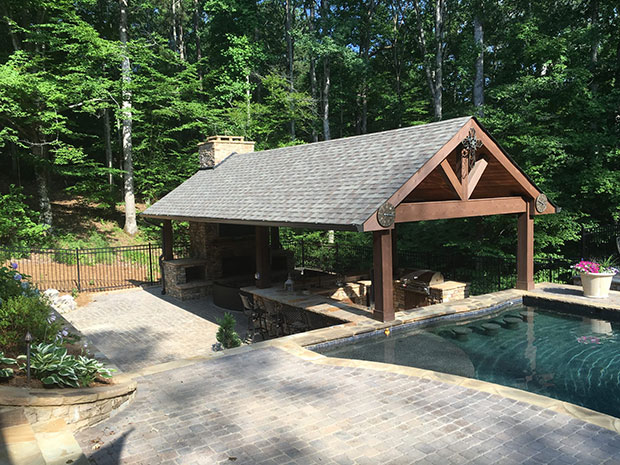 A cozy pool cabana makes this all very homey and all the more relaxing.
Luxury Pool Cabana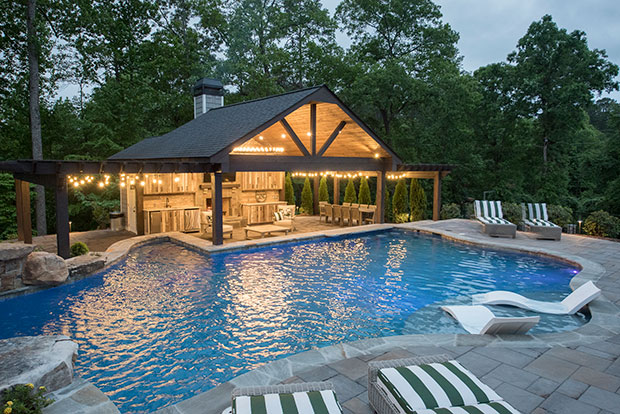 Styling your pool cabana with string lights bring a warm and relaxing ambiance, especially if you'd like to go on a night swimming.
Swimming Pool Cabana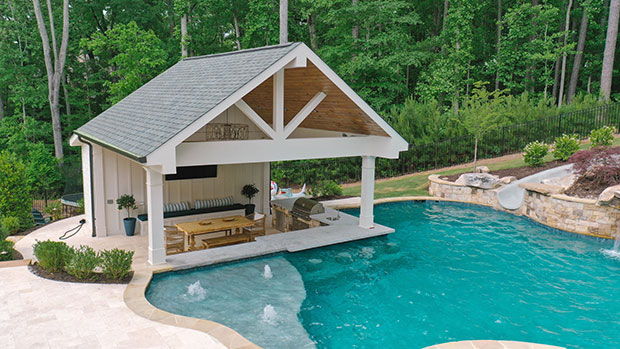 Georgia Classic Pool
Compared to the bigger pool cabanas, this one gives a cozier feel and a more intimate ambiance.
Elliot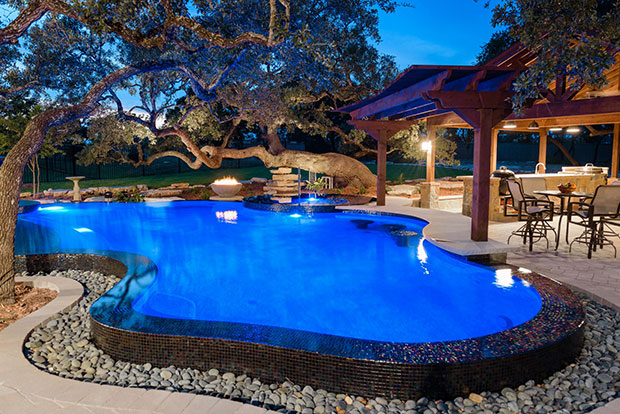 While we've seen most in-ground pools with swim-up bars, this one is a semi-inground pool that makes it work.
Pool Water Feature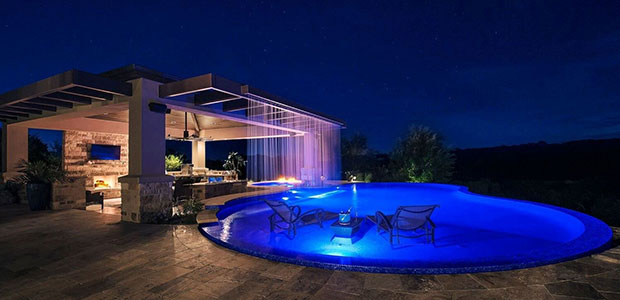 John Pack Custom Pools
Here's another pool bar where there is water raining down on you as you sit by the bar.
Bentwater Pool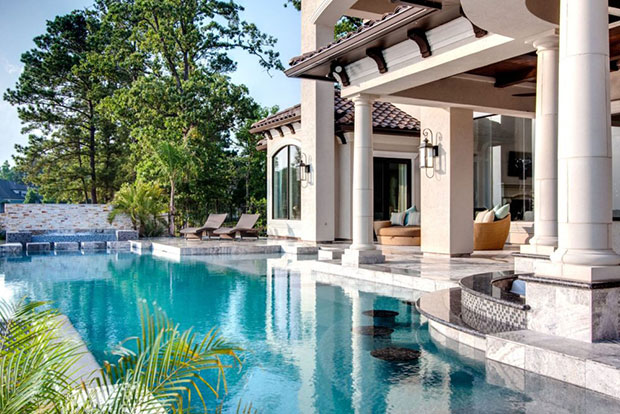 Downunda Pools Inc.
One of the more elegant swimming pool bar designs as made obvious by the granite bar stools and countertop.
Inground Pool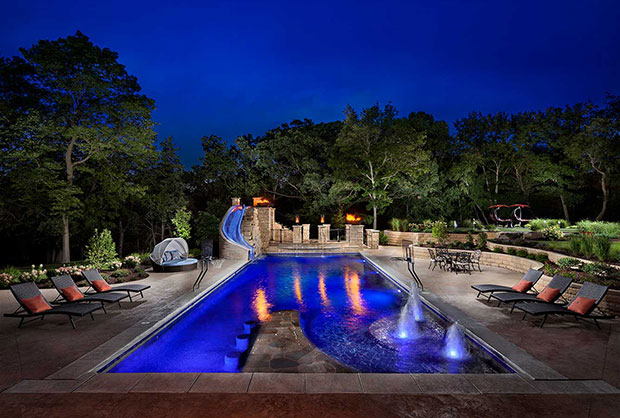 Barrington Pools Inc.
Here's another swimming pool bar without a dry area. The unique thing this time, it faces a pool fountain feature.
Everett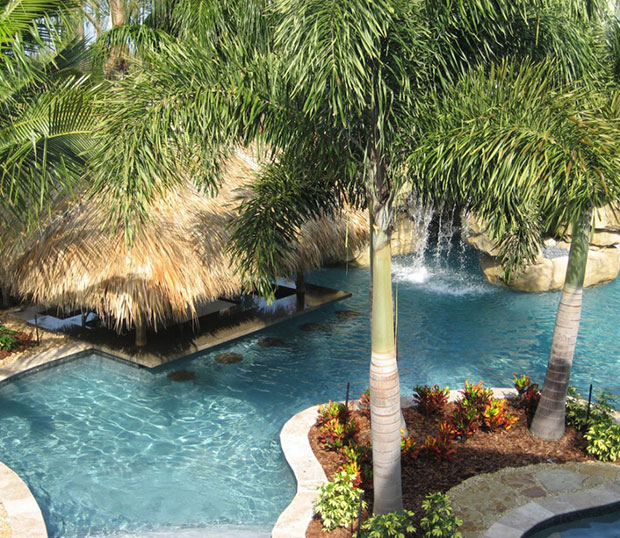 Mills Design Group
Tropical-themed swimming pool bar designs love to have tiki bars as it fits with the aesthetics. They also provide sufficient shade.
Poolside Tiki Bar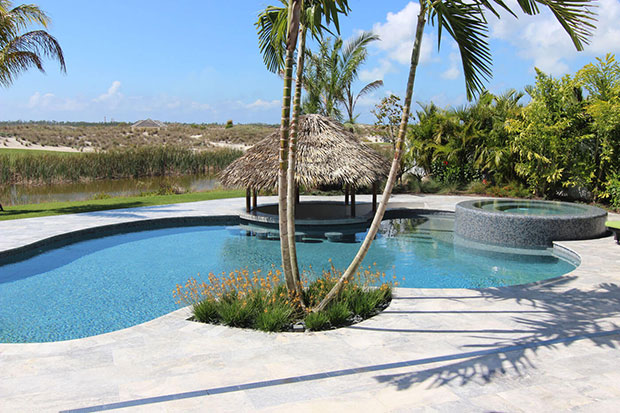 Mills Design Group
A small and round poolside tiki bar completes a rather bare swimming pool landscape.
Coral Ridge Point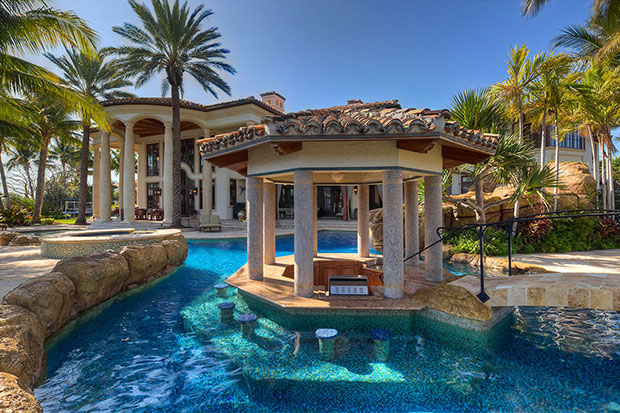 Most swimming pool bar designs are on the side, but this one is built inside the pool area, with the dry area being built into the pool floor.
Isla Bahia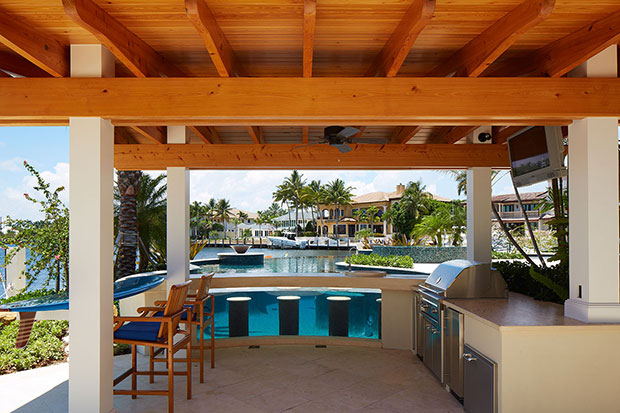 W.A. Bentz Construction
It's pretty interesting to see the bar stools and the pool floor from inside the outdoor kitchen.
Freeform Swimming Pool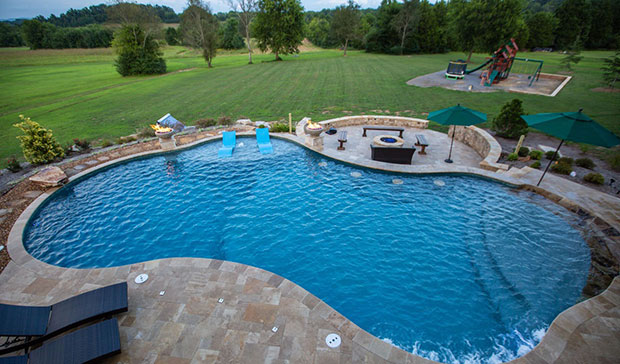 This swim-up bar does not have the access to food being cooked but it does still serve its purpose as a place where you can rest and enjoy some refreshments. Maybe you can even chat up with someone chilling on the other side of the pool.
Resort Like Leisure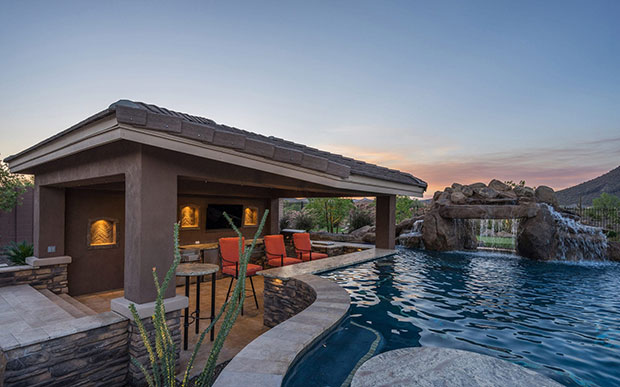 Aside from the pool edge, they even have a round table where you can perch your drinks.
Backyard Boulder Living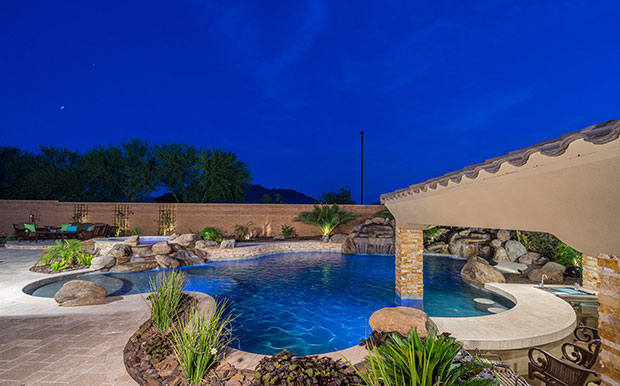 An interesting point of this pool design is one of the support columns of the gazebo being in the pool. This manages to bring some shade over those seated on the bar stools in the pool.
Contemporary Multi-tainment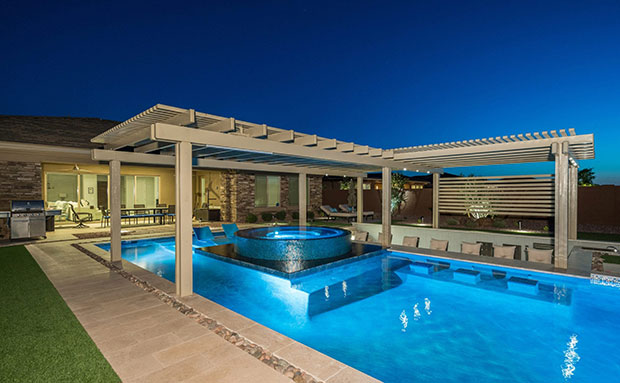 This is not your usual swimming pool bar design. But the way the bar stools are placed creates an intimate setting.
Monumental Mosaics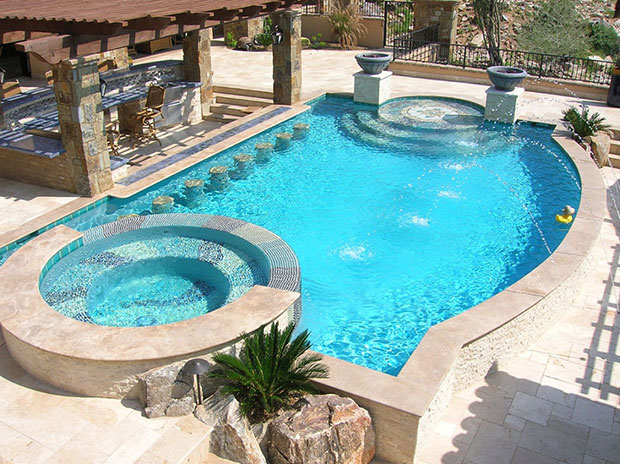 Here's proof that even small swimming pools can have swim-up bars!
Resort Level Luxury Pool + Outdoor Kitchen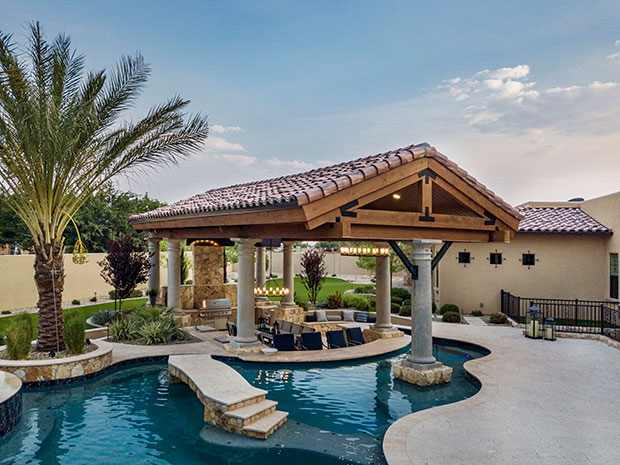 You may need to cross a bridge in this swimming pool before you can take a seat at the swim-up bar.
Custom Pool with Cantilevered Outdoor Kitchen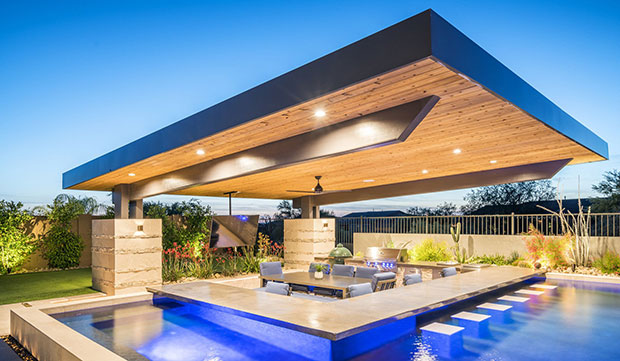 Premier Paradise Inc.
This has to be one of the most stunning pool bar designs. The roof structure isn't the typical kind that you see in most swimming pool bar designs.
O'rrell Residence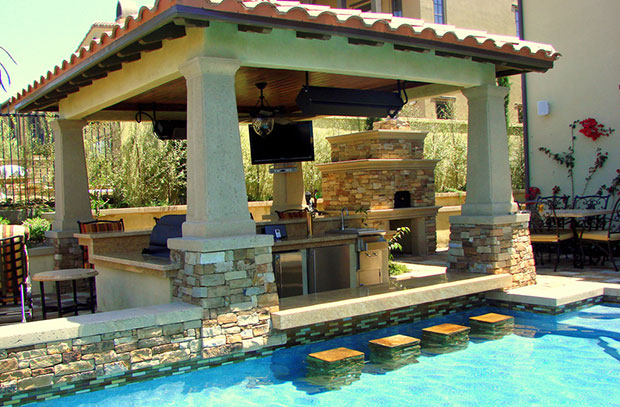 AMS Landscape Design Studios
Usually, the bar stools are made of the same material as the pool floor. But this one matches with the gazebo foundation.
That's it for swimming pool bar designs! Which one of these designs caught your attention the most?
Like This Post? Pin It!