70 Modern Pool Designs to Indulge at Home
|
Having a swimming pool in the backyard of your home is definitely a coveted feature. With great innovations and lots of creativity, regardless of the size of your yard, you can totally have a swimming pool of your own.
That said, when it comes to style, there are plenty of options you can choose from. Swimming pool designs don't come in one look. But modern pool designs are quite pretty common. They fit in just about every home design style and will never seem outdated.
What makes a modern pool?
When it comes to pool designs, there are many varieties. But they don't have the same style that home interior designs have. That being said, modern pool designs are mainly what it is through creative geometric patterns. Combining with new technology features, their distinct look fits with the current architecture trends.
Modern pool designs are defined by clean lines and sharp angles with classic patterns. Though there is no strict pool shape for modern design, rectangular pools are pretty common. Many, if not all, modern pool designs also included raised or attached spas. In terms of pool types, modern pools can be in-ground, above-ground, or infinity pools.
As for pool features, modern pool designs expect minimal pool features. It's better to stick to limited décor and motifs. So, modern pool designs don't have extensive landscapes like water slides, grottos, and spouting statues. Modern pools opt for subtle features like LED or fiber optic lighting in the walls, which makes them perfect for late-night swims. Small water features can also be added in. This means no large flowing rock waterfalls or big fountains. Jets, spillover spas, sheer waterfalls, and such are recommended for modern pool designs.
What pool size is best?
All these pool features aside, finding the best pool size for you and your family is an important matter that should not be overlooked. The size of your yard and budget is going to be huge factor in determining the best pool size.
Typically, different types of pools have typical or standard pool dimensions. So, here's a breakdown of standard dimensions for different pool types.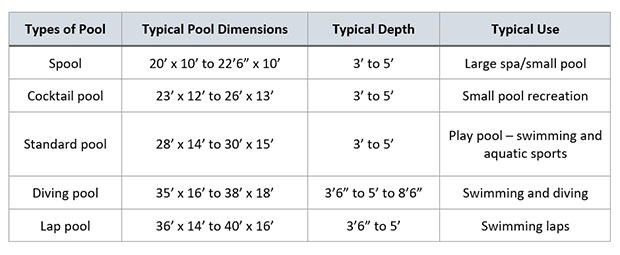 Now, let's check out some modern pool designs that will get you having fun under the sun!
Modern Swimming Pool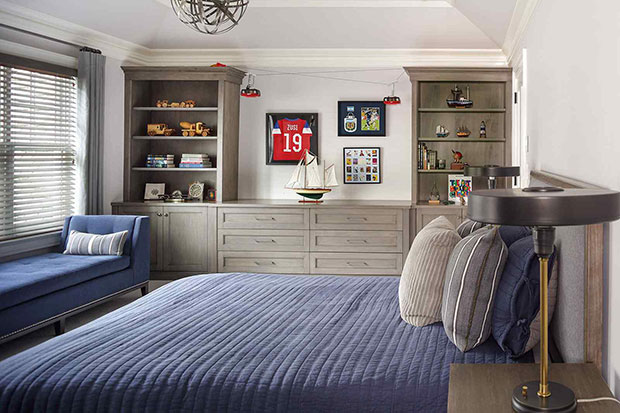 An adjacent shallow side is best for those who want to rest up a bit from all that swimming. Not to mention, there is a raised adjacent spa for everyone to enjoy!
Luxury Swimming Pool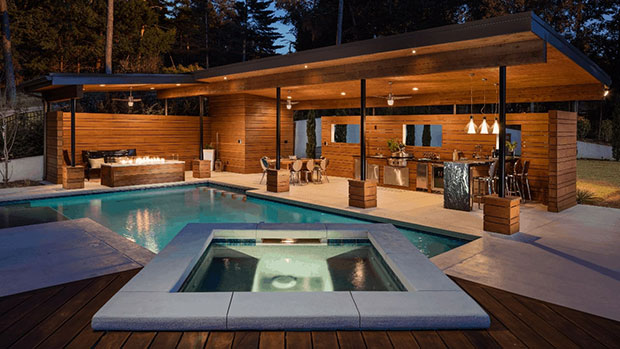 Subverting expectations of modern pool designs, the raised spa is positioned tangent to that of the pool.
Plunge Pool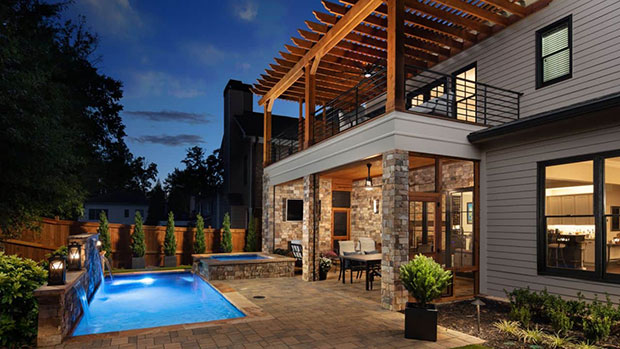 Take note modern pool designs don't mean that water features are not welcomed. But a small water feature like this, accompanied with a little bit of rock scaping.
Private Outdoor Sanctuary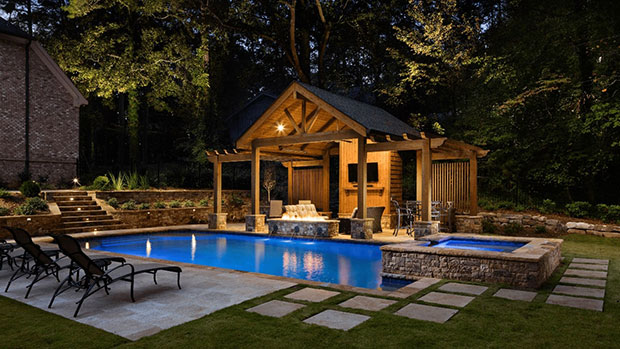 Boyce Design & Contracting
Modern pool designs look complete and perfect when you also pay attention to the surrounding landscape. So, don't be shy to match the beauty of your pool with your garden landscape.
Crescent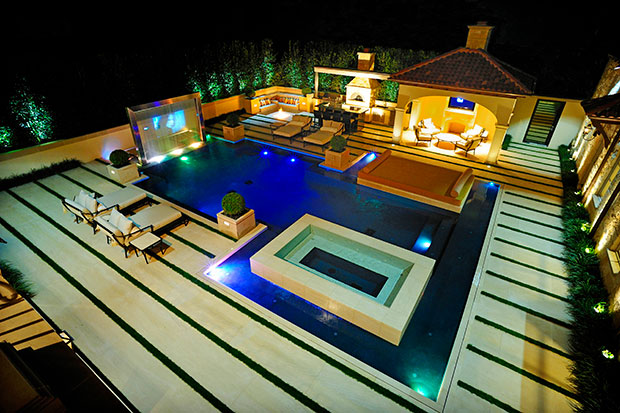 This entire garden landscape had a lot of thought and planning going into it. Though modern pool designs strive for the main principle of simplicity, this one can't help but be classified as such. After all, when you have this much space in your yard, you'll want to have a large pool with a floating resting place on it.
Preston Hollow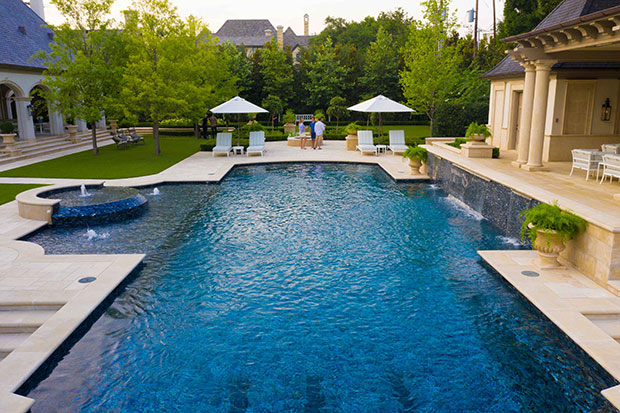 A subtle waterfall feature on the side and the tiny water fountain are pleasant design details that certainly add to the overall beauty of the pool.
Crooked Creek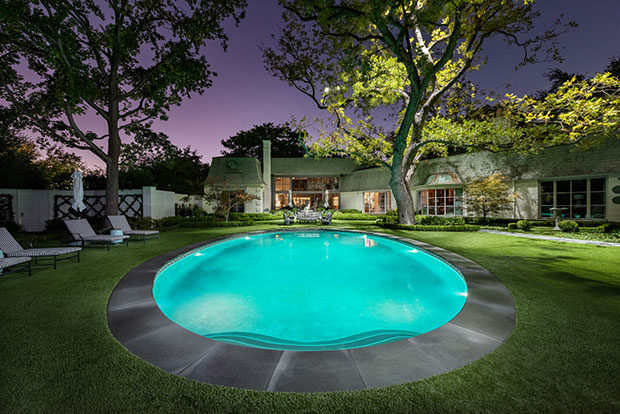 This round pool in the middle of a lush green garden will definitely give some sense of serenity and tranquility while you are swimming.
Princeton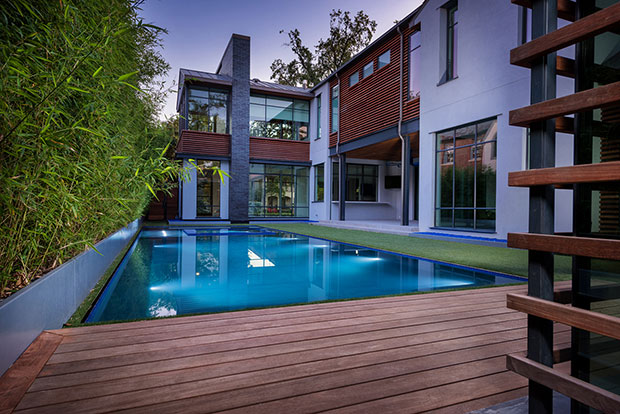 Surrounded by a well-kept lawn and the wooden deck, they come together to complement and complete the overall modern look of this pool.
Vista Meadow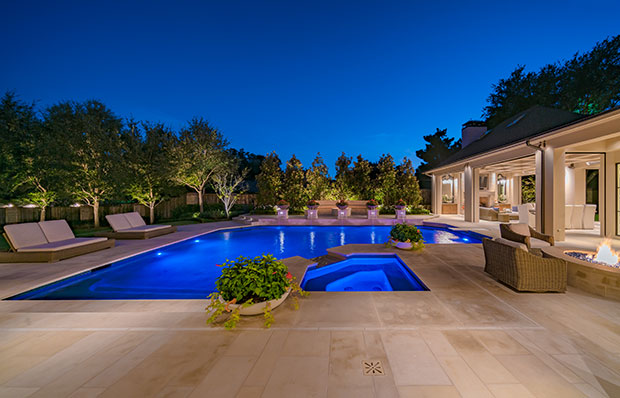 Unlike the usual modern pool designs, the angular shape of this pool gives it a very refreshing look.
Chimney Rock Drive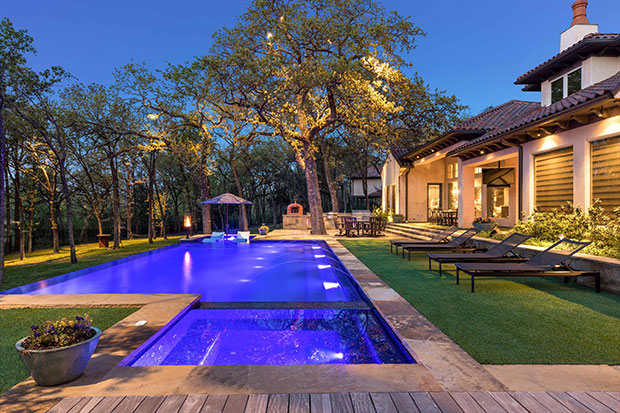 On either end of the pool lap, you'll have spaces to take a breather: one just to lounge around and another to take advantage of the spa features.
Beverly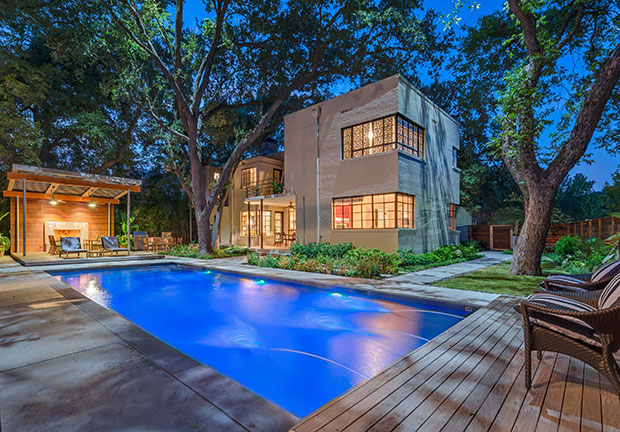 If you insist on pool jets, you can get ones installed like this.
Caruth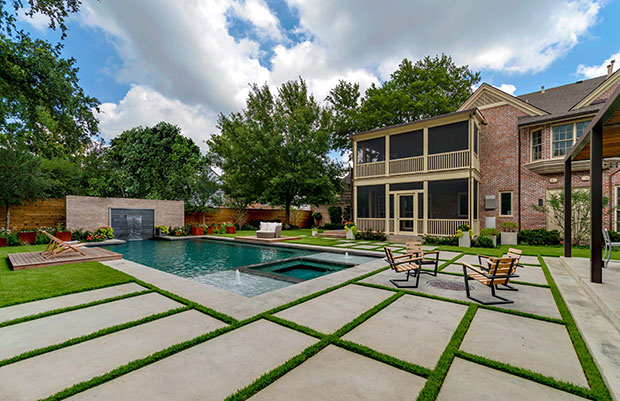 Harold Leidner Company
The beautiful waterfalls scape at one end of the pool, together with the beautiful garden landscape, perfects the modern look.
The New American Remodel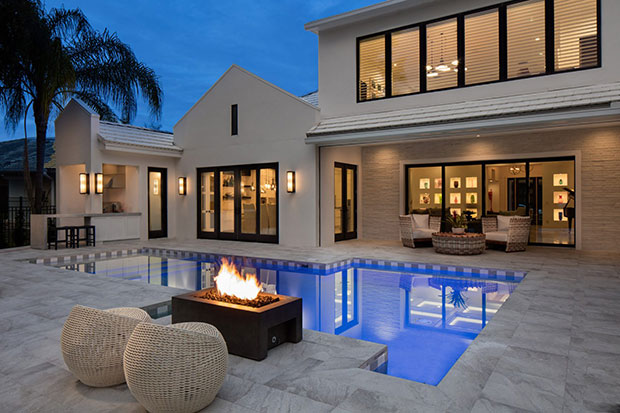 If you're sick of the usual rectangular modern pool designs, you can check this particular design. The angular design still gives it a very modern look.
The Bridge House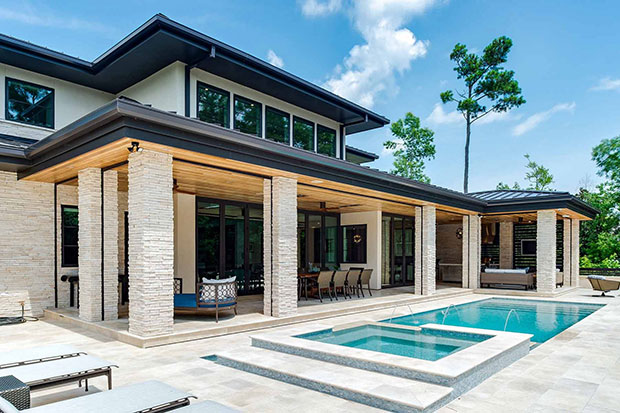 The way the spa is built gives it a cool and refreshing look.
Bay Point Remodel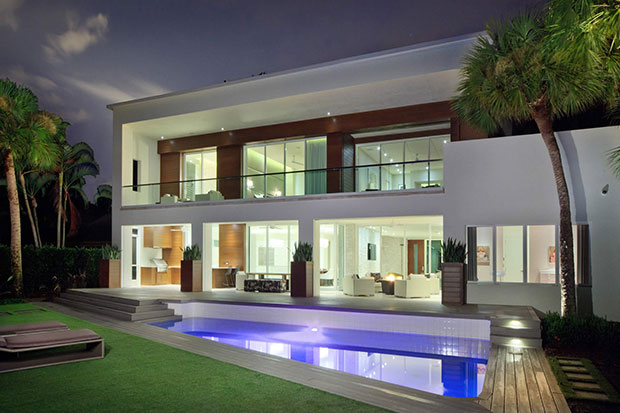 A triangular pool design is interesting enough. But also the surrounding pool deck design is a great combination of wood and tiles.
Modern Oasis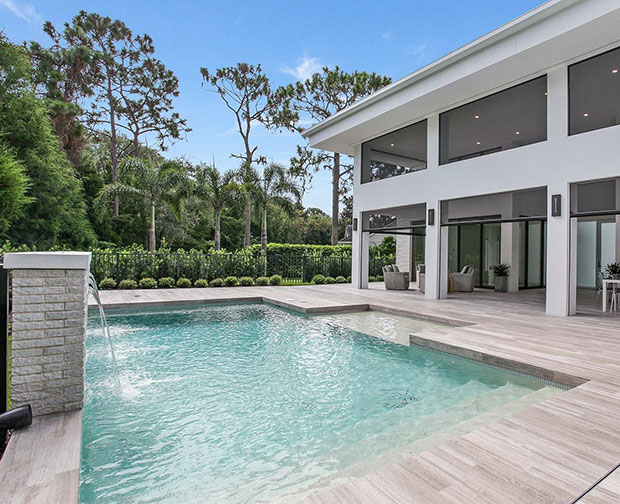 The deck is a beautiful choice of material that highlights the modernity of not just the pool, but also of the home.
Modern Hacienda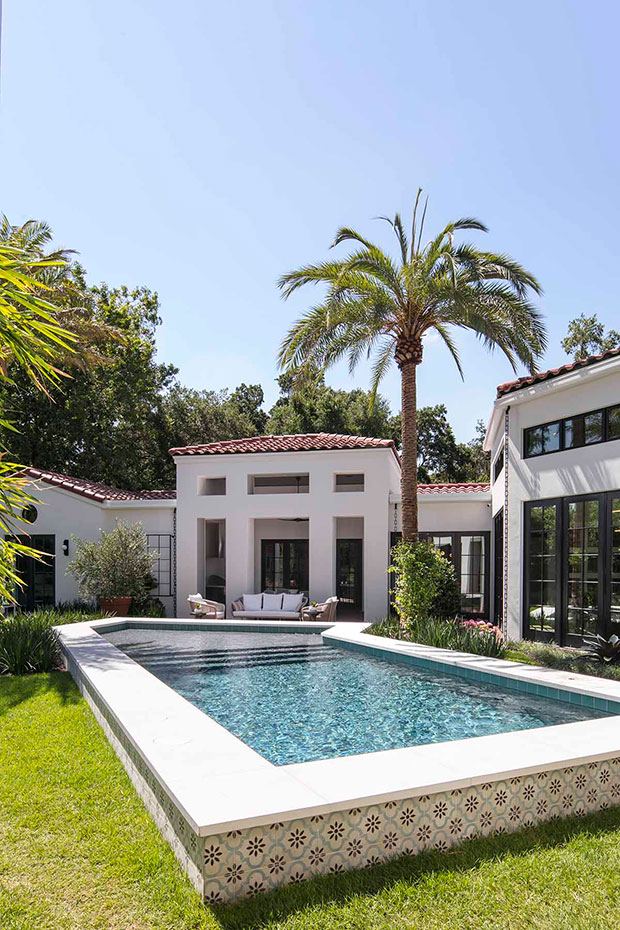 Here is some more angular modern pool design that could be very helpful for you, especially if you have an awkward shape of a yard.
Nyumbani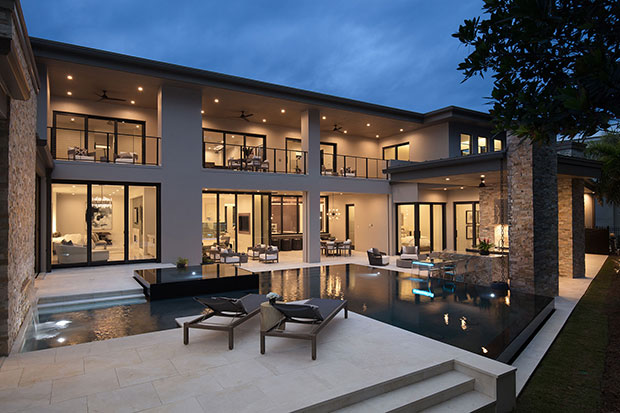 Phil Kean Designs, Inc.
Negative edge pools are always a good fit for contemporary and modern pool designs.
Sands Point Poolhouse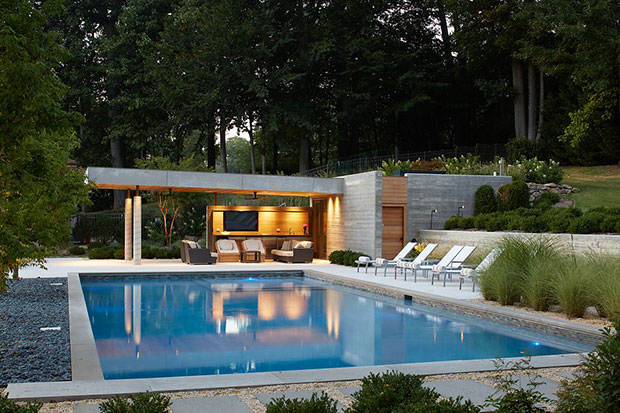 Narofsky Architecture
A simple pool design amongst a lush green. It will surely be one relaxing swim in this place.
Menlo Park Courtyard Residence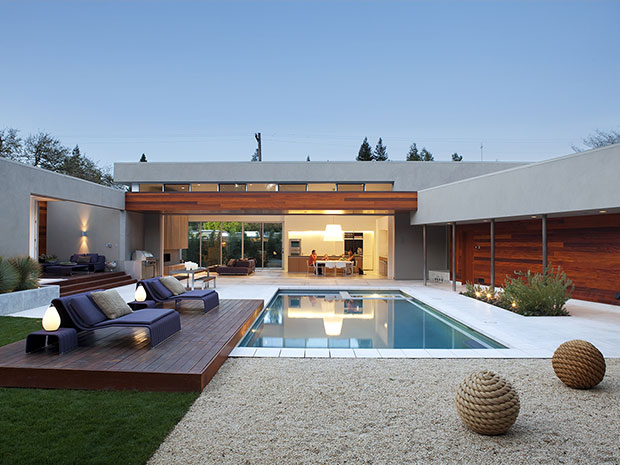 Dumican Mosey Architects
The raised wooden deck by the pool is a great touch that brings some variety to the overall look of this yard.
Custom Pool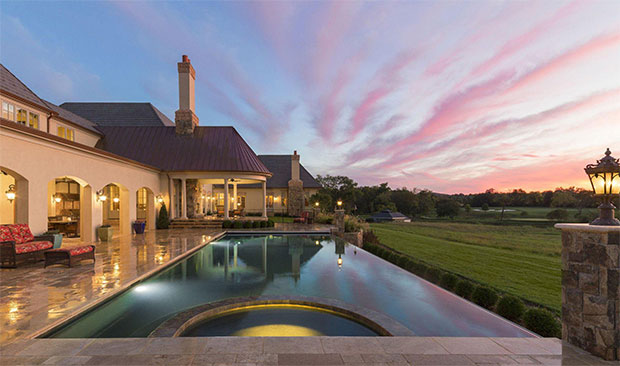 Where most rectangular pools have a square-shaped spa, this one has half a circle. And with the way the pool lights illuminate, it's looking quite like a half-moon.
Custom Pool with Spa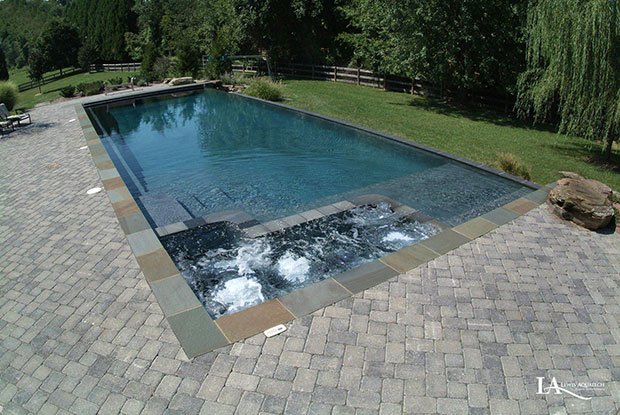 Lewis Aquatech
The patio pavement complements well the tile choice for the pool.
Modern Pool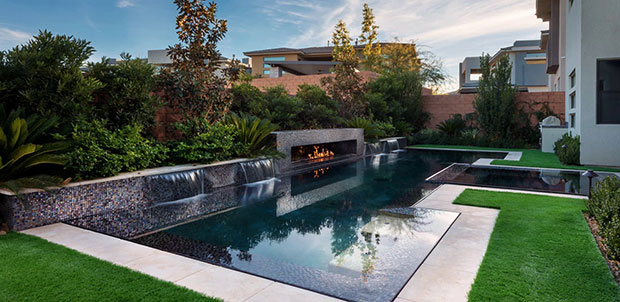 Poolscapes LLC
Another negative edge pool design that is perfect for modern homes! This one will definitely suit you if you're looking for a luxurious-looking yard.
Lubelso Concept Home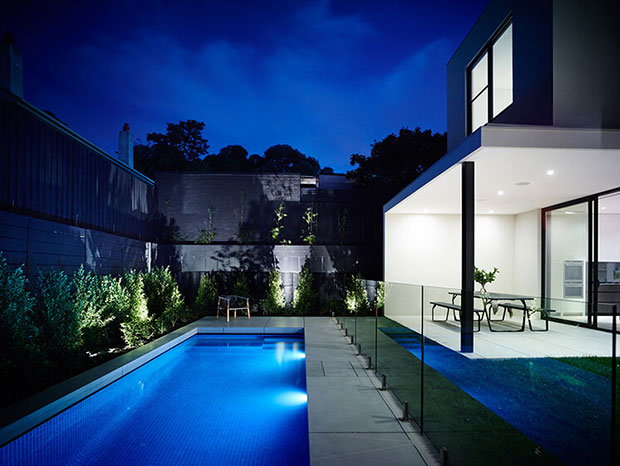 Canny
The glass partition is a cool idea to clearly divide the pool area and the rest of the garden. In a way, it offers some sense of privacy.
Texas Pool 14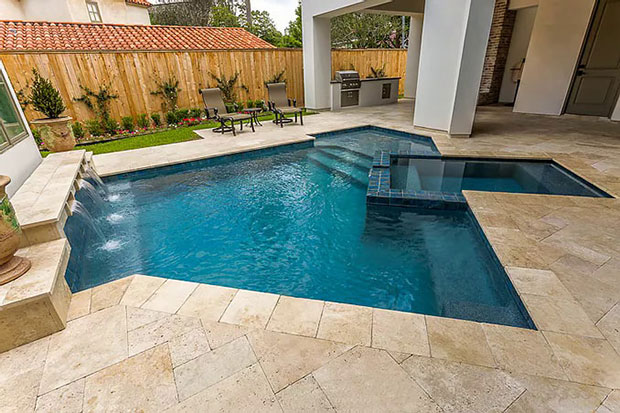 Texas Pools
With its sharp angles, this has become one of the most interesting modern pool designs.
Rutherford Cocktail Swimming Pool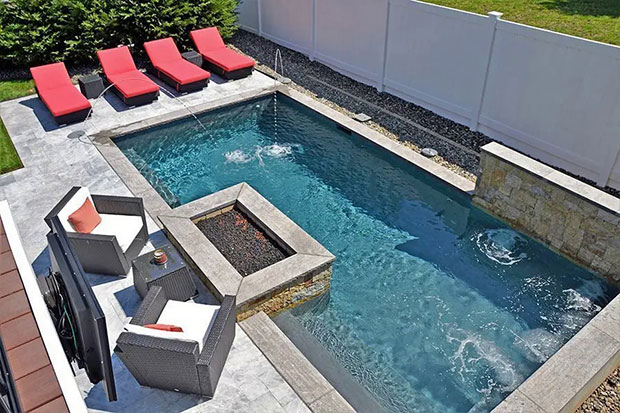 Scenic Landscaping LLC
Instead of a spa, you can have a fireplace raised by the pool. After all, there are already jets for water features in this pool.
Custom L-shaped Pool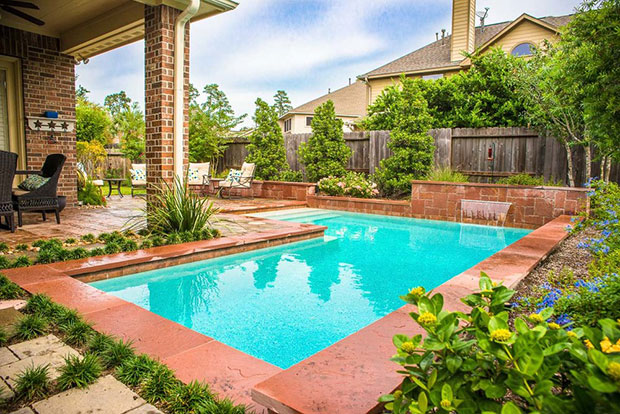 Mirror Lake Designs
Even with limited space in your yard, you can have your own swimming pool. A custom L-shaped pool would certainly do the trick.
River Oaks Retreat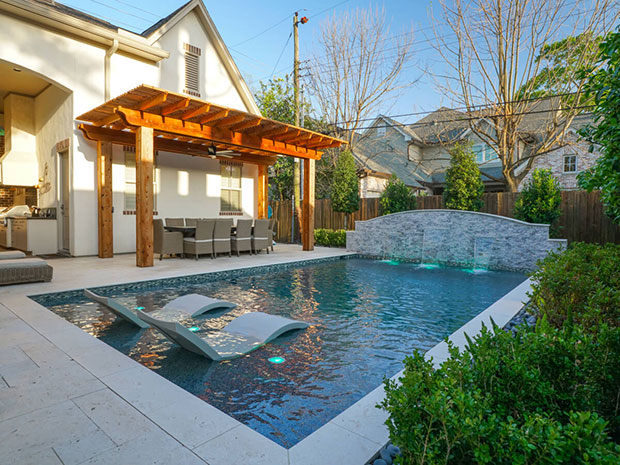 Outdoor Elements
Even with small swimming pool designs, you can afford to have in-pool lounge chairs.
Tropical Minimal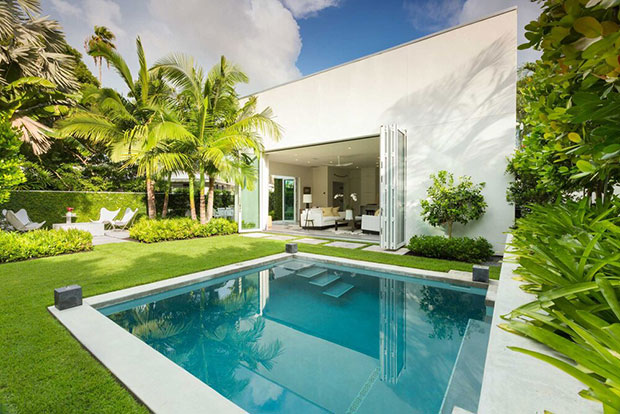 This small pool is a testament that modern pool designs come in various sizes, and still come up with something stunning.
Contemporary Key West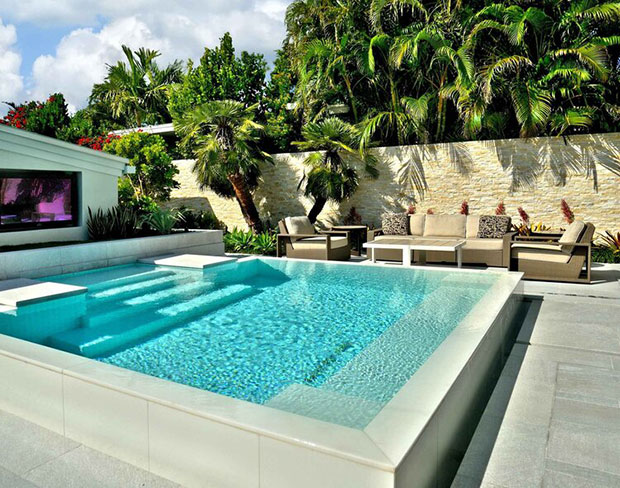 Craig Reynolds Landscape Architects
This above-ground small pool is the heart of this backyard.
Harbour Front-Row Seat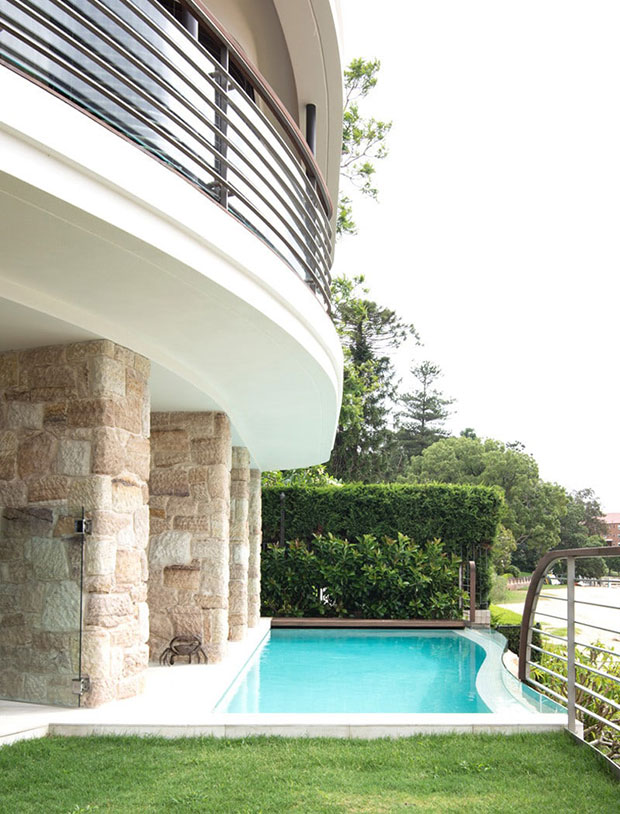 Luigi Rosselli Architects
Even with the smallest spaces, you can come up with a modern pool design enough to cater to fun recreation and not compromising style.
Classic Straight Line Pool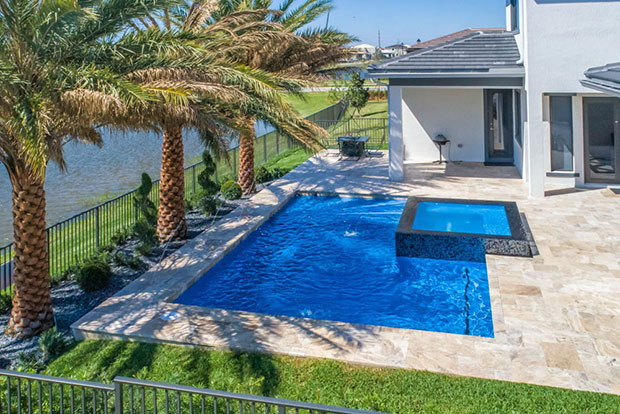 Van Kirk & Sons Pools and Spas
With a perfect harbor view and the palm trees beside it, they come together to give a perfectly relaxing ambiance while taking a dip in this pool.
Custom Pool Island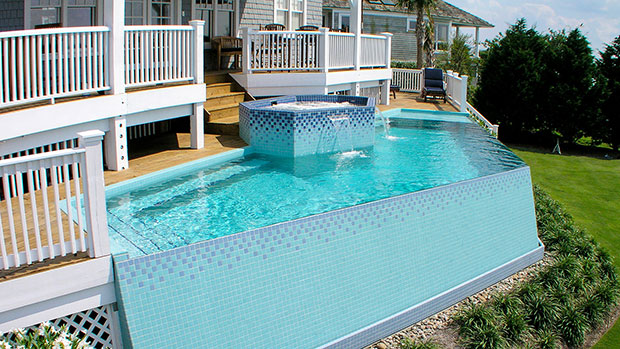 Bradford Products
One of the more interesting ways to build a modern pool. The builders really put in their creativity to build this pool.
Tangley Residence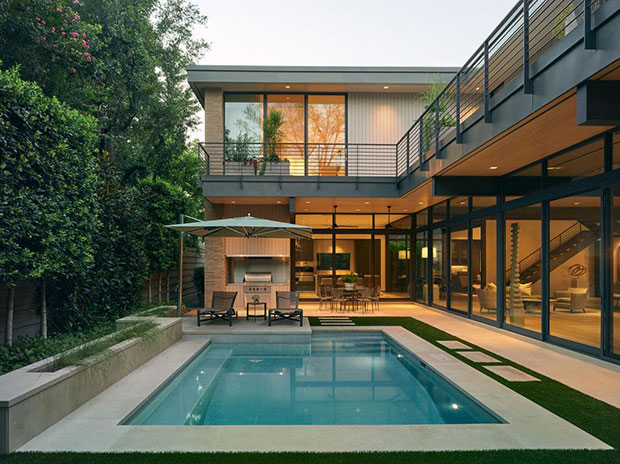 The raised shaded lounging area at the corner of the pool is a great design detail.
Shadow Lawn Residence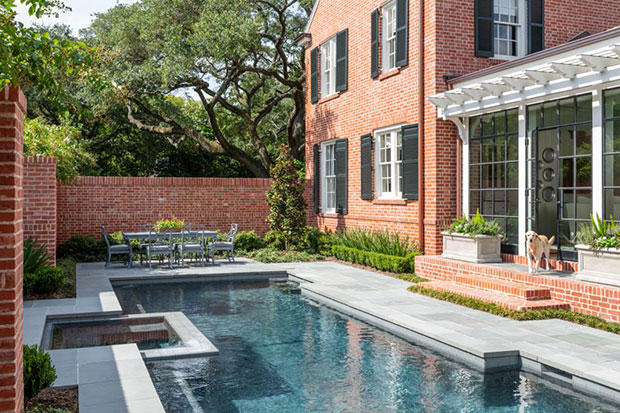 Dillon Kyle Architects
What's most interesting is how the shape of this pool kind of mirrors the steps going into the backyard.
Primavera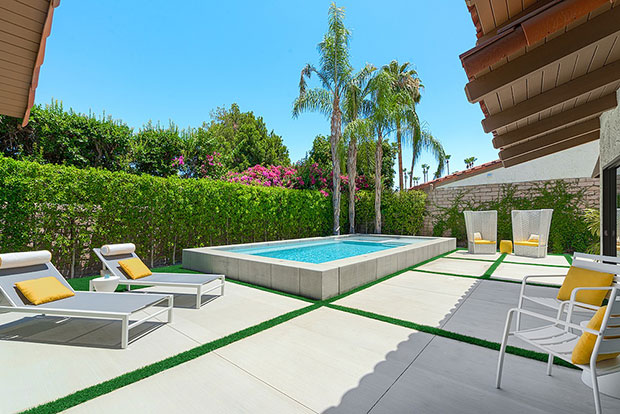 H3K Design
The entire garden has a clear theme and motif that it follows. For that, it has created a wonderful, summery atmosphere.
Harold Way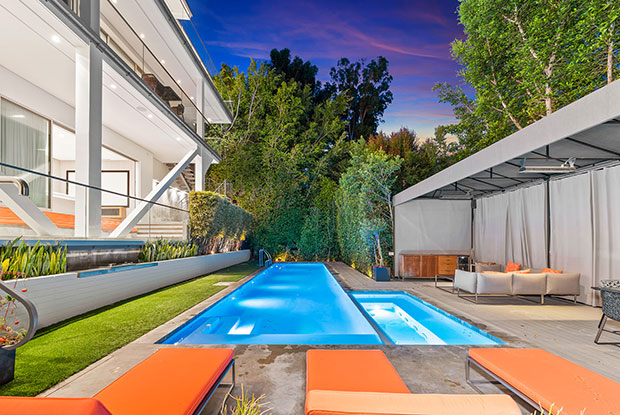 Hilton & Hyland
Most adjacent spas are either square or round. So, this long rectangular spa is a refreshing look.
Edgewater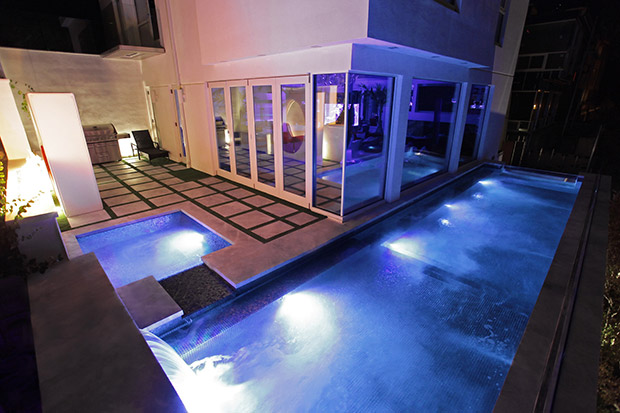 Due to the awkward space, the longer area is used to build the pool and the adjacent space for the spa.
Bridgewater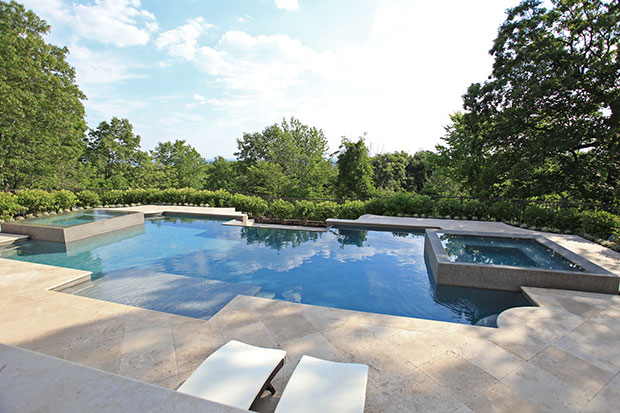 If you have the available space and budget, why not get spas on opposite ends of your swimming pool?
Lebanon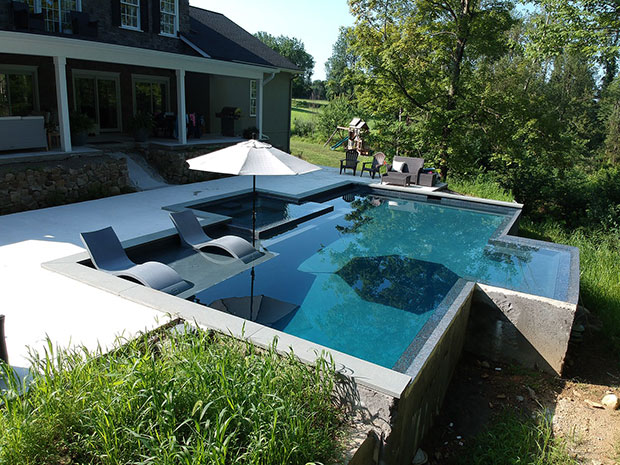 The Pool Artist | Brian T. Stratton Landscape Architect
Even small modern pool designs can have a stylish in-pool lounge and spa!
Newlight Lane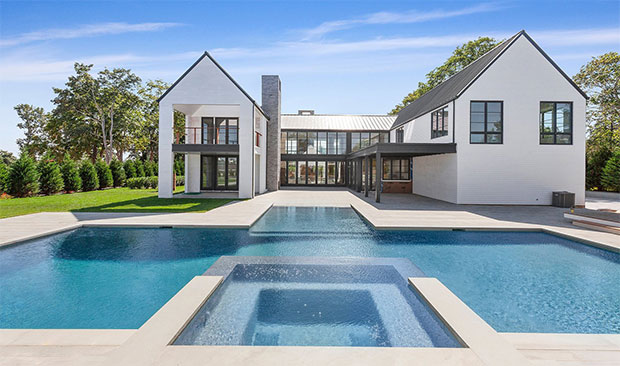 Perello Design & Build
This pool boasts a streamlined design that is a perfect embodiment of modern pool design.
Bobbitt Modern Outdoor Resort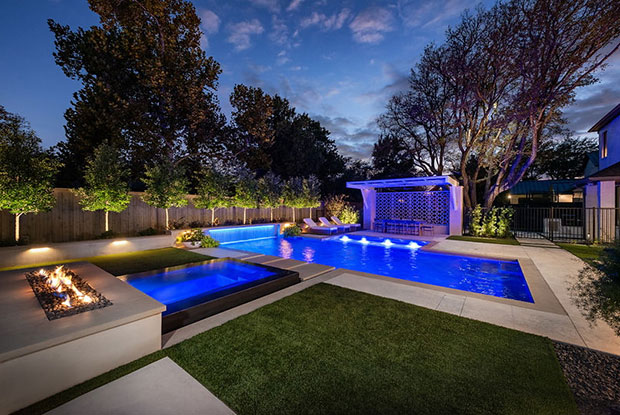 While most spas are directly attached to the pool, this one has a little distance to make way for some exquisite water features.
North Dallas Modern Landscape Design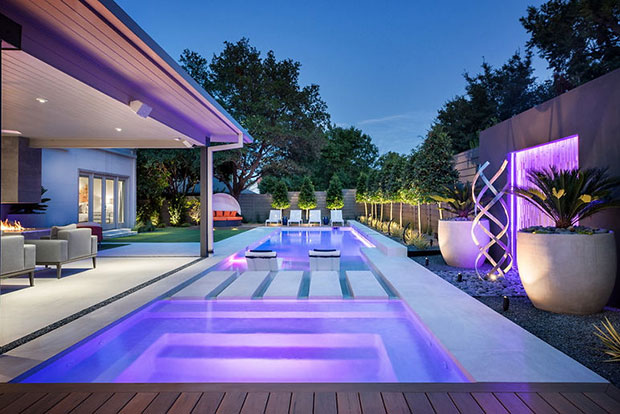 This neon pool light choice is novel and refreshing. It definitely shakes things up for the usual modern pool designs.
3 Oaks Modern Infinity Edge Pool & Spa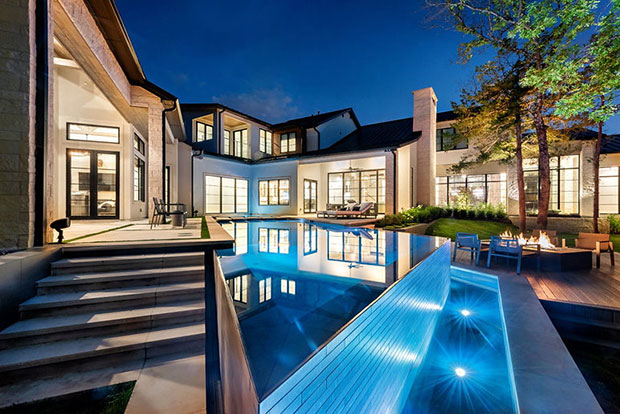 If you're looking for fresh pool designs, you can take inspiration from this particular infinity-edge pool.
Modern Linear Pool and Fire Pit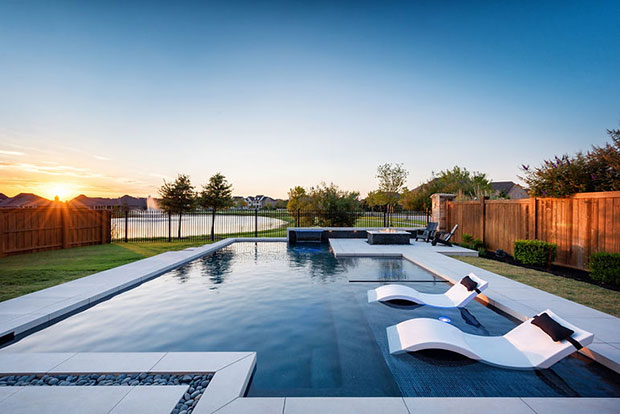 The spa is a subtle feature that you won't really notice at first glance due to its design.
Clayton Modern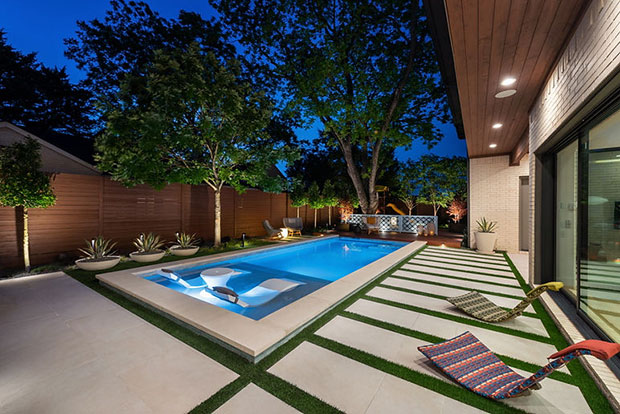 Usually, when you have an in-pool lounging area, there are only in-pool chaise lounge chairs. This time, they even have an in-pool table between them!
Gerrard Resort Modern Pool + Cabana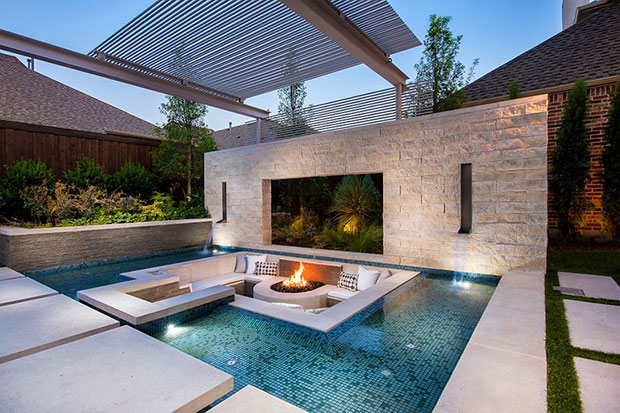 A dry lounging area sits right in the middle of this pool.
North Dallas Modern L-shaoe Pool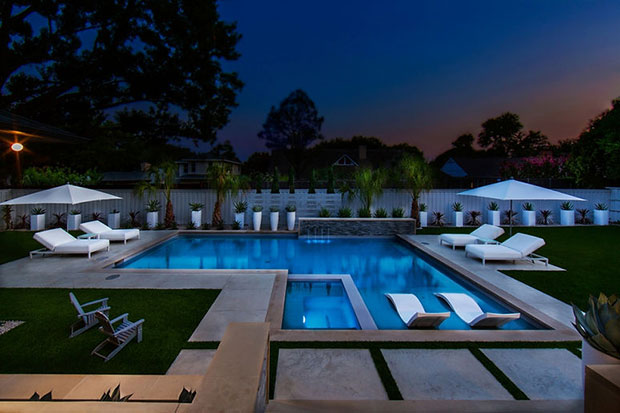 With an extensive yard space, you can have a pool party in this place. Plenty of room to swim and relax on dry land.
Kessler Park Modern Linear Pool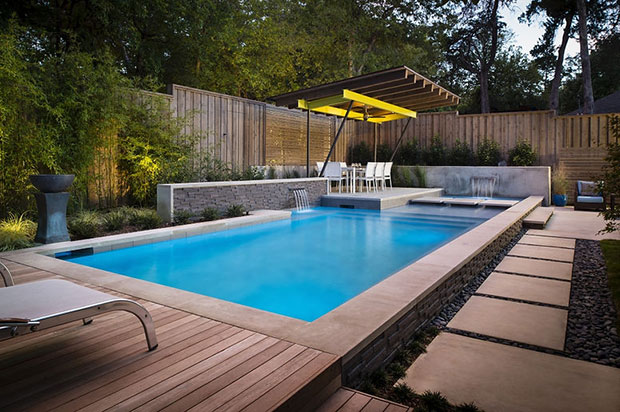 On the opposite ends of this pool, you can find a spot to dry out in the sun before you dive back into the pool or you can enjoy a meal or snack underneath the pergola.
Dallas Highland Park Modern Zen Pool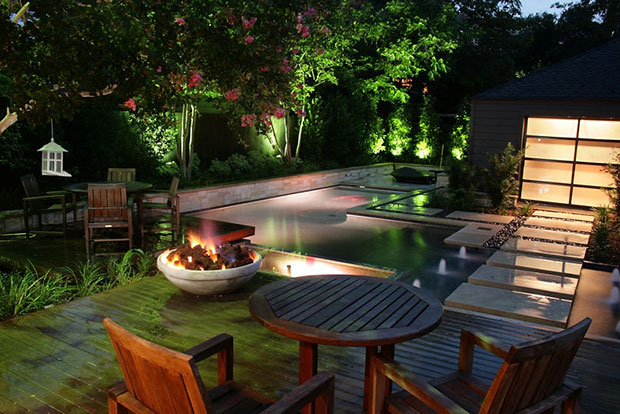 Randy Angell Designs
How about bringing some Asian-inspired style to your modern pool? You will definitely have a relaxing time swimming.
Jamestown Pool Deck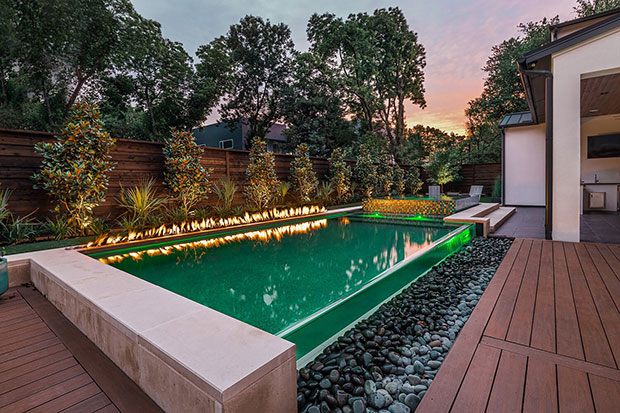 This is one of those rare pool designs that are made of glass. It definitely screams modern with this choice.
Sunnyland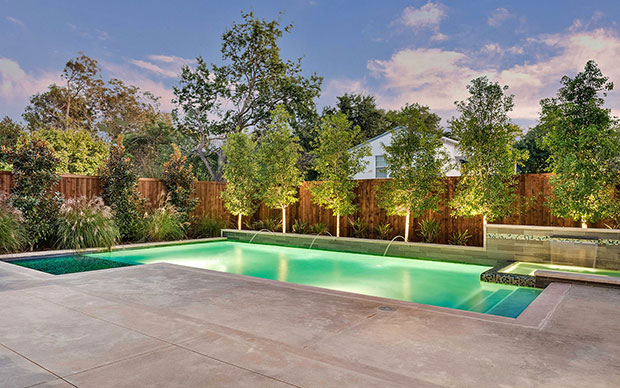 You can enjoy your downtime by the pool spa while you listen to the smooth flow of the waterfall next to you.
Stitcher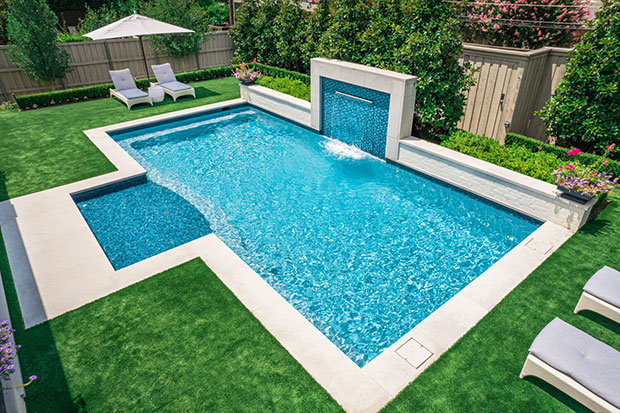 The kind of blue tiles on this pool are a perfect complement to this luscious green garden.
Centenary 2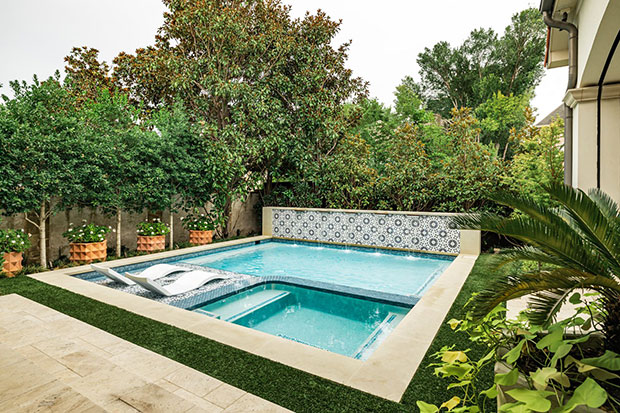 Dallas Landscape Architect
There's a classic charm to this pool design that you may want to take inspiration from.
Bellaire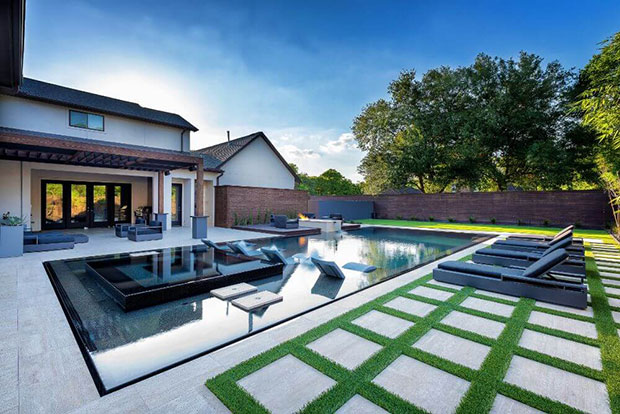 This negative edge pool design gives it a very sleek and stylish look that many would definitely like.
Friendswood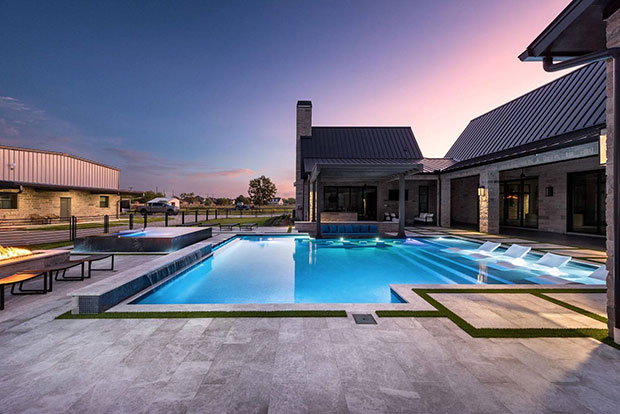 A pool bar, pool spa, in-pool lounging, and a small waterfall feature. These all come together for a pretty complete modern pool.
Friendswood Ruiz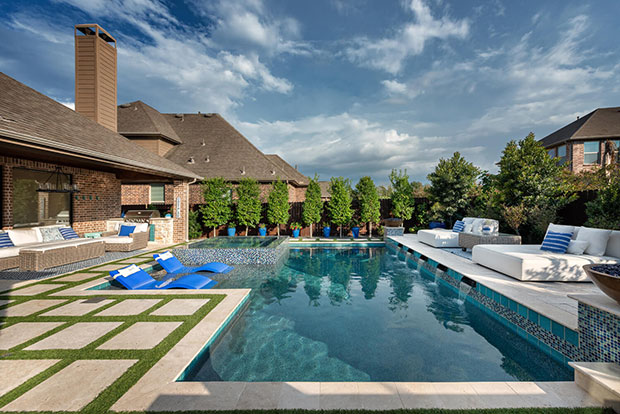 A dry lounging area elevated is not so common in many pool designs. It gives a dynamic look to this place.
Friendswood Bangle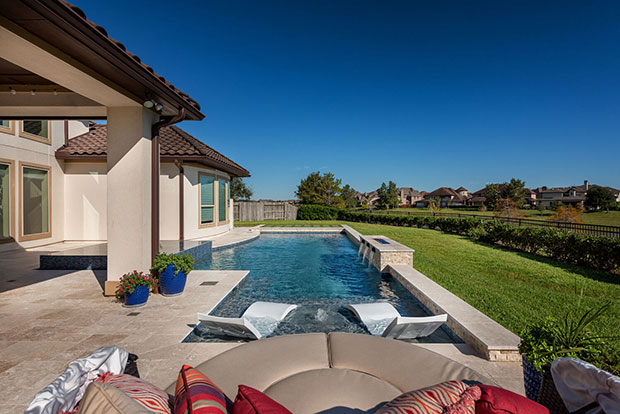 Tipton Spires Design | Build
Due to awkwardness in space, a little curve to the side is needed. It creates a pretty interesting look to this pool design.
Trapezoid Tiny Pool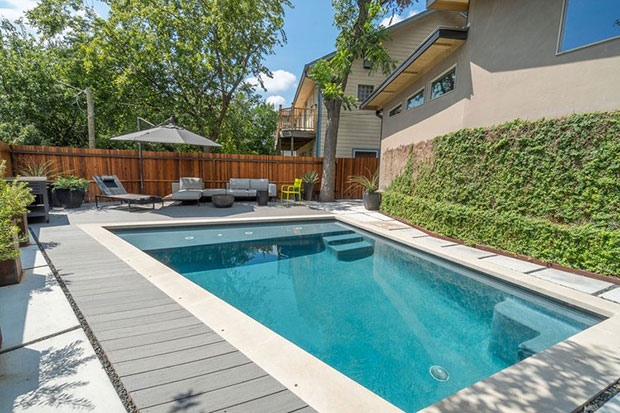 Texas Tiny Pools
Because of the awkward and limited yard space, a tiny trapezoid pool is built into this home.
Oz Residence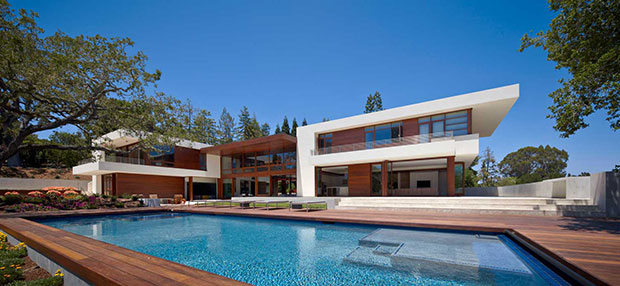 The immediate patio around the pool is entirely decked out in wood bringing a warm and cozy ambiance.
Mora Estates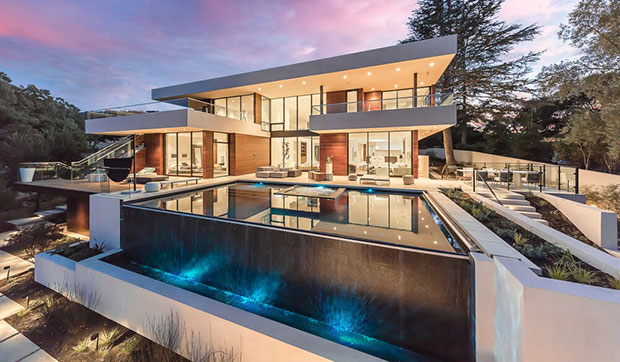 Swatt | Miers Architects
An infinity-edge pool is a pool-type perfect for modern and contemporary homes.
Pool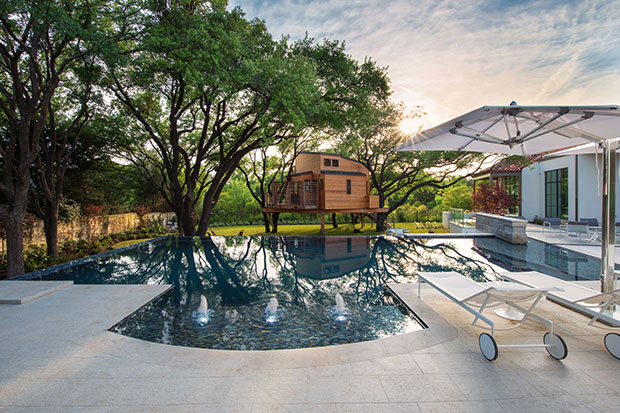 This pool is perfectly situated with design details that allow anyone to perch with a great view of that treehouse.
Fun Pool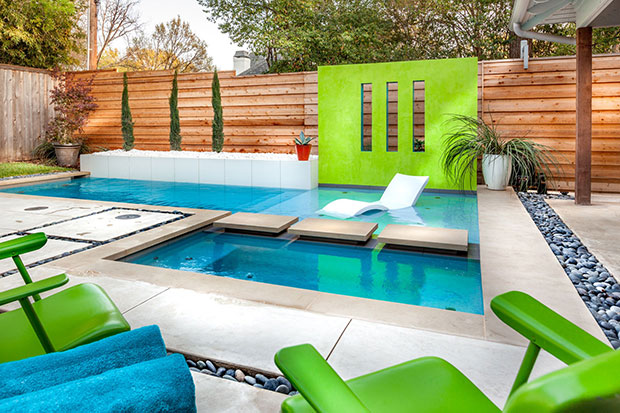 Some bright-colored fixtures in or around your pool will definitely give it a cool and fun spin.
Custom Pool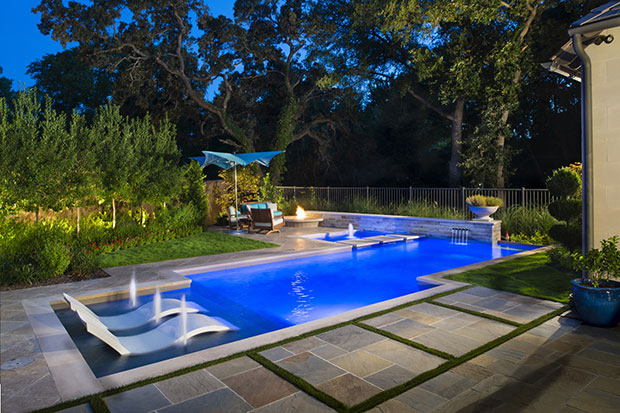 The fountain water features on the sides of the in-pool lounge chairs are a nice touch of detail.
Swimming Pool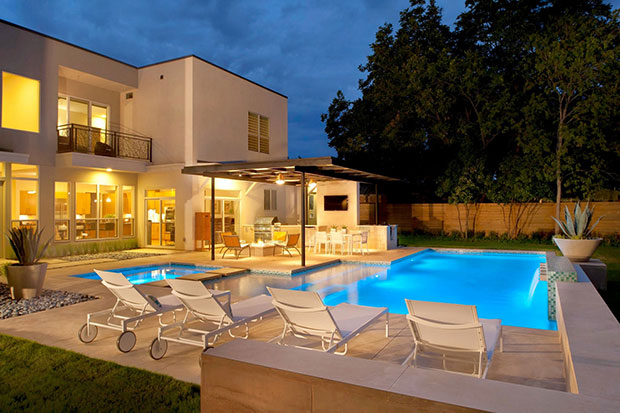 This pool design makes sure that there is easy access to the dry lounging area and the outdoor kitchen and dining area.
In-ground Pool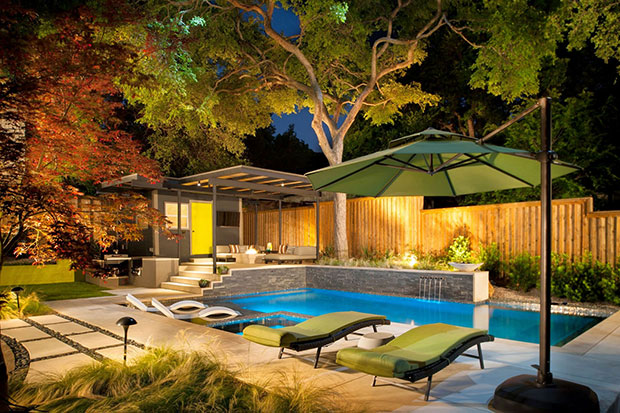 Pool Environments
The surrounding of the pool is just as important as the pool itself. A simple dry lounging area and another one for when you want to just hang around at night.
Fischer's Grove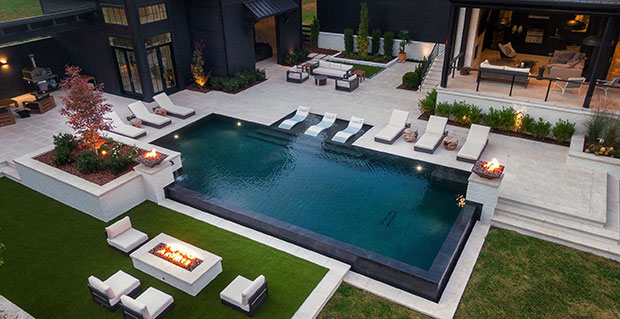 Having a portion of a planter box occupying pool space is nice as it adds some angular look.
Farmhouse Modern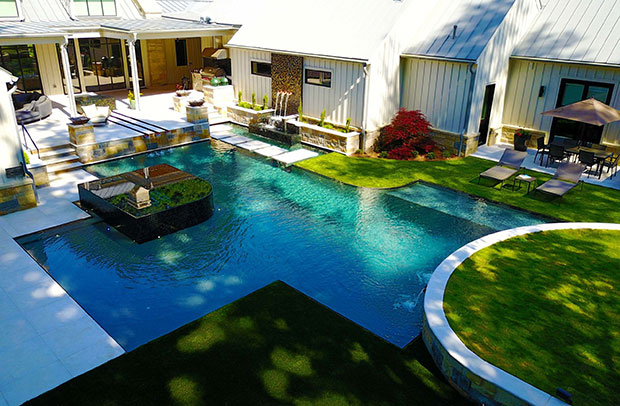 J. Brownlee Design
This negative edge design is so sophisticated that you can see how seamlessly the pool and lush grass are connected.
North Scottsdale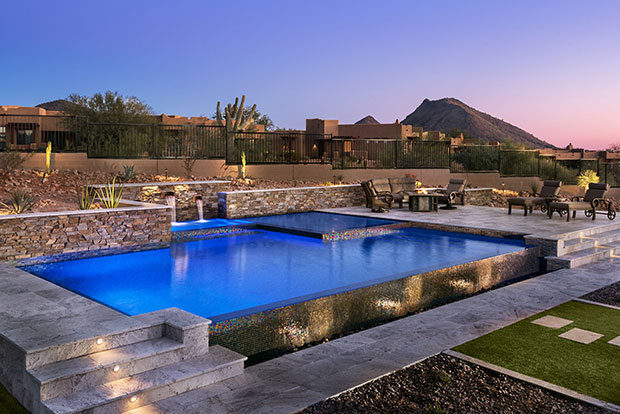 Some cool rock scaping is incorporated here not just for aesthetics' sake but also to separate soil from the clean pool water.
Paradise Valley VI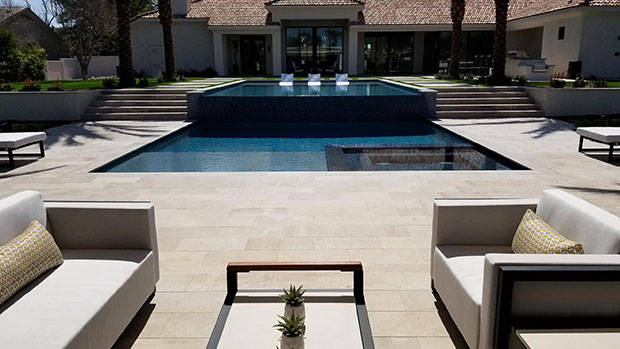 Merit Landworks LLC
This modern pool has levels to it quite literally. There's plenty of room for everyone!
And that's it for modern pool designs! Which of these totally got your attention?
Like This Post? Pin It!