70 Refreshing Small Swimming Pool Ideas for Tiny Yards
|
The dream of owning your own home pool can seem unattainable. Much of the common swimming pools are large in size and in extremely spacious yards. This means high maintenance and expensive costs.
Recently though, the trend for tiny houses has risen. This opens up the possibility and innovation of building small swimming pools in your yard.
With a limited yard space, it requires one to be creative in coming up with small swimming pool ideas. They take up less space, requiring less maintenance, and are less expensive.
Even if you don't own a grand estate, that dream of owning your own home pool can become a reality. There is a variety of small swimming pool ideas that could be drawn up that are just the right size for your yard and the right size that fits your budget.
You can have your swimming pool customized in terms of your preferences and how you want to landscape your small yard.
What is a good size small pool?
The sizes and dimensions of small swimming pools vary, but anything that's 10 feet by 10 feet or smaller is considered "small". In-depth, 3 feet is the standard for soaking and floating, and 4-5 feet (and above) is the best for lap pools.
For small yards, irregularly-shaped pools are recommended to easily fit in with the shape of your yard. But of course, with some little creativity, any shape for your small swimming pool ideas is possible.
How much does it cost to build a small swimming pool?
Prices vary depending on the type of pool you want to build in your yard. Above-ground pools are at the lower end of the price spectrum as they are much easier to install. Typically, a small above-ground swimming pool can cost as low as $1000. That doesn't take into account yet the format, materials used, and landscaping. Some pool kits come as a complete package, but if you have to buy these items separately, that would be an additional cost that ranges from $500 to $1500.
In-ground pools are more expensive but they are also a favorite choice for aesthetics. Much of that cost comes from excavating and digging. These ones can cost from $25,000 to $80,000.
While most of these small swimming pool ideas are not of the same size, or as "tiny" as you may imagine them to be, they are still considerably smaller than the Olympic-sized ones. It would also be great if you want to add a little garden landscape alongside it.
Check out this list of gorgeous small swimming pool ideas fit for your small yards!
Link House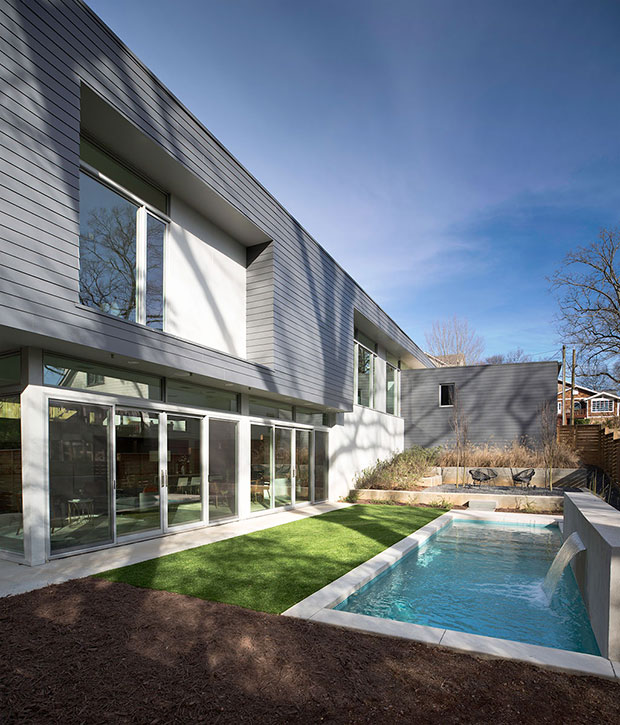 Philip Babb Architect
If you're considering small swimming pool ideas that still allow for a garden space, take a look at this home. They managed to install a small pool surrounded by a garden for the family to hang out in.
Balcones Residence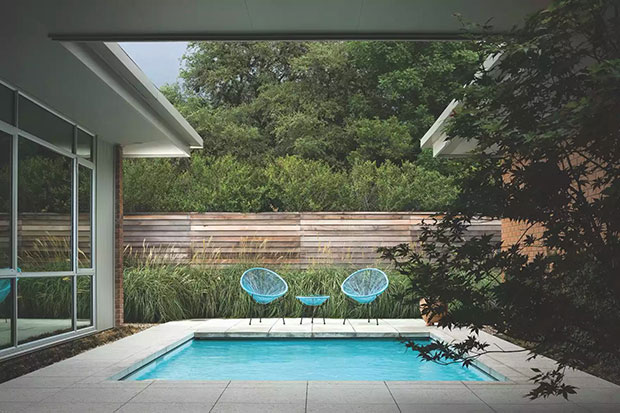 Clayton Korte
A small rectangular pool with a cool, simple patio. Pretty interesting how they matched the color of the patio seats with the pool tiles.
Texas Pool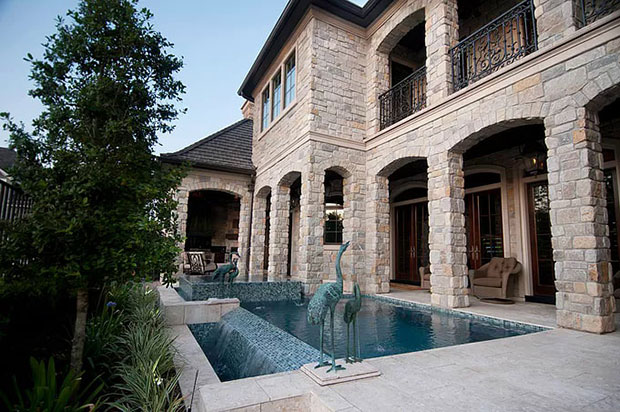 Texas Pools
At this home, it's almost like a pool had been dug into a courtyard. It's classy and elegant, not to mention the crane statues, which are of the same color as the pool tiles, are a nice touch.
Clarksville Residence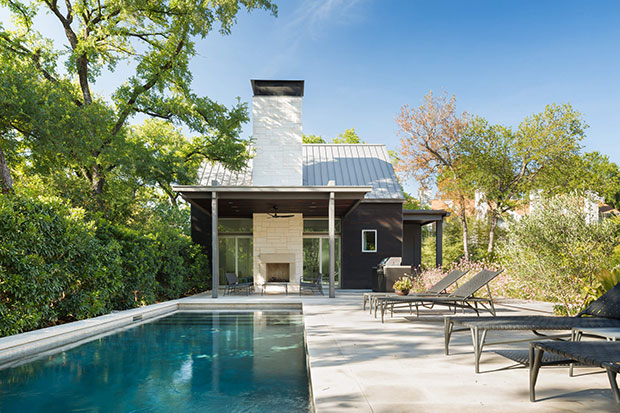 Clayton Korte
With yards like this, it is wise to divide it up to sections. At one side, they built this long rectangular lap pool so that on the other side, there is a space for the pool lounge chairs.
Texas Pool 14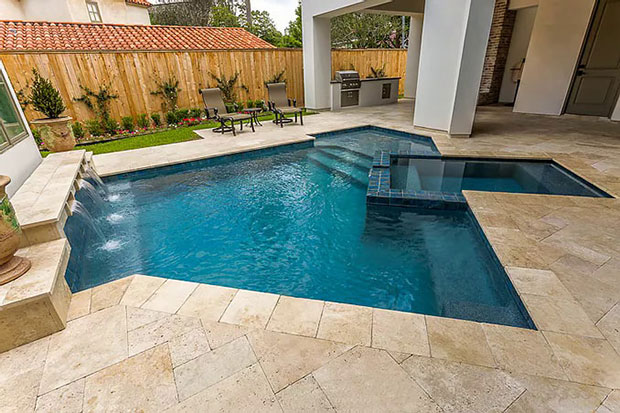 Texas Pools
Some of the craziest small swimming pool ideas are those that are irregularly shaped. Take this one for example! The irregular geometric shape is quickly an eye-catcher.
Harbor Acres Residence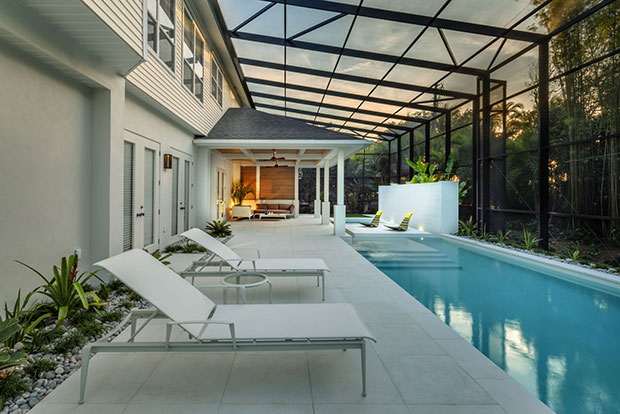 DWY Landscape Architects
Here's another one of those smart small swimming pool ideas! For opting a long lap pool, they managed to add in a lounging patio.
Backyard Paradise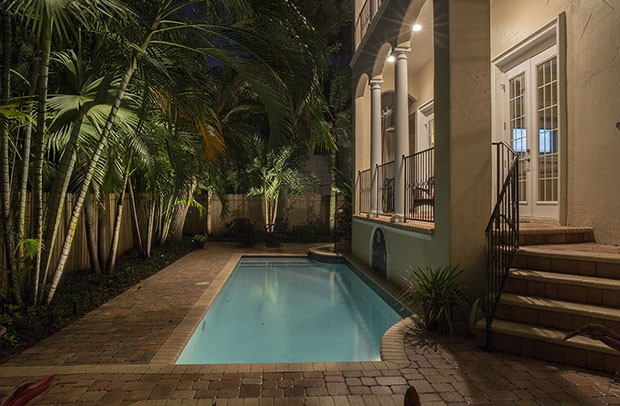 Brilliant Nights
On this list of small swimming pool ideas, this home probably has the tiniest yard where they still managed to install a small pool. With its unique shape, it adds some tropical beauty into the landscape.
Modern Pool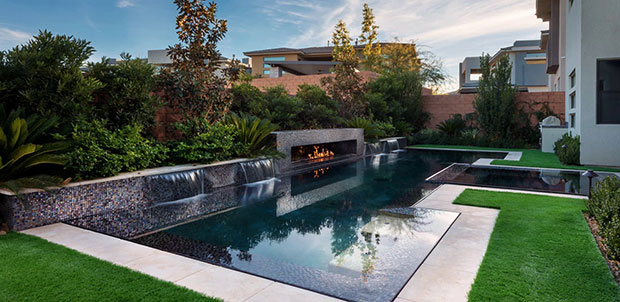 Poolscapes LLC
Here's one of the small swimming pool ideas with a modern edge. With the cool negative edge design, added with the waterfalls and fireplace, it's a surely a luxurious look to your yard.
Calm Contemporary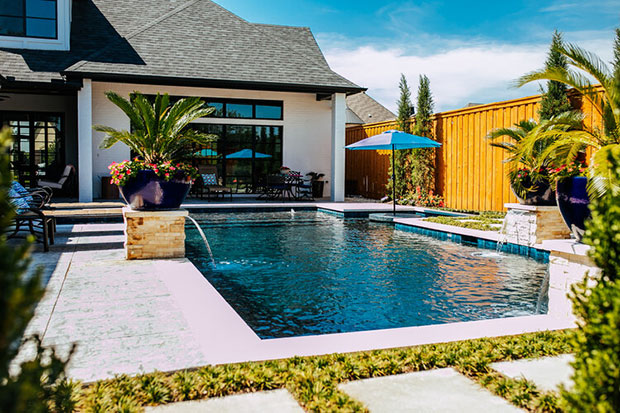 Signature Custom Pools
The entirety of the yard seems to be used up by the pool, and yet, they managed to squeeze in a little landscaping beauty around it.
Reflecting Pool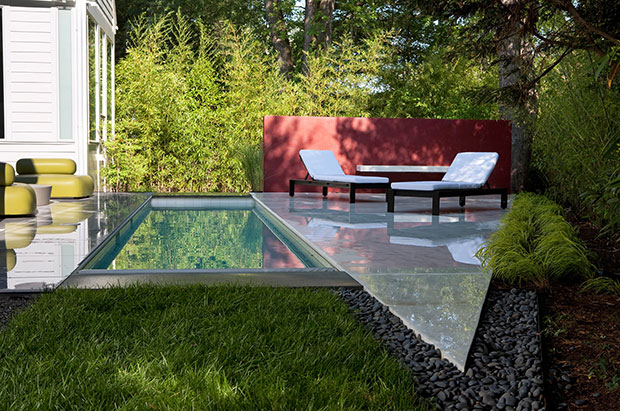 Anthony Wilder Design/Build, Inc.
This one is one of smallest pools on this list. The sparkling patio tiles make the name all the more true. The triangular patio is also a nice detail to give the yard some dimension.
Gibson Island House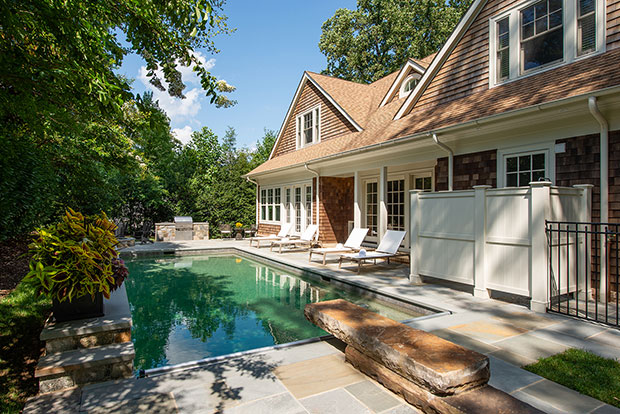 Anthony Wilder Design/Build, Inc.
This one's slightly "bigger" than the rest of these small swimming pool ideas. But this is mostly because it uses up a huge chunk of space of this yard for the pool. A little cool detail is the seemingly concrete diving board.
Wisconsin Lane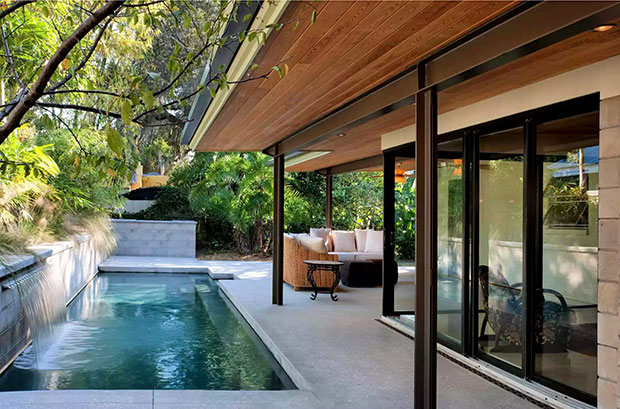 Water Designs of Sarasota
This small pool comes a renovation idea to open up the corner of the garden. What was a chain-link fence is now a small pool with a waterfall wall and planter feature.
Skyline Springs Pool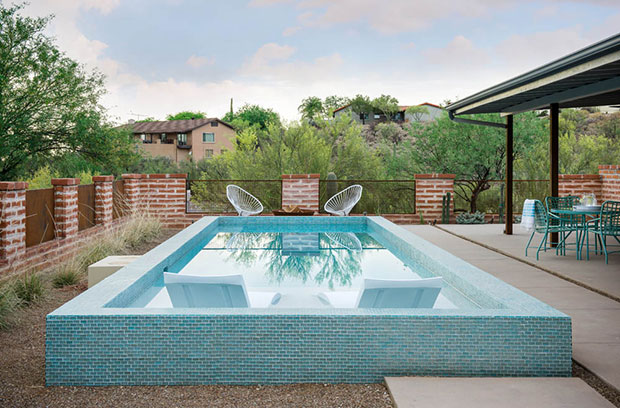 Prideaux Design
The first of the above-ground small swimming pool ideas! Its light blue color just adds in some life and color into the yard.
Rutherford Cocktail Swimming Pool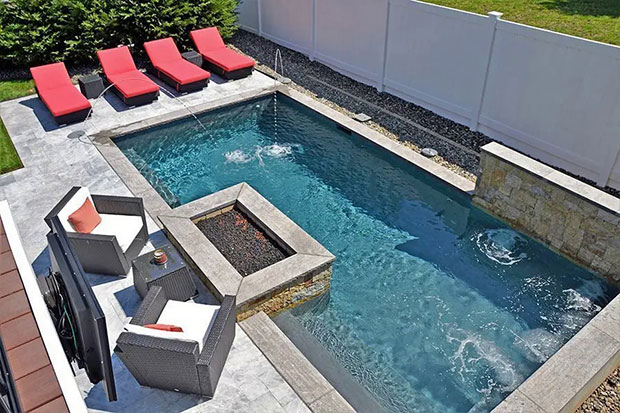 Scenic Landscaping LLC
This compact pool nearly uses up the yard space. But it allows a lounging area and some little gardening. This pool even has an outdoor fire pit.
Big Style in Small Space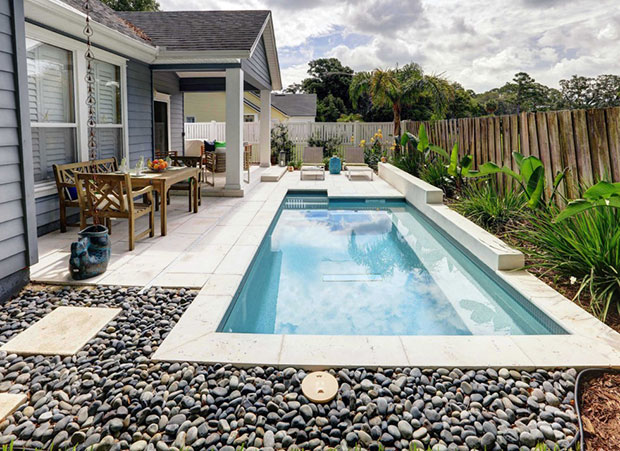 Cascade Outdoor Design
The combination of the white tile patio and the stone pebbles in this landscape is cool and chic. The way the framework of the patio is also designed is something to be desired.
Modern Meets Mediterranean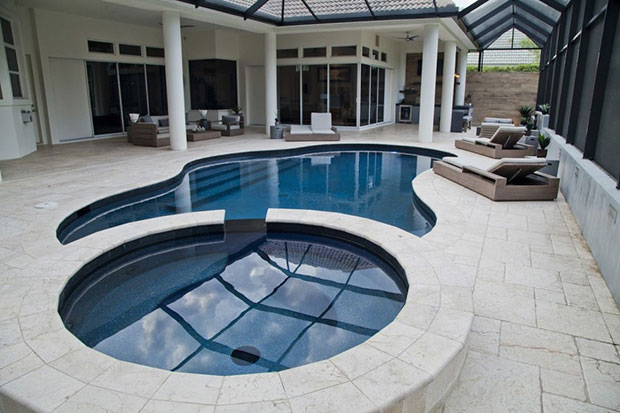 Cascade Outdoor Design
Irregular small swimming pool ideas are perfect for small yard spaces. Like this one, you could take advantage of the curves in how you place or arrange your lounge chairs.
New Classic Courtyard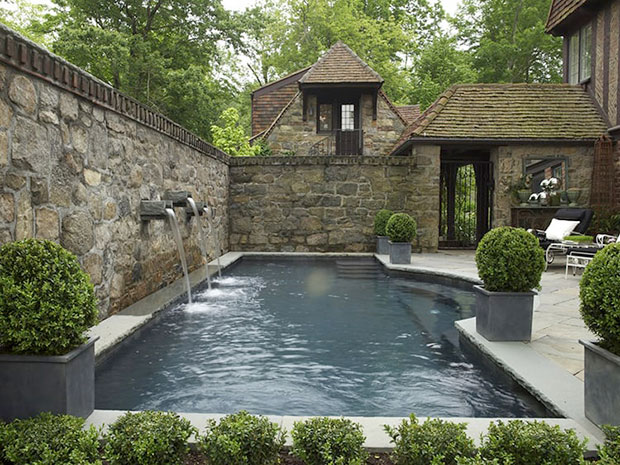 Glengate Company
This courtyard is graced with a small pool and a simple yet classically elegant landscape design. Take special note of the unique waterfall wall feature.
Small Pool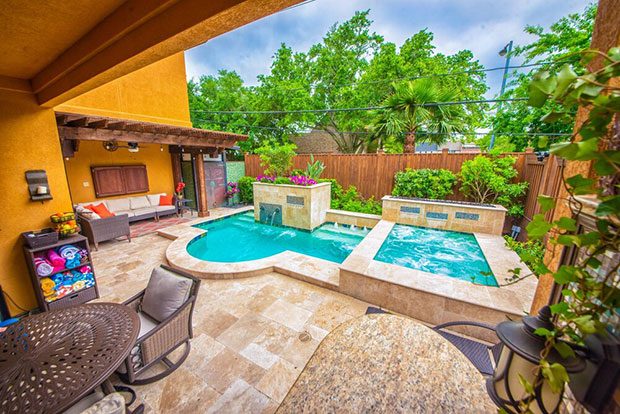 Mirror Lake Designs
Despite the small yard space, the owners managed to have a pool and a spa in their yard. The pool and spa design itself is unique and eclectic, perfectly matching with the home's colorful theme.
Custom Small Pool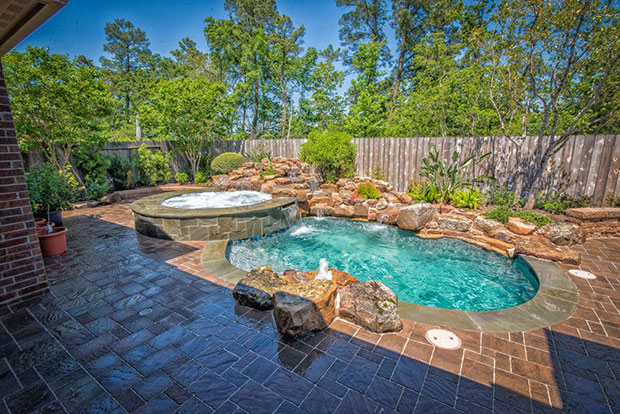 Mirror Lake Designs
It seems to be a common for small swimming pool ideas to have a spa or tub included. But the highlight of this custom pool is how they beautifully integrated it with the landscape design.
Custom Swimming Pool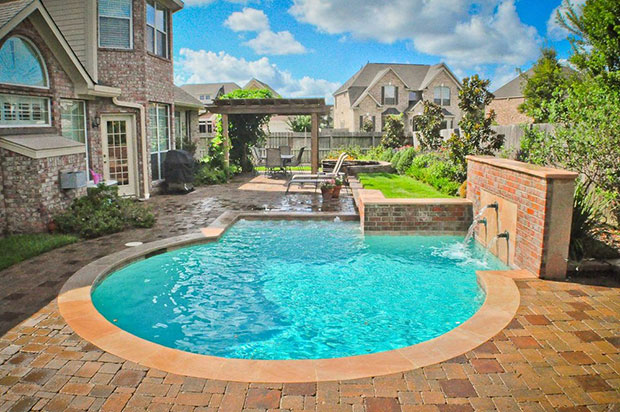 Mirror Lake Designs
A small yard with an even smaller pool. The beautiful landscaping that they did for this yard makes it look bigger than it really is.
Custom L-shaped Pool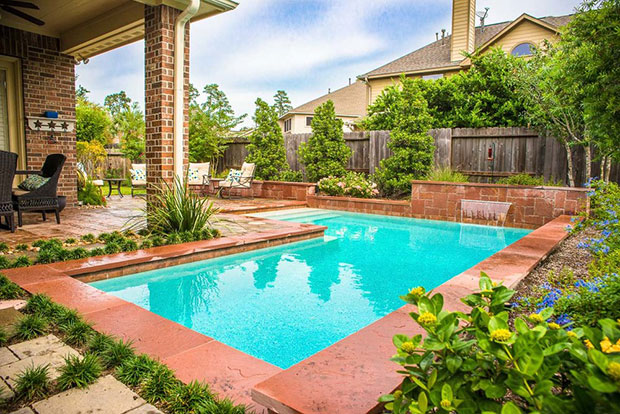 Mirror Lake Designs
One way to effectively use your small yard space is by having an L-shaped pool like this one. Occupying the free border corner space, the pool is then surrounded by a beautiful gardening feature.
Plunge Pool



Brisbane Prestige Plunge Pools
Chic and stylish are the first words to come to mind looking at this pool. The surrounding garden contrasts with the pool design simplicity but adds into a welcoming, homey feeling.
French-New Orleans Retreat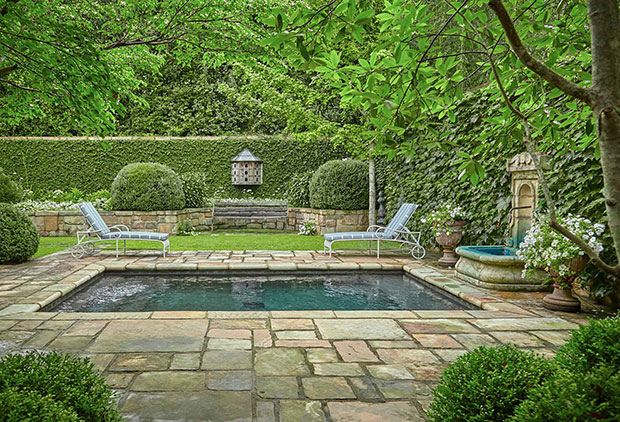 Troy Rhone Gardens
Inspired by the New Orleans and French countryside aesthetics, this yard is everything that is elegant and classy. The small pool looks even smaller with the grand design.
Hidden Party Zone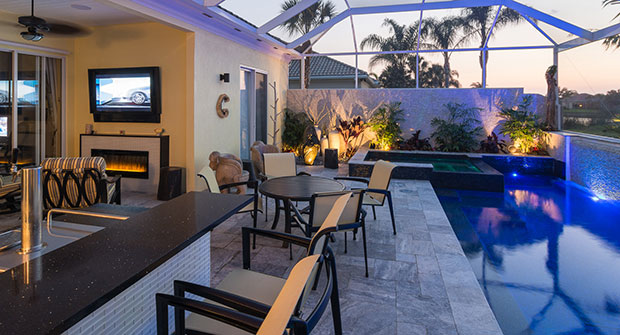 Lucas Lagoons
With what space available, this home turned it into a "hidden party zone". With the pool edged over the wall fence, the patio is set with chairs and tables and a bar for the family and their guests to hang out.
Nokomis Swimming Pool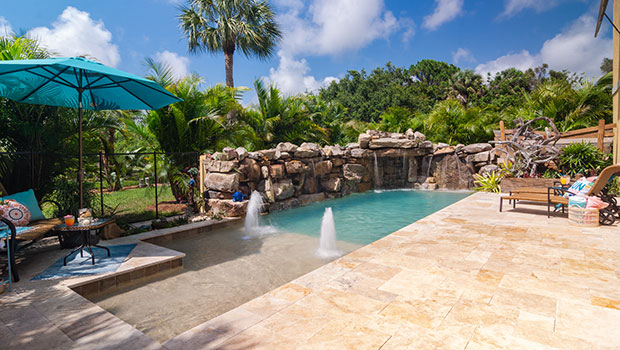 Lucas Lagoons
Despite the small yard and the small pool, the designers managed to make this place look as luxurious as a large pool. The wall of rock in the corner has to be the highlight for this one.
Natural Stone Pool Remodel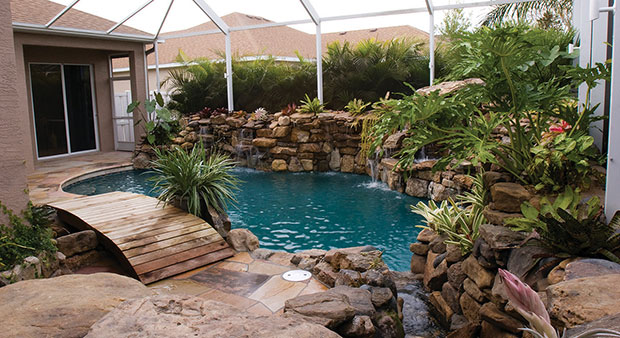 Lucas Lagoons
This pool remodel is a tropical landscaping beauty! With the natural stone waterfall, wooden bridge, and flagstone decking, it's an absolutely gorgeous small pool design!
Boyce Residence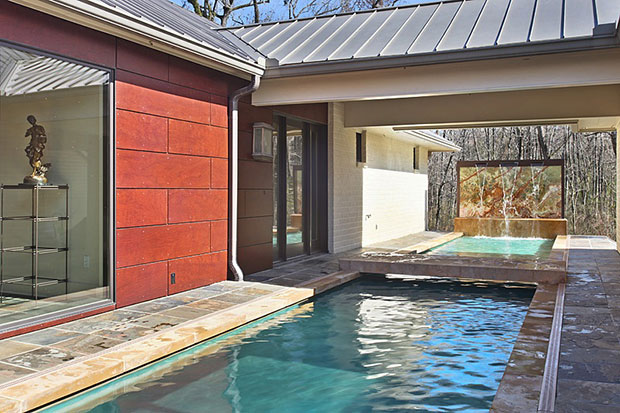 Lucas Firmin Pools
Built in the middle of a small courtyard, this long lap pool boasts off a unique and custom waterfall fountain. It even has a bridge for the homeowners to cross between the two sections of their home.
Lakeshore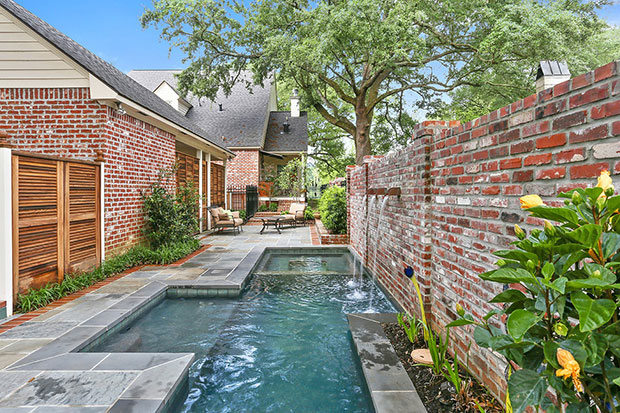 Lucas Firmin Pools
Installed just by the brick fence, this cocktail pool even has a flush mounted spa. Its fountain is also installed on the brick wall.
Plunge Pool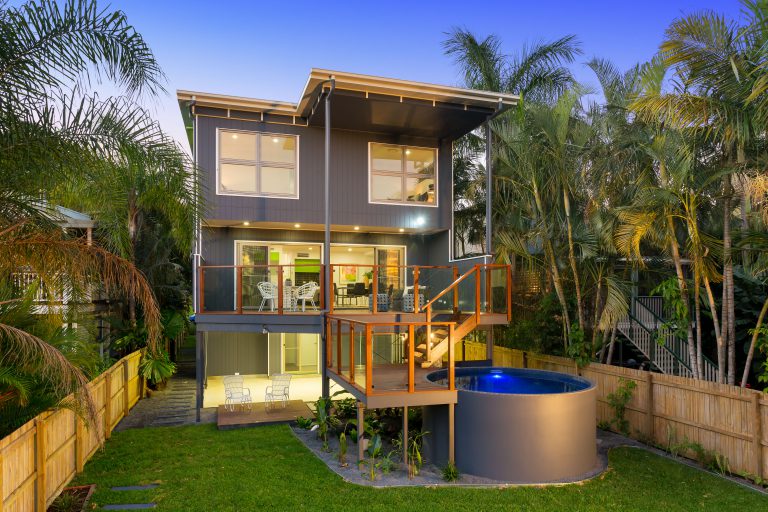 Australian Plunge Pools
Some small swimming pool ideas that are inexpensive and can't even be bothered to do more additional landscaping, a plunge pool like this. For this one, it's quite interesting that they built up a deck that directly leads to a jump to the pool.
Inlander Plunge Pool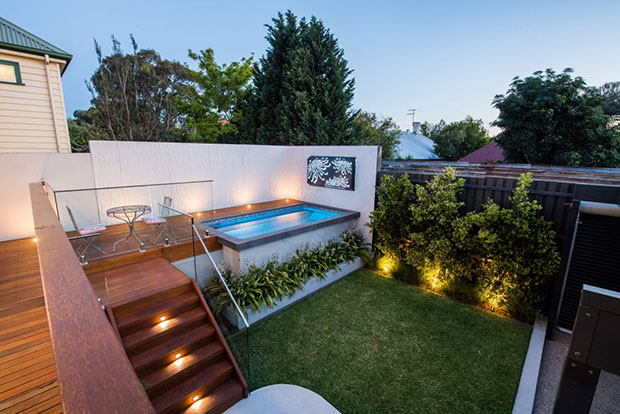 Australian Plunge Pools
For a small yard like this, it seemed a pretty smart move to incorporate the plunge pool into the garden deck. This allows for a lush green garden space for the family to enjoy.
House of Parts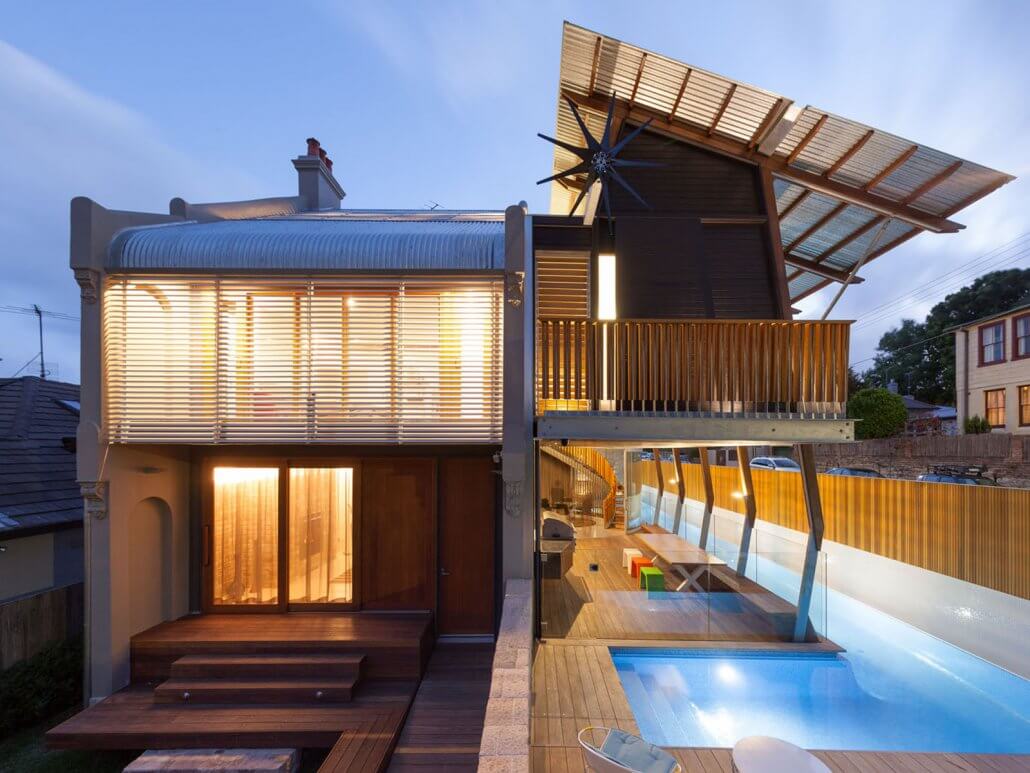 CplusC Architectural Workshop
With the limited space this property has, the architects smartly work their way around by building an L-shaped pool through the corner and side of the empty yard space. But they also easily integrated a deck into it.
Belgrade House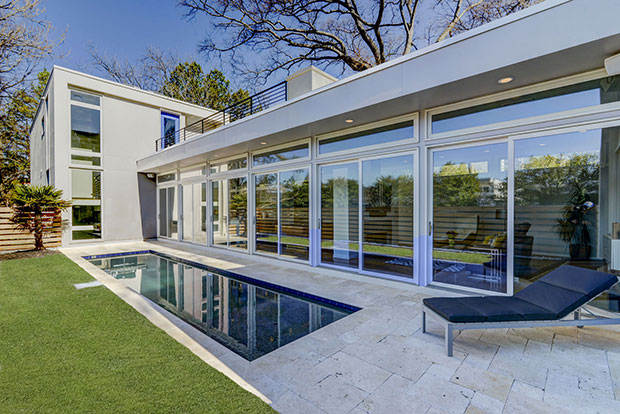 Philip Babb Architect
One of the much simpler small swimming pool ideas, it edges over the tiled patio, giving the landscape a unique look. But with this, it gives way for a garden lawn for the kids to play.
Iron Maiden House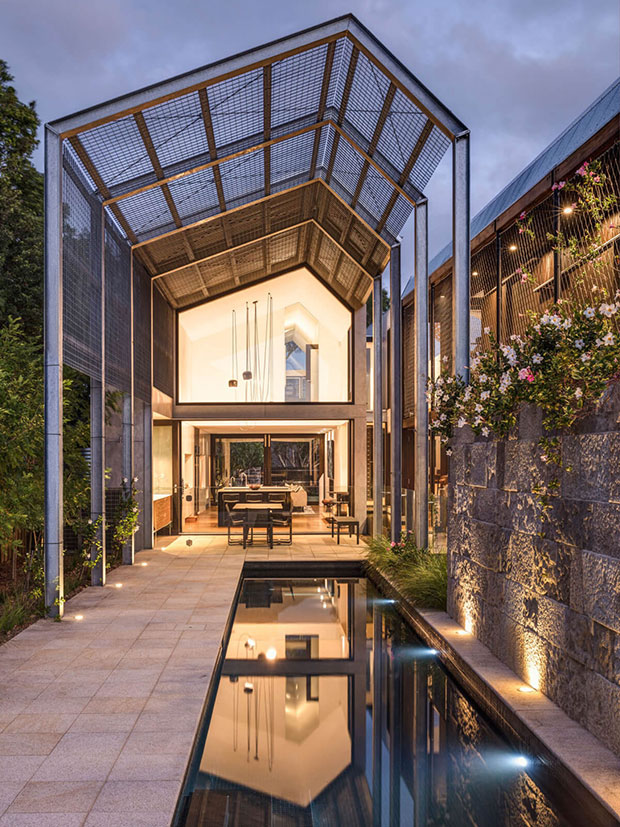 CplusC Architectural Workshop
With a narrow yard space like this, the smartest choice out of small swimming pool ideas is to have a lap pool. This allows for a lounging space.
Residential Pool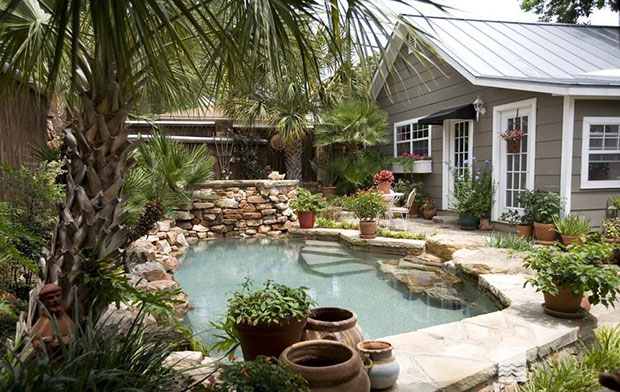 Brad Sharpe Pools
At this residential home, it is clear that much thought was placed in the landscaping of this small yard. The plants, the stone wall, the patio contribute to that beauty. And the small pool is an even more inviting attraction.
San Marino Island House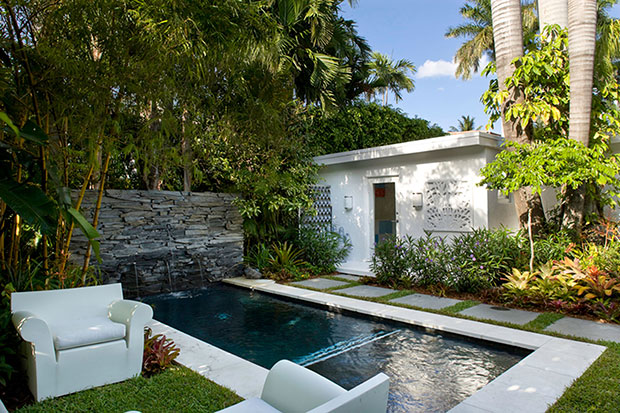 Robert Kaner Interior Design
This small pool design is pushed up against a wall specifically made for the pool's fountain. All around it is a beautifully landscaped garden. You can just imagine how serene it must be to be taking a dip in this pool.
River Oaks Retreat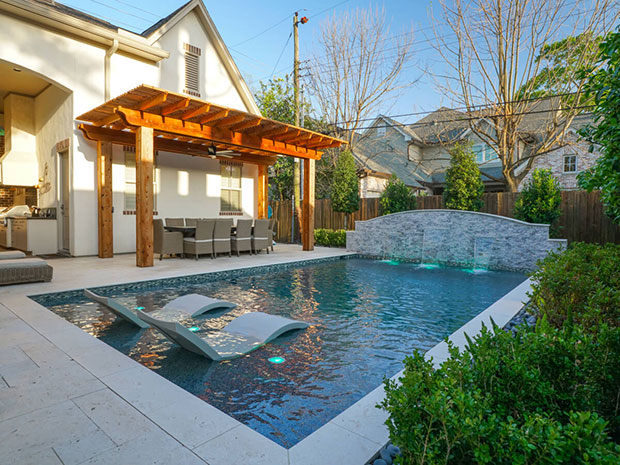 Outdoor Elements
Even with a small pool you can have additional accessories such as an in-pool chaise lounges. At the other end of the pool, they have a waterfall wall, adding to a stylish pool design.
Naremburn House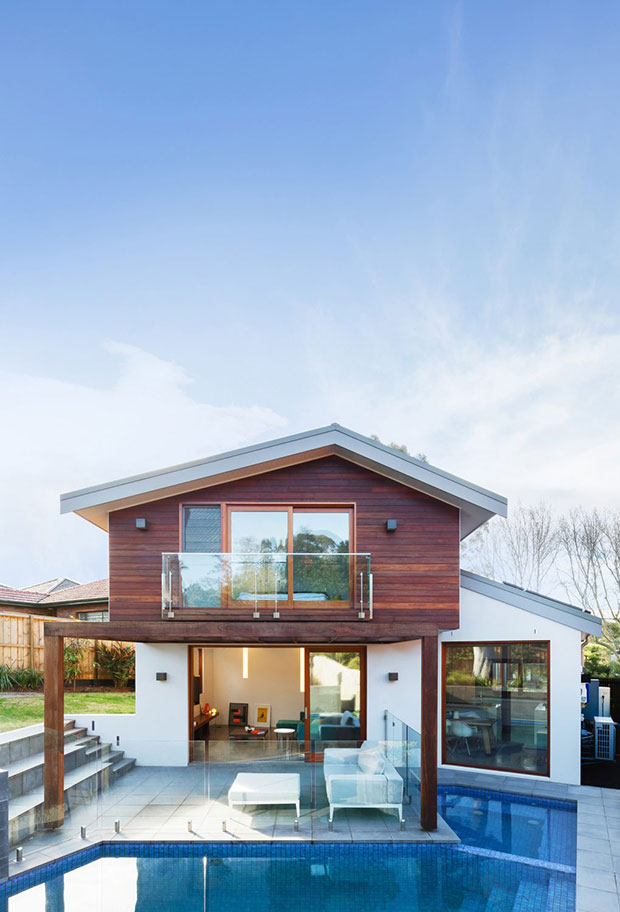 Bijl Architecture
Here's a uniquely irregular small pool! It creates some dimension and a unique look to the entire landscape. Also an interesting design choice is separating the lounging area from the pool with a glass panel railings.
Avenue F Residence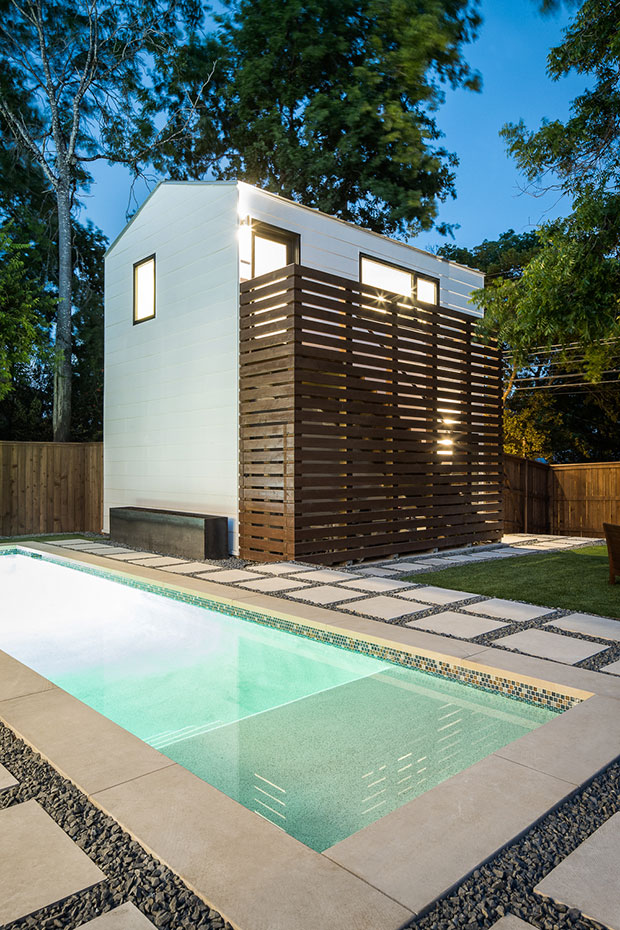 Clark Richardson Architects
A small lap pool is an ideal pool design choice for yards like this. While previous pool examples have grass lawn or tile patios on the immediate surrounding, this one interestingly uses tiny pebbles along tile steps.
Palm Residence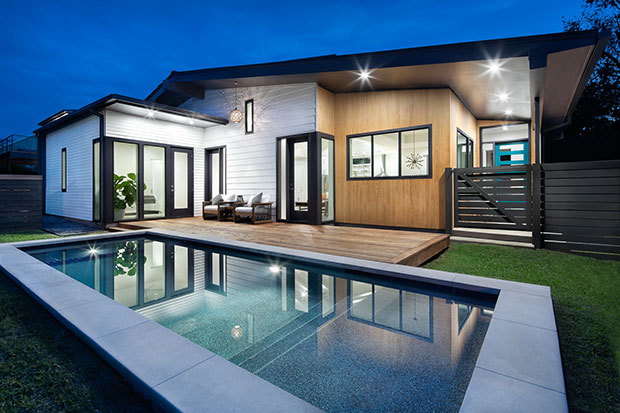 Clark Richardson Architects
This semi in ground pool just levels with the wooden deck that connects to the house. But it's slightly lifted off from the ground where they have a lush garden lawn for the family to play on.
Central Austin Residence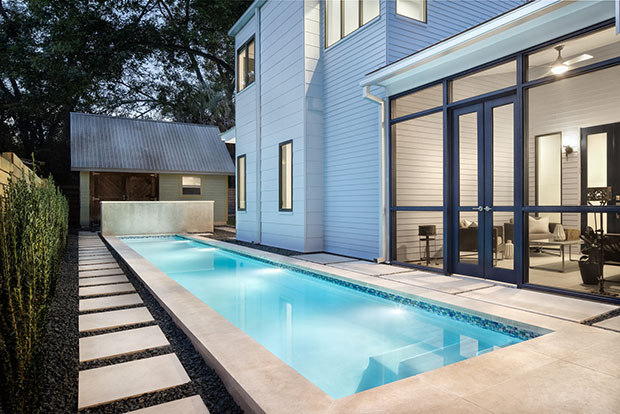 Clark Richardson Architects
Here's another example of lap pools for small swimming pool ideas. It's a favorite or a common pool design choice for long but small yards, efficiently using up that space.
17th Street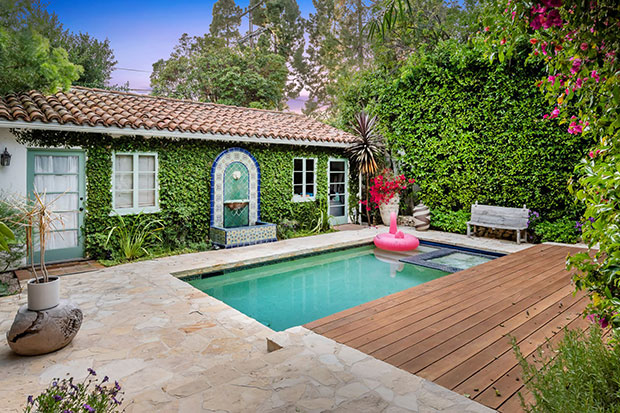 Hilton & Hyland
This small yard boasts of a lush green landscape that is perfectly capped off with its own small swimming pool. The small wooden deck is a nice addition too, contrasting the tiled patio.
Tropical Minimal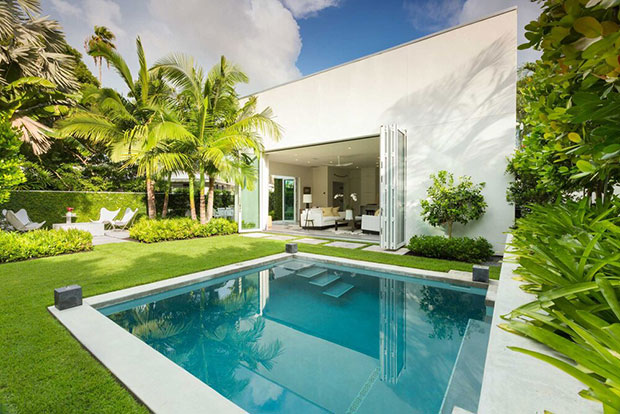 Craig Reynolds Landscape Architects
Tucked to one side, this small square pool is complemented by the lush tropical themed garden. The white and green main colors bring a cool, relaxing, and inviting atmosphere to the outdoor living.
Harbour Front-Row Seat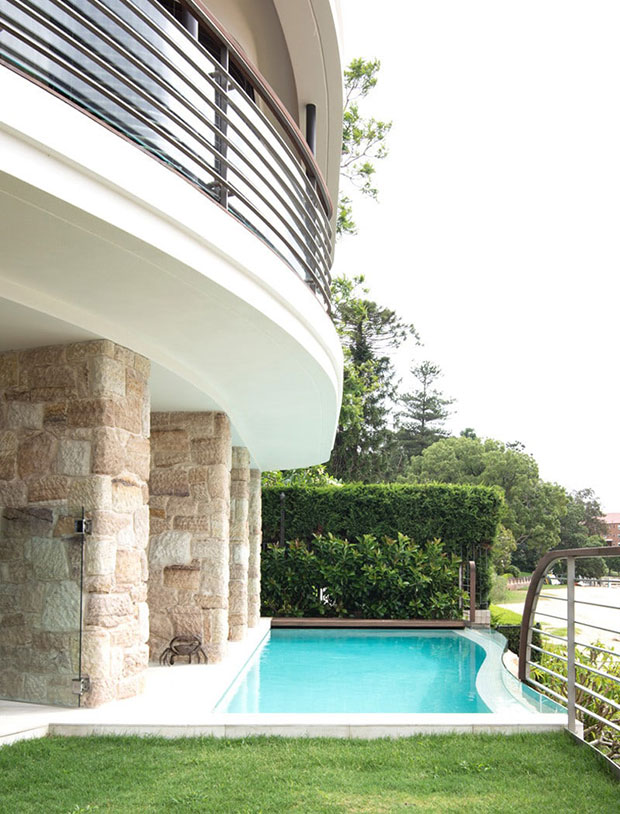 Luigi Rosselli Architects
For this home, they managed to squeeze in a pool in the corner of this yard. It's also placed to have a beautiful view of the harbor front.
Contemporary Key West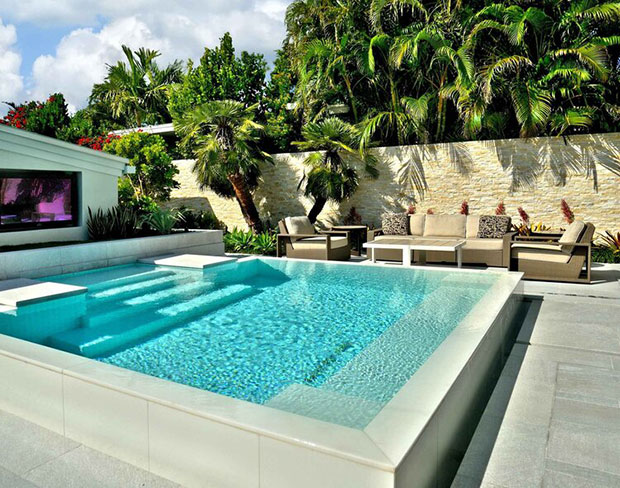 Craig Reynolds Landscape Architects
A neat above-ground pool right at the heart of this yard. This allows the sides to be a lounging space.
Santa Monica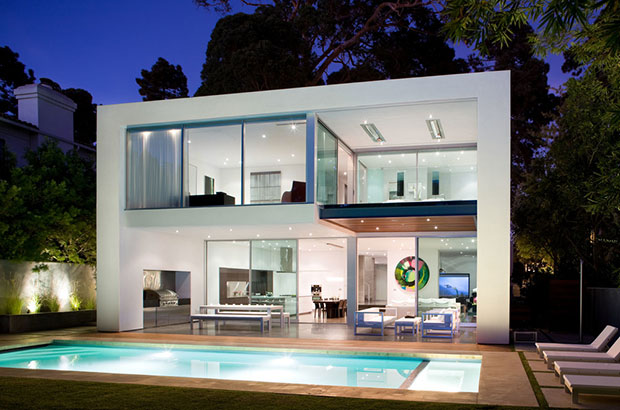 Steven Kent Architects
A simple and chic pool in the middle of the backyard, with a simple landscaping.
Von Phister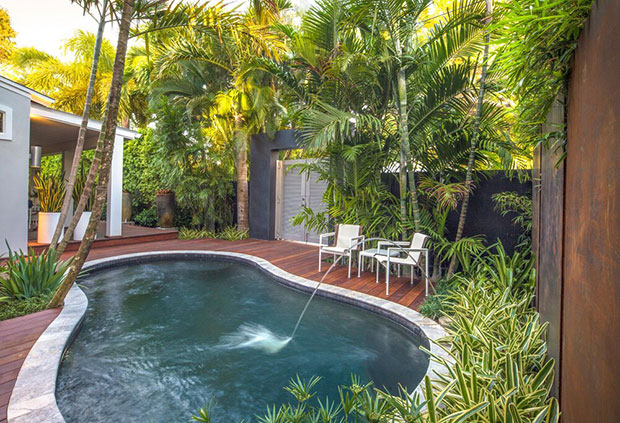 Craig Reynolds Landscape Architects
With the landscape being filled with palm trees, the choice for an elliptical pool is a perfect match for the overall look of the yard.
27th Avenue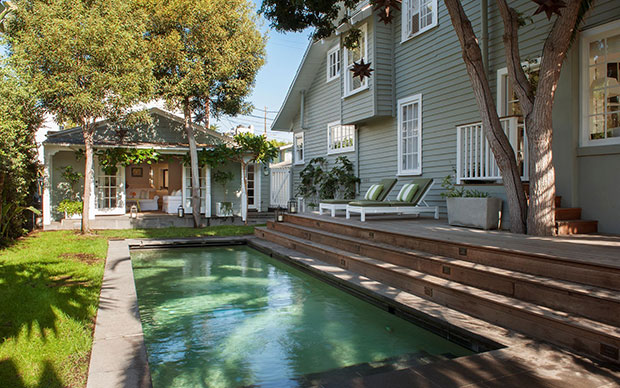 Hilton & Hyland
The wooden decking of this pool gives off homey and rustic vibes.
Woodrow Wilson Drive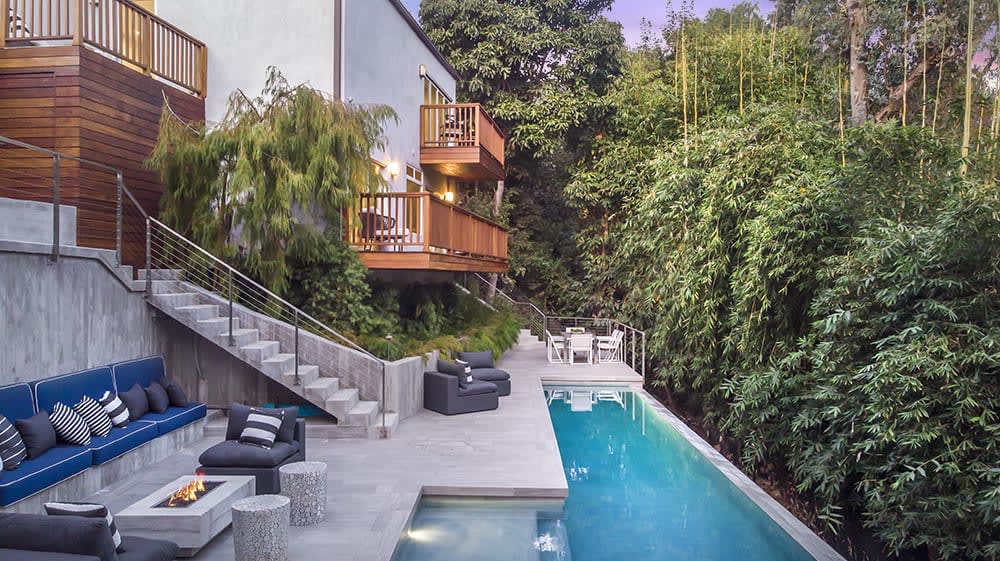 Hilton & Hyland
This clear long, lap pool affords the homeowners to have a free lounging space to relax in.
Curva House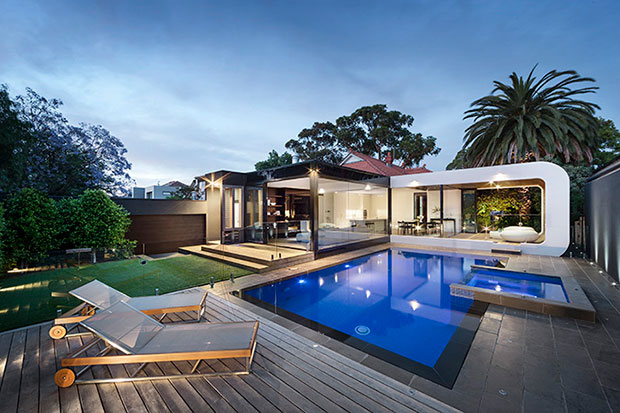 LSA Architects
Much like the contemporary design of the home, this negative edge pool keeps up with the home design trend.
Preston Glenn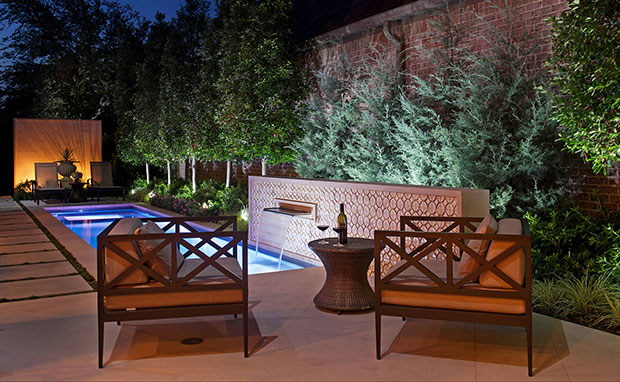 Bonick Landscaping
This tiny lap pool is complemented by its uniquely patterned waterfall fountain and unique modern furniture.
Lubelso Concept Home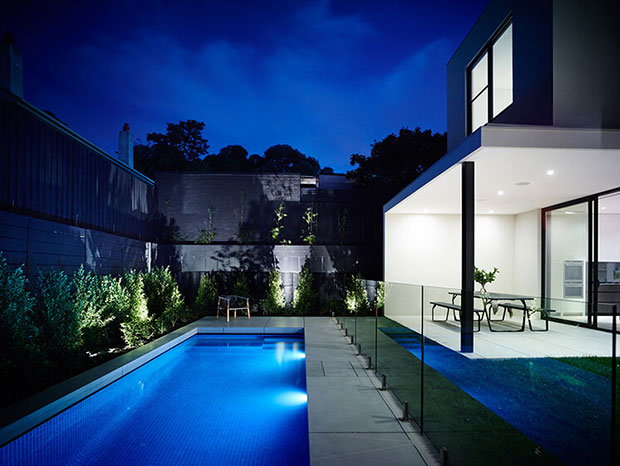 Canny
The materials of which makes the design of this swimming pool gives a modern look to it. It's also pretty interesting to separate the pool area from the rest of the garden with glass fencing.
Classic Straight Line Pool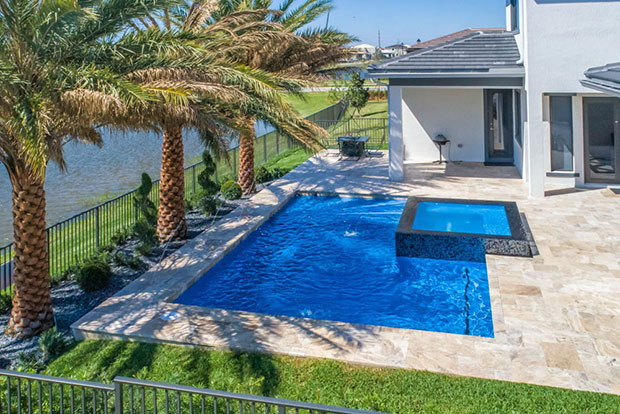 Van Kirk & Sons Pools and Spas
Using the only free corner space of the yard, the homeowners managed to have a rectangular pool (with a spa!) built in. It's perfectly placed in front of a waterfront with palm trees for that relaxing and almost vacation-like feel.
Goliad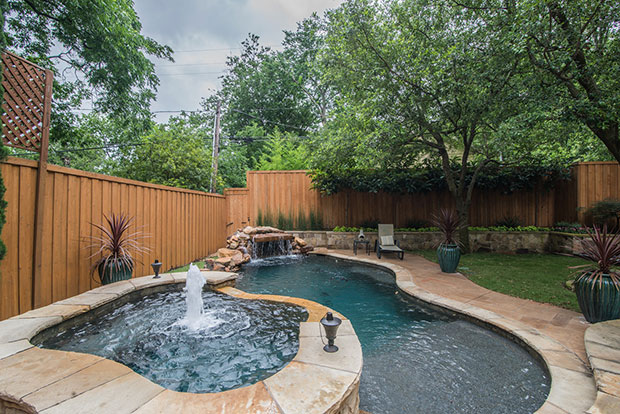 Scapes Incorporated
A classic irregular shaped pool that creates some dimension to the landscape of this yard.
Garden Elegance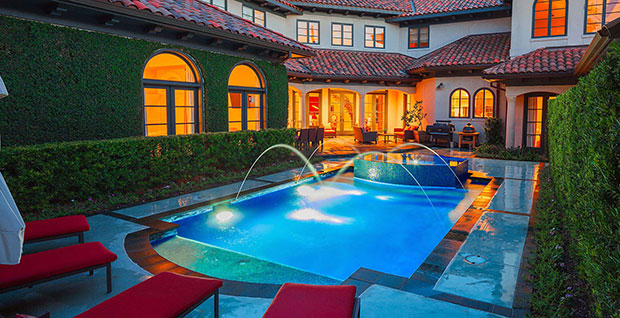 Water's Edge Outdoor Living
This elegant and fancy pool is looking line one of the more expensive small swimming pool ideas. Having built a small pool in the middle of the courtyard, it's complete with a fountain and a spa tub. Not to mention the landscaping that was done to perfectly match with the pool.
Custom Pool Island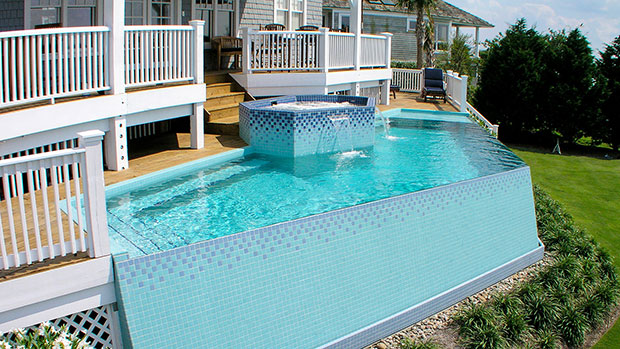 Bradford Products
This custom pool was built on the deck of what's left of the small yard space available.
Troon Residence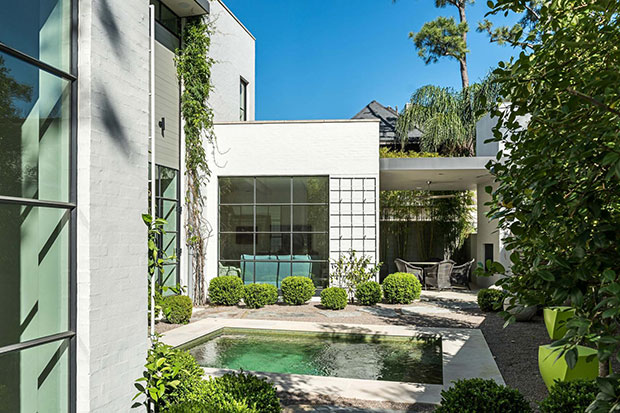 Dillon Kyle Architects
One of the tinier small swimming pool ideas, this residential pool is built on what little barren yard space available there is.
West 11th Place Residence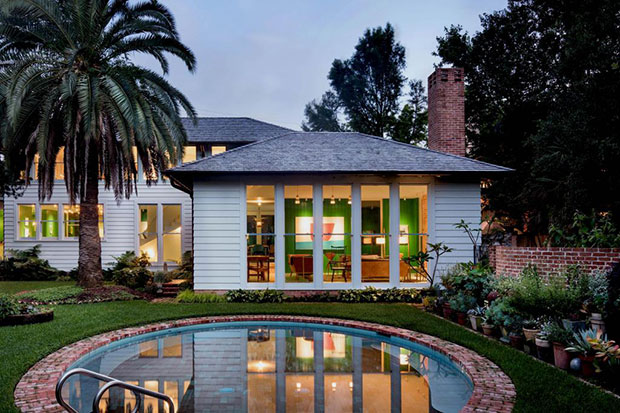 Dillon Kyle Architects
This is the first small and round pool idea on this list. Not only does it give a little rustic look, the shape helps to have more leeway in gardening.
Bayou Residence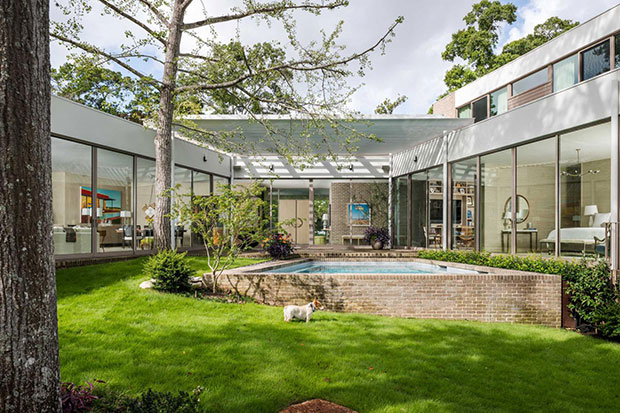 Dillon Kyle Architects
A little offside of a lush courtyard space, these homeowners built a small above-ground pool. Whichever part of the home they are in, they get to watch over the kids and the rest of the family have fun.
Tangley Residence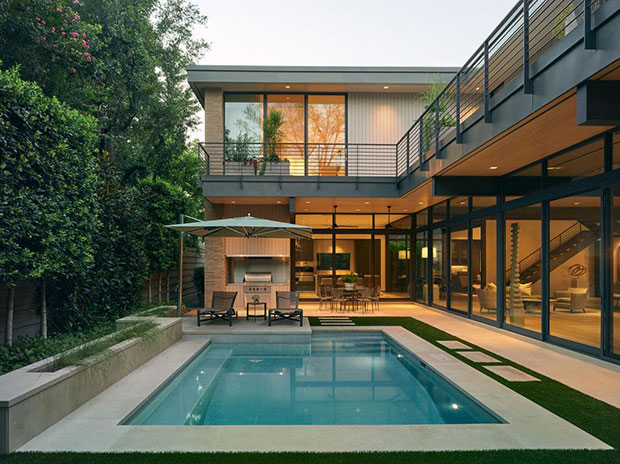 Dillon Kyle Architects
The main point of this small pool idea is having a raised lounging platform, complete with an umbrella shade.
Shadow Lawn Residence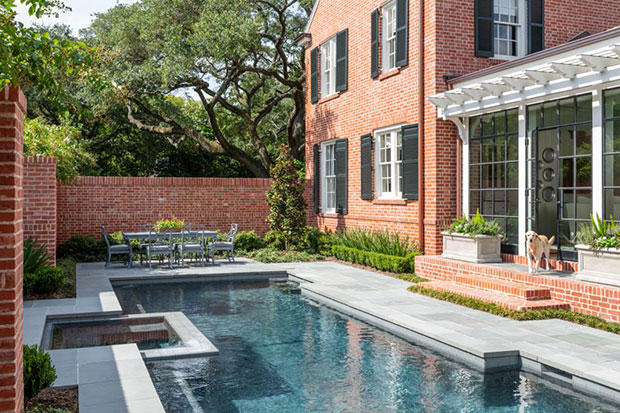 Dillon Kyle Architects
Despite the geometric pool nearly taking up the yard space, it gives way for enough space for a little dining area in the patio and some gardening.
Natural Swimming Pool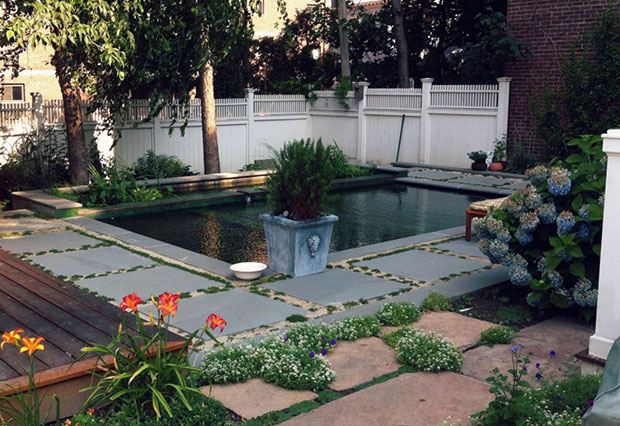 BioNova
The builders of this pool call this a natural swimming pool, which means they use plants and bio filters to keep the water clean. This has become quite a trend for home pools.
Swimming Pool with Twin Waterfalls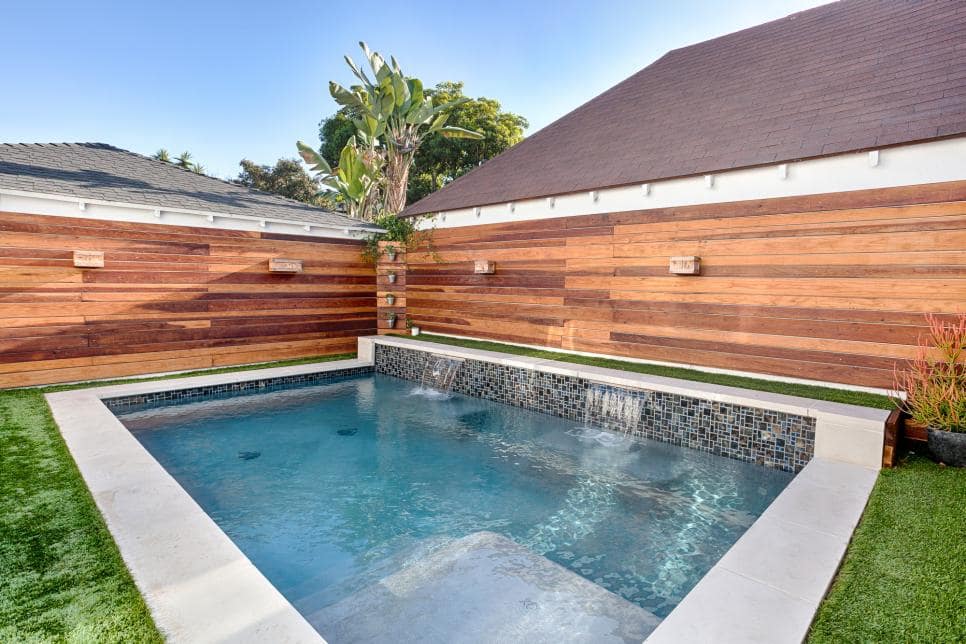 Carley Montgomery
Of worth-noting is the twin waterfalls wall that is built and designed with a grass on top. It's a subtle but nice touch for the overall look of the pool.
York Lane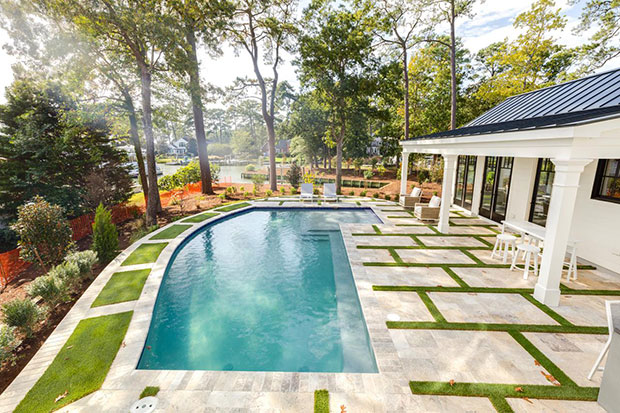 Visionscapes Landscape Design & Installation
Here's one interesting pool idea! Shaped along the curve of the yard landscape, this home pool has quite the interesting design that complements with the landscaping that they did for this yard.
Primavera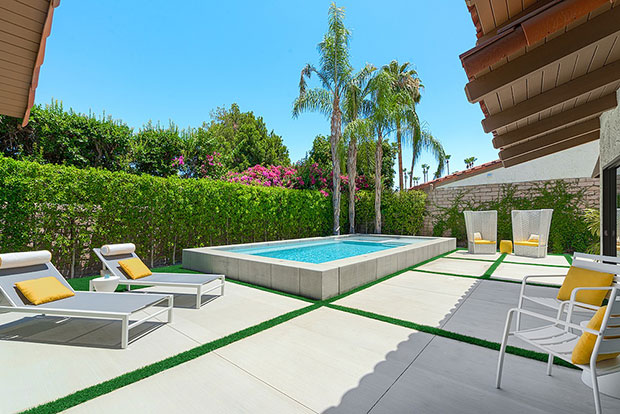 H3K Design
A small above-ground pool that matches with tiles used for the patio. The pattern and overall landscape is also something that's really neat.
Lap Pool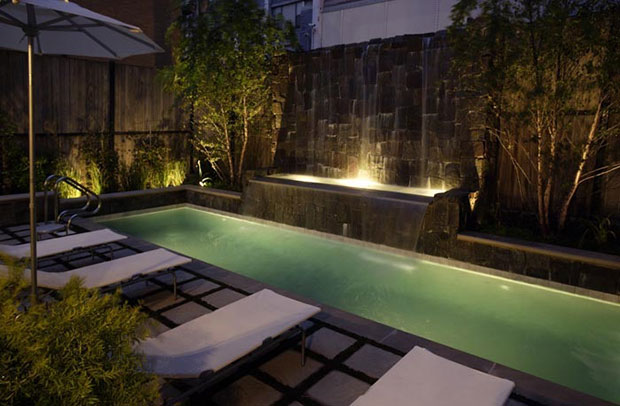 Platinum Pool Care
As already mentioned, lap pools are quite common and popular for small yards. So, like at this residence, give it some additional flavor such as this waterfalls wall.
Linear Geometric Pool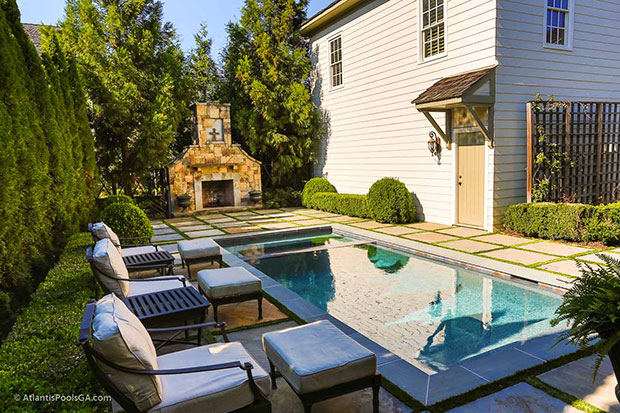 Atlantis Pools
Together with the style of this residential pool and the overall landscape of the yard, this gives of a vintage and rustic feel to the whole outdoor living.
Brentwood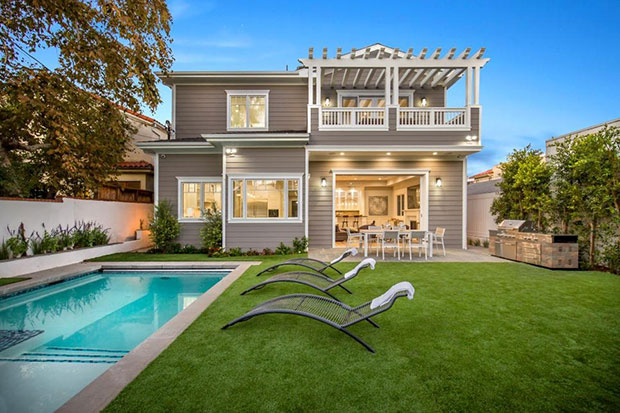 Hilton & Hyland
At this home, it is clear that the homeowners value an outdoor living space for which the family and their friends could hang out. With a small pool on the side, it makes way for the more spacious garden where a family could have barbecue parties.
Harold Way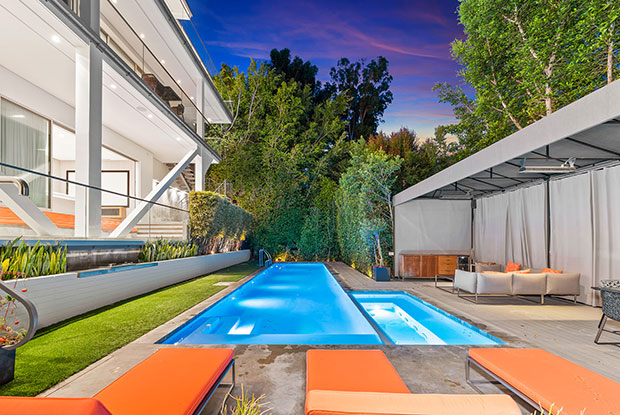 Hilton & Hyland
The cool lap pool at this home is accompanied with a lounging patio with a wall of shade. So when the sun is beating too hard, you can have a place to hide from the sun's heat.
1116 Fiske St.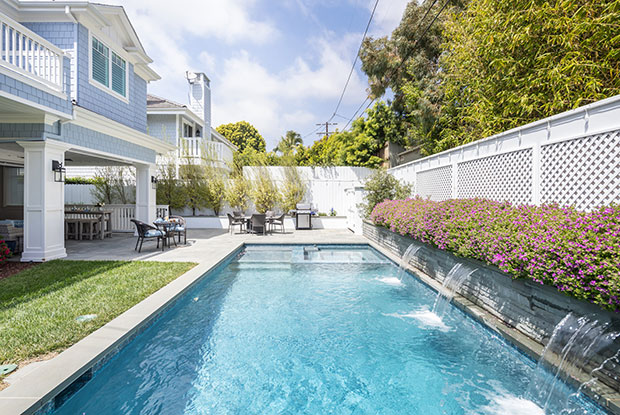 Hilton & Hyland
This home pool has not one but two hot tubs! Another worth-noting detail is that the waterfalls coming from planter boxes that has a wonderful plant bush.
Farmdale Avenue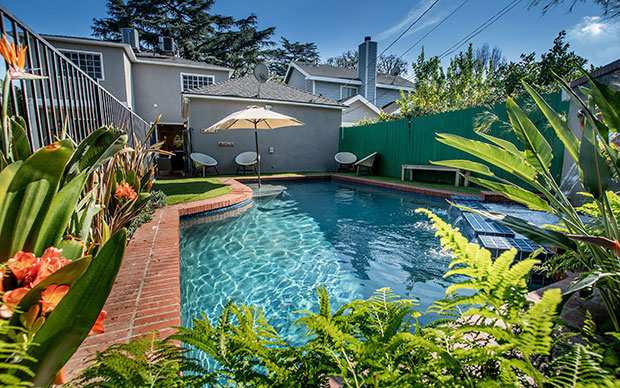 Hilton & Hyland
With the pool taking nearly every inch of this small yard, it is quite amazing how they still manage to do a little gardening and even placed some patio chairs around the pool.
And that concludes our list of small swimming pool ideas for tiny yards! Which one of these caught your attention the most?
Like This Post? Pin It!