55 Classy Black Dresser with Mirror For the Elegant Homeowner
|
55 Classy Black Dresser with Mirror For the Elegant Homeowner
One of the key components of a bedroom is a dresser. No matter the period, dressers have always been a staple in the overall bedroom design. However, dressers with mirror are not quite as common as they used to be. They are often seen as vintage furniture with designs appealing to vintage style.
Though it is not necessary to have a mirror over your dresser, dressers with mirror can help make your bedroom look bigger and the dresser effectively becomes a multifunctional piece in your room.
It is also worth noting that dressers with mirrors don't always necessary look vintage. Craftsmen have become more creative, and you can find them that could be more palatable to the modern and contemporary design trends. For one, black dresser with mirror tends to have more modern look to them.
How big should a mirror be over a dresser?
A general rule of thumb in interior design states that a mirror should be about 1/3 or 2/3 the size of the furniture that you are hanging the mirror over. Regardless of whether it's a black dresser with mirror, or any other color or style.
It is said though that the width of your mirror is going to depend on your needs. If you're going to use it daily, you may want to get something wider. Though, if your mirror is more of an accessory, you can choose a narrower one.
Where should the black dresser with the mirror be placed in the bedroom?
Figuring out where you should place your black dresser with mirror in your bedroom is part of the process of figuring out the entire layout of your room.
For dressers in general, there are common spots where you can place them in your bedroom: next to the bed, across the bed, at the foot of the bed, or even in the corner of the room. But where should you place your black dresser with mirror in the room?
1. Next to the bed
This is a popular location for most dressers, but not so much for dressers with mirror. It is a good alternative for nightstands. This way, you can easily access your dresser from your bed. You can even decorate your dresser with a lampshade.
2. Across from the bed
The wall (either on the left or right side) across from your bed is a good place to put your black dresser with mirror. This is a convenient and easily accessible position. Though, make sure that there is enough legroom and walking space between the wall and the dresser.
3. Foot of the bed
Another option is positioning your dresser at the foot of your bed. This ensures that you have enough space on each side of your bed; hence, the room won't feel cramped. This is especially recommended in small bedrooms.
4. Corner of the room
On the other hand, if you have a large bedroom, better make use of the empty corner of your room. This will use up the space wisely and not make your room feel cramped or restrict movements. But if you want to use the corner despite your small bedroom, then buy a smaller dresser to fit in the spot.
Let's take a look at our selection of black dresser with mirror!
Seirra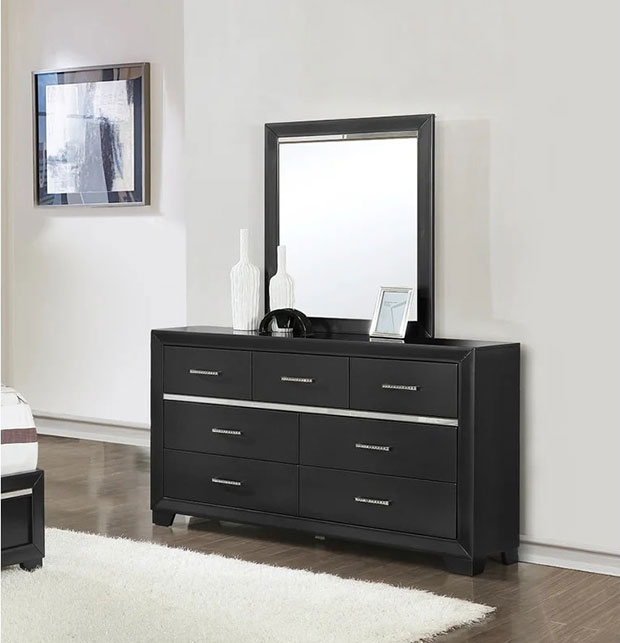 The proving point that there are modern dresser designs is this sleek black dresser with mirror. The clean and minimalist design is exactly right for modern bedrooms.
Daniyal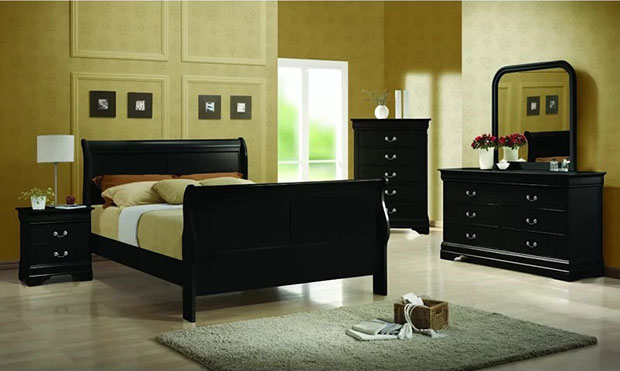 Red Barrel Studio
The curved design of the mirror gives this black dresser with mirror a soft look, which contrasts with the sharp edges of the dresser.
Willenhall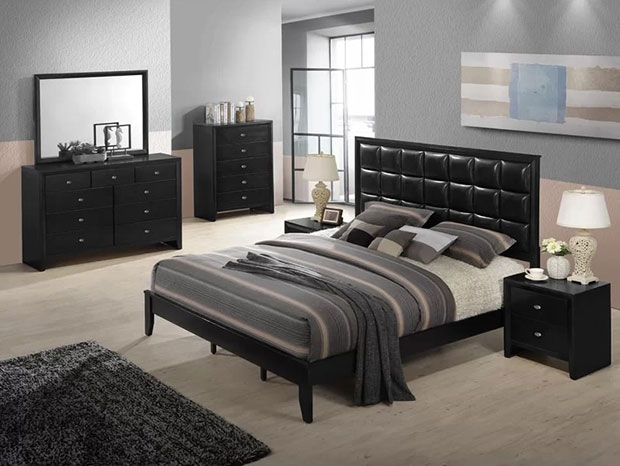 Ebern Designs
Another simple and minimalist design perfect for modern and contemporary bedrooms.
Saylesville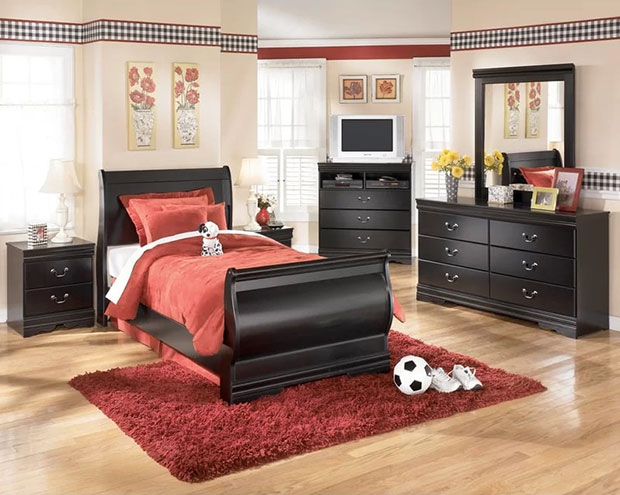 While some of these mirrors are plain and simple, this black dresser's mirror has a molded detail at the top that gives it a more traditional look.
Samuelsson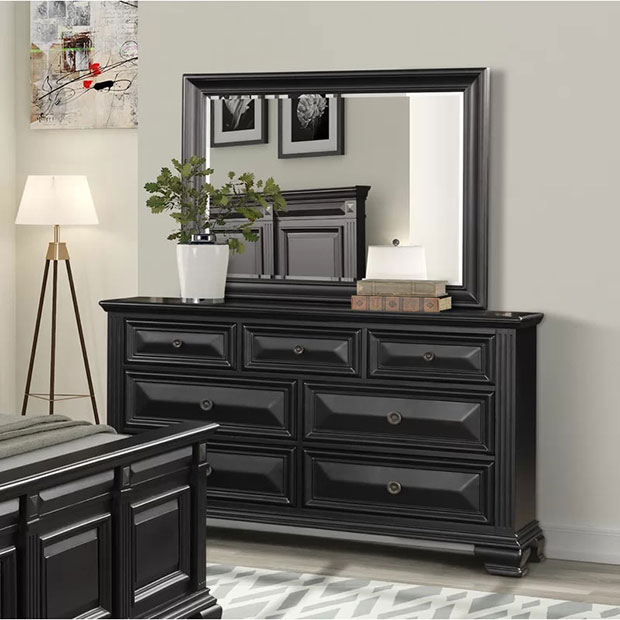 Charlton Home
With ornate details and a vintage black finish, this black dresser with mirror is among the traditional style designs that don't look outdated to not considered for anybody's home today.
Lena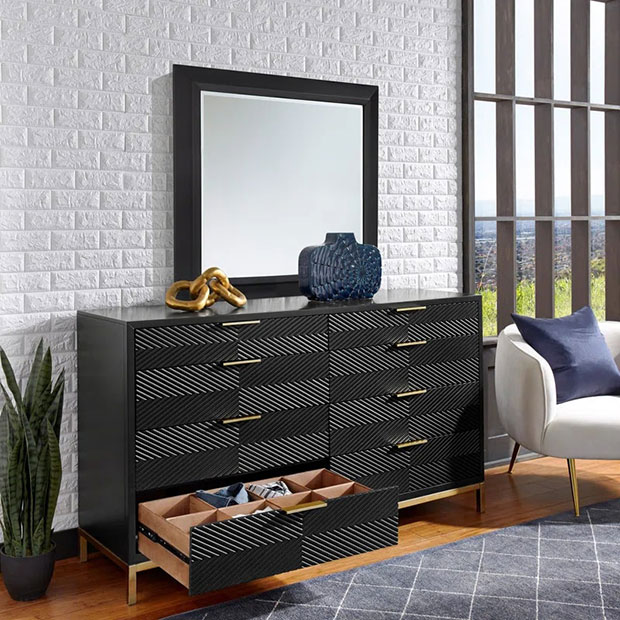 Kingstown Home
This black dresser with mirror is a nice combination of traditional and modern elements. The carved chevron is usually a traditional design feature, but it's given a modern twist in this paneling alongside the brushed brass handles. Not to mention, the gold finish of the legs adds a luxurious touch to it.
Aubagne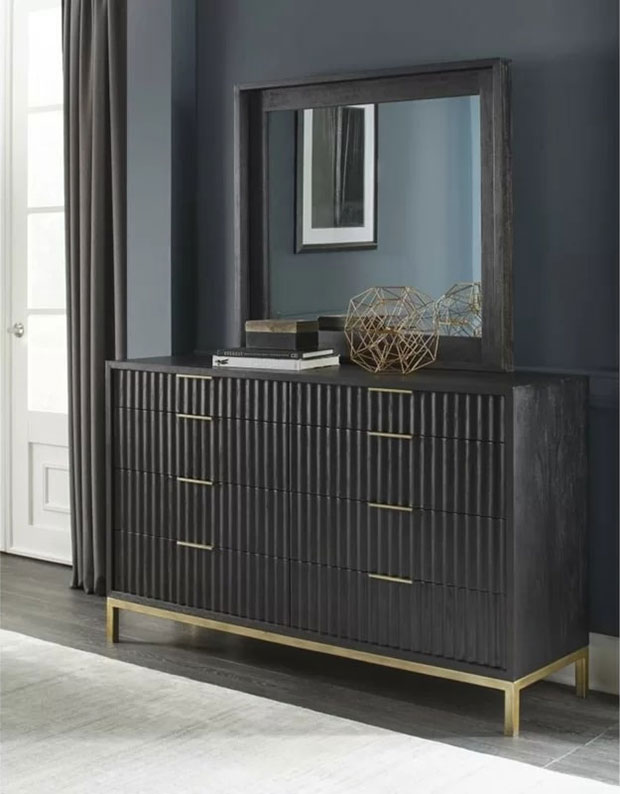 Etta Avenue
The ribbed design gives this black dresser with mirror some textural dynamic while also giving it a modern update. Meanwhile, the gold accents give it a glam touch.
Gribble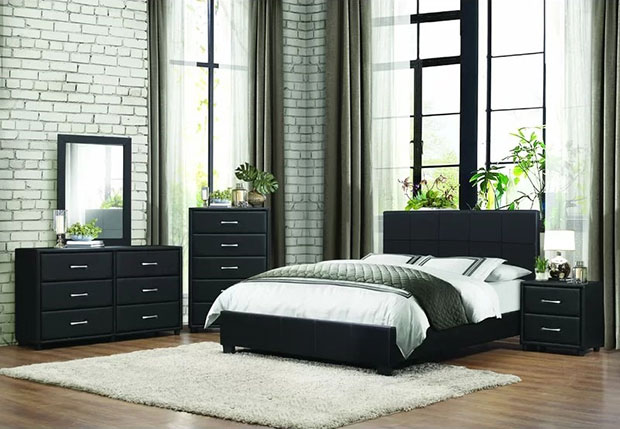 If you're searching for a more contemporary black dresser with mirror design, come take a look at this one with its simple yet stylish design.
McGrane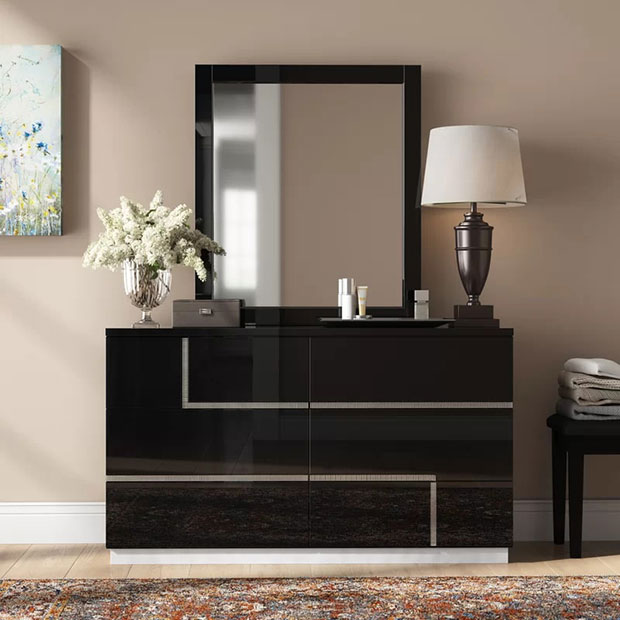 You really did not need to worry about dressers looking vintage or being outdated when you have ones designed like this.
Mcinerney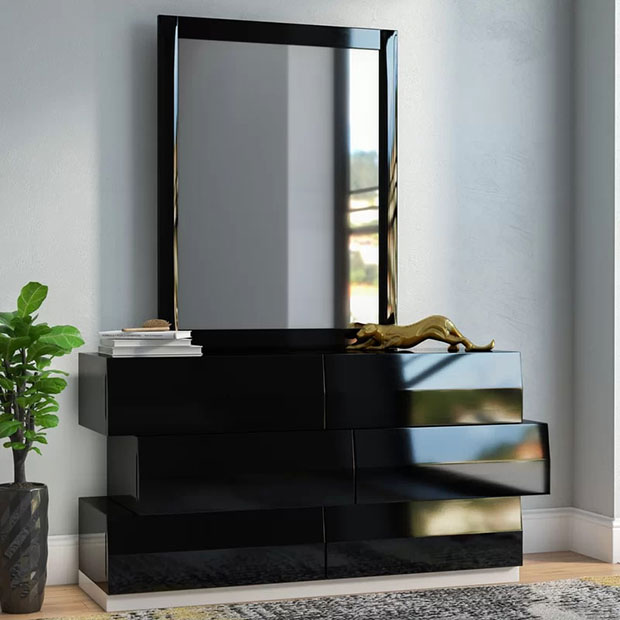 With drawers asymmetrically stacked, this black dresser with mirror has one of the most unique designs. It would a cool artistic audition to your room.
Alexondra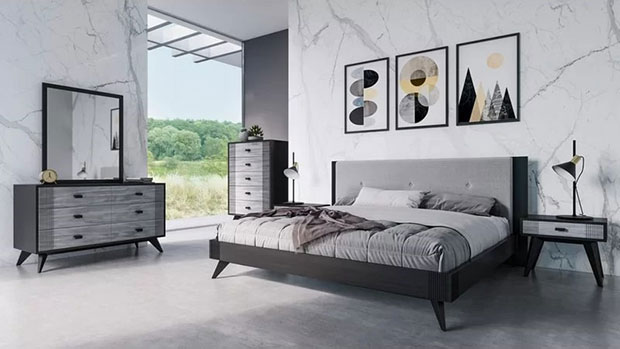 An all-black dresser may not be for everyone. But this black dresser with mirror is a stylish combination of black and grey.
McGuinness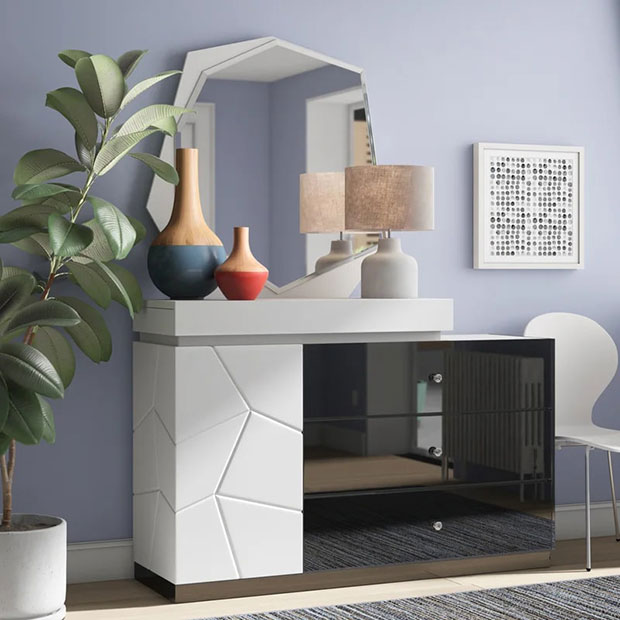 Wade Logan
What about a classic combination of black and white? The geometric design of the mirror is also something that you would be interested in lighting up your room.
Peotone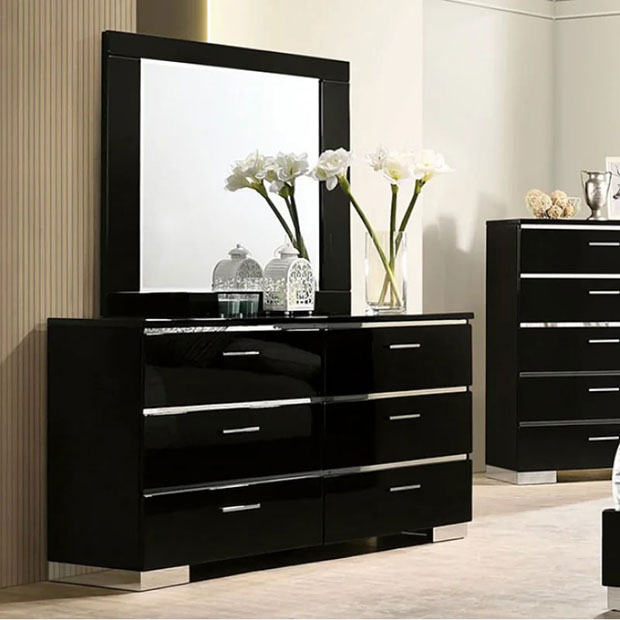 Instead of gold accents, this black dresser with mirror has alluring chrome accents. That and the high gloss lacquer finish, complete a luxurious appearance.
Bernice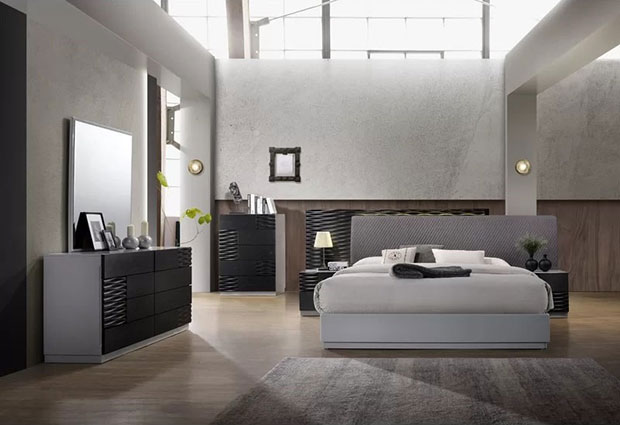 Wrought Studio
The design face of the drawers gives this dresser an interesting dynamic in texture. Overall, it also has a cool contemporary overall look.
Iyed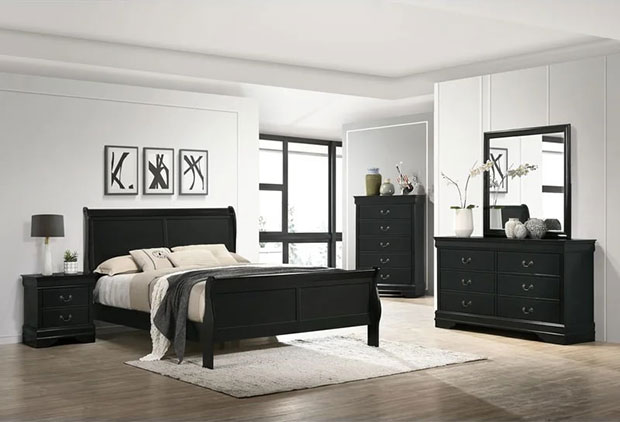 Going back to a more traditional look, the subtle mold details are a nice touch to not give it an overwhelming vintage appearance. So, it still looks like it can fit into modern-day styles.
Aizza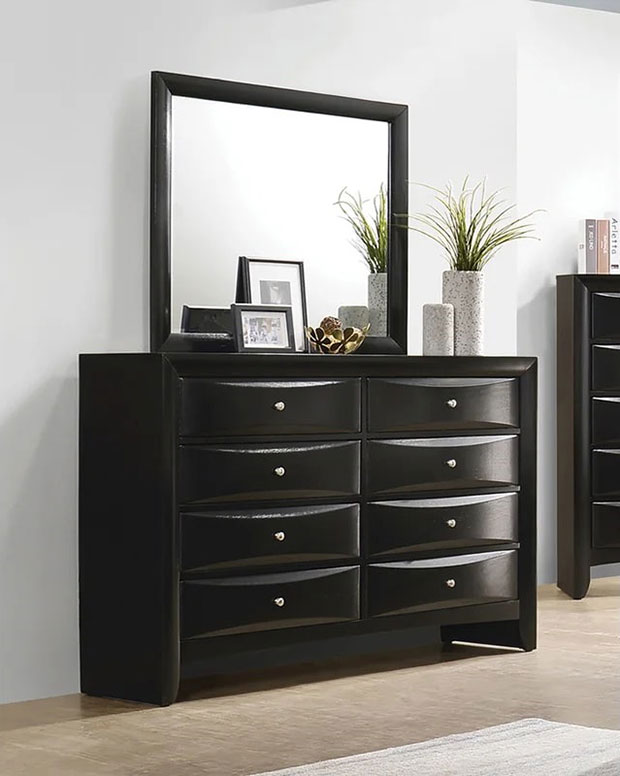 The curved silhouettes of this dresser bring a much-needed visual dynamic to the overall look of the furniture.
Carman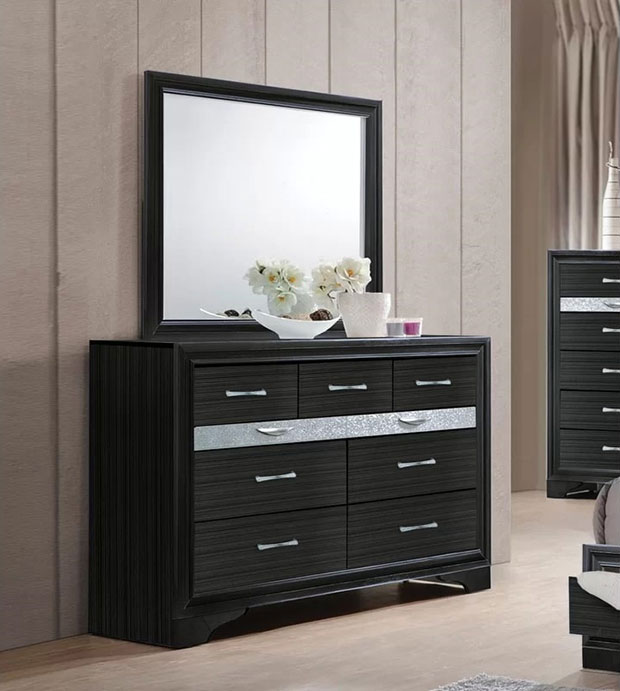 Lark Manor
The natural wood grain is a nice contrast to the silver accents. It keeps its modernness of it while adding a bit of luxe and contemporary charms.
Emiliya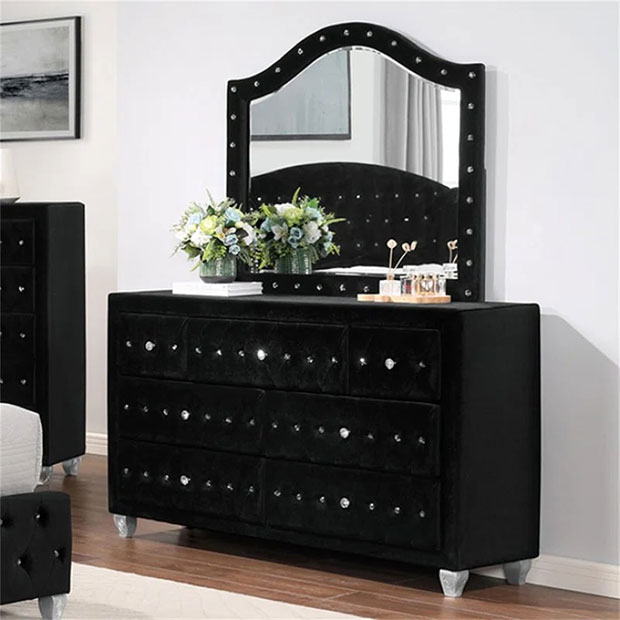 Bring elegance and sophistication to your room with this velvet upholstered black dresser with mirror. The glistening crystal buttons add further to that look of elegance.
Gwendolyn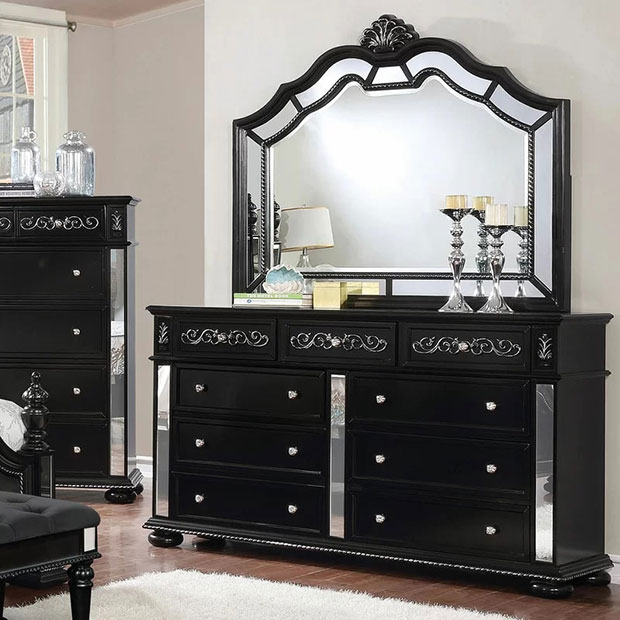 Black dressers with mirror are also a nice way to add some lavishness to your room. This one, with its ornate details, definitely brings vintage elegance.
McManus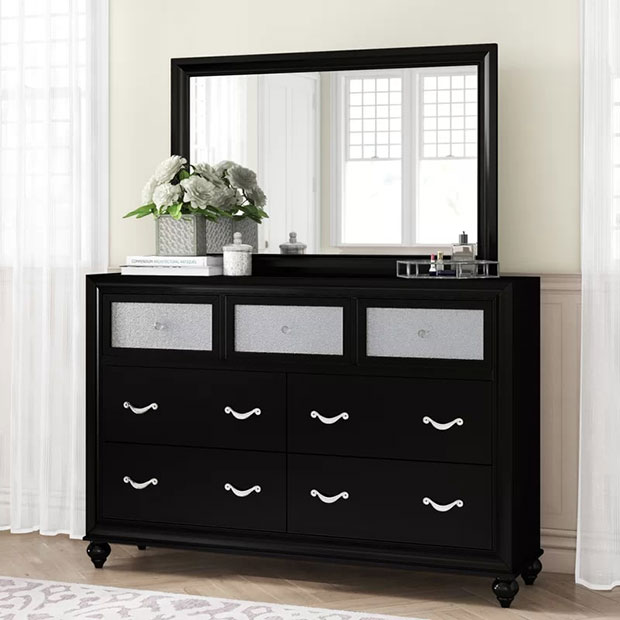 This black dresser with mirror boasts an infusion of modernity and glam. It has a sleek design that doesn't rely on too flashy shapes, colors, or details.
Berla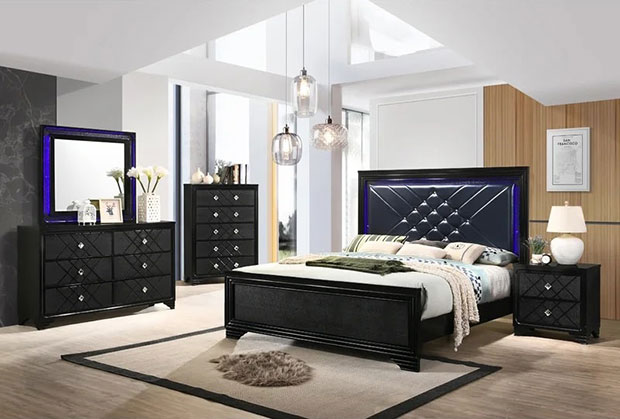 One of the modern innovations in black dresser with mirror is the incorporation of LED lighting around the mirror's frame. If you want to literally light up your space, then consider such furniture.
Felizarda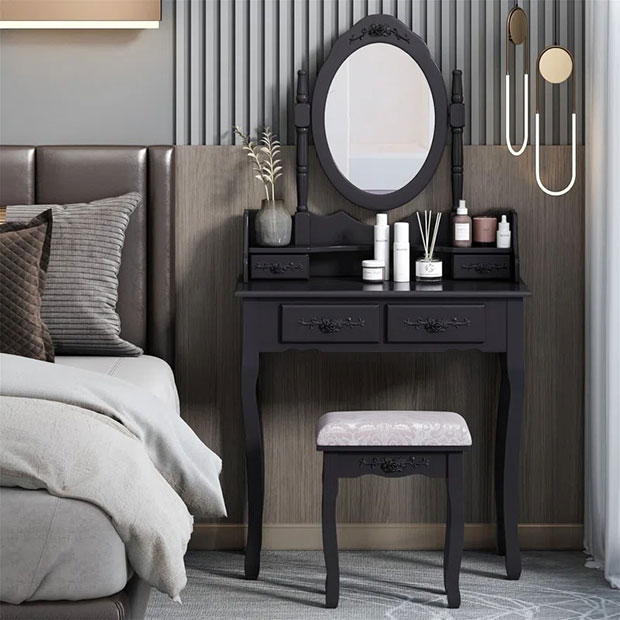 While we've seen large and medium-sized black dressers with mirror, there are also small and slimmer ones like this. This has the most classic and vintage design out of everything else on this list.
Poulsen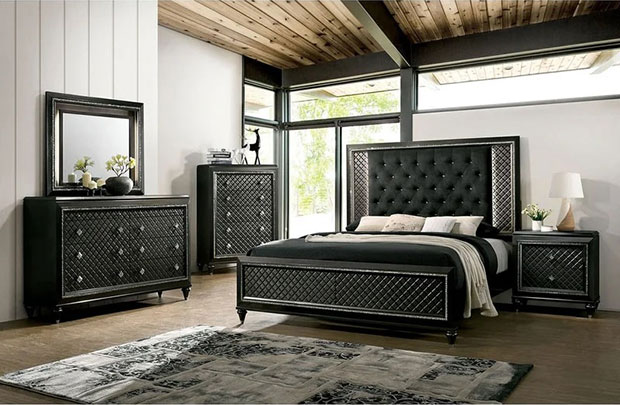 Rosdorf Park
The geometric patterns on the drawer's face add visually but also texturally. Plus, the alluring design is going to make it pop out in any room.
Lockridge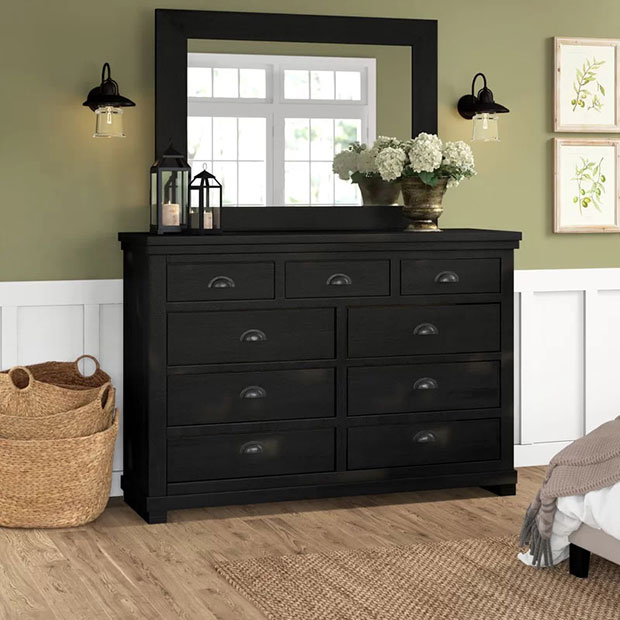 Birch Lane
The distressed paint finish adds an interesting look to this black dresser with mirror. This would fit well with farmhouse-style rooms.
Vories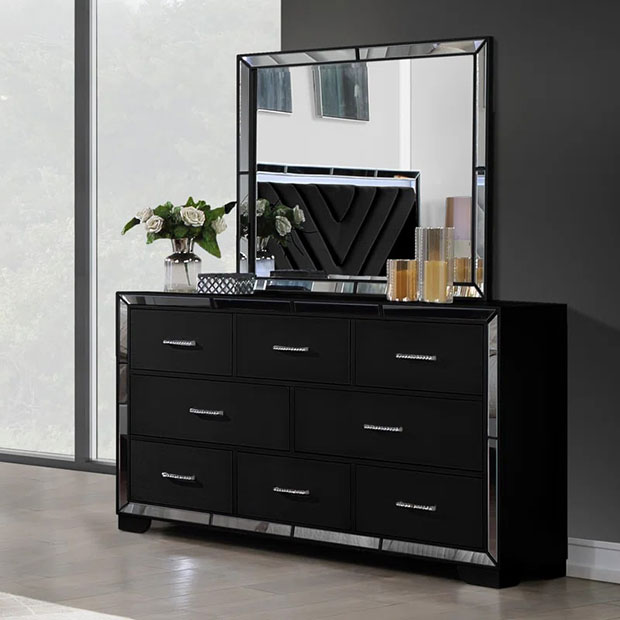 The mirrored trim around the borders gives this black dresser a dazzling look. And with the clean silhouette, it combines modernity with glam.
Deneus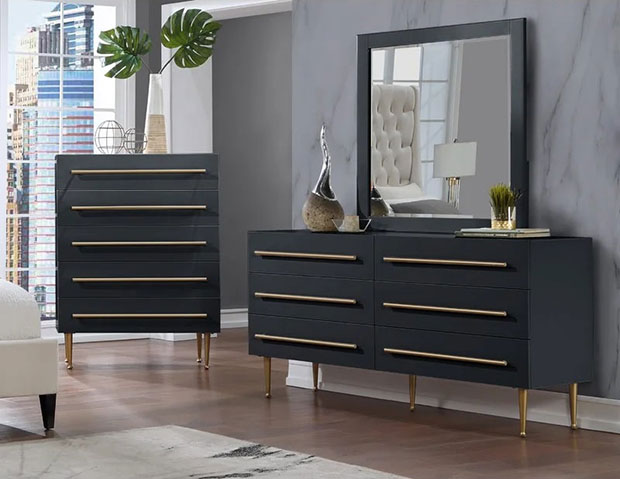 A minimalist design like this is perfect for modern and contemporary homes. And the antique brushed gold handles and legs give it a luxurious touch.
Anaclara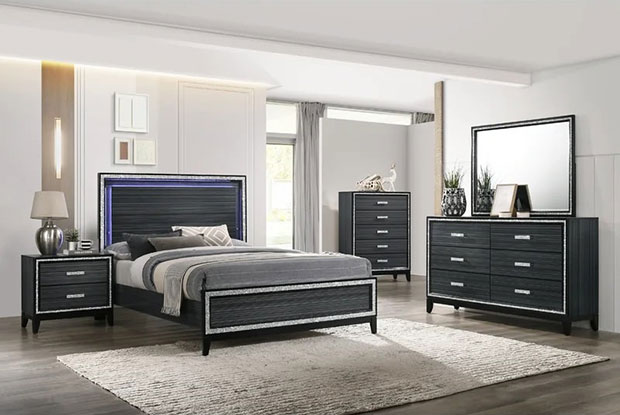 The grain detail is a nice complement to the shimmering silver accent trims, giving this black dresser with a mirror a richer and fuller look.
Zeringue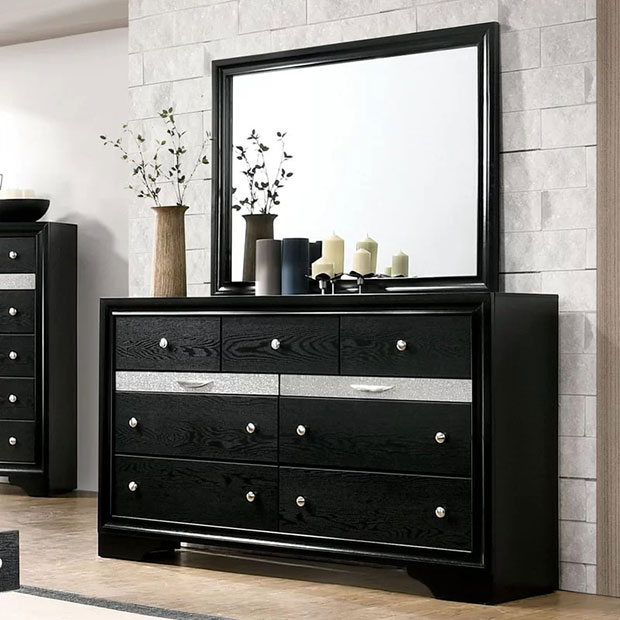 The natural wood grain detail on the drawers is an interesting contrast to the silvery finish of the jewelry drawers.
Amyanne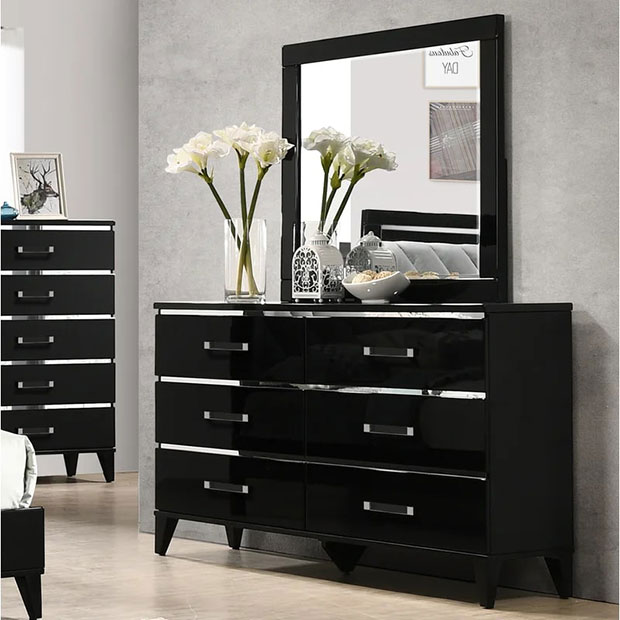 Everly Quinn
The high gloss finish definitely makes this black dresser perfect for contemporary rooms. Plus, the silver trim adds depth.
Parisian Girl's Bedroom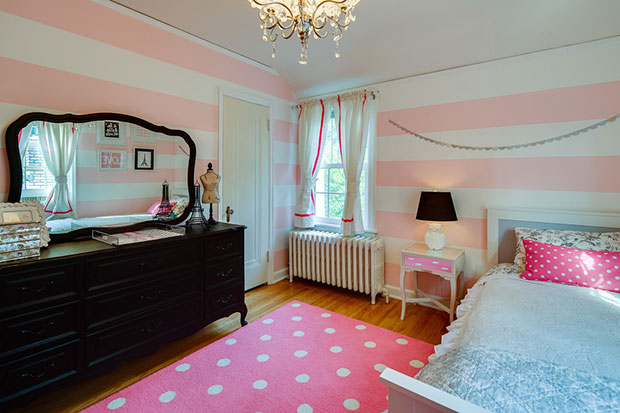 Mark Teskey Architectural Photography
On the other end, a large black dresser with mirror like this is appropriately placed by the wall across from the bed. In addition, its design is a perfect complement to a girl's bedroom.
Everdeen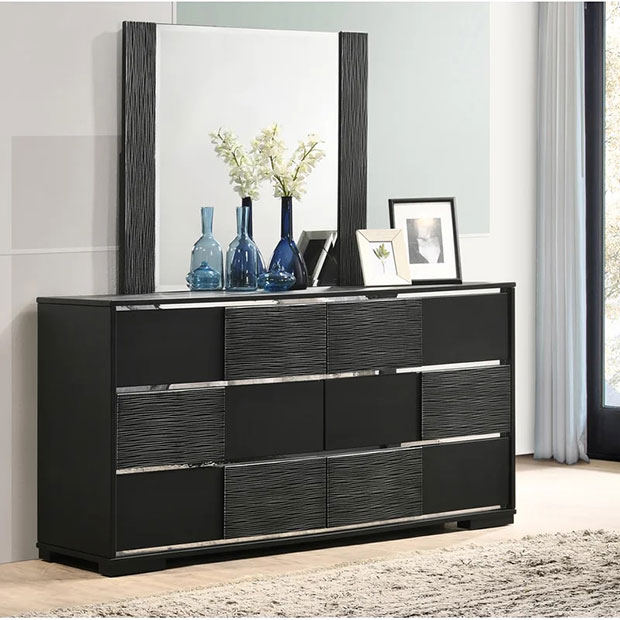 The mirror frame for this dresser is an interesting diversion from the usual mirror designs. But that's what gives it an up-to-date look.
Mckown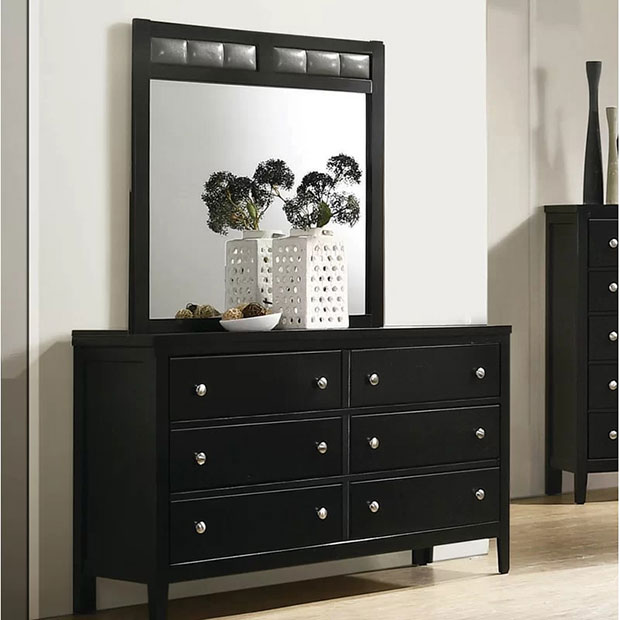 Ivy Bronx
The additional design detail atop the mirror frame is interesting and gives it a more traditional look.
Siegfried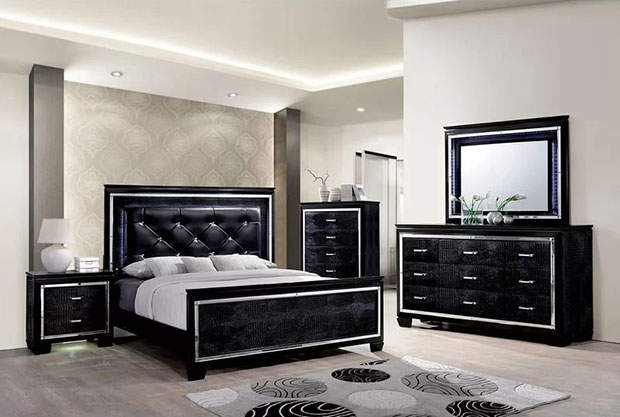 Willa Arlo Interiors
The crocodile-embossed veneer adds texture dynamic to this chic contemporary black dresser with mirror. The silver accents offer some glitz.
Venice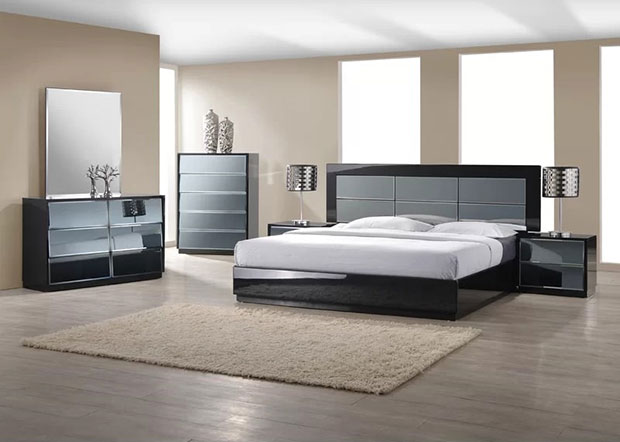 The mirror panel drawer faces are a refreshing detail that separates this black dresser from all the other black dressers. Even the frameless mirror definitely screams contemporary.
Kahlil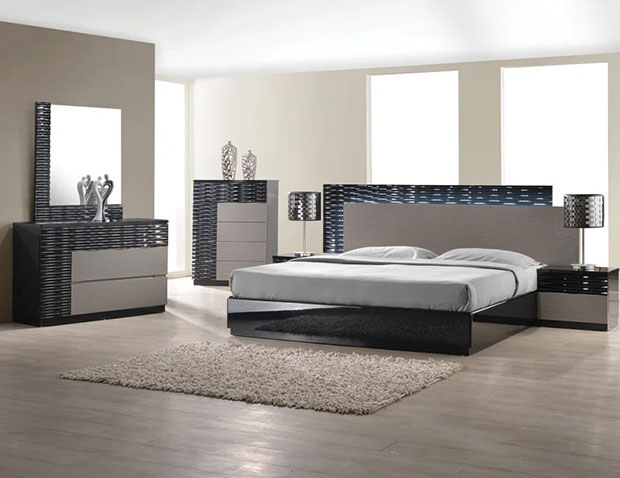 Here's another contemporary black dresser with mirror design you may want to consider. Don't be fooled by the wicker-like surface design! This dresser is apparently made of solid poplar wood!
Gibbsboro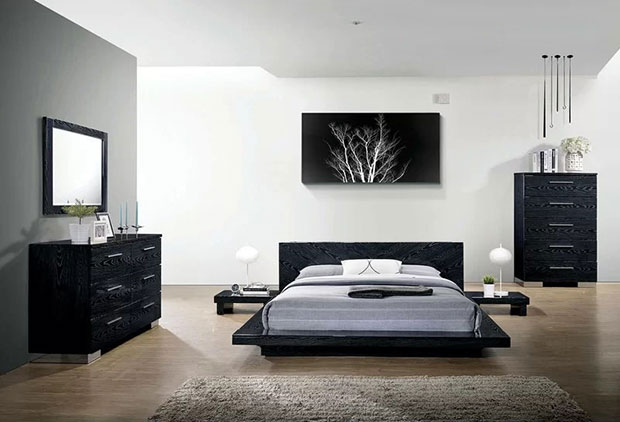 Orren Ellis
Not all black dressers come with attached mirrors. So, it's important to take note of the mirror size as noted above.
Double Dresser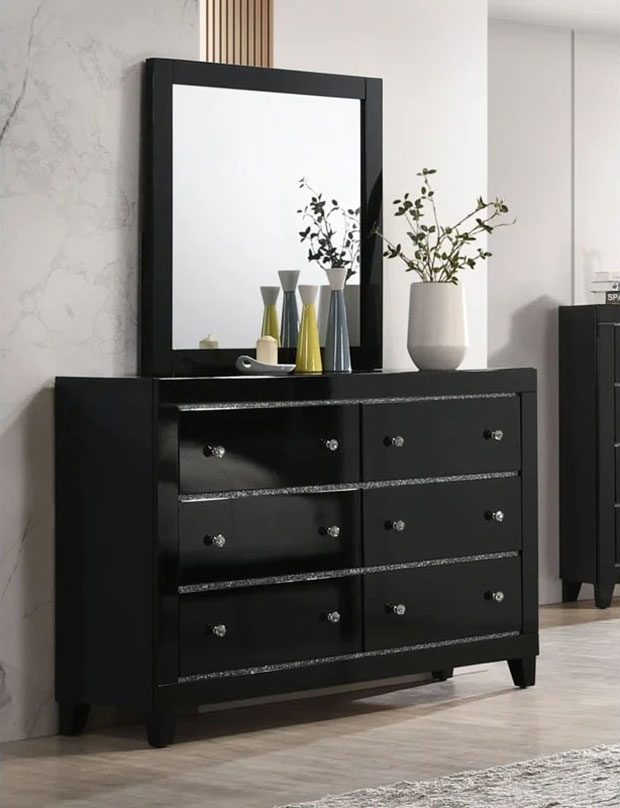 Enitial Lab
The glitter panel gaps and the high gloss finish contribute to the ultra-chic look, alongside the clean silhouette design.
Willisville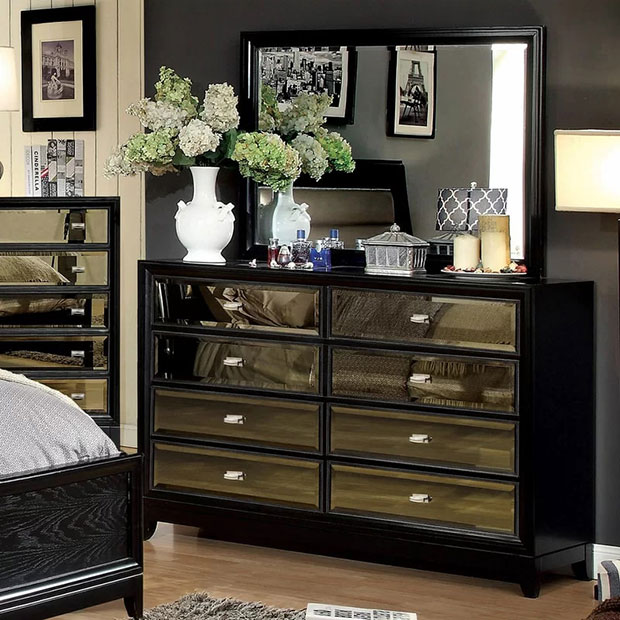 If you want to be bolder with the glam and luxurious look, why not go for a black dresser with a gold finish on the drawer face? Plus, it's mirrored so it gives an illusion of depth!
Metoyer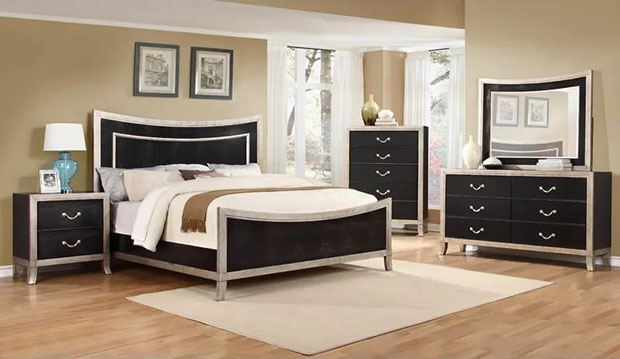 House of Hampton
The unique design of the mirror's frame is enough to draw anybody's attention to this black dresser.
Big Sur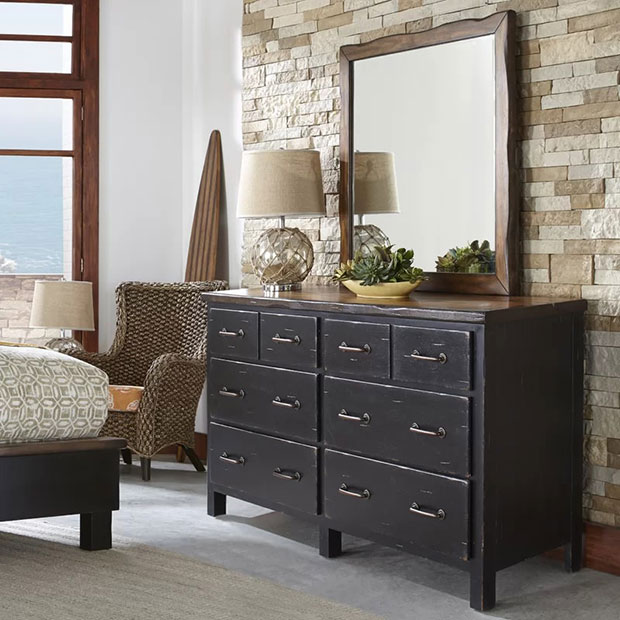 Panama Jack Home
If you want to add a rustic element to your room, consider your black dresser to bring it for you. This one is a nice combination of burnished brown and textured black colors.
Sarim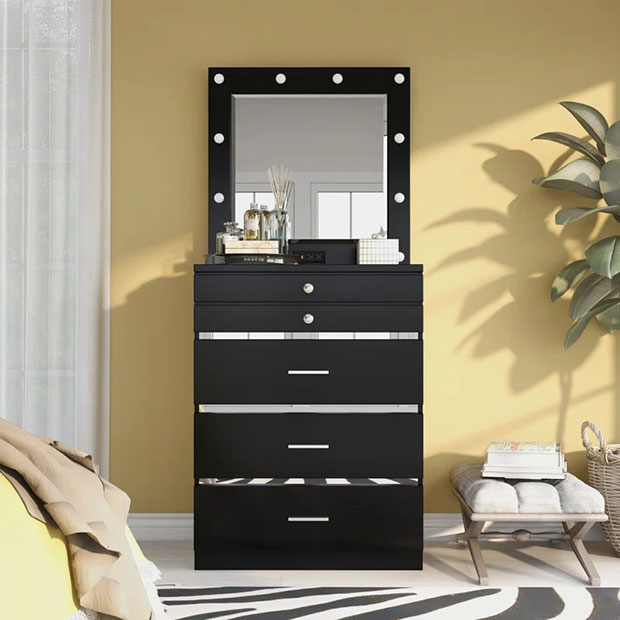 This black dresser with mirror is taller and slimmer than the black dressers featured on this list. This is a perfect choice for small rooms, placing them in the corner.
Janey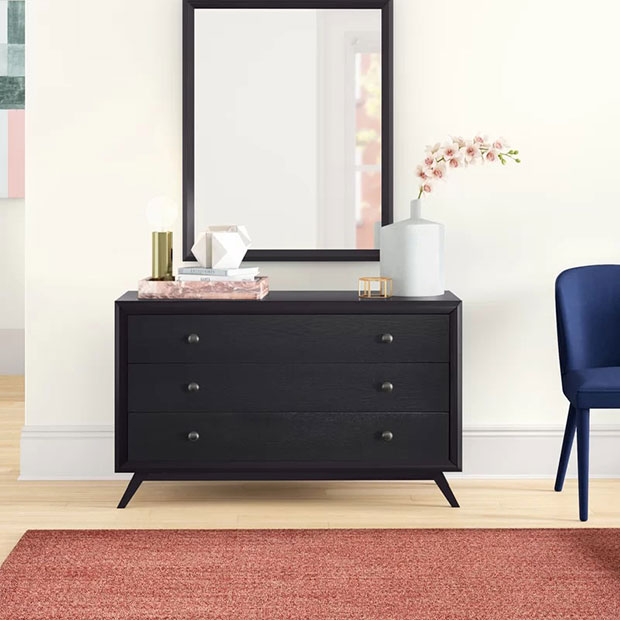 Latitude Run
From a tall black dresser, here we have a short one. It's interesting to see its accompanying wall mount mirror nearly the same size as the dresser body.
Master Bedroom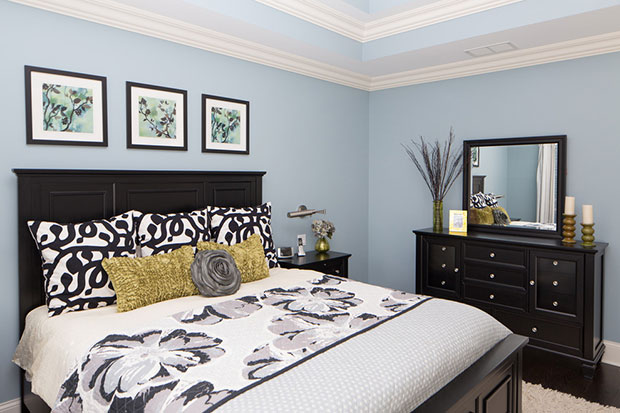 Miller + Miller Architectural Photography
With a traditional look, this black dresser perfectly matches the master bed.
Waylon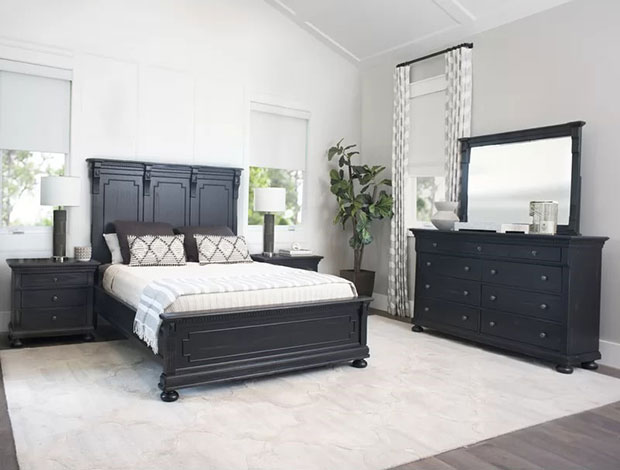 Greyleigh
The bun feet are a refreshing look compared to the other dresser's leg designs. Not to mention, the crown and dentil molding are subtle yet intricate details that make this dresser ten times more beautiful.
Black Hills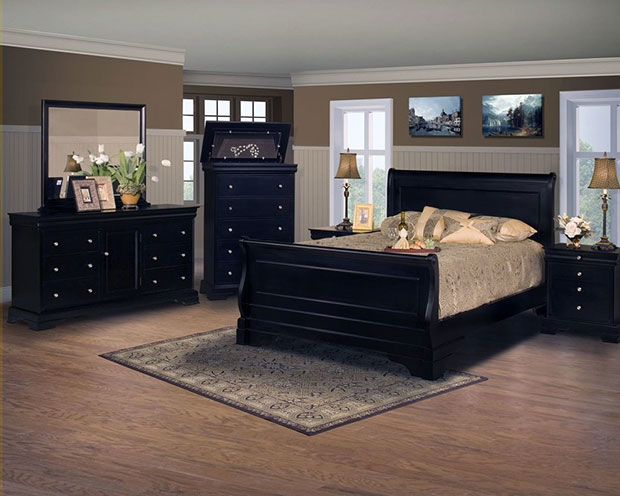 NCF Furniture
Most of these black dressers only feature drawers. But this one, embracing its traditional design, has a little cabinet door that reveals more shelved storage.
Verzaci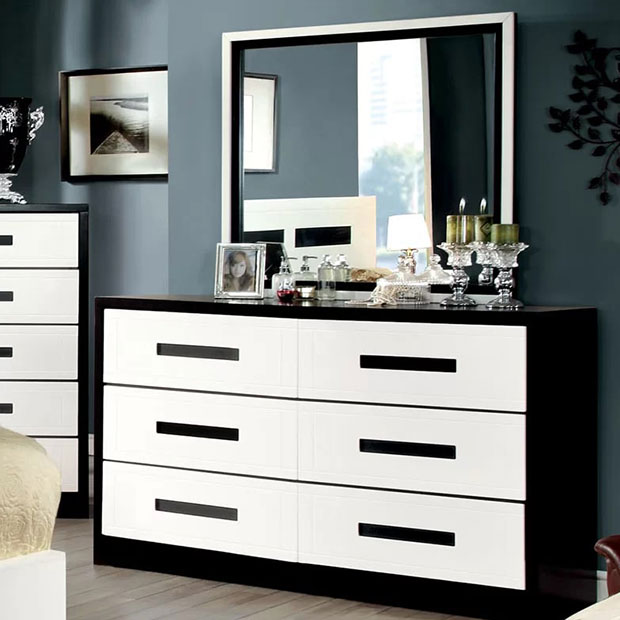 Hokku Designs
This striking two-tone look is something that should be appealing to many young people. Plus, the recessed handles further emphasize the contemporary look.
Suzan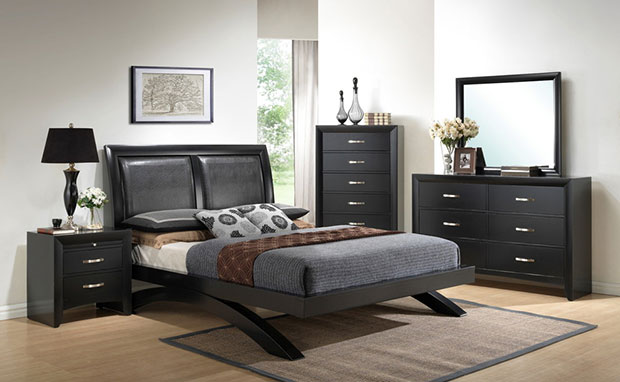 How about this black dresser with a more transitional appeal? It even has upholstered leather panels instead, unlike the previously seen one with upholstered fabric. So, this gives a chicer look.
Clover Carol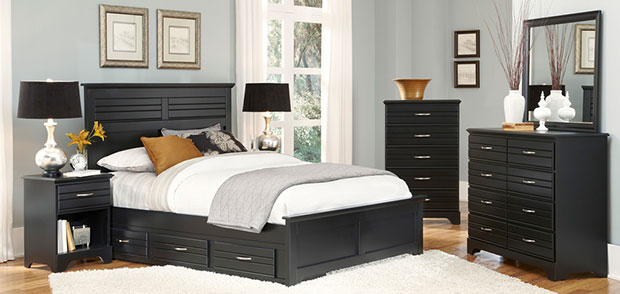 Emma Mason Signature
The molding on the drawer faces is a nice little detail to give it a refreshing look and separate it from all the other dresser designs.
Pantego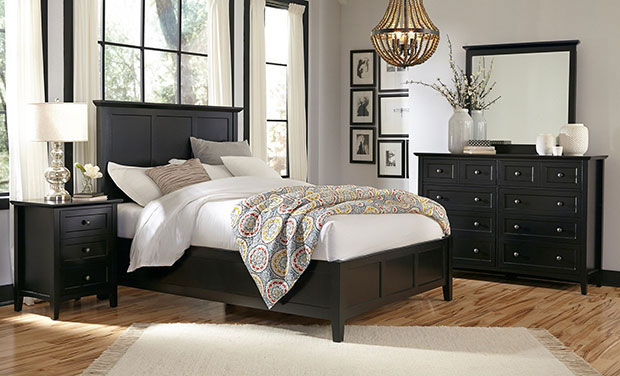 MFIX
The beveled top and moldings definitely encapsulate the traditional style of this dresser.
Ailish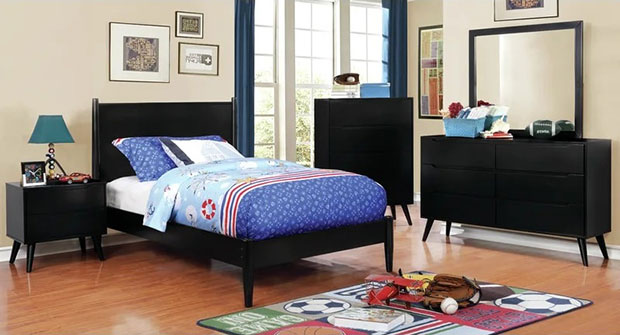 Mercury Row
One of the chicer designs is due to the handles being cut into the doors instead. It gives the dresser a cleaner and more sophisticated look.
Rakestraw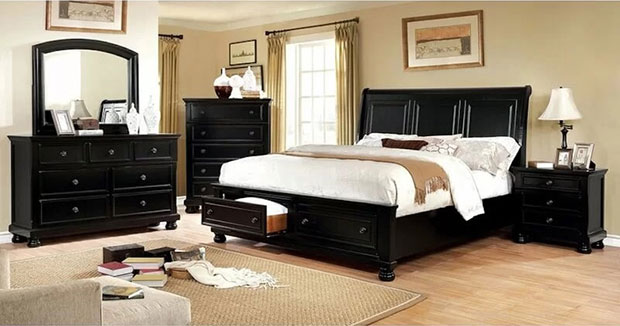 Another transitional-styled black dresser that blends traditional elements with modern sensibilities. Also, notice the curved top of the mirror.
Odion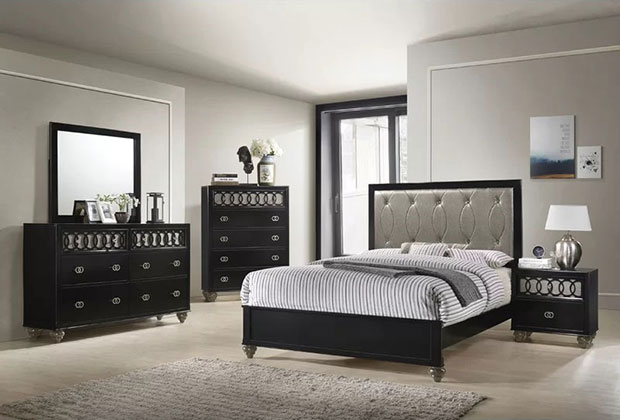 Canora Grey
The interlocking circles are great design details that will surely have people taking a second look.
Liverpool Cottage Dresser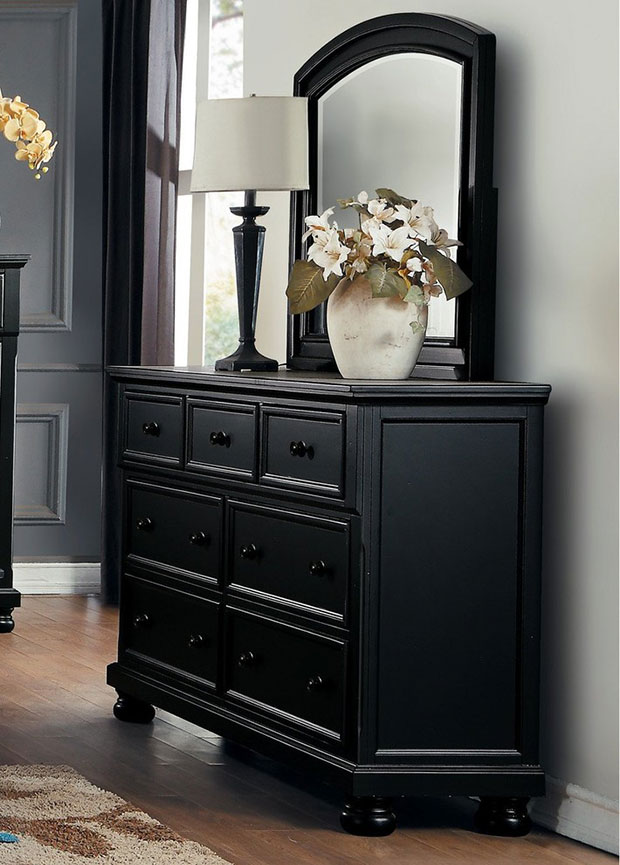 HEFX Furniture
While most dressers are rectangular or square-shaped, this one boasts a trapezoidal silhouette. This would only be ideal if you have a lot of space in your room.
Adlai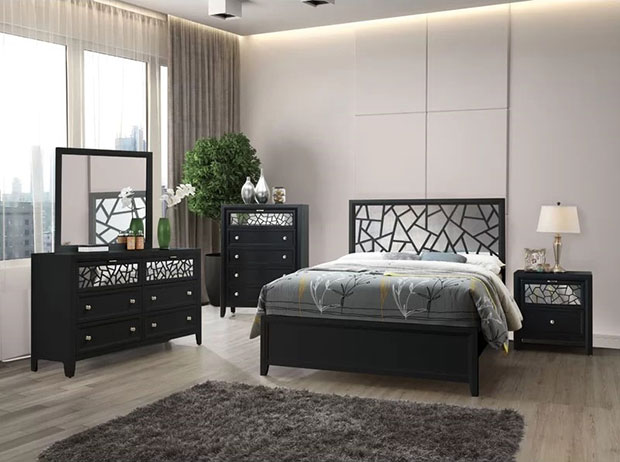 Brayden Studio
The mosaic mirror design gives a touch of elegance to this dresser.
Maribel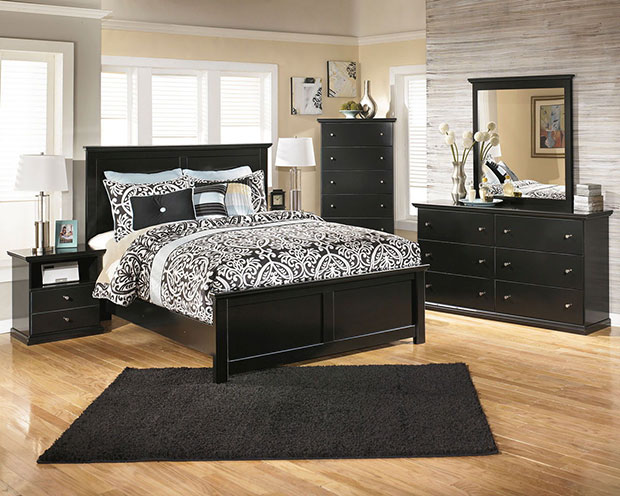 Signature Design by Ashley
With a casual cottage design, this dresser will go so well with any bedroom style that emphasizes coziness.
That's all for black dresser with mirror! Which one of these designs caught your attention the most?
Like This Post? Pin It!