Why You Need To Visit The Markthal Rotterdam Mural
|
Have you been to the Markthal Rotterdam Mural? If you haven't and you are an art-lover, then you should!
We seldom see markets that are well designed. For some places, it would just be damp and you would just see all the goods in the stalls.
Nothing fancy. Nothing worth for a selfie. You just go there to buy goods and that's all.
But not all markets are like this. As a matter of fact, there is one market in the Netherlands that will make us want to visit the place over and over again because it is just beautiful.
Yep, you have read it right. We are really talking about a beautiful market.
We know you are a bit confused about this market I'm talking about. It is a market hall in Rotterdam in the Netherlands. It is something that will make you stop and take a second look or you might even get more excited and visit the place.
The Markthal Rotterdam is an elongated horseshoe-shaped building with a 36,000 square foot mural that covers its rounded ceiling.
Yup. A mural everyone. A mural.
When you look up, all you will see is a stunning giant piece of art called "Cornucopia" that features bright colored fruits, vegetables, and other market goods. Now, prepare to get stunned.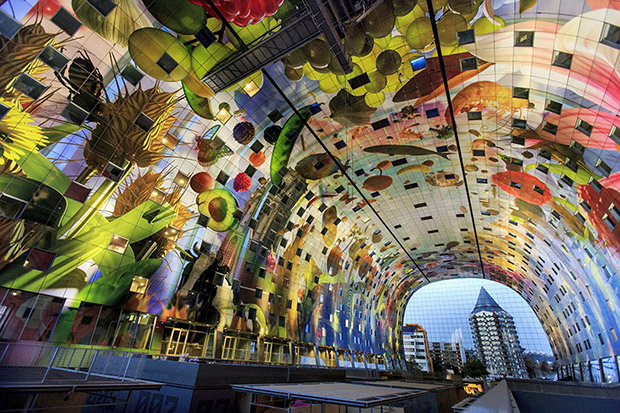 When you get inside the market, you will be surprised to see this huge ceiling mural.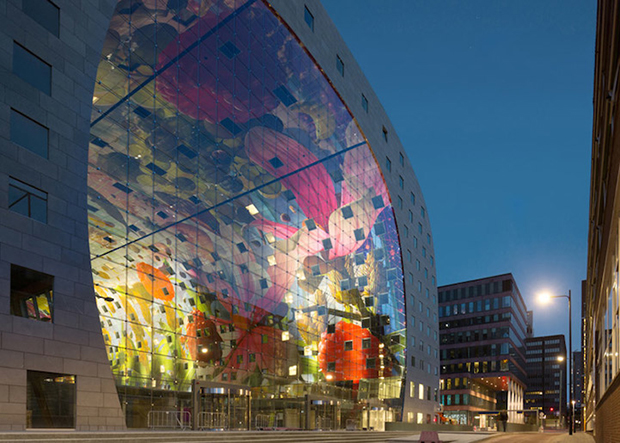 The 312,000 square foot space was built for five years and it is worth the wait.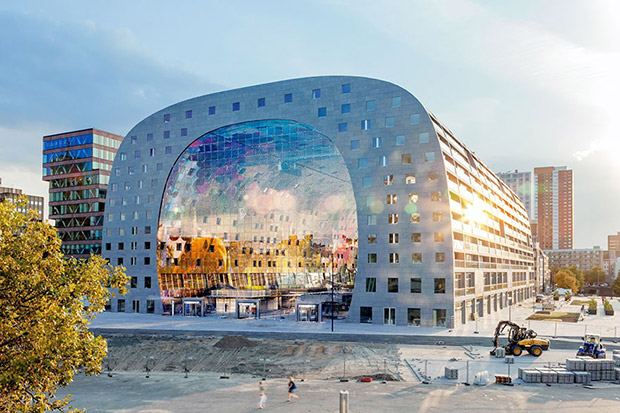 This open food market has 100 fresh produce units, 15 food shops, and 8 restaurants. Aside from that, there are also 228 apartments with 1,200 parking spaces.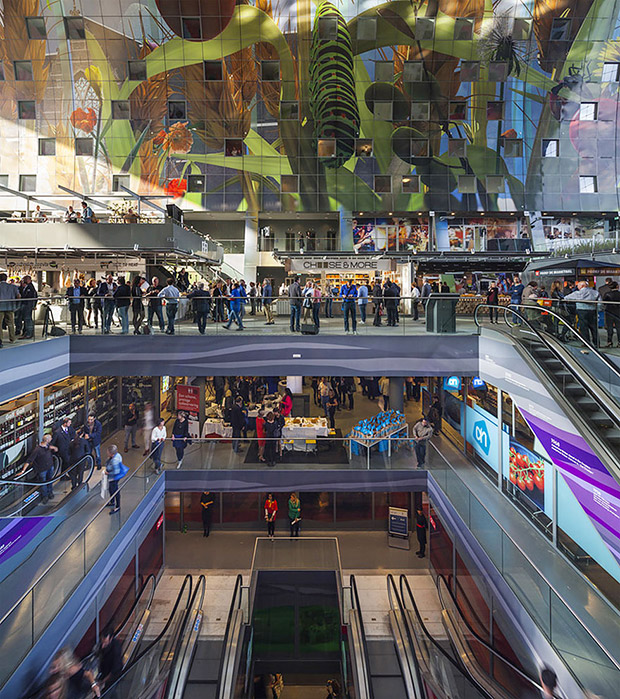 Look at this place. If we were just near here, this would be where you will find us most of the time!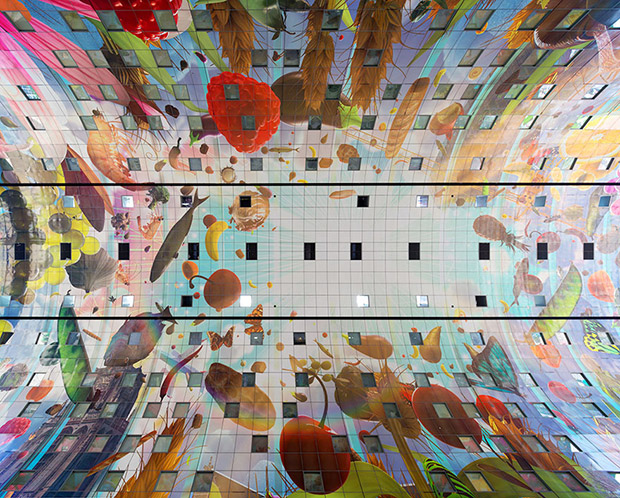 Who wouldn't love to be under this beautifully done ceiling mural? It feels like we are in a Cloudy with a Chance of Meatballs movie where it rained food.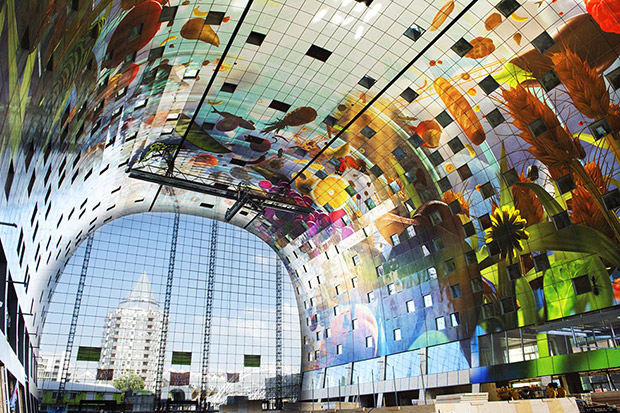 But of course, it isn't actually raining food. It's just that enormous mural done by artists Arno Coenen and Iris Roskam.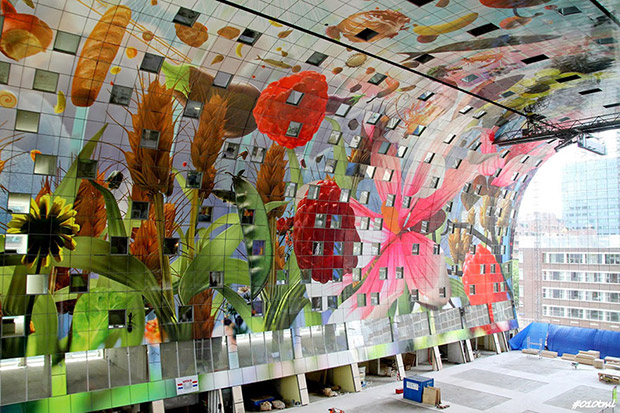 Each part of the image was broken up into squares and was printed on perforated aluminum panels.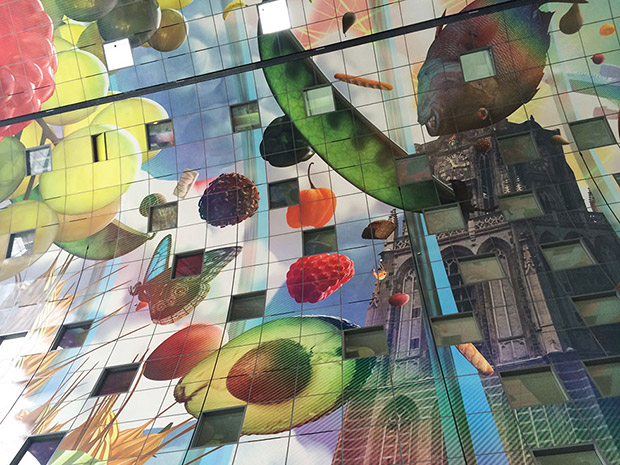 And they aren't just here for design but the panels are also attached to acoustic panels for noise control. Cool, right?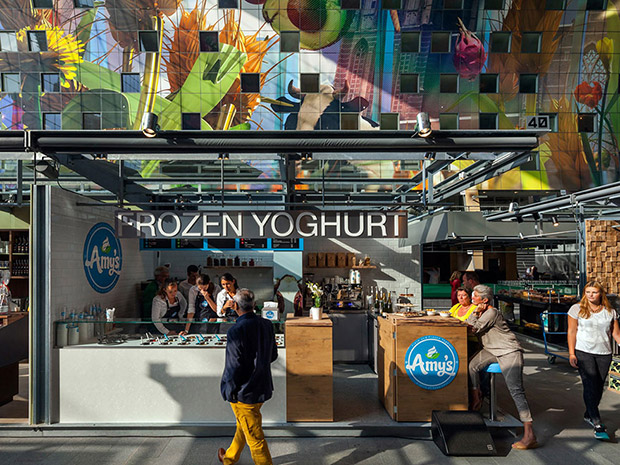 You can find many different stores and stalls in the market which means you can get just whatever you want.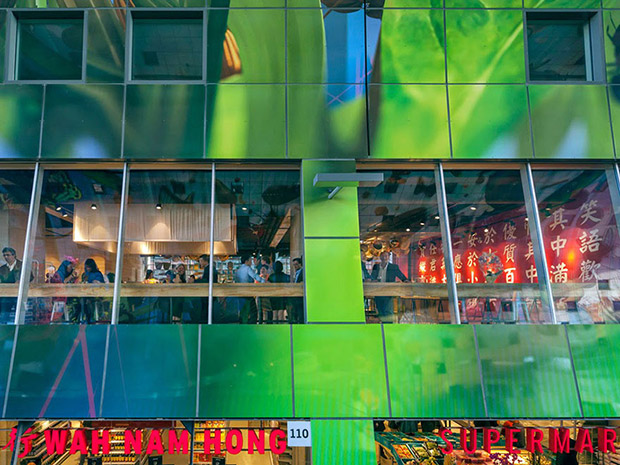 A restaurant in the market hall which seems to be surrounded with greens that are part of the Markthal Rotterdam Mural.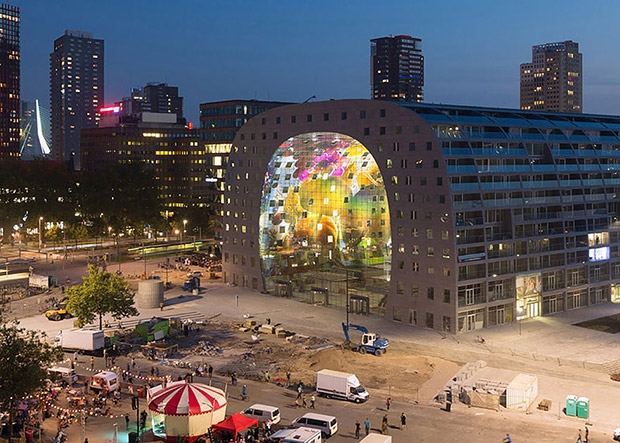 Huge. This is indeed a very large structure. We can't imagine how they worked on the structural analysis of this one.
No doubt, it is a wonder of engineering.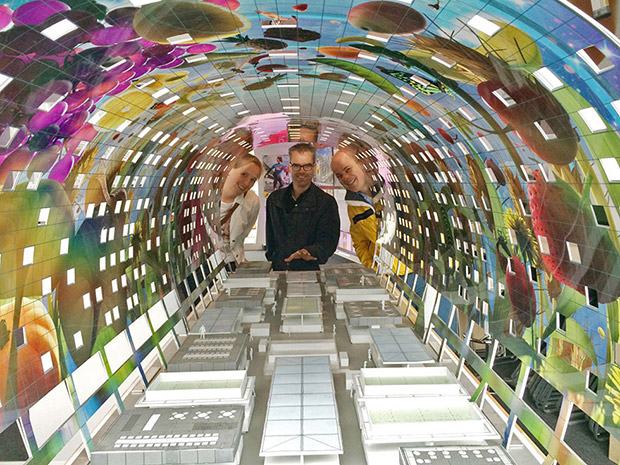 Dutch architects MVRDV designed the structure. Seen here is the miniature of the market hall.
Definitely, well planned!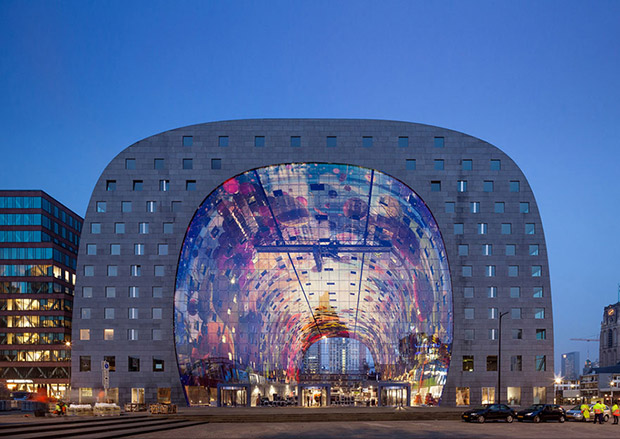 To allow the residents to look at the Markthal Rotterdam Mural, there are square windows or a glass floor built-in.
The huge Markthal Rotterdam Mural depicts fresh market produce, as well as flowers and insects that have reference to the work of Dutch still life masters from the 17th century.
There are giant glazed walls at the ends of the Markthal Rotterdam that will protect it from cold and wet weather while allowing light to get in.
Dutch architects MVRDV designed this using pre-stressed steel cables where there are suspended net in-between used to hung the glass panels.
This is indeed amazing engineering! We are sure you would want to get in here even just to take a selfie!