I'd Send My Child To This Learning Center. I Think You Would Too. It's Just Brilliant.
When you think of a learning center, you will immediately picture a fairytale themed space or a space filled with a rainbow of colors. Famous cartoon characters would be painted on walls and there will be plenty of areas for playing, reading and learning. But the SPRING Learning Center is no ordinary center for kids. It has a modern design but still retained the fun and childish touch in it.
This learning center in Wanchai, Hongkong is definitely one of a kind. It is designed based from a child's viewpoint, and concentrated on the learning experience the kids will get as a whole. It aims to "formulate a space that caters to children's both physical and psychological needs, and ultimately help them achieve their development and learning potential". It also made sure that not only the kids could enjoy their stay in the area but the adults as well. Have you seen a learning center like that? Well, this one is definitely brilliant. Wait 'til you see the images below.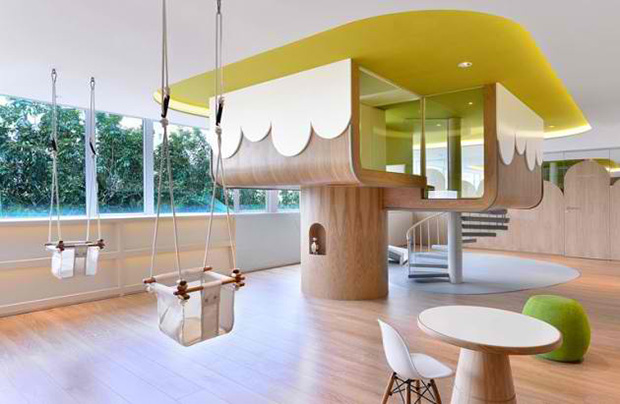 A modern tree house with a sleek design is perched inside the learning center to fulfill every child's wildest dream.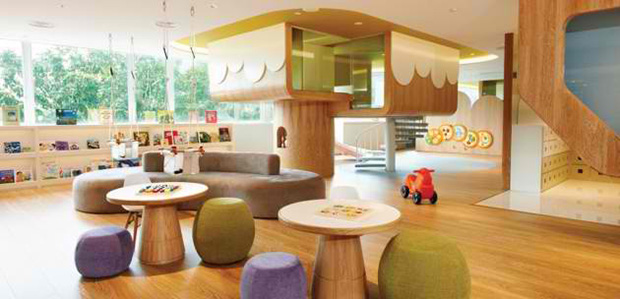 Around that tree house are tables and chairs where the kids can do different activities.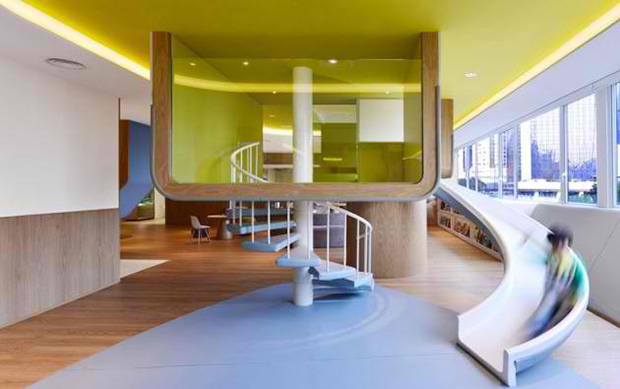 A tree house is already an adorable sight for kids but adding a slide to it makes it even more lovable.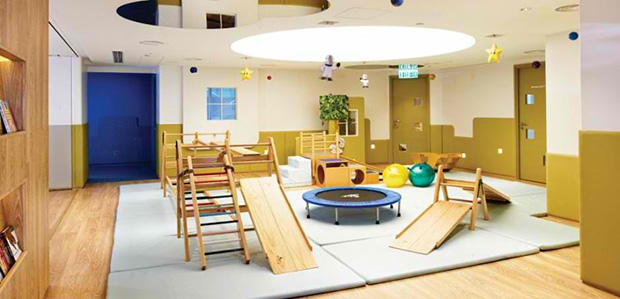 And here is another play area where one can both learn and play.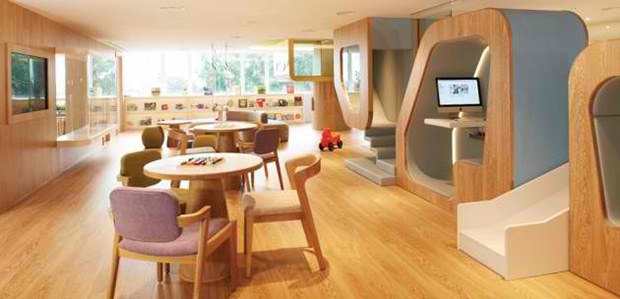 On the sides are hillock shaped hubs where the kids can surf the internet or read. Totally hi-tech, right?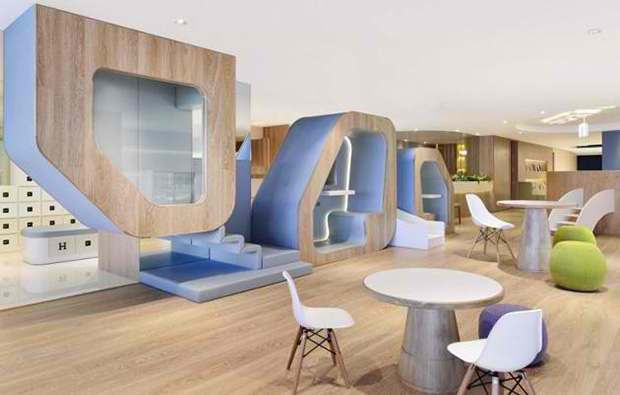 Instead of a rainbow colored learning center, they opted to use a neutral palette of white, light green, pastel blue and wood.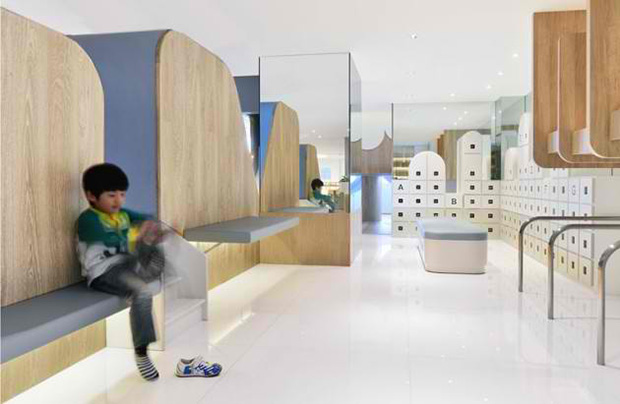 The learning center is not boring at all despite the use of neutral colors. I even think that the lesser colors around, the more the kids could concentrate on learning.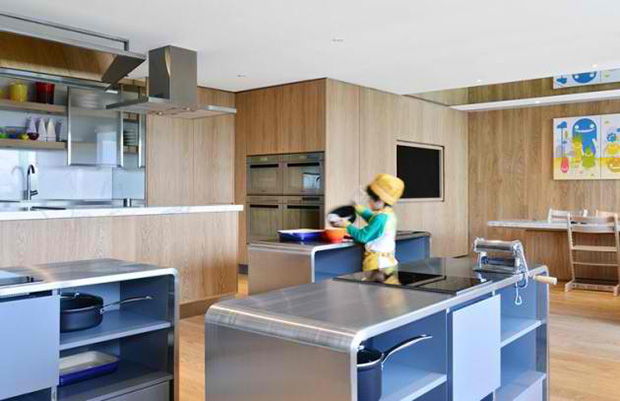 The kitchen will allow the kids to play like a real chef especially that everything is stainless just like a real chef's kitchen!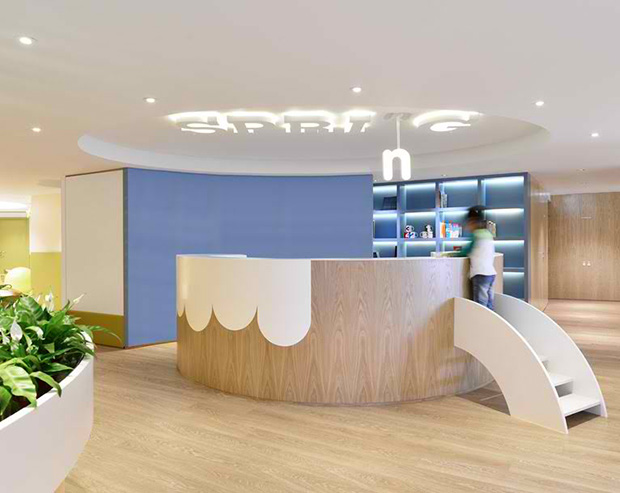 And this is the reception counter with a staircase that allows the kids to climb into it. The logo is attached on the ceiling with the letter "n" dropped that means infinity in mathematics. It manifests that kids can unleash their infinite creativity in the learning center.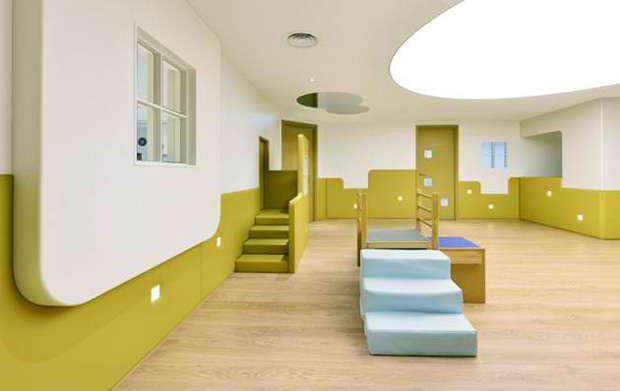 Another thing that makes this special is its aim to aid interaction between the kids, parents and educators. It provides furniture and facilities for both adults and kids.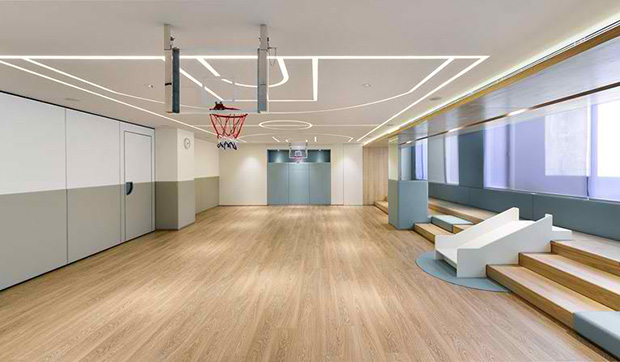 The multipurpose stadium is not just designed for basketball but it can also be used for seminars and other events. The basketball court lines is engraved onto the ceiling as LED lighting producing an illusionary and interesting effect.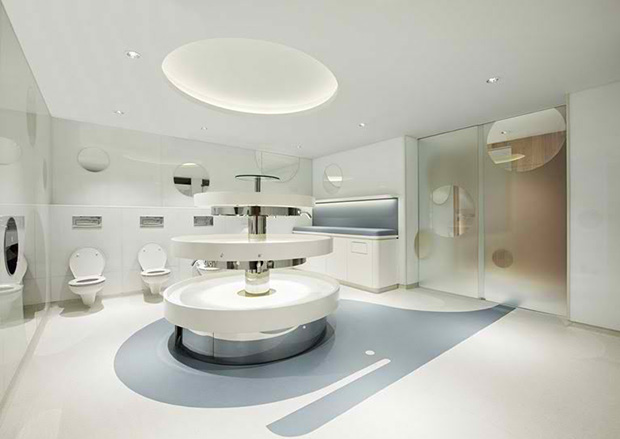 And this is the bathroom. You will surely notice the round thingy in the center. That is a dual height washbasin where both adults and kids can use because of its giant fountain form.
Who says fun and modern design cannot be combined? This learning center proved that even if we do away with the fairytale clichés, a space can still aid for learning and playing. Joey Ho Design seems to know what is best for our kids. This learning center is really one place where I'd send my kids to! If your kid will look for Mickey or for the Disney Princess while in the SPRING Learning Center, bring her to one of the hillocks and show her just that from the computer because you can't find them painted on the walls.
FREE TRENDING HOMES IN YOUR INBOX!
Never miss any updates! Subscribe to our feed and we'll send you the latest trending homes right to your inbox daily! Join us Now!