Getting Cozy at the Ufogel Holiday House
|
Holiday houses are often pictured as something out of the ordinary. You wouldn't think, however, that it can come in all shapes in sizes!
At first glance, you will say, "Huh? Is that really a house?" We asked the same question. We actually thought it was just a sculpture of some sort. It looked like an extraterrestrial object and it also looked like a bird.
This house is called Ufogel Holiday House and it is called this way because it resembles a prehistoric bird. We know you can still think of other things that may look like this house!
The Ufogel Holiday House designed by Architect Peter Jungmann is perched like a bird in the meadow near Lienz, Austria. It stands on stilts and appears like floating.
Aside from its shape and design, the holiday house is also surprisingly small with only 45 sq.m. living space. But we tell you, the house is complete with a kitchen, dining, living, bathroom, and bedrooms. In doubt? Let take a quick virtual tour around this unique holiday house!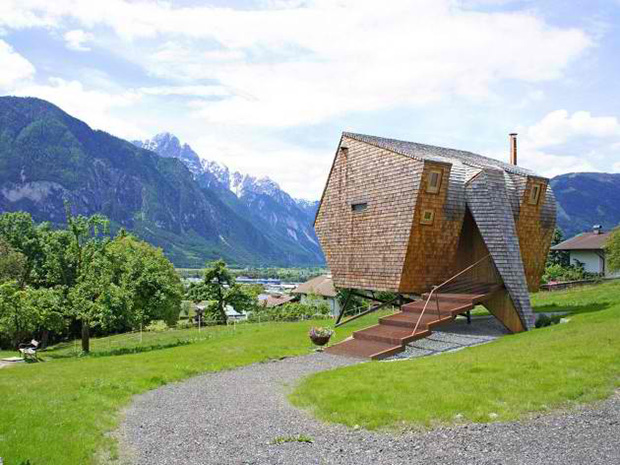 This bird-like structure is indeed a surprising sight. Just look at its shape! Quite impressive with that view at the background!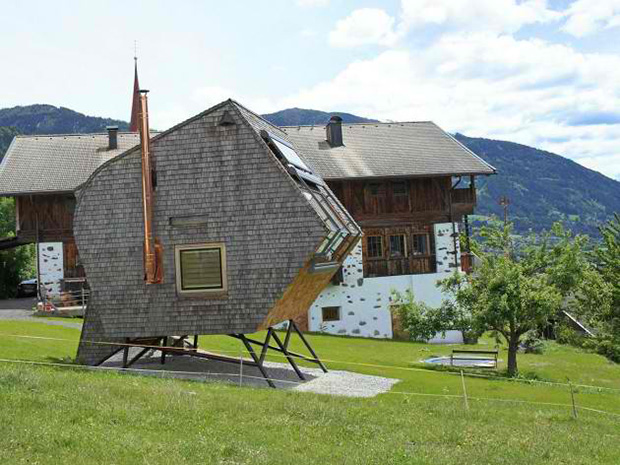 Looking at the exterior will make you wonder what is really inside.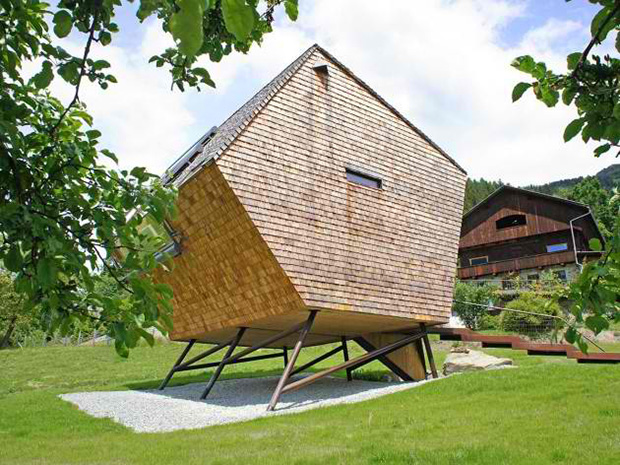 And will make you think if this house is functional at all!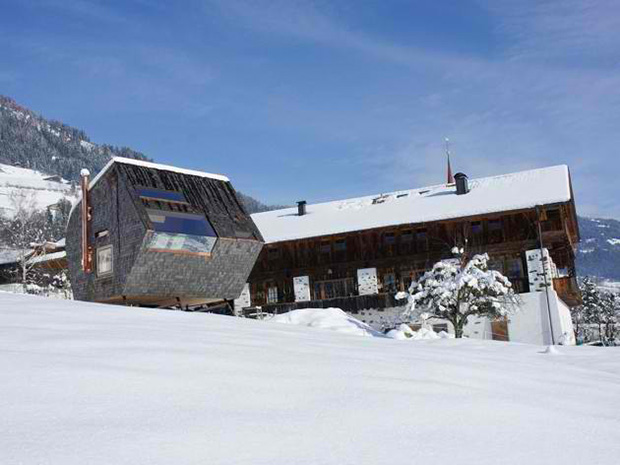 But the truth is, it works just like your own home despite its strange shape. This holiday house can be occupied in all seasons!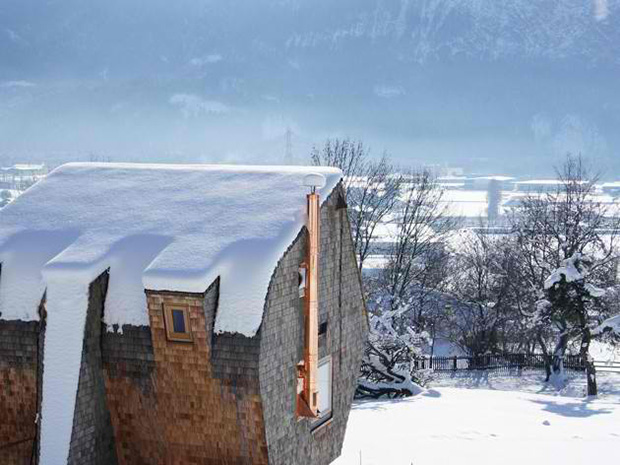 That is why the designers said that the minute you enter the house you will be amazed by its "spatial wonder".
Come on and let's take a look!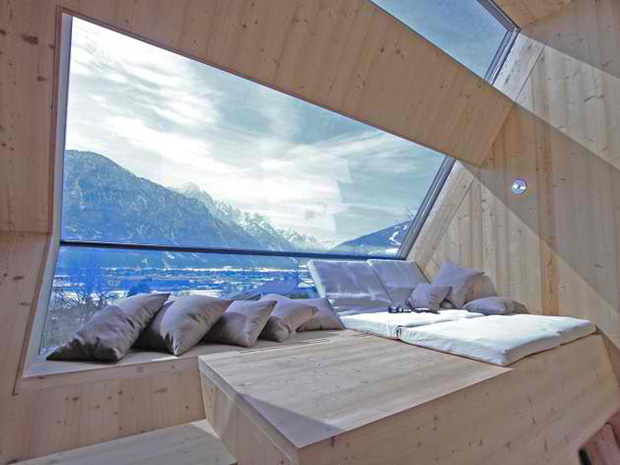 It really is a wonder! On the window side, a mezzanine has this area with a comfy bed.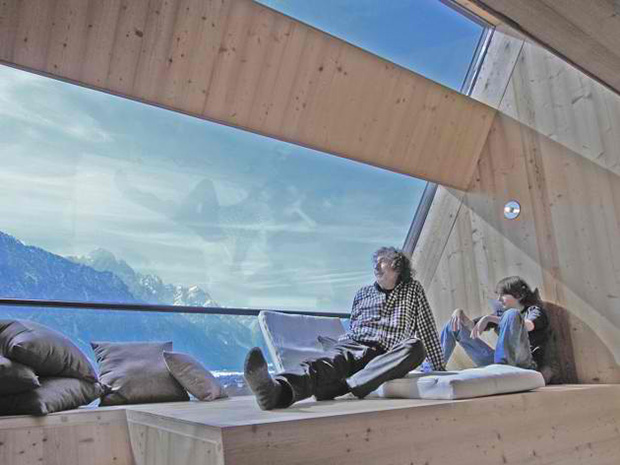 Where one can look outside and enjoy the panoramic view of the mountains.
We can spend hours just sitting here and getting all thoughtful and meditative with that gorgeous view!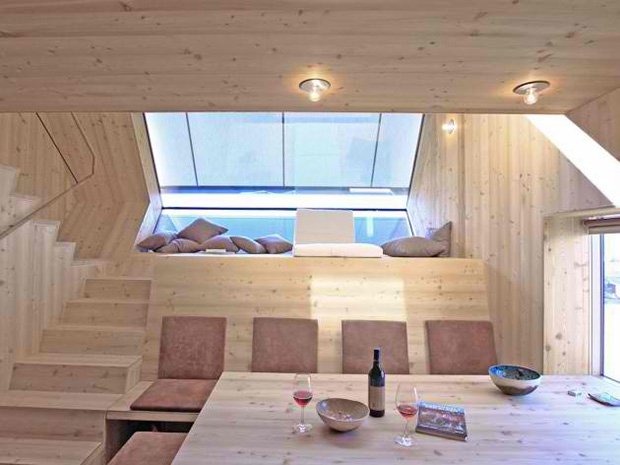 Below that area is this dining space. Note the wooden interior that is used in the entire house.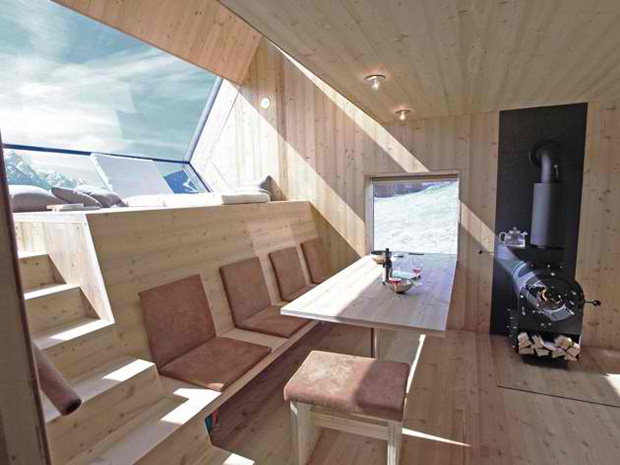 To save space, a bench was attached to the flooring of the mezzanine while the table is attached to the wall directly below the window.
Looks very cozy and wide with the large open window!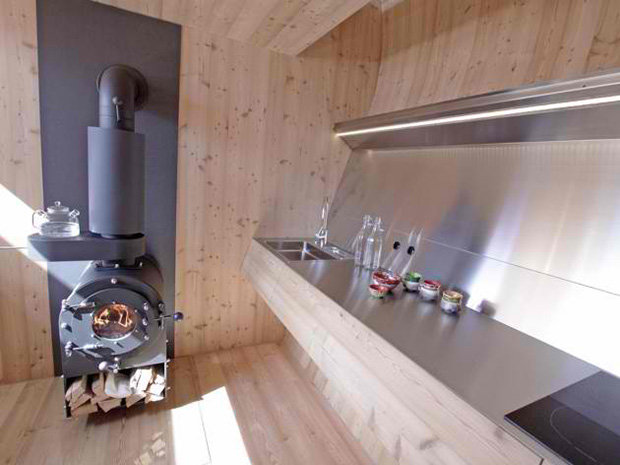 And just in front of the dining area is this kitchen with its stainless sink.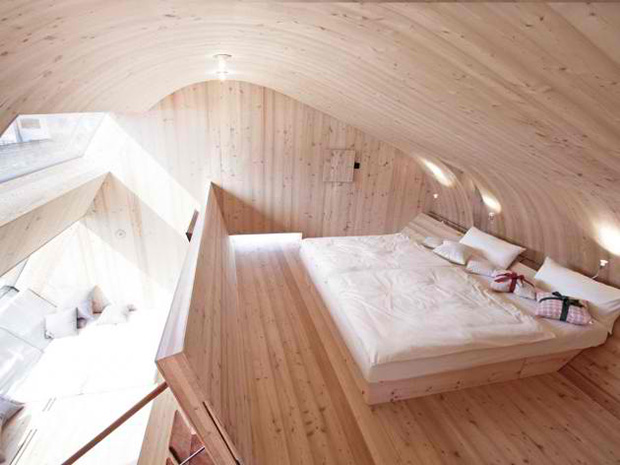 While a bedroom sits in this part of the house with a curved roof. There is a small window that allows minimal light from the outside to reach the bed. This will ensure that the occupants can still take a nap without worrying about the blinding light outside.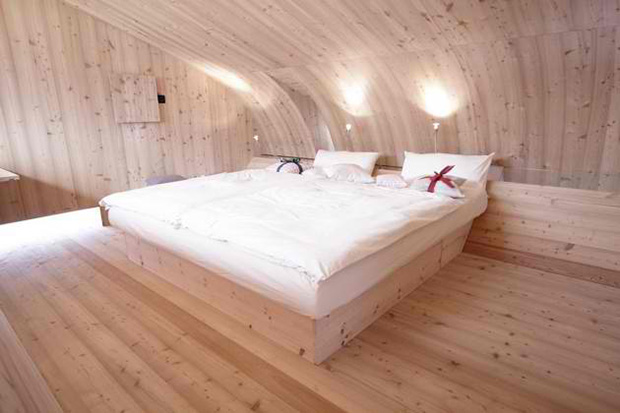 And you will feel like you are being enveloped in wood. This area is made of wood from floor to ceiling, giving it a cool and relaxing ambiance.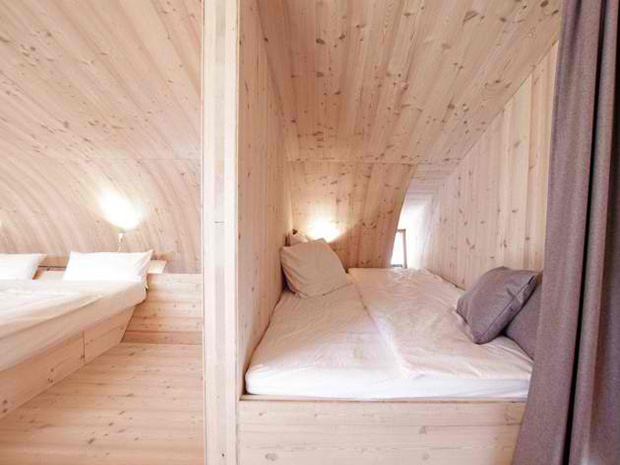 Especially in this smaller bedroom with an inclined ceiling. The wall and the curtain provide some privacy to the occupants, too.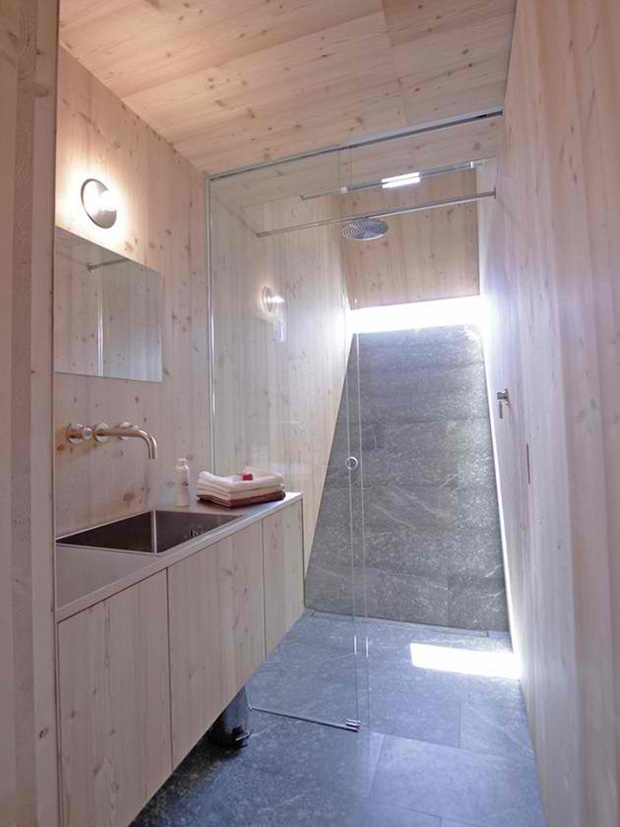 And here is the bathroom which even has a shower area! Cool huh?
The designer had separated the shower room with a glass wall to keep the rest of the things from getting wet.
Amazing isn't it? Very much amazing indeed!
With so little space and a very challenging shape, the Ufogel Holiday House contained all that! Certainly, one can live in here and would enjoy all the privacy they can get.
We are always impressed with how small houses are designed, but this one is no doubt extraordinary. If I have a house like this, I will be proud to say that "I live in a bird!"