Spectacular Swimming Pools in the World You'd Love to Dive In
|
Do you love to travel? Well, these spectacular swimming pools should be in your bucket list!
We are sure all of us want to take a swim in a pool. That is why some even have their own swimming pools in their homes.
This way, they could dip into the cool water whenever they want to. But of course, it would feel different when you are out of the house and you could spend time in a luxurious place with a pool.
There are actually so many lovely places to visit if you are looking for spectacular swimming pools. Going into one will give you an experience that you will never forget for a lifetime especially if you get into one of the pools that we will feature today.
We searched around the web and was totally amazed by the swimming pools we came across. Whether you want a strange pool or a pool with the tropics, you can have it all.
You can also get a pool in cold areas or even those extending to the ocean. Name it and you will get it in this list of strange but spectacular swimming pools around the world!
1. Lecrans Hotel and Spa
How would it feel to be able to bath in a hot pool while in the Alps? Well this one from Lecrans Hotel and Spa will surely be comforting but it would feel different to wear swimwear in the cold!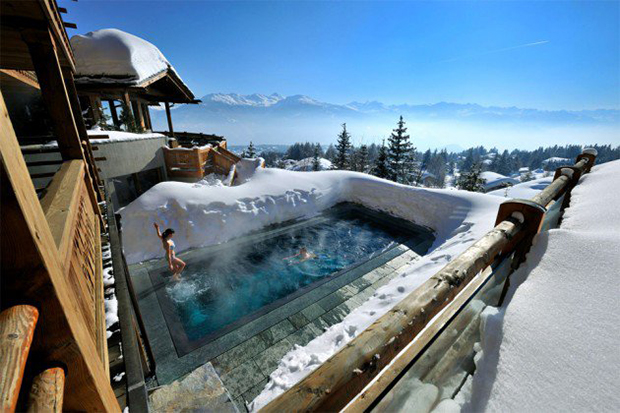 lecrans.ch
2. Tropical Islands Resort
The Tropical Islands Resort of Krausnick, Germany is complete with a rainforest, beach, artificial sun, palm trees and several spectacular swimming pools. I think I won't go out once I get inside!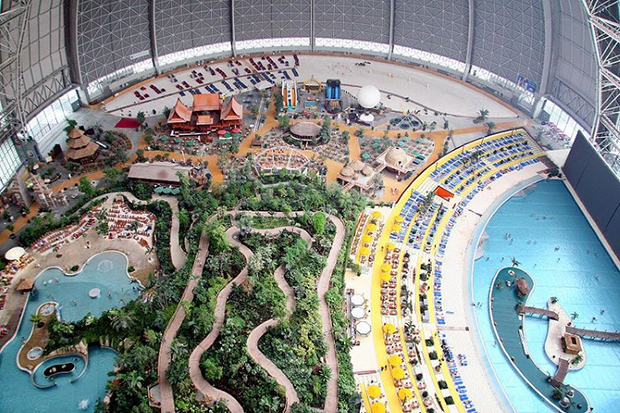 wikimedia.org
3. San Alfonso Del Mar Resort
The world's largest crystalline pool is the San Alfonso Del Mar Resort in Chile that is eight hectares and has 250 million liters of water.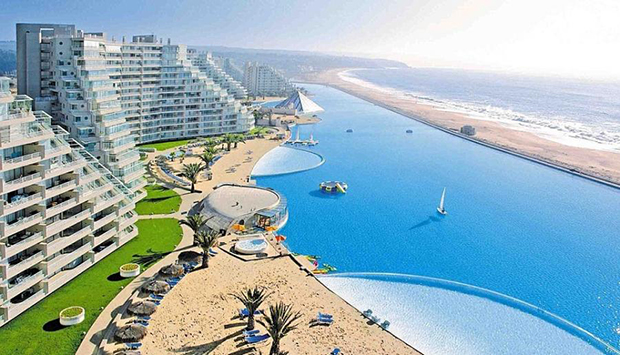 pixdaus.com
4. elassaru Hotel
If you want to just watch the sea without actually getting into the saltwater, you can dip in the swimming pool instead of in the Velassaru Hotel in the Maldives. Now that is a unique way to be with nature!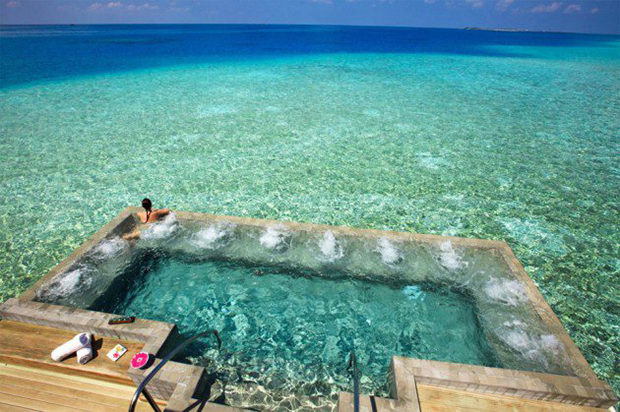 velassaru.com
5. Golden Energy Spectacular Swimming Pools
Once you dip in this Golden Energy Pool, you will feel like you have bathed in a gold because this is actually a 24-Carat Gold-Plated Pool in Tibet.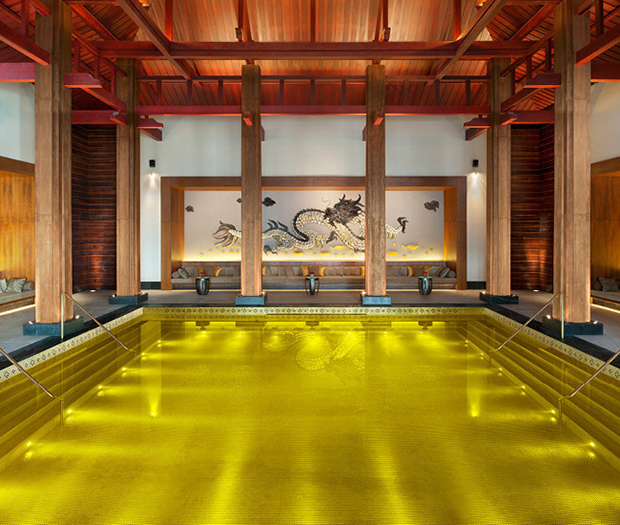 luxuryhomes.com
6. Golden Nugget
You will feel like swimming with the sharks in the Golden Nugget spectacular swimming pools. But don't worry the sharks will just be merely looking at you!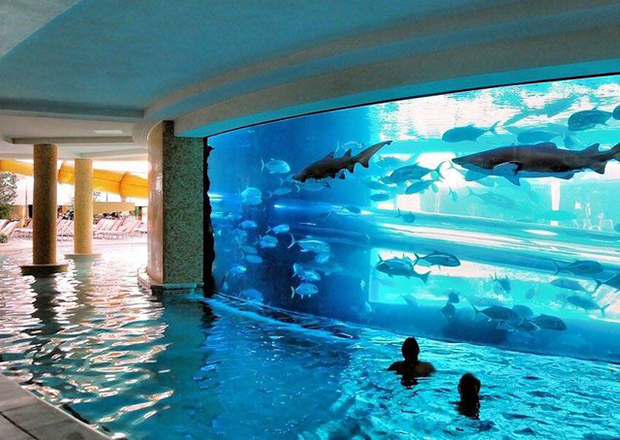 skybambi.files.wordpress.com
7. Hanging Gardens Ubud Hotel
The Hanging Gardens Ubud Hotel in Bali, Indonesia has this stunning infinity pool in free form that overlooks to a rain forest.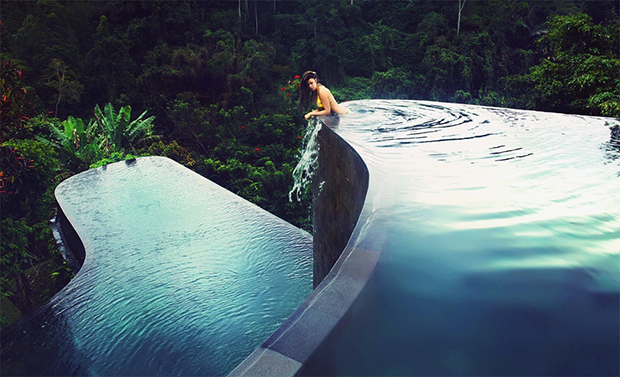 onebigphoto.com
8. >Violin Shaped Spectacular Swimming Pool
A musician would definitely fall in love with this Violin Shaped Spectacular Swimming Pool that has amazing lighting.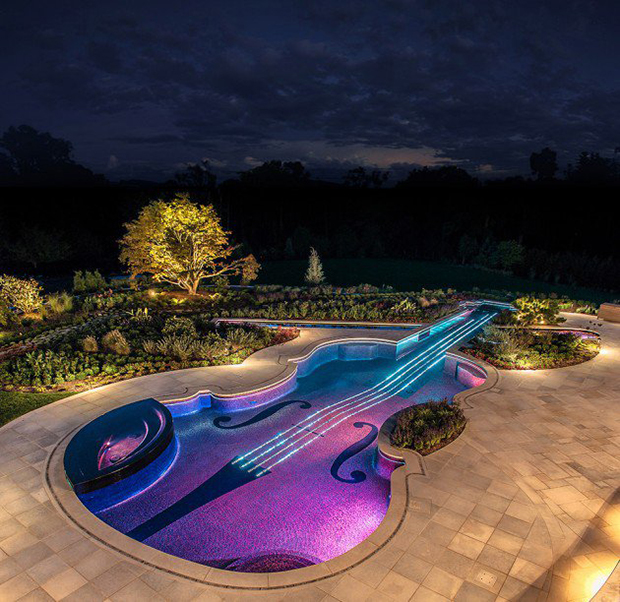 njcustomswimmingpools.com
9. Conrad Maldives Resort and Spa
When you are in the Conrad Maldives Resort and Spa, you will feel like floating on the sea while in their infinity pool.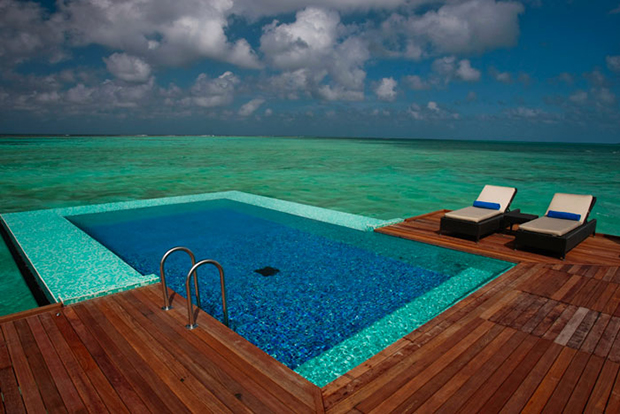 mjmurphy.co.nz
10. Marina Bay Sand Hotel
On the 57th floor of the Marina Bay Sand hotel is an infinity pool that will let you see Singapore from the top.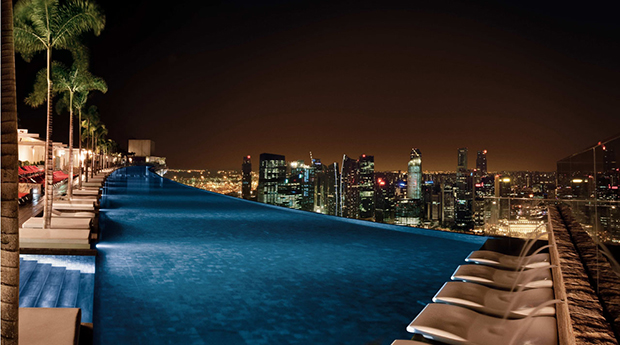 buildipedia.com
11. Mardan Palace Hotel
Now this sure is a large pool and it seems you can go around the Mardan Palace Hotel in Turkey through the pool.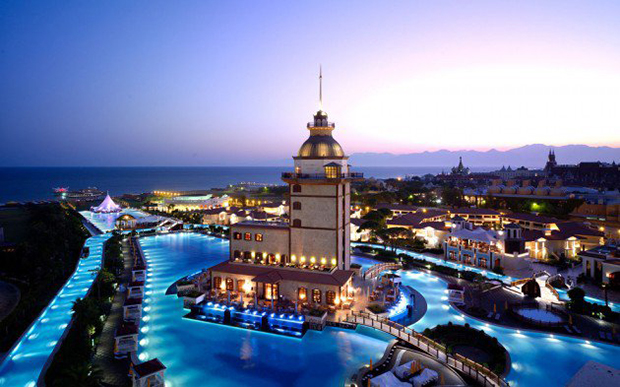 mardanpalace.com.tr
12. Huvafen Fushi Hotel
What a beautiful pool! The Huvafen Fushi Hotel located in Maldives will seem to bring you to a magical world with fiber optic lighting.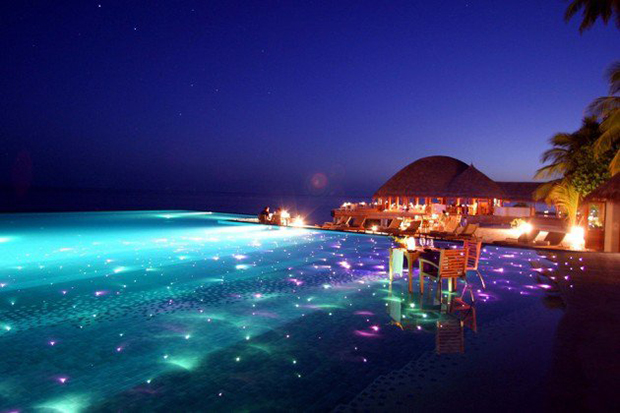 slh.com
13. Alila Uluwatua
A cliff-top infinity pool in Alila Uluwatua of Bali, Indonesia that has a cantilevered cage-like cabana near it.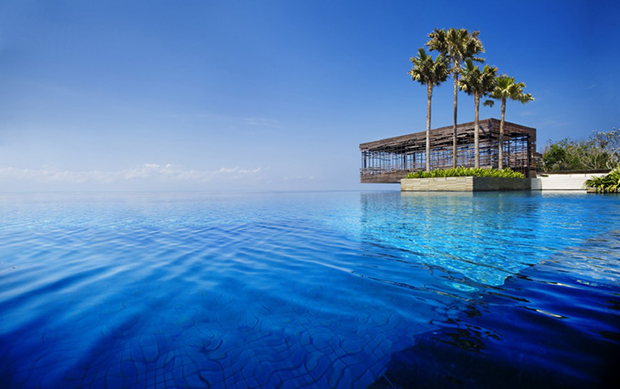 simbiosisgroup.net
14. The Library
Don't worry, you are not bathing with blood in this spectacular swimming pools of the The Library in Koh Samui, Thailand. It is just the pool flooring and tile color. But it sure looks a bit creepy.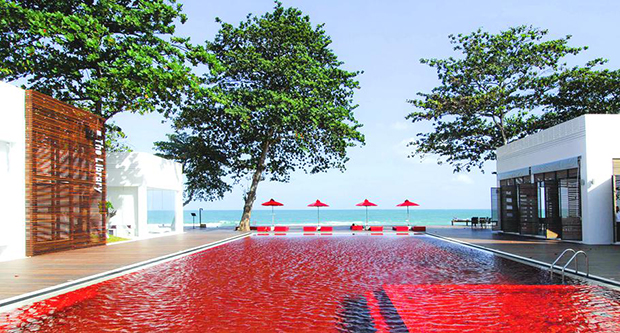 paks.ru
15. The Standard
The spectacular swimming pools of the The Standard in Los Angeles, United States is on the rooftop of a 12 story building. At night, it turns into an entertainment space with an open fireplace, dance floor and bar.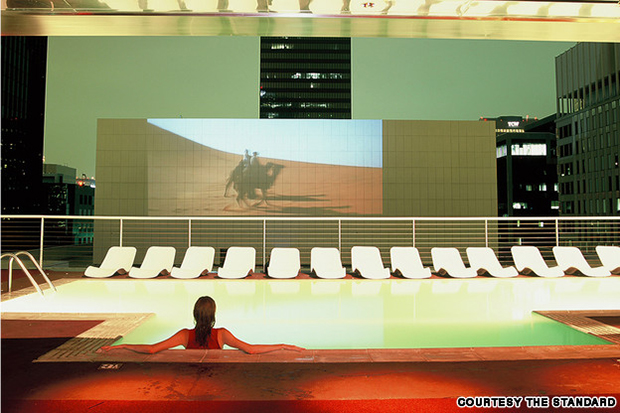 home-designing.com
16. Perivolas Hotel
The Perivolas Hotel is located in Santorini, Greece is another stunning infinity pool on a cliff. While you are in the water, it would be hard for you to spot where the pool ends!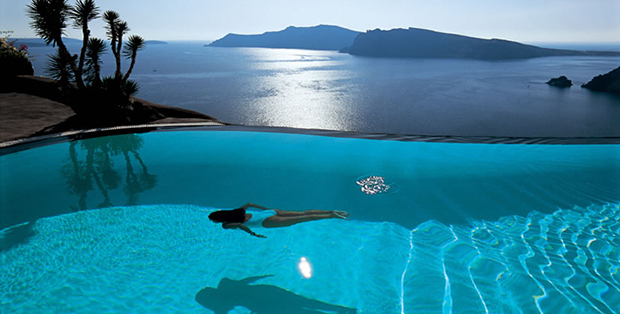 perivolas.gr
17. Hotel Caruso
This infinity pool is at the highest point of Ravello. It is from the Hotel Caruso of Italy that gives you a view of the mountains and the sea.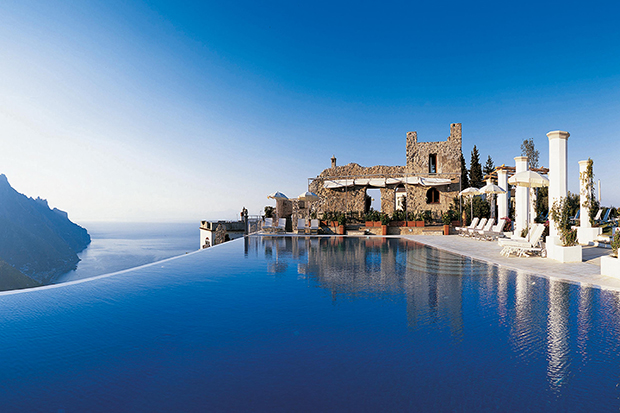 secretescapes.com
18. Cave Pool
You will be surprised of this Cave pool in Santorini, Greece since it is located underneath a mountain!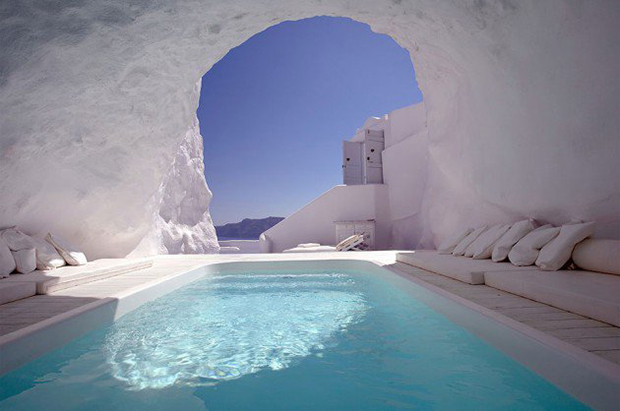 katikieshotelsantorini.com
19. Nemo 33
Nemo 33 is the world's deepest indoor pool making it the favorite pool for divers as it has underwater cave systems.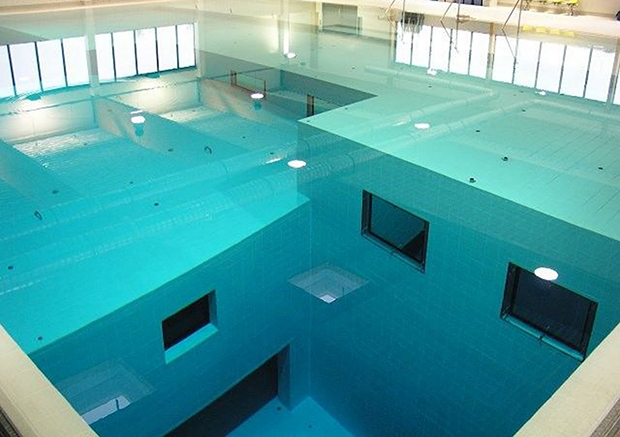 blog.iso50.com
20.
Get a good view of the Swiss Alps while you are in The Cambrian Hotel in Switzerland.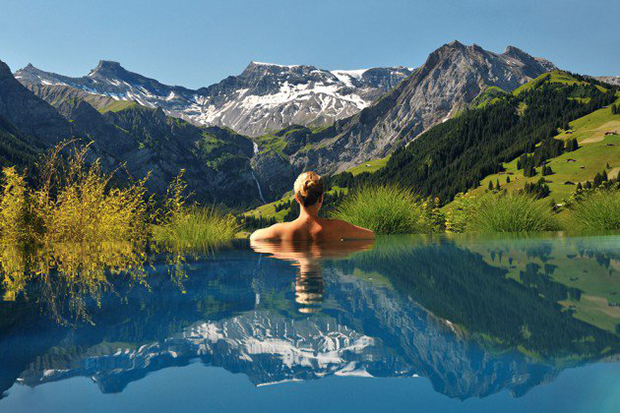 thecambrianadelboden.com
21. >Four Seasons Safari Lodge Pool
Enjoy watching the elephants and zebras in the Four Seasons Safari Lodge Pool in Tanzania. It is a free-form infinity pool that overlooks a watering hole and the Serengeti plains.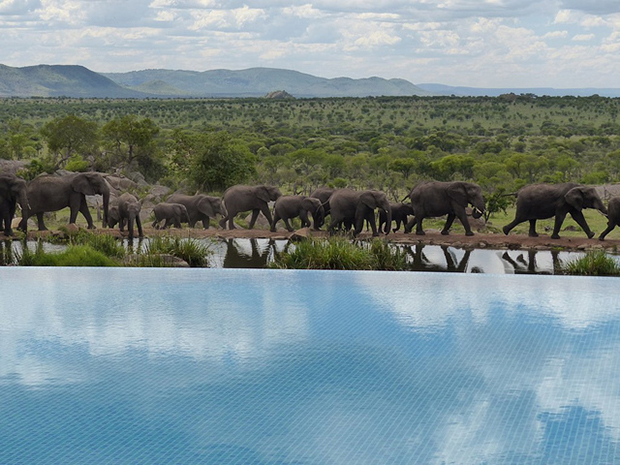 flickr.com | romanboed
22. Neptunes Pool of Hearst Castle
Don't be tempted to jump in the Neptunes Pool of Hearst Castle in San Simeone, California because swimming is not allowed here. It is merely a highlight of tours in the area because of its rich history.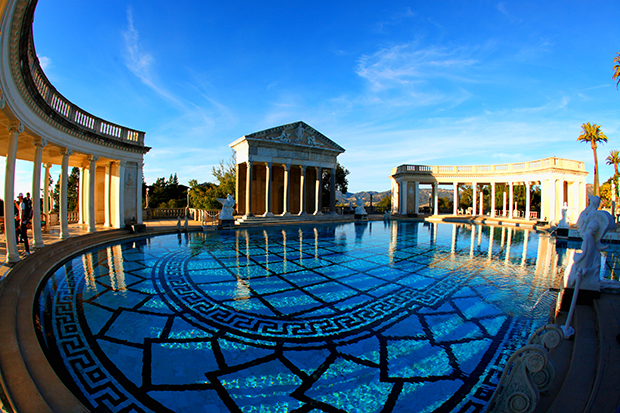 swrfoto.wordpress.com
23. Purobeach Porto Montenegro
This pool sits in the dramatic bay of Kotor in Purobeach Porto Montenegro. Just look at the design of the flooring and the lighting that adds more drama into it.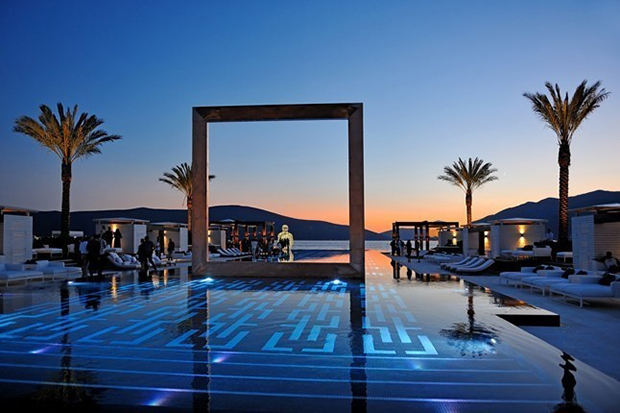 portomontenegro.com
24. The Sarojin Resort Pool
What a romantic pool! The Sarojin Resort Pool in Khao Lak, Phang Nga, Thailand is indeed something every honeymooners should consider!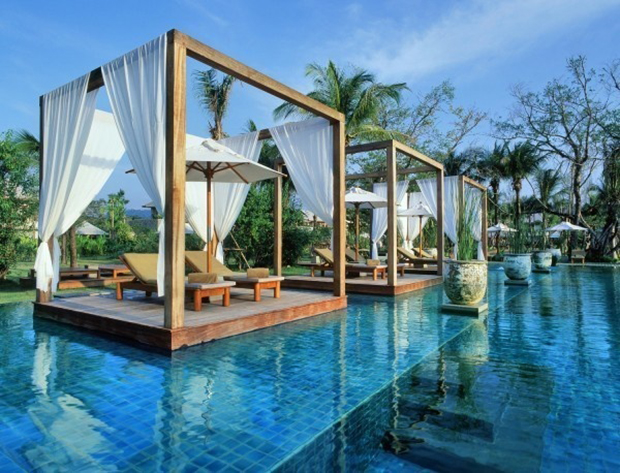 sarojin.com
25. Blue Lagoon Geothermal Resort
OMG! Just look at this pool of the Blue Lagoon Geothermal Resort in Grindavík, Iceland. I'm not sure if I'll be scared or excited to deep into the water!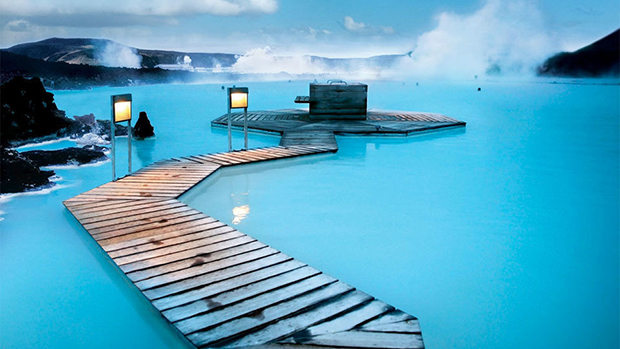 bluelagoon.com
26. Pamukkale Pools
Amazing spectacular swimming pools that are inside terraces with bright white calcium and limestone deposits! This is the Pamukkale Pools in Turkey that is said to help heal some illness because of the minerals in it.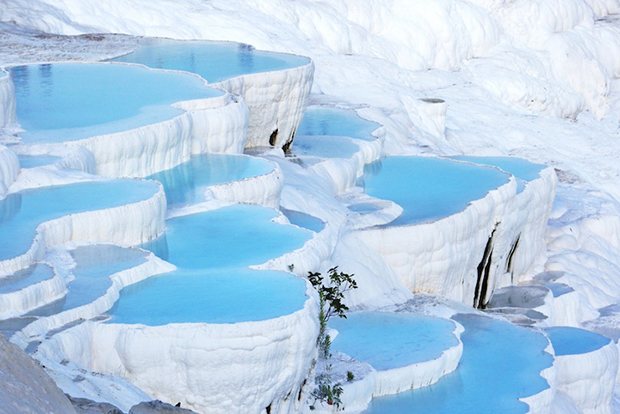 mymodernmet.com
27. Hotel Chocolat
Get a good view of nature in the pool at Boucan by theHotel Chocolat in St. Lucia. This sure is paradise!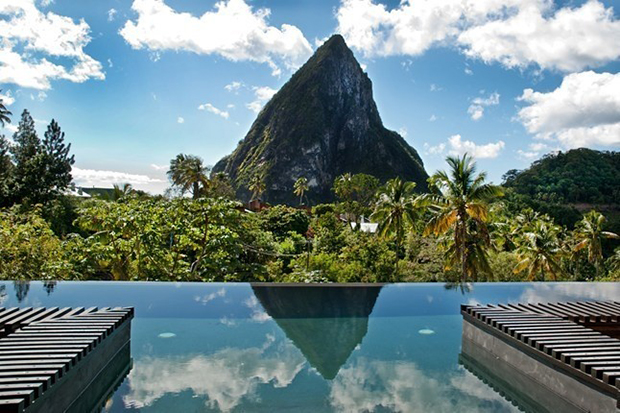 hotelchocolat.com
28. Pelican Hill
The world's largest circular pool is seen at the Pelican Hill of California, United States. It has 1 million hand-set glass mosaic tiles in the flooring.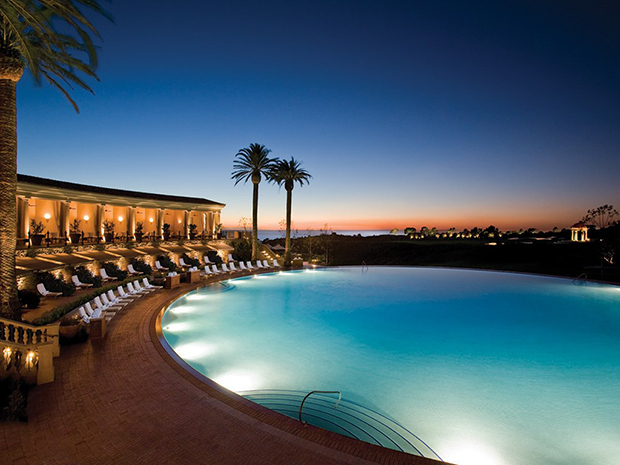 cntraveler.com
29. Sacred Pool
Another pool in Turkey that is interesting is the Sacred Pool with pieces of ruins and columns at the bottom from the long-gone Roman city Hierapolis.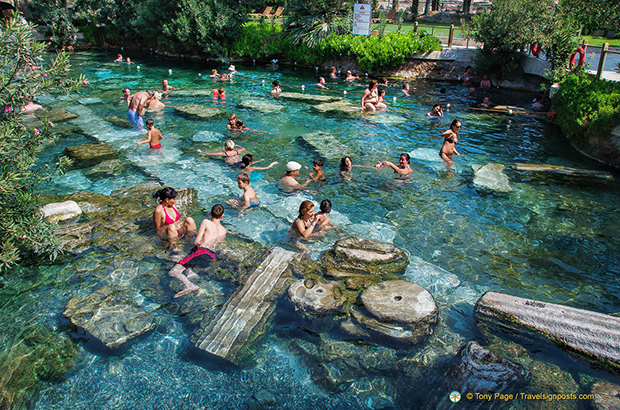 arena-berlin.de
Which of the spectacular swimming pools above would you love to visit? Well, it would be nice to get into all of these but it would cost a lot too.
We are pretty sure you could find the perfect pool for you and your family from the above list. They all look inviting but don't forget that pool number 22 is not for swimming because it is so special!
Now, if you are currently in a search for a spectacular swimming pool to visit this summer, go back to this list and share this with the people you want to spend time within these gorgeous waters!