Parkroyal Hotel: An Environmental Haven in Singapore
|
Need a reason to stay at the Parkroyal Hotel in Singapore? We certainly do so! Let us take a look at how the hotel integrated nature to its impressive structure!
Eco hotels are making quite a statement that has left a great impression on the environment and their sustainability. And this is particularly evident at the Parkroyal Hotel on Pickering.
At a glance, one can say that it is just an ordinary hotel. But you won't believe how extremely eco-friendly the structure is!
Yes, it is a tall beautiful hotel with all those beautiful lights. Even from afar, we can tell that this is a luxurious haven for anyone who wants more than just a place to stay. It is a great accommodation that is a perfect hub for sophisticated relaxation.
The Parkroyal Hotel is designed in a garden and is a study of how greenery can be conserved in a built-up high-rise center. It was built to determine how it can be multiplied in a manner that is also architecturally striking, integrated and sustainable.
Deep right? The look of this hotel is not just striking but very much remarkable and superb!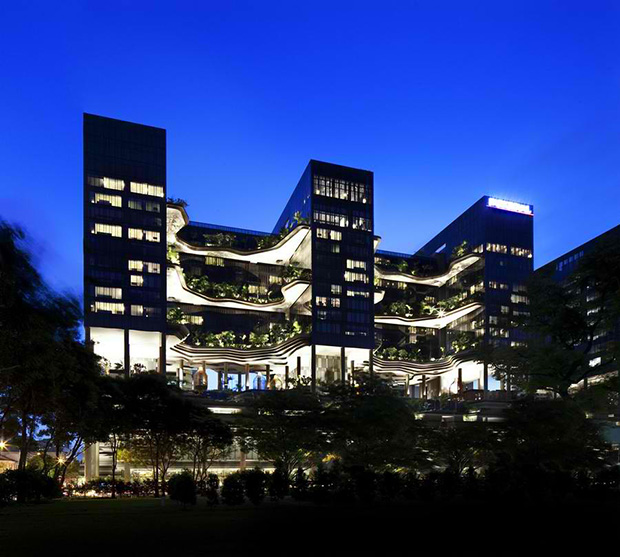 This is how the Parkroyal Hotel looks like. We know those vertical buildings are common sightings but the irregularly shaped structure in between them looks intriguing.
Especially at night when the hotel is bathed in dramatic lights.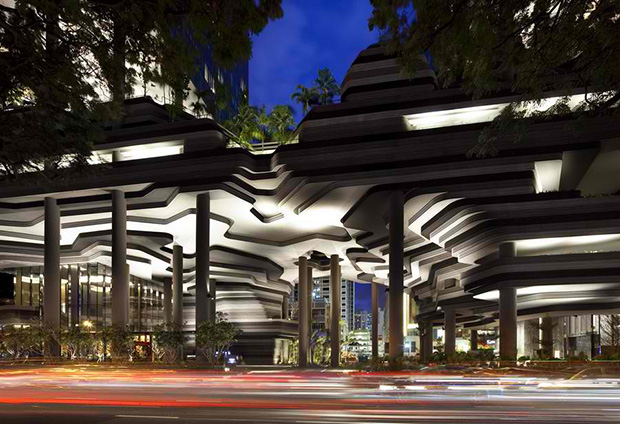 And this is how it looks when you get closer. The contours mimic the landforms that are seen in Asia like the padi fields. Though at this angle it looks modern and futuristic.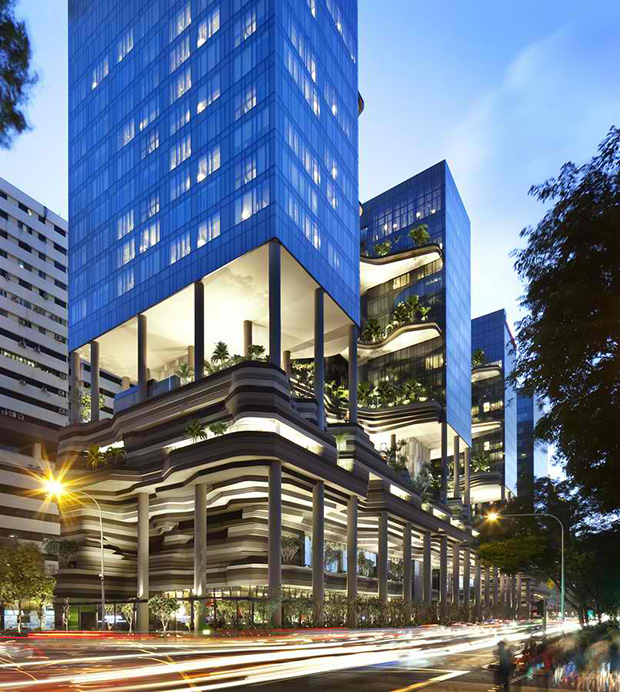 The contours are very breathtaking. Who would think that a building this tall have these extraordinary design? But that is not all.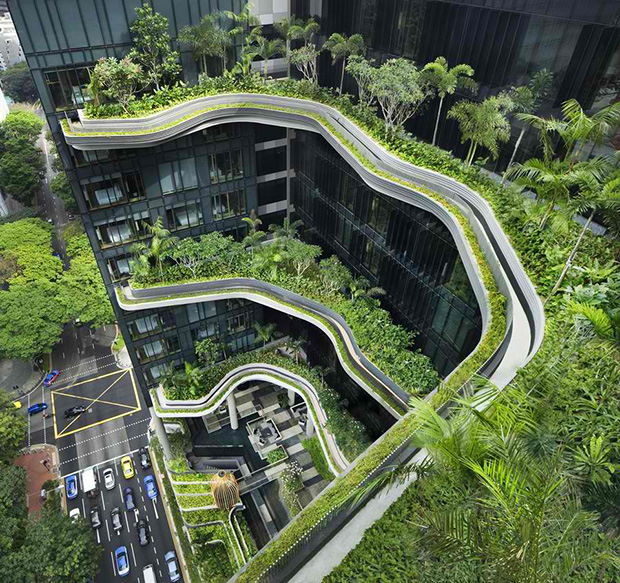 Because the contours are not just there for aesthetic. Plants thrive on it. Cool huh?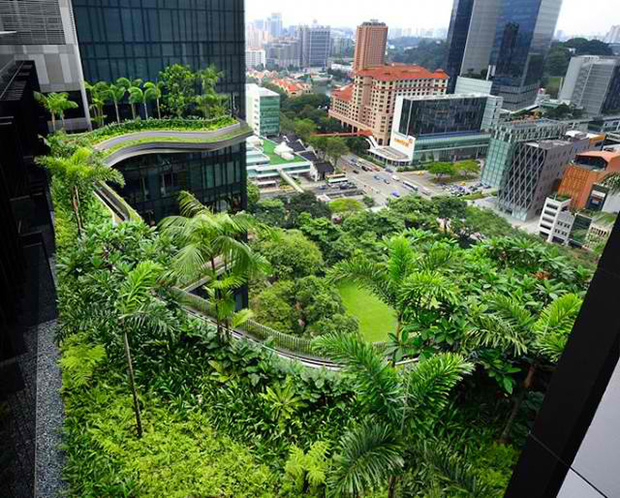 Yes, this is what we mean by a hotel in a garden. It grows bonsai plants that were modeled, chiseled and spliced to imitate natural landscapes.
At some point, this view can confuse you if you are still at a metropolis or out in the country!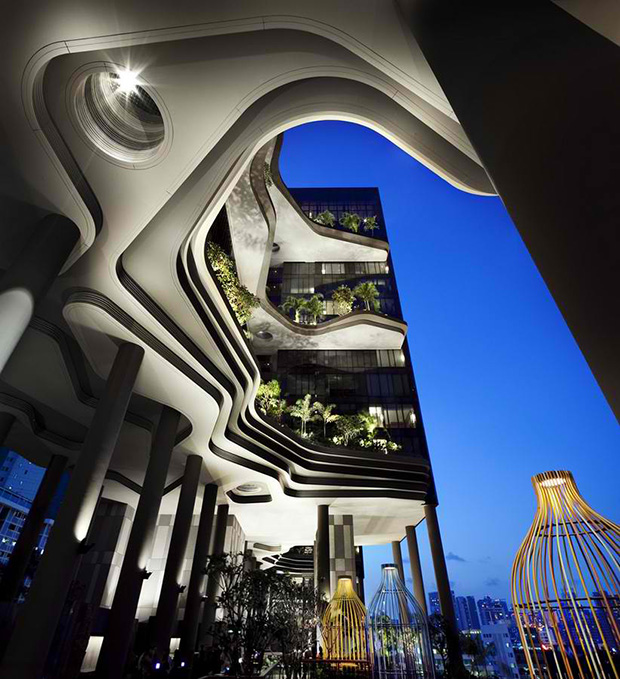 From the ground, the contours are stunning and it is creating an outdoor plaza and garden that seamlessly flow into the interiors.
You'd expect the plants to be just planted on the edge of the wall, but we all know that that isn't the case!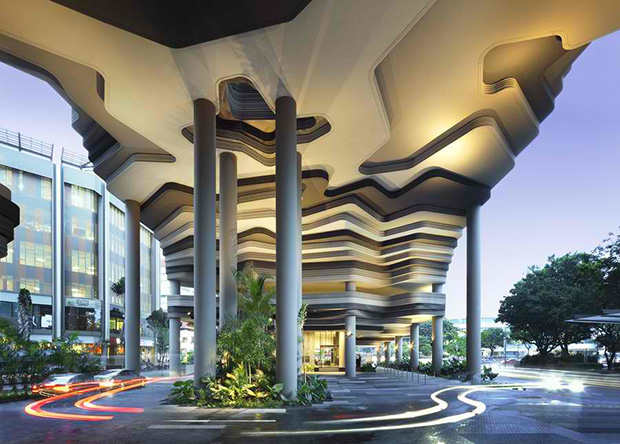 These contours are made from precast concrete elements of modular radii. It looks even more interesting with its contrasting colors and unexpected curves.
It's quite eye-catching and will leave your eyes wandering all over the structure!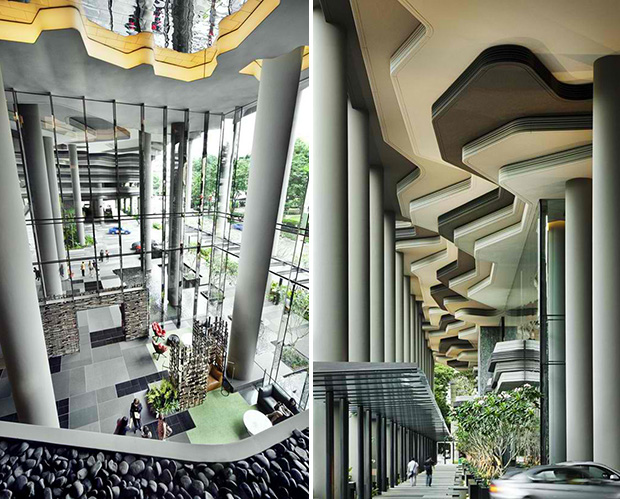 Walking in and out of the Parkroyal Hotel gives you the same feeling of sophistication with a design that looks like that of nature. Who wouldn't enjoy strolling through that?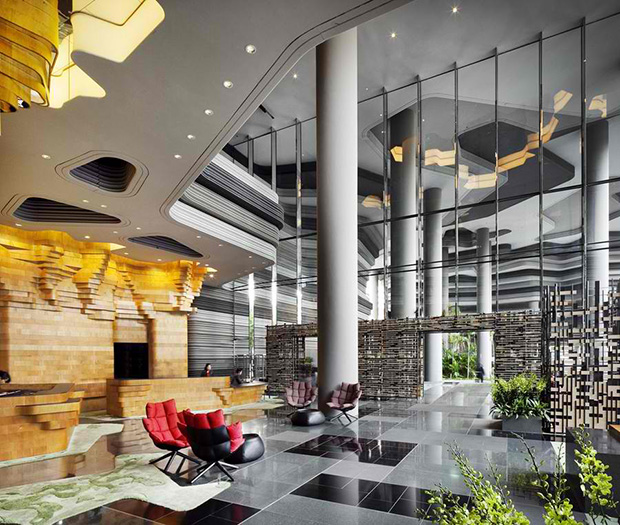 The contours are extended to the insides of the Parkroyal Hotel as well as it's garden feel.
Take a look at the reception area where the walls and their table is consistent with the design of the contours outside the Parkroyal Hotel.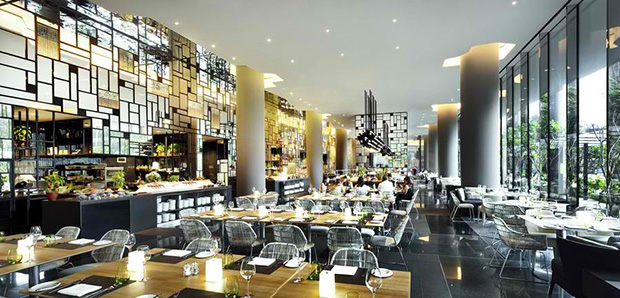 Even this dining area is very much gorgeous with glass decors on the wall. It gives a spacious feel to the room and gives guests a view of the green environment outside.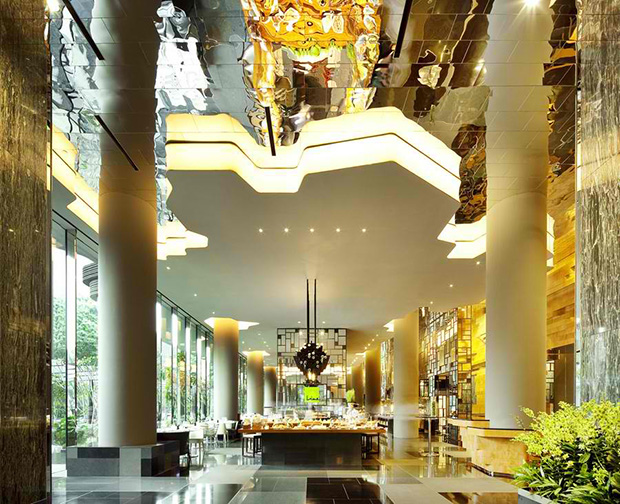 That is also seen in this area wherein a huge contour piece is installed on the ceiling with mirror glass as background.
We like how the ceiling is designed to reflect the floor and it looks like a shimmering body of water.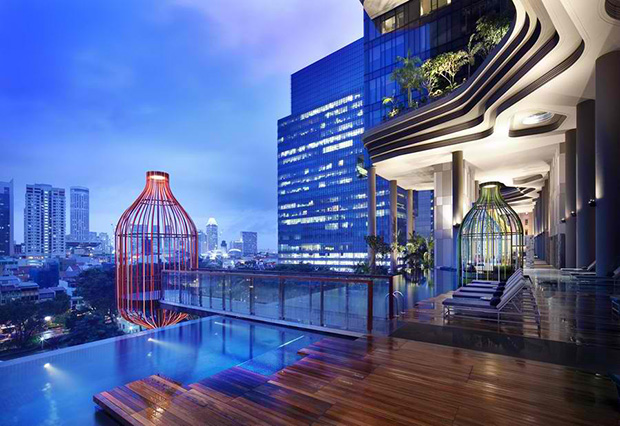 And here is another surprise. At the top of the hotel is this landscaped terrace with recreational facilities, infinity-edge pool and birdcage cabanas that add more interest to the area.
Imagine taking a dip here or perhaps lounging about all day?
What a hotel! We could even just stop somewhere near the contours and take a picture of it. It can even be a perfect background for a selfie and I know you will agree with us.
Who wouldn't love to personally see the lush greenery on top of the hotel as well as the terrace? Would you lounge on the birdcage cabana with us? We know you will.
Staying in this luxurious Parkroyal Hotel by WOHA Architects will make architecture-lovers and advocates of the environment swoon!
Like This Post? Pin It!